Gothic work outfits: Gothic culture has been around forever; these people belong to a more mysterious side of life and prefer to stay that way. They manifest their love for their beloved culture by adopting a darker aspect in music, their sense of fashion, aesthetics, feelings, and lifestyle. We see many people sharing their love and interest for the common gothic beliefs, living their lives, and oh harboring the unceasing love for tattoos and the color black!
Goths have long been incorporating it in their lives and, most of all, their attire and accessories. What I find fascinating is how their innovative minds come up with all the ideas of dressing up in just one color and not just in a monotonous way. That's something unique and commendable. Their culture has evolved with time and has grown popular too! In this day and age, people have begun to welcome their culture with open arms. The stereotypical approach of not wearing gothic clothes to work has become obsolete; the people have forgotten the cliches. In lieu, many inspired people have commenced sporting gothic looks in full swing, and they are pretty happy about it.
How to Wear Goth Outfits for Work?
In our last post, we talked about How to Dress Goth, and today, after much research, we have pieced together some of the ways you can sport THE goth look while looking professional and charismatic all the way. You heard us right; we'll help you look work-appropriate but in gothic style. The best way of styling or dolling up the old gothic way is don't hover around other hues and shades but keep it all about black at all times. The cherry on top is you don't have to worry about looking sophisticated and graceful because black is all about elegance If styled aptly.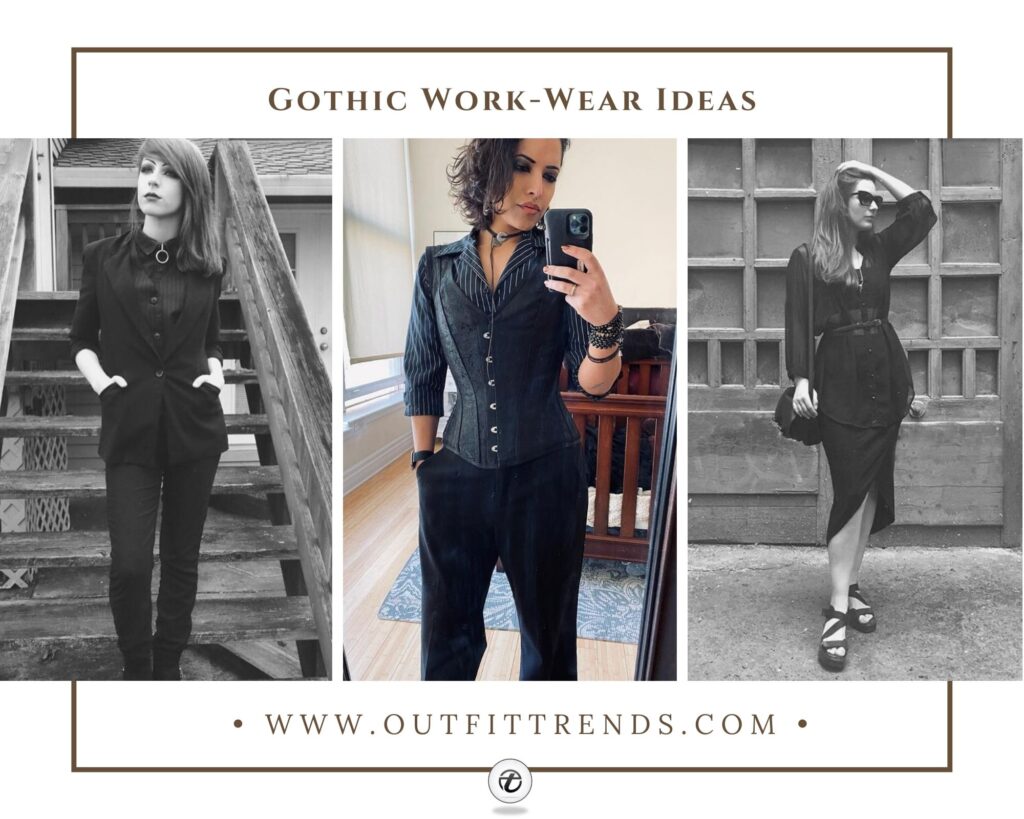 Recommendations for dressing up in Goth Outfits for Work.
Go easy on heavy or flashy accessories. Instead, opt for dainty and minimal jewelry and other accessories. If your outfit is plain consider accessorizing a little and vice versa. Remember, less is more.
Steer clear of overly revealing clothes when you are at work; since it'll be frowned upon and generally considered unprofessional by your superiors.
Avoid clothes that feature barbaric pictures or different slangs that can be off-putting, which we are not looking for here.
Become a fan of wearing all-black outfits but its not a hard and fast rule. You can always look for incorporating different colours in your wardrobe when need be.
Also, something that should be remembered when It comes to business-appropriate looks, never wear ripped clothing. I can confirm they would not invite your boss's compliments at all.
Lastly, go for a natural dewy glam rather than a matte and formal one. A winged liner, tinted cheeks and lips, and some bb cream and you are good to catch a meeting.
Comfort should always come first, Never compromise on that! You'll be exhausted enough, don't make it hard on yourself, eh?
↓ 25 – The ghoul in your house
Dresses are one of my favorite. You can pull the look off in a casual and businesslike simultaneously with a change of accessories here and there. The dresses can be short or long depending on your mood for the day. A pair of pumps or sandals would perfect the Combination. I admire the uniqueness that the oversized flannel shirt offers here.
↓ 24 – How to wear Goth Outfits for Work with Plaid Pants?
These gorgeous black and white plaids are the new trendsetters of the day. They go with all your shirts and shoes and hence are a wise investment to make. I guarantee you won't regret buying these beauties. Sport them with a black turtleneck or oversized knit sweater, and a pair of ankle boots.
↓ 23 – Flowy Goth Outfits for Work.
All I can see written over these clothes are Ideal for Summer. The soft fabric and loose design is all the more reason you should definitely try this outfit out. Try on this outfit with a strappy pair of sandals like the one this stunning blogger is wearing and tie a statement belt over your waist. You'll already have the best look under your belt, pun intended.
↓ 22 – Striped Scenario
This gorgeous duo is going to pave the way for your well-earned promotion. The striped shirt goes well with the plain black shirt. To tone it down a little, this blogger has not adorned any accessories, but that's totally up to you! You can wear any delicate jewelry with this look if it looks too minimal to you. Here are some more Striped Suits for Women that you can take inspiration from.
↓ 21 – How to wear Comfortable Goth Outfits for Work?
Comfort should always be your number one priority. What adds beauty to this look is it's easily available everywhere. A black cropped top with black split-hem culottes are all that's required. To add a little bling here and there, a double-layered silver or golden necklace and bracelet will do. An anklet is also an alternative.
↓ 20 – Blingy to the rescue
As far as the saying goes, Don't let anyone dull your sparkle, I totally abide by it. Take it metaphorically and literally. This sparkly sequined shirt is fitting for a formal get-together at work. Wide leg black pants with these gorgeous stilettos, which have my heart by the way, are also something that you can get on board with. She has braided her hair to give it a nice out-of-the-ordinary touch.
↓ 19 – Modern Goth Work Outfits
The intricate and detailed white embroidered patch on this short dress is not only stunning, but it is THE look for interviews. You end up leaving an everlasting impression. Gone were the days when you thought Fishnet stockings, which are some of the favored choices of gothic people, or ankle boots are not suitable for work. Well here's a gothic look you can totally pull off.
↓ 18 – Velveteens
Go get some chunky black heels because these are the new thing, get creative and become a promoter of avant-garde. These would look great with some fishnet stockings or leather pants. The sheer fabric of the sleeves gives the short dress a unique touch. If you want to accessorize add a pearly white necklace, this ensemble can too work perfectly well for an office party. To complete the look, do check out these Gothic Hairstyles.
↓ 17 – The Gothic Shop
To stray away from the conventional and average leather jacket with denim look, you can wear a gorgeous silk short dress or long oversized shirt with it. Tie a belt or let it flow. However you like it. This can be termed as a Casual but Formal Gothic look. Wear a silver chained necklace with it and wing it with a cat eyeliner.
↓ 16 – With Leather Skirt
We have chunky platform heels yet again; we can guess they are super trendy. Who knew you can wear tank top to work, an astute fashion mogul knows how to. Always remember If you style a dress well you can wear it whenever and however. This mesh statement is one way of styling it. This is a somewhat different look than the one we've been reviewing before, it's still modish and apt for work-related emergencies. Leather is always a savior, girls. This outfit is quite fancy on its own; you don't have to worry about accessorizing a lot with this one. Albeit I would love the idea of having your hair in loose curls. Here are some more of our favorite Leather Skirt Outfit Ideas.
↓ 15 – Gothic Alternative Y'all
To look bougie, you have to choose a statement piece. What's better than this statement poofy-sleeved mesh shirt. This can be yet another way of styling a tank top, buy a tank top and work out 100+ ways of styling it girls. This gorgeous shirt's elegance is further amped up with a cotton satin scarf, which is totally up to you. Wear it or lose it. If you want to go for something flashy, an embellished belt is one idea. Nude court shoes or snakeskin heels are another for an extra oomph. Top it up with small silver hoops. You'll have a rocking outfit up ready for a formal office event.
↓ 14 – Matching Cords
I would love me some cord sets. Considering how plain but stunning they are, I would buy them for sure for those extra shifts at work. A girl could use some comfort and compliments her way. The beauty of this apparel is you can tone it down or amp it up. For instance, you can wear a pearly necklace and diamond or rhinestone-studded earrings, an exquisite gold bracelet or stilettos. Or for a normal workday, go with a watch and gold stacked rings or your engagement ring. A pendant or a lariat necklace would do as well! Here are some more Matching Sets to Wear & How to Style Them.
↓ 13 – How to wear Goth Outfits for Work with Velvet pants
↓ 12 – Turtlenecks

↓ 11 – Corporate Goth Fashion
This gothic chic look is a casual and stunning way of exhibiting your newly bought collared short dress.
↓ 10 – Vintage Vibes
Wear this cute look and experience a day where all eyes are on you. Long boots are a tricky accessory but when you know how to style them, it won't be hard on flaunting those beauties at work. This short dress can be replaced by a turtleneck dress or a frock for that matter, tied with a belt for a presentable and professional look. I would like to think a watch over your sleeves can beautify your look.
↓ 9 – Goth Outfits for Work for Plus Sized Ladies!
If you want to wear plain, leather or plaid skirts and you worry they might not be office-appropriate, you'll be delighted to know they absolutely are. In my opinion, a statement belt over the skirt might adorn it. With a twist of a high ponytail, you'll be voted the fashionista for the month.
↓ 8 – Gothic Alternative!
I personally didn't have any knowledge of hoodies being worn to work but here we are. An ensemble created by wearing the most casual and practical clothing ever, knitted hoodies with pants. The choice of wearing those beautiful stilettos is remarkable, you have to give the blogger that. A gorgeous necklace can be added as an accessory to add a bit of color the look. Tie your hair up in a half updo and wear a pair of split hoop huggie earrings. Can't wait to try this look myself!
↓ 7 – What accessories to wear with Goth Outfits for Work?
This look is all about accessorizing. We know all too well how jewelry is a girl's best friend but here you can see all the different accessories that can be sported with gothic office looks.
↓ 6 – Corset Story
Corsets are rarely worn these days by people, but provided you have a comfortable and stylish one wear them over satin or plain shirts anywhere any day.
↓ 5 – Gothic Clothing
↓ 4 – Sporting Wide Leg Pants
↓ 3 – Work Wear
Cropped jackets and tux can make everything pretty. When combined with this asymmetric boho top and that adorable unicorn clutch, the pair can be astounding.
↓ 2 – Pant Suit
Three-piece have always been and always will be the standardized professional look everywhere.
↓ 1 – Red and Black
Hold up because I think we have a winner. This attire is no less than others, full of grace and style. I admire how beautifully put this entire look is a balance of accessories and clothes. The abstract design of the blouse with its poofy sleeves has my heart.
Frequently Asked Questions

Q. What are good Goth clothing websites?
A. Some of the high-end brands that deal with gothic clothes are listed below. They do not compromise on their quality and their articles definitely are worth buying. If you are interested in buying gothic clothes, you can totally check them out.
Other than these, we also have different options on our favorite brands for instance ZARA, Boohoo, H&M, etc. You can easily get black clothes on these brands, and you can always mix and match.
Q. How should a Goth dress professionally?
A. A goth can always wear their favored clothing to work or others can wear gothic clothes and still look professional.
Three-piece or two-piece are always a treasured feat; wear and flaunt them.

Dresses, short or long, are also widely appreciated in the work circle.

Skirts are also substitutes for workdays; they can be leather or plain.

Black sweaters, tops and blouses, can be amped up with embellished belts, elegant and delicate jewelry, or shoes.

Introduce pretty chunky heels and ankle boots as your new trendy accessory.

Balance your makeup with clothes, and you'll be a vision to behold.
Q. What should I wear to look like a Goth?
A. Goths love to wear black in every sort of way, in their clothes, accessories and make-up. If you want to dress up like a Goth, get used to dressing up in black statement clothes and jewelry. For shoes, you can opt for chunky platform heels, long boots, platform shoes and so much more. They also fancy punk fashion the most Victorian fashion touches as well. Dab on a dark lipstick and nail paint and there you have it.