Velvet pants outfits: Velvet is a type of classic fabric that's often described as luxurious and elegant. Its material is soft and very warm. You can also find it very useful for cold winter days.
You know those moments when you want to feel very cozy and warm, but still, be very stylish? Velvet pants can always provide you with that. They are great for adding some flair to your wardrobe. The pants look absolutely stunning when styled right as they have a beautiful luster and are nicely draped.
They're also comfortable and fun to wear!
If you're looking for a unique outfit that's perfect for date night or a party. They offer versatility and you can wear these pants with different shoes, tops and outerwear. It's a high-fashion material that is highly loved by celebrities and fashion influencers.
Here's everything that we'll discuss today:
Tips on How to Wear Velvet Pants
Sweaters – are a great choice to wear with velvet pants and leggings because they can be both dressy or casual depending on the sweater you wear.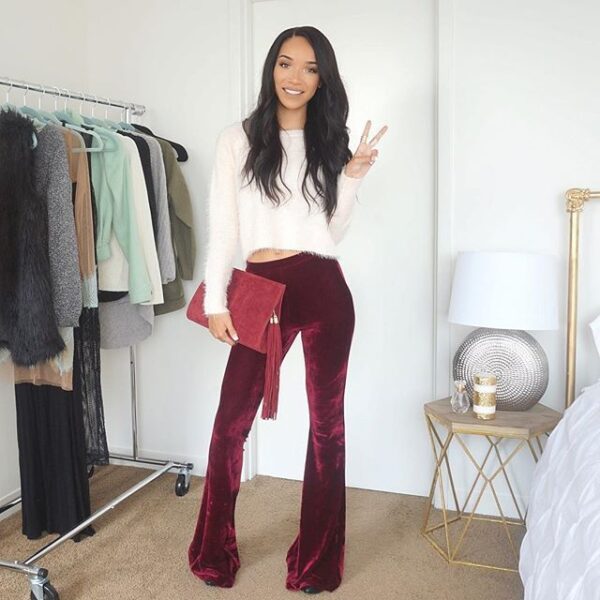 Silhouettes – Keep in mind that just like regular pants, velvet pants also come in different silhouettes, choose the ones that fits your body type and style the best.
Balance it out – When choosing flashy velvet pants, go for a basic minimal top to keep the balance in the outfit.
Lace, satin, and silk all go well with velvet. The result is a sophisticated look with luxurious, complementing textures.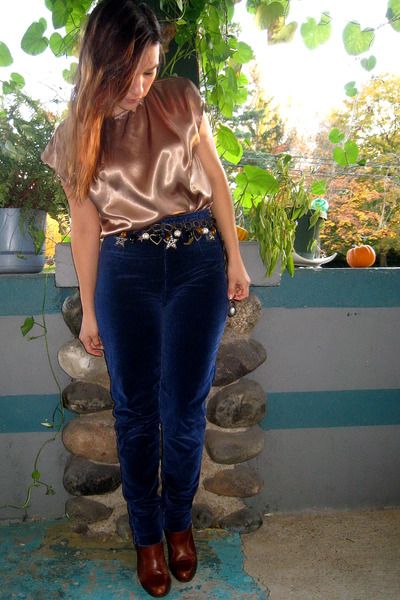 Best colors – They can be styled with any color as per the need but dark and bold colors are mostly preferred as it makes the outfit stand out.
Accessories – White or silver jewelry suits the most with velvet pants, or you can also wear jewelry that matches your top.
With Pullover Sweaters
25 – With Neutral Colored Sweater
This is a very simple and clean outfit that can make you look stylish and smart. For this look u can style a nude pullover sweater with a pair of straight velvet pants and some seude pumps.
Wearing skinny pants allows you to wear both slimmer and oversize pullovers.
Tuck the pullover into your pants for a cleaner look. This outfit is perfect for work wear as it looks both elegant and comfortable.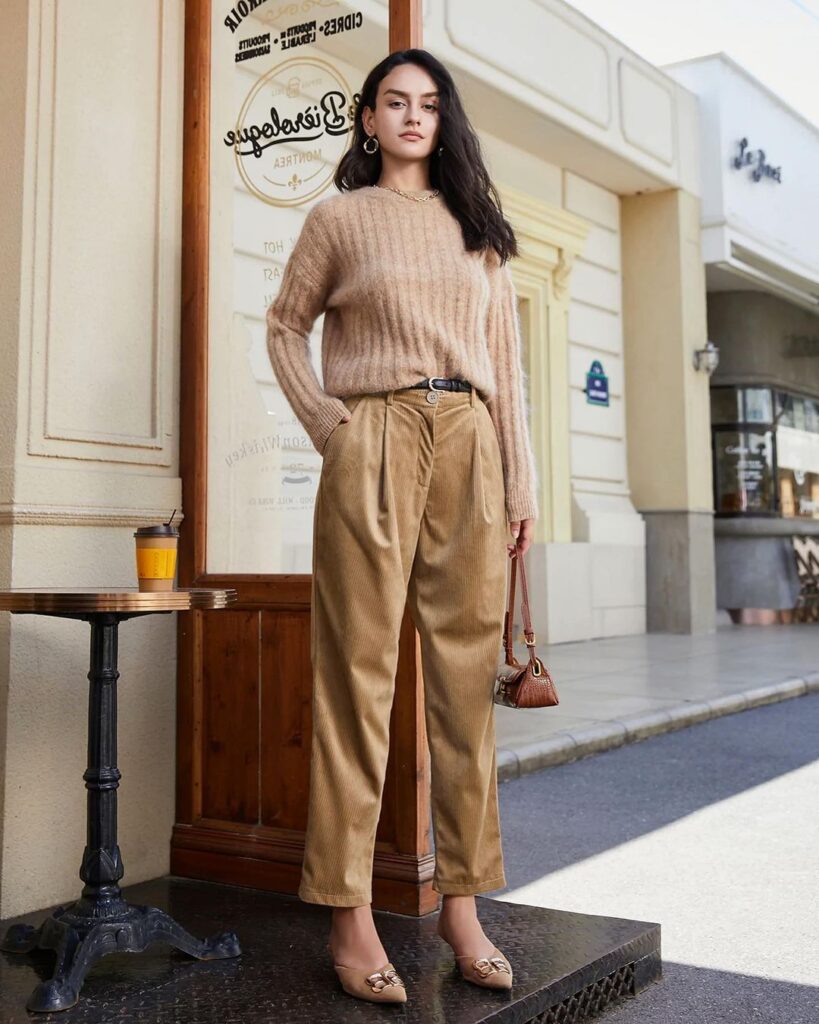 24 – With Black Sweater
This is definitive proof that a black pullover sweater and hot pink pants look awesome when matched together in an off-duty outfit.
To give your ensemble a more sophisticated feel, why not add black leather pumps and minimal jewelry to the equation?
23 – With Matching Sweater for a Monochromatic Look
Sweaters are a great choice to wear with velvet pants and leggings because they can be both dressy or casual depending on the sweater you wear.
Monochrome fashion is a trend that has been around for a while and is still going strong. It's a great way to create contrast, as well as to create an impact. Finish the look with a sleek pair of heels that have a pointed toe, and your favorite belt.
This is a minimal yet very unique outfit that can really make you stand out from the crowd. For the top, you can simply wear an oversized sweater for a cozy fall look.
Pair it with olive green wide legged pants. For the shoes, you can either wear heels or ankle boots to complete the look with class.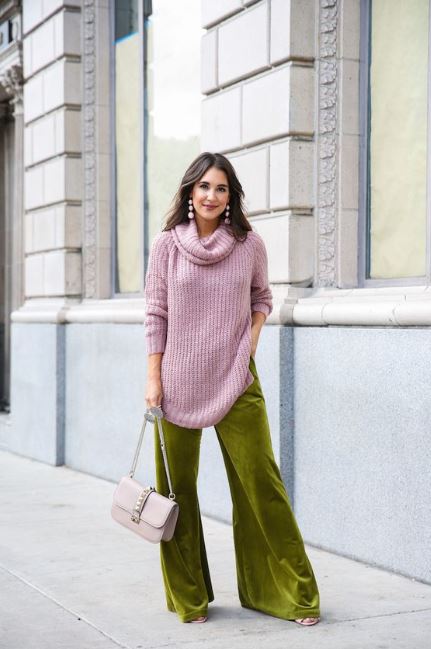 21 – With a Tucked in Turtleneck
This great monochrome outfit combination looks very sophisticated and it is perfect for daytime occasions. If you style this look with the velvet mules, then you can spend your whole day in this outfit.
However, if you prefer this outfit to be for night events, just put on your favorite pointed-toe heels, and you will be ready.
20 – With a Top in Same Colour Family
For an office brunch look, you need an outfit that is comfortable and looks professional at the same time.
Wide-leg pants are perfect to wear for a corporate look. To make it look more professional, you can pair it up with a white buttoned-down shirt, but a matching turtleneck top is also looking great. A black bag and bold lip would finish off the look.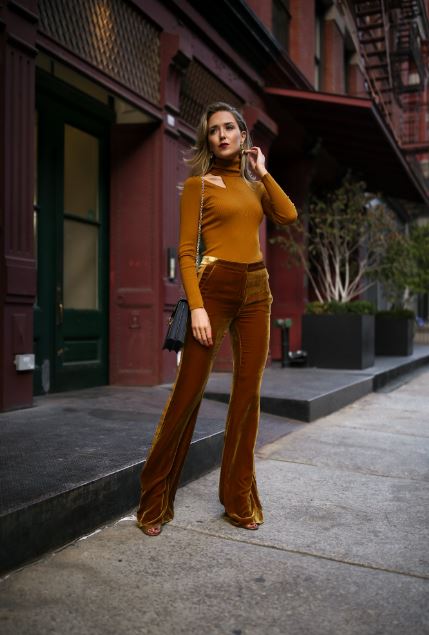 With Formal Tops (Partywear)
19 – With Chiffon Balloon Sleeve Top
Here is an outfit that can make you show just a little bit of skin and your curves to make you look very sexy. It is an outfit that is perfect to wear for a cocktail party if a fancy dress isn't for you.
For the top, wear a chiffon balloon sleeve top. Pair it with black flared pants, black heels and a glittery clutch to complete the amazing outfit.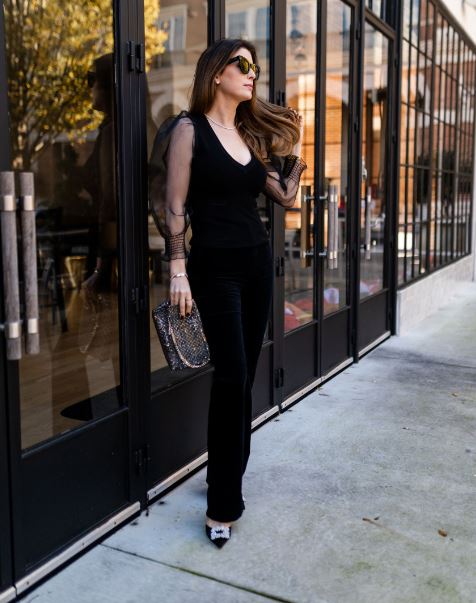 You can also wear a black and gold foiled top with these pants for a festive look. The shoulders of this top have a touch of volume which will flatter your waist to look smaller, and the deep V neck is to add a little sexy touch to the outfit.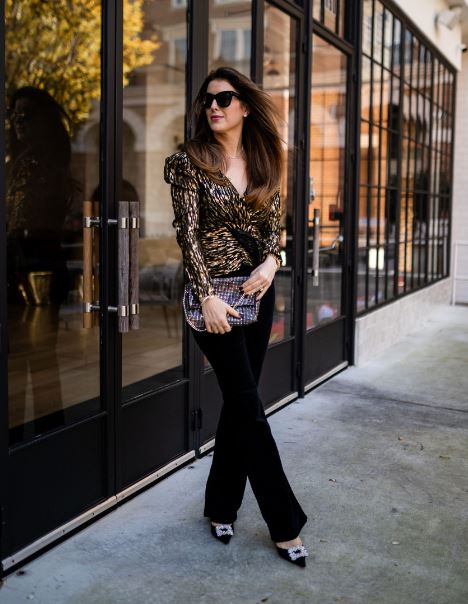 18 – With Halter Neck Top and Heels
With a twist in regular velvet pants, these jogger pants can be styled in multiple ways. You can dress it down by pairing it with a t-shirt and a pair of sneakers for a cozy, relaxed feel or dress it up with high heels and a sensual halter-neck top to wear out at night.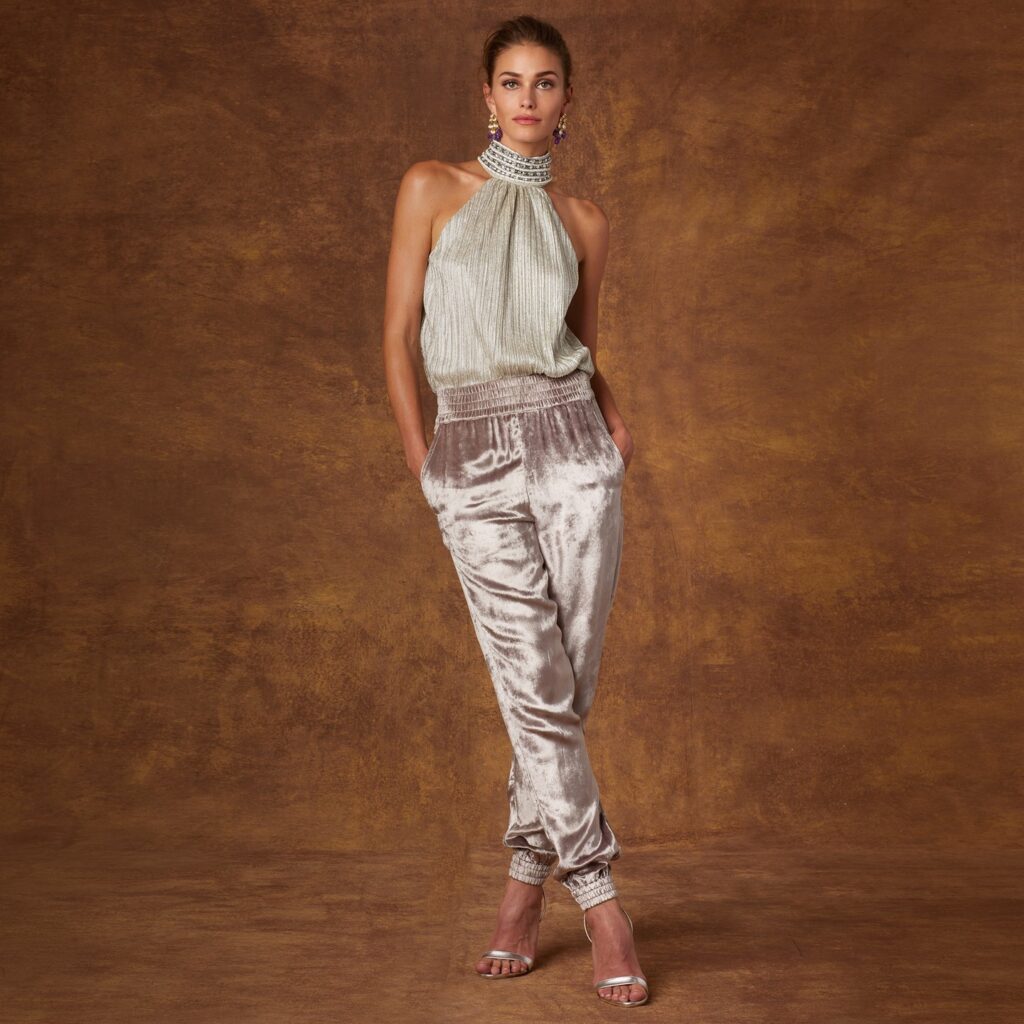 17 – With Sheer Sleeved Top
Get into the festive mood with cute pairing of a white sheer balloon-sleeved top and red velvet pants. You can pair it with heels or ankle boots to give yourself some height. Finish off in style with a bold lip. I really like this cheerful and low-key sexy outfit.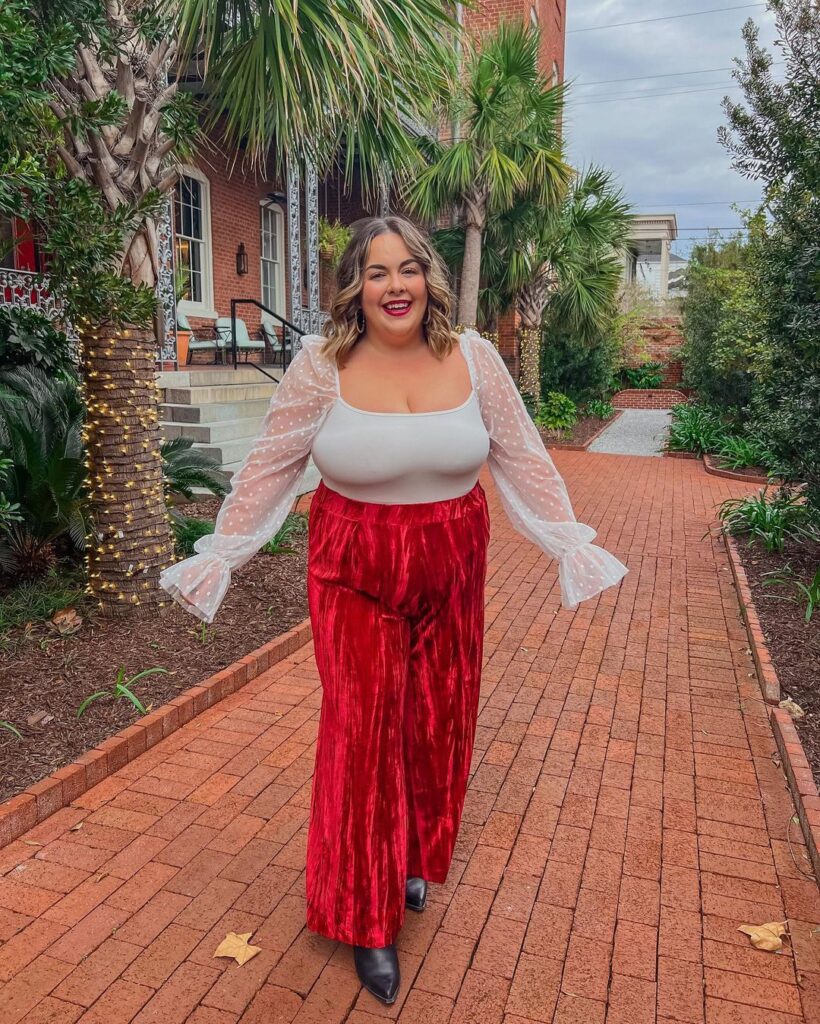 16 – With Sequin Top
Sequins are great, especially during the festive season. A sequin top, in particular, will allow you to stand out just enough in a crowd. You can pair it with something more muted like a pair of pants to balance out the sparkle.
15 – With Red Accessories
Get weekend ready with this cute outfit. In love with the pop of red. To create the look combine your blue trousers with a cutout sweater. Complete this look with a pair of red pumps and a matching crossbody bag to easily amp up the glamour factor of your getup.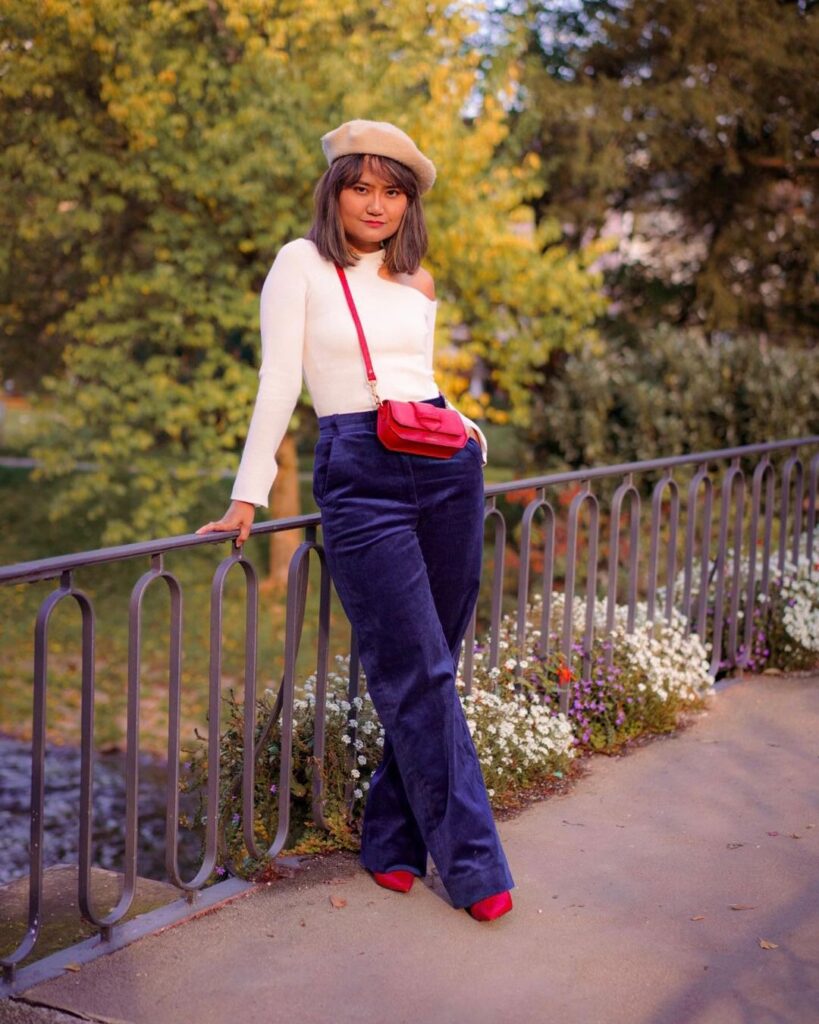 14 – Wide Leg Pants with One Shoulder Top
If you want to show a little bit of skin, a one shoulder top is a great choice to combine with your wide-leg pants, especially since velvet pants can get a little warm! You can go with a lace top, a silk top, a classic black tank top, and even a floral top if it matches the color scheme of your pants. There are so many options!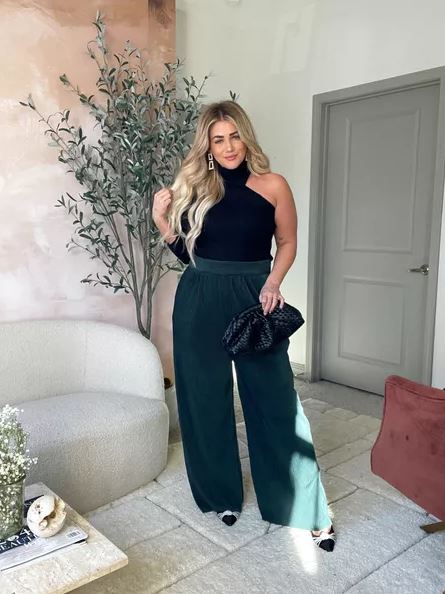 Casual Outfits
13 – With a Basic Tee
This casual pairing of a white and black print crew-neck t-shirt and pants with a slit is a winning option when you need to look chic but have no time to craft an ensemble. For shoes, Low rise converse are a great option to go with this outfit.
12 – With Animal Print Crop Top
To form this low-key sexy cocktail party look, you can wear an animal print crop top with gold accessories. When choosing an accessory color for your top, stick with lighter shades like white or beige; muted tones will help keep everything balanced and sleek!
Pair them with black high-rise straight pants. You can wear this outfit with either a pair of classic ankle boots, a pair of black pumps or flats – whatever fits your personal style!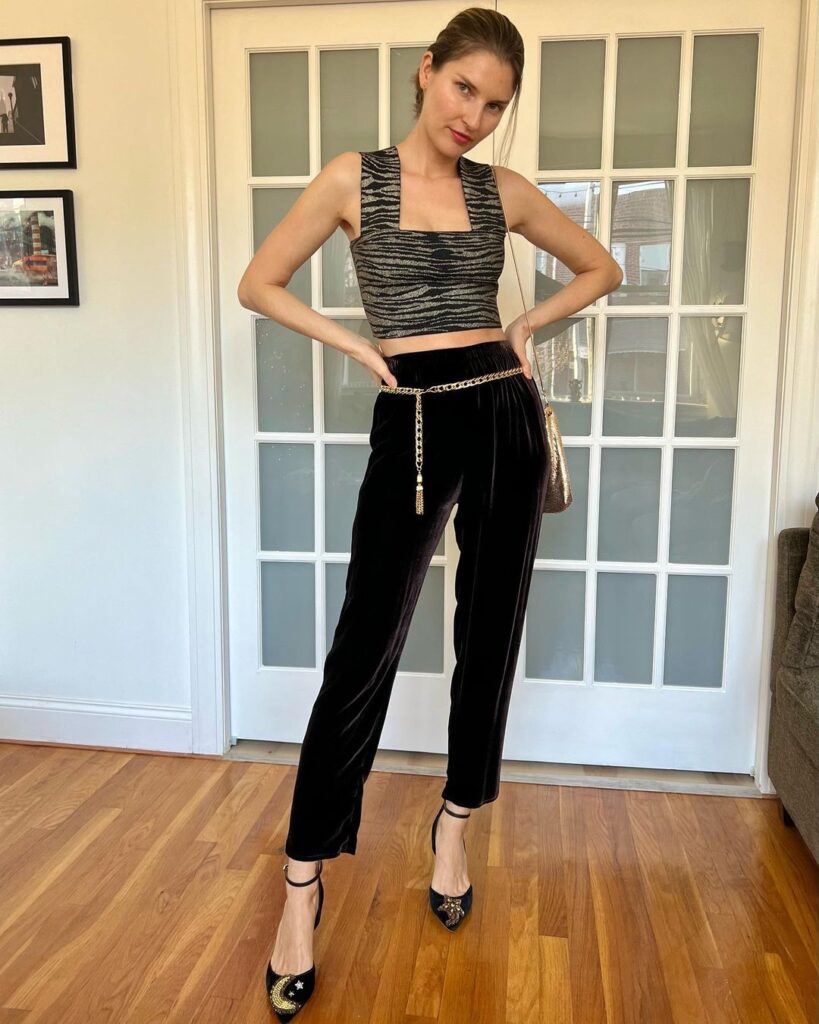 11 – Matching Set
This trouser-shirt set is comfortable for lounging in and work for a night out too. It gives a cozy chic look. To give your outfit a more relaxed feel, why not add white runners?
10 – With a Leather Button-down for a Monochromatic Look
When you think about pants, an all-black look comes into your mind. A black leather button-down paired with your favorite pants will make you stand out, look more alluring than ever and make you feel confident.
Try on different accessories, bracelets, and sunglasses that would amp up your whole look by making you look classier and bolder than ever.
9 – With High Neck Sweater and Boots
This is a pretty vintage outfit that can make you look very special. For the top, you can wear a high neck sweater with fringes in the front.
Pair them with straight, wide-leg pants. For the shoes, wear a pair of vintage boots to make this outfit more unique.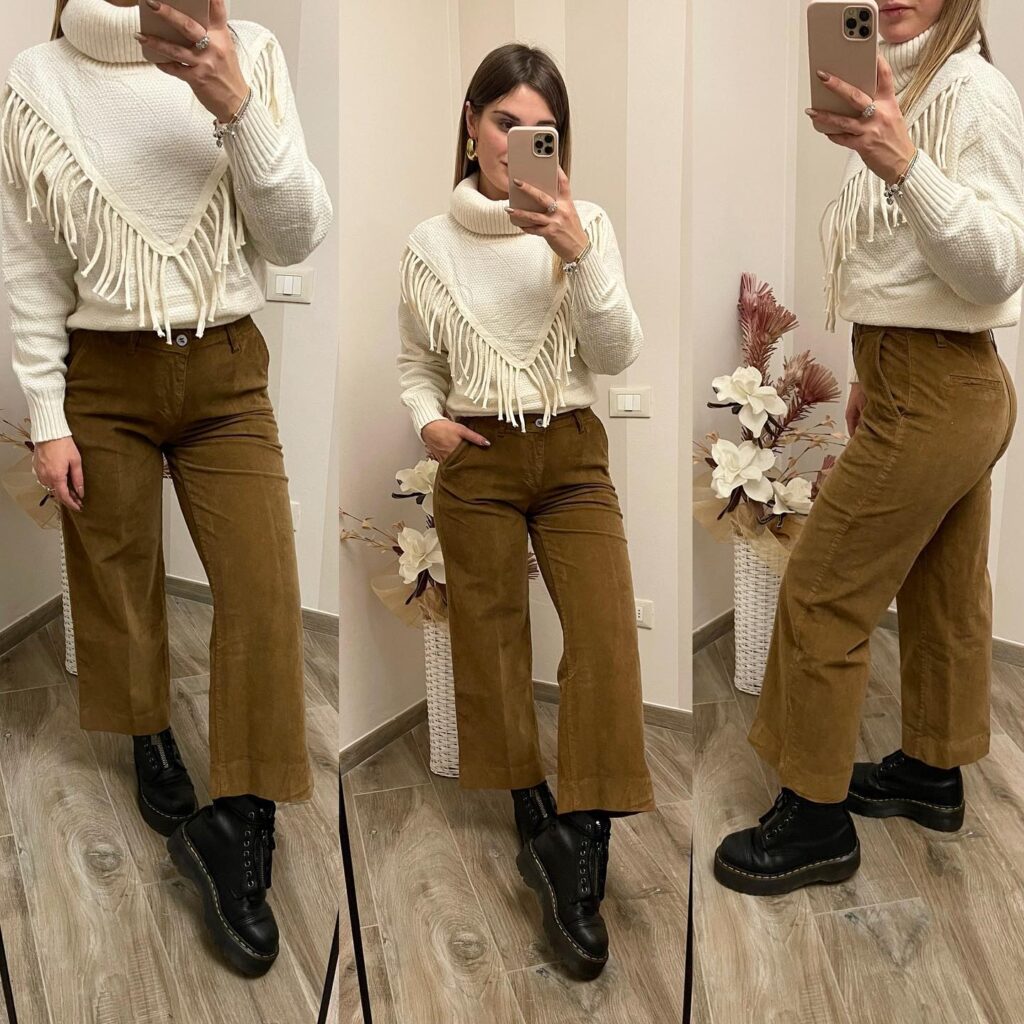 Winter & Fall Outfits
8 – With Matching Blazer
Velvet on velvet is a trend that's been around for a while, but it doesn't get as much attention as some other trends.
Love the laidback day look, at night you can swap the white tee with a satin camisole, and ankle boots with open-toe heels for a more edgy look.
7 – Velvet Pant Suit
The easiest way to achieve this is to purchase a velvet suit, consisting of matching trousers and a blazer. If pantsuits are not your style, you can switch your blazer with a strappy top instead.
Velvet suits are not really available on major fashion retailers these days but ASOS and Etsy have quite a lot of options! The best part about this look has to be the chunky accessories, from belt to bracelets and earings to rings. They look fab!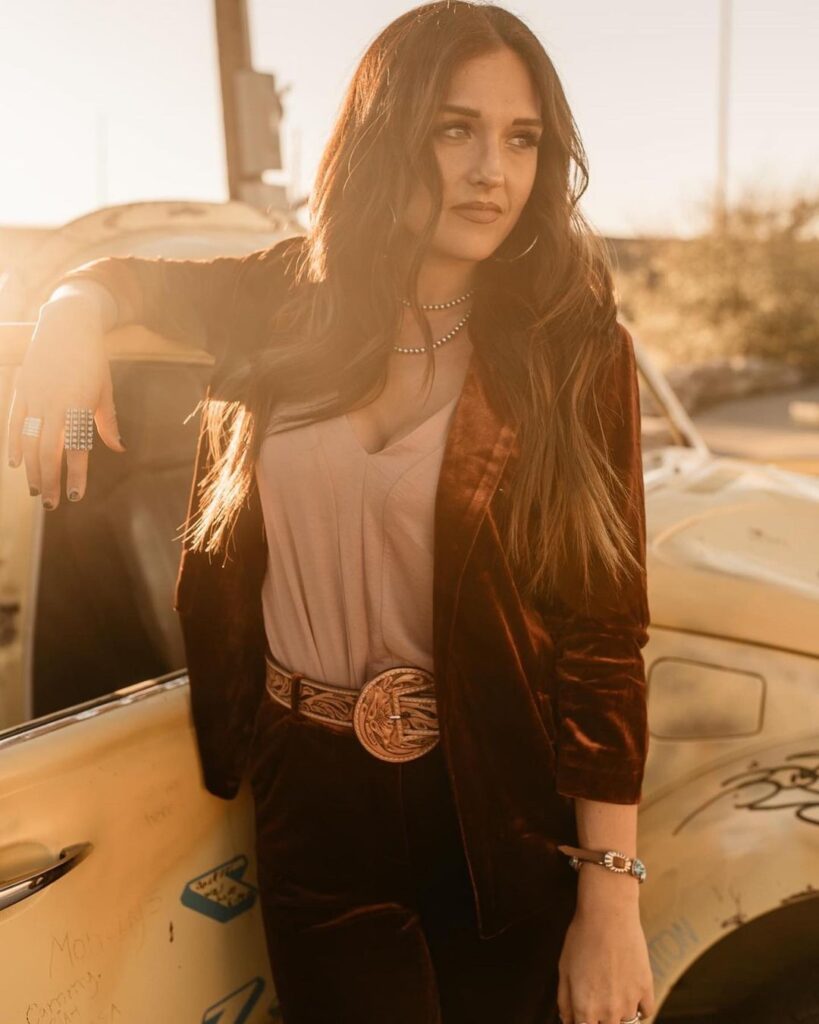 6 – With Teddy Coat
One of the easiest ways to make your look chicer is by layering a coat over it. Adding a coat to any of your outfits could make your look pop even more during cold weather.
A pair of velvet pants will look great with that stylish coat you pick, especially if you pick a darker-colored pants.
5 – With Crop Top and Plaid Coat
Here is a very interesting and stylish black and white outfit. In detail, to form this look, you can wear a black crop top with black pants. Layer a longline black and white plaid coat over them. For the shoes, wear a pair of nike air jordans to wrap up the outfit with style. Cozy and minimal, I personally love the fit.
4 – With Trench Coat and Long Boots
A trench coat and pants are an easy way to introduce some polish into your on-duty styling rotation. Introduce a pair of long boots to the mix for an added touch of chic. Don't forget to carry a matching bag and your favorite shades.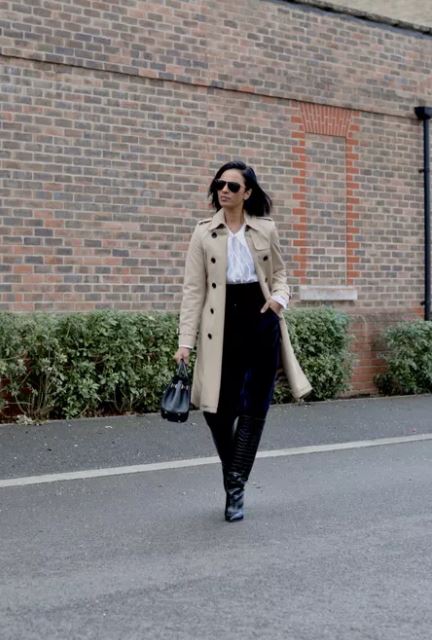 3 – With Denim Jacket and Graphic Tee
Denim jackets are ever so comfortable. With them, you don't have to worry about what to wear as they go easily with most bottoms. It suits women of different ages, body shapes, and sizes.
She styled her jogger pants with a graphic t-shirt and a denim jacket, and then went for a pair of high rise boots. This is a comfortable casual combination, considering just how soft a pair of velvet pants feel on your skin, and how laid-back denim jackets are.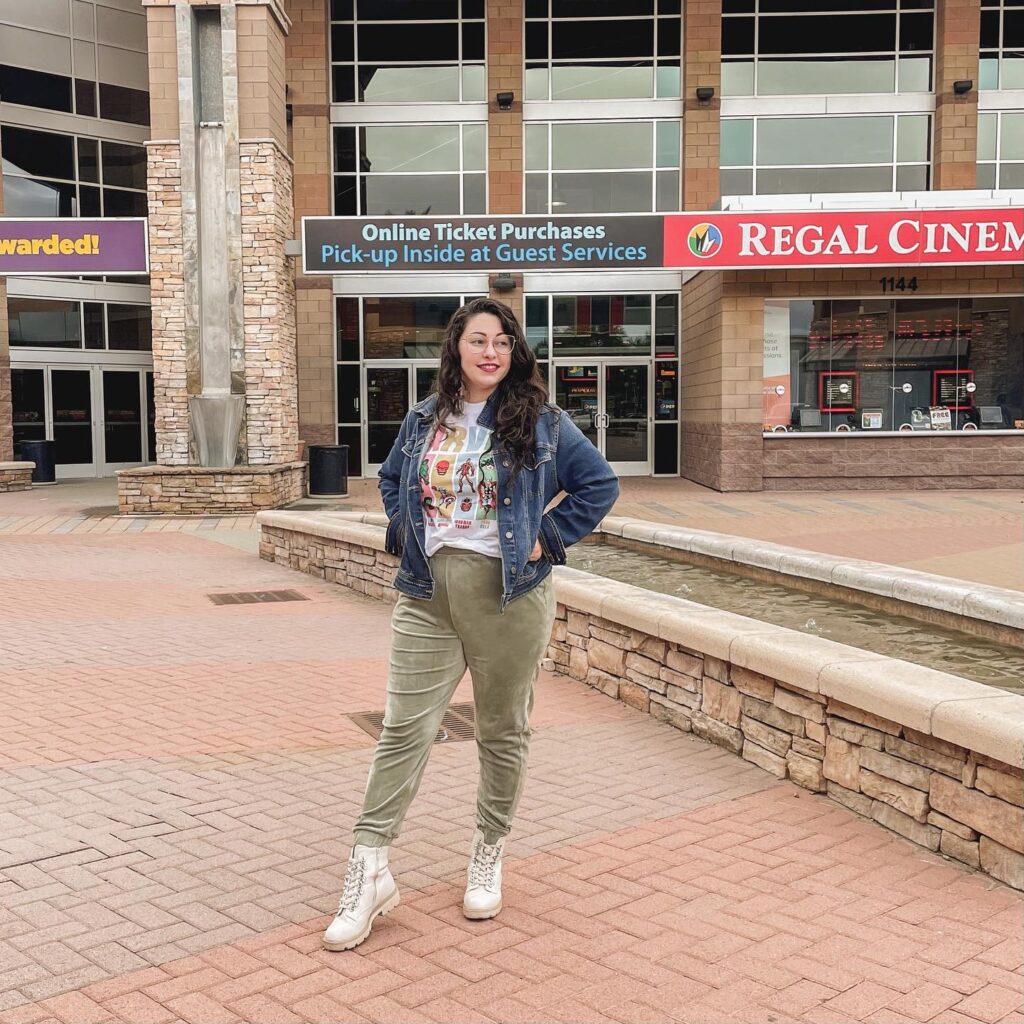 2 – With a Cardigan
A mini cardigan sweater and pants are a good combination that will easily take you throughout the day. And if you need to immediately level up this outfit with footwear, add a pair of leather ankle boots to the mix.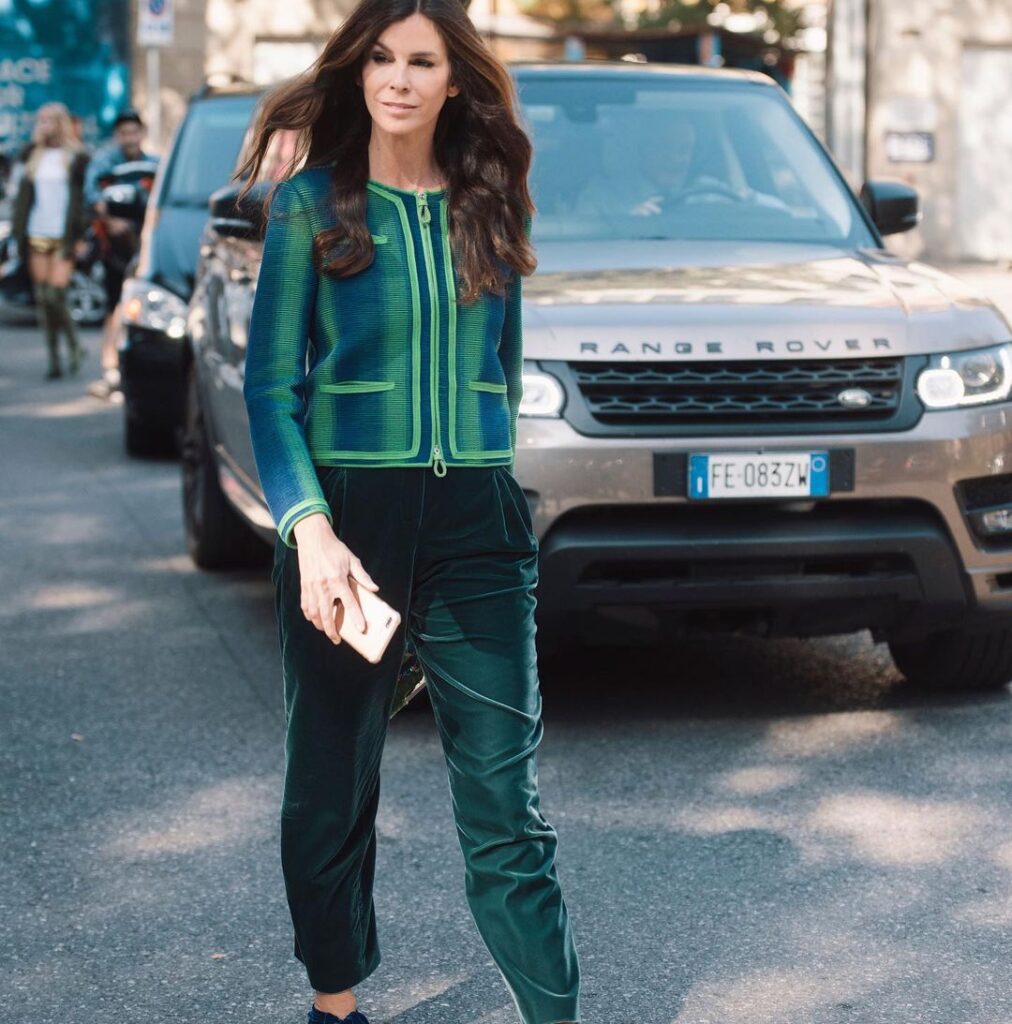 Leather and velvet are two significant trends that you can wear together and look trendy from head to toe! Pair your leather jacket with the satin top and velvet pants. You will get a pretty lovely look that you can wear to your office and for after-work drinks with your friends.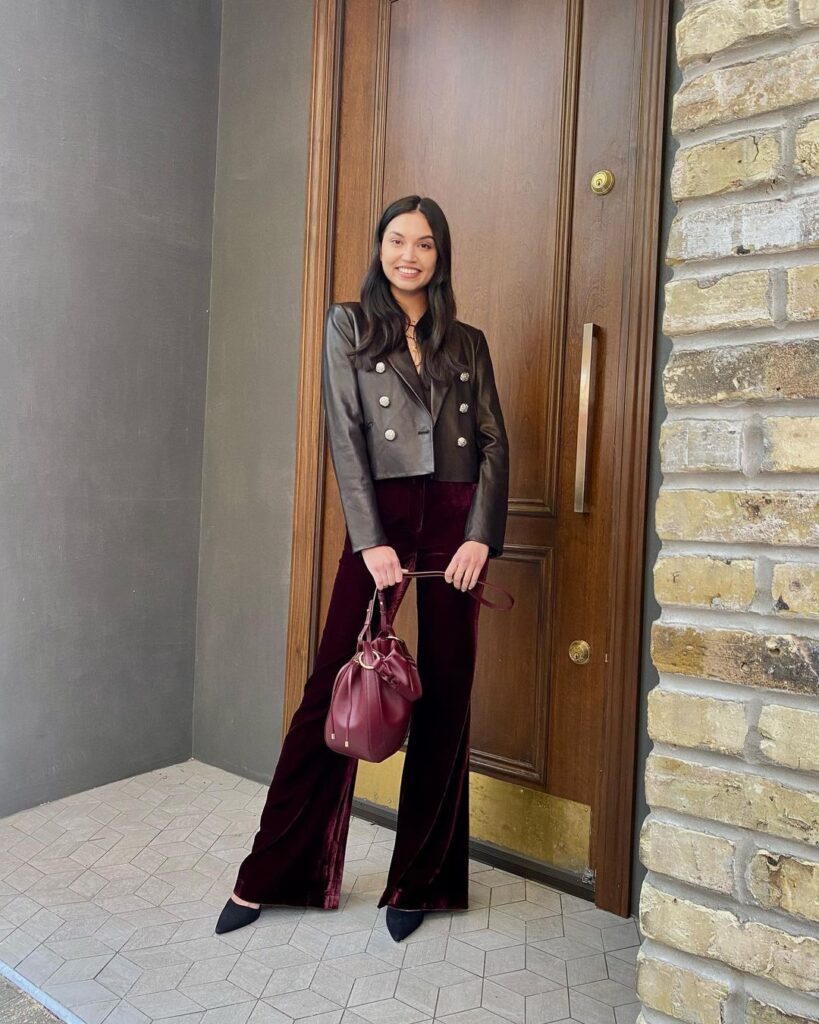 Everything is in the details here, so try to pair a matching bag with some chunky jewelry and you are good to go.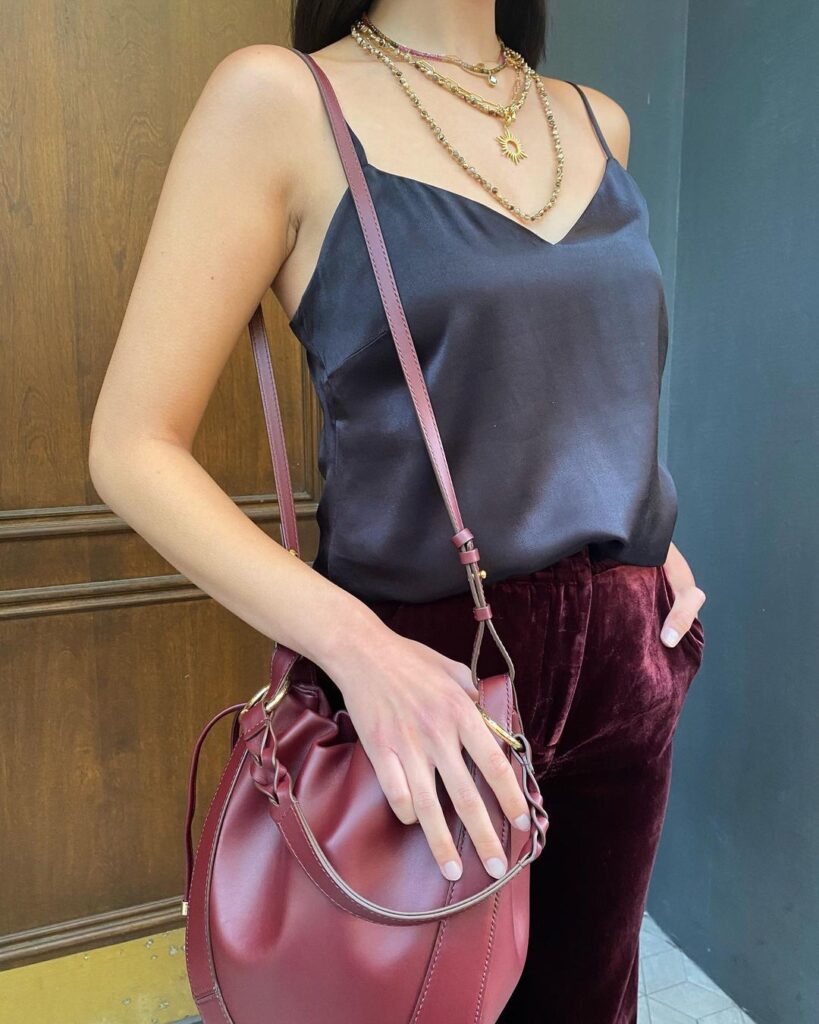 I hope you like the velvet pants outfit ideas that I have just discussed with you above. Hopefully, these outfits can help you further expand your outfit game.
FAQs
Q. How do you style velvet pants?
Velvet can be worn with silk tops, ruffled blouses, satin camisoles and shimmery coats. These pants can be used in casual outfits as well as dressy looks.
Q. Is velvet hot to wear?
Depending on the material, velvet made with nylon is not breathable. It can make you feel hot. Velvet made with pure silk is breathable so you will be comfortably cool.
Q. Can you wear velvet pants during the day?
If you want to wear velvet pants during the day, you can wear the track pants style with a comfortable t-shirt and a cardigan. Traditionally, velvet is a 6pm to 6am fabric.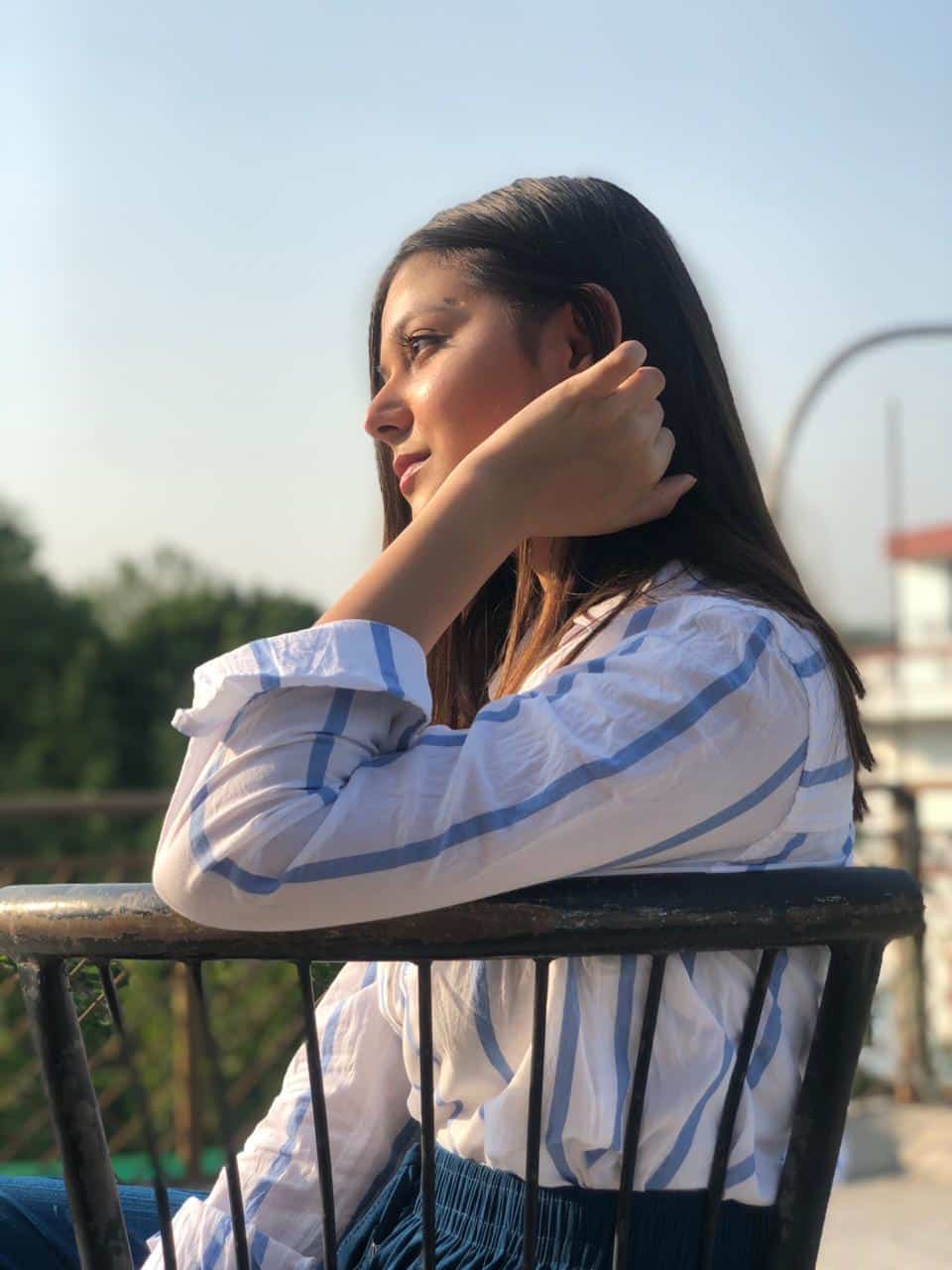 Maria is a 21 years old, skilled, and amazing writer. She loves to write and spread positivity through her eloquent writing. She believes that writing is an art through which one can narrate a complex idea, thinking, and project in an easy and simplified way. She is passionate about fashion, style, and beauty. She is here to write about styling tips, trends, and ways how to dress for various circumstances. Hope you gonna love her posts.