Tops to wear with jeans for women: I can bet that each one of you will surely have at least one pair of favorite jeans always available in your wardrobe. No matter how much you have worn, I am sure that we all have one pair of jeans that is still an easy & reliable option that would look perfect even with a white shirt!
However, it's high time that you should look for new ways to style your favorite jeans. If you are looking for beautiful tops to wear with jeans, then you are in the right place, this article is going to line out different ideas that would look great with jeans.
Today, women wearing jeans have become a fashion statement, though the actual reasoning to it was the convenience aspect. Nowadays, it does not matter what size you are, what your age is if you wear a pair of jeans, with a style you can sway the overall look! This is why we discussed in our latest post the  Popular Boyfriend Jeans Outfits
 Jeans can be used for ideal workwear paired with a simple shirt, or you can grab smart tops to wear with jeans while dressing up for parties with accessories, jewelry, and makeup that would make you more prominent among rest. Be it a casual event, date, or just going out to chill; all you need is to find a way to style that would look good on your body. The right pair of jeans would make a lot of difference to your curves, and help you showcase your beauty in the best possible way.
What Tops to Wear with Jeans
 Let's start with some basic tips:
When you have decided to wear flats/sandals rather than heels, do cuff your jeans.
Just try out colored jeans to alleviate the intensity of the beauty.
When going out for a date, make sure to wear tight jeans that would enhance your figure, with stylish heels or boots, top with jewelry!
Do try tight jeans with blousy tops to balance simple technique for chic!
Don't forget to keep it simple and elegant. If your jean is not fussy you can go choose bold and bright colors for a top!
Don't overdo it. As the rule states, less is more!
Take a look at the roadmap below to get the best 24 inspirational ideas for the outfits to pair up with your jeans that will be a fashion statement this year.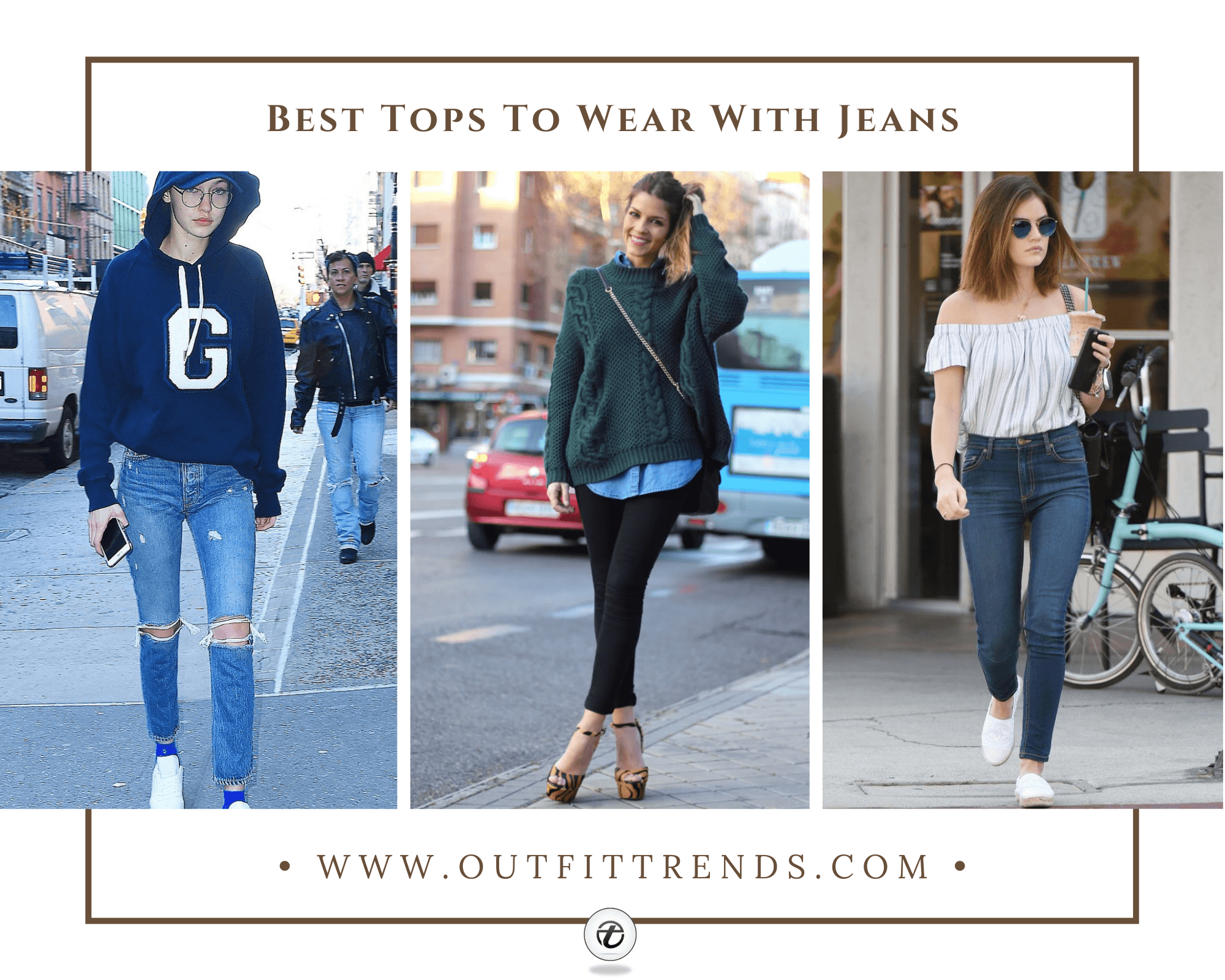 ↓ 24 – Sleeveless Crop Top
Let's start off with a basic but fun one! This casual ensemble is great for lunches out, hangouts with friends, or simply running errands. Pair a sleeveless crop top (or bodysuit) with some button-up flared jeans. This throwback look is modern but retains a retro vibe. Finish off the look with some comfy sandals.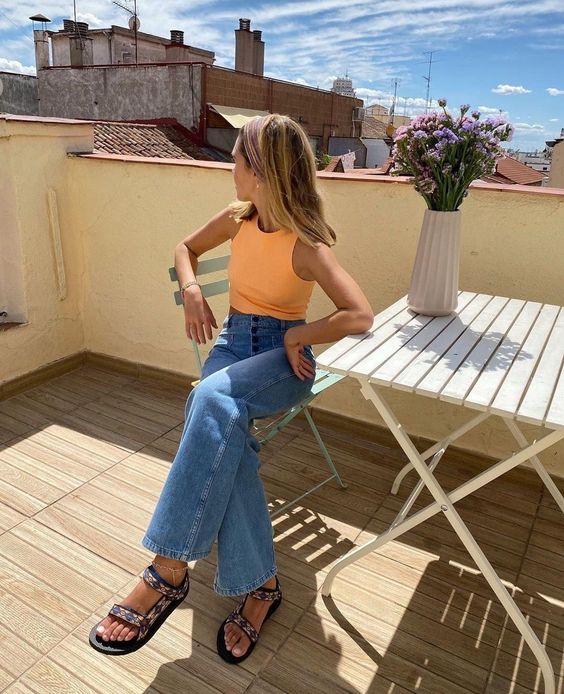 Shop the Look
↓ 23 – Top and Jeans Plus-Size Outfits
Feeling stumped on how to style your jeans for your curvy figure? Not to worry, here are two fabulous options that will have you feeling so excited for your next outdoor jaunt. Our first pick features this gorgeously chic open-collar blouse with three-quarter length sleeves. Tucked into a pair of high-waist or midrise jeans will help outline your waist and let those hips do all the talking! Accessorize with simple jewelry and finish off the outfit with some nude heels or flats.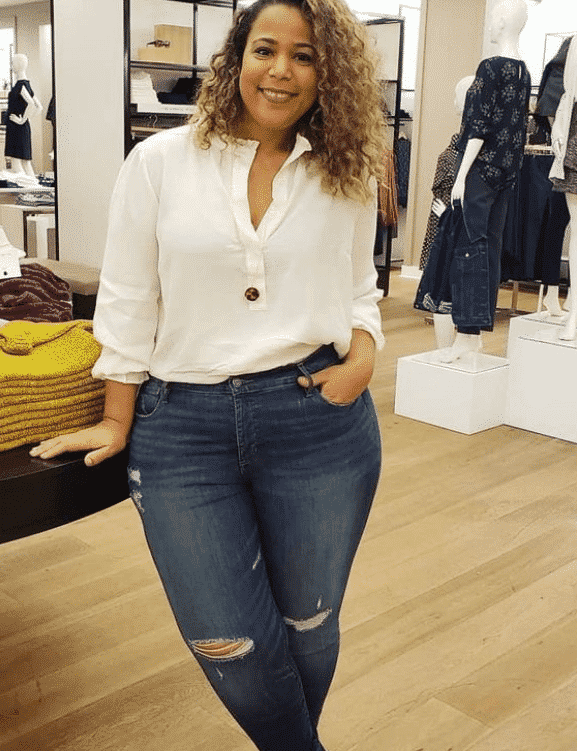 Another fabulous outfit to try is this all-black semi-casual look that features a v-neck cross top with a short jacket and some ripped black jeans. Top it off with some Converse and call it a day! We love how easy this look is to put together and how cute it looks once it is.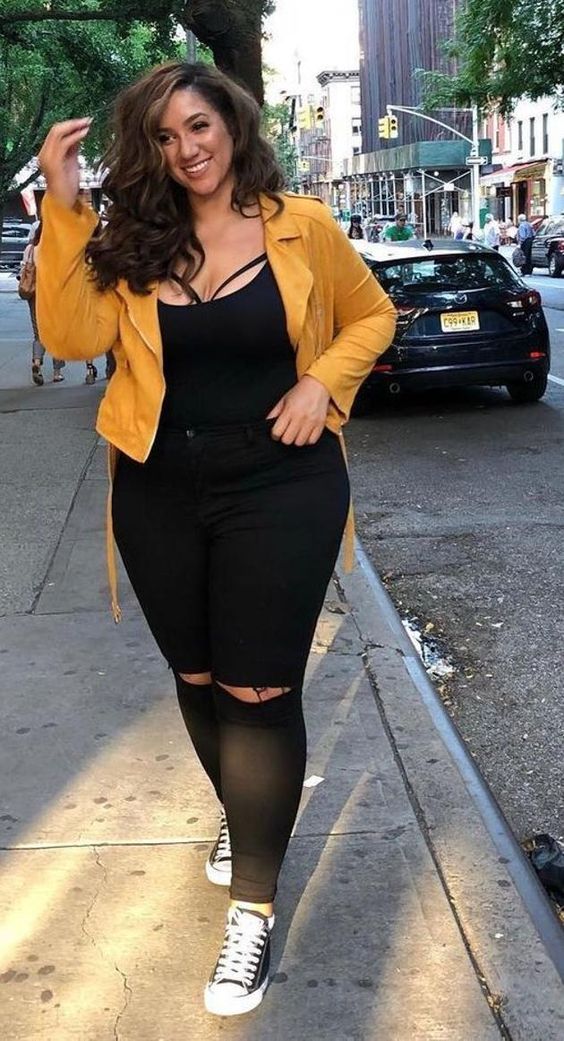 ↓ 22 – Boyfriend Shirt
A favorite option of mine for tops to wear with jeans is a boyfriend shirt. (Ironically, these are also boyfriend jeans. You won't even need a boyfriend with all the boyfriend-inspired pieces you'll be wearing!) A cute belt and some knockout heels bring this simple ensemble to the next level. Accessorize with giant hoop earrings and be sure to layer your shirt with a white tank or tee.
↓ 21 – Tops with Ripped Jeans
Ariel Winter is the cutest curvy gal we know of, and she rocked her simple loose white shirt with black cutout jeans. Do check out her beautiful and personalized slip-on shoes and you'll understand why she's just the cutest. Have a look at 18 Styles to Wear Ripped Jeans for Teenage Girls; Outfit Ideas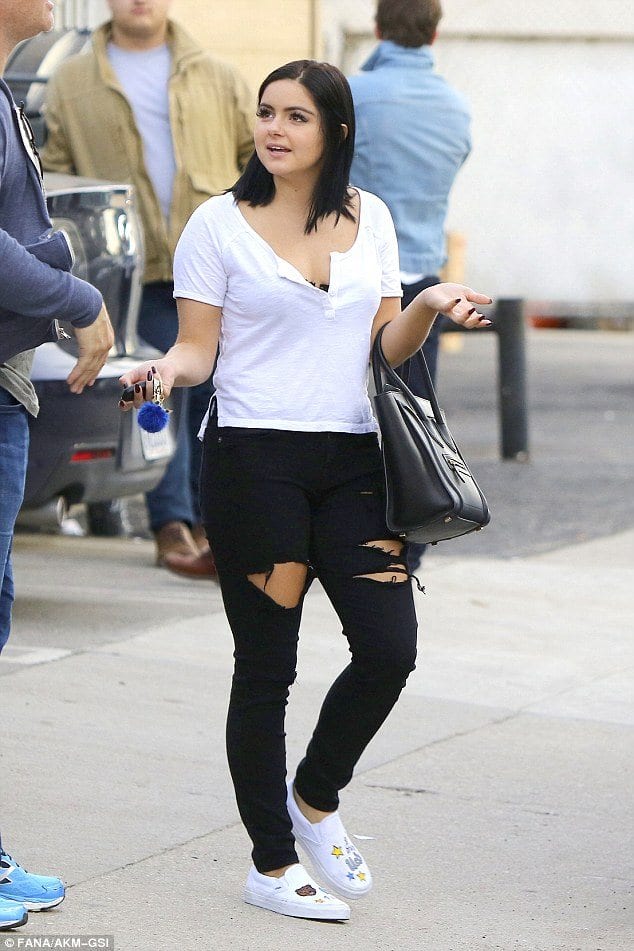 ↓ 20 – Simple Top with Denim Jeans
Nowadays, ripped denim jeans are back in fashion though it is challenging to choose which type would suit best. This summer, you can get yourself dressed up in distressed dark blue jeans to enhance your charms along with an ash-white shirt. RECOMMENDED: 15 Ripped and distressed Jeans Fashion Trends for Women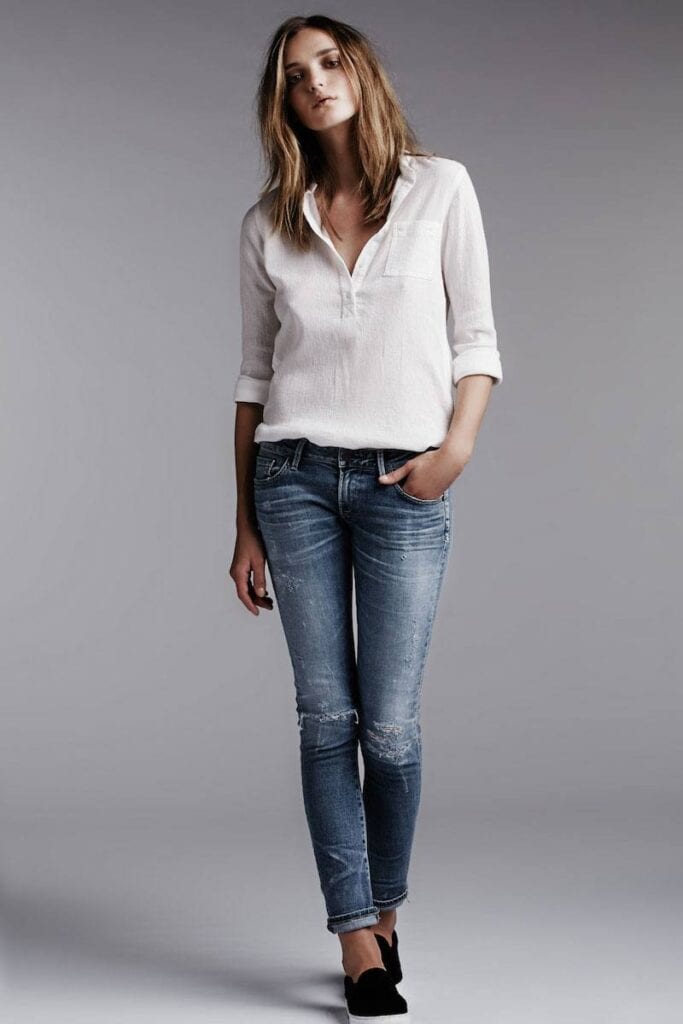 ↓ 19 – Strappy Sandals and White Top
If you are off to an outing, pair up a set of naked sandals with skinny jeans that would make you look super-stylish with a loose scarf and white button-down shirt. Such sandals usually consist of a strap across your toes and ankle. Here are the best Shoes With Skinny Jeans Women-18 Perfect Outfit Combinations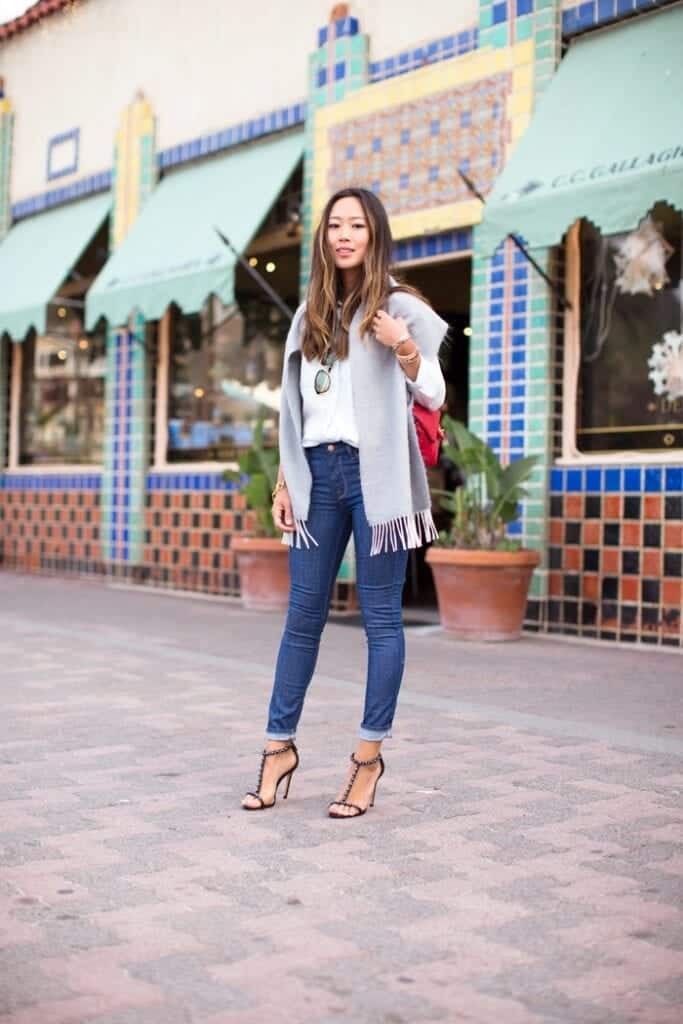 Via
↓ 18 – Top with Boot-Cut Jeans
Bootcut jeans are a bold choice and certainly have a retro vibe. But here is how you can style them in a modern way. Pair them up with a loose top and a leather moto jacket. Similarly, you can wear a button-down shirt tucked in boot cut jeans to have a professional look.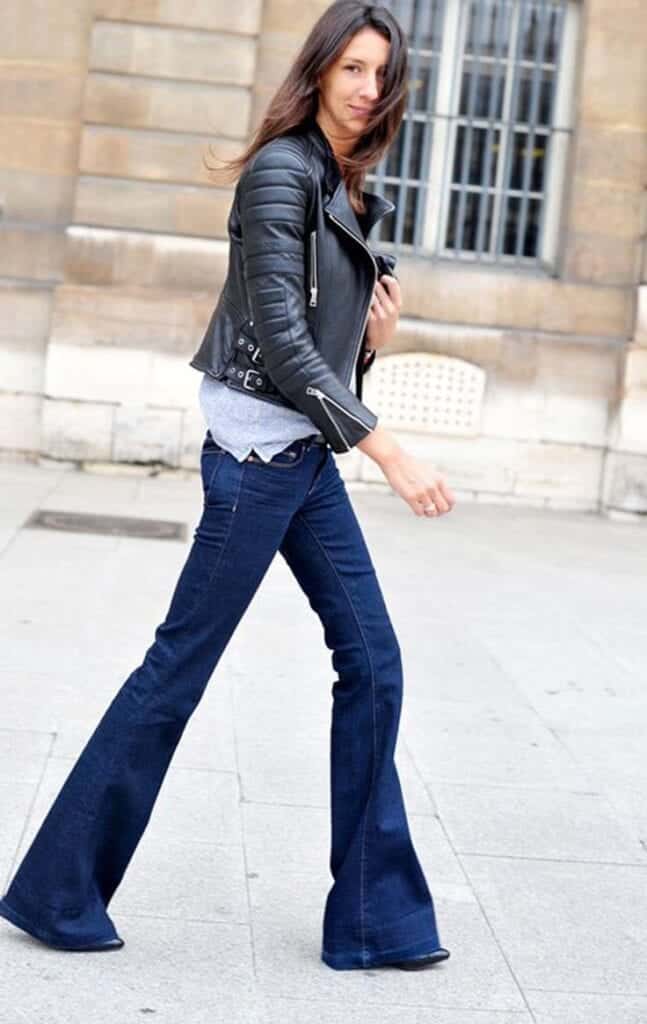 ↓ 17 – High Boots and Tucked in Top
High boots will always be a fun look. However, if you have decided on them make sure to wear them with super-skinny jeans, so it does not loosen up under the surface of the boots. Keep in mind to keep the color of your jeans in contrast to your shoes; this will bring more attention to your legs.
↓ 16 – Girly Lace top with Jeans
Gear yourself up for tonight's date by pairing an elegant lace top, pretty ankle boots with a jean to have a refined look. Check out 26 Beautiful Lace Dresses and Ideas on how to Wear Them.
↓ 15 – Crop Top and Jeans for Fall
Dress up yourself high waisted jeans, heels, and an adorable cropped sweater that would showcase your mid-riff and make people turn around to appreciate your charms.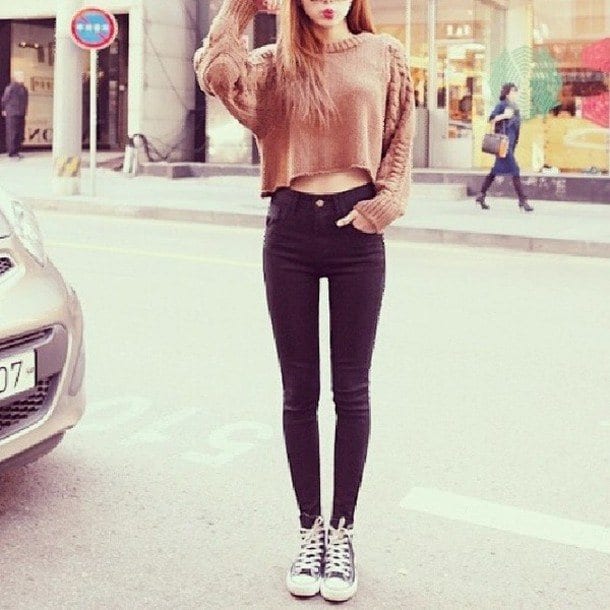 ↓ 14- Hot Pink Top for Work
Simplicity has more appeal to it! Pink top with a pair of blue jeans will surely make a terrific combination, don't forget to wear a matching shoe and a blazer on top.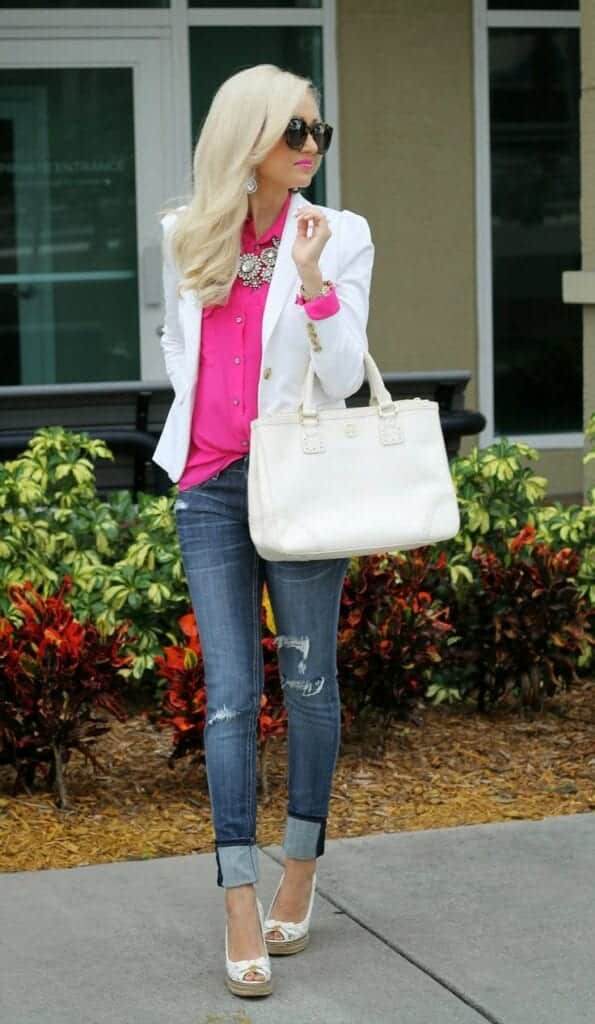 ↓ 13 – Tops for College Girls
To show a youthful appearance, pair your jeans with a blouse, and knee-length boots to elevate the whole look. Round out the look with a chic blazer.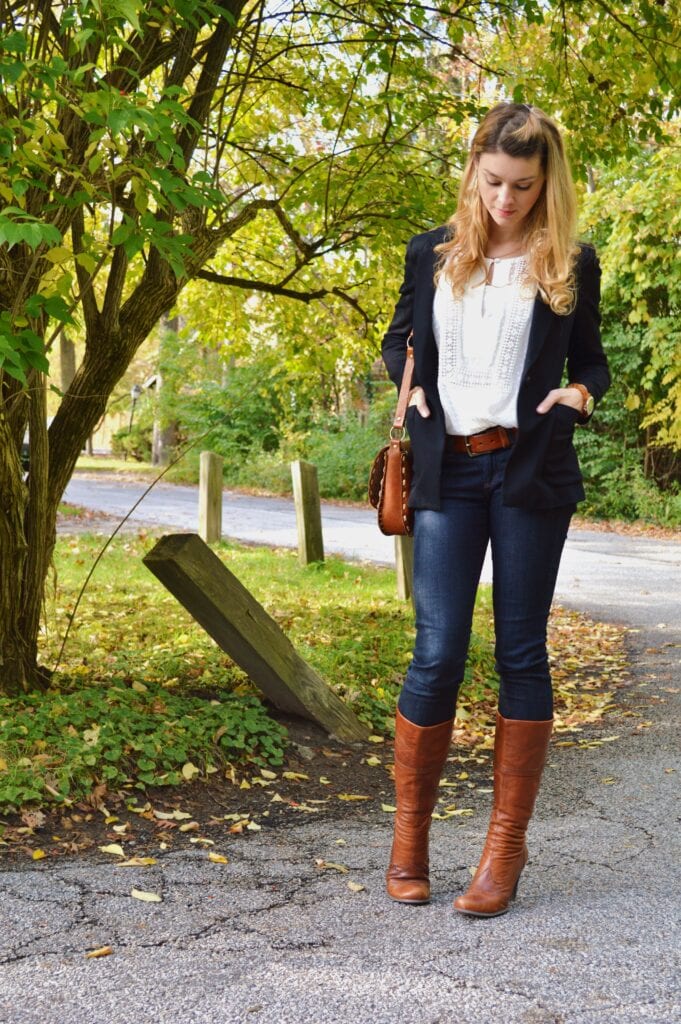 ↓ 12 – How to Accessorize Your Tops and Jeans
Your casual striped tank top and baggy jeans can turn into a stylish outfit if you add on some light accessories like necklaces or bracelets; that would transform your simple look into remarkable style!
↓ 11 – Chic Top with Blazer
A collared shirt paired with skinny jeans topped with a blazer can be a street style nowadays. You can pair it with flat pumps and a necklace. Wearing tight skinny jeans with camel blazer will enhance your body features and add on to your charms. Here are 16 Cute Outfits with Sleeveless Blazers.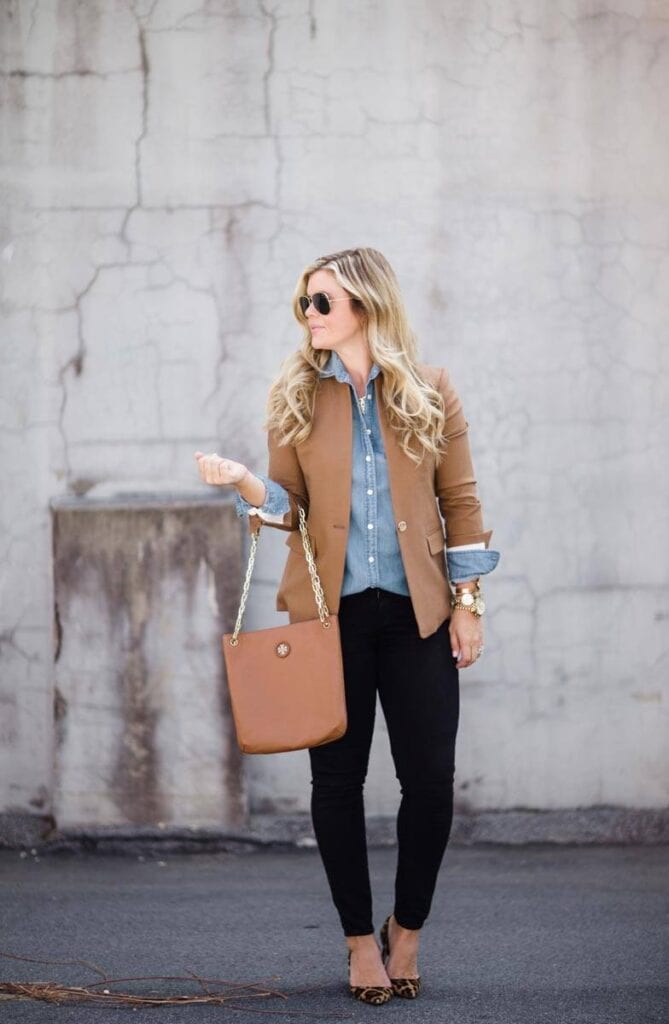 ↓ 10 – Cool and Casual Outfit
You can wear a check printed open button-down shirt with casual jeans if you are in the mood of relaxing. Add up lace boots for a long walk with sunglasses to keep you safe from dark sun rays. If you are feeling beautiful in & out you will surely perform well in all your work all day long.
↓ 9 – Vintage Look in Jeans
Do try the vintage look, with high waist jeans and top that has shoulder pads a combination that is trending today. Grab your flats and cuff your jeans to give them a final look.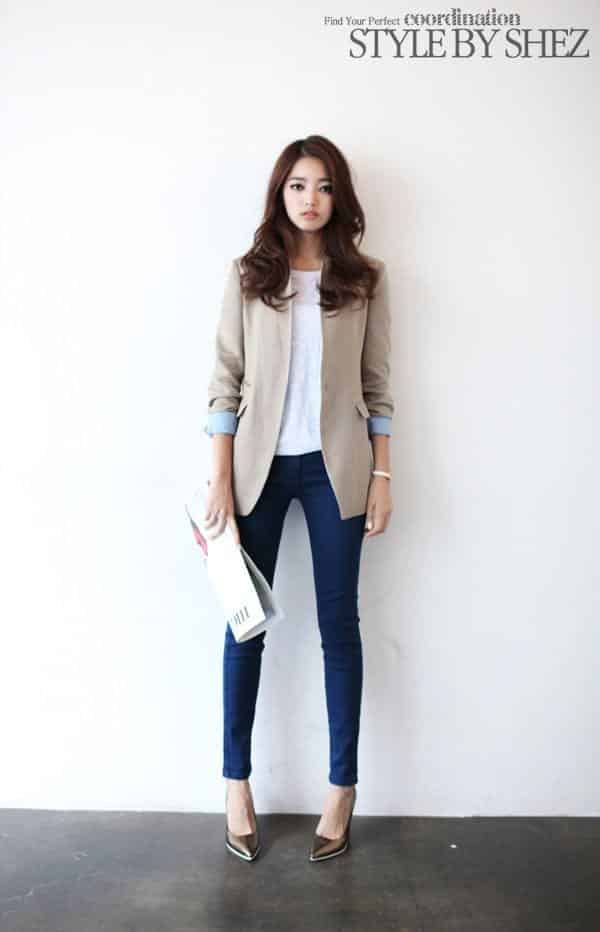 ↓ 8 – Tops with Jeans for Day Out in Summer
Grab a white off-the-shoulder striped top pair with white shoes, skinny blue jeans, and a black handbag. Don't forget to take round glasses to display a chic look!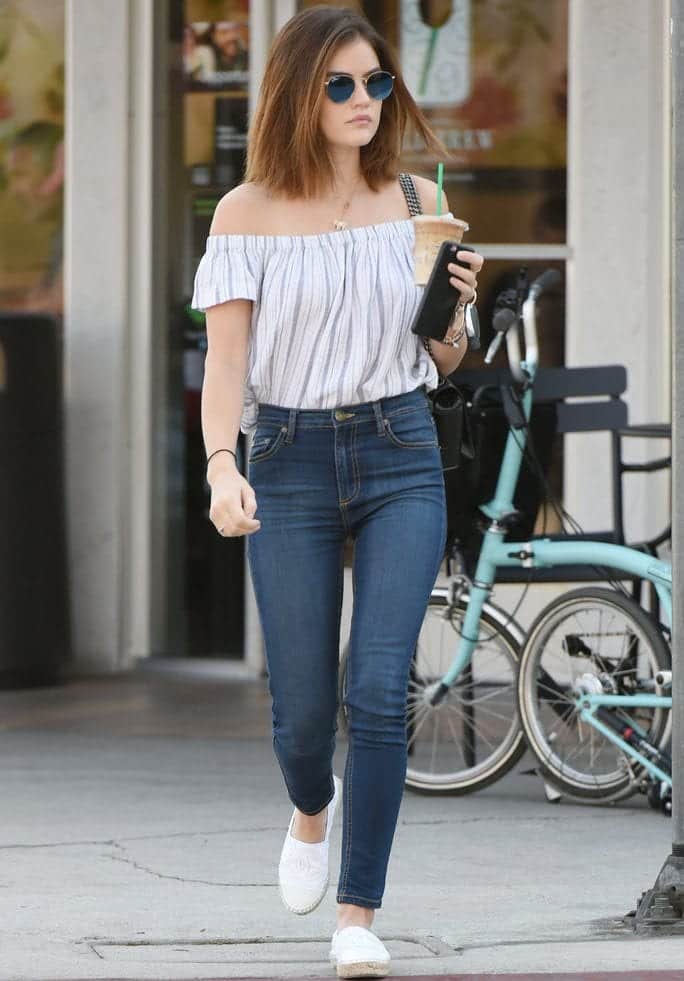 Via
↓ 7 – Cape Top with Jeans
For everyday occasions, you can wear a cape with distressed jeans. You can also wear sandals to stay comfortable, warm, and trendy. Add on a bracelet and locket to bring more charm to the personality.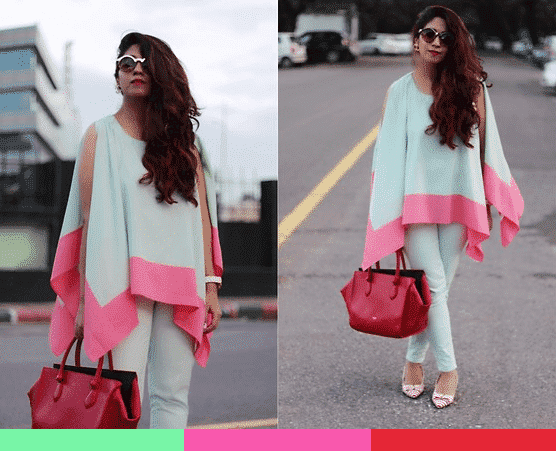 ↓ 6 – Shoes to Wear with a Simple Top
The on-going trend of lace-up sneakers should always be available in your wardrobe. Especially if you are planning to wear a t-shirt and skinny jeans cuff to run casual daytime errands.
↓ 5 – Work-to-Party Look
Heading for a brunch or a cocktail hour after work? Wear your skinny jeans, flat pumps, and leopard top with a red blazer to keep your look stylish yet simpler.

↓ 4 – Top with Floral Scarf for Spring
When the temperature turns warmer, skinny white jeans paired with a plain half sleeve tee shirt, a colorful muffler around the neck, and wedges look darling.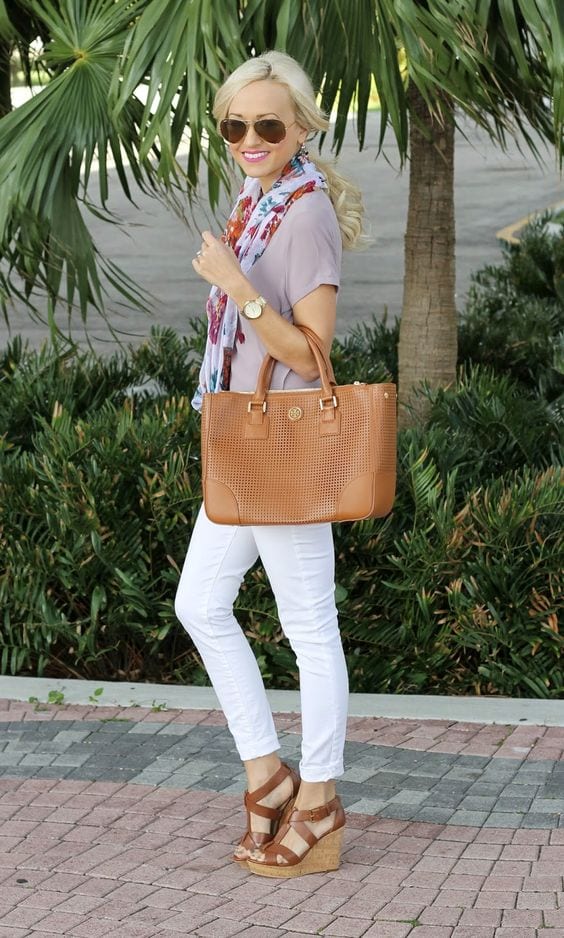 ↓ 3 – How to Wear Tops with White Jeans.
Going for a girl's night out? Pair white jeans with a long sleeve top and long coat and don't forget to slip on sneakers! For more ideas, check out these Outfits With White Jeans.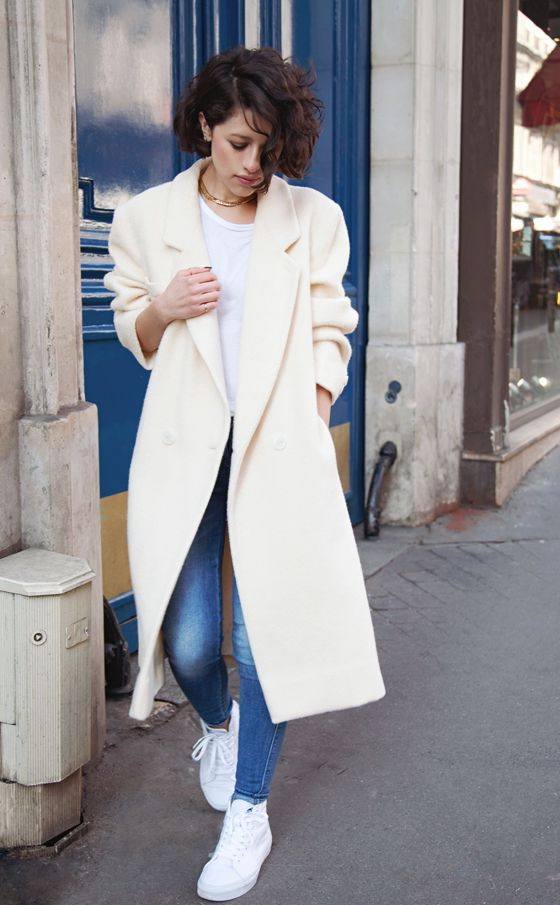 ↓ 2 – Loose Baggy Sweater
Here is a dreamy look! Perfect for fall or winter, this layered ensemble is cute, cozy, and stylish. Pair a denim shirt with a chunky knit sweater and style with skinny black jeans. Add a crossbody bag. And have fun with some cute glam heels!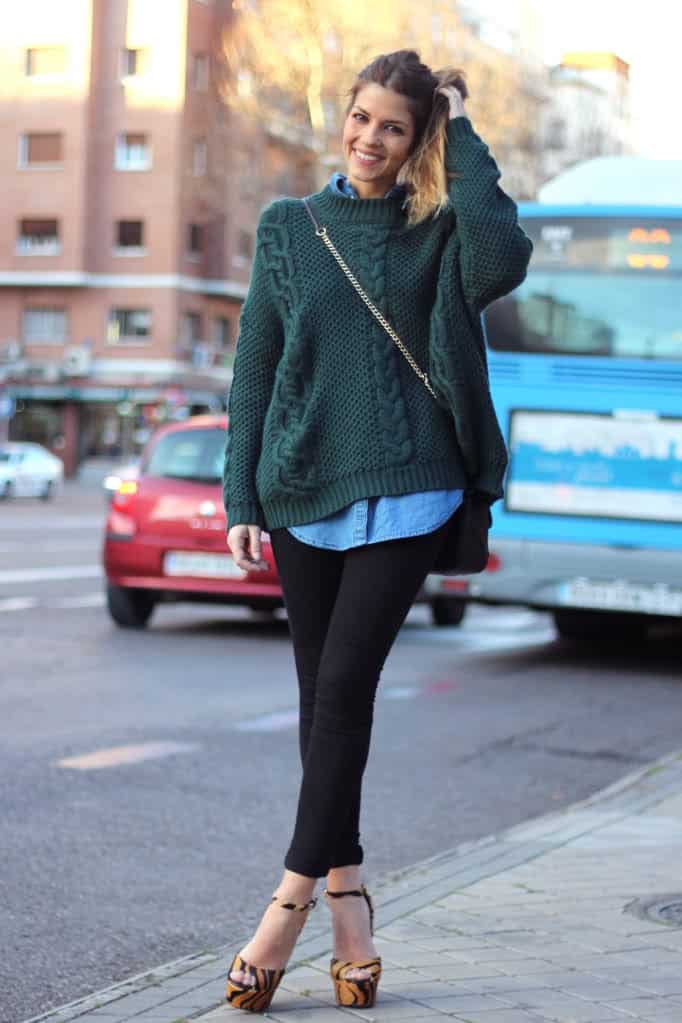 ↓ 1 – Celebrity Style Sporty Look
Take inspiration from the stylish model Gigi Hadid who was seen in NYC wearing her ripped jeans with a hoody and white trainers. This is the perfect casual look every girl needs for running errands in the winter.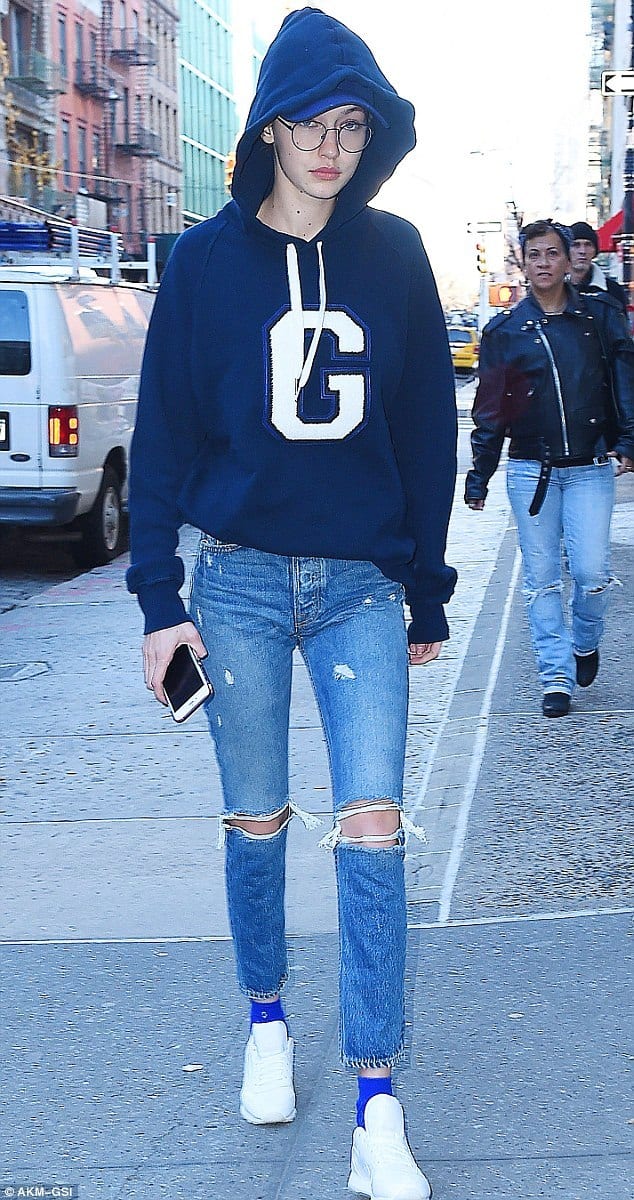 Frequently Asked Questions
Here are some frequently asked questions about styling tops with jeans. Check them out!
Q.

What tops to wear with skinny jeans?
A. Skinny jeans are probably one of the most versatile jeans, at least in terms of what tops you can wear with them. Because they are form-fitting, you can go baggy on top or stick to an all-over form-fitting ensemble. To get the best look, opt for high-rise or midrise jeans, and tuck in your shirt. Or go for a bodysuit! You can wear a crop top, a bodysuit paired with a jacket, or a tee shirt. You can also go casual in a hoodie or flannel shirt.
Q.

What tops to wear with jeans?
A. The sky is the limit for what tops you can wear with jeans. You can wear tee shirts, graphic tees, tank tops, crop tops, blouses, turtlenecks, sweaters, and more! Take another glance through this article for specific examples.
Q.

How do you dress up with jeans?
A. It's easy to dress up jeans. Start with the jeans themselves. Dark denim is generally more polished than washed-out jeans. Avoid rips and try to go for a pair that is flattering to your shape. Pair with a top of your choice. It could be a sleeveless bodysuit or an embellished blouse. Then add accessories and heels. And voila!
Q.

What jewelry goes with jeans?
A. It does depend on the overall outfit (and how dressy you want to be) but here are a few options to consider:
Stacked bangles. Always fun.
Hoop earrings will make any jeans outfit look party-ready.
Pearls. To make a jeans outfit look more polished, try a strand of pearls around your neck! (Or pearl beads, if you're on a budget.)
Statement earrings. Once again, a pair of earrings can elevate any simple look. Try tassel earrings, beaded earrings, or minimalist threader earrings! Anything that makes a statement.
Rings. A few well-placed rings can add a stylish edge to your look.
And that's all! Did you like our pics for tops you can wear with jeans? What is your favorite way to style jeans? Let us know in the comments below!