Looking for Stylish Lace Dresses ideas? What are the latest trends? How to wear them? How to match lace dresses with other outfits to get a glamorous look? Well, don't worry we have all these answers for you in this collection. You can get a lot of lace ideas for your outfits with all the popular trends and how and what to wear with them.
How To Wear Beautiful Lace Dresses?
Black and white lace outfits have always been hot trends. But Don't be afraid to try other colors too. Now, these dresses come in a variety of colors that you can match with handbags and shoes too. These elegant Lace dresses can be worn for every occasion but mostly they are meant to be worn for special occasions. 
Most of you don't even know how to wear lace dresses, therefore today we will tell you how to wear them. We all know that the lace trend is quite famous and has stayed strong in the fashion game. There are some unlimited ways to wear lace dresses. If you like to achieve a subtle and elegant look then you must get these kinds of dresses. They bring out a very romantic look. Lace outfits should be worn with tights, leggings, jeans, coats, skirts, etc. There is no hard and fast rule when it comes to wearing a lace outfit.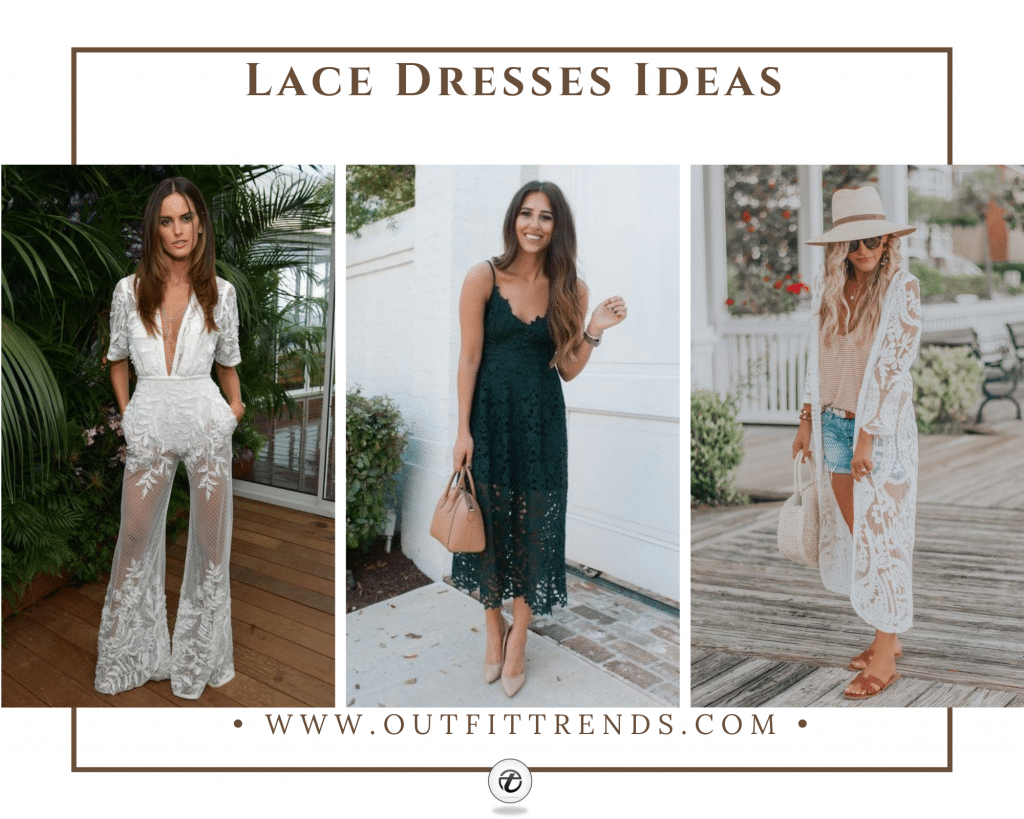 Tips On Styling Lace Dresses
If you want to make a statement, then go for dresses with bright colors.
Try to style your lace dresses with suitable statement jewellery pieces.
Do not wear flats, try to wear a pair of stylish heels to compliment your outfit.
A nice handbag can elevate your lace outfit beyond measures.
Don't wear necklaces with v-neck lace outfits. It will ruin the look.
25 – Styling Lace Shirt With Mini Pencil Skirt
Wanted to style something casual? How about wearing your lace top with a bodycon pencil skirt? Add a touch of gold accessories for a more stylish look.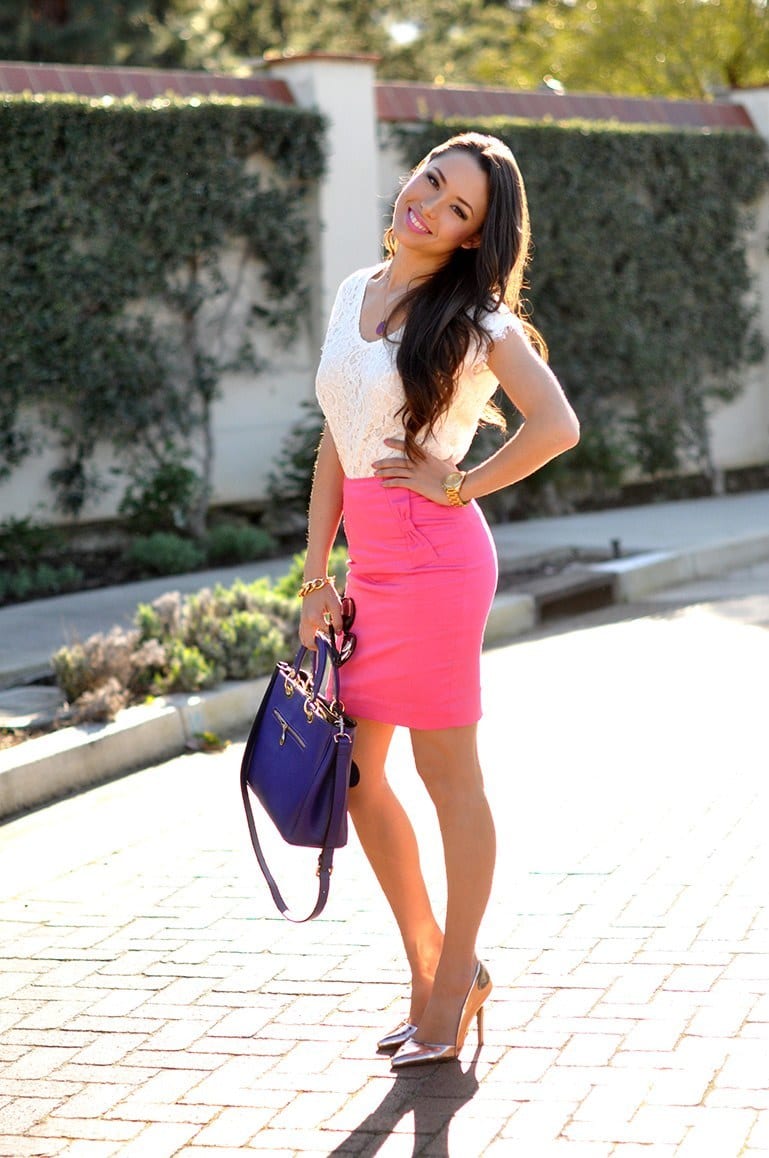 24 – Pairing with Straight Cotton Pants
Wearing cotton pants will always be a good idea to beat this burning summer heat. Just pair your usual lace top with neutral-colored cotton pants and see the magic, it brings out in you!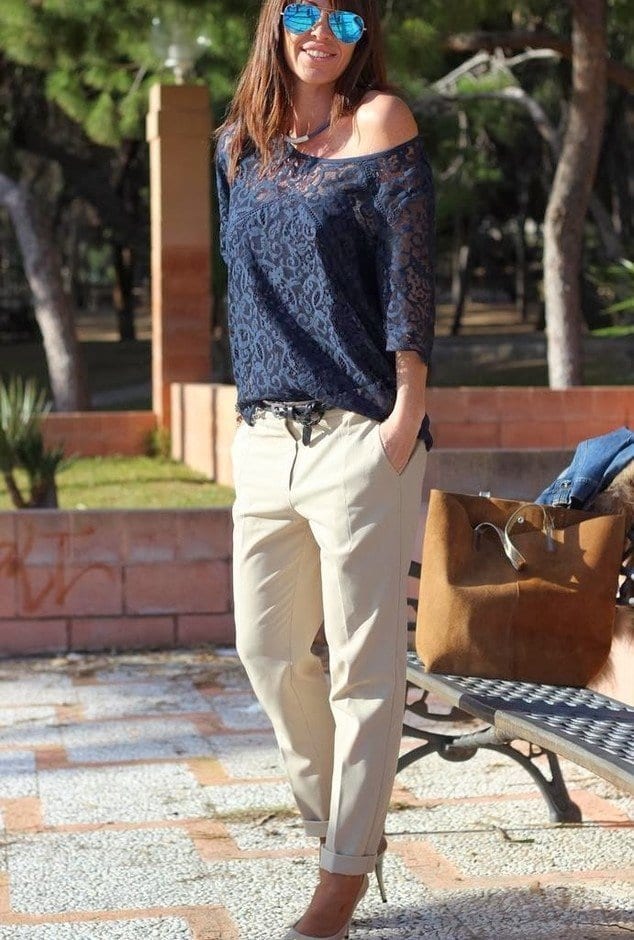 Slay your lunch date in a white sleeveless, crew neck top styled with nude pink cotton chinos and matching footwear!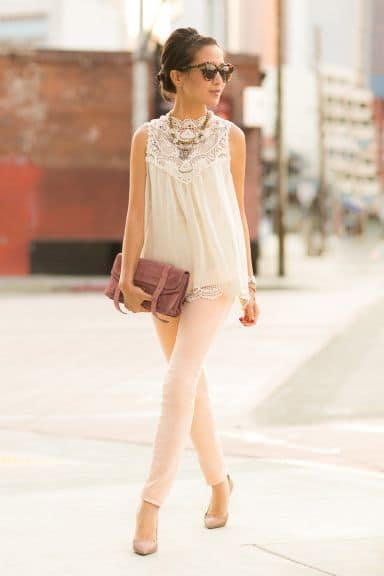 23 – Sheer Sleeves Top with Leggings
Looking for something to style in moderate weather? o with this black lace sleeve top style with a pair of stockings. You can make any of your lace mini dresses worth the while by wearing them with leggings.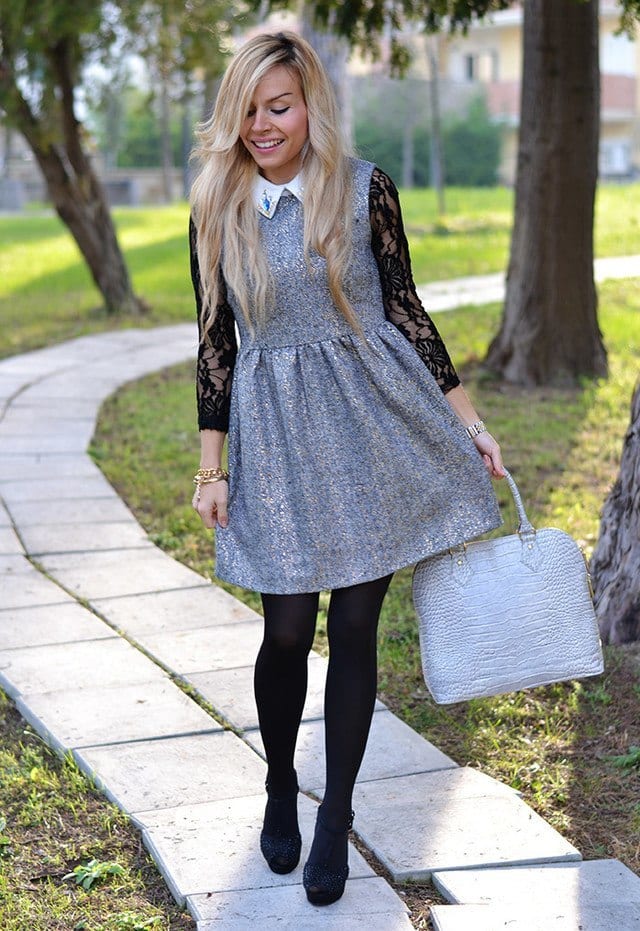 22 – The Chic Skirt Outfit
Skirts are always every girl's favorite outfit to wear on a regular summer day. So, it would be unfair not to mention a sheer lace skirt in this list. Look how cute the girl looks in this little lace skirt styled with a button-down denim blouse and you can too!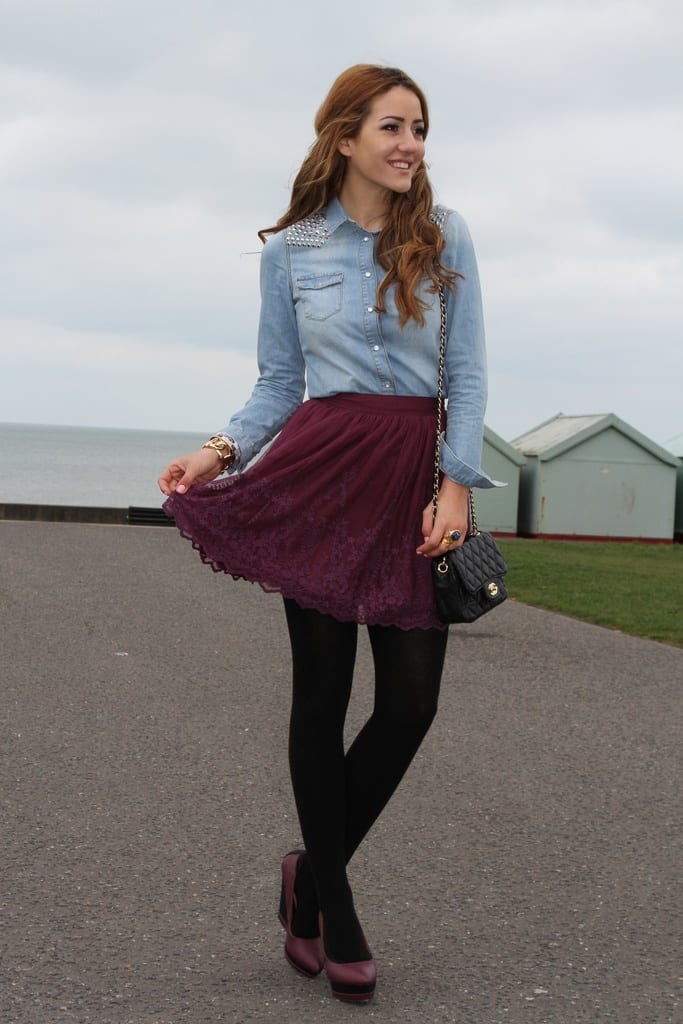 Style your next formal look, taking inspiration from this lace midi skirt look styled with a white cami top.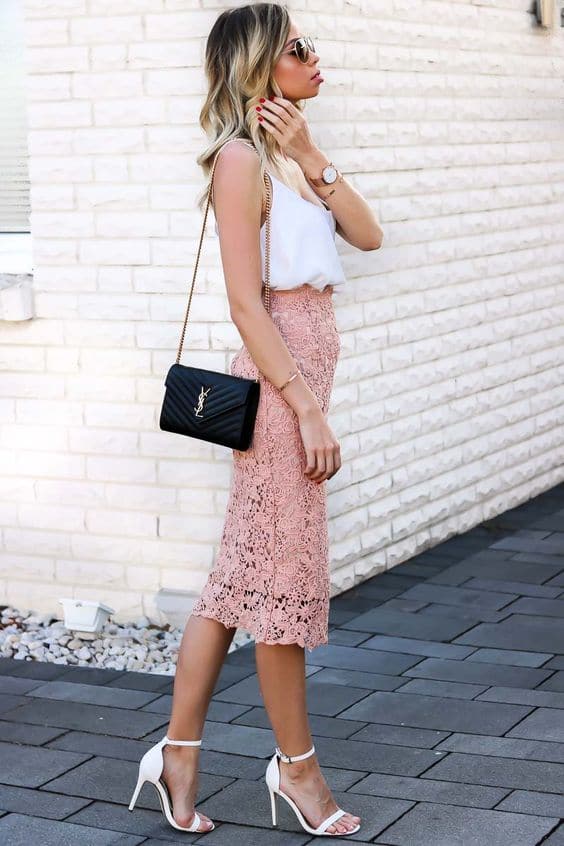 Bodycon Midi lace Skirt 22.99$
21 – Lace Jacket Outfit
Looking for something unique to carry over your dull solid dress? Try wearing a lace blazer jacket and see the miracle happening. A lace jacket has the ability to transform your boring dress into stylish attire. Moreover, you can experiment by using contrasting colors that suit your style.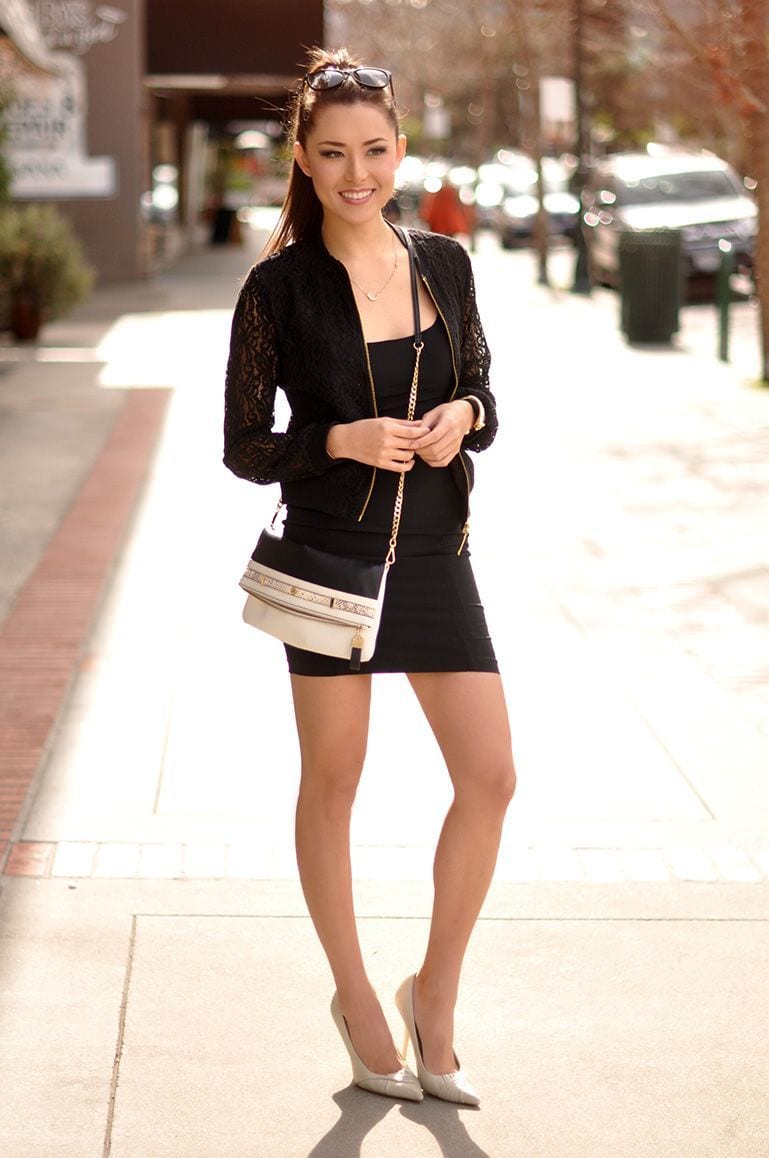 20 – Styling A Classic Black Short Dress
Planning to go to a club or a party? A gorgeous black mini dress will be your rescuer for the day. Wear a plain black lace outfit and style with some statement accessories and you are ready to slay the day with your fashion game in check.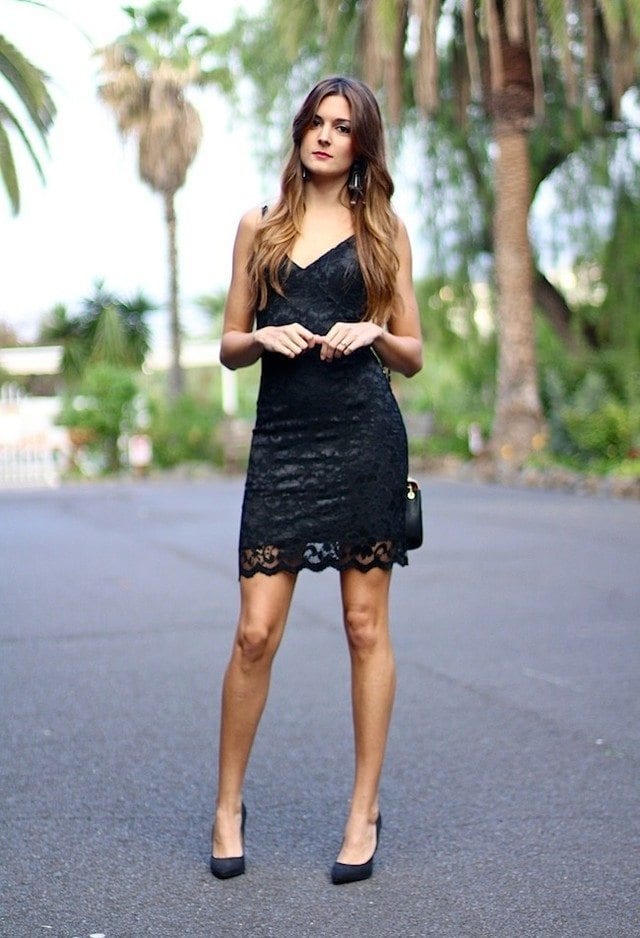 Black Bodycon Lace Dress 19.99$
Look how stunning this woman looks in a quarter sleeve mini lace dress Styled with matching accessories and heels!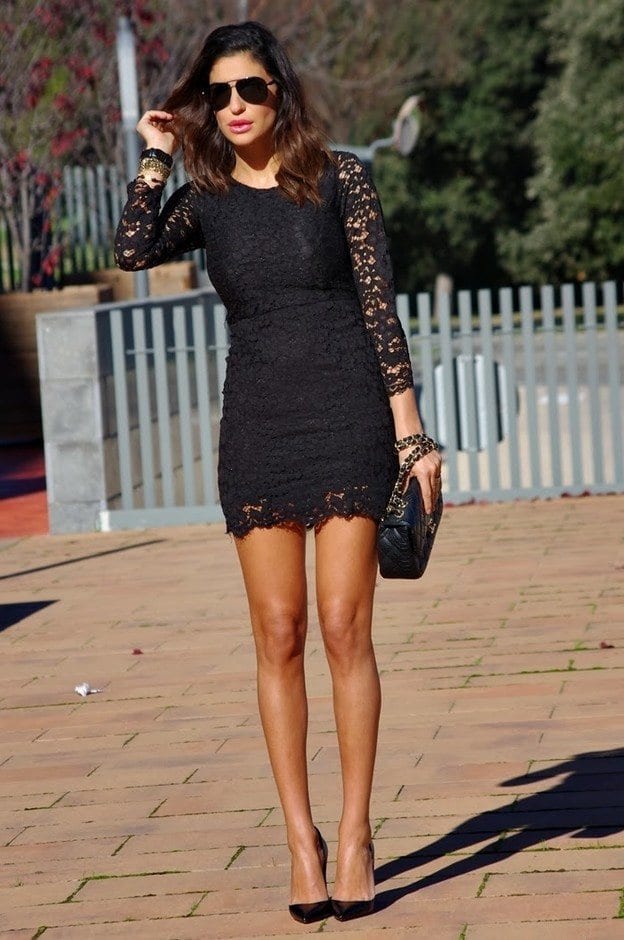 Fullsleeve Bodycon Lace Dress 32.99$
19 – Front Open Long Lace Dress
Summer parties are always fun. But, the actual problem comes when you can't decide what would be a decent casual attire to wear on a hot day event. Not to worry, we have a perfect long lace cardigan look for you. You can wear it with a pair of jeans, shorts, palazzo pants, or even cotton leggings and pull off a really cute and casual summer look within no time.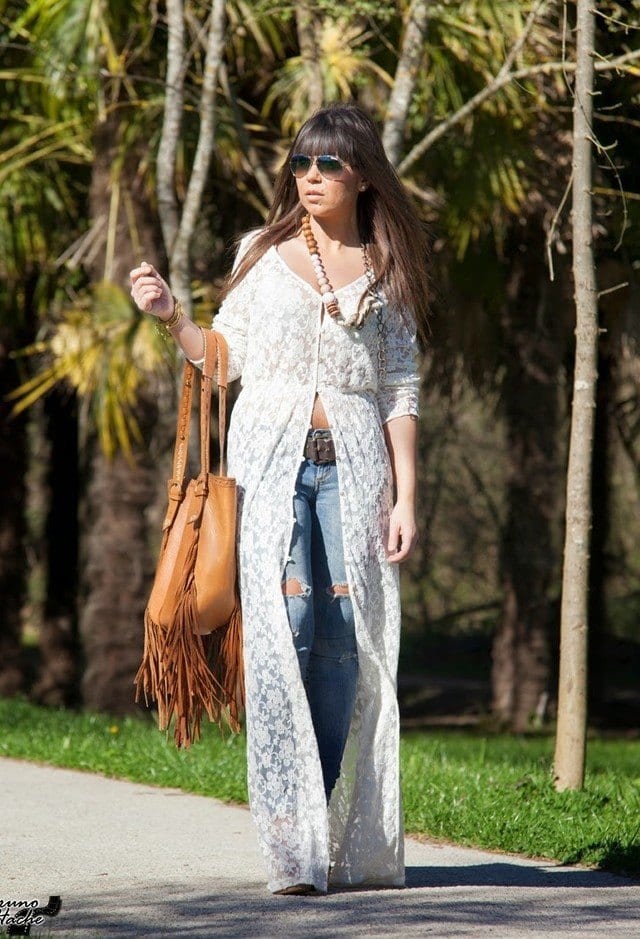 White Lace Kimono Cardigan 21.99$
Look How cute this vest outfit look styled with denim short and a lace cardigan. This girl surely got some skills in fashion and it shows!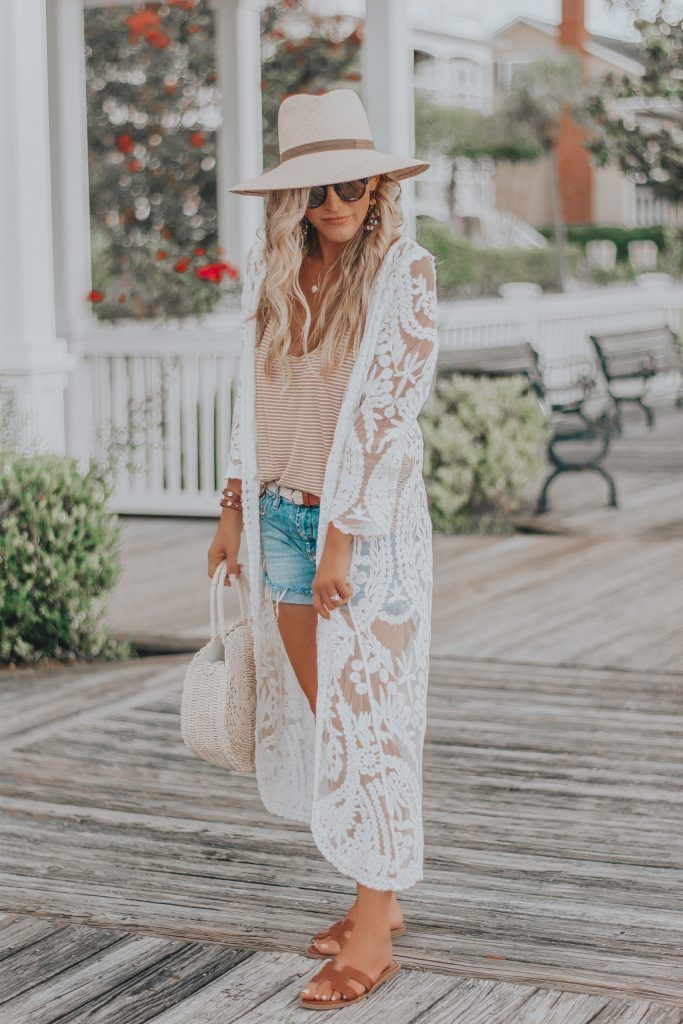 Via
18 – How To Wear A Lace Dress With Blazer?
If you are into some more sophisticated styling. This outfit inspiration is made only for you. You can easily add a classy touch to your casual lace outfit by pairing it off with a solid-colored blazer.
Pro Tip: Try styling your blazer in a contrasting color to your outfit for a more defined look!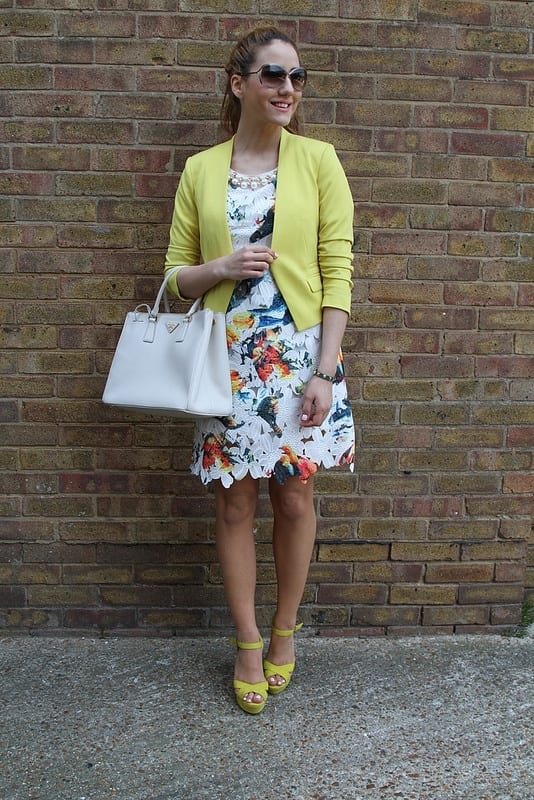 17 – Black Top with Skirt Idea
Looking for something to style with your casual pleated maxi skirt. Try using your casual lace top, Trust me You will never be disappointed!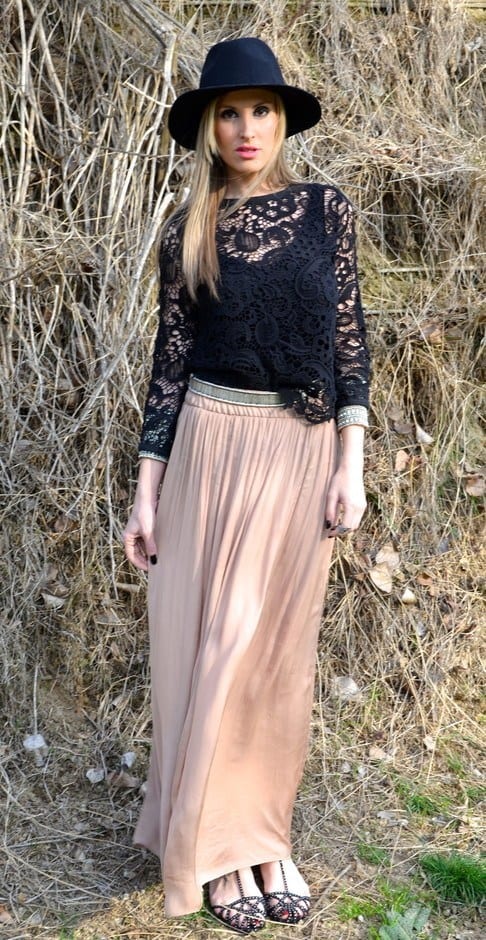 16 – Styling with A Leather Vest
Are you a person who feels too cold but still wants to look stylish? Not to worry just wear a faux leather vest with your ruffle lace mini dress and pair it up with stockings and heels to add some warm glam to your entire look.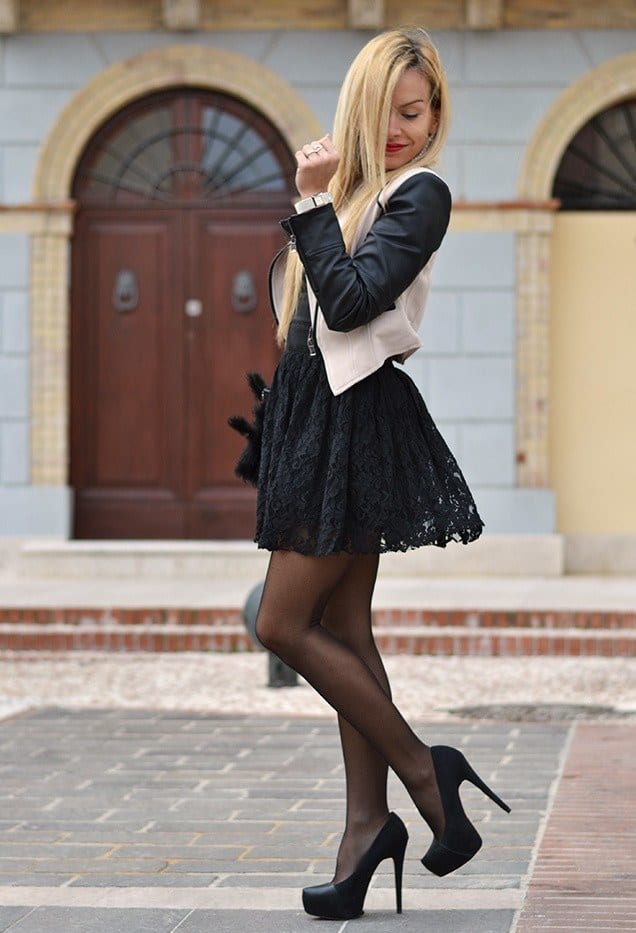 15 – Shoes To Wear With Lace Outfits
The most important aspect of styling a lace dress is the right choice of footwear. A lace mini dress looks best with high heels, it can be pointed-toe satellite or ankle strap. If you are styling a lace top with shorts flat slides or sneakers will work well. Moreover, for winter's tall leather boots are a good option to wear with your lace dress outfit.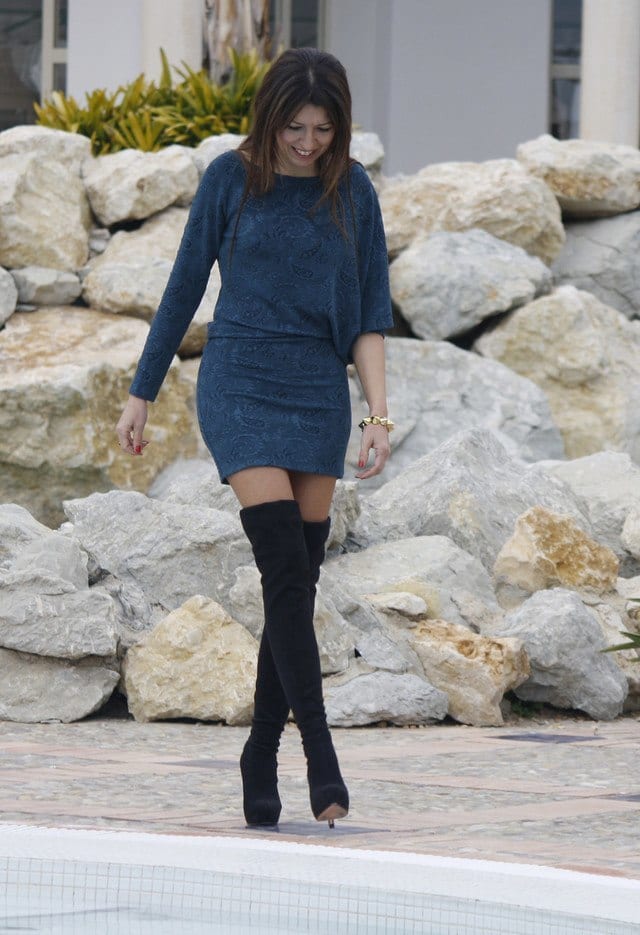 14 – Peplum Top with Jeans
We all need outfits in our wardrobe that we can wear on a usual sunny day, not worrying about our look or style. Here is another casual but beautiful outfit inspiration for you to wear on those tricky days. Style your usual peplum lace top with your denim jeans and you are good to go, ready to take over the world with your style.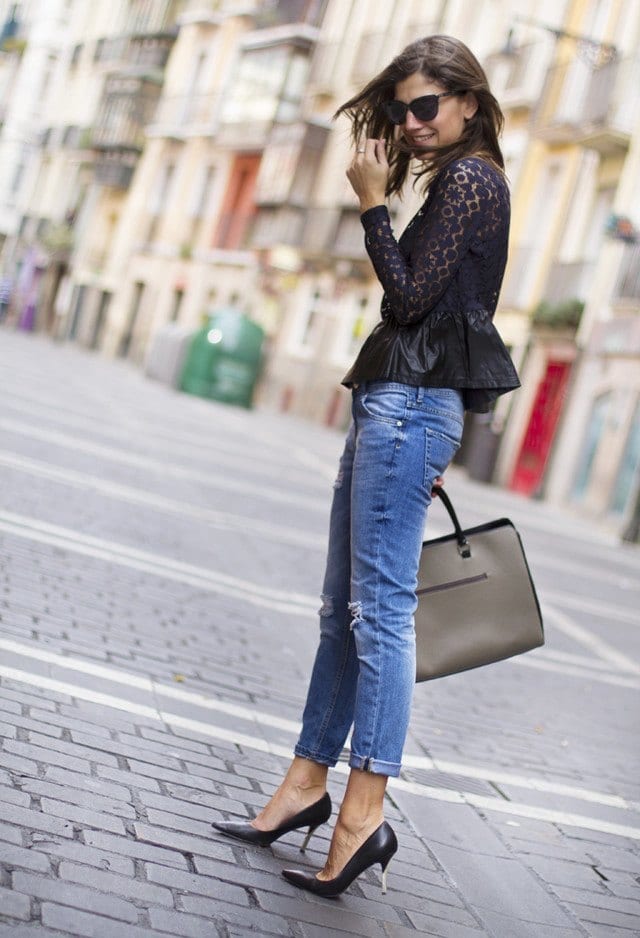 Look how amazing this nude peplum top looks styled with a pair of glasses and distressed jeans.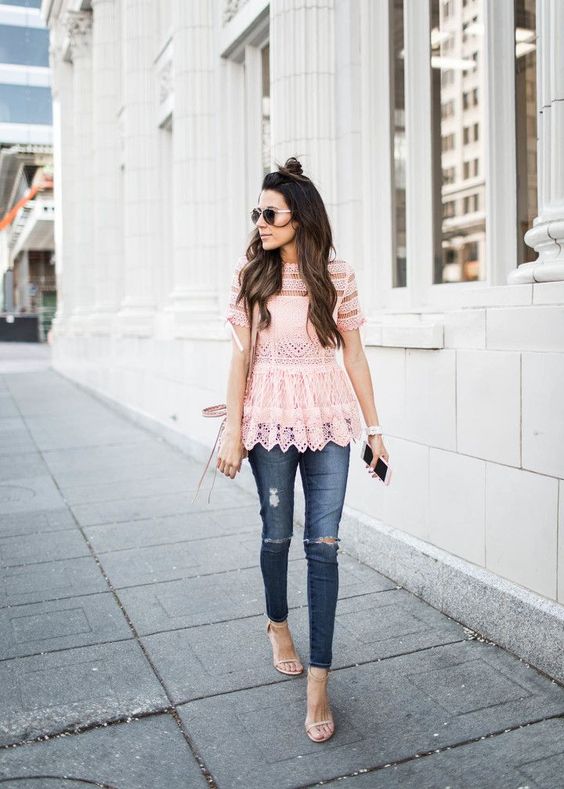 13 – Semi-Formal Skirt Look
Inn for some glitter fun? Style your casual maxi skirt with a subtle glittery lace top and some suitable accessories, for an effortless casual look!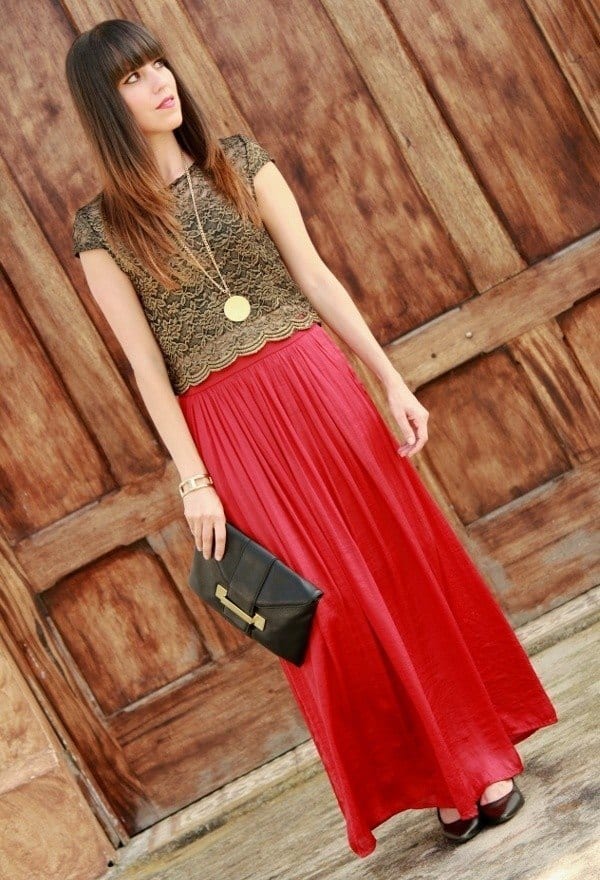 12 – Short Dress with Sweater
This look is for cold winter days. When you struggle to look fashionista with your layers on. Just wear your pretty little lace dress and style with a solid matching sweater for a warm vogue look!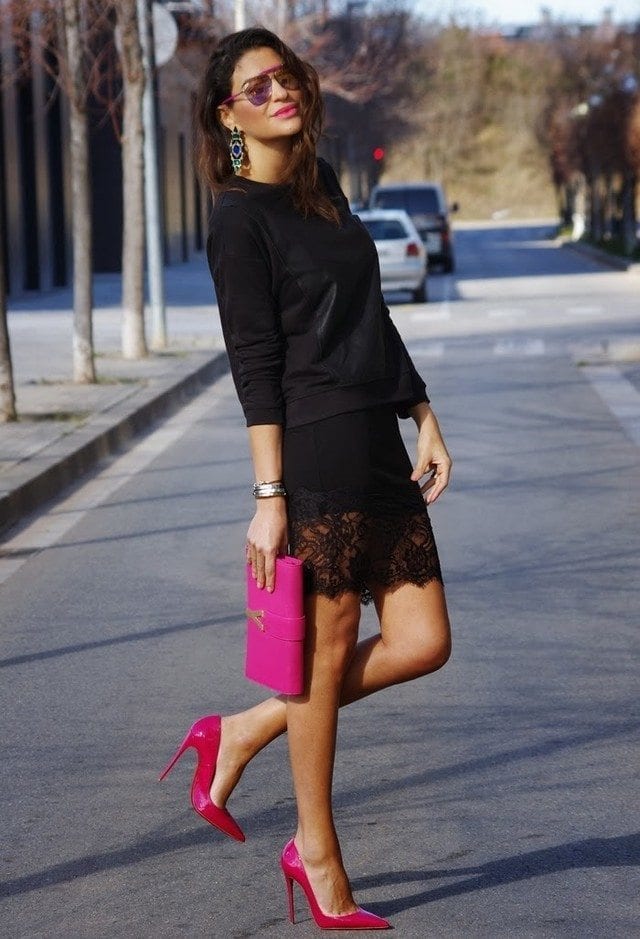 11 – Casual Everyday Look
Style your printed lace dress with a long cardigan sweater for an everyday winter vibe. Moreover, you can add a touch of leather for a more defined look.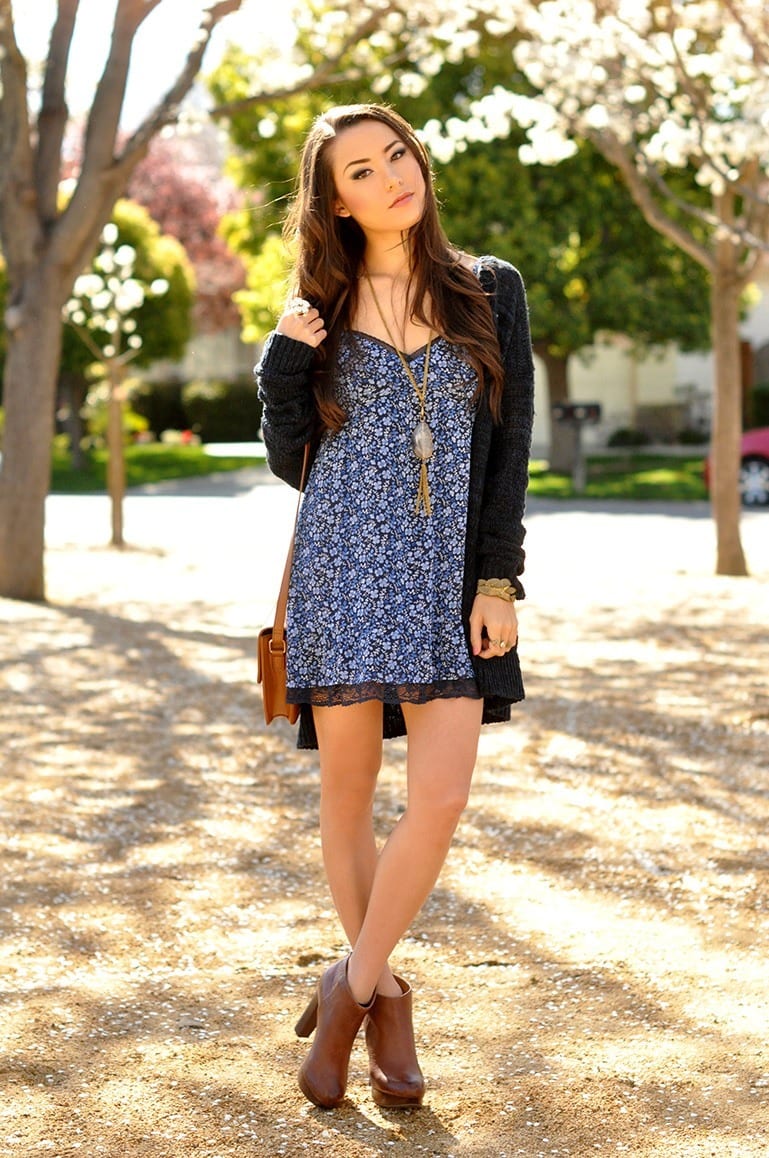 10 – What To Wear With Denim Jacket?
Denim jackets are everyone's favorite outfit to pair in spring. As they give you the perfect amount of warmth, not too cold and not too warm. Do not believe me? Try it yourself with this outfit inspiration!
9 – Sheer Shirt with Maxi Skirt
Look how cute this sheer top looks, styled with a gorgeous maxi skirt and the perfect amount of accessories.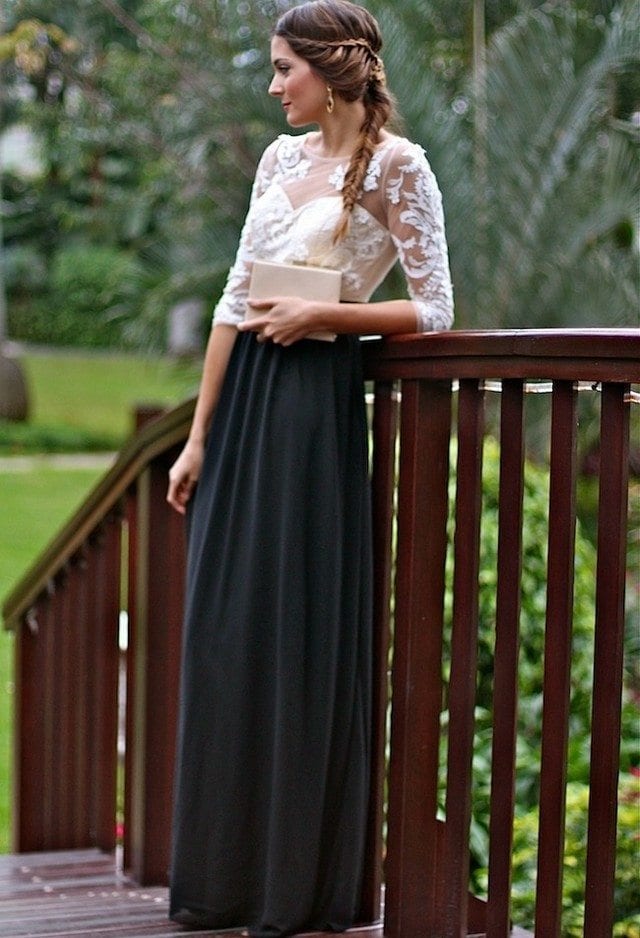 8 – Sexy Lace Dress
Style your lace dress with contrasting jewelry and clutch and be a slayer at your next wedding party!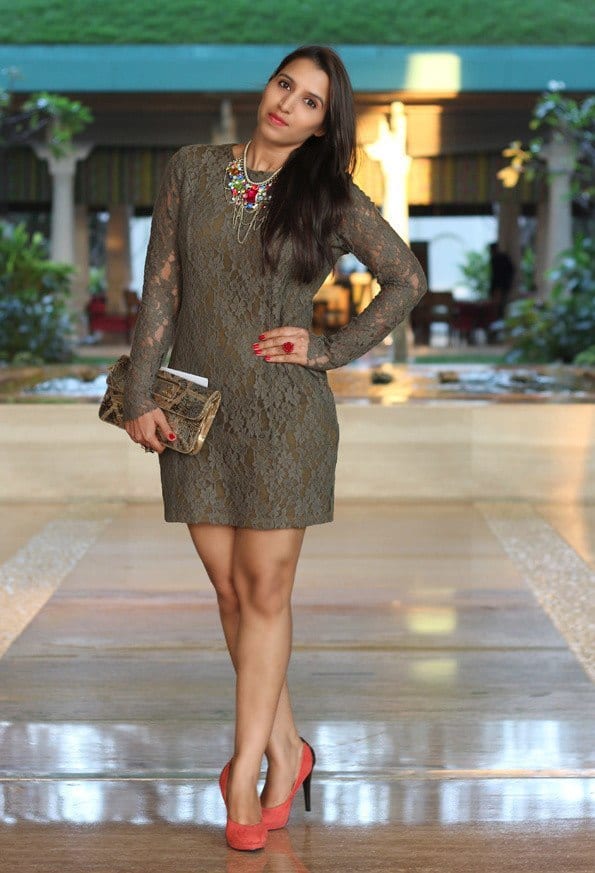 Style in nudes and be a diva!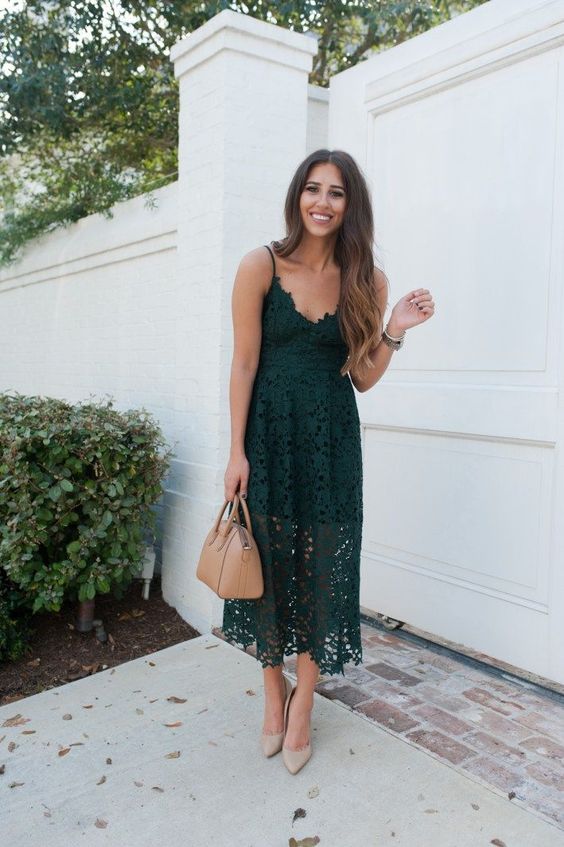 7 -Winte And Black Lace Top Outfit
Layering is an art and this girl is surely an artist for pulling for such a fun winter look with this white lace top!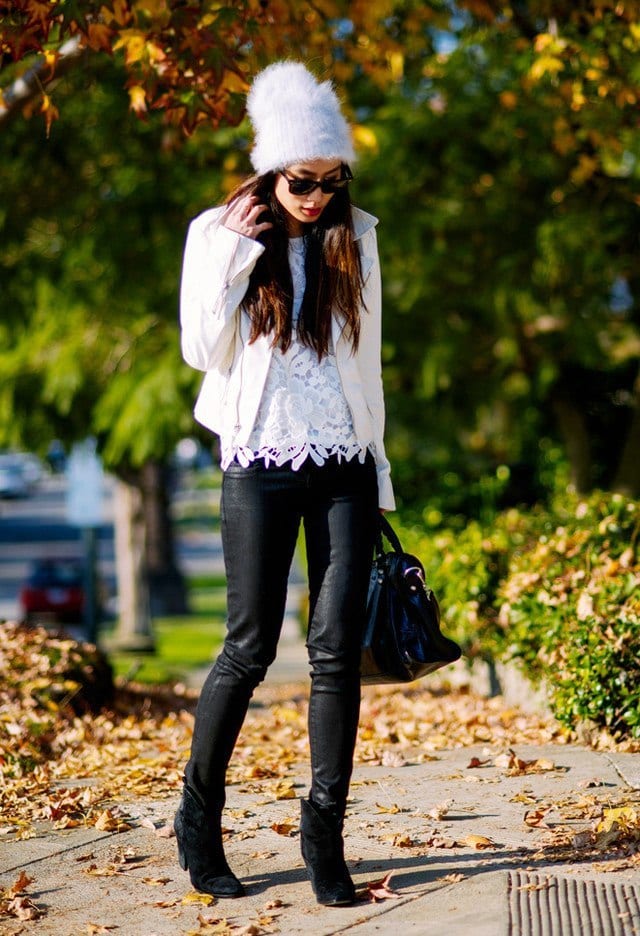 6 – Styling A Hat with Lace Outfit
The right accessory can elevate your look beyond measures!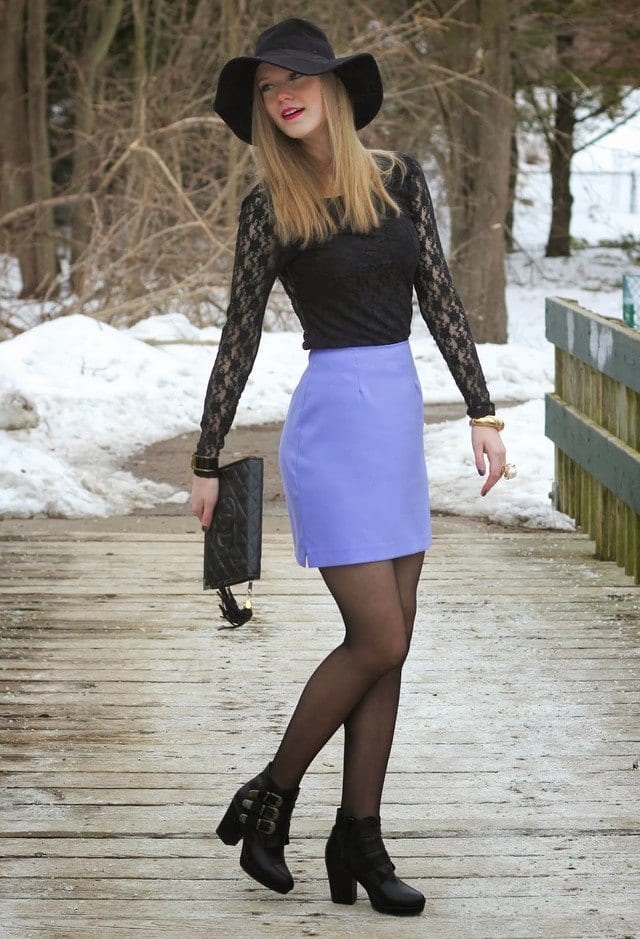 5 – Styling A Party Look
Take inspiration from these cute all glam lace outfits for your next wedding guest look and be the stunner at the party.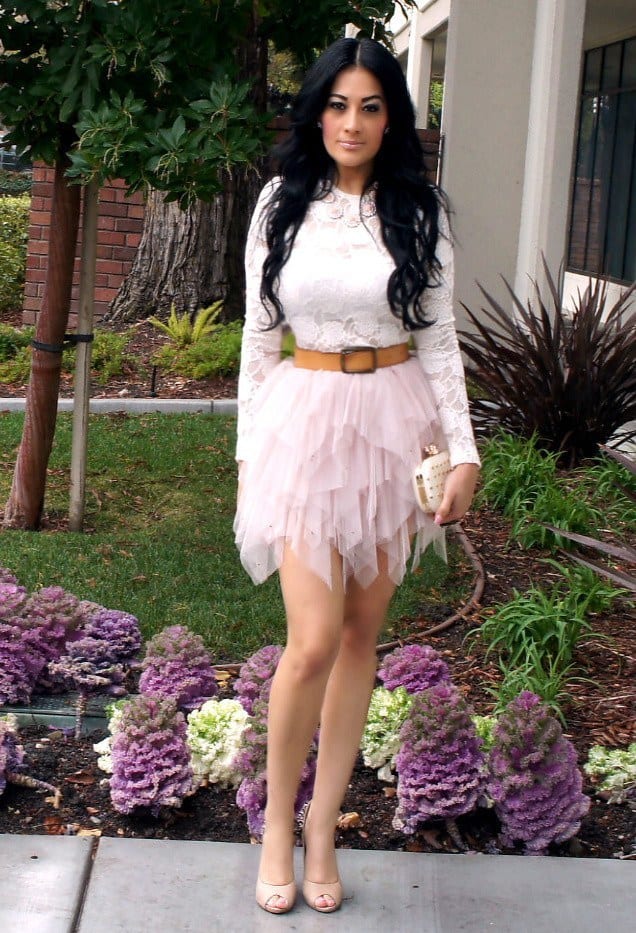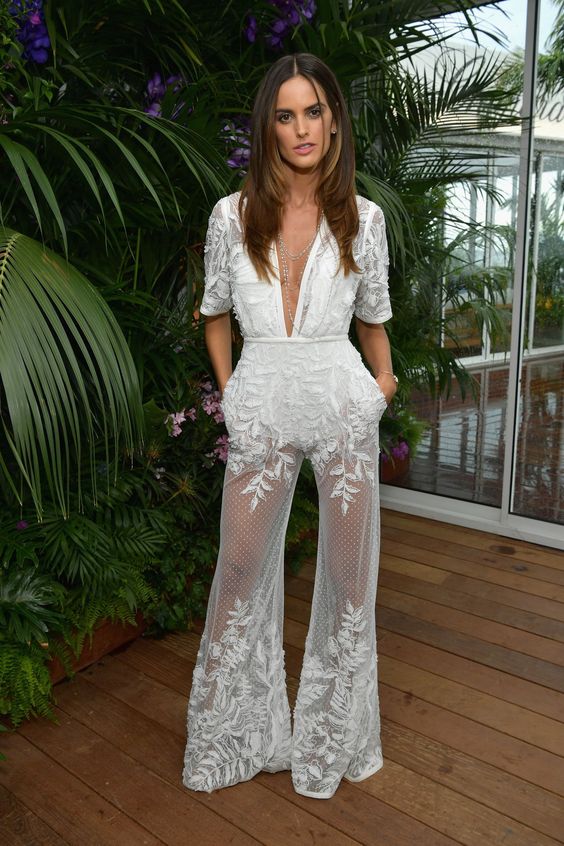 4 – Cool Beach Cover Up
A perfect crochet lace look for your next beach party!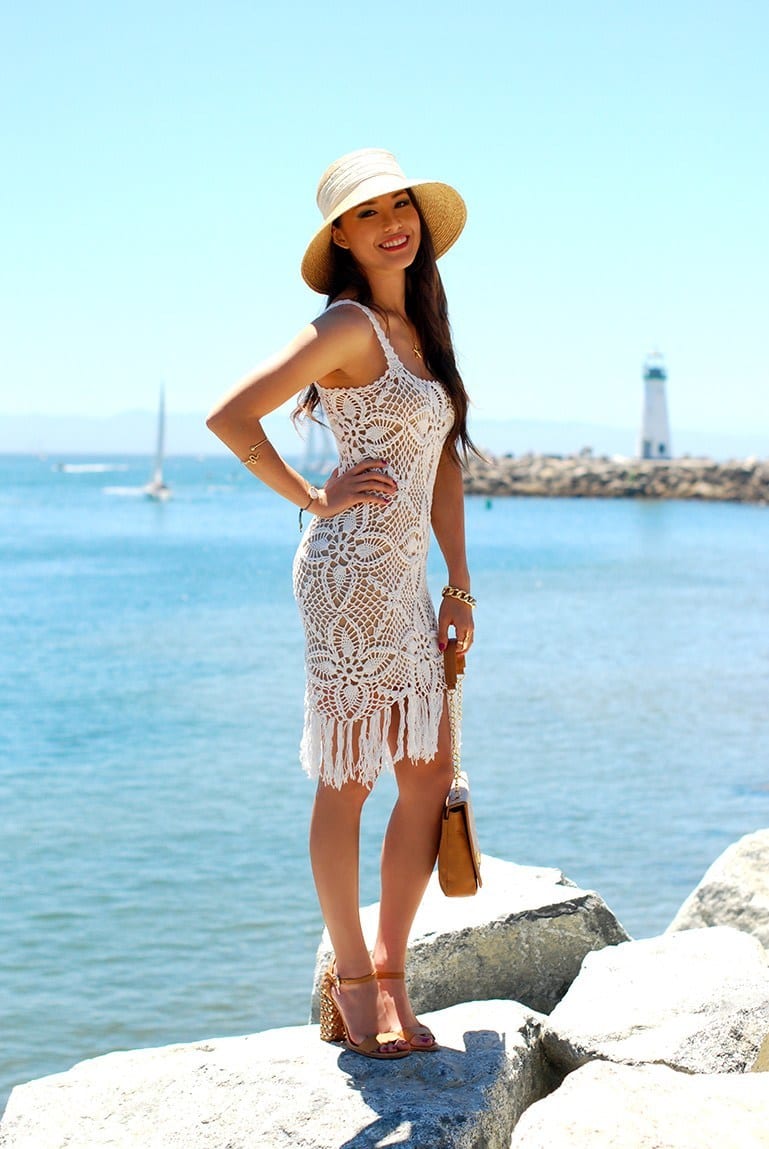 White Lace Beach Cover Up 29.99$
3 – How To Wear Shorts With Lace Top ?
Wear your regular denim shorts with a lace top and colorful accessories to beat the summer heat in style!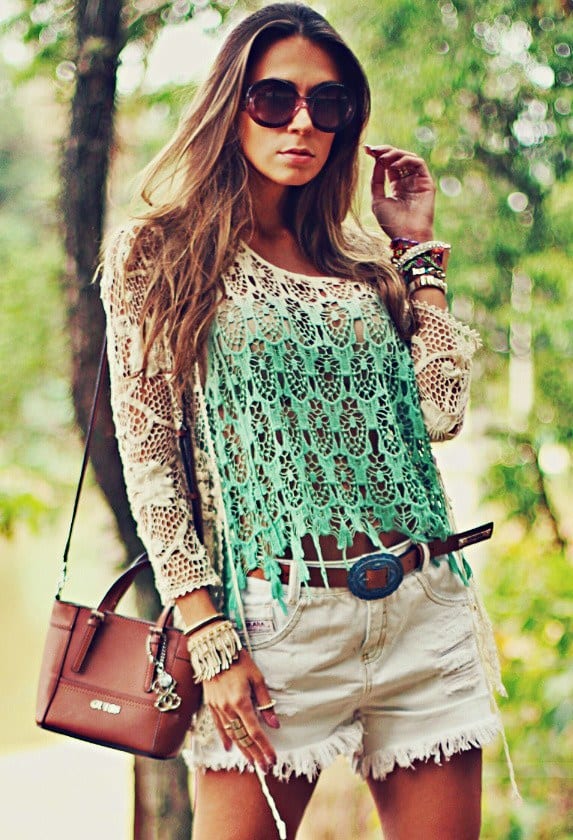 2 – The Street Smart Summer Outfit
Wear your summer lace dress and roam around the streets as you own them!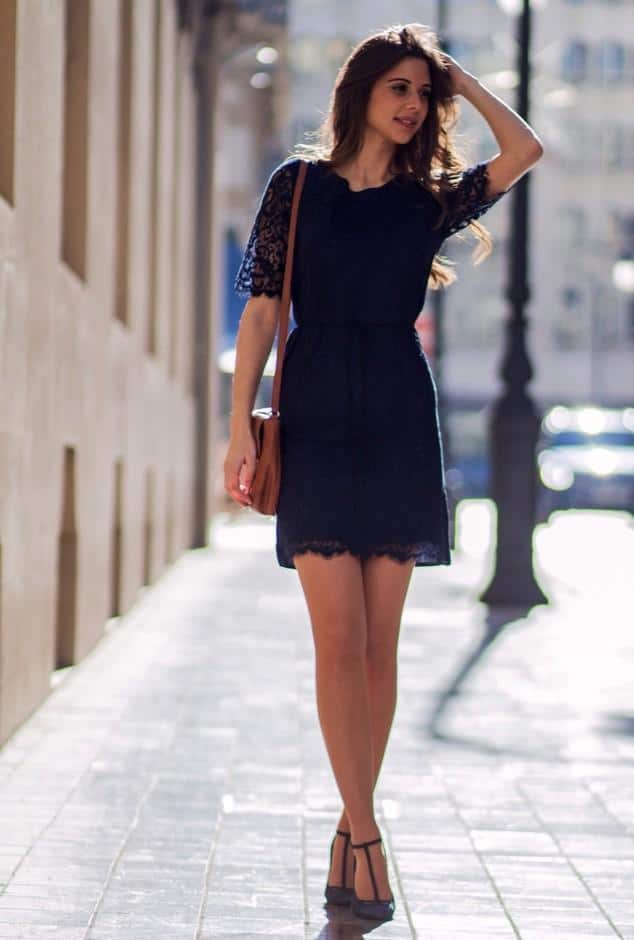 1 – Black Lace Maxi Dress
This gorgeous halter neck lace maxi dress is all the glam you need in life. So, take inspiration and be the ultimate style diva at your next party.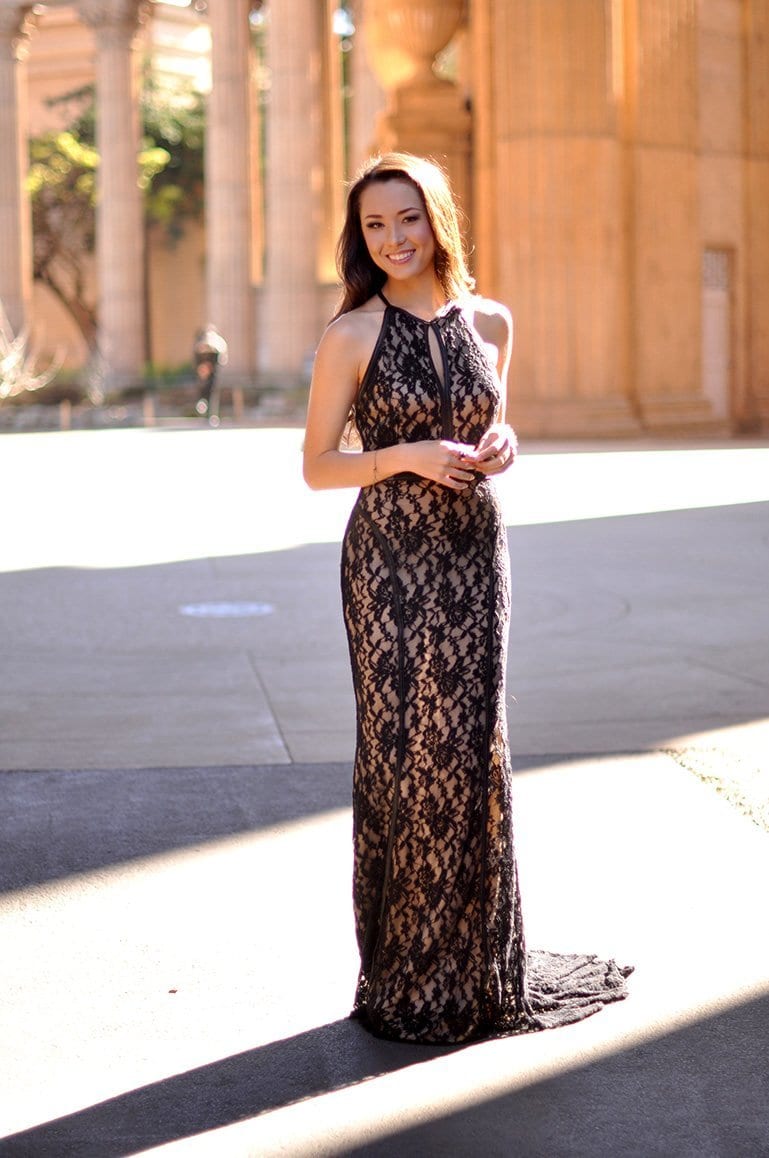 Halter Neck Black Lace Maxi Dress 96.73$
Frequently Asked Questions
Q: What do you wear under a lace dress?
Ans: For summers, a cami top would be a suitable option to wear under your lace dress but if you want to go for a formal look, wear a sheer blouse with a decent bra underneath. You can also try wearing a bandanna scarf top with your lace top dress to add a fun factor to your overall attire. For winter, you can wear a solid and thick sweatshirt.it will not only look pretty but also provide you with the required warmth.
Q: Are lace dresses in style for 2022?
Ans: Being the most versatile piece of clothing, lace outfits never go out of style. On those most undecisive when you can't figure out what to wear, these dresses will be your ultimate savior. But, in 2022, lace has become the raging fashion, you will see it everywhere from fashion runways to designers stores and on the streets.
Q: Can a lace dress be casual?
Ans: With one lace dress in your wardrobe. You are ready to pull off every casual or formal event in style. As you can pair your lace top with jeans or skirts or wear a mini lace dress with sneakers with some light accessories to pull off an everyday look. Moreover, you can make your lace dress look more casual by adding a denim jacket or vest over it.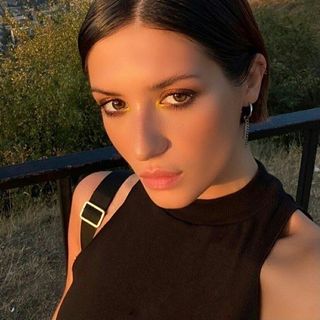 Avid reader and Fashionista. London Based freelance lifestyle editor