Outfits with Sheer Skirts. Sheer skirts aren't for everyone. It is a rather tricky fashion to pull off. The trick isn't just confidence here but also style. Because one mistake and you are a walking fashion fiasco.
However, there are some ladies for whom trying on each attractive item of clothing is a must. Even if you aren't among those lasses and fear that wearing a sheer skirt would be a bad idea, know that there are several classy ways to sport it. If you are brave enough to try sheer skirts, then you are in the right place. Here, we will discuss ways you can rock sheer skirts without making any blunders.
What To Wear With A Sheer Skirt?
Sheer skirts aren't too exposing if that's your biggest fear. You can always layer under or over it to make it look modest. Here are some tips that can be of help. Keep them in mind when you decide to wear a sheer skirt outfit.
If you don't want to show too much of your legs, wear leggings beneath the sheer skirt. Printed pants will also work.
There are many colors of sheer skirts, but black looks hottest.
Be confident. Wear heels or boots for a bold look with your sheer skirt attire.
Experiment with style and go for color combinations that make you look fab.
Add accessories such as hats and watches for a chic look.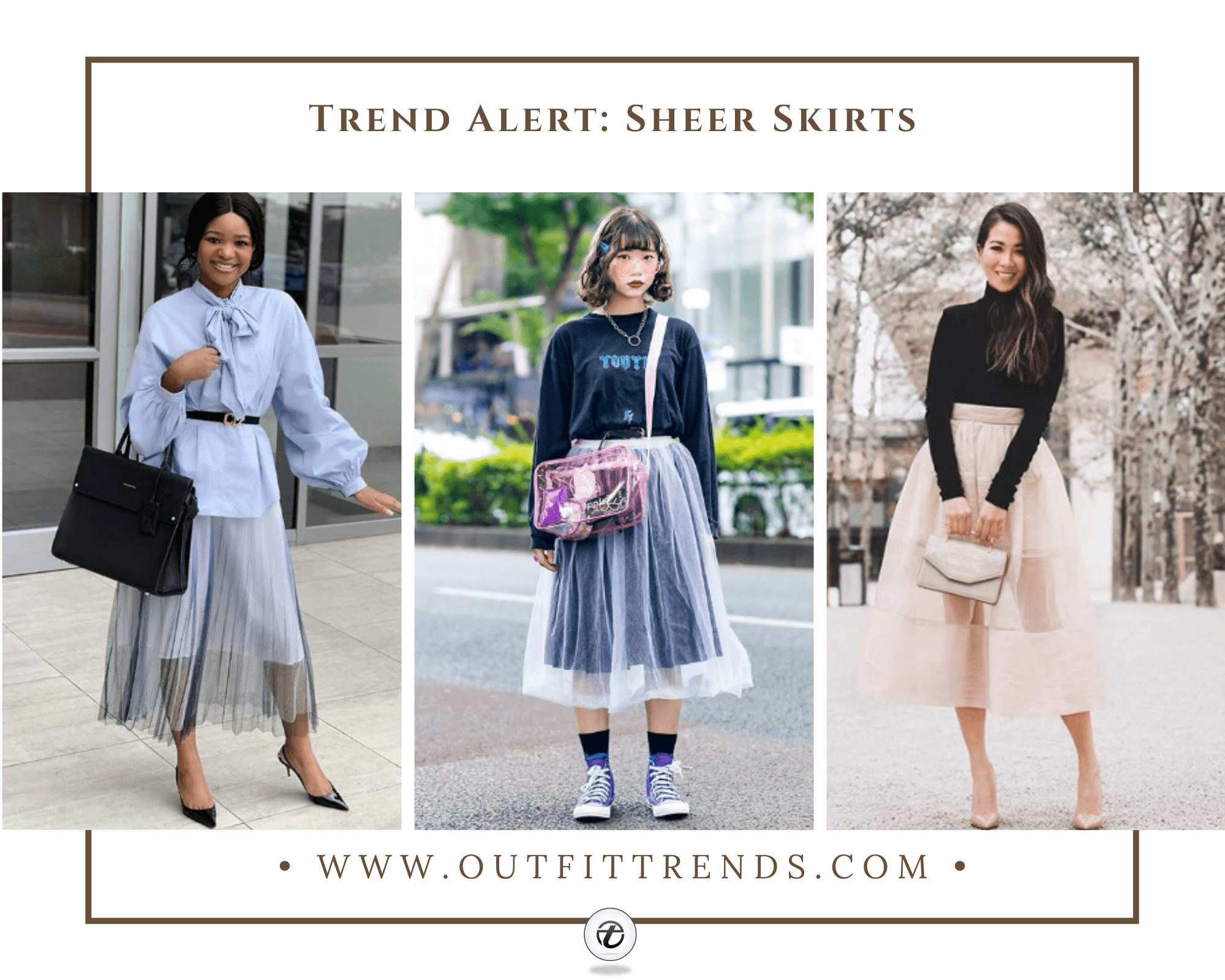 Now, let us have a look at our top sheer skirt outfit combination. Keep on reading!
↓ 29 – With A Polka Dot Top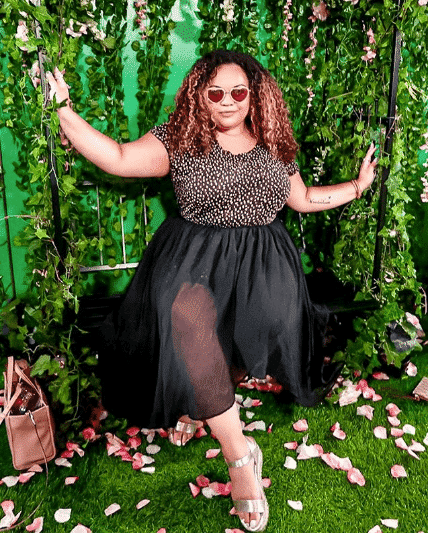 ↓ 28 –  With Plaid Tops
Mix two ideas and create a whole new fashion trend. Slip into a black sheer tulle skirt and pair it up with a plaid shirt. Wear a leather jacket over it and pair up your cool outfit with a beanie and strappy sandals. Wear this look in winters and look all compelling and gripping. Take off the jacket and beanie, and your summer outfit is ready!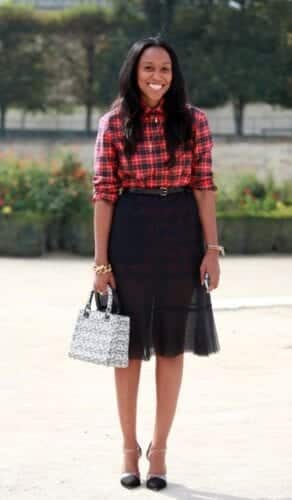 ↓ 27 – With Shimmery Tops
Fancy is probably the first thought that pops one's mind when they think of a sheer skirt. You might want to dress up in a sheer skirt to a party and steal the spotlight. Look like a doll in this white fairy knee-length tulle skirt and Sparkle sequin V neck Cami club tank. Accessorize your look with sparkly silver heels and rock it!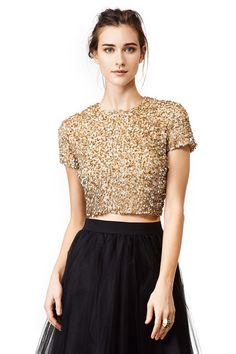 ↓ 26 – With Sweaters
Gone are the times when people used to limit outfits based on their shape and size. You can pull off any piece only if you style it appropriately. If you are plus-sized and want to wear a sheer skirt, then go ahead and do it. Slip into a plus-sized ribbed sweater along with a sheer floral metallic skirt. The sweater underneath with cover up your thighs for a slimming effect. Add a belt to cinch your waist. Polish off your thrilling outfit with glossy strappy heels and drop-down earrings. You will be falling all head over heels in his all-gold look.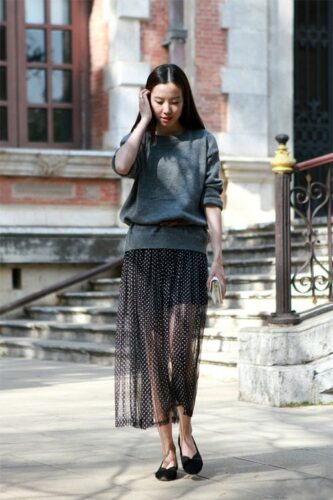 ↓ 25 – With Shearling Coat
Sheer skirts are not restricted to any weather or season. You can wear them whenever you want, but make sure to style them accordingly. If you are planning to wear a sheer skirt in winter to a friend's birthday, then this is for you. Doll up in a black Mesh Accordion Pleated skirt and blacktop. Accessorize this ensemble with a light blue shearling coat and boots. Let your hair open and brush off your look a fresh lipstick and eye color. You are all set to go!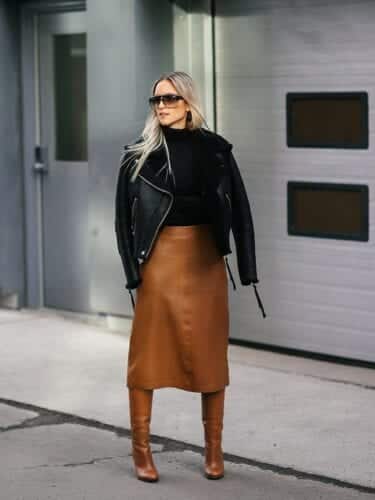 via
↓ 24 –  With A Button-Down Shirt
You must be thinking of a classy way to a sheer skirt. How about wearing your favorite skirt with a while collared and button-down shirt? Tuck your shirt inside the skirt or tie a knot in the center. It is the perfect party look which you can create with these skirts. Wear this attire along with embellished sandals. Accessorize your look with statement jewelry and polish it off by wearing your hair in a half-bun. Go for heavy makeup as your outfit has soft and subtle shades.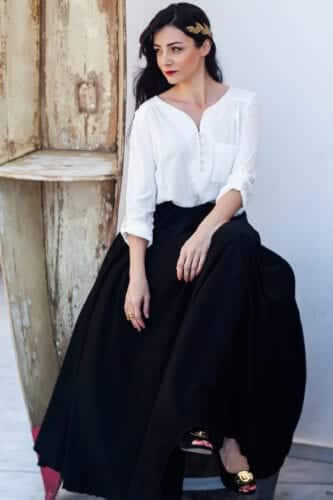 ↓ 23 – With A Monochrome Outfit
Lady, dress up to kill tonight! Slip into an all monochrome outfit and turn everyone's heads.  Wear sky blue Mesh Ruffle Skirt along with a silk top with lace detailing.  This color combination would suit anyone but it looks a little too striking on black women. So, girls dress up in it and pair your spectacular outfit with high heels. Accessorize your look with a handbag, and you are all set to go. A little rouche ain't never hurt anybody, remember that!
↓ 22 – With Graphic Tees & Leather Jackets
Sheer skirts are undoubtedly edgy, trendy, and fashion-forward. If you are tomboy and want to try something girly, then try this on. Wear a white graphic tee shirt along with the black sheer pleated skirt. It as an ideal street style too. Go for white sneakers with this gear and wear a black leather jacket with it to make your outfit look a little more sophisticated and snappy. Accessorize your look with statement jewelry and shades. Go ahead, girl, and conquer the world.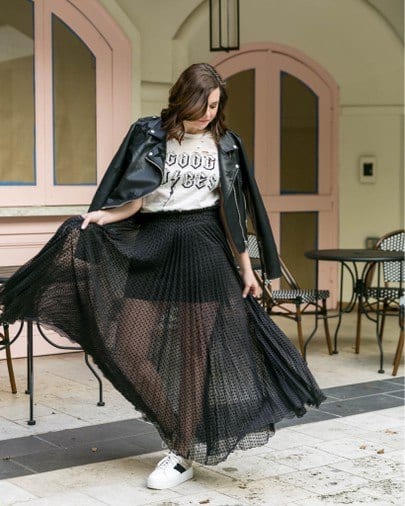 ↓ 21 – With Flared Pants
Have you ever thought of wearing a skirt with pants? If not, now is the time to do so! Get yourself a sheer layered ruffle full skirt and wear black flare pants underneath them. Pair this combo with a metallic full sleeve top. Accessorize your awe-inspiring gear with black pumps and a hat. You can wear this outfit to any party where you want to look unique. Polish off your look with some solid accessories and natural makeup.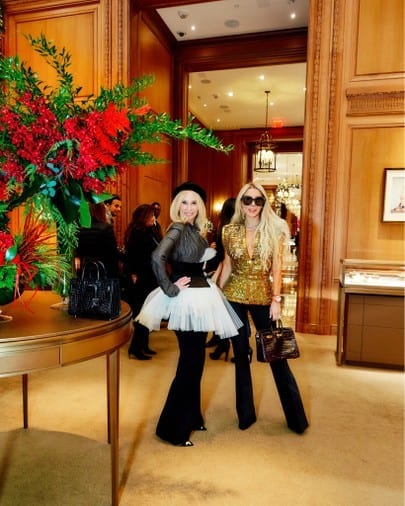 ↓ 20 – How To Wear A White Sheer Skirt?
White sheer skirt maxis look spellbinding. You might be afraid to wear them, but they actually look very sophisticated, so there is nothing to fear. Embrace your inner diva and rock a sheer white maxi skirt. Pair it with a pink baby top for a classy look. Or you can wear a white top over the white skirt and throw on a denim light blue jacket for an adorable yet smart appearance.
Maxi skirts are one of the best summer essentials, and they are also great for girls and women who want to dress modestly. When wearing a sheer skirt, you can layer under it with leggings, tights, shorts, or a mini skirt for a modest look. In fact, you can also wear palazzo pants in a contrasting color under your sheer skirt for a unique and decent look. Do check out these 12 Ways to Wear Maxi Skirts.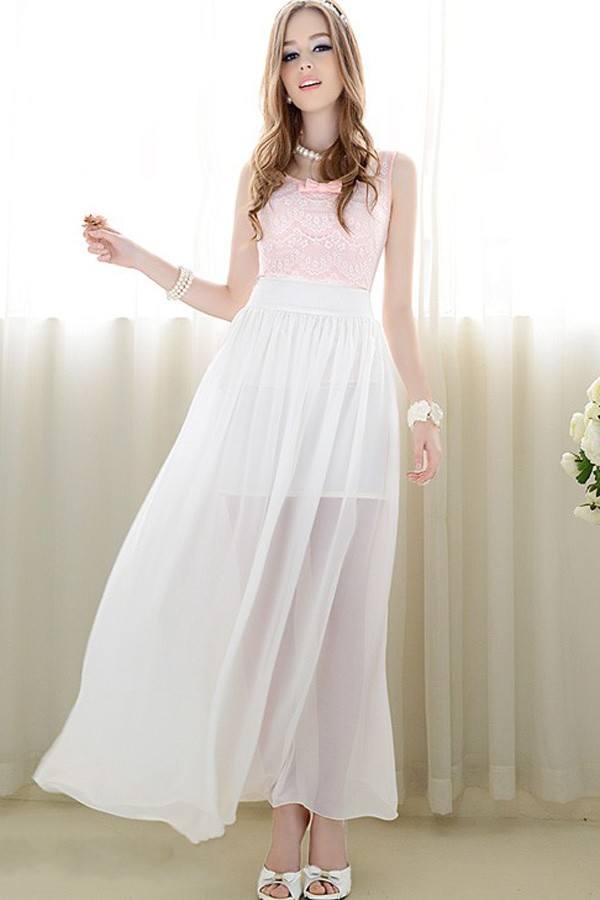 Via
↓ 19 – Celebrity Style
A sheer overlay skirt can make you look like a goddess. Check out how gracefully Selena Gomez has carried it. You can look this elegant wearing it as well!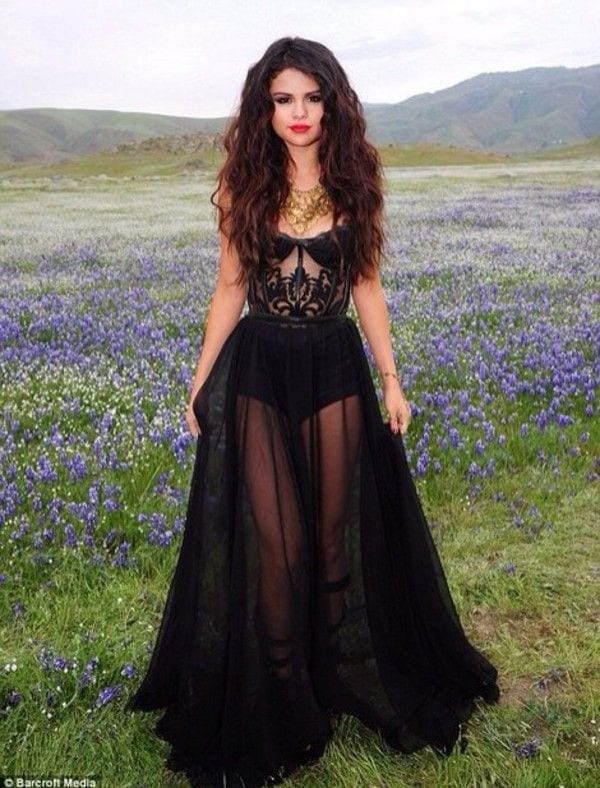 ↓ 18 – With Sequin Tops
Sheer maxi skirts look very stylish. Pair a sheer skirt with a crop top and add a jacket for comfort. You can wear it with a full sleeves shirt as well. That way, you'll look nerdy yet hip. You can pair the skirt with a button-down shirt too and throw on a sequin shirt over it for layering it in a trendy manner. A pure chiffon maxi sheer skirt looks classy and fabulous! This rough and casual hair is ideal for lazy days, here are some more Cute Lazy Day Outfits for Lazy Girls.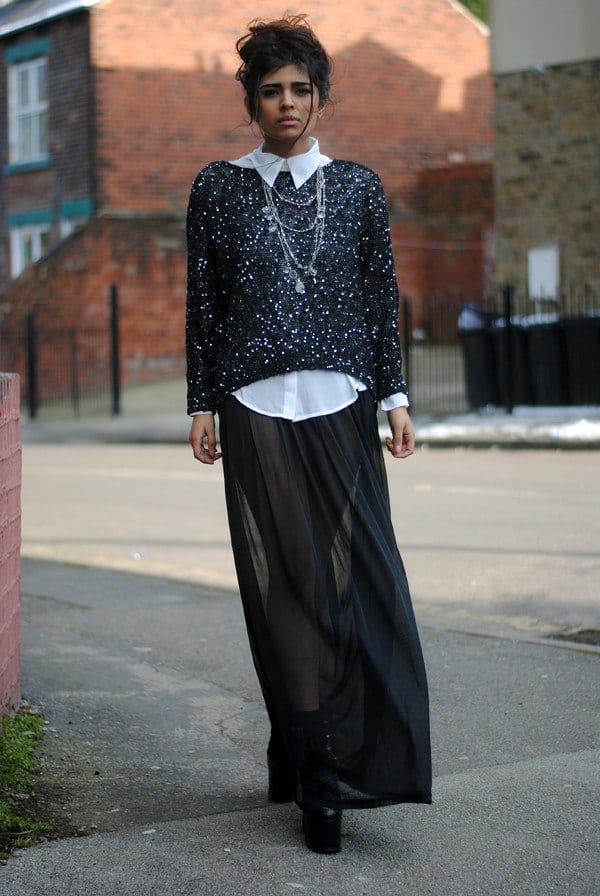 ↓ 17 – With Shorts Underneath
The shorts and sheer skirt combo is very eye-catchy. Shorts look cute, and the skirt looks stunning. Together they look funky and fun yet neat and crisp. A pair of denim shorts under the sheer skirt should be your desired look. Or you can wear a sheer black skirt over black shorts to tone down the funkiness.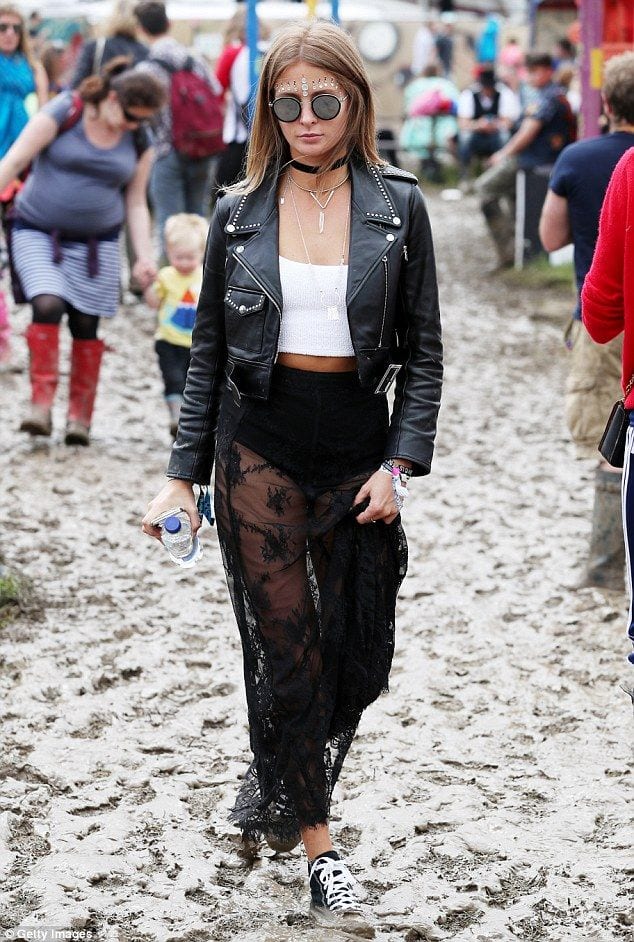 ↓ 16 – With Striped Tops
If you think the shorts would leave too much uncovered, you can go for a short skirt beneath the long sheer skirt. The look is contemporary and trendy. For more incredible street style inspiration, here are Popular Spring Street Style Outfits Ideas For Women.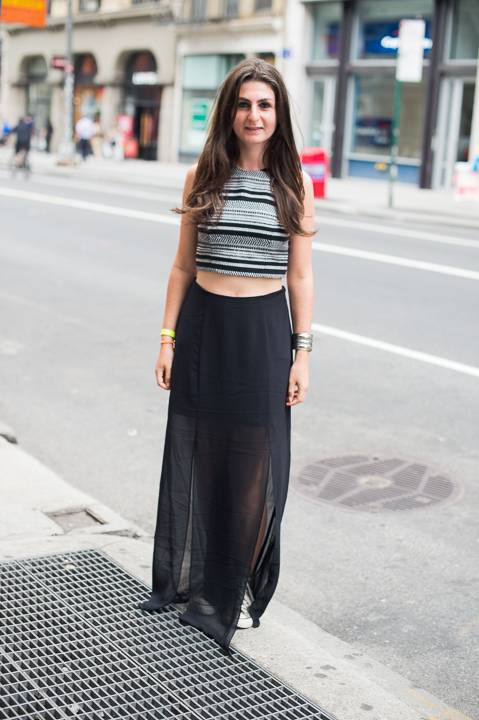 Via
↓ 15 – With Crop Top
Black should be your go-to color when wearing a sheer skirt. It is a blend of toughness yet delicacy. Wear a leather jacket for a super cool look. You can also go for an entirely black sheer skirt outfit with a touch of boldness. This way, you will stand out from the crowd.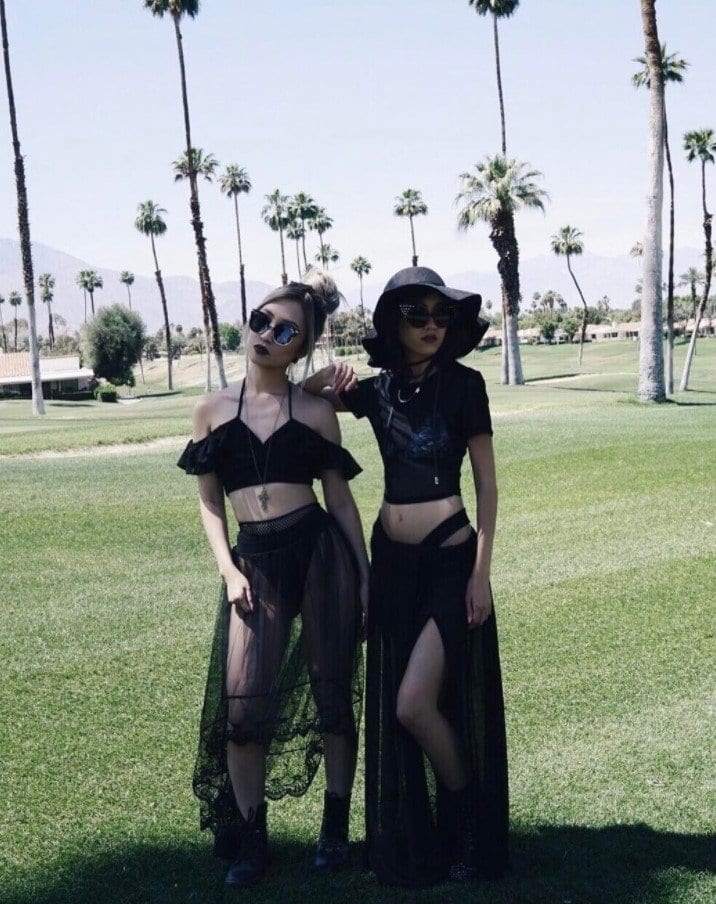 ↓ 14 – With Denim Jacket
For the perfect Coachella look, wear the skirt with a fringed jacket. Or wear it with a hat! You are sure to make a style statement! If you're into hats, then you wouldn't want to miss out on these fantastic Ideas How to Wear Hats with Different Outfits.
↓ 13 – With A Blazer
Wear a high waisted maxi skirt for a gorgeous look. You can wear a frilled sheer skirt with a blazer for a captivating look.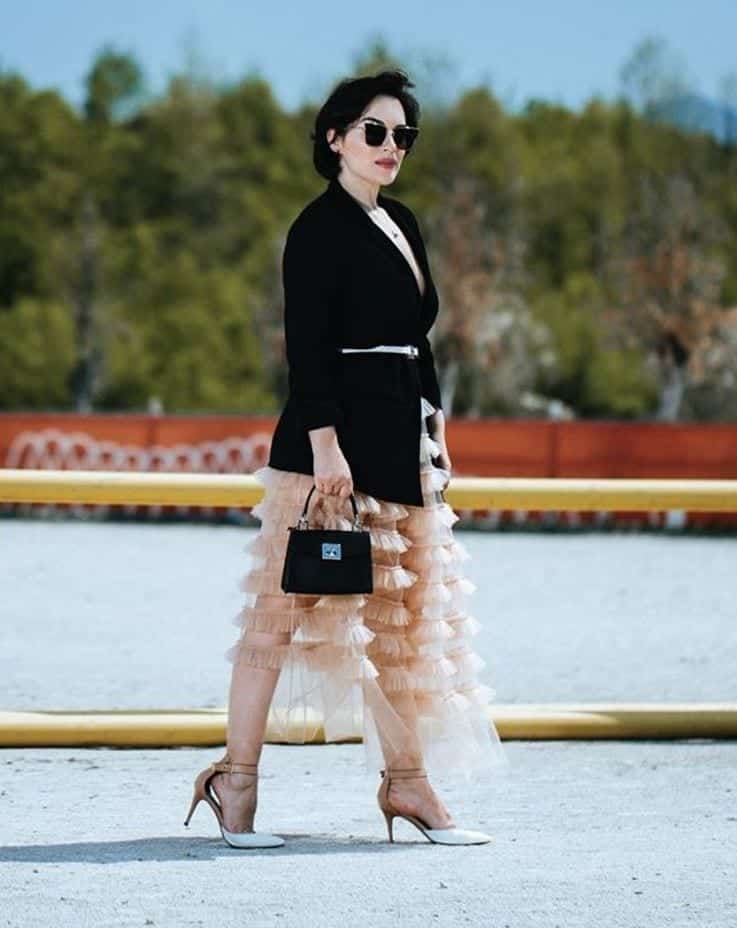 ↓ 12 – With Leggings
If you don't want to expose too much skin, wear leggings beneath your sheer skirt. Add a casual top. Many women wear crop tops with this look to balance it out. It makes sheer skirts perfectly wearable options for schools and college. And don't forget to pair them with one of these Best College Hairstyles for Girls.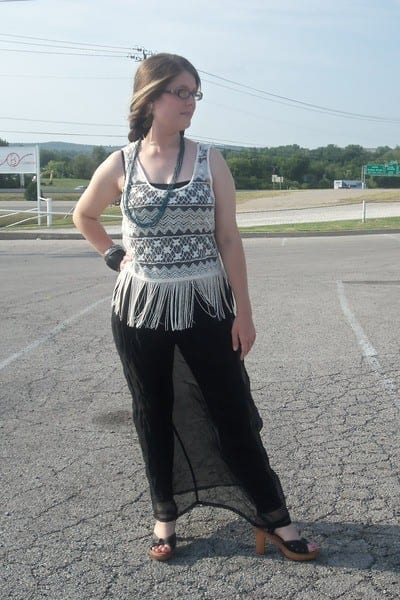 ↓ 11 – With Bodysuit
For a perfect spring look, wear the sheer skirt with a bodysuit. You will capture hearts.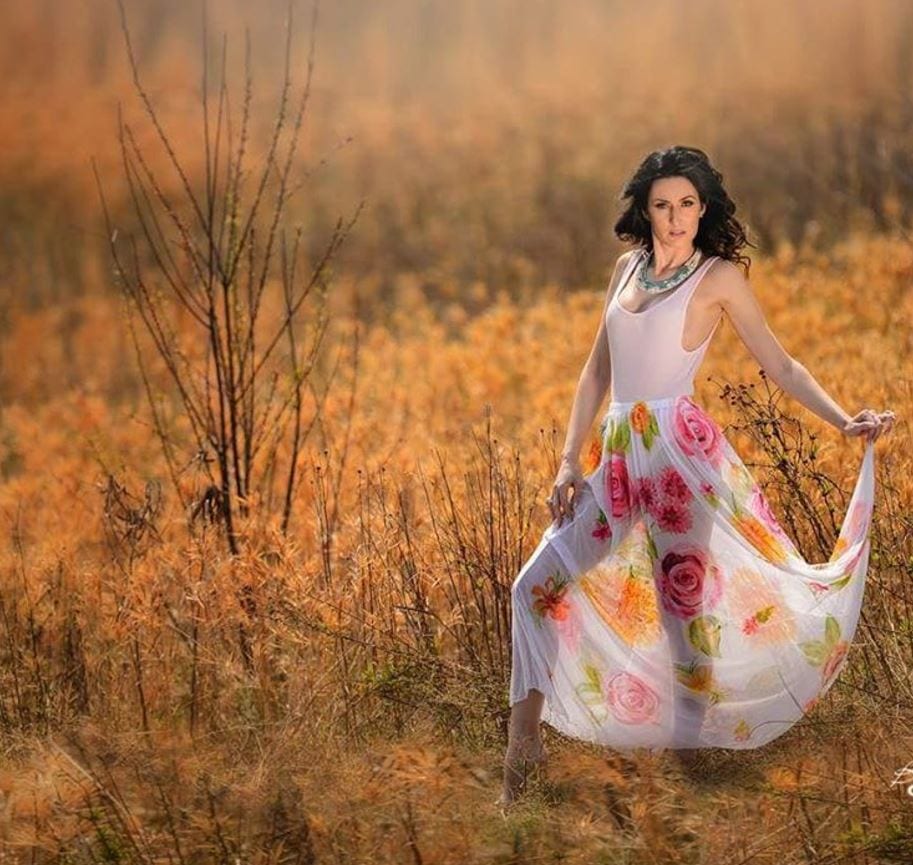 ↓ 10 – With Slits
Sheer Skirts look even more elegant when they have slits. Wear such a sheer shirt with pretty and girly tops for the ultimate head-turner look. For further guidance on wearing slits, check out this guide on How to Wear Thigh-High Slits, along with the best outfit ideas that you can easily copy.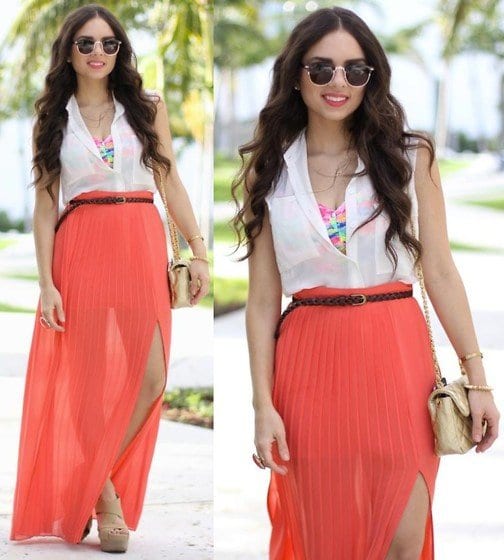 ↓ 9 – With Florals
For a change, try a sheer skirt with a floral print. These look beautiful. Wear a plain shirt with a flowery skirt and look like a fashionista who knows her fashion!
↓ 8 – With Tulle For Parties
Short sheer skirts are very much in vogue these days. Get a chic one for yourself and wear it with tops of all kinds. Sport the outfit with long boots for a fancy look! Also, check out these House Party Outfits for ideas on outfits that you can rock to any house party. And here's a complete guide on How to Wear Tulle Skirt.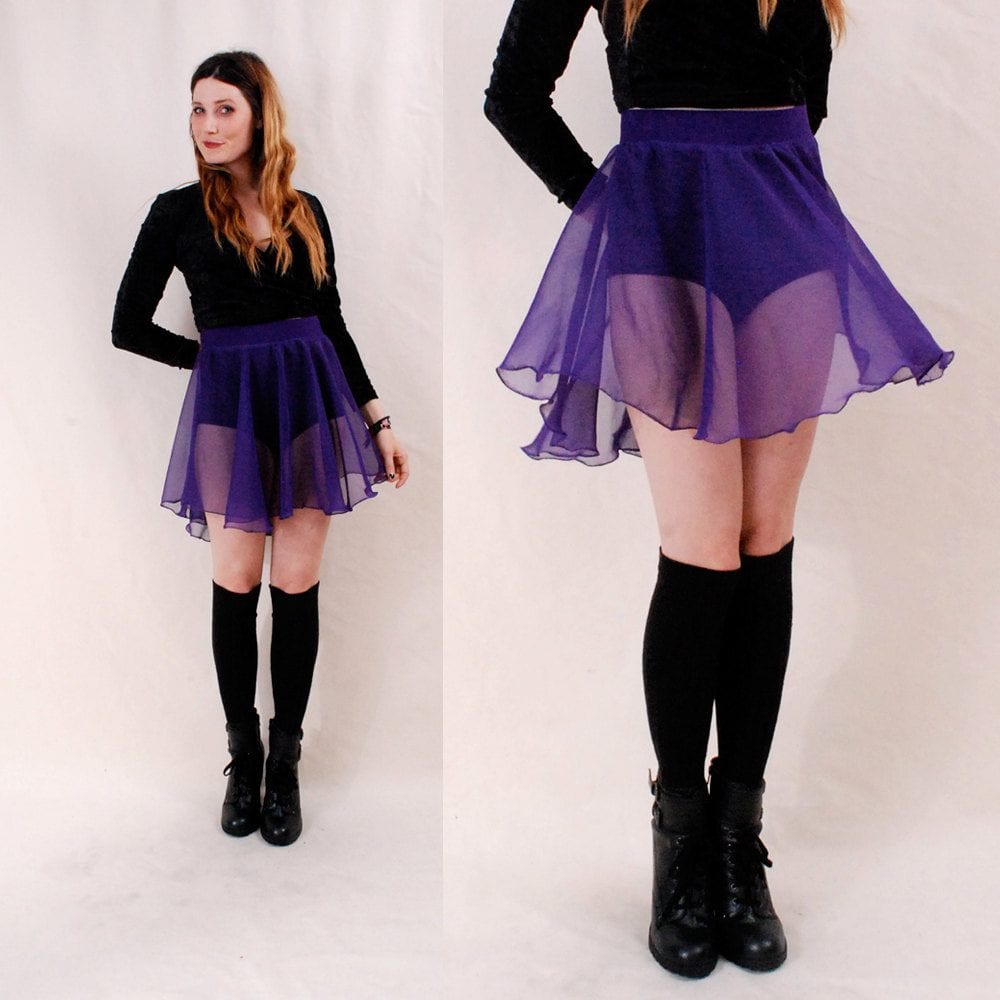 ↓ 7 – With Jeans
There are several sheer skirt outfits you can wear for a swag look. Many different kinds of sheer skirts and several types of tops and styles. Where the bodysuit beneath sheer long skirt is a hit attire, the one with leggings underneath is also snazzy. Try this look with jeans worn beneath the sheer material of the skirt.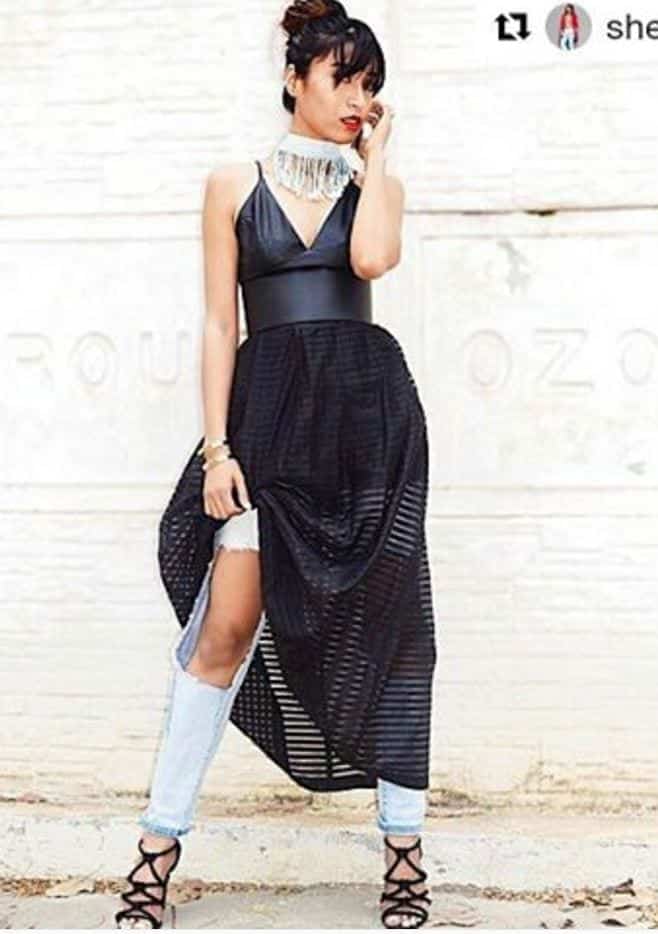 ↓ 6 – With A Corset Top For Prom
Sheer skirts can make for the best prom apparel as well. We also recommend that you check out these: 15 Cute Prom Outfits Combinations for Teen Girls.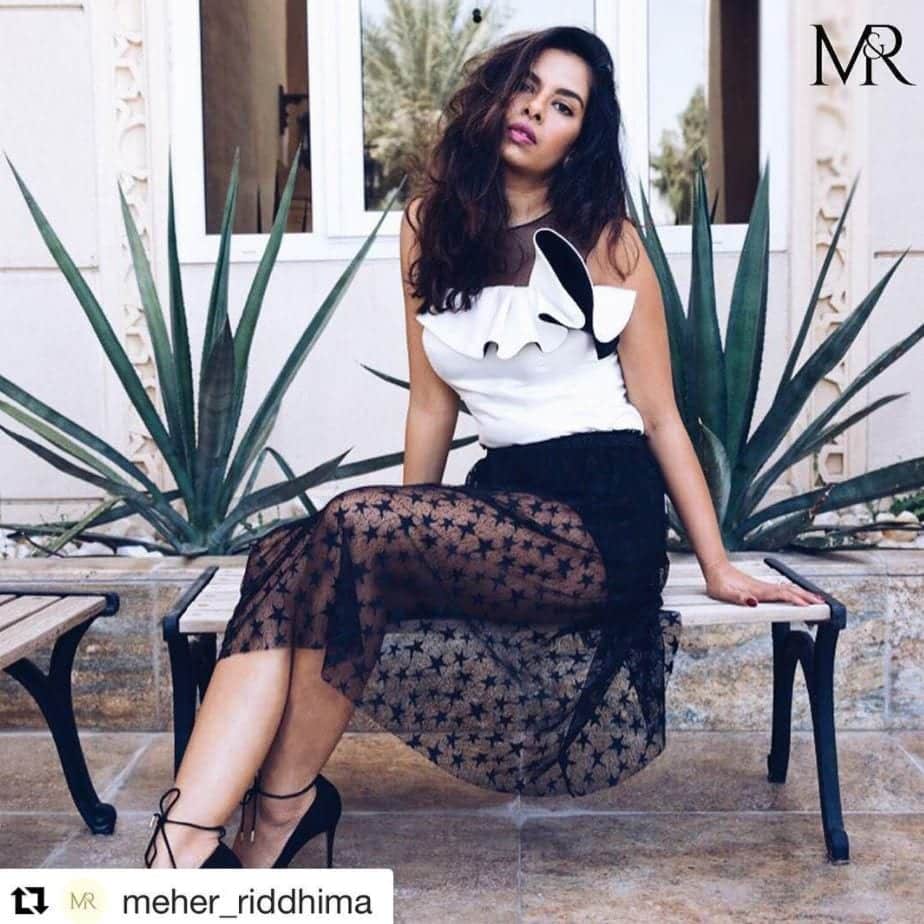 ↓ 5 – With Embellished Tops For Weddings
For an opulent and mesmerizing look, many brides go for sheer skirts for their wedding dresses. Even bridesmaids wear these outfits as they look stunning and make you look like a fashionista!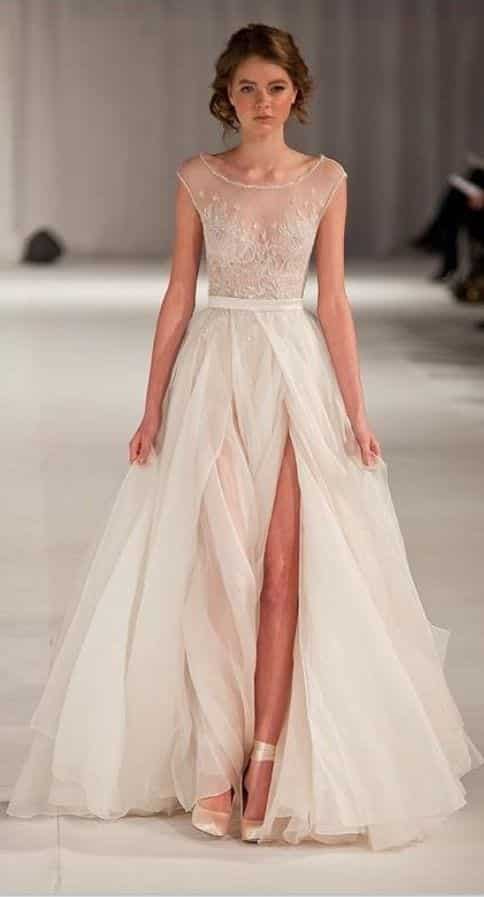 ↓ 4 – With Booties For Fall
Black and white can make for the most versatile combination!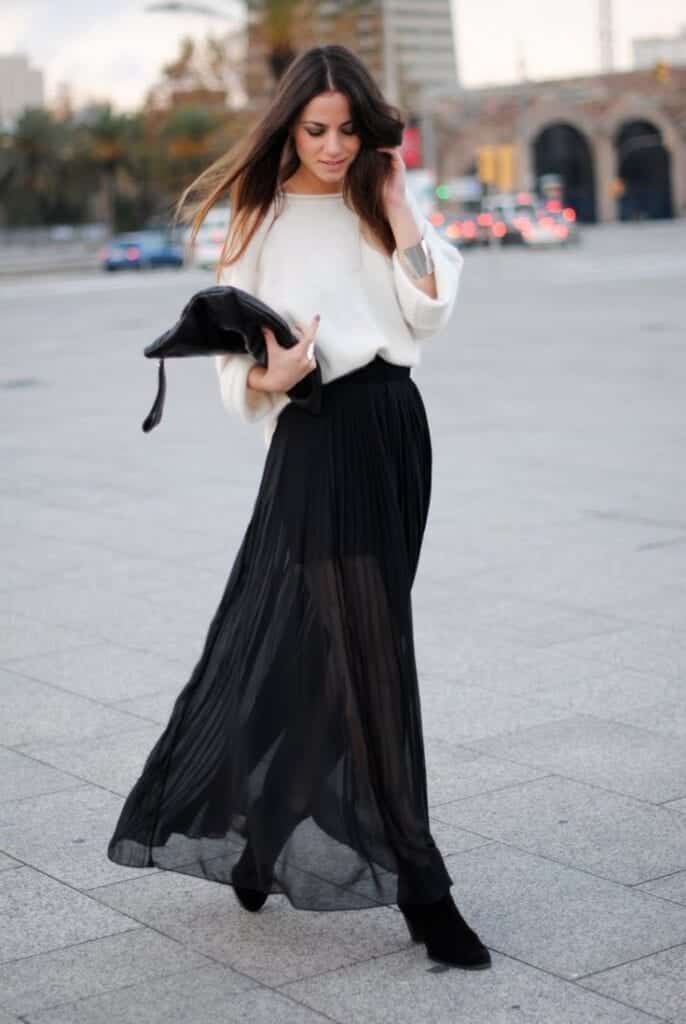 ↓ 3 – With A Sweatshirt & Sneakers
If you're a fan of Japanese street style, you'll love this Vintage style outfit of the 19-year-old student kky_dream. She was spotted wearing this vibrant look in Harajuku, a district in Tokyo that is known for its quirky youth fashion scene. She's wearing a sheer skirt from Kiki Koenji, a see-through bag from Mikansei and Converse sneakers. If you like this bag, you need to check out our recent post on Most Beautiful Clear and Transparent Handbags.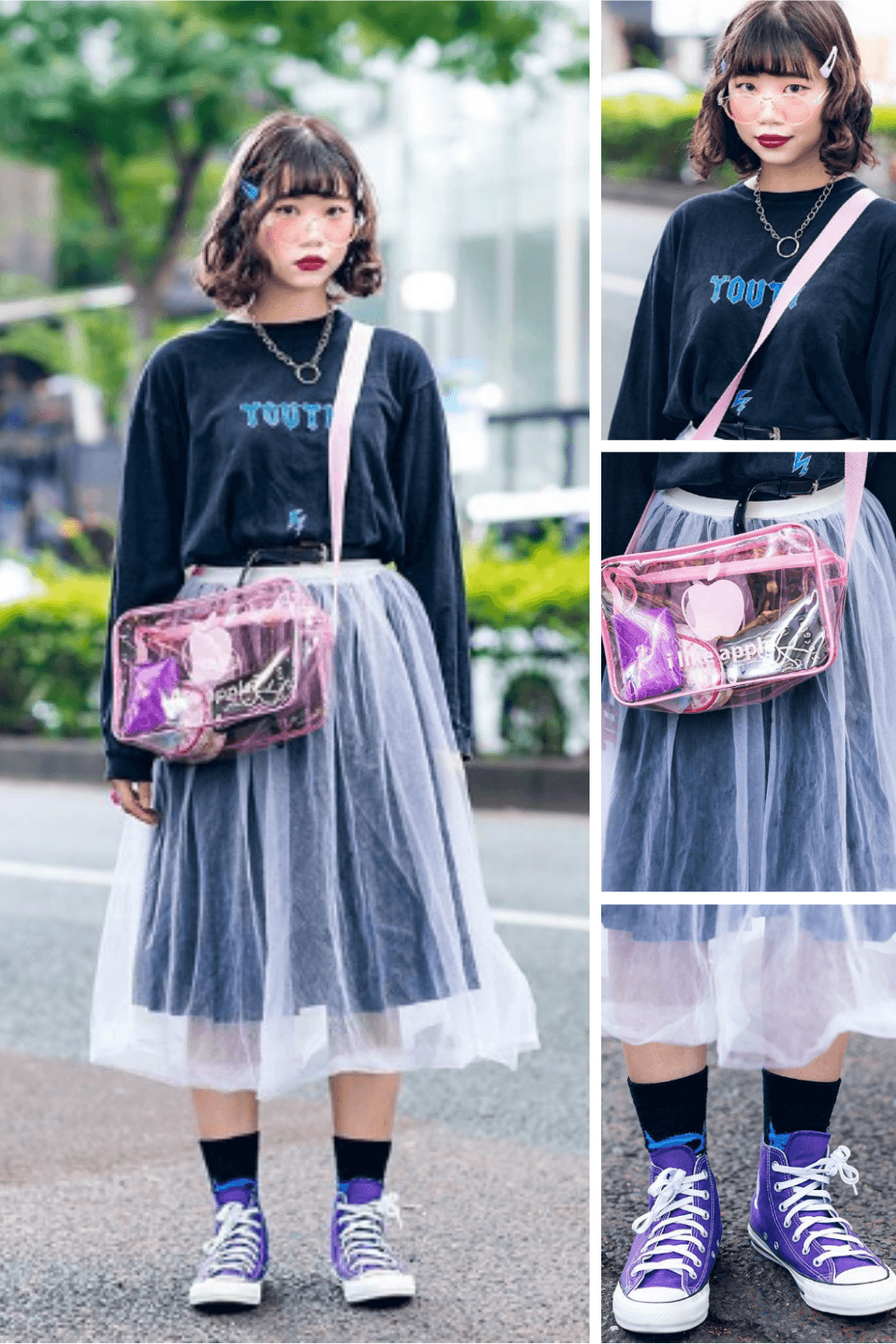 ↓ 2 – With Ankara Detailing
If you find sheer outfits to be a bit too boring for your taste, you can add a pop of color to them with Ankara detailing.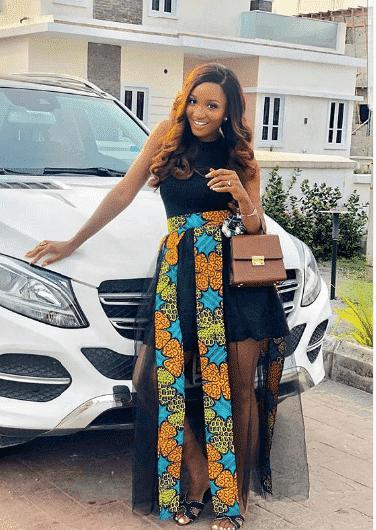 ↓ 1 – Wear It Over A Midi Dress
If you're wearing a sheer lace skirt, the easiest way to style it is to wear it over a midi dress. This works best if the length of the skirt is just slightly more (two to three inches) than the dress. To really make the skirt pop out, make sure that the dress is in a lighter or contrasting color. For more ideas and inspiration, do have a look at these Sheer Outfits For Clubbing.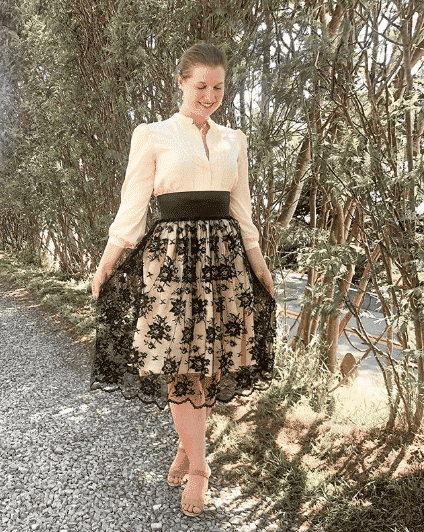 Our Favorite Types Of Sheer Skirts:
Sheer Panel Skirt
Paneled sheer skirts look unique and fashionable! These skirts look best when they are mid-length.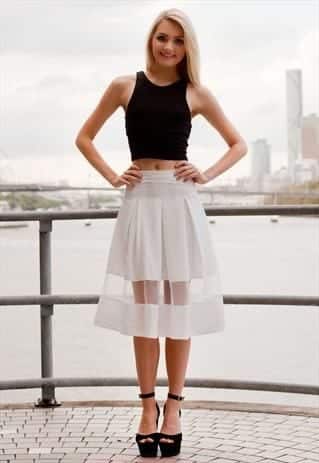 For a holiday-ready look, pair it with a velvet top like Wendy: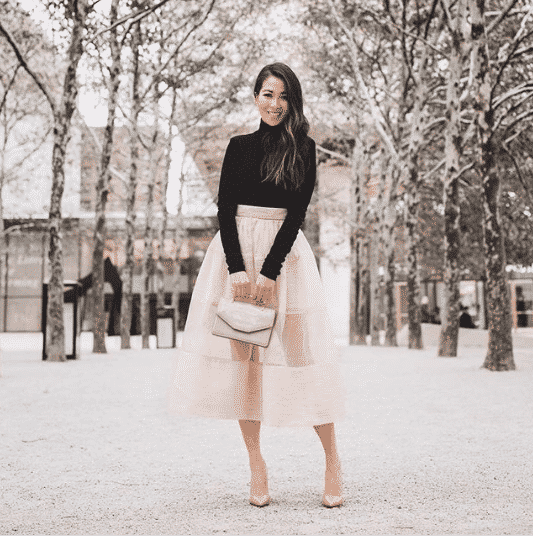 Sheer Pleated Skirt
Another stylish type of sheer skirt is a sheer pleated skirt.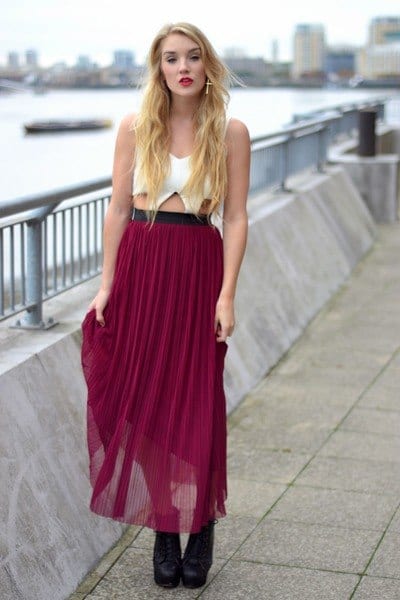 Sheer Pencil Skirt
Pencil sheer skirts are perfect for a sleek and stylish look. If you are comfortable with wearing outfits that are a little too bold, then don't hesitate and slip into a sheer pencil skirt with a bodysuit underneath it.