Crepe Skirt Outfits: You know we have a thing for outfits with skirts and crepe skirts are our latest crush. These skirts are slowly but surely taking over the fashion industry with their ever-growing influence on women's fashion. They are made of a material that flows most beautifully and elegantly, giving a graceful effect to the outfit and creating a very flattering silhouette.
These skirts can be paired with almost anything; to create either a fashionable formal look or even the other extreme, which is a casual, everyday one. The versatility of this type of skirt is unmatched and is the very reason why it has gained so much popularity in recent years.
These skirts come in all different colors, styles, and patterns. Ranging from pastels to neutrals to even big and bold colors, thee come with so much potential and bring so much to an outfit to create something unique every time you wear them.
This is not a wear-once, and never again type of clothing item. It has many unique possibilities with other pieces of clothing.
What to Wear with Crepe Skirts?
Due to the versatility of this clothing piece, these skirts can be styled with almost anything. Sweaters, tees, fancy tops, and perhaps even a blazer if you are in that kind of mood! You can let your imagination take you wherever it wants when it comes to styling a crepe skirt.
The second advantage of these skirts, besides the large variety of colors and patterns, is the different styles it comes in. Short, slit, pleated, and midi, all these styles can really elevate your outfit to the next level without you having to put in many extra additions to the outfit.
Do's and Dont's :
Do not add a clashing pattern to the top half of your outfit if you are opting for a patterned crepe skirt, for example, a floral one, or a cheetah print one. It can look very busy and can take away from the cinched-in silhouette that the skirt gives your body.
Do not be afraid of pleating! Some people may deviate away from pleated crepe skirts because they think that it gives a formal effect. However, you can always style it with casual pieces like an everyday tee and white sneakers to create a casual look too! As for formal, any top paired with heels works wonderfully.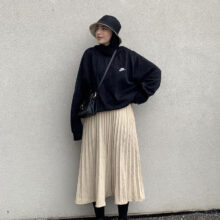 Do opt for different styles. Most skirts have that plain look which is immensely helpful because then it gives you a blank canvas to style your outfit around but a tiered, pleated, or slit one can do wonders to elevate your look!
Do not pass on layering! Layering always makes an outfit look so much more dimensional and put together and layering over a crepe skirt makes it so much more interesting. You cannot go wrong with it so go ahead and layer like a pro.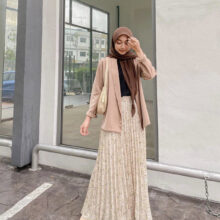 Outfits for Work
22 – Keep it in the Neutral Zone
If you're mixing and matching your crepe skirt outfit for work, make sure that you stay in the same colour palette such as this neutral outfit created with completely different coloured pieces.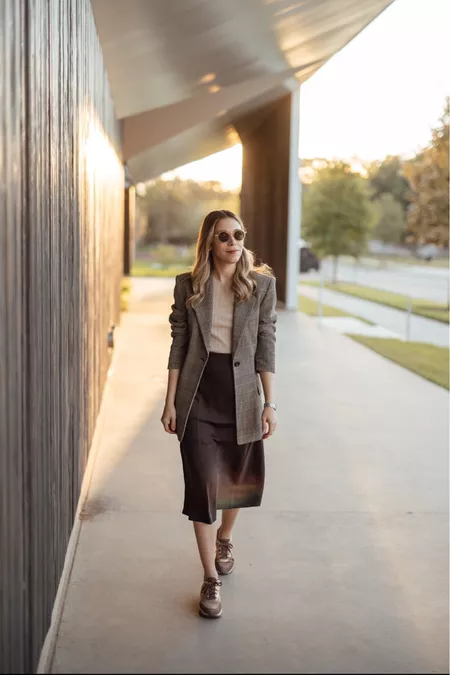 21 – Go for a Crepe Wrap Skirt
Wrap skirts work really well as office outfits as they're both stylish and modest. I love this pattern on pattern look created with a crepe skirt, the trick here is to keep both patterns small so they don't clash with each other.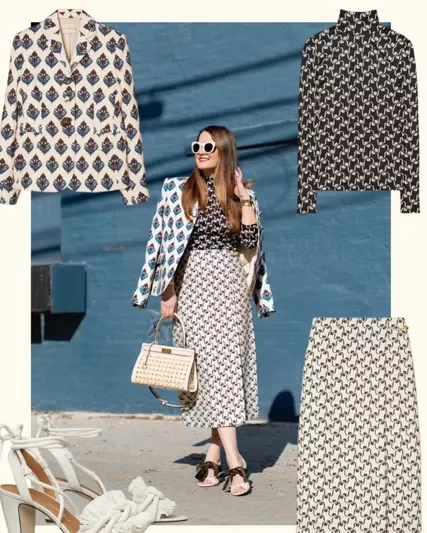 Casual Outfits
Now let's move on to ideas on how to wear crepe skirts casually:
20 – Red and White Patterened Crepe Skirt with White Tank Top And Blue Denim Jacket
This look is a very simple and effective look.These colors tie together very beautifully and complement each other.
The vibrant red of the crepe skirt stands out and draws attention to it, making it the star of the show.
The overall effect is a great outfit that could be perfect for a casual picnic outfit with your friends or family.
19 – Floral Midi Skirt With White Tank Top and Matching White Shoes
This outfit is very simple to execute as it contains everyday essentials from your closet that are accessible to almost anyone. The white tank top keeps the outfit relatively plain but hence allows the crepe skirt to draw all the attention and truly stand out, with its gorgeous colors and minimalistic floral pattern.
This is tied with plain white sneakers to give the outfit a neutral base for the skirt to really shine through. You can try pairing this look with any bright-colored purse that will complement the skirt's colors even more.
18 – Sage Green Floral Slit Crepe Skirt With White Collared Shirt
Sage green is everyone's favorite neutral these days. This outfit is quite similar to the previous one in terms of the concept and colors, but there are some slight changes that push this outfit to the next level.
This beautiful sage green slit crepe midi skirt has minimalistic white florals printed on it, which are matched with a white top. The top in question is none other than a plain collared shirt that is tied at the waist to create a cinched effect and flatter the body.
Topped off with plain white sneakers and a matching shoulder bag, you have yourself an outfit that will surely impress.
17 – Black And White Floral Patterned Skirt With Off Shoulder Black Top And Matching Black Sandals
This outfit is an inverse of the ones that you are accustomed to seeing. Instead of white being the main color of the base outfit, this time black is chosen.
There is a plain black tank top with an asymmetrical neckline, which is tied with this stunning patterned midi-length, crepe skirt.
This is further enhanced by chic sandals that match the skirt and the top, giving a well-rounded and coherent look.
16 – Beige Dotted Crepe Skirt With Oversized Brown Sweater Vest
This outfit is for girls who love their minimalistic and neutral color palettes. This outfit has a magnificent beige crepe skirt that is detailed with a dotted pattern.
This is perfectly tied with an oversized sweater vest, that is brown in color, a color that matches almost perfectly with the dotted detailing on the skirt. This outfit gives the most immaculate vibes and is perfect to wear almost anywhere.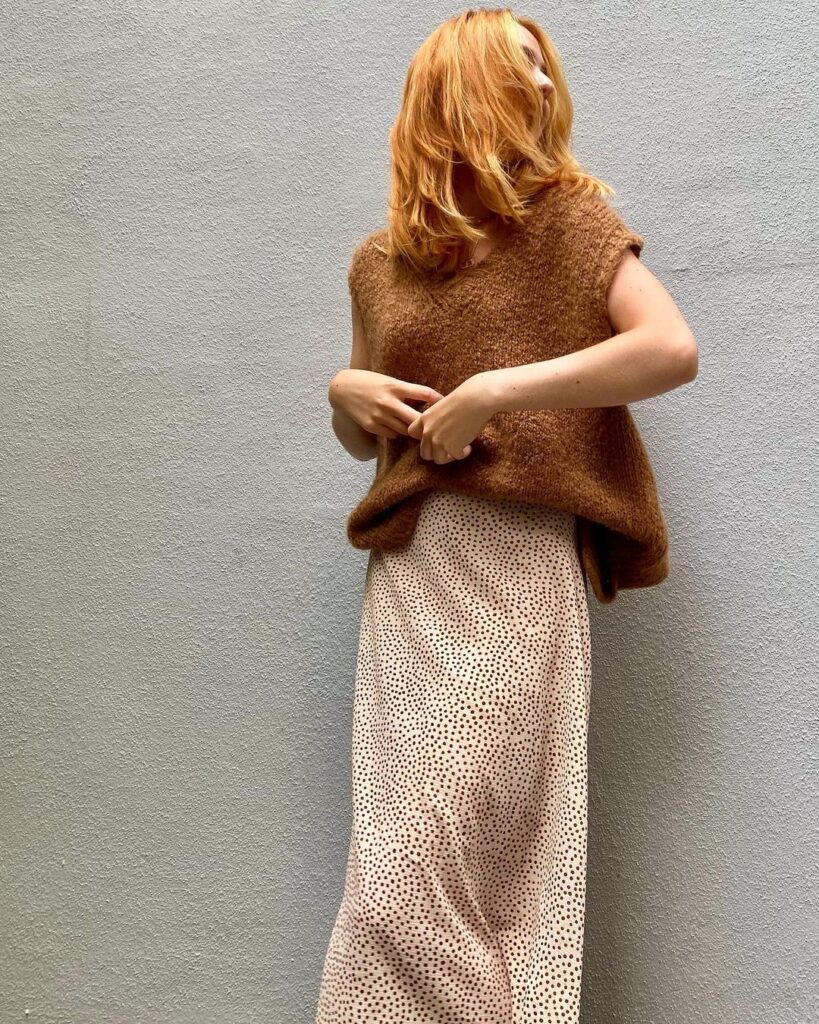 15 – Brown Midi Crepe Slit Skirt With White Florals and Matching White Sweater
This outfit is so stunning and can be worn on almost any occasion. The beautiful brown color of the crepe skirt is one of the most perfect outfits for the fall weather and the white tiny flowers printed all over the skirt are matched perfectly with a sweater on top. This stunning color combination works beautifully and will flatter all skin tones.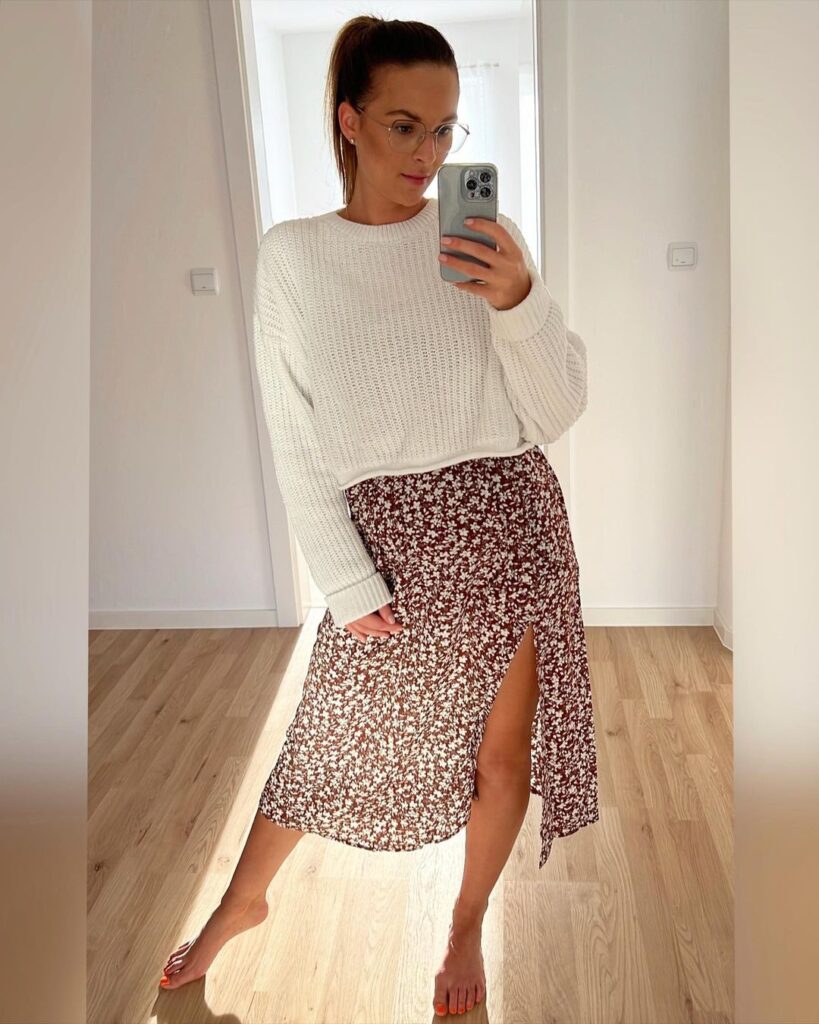 14 – Biege Floral Skirt and White Graphic Tee
This crepe skirt is a pleated one, which is very popular amongst girls due to its versatility. Here is an example of how it can be styled for a relatively casual occasion. This floral neutral colored skirt is styled with a white tee which has a graphic design on it. This can be further paired with matching sneakers to complete the look. So easy yet so stylish.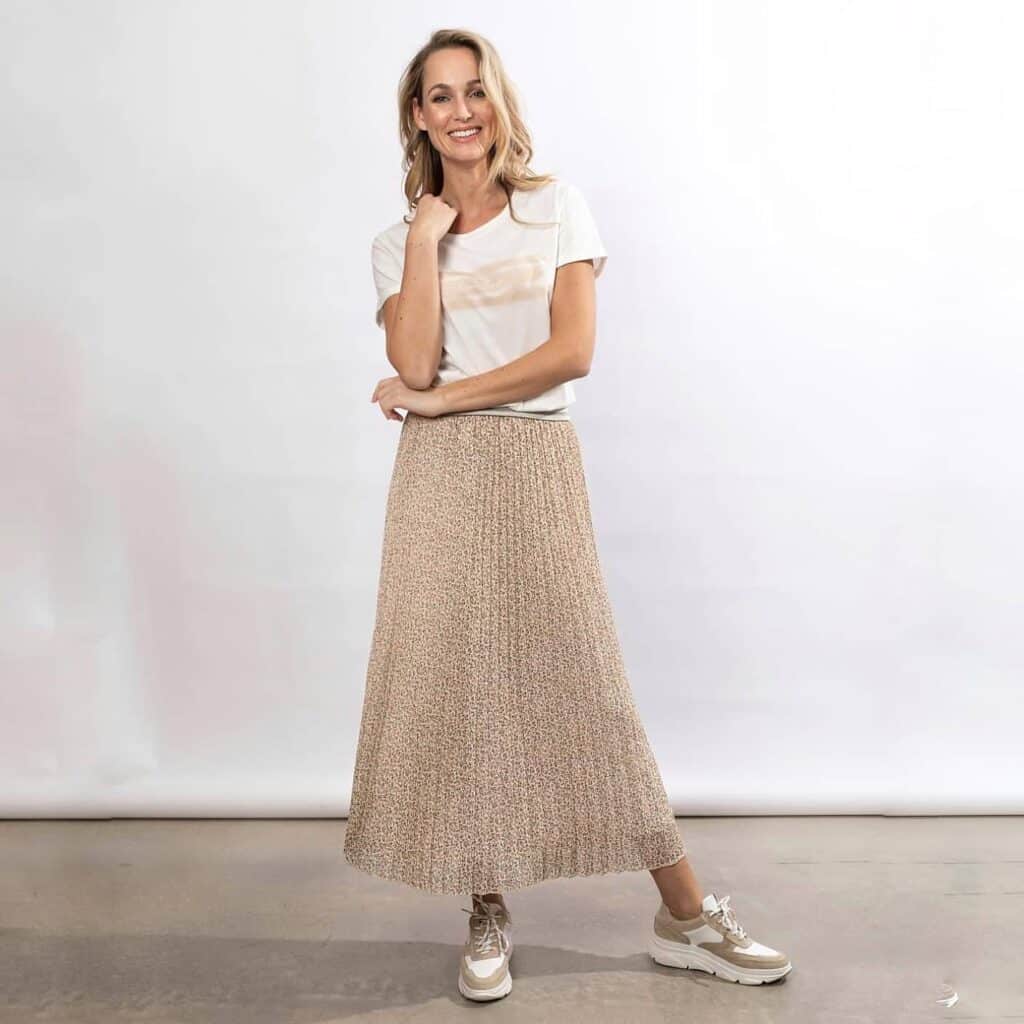 Semi Formal & Formal Outfits
13 – Black Midi Crepe Skirt With Short Slit With Sheer Matching Top
This black midi skirt is a bit different in shape and style than these skirts but that is what makes it so unique.
The skirt is very versatile and can be paired with any type of blouse, but a sheer top will go with it best, complimenting the material and the style of the skirt both. It is perfect for any fancy event and will definitely hug your curves in all the right places to really make you look your best.
12 – Tiered Midi Orange Skirt with Black graphic Tee and Denim Jacket
This outfit is a very easy one to put together as it requires easily accessible items of clothing that can be found in almost every girl's closet as staple pieces.
The gorgeous orange skirt is tiered and printed with minimalistic floral patterns which makes it look very beautiful and gives it a unique touch. This is tied with a black graphic tee which is layered under a blue denim jacket. These colors work great together and create the perfect crepe skirt outfit.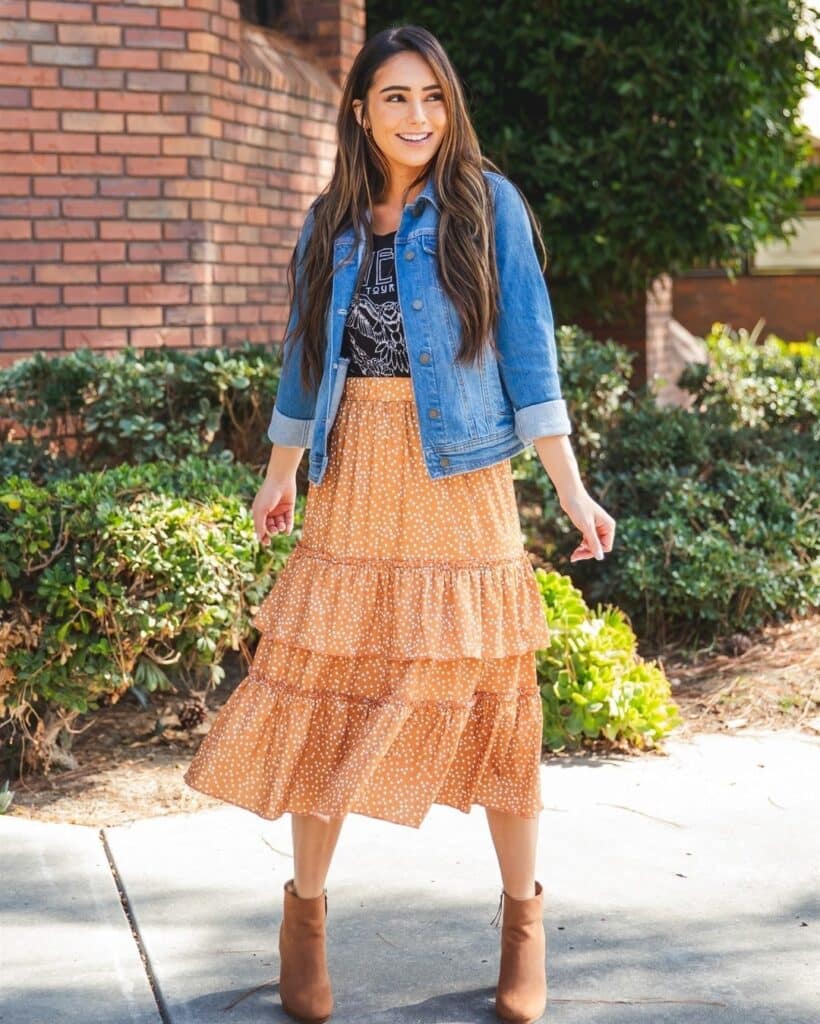 11- Knee Length Brown Skirt Paired with Black Longsleeve Top
This is a wonderful winter outfit that will suit all body types. A shorter version of the usually seen crepe skirt is paired with a long-sleeved black top that matches perfectly with the dotted print on the crepe skirt.
This is further paired with black tights and black boots. This way, a black base outfit is created, due to which the color and style of the skirt really stand out and look amazing.
10 – Leopard Print Skirt With Black Top and Shoes
This is a very interesting variation of a crepe skirt. Starting off with the print, which is very fun and unique and especially wonderful for those who love to dress boldly with animal patterns.
The skirt's style is another factor that makes it so unique. The skirt is not full length; rather it is short and also slit. There are also some pleats that add so much more dimension to the skirt! Paired with a plain black top and matching sneakers, you can truly make this outfit shine.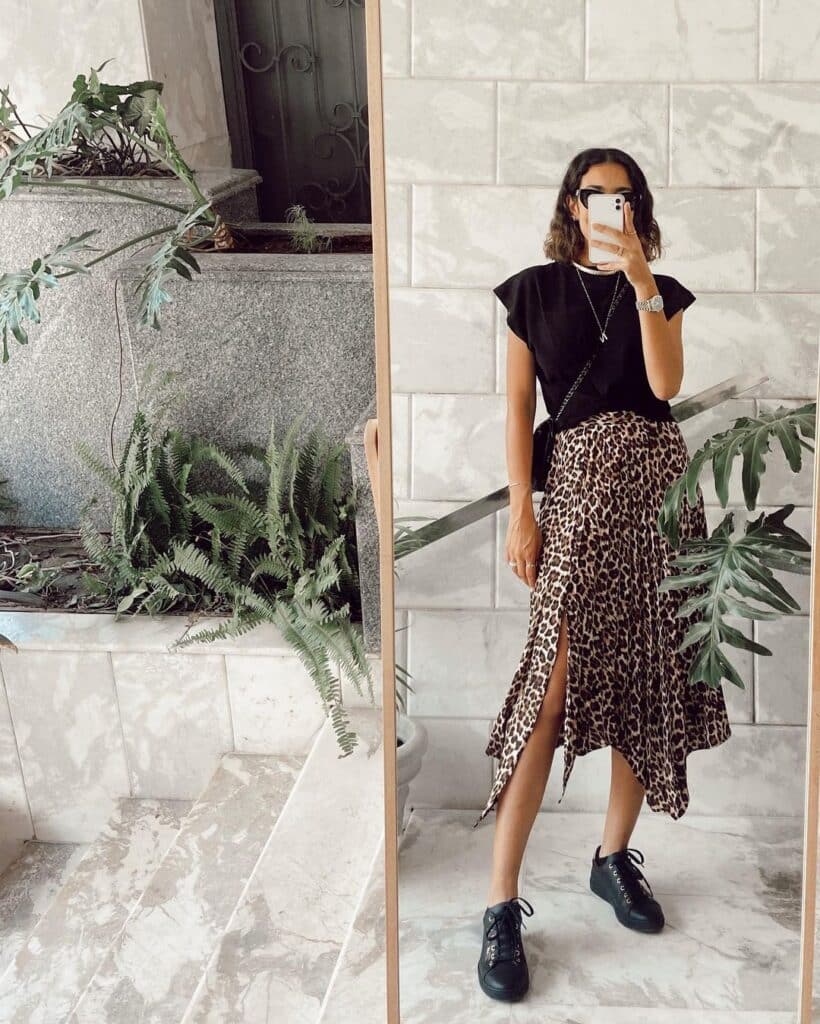 9 – Neutral Tan Pleated Skirt With Matching Sweater and Brown Boots
This outfit is based on a very neutral tan theme, with the main colors being tans, beiges and browns.
The crepe skirt is of light color and is midi and pleated, which elevates it to the next level. The sweater adds a cozy textural element and it is completed by accent brown ankle boots.
8 – A Beige Skirt and Oversized Crewneck
This is for all the girls who love modest outfits, and like to stay comfortable at the same time. This outfit has it all, the style and sophistication, you get from the beige, pleated crepe skirt. Secondly, adding an oversized crewneck to the mix makes it a really comfortable outfit (which is also modest) but still fashionable. Tie this with matching tights and boots and you have yourself a great winter outfit, ready to go.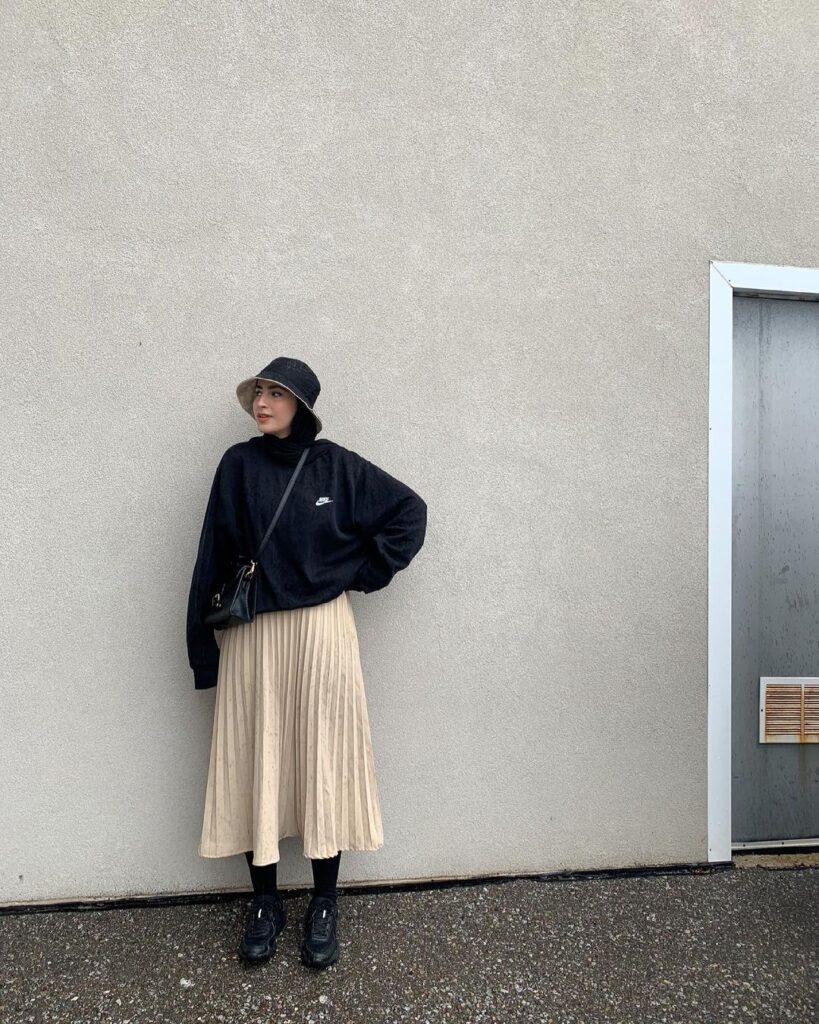 7 – Snakeskin Printed Skirt With Black Cowl Neck Top
The snakeskin adds dimension to the pleated crepe skirt and adds a unique touch that you will notice is not very common among skirt lovers.
This is paired with a black cowl neck top, which adds a certain grace to the outfit and adds a touch of formality that is perfect for a fancy event like a dinner. Add some matching heels and you have a great outfit!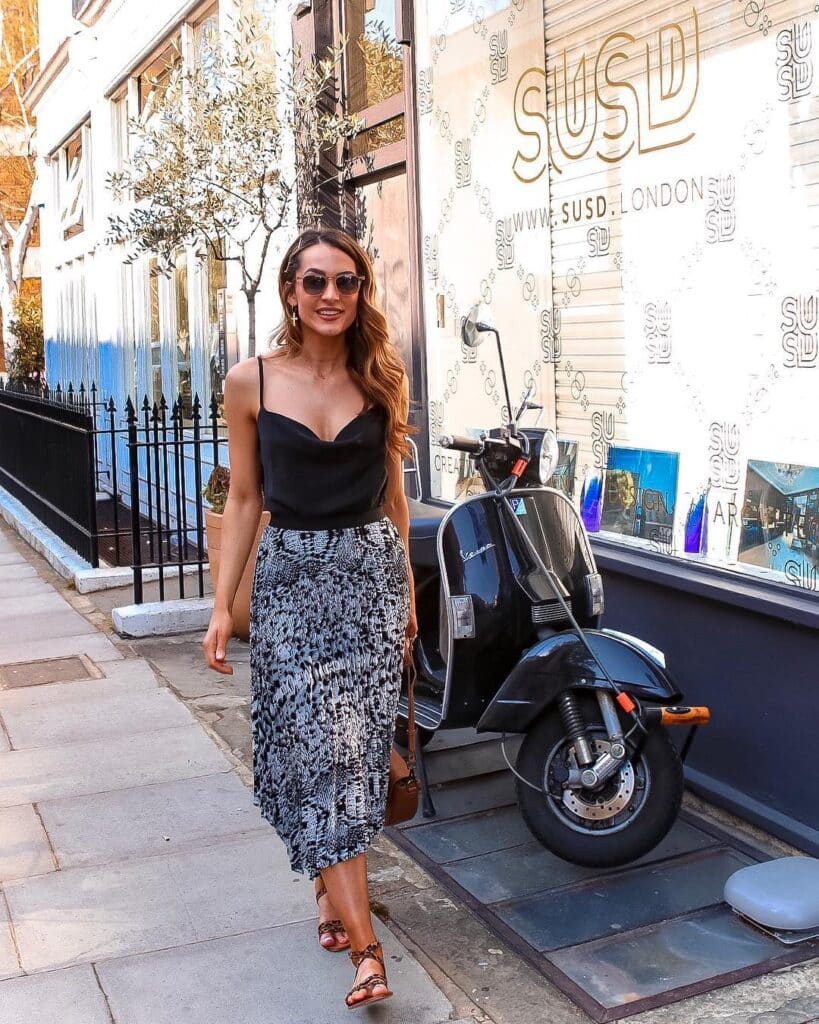 6 – Light Brown Pleated Skirt With Blouse
This outfit is similar to the previous one but this is more of a daytime look. This light brown crepe skirt goes wonderfully with the white cowl neck top to create an elegant and graceful outfit that works for almost any daytime occasion.
This is a very easy to pull off outfit, as it only has two major components and with this color scheme, you can never go wrong.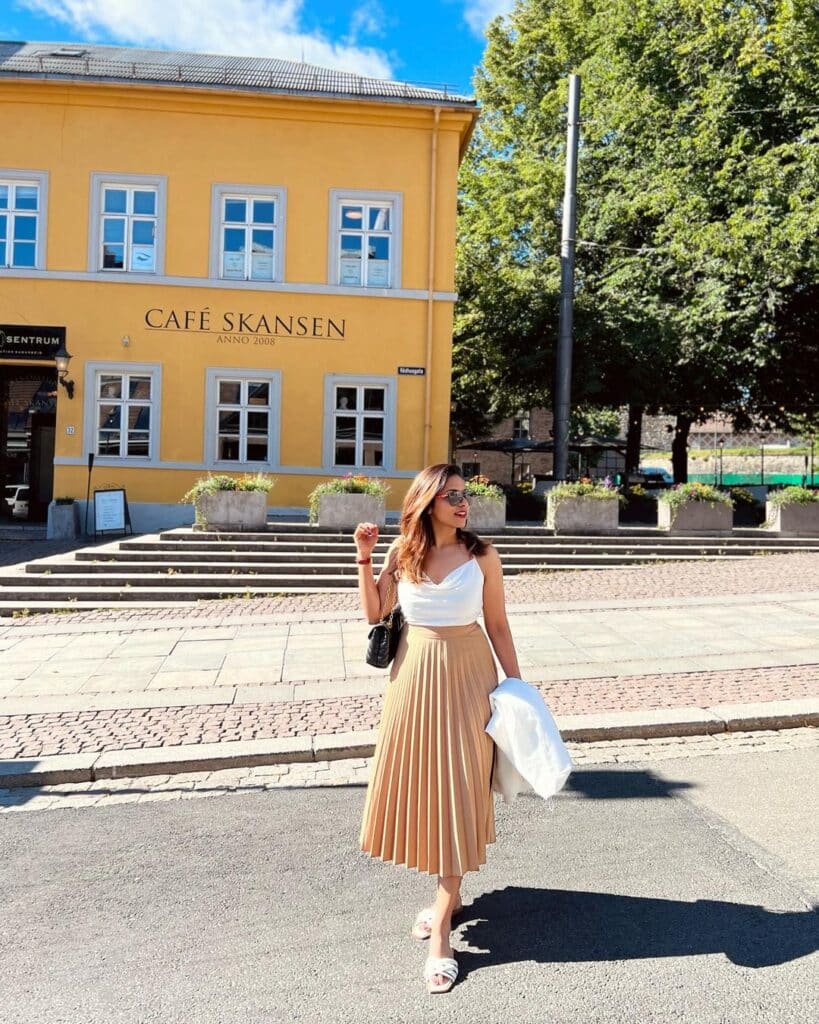 5 – Brown Floral Pleated Skirt, Maroon Top and Leather Jacket
This outfit has it all. This stunning brown skirt is printed with beautiful mustard florals that can be seen with the shifting of the pleats.
This is paired with a maroon top that is layered under a black leather jacket. Altogether, this look is a stunner, which will definitely grab everyone's attention!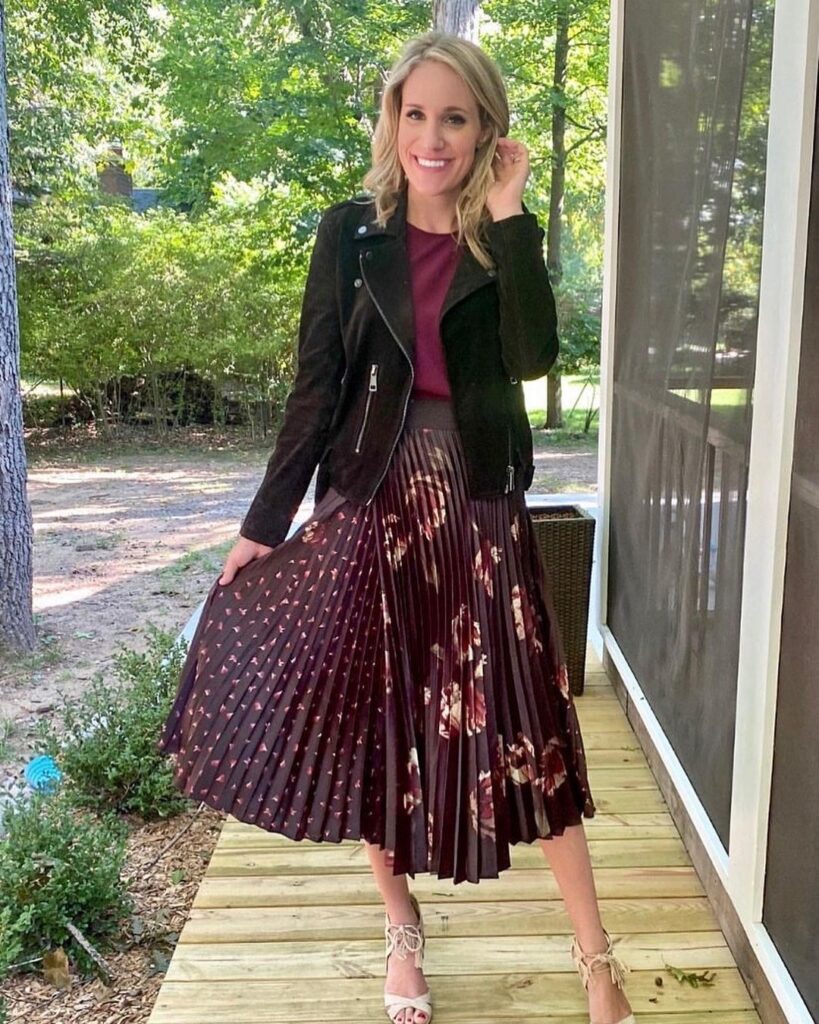 4 – Pop Art Printed Skirt With Top
For all those girls who love pop art and big bold colors incorporated in graphic design, this one is for you. The crepe skirt includes some eyecatching pop art illustrations and that tied together with the pleating, creates a vibrant and unique type of crepe skirt for you to style.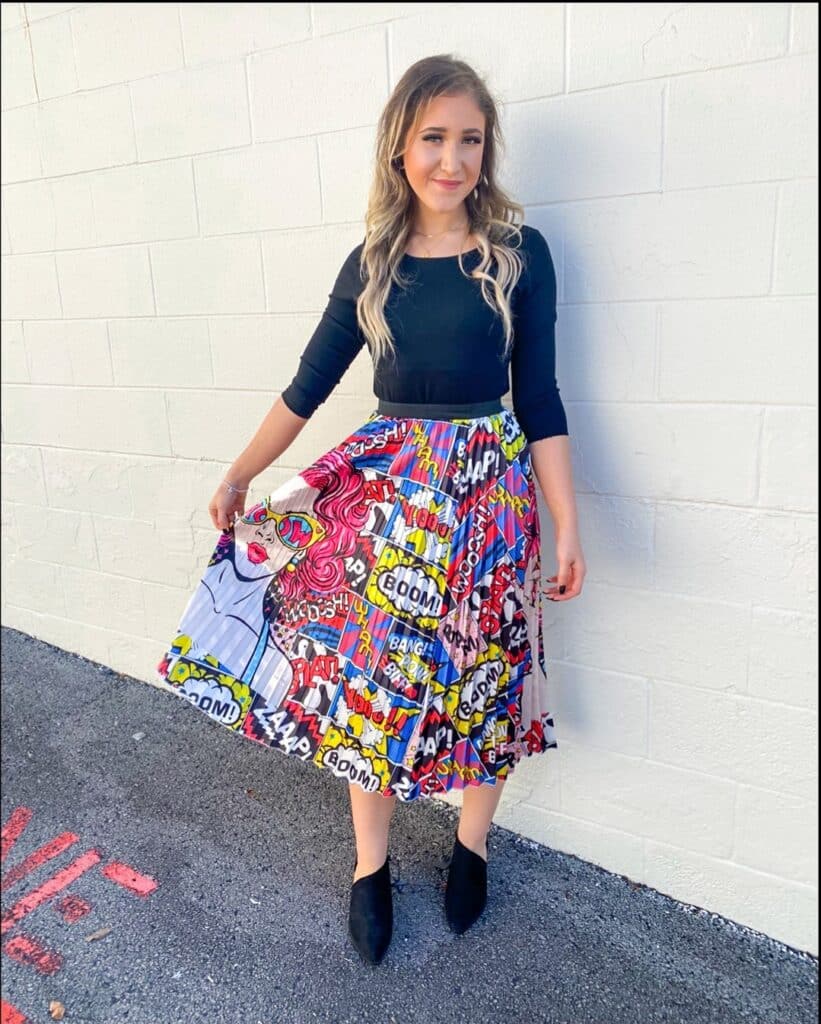 3 – With Studded Jacket
This colorful crepe pleated skirt is tied with a white studded jacket to create an interesting look that is very dimensional and fun to style.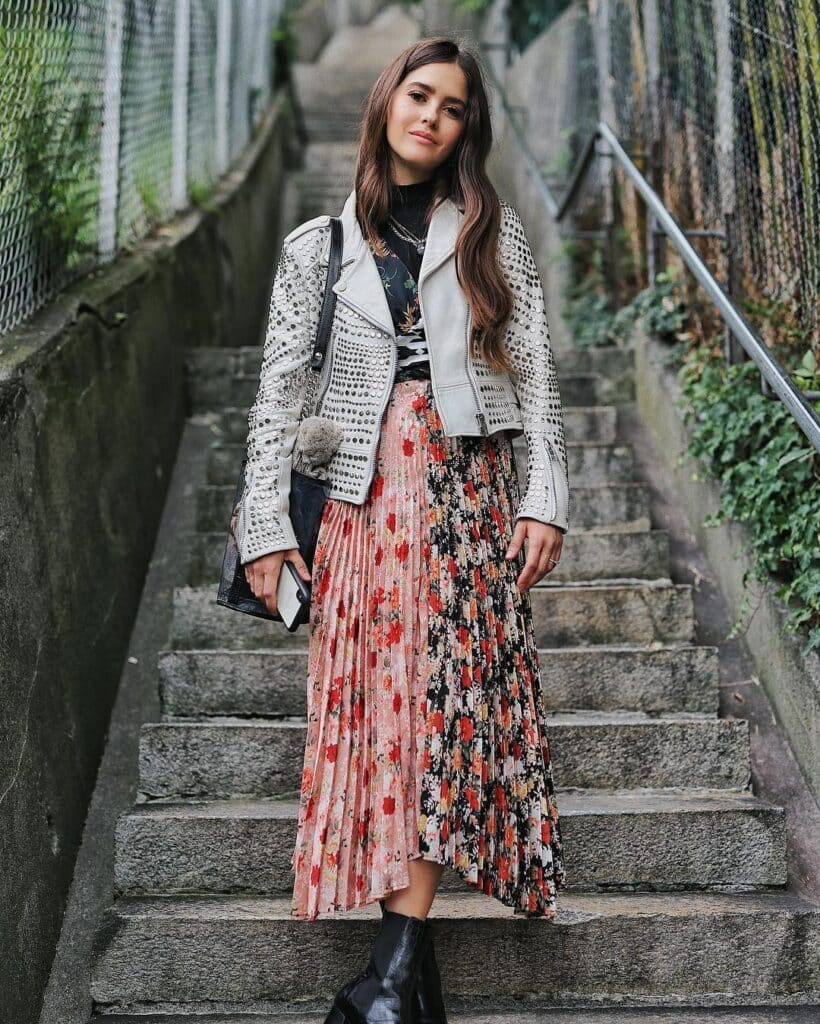 2 – Crepe jaguar Print Skirt With Brown Jumper
This is a perfect winter outfit with the pleated jaguar print crepe skirt that matches so well with the brown jumper.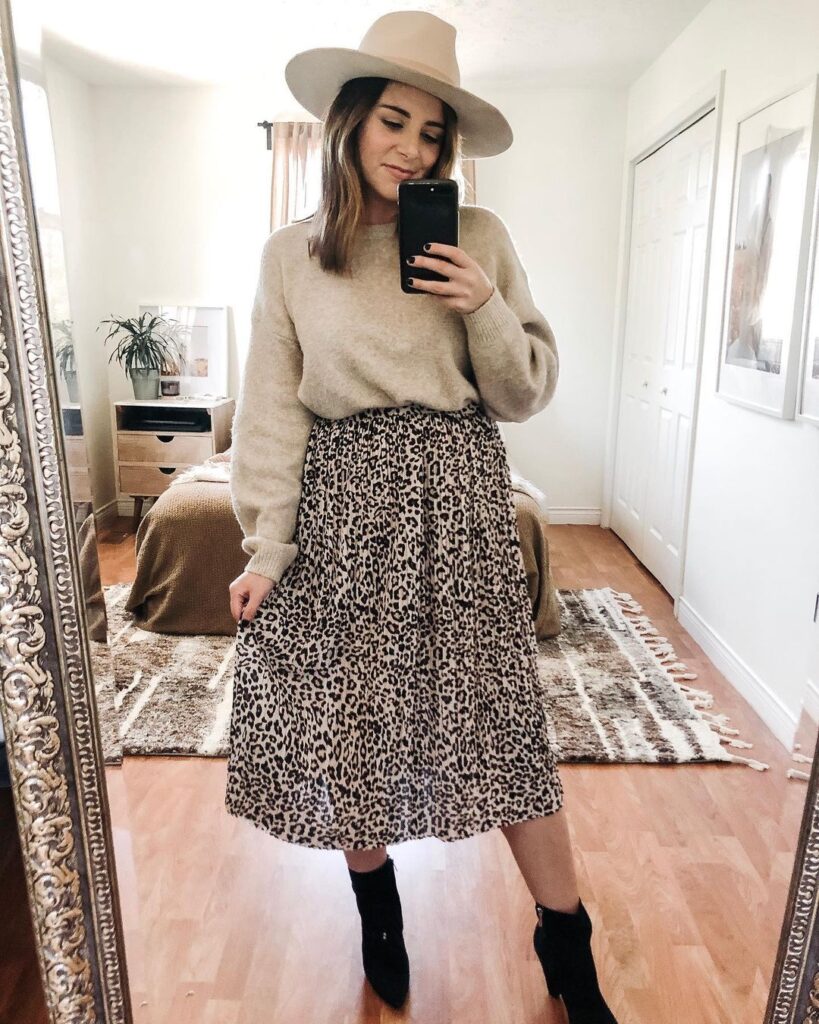 1 – Minimalist
This is a fun way to create a fun and business casual outfit with a crepe skirt. Just add a pale pink blazer to match the tiny flowers on your skirt and you have yourself a cute outfit!
Frequently Asked Questions
Q. Do crepe skirts need to be floral?
Not at all! With the latest fashion trends, you can use any type of patterned (or not!) crepe skirt to either match the rest of your outfit or contrast with it! Yes, floral ones are more accessible usually, but there are definitely other alternatives with different patterns and different styles too!
Q. Can pleated skirts also work in a crepe skirt outfit?
Yes! As long as the color is fitting in the color palette of the outfit, there is no reason why pleated skirts should not work! If anything, it will just bring so much more texture and dimension to your outfit that will make it that much more interesting!
Q. Do graphic and printed crepe skirts work in skirt outfits?
They absolutely can work in such outfits. The only thing that should be considered is that graphic skirts will always give off a more casual than a formal vibe. So you must make sure to pair a graphically designed or printed skirt with some casual items like a plain t-shirt and sneakers for the most effective look.
Q. Can you wear a crepe skirt to work?
Yes, if styled rightly, a long crepe skirt can be turned into an office-appropriate look. For summer, you can pair it with a matching silk blouse and for winter, go with any warm t-shirt and layer it with a blazer.