Cute Fall Outfits: We wait all year for fall when the leaves are raining down and all is golden and beautiful. Fall also gives us the lovely opportunity to dress up in ways we couldn't throughout the summer (sweater weather, anyone?) and indulge in all things cozy and comfy.
But cozy doesn't mean we have to sacrifice style. In fact, some of our best fashion ideas are devoted to fall weather!
What To Wear To Fall
There is no better time than fall to practice layering our outfits, experimenting with warmer colors, and enjoying some cute accessories like beanies and scarves.
It is also a popular time to revamp our wardrobes and add new pieces. With the year flying by us, fall will soon be approaching, and getting your wardrobe set is a must.
Tips To Slay Fall Fashion
Go through your closet and discard anything that is outdated, torn, stained, too tight, or too worn out. Every season deserves a fresh start, fall most of all.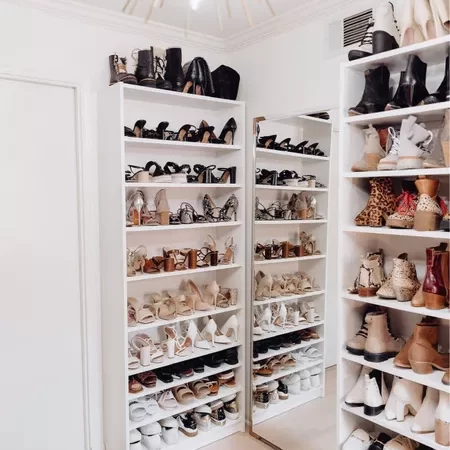 Create a Pinterest account and begin pinning fall outfits and colors that appeal to you. Or you can go on Instagram and save or screenshot pictures that embody the kind of wardrobe you are drawn to.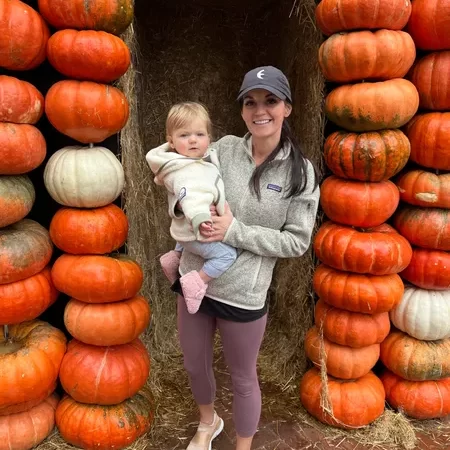 Layer your clothes with thinner to thicker fabrics. As the temperature starts to drop, you might be tempted to just throw on as many layers as possible in order to stay warm. But if your goal is to look stylish, then you should keep an eye on how you are stacking your clothes so as to prevent looking too bulky.
Stay away from dull colors or overly bright tones of pink, orange, blue, and purple. Fall outfits 2023 are all about warm tones: browns, russets, reds, oranges, forest green, and even charcoal or warmer tones of gray. Don't be afraid to bring pops of color though.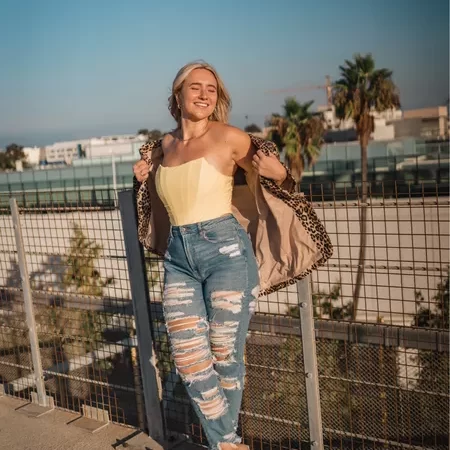 23 – Blue Denim Jeans With A Plaid Blazer
Need a business-casual outfit to wear to work this fall? We've got you covered, girl. Pair a plaid blazer with jeans, a crewneck sweater, and knee-high boots for a look as chic as it is practical. Stick to neutral tones and soft browns to really give it that autumnal edge.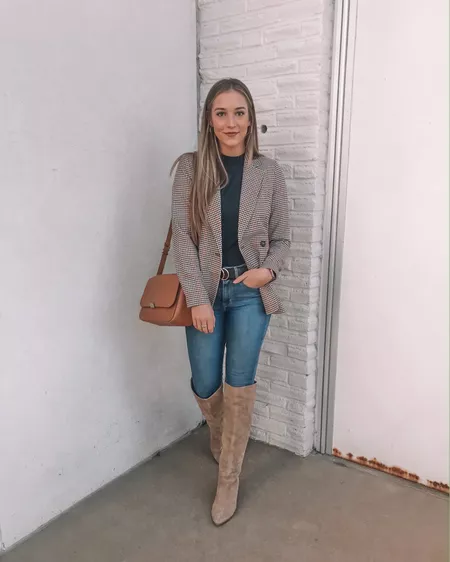 22 – Yellow and White Stripped Sweater With Classic Blue Jeans
Running to Target? Grabbing Starbucks? Picking up the kids from school? Whatever the errand, do it in style with a chic sweater, lightly tucked into the front of a banging pair of jeans. Pop on some flats and your favorite oversized sunnies and you are good to go.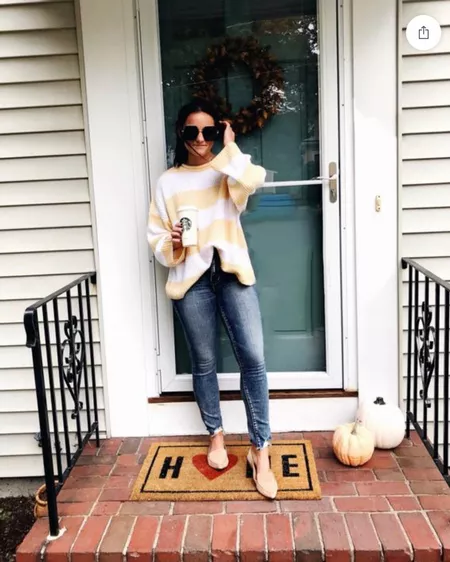 21 – Brown Knit Sweater With Black Heeled Boots
We can't think of a more stylish and chic option for a coffee run than this gorgeous look right here. Start with your coziest knit sweater. Opt for a warm brown, burnt orange, or russet-colored sweater with a decent fit. Pair with a cute miniskirt (add tights if it's too cold) and zip on some uber-sleek knee-high boots. Et voila!
20 – Red Full-Sleeves Sweater With Plaid Scarf
For this fall outfit idea, decide on your favorite pair of jeans and pair it with a simple long-sleeved top. We recommend opting for one that is in your favorite fall color. Pair with some simple black booties and your go-to designer scarf and there you have it!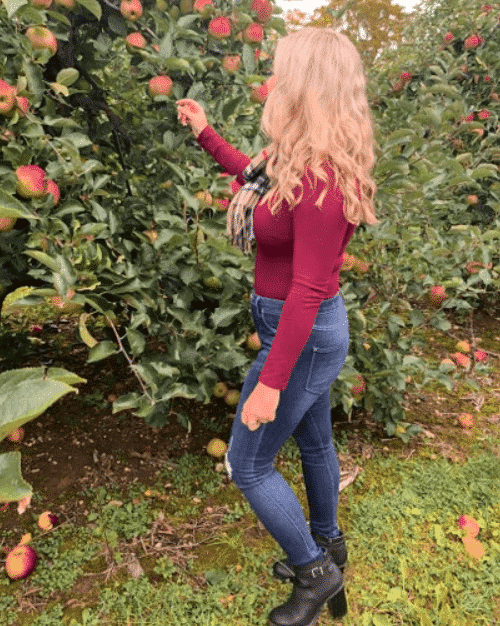 19 – Chunky Woolen Sweater With Distressed Scarf
For this look, we wanted to show you a great example of how to layer your warmer fall clothing pieces. Note that you should never go baggy or bulky on the bottom half of your figure if you have it on the top. Stick to well-fitting jeans, especially skinny jeans, and a chunky boot (which will visually balance out the chunkier aspects of your top half).
This outfit is also a great example of warmer tones of gray, with the addition of a cool gray purse! Last but not least, pop on your favorite dark-colored beanie. The thicker the knit, the better! This one is sure to keep your noggin warm.
18 – Navy Blue Blazer With Ripped Blue Jeans
Another great go-to look for fall is this one right here. This outfit combines understated elegance with business-casual vibes, making it the perfect option when you need a cute outfit for work or just want to look a little above average while grocery shopping. (We've all been there, girl.)
Pair a well-tailored blazer with some jeans, a neutral-colored top, and a thick scarf. This will give style as well as keep you warm. You can complete the look by wearing flat pumps or some boots.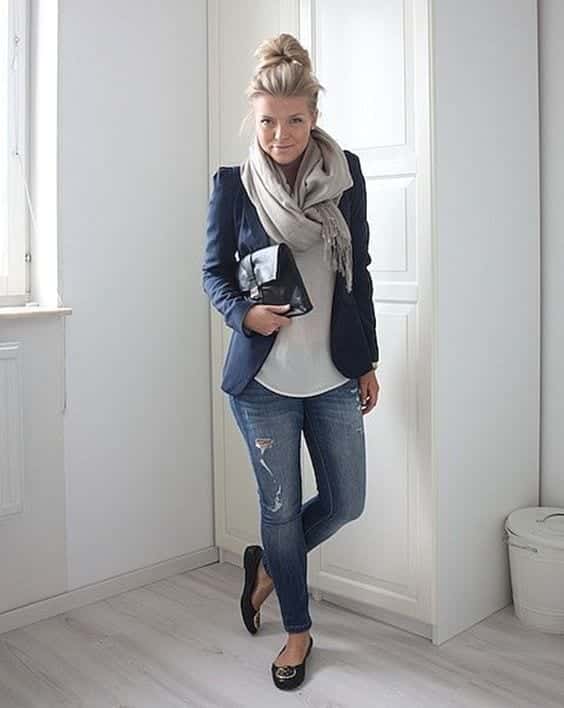 17 – Cowboy Velvet Hat With Brown Coat And Buttoned Denim Skirt
We can all agree that long coats are a fabulous styling piece, and also great for keeping warm on a chilly day. You can wear a long coat over a denim skirt and top outfit, or even with jeans and a tee. This is a great outfit for school or for hitting the road with your friends.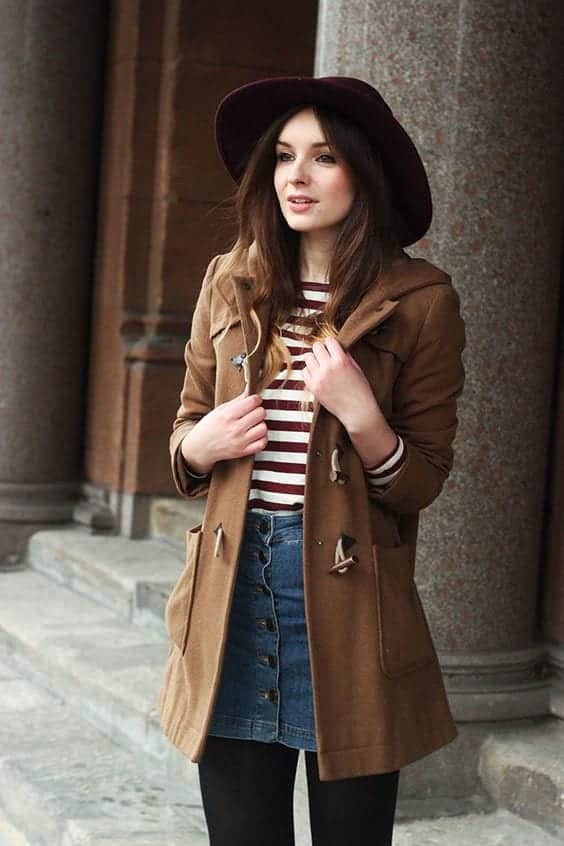 16 – Red Flannel Paired With White Round-Neck Tee
Bring a bit of the farmgirl vibe to this look with a red-and-black flannel, perfect for staying cozy and looking cute. You can wear it with a basic tee or blouse paired with black leggings.
Add some brown booties and a matching hat to tie off the look. This outfit is great for those casual days when you want to feel and look good.
15 – Yellow Graphic Tee With Black Leather Jacket
Maybe leather jackets aren't the first thing that comes to your mind when you think of fall weather. Maybe they are. Regardless, if you are going to rock a leather jacket, this is how you do it!
Pair with your favorite graphic tee (we love this orange-yellow tee that brings that delightful pop of color to an otherwise darker-toned ensemble) and your favorite jeans. Lastly, add sneakers! You'll also love these Fabulous Outfits With Converse.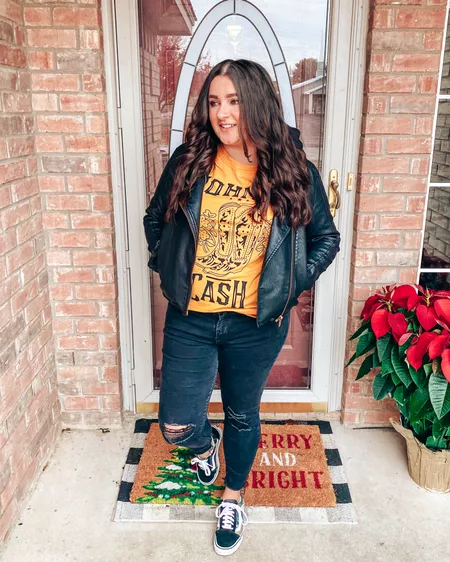 14 – White Knit Turtleneck With Purple Mini Skirt
Opt for a light-colored knit turtleneck and pair it with a deep purple skirt. Alternatively, you could combine this sweater with joggers or sneakers to give yourself an active-casual look. Play up your accessories to keep them dressy.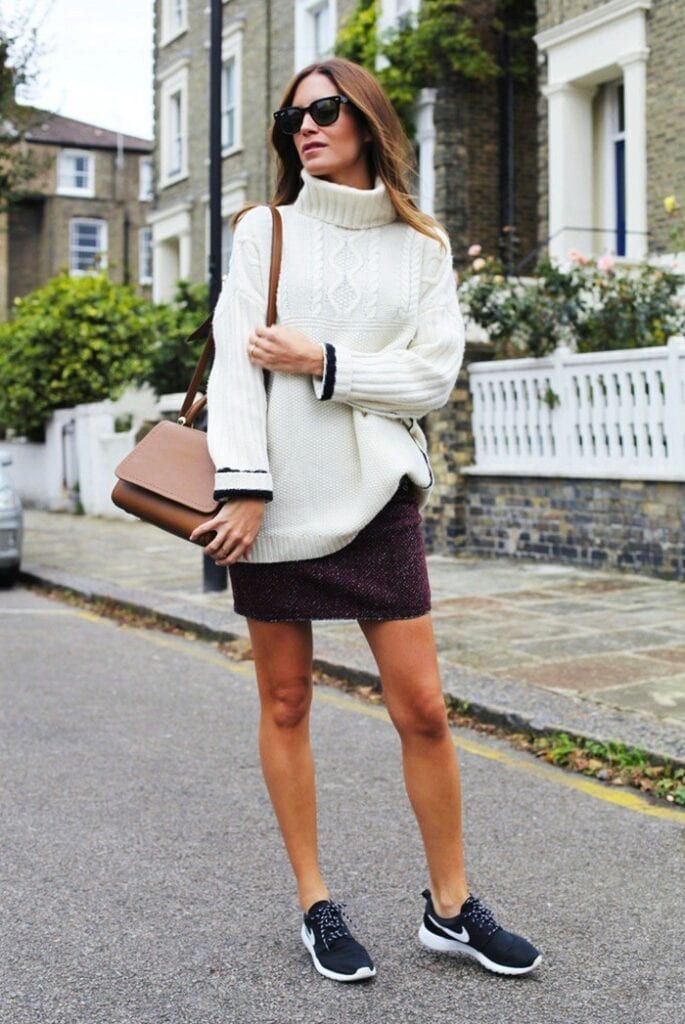 13 – Knee-High Printed Dress With A Crossbody Bag
If you don't like to wear too many layers, a wool dress is a great option. It will keep you warm without adding bulk to your figure. We love this chic frock paired with heels and a little crossbody bag.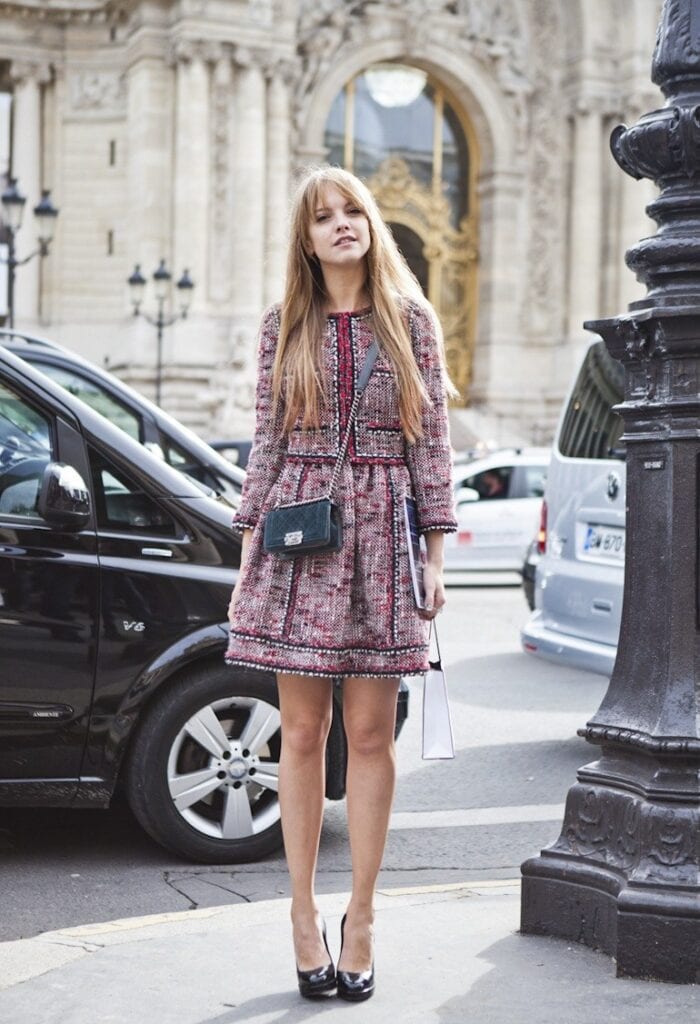 12 – Black Mock Neck Cardigan With Brown Fur Coat
This is the simplest fall night out outfit we have for you! Pair a black turtleneck sweater with a thick overcoat or cardigan or soft brown. This looks effortlessly beautiful and can be worn for different casual outings. Add your favorite ripped jeans and classic Adidas.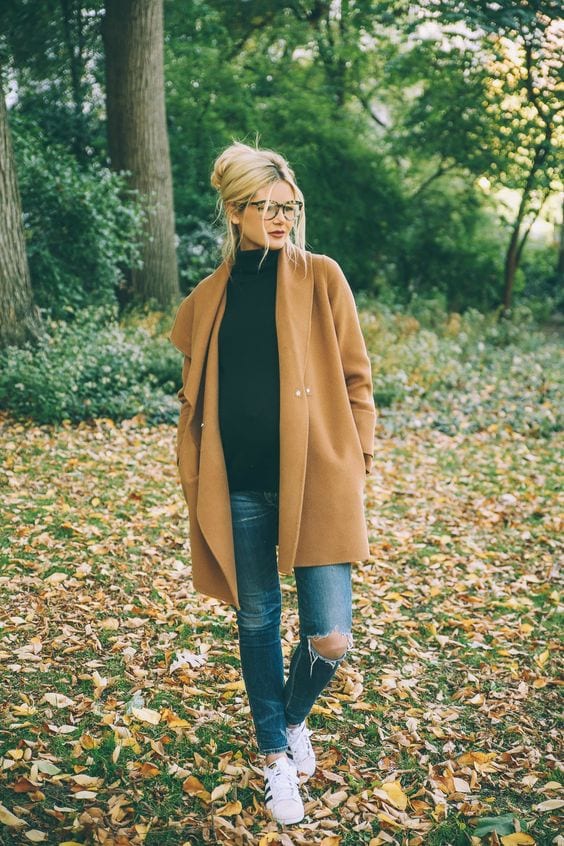 11 – White Sweater With Polka Dot Dress And Black Leggings
If you're wondering what to wear to fall this year, a great way to layer a dress is by picking one that features a cute collar and adding a knit sweater over top with the collar pulled out. This is a great way to look cute and feminine while staying cozy and warm.
Add tights underneath and your favorite pair of booties. We recommend opting for contrasting colors like this white sweater over a dark blue polka dot dress so that each piece stands out.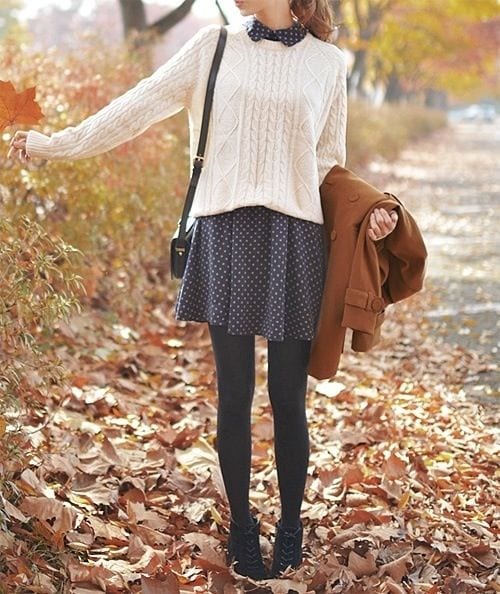 10 – Grey Wool Coat With Classic Blue Skinny Jeans
When it's fall time you can wear multiple layers of clothes and combine them with a messy top knot for a casually chic look. We like the combination of a black crewneck sweater with a gray wool coat, fitted jeans, and sneakers. Plus that hair is just too cute!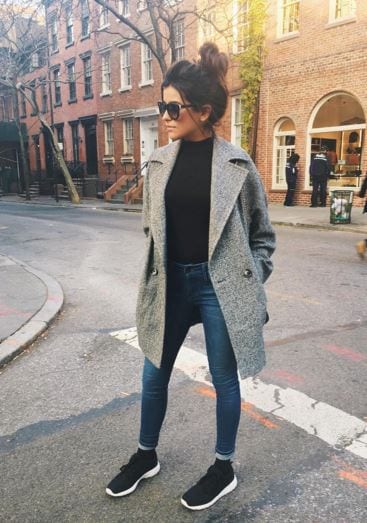 9 – Crochet Sweater With Black Denim Skinny Jeans
Again, if you are not a fan of tons of layers, why not simply try a cute knit crop sweater with your favorite pair of skinny jeans? It's a one-and-done outfit that will take no time at all to throw together.
This gives an overall sleek look. To add more style, you can also opt for loose curls or wavy hair and a pair of earrings from keeping it too casual.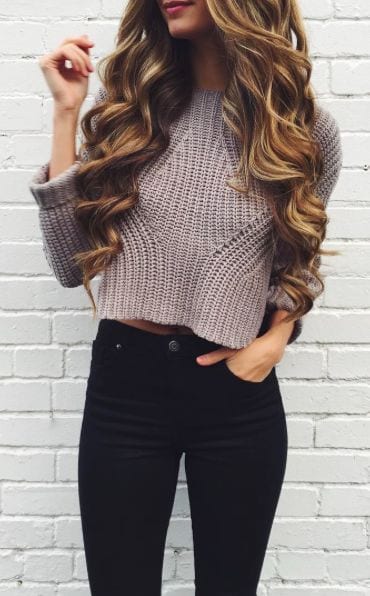 8 – Plaid Coat With Distressed Jeans And Red Beanie
If you love a bit of a playful ensemble, check out this fun and colorful one! The sky is the limit with this look. Pick your main color (pictured is red) and build on that.
A red beanie, top, leggings, and shoes are so fun when paired with a wool coat (check out that red detailing) and boyfriend jeans. Such a great, out-of-the-box ensemble!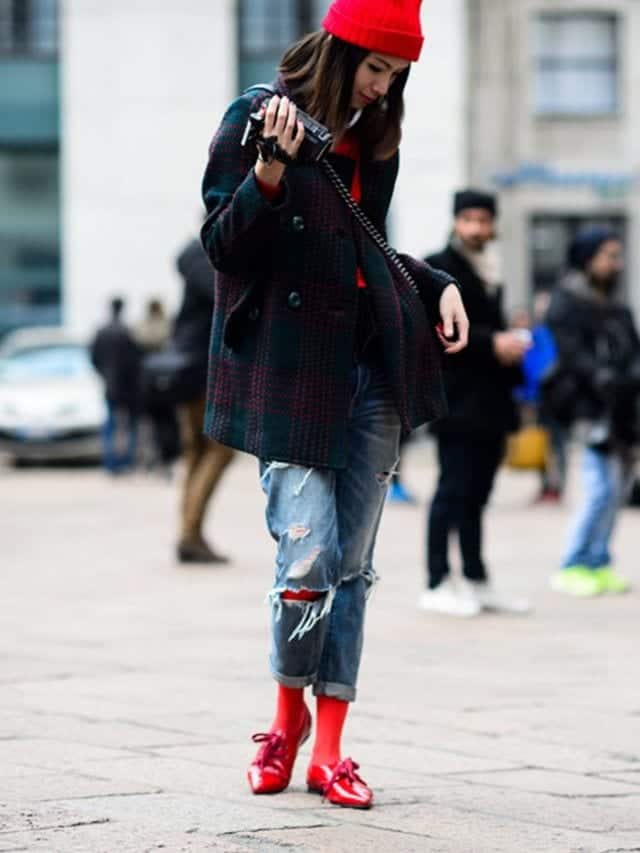 7 – Black Mini Dress With Black Leggings And Pencil Heels
This is another stunning fall getaway outfit for you if you are attending a wedding or some other kind of formal event this fall, check out this stunning look. We love this full-skirted frock paired with two-toned heels and tights.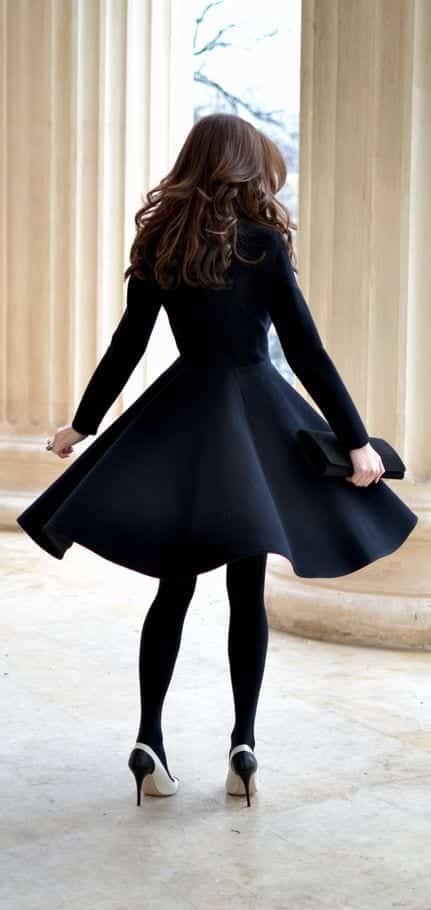 6 – Plaid Cape With Thick Furry Muffler
Capes add an instantly stylish look to any outfit. Woolen or some thicker material capes are perfect for fall. Wear them with skinny jeans or leggings and bring your look to a whole new level. Here are some amazing cape outfit ideas for you to try this fall.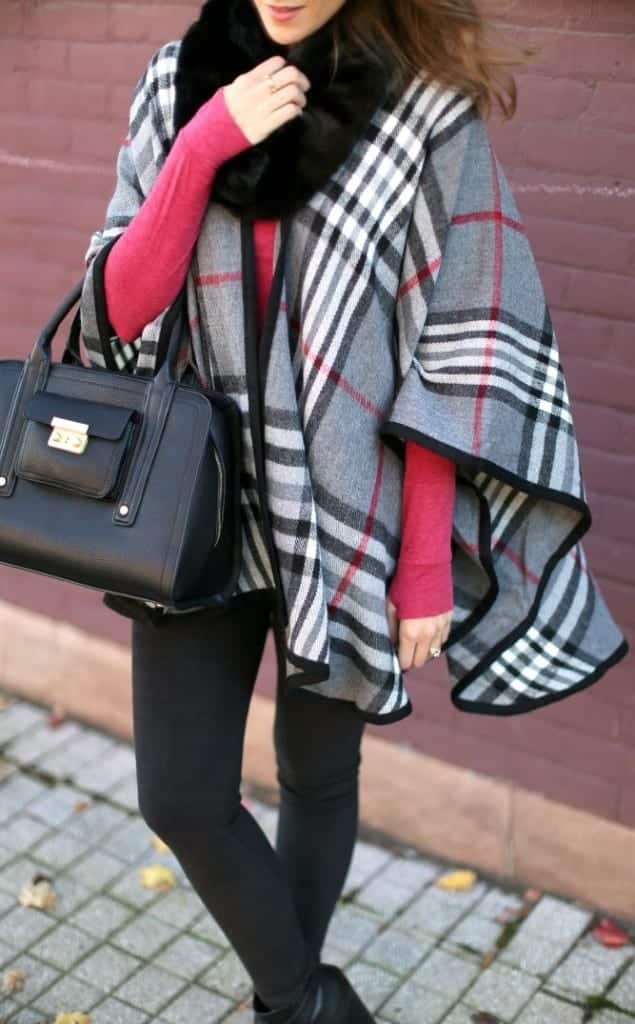 5 – Suede Orange Long Coat With Warm Check Scarf
This look is inspired by some of the celebrities' fall outfit collections. Get ready for this 'Evermore' inspired fall look because Taylor Swift is rocking an orange suede long coat with side pockets, matched with a brick red check scarf to keep her neck warm, maroon skinny fit pants, and paired with a black side bag. To top it all off, match a beret hat and some black chunky boots to complete the look.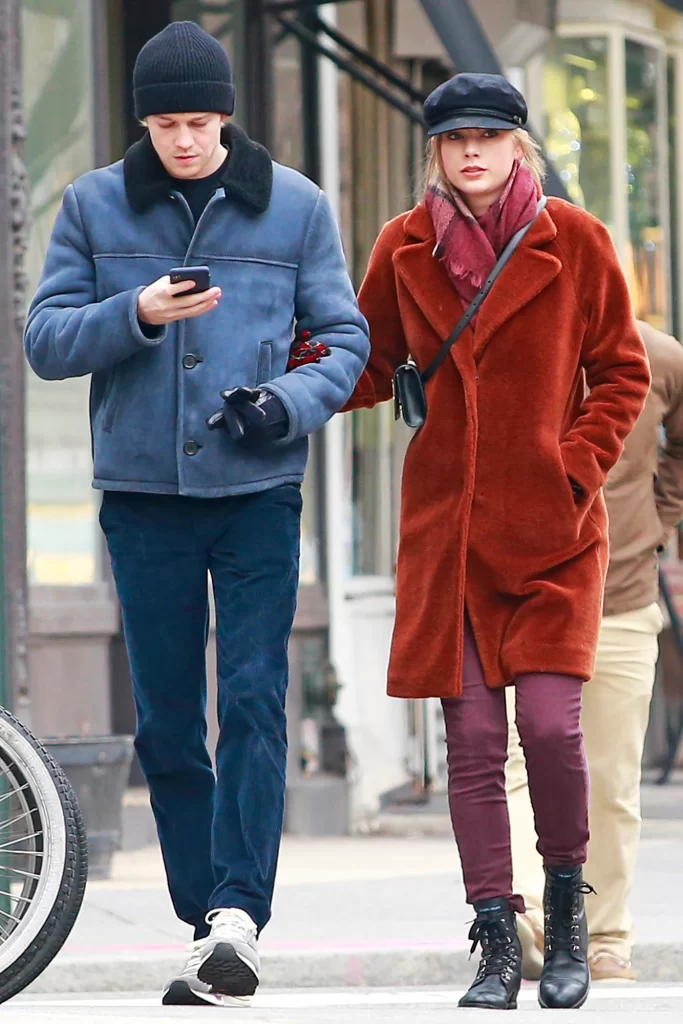 4 – Thick Plaid Scarf With Brown Woolen Coat
Some days you might not feel like dressing up, so it's always a great idea to have a go-to basic look you can turn to. Have a couple of basic pieces you can grab and go, with a go-to hairstyle as well. This outfit is great for any occasion in the fall or even winter.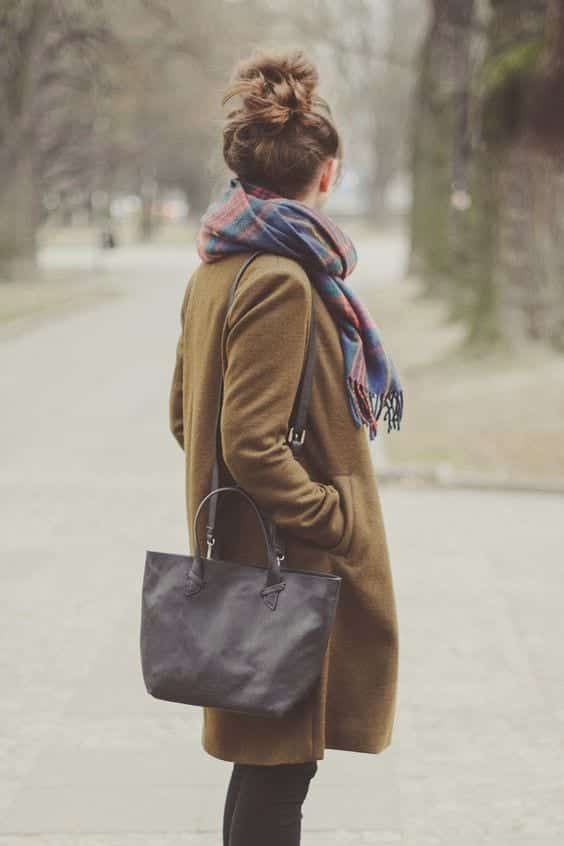 3 – Orange Ribbed Sweater With Blue Ripped Denim Jeans
This is one of the simplest fall night-out outfit ideas we have for you but it's definitely very cute and comfortable. Pair an orange ribbed sweater with some classic blue ripped denim jeans. Add a trendy beige fedora and some beige suede boots to complete the entire look.
2 – Olive Green Sweater Dress With Black Heeled Combat Boots
If you're looking for an outfit that's both cozy and chic, look no further because this is the outfit for you! A classic olive green sweater dress with a slit down one side and pleats running down it. Pair it with some chunky heeled combat boots and a brown fleece scarf and tada, you have your look.
1 – Printed White Sweater With Orange Wide-Legged Denim Pants
Last but definitely not least, this outfit is a must-have for a day out in the fall. A white sweater with a printed orange triangle design on the front paired with wide-legged orange denim jeans and thick white boots. On top of this, add a warm fleece white scarf, a cute little white purse, and some vintage circular black shades to bring the look full circle.
Frequently Asked Questions
Q. How should I dress for a fall party?
Ans. Some staples you can make use of during your fall party are a warm and cozy cardigan, a fuzzy fleece jacket, or even a knit sweater vest to add that oomph you were missing. The most important thing is to be comfortable and warm because we don't want you to get sick!
Q. What is the hot new style for fall next year?
Ans. One of the biggest trends this fall has to be chunky furry loafers! These bad boys took the fashion industry by storm and can be worn with more formal-looking outfits as well as more casual ones. It was one of the most popular shoe styles this year because every outfit can work well with a pair of good chunky loafers.
Q. What are fall colors?
Ans. This fall's main colors leaned more towards burgundy, green, brown, and earthy tones. What made this year's color palette different from other years is the incorporation of brighter shades of blue and pink as well which made the palette stand out.