Fall Nail Colour Ideas: Fall, better known as pumpkin spice season, is a great season to start thinking about changing your wardrobe and nail game. The transition from summer to fall does not just mean cute sundresses, cosy sweaters, and leather boats. But it also means switching to bold, moody, and trending fall nail colours.
The warm muted colours just bring perfect fall vibes. By now, you should keep all your pastel and neon nail colours aside and look for some trendy fall nail colours.
When it comes to taking your nail game to the next level, the options are endless. You can go for nail designs, nail arts, and much more. However, the most decent and basic ingredient to get into the fall vibe still remains the nail colour. Hence, we would like to make a case for trending fall nail colours. We swiped dozens of nail colours and handpicked the best colour in every hue. So, without any further ado. Let me introduce you to some popular and pretty nail colours to get you in the fall spirit.
Best Trending Fall Nail Art
When Essie said, "I can change the world with the right colour." We could not agree more. To figure out the right colour for you, you have to discover your personal style first. Choose your right colour according to what colour you like, what occasion it is, and what feeling you wish to have. Every colour has a symbol and you can even choose one that matches your personality and mood. Moreover, shades of yellow, orange, red, purple, and brown are very popular in fall. However, our list is not limited to these colours. We have listed down more adventurous hues for you to embrace what's trending. With all these colours, you can get creative and create some funky nail art designs and some epic colour combinations as well.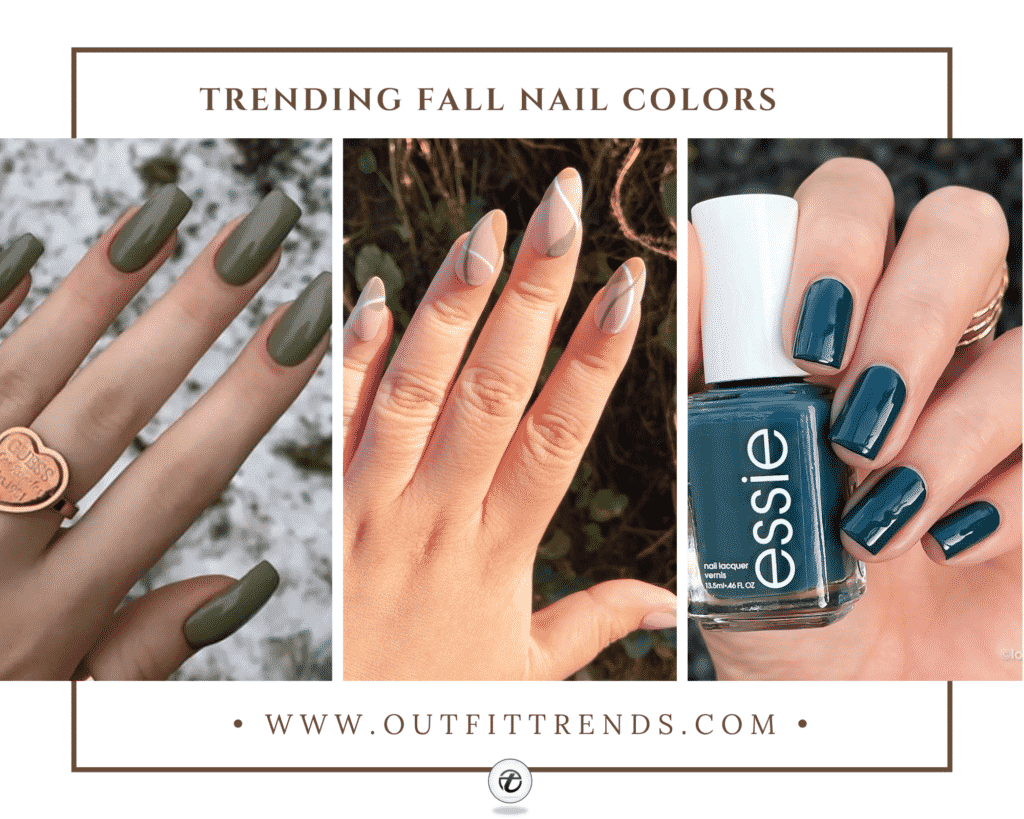 Tips
Before applying nail colors, make sure you get your nails into perfect shape. Go for the best manicure ideas to give your hands a smooth finish.
Prepare your nails beforehand. The very first step is to remove the old nail polish from your nails.
After removing the old nail polish, make sure you trim, file, and smooth your nails.
To apply clean nail polish, you should use different methods to prevent the nail polish from drying out your cuticles. One way to do this is to apply a thin layer of petroleum jelly around your nails.
Always apply a nail base coat to each nail and wait for it to dry to strengthen and protect your nails. Make sure you apply a thin layer of base coat.
Now apply your nail polish gently and in even layers.
After your nail polish has dried, apply a top coat for a nice and smooth finish.
We have mostly mentioned single toned nail colors. But, be careful of the color combination when going for dual tones.
20 – Royal Dark Teel
Royal dark teel is having a moment this year. I would definitely recommend going for this cool colour over black or navy shades. The perfect colour choice to refresh your mood and nail game.
19 – Pumpkin Spice Orange
How can this colour not be on the list? Wear this colour for the ultimate autumn vibe. The orange nail colour looks decent. One best thing about colour is that it's fun and can never look dull and boring. Wearing an orange colour will not just liven up your nails but also your mood. Orange is a vibrant hue that comes in an array of shades making it easier for you to choose a shade that suits you the most. Also, you can get creative with it by adding some nail art or design. Scroll down for one such design.
18 – Gorgeous Shades of Grey
17 – Multicolored Cow Print Nails
With all the amazing nail polish colours, sometimes we just can not decide which one to choose. Therefore, we bring you this uber-cool nail colour idea. Paint your nails in many different colours. This looks fun and glamorous. To recreate this, you will need different nail colours and some techniques to create the cow print. Make sure you use proper techniques to get the perfect finish since it can be tricky to apply nail polish like this. We recommend you get these nails done by a professional.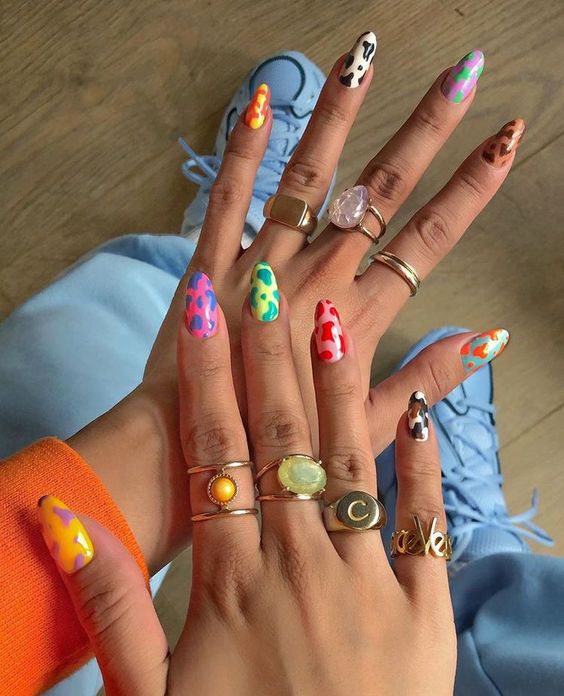 16 – Classic Red With Glitter
Red can never go out of style. This is one such colour that you can rock anywhere and any time. You will find different shades of red. But, we suggest you go for a classic glossy red nail colour like this one.
15 – Gold Glitter
The simple and classic round shape is on top of the trend. Wear this golden glitter colour to brighten up your manicure. Sparkly nails look stunning on cocktails, weddings, or any other festive occasion. For a more dramatic manicure, you can wear this glitter on two or three fingers and apply solid gold on others. Go full diva and dazzle brightly with your shiny hands. Moreover, You can wear this colour with different outfits and it will elevate your ensemble.
14 – Nude Neutral Nail Polish
13 – Olive Green
Are you looking for a professional and classy looking colour? This one is for you then. Choose the timeless olive green that is a dark yellowish-green colour. You will appear professional and this colour will also give a feminine touch to your nails. The nail colour looks incredible irrespective of your nail shape. Besides, it is a stunning and unique colour that goes well with multiple colours such as beige, grey, maroon, tan, and red. Moreover, this colour is especially for people who do not want something too bold or too bright. Olive green is a perfect blend of dark and light colours.
Via
12 – When To Wear A Silver Nail Color?
Metallic colours have been here for quite some time and they are making a comeback now. They are easy to wear and perfect for people who would like to make a statement without putting in much effort. The colour silver represents hope, focus, and feminine energy. Moreover, silver can look great on nails of all shapes. Silver is a colour that will look good with anything and everything so pair it with any outfit you like. Wear it on a nice autumn day or a stunning spring day to have lunch with your friends or family.
Via
11 – Metallic Plum
Plum is a reddish-purple shade suitable for formal occasions. It is a dignified and elegant colour and should definitely be on your fall nail colour list. Plus, it symbolizes nobility. So, if you want a sophisticated statement with your nail then go for this colour. The nail colour will make you feel like you have everything under control. Although it's mostly worn on formal events, it can look gorgeous at informal events. Wear this nail colour for your next bold party look. Just sprinkle around some glitter and it will instantly grab everyone's attention. Also, if you wish to pair it with other colours then choose silver, purple, or you can even create a beautiful ombre with this colour.
10 – Beige
Beige is one of the prettiest nail colours. It is a neutral colour and is flattering on women regardless of their skin tone, nail length, and shape. Beige is the most decent, elegant, and stylish nail colour of 2023. The nail colour is perfect for people who want to keep it simple and minimal. Furthermore, It can be worn anywhere including formal events because it is too subtle and calm. However, you can also wear it to parties, or other informal occasions when you have a heavy dress and jewellery. Beige will balance your look and give you the ultimate stylish look.
9 – Mustard Fall Nail Color
For people who love wearing bright and cheerful colours, here we bring you the gorgeous mustard colour. The colour is super amazing and it will instantly elevate your appearance and mood. Shades of yellow, orange, red, purple, and brown are popular fall colours. Hence, you should definitely wear a mustard colour this fall. You can wear mustard clothes and apply this nail colour. But, another way to make a style statement is to wear neutral colour clothes and apply mustard colour nail polish. Moreover, if you are looking to pair the cool mustard with other colours then we suggest you go for red, green, blue, pink, or brown colour.
8 – Dark Mocha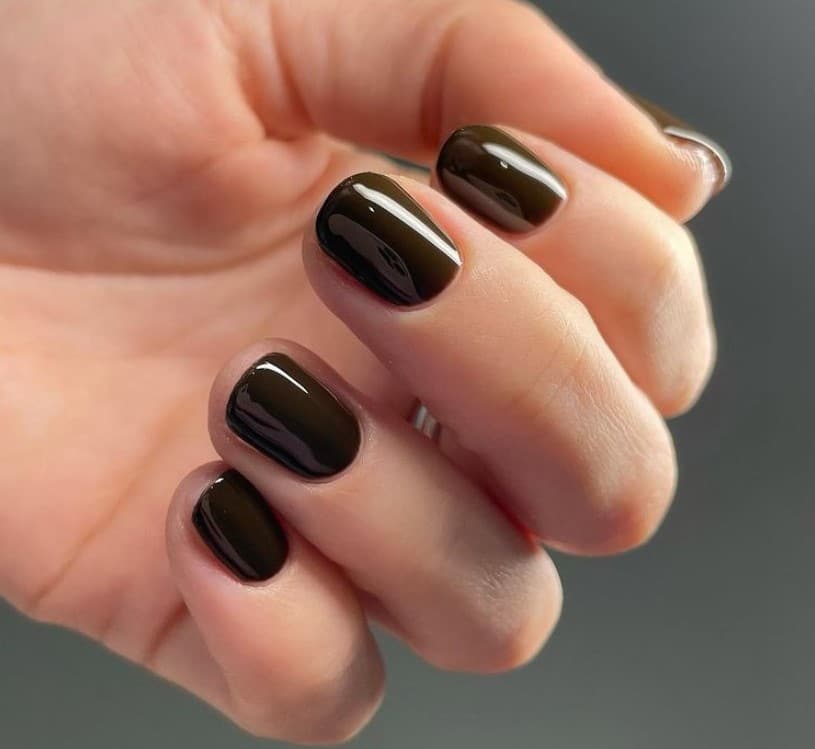 7 – Fall Nail Colors And Designs
Apart from nail colours, nail designs have been very popular. So, create some uber-cool nail designs with our hand-picked colours for you this autumn. Let's first start with this gorgeous and shiny purple colour. From cocktails to weddings, these nails will look brilliant on your hands. Not only will this nail colour dazzle brightly but it will reflect your bold and confident personality. Create some beautiful abstract swirls on your nails for a dramatic nail look. Moreover, we love this glitter polish combined with purple on other fingers. The glitter mani is perfect as a nail design and definitely points to fun and carefree times.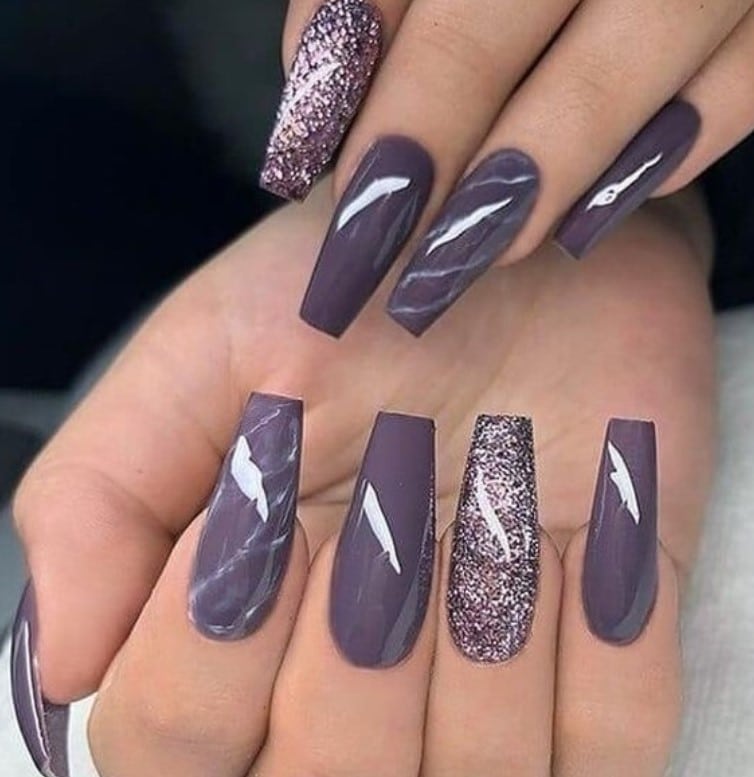 6 – Mint Green For Short Nails
It can be quite difficult to choose the most suitable and best-looking nail colour for short nails. But, we have got you covered. Have a look at this aesthetic nail colour design.
5 – Fall Feels With Bright Orange
How can you not create a nail design with the famous autumn nail colour? I love the chic nail design created with white nail paint. The design on the white nail is so refreshing and cool. To recreate this, paint your one nail white and create some cute designs like this with green and orange colours. Wear bright orange on other nails and feel the ultimate fall vibes with the right choice of colour.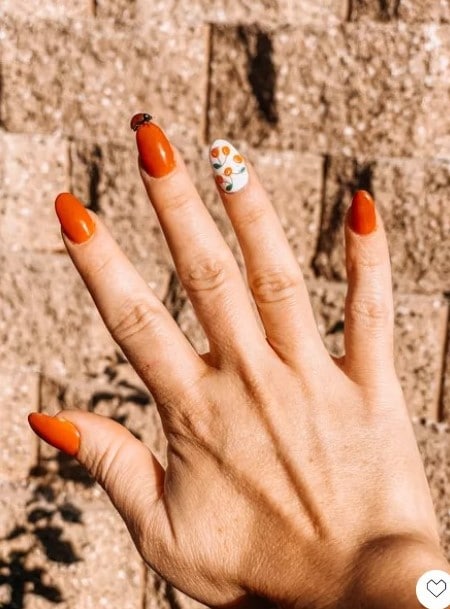 4 – Autumn Fever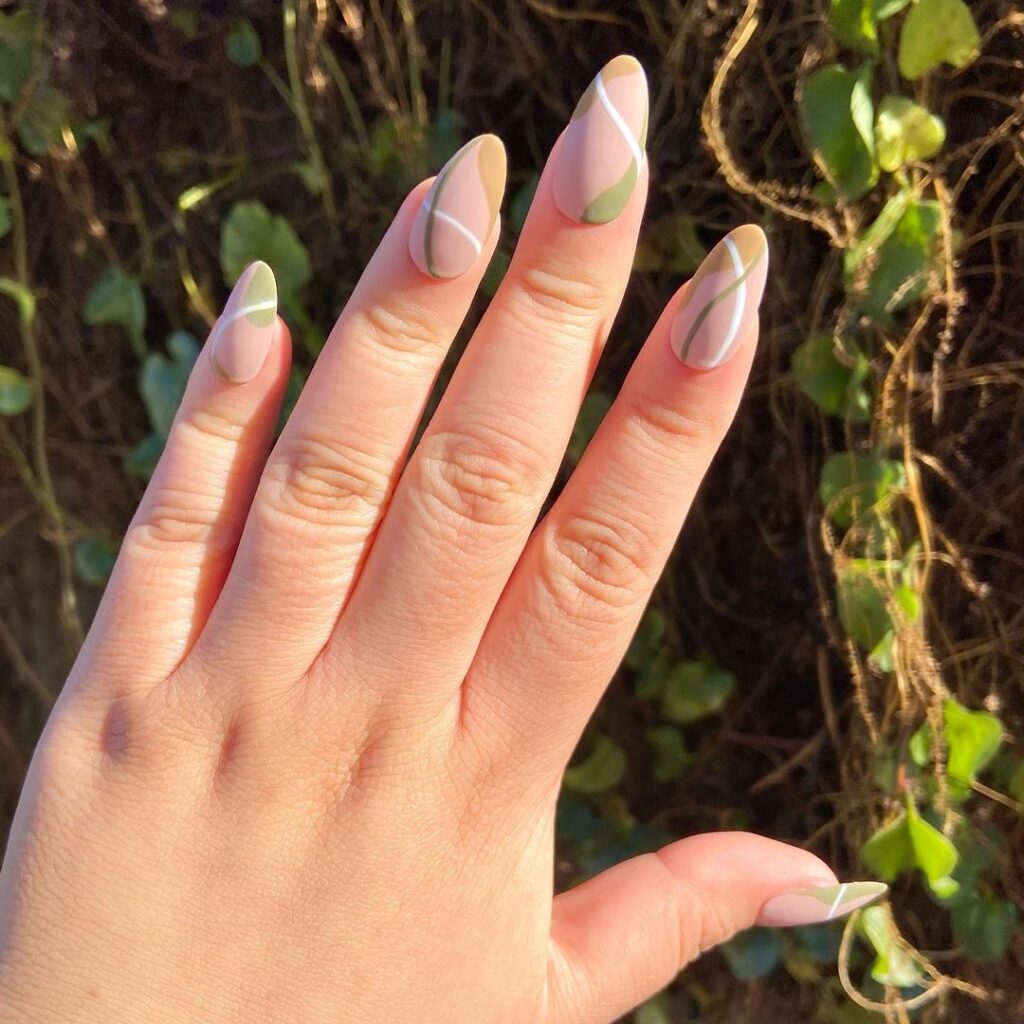 3 – Pink Ombre
If you are someone who loves mixing nail colours then this one is for you. Pink nail designs are everyone's favourite. Try ombre in which you can create different colour gradients. It's the type of manicure in which you can do all the creative stuff depending on your mood. Have a look at this perfect colour combination for all pink lovers. The neutral and pink ombre is a dream. It looks so classic yet professional. You can create an ombre with many other colours. Besides, this easy design can be worn through all seasons.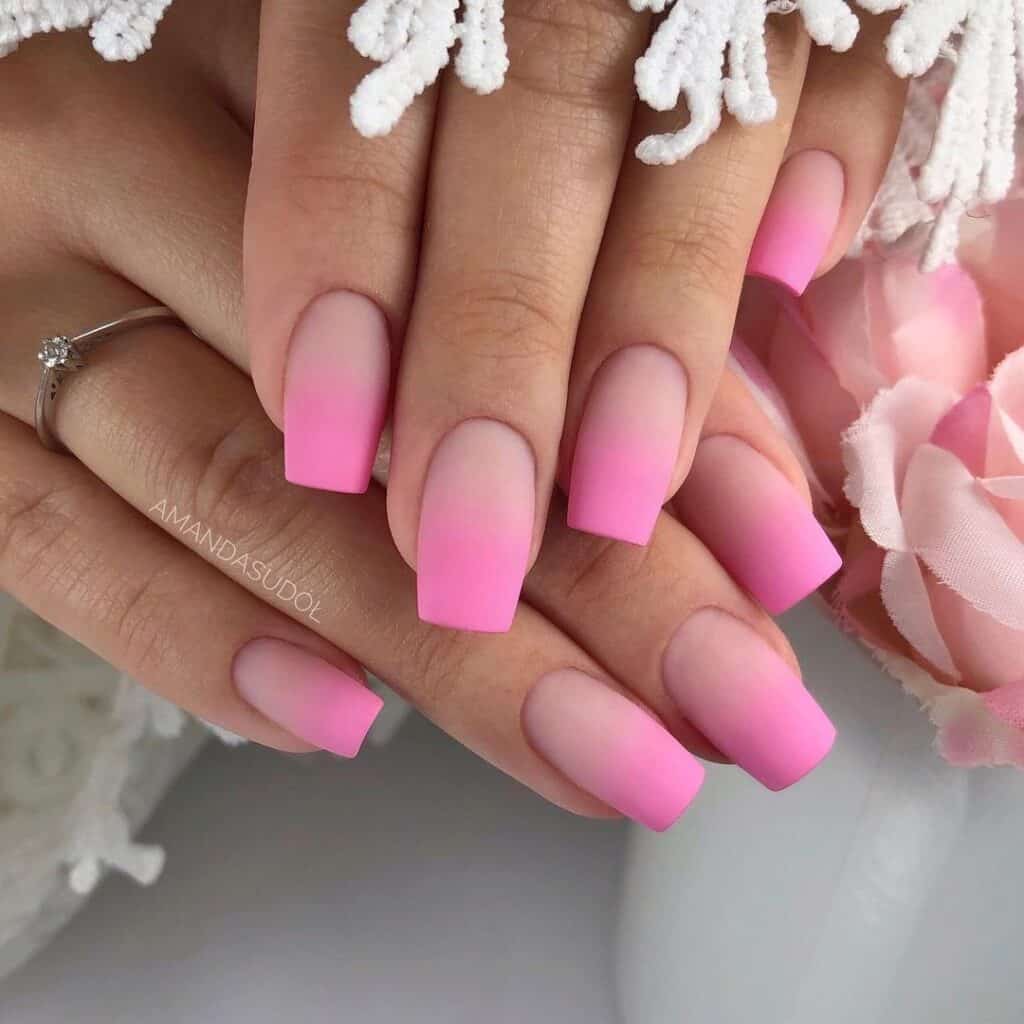 2 – Aesthetic Nail Design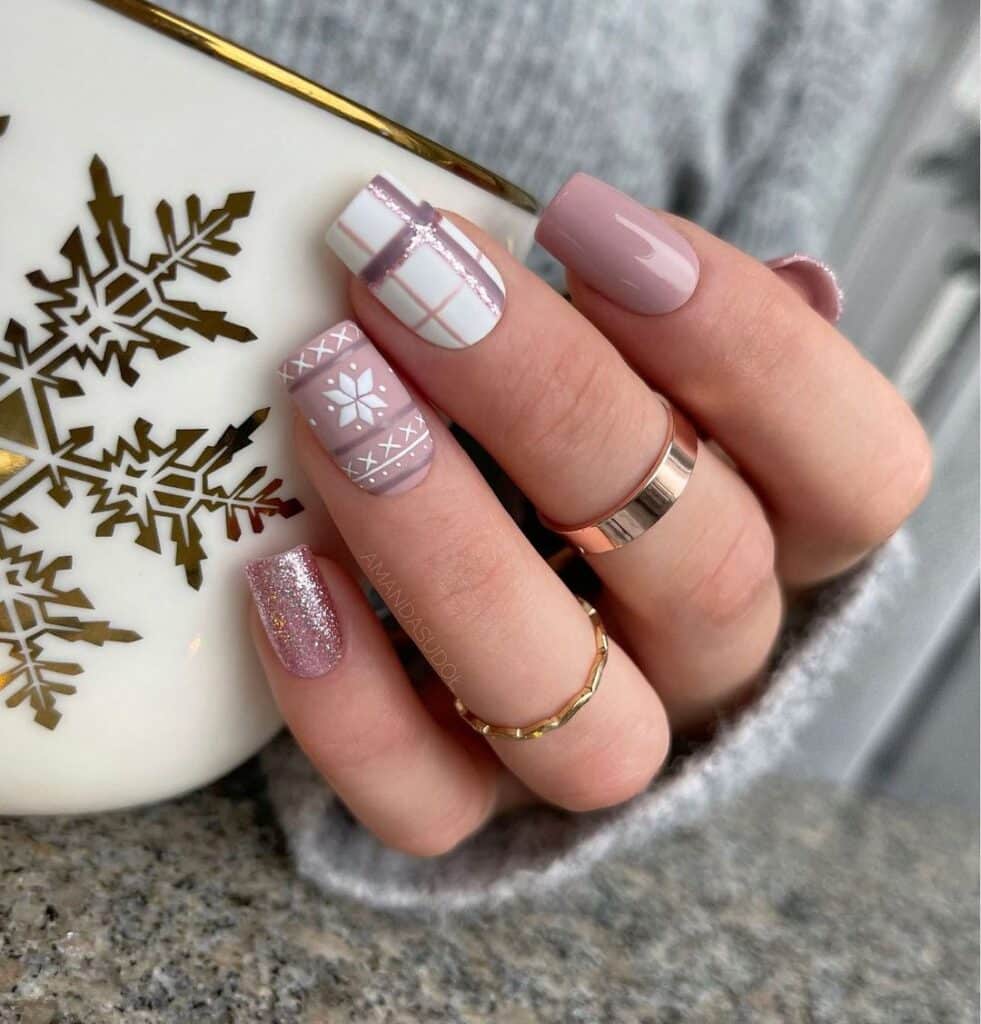 1 – Reflective Nail Colours
You would not find cooler nail colours than this one. This reflective manicure is everything. Paint your nails like this when you can not pick the perfect colour. Deciding to get a different colour on each of your nails is a bold choice. Not everyone can pull this off. However, the finished look is worth the effort. I am obsessed with the type and the colour of the nails. It has such pretty colours that you can wear all year round and still look classy. Such pretty colours that you can wear all year round and still look classy. I just can not wait for my next nail appointment after looking at this nail colour idea.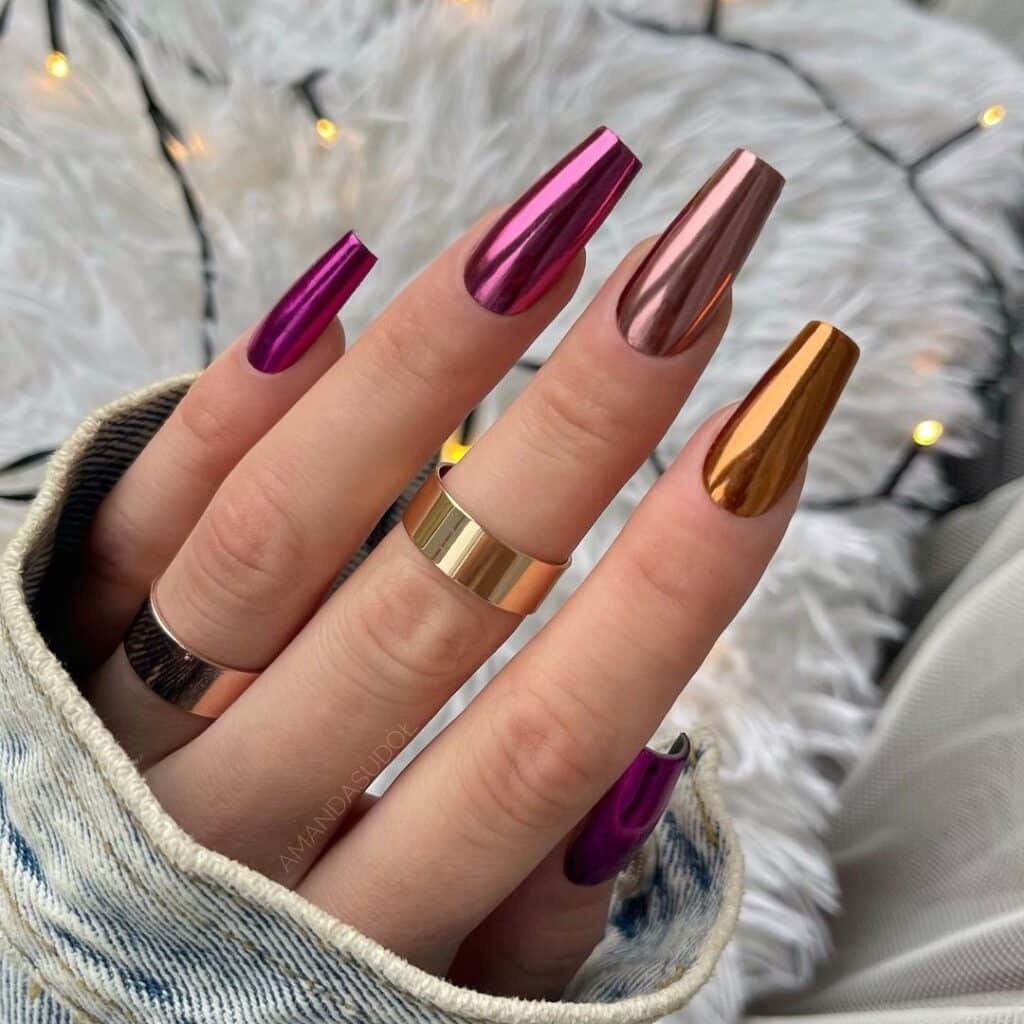 Frequently Asked Questions
Q: Are there different types of nail polish?
Ans: Yes, nail polish comes in multiple types. There are some main types that are worth knowing which include gel, matte, acrylic, breathable. Other popular formulas include chrome, glitter, crème, foil, holographic, and pearl.
Q: What is the most popular nail color in 2023?
Ans: Well, everyone will have different answers to these questions since all of us have different style, preference, and opinion. Nevertheless, here are some colours that are having a moment in the fashion industry. Beige, nude, royal dark teel, red, green and beautiful white nails.