Coffin Nail Art Ideas: With coffin nail art trending, it is reasonable to find out some of the most aesthetic ideas to create similar versions.  They have been sported by Celebrities like Kylie Jenner, Khloe Kardashian, and entrepreneur Heather Sanders.
You are surely going to love these spectacular and versatile coffin nails ever – which includes all kinds of crazy and creative stuff you can do with your nails right away. This also means that you can definitely use new and trending designs, stick some artifacts or even go with the simplest matte coloration if you want to. So why wait? Look through these 80 new and unique coffin nail ideas for and we are sure that you will love every single one of these.
Coffin Shape Nail Designs
Here are some tips and tricks to maintain coffin shape nails:
If you plan on going for acrylic nails, make sure to maintain them at a length that appears natural.
Protect your nails from any possible staining or breakage.
Invest in a high-quality nail art kit if you plan on doing your nails on your own.
Use colors that are most appropriate for the season.
Make sure to moisturize your hands and nails each time before and after you do your nails.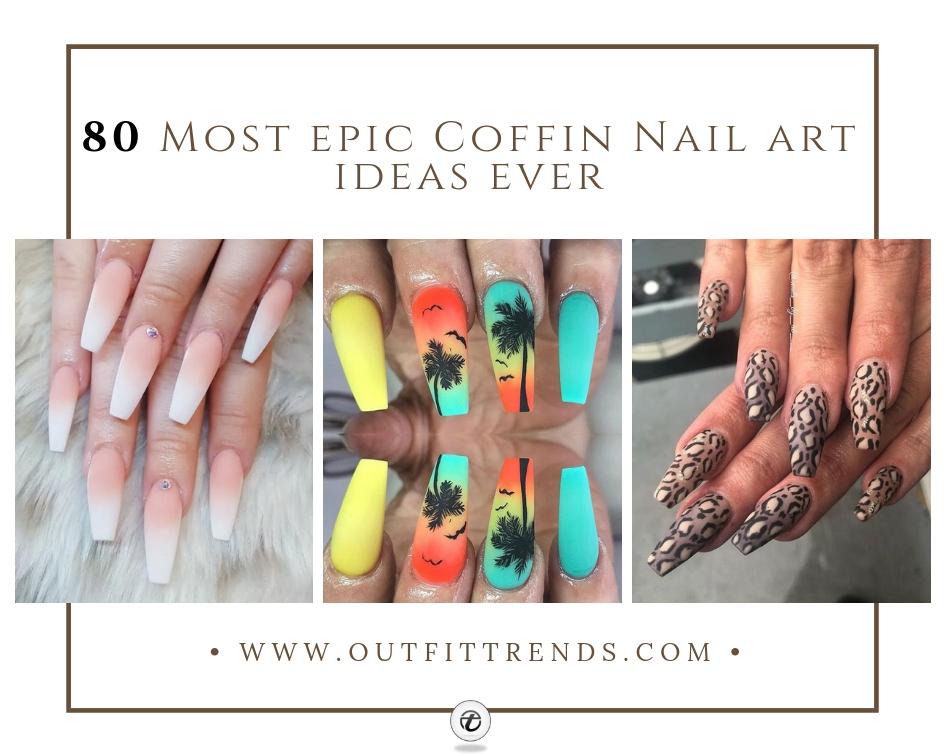 Step By Step Video Tutorial
Let's start with a small video tutorial on shaping your coffin nails on your own:
↓ 80. Christmas Vibes
Style your nails in a festive manner for the upcoming holiday season. Deck up your nails in white and red for the ultimate Christmas vibes. The candy cane design and snowflakes seem to be the cherry on top here. Pair these nails with one of our awesome Christmas Party Outfits.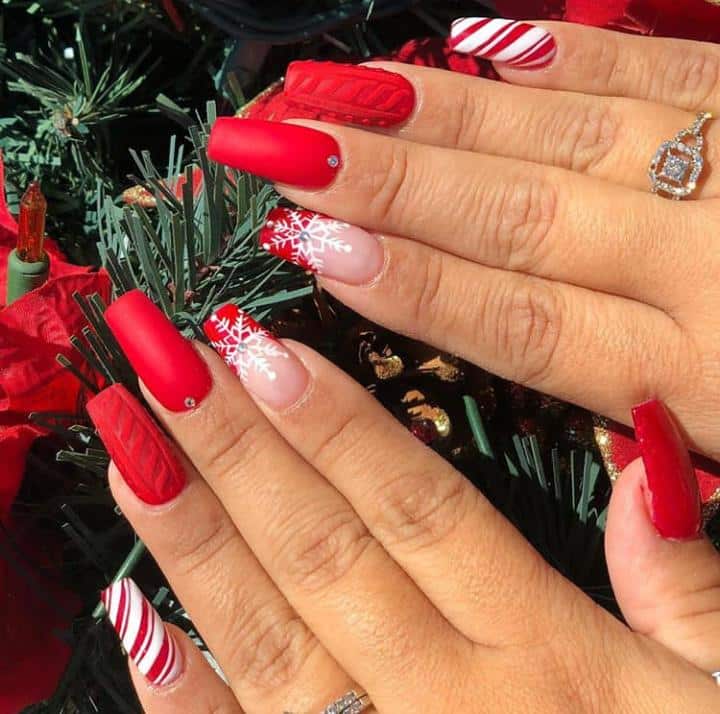 ↓ 79. Kylie Jenner Nails
The Kardashian-Jenners can be credited for bringing back the popular 90's trend of coffin shape nails. Kylie Jenner loves getting her nails done frequently and her Instagram feed is proof of that. These nails were from when she could not pick the perfect pink color for her nails and decided to get one of each.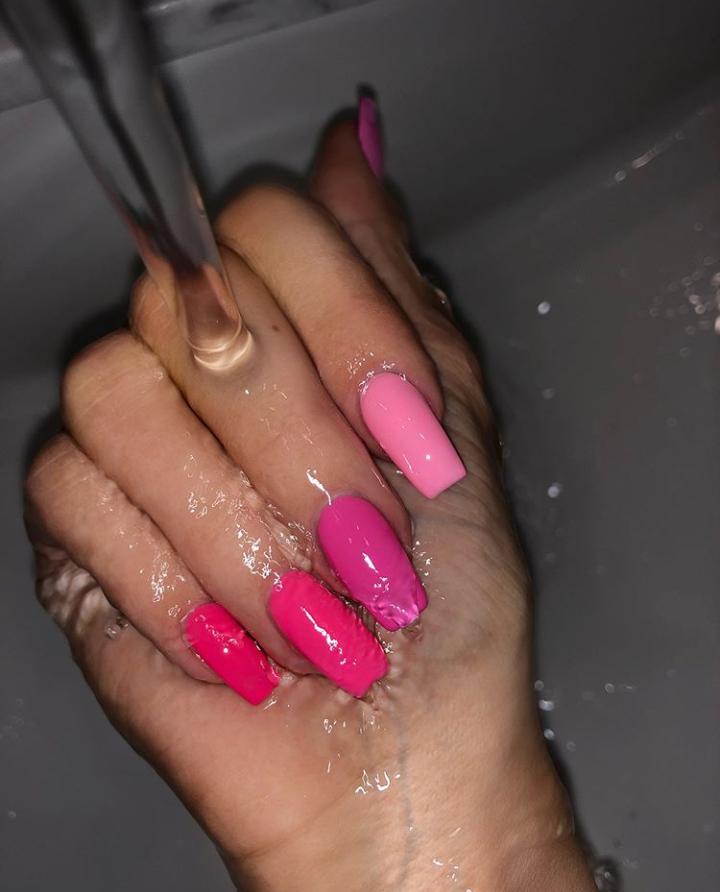 ↓ 78. Autumn Colors
Fall happens to be one of my favorite seasons for the beautiful colors it brings. This dull green and peachy pumpkin color is giving us the ultimate fall vibes. We definitely cannot wait for our next nail appointment after looking at this one.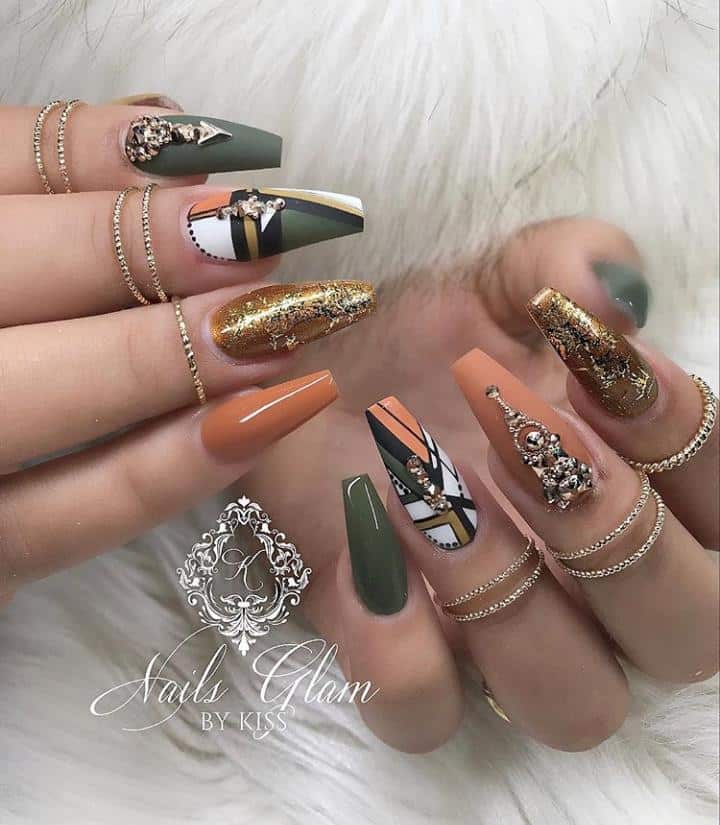 ↓ 77. Gothic Nails
These gothic, Halloween nails have been crafted to perfection. We love the minute details the nails have been given to create an edgy look. We wonder how artistic the creator must have been to create an art piece like this one.
↓ 76. Fairy Dust
Give your long coffin shaped nails a subtle and delicate look by going all white. If you wish to get a fancier and elegant look, add in a bit of glitter and crystals as seen here.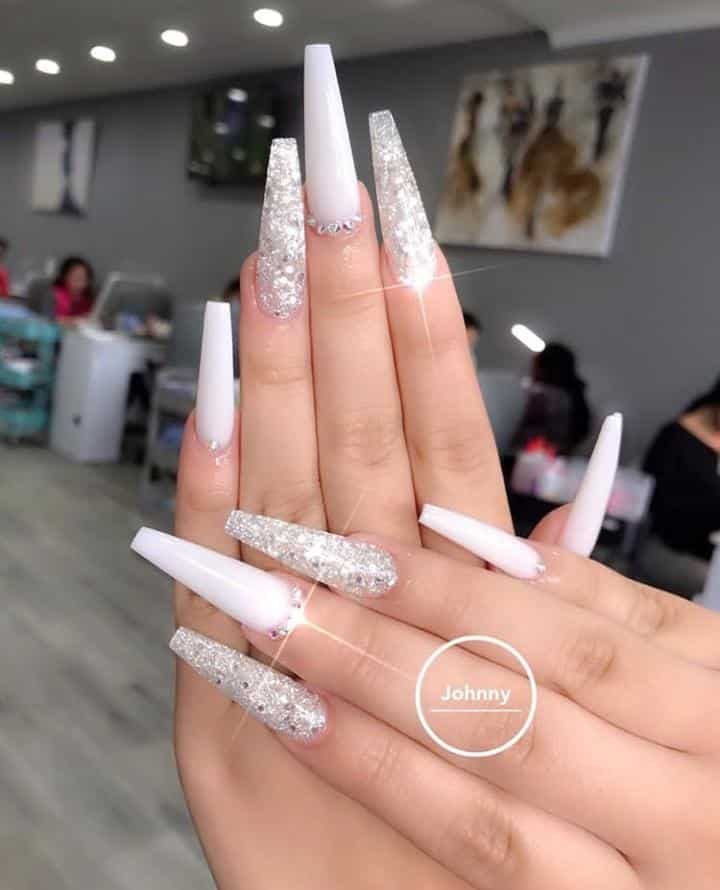 Via
↓ 75. Fancy Rhinestone Nail Art
Here is another Autumn favorite look involving rhinestones and marble with some blue. We love the crystal detailing done by the cuticles which make this one elegant look to pull off during the dull and chilly weather.
↓ 74. Black Matte Look
Instead of going for a basic, gloomy and dark look, add in a bit of sparkle to your coffin nails. The silver glitter and studs give the perfect metallic look to these black nails.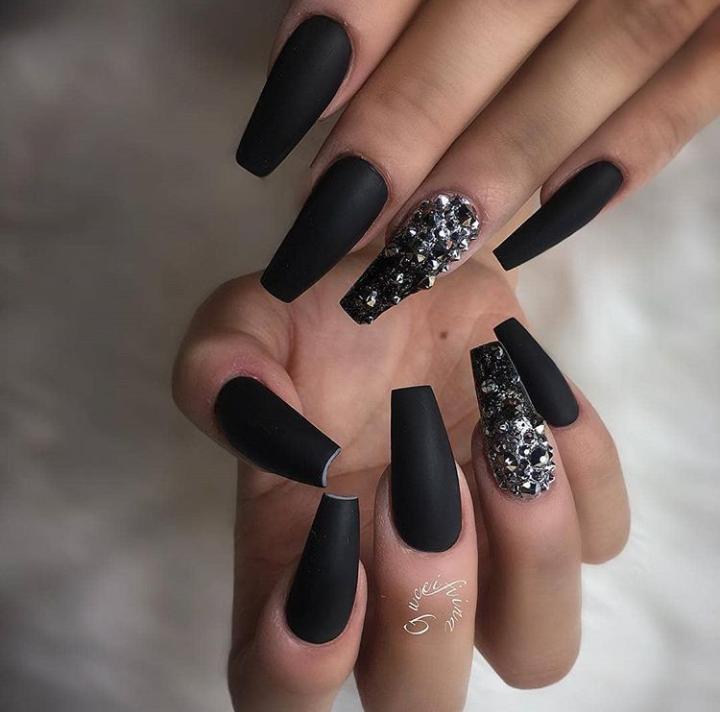 ↓ 73. Neon Flames
This killer coffin nail art is perfect to add a pop of color to your everyday look. The unique neon flame effect makes the nails appear elongated and suits the coffin shape well.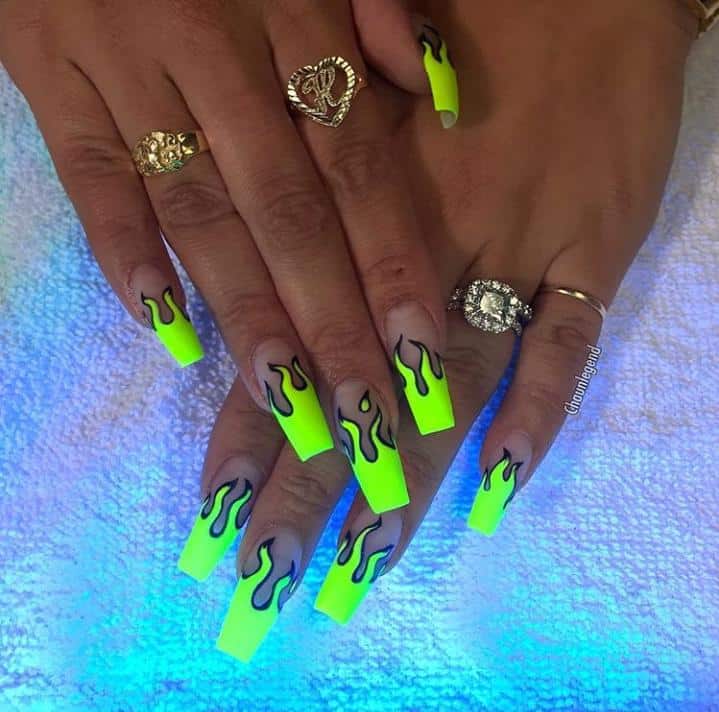 ↓ 72. Long Coffin Nails
Go overboard with the coffin nail trend with these super long ones.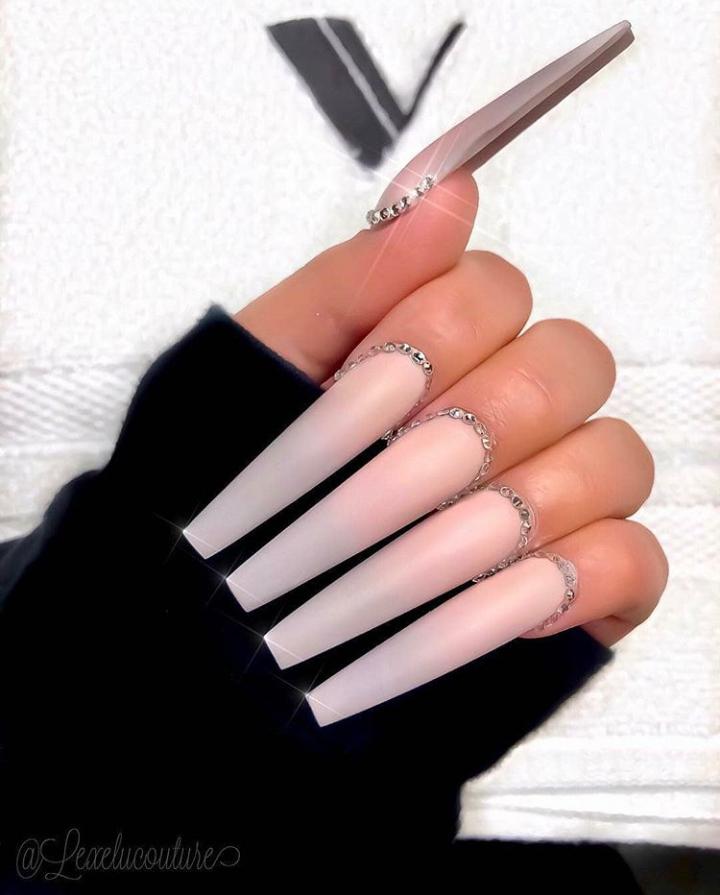 ↓ 71. Unicorn Nails
Give your nails a girly makeover with a unicorn look. The super sweet and youthful look is great for teens and girls in their 20's. The halo effects seem to be going really well with the otherwise dull and white look.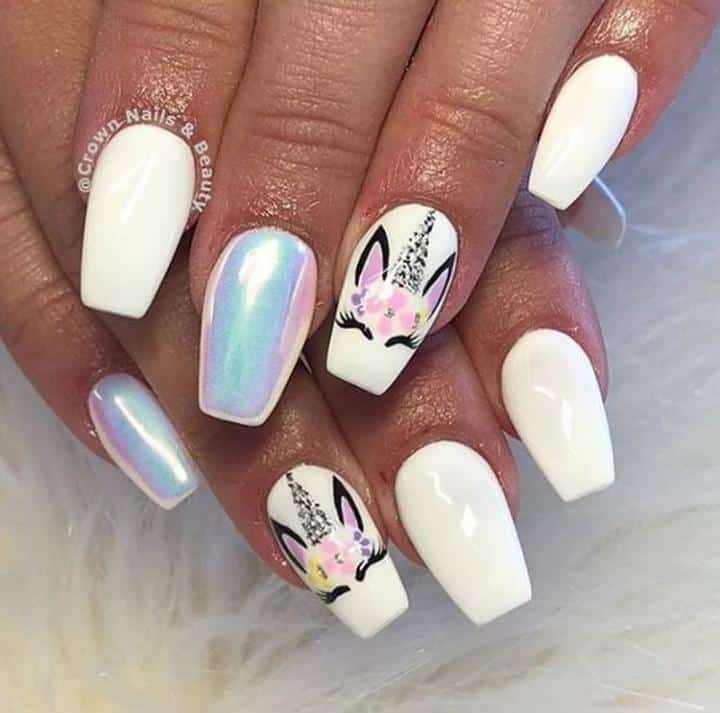 Via
↓ 70. Galaxy Inspired Nails
This impressive and creative nail art is great to experiment with. A basic matte black manicure can be uplifted with a gorgeous Galaxy inspired theme. You should also have a look at these 80 Best Nail Designs For Winter.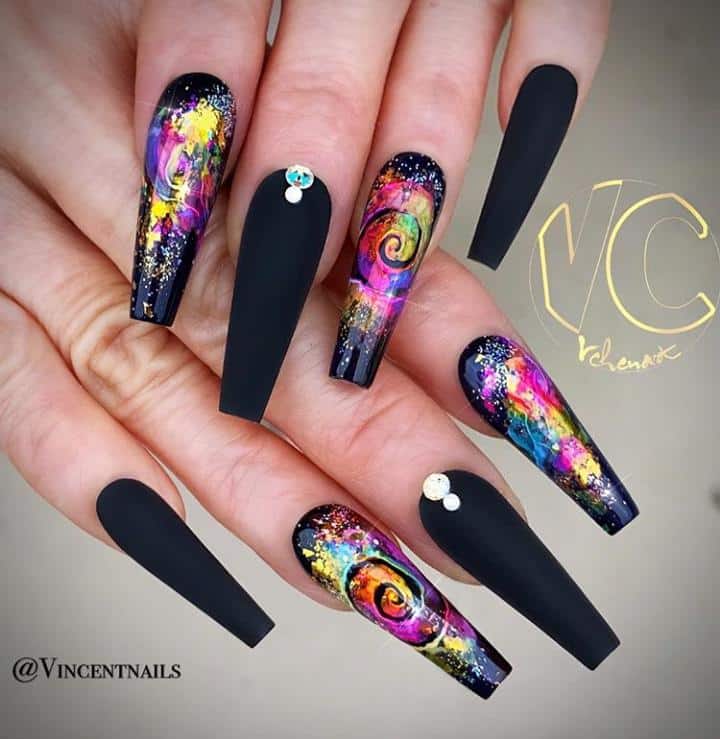 ↓ 69. Geometric Pattern
Add in patterns to a basic ombre look for a trendy makeover.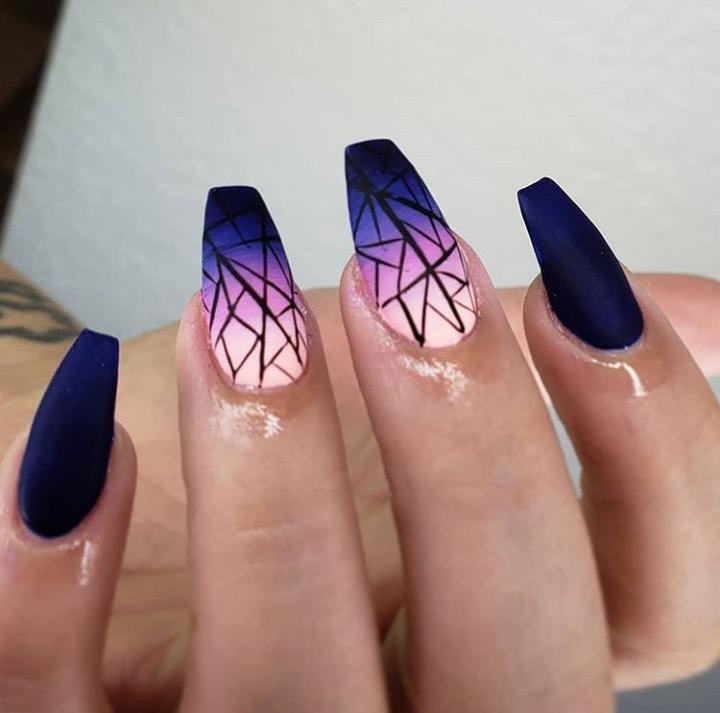 ↓ 68. Cherry Nails
These fruity nails make us want to grab a cherry from the fridge. This vibrant nail-do is great for your next Summer vacation.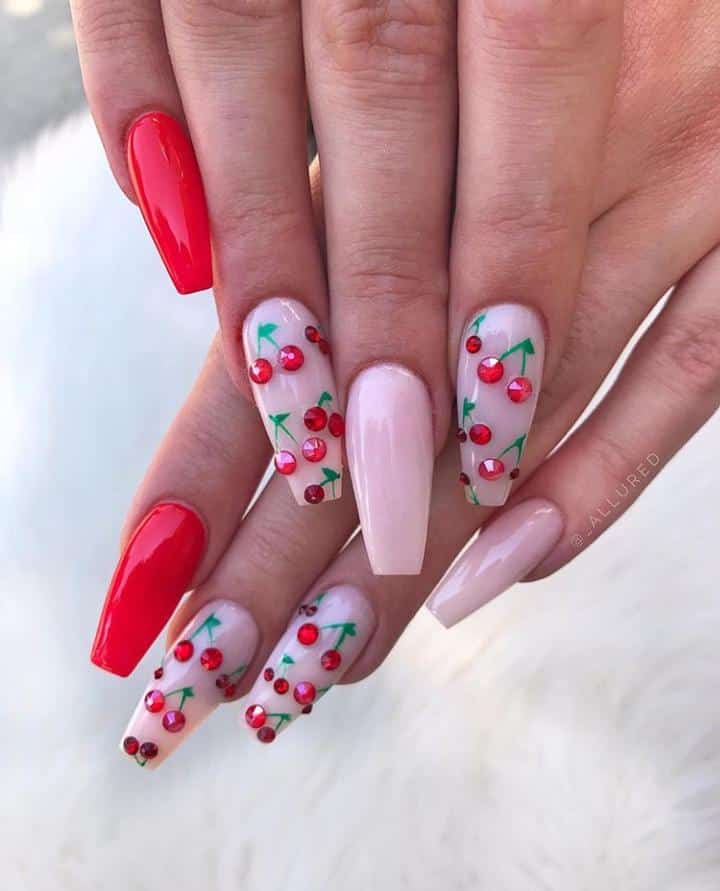 ↓ 67. Ocean Nails
These breathtaking nails are ocean themed and have all the right details to them. The crystals and patterns have been added to perfect the look.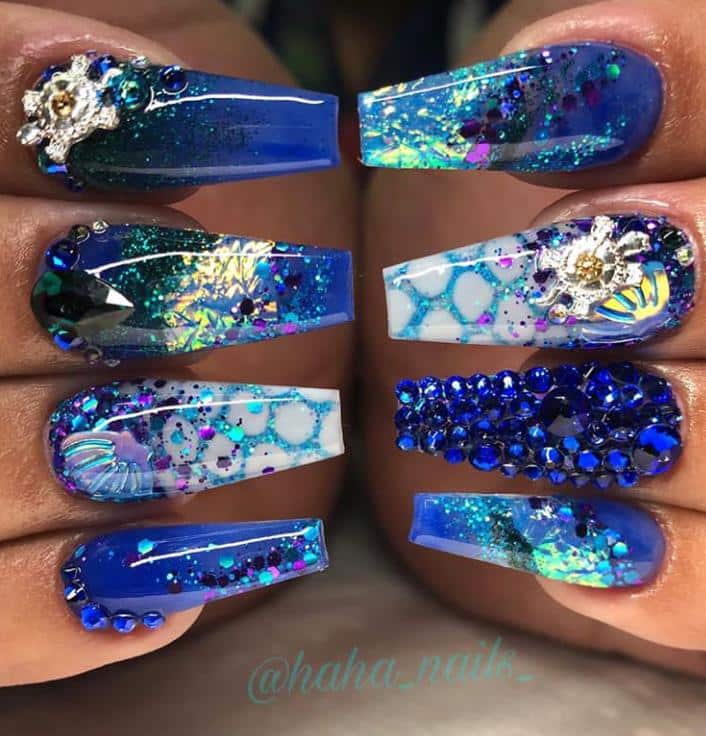 ↓ 66. Pastel Colors
Pastels are great for almost every occasion and time of the year. These gorgeous light-toned colors seem to be going well with the coffin shape nails.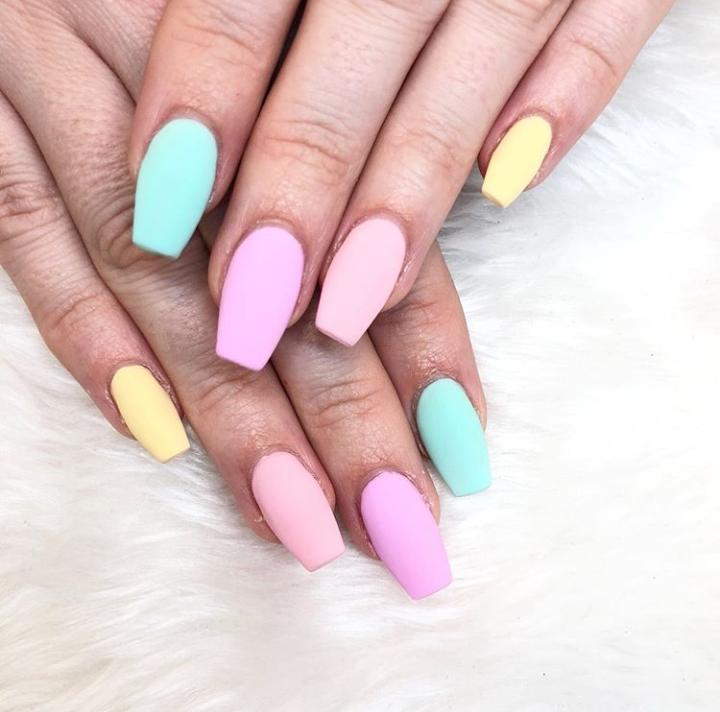 ↓ 65. Shades of Purple
Seal the deal with your partner with this purple nail art. The different shades of purple are all super interesting and will surely look great with that diamond on your ring.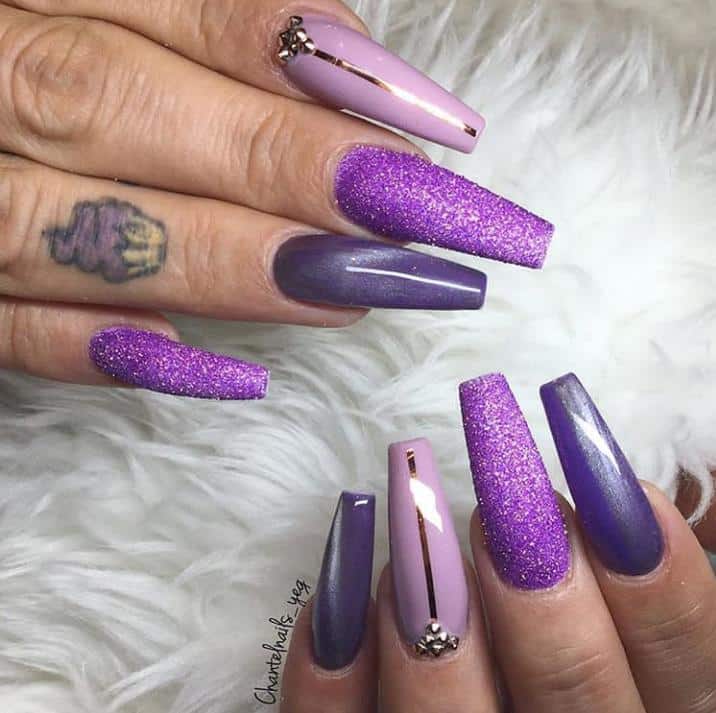 ↓ 64. Spring Nails
Give your nails a bright floral look with this nail art. The clear nail has been given the perfect yellow floral accents that seem to be going well with the entire look. This simple and minimalistic nail art is also great for Easter next year.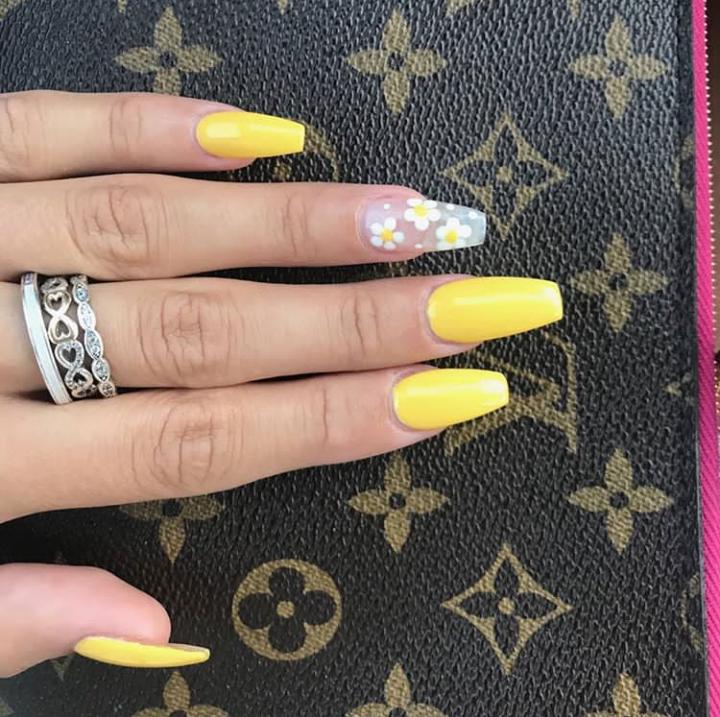 ↓ 63. Sticker Art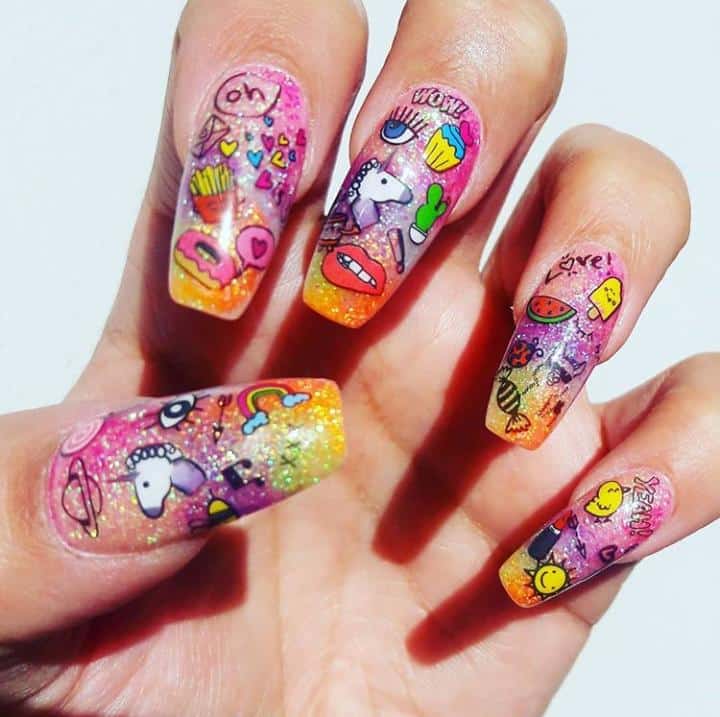 ↓ 62. Gold Dust
Get artsy and glam up your nails in the best way possible with this gold and glittery look. These party-perfect nails with surely light up any room you walk in to.
↓ 61. Light Purple Nails With Crystals
This light purple is the color of our dreams. We really admire how it has been kept simple yet classy with the addition of crystals.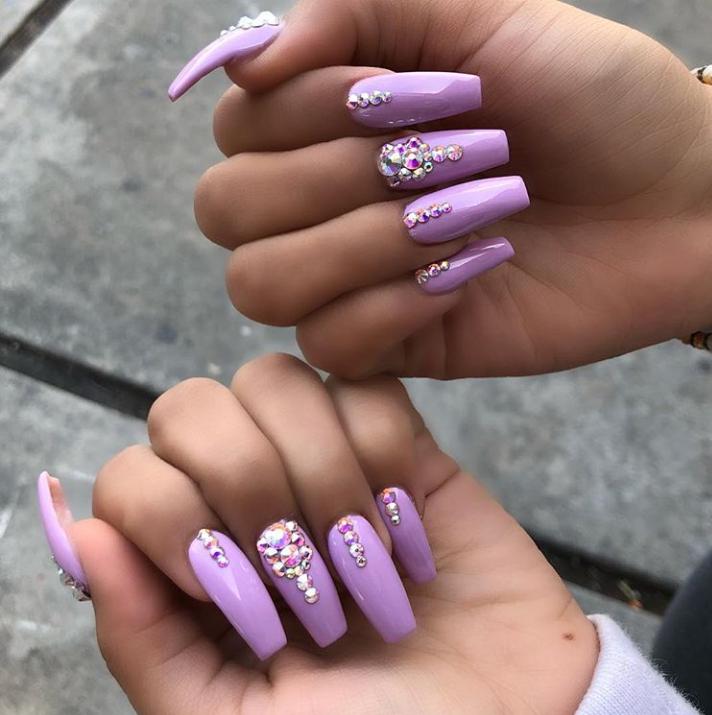 ↓ 60. Metallic Blue Nails
We have our eyes set on these metallic blue nails. The edgy and quirky look is something we would look to recreate. Instead of going for the usual metallic colors like gold and silver, take a leap towards electric blue that will surely bring you a lot of attention.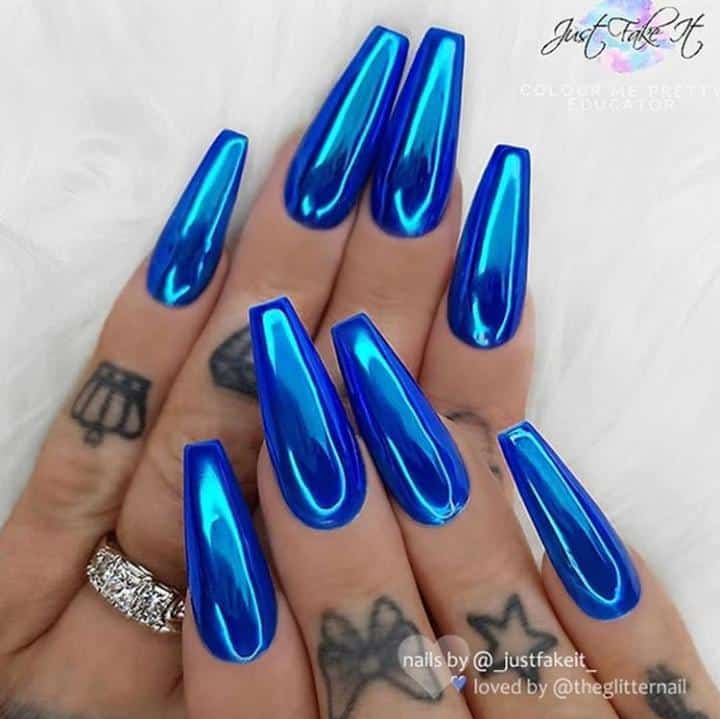 ↓ 59. Green Nails
These textured green nails have too much gorgeousness happening altogether.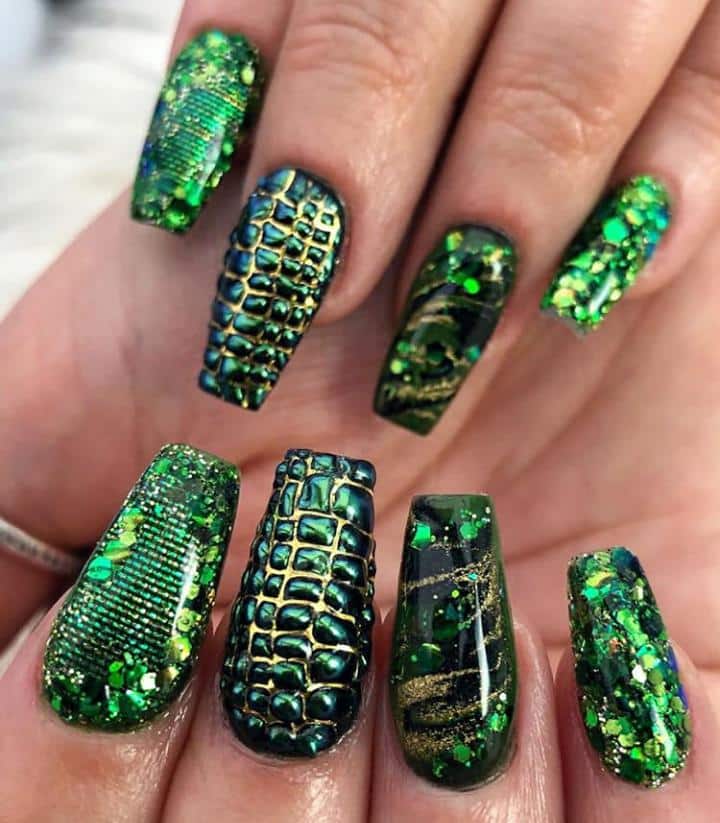 ↓ 58. Tropical Nails
Get vacation ready with these subtle, pastel-colored tropical nails. Hit the beach with these beautiful artistic nails for the best combination possible.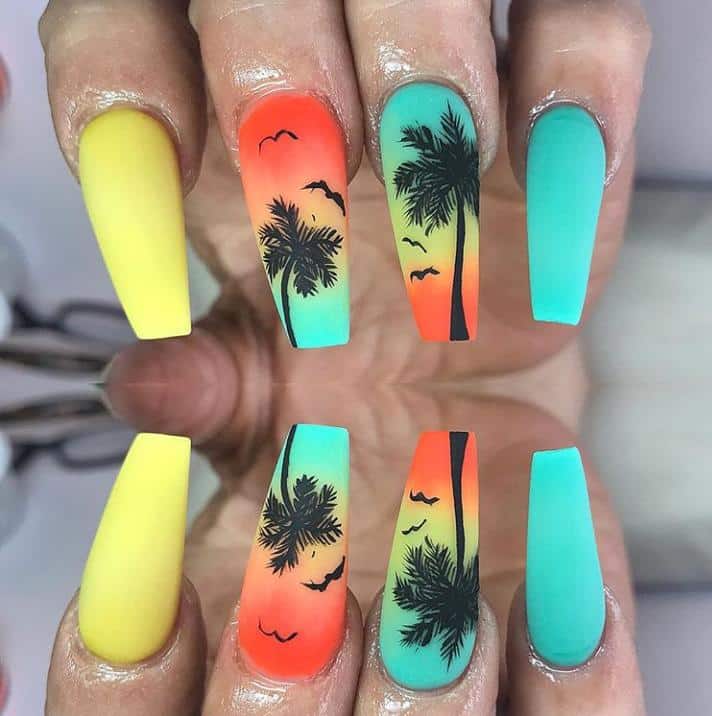 ↓ 57. Shiny and Matte Duo
Cannot pick between shiny and matte nails? How about going with both at the same time. Rock your long coffin nails with a sophisticated everyday look with this chocolate brown nail-do.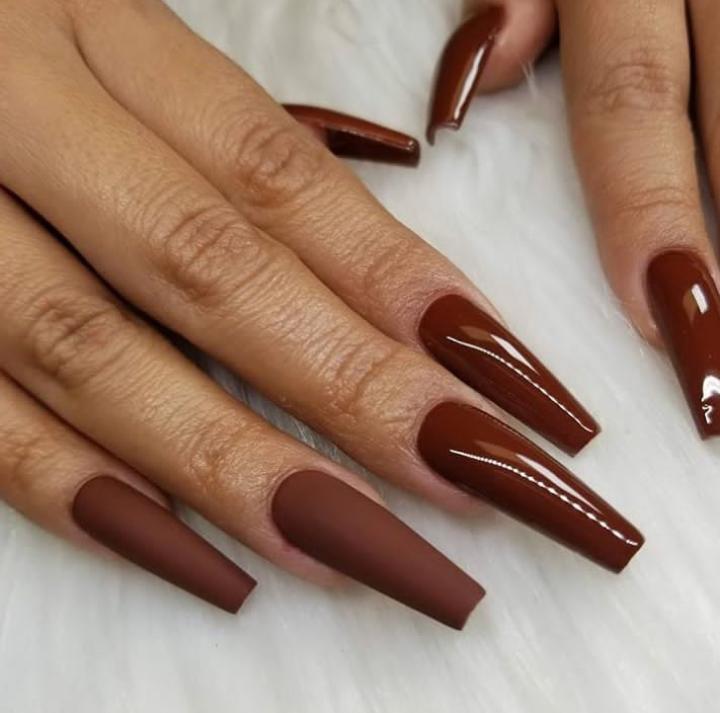 ↓ 56. Broken Glass Shards
Here is some shattered glass theme inspiration for your clear nails for a funky yet minimalistic everyday look.
↓ 55. Glossy Nails
A basic manicure can be elevated by adding in a glossy and shiny look to it. Such a manicure will surely give your nails a hydrated and natural look. Add in lines or crystals for a fancier look or keep it simple this way.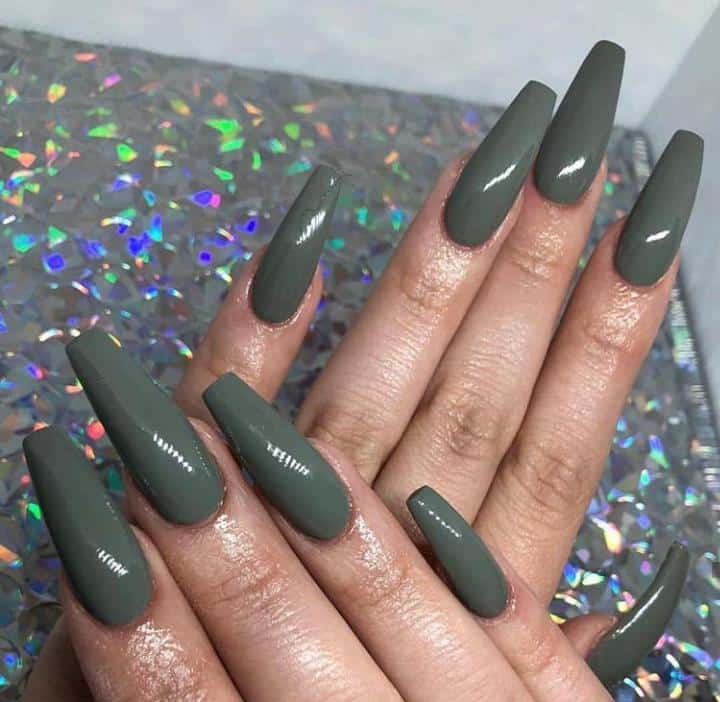 ↓ 54. Money Nails
We bet you have never thought of sticking money on nails ever before. The latest trend is all about the dollar nail look which seems a bit crazy to us.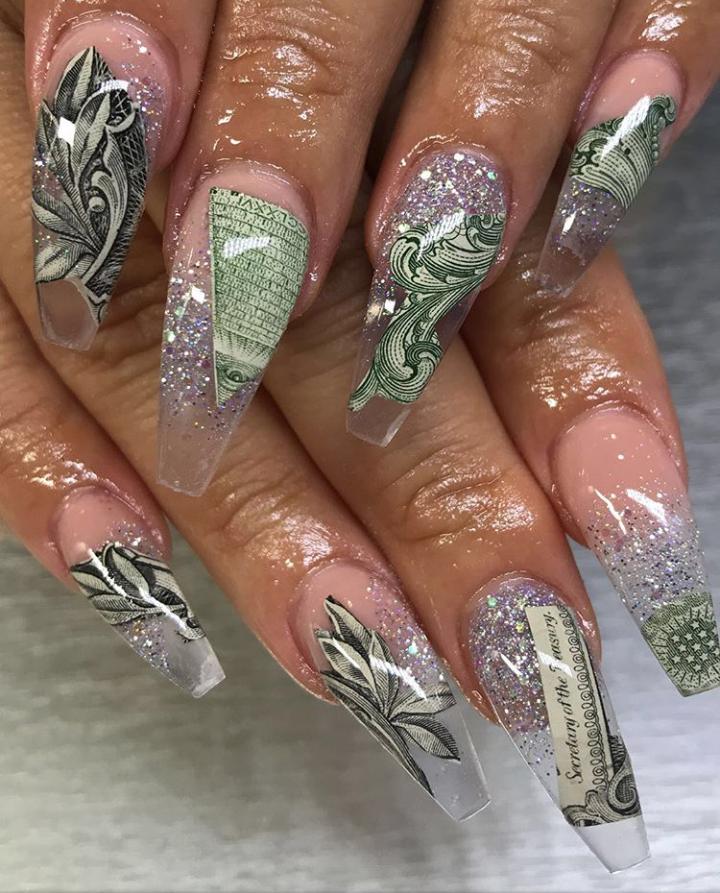 ↓ 53. TV Show Inspired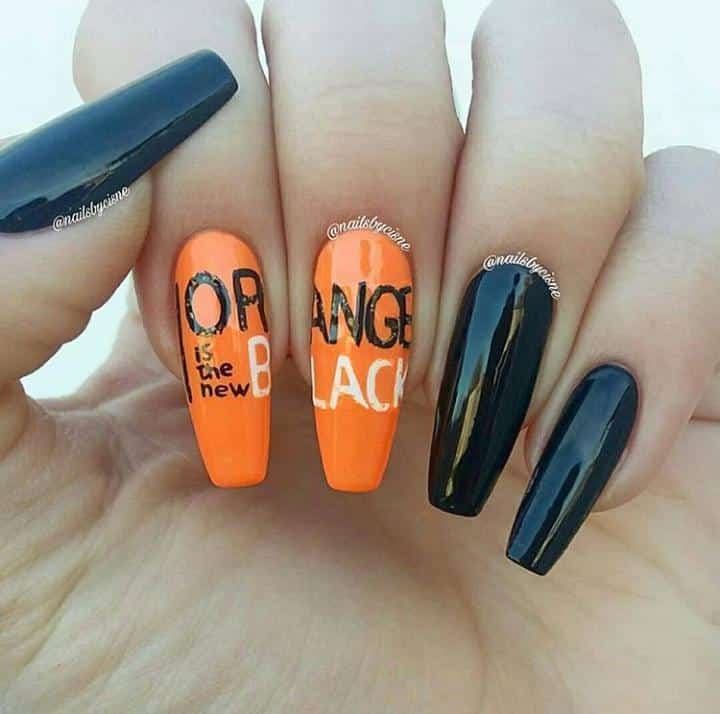 Via
↓ 52. Pink and White Ombre
Give your nails a sophisticated and natural feel with this white and pink ombre look. Add in lines, rhinestones or crystals for a fancier look.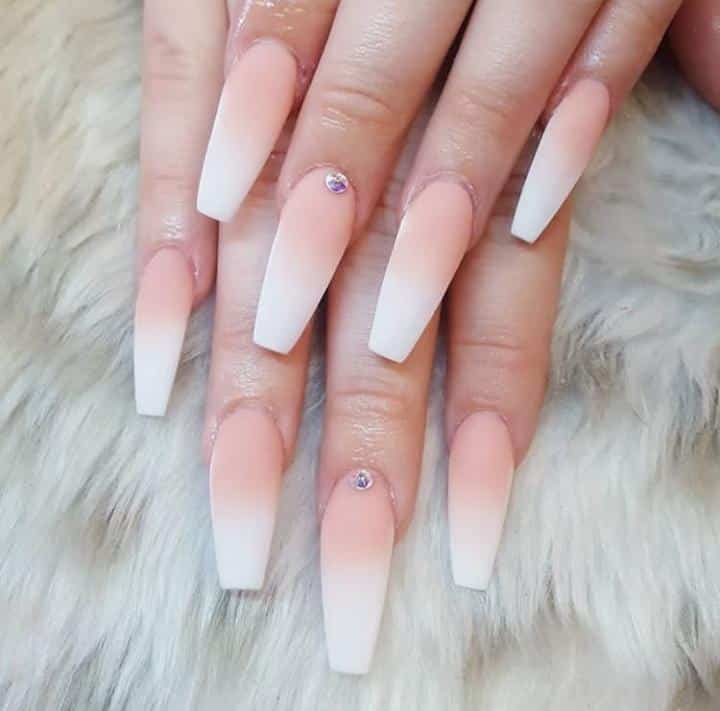 ↓ 51. Mermaid Nails
If you are a mermaid theme fan, here are some nails that even Ariel would approve of.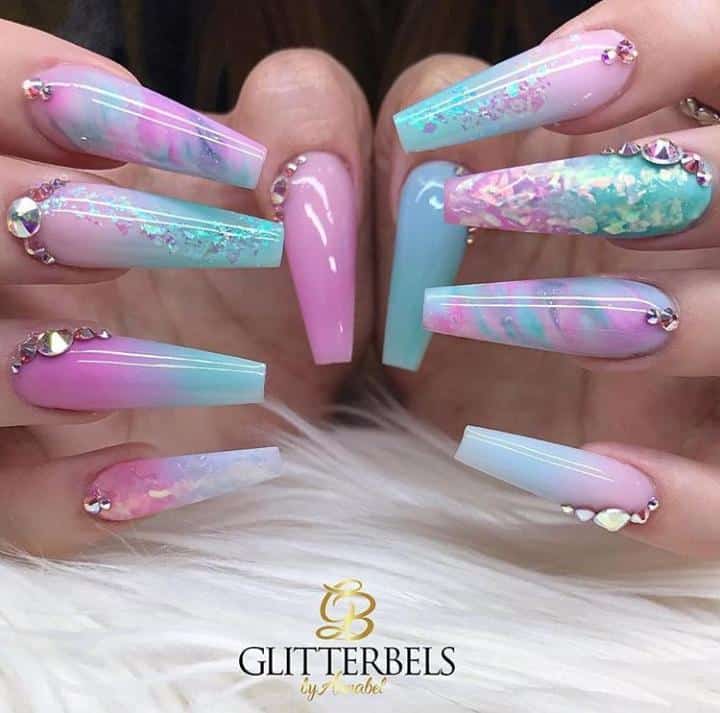 ↓ 50. Khloe Kardashian Nails
Like Kylie Jenner, Khloe Kardashian seems to be all about the coffin nail art. Here is a picture of her version of them. We love how she has given them a medium length for a more natural look. Here are 60 Beautiful White Nail Art Designs and Ideas to Try Now.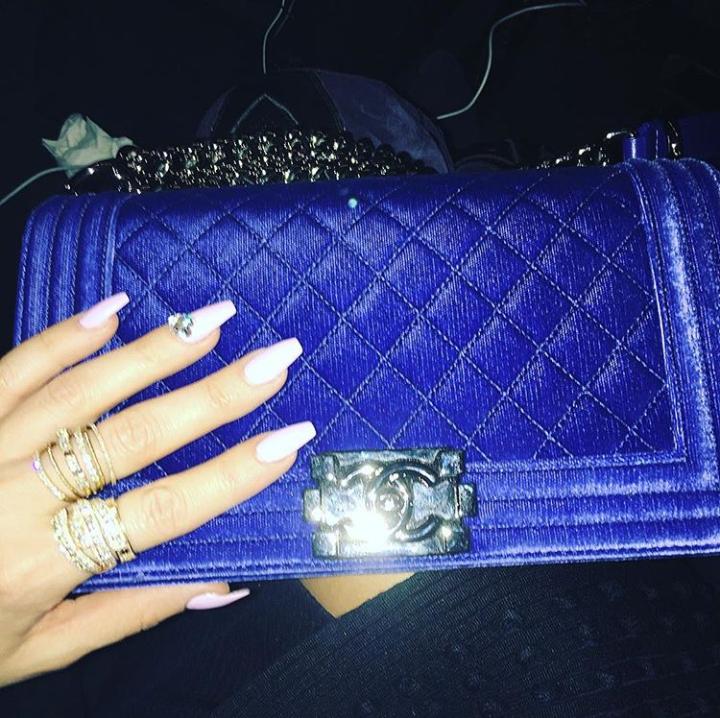 ↓ 49. Colorful Tips
Go all out and pick a color for every nail for a lively and vibrant look. This nail art is great to ring in Spring 2019.
↓ 48. The Candy Life
If you are obsessed with candies as much as we are, consider getting this 3D candy inspired nail art perfect for your coffin nails.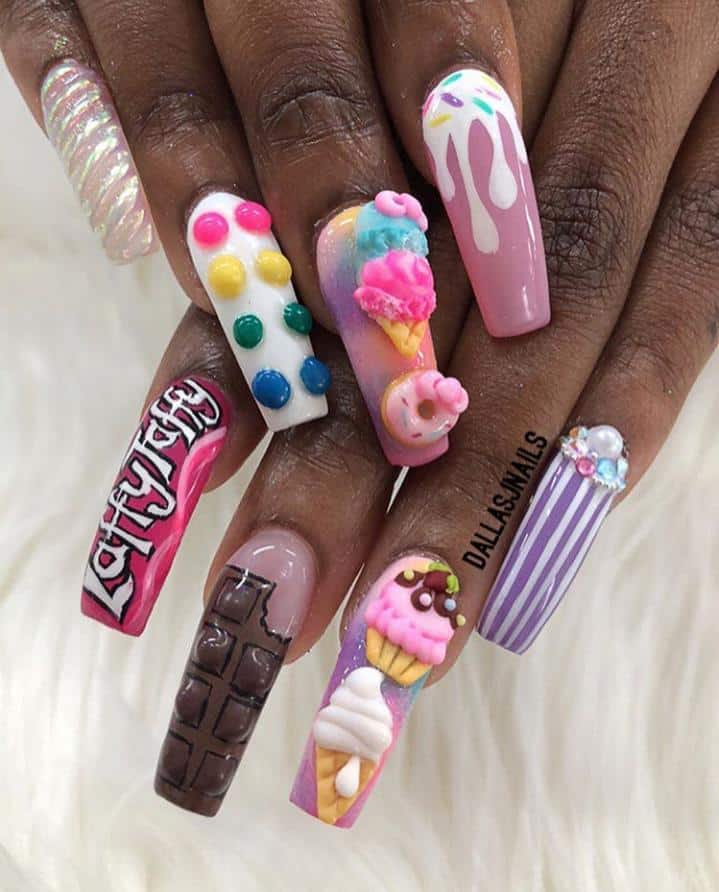 ↓ 47. Classic Red
A good nail makeover can always prove to be a mood lifter, especially with a bold color like this. This flattering color can go with any kind of outfit and can be sported in multiple settings.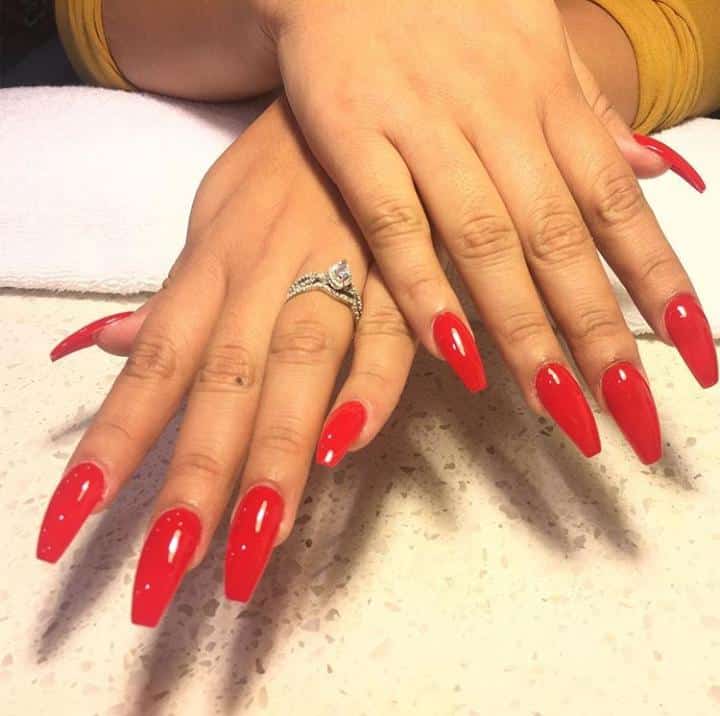 ↓ 46. Floral
Mint green seems to be a Spring appropriate color and the floral theme seems to be going great with it. Give your nails a sophisticated yet modern look in the upcoming Spring and Summer season.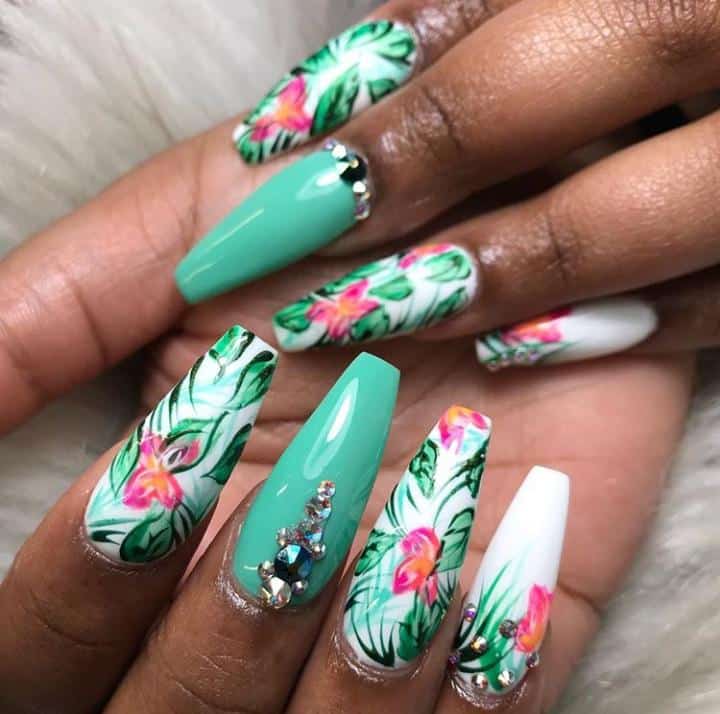 ↓ 45. Checkered Nails
These hot-wheel theme nails are another example of a shiny and matte duo. Give your costume party a lift by going for theme nails like these.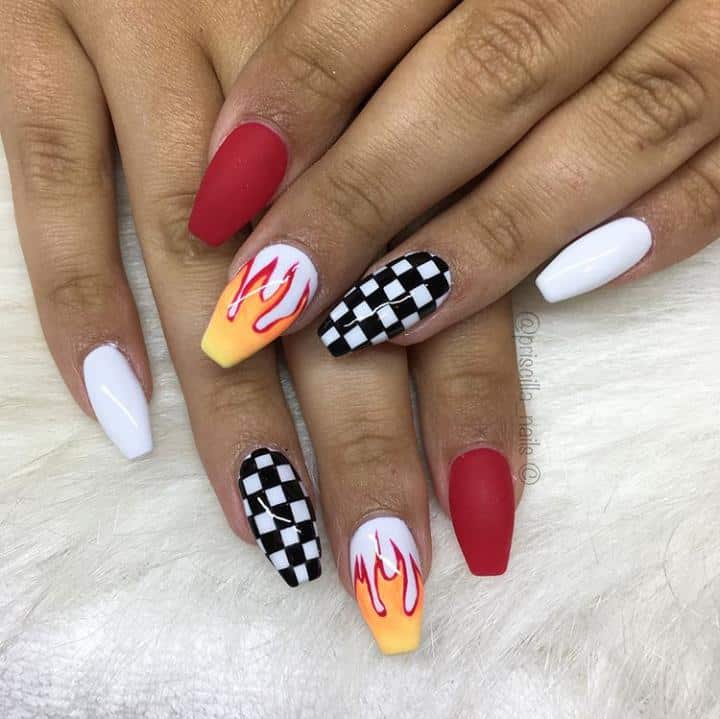 ↓ 44. Short Coffin Nails
Short length nails almost always look the most natural and realistic. This shiny makeover is a great example of wedding-perfect nails for every bride-to-be out there.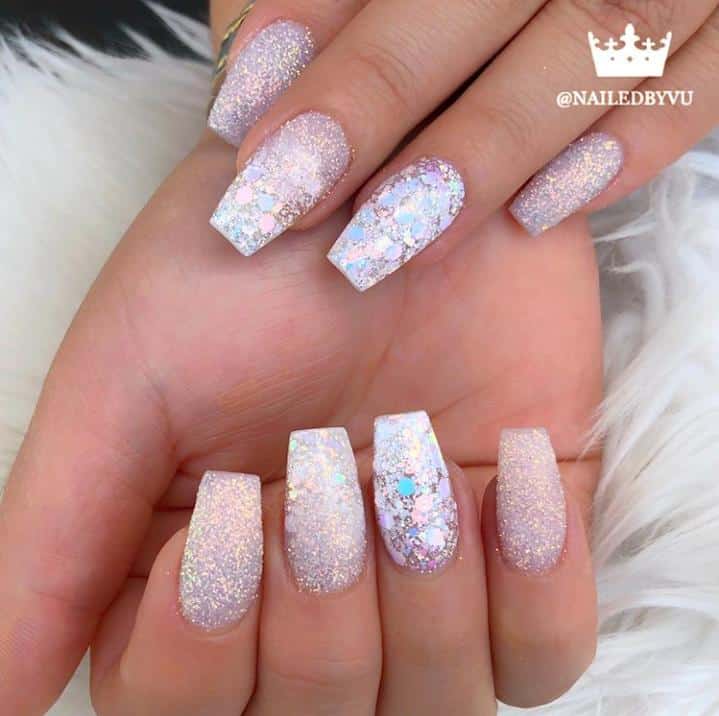 ↓ 43. Baby Blues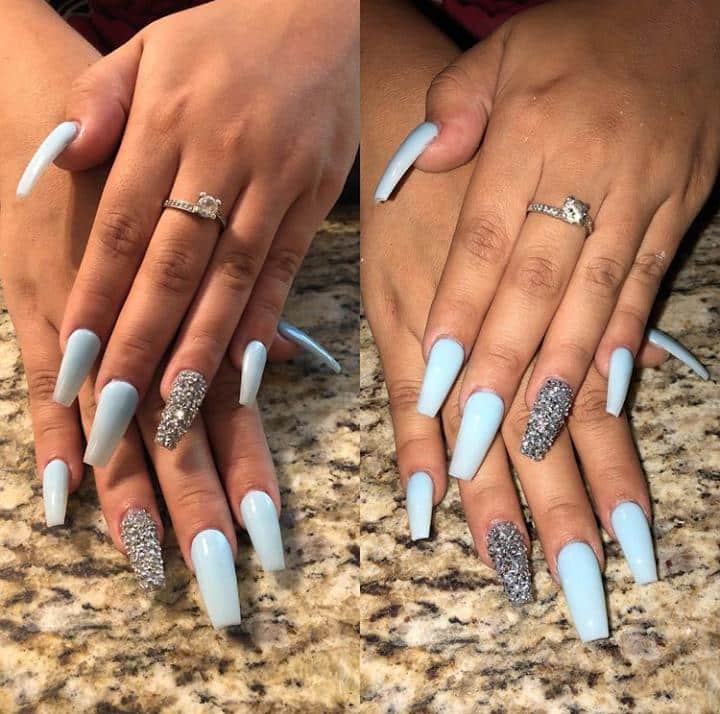 ↓ 42. Winnie The Pooh Theme
How adorable are these Winnie the Pooh inspired nails that have some gorgeous detailing on them? Bring back your childhood memories with this cute animated nail art.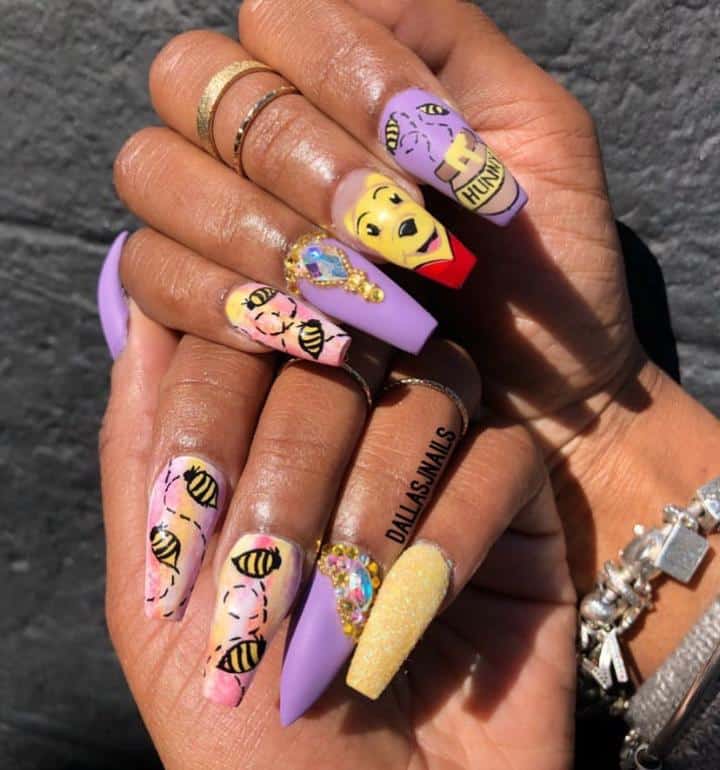 ↓ 41. Glow In The Dark Nails
Ever thought of going for glow-in-the-dark nails before? If not, here is some inspiration for you. Give your nails a fun look for your next party with this versatile nail art.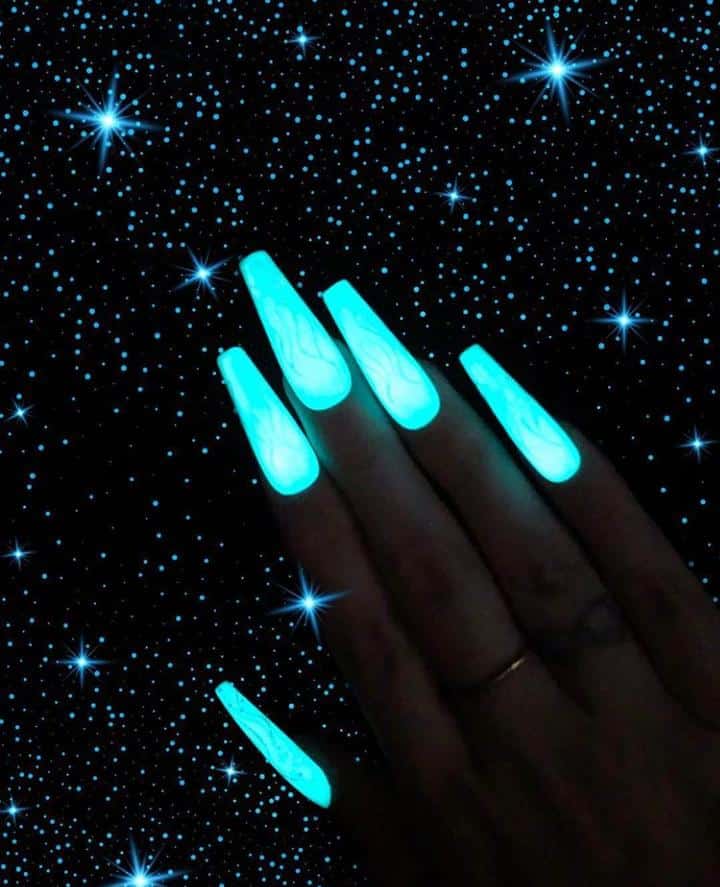 Via
↓ 40. Louis Vuitton Nails
If you are a big Louis Vuitton fan, this nail art is just for you. We cannot get over how perfect the details on this one are.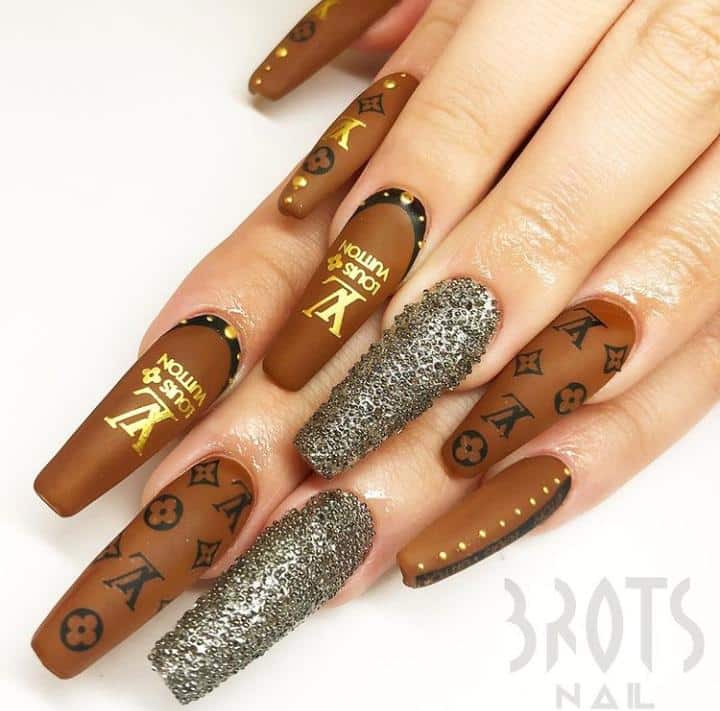 ↓ 39. Rainbow
Spring is the season of color and it goes without saying how appropriate this colorful look is for Maytime.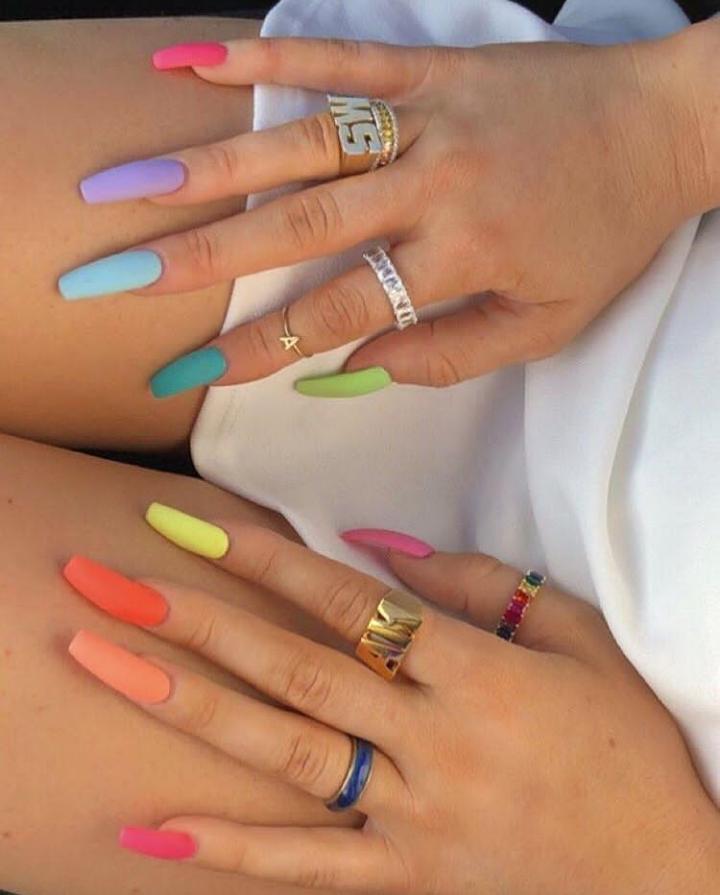 ↓ 38. Studs
We cannot name a better color combination than White and Pink. The gold studs add in the perfect style element and can make for an elegant look.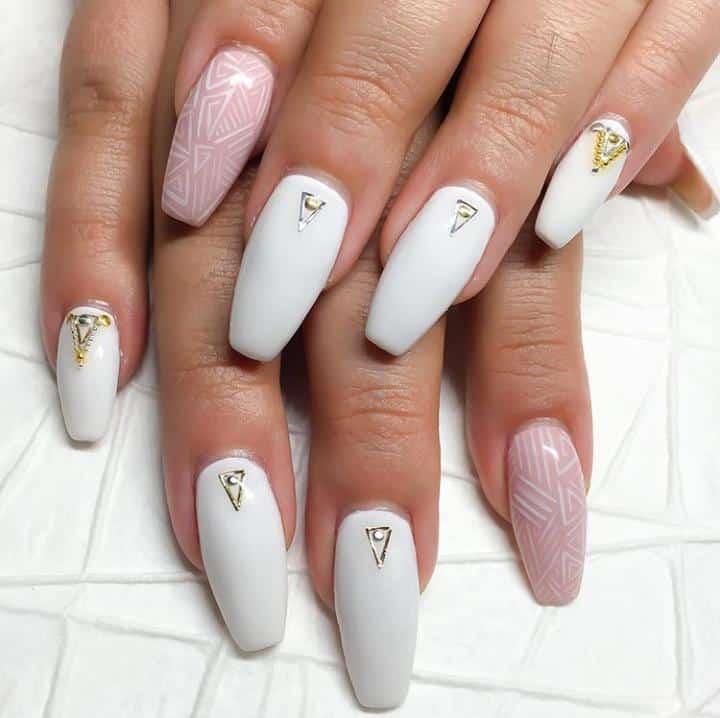 ↓ 37. Pink Perfection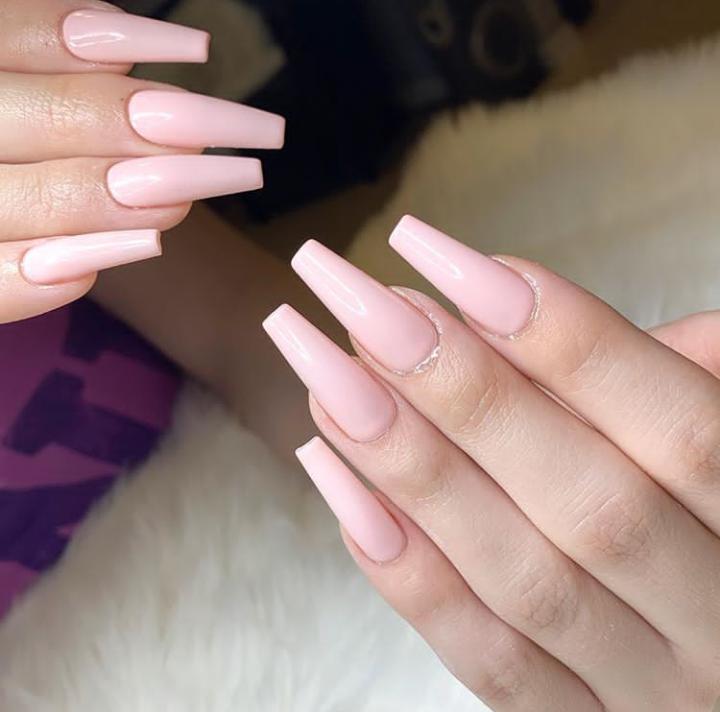 ↓ 36. French Manicure Tips
Trade your fancy manicure for a minimalistic and feminine look with these white tips. This gorgeous sophisticated look can be sported to work or even formal occasions like weddings.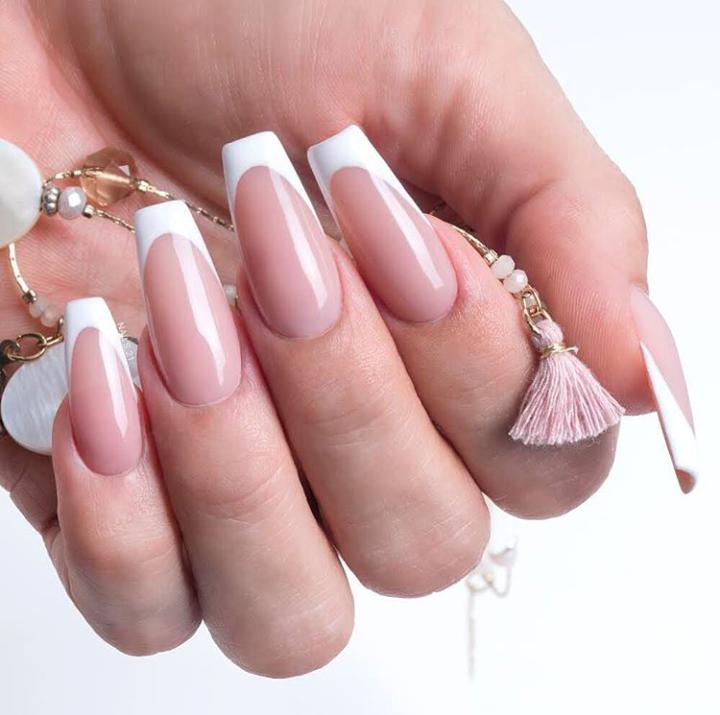 ↓ 35. Frozen Inspired Nails
Check out these adorable Elsa and Olaf inspired nails perfect for the upcoming winter season.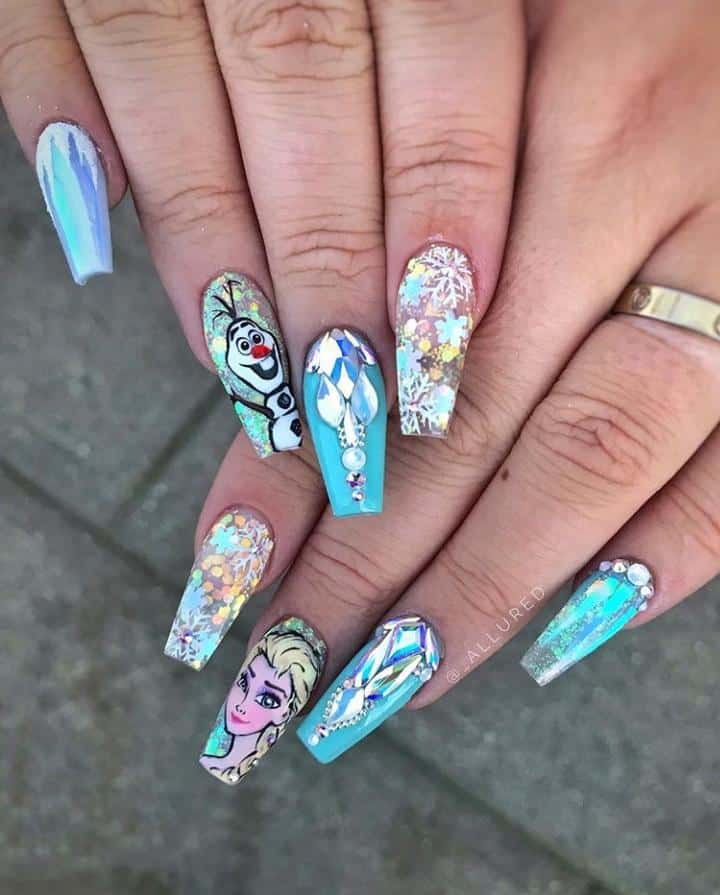 ↓ 34. Glitter Nails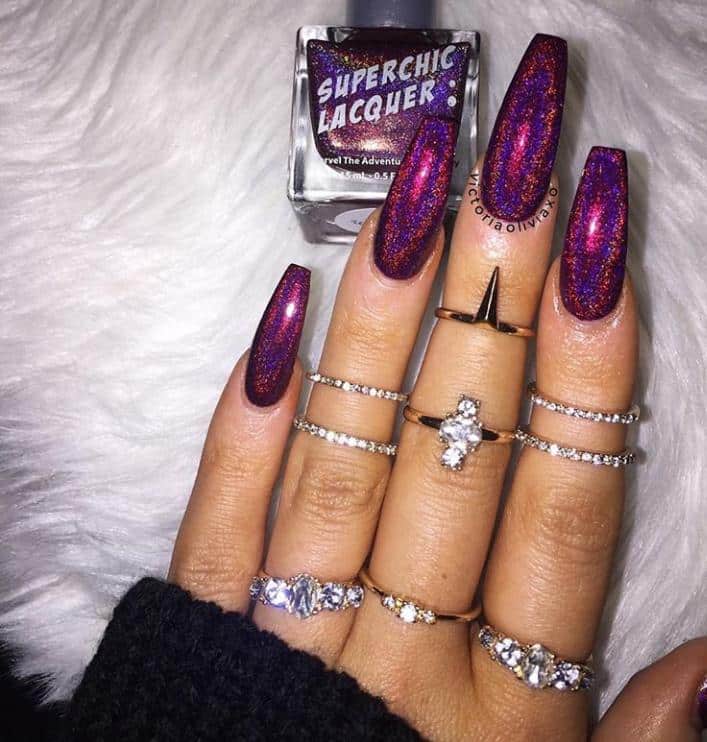 Via
↓ 33. Flower Art
This 3D floral nail art has been done in a gorgeous wintery hue. Give your nails the perfect 3D dimension with these flowers.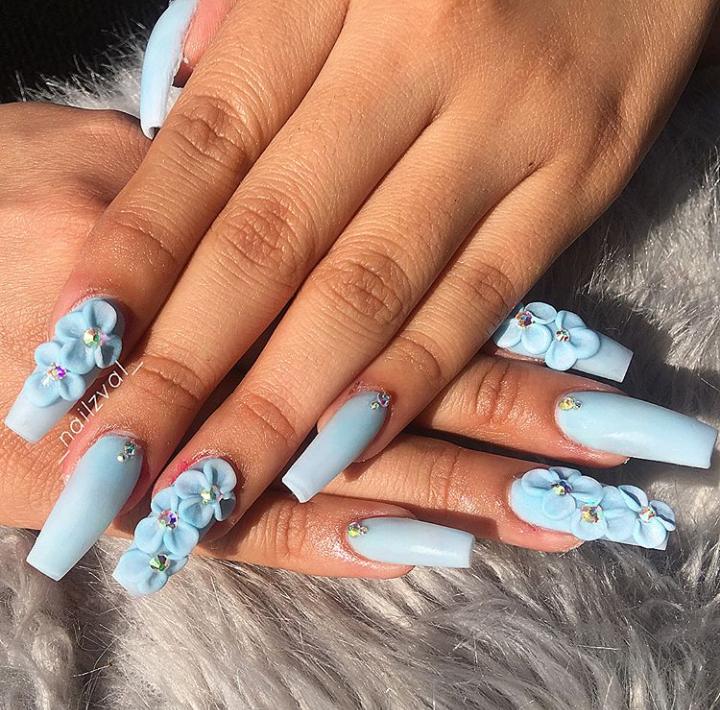 ↓ 32. Best 2018 Coffin Nail Art
This has to be the best 2018 coffin nail art. We wonder how this perfect must have been achieved.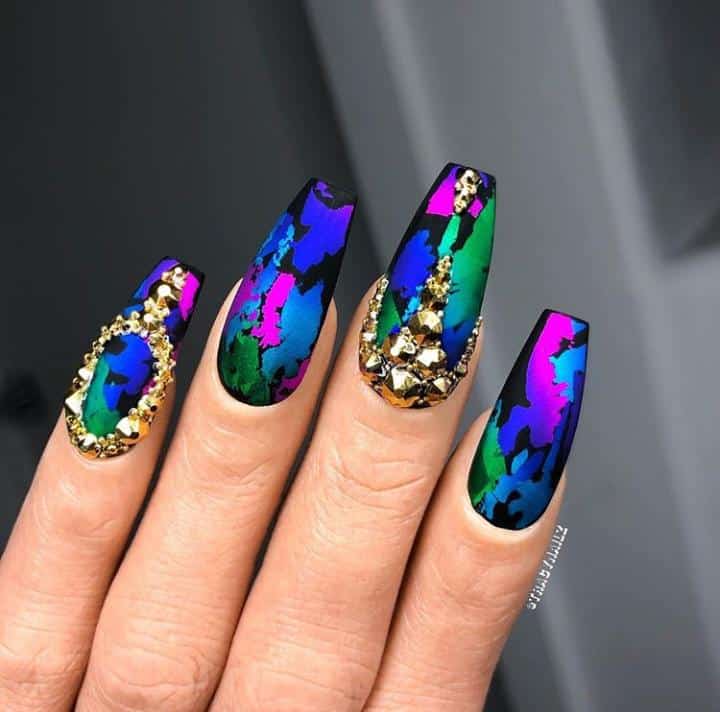 ↓ 31. Shiny Blue Nails
Rock the winter away with this deep blue shade. Get a cobalt or midnight blue shade for a trendy look.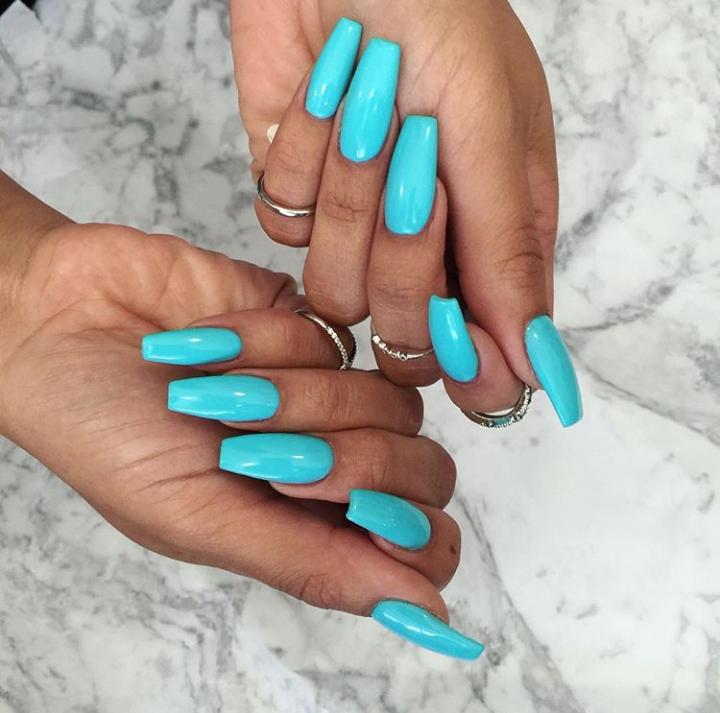 ↓ 30. Sparkling Nails
This simple Christmas inspired nail art is perfect for the holiday season. Give your tips a sparkling makeover for the most ideal coffin nail art look ever. Have a look at these 25 Most Awesome Mirror and Metallic Nail Art Ideas.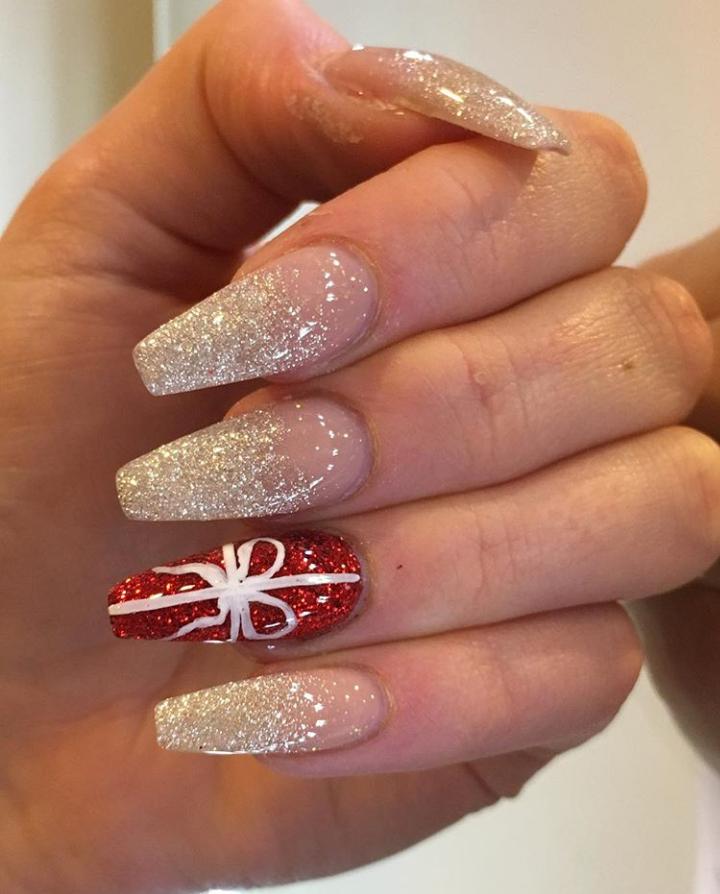 ↓ 29. Polka Dots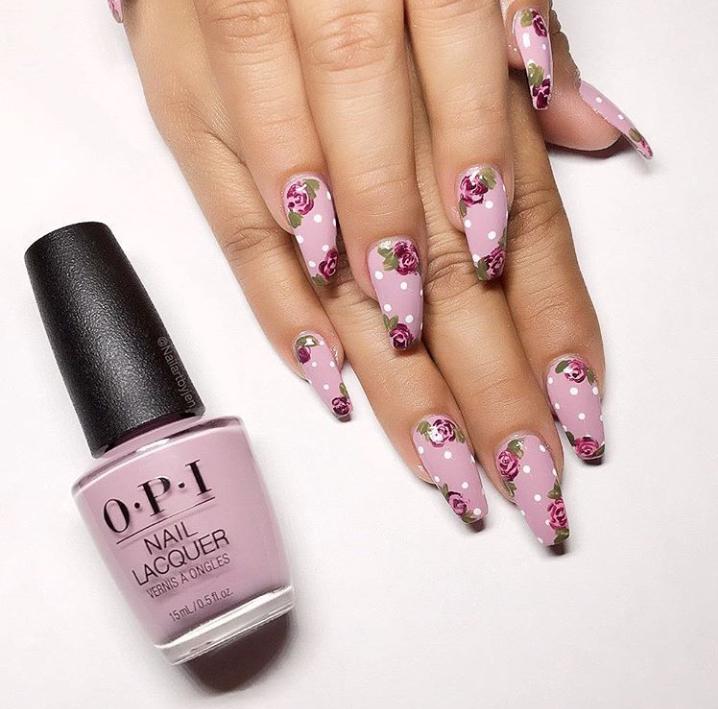 ↓ 28. Ornamented Nails
If you wish to give your hands a disco feel, add in sparkles in the form of crystals, studs, and glitter for a very shiny look. This kind of look cannot be sported in casual settings but is great for festivals, parties, and weddings.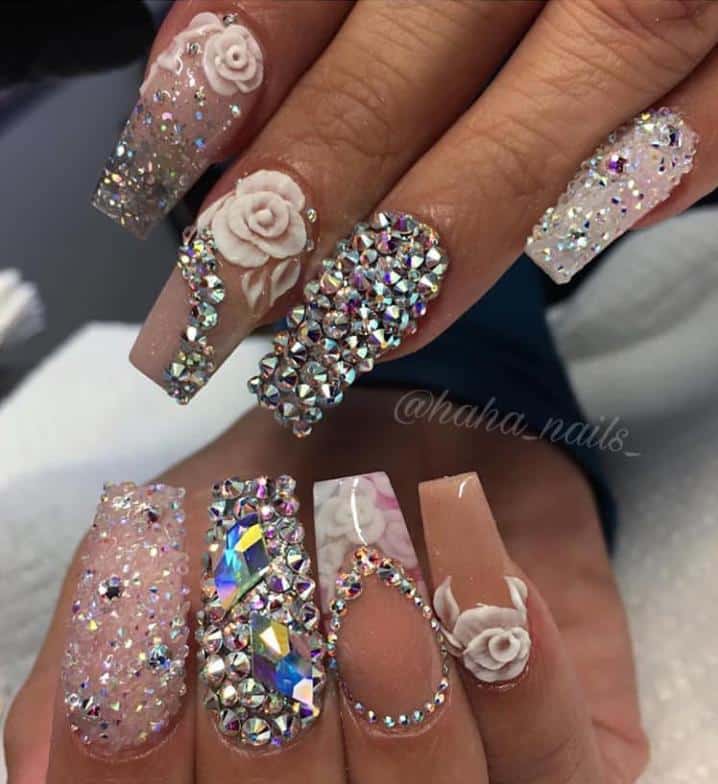 ↓ 27. Simpsons Inspired Nails
Balance out the boldness of the nail shape with a sweet and adorable nail art like this one.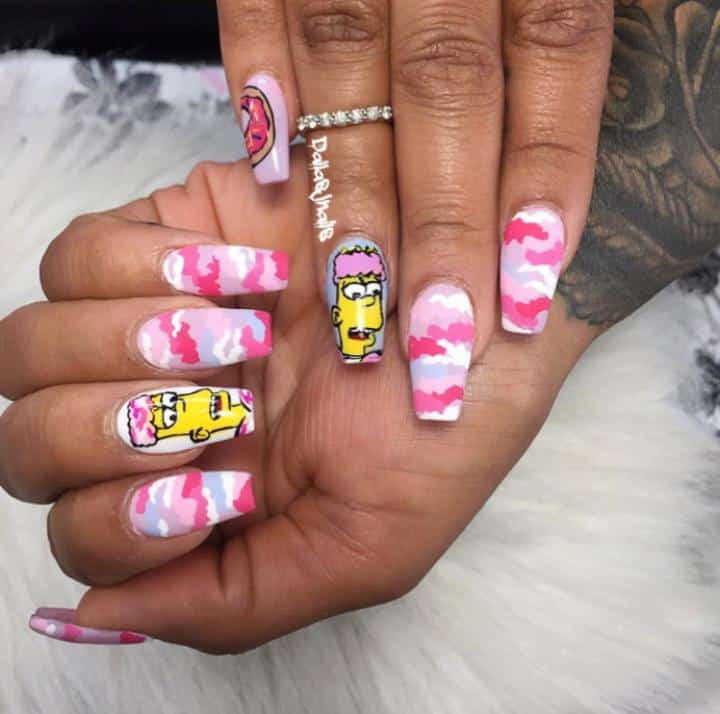 ↓ 26. Fall Vibes
This pumpkin orange shade is giving us all the right kind of fall vibes and is one that you should consider getting.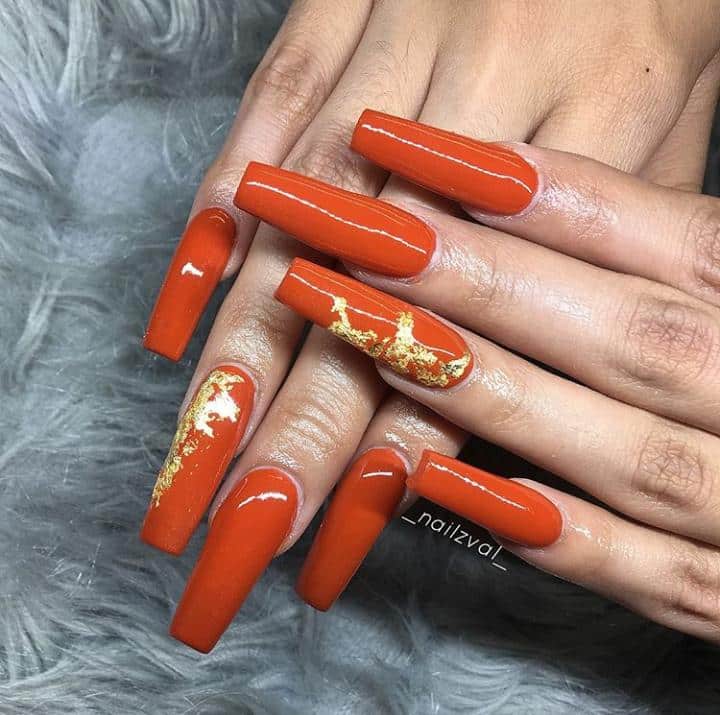 Via
↓ 25. Vertical Ombre
If you think you are over the ombre look, consider giving it a second chance with this vertical ombre trend.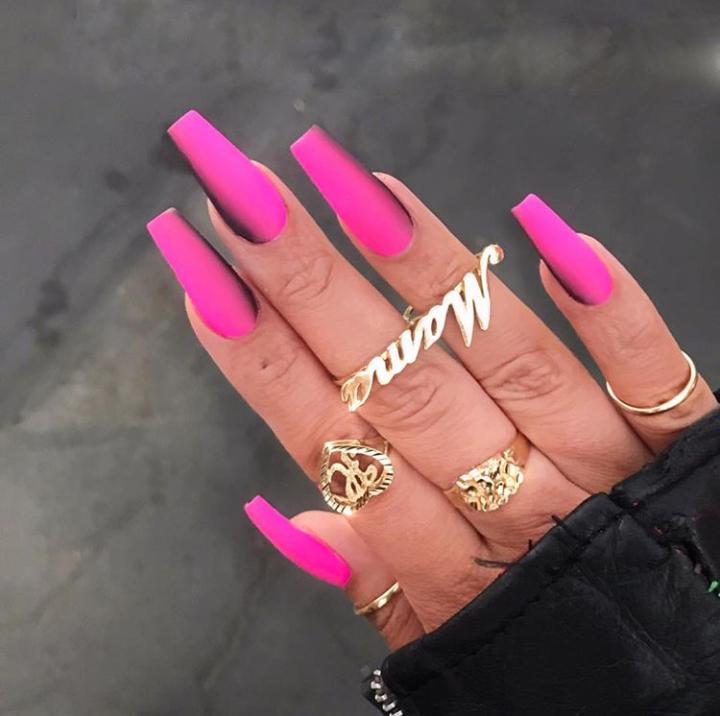 ↓ 24. Chrome Nails
Chrome nails seem to be the latest rage in the world of nail art. The rhinestone and crystals seem to be spicing it up a bit.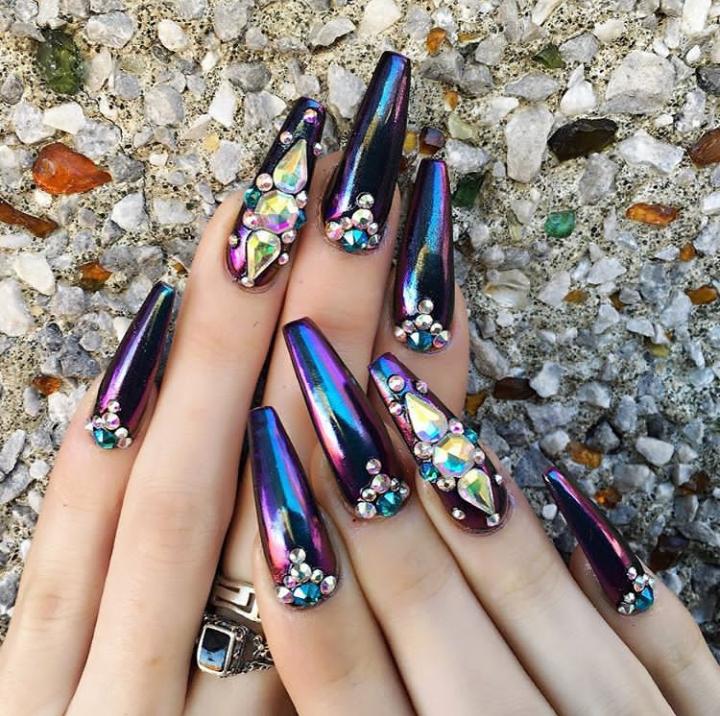 ↓ 23. Halo Nails
The halo trend just made its way into the nail art world and we could not be happier.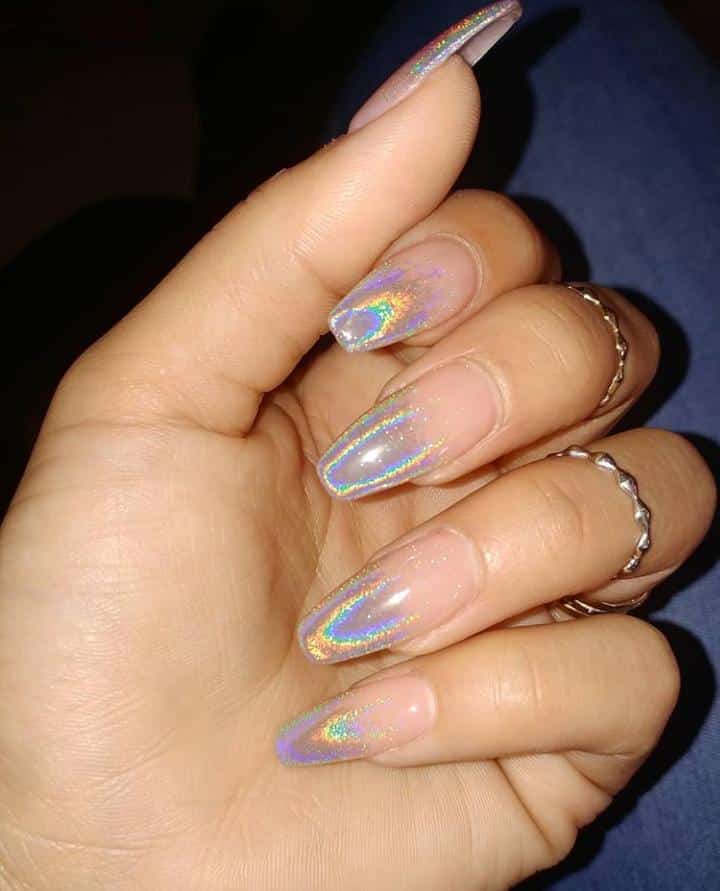 ↓ 22. Piercings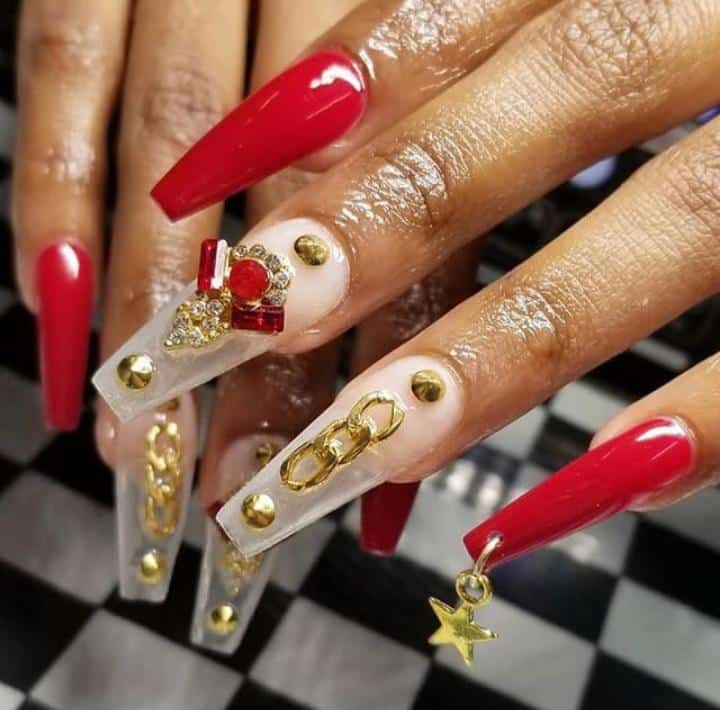 ↓ 21. Forest Theme
How creative are these forest tree inspired coffin tips?
↓ 20. Gucci Nails
Here is another brand inspired nail art look featuring the famous Gucci logo.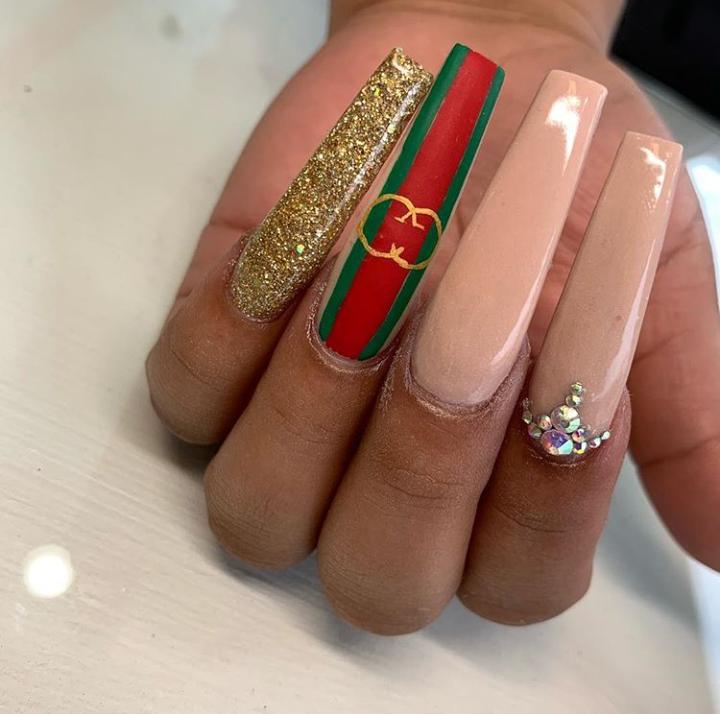 ↓ 19. Crayons
We bet you had not seen something as creative as this before. Why go for boring and basic nails when you can have colors and objects on them? These crayon nails are one of the most creative and adorable nail arts out there for the coffin shape nails.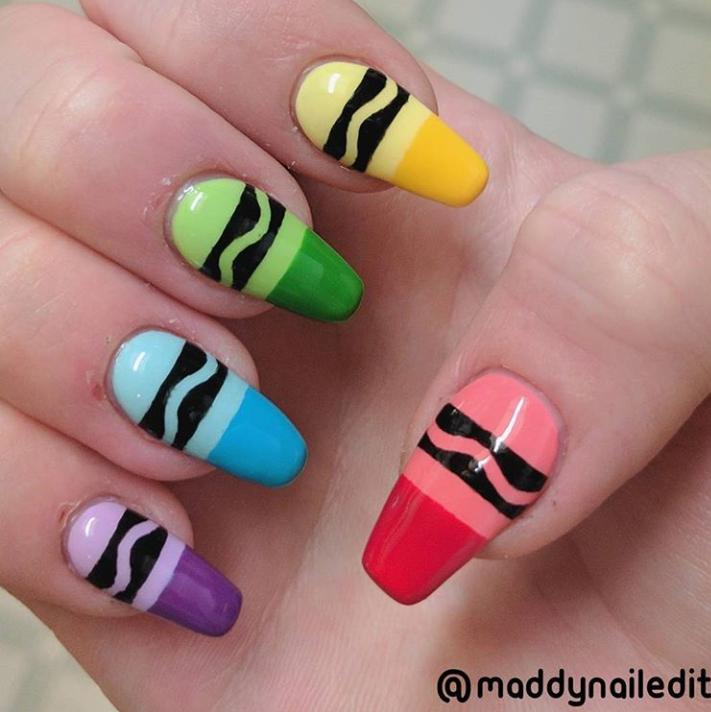 ↓ 18. Soft White
These classic soft white nails are to die for.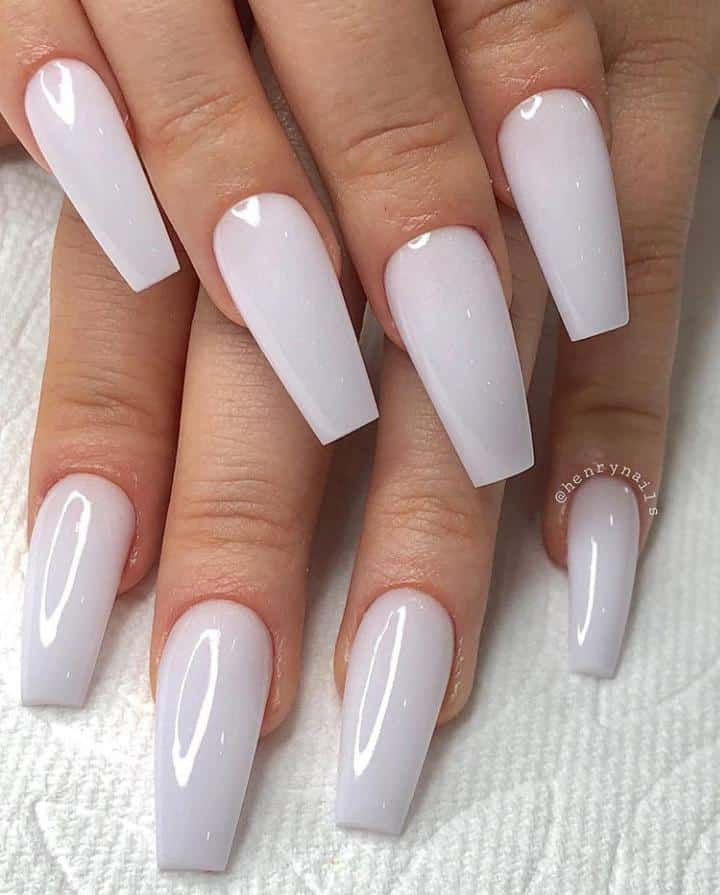 ↓ 17. 3D Nail Art
Check out these 3D nail embellishments for a fancier nail makeover.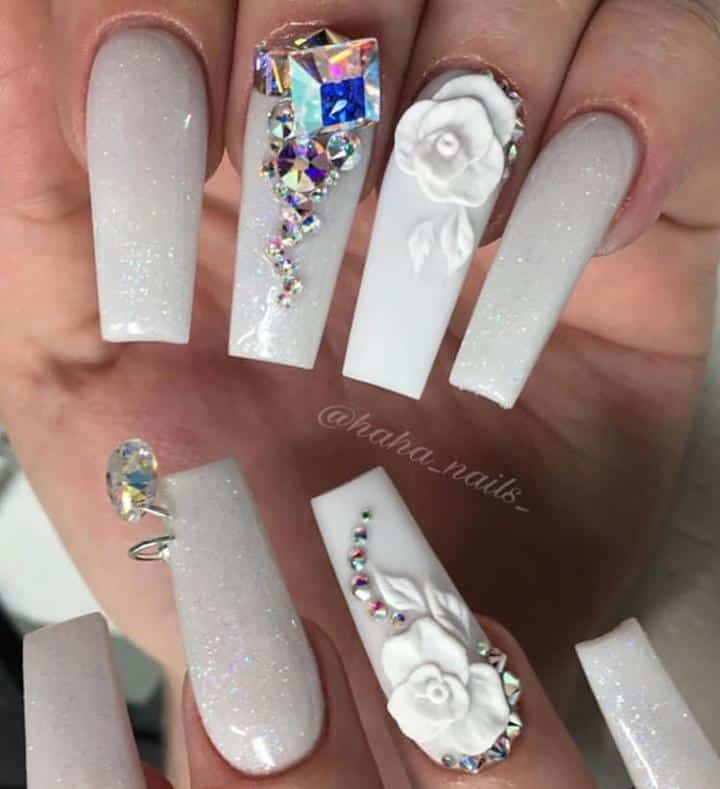 ↓ 16. Marble Effect
This combination of Marble and Lines is the ultimate go-to choice for a simple yet elegant look.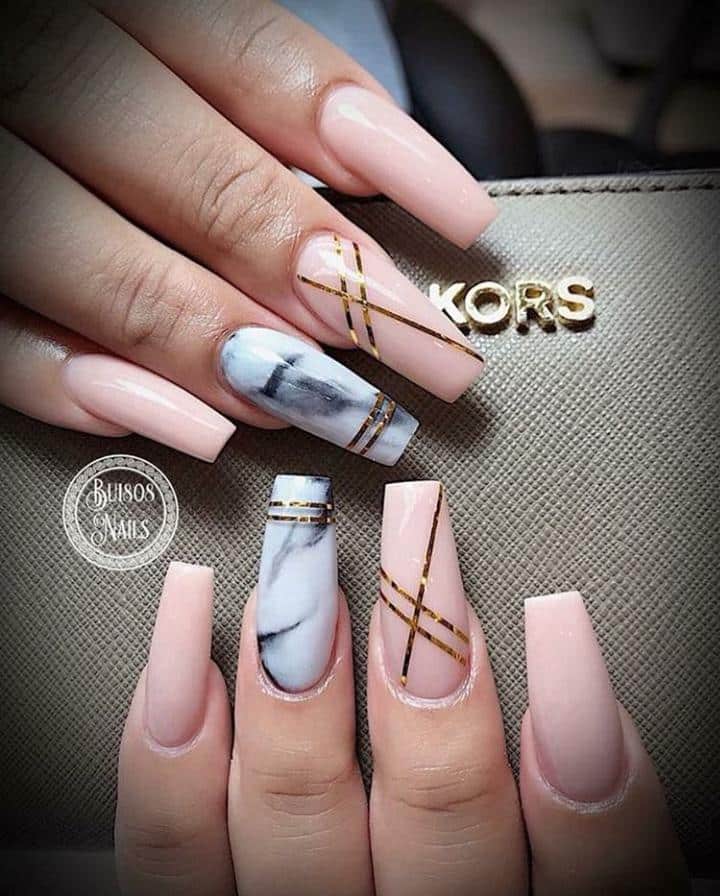 ↓ 15. Medium Length Coffin Nails
These medium length nails are great for the natural look they exhibit. A single block color and the glossy look is just what it needed to keep it simple and sophisticated. Don't miss out these Cool Animal Print Nail Designs.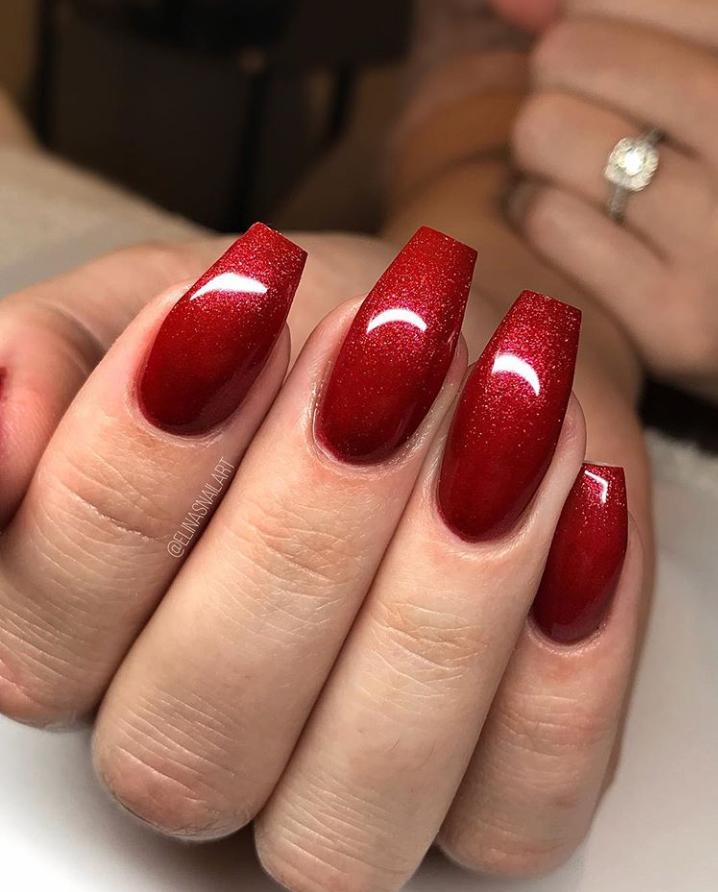 ↓ 14. Burberry Nails
Here is some Burberry inspired plaid look for your next nail appointment.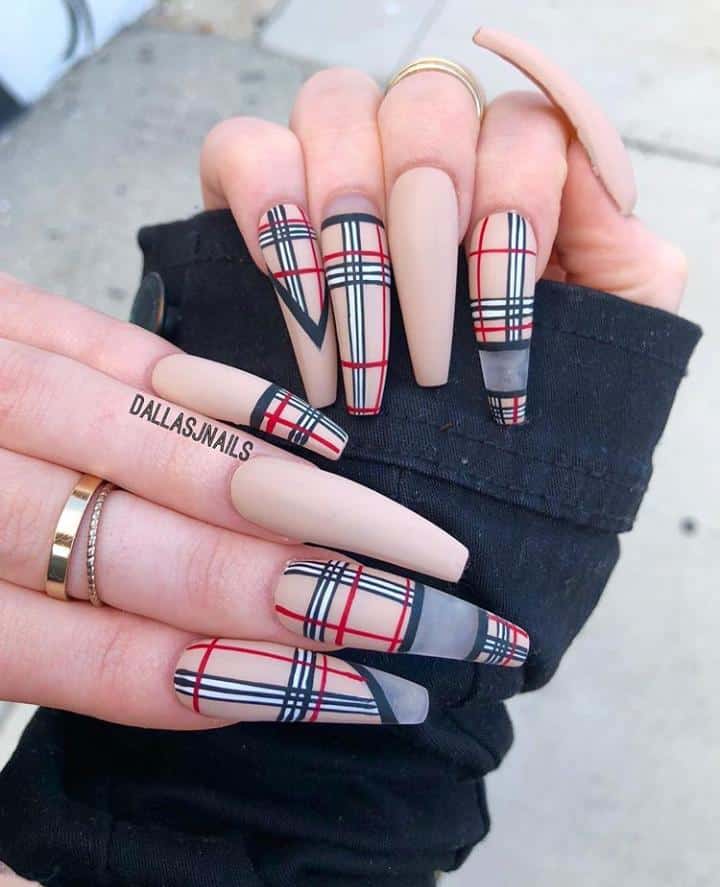 ↓ 13. Winter Wonderland
Make the most of the Winter season with this white and blue theme nails.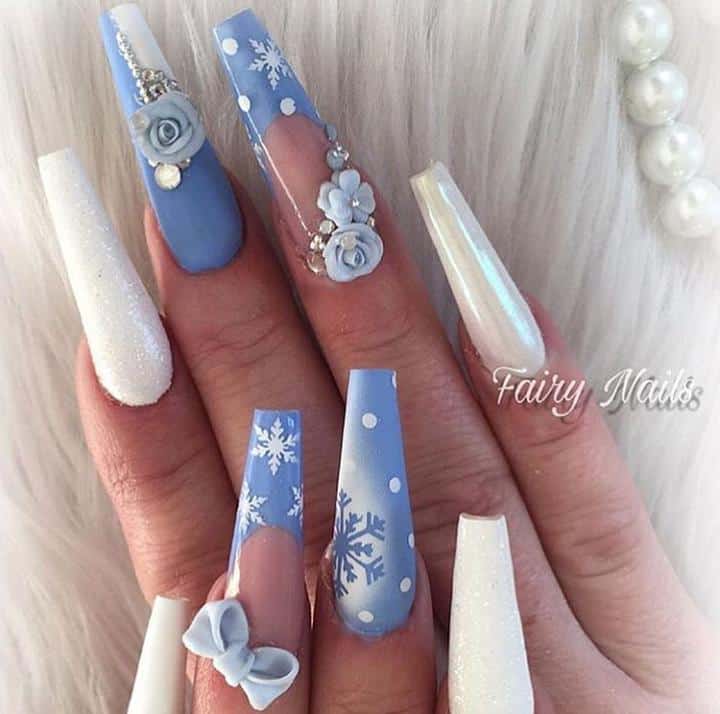 ↓ 12. Cherry Blossom Nails
Keep your nails simple and girly with these cherry blossom nails.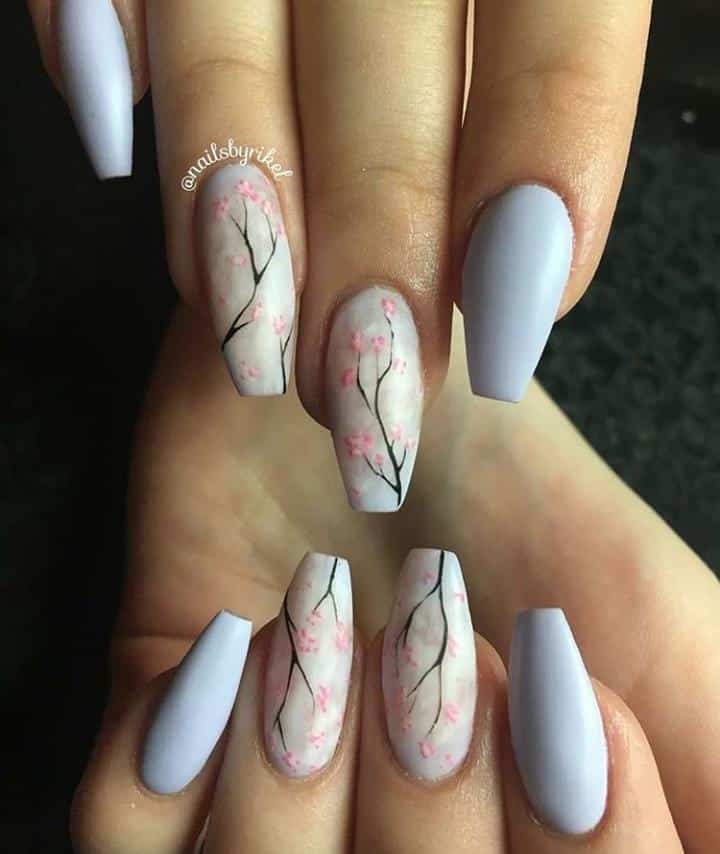 ↓ 11. Natural Ombre
If you want something very minimalistic and sophisticated, a natural looking ombre is what you can consider getting.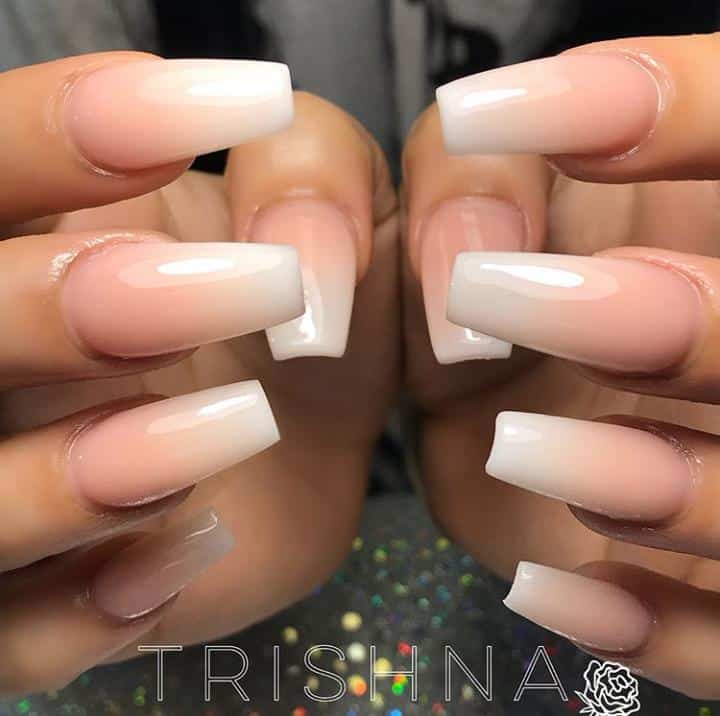 ↓ 10. Jelly Nails
Take a look at these jelly nails in this gorgeous aquamarine blue shade.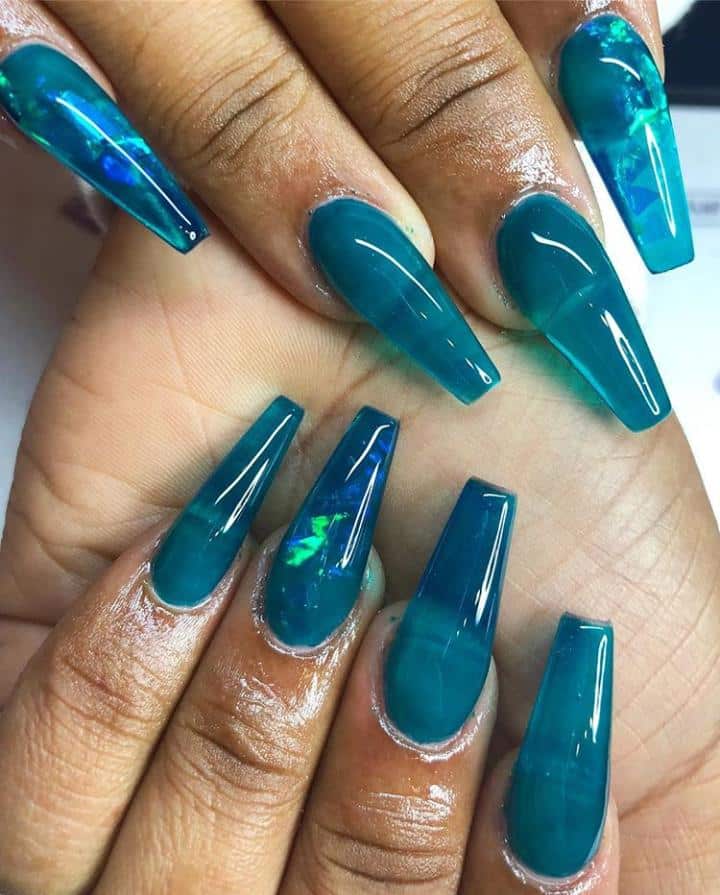 ↓ 9. Classic Black Coffin Nails
This gray-black nail art is perfect for the everyday casual look.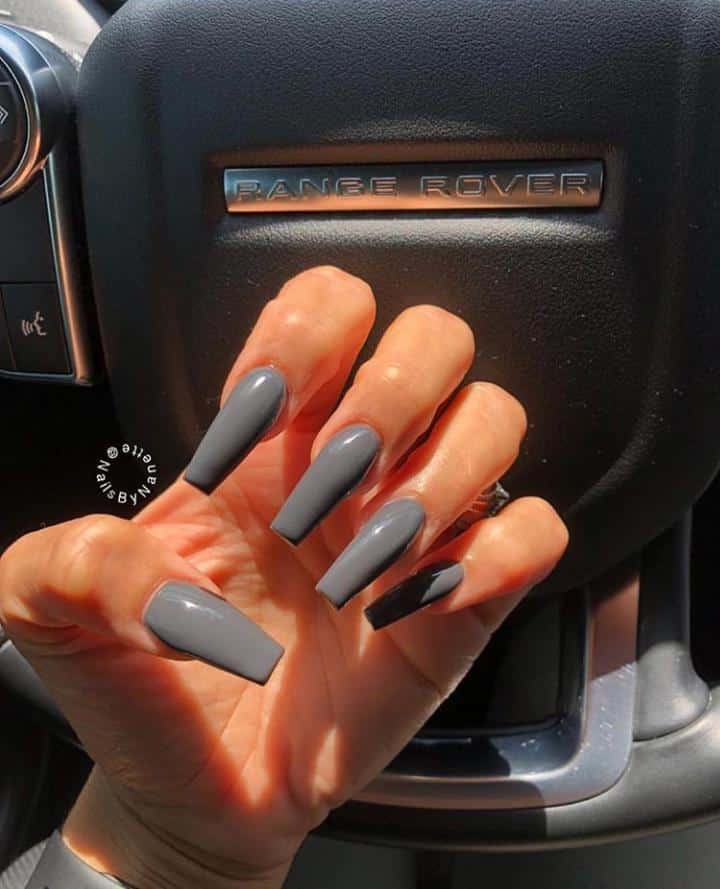 ↓ 8. Disney Nails
Channel out your inner child with this Disney inspired nail art.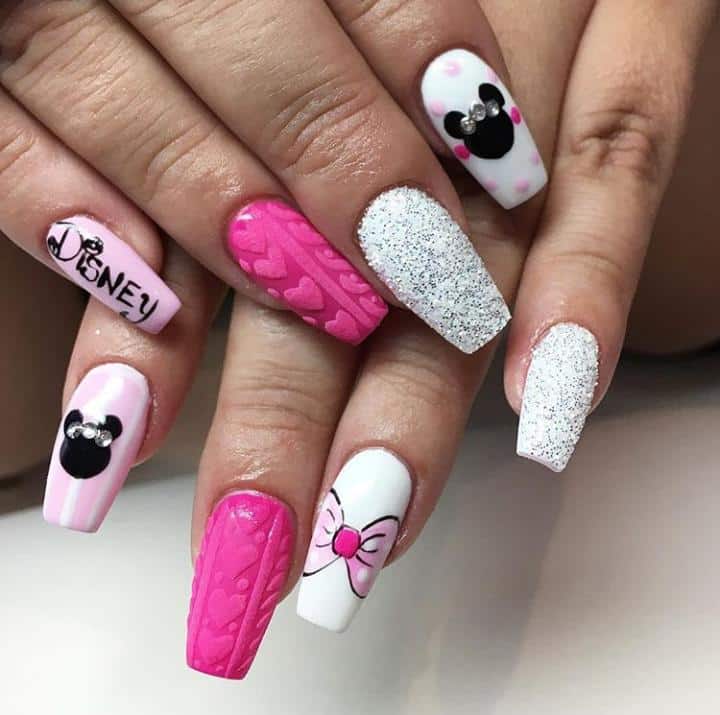 Via
↓ 7. Lace Effect
Take a look at this trendy design involving marble effect with lace detailing. Each nail has been made to look different and very unique.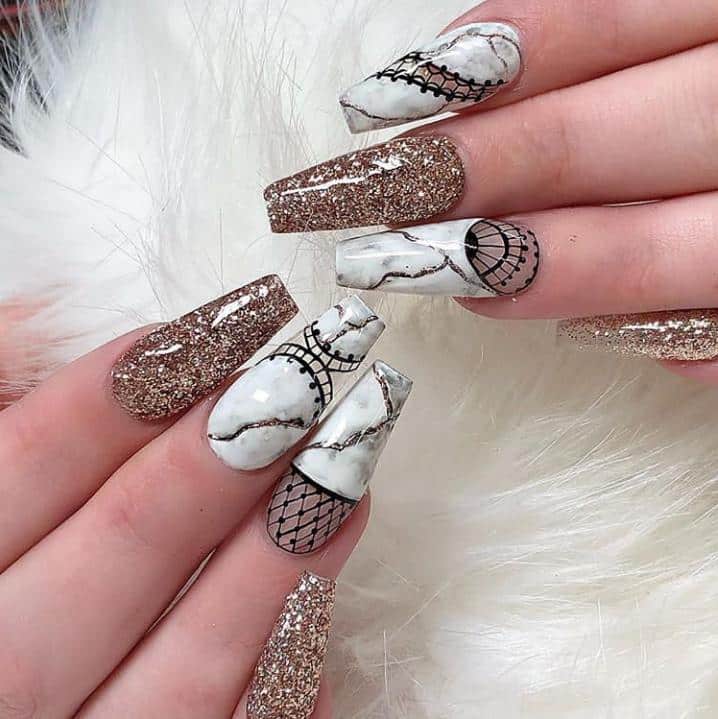 ↓ 6. Camo Nails
This edgy look has been achieved with a yellow and orange theme camo look and we sure love it.
↓ 5. Animal Print Nails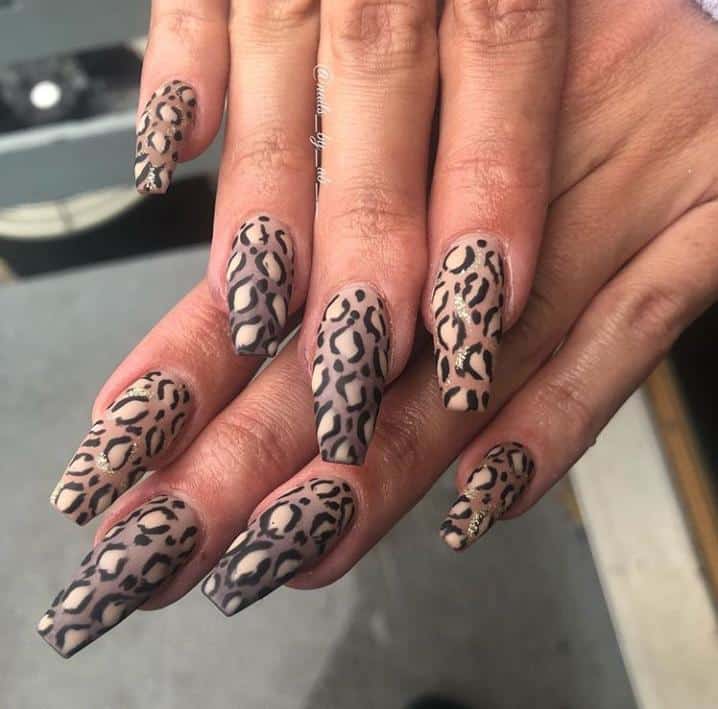 ↓ 4. Crystal Clear
This sky blue color seems to be complementing the coffin shape nails really well. 'Coffin' nails do not necessarily need to have a dark, gothic look.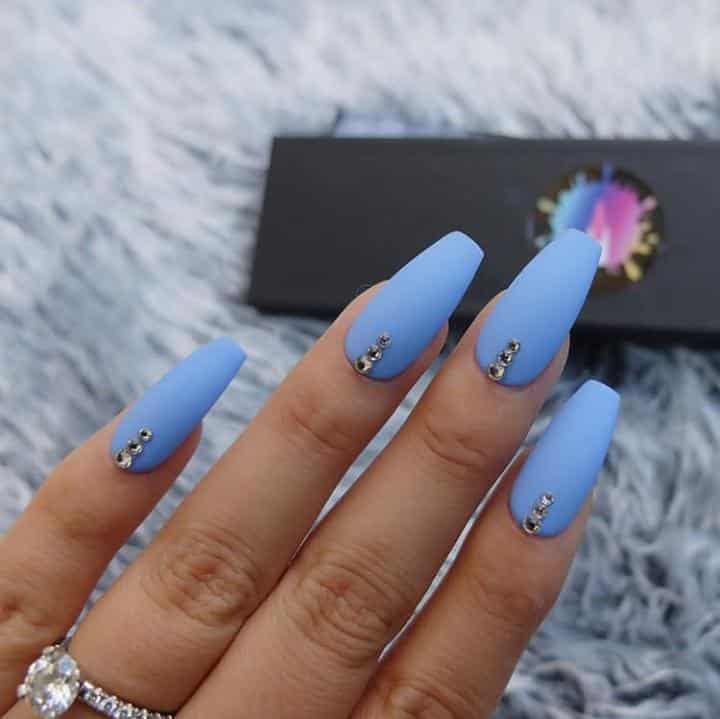 ↓ 3. Tribal Pattern
These tribal pattern nails are a win-win for us and seem to be going great against dark skin.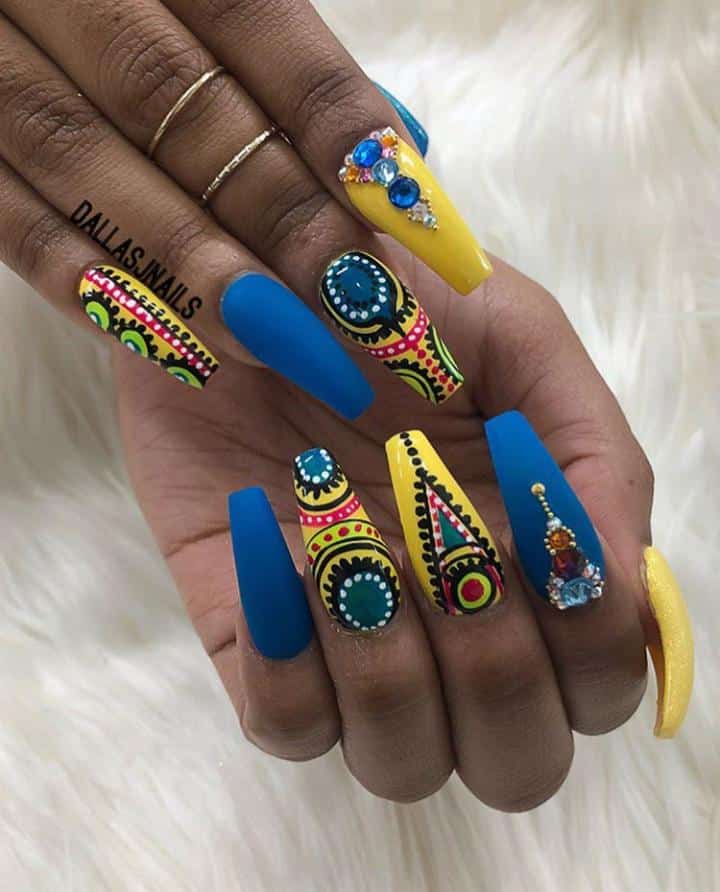 ↓ 2. Primary Colors

↓ 1. Matte Obsession
While the matte trend seems to be dying down, this one seems irreplaceable. This gorgeous peachy pink color has been glammed up with the addition of rhinestones and crystals.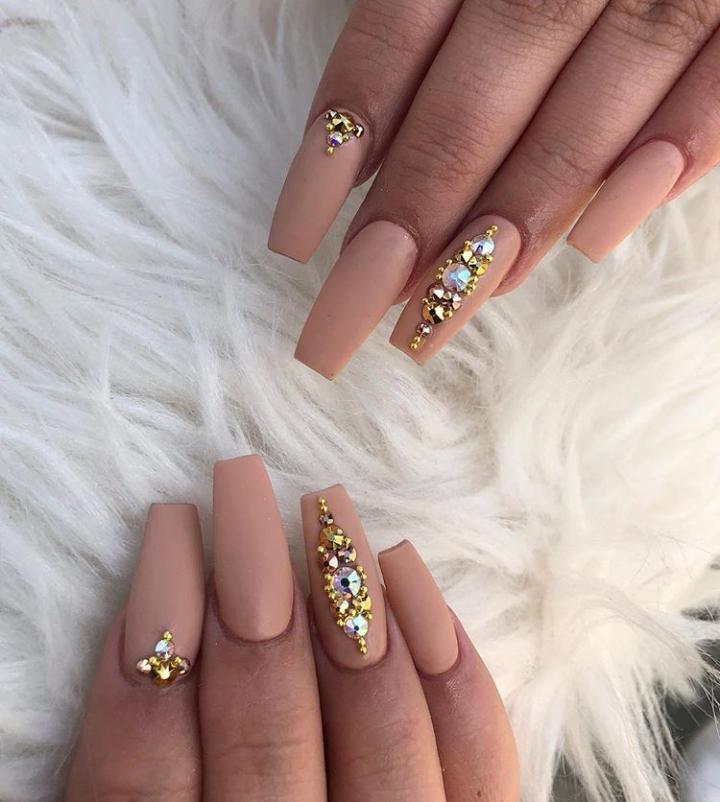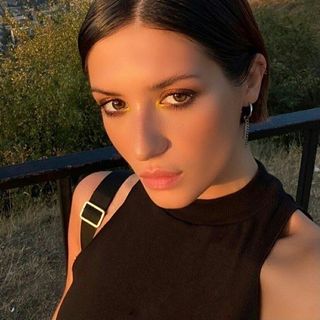 Avid reader and Fashionista. London Based freelance lifestyle editor