Summer Nail Colour Ideas: Summer is the season to get out of your comfort zone and have the time of your life by becoming your best and also looking your best. Can you think of a better way to spice up your physical aesthetics than getting a fun manicure?
Some people use nail polish because it makes their hands seem lovely and soft, while others combine it with a variety of cosmetics to boost their mood.
Your nails are a great way to express yourself and portray yourself however you want. You can go for bright colours or neutral tones, or mix them up because this is going to be the year of mix and match.
Hottest Summer Nail Art
This year we're seeing a mix of two very different looks – on one hand we have bright, statement-making colors including the very trending Viva Magenta. And on the other hand, we have more minimalistic trends like the rich girl nails.
We will explore them all in more detail below. But first, some tips:
Dos And Don'ts – Nail Care Tips For Summers
Always apply a base coat especially under bright colors to avoid staining.
To prevent your nail color from chipping, always apply a clear top coat.
Wear hand moisturizer and do not neglect your cuticles.
When gardening (or baking anything with chocolate), wear gloves to prevent your nails from getting dirty or drying out. The same applies to any other activity where there's the risk of damaging your nails.
Remove your nail polish one day before repainting to allow your nails to breathe and avoid damage.
If you don't like the trouble of maintaining long nails then these short nail manicure designs will be the safest option for you.
And now moving on to the trending nail colours:
1 – Yellow
Yellow is another great color for summer if you are into bright shades. It is cute and edgy at the same time. It really depends on how you wear it. The bright appearance of yellow might scare some of you but it is not as scary as it looks. Wear it with loungewear or casual outfits in contrasting colours and you will see how you can wear it down as well. Yellow nail polish is also a great choice for beach days with red, green, yellow, blue, white, or other complementary coloured swimwear.
And of course, when it's Hailey Beiber approved, you gotta give it a chance.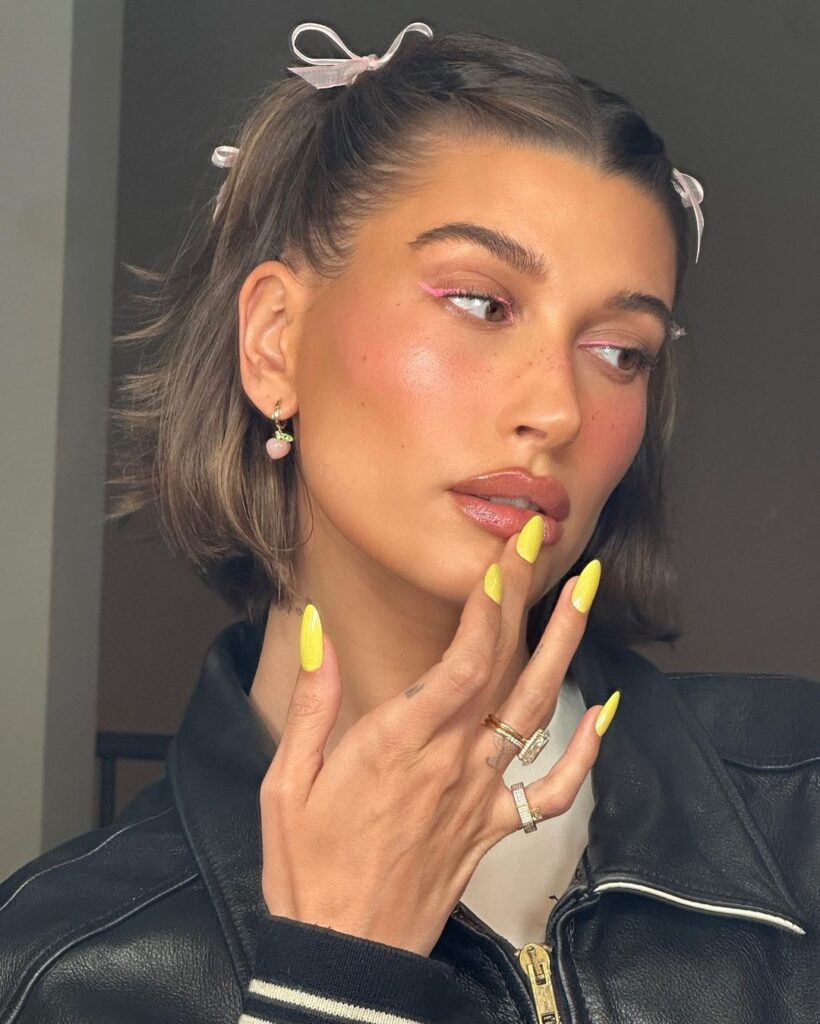 2 – Neon Green
Neon green is a great colour for a fun-filled summer. It typically looks great on long stiletto or long coffin nails. You might feel constrained when it comes to what you can wear with neons, but rest assured that there is no right or wrong answer. Wearing neon is recommended for individuals who wish to have fun with their appearance and express themselves.
3 – Metallic Nails
Summer demands metallic. After all, why not? This delicate metallic will leave you with dazzling nails that are ready to party. To get the desired look, shake well before use and apply a coat of primer to the nails before applying the metallic surface.
Allow 2-3 minutes for the primer to dry before adding the metallic surface. Once that, softly brush one coat first, then another after it has dried. Brushing 2-3 layers is suggested.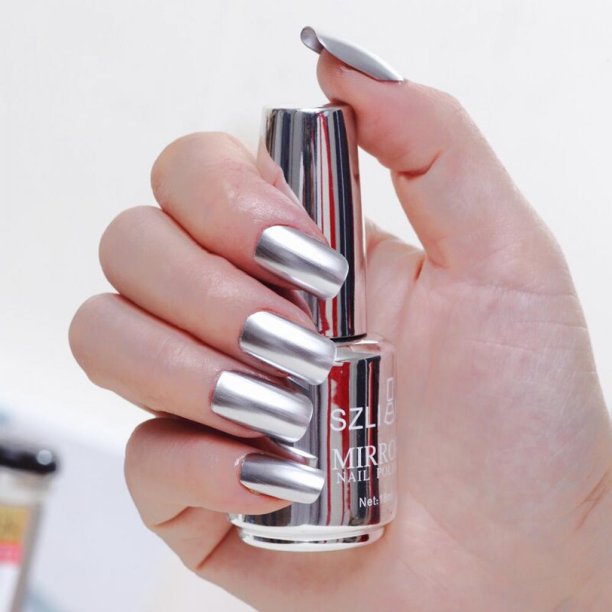 Available here for $7.32
4 – Cyan Blue
Cyan blue is such a fun colour. It is bright, cool, and edgy at the same time. You don't need to do much with this colour to make your nails pop. It is a soothing, peaceful hue that represents relaxation. It's a vibrant, vivid green blue that looks well with most outfits.
It is frequently overlapped with turquoise and is linked with vitality, freshness, and energy. To create vibrant, feminine colour schemes, use this colour with rich pinks and teals.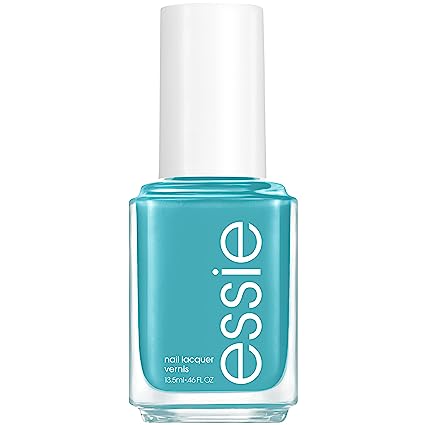 Available here for $12.81
5 – Apricot
Apricot is a bright yellowish-orangeish hue that resembles apricots. It is, however, paler than genuine apricots. Tones like apricot, peaches, and orange-like colours also look excellent, especially in the summer when they provide a new and cheerful look.
6 – Lilac
Two things will trend in 2023 wherever the aesthetics are concerned such as simple floral patterns and the color lilac. This cute shade is so simple, clean, and cute at the same time. A sleek soft purple nail is the summer equivalent of a deep pink manicure in the fall.
7 – Slate Blue
Slate blue is a gorgeous and rich colour that looks stunning when paired with light-coloured summer outfits. This richly saturated nail colour is particularly unusual in that it not only provides a lovely finish. A single application is all that is required to make nails seem elegant and prepared for just about any event.
8 – Grey
Grey nail polish is a stylish alternative to a neutral manicure. Changing from beige neutrals to grey is a terrific way to move into the cooler months, but a lighter shade of grey may also make this trend work in the summer.
9 – Pastel Pink
Baby Pink is especially popular among teenagers. It is cute, chic, and quirky. You can add the trendy chunky rings to the mix and you are good to go out with your friends this summer break.
If you're into nail art then here are some cute pink nail art ideas that I loved trying.
via
10 – Ombre Nude (Also known as rich girl nails)
The glossy nude nails with a slight ombre touch are the classiest and most convenient trendsthis year. They go with anything and will not clash with any type of outfit or event. You can wear them to work at a strictly corporate job, or to a wedding, or for a casual day out.
These nails are definitely a staple for everyday life and are perfect for the girl who wants her nails done but hates getting them done for different occasions. This one exudes absolute sophistication and is perfect for females who want to keep their look modern while avoiding anything overly glitzy.
Here's our complete list of the best ombre nail colors and combinations.
11 – Hot Pink
It is one of those rare colors that look exceptionally good on both long and short nails.
And if you're in the mood of really diving in, pair this nail color with a hot pink outfit.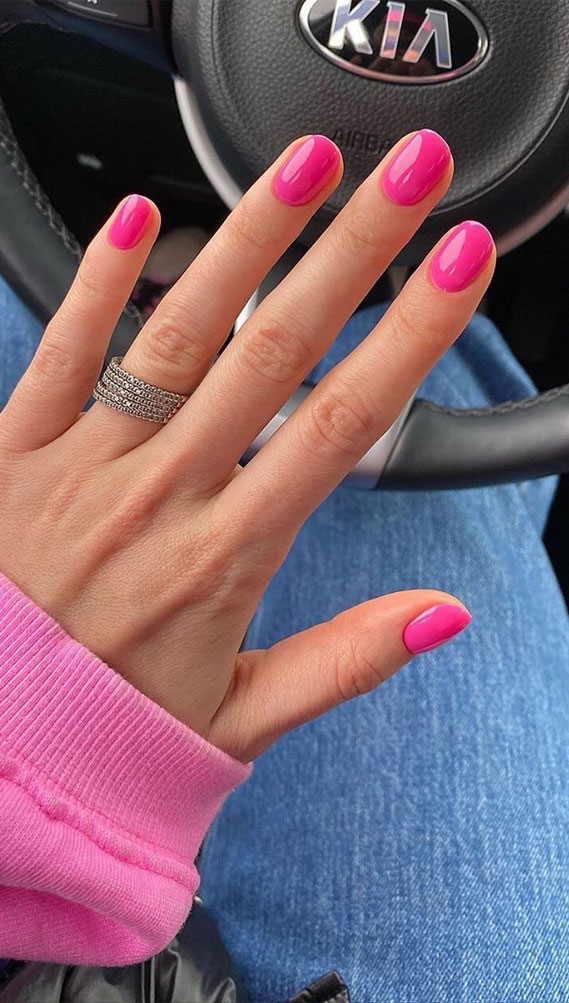 12 – Black and White
Premiere by the queen of bold nails, Vanessa Hudgens at the 2023 Oscars event, black and white abstract nails are what we're definitely trying this Summer. I mean we have all had our black nails phase and our white nails phase too so why not mix them up for a change?
And if you like this concept then you must check out my collection of the best abstract nail designs.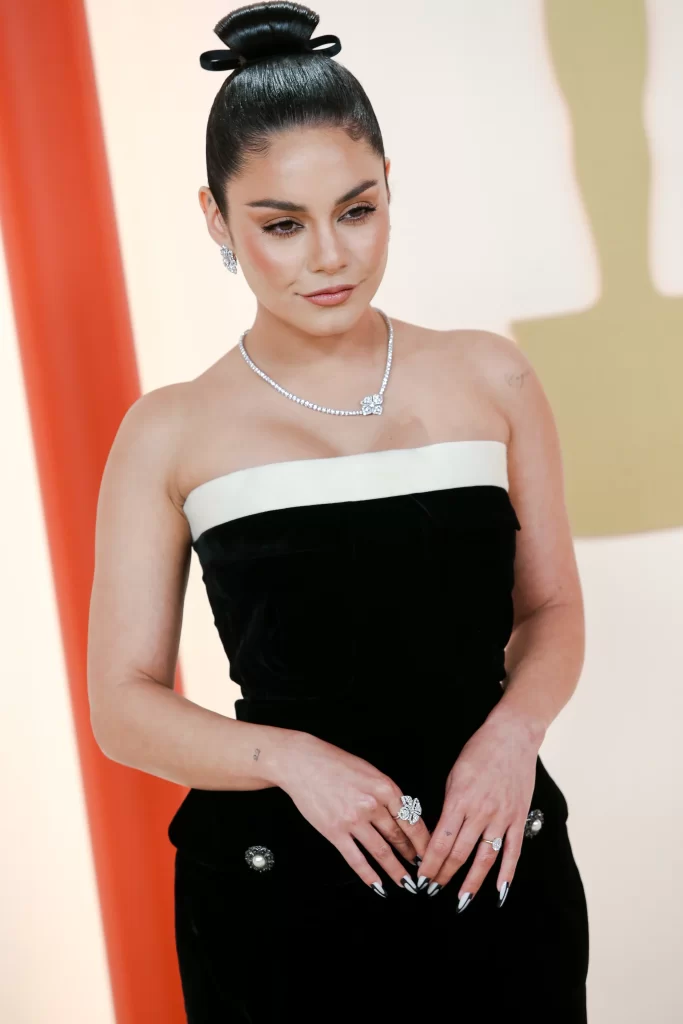 13 – White Clouds
Now this is another hot Summer nail trend involving the white color. You can use any base color of your choice or even go for a manicure and then you just add a few white clouds for an angelic look. But the most popular way to do this is with any shade of blue – you could go for a dark blue base or even a glittery blue one to have the night-sky like affect.
The best part is that clouds are really easy to draw so you don't need any special tools or even any advanced drawing skills. You can easily paint them with the tip of your your regular nail polish brush. And if you find it too complicated, just use a toothpick to define them a bit.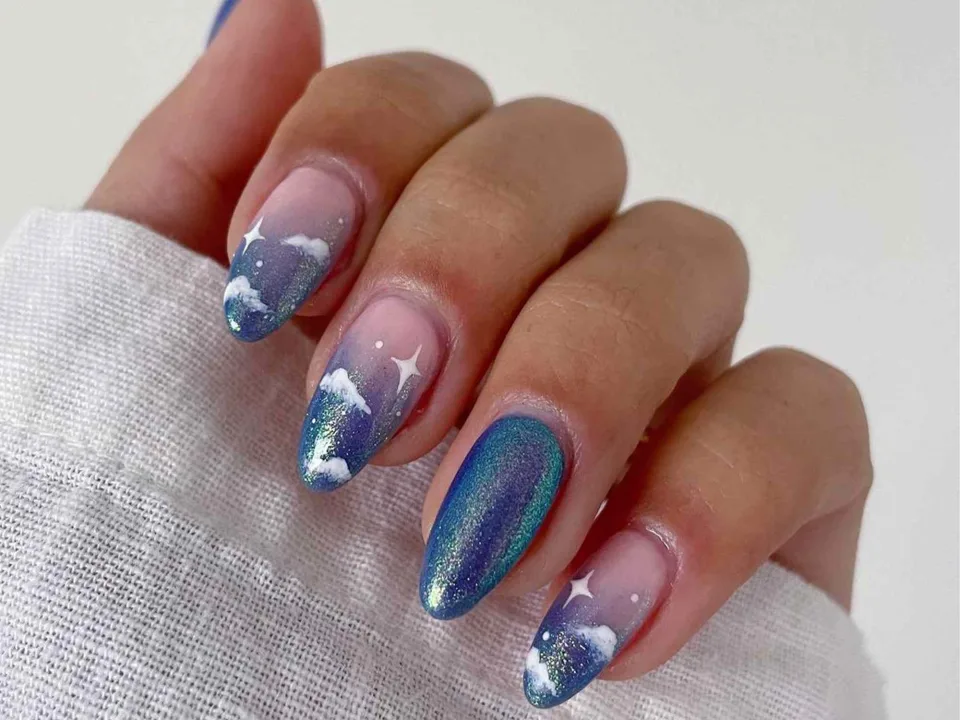 14 – Sage Green
Who would have guessed that the colour sage would have been so trendy? It's a fantastic colour for any season, but it's especially lovely in the summer.
15 – Gold Stars
Gold always seems to be trending in one way or another and this year, it seems to be increasing popular in the form of starry nails. The best part here is that you can easily buy star shaped stickers for nails and use them on any base color of your choice to get this look.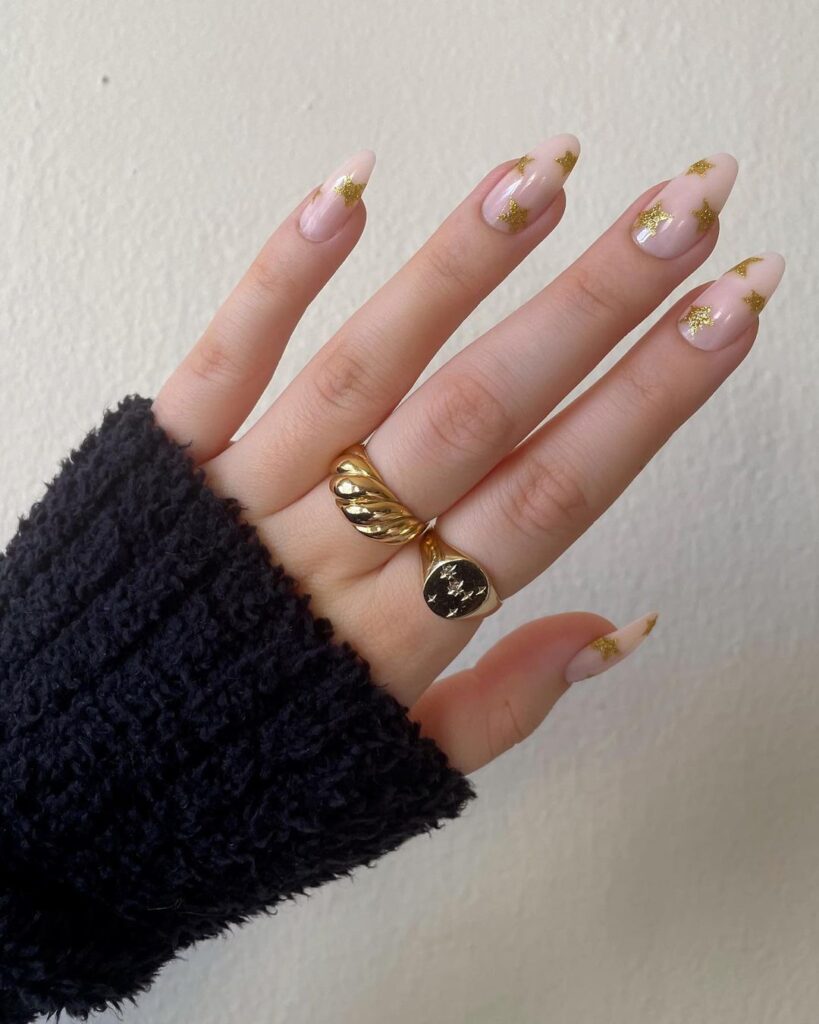 FAQs
Q. What are the popular nail colours for summer 2023?
Bright and vibrant nail colours complement the summer season the best. Hence, for this summer season, you should go for nail colours like lemon yellow, cornflower blue, powder blue, neon colours, watermelon red, and alike.
Q. What nail shape is trending this summer?
Round, coffin and stiletto-shaped nails look the best with bright and summery nail colours.
Q. What nail colour makes you look tan?
Bright hues, such as cheerful yellow, zesty orange, or bright pink, will definitely make your hand look tanner and make darker skin tones pop.
Q. Should nails and toes match in color?
Absolutely not. There is no such compulsion to match your fingernails with your toes. However, it is best that you make sure that the nail colours complement each other.
Q. What nail polish goes with everything?
Earthy tones like beige, white, lavender, chocolate brown, and red go with every outfit.
Q. How To Wear White Coffin Nails?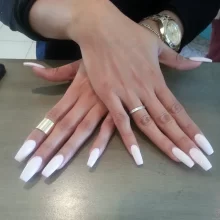 Coffin nail designs are stunning, especially when worn with long nails. The white matte color looks great on long long coffin nails. This nail color is so striking that you do not need many accessories to stand out.
Q. What Nail Colour To Wear With A Cute Summer Dress?
Q. What are the best colors for round nails?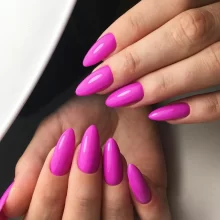 Round nails are great for busy boss girls as they are less likely to get stuck and chip away. These nails are so versatile. You can wear them at any event and with any type of outfit. Magenta, a blend of crimson, mauve, and purples, is feminine yet not flamboyant. But if you want to spice up your "casual" nails this summer then this hot pink is perfect.
Q. How to style short nails?
Matte red and rosewood pink are perfect colors for short nails, as they will complement without taking the fun out of your summer look. When in doubt, choosing a mani-pedi color combo that sits next to each other on the color wheel is fool-proof.