Summer Nail Art Ideas. Summers are a couple of months away and it is that time of the year again to start searching for amazing fashion trends of the season. What further adds to the summer awesomeness is some really cool and bright nail arts.
The nail artwork during Summers has to be full of colors and brightness that matches the charm of the sun. Foil nails, studs, bright and popping colors have been all the rage and we cannot wait to try them out during the hot weather.
Here are 70 cool and classy summer nail looks that will surely make your sunny season more exciting. Have a look and just choose about any of these to make your summers the most memorable ever to date. A lot of these nail art designs include little glimpses of everything we love doing in summers and we cannot wait to try them out.
Get shopping for some amazing nail paints and accessories because you would definitely want to copy these.
Summer Nail Designs?
Check out these nail art do's and don'ts:
Most of these designs are easy to copy and can be learned through Youtube tutorials.
Always use high-quality products to prevent any nail and skin damage.
Use colors that are Summer appropriate.
Protect your skin from the polish when creating the water marble nail art or using the sponge.
Nail charms help elevate the appearance and can be used for a fancy look.
Go to a professional if you fear to mess up the design.
↓ 70. 3D Nail Embellishments
Ornamented nails look fancy and elegant. They have been trending for quite some time and will continue to trend through the coming year. We love how a subtle color has been chosen to create the 3D flowers. This nail art is perfect for a delicate Summer look. If you are headed to a Summer wedding, this may be a great look to pull off. Here are 60 Beautiful White Nail Art Designs and Ideas to Try Now.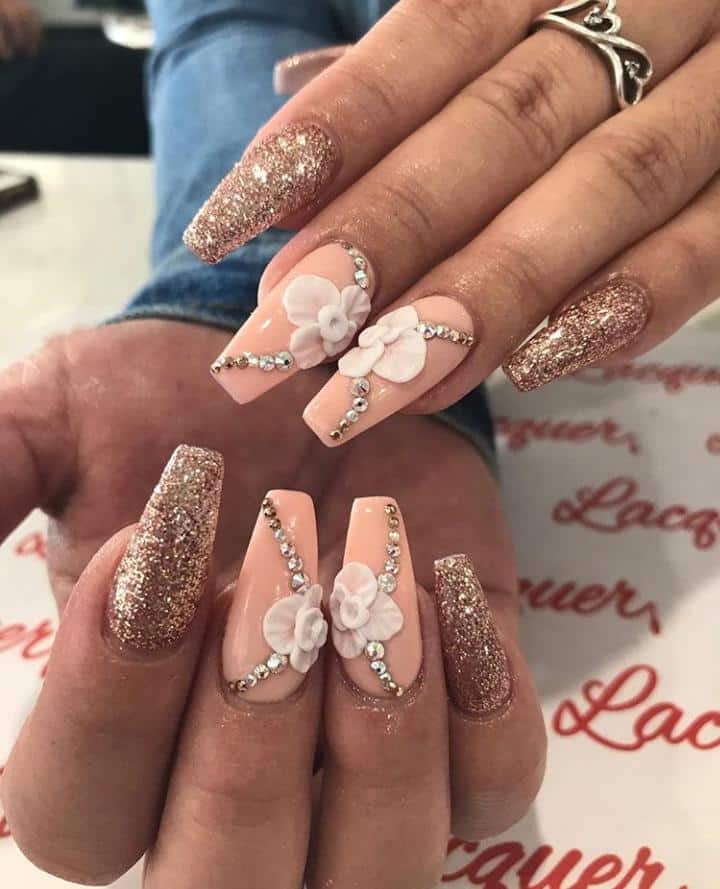 ↓ 69. Sheer Black
Here is one of the latest trends which is the Sheer black nail art. This includes creating a bold outline while keeping a sheer-like look on the inside. The nails can be kept on their own or some artwork can be used for a cool look. The tropical tree is a great way to symbolize the Summertime.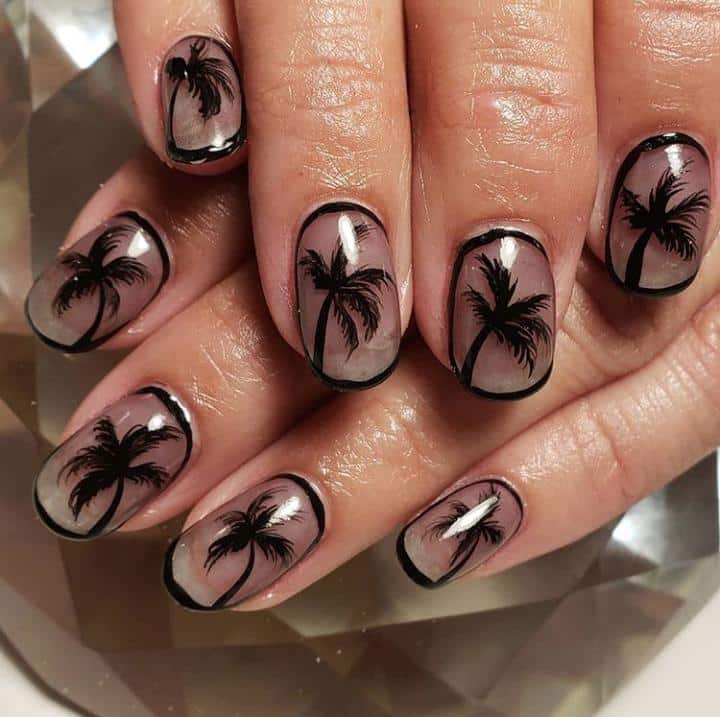 ↓ 68. Neon Manicure
Neon has been one of the trends that made a comeback in the past year. It has been incorporated with the all-time favorite Ombre for a simplified look.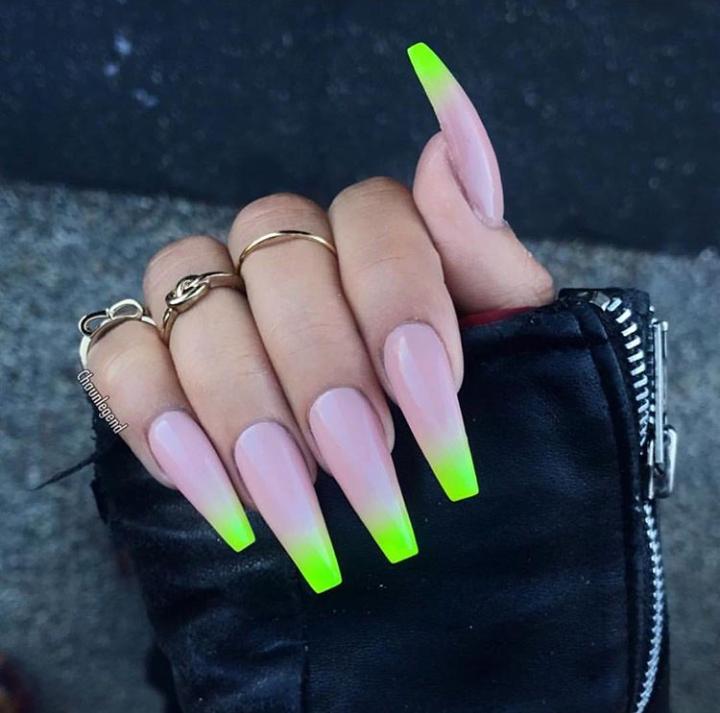 ↓ 67. Sunflower Yellow
What better way to commemorate Summertime then with a bright and floral artwork like this one? Here is another subtle ombre with a 3D sunflower.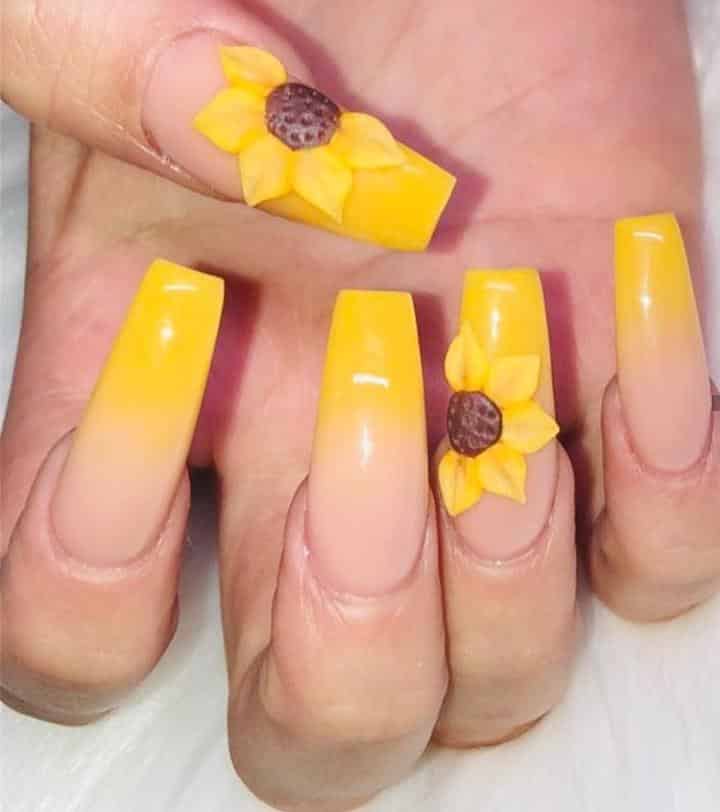 ↓ 66. Classic Red Nails
How gorgeous are the glossy Red nails? One trend that can never die down is the classy and bold red nail art.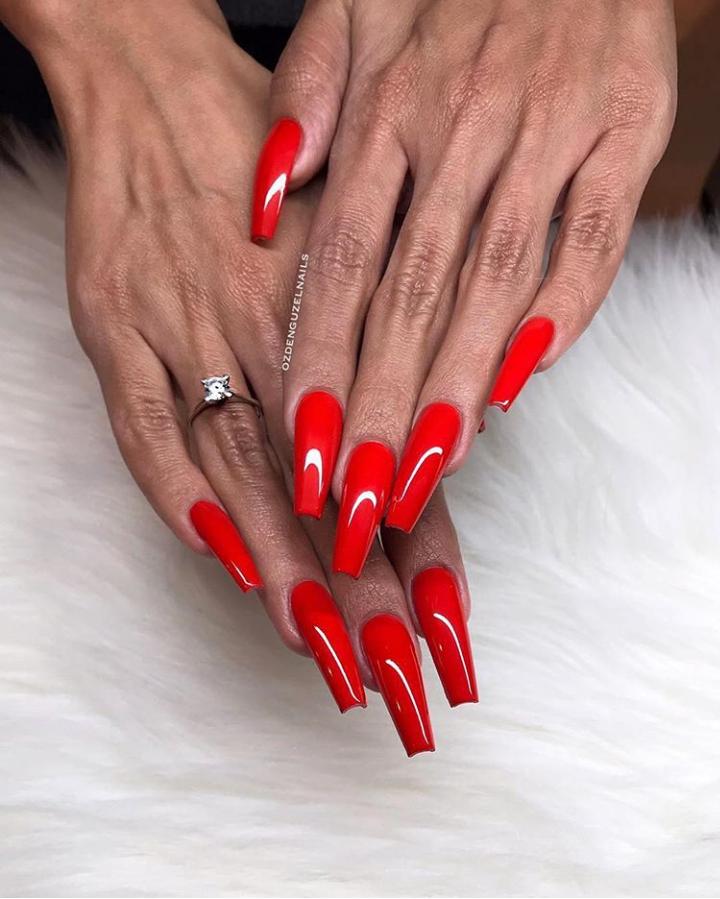 ↓ 65. Metallic Purple Nails
Metallic nails are the hottest trend currently and we love this shiny purple shade.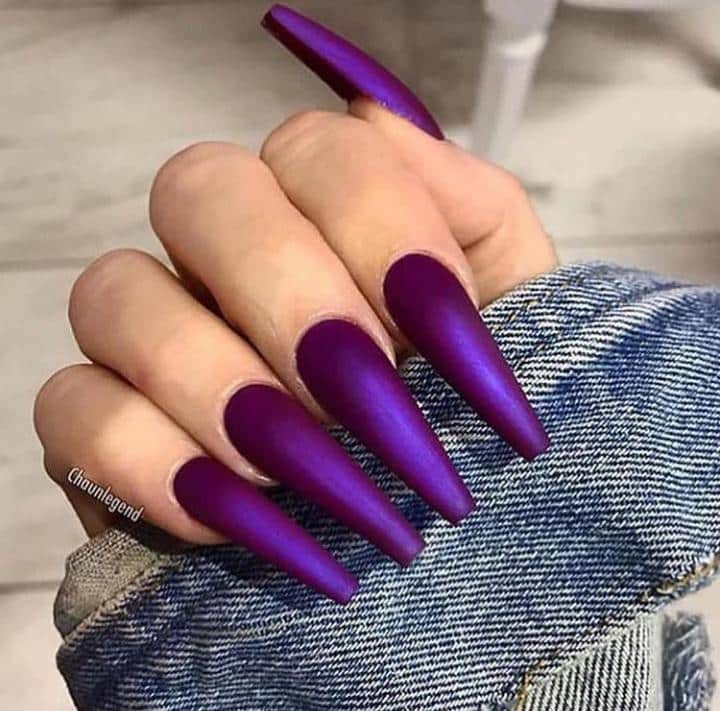 ↓ 64. Neon Flames
This "hot" and trendy neon look is exactly what you need to stand out this Summer.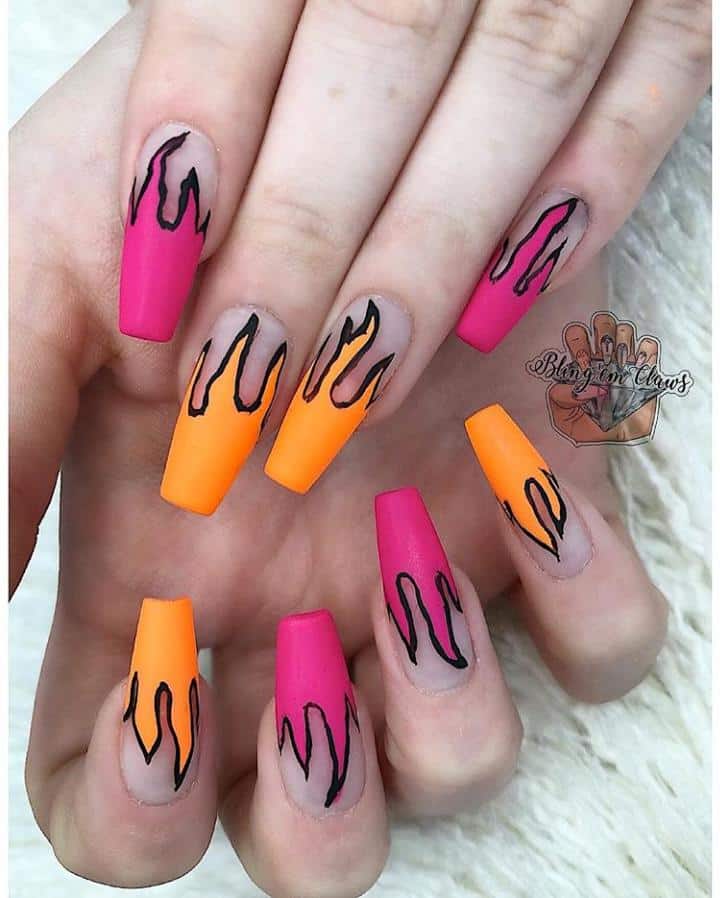 ↓ 63. Best Summer Nail Art
Have fun this Summer by creating one of the best nail artworks ever. While it is not something you could do at home, it is worth booking your nail appointment for. Every nail seems to be standing out on its own. Whether it is the glitter, pattern, use of studs or the matte look – together it looks beyond perfection.
↓ 62. Dirty Green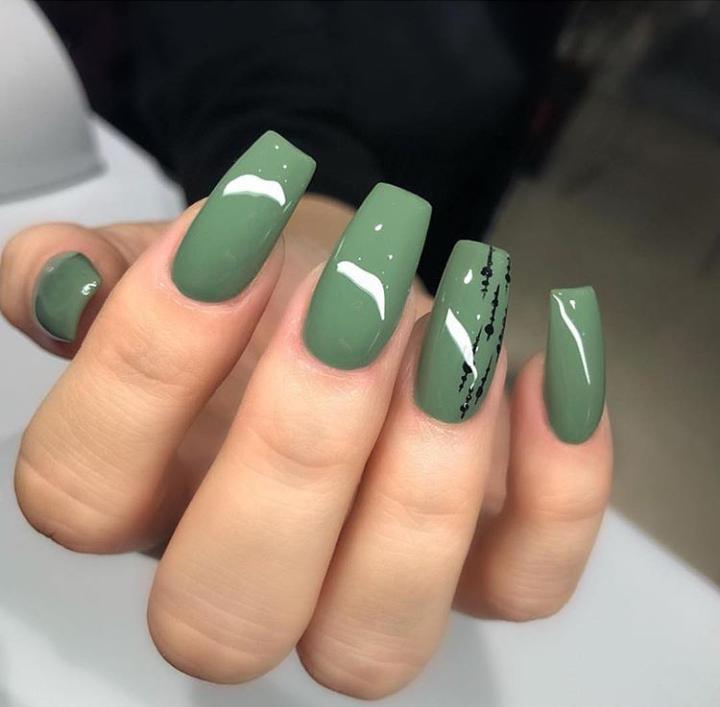 ↓ 61. Studded Nails
These Valentino inspired, studded nails are definitely spicing things up. Experiment with your nails in the right way possible with the use of marbling, ombre and nail embellishments.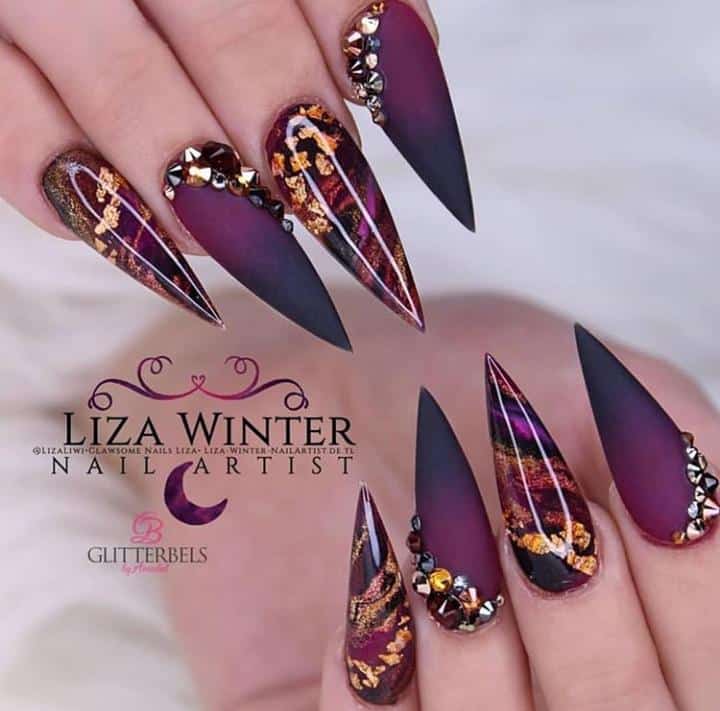 ↓ 60. Marbled Nail Art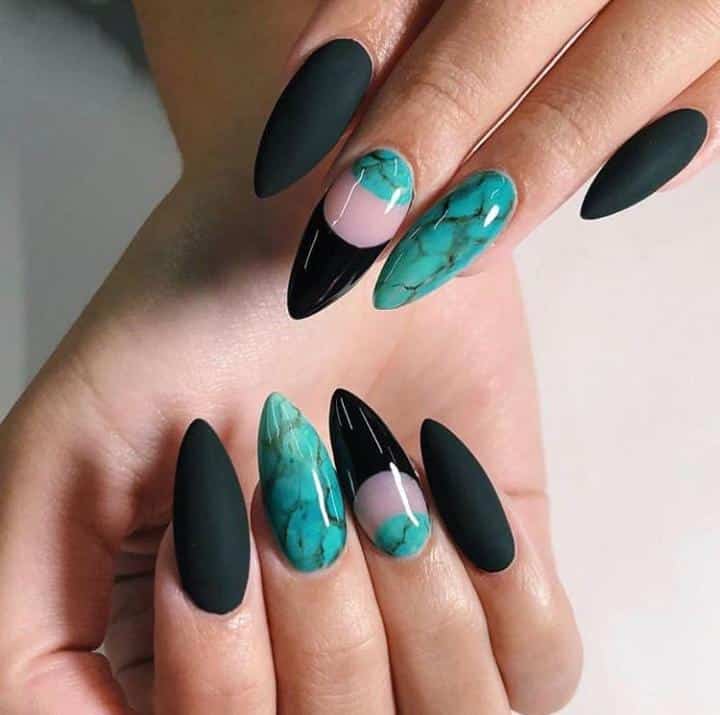 Via
↓ 59. Gorgeous Matte Blue Nails
Give your nails the ultimate modern glam up with this gorgeous matte look. The geometric pattern and studs are complementing the overall appearance of it. Here are 80 Most Epic Nail Art Ideas Ever For Coffin Shaped Nails.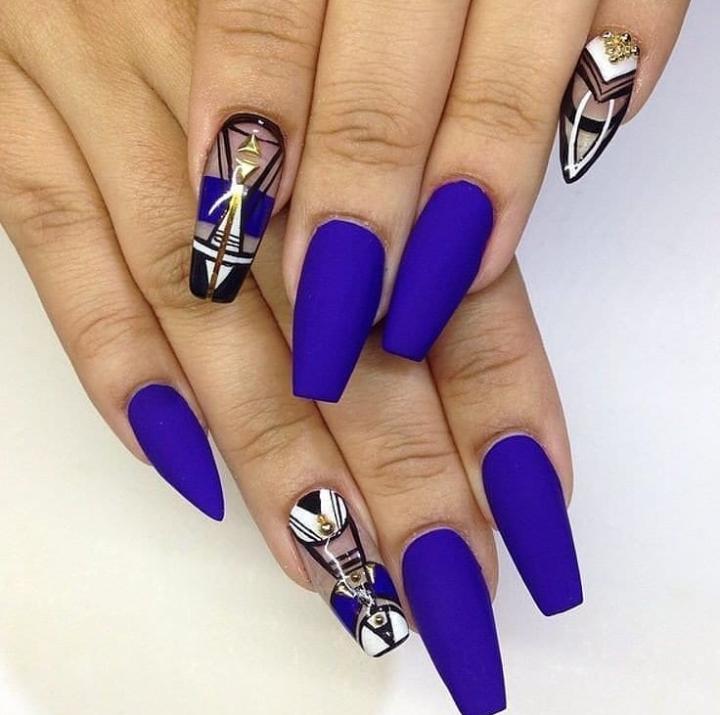 ↓ 58. Confetti Nail Art
Give your nails a fun makeover with this confetti nail art. This is a great way to add in color to your sheer nails.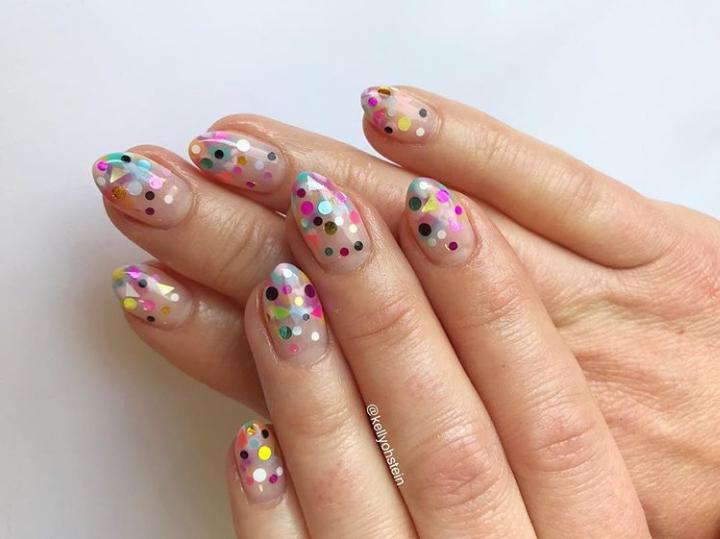 ↓ 57. Gold Foil Nails
One of this year's trending nail art included the gold foil that has been done in numerous ways. We love how the foil adds a bit of shine and effect to colored nails.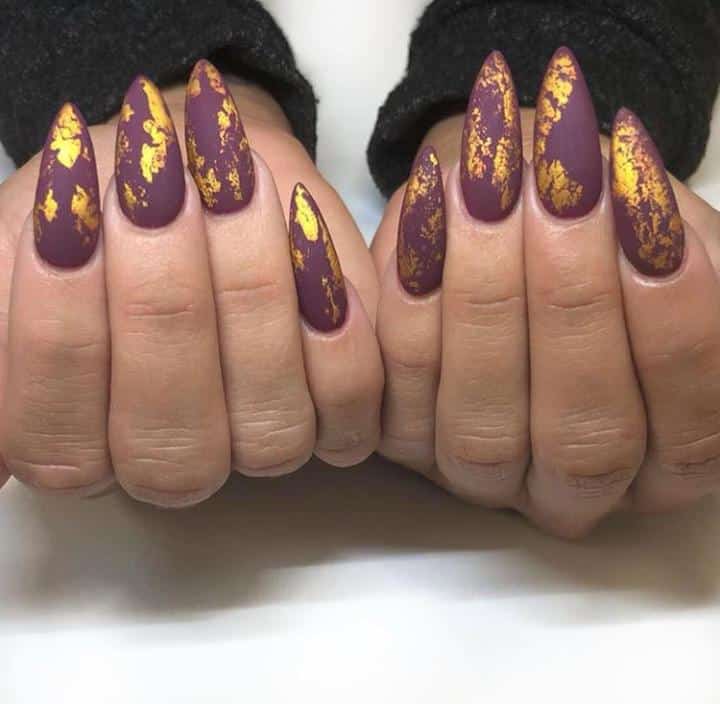 ↓ 56. Green leaves
Check out the breezy and tropical vibe to this nail art. Get vacation ready with these super adorable nails.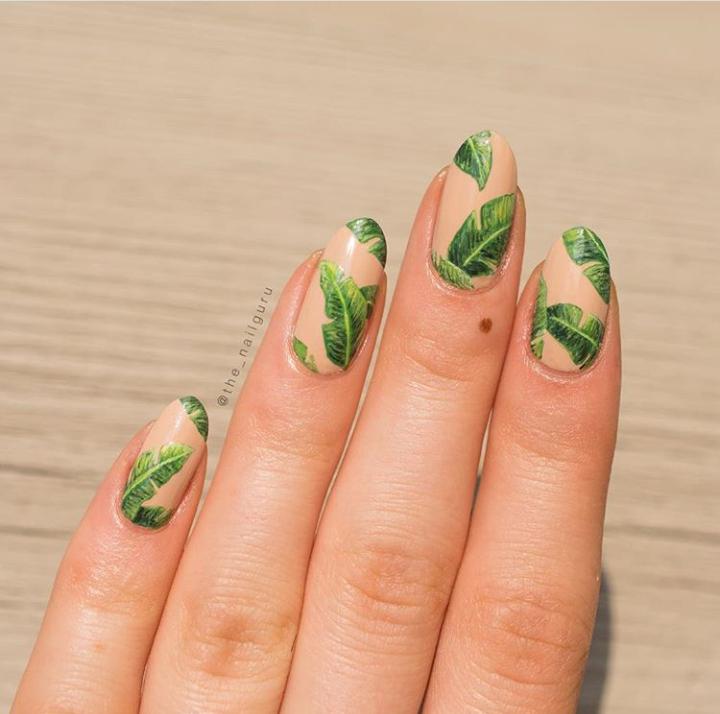 ↓ 55. Water Effect
If you are a water baby and look forward to the Summer weather, here is something you would definitely like. We especially adore the tiny crabs and lobsters.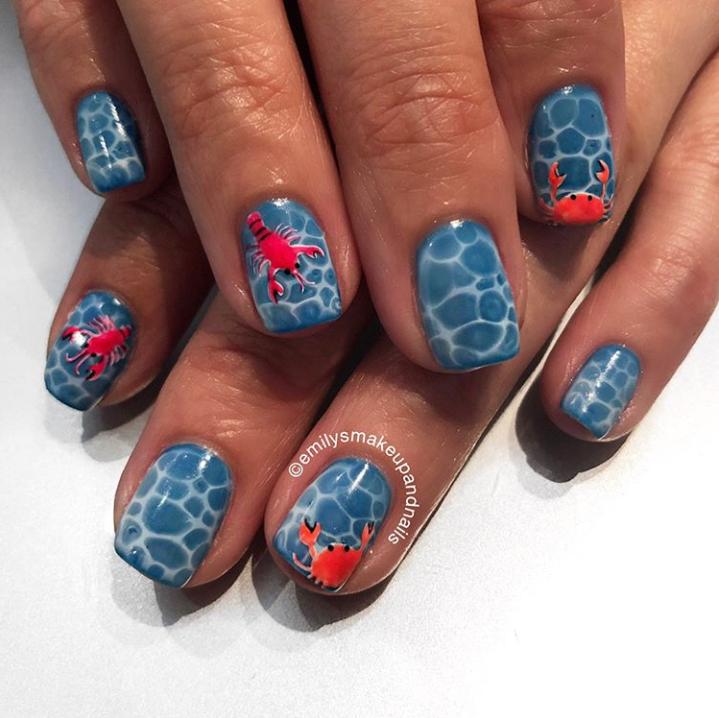 ↓ 54. Watermelon
Fruity nails seem to be the new "it" trend and we love how realistic the artwork is.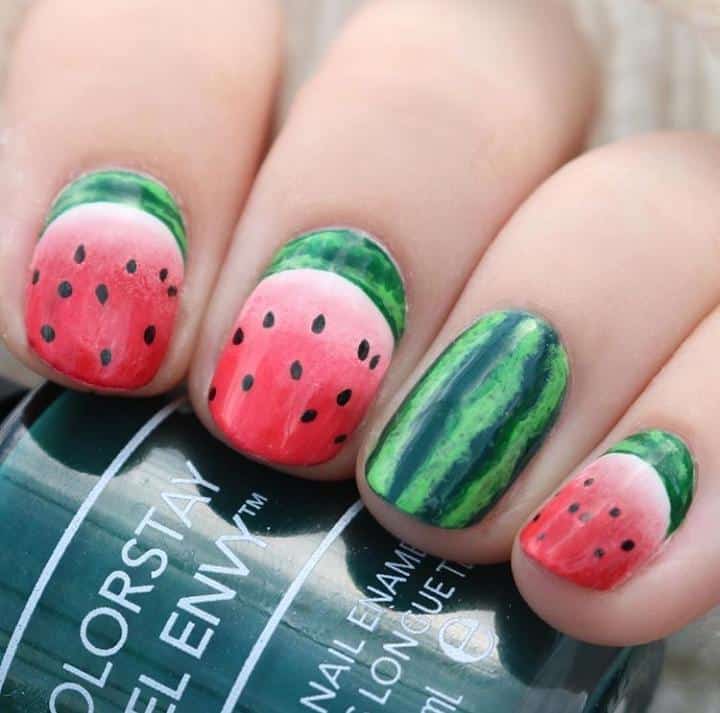 ↓ 53. Sundae
Summers and Ice cream are one of the best combinations possible. That just gives you every reason to try out this funky artwork. The cherry and sprinkles are elements you just cannot miss.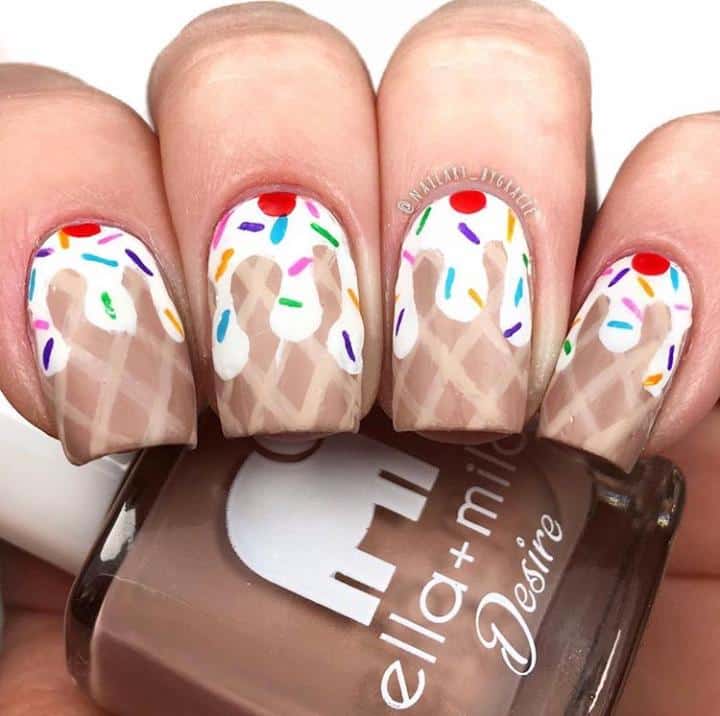 ↓ 52. Beach Vibes
If we were to create a nail mood board, this beach inspired look would definitely make its way to it. Summertime is all about hitting the beach and relaxing and that is exactly what has been depicted here. You may need a professional to recreate it but it will be worth the effort. We really admire how realistic the sand, waves, and clouds look.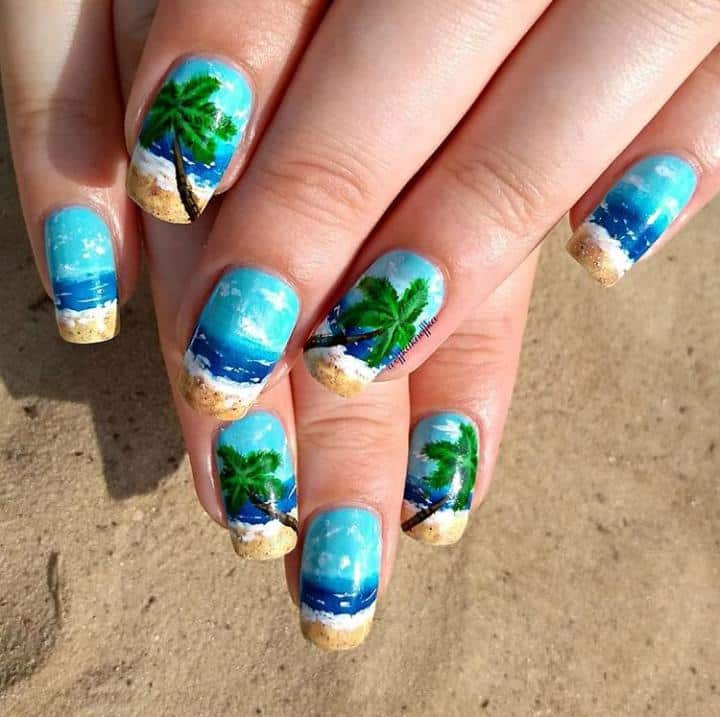 ↓ 51. Bright Summer Color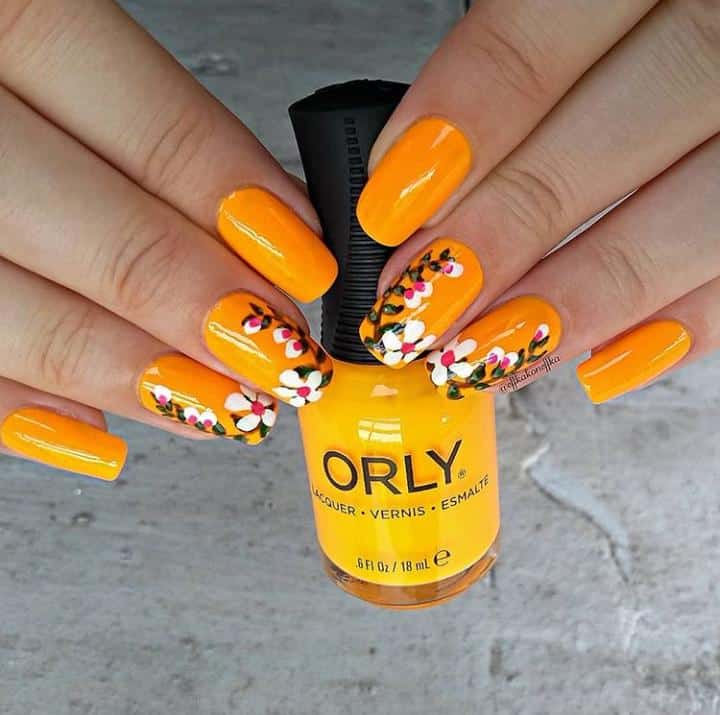 ↓ 50. Tropical
Add a bit of nature to create a tropical inspired look with these beautiful gold leaves. Apply a metallic base coat and use stamps to recreate it.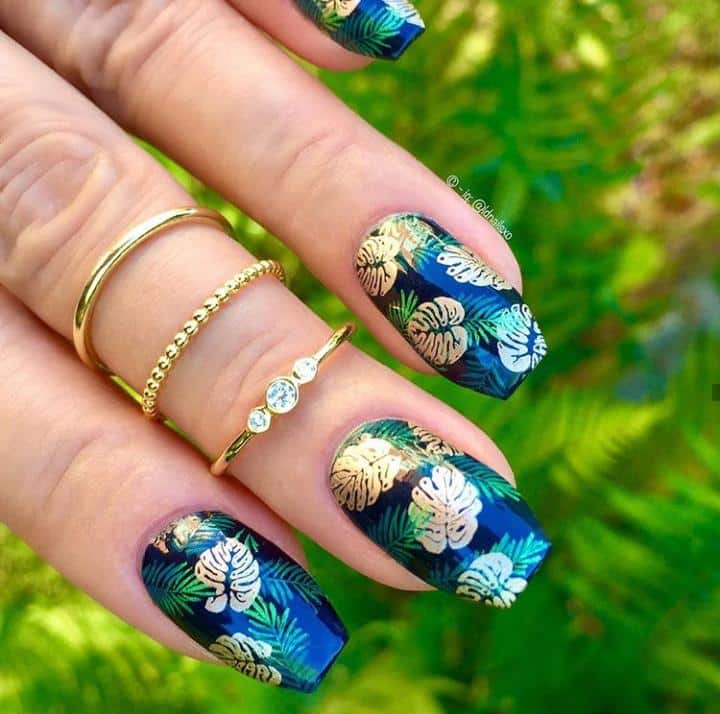 ↓ 49. Lemon Nails
When life gives you lemons, get it painted on your nails instead.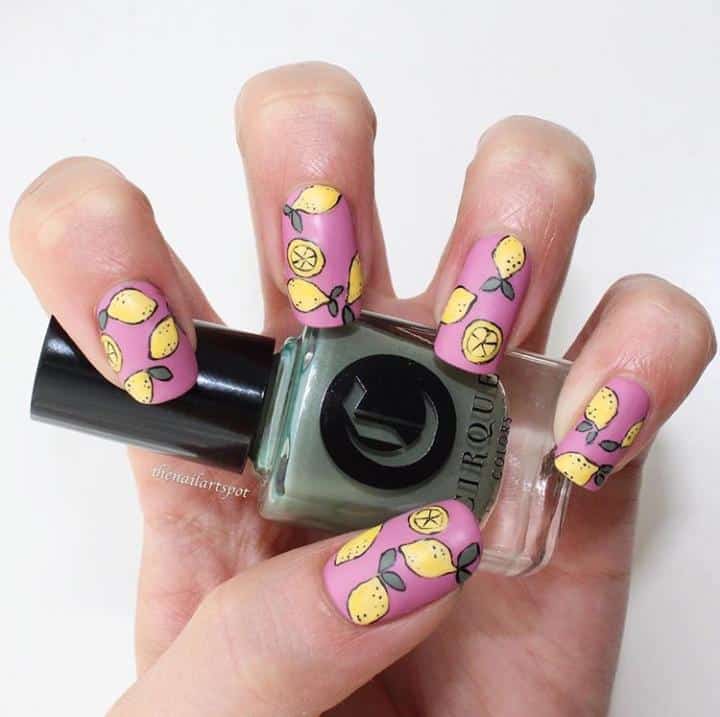 ↓ 48. Animal Print
Leopard print never seems to go out of trend. The nail art has been kept simple by creating a half and half look. The lower half has been kept plain which seems to go well with the overall look. Here are Cool Animal Print Nail Designs & 18 Amazing Animal Nail Art.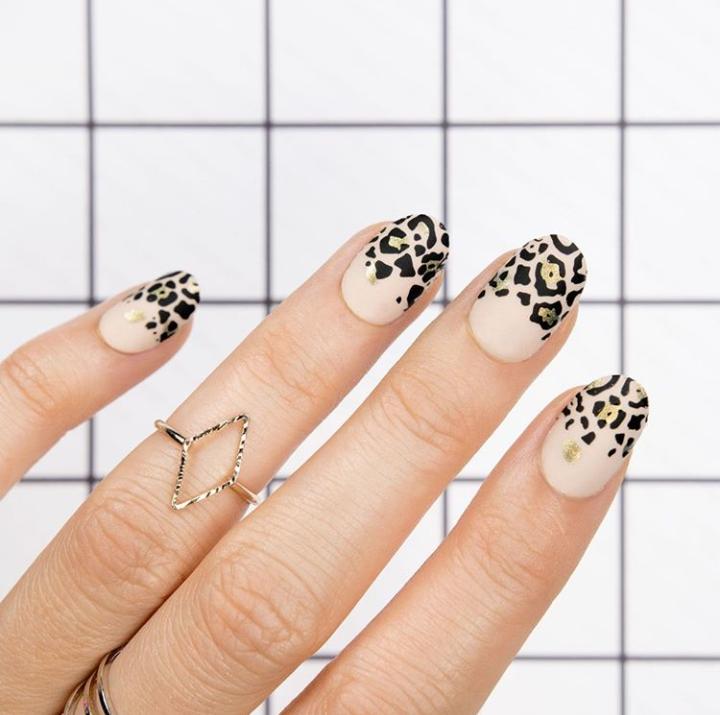 ↓ 47. Whale Watching
Here is some inspiration for your next manicure. Dip your nails in shades of blue to create these waves of magnificence.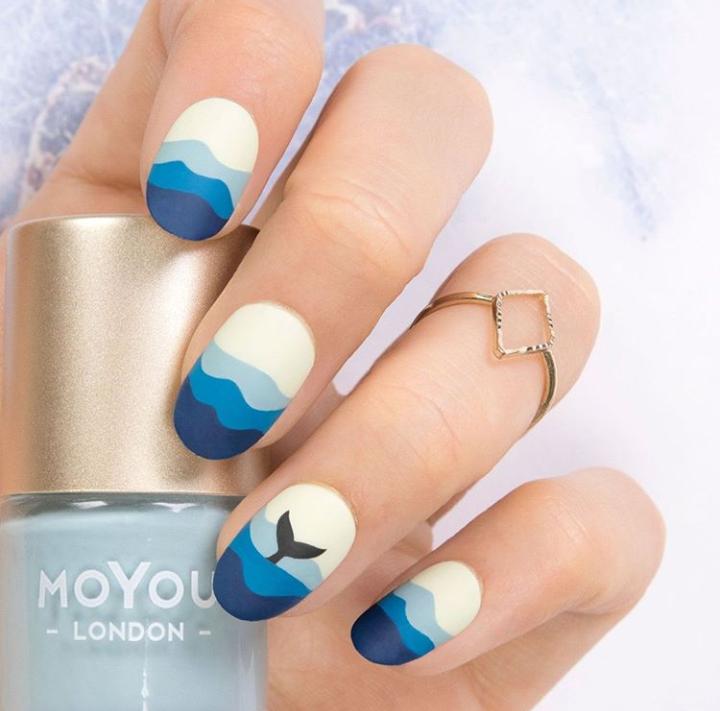 ↓ 46. Cute Emoji Nails
Get all your Summer essentials and favorites in one place with this super adorable emoji art.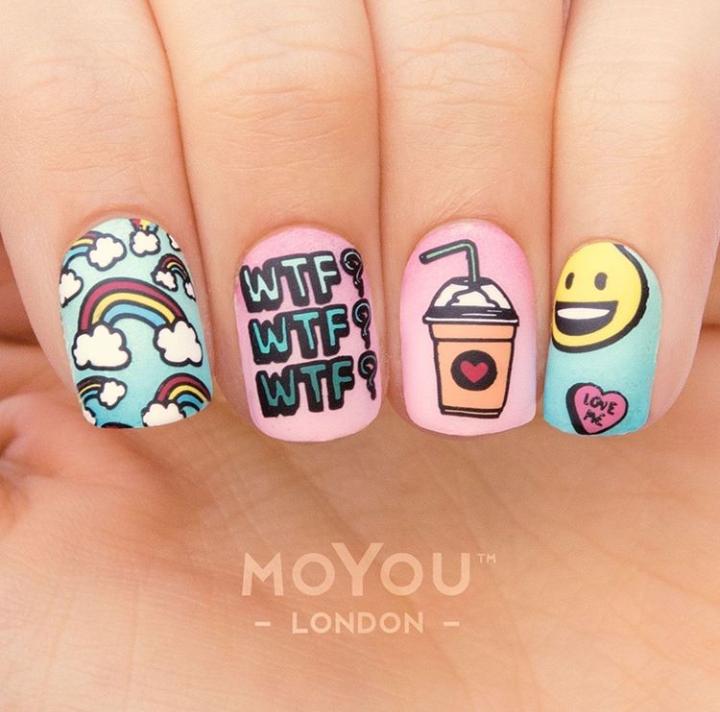 ↓ 45. Rainbow Chevron
This colored, chevron-pattern nail art is super quirky and creative. The bright pop of color is just what we needed for Summers. Get this look by using sticky tapes for neatness and perfection.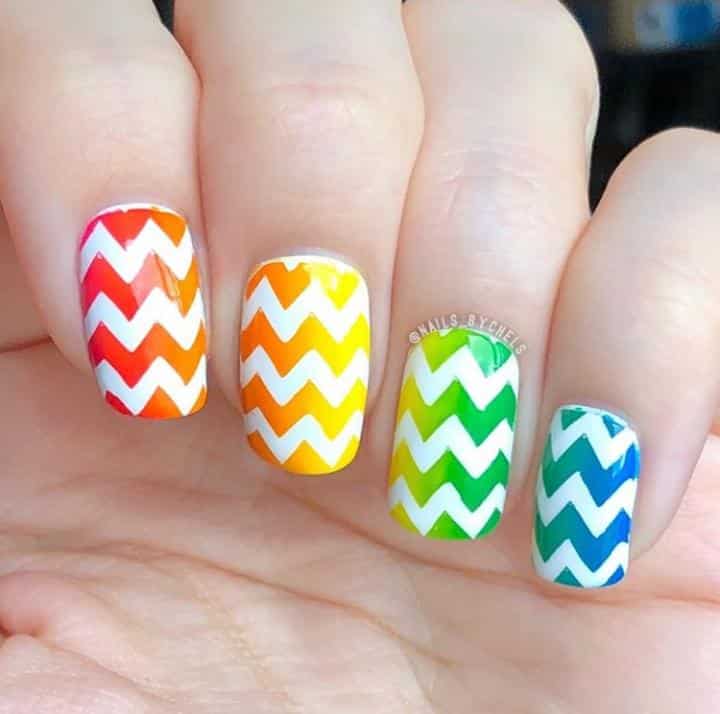 ↓ 44. Mustard Yellow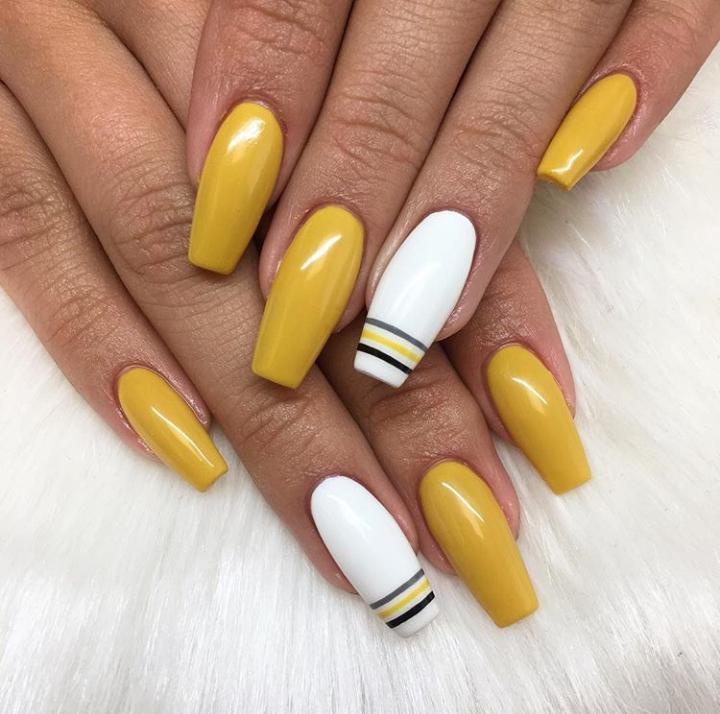 ↓ 43. Garden Party
Summer nails do not necessarily need to be bright and colorful, they can be subtle and minimalistic as well. We love this garden party theme nail art that has just a few, simplistic elements that are elevating the sheer look perfectly.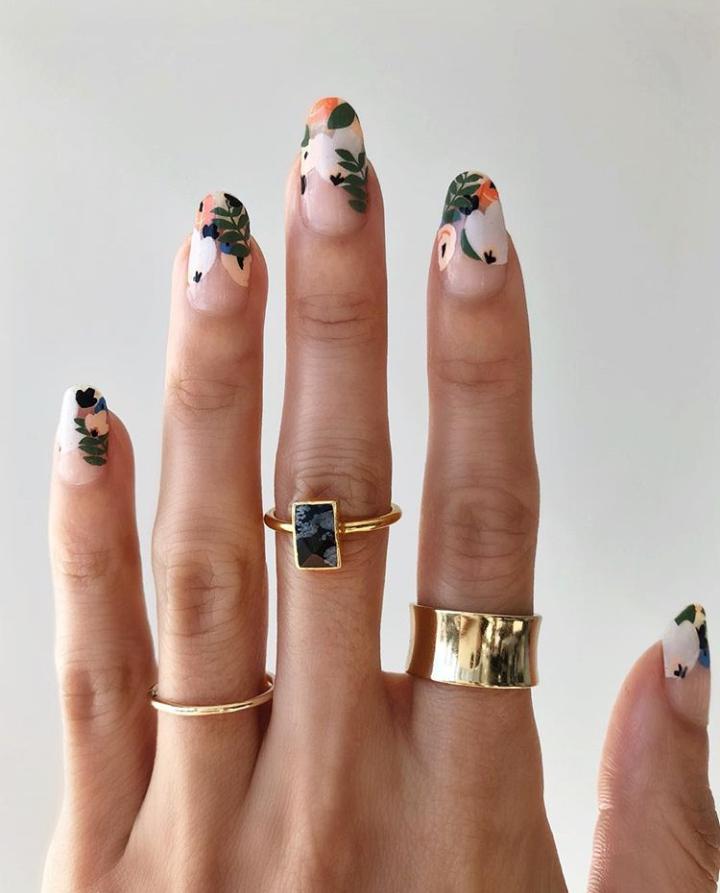 ↓ 42. Stripes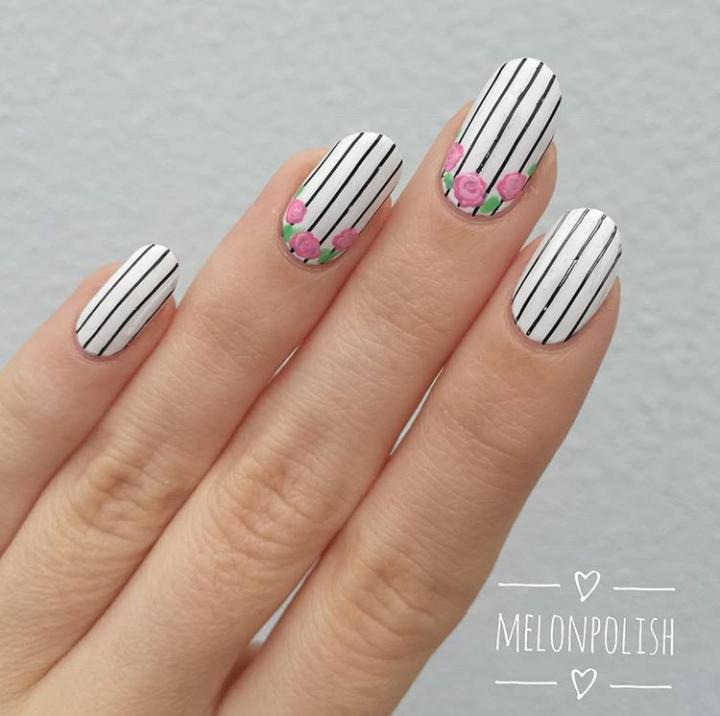 ↓ 41. Natural Ombre
If you want to go for a casual and subtle nail makeover, this is for you. The natural ombre gives a similar effect to the French manicure with the melting white tips. This nail art is appropriate for work and can also be sported in other settings.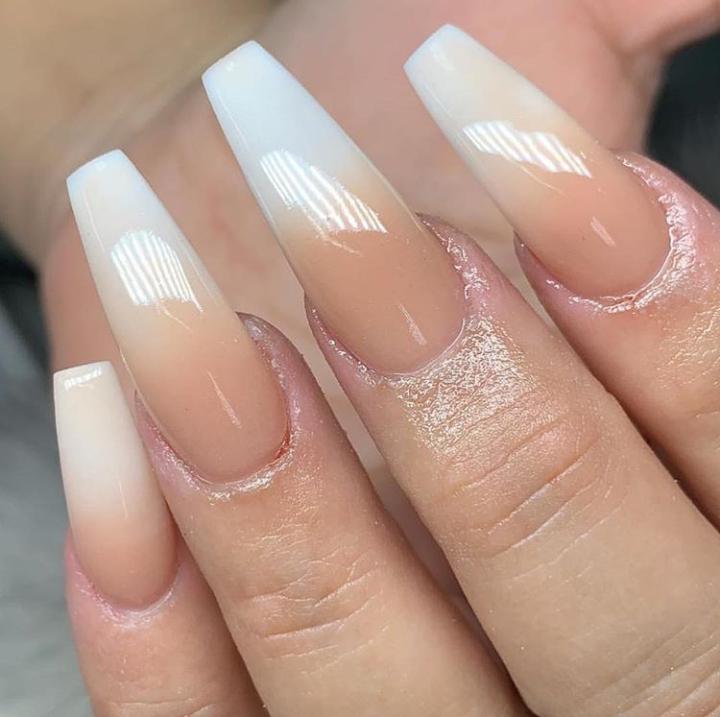 ↓ 40. Negative Spacing
Looking for a cool nail look? Without much adieu, give the negative spacing look a try. The pastel colors are Summer-friendly and give a very subtle appearance to the nails.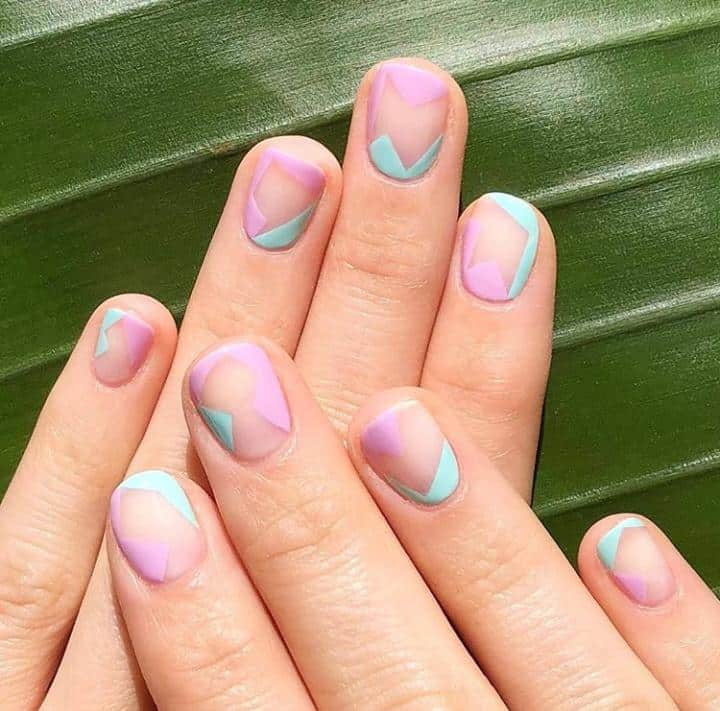 ↓ 39. Neon Aqua Blue
That is one gorgeous shade of blue, ideal for any Summer beach day.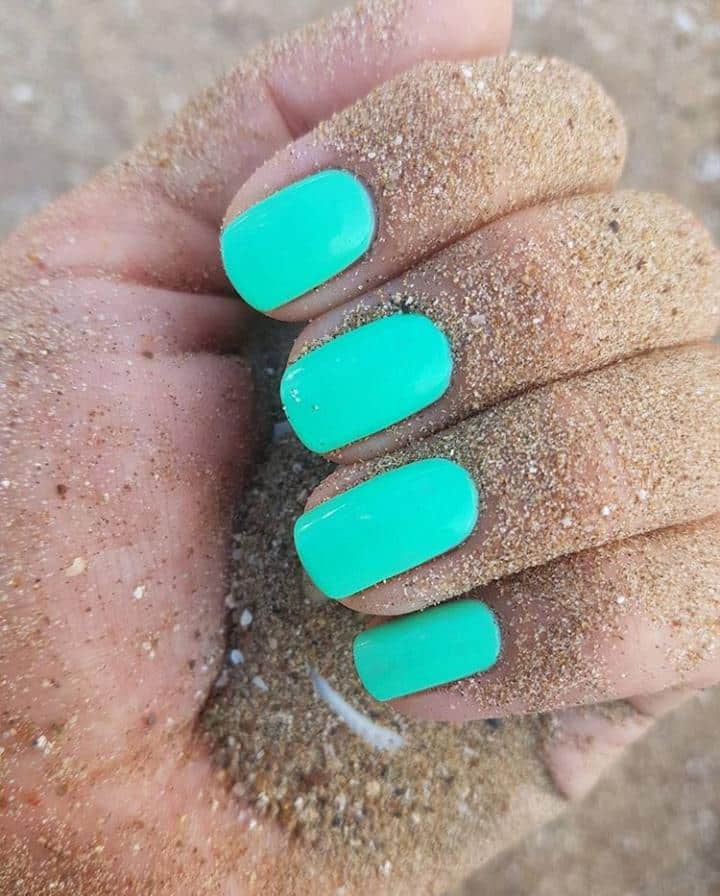 ↓ 38. Yellow and Pink
The alternate nail coloring trend has been going around for quite some time now and is an easy nail art look. If you do not wish to go all out and need a quick glam up, paint your nails in bright shades creating this bicolor look.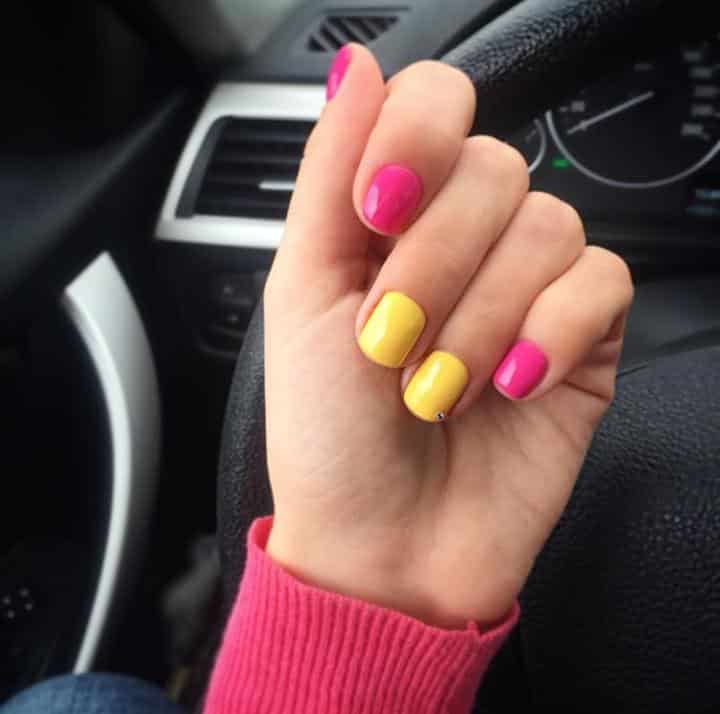 ↓ 37. Floral Art
Take a minute and admire this fresh Summer nail art. The aqua blue shade is a very refreshing and cool color which acts as a great base color for a floral look.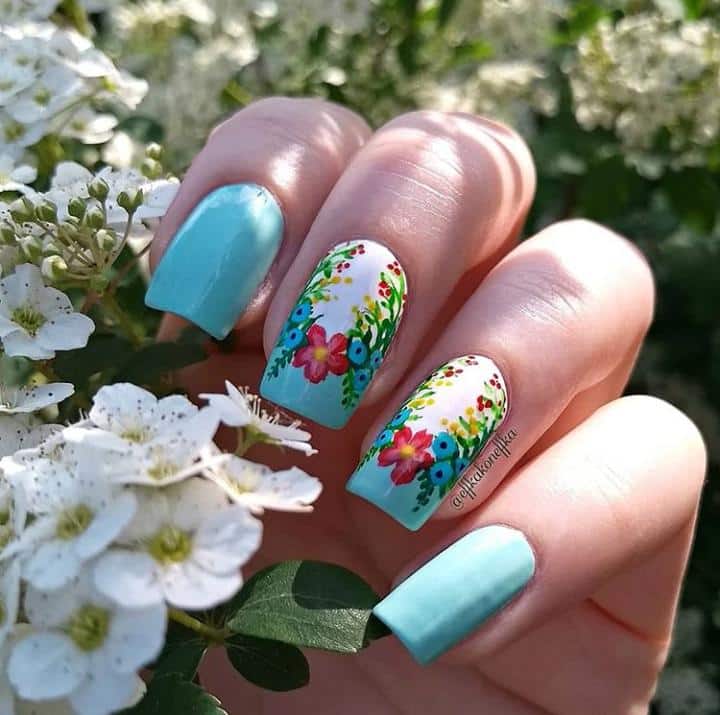 ↓ 36. Minimal Look
These white lines look super delicate and chic. The lack of color here does not make much of a difference. However, if you wish to go for a brighter look, you can opt for a colored base coat or colored stripes on nude nails.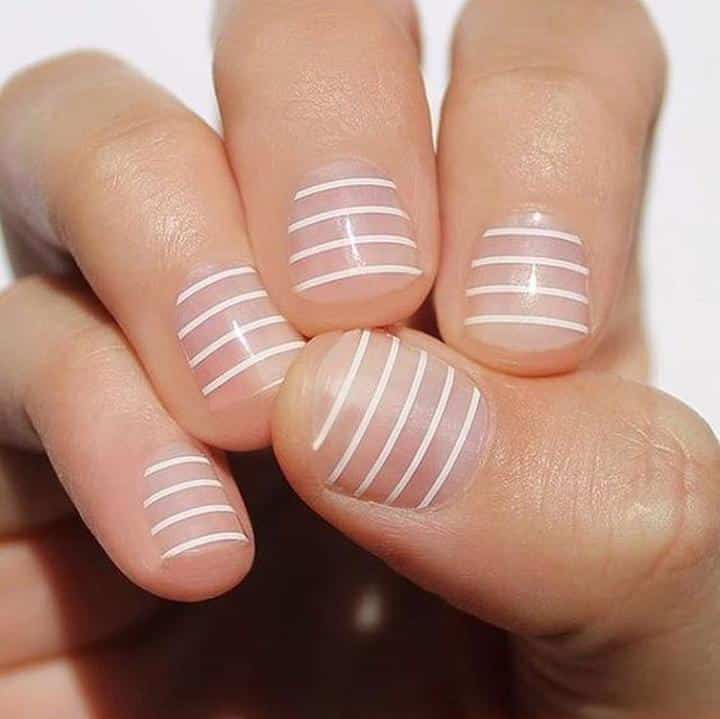 ↓ 35. Flamingo
Flamingos are SO Summer and that is enough reason to get them painted on your nails painted. Take a closer look to see the use of floral art and confetti that has been used to add a bit of color.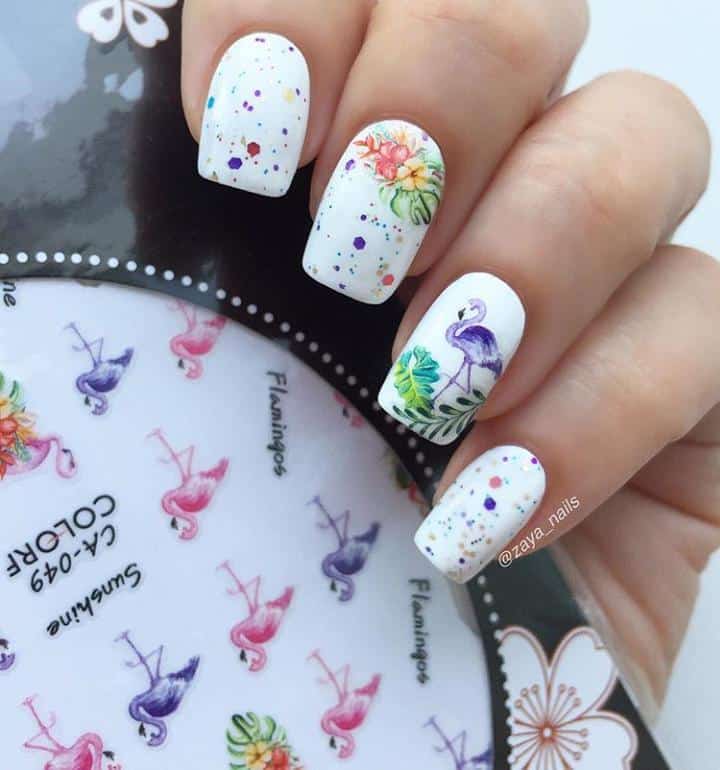 ↓ 34. Brush Strokes
Abstract art is a great way to express yourself. It does not need to be fancy to look attractive. A few simplistic elements and can also be used to create a funky and artistic look.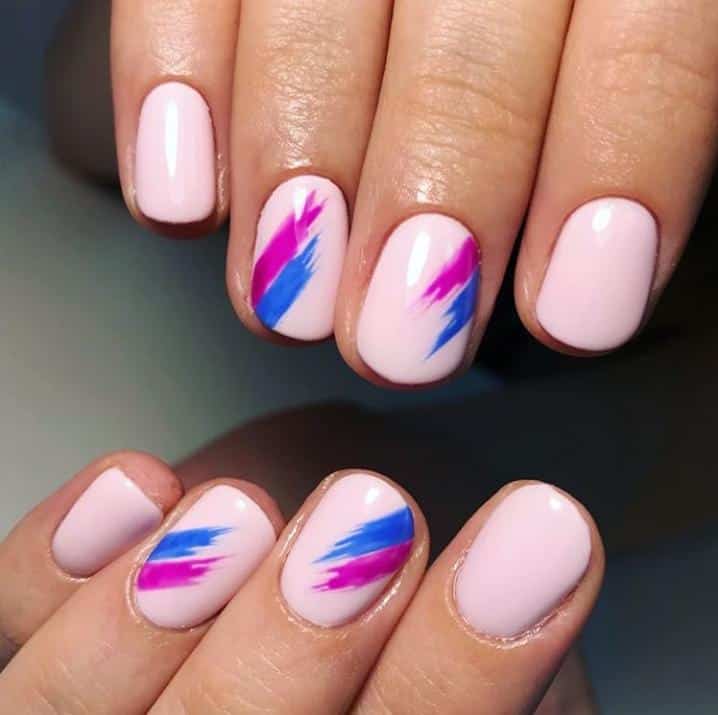 ↓ 33. Nude Color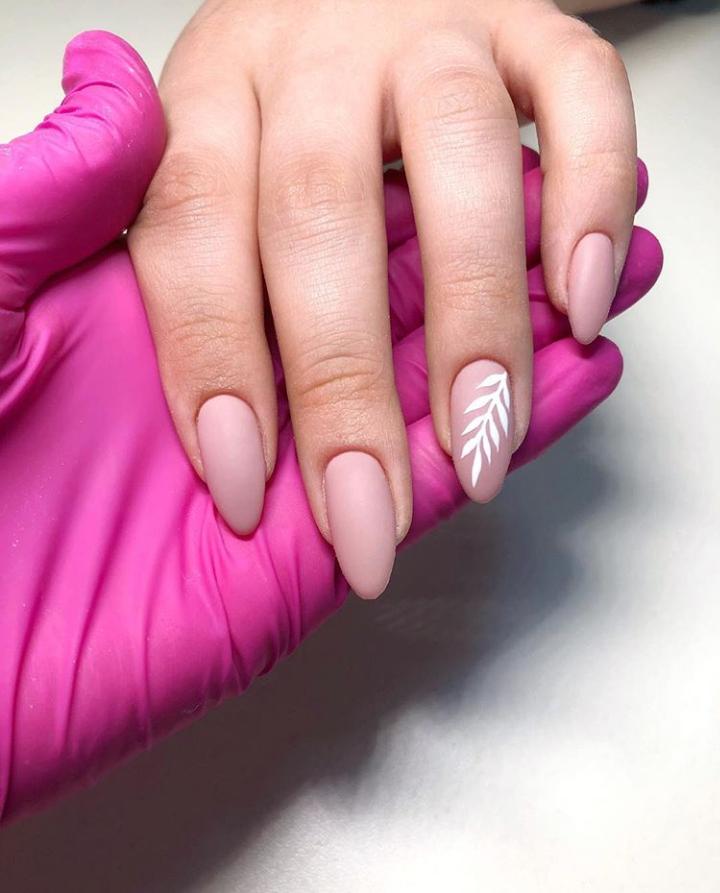 ↓ 32. Colored Swirls
Try out these asymmetrical swirls for a unique and creative Summer nail art look.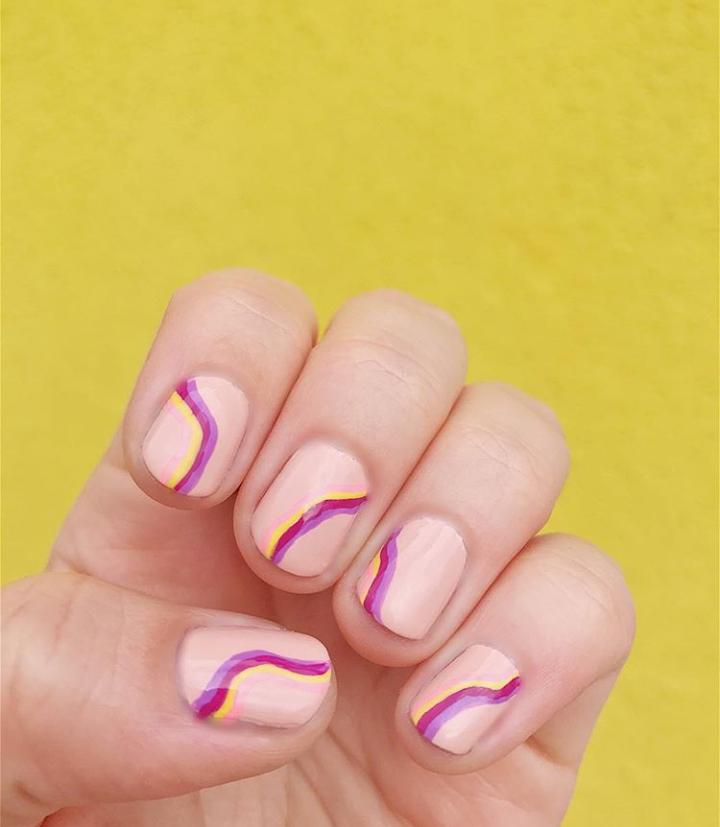 ↓ 31. Abstract Art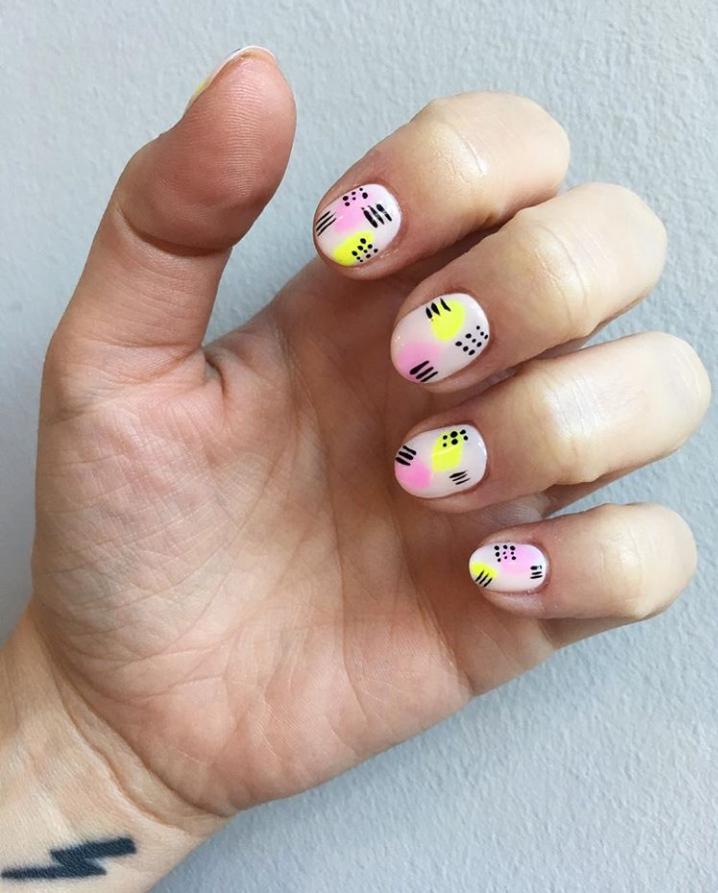 ↓ 30. Stickers
The easiest way to give your nails an uplift is with the use of stickers. Go all out and create your favorite looks with these super cute stickers. Here are Funky Toe Nail Art Ideas.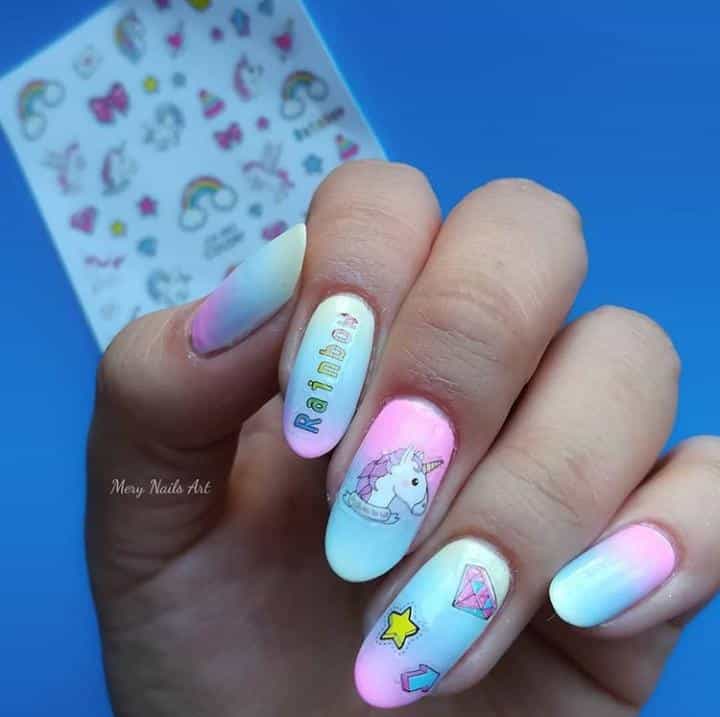 ↓ 29. Galaxy Inspired
This may not be your average at-home manicure look but the galaxy art seems to be the current hottest trend. Add in some spark by creating a gorgeous ombre like this one.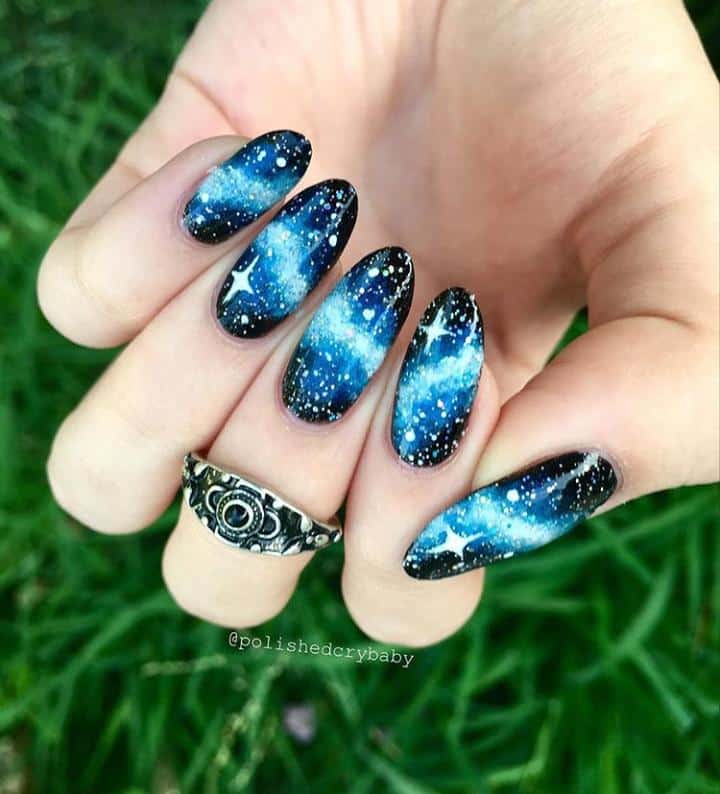 ↓ 28. Pastel Nails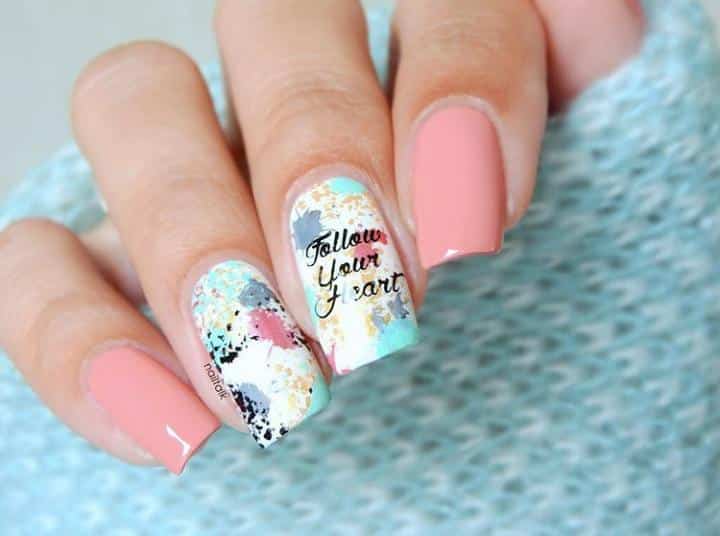 ↓ 27. Blossoming Tulips
This chic and minimalistic artwork has the ultimate Spring and Summer vibes to it. The hot pink is a Summer favorite color and is perfect for pool and picnic days.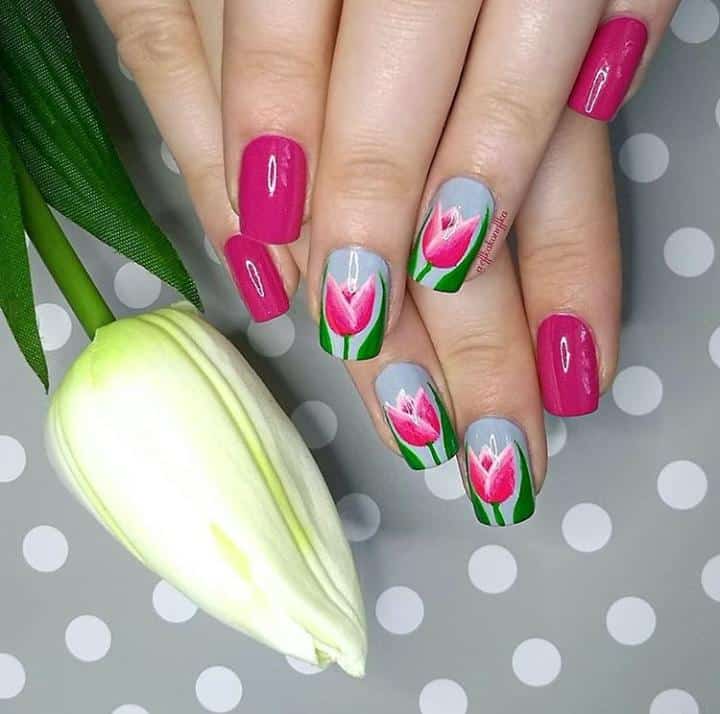 ↓ 26. Vintage Inspired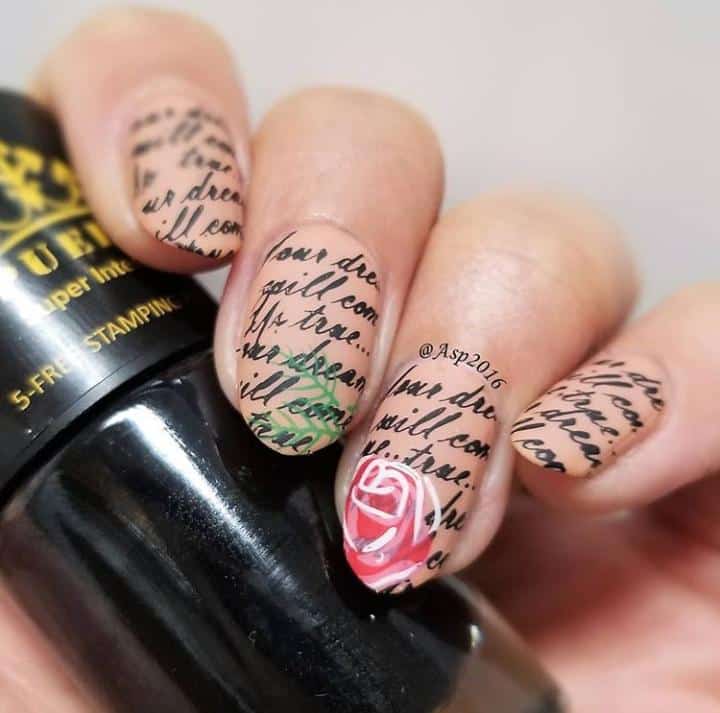 ↓ 25. Half Dipped Nails
This half and half look is a classic one. The gold trimming is adding just the right bit of shine to it.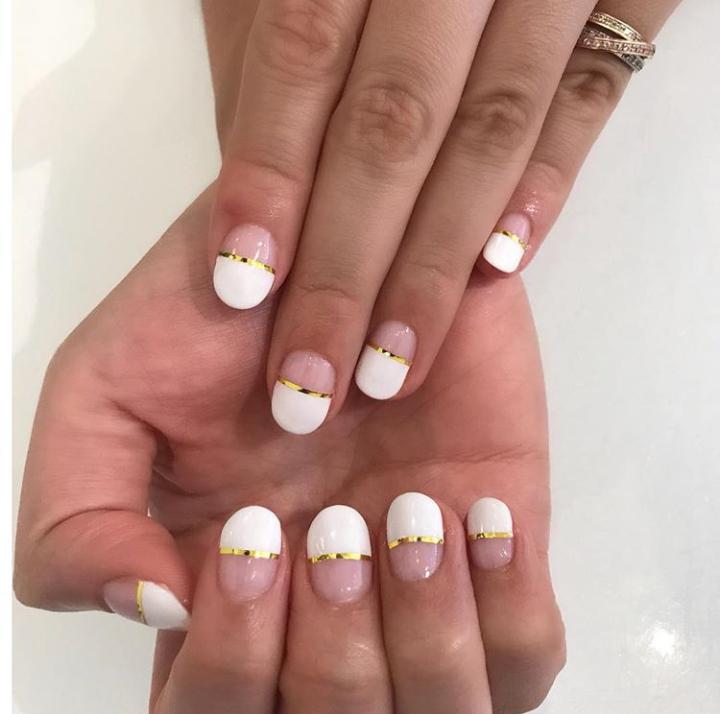 ↓ 24. Check Pattern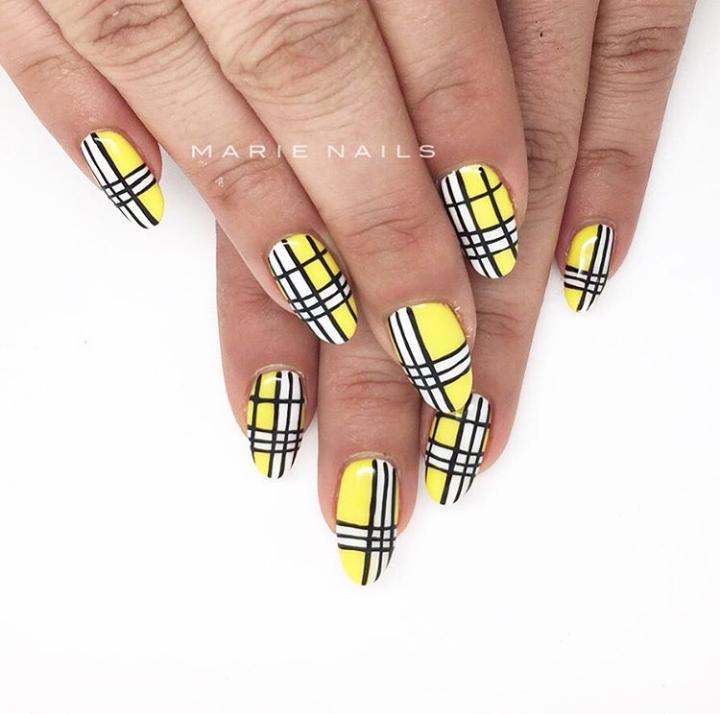 ↓ 23. Purple
These violet matte nails may seem like your average manicure but it is surely more than that. We love the simplicity and the color of it. You can opt for rhinestones and crystals to give it a bit of a makeover.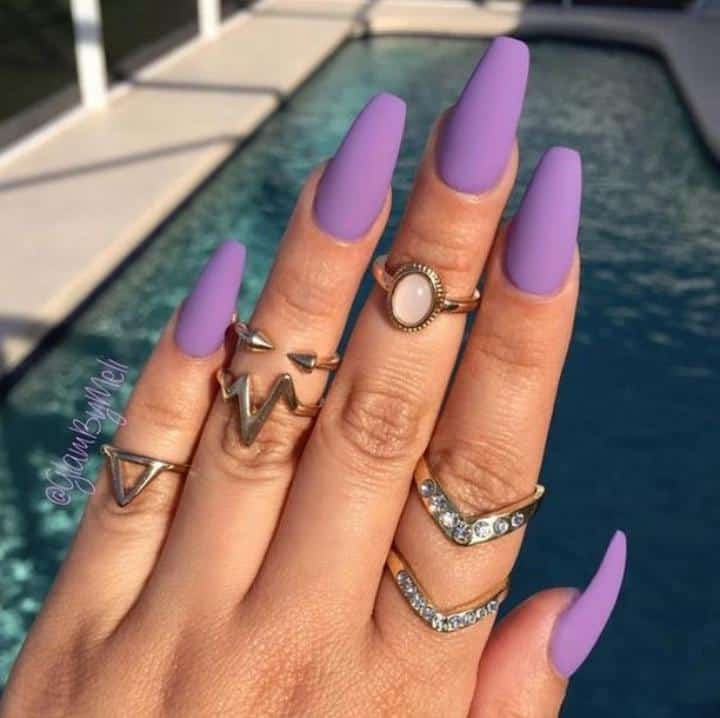 ↓ 22. Geometric Pattern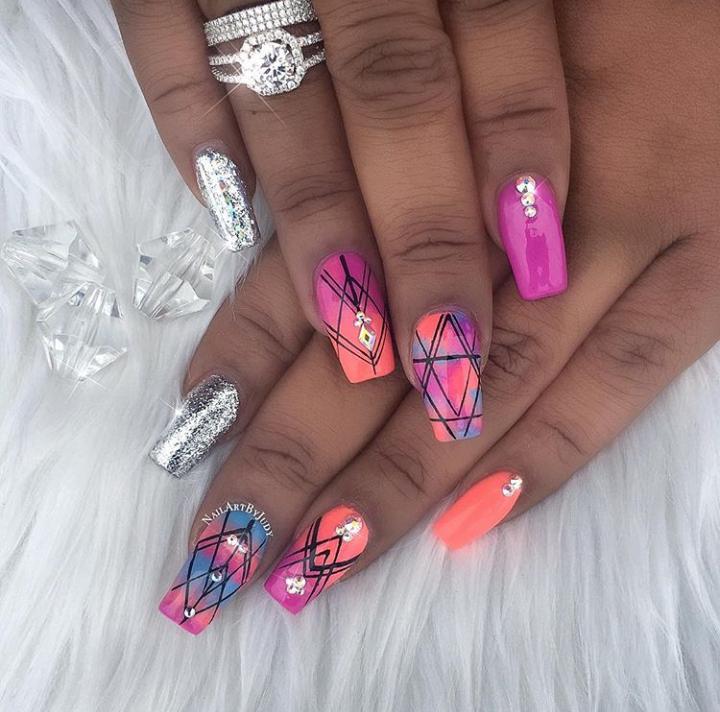 ↓ 21. Banana
You make me go bananas! How adorable are these white and yellow nails? Just what we needed for a youthful Summer look.
↓ 20. Mermaid Inspired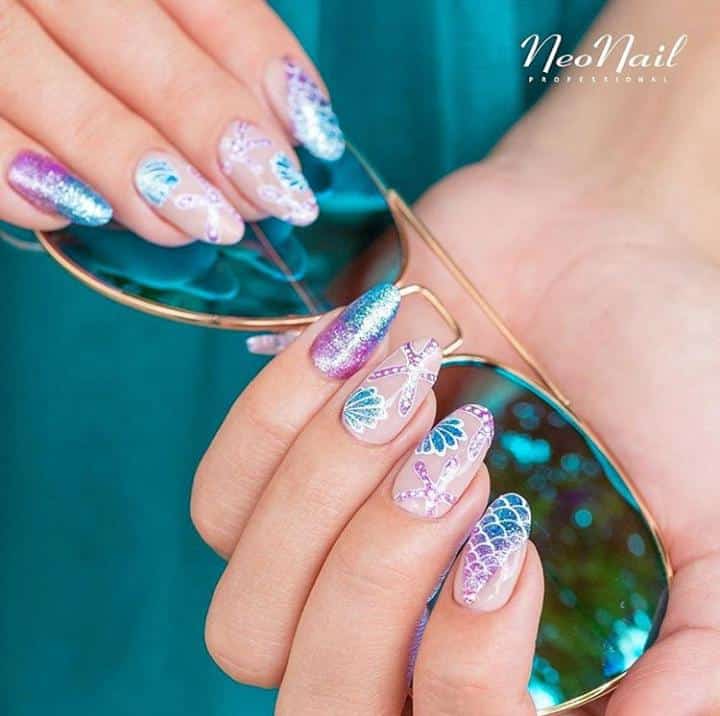 ↓ 19. Black Mandala
Mandalas have recently been used in the nail business to create fun looks. We love this peach and black contrast with a few accents of gold. While it is not an easy design to recreate, it is worth the effort. We find this to be a perfect Summer wedding nail art inspiration.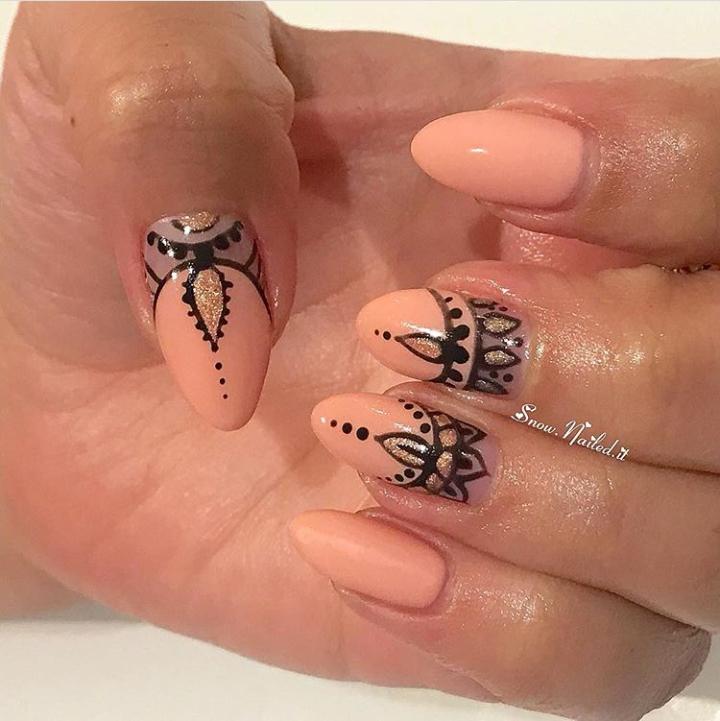 ↓ 18. Pink Crystals
This Barbie Pink shade is just what we need to brighten up our Summers. We love the use of crystals and rhinestones to create a fun effect.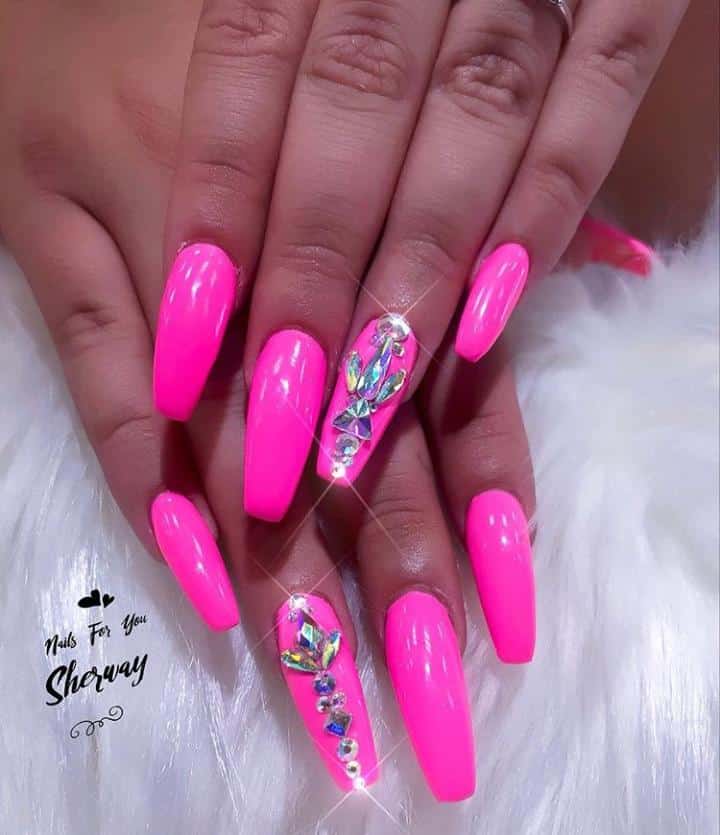 ↓ 17. Rose and Eyes
Here is a never-seen-before kind of nail art that you must try this Summer. The rose eyes are definitely something new and we wonder what meaning they hold. We simply love the color combination with the dull orange base coat.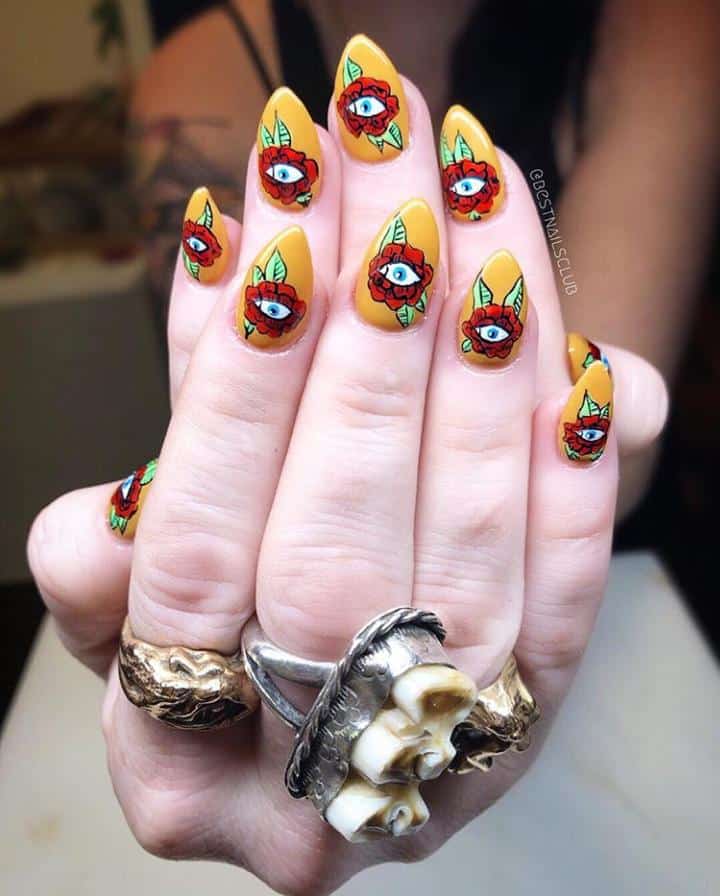 ↓ 16. Glittery Gold
The classic glittery look is perfect for Summer weddings and festivities. The fancy look can be great to add in just a bit of shine.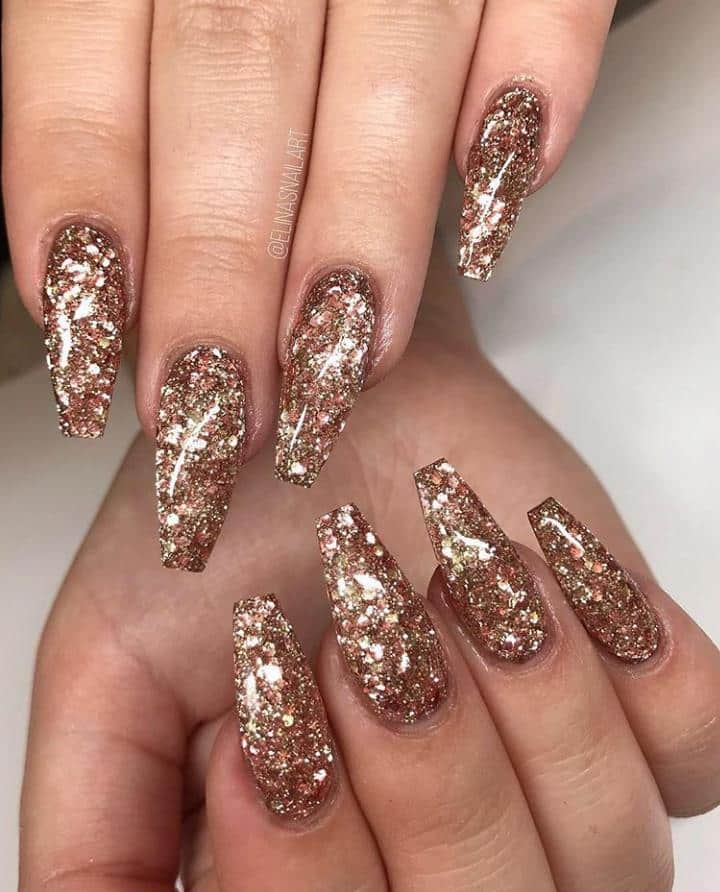 ↓ 15. Starry
Nude nails look super cute all year around. Here is how to give them an uplift. We love this starry look that has been achieved with the use of nail stickers. Another great idea is to use a glow-in-the-dark nail paint on the base for a funky look.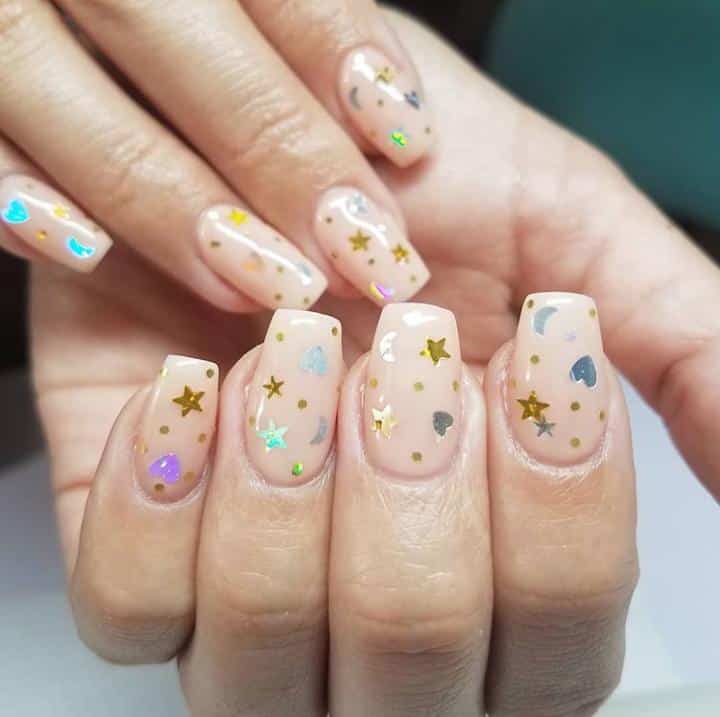 ↓ 14. Red Hearts
Valentine's does not fall in Summers but we do not need an excuse to get these red heart tips. Give your sheer nails a trendy look with this simplistic art.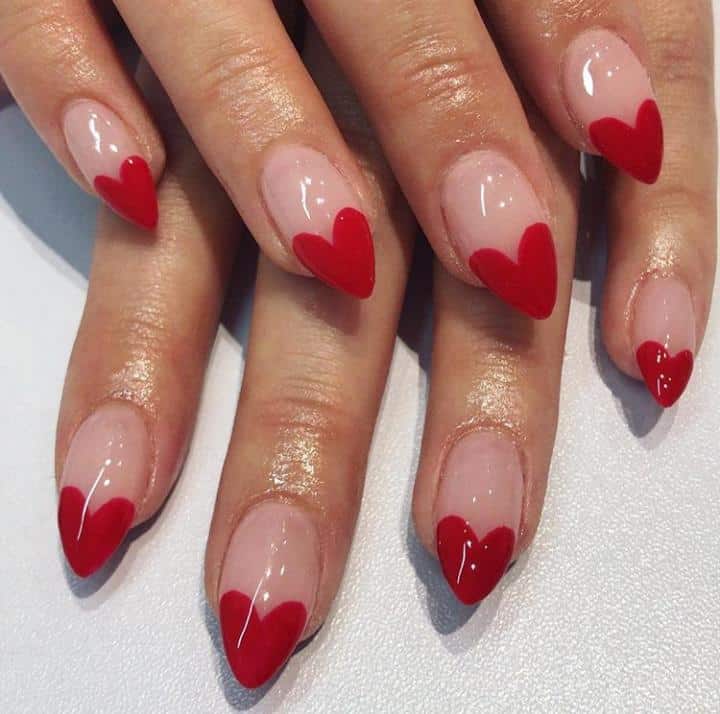 ↓ 13. Waves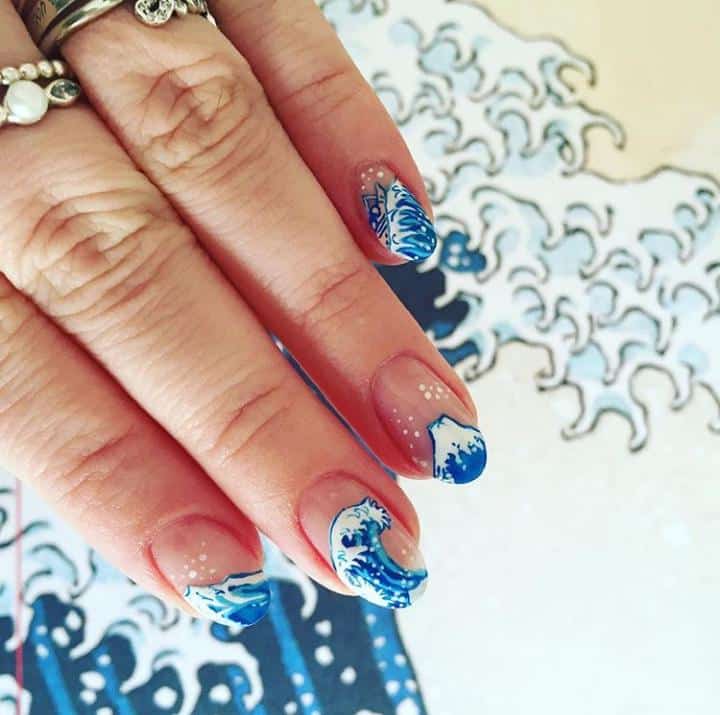 ↓ 12. Cherry
Fruity nails are the current rage. From cherries, bananas to watermelons and pineapples – you will find them all. We love the youthful and creative trend.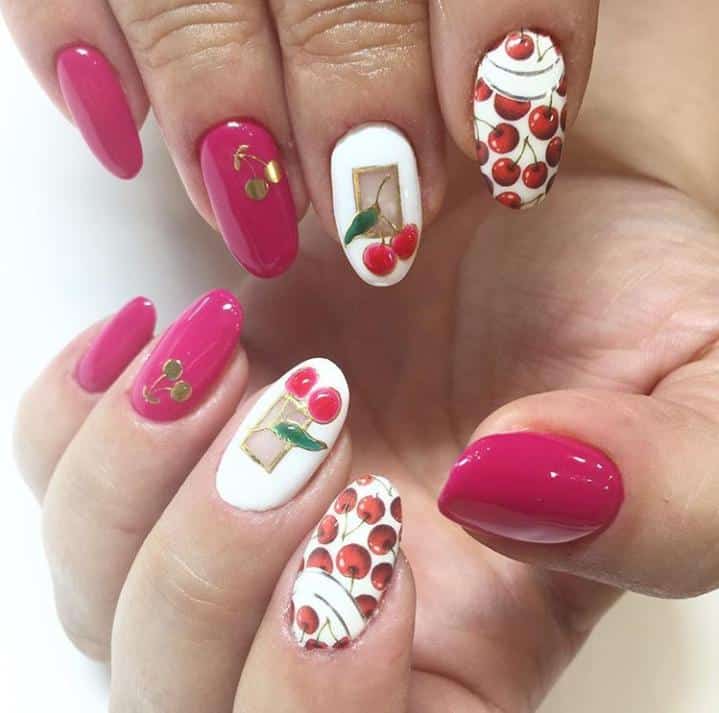 ↓ 11. Unicorn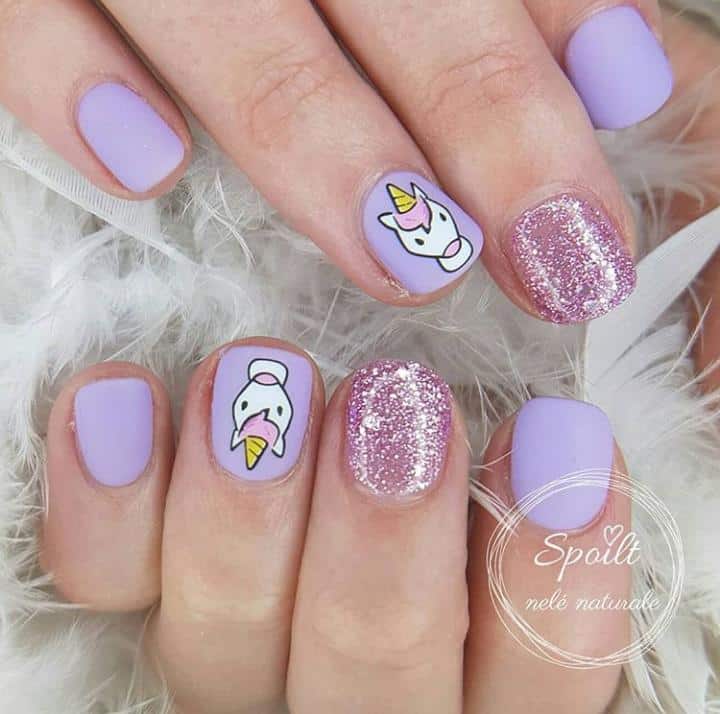 ↓ 10. Wild
↓ 9. Hollywood Nails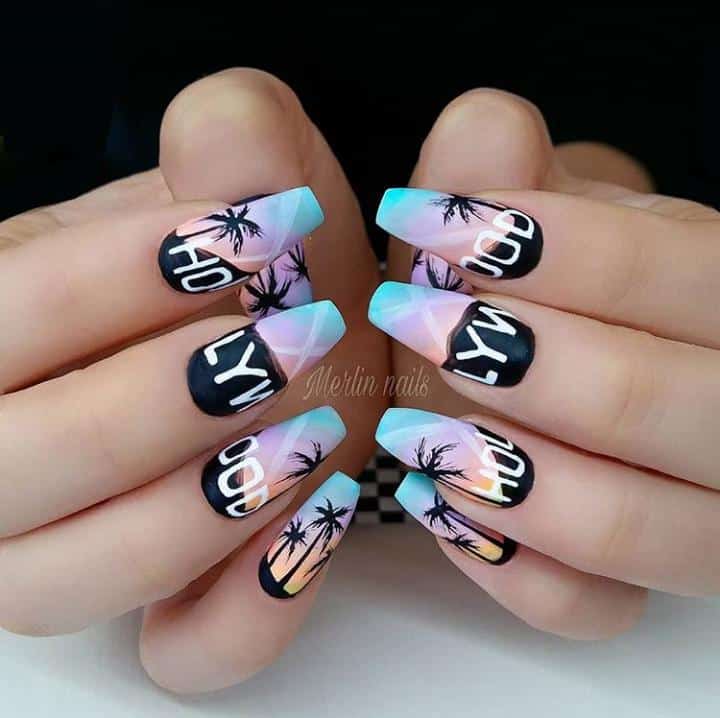 ↓ 8. Spongebob Squarepants
If you love SpongeBob and Patrick just as much as we do, consider getting this nail art. It looks appropriate for a fun day at the beach and matches the theme perfectly. The pastel colors are a great way to go subtle, letting the artwork steal the spotlight here. Don't miss out these Funky Nail Art Ideas.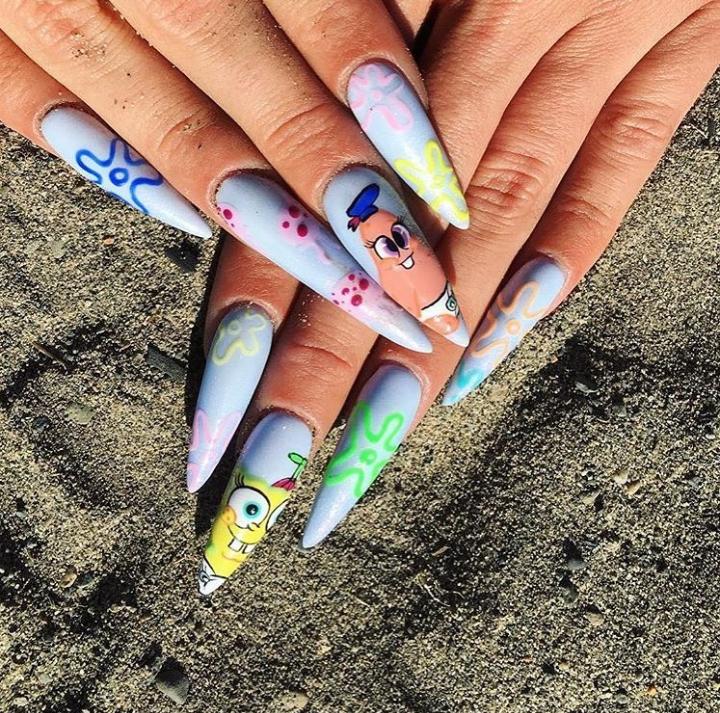 ↓ 7. Baby Blue
Check out this gorgeous shade of blue and the use of studs on them. This matte and glossy combination can easily be worn to work, as well as, other settings.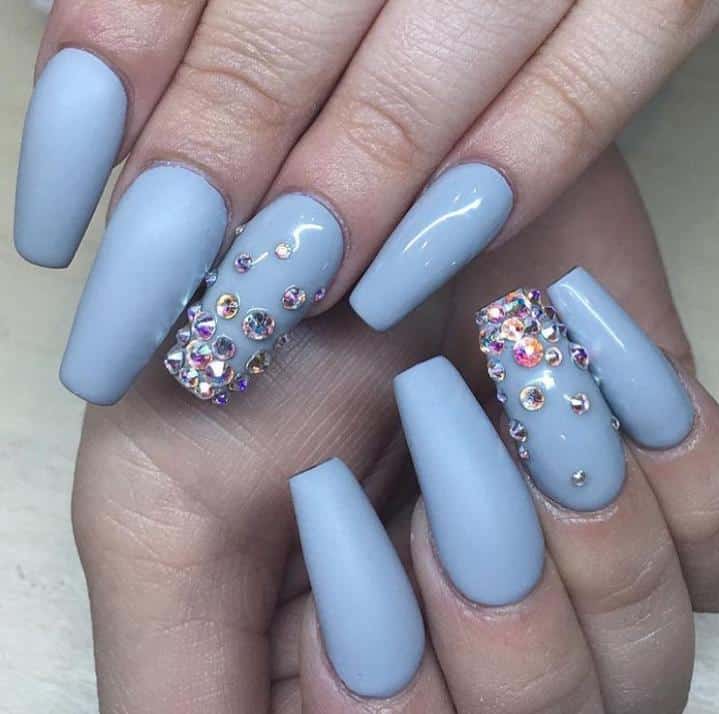 ↓ 6. French Manicure
This simplistic and chic design is perfect for casual summer hangouts. Give your basic french manicure an uplift with this new and trendy look.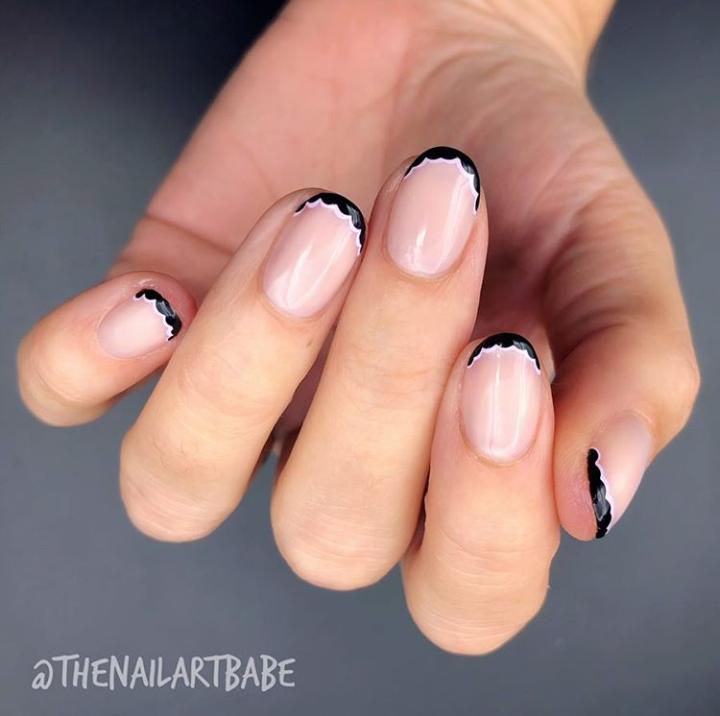 ↓ 5. Pineapple
↓ 4. Blue Nail Art
This Matte Blue shade has all the Summery feels to it. We love the use of contrasting colors that have helped to create a lasting effect.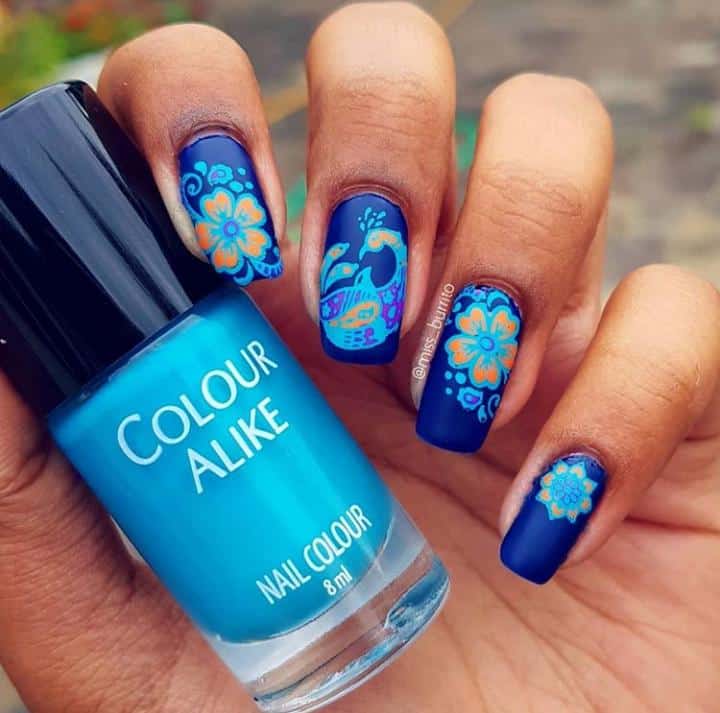 ↓ 3. All Black
Who does not love bold and black nails? We sure do. This glossy and matte combo is great if you are seeking for an edgy look.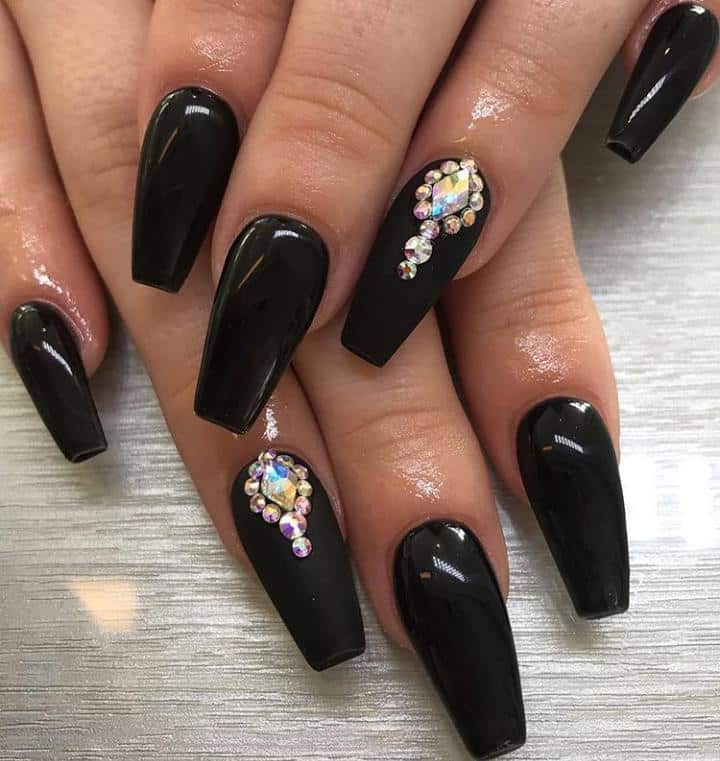 ↓ 2. Camo Nails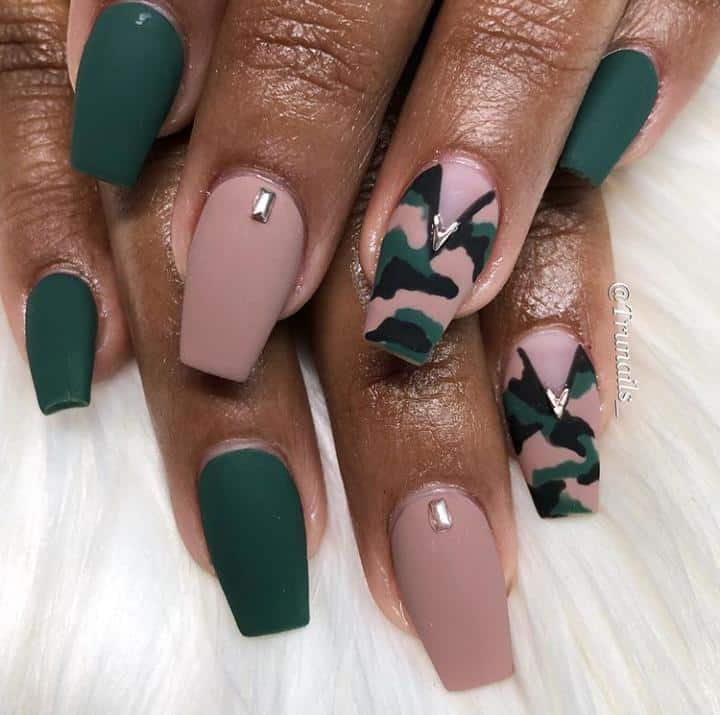 ↓ 1. Disney
Planning a getaway to Disneyland for the ideal Summer vacation? Here is an artwork appropriate for the trip. These Mickey Mouse and Goofy inspired nails are super creative and will add in an element of cuteness to your overall look.