Funky Nail Art Ideas. At times we just want to draw out whatever is in our imagination – let it be the most abstract or vague thing ever and it just has to be attractive. And apparently these nail designs are all about that most abstract and the craziest of ideas that we like to see on our nails.
This post has some of the wildest and the most eccentric looking funky nail designs that you are just simply going to love – and the best part is, they come in all seasons and are not restricted to one, which is why they are most popular of all.
Coolest Nail Art Designs For A Funky Look
Have a look at these 50 funky and abstract nail art designs which are the most trending this year. Most of them are simpler than many and will be easier to draw out if you have got good brushing skills on the nails and the result will be just as good as you can possibly imagine. Have a look and enjoy!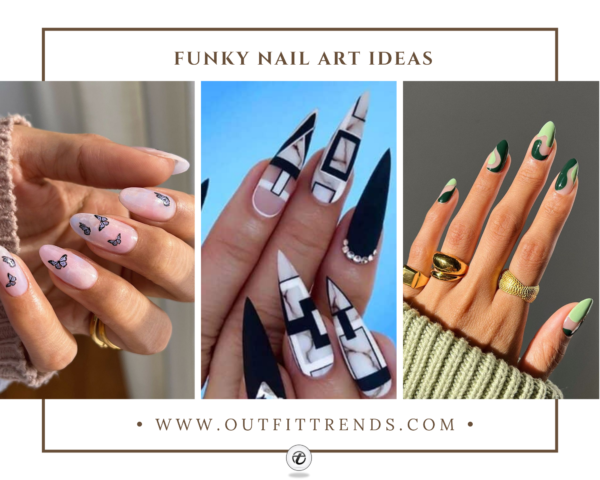 Do's And Don'ts Of Nail Art
Firstly, keep your nails clean. Wash your hands and exfoliate them. 

Be gentle with your nails, avoid using any aggressive tools. Make sure to read instructions before using any tool. 

Try to use high quality nail polish and tools to prevent any nail damage. 

I would suggest avoid polishing your nails daily. It's not healthy for your nails. Hence, try to take off your nail color every once in a while and let them breathe. 

Funky nails are all about fun. Choose from a variety of nail shapes such as coffin shaped nail art, almond, square, oval and squoval.

Some of the tools that you would need to create funky nail designs are manicure tweezer, nail art tape, thin tip brush, topcoat, nail polish correcting pen, and dotting tools. 

50 – Green Swirls

49 – Floral Printed Nails

48 – Blue Zebra Print Nails

47 – Rhinestone And Exotic Nails

46 – Pink Rhinestone Nails

45 – Aztec Nails

44 – Beautiful Black And White Nail Art For Long Nails

43 – Clear Marble Nail Art

42 – Marble Nail Design

41 – Lightning Nail Art

40 – Funky Nail Art For Short Nails

39 – Best Halloween Nails 

38 – How To Make Cow Print Nails Without Tools?

Start by applying a thin layer of white nail polish and let it dry. Apply another coat of the same nail polish in an even layer. Take a black nail polish, wipe off excess nail polish and start creating small random shapes. Start with the edge of your nail by creating small shapes first and then big shapes. Create both big and small black shapes to mix it up. Cow print should have some randomness. Hence, do not create shapes in the same line. Wait enough for your nail art to dry completely. Lastly, topcoat it for smooth final touch.

 

37 – Colorful Nail Art Designs

36 – Purple Nail Art With Floral Prints

35 – Vibrant Nail Art For Oval Shape Nails

34 – Classy Nail Design

34 – Dreamcatcher Nails With Pink Ombre

Via

33 – Glitter And Printed Nail Art For Short Nails

32 – Glitter Heart Manicure

31 – Nude Glitter For Almond Nails

30 – Rainbow Nail Tips

29 – Embellished Marble Nail Art

28 – Yellow Manicure To Brighten Up Your Day

27 – Tortoise Shell Inspired Nail Tips

26 – Vivid Colors For Summer

25 – Pastel Flowers

24 – Gleaming Nails

23 – Galaxy Nails

22 – Shades Of Pink!

21 – Tropical Inspired Nails

20 – Floral On Black 

19 – Swirl Style

18 – Zig Zag Stripes Pattern

17 – Colorblocking Nail Patterns

16 – Chic Maroon Nails

15 – Classy Dip Powder Black Nails

14 – Tri Color Nails

13 – White Nails With Gold Stripes

12 – Funky Nails You Must Try This Spring

11 – Rose Gold Nail Art Ideas

10 – Glitter Nails With Crystals

9 – Sophiscated Nude Manicure For Long Nails

8 – Stunning Glitter Ombre

7 – Fall Nails Inspiration

6 – Melting Creamsicle Inspired Nails

5 – Paw Print With Baby Flowers

4 – Mismatched Hands

3 – V-Day Special Nails

2 – Cotton Candy And Butterflies

1 – Minimal Nails

Frequently Asked Questions

Q: What are the latest trends in nails for 2022?

Ans: Some of the nail styles that are having a moment this year are blue-toned periwinkle nail colors, pastel hues, pink nails, very peri polish, classic red, gold foil nails, velvet nails, minimal nails, and printed nails which include animal, flower, and abstract prints.

Q: What's the best way to keep rhinestones on the nail so they won't fall off as easily?

Ans: First up, choose a good gel. Put a little amount of gel – preferably a few dots on the part of the nail you wish to keep rhinestones. Pick your rhinestone picker tool and add rhinestone over the gel. Set all the rhinestones on your nails and get your desired nail look. Get your nails in lights for around 60 seconds to help the gel dry. Secure them further with a get topcoat. Take your topcoat and cover the majority of nails – topcoat the parts of nails you don't have rhinestones. Note that you don't have to coat over the rhinestone as this will take away their shine. However, you have to topcoat the edges to seal them in place. For this, you will need a striper brush or detailer brush – a small brush. Now line the edges of the stone with the detailer brush to seal them off. Put a top coat gel again on your nail to even it out for a smooth finish. Put your nails in light for 60 seconds and you are done.

Q: Why do I get bubbles when I paint my nails?

Ans: There are various reasons for it. First, you might be applying nail polish in thick layers and then applying another coat without letting the first one dry. Second, your nail polish might be too thick, old, or of low quality. Hence, always apply nail polish in a thin and even layer. Dip your nail color brush and get rid of the excess nail polish on the brush. Also, make sure to buy a good quality nail polish.

Q: Should nails and toes match?

Ans: No, they don't have to match. Your mani and pedi can be different In fact, one of the trendiest and coolest nail trends is the mismatched nail colors. However, I would suggest creating a little put-together nail color by choosing colors that go well with each other. Moreover, you can also choose similar nail colors for your nails and toes.