Christmas nail designs for 2023 – Make your nails extra merry this year by using artistic nail art. Christmas nail art can be very easy, straightforward, and lavish with a "wow factor." Whether you're seeking elegant floral manicures or plain nail art designs, you can find several unique festive design ideas in this article.
The best holiday nail riffs for 2023 incorporate variations on the minimalist nail art concepts that we've been fascinated with all year like french manicures, negative space, and understated shine.
Christmas And Holiday Nail Art
We've included some inspiration and ideas for Christmas-themed nail art so that you might feel motivated to follow along. Take one of these nail designs as inspiration the next time you get a manicure during the holiday season, and then express your preferences to the nail technician.
Before you get to the final stage of painting your nail, here are a few things to keep in mind:
Do's And Don'ts
If you have the chance, perhaps go to a manicure salon with your ideas for what you want to be done to your nails. Nowadays, most nail salons appreciate and find it useful if you know what you want. It means you don't have to do everything and may "reward yourself" a bit at Christmas.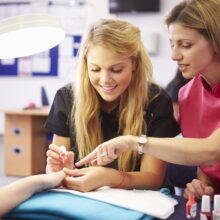 If you are skilled enough, have the necessary nail art supplies, or just love a challenge, try painting your nails. However, make sure to use the correct nail tools and brushes.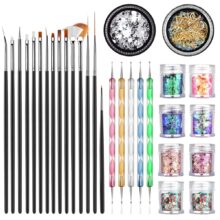 Bright aspects of design, patterns, golden embellishments and vibrant color combinations all contribute to the Christmas designs' individuality and softness. Create a festive environment and enchant others with a well-chosen manicure.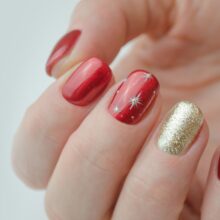 Make sure your nail art is still fashionable, festive relevant, and distinctive, whether it is simple, bright, or sharply focused on particular aspects.
Do not stick to just red and green Christmas colors; you can try a wide variety of options like blue, black, pink, white, and many more with a hint of the basic colors of Christmas and the cold December.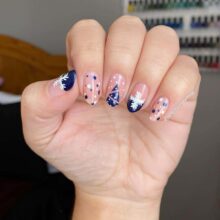 20 – Christmas Nail Design for Long Nails
Advanced nail art typically features a lot of glitter on acrylic nails painted in vibrant colors, just like this blue and white nail design. They will undoubtedly stand out and be more opulent this Christmas, making a statement.
We encourage you to indulge in some simple, entertaining, or elegant Christmas nail art this winter.
A wrapping paper accent, snowflakes, rhinestones, and some sparkle are the best ways to make a blue manicure truly pop.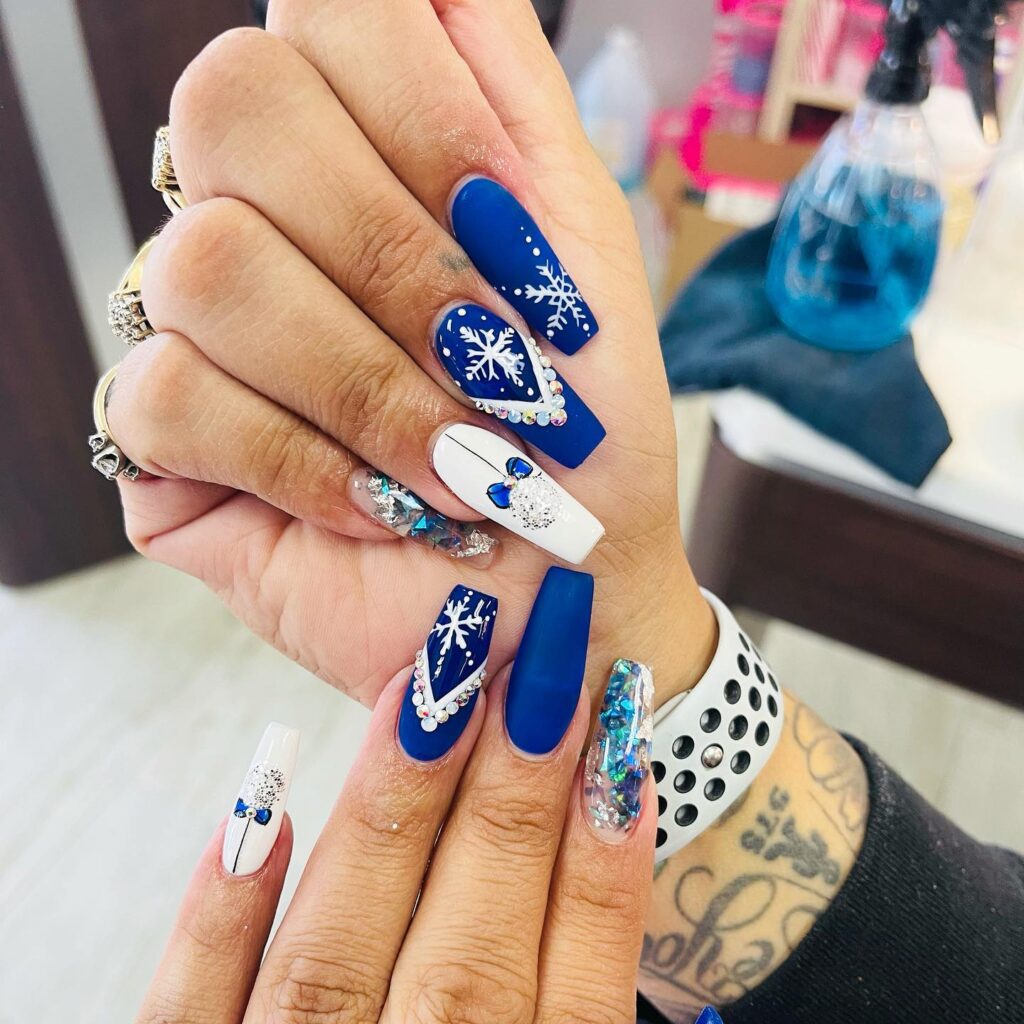 19 – Exquisite Snowflakes Make A Perfect Winter Nail Art
Who stated that Christmas-themed nails have to be red or green? We most certainly didn't, as seen by the charmingly ominous design. You can do this design yourself with the perfect brush and art technique or get it done by a professional nail tech.
The dark blue and white combination goes well with Christmas without adding your basic Christmas colors. Go a bit differently, and make sure to look unique this season.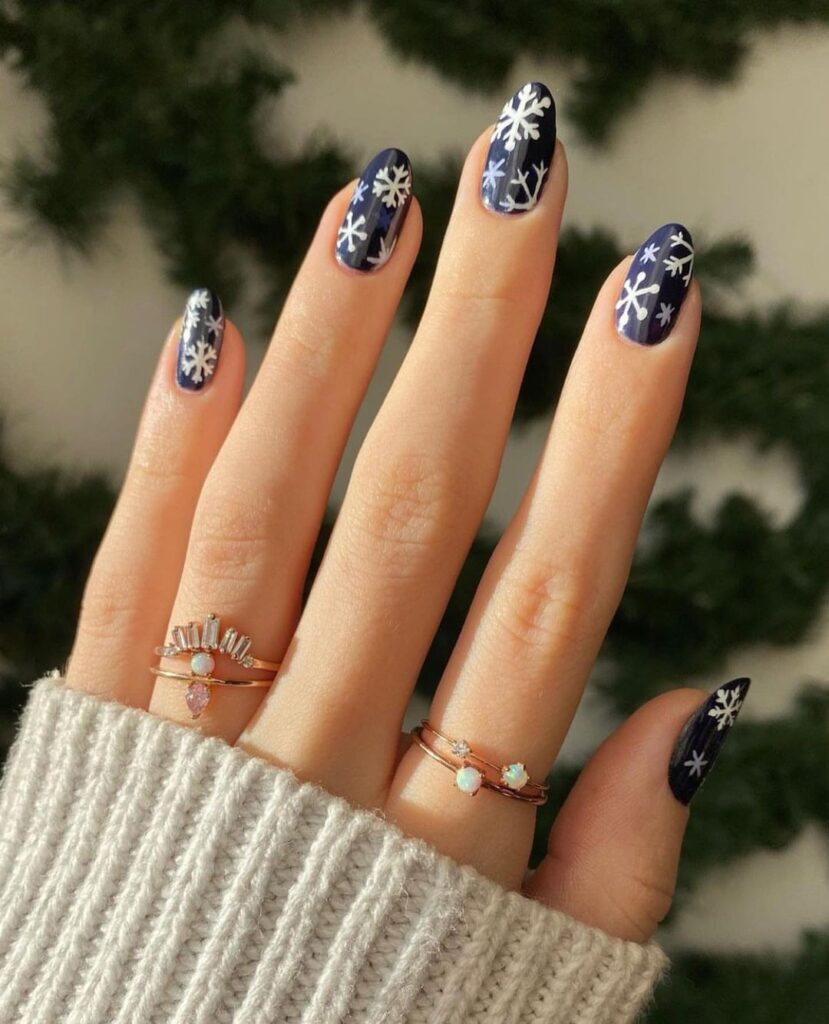 18 – Snowy And Sparkly Nail Art Designs
Anyone willing to take on the task may master advanced nail art. Of course, you may take a reference photo to a salon and have them do them if you don't want to do them yourself.
Give the design a shot despite it being difficult and more advanced. All you need is cotton buds to remove any nail polish that spreads or gets on your fingers.
Thanks to a unique color combination and design, every nail is a gift in and of itself. This one could require some practice, but the outcome is worthwhile.
A Pro tip? You could also use this as an accent nail and choose a solid color that complements it for the rest.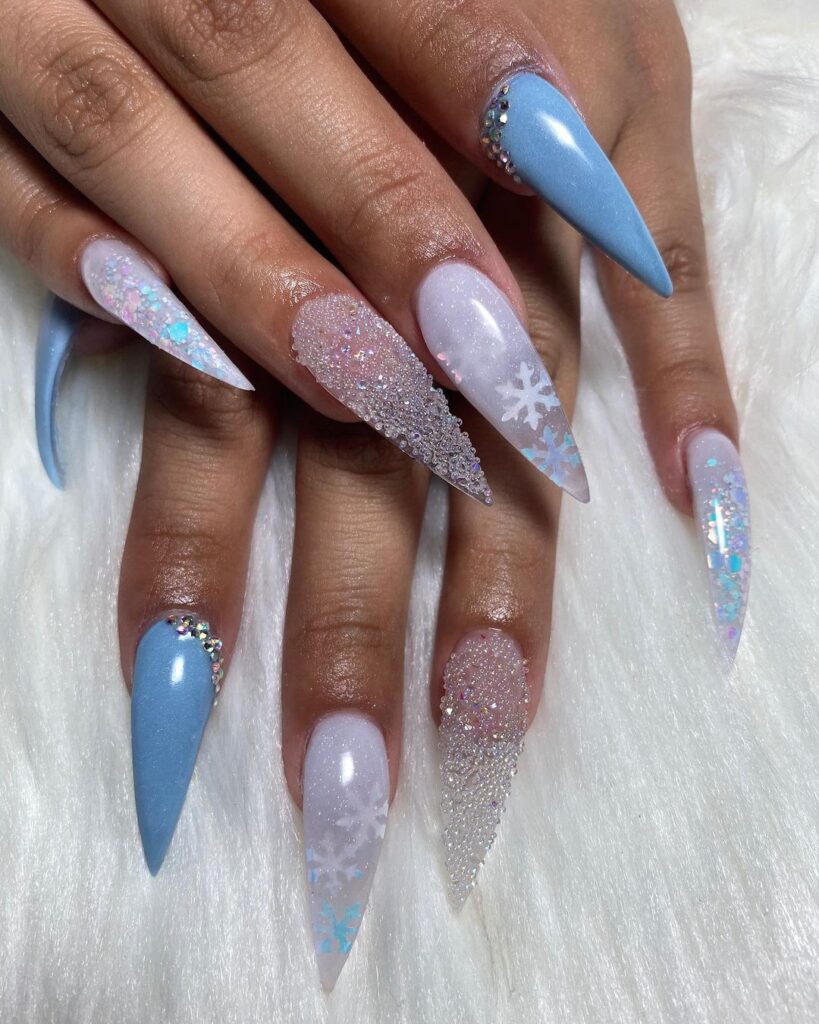 17 – All White Ombre, Snowflakes, and Stones Design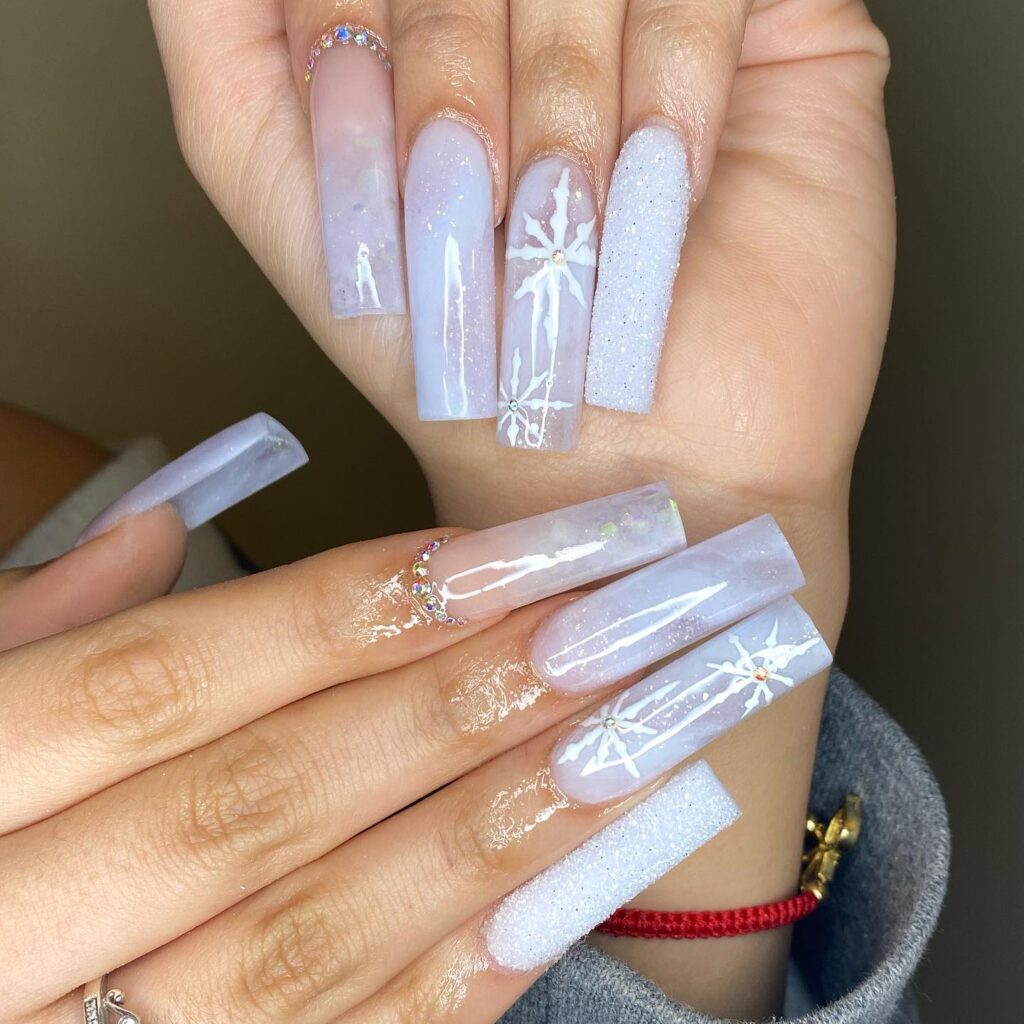 Are you tired of green and red? You are in the right place. Could we recommend an abstract snowflake design and a white and nude pink Christmas instead? For a standout style, don't forget to add stud accents.
Adding a nude pink shade would amp up your manicure with a hint of color, and the silver and white flowers and snowflakes on the nails would help make your nails the center of attention for the whole holidays.
You can also add in a bit more extra designs like white straight strips or pink flowers to make your mani more attractive.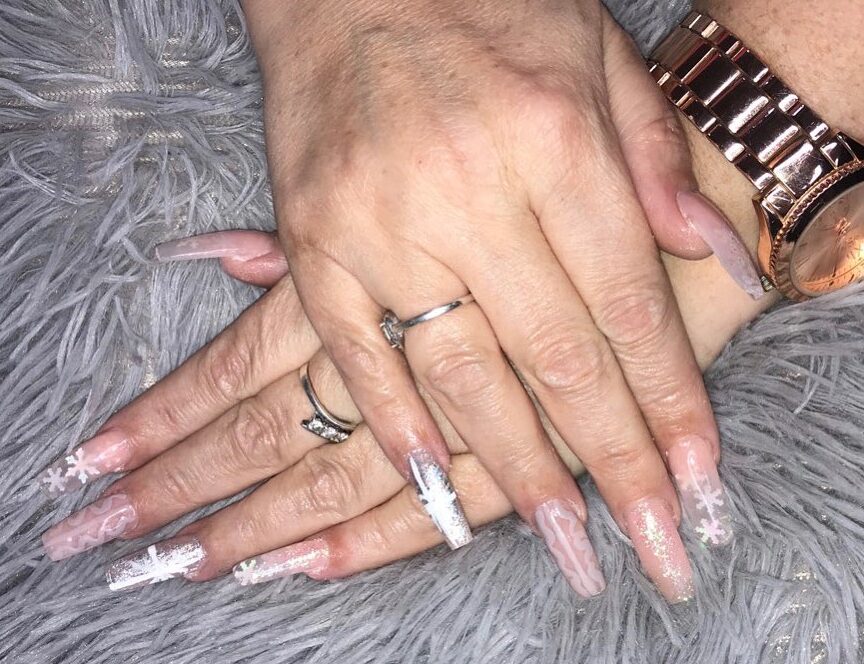 15 – Minimal Christmas Nail Designs for Short Nails
You can easily get nail art stickers from anywhere online, or you can even go ahead and try doing your nails this way. No need to sweat about the perfection of these, as all you have to do is paint your nails a nude color.
Leave your ring fingernail for glitter nail polish, grab a pin or nail tool brush and dip it in the red and green polishes to go ahead with the red and green dots and heart on your index finger.
It is easy and minimalistic, something you can go for if you are not looking for any extra design.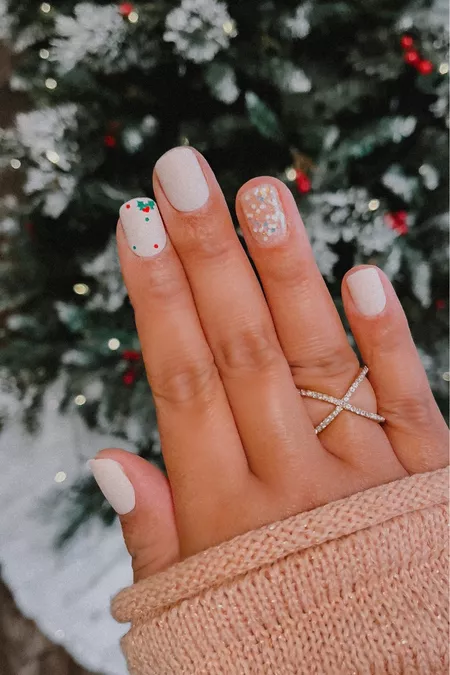 14 – Red and White Candy Cane Nails
You will have a lovely design thanks to the pattern, which resembles caramel, cane, and some brilliant, shiny tips in this design. Such nails will undoubtedly make you feel festive.
With its basic red French tips and candy-cane red and white design, this simple look will undoubtedly draw admiring glances.
You can add some embellishments or glitter to your tips to make it seem fancier, or if you want to go uncomplicated, then this design is perfect for you.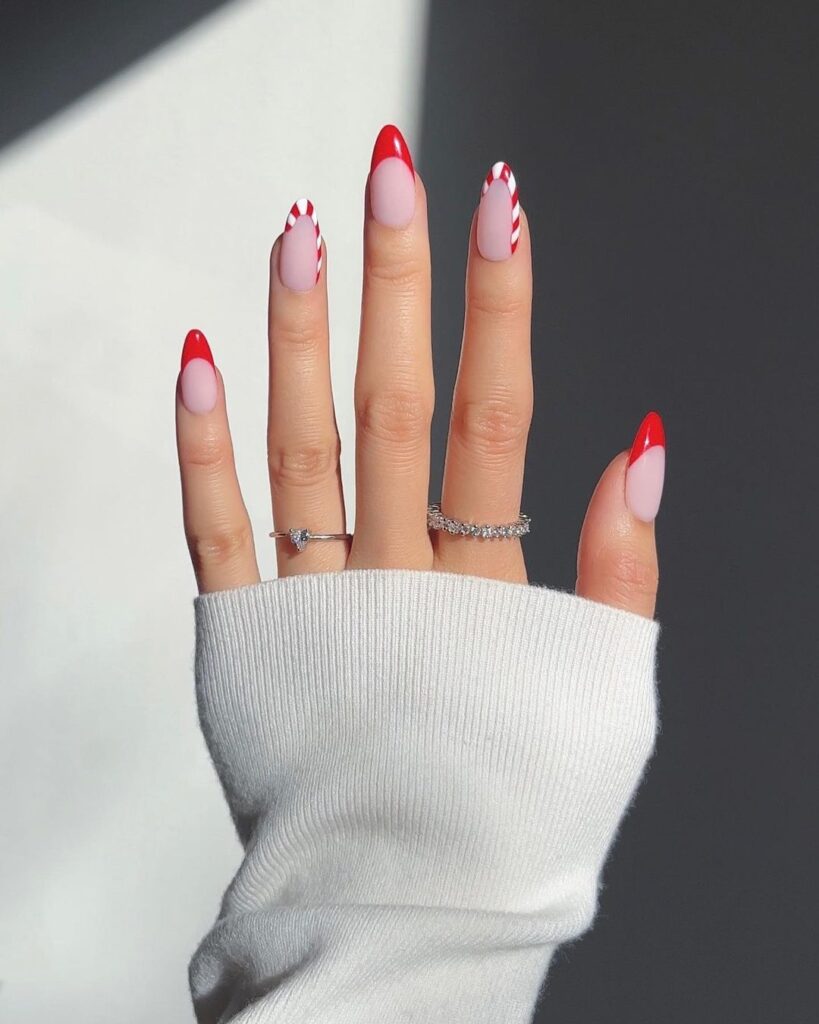 13 – Effortless Red Glittery Nails
12 – Popular Christmas Characters
If you want to go with the popular characters, you may choose to get a reindeer, Santa, or even a snowman painted on your nails. Choose a gingerbread man or an elf if you want to go a bit more "extra," so to speak.
To allow each figure to be viewed separately, you may place one on each nail or alternate the nails.
This Christmas, your friends and family, especially the kids, will adore your manicure. Everyone will love your festive Christmas character manicures, whether you get them done by a professional or at home.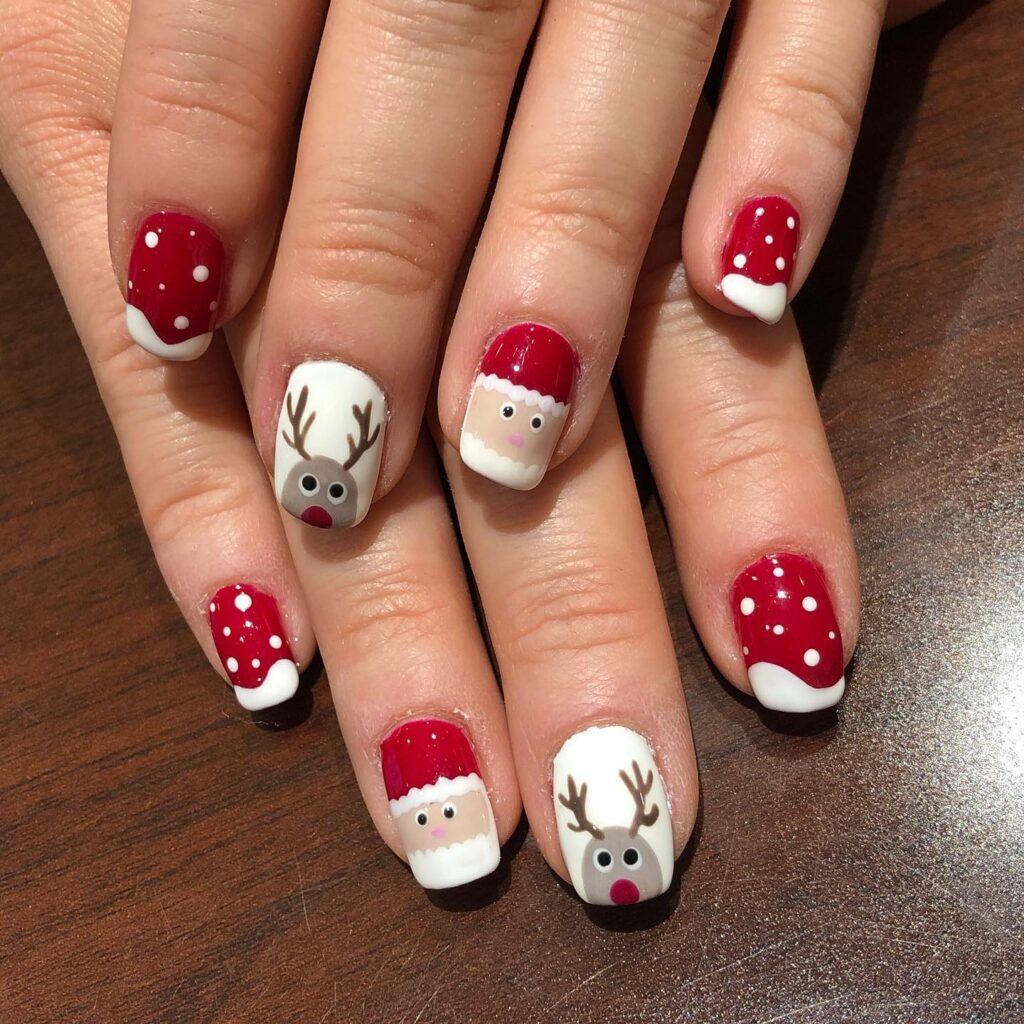 11 – Classic Christmas Art
Christmas decorations traditionally come in reds, greens, golds, silvers, and even white. Any mix of them will undoubtedly make you think of a Christmas tree.
Combinations of these hues have the word "Christmas" written all over them. The design can be straightforward, similar to simple nail art designs. It can be DIY made or advanced made as well.
Although you should always test them out, seeing a nail technician can be useful for a more intricate pattern like this. On the other hand, if you try it and succeed, you will have the chance to showcase your original artistic abilities.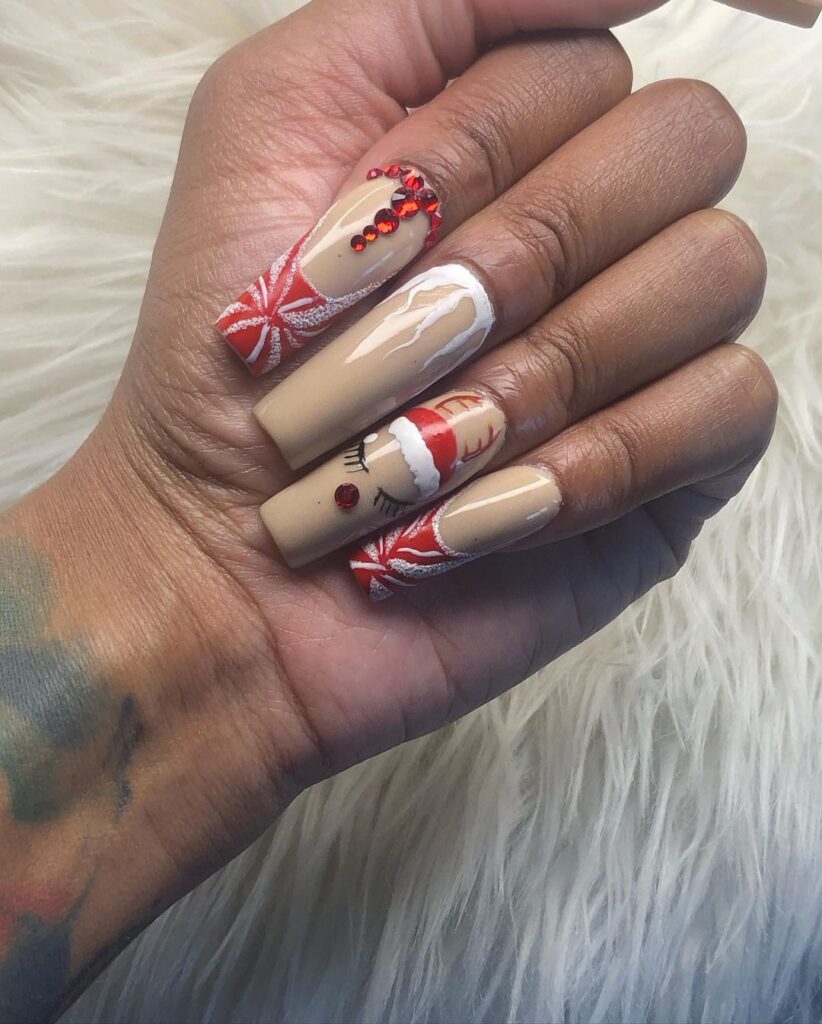 10 – Sparkling Santa Nails
Feeling tired of all the golden and red color combinations? You can always try different colors with red, like silver and blue, or even two different shades of red on a single design.
A burgundy manicure is made more festive with silver geometries. You can get this manicure at home with a tiny nail pen and little practice.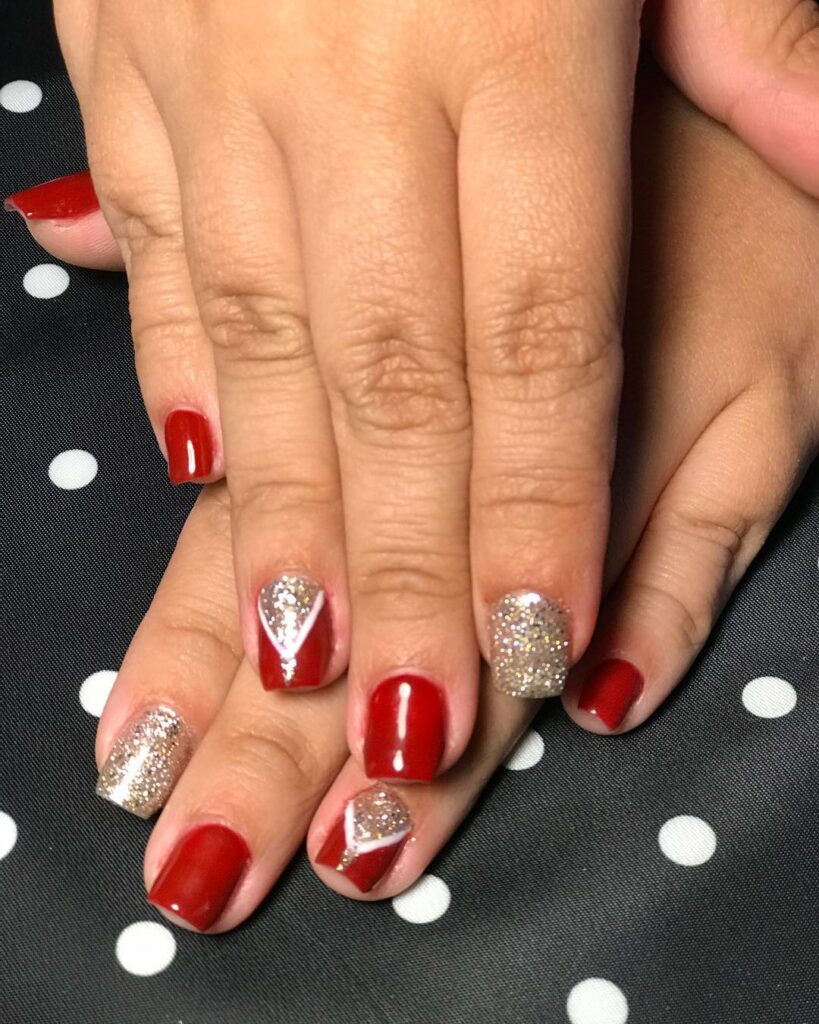 Don't forget to treat yourself to a lovely manicure this holiday season, especially if it only takes a few minutes.
You can also get press-on nails just like these, but if you're running out of time, grab your golden and maroon nail polishes and get to work.
A rich red velvet hue and geometric line pattern may appeal to even the most skeptical person. It could be the traditional-yet-festive manicure you've been searching for this holiday season.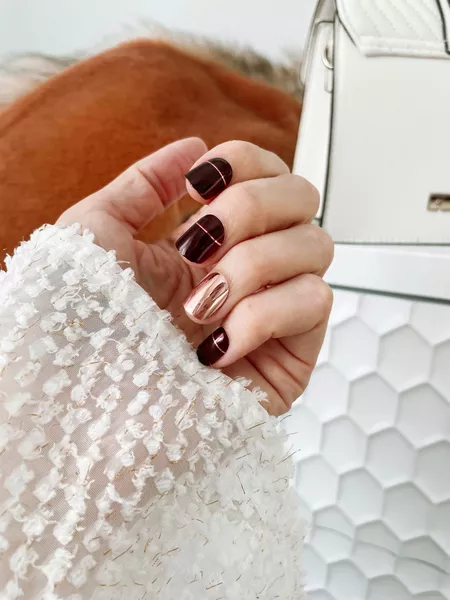 8 – Acrylic Gift Nail Design
Treat yourself to Christmas manicures that are inspired by presents. With its bare base, red candy cane heart motifs, and gold-accented gift-wrapped design, it presents Santa's pleasant list.
The appearance of a little white snowflake on the pinky finger is particularly charming. Must I say more?
The combination of your basic red, white, and gold works perfectly well with the theme of Christmas. The designs are the icing on the cake and a great match for the holidays.
A unique design on each fingernail is very stylish these days and would make your nails more attractive and interesting than ever before. You should try this design if you still have not selected your preferred one.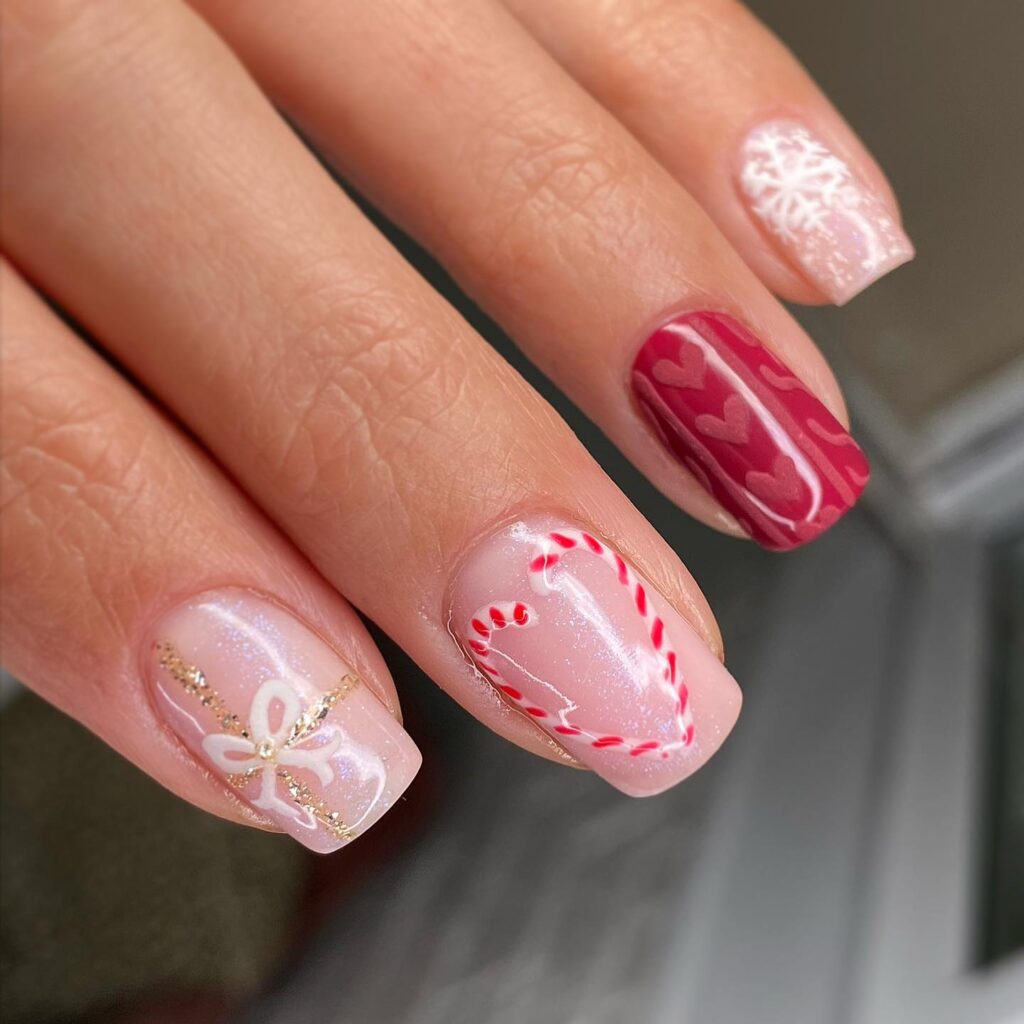 7 – Maroon Gel Polish with Golden Stickers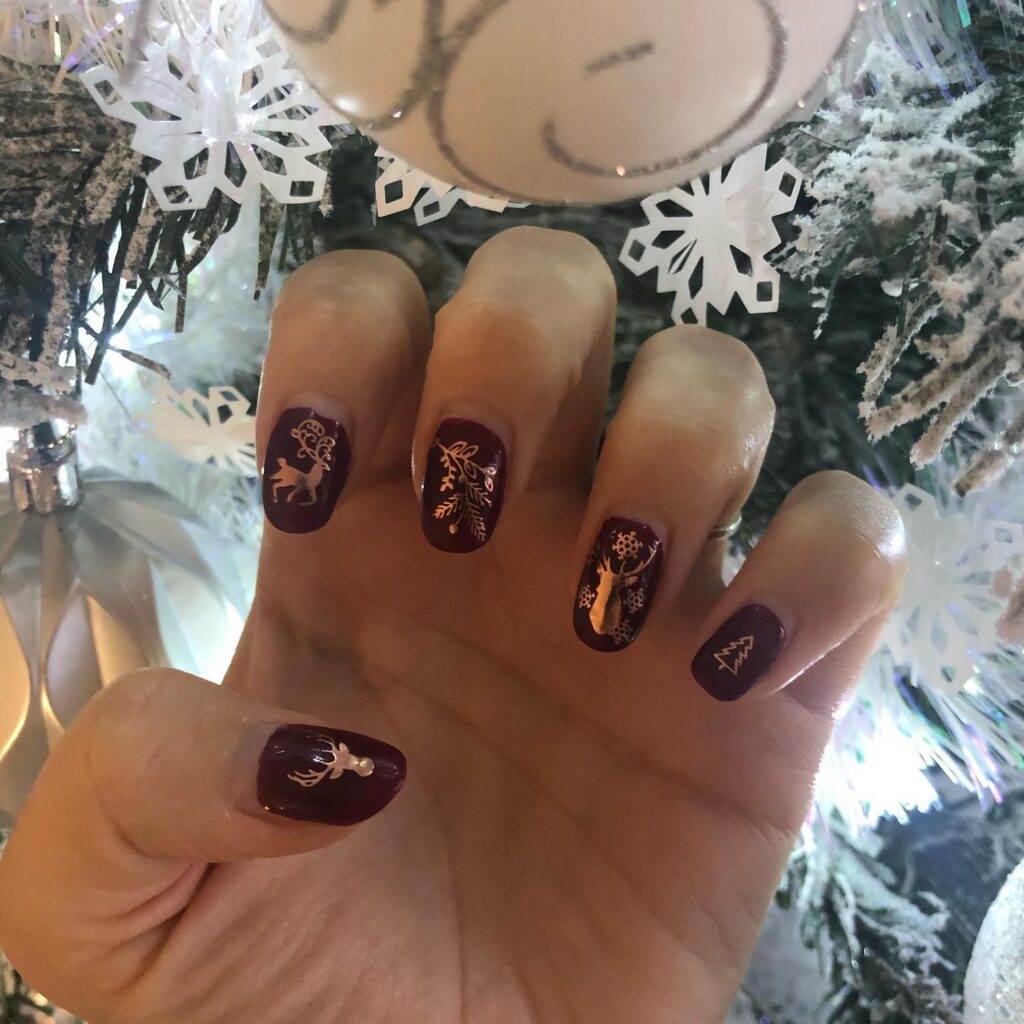 Are you tired of geometric red, green, or blue designs? Then you can be more artistic and opt for a design like this one. Everyone will adore this super adorable design.
The different hues of red, green, and blue, with the addition of white and a hint of yellow, are the perfect choice for you to show off your nail art skills.
You can also get it done by your favorite nail technician. The simplicity and the minimal cute designs of a Christmas tree, a snowman, and a reindeer would catch every child's and even an adult's eye.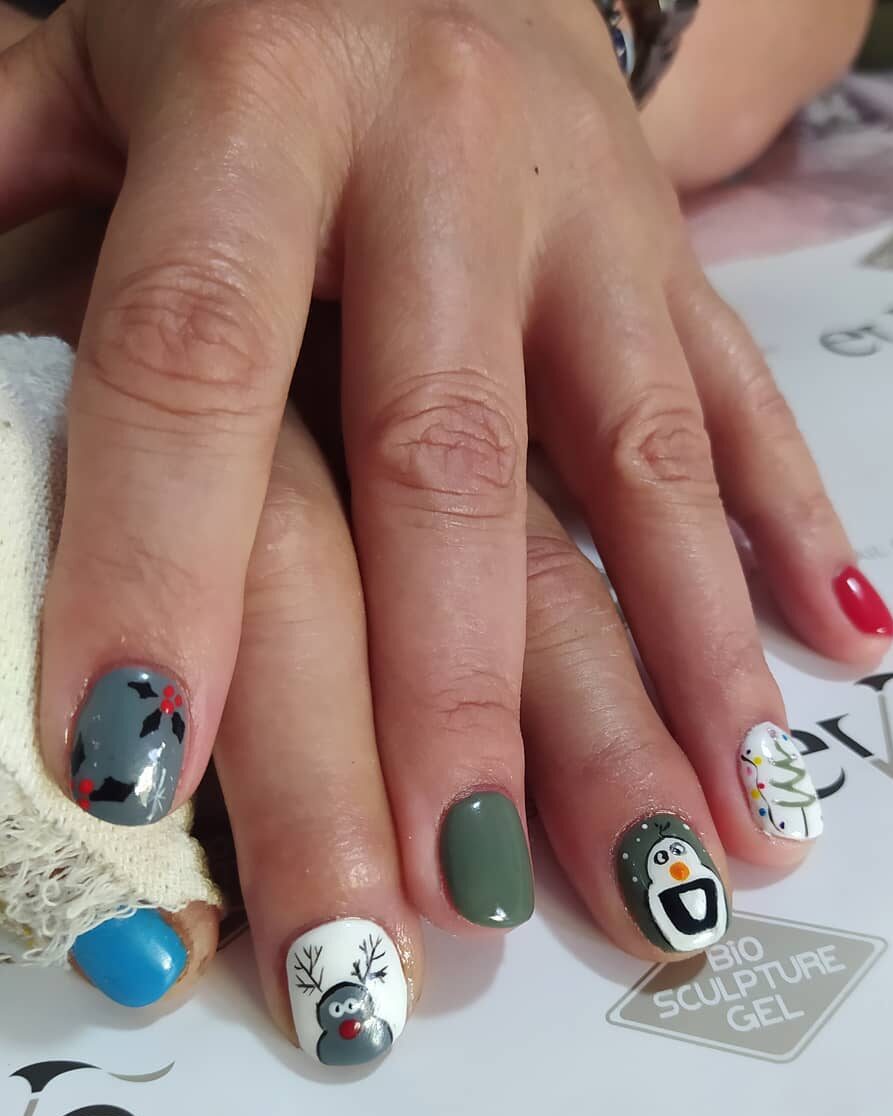 5 – Plain And Stunning French Tip Nails for Holidays
Apart from your famous red or green nails, you can go for brown and nude colors if you are a fan of simpler, less vibrant colors.
The concept of gingerbread in Christmas nail art can work splendidly, making your nails look simple yet stylish
You can easily do the french tips yourself. Even the gingerbread art needs to be done by an expert unless you have plenty of practice to do it yourself; then, it is not a hassle to visit the nail tech as well.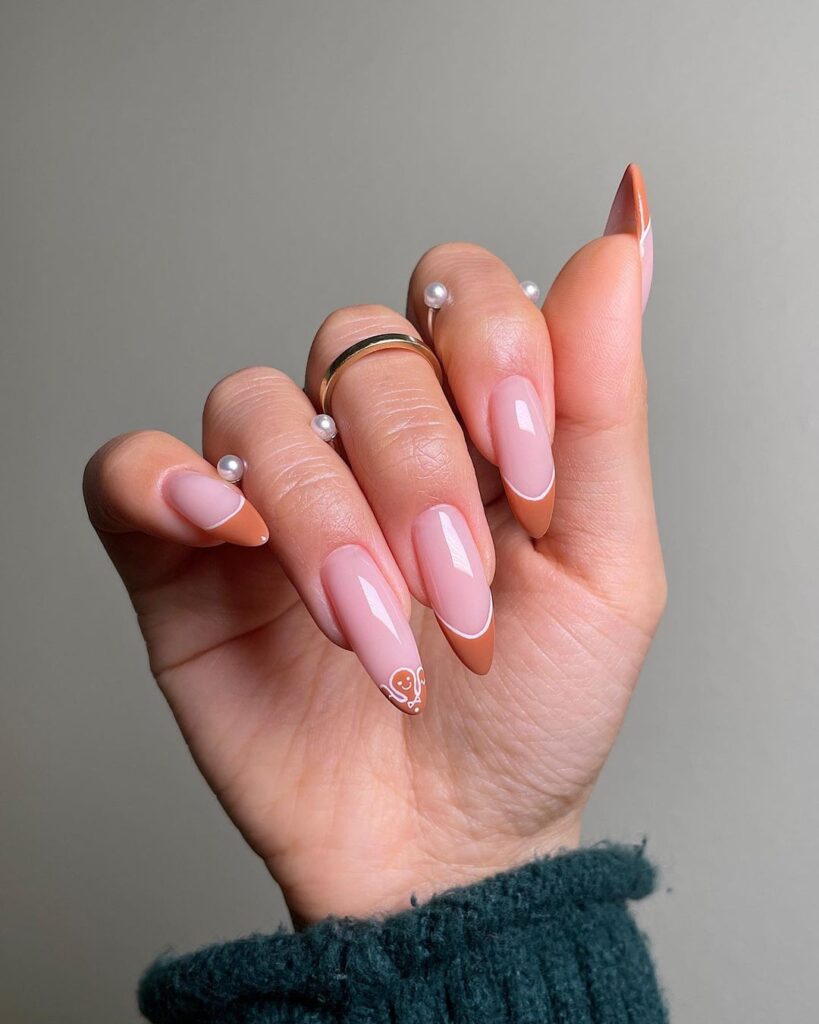 4 – Matte Green and Red Garland on Nude Background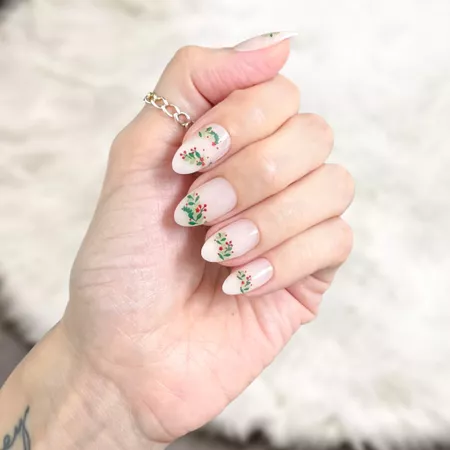 3 – Classy Matte Green and White Design
Maintaining matte colors or using a basic gel raises the bar for sophistication. A splash of vivid or bright color can make your nails particularly fashionable and attract compliments.
By adding a straightforward Christmas pattern to neutral hues, your nails may also have that elegant feel.
You are not required to use only festive colors when creating classy nail art; you are free to use any colors you choose. You might match colors to the theme you've chosen for your Christmas tree or to the hues of a particular holiday character.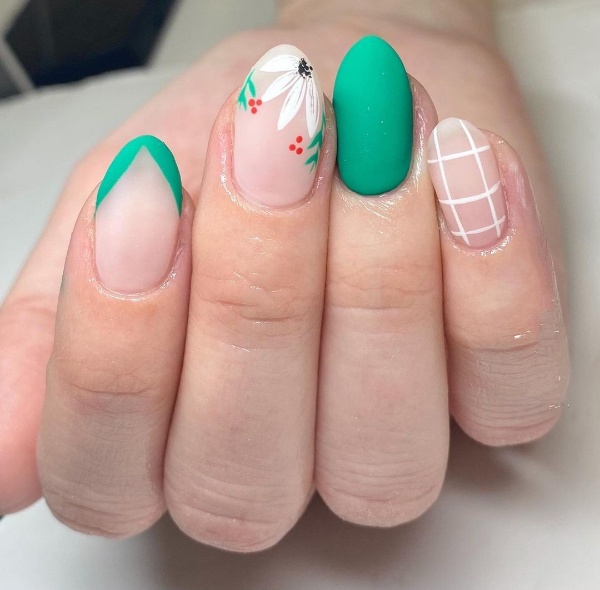 With this dotted pattern on a neutral background, picture ultra-chic Christmas lights. The festive polish colors and a dotting tool are all that are needed for this simple and basic design.
Or an easier approach that you can try is to buy dotted nail paint. You can find such Christmas-relevant nail polishes anywhere; a single swipe, and you are good to go.
The subtle reds and greens on a white background would look super cute and simple. With this easy-to-do-at-home design, you can look fab in no time.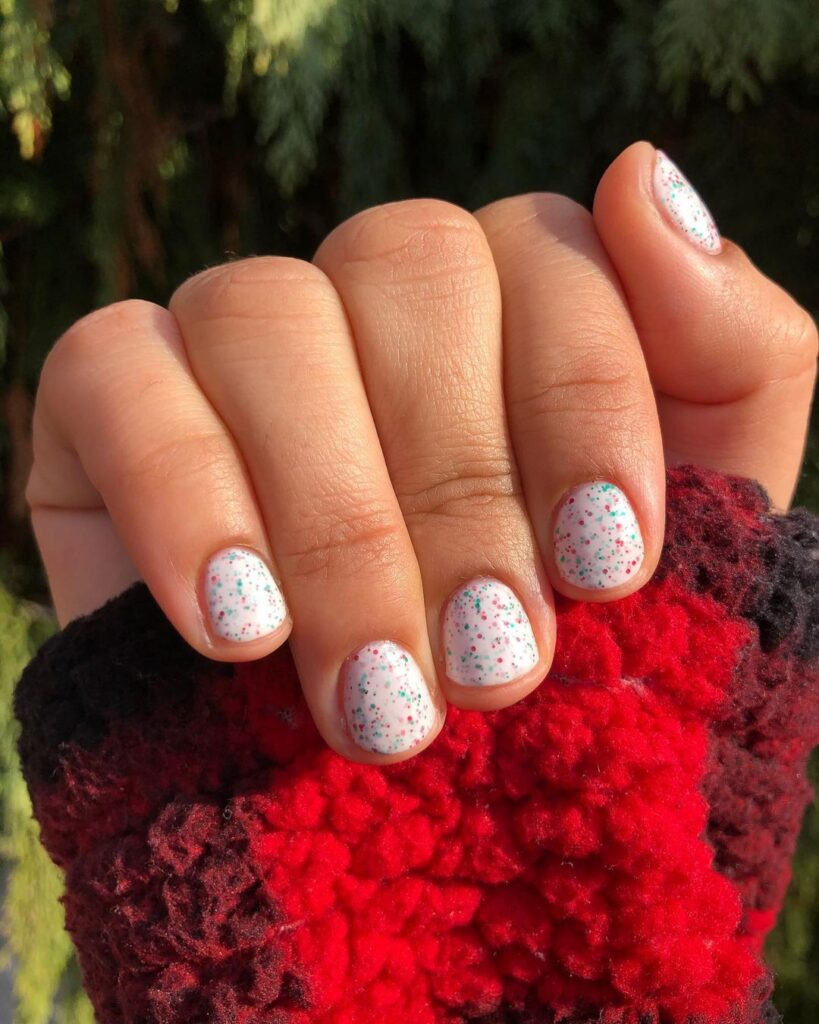 1 – Rhinestones to The Rescue
If you are running short on time and have little to no time to prepare for your merry holidays, you can always go for this most basic and simple look.
The Christmas season is the ideal time to wear this stylish press on. They are the perfect New Year's Eve nails because of the sparkling embellishments.
Some of my favorite Christmas holiday press-on stones are the go-to options for everyone. The cherry on top is the nail glue. You can have several other uses for their nail glue as well.
This reusable and fitting to every season style is perfect for those who are not fans of going fancy with their nails.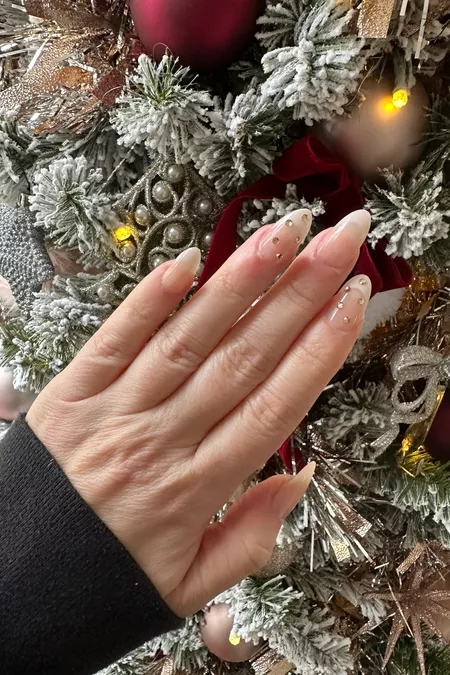 Frequently Asked Questions
Q. What is the new christmas nail trend for 2023?
Ans. Don't be scared to play around with the hues of your winter nail polish in 2023. Make a statement with vibrant hues, or choose a sophisticated layout in neutral tones. Neon manicures are one of the hottest nail color trends for summer. Don't worry if you don't like vivid colors; many alternative patterns are available.
Q. What is a good nail color for Christmas?
Ans. The colder months are the ideal time to wear deep reds. Matching your nails to your Christmas stocking is a great idea. All nails look fantastic when painted red, and you can pick a deep color that matches your skin tone. Red is a really popular choice.
Q. What color of nail polish goes with everything this festive season?
Ans. Don't worry if you don't know how to wear white nail paint; it's the easiest to match. White nails are genuinely universal and enhance any hue. The answer is affirmative if you're thinking silently about whether white nail paint looks good with reds or greens.
Q. Should your Christmas toenail and fingernail polish match?
Ans. No, your manicure and pedicure do not have to match. It used to be required to match the color of your toes and fingernails, but this fashion trend has become predictable and dull with time.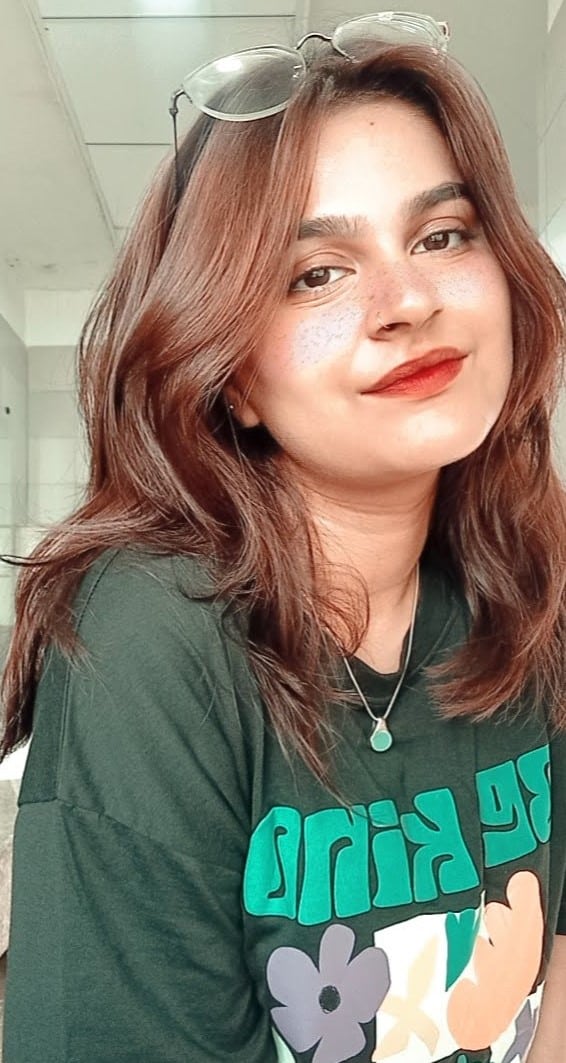 Adeena is studying Media Sciences at IoBM. She is a freelance content writer and graphic designer with experience in UI/UX as well. Adeena loves writing about fashion, taking photographs, making videos, and exploring many artistic things in her life.