Floral Nail Designs – Some unique and trendy nail ideas are all you need for your nails to look their best this summer. Applying nail art is simply the best way to express your creativity and make a fashion statement with your nails.
Nails have always been a significant aspect of glamour and fashion. Beautifully painted nails add a spark to your personality. Designs have great diversity and can be of various different types. Glittery nail art, cartoon-themed nail art, animal nail art, and so on.
Among all these themes, floral nail designs are the talk of the town these days. Many ladies, including the leading celebs, opt for cute and lovely flower nail art designs. These designs become even more popular during the spring and summer seasons.
Flower designs on nails never get out of style and create such a positive vibe with their beautiful floral patterns and natural texture. These designs look chic and catchy in their cute and colorful styles. We have compiled some striking designs to give you the best ideas for your next creative and unique nail art.
How To Select Nail Color And Nail Length?
The nail color you choose for your funky nail art should be according to your nail's size and the occasion. Dark tones look very hot on long slender nails while on the other hand, lighter tones make small nails look longer and also compliment small delicate hands. Moreover, neon color nail paint might look cool at a Saturday night party but may not be appropriate on a Monday morning in your office. As far as nail length is concerned it is an important part of grooming and proper nail care.
The length of your nails should complement your lifestyle and day-to-day routine. It is a very crucial functional choice as those who use their hands very frequently should keep their nails functional yet attractive and eye-catching. If your daily activities include dishwashing or cleaning, gardening, sports, etc then you should keep a shorter nail length to be more comfortable. However, as we know that nails grow quite fast so there's always room for experimentation. One can always grow the nails to their desired length prior to a special event.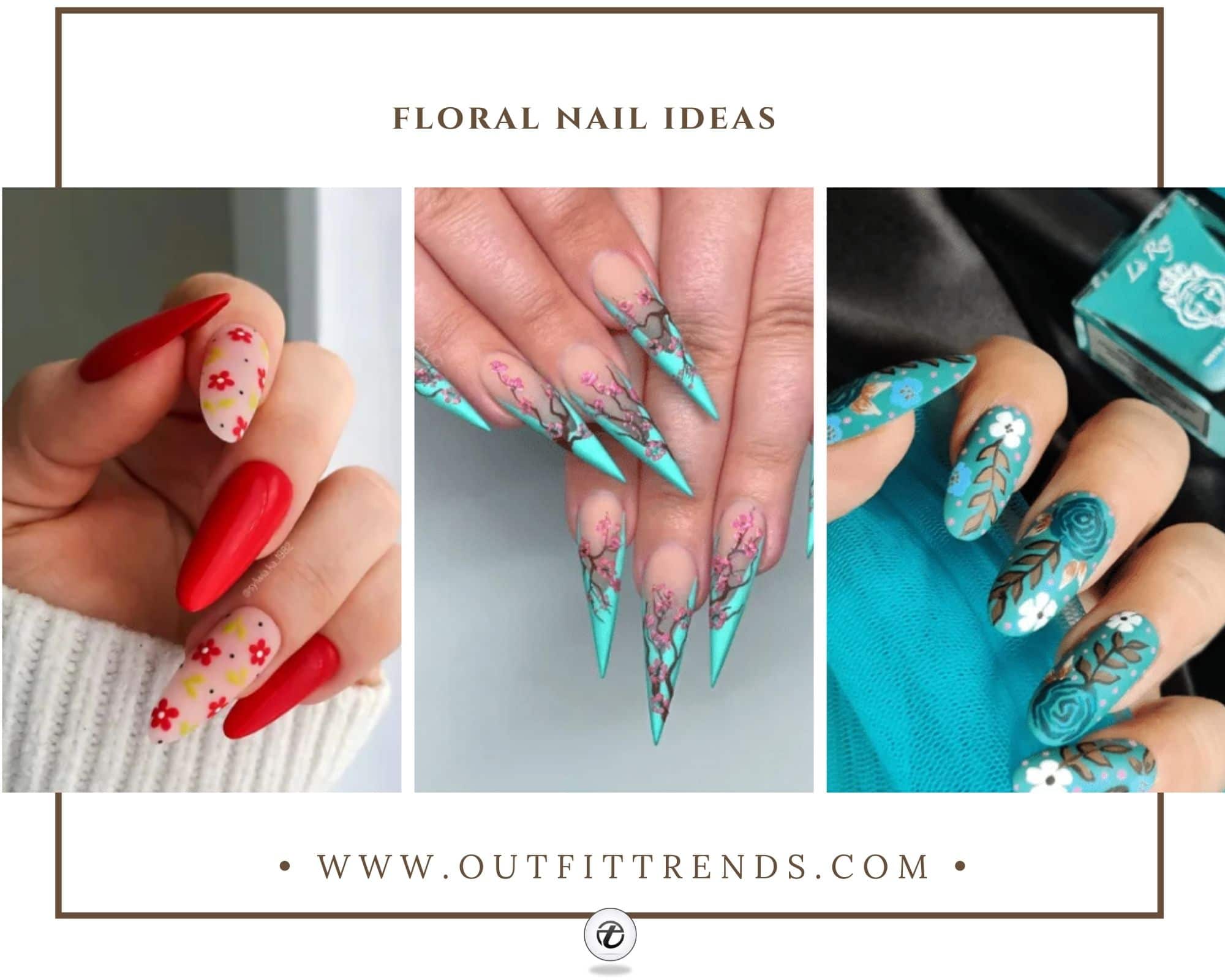 Dos And Donts Of Florat Nail Art
Seek the help of a professional for applying nail art. This is so because the application of nail art by a professional will guarantee that the nail art of your choice is applied correctly. Going to a professional nail technician can give you that extra confidence of exploring new patterns or maybe some new chic nail art you just saw on your favorite celebrity.
When deciding on nail art for your manicure ideas, you should be daring enough to Mix and match different nail art designs. You can show off your creativity through your nail art. For instance, the floral patterns can be mixed with polka dots or glitter to give an extra chic effect. Having a great number of super cool trendy nail art ideas can make it difficult to choose a single design.
Uniformity in all five nails of your hand will tend to make it less visually aesthetic. Try using different colors and patterns on different fingers. Let your creativity run wild.
Do not relegate your nail art to the accent finger. The ring finger is called the accent finger in the beauty and cosmetology industry. Ladies! Do not make the mistake of limiting your beautiful floral nail art to your ring finger. All the other nails also have a right to look chic and stylish!
Allow your nails to breathe! One should not keep the nail paint on for more than three weeks consecutively. For better health of nails, they should be kept without nail paint on and off.
Best Floral Nail Designs
21. French Tips With Floral Pattern
Floral French tips look great and aesthetically pleasing. This design is perfect for spring. The floral French tips always look striking and chic if you add some sparkle to them or even without glitter. It should go with nude colors as a base. You should definitely go for this super pretty nail art this season. It is one of the best and most famous patterns of floral nail art.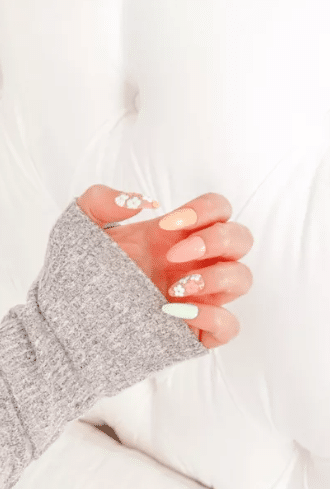 20. Vintage Roses Nail Design
A timeless classic in floral nail designs is a vintage-style rose pattern. You can customize it by using different shades of peaches, pinks, and reds. A single classy-vintage rose can define your personality beautifully. A white nail against the red rose can give a striking look. It sure is an eye-catcher. Try this beautiful vintage design and make a big statement.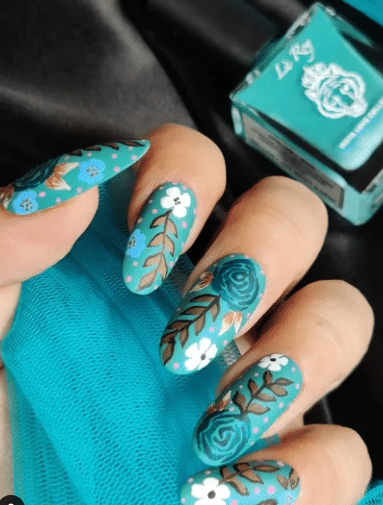 19. Sunflowers Nail Art
What can be more attractive and popping than a pretty yellow sunflower beautifully painted against a blue or neutral-colored base. If you want your nails to look different from the regular Pinks and reds then definitely go for this design.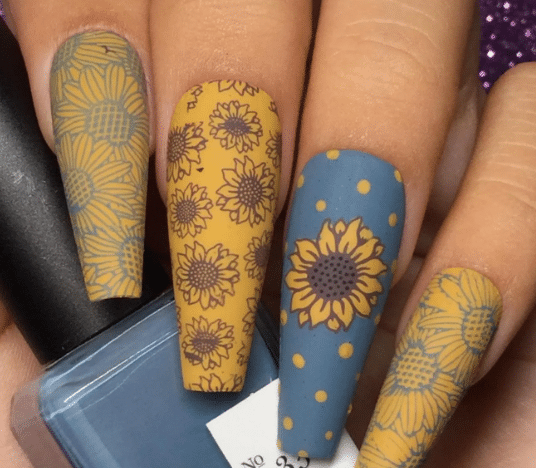 18. Retro 70s Floral
Time to break out those oranges and browns! These cute 1970s wallpaper-inspired flowers are sure to be a hit with vintage design lovers.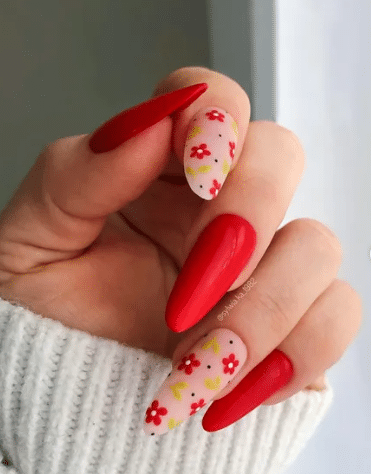 17. Floral Accent
For those wishing to keep it minimal, a floral accent is the best option to go for. You can use a plain base to go with beautiful flowers on your accent nail. You can use your favorite nail paint on the other nails simply.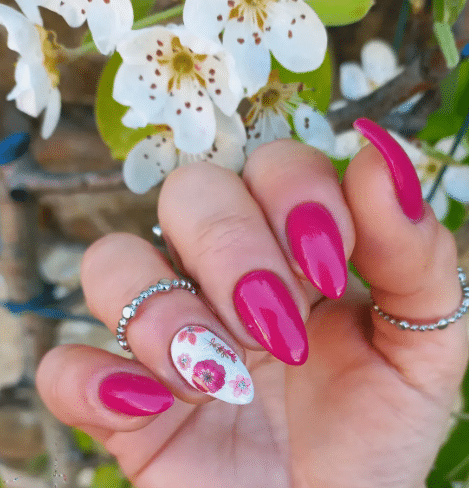 16. Multi-Color Floral Nails
Make your nails look like a burst of lovely colors. These chic, girly, and color bomb floral nail designs can make your day sunnier and brighter. If you are a new nail artist and trying to experiment with something interesting. You can use your nails as a canvas and paint pretty colorful flowers on your nails.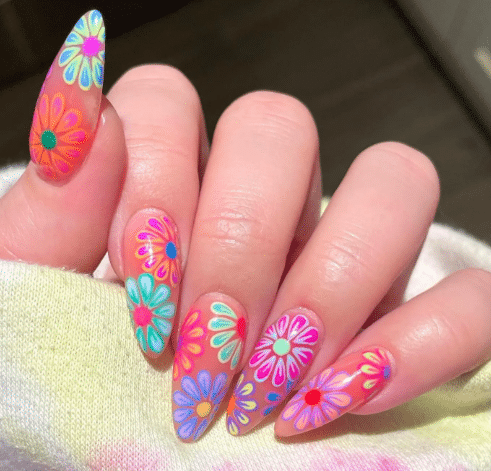 15. Dried Flowers Nail Art
If you want to add real flowers to your nail art you should try dried flower nail art. This cool trend where little pressed and dried flowers are incorporated into your nail art can be seen getting popular on Instagram. It can easily be done without professional help. All you require is scissors, pressed flowers (available online or in a crafts store), and the nail paint of your choice.
You can simply cut the small flowers to your desired size, paint your nails with your favorite nail polish color, make a double coat, and while it's still wet, place the dried flowers onto the nail with the help of tweezers. Make another coat of nail polish to keep the flowers in place. You can also add shine to the nail art if you like.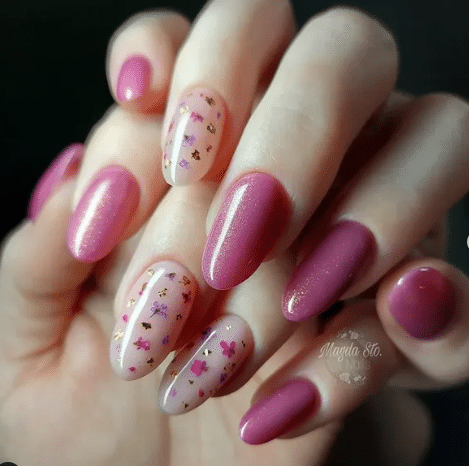 14. Cute Daisies Nail Art
Want another cool idea for DIY nail art. Delicate Daisy nail art looks subtle and classy. It is very easy to create at home and if you create the flower near your cuticle, it looks even better and is less likely to be chipped off during daily chores. Again neutral tones will look best as a base for this type of manicure. It can be created at home by simply using a thin brush to create the thin petals with a small yellow dot in between.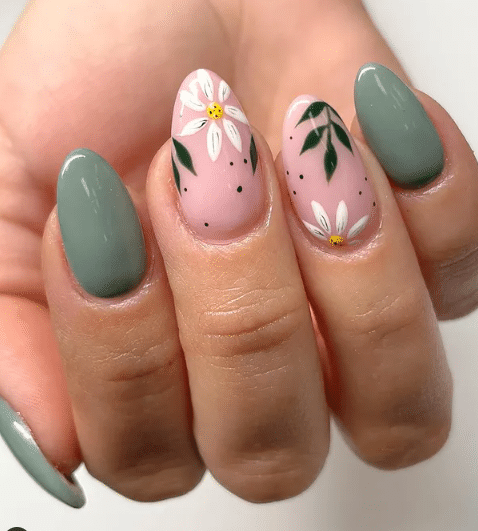 13. Sunflower Bunches Nail Art
We are all about this bold, bright sunflower nail design that makes us think of summertime fun and frolic. This flower nail design is guaranteed to cheer you up, whether you're heading off on vacation or just hanging out at home. Nude nails overlaid with cheerful sunflowers? Yes, please. Luckily for us, this particular nail art design is super simple to achieve. Again, just dot your nails where you'd like your flowers to be and follow it up with yellow petals surrounding each dot.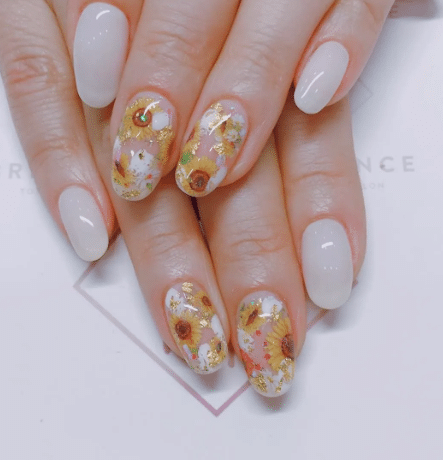 12. Classic Cornflower Nails
This beautiful, intricate design of flower nails gives an impression of granny's delicate bone china crockery. These are so pretty and sassy at the same time. Simple yet sophisticated.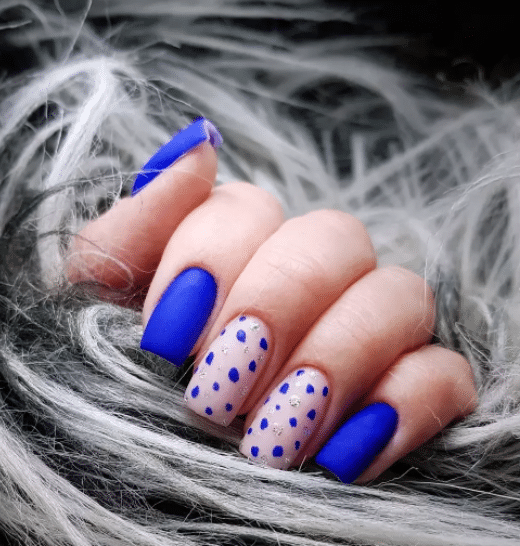 11. Chic Cherry Blossom Nails
It is a gorgeous and delicate flower nail design, inspired by the lovely Japanese cherry blossom look. The base can be white or any neutral color with a gold and fuchsia floral design. You might not be able to get this done yourself, as it requires professional skills to pull off this beautiful design. Just show this picture to the nail artist at your salon to achieve this look.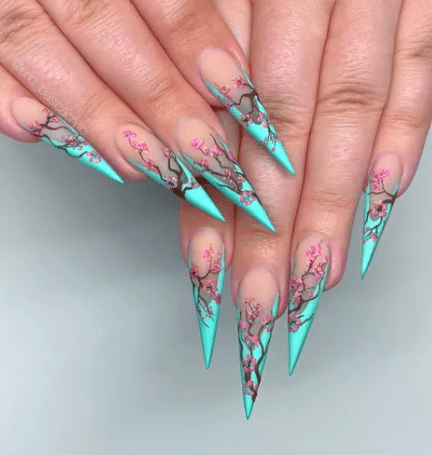 10. Sunny Summer Garden Nail Art
Bunches of pretty flowers which give an impression of a garden look great with a base of lighter shade and flowers in blue and purple colors. As every flower nail design is distinct, you can create your own unique floral garden.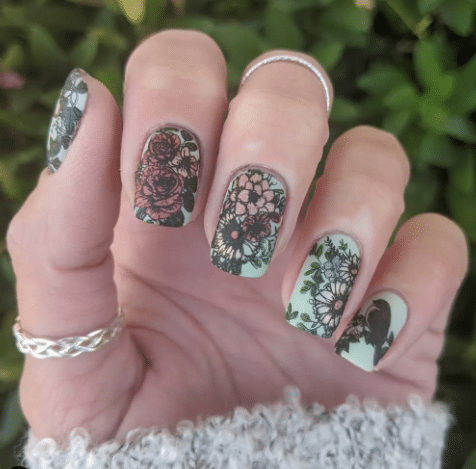 9. Dreamy Transitional Floral Bouquet
This beautiful piece of art is a combination of different floral designs. Lift up the flower nail art game and try creating a different color floral design on each nail. This way you can make different flowers on each nail and make a unique bouquet of flowers on your hand.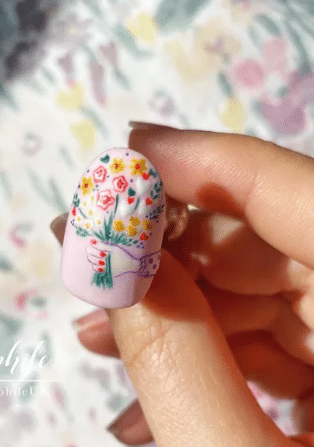 8. Fall Flower Fantasia
The color combination of dark red flowers against a dark sky-blue background trend is so in these days. You would not like to miss out on this one for sure. It is best for both fall and even springs too.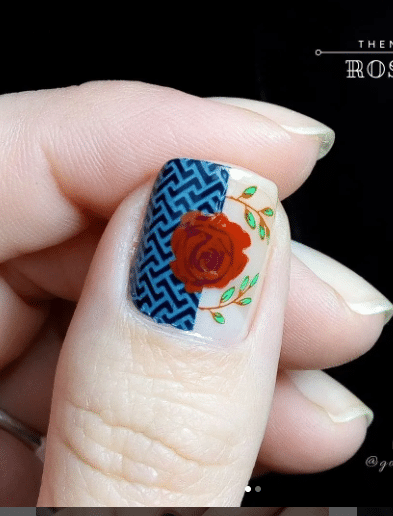 7. Ombre Daisy Delights
This nail art design will take some extra time, but it's worth it. First, create an ombre base color in pinks or subtle mauves. Then paint a sunny daisy peeking up from the nail bed. This floral art design would work well with a French manicure, too. The daisy nail art trend is everywhere, but we love this full nail flower art design because it makes a subtle, stylish statement without being too over the top. This is a look you could easily wear all year long.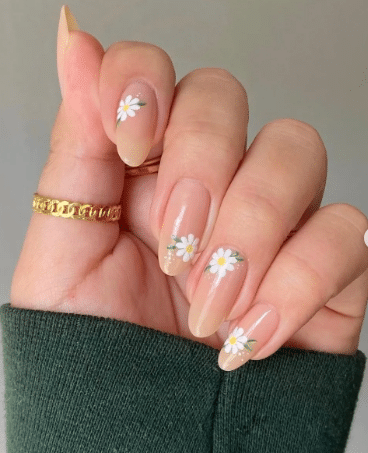 6. Butterflies and Animal Print
Butterflies and flowers go hand in hand. Some vines with pretty butterflies on a manicure will give a splendid look as shown in the picture. The simple green vine is easy however the intricacies of the butterflies can be dealt with by a professional artist.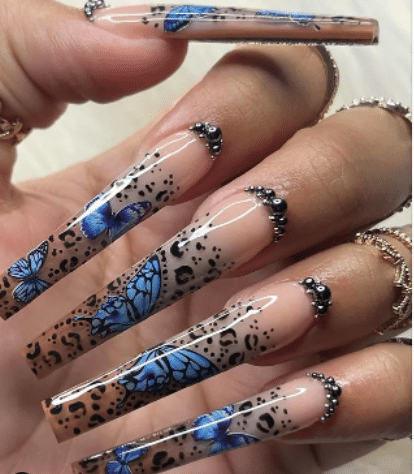 5. Peony Points
The peony created on nail art can give a beautiful and chic look. French tips can also be used to enhance the manicure overall. This nail art gives a very traditional and romantic look.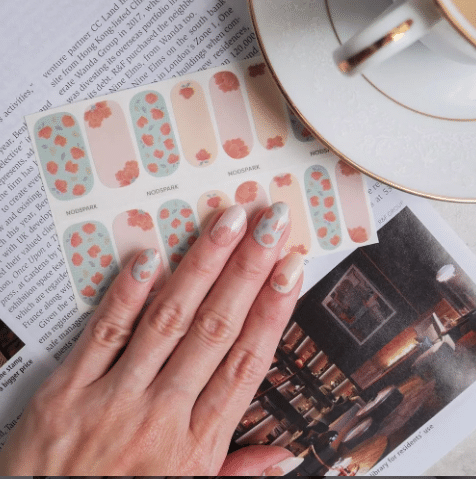 4. Abstract Garden Nail Design
Paint a garden on your nails if you are good at abstract art. If you are not sure you can create this look at home, just book an appointment at the nearby nail art salon and get this beautiful aesthetic manicure done!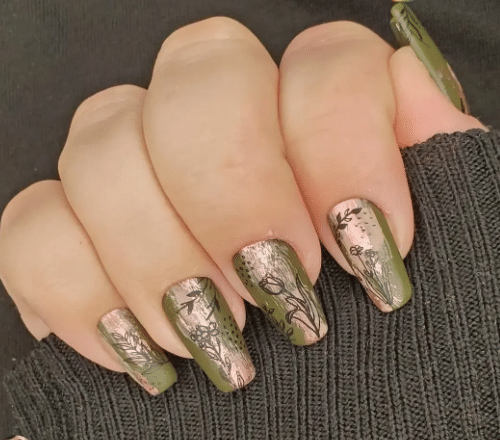 3. Gemstone Flower Tips
Gemstone flowers can give you the extra look and that sparkle. These turquoise blue gemstone flowers incorporated in the nail art are giving us some serious nail art goals. You just simply have to get your hands on some rhinestones from the market. To produce this look, glue the tiny gemstones in groups on your nails. Keep the base simple. Add some extra shone if you want.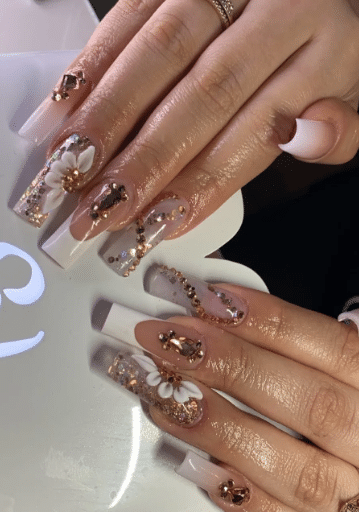 2. Pretty Poppies Nail Art
You can easily make these beautiful poppies on your nails. You can use any color of your choice like neutral, red, green, or black. The key ingredient is a little acetone. With the help of just a single drop of acetone, the flowers appear semi-faded for an ethereal look. It gives a watercolor effect to your nail.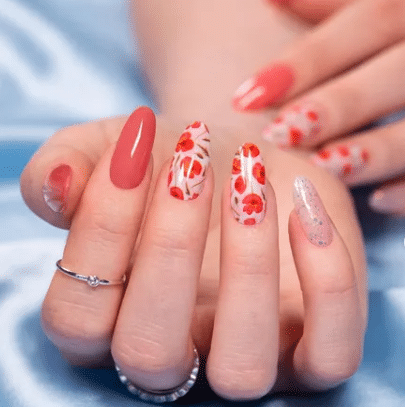 1. Glitter Bouquet
You can use flower-shaped glitter on your nails for the purpose of nail art. Sprinkle a bunch of glittery flowers on the cuticles and paint with your favorite base color.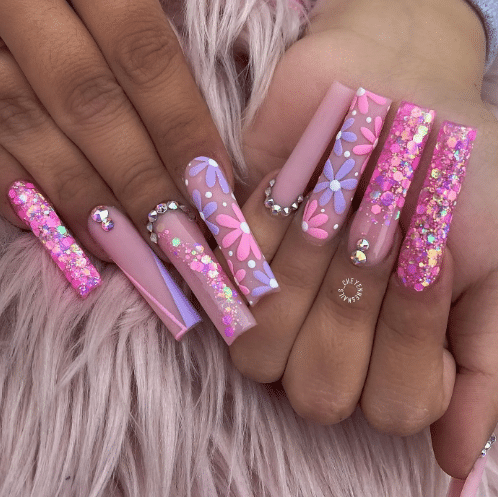 Frequently Asked Questions
How to apply nail art without getting the polish on the sides of fingers and the cuticles?
A. how to finish it up perfectly then follow our simple techniques and you are good to go. Some people prefer using tape on the sides and the cuticles before applying nail polish. Wait for the paint to dry and peel off the tape afterward. One more hack is to apply glue to the area where you want to avoid the nail paint. The glue should be dry before you apply the nail paint. Just peel off the glue strip after the nail paint is fully dry. This will keep your cuticles and nail sides clean!
Is it necessary to use a base coat?
A. Although the base coat in nail art looks fantastic and is proper protection against stains, it is not always compulsory to use a base coat. However, it is beneficial for healthy nails if you are a regular nail paint user. Did you know that the base coat contains vitamins, proteins, and calcium for nourishing the nails? It also prevents the dark-colored nail paint from staining your nails. It can also protect from those nail polishes that have harmful toxins that can make your nails dry and brittle. However, you must restrain from using a base coat with acrylic nails as they require a primer before their application.
What's better for nail art and designing, a striping brush or tape?
A. Although people use both, a striping brush and a tape for making different designs of nail art. However, we suggest that those who are pros and have a steady hand must use a striping brush for themselves as it is great for making details. Moreover, the striping brush also helps to finish the art quickly. However, for beginners and those who don't use the art frequently, the tape is a better option as it ensures that you won't ruin your base polis. Therefore, we can say that both have their pros and cons. You can decide according to your skills.