Ideas How to Wear Harem Pants – Harem pants are long baggy pants that are baggy all the way to the bottom, but they are tight right at the ankles. They are very similar to shalwar (part of traditional Indian dress). They originated from South Asia, and now they are known as fashion icons around the world. They are often tied at the ankles using ribbon or a separate piece of fabric.
I believe there are very few types of outfits that any one of us can carry correctly, but harem pants are undoubtedly one of them. Here are some ideas on how you can wear harem pants, what shoes go with harem pants and what are best outfits combinations with harems according to your personality. I hope these ideas inspire you into creating your own unique and beautiful looks! Let's check the looks one by one.
Harem Pants Outfit Ideas
If you haven't tried harem pants before, now is the time to try them. Trust us once you learn to wear and style them properly, you won't want to go back ever. So, for beginners, we have a few great tips on how to wear harem pants.
Harem Pants look good in primary and solid colors like black, grey, brown, etc., so go for them.
Avoid Overly printed harem pants with printed tops. Keep one piece a little light, at least.
Harem pants look better when worn with heels; hence prefer heels over flats with these pants.
For regular use, tuck your shirts inside your harem pants and use a belt.
For Harem pants and trousers, fabric like silk, and cotton jersey are good choices as they drape in the right areas.
Make sure your pants and trousers fit you well. Too tight or too baggy ones will ruin the face of this masterpiece.
If you want your harem pants to be emphasized, then wear a crop top with them.
↓ 25 – Soft And Comfy Harem Pants For Winters
We've all seen harem pants making their way to ramps and fashion weeks. They are often seen as a part of summer outfits as well. But have you ever thought of wearing them in winter? If not, then do it now. Wear Caprice Hacci Harem pants with a soft, casual sweater and warm ugg boots. You can slay this look inside your home as well as outside. It is trendy, timeless, and vintage!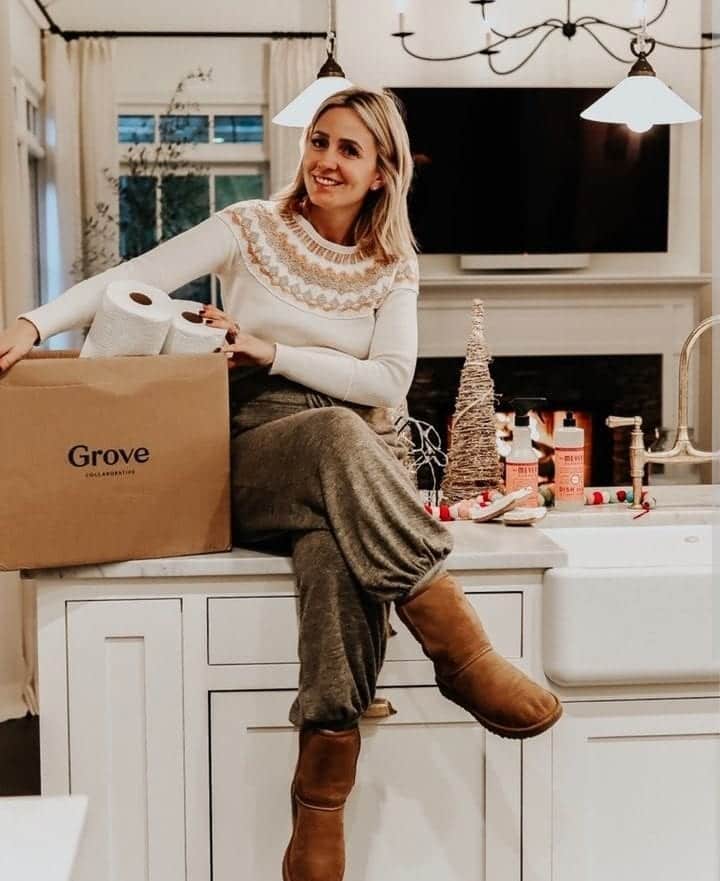 Shop Similar Harem Pants Here
↓ 24 – Harem Pant Outfits For Women Over 40
Women often prefer or shift towards simple attires when they reach their forties. They limit trying different fashion trends and wear what everyone else is wearing. But believe us, you are not that old yet. You still should try a novel and trendy piece and create something decent and elegant out of it. Here is a look that you can create with Harem pants. Wear it with a Tee shirt and layer up with a velvet dress blazer. Put on small heels, delicate jewllery, and slight makeup. Finish off your look with a patent leather wallet.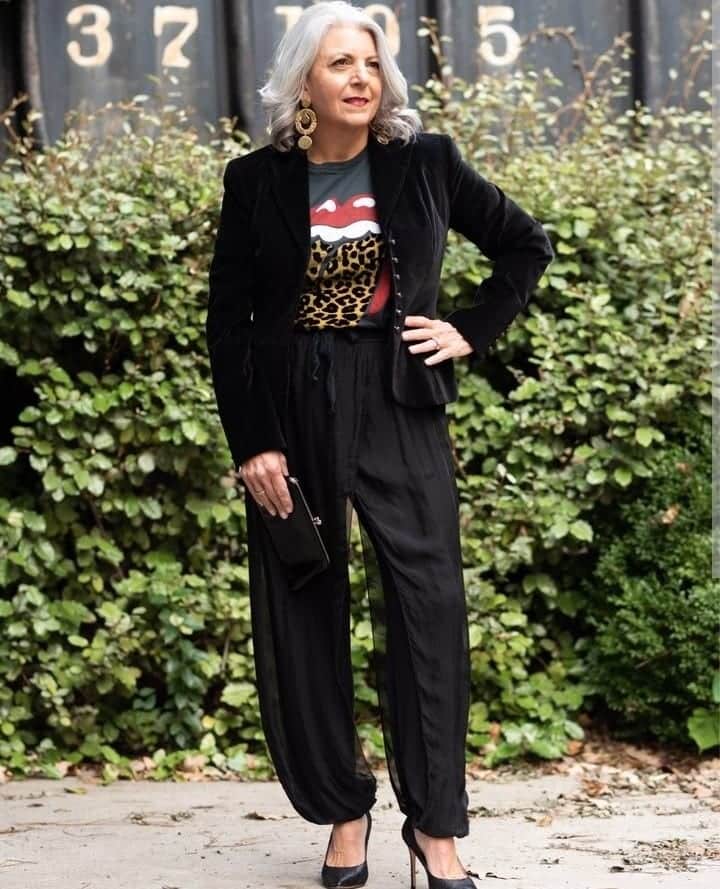 Shop The Entire Similar Look Here
Ted Baker London Bobble Patent Leather Wallet $149.00 Information $74.9
Crepe Jersey Harem Pants w/ Leather Trim Original: PKR 148,606.86
Here another thrilling look that you can try in your forties.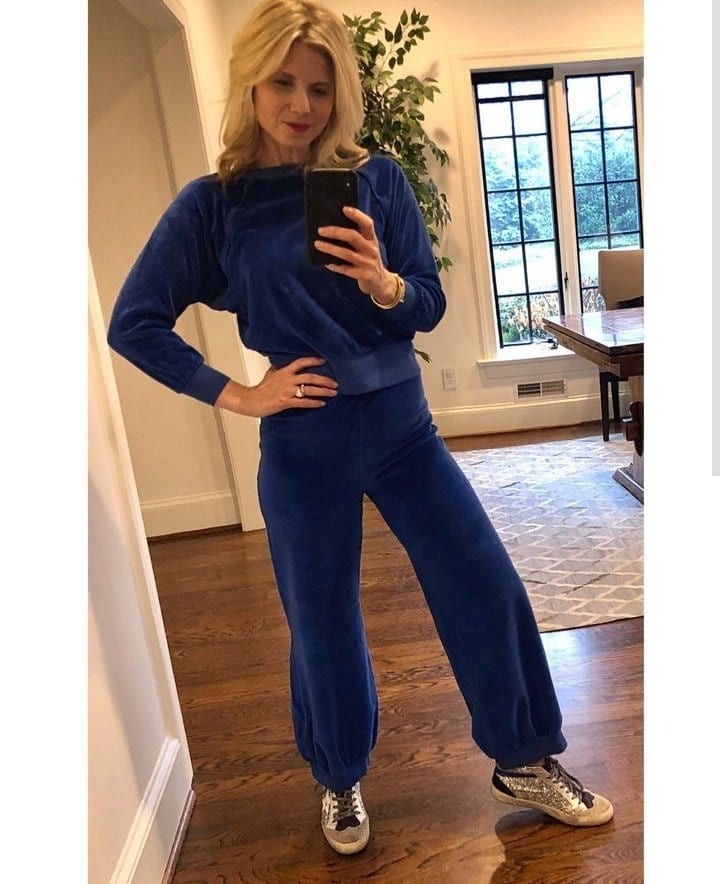 Shop The Entire Look Here
KONDI HIGH WAIST HAREM PANT $195.00
↓ 23 – Harem Pant Outfits For Plus Size Women
Age, weight, and size are genuinely just numbers. They do not limit you to wearing specific clothes only. You can pull off any outfit if you wear it the right way and carry yourself well. So, for the next event you are planning to attend, wear glittery peach harem pants along with maroon pleated too. Wear nude shade strapped sandals. And polish off your look with center-parted loose curls, glowing makeup, and a decent watch. Lady, you've dressed to kill people!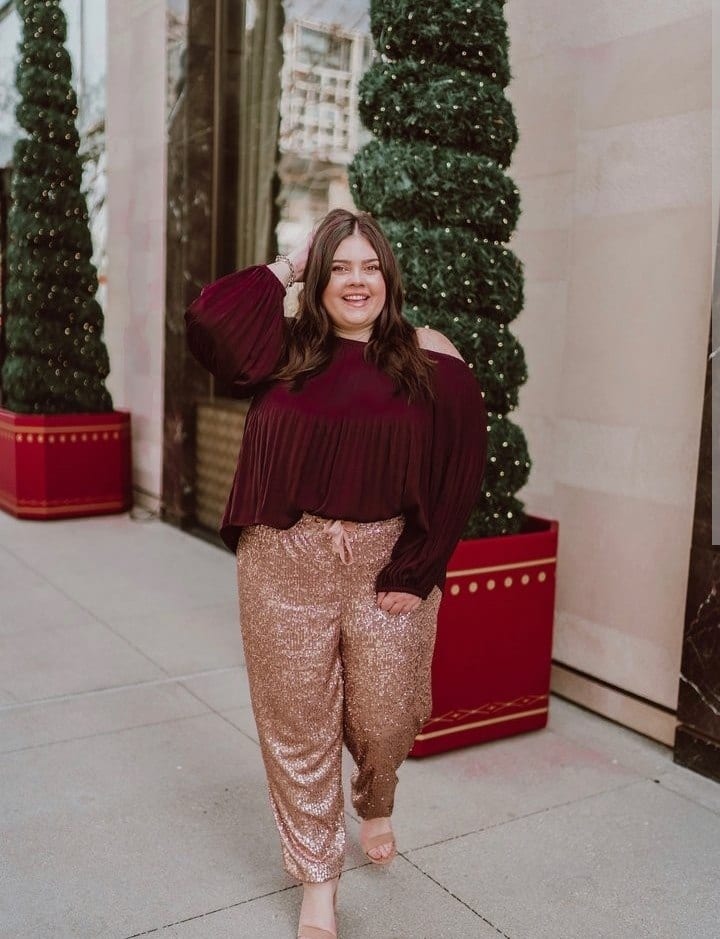 ↓ 22 – Harem Pants For Perfect Street Style Look
What's the point of dressing up that has all the flash but no dash? Try out this ultra-comfortable silhouette, which makes harem pants essential for effortlessly stylish outfitting. Accessorize your outfit with a stylish hat, shades, and boots.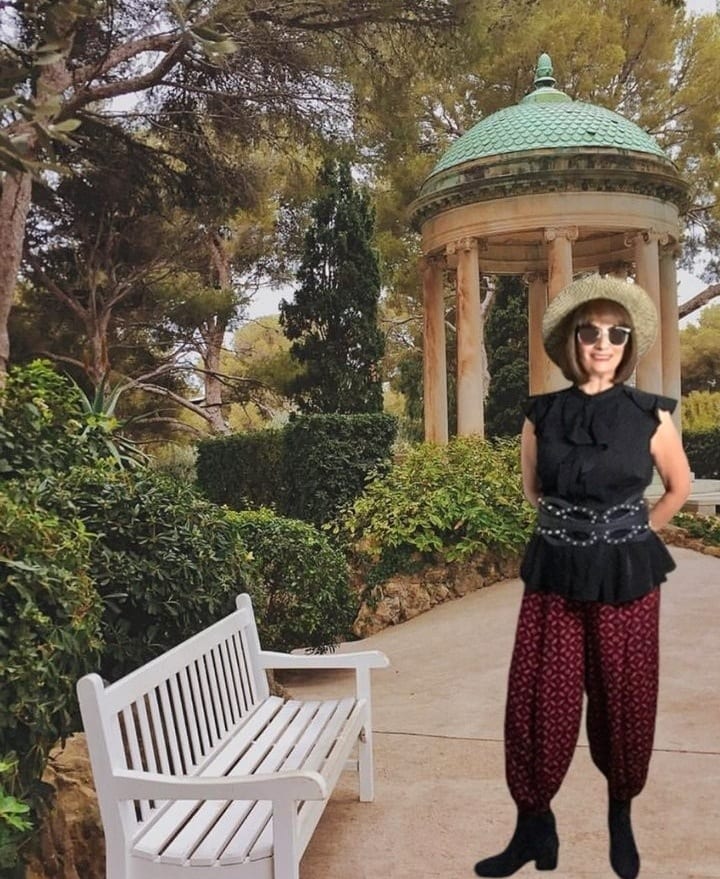 Shop Similar Harem Pants Here
↓ 21 – Harem Pant Outfits For Pregnant Women
If you are a pregnant woman and want to wear something comfortable yet stylish, then harem pants are surely for you. Wear harem pants in linen stuff along with a tee-shirt and roam around here and there.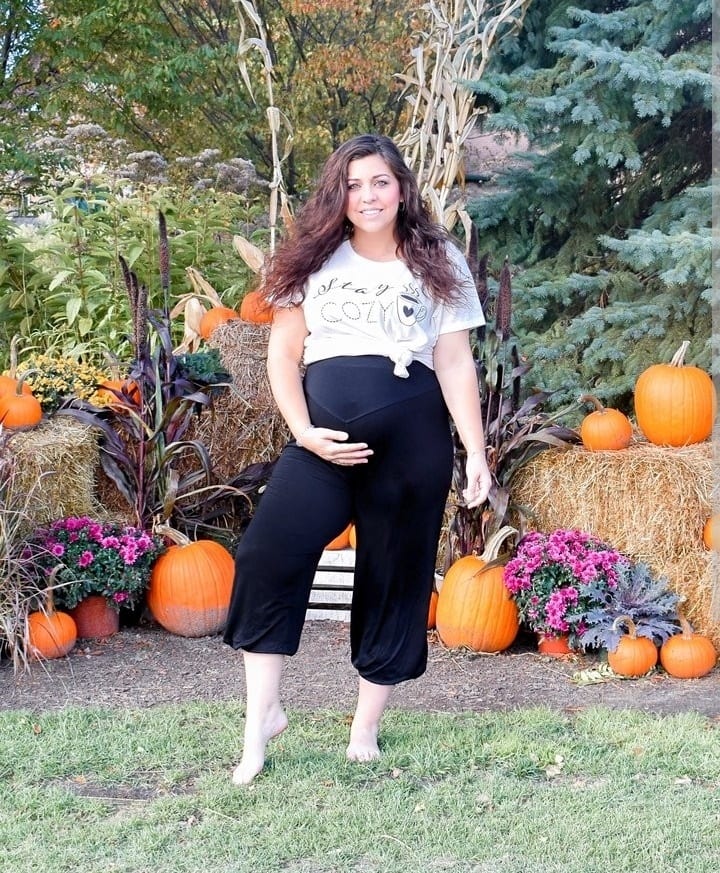 Shop The Entire Look Here
Women's SONOMA Goods for Life™ Graphic Tee 7$
 Women's Harem Pants Loose Casual Lounge Yoga Pants 12$
↓ 20 – Harem Pant Outfits For Black Girls
Embrace your skin tone and style accordingly. There are so many colors that white girls can't pull off well, but black girls can. Wear a black top with white pleated cropped harem pants and polish off your look with sunglasses, earrings, beige sandals, and a striped purse. So ethereal!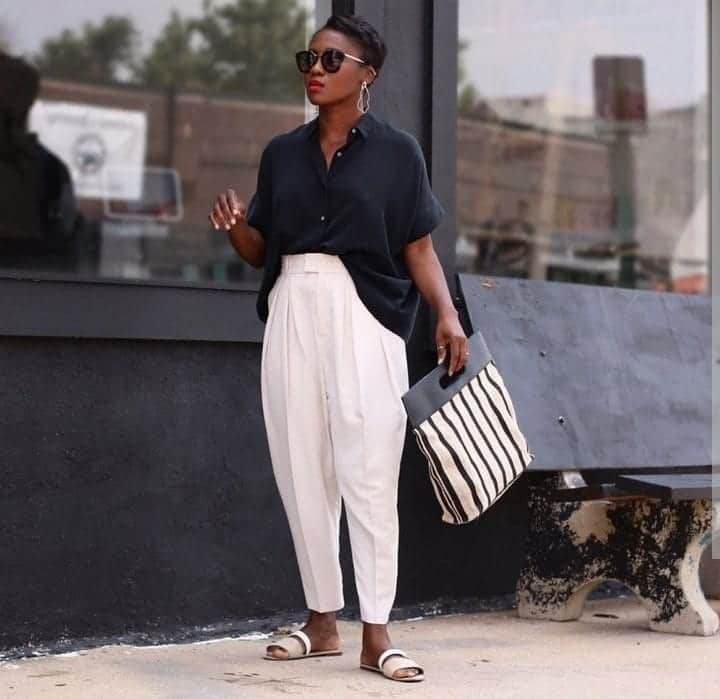 Shop The Entire Look Here
The Clean Silk Short-Sleeve Notch Shirt — ₨15900
Pleated crop harem pants price$99.99
↓ 19 – Glitz And Glitter
If you haven't thought of taking the jogger silhouette from day to night, then now is the time to do it. Let people be enthralled to see you in sparkling sequins that are lightning up your look tonight. You can easily carry yourself in such sequin; hip hops harem pants along with white eyelash Chenille sweater, red purse, and silver pumps. Perfectly dressed to the nine!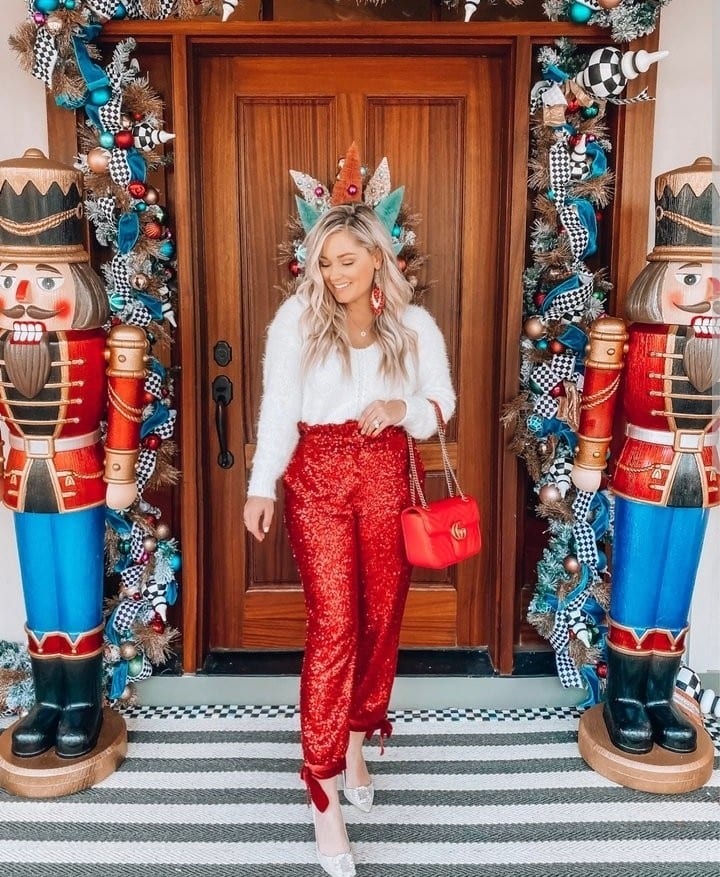 Shop The Entire Look Here
Women Genuine Leather Shoulder Bag Ladies Fashion Clutch Purses – 26$
Memphis Women's Sequin Hip Hop Dance Harem Pants Glitter 18$
Badgley Mischka Cher Crystal Embellished Pump BADGLEY MISCHKA COLLECTION PricePKR 37569.15
V neck eyelash chenille sweater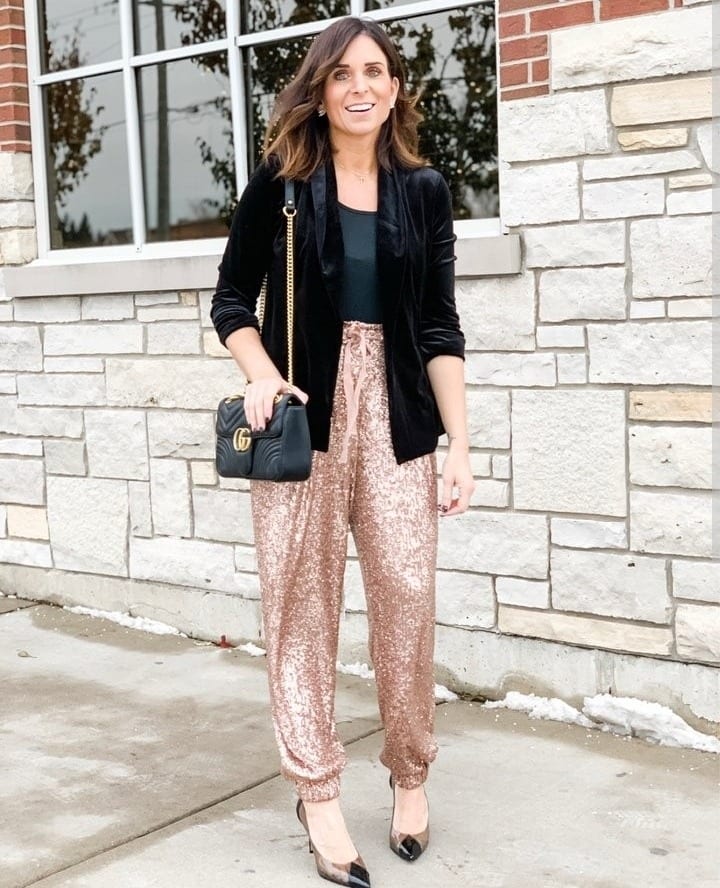 Shop The Entire Look Here
Night Moves Harem Pants PKR 24,712.15
Exclusive! DG2 by Diane Gilman Stretch Velvet Open-Front Blazer 70 $
Keelin 19Women's Elegant Tassel Pendant Silk Evening Party Clutch Bag 26 $
Double Dainty Cross Necklace Regular price$ 58.00
↓ 18 – Harem Pants To Wear On Your Lazy Days
Here's how you can look all cute and dainty in your harem pants, even on the laziest day of the week.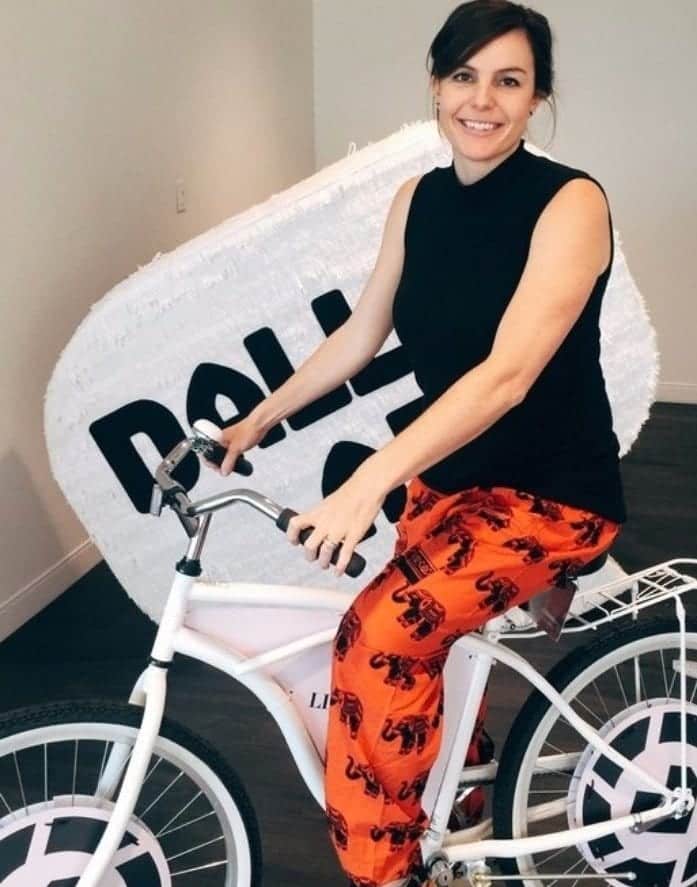 ↓ 17 – Blue And White Outfit
Girls, look all sassy in this figure-flattering blue and white outfit. It's simple to create this look yet rock the floor. All you need is high slit harem pant and white bikini top. Wear Espadrille tie up flat sandals with this outfit and carry around a straw pompom shoulder bag. Put on dangle earring to complete your floaty and sheer look.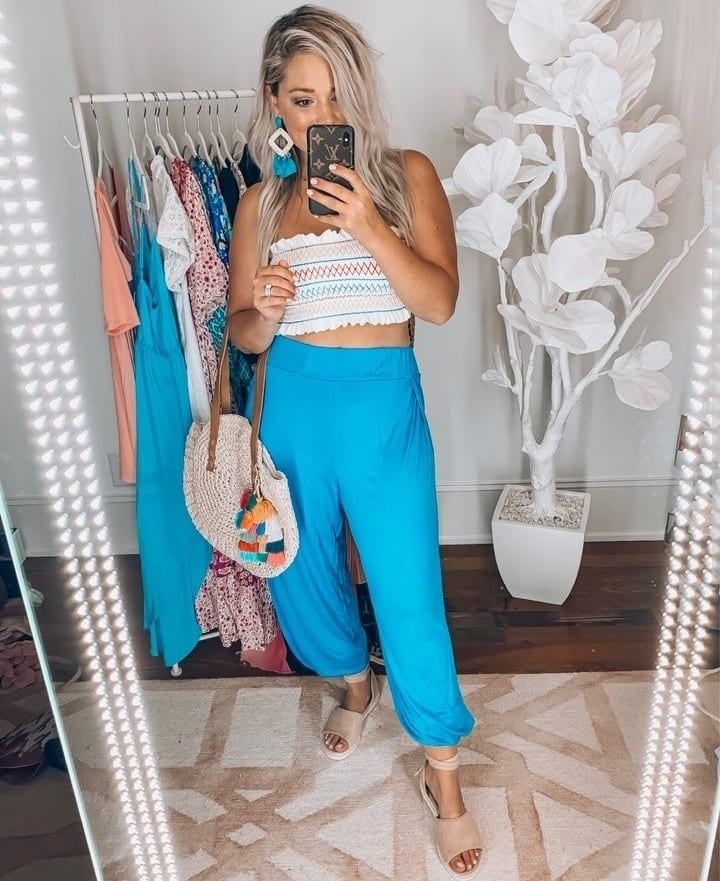 Shop The Entire Look Here
Donalworld Women Round Straw Pompom Shoulder Bag 19$
Flatshare Women's Espadrilles Tie Up Flat Sandals Peep Toe Classic 17$
Statement Dangle Tassel Earrings for Women – Bohemian Fringe 6$
AvaCostume High Slit Harem Pants 14$
DIDK Women's Ruched Bandeau Bikini Set 17$
↓ 16 – The Best Look Ever With Harem Pants
Nothing will ever look more stylish and attractive than this captivating silhouette. You must try on  Jacqemus belted harem pants with a checkered wool blazer and tartan wool ankle boots.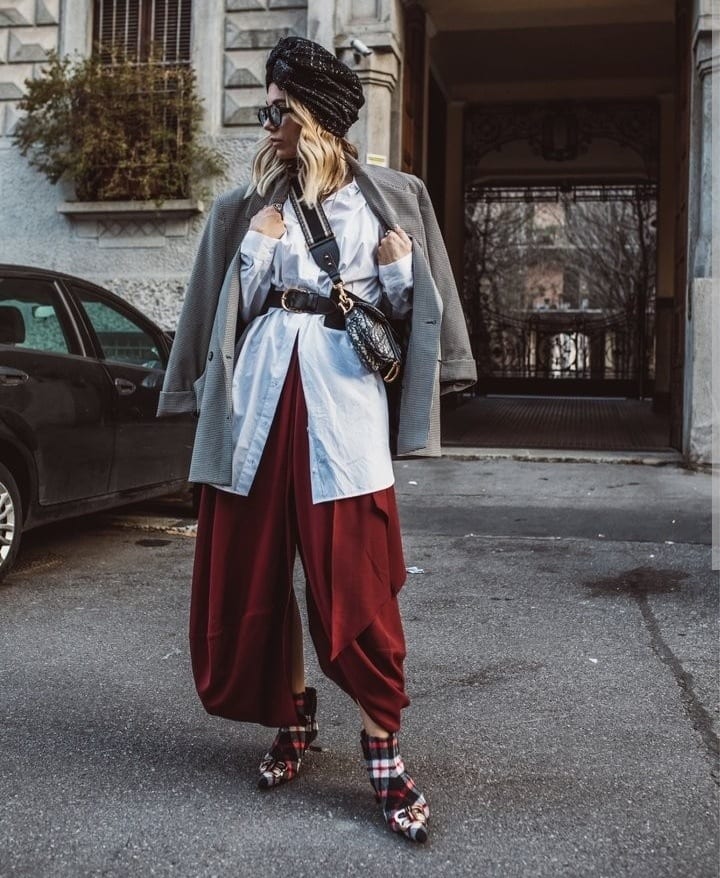 Shop The Entire Look Here
JACQUEMUS belted harem trousers
single-breasted checkered wool blazer 2490$
BALENCIAGAKnife logo-embellished tartan wool ankle boots£1,225.00 £612.50
↓ 15 – How To Wear Harem Pants To Office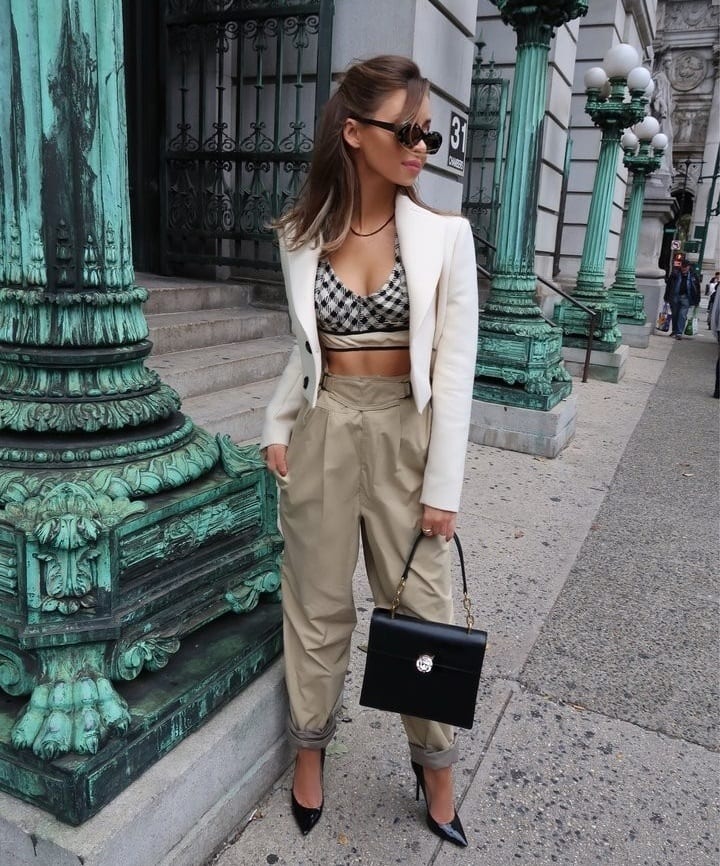 Shop The Entire Look Here
Black Patent Leather Pointed Pumps SALE PRICE$650
↓ 14 – Harem Pants With Sneakers
This is one of the most simple, comfortable, everyday looks you can carry with harem pants. A simple t-shirt that you can either tuck in or tuck out. Add some simple accessories like a necklace or bracelets and wear them with your favorite sneakers.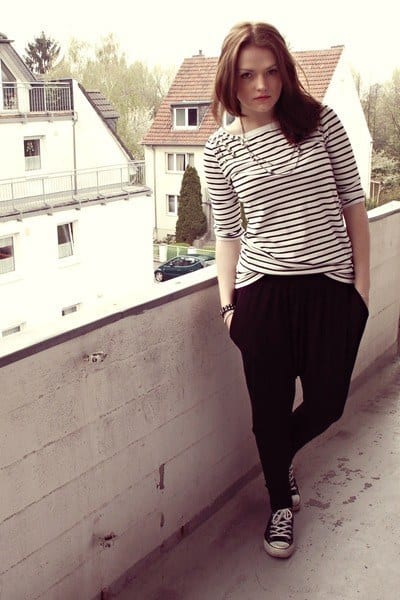 Must check chic ways to wear Palazzo Pants too.
↓ 13 – Style Them Heels
Here are some more alterations to the look given above. If you want to look a little more formal then instead of sneakers, use heels. Add on a jacket or a scarf and a matching handbag. For this look, you can add a long chunky charm bracelet if you want to add more spice to your whole look.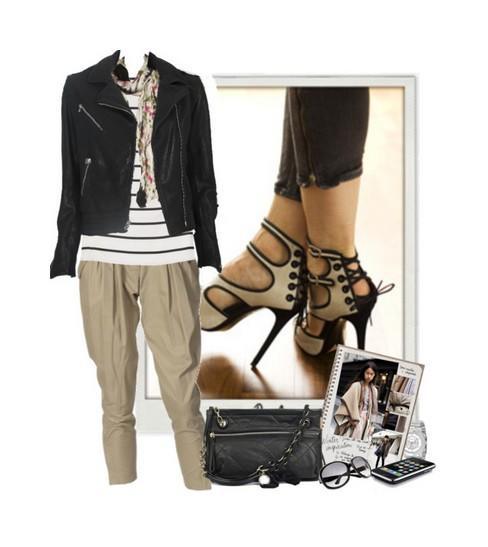 ↓ 12 – Casual Style
Greys look great when combined with white harem pants outfits.  You can use turtle neck or blouses and for accessories, use belts, clutches, and jewelry. This creates a simple and yet perfect party look.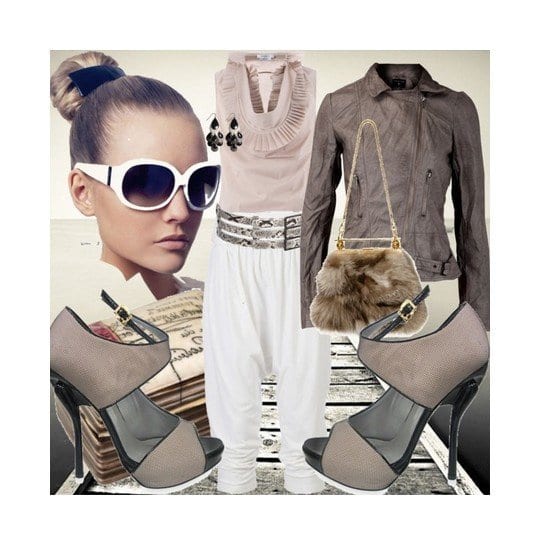 ↓ 11 – How to Wear Harem Pants At Job Ideas
Blazers and scarves go wonderfully with harem pants, particularly if its a bit chilly outside. Again this look works great with heels, bags, some simple jewelry, and sunglasses. Perfect workwear look.
RECOMMENDED: Women's Work Wear Outfits-20 Best Summer Office Wear for Women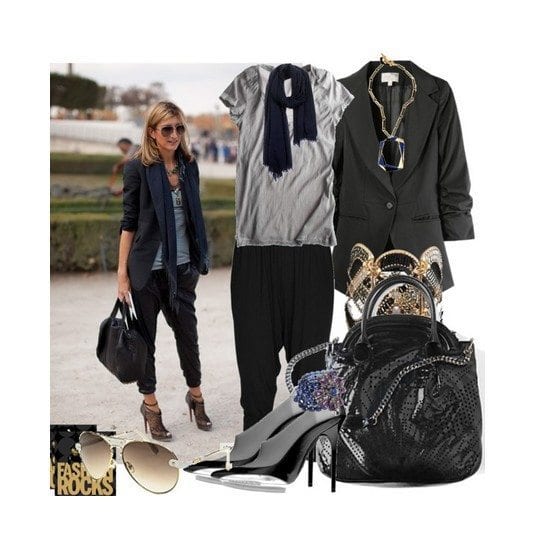 ↓ 10 – Style Harem Pants Like Celebrities
Here is a picture of Victoria Beckham carrying this look like a comfy airport outfit. Just like her, you can also wear washed out the color of harem pants with black or another colored coat with front open. Check out Women's Outfits for Airport-15 Ways to Travel Like Celebrity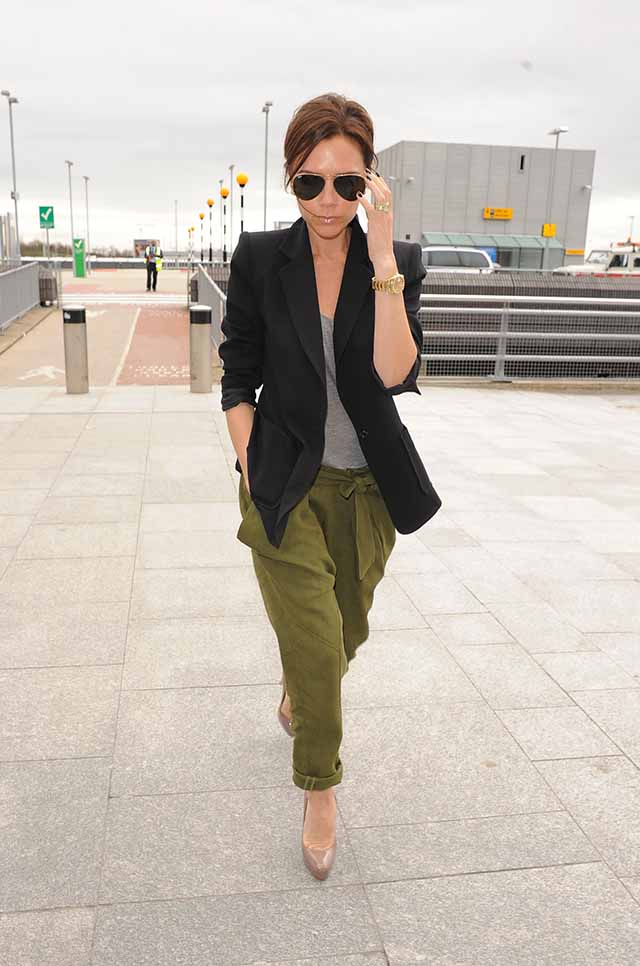 Must see 23 Ways to wear baggy Pants with different outfits
↓ 9 – Party Style
A similar look is being carried here by Ciara as she wears harem pants of really silky material. If you have identical harem pants, then try pairing it with a fitted and tailored blazer and even a contrasting scarf. Wearing a different scarf is the trick of the whole look because it will bring every element of the outfit together in an effortless way.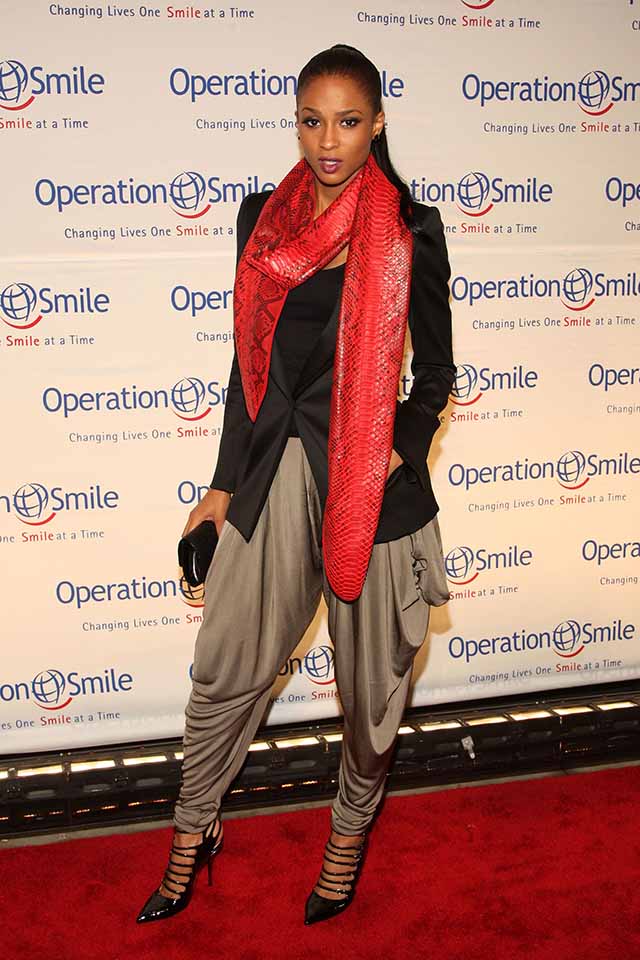 ↓ 8 – Polyvore Outfit Combination
One of my favourite colors in harem pants outfits is the combination of blue and grey. This colour combination I feel looks fabulous on anyone. A blazer, harem pants, and a simple belt creates such a cute outfit and can be worn almost everywhere.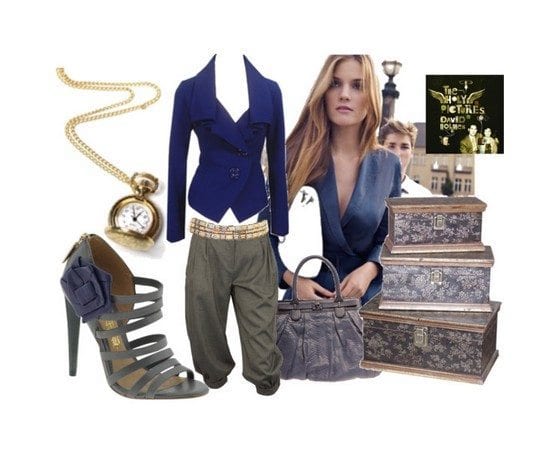 ↓ 7 – Spring Style
Here is a unique and different idea to style these pants. If you have harem pants and waistcoat of a darker shade, add in a bright-colored or floral tunic and create this beautiful look. This outfit is perfect if you pair up with matching waistcoat, harem pants, and accessories along with a contrasting tunic. Check out 16 Beautiful Tunics Top collection for women this season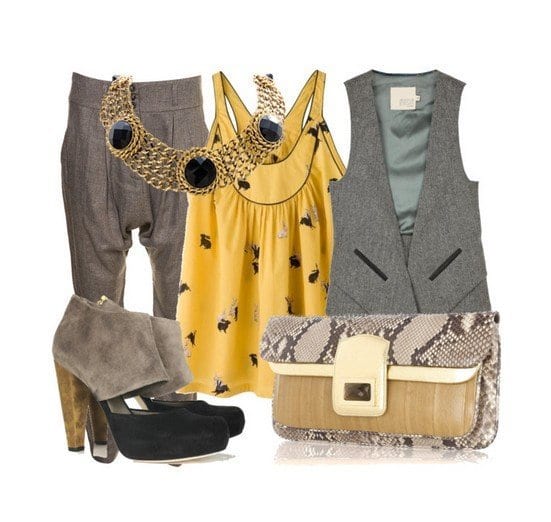 ↓ 6 – Beach Day Outfit
This looks like such a cute outfit especially for a day out on the beach, or even if you feel like going shopping on a sunny day. A lovely striped shirt in pink, blue, or some other cool color and, if possible, with puffy sleeves, white or beige harem pants, a hat with matching pumps, and some beautiful jewelry. Try to keep the colors on the fresh palette. RECOMMENDED: Hollywood Celebrities Beach Outfits-30 Top Celebs in Beachwear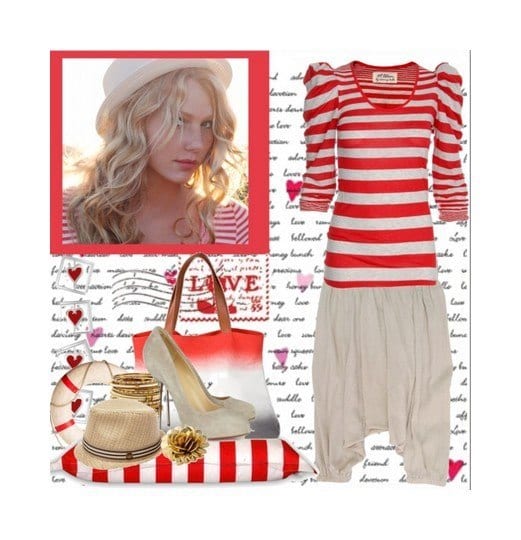 ↓ 5 – Street Style
Harem pants, a matching tank top, and a jacket in contrasting color. Such a simple outfit, and yet it's sure to turn heads around. You can always rock this outfit just by adding a matching or contrasting thick belt.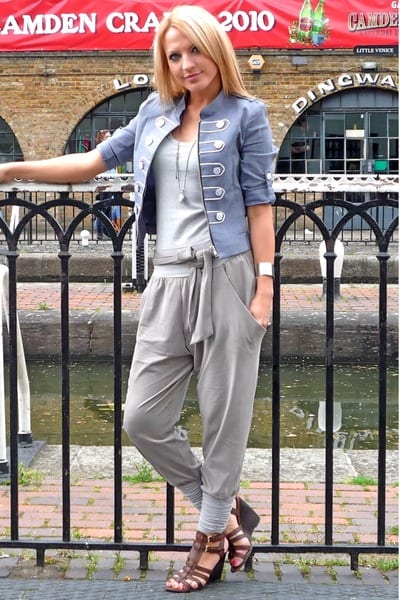 ↓ 4 – Style With Crop Top In Summers
Here's a picture of Lily Collins wearing drop-crotch leather harem pants and a crop top. This creates a casual and yet classy look that works best for taller girls. These types of black leather harem pants are in fashion these days, and they also look very trendy and sexy while wearing them. Check out Crop Top Outfits-25 Cute Ways to Wear Crop Tops This Season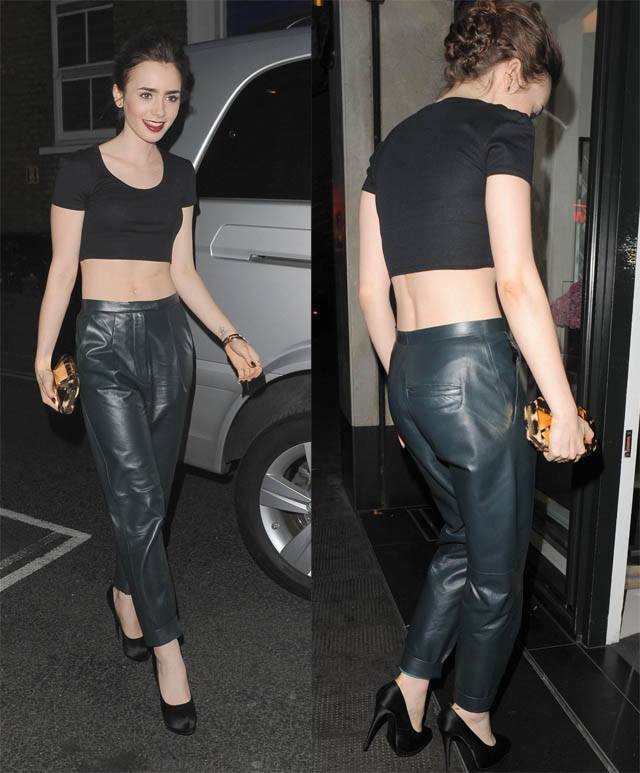 ↓ 3 – With Leather Jackets
Leather jacket, harem pants, and sandals. An outfit you can even wear to college, to work, or even for a casual day out with friends or family. This outfit will make you look sophisticated and trendy at the same time!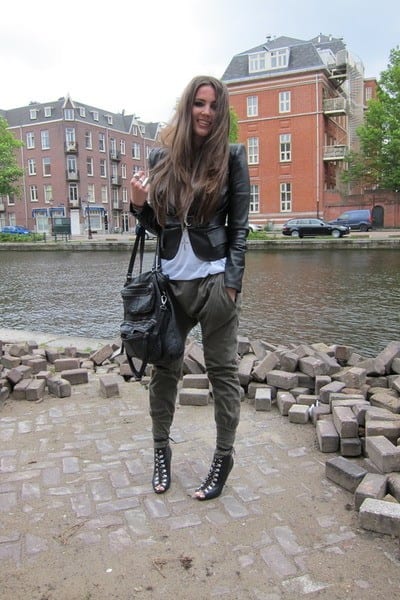 ↓ 2 – Winter Style
Gwen Stefani has often been seen around wearing Harem pants. Check out how beautiful she looks in this casual denim jacket and pants. To rock this particular look, you can always go for contrasting colors. Wear a blue denim jacket with a bright colored tank top and finish the look with black sweat pants. Here are more coll Girls Sweatpants Outfits- 20 Chic Ways to Wear Sweatpants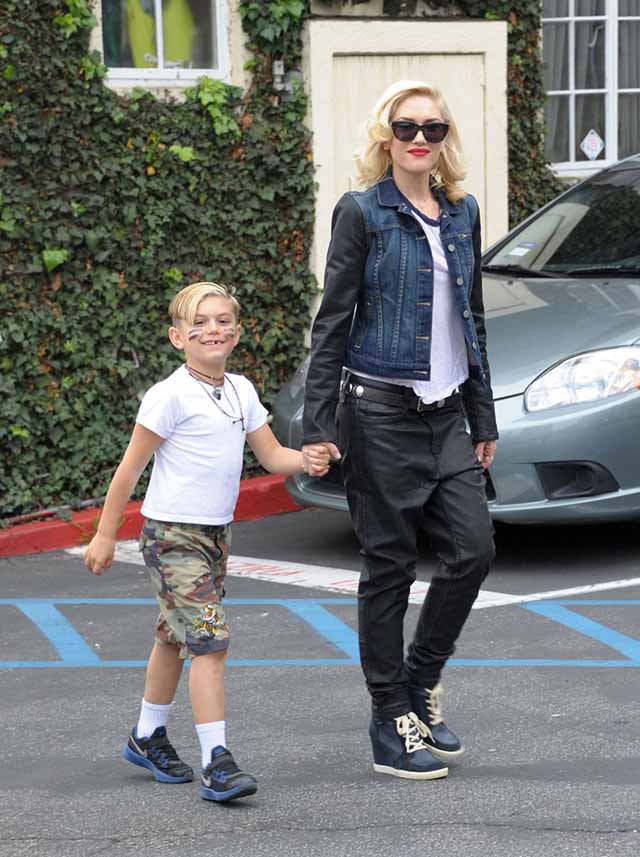 ↓ 1 – Funky Style
Harem pants also work great if worn for funky or hipster style. Pair it with a funky printed tank top and a bold colored jacket to bring everything together in this outfit look. Pair the outfit with a lovely, fashionable hairstyle from our collection: 45+ Funky Hairstyles for Girls To Try This season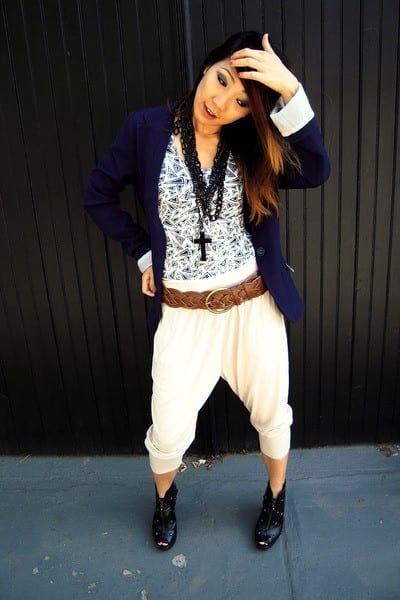 Rihanna is wearing a high waisted blazer with harem pants. This is hands down the best combo that you will see everywhere. If you add contrasting colors in a blazer and harem pants and add smokey eyes too, then the look will be spot on for any occasion.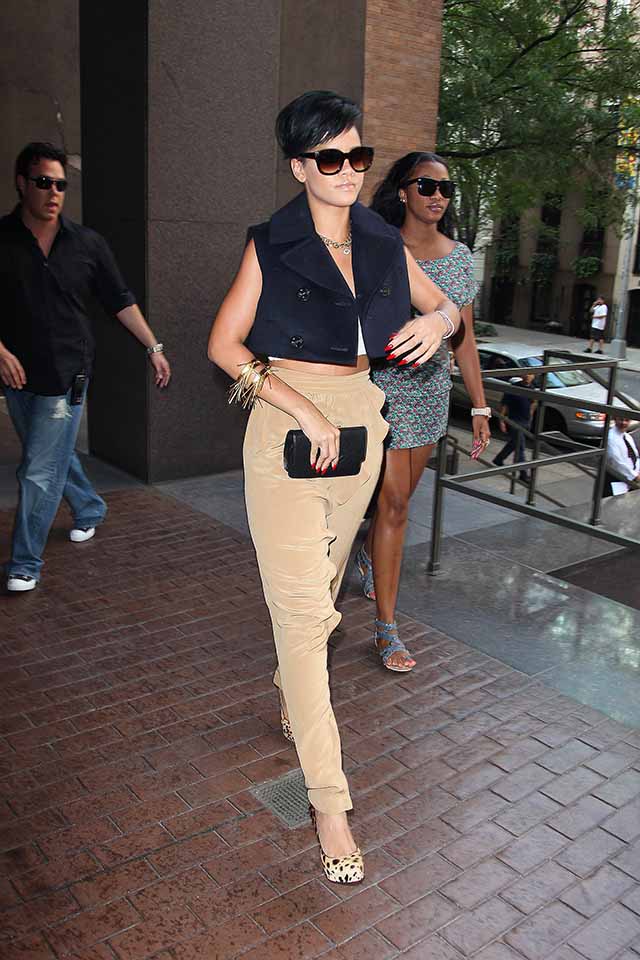 Jennifer Lopez and Leona Lewis have added some sparkle to their harem pants outfits. Such outfits are best for parties and get-togethers. Not only these two singers but a bunch of other celebrities are also rocking sparkling harem pants on their events, and the list includes Justin Bieber too!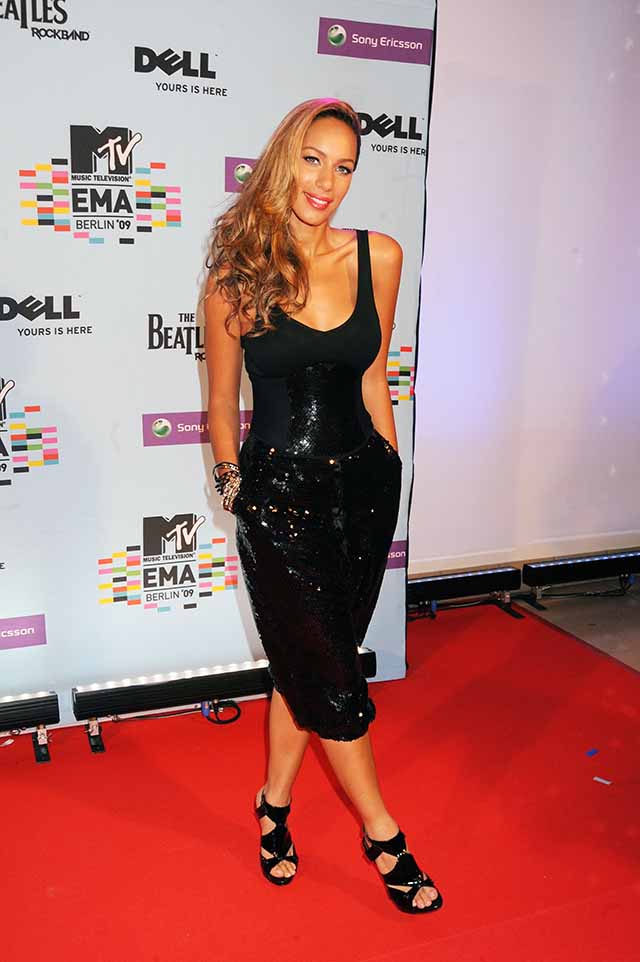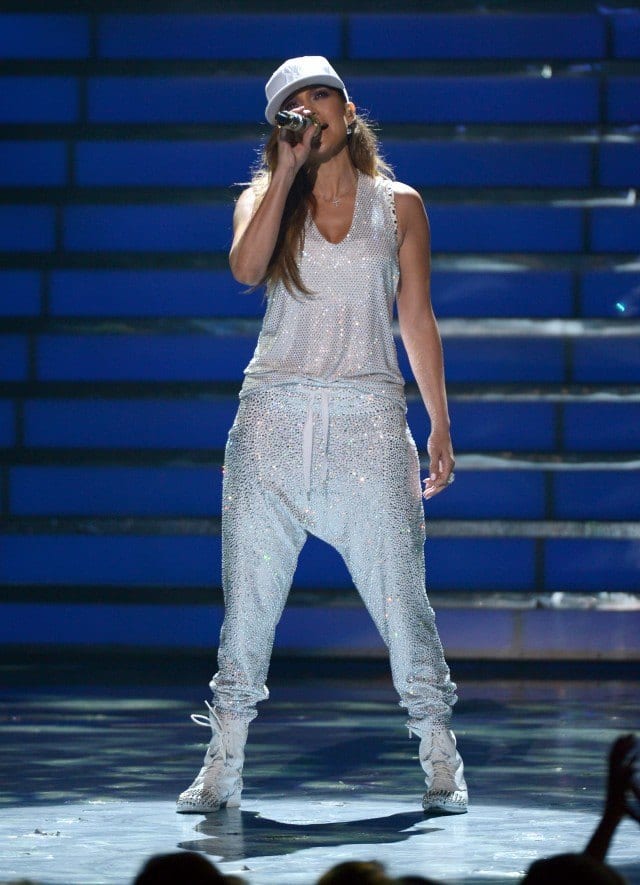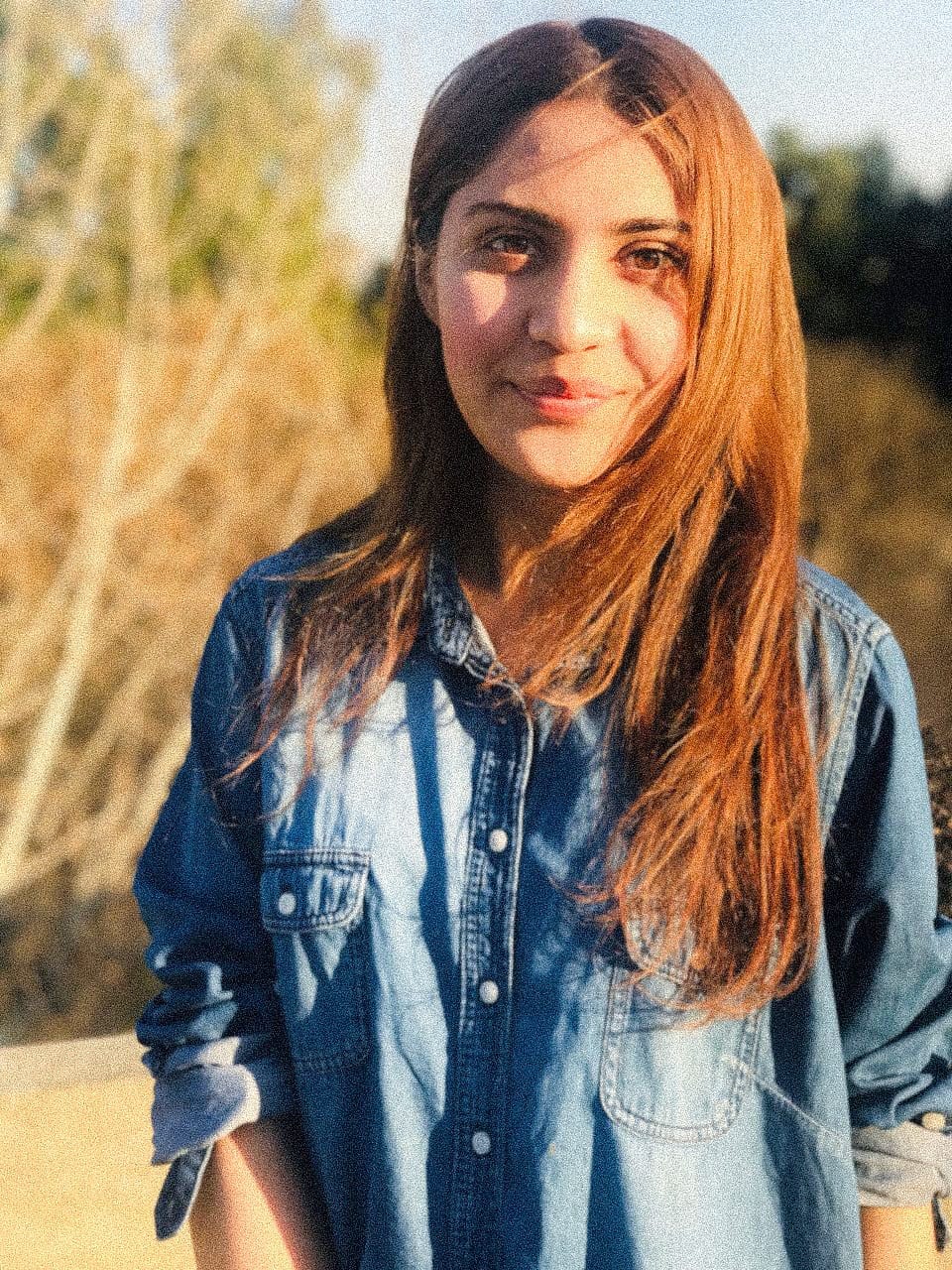 Aleena is a young, passionate writer and a keen observer. She loves fashion and is always looking for new trends and styles. Besides writing, she is a very good speaker who strongly believes in serving humanity and focusing on the positive side of things.