Bengali Saree Designs. We all have watched Sushmita Sen with deep admiration and awe, strutting around in her stunning Bengali saree and sighed, dugga dugga. We all have wanted to dance with Rani Mukherjee at the Durga puja pandal.
And we all were utterly mesmerized by Vidya Balan when she wowed us in her quintessential white and red Bengali saree in the movie 'Kahani'.
There is just something about a Bengali saree that takes one's breath away. Simple yet timeless, a red and white classic is so magnificent that when the streets of Kolkata brim with these colors, it is pure magic. But there is more to Bengali sarees than just the red and white beauties.
Just in time for the Durga puja, we have cataloged an exclusive list of the latest Bengali saree designs to you need to check out and get ready for the splendid festival of Durga Puja.
How to Drape a Bengali Saree?
Browse through our list below to find your perfect Bengali saree that not only suits your style but also compliments your body type.
Now take your Bengali saree and start wrapping it around your waist from your right side to your left.
Next, bring the saree forward and pleat it as you do for a front pallu saree.
Now tuck the pleats inside your petticoat. You can also use safety pins to secure your pleats.
From the remaining fabric, make pleats similar to the ones you just tucked in your petticoat.
Place these pleats on your left shoulder and secure it with another safety pin.
The pallu remains long here almost below your knees.
Now take the tip of your pallu and pleat it again.
Bring forward the pallu from your back and place it on your right shoulder. Remember the pallu would come from under your right arm.
And voila you are all dolled up. Style our saree with jhumkas or traditional jewelry, when it comes to styling a Bengali saree, the options are endless.
16. Tant Bengali Saree Designs
One of the most affordable Bengali sarees, tant sarees are made with pure cotton and are extremely lightweight and airy. Perfect for first-timers, tant sarees are easy to drape and carry. Style with colorful earrings and a funky tote bag for a young and fresh look.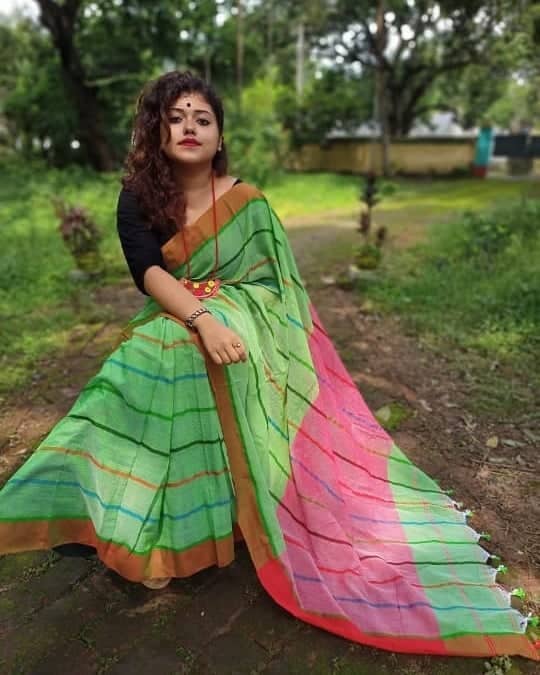 15. Bengali Saree With Lehenga
Wearing saree for the first time? Then try this foolproof Bengali saree hack that will be perfect for novices like you.
The lehenga will add another layer so you aren't afraid that your saree will come loose and will also provide you with that breathtaking flair you need for your splendid twirling reels. Channel your inner Paro by opting for wavy hair and gold jewelry and make heads turn.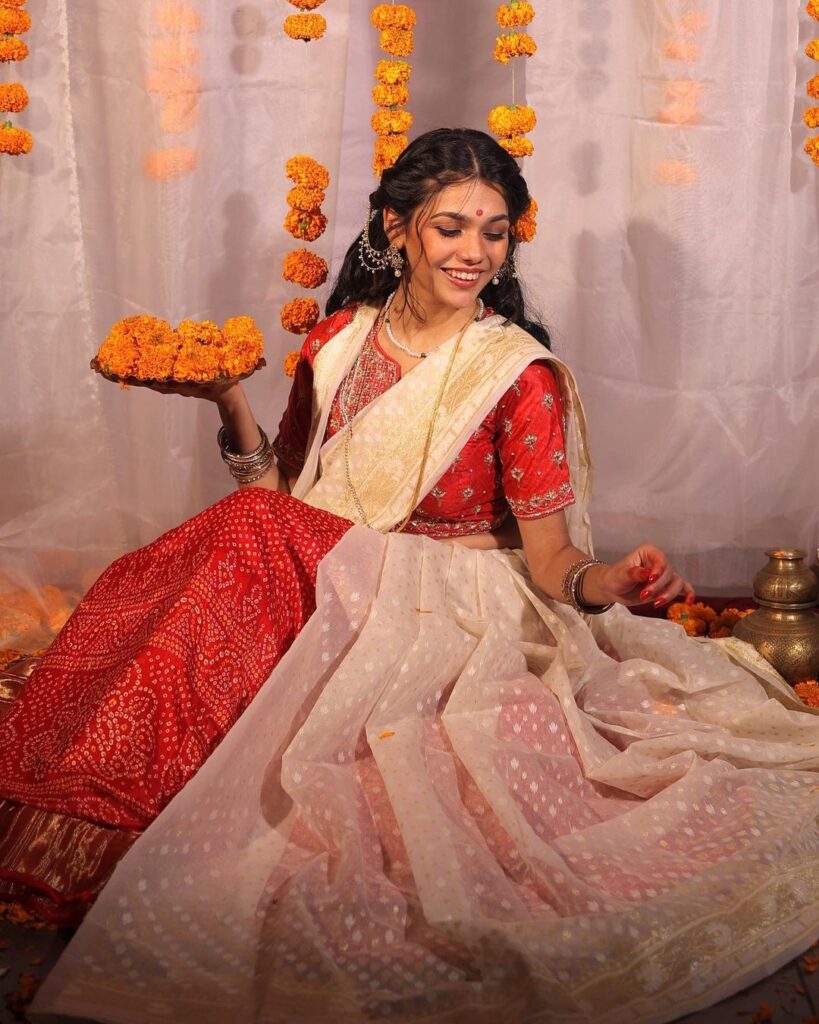 14. Jamdani Saree Styled with White Shirt
One of the most cherished pieces of Bengal, a jamdani saree is mostly made with cotton and sometimes mixed with silk.
A much glossier version, the jamdani sarees are a must-have for saree lovers. Paired with a white button-down, this exciting twist to the traditional saree is exactly the fun and fresh look you were in search of. Pair it with white sneakers and flaunt your stylish pictures, don't forget to share them with us.
13. With Embellished Belt
Turn your Bengali saree into a royal outfit by styling it with an embellished belt with contrasting details. The classic kanjivaram paired with an embellished belt is a match made in heaven and a perfect Bengali saree party wear.
Accessorize the look by opting for dewy makeup and a bold marsala lip, a sleek bun, and a stack of bangles for a traditionally regal look.
12. Dhonekhali Bengali Saree Styled with Contrasting Blouse
Made in the beautiful city of Hoogli, Bengal, Dhonekhali sarees are cotton sarees that are usually six meters long and extremely soft.
This gorgeous saree is a magnificent treat from the handloom of Bengal, it is perfect for a brunch date or an evening out with girlfriends. Style it with a matching blouse or switch it up with a vibrant contrasting blouse for a pop of color. Throw on a pair of silver earrings and you are all ready.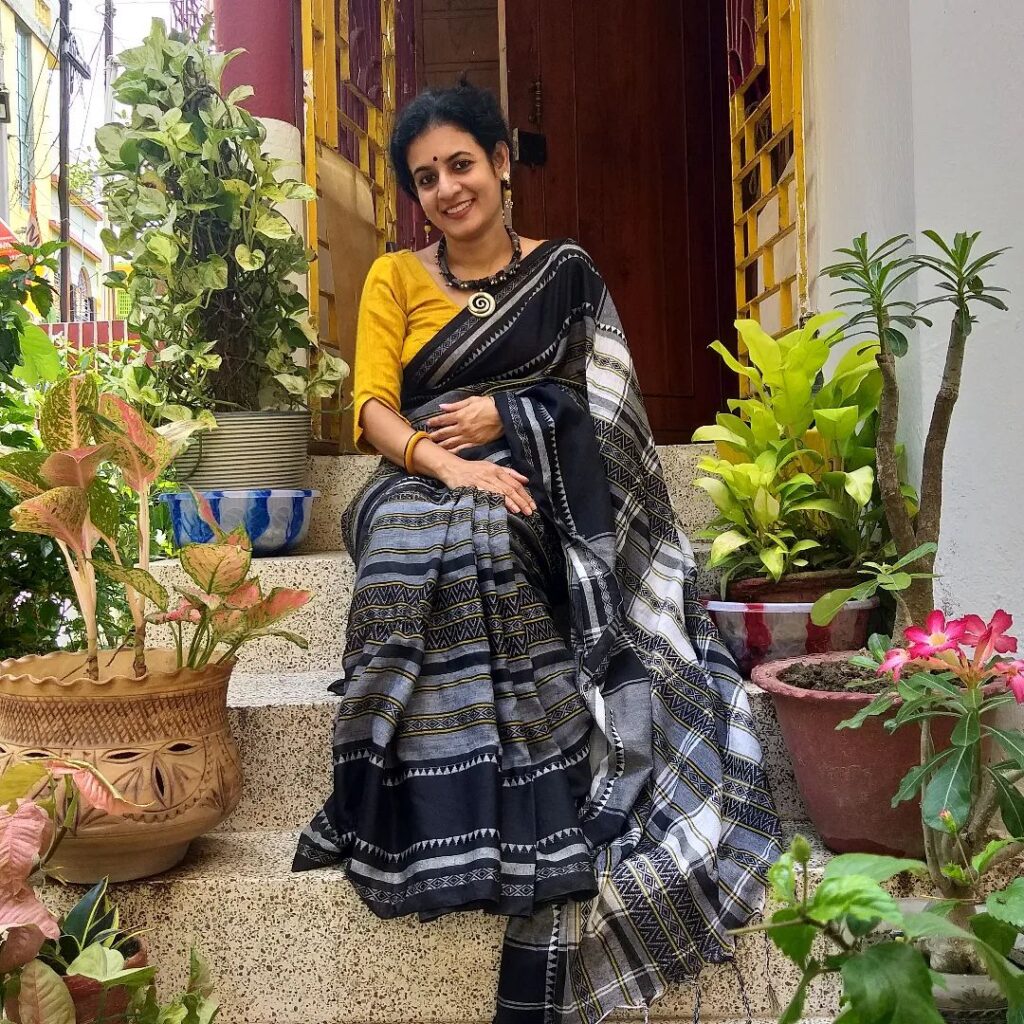 12. Silk Bengali Saree Design
Bengali sarees in silk are a dressier and more elegant version of the cotton Bengali saree designs. Understated and timeless, the beauty of a silk saree is simply unmatched. Style this graceful number with traditional gold jewelry, and a messy bun. Keep the makeup minimal and let your beautiful saree steal the show. Here are some silk blouse designs to go with such sarees.
10. Shantipuri Bengali Saree with One Shoulder Blouse
Raise up the hotness meter with this breathtaking cotton saree originating from a small town in Bengal, Shantipur. With splendid Kantha work, that is the art of stitching patchwork cloth from rags, an age-old Bengali technique, this saree is simply divine. Add a whiff of glam into your traditional outfit by pairing it with a striking one-shoulder blouse and dazzle.
9. Bengali Saree With Tassel Details
Imagine wearing this stunning deep maroon saree with contrasting white tassel details on the first day after your wedding and waking up your lover with your freshly washed hair. Enough said!
Via
8. Baluchari Bengali Saree Designs
One of the most regal and luxurious silk sarees from Bengal, Baluchari sarees are dipped in history and speak of rich Bengali culture. This magnificent saree depicting the story of Lord Krishna explaining the sacred texts of Bhagavad Gita to Arjun is a piece of art and one of the most popular Baluchari Bengali saree designs.
Pair it with traditional temple jewelry, a low bun with gajra and your perfect wedding outfit is all ready to be flaunted.
7. Matka Bengali Saree with Matching Blouse
Matka silk is an eco-friendly and sustainable fabric made from waste Mulberry silk. Usually found in vibrant and rich colors like reds, maroons, and golds. The Matka sarees sometimes are decorated with ornamental patterns and are extremely lightweight, making them a perfect option for the scorching summers. Style it with afghani jewelry for a beautiful twist and tag us in your splendid pictures.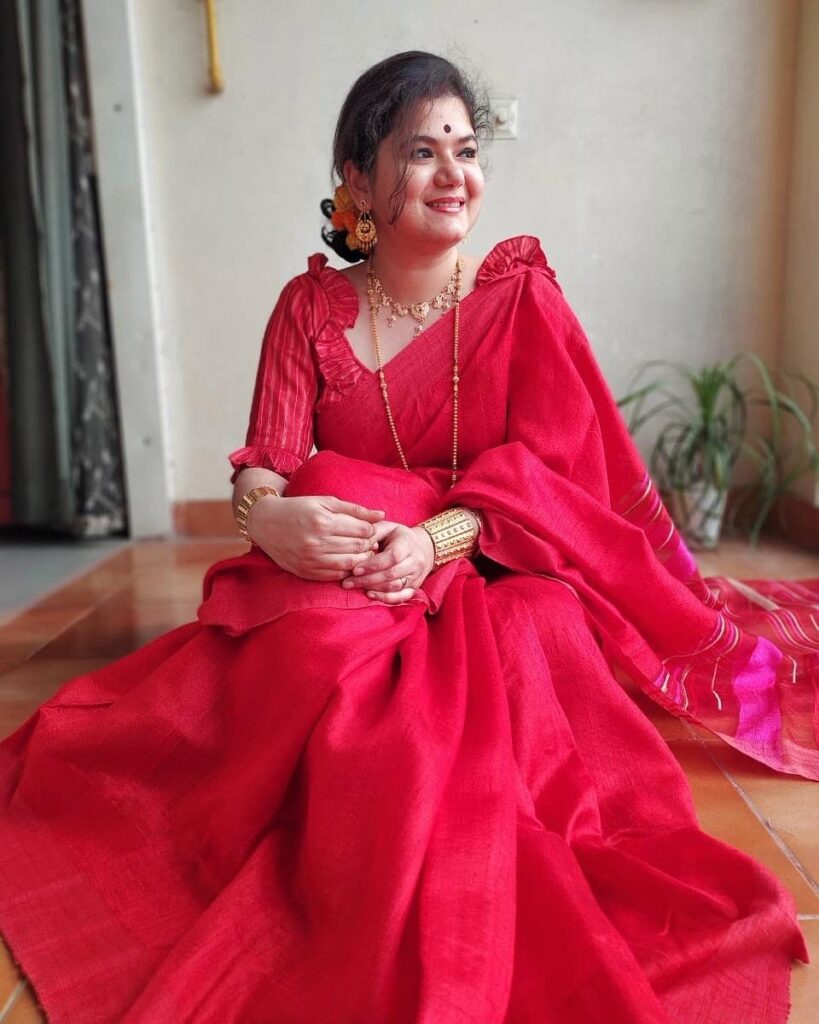 6. Tussar Saree Paired with Crop Top
One of the finest silks, tussar silk is produced in many parts of India one of which is the Malda district in West Bengal. Luxurious and refined, a tussar silk saree paired with a hot pink crop top is the exciting cross-over we were eagerly waiting for.
A fine combination of a traditional saree with a fun and fabulous hot pink crop top is both parts regal and youthful. Complete the look with a pair of jhumkas and juttis and a deep kohled eye look for dreamy look.
If you like this look then do check out my post on how to wear sarees with crop tops.
Via
5. Bengali Saree for Brunch
Easy breezy and supremely comfortable. A gorgeous Bengali saree, with interesting animal Kantha work, is the perfect lightweight and beautiful saree you were looking for, for your next brunch date. Style it with a contrasting maroon blouse, and silver jewelry and you are ready to hit the streets.
4. Muslin Saree Styled with Jhumkas
Bring out some sheer fabulousness with this illustrious muslin saree. The striking color is soothing to the eyes while the rich handpainted details are simply divine. Paired with the ever-so-stylish silver jhumkas, this Bengali saree is a must-have in our bong beauties' wardrobe. Tie your hair in a messy bun and accessories it with a pair of silver anklets and turn the streets into your runway.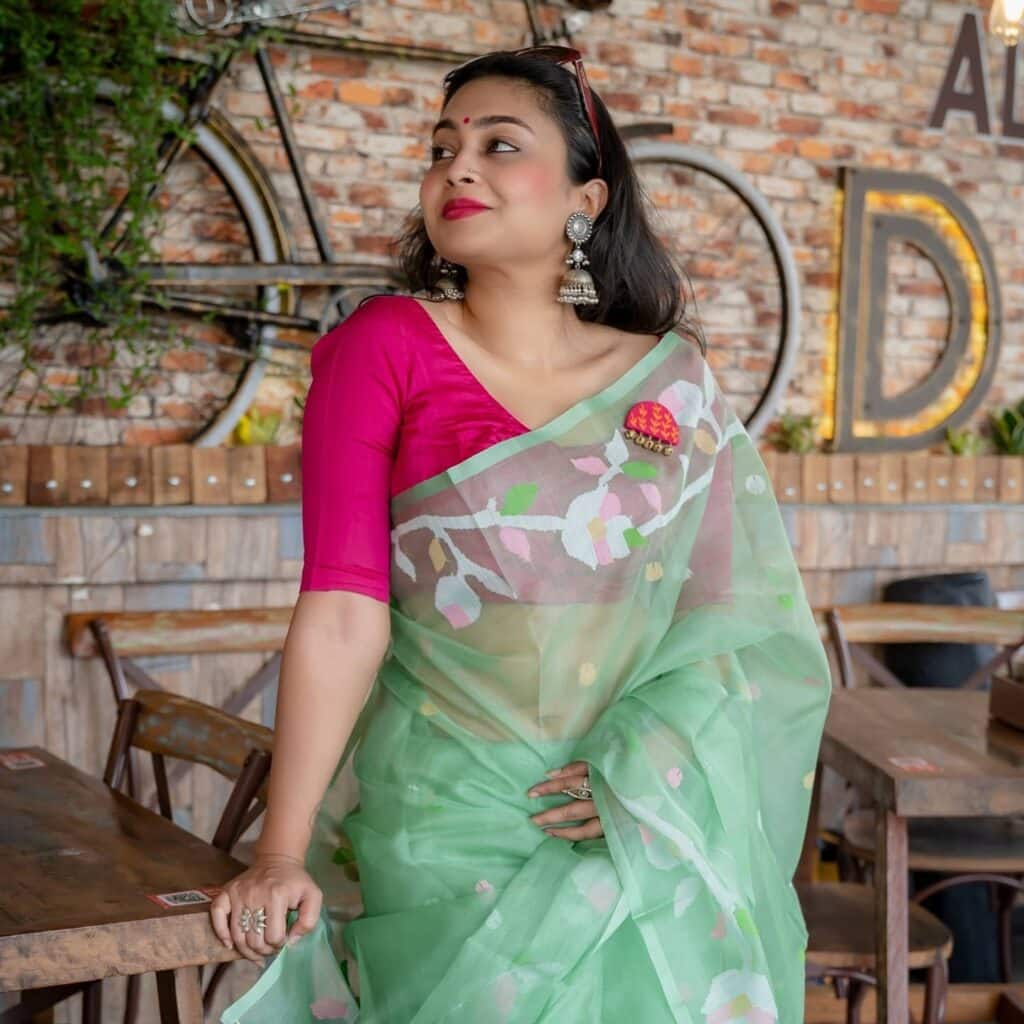 3. With Puff Sleeves Blouse
For a quintessential Bengali saree look, opt for the classic red and white saree and pair it with the timeless puff sleeves blouse. This look is as Bengali as it can get. Style it with gold traditional jewelry and a big round bindi and you are all ready for the 'sindoor khela'.
2. Bengali Bridal Saree
Draped in a breathtaking red Bengali silk saree, adorned with gold jewelry and topor (the white tiara), the bride is all ready to walk down the aisle to the love of her life – the image is simply mesmerizing.
A quintessential Bengali bride traditionally wears a red silk saree to her wedding. Styled with traditional gold jewelry and beautiful glossy makeup with red lips, this look is simply divine.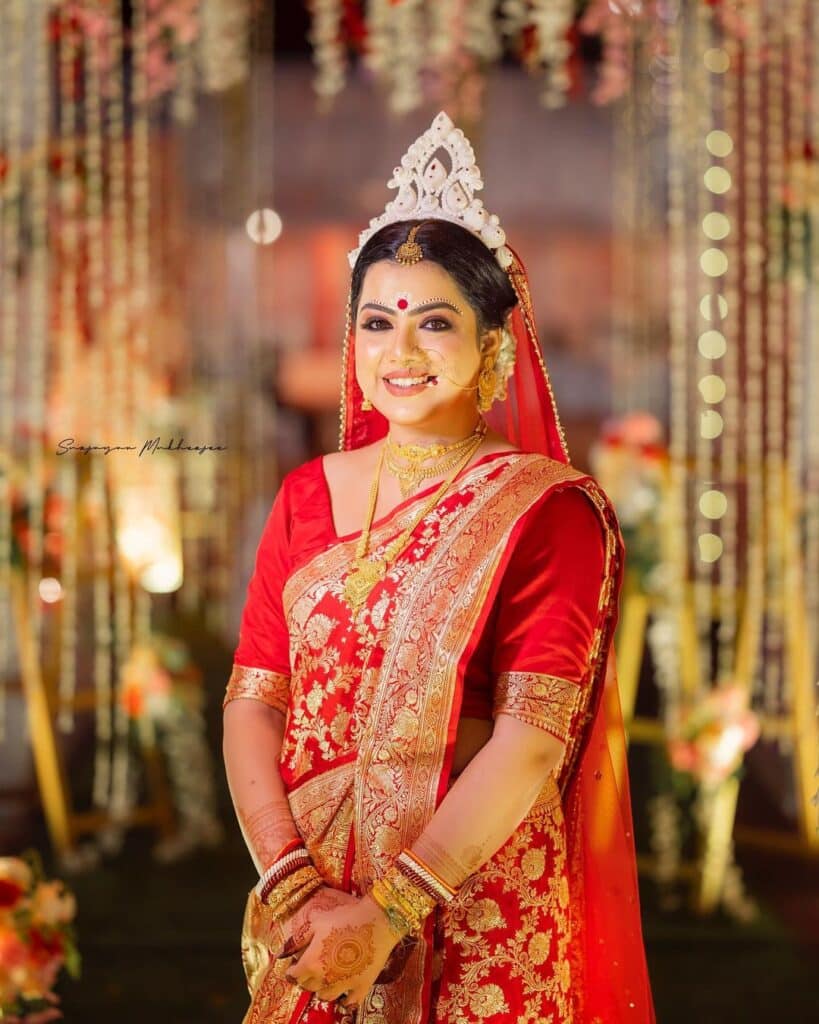 1. Bengali Saree – Celebrity Style
Take inspiration from our gorgeous Bollywood bong beauties on how to style and wear the ever-so-stunning Bengali saree. From the bold and beautiful Bipasha Basu to the first Indian Miss Universe Sushmita Sen, these bong beauties are looking drop-dead gorgeous in the stunning Bengali saree designs and we are here for it.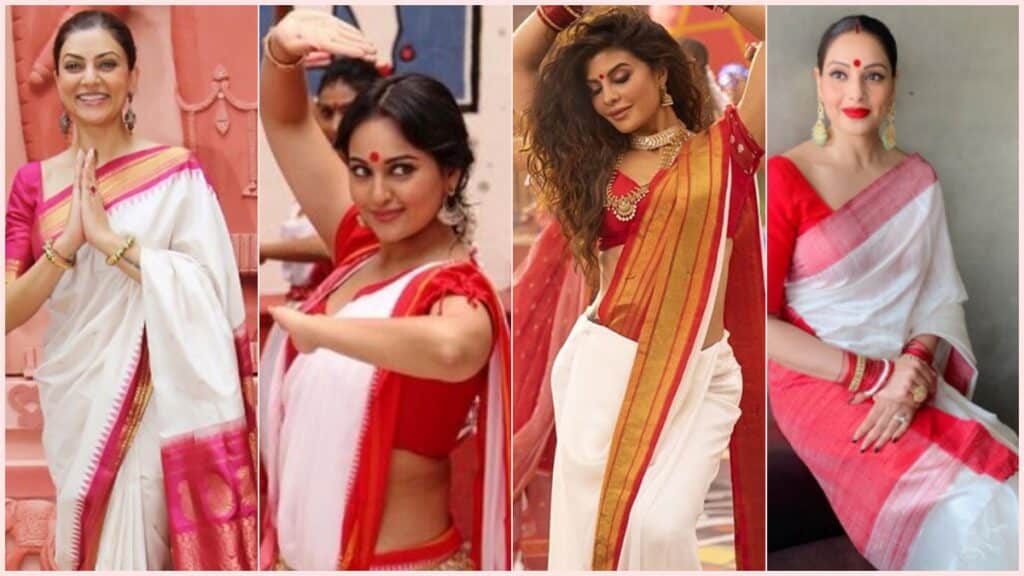 Comment below and let us know which Bengali saree design was your favorite and how would you add your personal touch to the styling. Don't forget to tag us in your pictures.
Frequently Asked Questions
Q. Which Bengali saree is best?
Bengali sarees are rich in culture and history. From beautiful embroidery to luxurious fabrics, all Bengali sarees have their own pros. Opt for a muslin saree for a hot summer day, a red silk saree for a more refined and dolled-up look, and pick the Kantha work saree for an easy breezy brunch look.
Q. Which is the best Bengali traditional saree for durga Puja?
When it comes to getting ready for the glorious festival of Durga Puja, a classic cotton red and white Bengali saree is your best bet. Style it with traditional gold chandbalis, and red bangles and celebrate the magnificent festival with your loved ones.
Q. How many types of bengali sarees are there?
From tussar, Kantha, tant to baluchari, and jamdani, there are tons of Bengali sarees available, for every occasion. Pick one that suits your style the best and tag us in your beautiful pictures.