Women's outfits with blue jeans: Blue jeans are a lifesaver for every woman since the beginning of time now. An absolutely perfect fit for a woman of any colour, shape, size, ethnicity, or region. Blue jeans never have, and as far as the imagination goes, never will go out of style. Let's talk about all the basic and non-basic outfits a girl can put up with blue jeans today.
Let's be real; even the fashion industry cannot fit the blue jeans style in a bottle, it's as vast as the earth spreads and as versatile as it can get. So, we thought to bring on here some of the best ideas for you all, to take inspiration from and style your blue jeans with. Blue jeans, white shirt, it's as loved as Lana Del Ray making a song over it, apparently. With different shapes, cuts, sizes, and shades, blue jeans are a whole vicinity in the fashion world itself. Today, we will be talking about different ways you can style your blue jeans.
How To Wear Your Blue Jeans Every Day
Blue jeans are the must-have, staple clothing item that is found in, quite literally, everyone's wardrobe. Especially if you decide to look in a teenager's day, it's blue jeans for dinner and blue jeans for lunch kind of a situation going on there. From the start of the year to the end, it's a staple piece for any season.
But, before we get into the glitz and glam of the outfits, here are some quick tips for styling blue jeans your way:
While blue jeans will always be the must-have, staple piece of clothing, the cuts and shapes keep changing now and then, so it's best to stay updated about them.
In 2019, skinny jeans took the backseat, and other wider, relaxed-fit jeans are making their way up to everyone's wardrobe now. Skinny jeans will still be there in the background; it's not going out of style any soon.
This is the era of whatever blue jeans fit you, from wide-legged maximalist jeans to super-tailored ones; everything is a fit nowadays.
Blue jeans can take you anywhere on your calendar, as formal pants and dresses are not everyone's choice on a daily basis, blue jeans of different cuts and shapes have managed to make their way up for any occasion you like to wear them to.
Blue jeans can be paired with tank tops, formal shirts tucked in or out, T-shirts, button-downs for work, peplum tops or long tops for a modest look. Blazers, cardigans, denim jackets, leather jackets, and sweaters also go the best with blue jeans.
Blue colour has existed from the start of time, and as time has passed,  new styles and outfits have experimented with it. That is why it is the most loved and one clothing item that is a must-have worldwide.
So now that is out of the way, we may proceed to the official glitz and glam of the blue jean outfits for girls.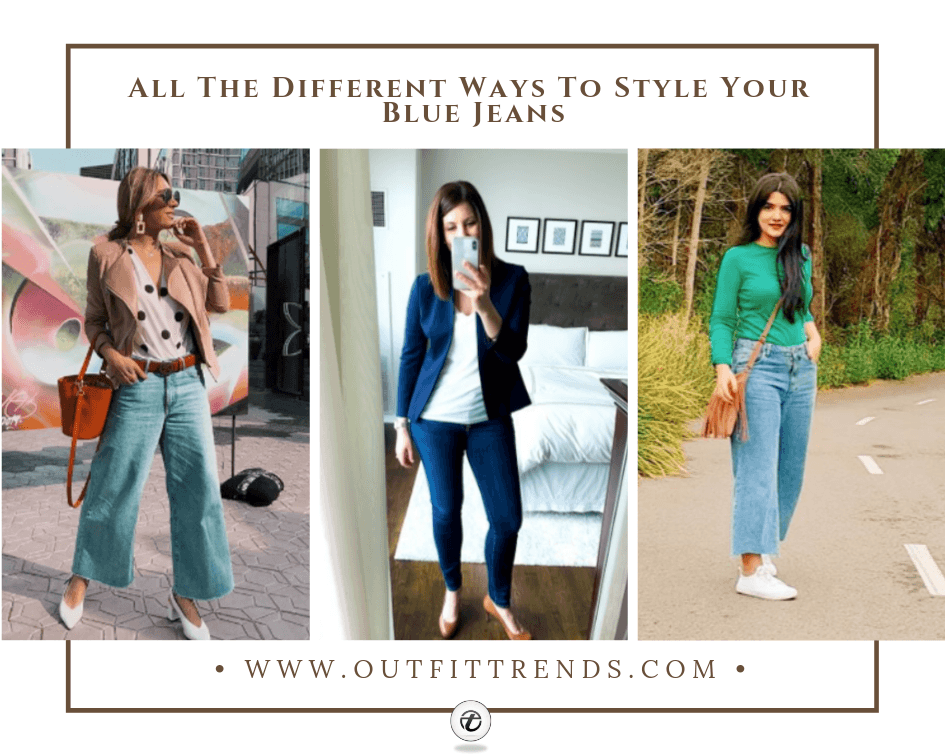 ↓ 30 – Tied Up Bow Blue Jeans For The Weekend Shenanigans
I am sure you might have seen tied-up formal bow pants everywhere, often paired with high heels and tucked-in shirts for corporate affairs. But this trend has made its way in the jeans vicinity. These high waist paper bag waist jeans are a perfect fit anywhere formal as well as casual, depending on how you style it, with a formal top tucked in or with a tee. A blazer threw over a tee, and these pants will make up for a perfect fit for a cool look for the weekend. Here are some more Weekend Outfits for Women That Are Trending in 2019.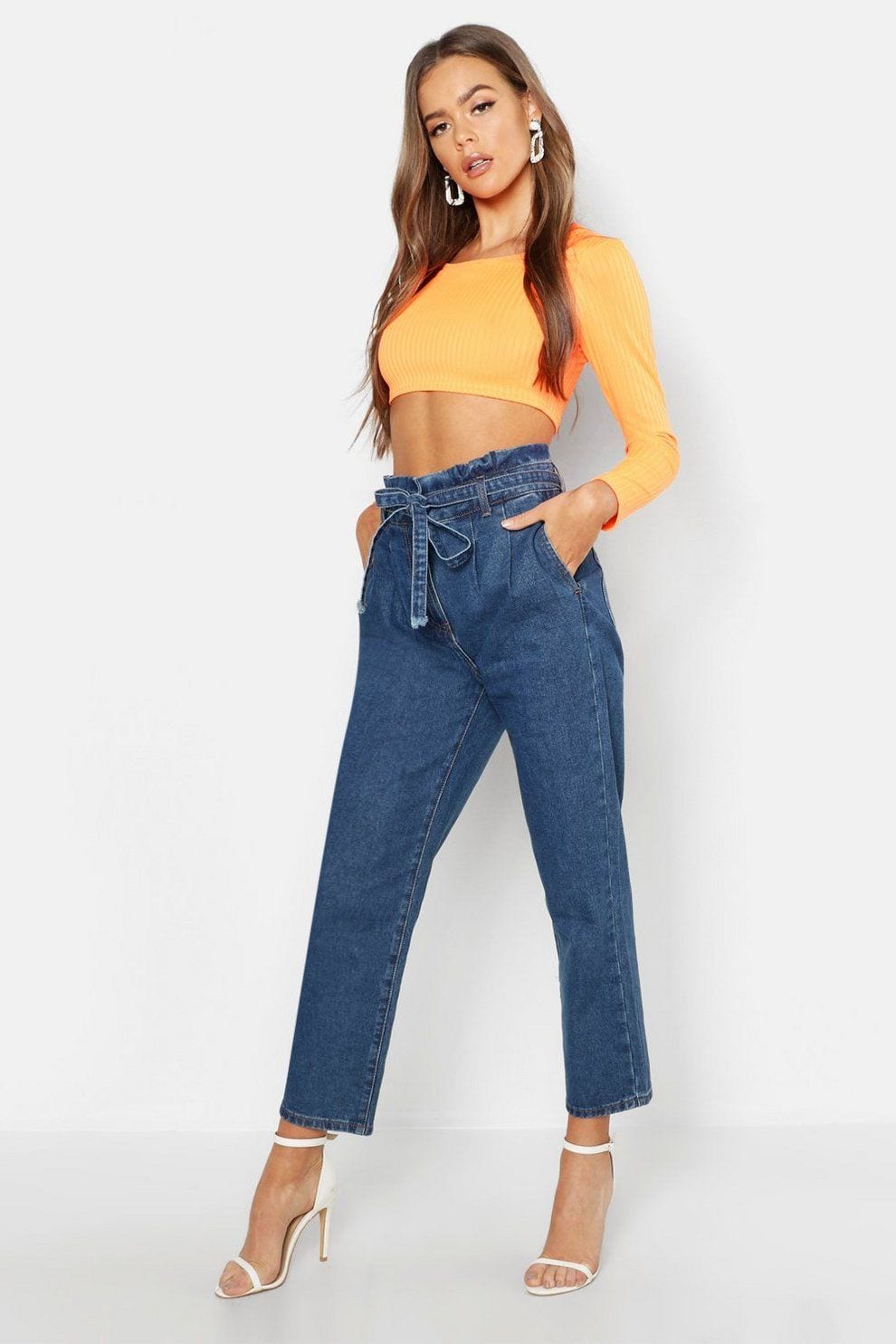 3×1 Kelly Paperbag Tie Belt Jeans 50% off – $191
↓ 29 – Zippered Blue Jeans
All over zippered jeans have made their way back to fashion recently as well. They have been seen trending this past spring, and I am not complaining. This exposed fly-detailing adds a lot to the conventional jeans style. You can pair it with any tee of your choice and to elevate the outfit more, add a jacket over it too, and voila, it's a look. These zippers from top to bottom add more of a retro style to the whole look, a printed or written tee tucked in would look ultra 90's for sure.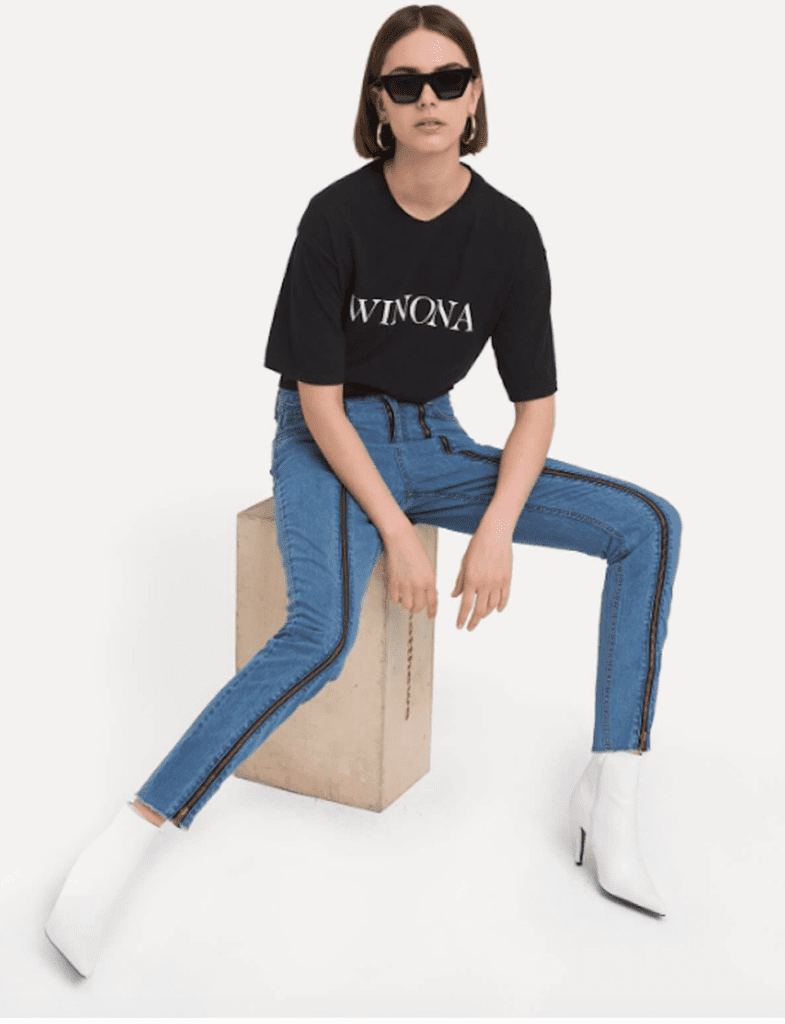 Pixie Market Wnona Leg Zipper-Jeans – $40
↓ 28 – Casual Look With Jeans
For a casual day out, this is a perfect jean outfit. Not a lot, but not too dull at the same time.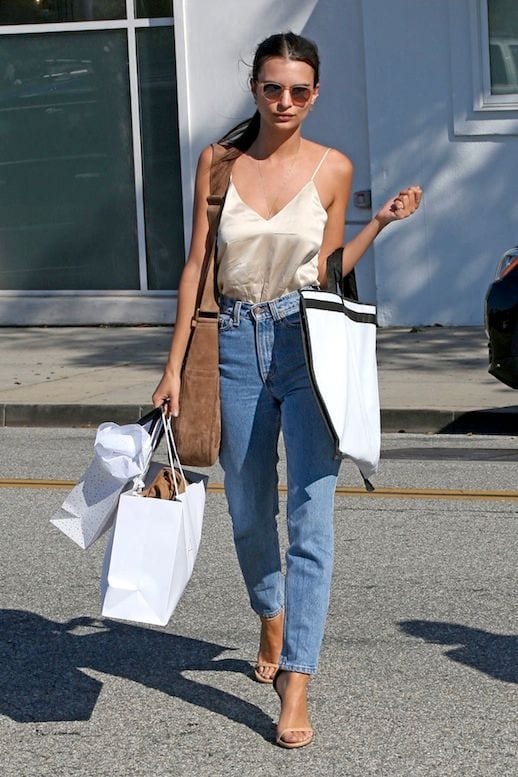 ↓ 27 – Two-Tone Blue Jeans
If you a huge fan of double denim, then this jean style will definitely excite you. This style is all about different shades of denim at one place, quite literally at one place. This style was all over the ramp fashion past spring, from Victoria Beckham to Christian Cowan and Dior to Stuad, every designer is showcasing this style for you all to take inspiration from. Pair it with a white tee and white heels, a button-down shirt or any other formal shirt, this style of blue denim can take you literally anywhere on your calendar. It's a whole retro vibe.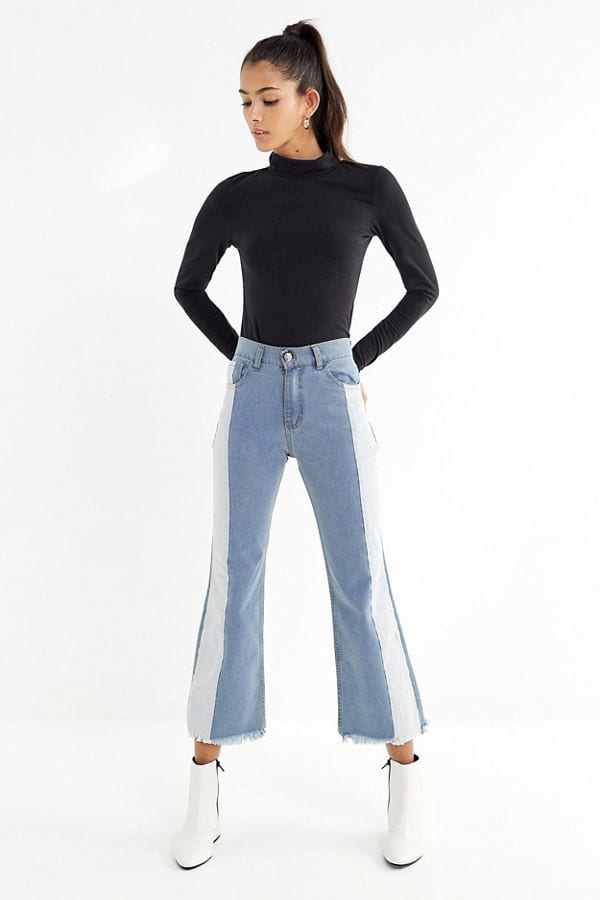 FRAME Le Sylvie Multi Panel Jeans – $137.50
↓ 26 – Ripped Skinny Jeans
While skin fitted jeans are starting to take the backseat, it is still a comfortable and readily available blue jeans style, and will always remain to be. Girls had already stormed their wardrobes with skin fitted jeans when they came out, that now it is not so easy to get rid of them. The ripped, knee-slit detailing to jeans, however, has given a new look to it. Ripped jeans and a white tee tied at the front with a hat like this is a proper vacation outfit. You can find here some more awesome Outfits with Ripped Jeans.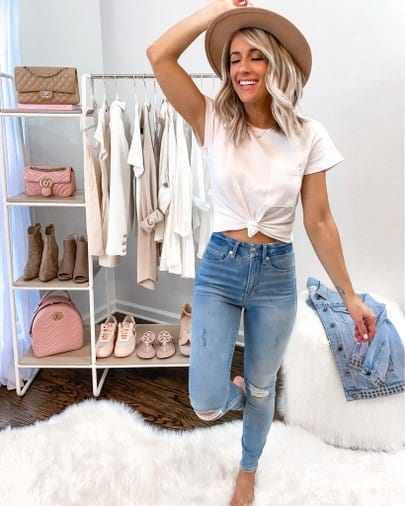 Good American Good Waist Crop Blue Jeans – $155
Vee Neck Worn-In Boyfriend Tee – $69
Lisianthus Women Belt Buckle Fedora Hat – $16.45
↓ 25 – Distressed Jeans
Distressed jeans started to come in fashion from 2017, and by 2019 it can be seen everywhere you turn your head. They are an absolute favorite after skin fitted jeans, because of the chic and street style look that they add to an outfit. Pair it with anything of your choice, and it's a perfect fit for a summery, casual look. Add a leather jacket or a cardigan over it to make it spring or winter appropriate.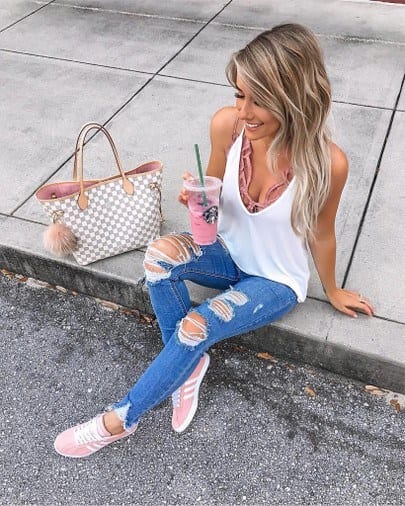 Mid Rise Medium Wash Ripped Ankle Jeans – $61.60
Slinky Tank Top – $20
Intimately FP Adella Longline Bralette – $40.50
LOUIS VUITTON Damier Azur Neverfull MM
Adidas VL Court 2.0 Women Shoes – $29.99 – $125.63
↓ 24 – Bell Bottom Blue Jeans
Bell bottoms or flared pants were the gems back in the '90s, and they had made a swift come back in 2019. Not to lie at all or exaggerate, I don't know of anyone who is not jumping up and down by the surprise of bell bottoms coming back in style. And since this style has been incorporated in denim jeans style, it has made everyday styling a lot of fun and trendier. Pair these versatile jeans, which can be dressed up and dressed down according to the occasion, with tees, silk tops or button-down shirts.
Some heels to flaunt the flared cut bottom would make it a perfect look. I love the modern cowboy vibes that this outfit gives off!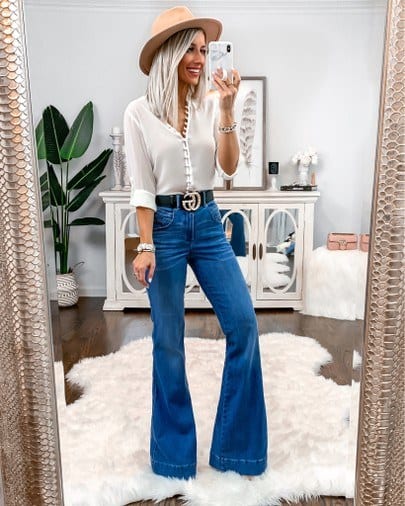 High Waisted Light Wash Bell Flare Jeans – $55.93
Slim Fit Ruffle Chiffon Portofino Shirt – $34.93
Gucci Belt With Textured Double G Buckle – $580
Lisianthus Women Belt Buckle Fedora Hat – $16.45
↓ 23 – Stretched Blue Mom Jeans
Stretched mom jeans are the new cool now as comfort matter more than roaming around in skinny jeans all day in summers. These distressed mom jeans are so chic and versatile, they can be paired with anything and everything, from casual to formal, and they will look equally amazing. Here are some more Chic Ideas How to Wear Mom Jeans.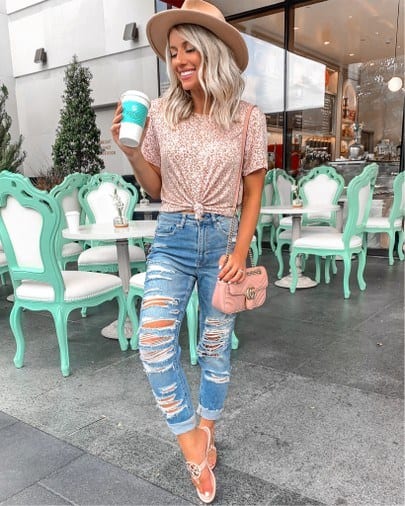 ↓ 22 – Buttoned High Waist Blue Jeans
Exposed button-high waist jeans were the talk of the town this last spring. With a cute off-shoulder top to make it a proper spring or outfit, a tee or a button-down shirt tucked in. The shirts look best tucked in because of the button detailing on the waist, which adds some character and style to the conventional everyday blue jeans.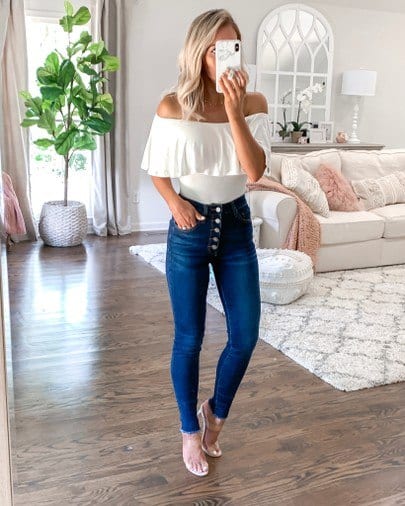 Reflection Of Perfection White Off The Shoulder Bodysuit – $22
Making It Big Dark Wash High Waist Skinny Jeans – $48
Tony Bianco Kade Heel – $163.20
↓ 21 – Madison Crop Jeans
Madison crop looks quite classy to wear with silk tops or button-downs for a day at work or a corporate occasion. The straight and sleek look of these jeans with a jacket or a coat was thrown over will be the perfect fit for a day full of meetings at your workplace. Or a distressed look on Madison crop jeans will instead suit a night-out party with some high heels and a side bag like shown in the picture here.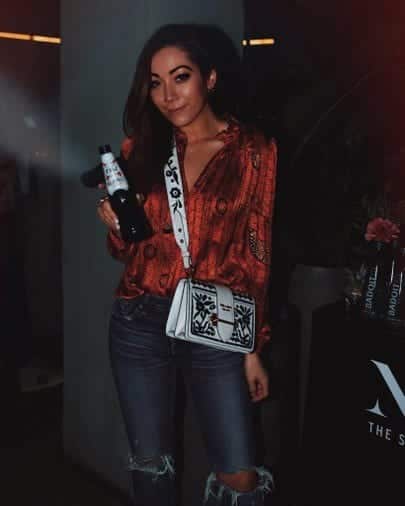 BLANKNYC Madison Crop – $71.27
Hazel Pointed Toe Heels – $120
↓ 20 – Straight Cut Blue Jeans
Straight cut jeans which are fitted from the thighs, are the perfect go-to jeans for any casual or working day. You can rock them with a tee and an upper or a warm sweater any day at school, as a teacher, any day at your office or even going out to get everyday errands done. A side bag to go with the look and maybe denim over it will complete the look. Straight cut jeans are easily available anywhere, which is why they are the clothing item you can grab and put on in on any day.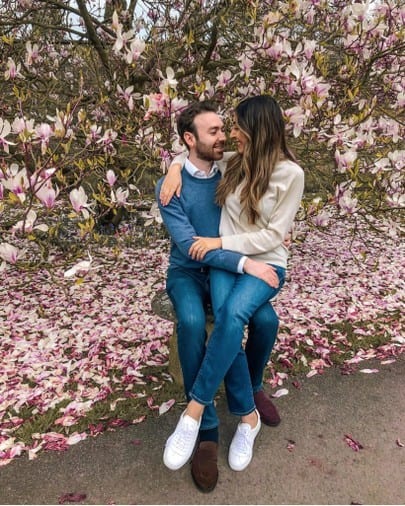 ↓ 19 – Summer Vibe
A cute cold-shoulder ruffled sleeves cotton blouse and some blue jeans to go are a match made in heaven. What else can someone think of in summers other than this cute vacation outfit? It's a perfect fit. Add a Gucci side bag to complete the look with obviously some crisp white sneakers or white flats, anything of your choice. This outfit is the talk of the town every time summer comes around.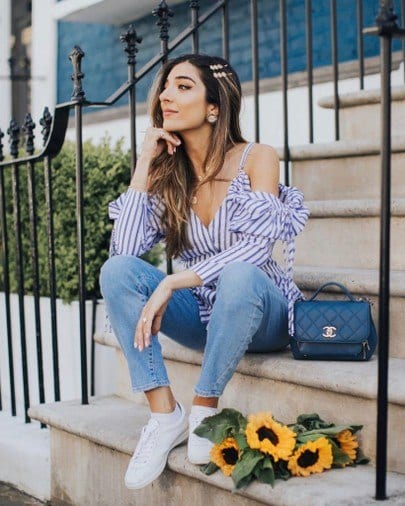 Petersyn Alice Cold-Shoulder Striped Cotton -Poplin Blouse – $129
Joe's Jeans High Rise Straight Jeans – $198
Chanel Chain Mini Shoulder Bag – £4,257
↓ 18 – Some Spring Flowers
Spring is the absolute time to take out all the floral prints and pair them with your dark blue jeans. Like shown in the picture here, it's an absolute spring love. A floral, silk cowl-neck short body top with dark blue bell-bottoms and a floral scarf around the neck for a full retro vibe. Spring is the time to incorporate your flowers with dark and gloomy colors, while no one takes any offense. A proper work fit.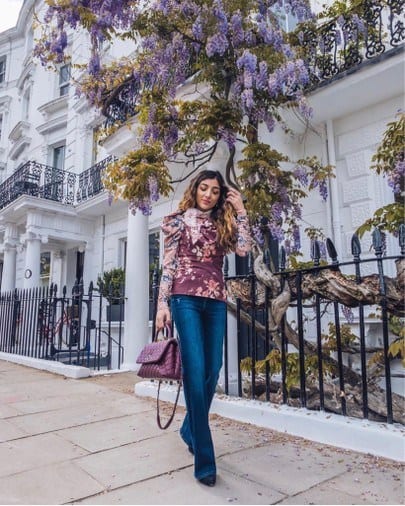 Zimmermann Cowl-Neck Silk-Blend Blouse – £329
Lisha High-Rise Flared Jeans – £ 146
Chanel Timeless Leather Handbag – £3,891.01
Christian Louboutin Leather Ankle Boots –
£
695
↓ 17 – Formal Look
How to incorporate the conventional straight jeans with a fancy top for a formal occasion, you ask? Here is the answer for you. Pair your jeans with a fancy blazer, some shiny golden jewelry, high heels, and a Prada bag to elevate the look. Not to forget, a dark nude lip shade and it's a formal dinner look! It's almost insane how much your conventional jeans can be mixed with different tops to fit the hour of the need, from uber casual to highly formal.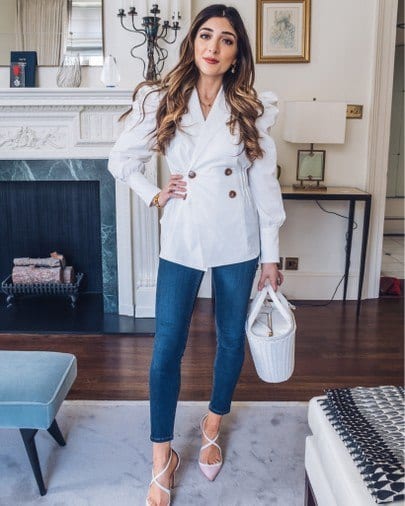 Signature Tweed Blazer – £125.00
Prada Leather Shoulder Bag – $2017
↓ 16 – Knitted Cotton Crop Top
Another cute outfit you can make out of bell flared jeans is this outfit with a uber-cute knitted cotton crop top. This look can get you to a formal dinner, an outing with your girlsies or a date night with your significant another. I don't think it can get any cuter than this for summers. A high ponytail and a handbag, it's a full royal, decent look.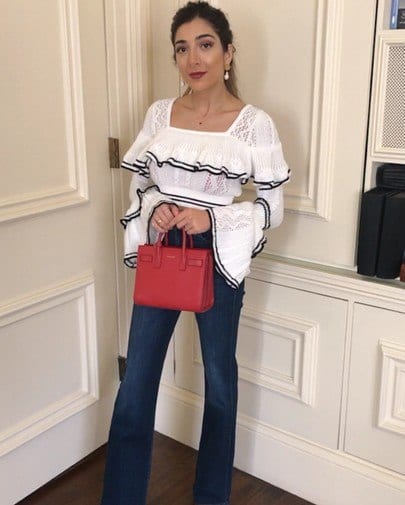 Self-Portrait Knitted Cotton Top – £ 161
Saint Lauren Small Sac De Jour Leather Tote – £ 2,220
↓ 15 – Throw On A Blazer
This royal look with a checkered blazer looks something out of the Vogue magazine for sure. And to our surprise, it's equally appropriate for incorporating in an average girl's everyday life. For a day at the meeting when you want to flaunt your confidence through your outfit to the clients, this is the look you should go for. Trendy yet bold.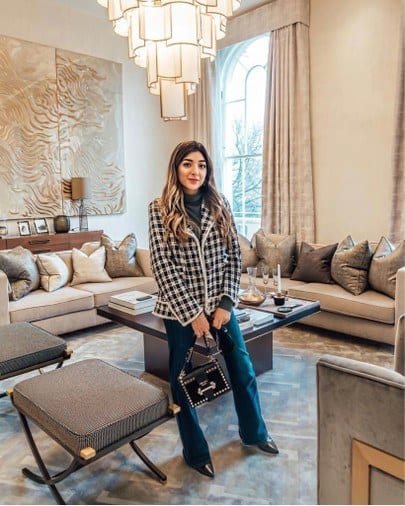 Starboard Tweed Blazer
Prada Cahier Studded Bag – £2,350
Acne Studios Raine Alpaca-Blend Sweater – £ 287
↓ 14 – A Beach Day
For a perfect beach day on your vacation, this is the appropriate outfit. A pair of loose fitted mom jeans paired with a button-down shirt tied in the front to give it that chic and cool look. Throw on some comfy slippers, a chic hat, and a classy handbag to complete the look.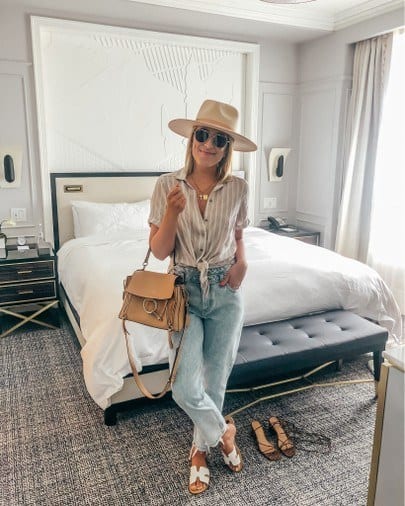 Double Waist High Rise Mom Jeans – $88
Linen-Blend Tie-Front Shirt -$48
↓ 13 – For A Casual Day In School
Blue jeans are a perfect fit for casual days of school or work. Nothing goes better with everyday outfits than a comfortable distressed mom jeans, sneakers a long coat for the winters and your hair tied up while you be the boss lady you are and conquer your dreams. Here are some more Outfits & Tips On What To Wear To College Party.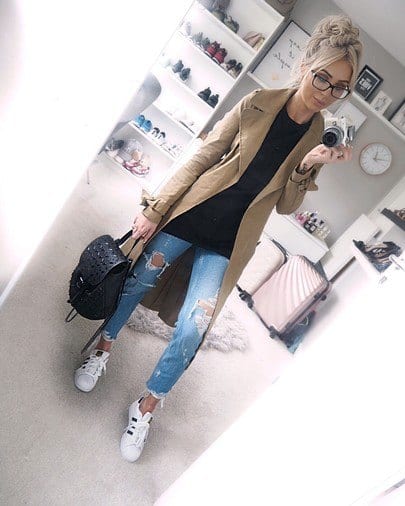 Adidas Original Superstar White & Black Trainer – $110.60
Khaki tie waist utility duster jacket – £50.00
↓ 12 – Maternity Outfits with Blue Jeans
Maternity below the bump jeans has made dressing up properly and going about everyday life for pregnant women a lot easy. A big burden off the shoulders, because who wants to miss a chance to dress up in winters even in pregnancy? This is a cozy winter outfit achieved with pencil below the bump jeans which look utter comfortable and trendy. The long overcoat looks super classy for a day at work. If you're currently expecting, or perhaps planning to be, you wouldn't want to miss out these Best Maternity Outfit Ideas.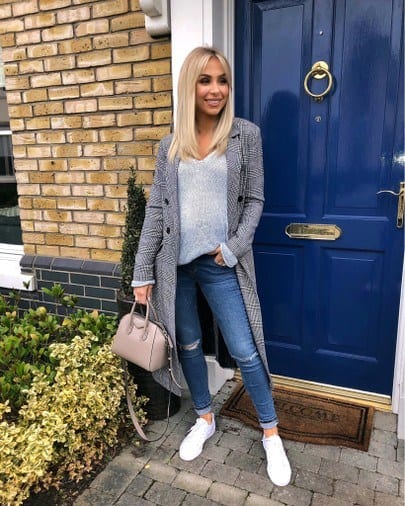 Maternity Under Bump Ripped Jamie Jeans – 26,00 €
A comfortable yet stylish and trendy look in the maternity period can be achieved following this style. Throw on a cardigan over your conventional blue jeans and black shirt, and to add more drama to the outfit, a painter hat. Some comfortable cheetah print heels would seal the deal for a day at work or anywhere out.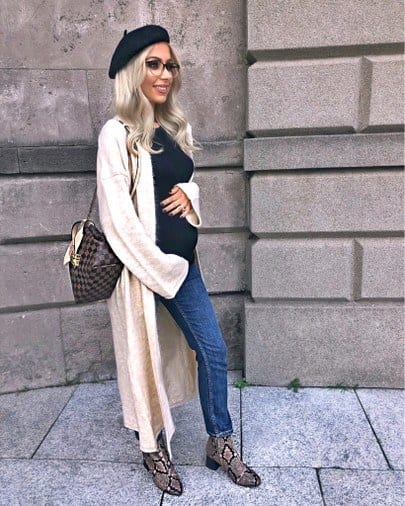 Mama Slim Ankle Jeans – €26.00
Give Knit All You've Got Longline Cardigan – €18.20
BABE Block Heel Boots – £15.00
↓ 11 – Travel Outfit
If you have a long flight ahead, instead of buying new jeans, choose the most comfortable pair of jeans that you have. Because when traveling, comfort comes first. Instead of tight and skinny jeans, go for loose fitted or baggy jeans and pair them with a simple but comfortable tee. Choose slip-on shoes that you can easily take off and relax.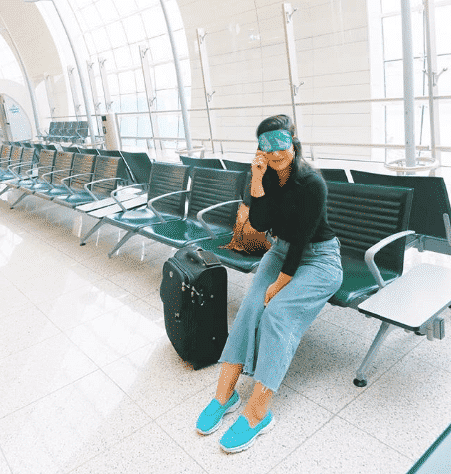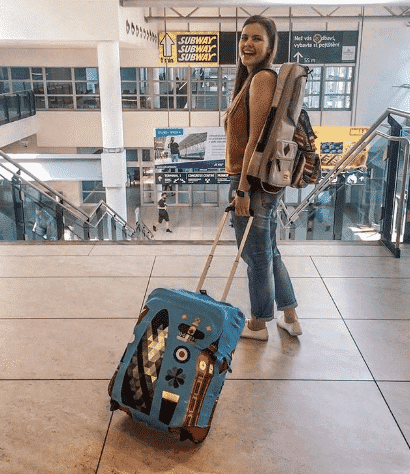 ↓ 10 – A Boss Lady Look
For an inspiring and impressing day at work, chose this outfit with blue jeans. And everyone will be in awe of your fashion with your talent. Elevate your blue jeans, and black tee look with a brown blazer, and that will be it for a whole damn look. Here are some tips on choosing the right Shoes With Skinny Jeans.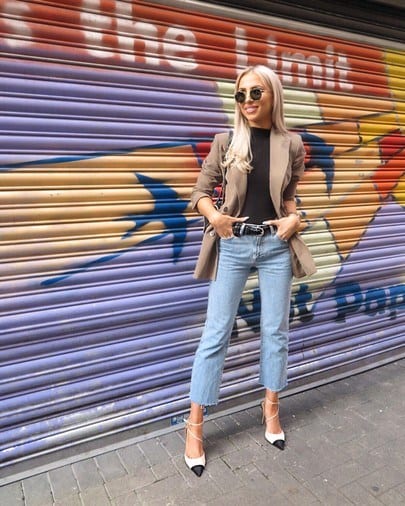 Ray-Ban Round Sunglasses – €172.81
Dr. Denim Meadow Mid Rise Crop Flare Jean – €27.65
Pimkie Longline Blazey In Black – €23.49
↓ 09 – Blue Over Blue
Pair a light blue shirt with dark blue jeans or medium blue and you will totally rock the blue over blue look. Or a navy blue or black shirt will go quite well with blue jeans too, keep in mind to never match blue jeans with the exact shade blue shirt, it's an off game.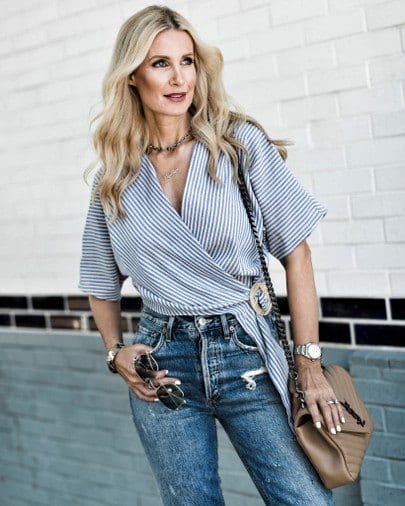 Saint Lauren College Medium In Matelasse Leather – $2450
Jamie High Rise Classic – $177.48
↓ 08 – Loom Your Best Possible In Jeans
There are three ways to choose the best jeans for your body type to look your best at any occasion. Choose the shape or cut that suits your body type; for example, boot cut jeans suit all body types and look royal. Skinny jeans suit everyone as well, but girls with a petite physique will look phenomenal. Faded jeans from the knees will make your legs look longer and leaner. Buy your exact body size jeans.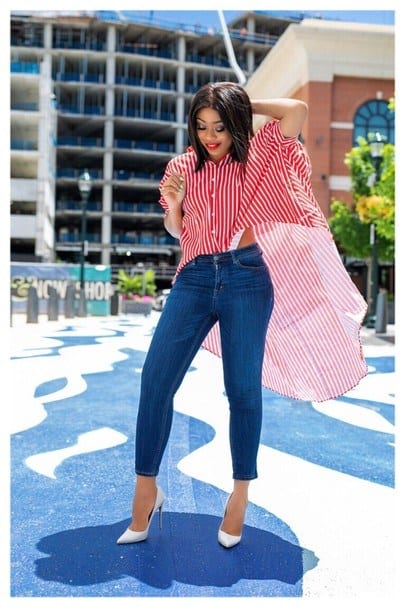 Women's Super Soft Mid-Rise Skinny Jean – $16.94
Tov High/Low Shirtdress – $55.80
↓ 07 – All Set For Day Drinking
Have a fun day planned with your girls and don't know what to wear? Go for this outfit. Add some shine to your day outfit for the pub with a pair of straight jeans, a graphic tee and add a blingy silver belt to elevate the look. Some transparent heels to play it cool. Here are some more ideas on What to Wear for Girls Night Out?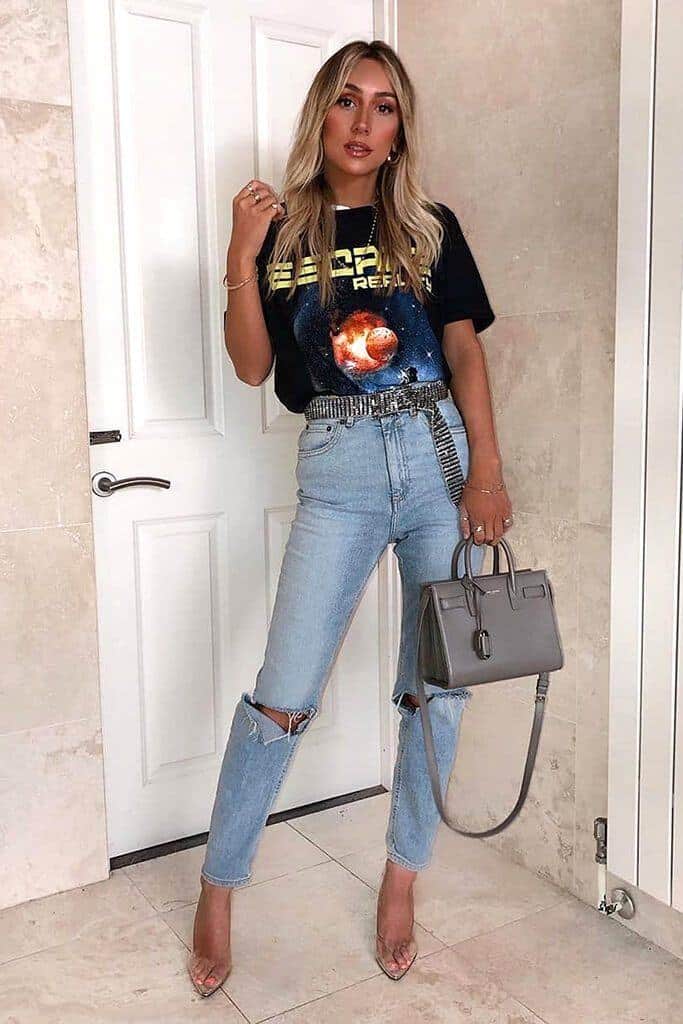 ↓ 06 – Play With Light Blue
Denim is already considered as a neutral in the fashion industry, so does light blue denim. You can pair your light blue jeans with any colors, ranging from white and pastel colors to dark colors for winter, the possibility of outfits are endless with light blue jeans.
Cordobés Premium Suede Hat "Camila" – USD 212.50
Johnny Cash Tee – $78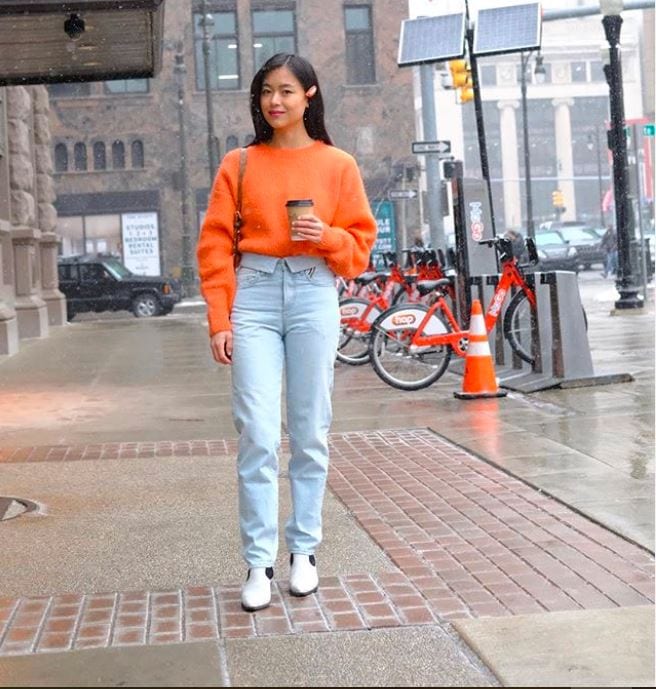 ↓ 05 – Denim On Denim
You are all set and ready for denim on denim jacket only when you wipe out the idea of wearing the same shade of denim together, leave matchy matchy for the 12-year-olds.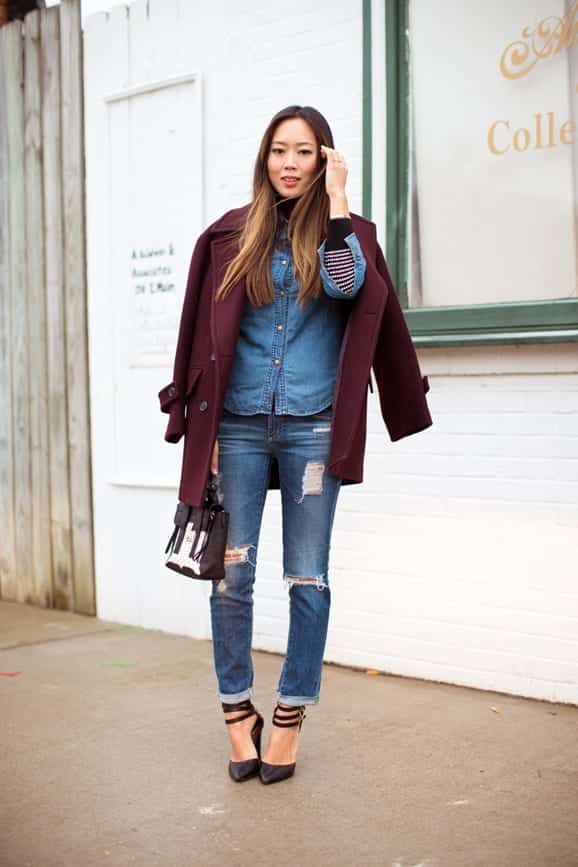 ↓ 04 – How To Wear Blue Jeans For Work?
Depending on the nature and industry of your job, it is about time to move ahead of the conventional dress pants and tie attire for office and make your work attire more fun.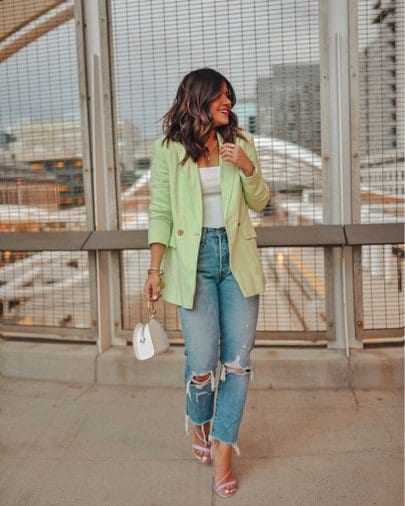 Since faded blue jeans are a perfect daywear option, they look super chic when paired with light-colored outfits for work.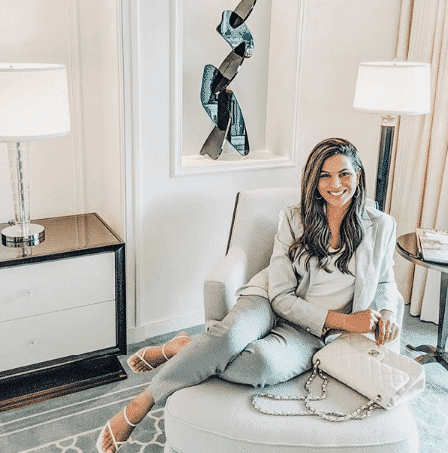 ↓ 03 – Blue Jeans Outfit For Beach
For a windy to the beach, take inspiration from this outfit to style with blue jeans. Beach does not always mean bikinis and swimsuits; a beach day is about going as comfortable and cool as you can.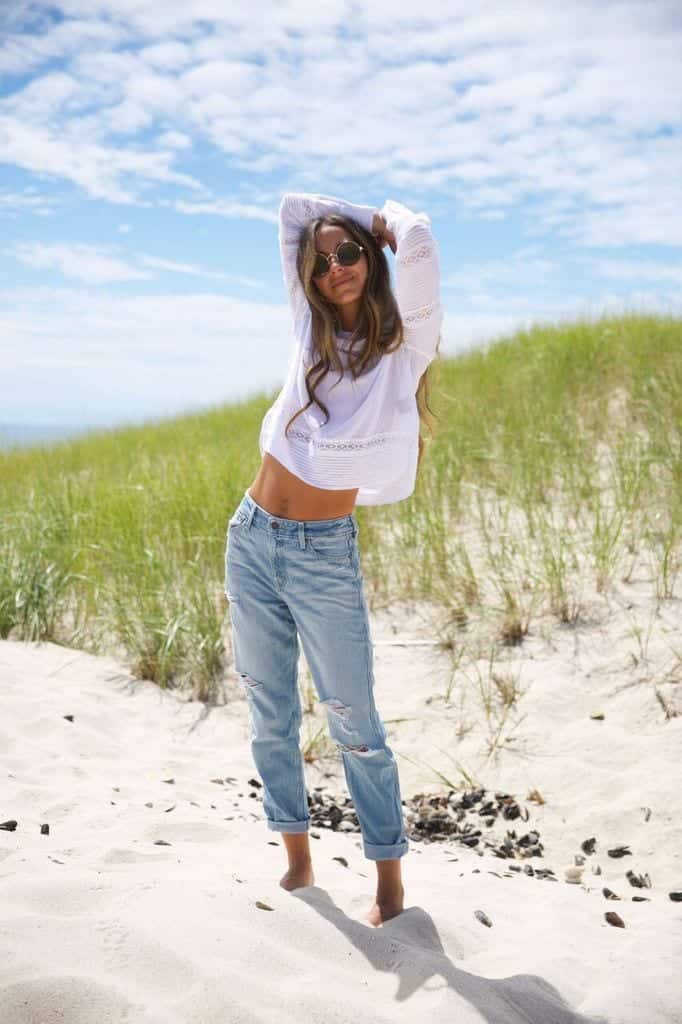 ↓ 02 – Shoes That Go Best With Jeans
The shoes you choose depend on your choice of jeans, outfit as well as the occasion you're dressing for. For instance, for casual wear, nothing beats the combo of white sneakers and jeans as this works with literally any top that you wear. For semi-formal wear, boat shoes and loafers are an excellent choice but make sure that the color of your shoes complements the outfit, black and nude colors are usually a safe choice. For formal wear, red heels look great with blue jeans, and if you're looking for something more subtle for work, nude heels and jeans are a fail-proof formula.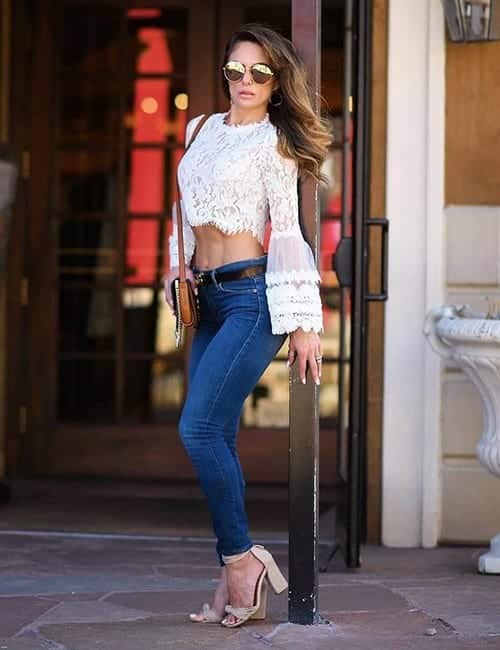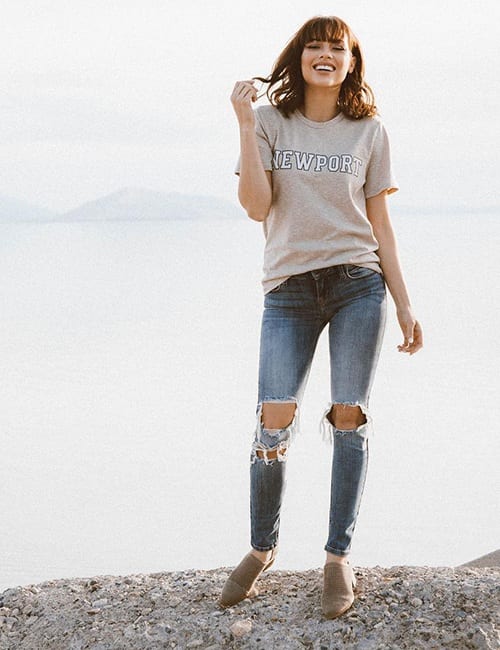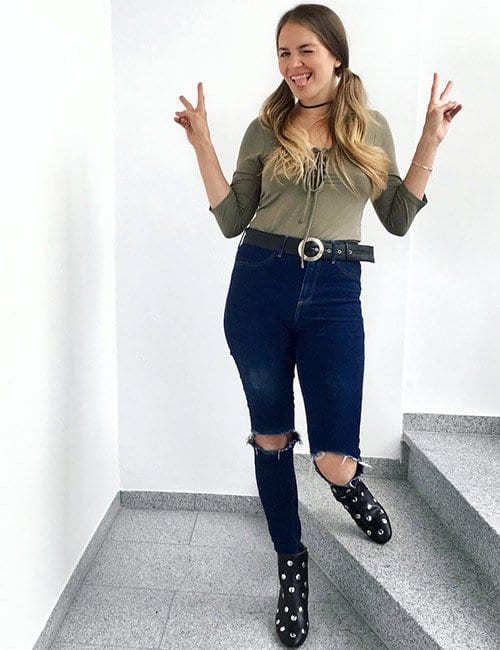 ↓ 01 – Best Plus Size Jeans
Nothing to wear on a daily basis than blue jeans and a comfortable oversized tee. Go about the errands and needs of your day in the same outfit and you are good. If you're curvy or plus size, dark blue jeans with shredded hems are a great choice, especially if you want your legs to appear elongated. For casual wear, go for cropped jeans or skinny jeans. The trick here is to choose the right top, and you're good to go.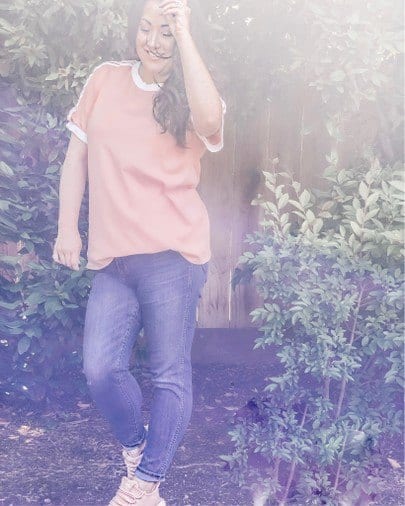 For boho/ethnic vibes, try pairing your skinny jeans with an embroidered top or tunic.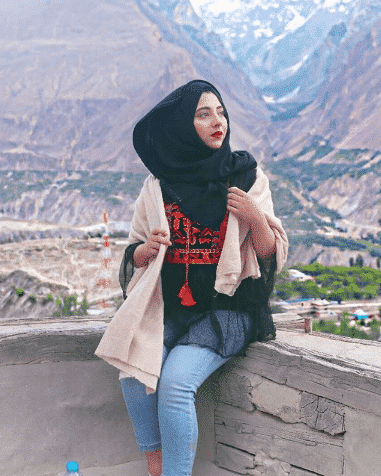 R.H. Elias is a freelance writer, aspiring author, and freelance transcriptionist. She is a homebody all the way and loves curling up on a cold, rainy day with a good book and a warm cup of tea. Her favourite pastimes include reading, writing, and watching period films. She currently lives in Puerto Rico.