Outfit with White Jeans – White jeans are known as a closet staple. They're chic and can make you look ten times better than if you were to choose the basic blue or black jeans. But the looks that you can come up with are an upgrade from your usual styles. There is something about white jeans that gives off a very clean, stylish, and modern look. Who knows if it is because of the color or the fit? But in my head, white jeans immediately equates to elite, and I am all here for it!
If you are someone who has stuck with blue and black denim all their life, the transition to white may seem a little daunting. And to some extent, it can be a bit tricky styling white jeans since there needs to be a certain balance in the outfit. But you do not have to worry, since we have got you covered with the best ways to style your pair of white jeans to look like a diva who is out to impress. While white jeans can be worn in any season and look phenomenal, I have found them a bit more striking during the winter and spring season!
What to Wear with White Jeans?
White jeans hold a vast spectrum of clothing items that style effortlessly with this item. For me, these jeans look best paired with an all-white outfit. And all-white can include all shades of creams, ivory, and off-white. Not just this, but white denim wears well with pastel shades. A pair of white platform boots are bound to wear flawlessly regardless of the kind of top you are going for. Oh, and do not forget to accessorize! Scroll below to find some tips to help you dress and excellent looks to get you inspired and onto styling!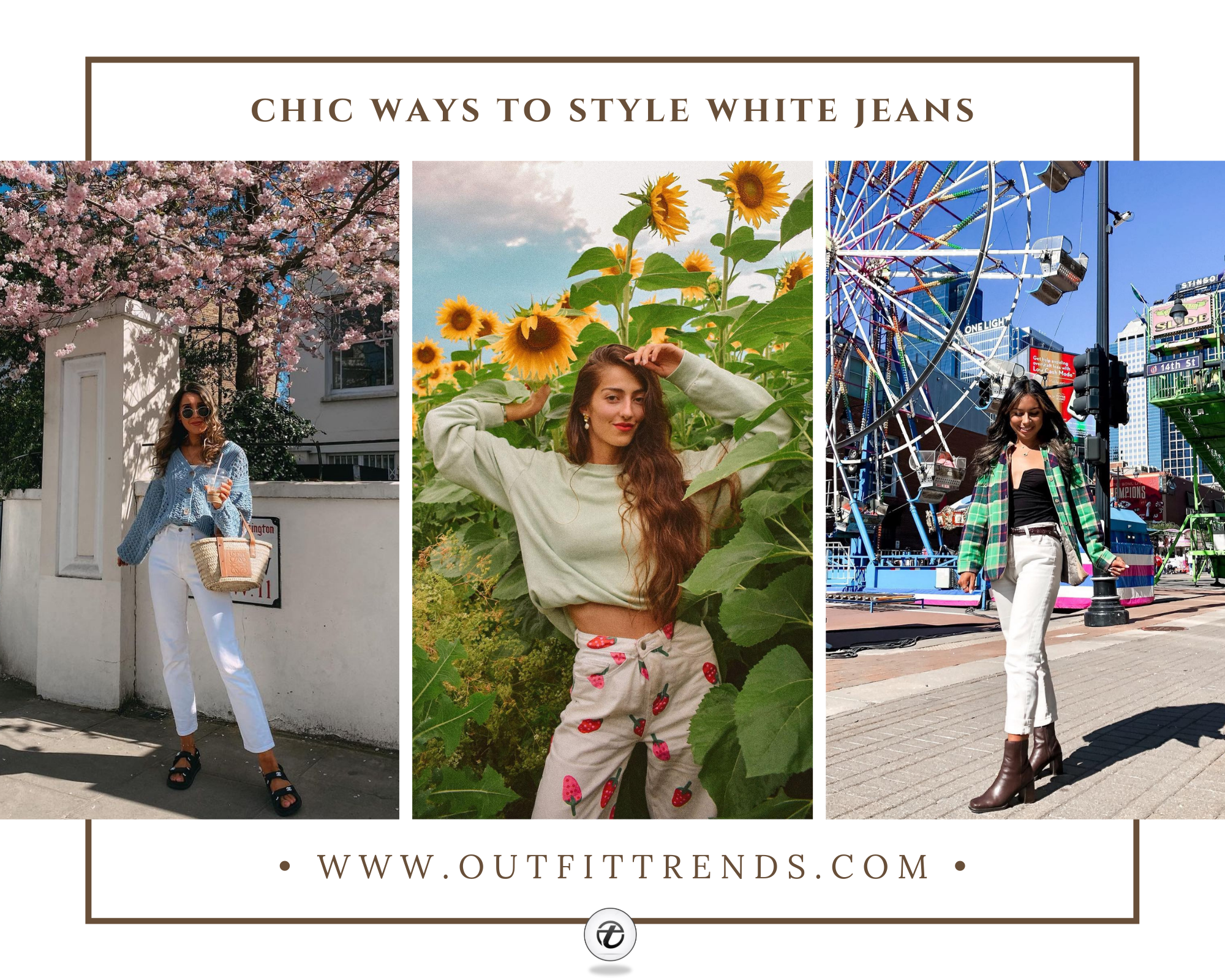 Tips on Wearing White Jeans:
Add textures through layers! Whether it be in the form of cardigans, teddy coats, shearling jackets, or cashmere sweaters, adding texture will elevate your look drastically!
When confused, reach for monochrome clothing items to put together a look.
Search through all the different styles and cuts of jeans available and choose the best one for you!
Do not be afraid of throwing in prints and patterns that compliment your jeans.
I would suggest avoiding sharp and bold colors unless you are a hundred percent confident that you can pull it off!
Luckily, white jeans are that staple with which any and every shoe matches flawlessly. But white boots platform boots are the ultimate choice personally.
If you recently got your hands on white denim and you're not sure what to pair it with, the following are some super classy and girly ways to wear white denim.
30 – Cherry Blossoms & Blue Cardigan
This shade of blue paired with white immediately reminds me of clear blue skies. The straight cut of the pants along with a cardigan looks phenomenal and is a perfect example of how to incorporate texture with white jeans. Throw on a pair of cute blue mules for a classier look!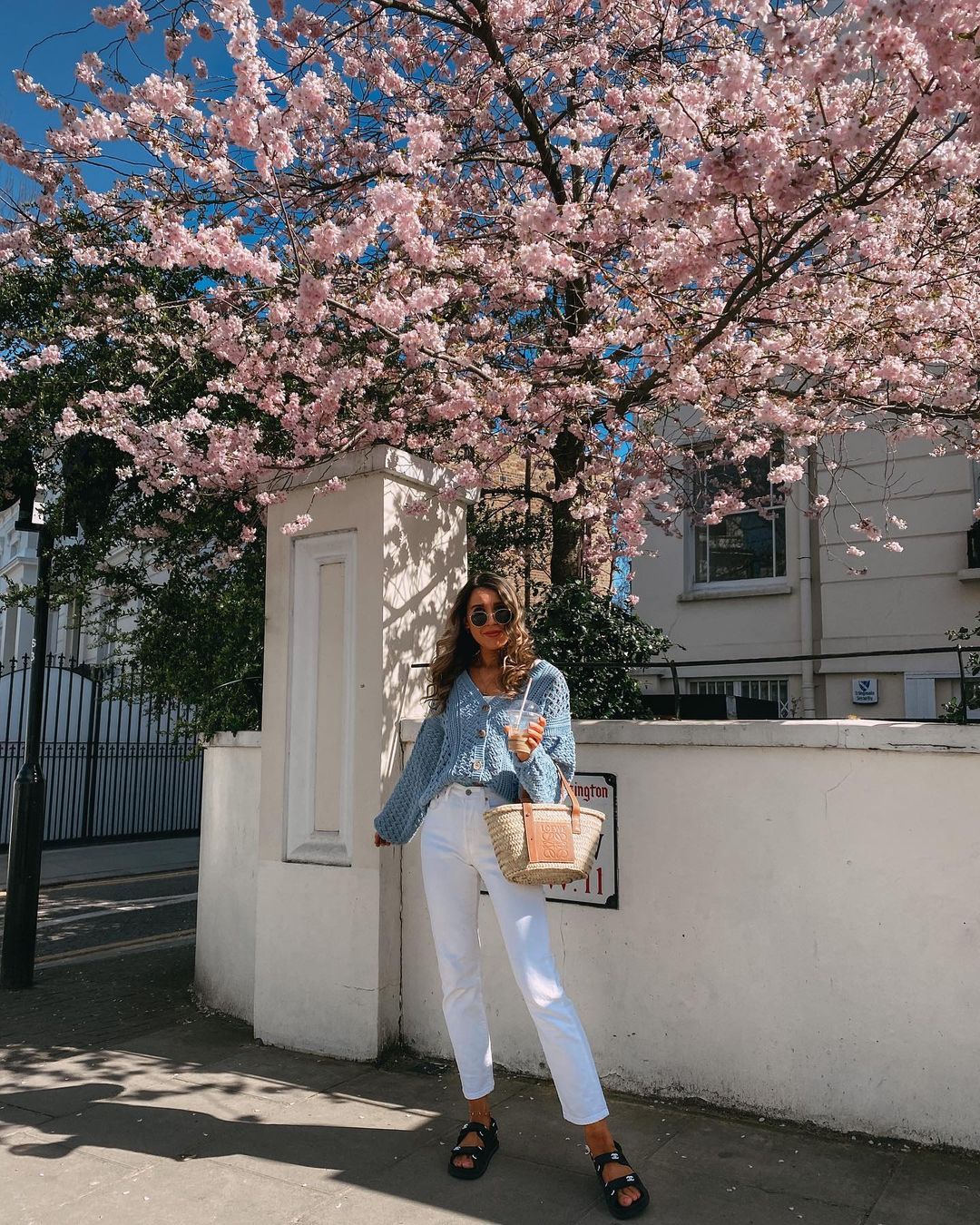 Shop the look:
"BELLE" Balloon Sleeve Cardigan $44.00
501 Levi's Cropped Jeans $98.00
29 – Vibin' in White for the Carnival!
This look is the perfect example of wearing white jeans when visiting the carnival or amusement park with your friends! Plus, white denim is a super stylish pick for the day. The outfit was executed phenomenally in terms of layering, structuring, and color blocking. And the natural-looking hairstyle and make-up are cherry on top of a fantastic look!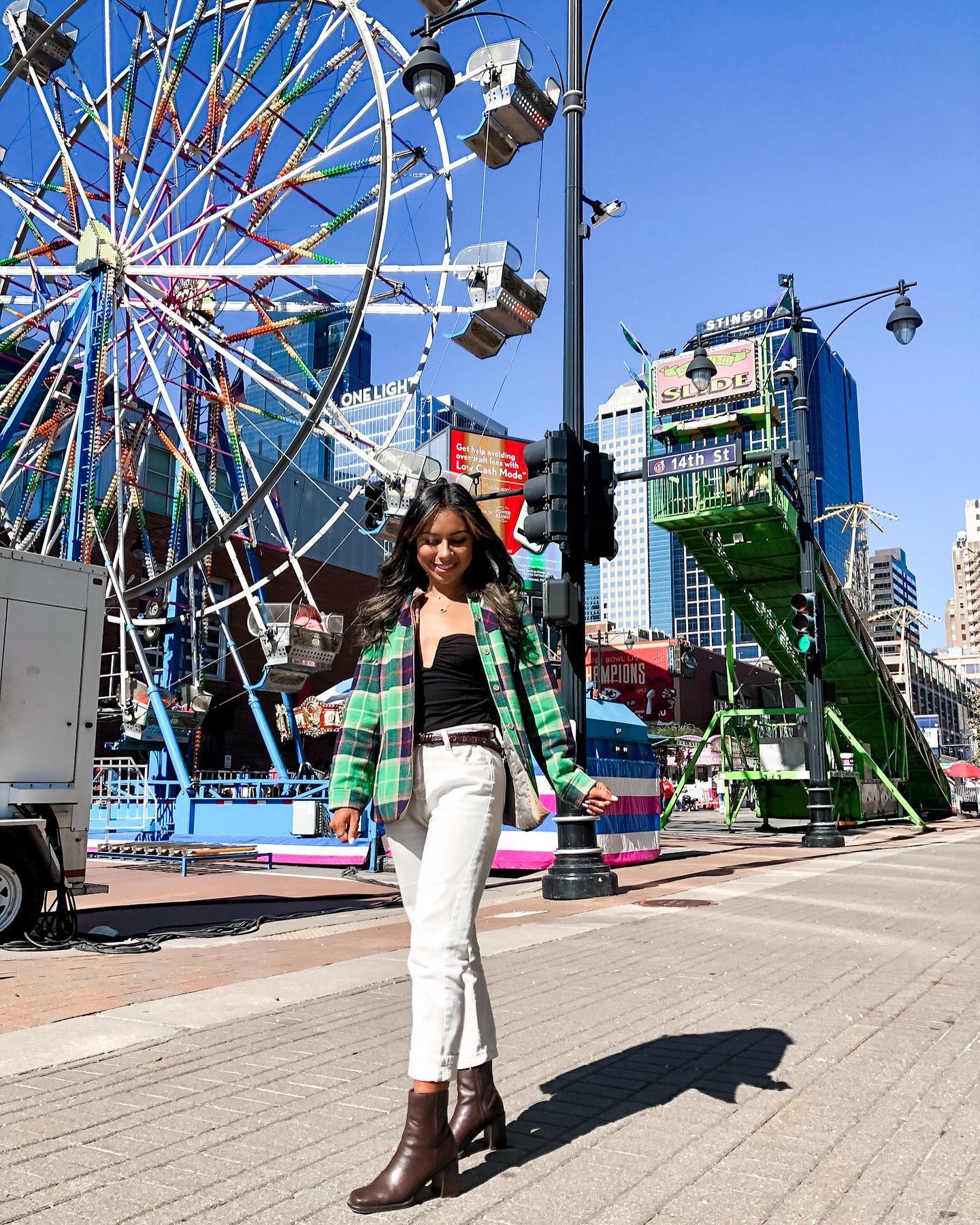 Get the jeans right here:
28 – Sunflowers & Strawberries Patterned Pants for Spring!
Who knew you could find printed denim in white?! These types of jeans are ideal for styling an indie look, especially during the spring and summer seasons. Pair these types of pants with a cropped sweatshirt or cute top layered with a cardigan for an effortlessly flawless look!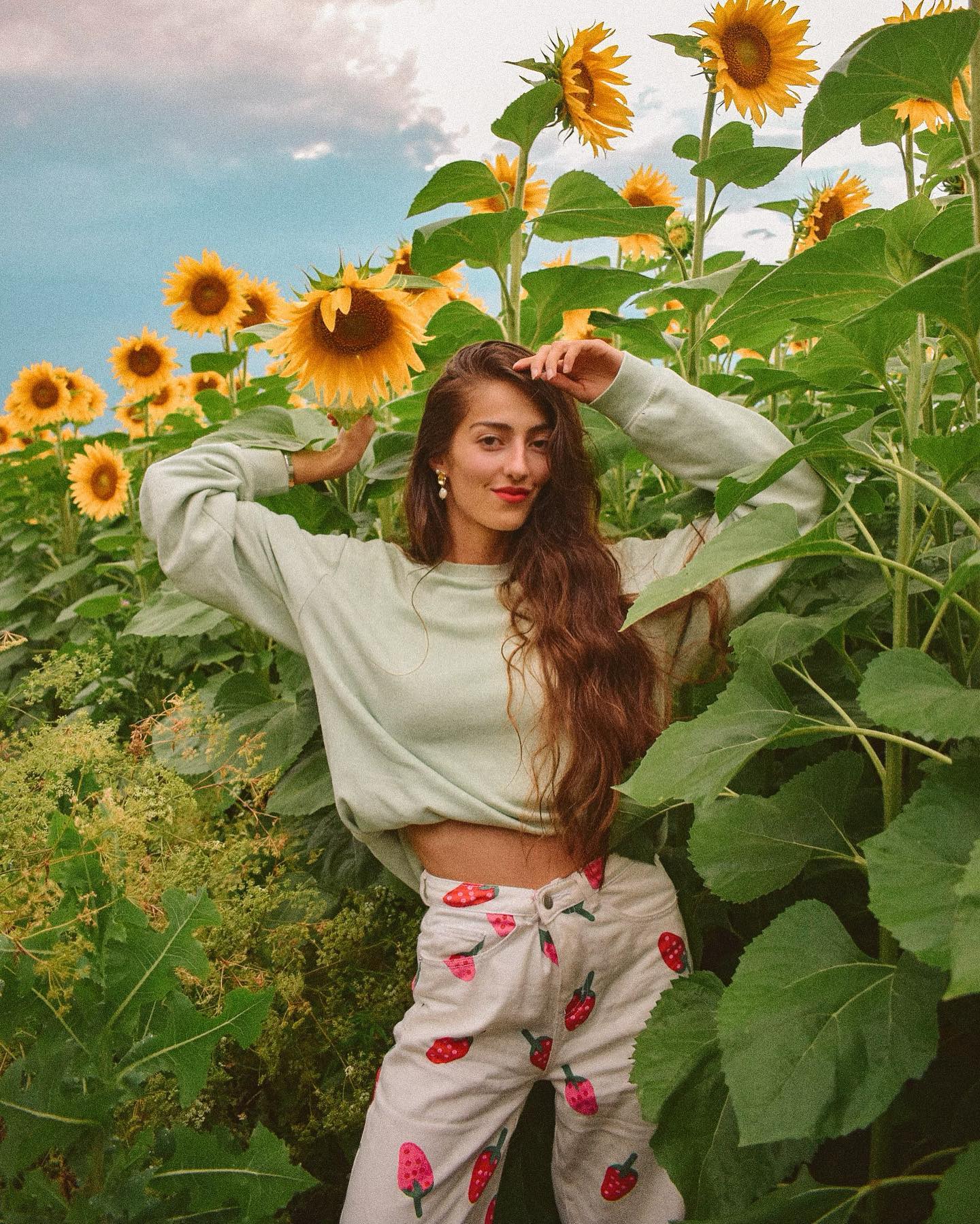 Grab these bright jeans:
High Waisted Strawberry Jeans $21.00
27 – When in Doubt, go for Black & White
When in confusion, black and white are the perfect pair to one another!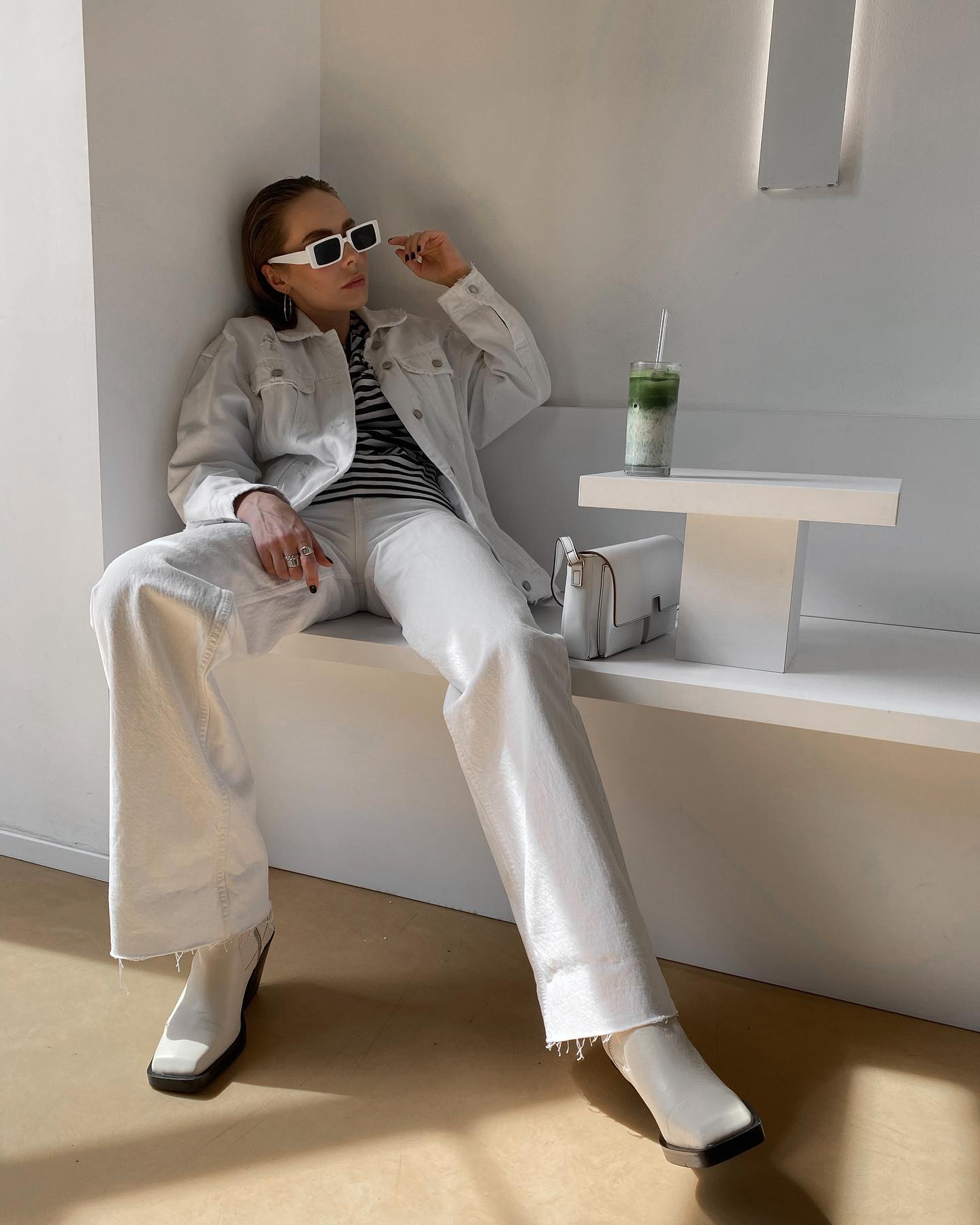 26 – Silkin' In Yellows to Make the Outfit Pop!
An effortless way to pop and stand out in your gorgeous white pants is to pair them with a bright silk top. The vivid colors and sheen of the material will cause you to stand out. Match your shoes according to the color of your top to tie your entire look together!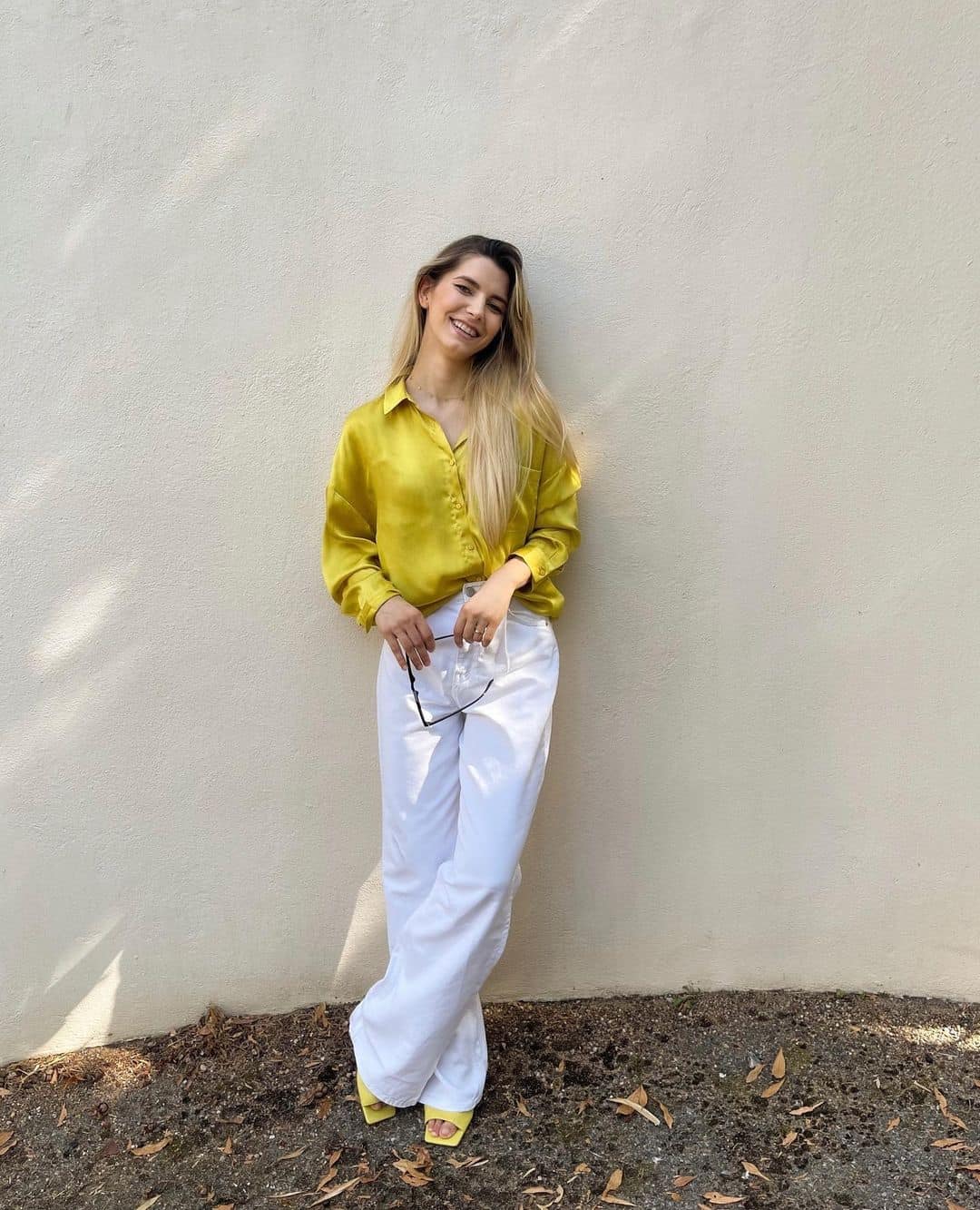 25 – How to Wear White Jeans in Winter?
The best and easiest way to plan an outfit with white jeans in winter is by going for an all-white look. Your all-white look can include shades of white, including off-white, ivory, creams, and tans. Furthermore, layer, layer & layer! You can add a scarf, jacket, or beanie to make your outfit foolproof for the colder weather!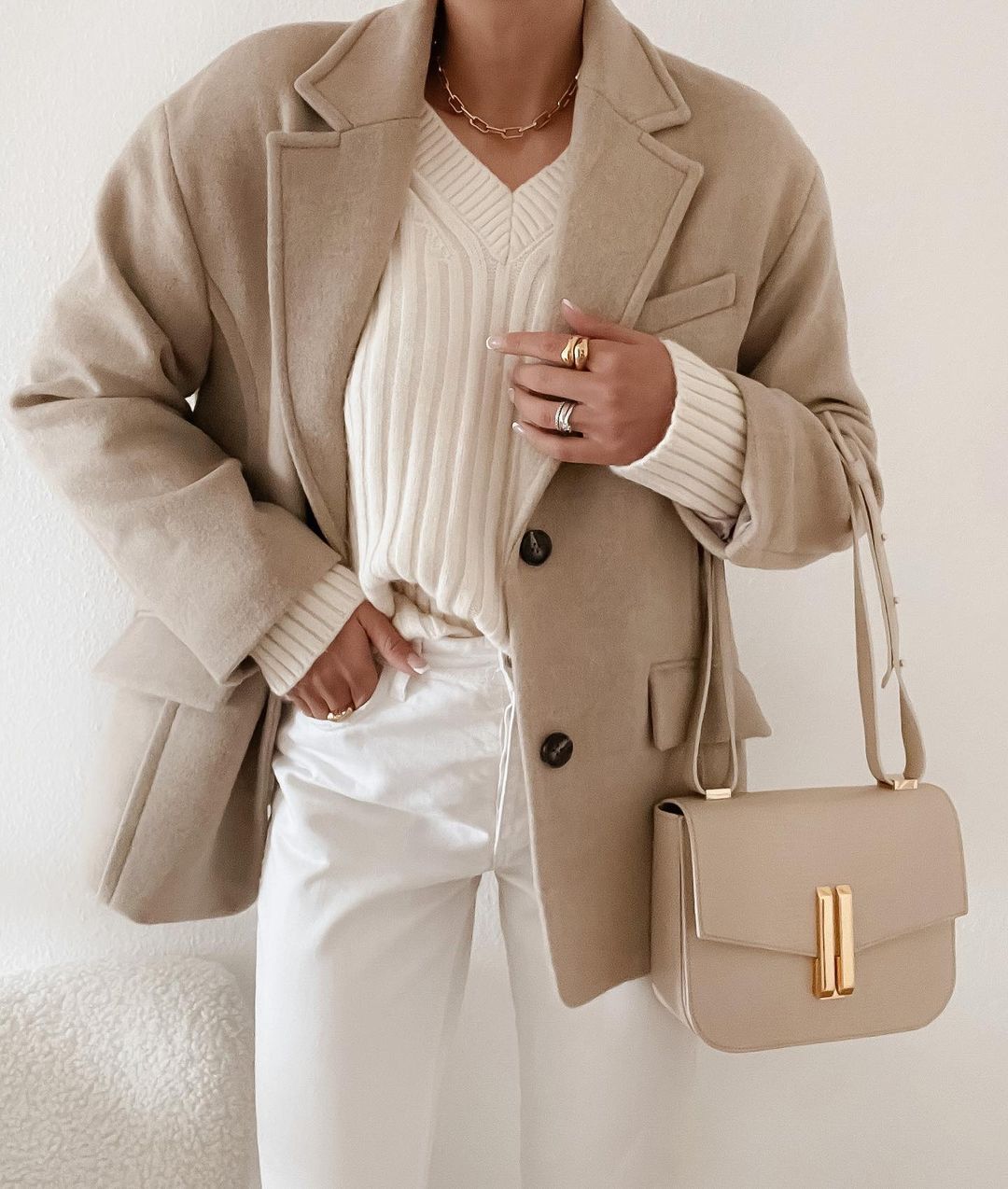 Shop the outfit below:
24 – Navy Blue Cardigan
The color combination of blue and white has always been a personal favorite. Once you pair this bold color with white denim the ensemble screams sophistication!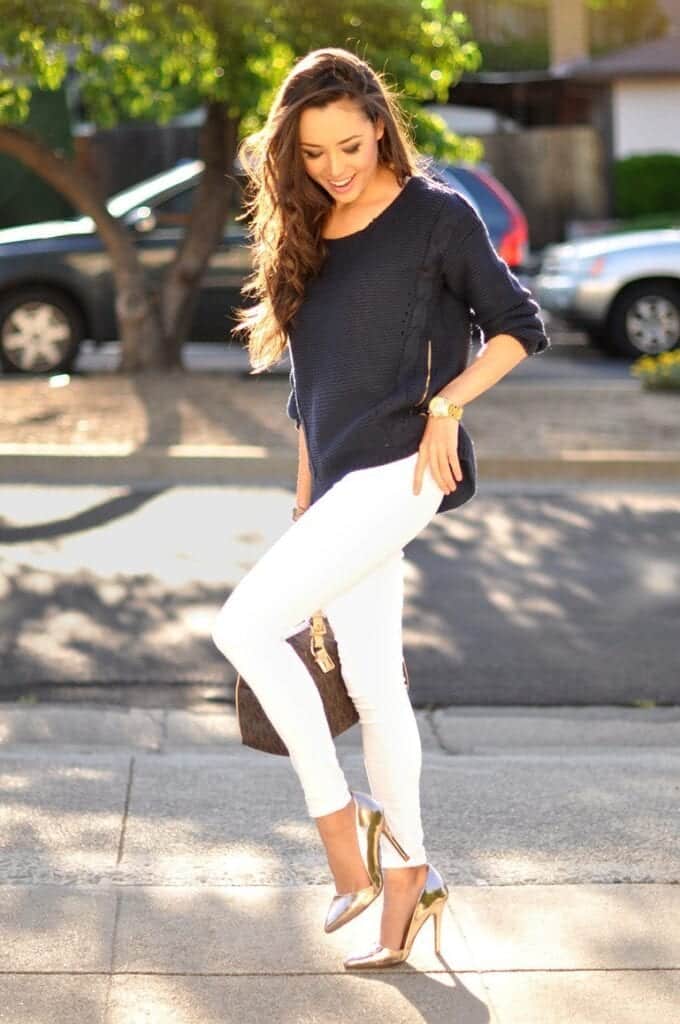 23 – Summer Wear
There's something about crop tops that just makes you look super feminine and flirty. When headed for a day out, pair your chambray crop top with white skinny jeans and tan accessories.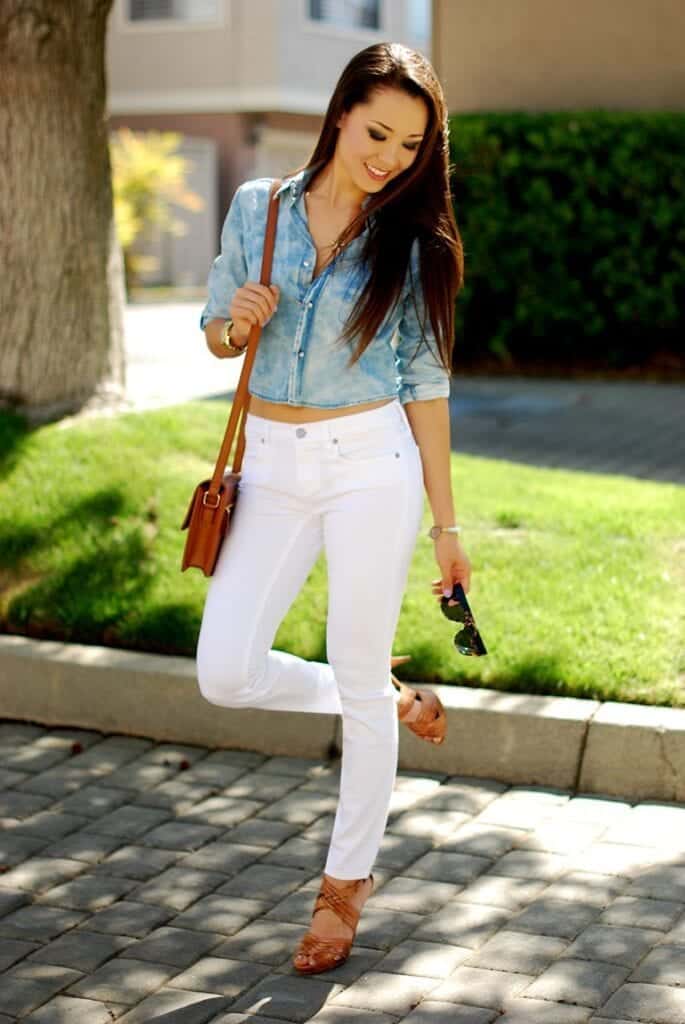 22 – Crochet Pants for Feminine Streetwear
Add a little variety to your look by getting patterned cut-out white skinny jeans and pairing them with a shiny bomber jacket. I love how the outfit is complemented by the brown-colored accessories. Also, do not forget the crochet detail on the jeans that have my absolute heart!

21 – Beauty Lies In Simplicity
High Waisted White denim looks so great when you tuck in a plain tee shirt with it. The top slim-fit coat creates an outfit you can even wear to a work event and look stunning.

20 – Contrast Different Shades of Denim
You can easily rock denim on denim kind of look by simply keeping the choice of hues subtle. Notice how the distressed denim is white yet the denim jacket is light blue.

19 – Halter Neck Crop Top and Over-Sized Cardigan
There is something so comforting about oversized sweaters that make you want to wear them 24/7. Pair your dark-colored sweater with a halter neck top and white denim, and head towards town. Swap those heels for a stiletto court shoe in navy blue, and you have a killer look at your disposal!

18 – Winter Style
Pair your white denim with a black flowy top and a jacket. The striped scarf addition ties the whole look together with its cuteness.

17 – Leopard Prints for White Jeans
When creating an outfit with white denim, look for accents that add color and vibrancy to the ensemble.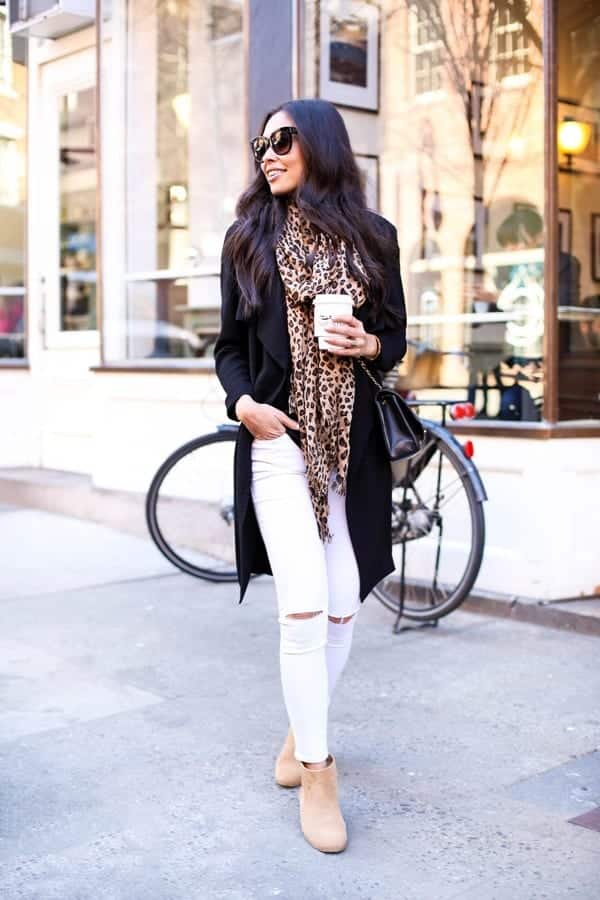 16 – Spring Outfit
This beautiful outfit is the perfect pick for a romantic date planned with your loved one or for a brunch event. The pastel palette screams spring & summer. And the heels, cut of the jeans, and smokey eye make-up are all indicative of a semi-formal function or gathering!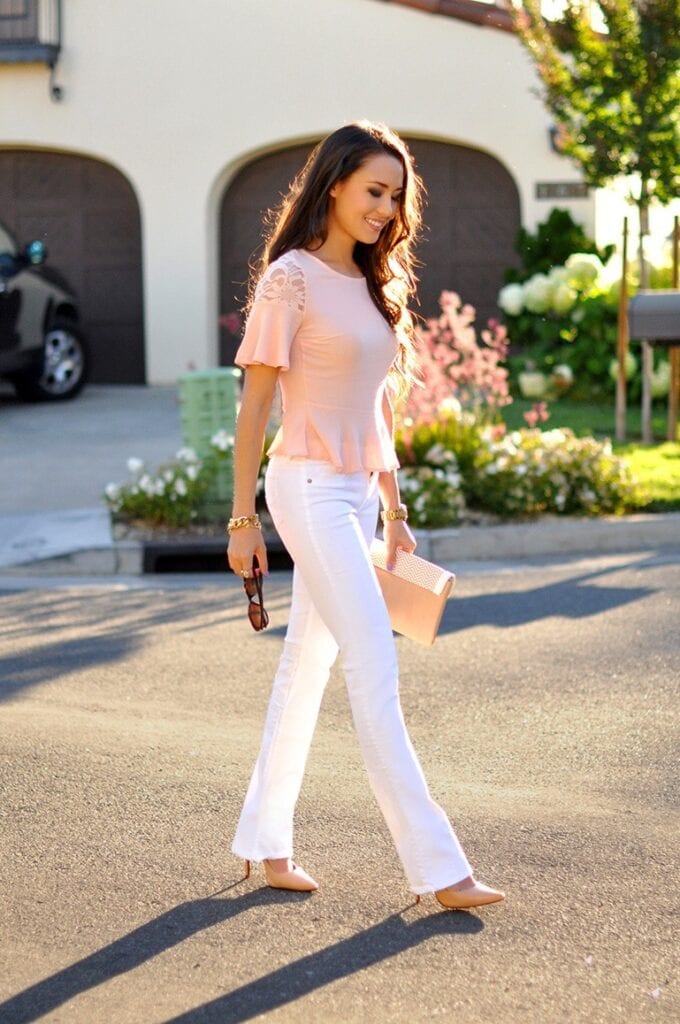 15 – What to Wear with White Ripped Jeans
We're in love with this combination of green bandana top with white ripped jeans, such a cute look for traveling.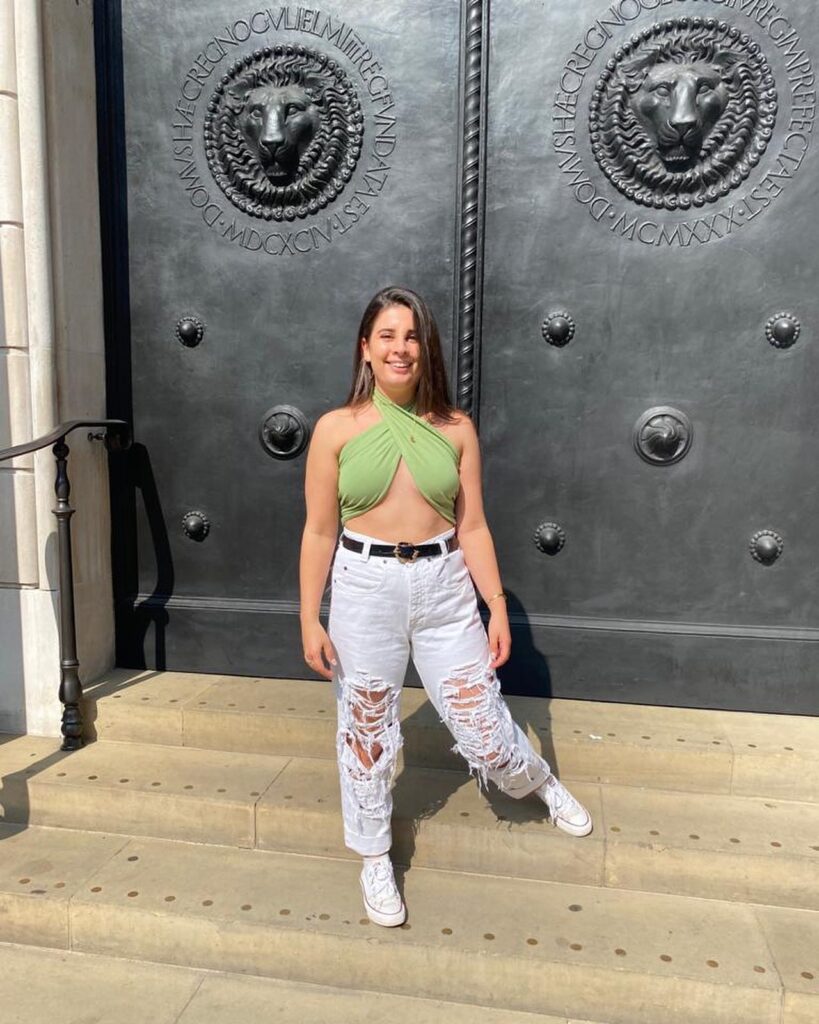 14 – The All White Look
Now not all of us can pull off the same colored outfit. But pairing it with the sailor shoes and a top hat made all the difference and added so much character to the look.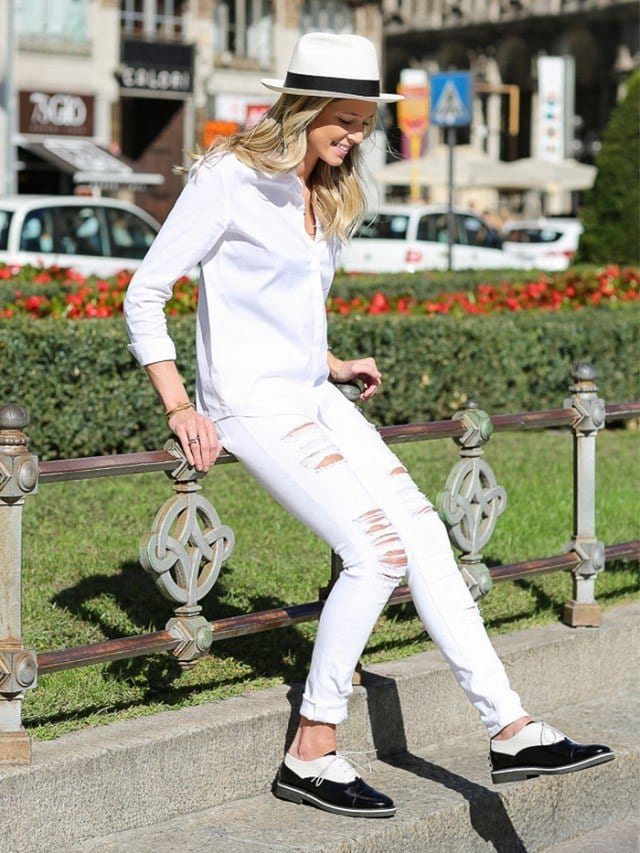 13 – Choose Distressed White Denim for a Semi Formal Look
When going for distressed jeans keep the remaining outfit simple, and chic with a plain tee and an overcoat. This outfit can be made fancy enough for a semi-formal meeting or plenty laidback to lounge around in it.

12 – Top it off with a Jean Jacket!
Playing with patterns and designs to pair with white jeans is a super smart way to style your outfit.

11 – Fur Coat with White Jeans
White skinny jeans go incredibly well with statement coats. Look how all the elements of this outfit complement each other.

10 – Pair Gold Heels with an All-White Outfit
Gigi Hadid looks spectacular in this white-on-white casual look. The addition of blue glasses and gold heels completes the outfit. Moreover, the darker lip gives this look just the right about of edge and mystery!

09 – Striped Pattern to Add Character to your Look
If your striped shirt has a hint of white in it, it is going to look amazing with white jeans.

08 – Balance Dark Outfits With White Denim
An excellent way to balance out a dark outfit is by pairing it with white jeans. And the best part is that the combination of dark against light works flawlessly every time. Furthermore, shades of white are so versatile that it is easy to match them with any darker color that you possibly can think of!

07 – Women Over 40 Style
White denim can look great once paired with plaid. Grab your checkered or plaid shirt and wear it with your favorite white skinny jeans. Moreover, let's take a quick second to appreciate the color blocking done in this outfit! It is easy to style and carry, and thus, white jeans are made a staple in the over 40 wardrobes!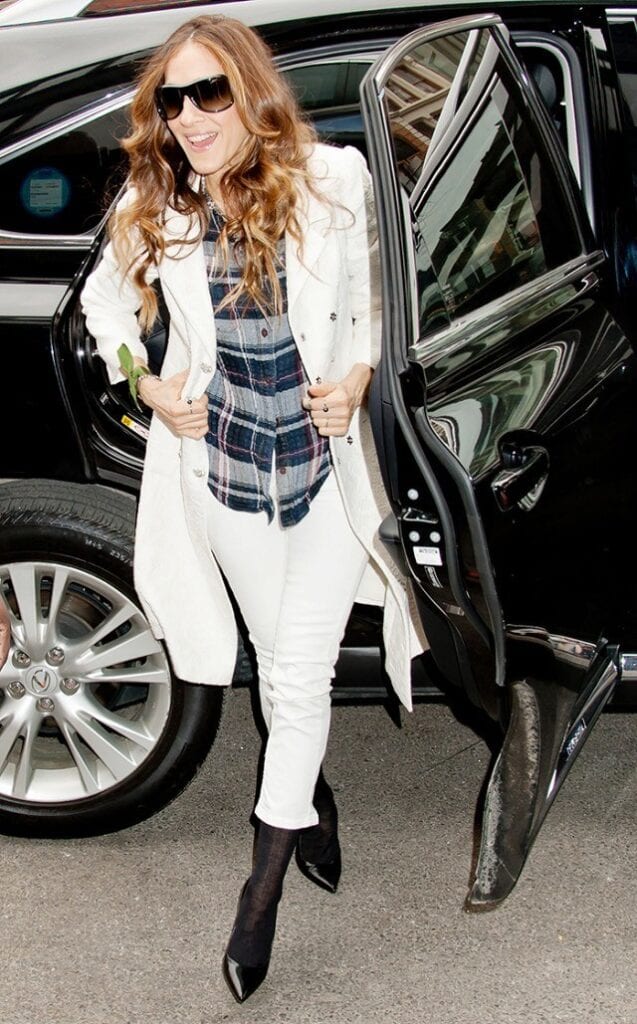 06 – The Cow Girl Look
White boot-cut denim paired with a chambray top is an excellent match. And to create that cutesy cowgirl look, pair it with a hat and a fringed bag. I would suggest swapping those shoes for boots to bring the entire cor girl aesthetic together!

05 – Add The Camouflage Element to an All-White Oufit!
Camouflage jackets are an excellent way to bring contrast and character to your outfit. This look is perfect for a day out with your significant other/ friends or a brunch. A quick tip would be to go for platform boots in white or army green to last the entire day in this fit! It is a refreshing look with just the right amount of muted tones and is put together phenomenally!

04 – Black Accessories for When you get Cofused
Black accessories are a clothing item that is no less than the perfect pick for when you are in a hurry or do not have the time to plan. This look is a modern way to style your white jeans with minimal effort yet still look like a dream!

03 – Polyvore Outift
Create a nautical style outfit with white denim and a striped blazer. Don't forget to add your statement necklace and a statement bag along with it.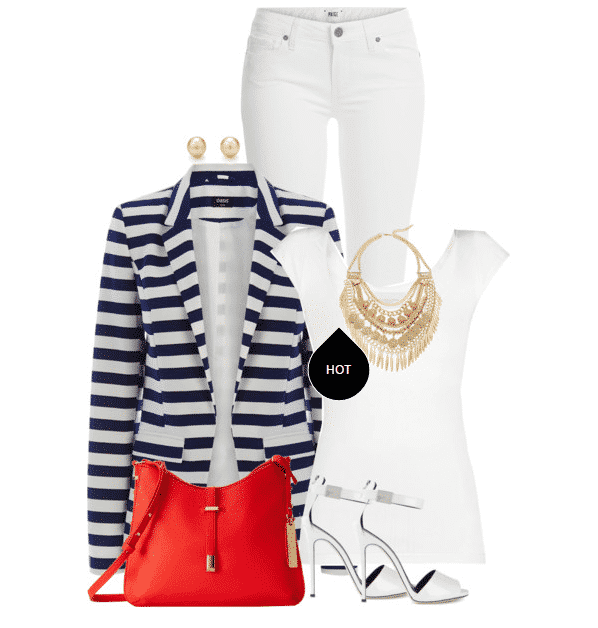 02 – Long Coats with Heels for a Work Wear Look
Long coats are endlessly classy and look flawless for every possible occasion. This look is another example of perfectly pairing white jeans with clothing items that make your outfit work appropriate.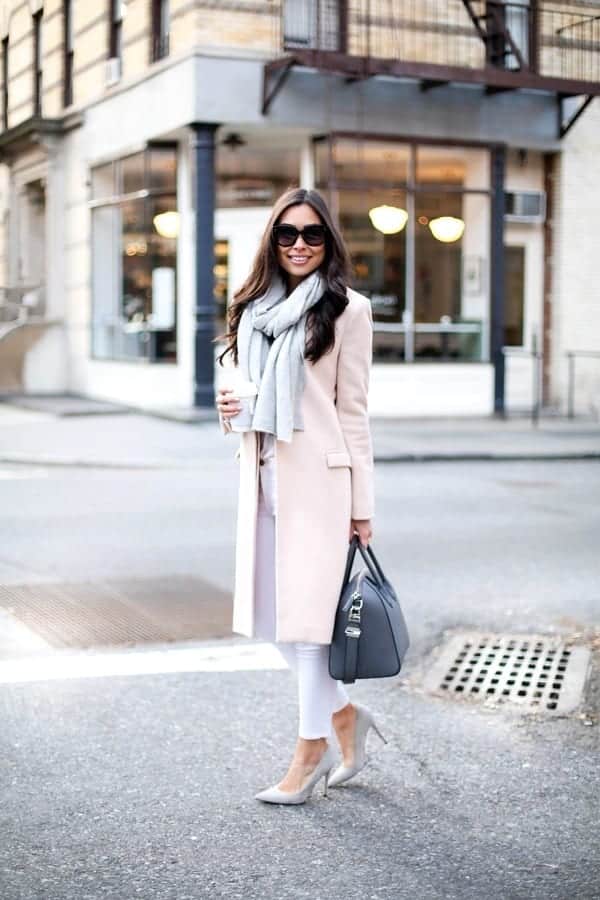 01 – The Nerdy Girl Look
See how even colors such as brown go so well with the white denim.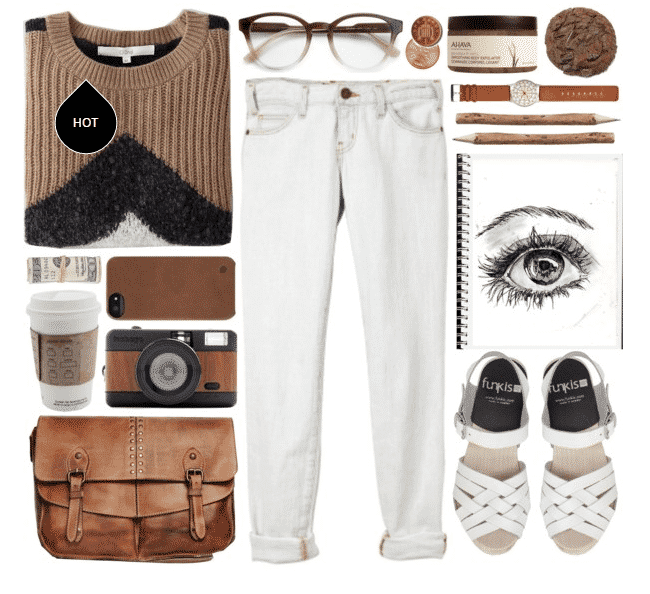 Frequently Asked Questions
What to wear with white jeans on a night out?
For a formal night out, a feminine blouse with puffed-up sleeves, along with a solid colored silk shirt would look effortlessly chic and oh-so-trendy! For the blouse, I would suggest opting for a lighter-colored option. But for the silk top, go for bold. The bolder the color, the better. And to compliment that top, wear similar colored heels, and you are an absolute vision to behold.
Do white jeans make you look bigger? Do they make your cellulite stand out?
Unfortunately, white jeans do make you appear a little bigger. However, that can easily be tackled by choosing the right style for yourself. Just like the basic blue ones, white jeans also come in all sorts of styles and types. Thus, having this vast variety at your disposal makes choosing the right pair which is slimming on you easier and more convenient.
Most of the jeans that are skinny or figure-hugging do tend to put attention towards cellulite. But the solution to this problem is similar to the one above. Start avoiding skinny jeans and opt for wide-legged pants which are easily available at a variety of stores!
Where to buy white jeans?
Here is a list of the best places you can shop for white jeans!
Zara:

These wide-legged pleated pants (

here

) are the perfect pick for an office meeting!

Levi's: Straight fitted pants in corduroy (here

) are the coziest winter pick.

American Eagle: There flare pants (here

) are super trendy!

Madewell: Skinny jeans (here

) for a flawless fit!

Nordstrom: Raw Hem Jeans (here

) are the perfect pick to give your outfit a little street reputation.

Next: Dad jeans in white (here

)? Yes, please!