How To Wear A Blue Sweater: Whether it's fall or winter, sweaters are essential for everyone's wardrobe. If you love to wear warm & cosy clothes, then it is that time of the year when you need to take all your sweaters out. No doubt, the idea that sweaters are for cold resistance purposes is too old now. The evolution of fashion has changed this perspective about sweaters.

Now, sweaters have become a different aesthetic in styling. From vintage fashion style to grunge style, you can wear a chic sweater in thousand excellent ways. However, if we talk about cold weather, then a coat or jacket looks best on top of sweaters. Again, the choices are subjective and vary depending on your ability to deal with the cold.

Outfits to Wear with Blue Sweater
Blue is neither pink nor black but still one of the calmest colours you can find in the world. Unquestionably, all the shades of blue give off the cool breezing vibes. Whether it be royal blue, turquoise blue, powder blue, tiffany, or steel blue, you can't help but fall in love with every colour. Here are different ways how you can style your pretty colour blue seawater in chic ways. These sweaters can be worn on multiple occasions such as birthday parties, date nights, or nights out with your friends.
Dos And Donts
The first tip is always to buy expensive sweaters and cheap shirts when it comes to sweater outfits so you can spend more money on sweaters so you can enjoy excellent sweaters which don't lose color after a few washes.
Say it out loud that you will always prefer quality over quantity. You can style two to three sweaters in a thousand different ways. However, buying so many sweaters that you dont even have the time to style and their color also fades out after a few months would be a total waste of money.
Lastly, always choose a sweater that you like because you have many options. Like tunic sweater, turtle neck sweater, pullover sweater, cardigan, boyfriend sweater, button sweater, striped sweater, and the list goes on like that.
20 – How To Style A Button-Up Shirt With A Sweater?
Button-Up shirts never go out of fashion, and it is an obvious truth. Therefore, the reason behind the hype of these kinds of shirts is that you can style them in a thousand different ways. Black & white shirts are all-rounders in this game. Therefore, all you need to do is pair your white button-up shirt with a nice blue sweater for this look. Moreover, for the bottom, you can choose high-waist denim jeans. For the final touch, black high heel boots would be a perfect choice.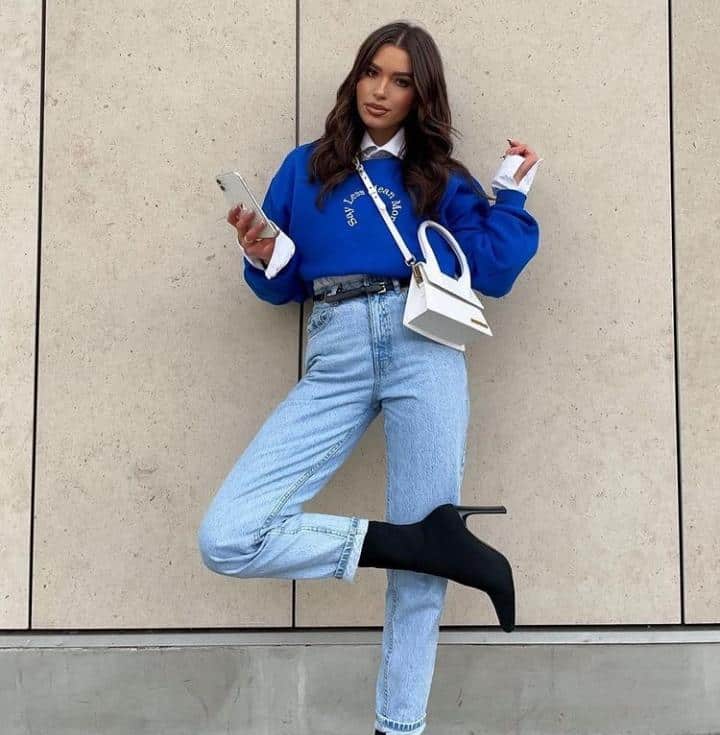 19 – Blue Sweaters For Winters
Sweaters aren't season-specific. You can use them from fall through winter and into spring. However, according to the season, your styling changes a lot. When it comes to winters, your go-to dressing with a sweater is to wear pants. Moreover, through a scarf around your neck and add a wool cap. Indeed, this outfit is out-and-out your best option for an everyday routine.
18 – How To Wear A Pastel Sweater In A Chic Way?
One of the most admirable traits of blue is that it comes in a hundred different shades. You can choose the prettiest one for yourself. Here is the inspiration for you in a pastel blue sweater. For this look, pair your collar shirt with the same colour sweater. Moreover, to create a contrast, add wood brown colour pants. Lastly, finish the look with gold hoop earrings, and you are all set.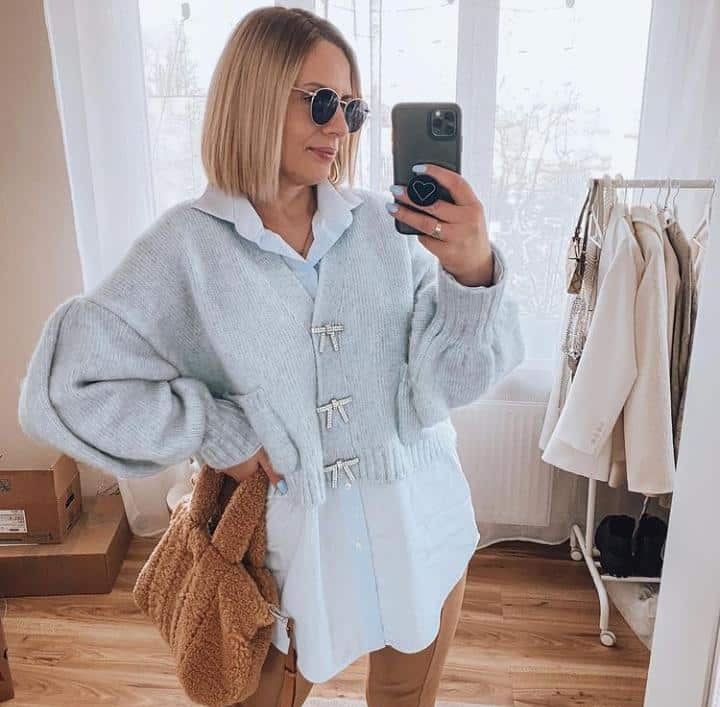 17 – Sophisticated Blue
One of my most favourite looks on this list is this sophisticated lining sweater with a skirt. The colour of this outfit is so fresh that it can automatically brighten up your day. The detailing on the dress is what makes this whole look so unique. Moreover, the silver accessories pass the vibe of this outfit perfectly.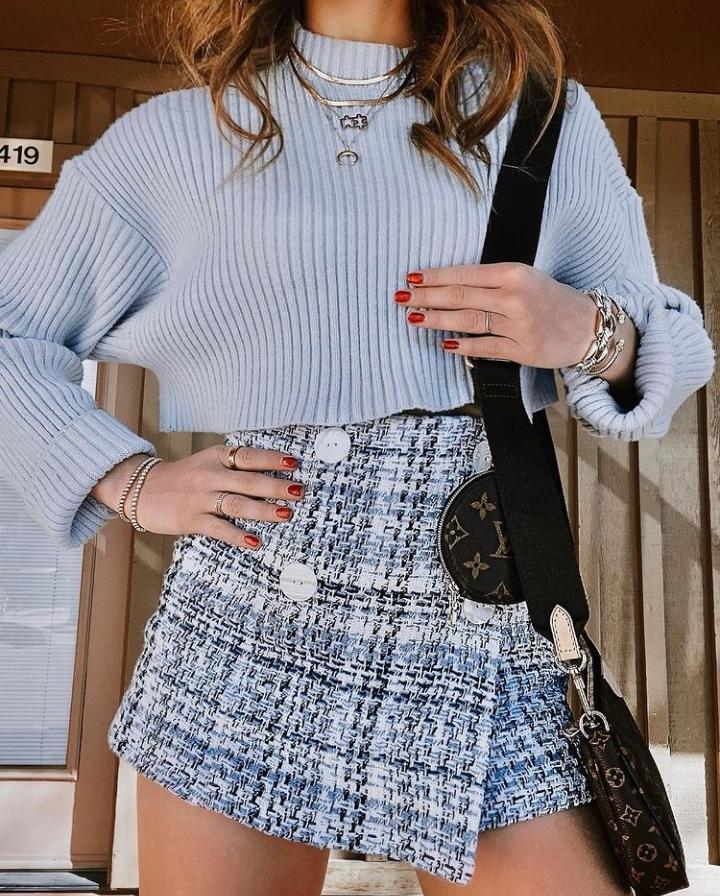 16 – Vacation Outfit
When you are packing for a vacation, your first choice is always to pack cosy clothes. The ones in which you can explore the city comfortably. Therefore, this outfit is most suitable if you want to go for something casual yet stylish. The white inner shirt with the knitted blue sweater looks stunning with denim jeans. Moreover, carrying a crossbody bag will be easier for you to manage. Lastly, if it's too cold there, a light brown coat will do magic.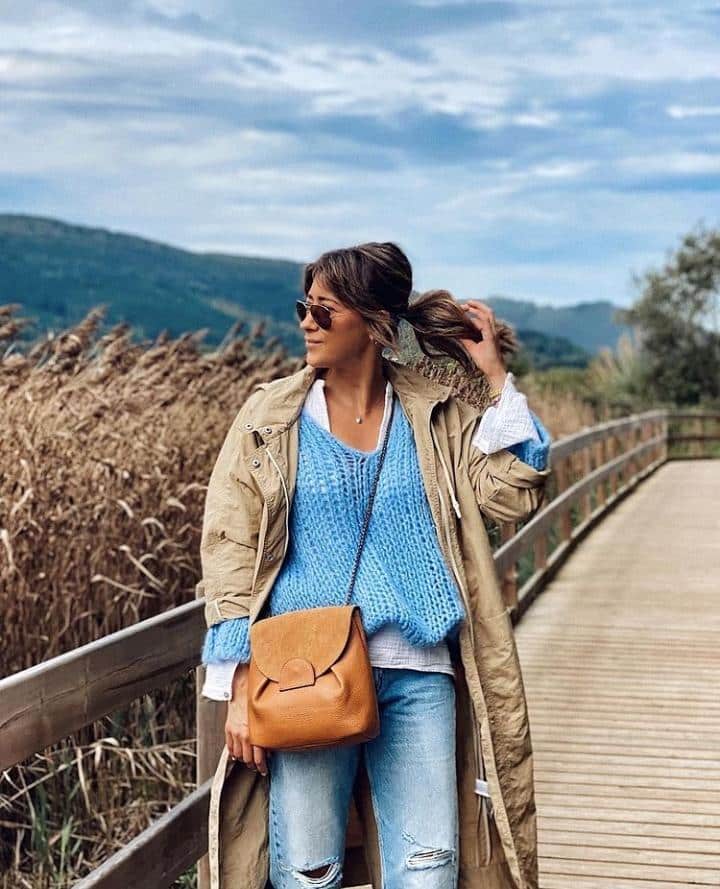 15 – Blue Sweater For Women Over 50
This look is the perfect representation of the "age is just a number" stance. You can look super decent no matter what colour you choose to wear. However, proper styling is the key. This basic turtleneck sweater with jeans is casual and can be your go-to look this winter. For all those who have short hair, this look is highly preferable.
14 – What To Wear With A Blue Sweater?
An all-blue outfit is a must for your wardrobe. Therefore, nothing is better than a blue turtle neck sweater and denim jeans. You can always fold the sleeves if they are long. However, some people roll sleeves for style as well to make the outfit look more fantastic. Moreover, you can add a belt around your waist to give your body a flattering shape.
13 – Off-shoulder Sweater Look
No doubt, Korean fashion is a mix of cute and bold styles. However, in my opinion, it falls more on the more attractive side. If you are a girlish girl, then this outfit is the perfect inspiration for you. To achieve this look, take a sweater preferably, which can work off the shoulder as well. Pair it with any shorts from your closet. It will be better if you choose black or white. Moreover, finish the look with long white boots.
12 – Keep It Basic!
If you are looking for an everyday blue sweatshirt look, then this fit serves the description perfectly. This outfit should be a part of your fall lookbook at least once this year. Moreover, it is perfect for those who want to keep it basic but in a classic way.
11 – Pair With A Dazzling Skirt
Another banger on your screen is this metallic blue skirt combination with a basic blue sweater. This look is an excellent example of how you can pair two significantly different pieces of clothing together. Those high heel boots complement the whole outfit so well. Lastly, if you are a person who can pull off this look, then a friendly tip for you is to go with light makeup with dark lips.
10 –With Hijab?
Here is the prettiest blue sweater outfit inspiration for all the hijabis out there. You don't have to struggle much for this look. Indeed, you already have a blue hoodie, and if not, then my friend, as a fashion freak, you have to keep one because blue is the new black. However, if you don't know how to wear hijab then don't worry because we've got your back!
09 – Beach Look
If you are going to a beach and you need something to wear over your bikini. For this purpose, nothing is better than a bright blue sweater plus a shorts outfit. Wear sneakers if you want to save your feet from dust. This look is preferable for the after swim outfit. Lastly, finish off the look with a sunshine smile and a pose for the picture.
08 – Oversized Sweater With Linen Pants
Another beach outfit idea, but make it an oversized sweater look. The oversize button-up sweater is serving as a cover-up here. Moreover, the way it is paired up with linen pants is what makes this outfit so attractive. Linen pants outfits always remain in and out of fashion. They are something that never completely goes out of style. However, no doubt, the off-white colour of the palazzo complements the light shade of blue a lot.
07 – Casual Blue
A casual blue sweater outfit which you can wear at home and can comfortably enjoy your evening in. Therefore, go for a crop top sweater and pair it with white and blue polka dot shorts. Moreover, pamper your skin with proper moisturization to keep it hydrated.
06 – With White Pants?
If I were going to fashion week, this is the kind of outfit I would like to wear—a classy, exquisite, and just perfect look that gives off sophisticated vibes. The puff sleeves in the sweater are unique and make the outfit more stylish. You can wear it with white trousers, pants and white boots. Moreover, accessorize it with a brown leather belt, and gold chain and shades are a must!
05 – For Students
This specific style is pretty popular among college students. For this, take a zebra lining button-up shirt and make sure it has a collar. Pair it with shorts of your choice. However, you can also wear jeans as well depending on your comfort. Lastly, wear a blue sleeveless sweater on top.
04 – Blue Bandana & Sweater Combination
Bandanas are the ultimate fashion trend for this year. All you need to do is pull all your hair back and tie the bandana. After this, you don't need any accessories in particular. It goes exceptionally well with sweatshirts or hoodies.
03 – Street-Style Fashion
A zip crop top sweater is all you need to add to your fall lookbook. Pair it with high-waist denim jeans. Keep your hair centre-parted, and a shoulder bag will complete your whole outfit.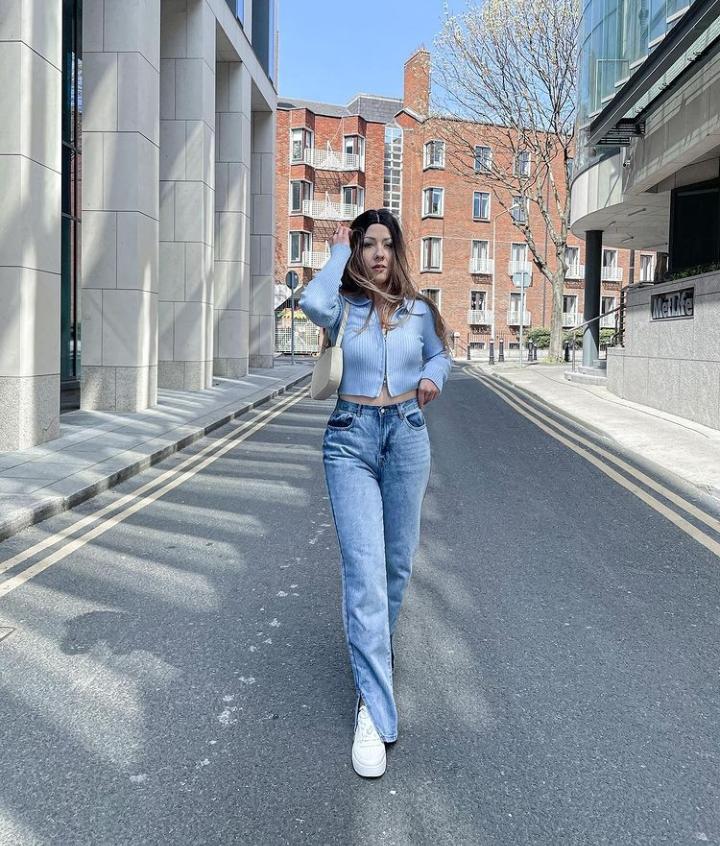 02 – Outfit Idea For Date Night
A stylish blue sweater with high-waist ripped white jeans is a perfect fit for a date. The low cut of the shirt is the most iconic part of this outfit. Moreover, you can wear crystal heels. Accessorize with minimum jewellery. However, keep your hair in a bun with minimum makeup.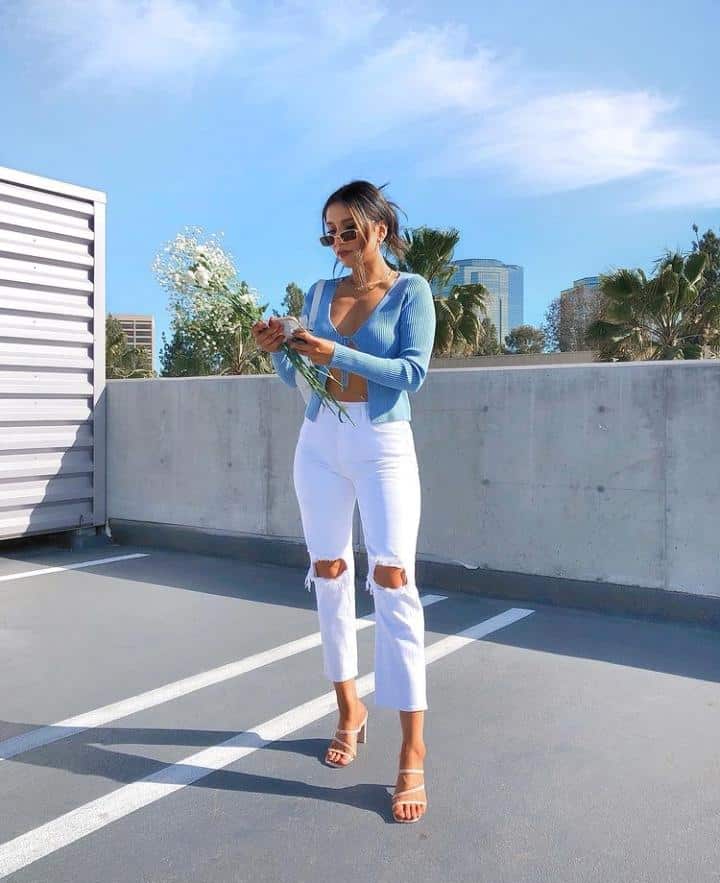 01 – Blue Blue, Everywhere!
At number 1, we have this winter look in the perfect blue sweater. Another way to style it is to wear denim jeans. The check print hat is the highlight of the outfit. However, not appreciating those white boots would be unfair. Indeed, the whole outfit is a complete package.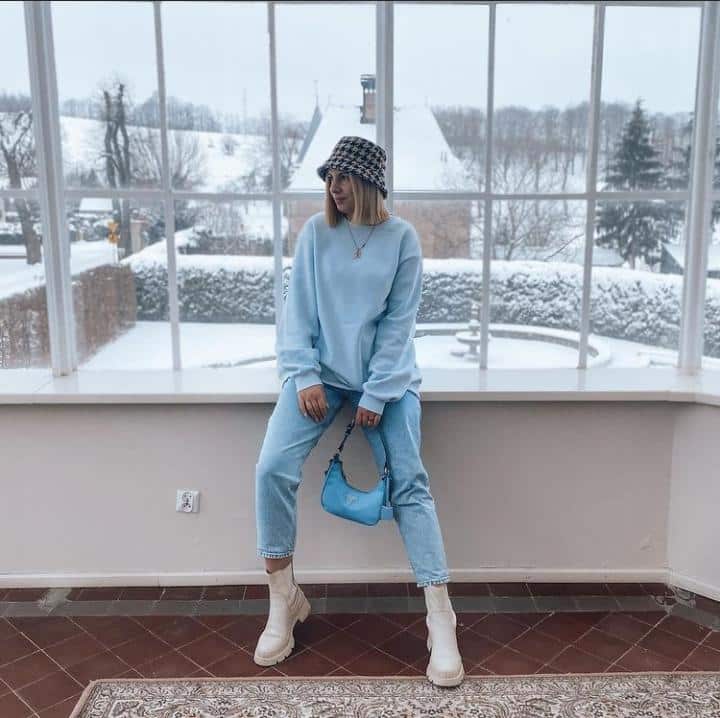 Frequently Asked Questions
Q: Can you wear a blue sweater with jeans?
Ans: Yes, you can surely wear a blue sweater over blue jeans. It can be skinny jeans, denim jeans, whatever you like. I always prefer black, blue, or precisely darker colour jeans when it comes to colour selection. However, white is always an exceptional colour because there's nothing you can not pair with white pants.

Another way you can rock your blue sweater is to pair it with black leather pants. The leather pants always complement the dark colour outfits.
Q: Which shade of a blue sweater is best?
Ans: Blue colour has many pretty shades. Your options are Indigo, turquoise, midnight blue, marine blue, sky blue, teal blue, Maya blue, cobalt blue, baby blue, navy blue, royal, and this list will never stop if I keep writing names. So, when you have so many options, you feel confused about which colour is your colour.

Your perfect shade of colour will give you an extra glow. That is the one that complements your skin. Therefore, the best shade of blue varies from person to person. It is a common saying that if you have a dark skin tone, prefer light shades, and have a fair skin tone; you should choose dark colours but it is the 20th century and everybody wears whatever they like and so should you!
Q: What goes well with a light blue sweater?
Ans: If you have a light blue cardigan sweater outfit, then take a white button-up shirt. Pair it with any black ripped jeans from your wardrobe. White & black sneakers would be perfect options for this look. Add a beanie and glasses to complete your casual look.

Another option is with a turtleneck light blue sweater. If you are on a trip, wear any black or white tank top under the sweater. Or you can choose your inner according to the weather. Pair it with skinny black jeans and a black shoulder bag. You can accessorize the outfit with shades and a watch. To complete the tourist vibes, don't forget to wear a beret.

Happy Shopping!