How to Wear Hijab: The Hijab is an important part of the Muslim dress code that has been prescribed to females. There exist numerous ways to style the Hijab which are all distinct in their own ways. One major influence of these different ways of styling the Hijab stems from the diversity in cultures.
The Arabs have their own individual style which creates a voluminous look. While the Indonesians keep it simple and elegant. The veil made its way to the mainstream fashion when brands like H&M and Yeezy hired Hijab clad models to showcase their apparel. With this important piece of clothing gaining attention Internationally, we obviously had to talk about the 18 latest ways to styling them. You can include different fabrics and styles to create unique looks each day.
Here are some important tips to keep in mind when it comes to modest fashion:
Use different fabrics for different occasions, keeping cotton for casual looks while chiffon and silk for more formal ones.
Use scarf pins to secure your drape for a neat look.
Wear under caps to prevent any hair show.
Invest in nudes and browns to pair with any colored outfit.
Make sure to choose a fabric that is weather-appropriate.
Try out a Hijab style that best suits your face shape.
Experiment with your look by trying out different styles and prints.
Make sure to look after your hair by giving them air every now and then, as well as by oiling them regularly.
Follow some of these talented hijabi bloggers to stay up do date with the latest hijab trends: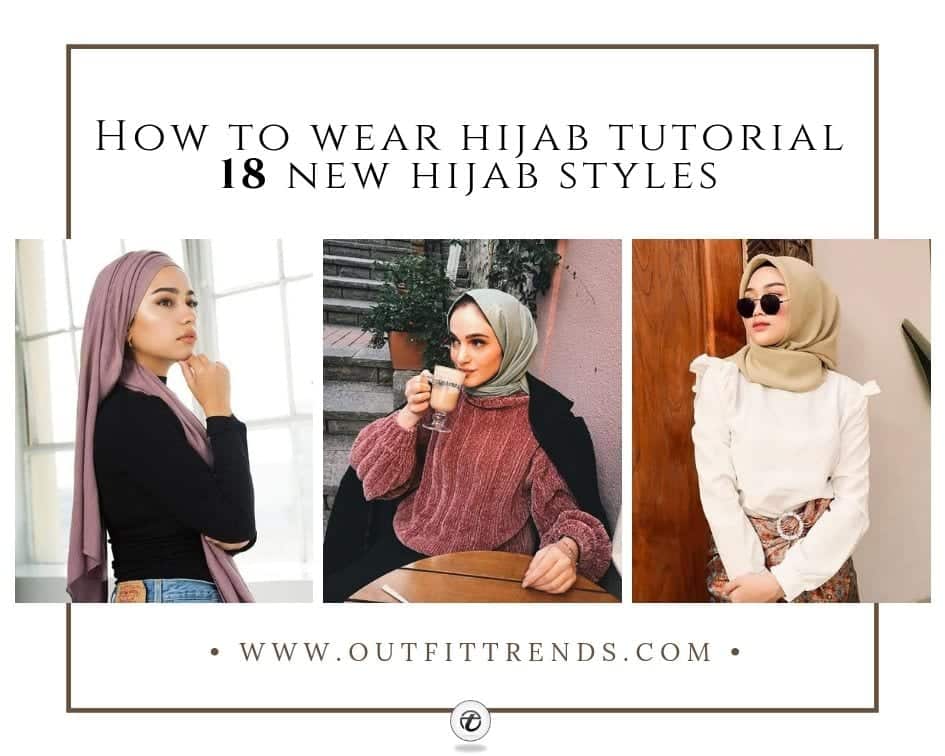 Step By Step Video Tutorial:
↓ 18. Turban Wrap With Top Knot
This uber chic and professional Hijab up-do is for women on-the-go. If you want a comfortable and western style, turban look, this is for you. Many working women often look for options which are convenient, easy to do and do not cost much time. This beautiful look involves wrapping the scarf from behind the neck and creating a bun on top, also called the top knot. Many women wishing to cover the front of their neck cannot opt for this style. However, they can create this look over a traditional Hijab for a fusion of both. The only drawback to this look is that it may be difficult achieving the top knot with a silk scarf. It can best be carried with Pashmina, Jersey or Cotton wool. Here's a Complete Guide on How to Wear Hijab Underscarf & Tutorials.

↓ 17. Layered Look
The traditional Arab Hijab look involves draping the scarf in multiple layers for a voluminous look. The Arab women often use under scarfs which have lace detailing that add volume to their Hijab. This simple and minimalistic look is easy to carry on both formal and casual outfits. The draped hijab can be pulled off with almost any kind of fabric. However, any fabric that is slippery may require some extra pins to keep the Hijab in place.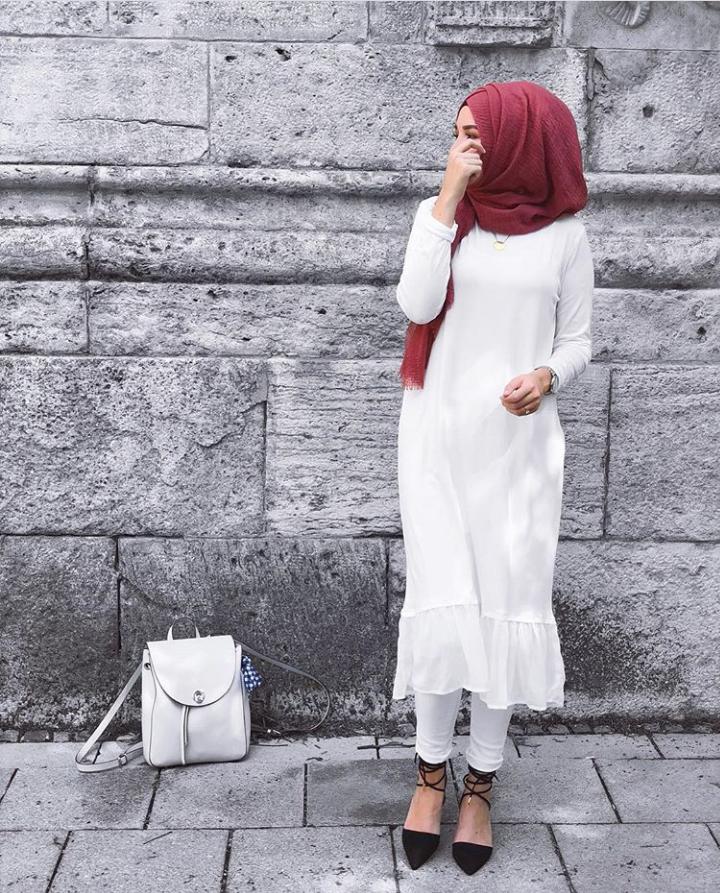 ↓ 16. Casual Look
This Dupatta-Style Hijab is another comfortable and easy-to-do style. If you are in a hurry and do not have time to drape your scarf, this is the way to do. We love how nicely it can be pulled off with Western outfits as well. If you fear hair show with this loose style of wearing a scarf, you may wear an under cap to prevent it. This fire colored Hijab has been styled in contrast with the white top and blue skirt, giving it a very elegant look. Style your everyday casual look with a similar looking scarf for a super cute look.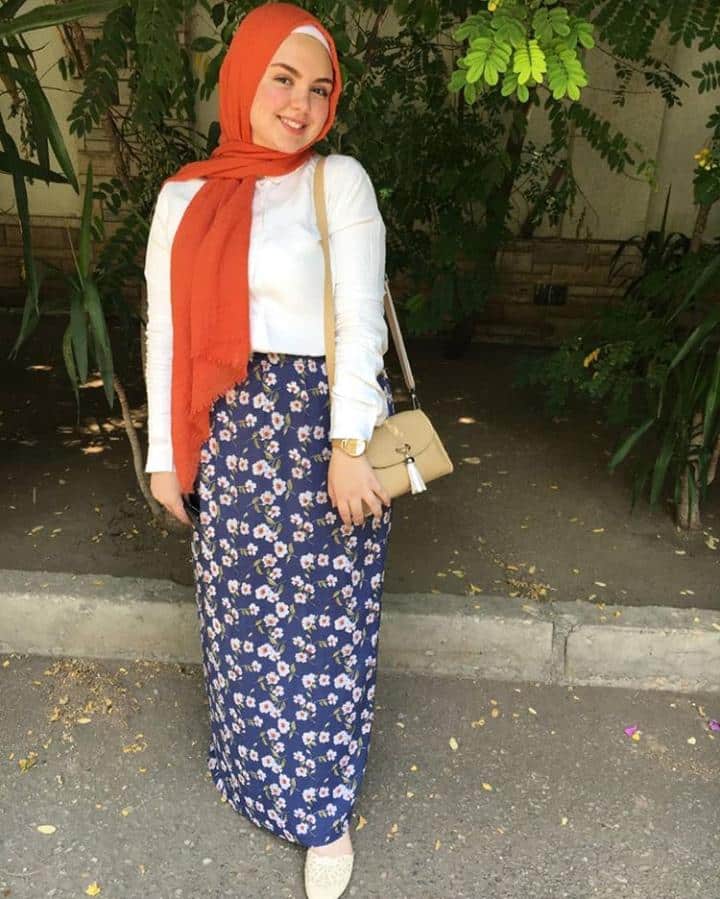 ↓ 15. Western Style
One of the most difficult task for any Muslim woman is how to style a scarf that goes effortlessly with any western outfit. Not every kind of Hijab style looks well with Western fashion. However, here is one flawless Hijab hack you could use to enhance your everyday look. This burgundy scarf has been draped from behind in a manner to cover the hair, instead of draping it around the face. We love how it has been left over the shoulder instead of tying it like a wrap. This particular style can easily be worn to work without worrying about the Hijab pulling under the chin. Do check out these 30 Stylish Ways to Wear Hijab with Jeans for Chic look.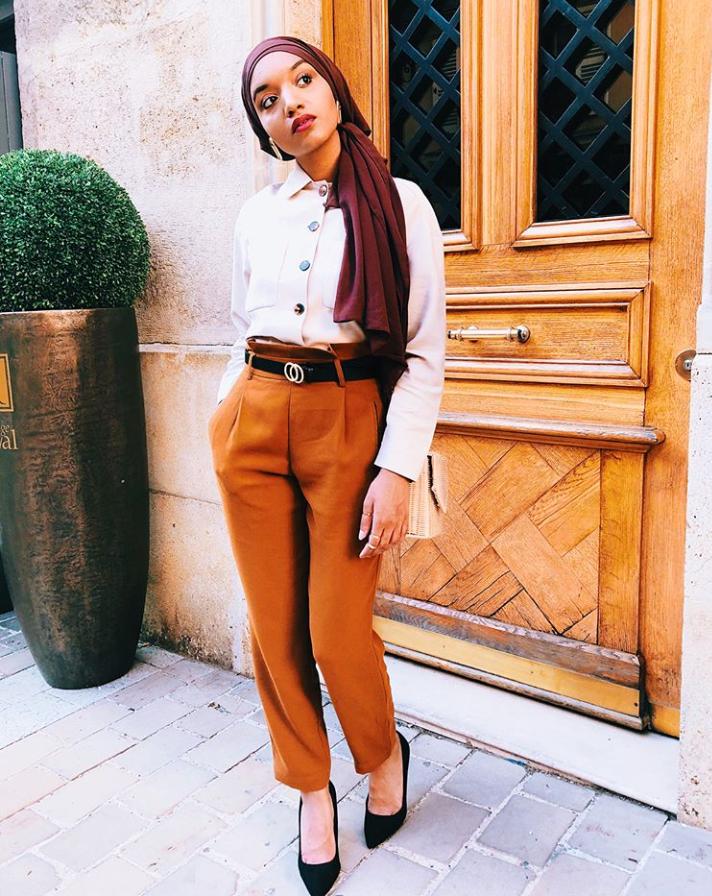 ↓ 14. Turkish Hijab Style
We are currently obsessed with the Turkish way of Hijab which recently gained popularity in the modest fashion industry. This small and simple drape has a very minimalistic look to it. Apart from being a great staple for the western fashion, it can easily be incorporated with Eastern outfits especially sarees. This nude beige is a great color to add to your wardrobe and can be styled in multiple ways.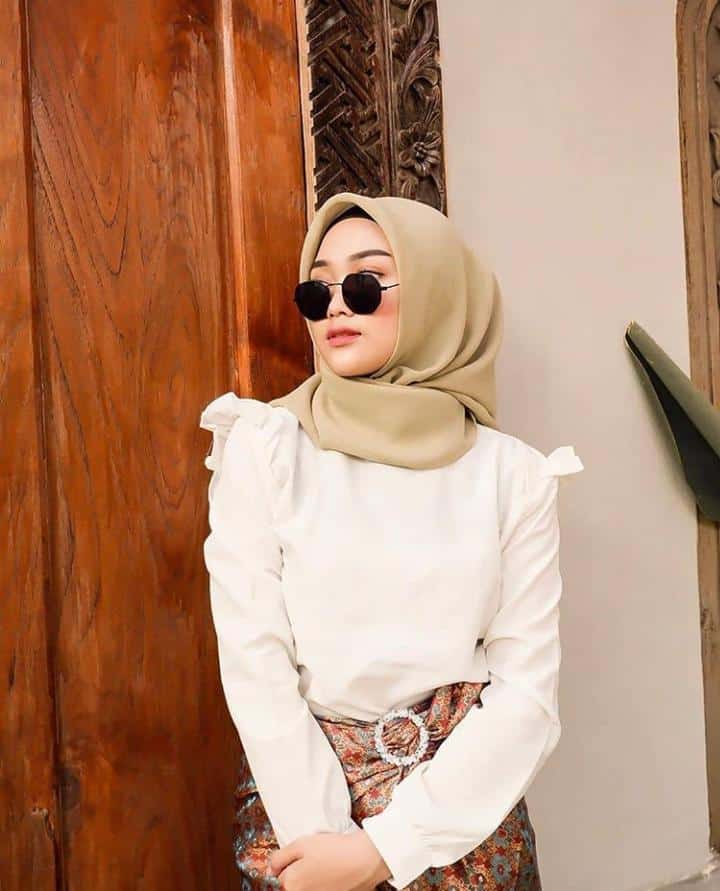 ↓ 13. Loosely Tied Hijab
If you live in a warm climate and are tired of sweaty and messy hair, here is an easy way to tackle that. We are in love with this brown colored scarf that has been tied loosely. Not only does it leave enough breathable space it also looks super trendy. This comfortable look can be sported at work or even while running errands. Wearing a hijab cap can prevent any hair show, making it a great way to stay covered yet cool.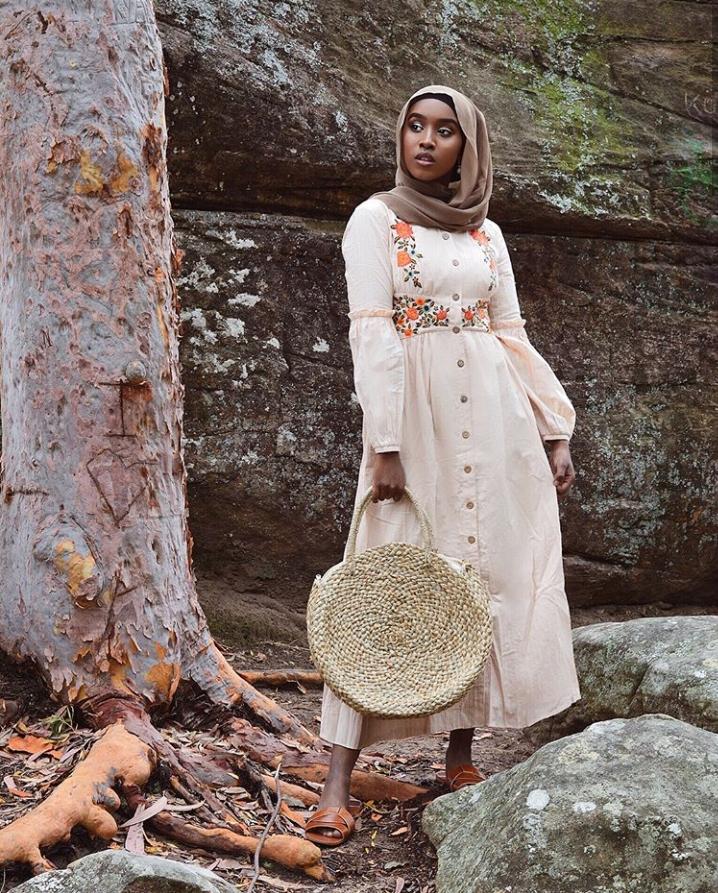 ↓ 12. Criss-Cross Hijab
Give your traditional look an uplift with this simple yet trendy style. Most women often do not want to wrap their scarfs tightly around their face and look for other ways. This loosely wrapped scarf leaves you with ample space and style. Invest in multiple nude shades for the number of ways in which they can be styled. We absolutely love this graceful look which involves draping the scarf to form a criss-cross style on the front. This time saving, cost-effective and comfortable look can be pulled off easily. You can use any fabric from chiffon, silk, viscose, and cotton to create this look. You may skip the under cap, however, if you do not wish to show your hairline and want to prevent the scarf from slipping off, you can wear it underneath.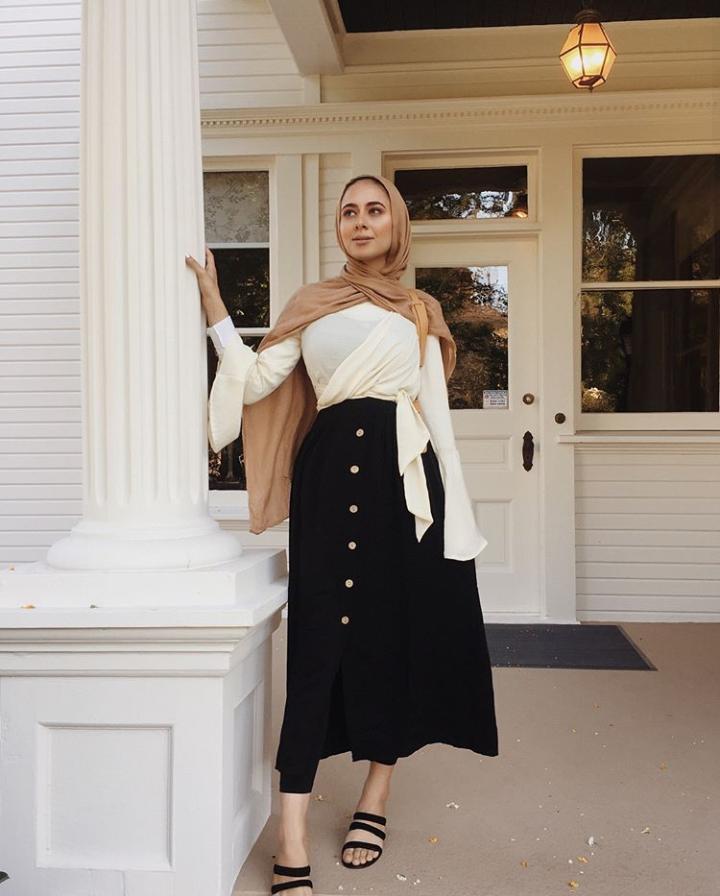 ↓ 11. Long Wrap
Here is a great way to cover up while looking effortlessly beautiful. Take a rectangular, cotton silk fabric and drape it over an under scarf. You may skip the under-scarf, however, it will only help keep the cotton silk from slipping. Pin the right half of the fabric above the left ear, leaving the remaining fabric to hang over the left shoulder. Now pin the left part of the fabric on your right shoulder. While the method may look confusing at first, it is quite easy to do. This Hijab style can be worn over an Abaya or any long dresses.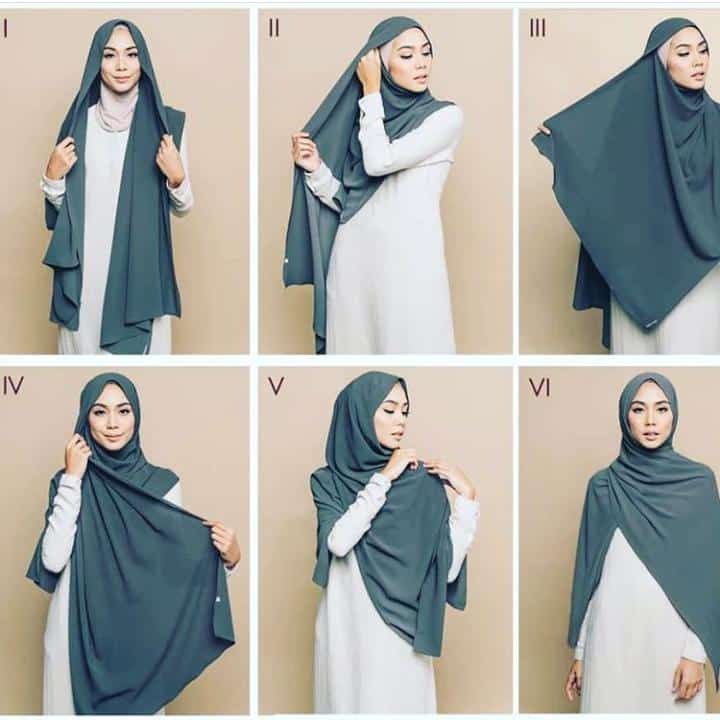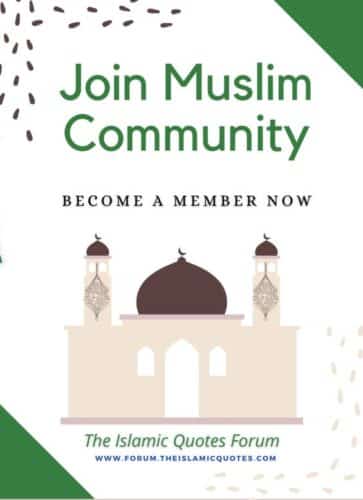 ↓ 10. Winter Style
Winter is the best season for Hijabis as not only does it help protect them from the cold, it keeps them feeling fresh. It also saves them from the time that would otherwise be spent on styling the hair. This mauve colored long sweater and a matching scarf is the ultimate winter inspiration for all those girls looking for modest fashion outfit ideas. You may give your scarf a traditional look by draping it around the face. Giving it multiple layers will create an Arabic style, adding volume to the look. Here's a complete guide on What to Wear As A Hijabi Traveler.
↓ 9. Middle Eastern Style
Check out this beautiful, printed silk scarf that has been wrapped in a sophisticated yet stylish manner to create a Middle Eastern look. Add in bright colored and printed scarfs to any dull looking outfit for a statement style. Prints can definitely be worn on prints however it is essential to keep the print patterns different. Additionally, it is important to keep the prints in similar shades of color as has been done here. The gorgeous long dress has different shades of blue which have been used as a contrast with the dark blue scarf. Twist the ends of the scarf and wrap it around your neck for a similar look. Not only does it look great with long dresses, but it can also be worn with any other style of outfit. If you are looking for a Hijab style to be worn at a formal occasion, fret no more. This Middle Eastern style is the ultimate go-to when it comes to fancy and exquisite fashion looks.
↓ 8. Voluminous Hijab Look
Check out the neat layers that have been added to this traditional Hijab style to create a voluminous look. You may create a similar look with a dupatta or long scarf that may have been lying in your wardrobe. Give your outfit a fun makeover with this new and trendy look. Follow this step by step guide to recreate this look of perfection.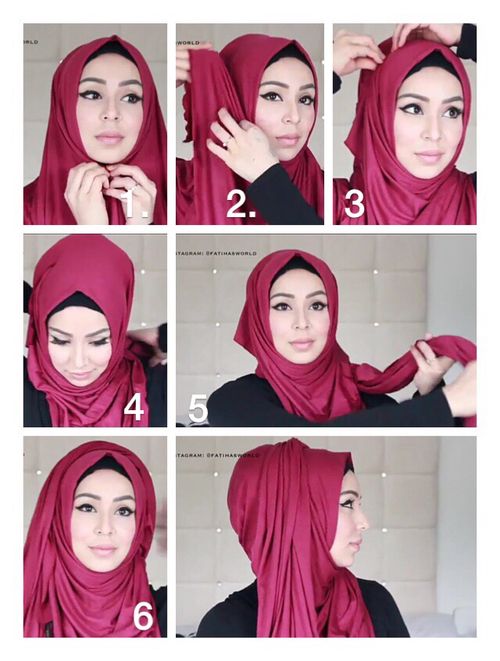 Via
↓ 7. Neutral Colored Hijabs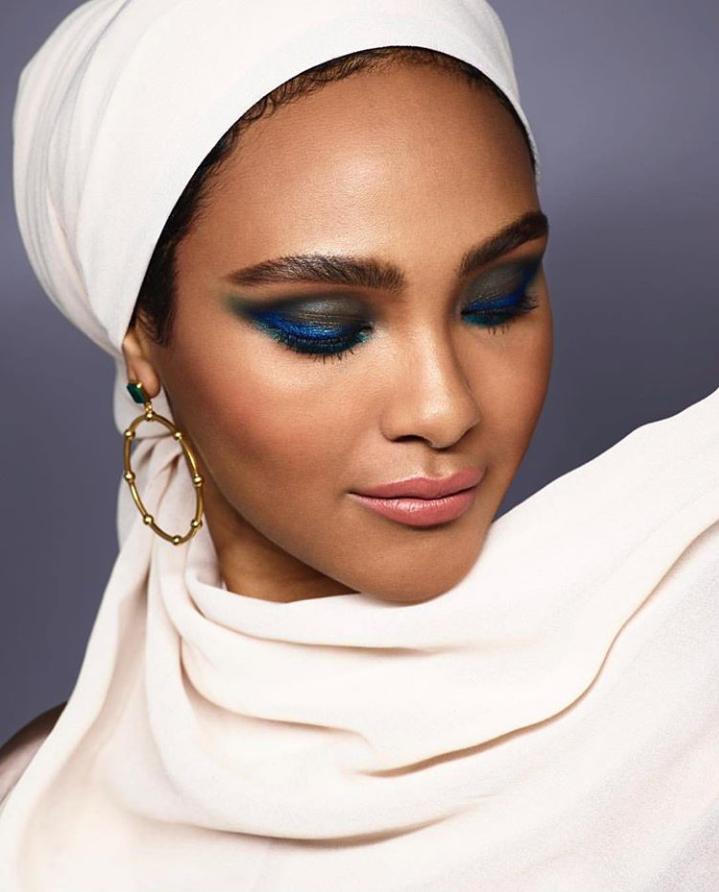 ↓ 6. Urban Street Style
Embrace the cool girl within you and step outside in the most elegant looks possible. Red and black? Yes, please! This color combination is one classic one and can be sported all year long. We love how this long scarf has been draped to hang at one side only. The sneakers are adding to the look, creating a comfortable and casual everyday look. The red handbag is the perfect accessory to add to this look. Adding a black under cap is a great idea as it will add a bit of black to the Hijab as well. This Fall/Autumn look is perfect for work, high school or just an evening stroll outside. We would prefer silk or chiffon scarfs for this look as they have a light weave and add more of a flare to the look.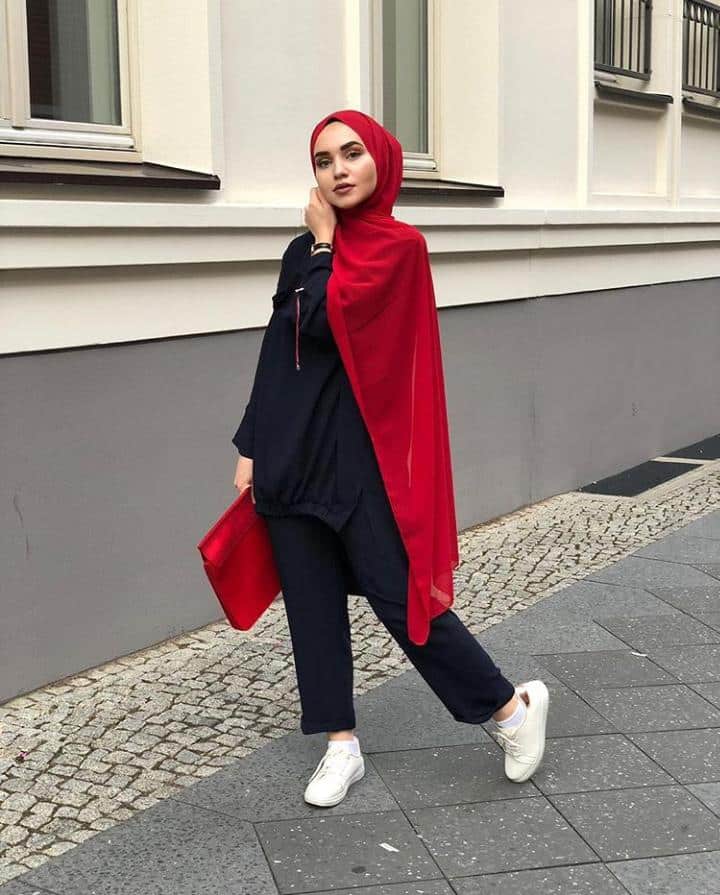 ↓ 5. Hijab Style for a Modern Day Woman
Here is another western style that can be recreated for an uber cool and stylish look. This Hijab style can be pulled off on both Western and Eastern outfits. However, it may not suit every face shape. We love the burgundy shade that has been worn over a simple black shirt to give it a pop of color. One highlight of this Hijab style is how you get to flaunt your earrings and necklaces with ease, adding the perfect accessories to your outfit. Don't miss out these Simple Makeup with Hijab Tutorial and Hijab Makeup Tips.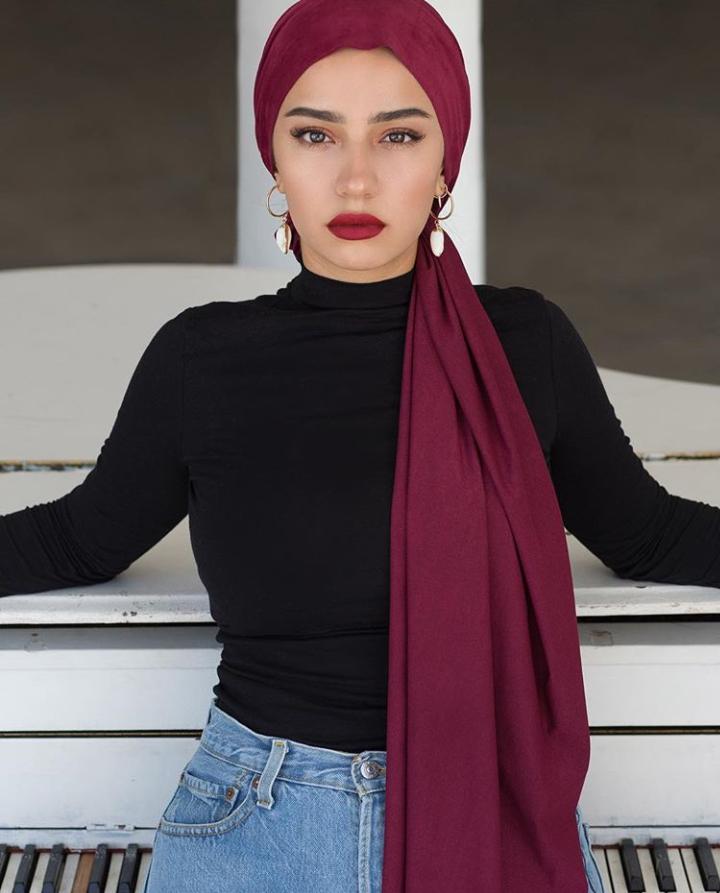 ↓ 4. Latest Hijab Style
Give modest fashion a new definition with this uber cool style of doing the Hijab. We love the multiple layer effect it has on top and how effortlessly it hangs below. You can use pashmina or jersey to pull off a similar look. Wear your scarf behind your shoulders as is done by Kashmiris. Pin it behind the ears to secure it tightly. Put one end under the other like a loop, while allowing the other one to hang behind. Pull out all your favorite Western outfits from your wardrobe and give them a makeover with this latest Hijab trend.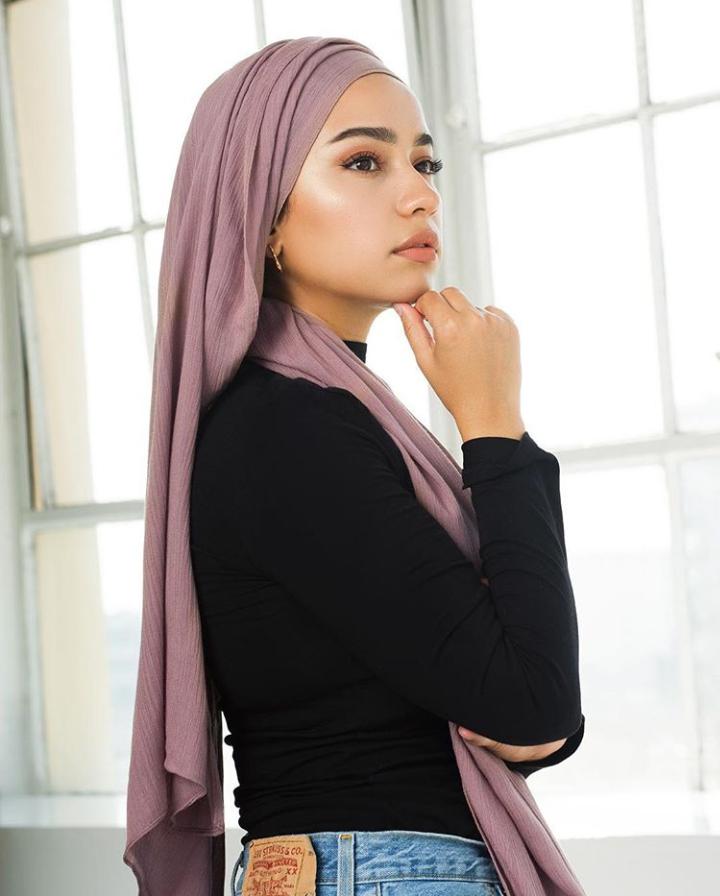 ↓ 3. Neck Wrap
Take a look at this neat and gorgeous wrap that does not hang loosely. If you find it difficult to manage long and rectangular scarfs, go for square ones which are easy to drape. This gray colored, cotton scarf acts as a Hijab and a neck wrap. It can be worn with western outfits, tucking them inside sweaters and shirts. More often than not, Hijabis find it difficult to go for shirts with embellished collars and necklines as they get concealed under the scarfs. However, this style allows you to flaunt embellishments, statement necklaces and detailed collars like never before. To add more detail to the look, you may create knots on the front or back.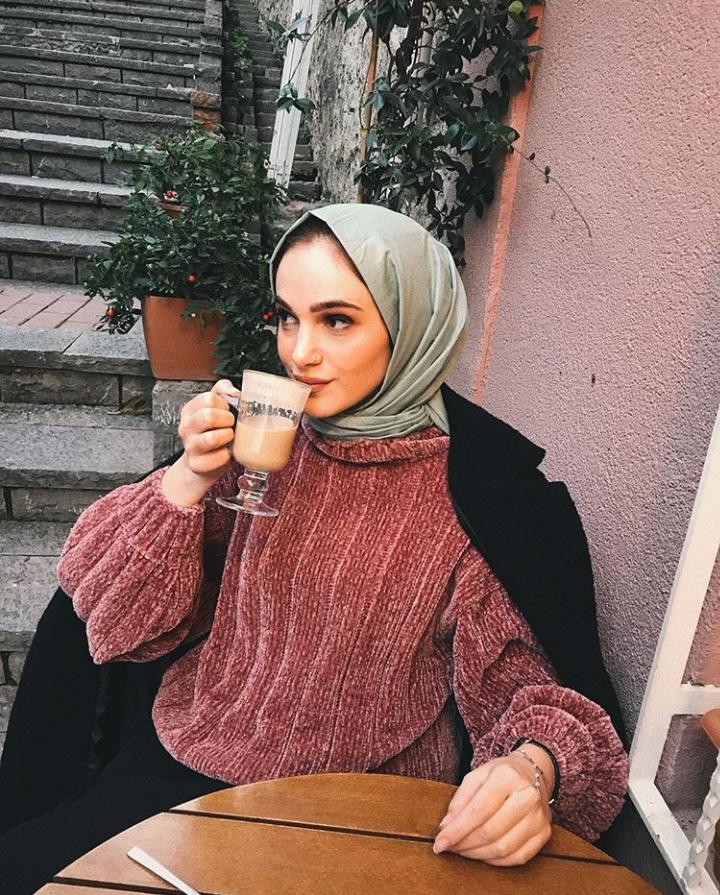 Via
↓ 2. Arab Style
If you wish to go for a classic Arab look, adding height and volume to your scarf, here is some inspiration for you. Wear your Hijab, adding multiple layers to it. This may be worn as a turban wrap or can be wrapped around the face. Make sure to use a small scarf which you are able to hide beneath the second scarf. Choose a colored or printed scarf to wear on top for a stunning look. We really like the use of a fringed scarf which is adding details to the overall outfit. The bright scarf is a great way to add color to a simple, black outfit. You may want to skip this look if you live in a hot climate as it would turn your hair into a sweaty mess. However, it can definitely be sported during fall and winter.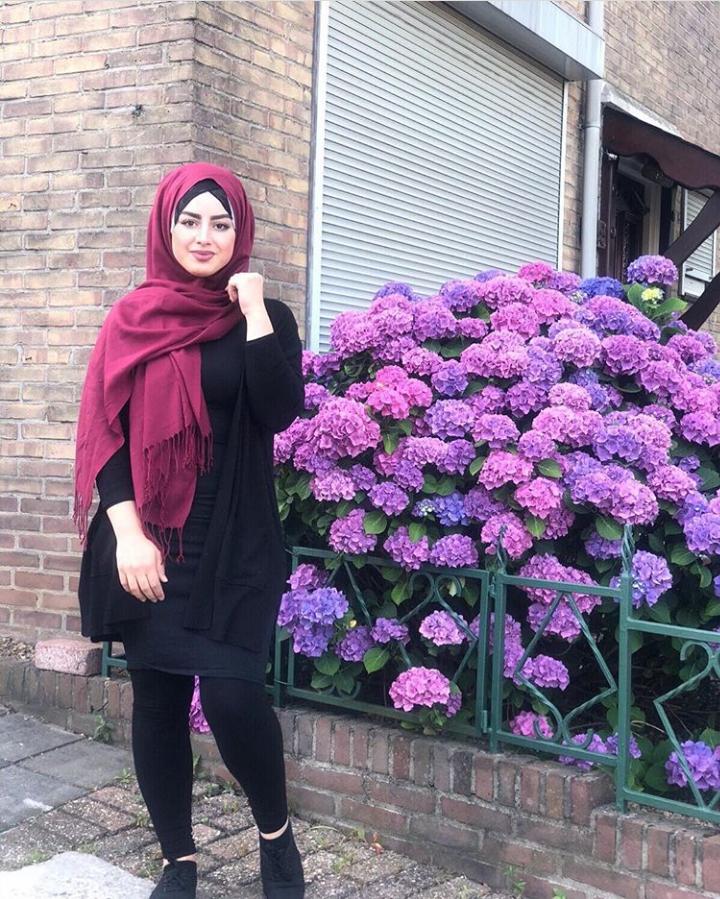 Via
↓ 1. Glamorous Hijab Style
How beautiful is this Hijab? The frayed edges, crushed fabric, and the neutral tone are all looking super gorgeous. Use a crepe fabric to create a lightweight and easy to drape Hijab. This fabric is very light and airy and can be worn throughout the year. If you plan on traveling, make sure to add this scarf in your suitcase to wear it with ease and perfection. You may want to wear an under cap as the fabric may be see-through.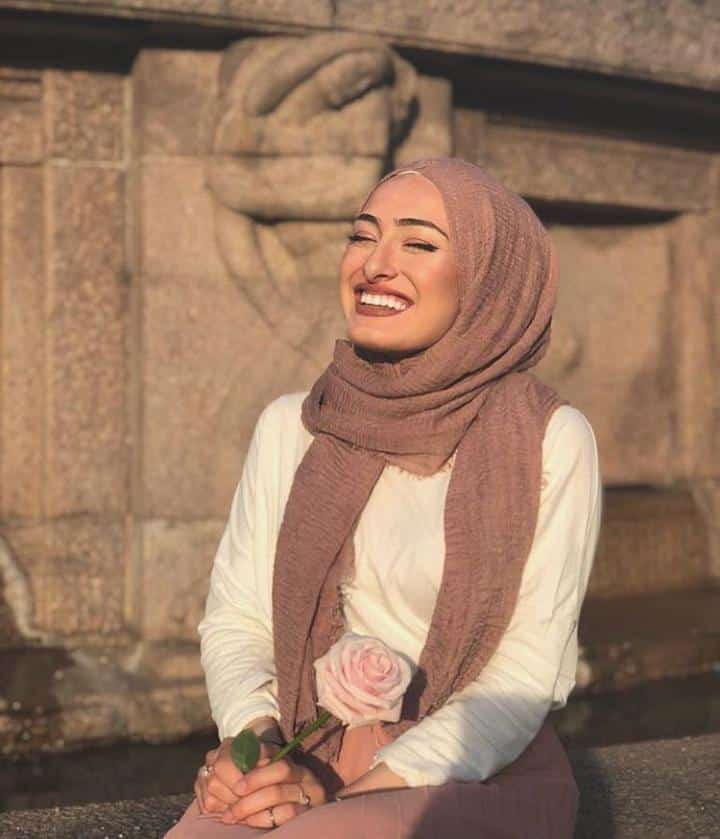 Via