Are you looking for some Latest Turkish hijab styles? If you are a true lover of hijab and Turkish hijab fashion, this post is for you.
How to Wear the Turkish Hijab?
Styling the hijab in different ways, like twisted and knot scarves, is fun and unique. Accessories on top of the hijab or headscarf can multiply the beauty of the hijab. You can also style the hijab with different pins. Furthermore, funky clips or laces add individuality to your look! A colorfully printed headscarf with a simple outfit can make you look graceful.
Hijabs can be used and wrapped around the face in different styles and ways. These days various types of hijabs are available in the markets. Net and sequin scarves, wraps, and triangle scarfs are standard and readily available at the shops. Some hijabs are available in a stitched form, and some are loose material. The Turkish scarf style is perfect for round-shaped faces also. It will serve to enhance the features and make you stand out.
Simple Step by Step Turkish Hijab Style Tutorial
Wear a cap over your head.
Fold the scarf into a triangle.
Place a scarf on your head with one side longer than the other and one under the chin.
Take the longer side, wrap it behind your head and bring it to the other side.
Put the scarf behind your head and at the shoulder.
I hope you loved reading about Turkish hijab styling. Below are the pictures to give you a fair idea to get inspired and create unique looks! I would advise you to try all the styles, and the key is to wear them with confidence!
↓ 20 – The Perfect Turkish Bridal Look in a Hijab
Muslim brides know how to serve a stunning look in their beloved hijab. And I love that for them! The best part is the scarf blends effortlessly with the dress and makes the bride stand out exceptionally.
This bride opted for criss-cross details on the under-cap and paired it with a gorgeous Turkish hijab wrapped around her neck elegantly. The color and feel of the scarf blend effortlessly into her dress, giving her elegance and grace. And the veil on the top is just what was needed to knock this bridal look right out of the park!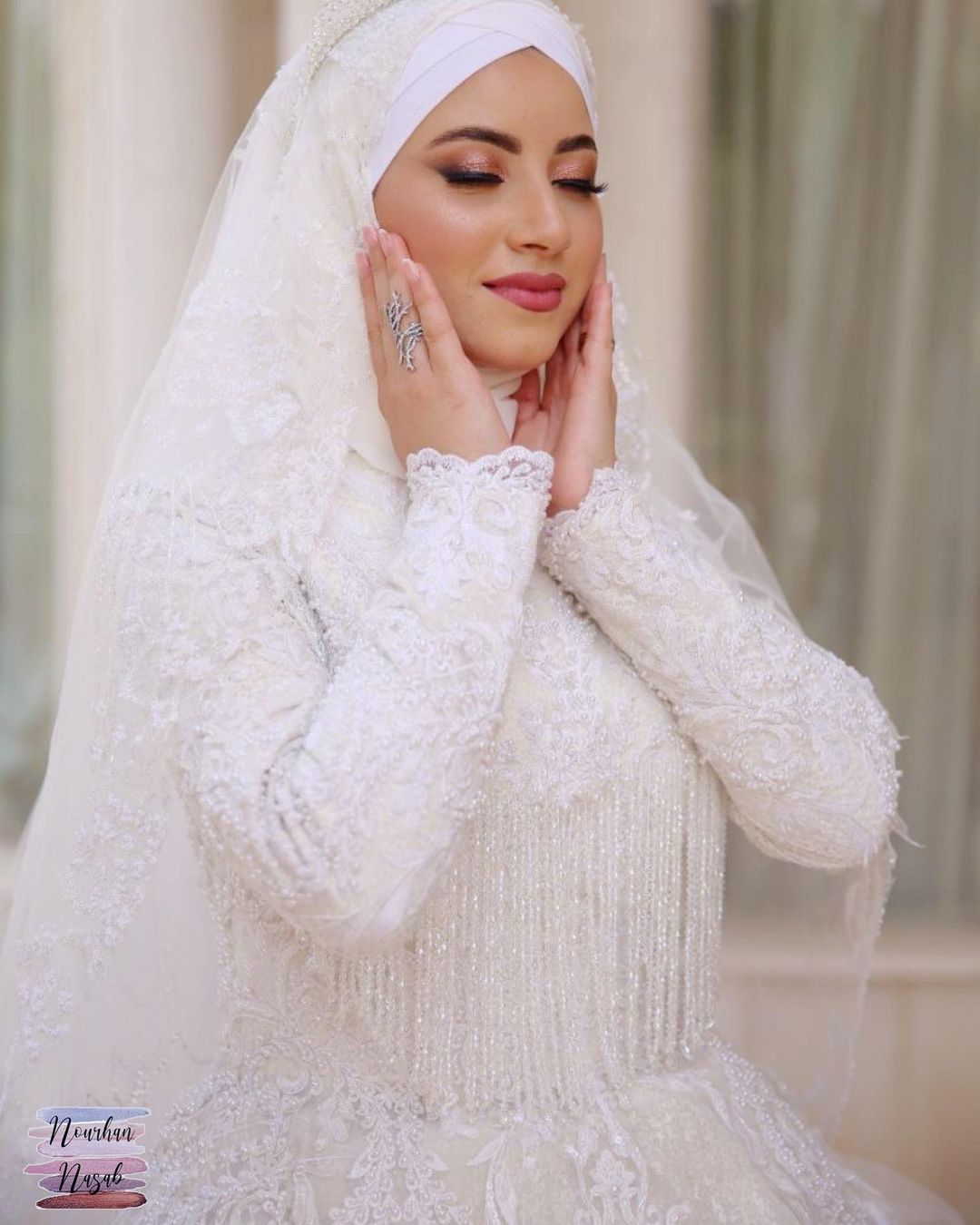 ↓ 19 – Get Street Vibes with a Turban Style Hijab
If you thought the Turkish hijab would not blend in with western clothing, you thought wrong! This outfit is the proof of nailing the street vibe in a scarf. The key is ensuring you style your hijab appropriately to match your ensemble.
Most frequently, you will find the turban style of wearing the hijab works effortlessly with various fashion styles, whether grunge, street, indie, or feminine! Thus, get your favorite outfit out and style your hair in a trendy turban-style hijab for the ultimate street vibes!
↓ 18 – A Quick & Easy Style to Head Out in a Hurry
This hijab style is super easy and quick to wear when you are in a hurry and need to head out while still looking fashionable. For this style, you will need a rectangle-shaped Turkish cotton hijab. The fabric will provide enough friction for the cloth to stick and last all day long! That means you are free to spend your day doing your chores and running errands without worrying about your hijab falling off!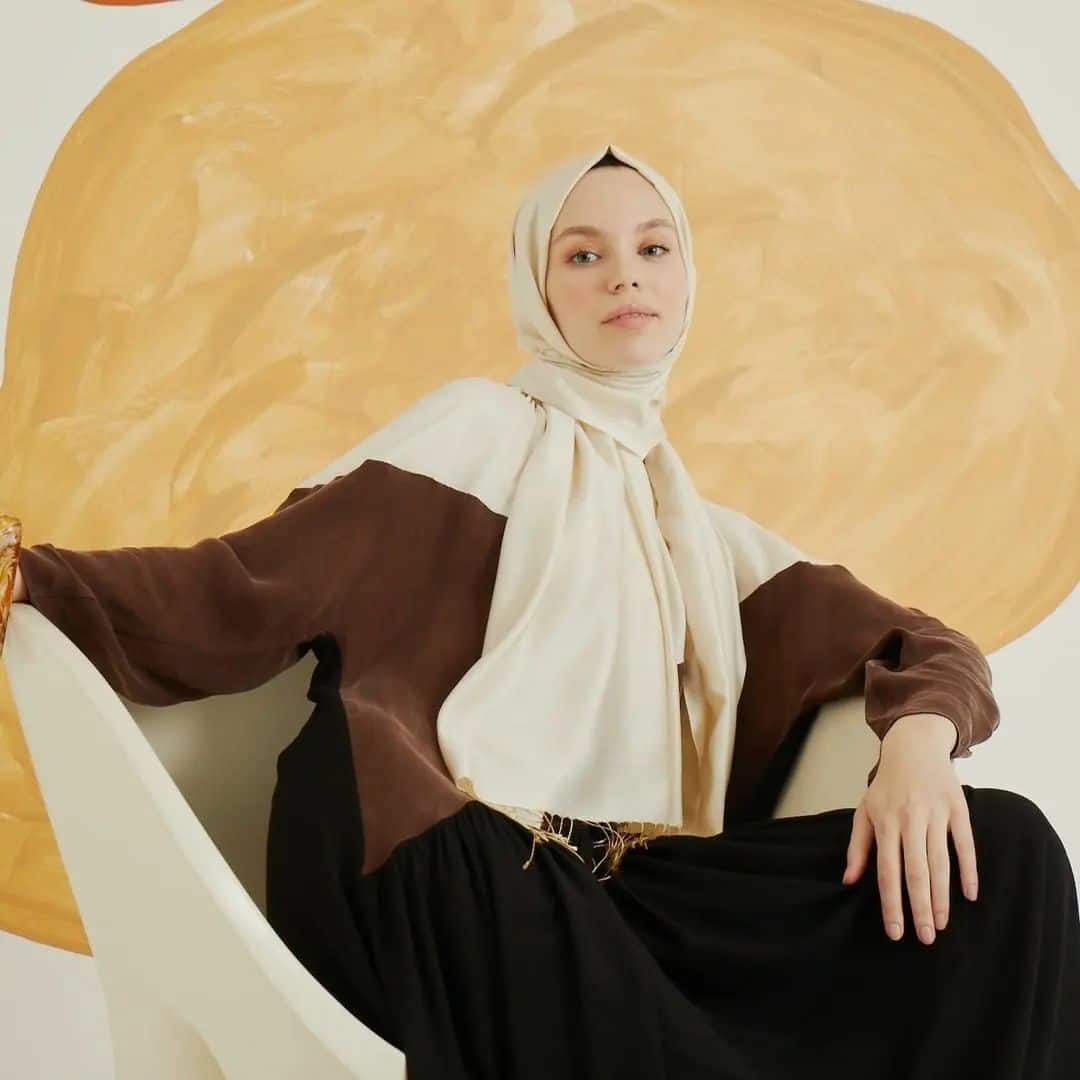 ↓ 17 – Opt for a Youthful Look
Are you looking for the perfect way to style your hijab? If you want to attain a youthful and fresh-faced look, this is the way! Additionally, this method of wearing the scarf is super mainstream and widely popular among Turkish ladies, ranging from younger to older women. It is quick, easy to style, and lasts all day long.
Simply fold your scarf in a diagonal half. Then, grab the long straight end of the hijab and keep it flat on your forehead, bringing the two corners beneath your chin. Pin it there, and tie the loose ends into a comfortable knot beneath your chin. And there you have it!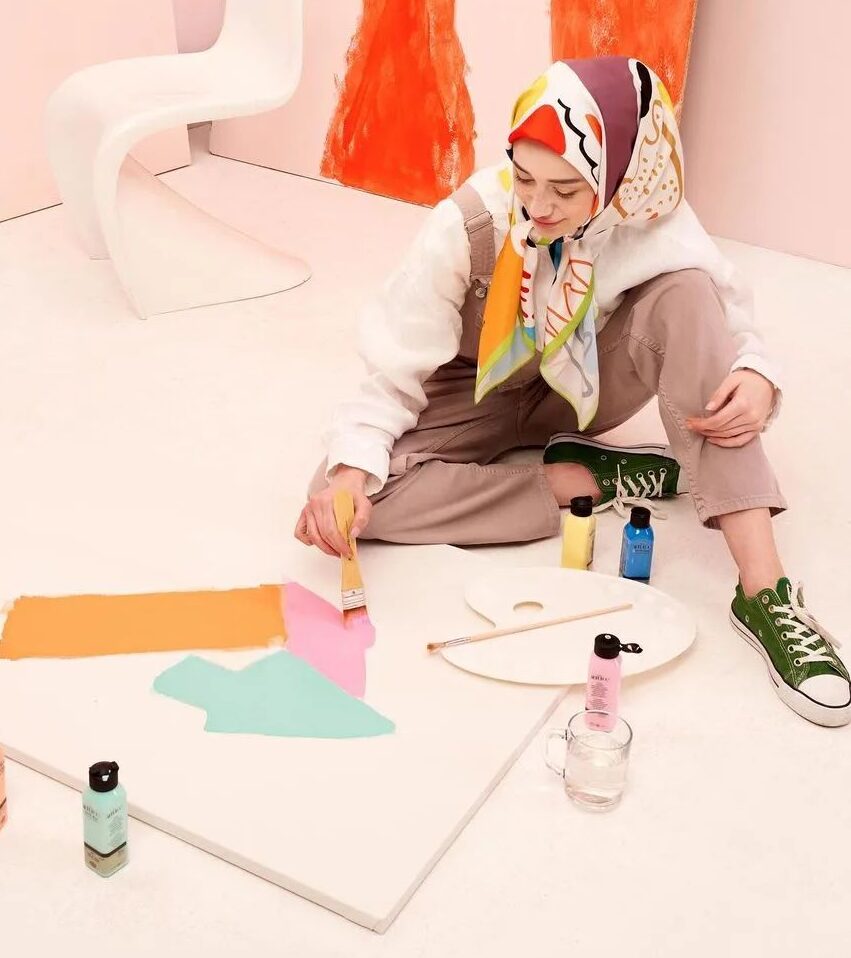 ↓ 16 – Go for a Double Hijab Look
I can easily say that this is my favorite look and has done justice to the Turkish hijab. Moreover, it ticks all the right boxes, including style, grace, and chic! And the best part is that the design is unique and the perfect way for you to express your individuality. After all, you can be sure that no ordinary person would think of a look this daring and creative. But you sure can!
↓ 15 – Style your Hijab with Jewelry & Accessories
Styling your hijab with accessories and jewelry is ideal to appear fancy and stand out in the crowd. So when you have got a wedding to attend or a formal gathering to go to, I would advise opting for a classy brooch or dainty headpiece to go with your hijab.
Even if you do not have immediate hijab accessories at your disposal, you can make your own at home. It is time to get your DIY gloves out and get crafty. A quick tip is that your old jewelry, safety pins, and hot glue are going to your best friends for this operation!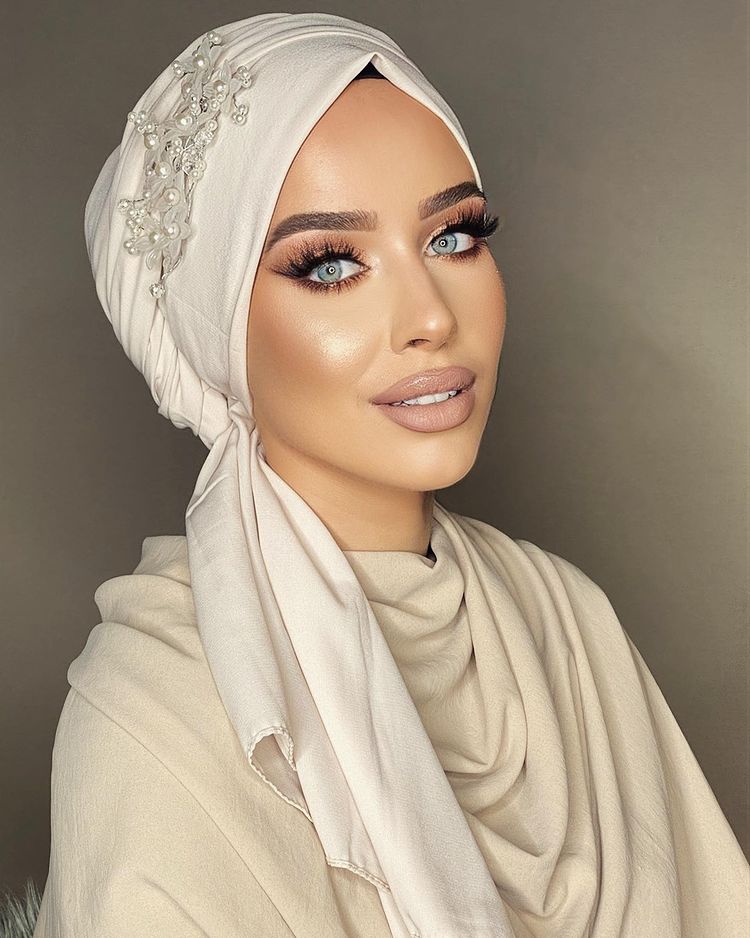 ↓ 14 – Silk on Silk Party Outfit
Hijabs in silk fabric are the most commonly available product, and this is because, for some reason, this fabric works best for Turkish style. One reason for this could be that the original Turkish-style hijab was in silk fabric because Turkey was a part of the silk route. To this very day, some of the world's best silk scarves are available in Turkey.
There are many benefits of wearing silk hijabs. For starters, if you're an eco-hijabi and wholeheartedly care for the environment, silk should be a preferable choice. This is because it's a natural material (not synthetic), and it is ultra-gentle to your skin and hair. Wearing a silk hijab makes you feel comfortable, and for many of us, it gives such a royal feeling because of its comfort. Another great thing about silk is that it can work in almost every season, and when paired with a silk outfit, it can create the most beautiful formal or party outfits.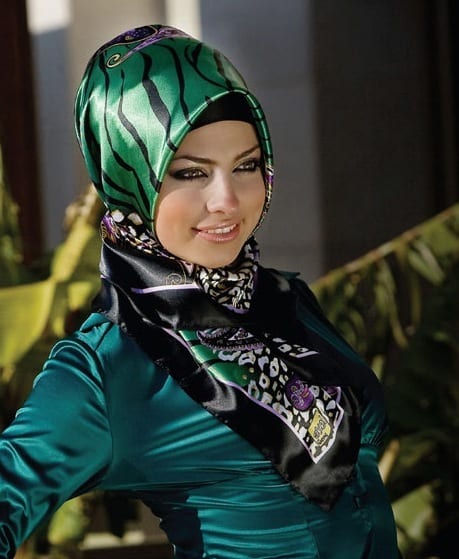 ↓ 13 – With Blazers and Jackets
A hijab pairs effortlessly with all majority clothes, including blazers and jackets. I would even say that it provides extra warmth to your neck and ears, keeping you cozy throughout the day. Grab your outerwear, button it up and style your hijab carefully with one end sticking on one side of the shoulder!
The Turkish-style hijab goes well with not just blazers but also leather jackets and long coats. Opt for bright or colorful hijab prints for the best results. Here are some more Stylish Winter Hijab Outfit Combinations.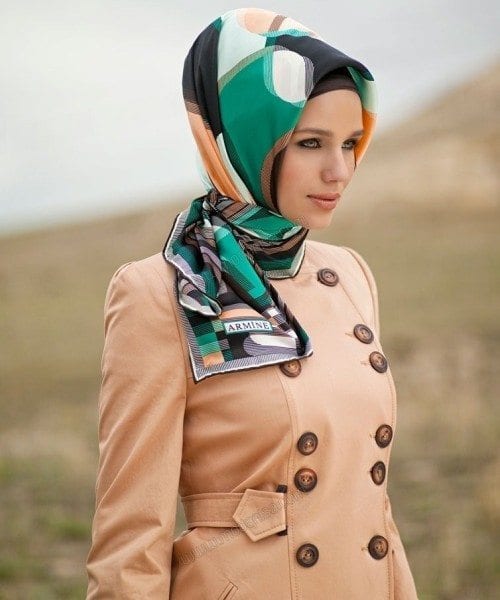 ↓ 12 – Go Bright and Beautiful in Neon
A chic way to plan an outfit recently is to go for muted attire and pair it with a bold, bright, and eye-catching hijab. Your ensemble could be monochrome in shades of black and white and gray. However, a yellow or mint green hair scarf is bound to make things eye-catching and make you rise to the attention you deserve to have!
Incorporate the mint green into your outfit via accessories, shoes, and outerwear! Moreover, these neon-colored hijabs look best on girls with fair complexion and would be recommended for the winter season. On the other hand, they stand out equally – if not more – in the darker ladies. It all comes down to your styling and preference!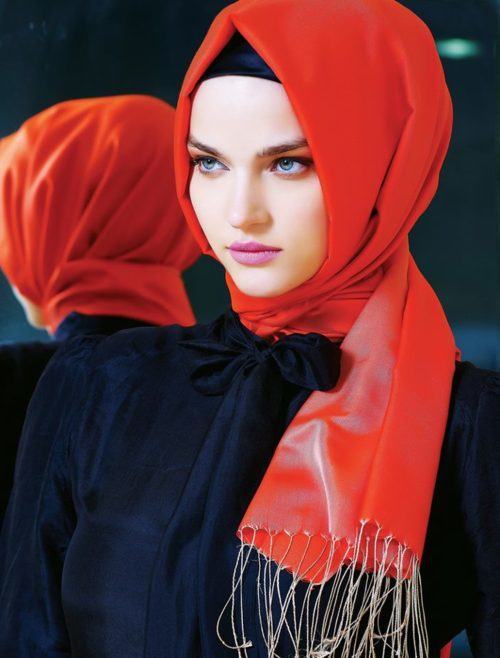 ↓ 11 – Drape it Over One Shoulder for an Elegant Look
Talk about a graceful and sophisticated method to drape a hijab over her shoulder! Keep your make-up light and natural to enhance your natural beauty!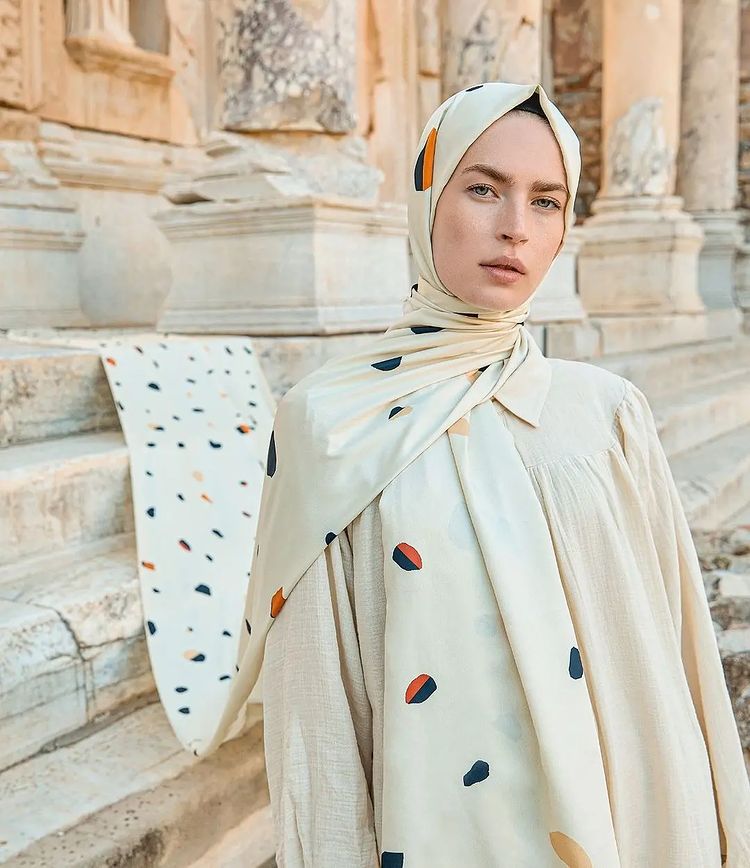 ↓ 10 – Formal Hijab Styled by a Wedding Guest
An excellent way to make your outfit appropriate for a wedding is to opt for an organza Turkish hijab with applique details. After all, it really is all about the details, and this fabric and style are bound to earn you some brownie points!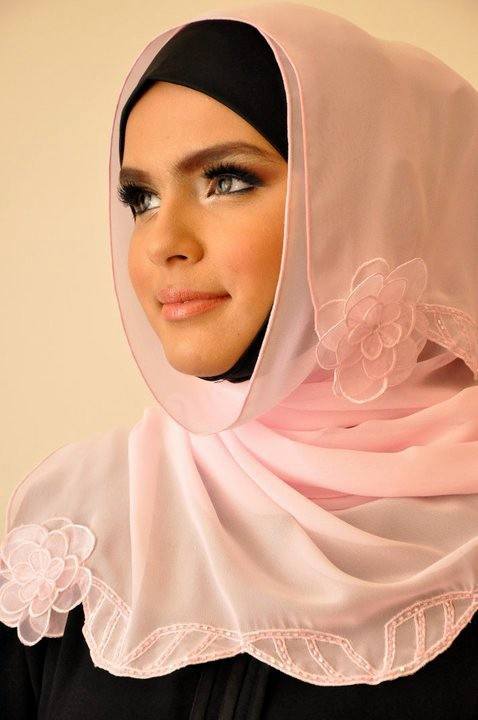 ↓ 9 – Get a Modern Look with a Solid Colored Satin Scarf
When in doubt, best believe that a solid-toned hijab will never fail you regardless of the occasion. And the key is to reach for the satin finish ones as they look more regal and elegant!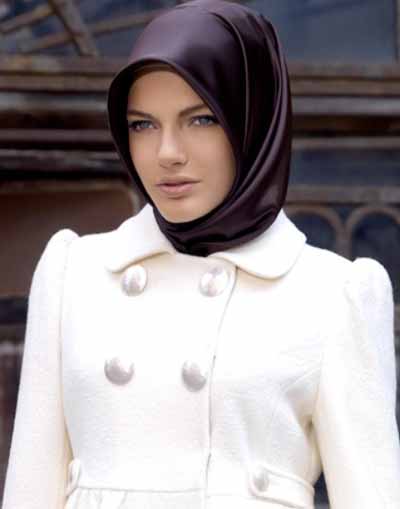 ↓ 8 – Suitable Turkish Hijab for Round Faces
Turkish hijab looks great on girls with round faces because it adds length to the face making it look more ovalish and hence even more perfect. I also recommend that you go through these Hijab office Wear ideas.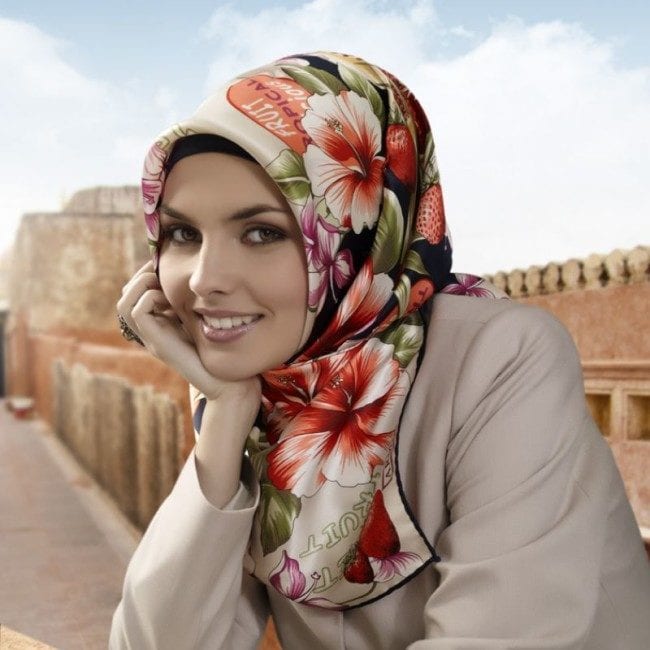 ↓ 7 – Pair your Turkish Hijab with Underscarf Cap
Add an under-scarf or cap on your head. It is known as the Turkish hijab cap. You can accessorize this hijab to give yourself a new look. Most girls wear a Turkish-style hijab with an under-scarf or cap. Otherwise, some of their hair may be visible. Thus, you get the best of both worlds! Fashion without compromising on your beliefs!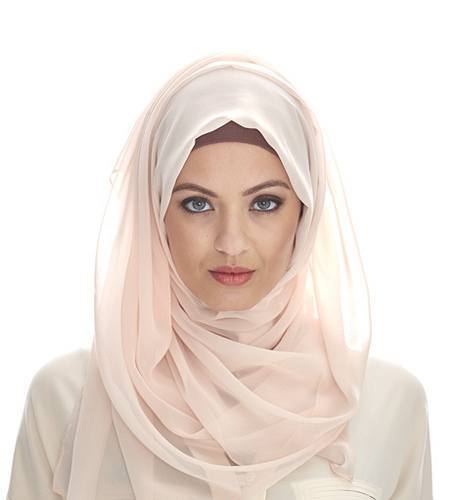 ↓ 6 – Opt for Trendy Patterns of your Scarf for an Effortless Look
Trendy patterns and prints are all everyone's been raving about this season. Therefore, this look is right up to the mark and super trendy!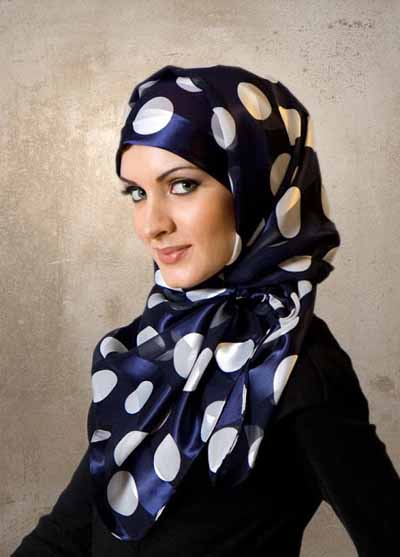 ↓ 5 – Get a Stylish Turkish Hijab Look with Front Knot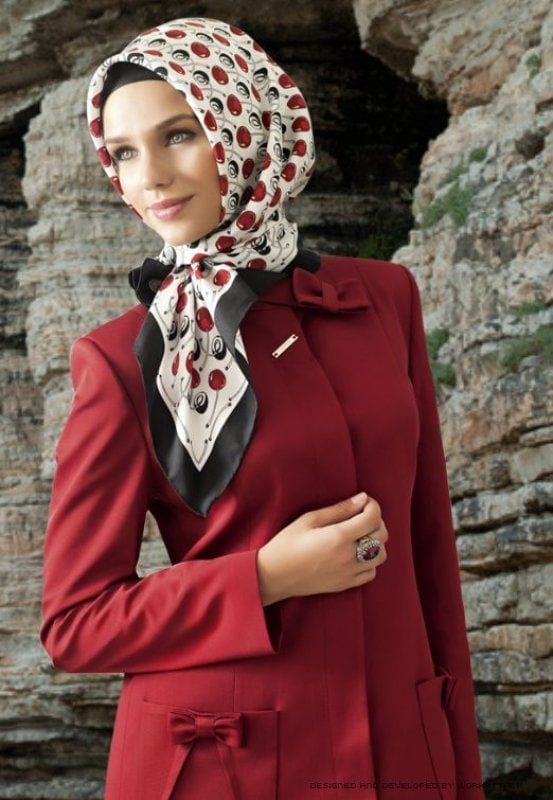 ↓ 4 – Style your Hijab Glasses with Classy Sunglasses!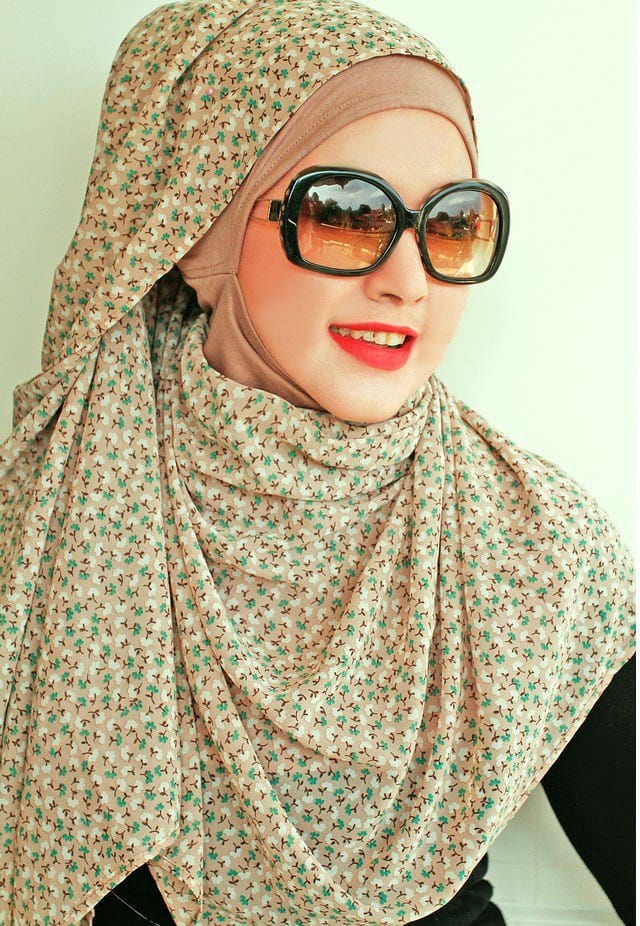 ↓ 3 – How to Wear a Printed Turkish Silk Hijab for Work?
Most Turkish-style hijabs are seen in printed colors so you can always find a hijab to match your outfit. This is one of the best things about Turkish hijabs, that they come in a variety of colors, prints, and fabric choices.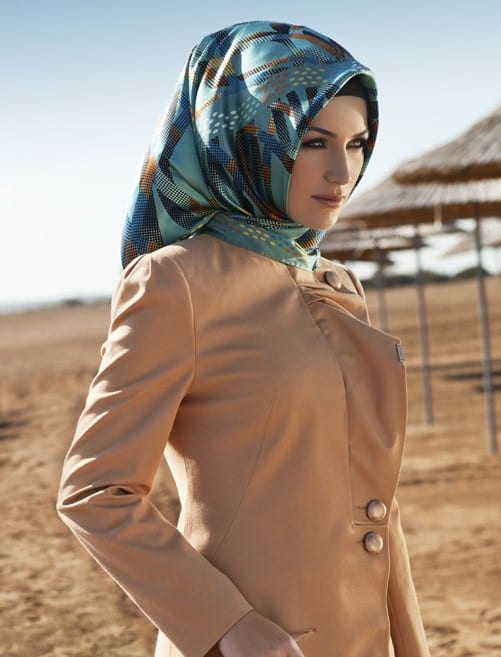 ↓ 2 – Turkish Hijab Style to Show Off your Earrings
For formal wear, parties, weddings, or other special occasions, you might want to wear earrings for a glamorous look, and they would look great with this hijab style.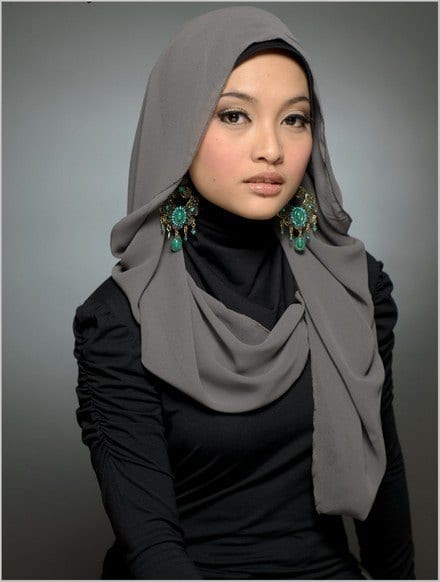 ↓ 1 – Style your Outfit in a Floral Hijab Tied at the Back of the Neck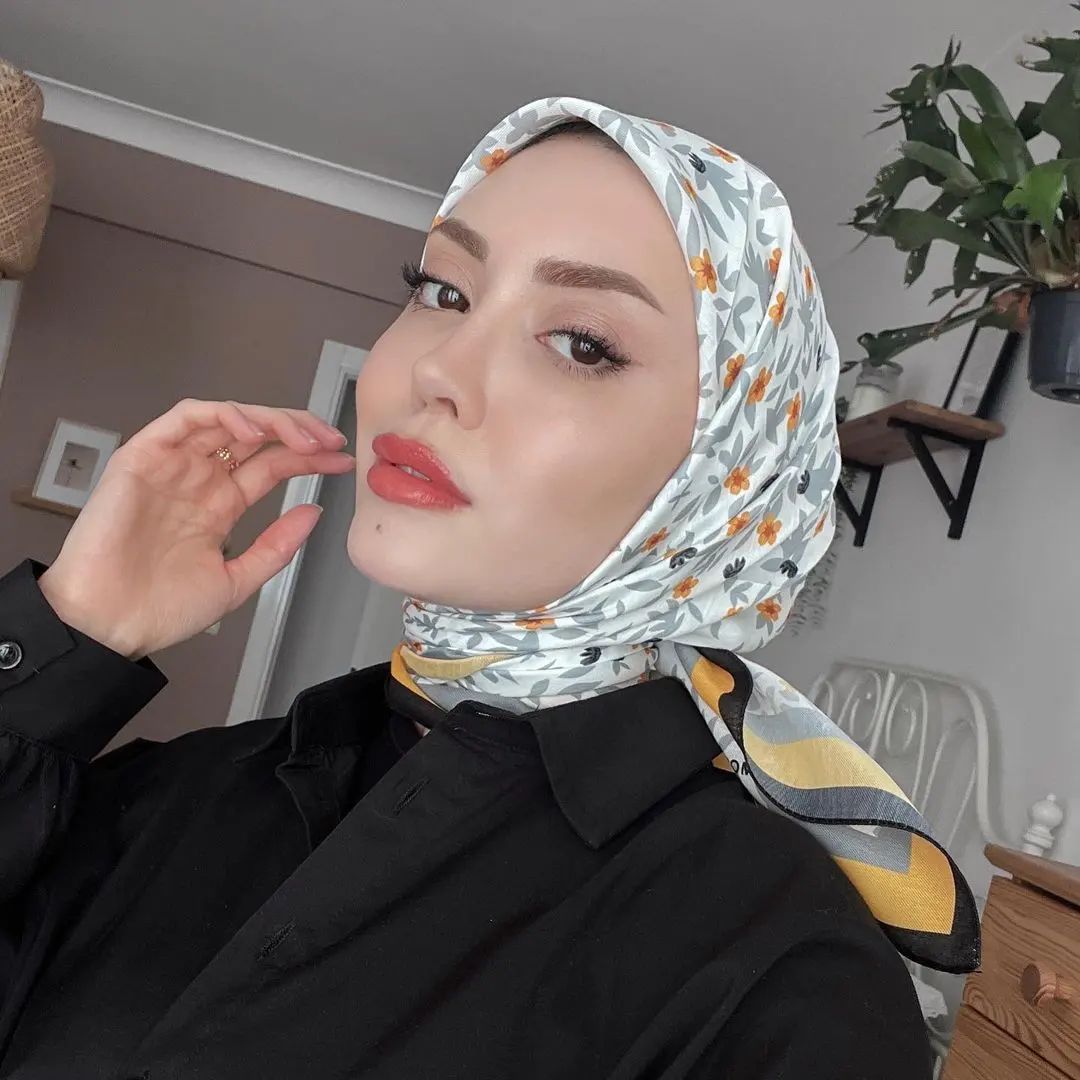 Frequently Asked Questions
Q. What is the Turkish hijab?
A hijab is a piece of clothing wrapped around the head to cover the hair. A Turkish hijab, however, is a style of the hijab that is becoming increasingly popular worldwide. It consists of a square piece of cloth that has a satin finish.
It doesn't need to be square-shaped, but typically it is categorized as such. This scarf comes in all colors and prints to cater to a wide range of women. But the regal vibes that exude due to its satin finish is what makes the majority of women reach for it and style it in unique ways to express themselves without compromising on their modesty!
Q. How to wear a Turkish hijab according to face shape?
Firstly, you need to be sure about your face shape. Other than that, one needs to ensure that the fabric does not entirely hide your forehead. Avoid wearing camel hump or African styles that have high, stiff folds.
The next thing to cater to is your chin while styling your hijab. Choose hijab styles that will cover your forehead more and make it appear smaller if your forehead is wider than your chin. This tip will balance out the width of the forehead. Check out look # 6 for an idea to achieve this!
Q. Can I make my Turkish Hijab fancier?
You absolutely can! You can also go for scarves or hijabs with embroidery or embellishments over them. Moreover, stonework or a brooch would work well with your outfit for a fancy look.
Nowadays, this hijab in many different ways is transformed, and it is known for hijab in style. People earlier considered it a ritual to wear it due to religious reasons, but now it is worn to add style and grace to the look with still adhering to our beliefs and values!