Non-muslim Celebrities In Hijab – Ever wondered how non-Muslim celebrities look in Hijab? Which Hollywood or Bollywood celebrities wore hijab and how do they look in it? This article is all about that, check out this collection of some top-grossing actresses and politicians who wore hijab.
As they say, "When in Rome do as Romans do." Every country's culture needs to be respected. And, these celebrities wrapped scarves to respect the culture of the country, or perhaps they just wanted to try it out. Nevertheless, their fans get to see them in a completely different attire.
Interest Of Non-muslim Superstars In Hijab
With the growing popularity of hijab fashion, many people are trying out how it would look on them. Many people like to try on a hijab on their trips to Islamic countries. The same is the case with the celebrities on the list. So, spot your favorite celebrity on the list and enjoy. Also, note that some of the images in the article are photoshopped by their fans.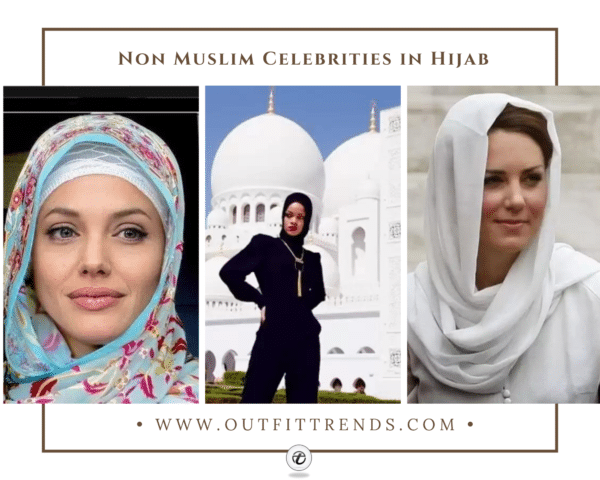 Also, if you wish to see more of hijab fashion then have a look at some of the top hijab bloggers in the world who love to stay classy and modest.
Without any further ado, let's get started with some tips and pictures of 7 well-known personalities in the hijab.
Tips For Wearing A Hijab
• Always choose a soft fabric like chiffon or linen for your hijab.
• Use a hijab cap for youself.
• Tie your hair before wearing a hijab create a bun or a ponytail – this is not necessary. However, it will keep you comfortable if you are wearing a hijab for a long time.
• If you are a fashion lover and wish to keep your attire modest and beautiful then check out our last article on how to wear hijab fashionably.
7 – Kim Kardashian In Hijab
Kim's fans have always wanted to see how she would look in a hijab so you'll find several photoshopped images like these on the internet.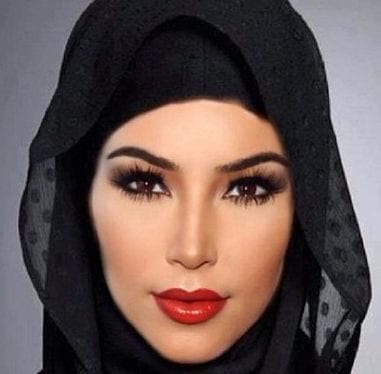 But, on a trip to Dubai, Kim Kardashian and her mother discovered a shop with some beautiful abaya collections and Kim couldn't resist trying them on! Have a look at the picture of Kim Kardashian with her mother Kris Jenner in an abaya.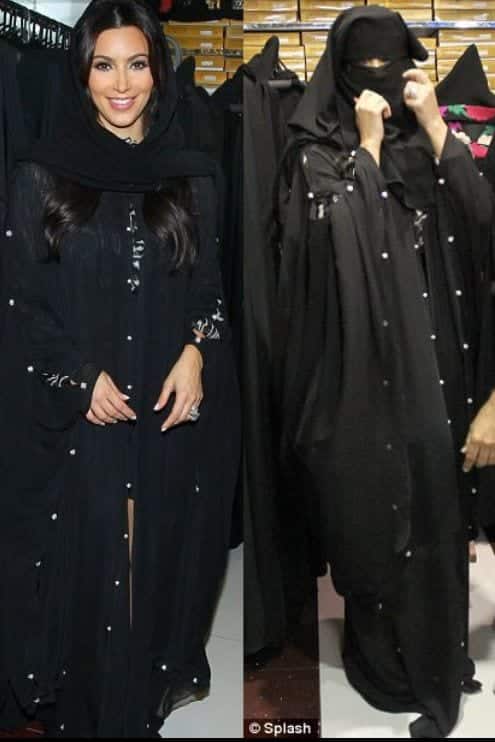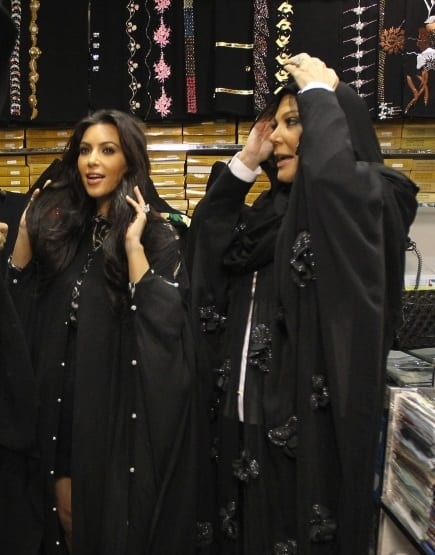 6 – Paris Hilton in Abaya
The beautiful Paris Hilton rocked the abaya look at the Sheikh Zayed Grand Mosque in Abu Dhabi. She, along with her friends Daniela Lopez Osorio and Jamie Reuben, admired the workmanship and enjoyed every bit of their visit to the capital.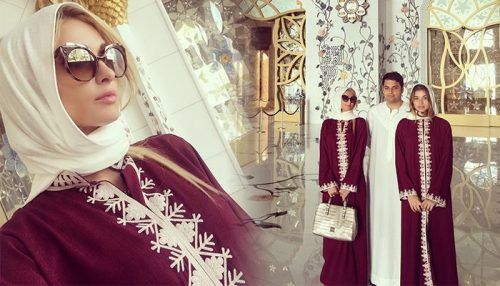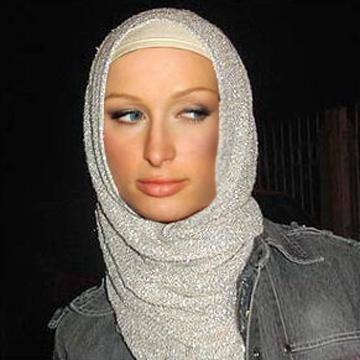 5 – Angelina Jolie in Islamic Head Scarf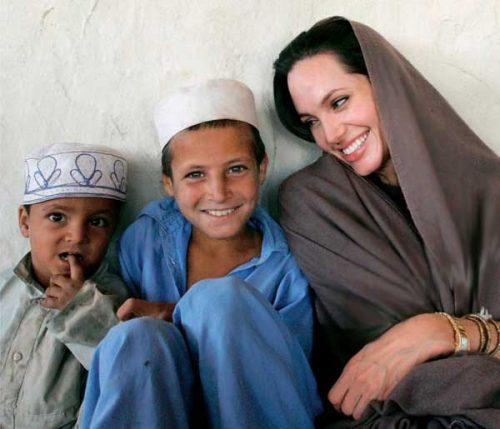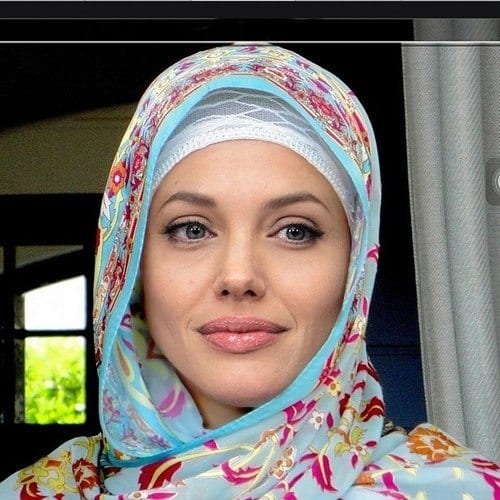 4 – Rihana in Hijab
After this photo-shot in Sheikh Zayed mosque, Rihanna was reportedly forced to leave the mosque because of violating the sanctity.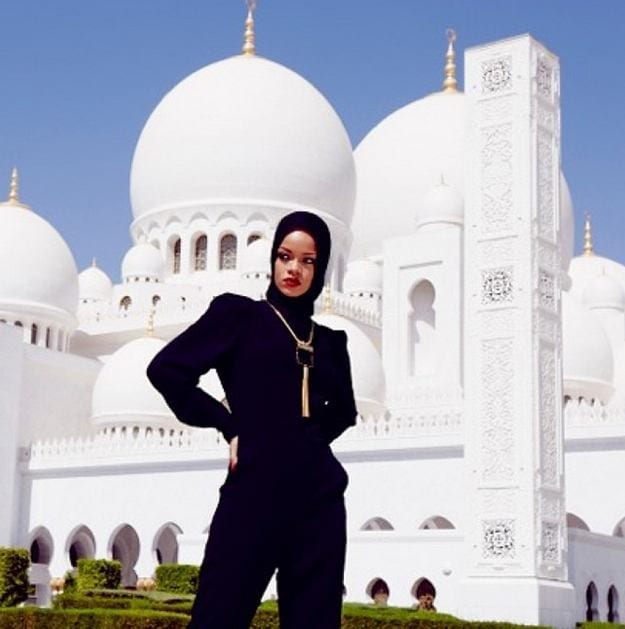 3 – Duchess of Cambridge Slayed in A Modest Outfit And Head Scarf
Kate Middleton looked absolutely stunning in a simple white outfit. We have always loved her classy outfits and it would not be wrong to say that her modest fashion game is strong.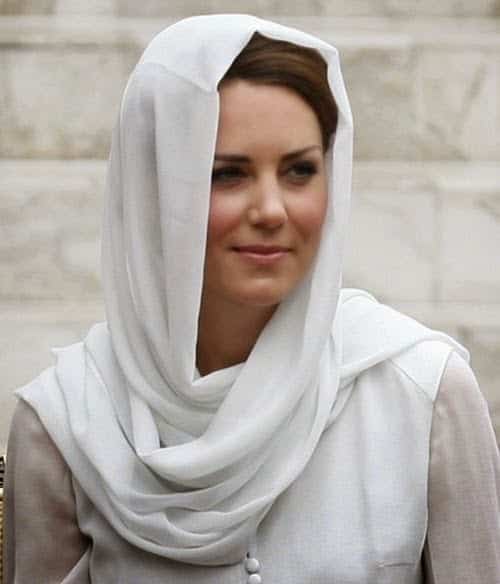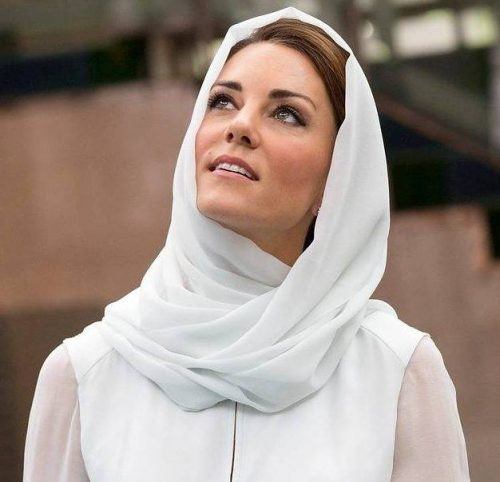 Here's another simple but beautiful look of Kate Middleton from the 2019 Royal visit to Pakistan. She wore this gorgeous green shalwar kameez and headscarf on her visit to Badshahi Mosque in Lahore.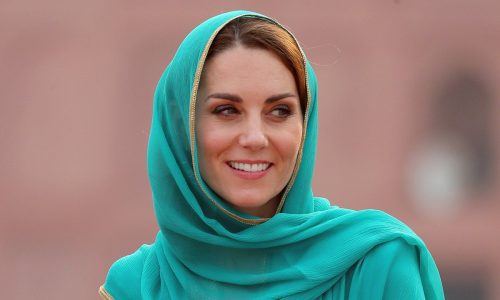 2 – Kendall Jenner and Gigi Hadid in Hijab
Kendall, Gigi, and other celebrity friends tried hijab on their trip to UAE. Fans couldn't help adoring their favorite celebrities in a completely new attire. Moreover, Kendall's sparkly headscarf became the talk of the town in no time.

1 – Ivanka Trump in A Duppata Style Hijab
The US President Donald Trump's daughter, Ivanka was seen in February 2020 in a UAE mosque, wearing a hijab since it is a customary gesture for visitors to cover themselves up when in a place of worship. It was nice to see Ivanka abiding by this rule while on her visit to Dubai for participation in the Global Women's Forum organized by the Dubai Women Establishment.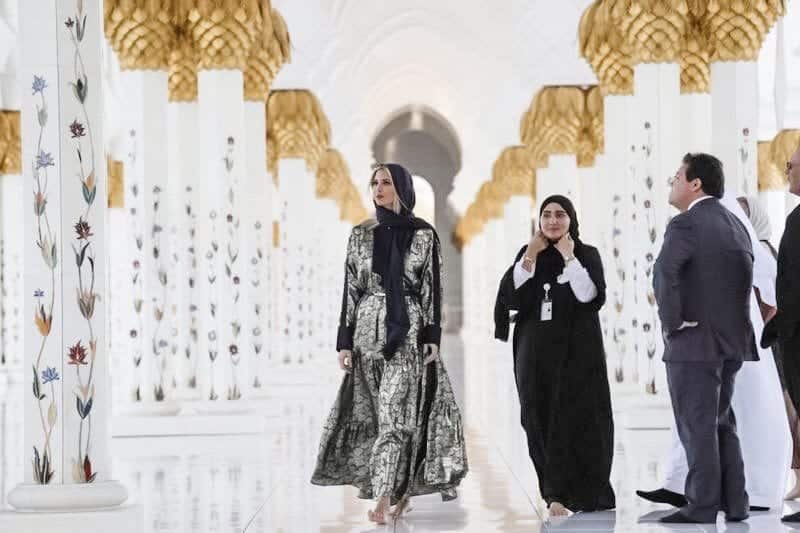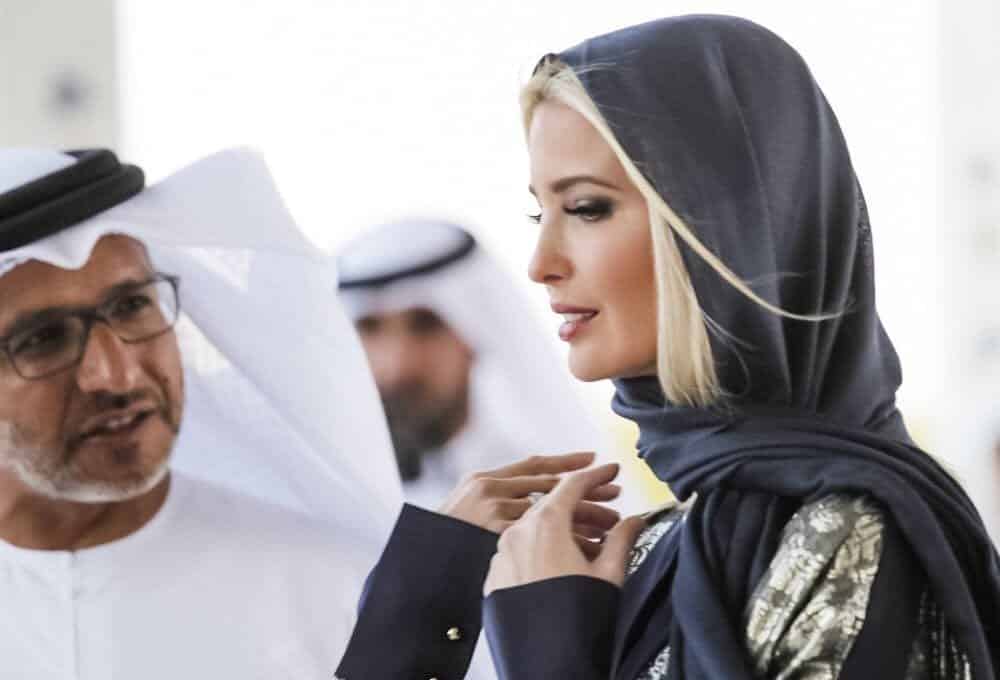 Frequently Asked Questions
Q. Which celebrities wore hijab on their trip to UAE?
Ans. Kendall Jenner, Selena Gomez, Gigi Hadid, Rihana, Kim Kardashian, Kris Jenner, Paris Hilton, Rihanna, Jacqueline Fernandez are some of the celebrities who wore a hijab on their visit to Sheikh Zayed Grand Mosque Abu Dhabi. Although it's not necessary to wear a hijab in UAE, you can try it on to pay respect to the country's culture.
Q. Can I wear hijab with western dresses?
Ans. Absolutely, hijab fashion is having a moment and it's all about wearing western outfits with hijab for a gorgeous look. You can do this by learning to wrap hijab in multiple ways such as Turkish hijab, dupatta style hijab, or turban-style hijab. Also, coordinate your hijab with the outfit. For instance, wear a skin-colored hijab with an all-white outfit.
Q. What style of hijab looks best with formal dress?
Ans. It depends a lot on the hijab style you feel comfortable in. But, I will recommend the Turkish hijab. Turkish hijab is a silk scarf worn tightly around the neck in a square shape. Turkish hijab can be tucked into the top which makes it easier to carry it with formal outfits. Besides, the satin finish of scarves gives a gorgeous touch.
Q. What's the difference among an abaya, hijab, and burqa?
Ans. A hijab is a headscarf that doesn't include a veil. It covers ears, hair, and neck. Whereas, an abaya is a traditional Islamic garment that covers all the body including your hair. Moreover, a burqa is a traditional full veil that is mostly worn by Pashtun women; it covers the head, body, and also hides the eyes.