Eid Outfit Ideas with Hijab– Hijab for me is my crown and experimenting with the different ways in which I can wear this crown is always fun. Eid is just around the corner, and those of you who wear hijab might still have to buy ones that go with your outfits.
In this post, we will be sharing ideas for Muslim women eid fashion as how to match hijab with Eid dress and latest hijab styles for 2019 Eid. For hijab, wrapping tips check out these simple step by step ways to wrap hijab tutorials.
Hijab Fashion For Eid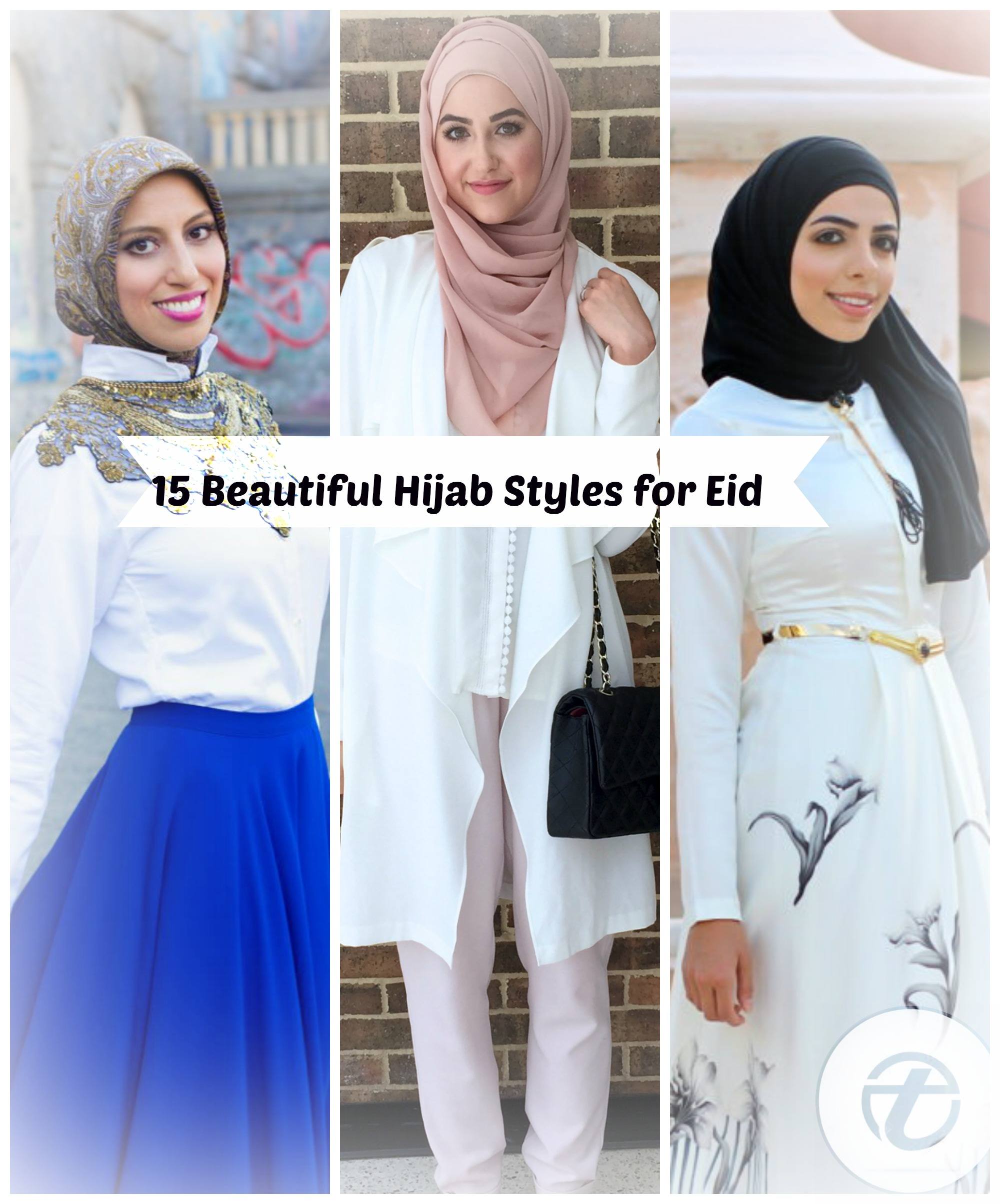 We'll be sharing with you some of the most beautiful hijab looks chosen by famous hijabi bloggers so be ready for some excellent styling ideas.
Recommended: Hijab Accessories-25 ways to Accessorize Hijab With Jewelry
↓15 – Fashion Blogger's Style Eid Hijabs
Since Eid this year is going to be a hot one for most of us, pastel and nude colours will be a prominent choice. The famous hijabi blogger Leena's Eid look consisted of an all-white outfit with pinkish nude hijab.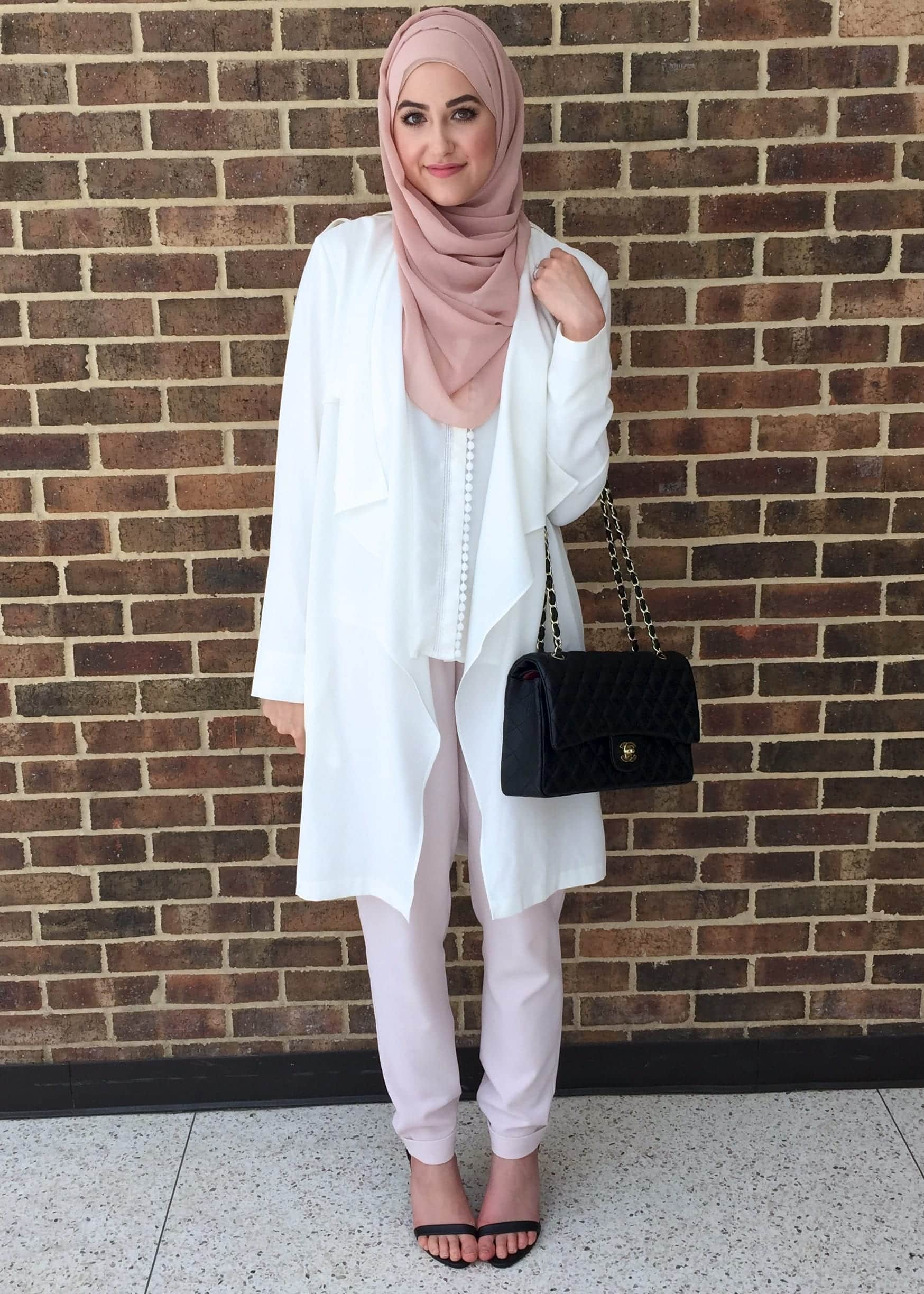 And here is the famous hijabi blogger Melanie Elturk from Haute Hijab whose Eid look includes a beautifully printed hijab. The way she wears her hijab here is also really nice and unique since she tucked the hijab inside her shirt for chic but modest vibes.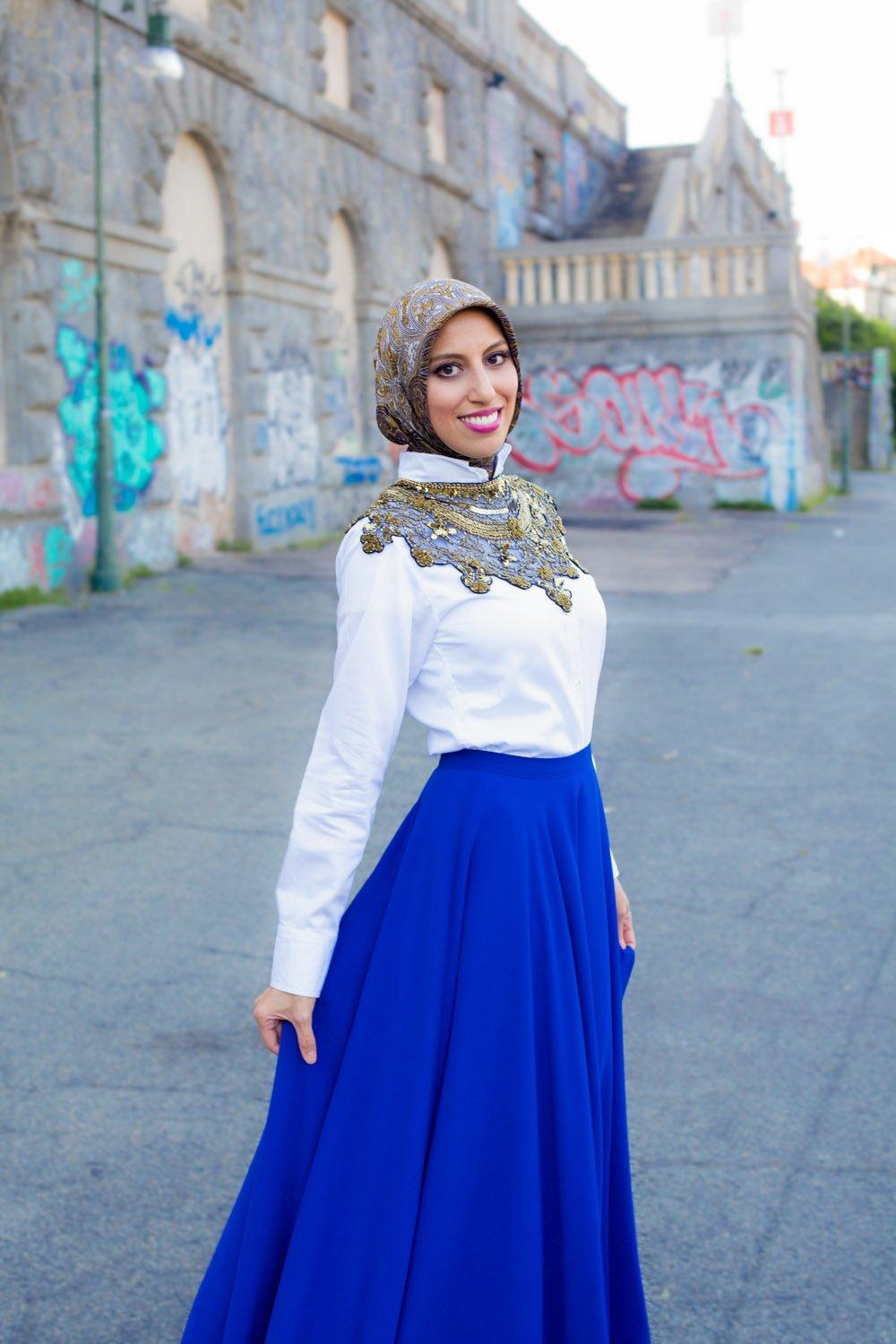 ↓ 14 – Matching White Scarf with White Skirt and white shoes
In times when you can't decide on the color of hijab to wear, one of the simplest solutions is to go for one that matches your shoes.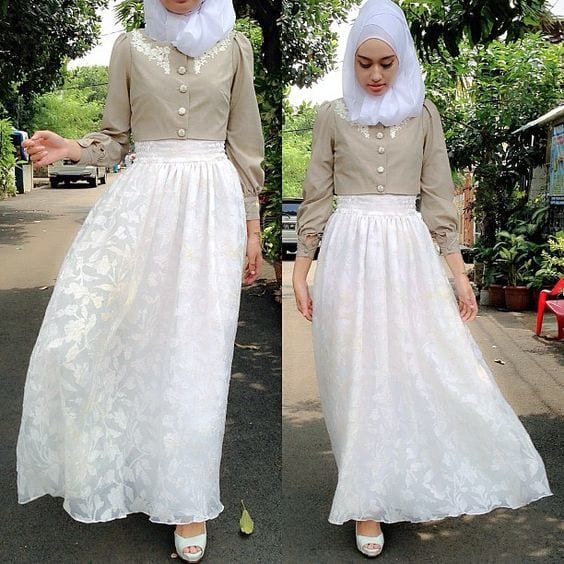 ↓ 13 – Party Wear
Turban hijabs look great with modern or ethnic eid outfits.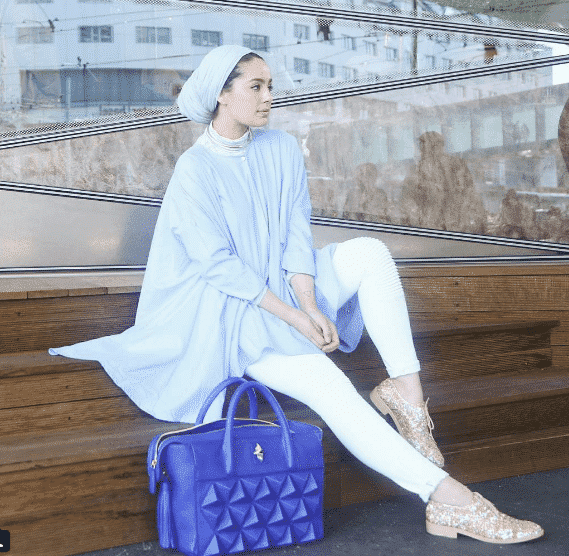 ↓ 12 – Tartan Scarf with Red Blazer
Every girl looks amazing in tartan prints so why not wear them on Eid. Here are some great Tartan outfits for Women that are sure to make you look fashionable.
↓ 11 – Cute Style for Round Face Hijabis
This is a minimalist look for girls who like to keep things simple. The hijab style involves simply wrapping the two ends of your hijab around the neck and letting the ends hang at your back. It's perfect for girls who have a round shaped face.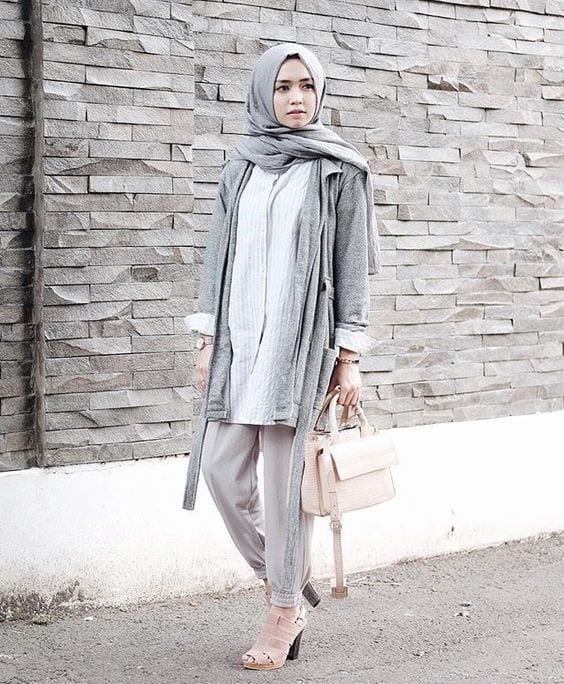 ↓ 10 – Eid Function Outfit – Simple and Elegant
If you have some new accessories or a statement necklace to wear with your eid outfit, this is the hijab style to go for. It looks great for evening functions, dinners or get-togethers that are a part of the Eid festivities.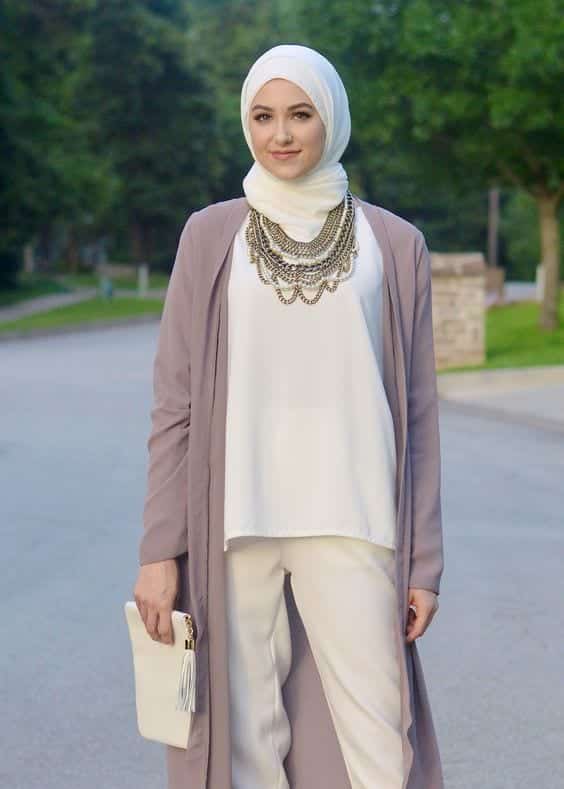 ↓ 9 – Araazix wearing a Beige Open kimono
Kimonos are loved by girls and women of all ages because they can turn any outfit into a modest one so do check out these 20 Ways To Dress Up With Kimono Outfits.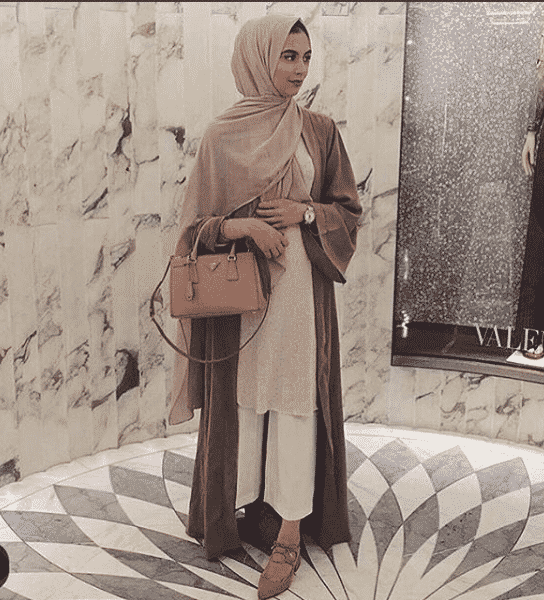 ↓ 8 – Parisian modest Style by barchaparis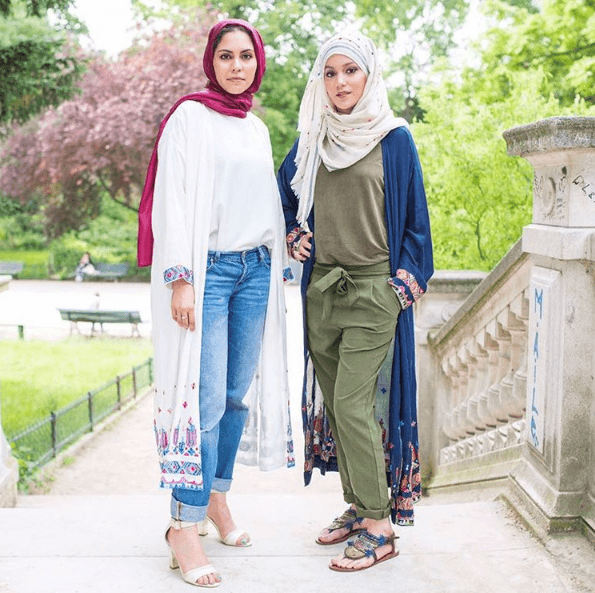 ↓ 7 – Simple Pony Tail Style Scarf tied on one Side
Here is a simple way to wear your scarf, leaving one end hanging around the shoulder. By wearing the scarf this way, you get enough room to wear your earrings and necklaces.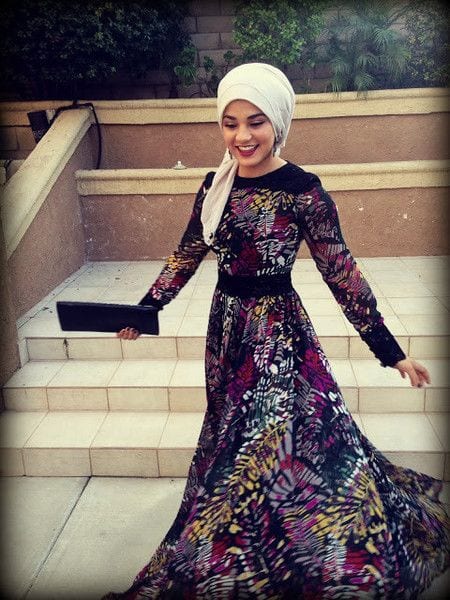 ↓ 6 – Modern Hijab look
Here is one of the latest hijab looks in which instead of tying at the back, you tie the remaining scarf at the front and this gives sort of a rose effect.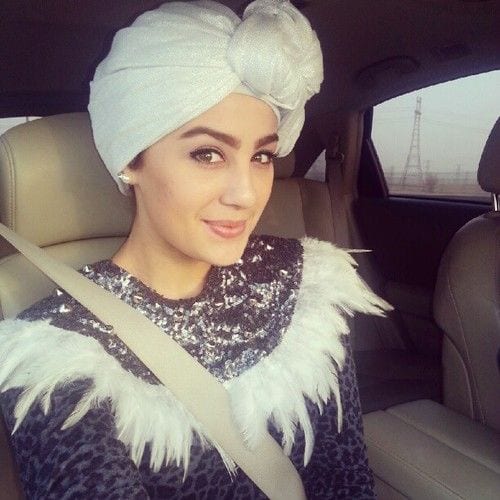 ↓ 5 – Braided Hijab
Another variation to the above style is by gathering the scarf in the front and making a braid that goes towards the back of the head.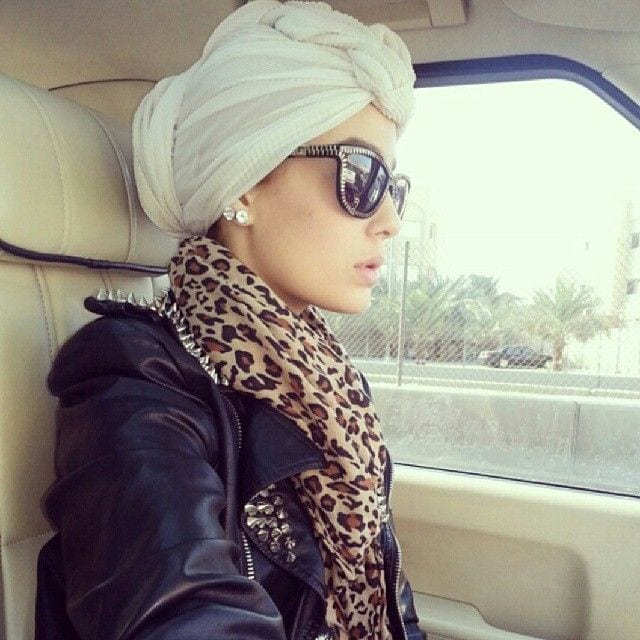 The two hijab styles we shared above are just creative twists to the traditional turban style. There are some other ways too that you can make your turban hijabs look different and stand out. Here's another great variation to this style; the bow turban hijab that you can easily master in a few attempts.
↓ 4 – Multi-shaded hijab
This is another common way of wearing the veil but what makes it look so spectacular here is the use of double shades in it. It looks great on women with square face shape as it helps conceal the wide jaw bones.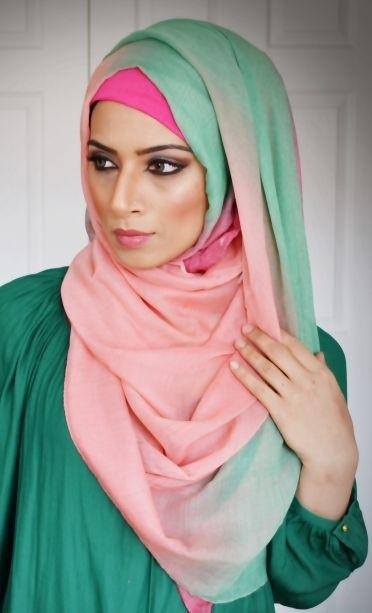 You should also try to compliment your entire day look with these 20 awesome eid mehndi designs for hands.
↓ 3 – Criss cross style
The criss-cross look might be a little hard to get perfect. But once you learn it, the results will be worth it. This way of wearing a hijab is especially recommended for girls with a smaller or heart-shaped face.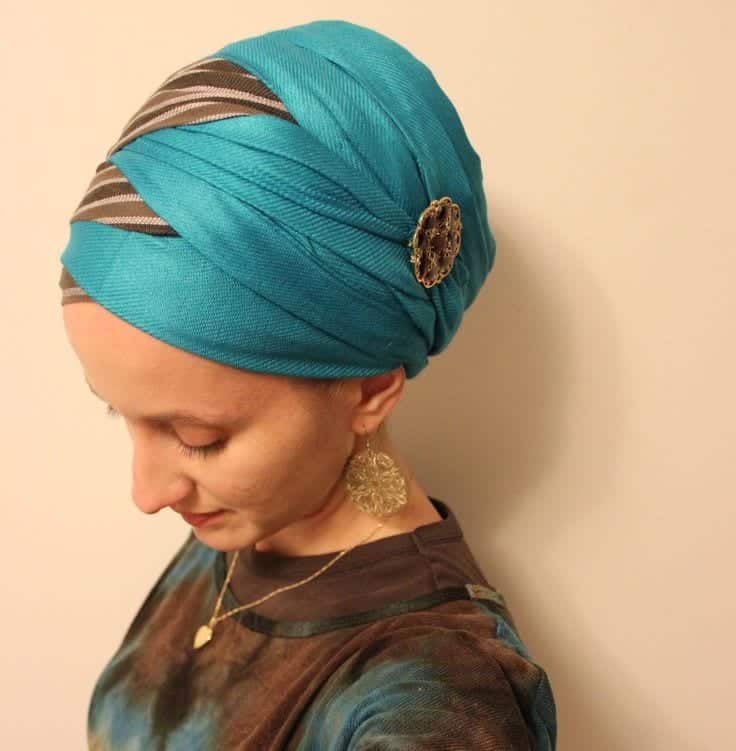 ↓ 2 – Criss Cross Braided Hijab
Here is another beautiful way of wearing the hijab, which combines both the criss-cross and the braided style. With a look like this, you don't even need a lot of jewellery or makeup as the hijab is the highlight of your outfit and look.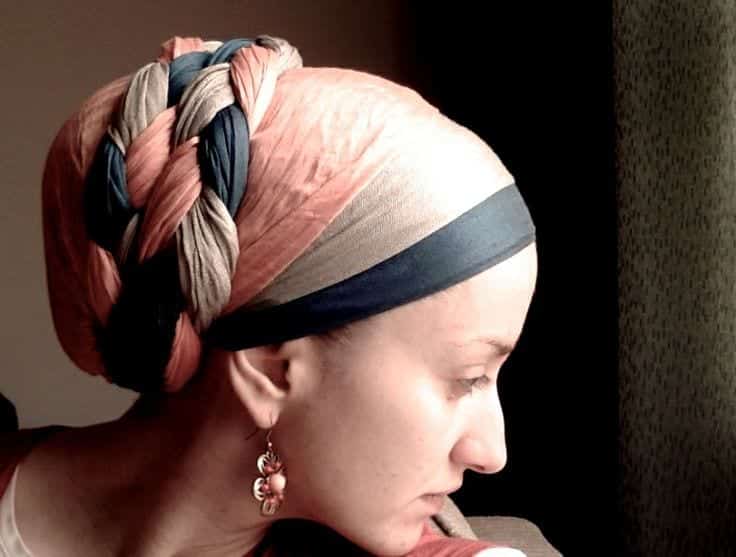 ↓ 1 – Using Martha Patti with Crown style Hijab
If you have one of those long necklaces, then try incorporating it in your head scarf and creating a fabulous look. Here are different maatha Patti styles you can try.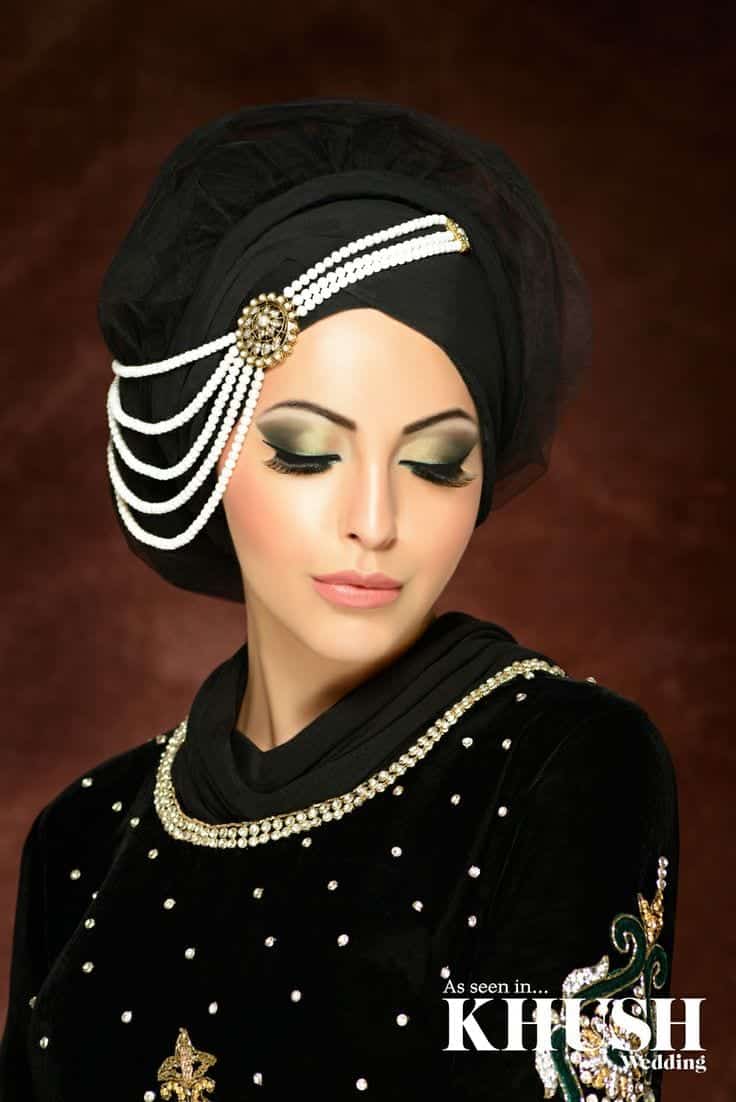 Combining hijab and scarves
The combination of hijab and neck scarf creates a unique combination which makes any outfit look amazing. I also love the big earrings in this one that is also going with the neck scarf.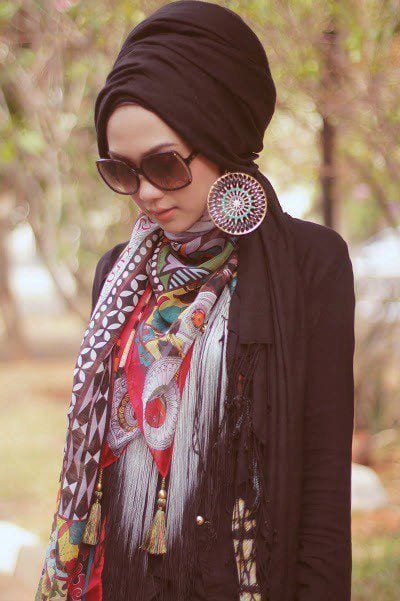 Using flowers
I have always been a fan of the use of flowers in outfits, especially the handmade ones so this hijab look is my favourite. You can make the flower yourself, using some of the leftover fabric from your dress. Instead of just one flower like the one shown in the picture, try using a bunch of three flowers and look beautiful.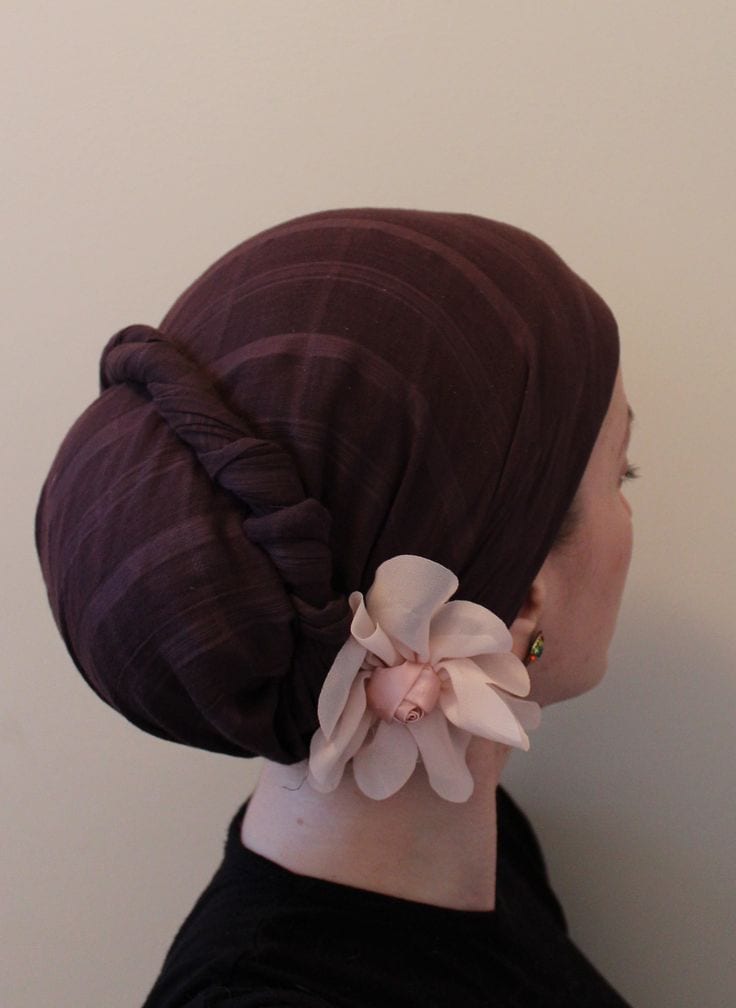 Hijab accessories
Maatha pattis are a favourite peace of head jewellery, and they can easily be used with any style of hijab.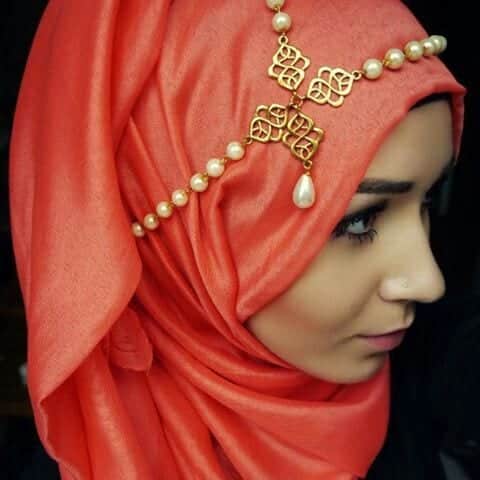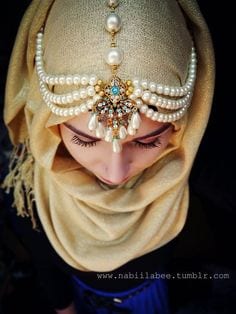 Textured hijab
The use of textured fabric is not very common in scarves, so their use always creates a unique and pretty look.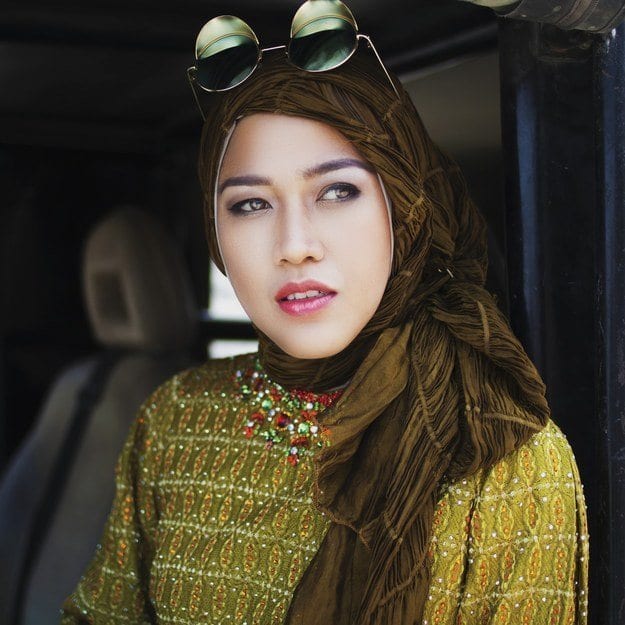 Silk hijab
Silk scarves look fabulous on occasions like Eid so try looking for a patterned silk scarf that goes with the shade of your dress.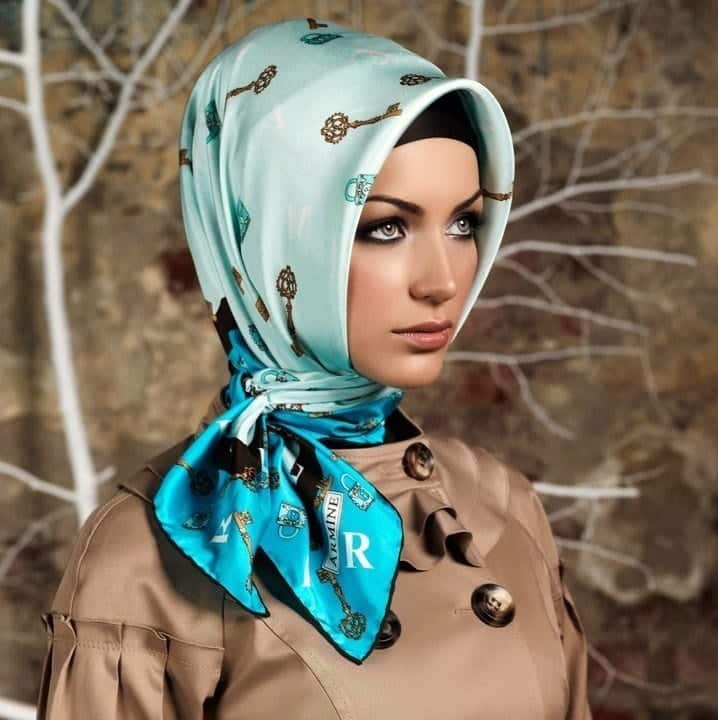 The tie effect made using this scarf looks amazing
A silk scarf that matches your dress correctly might be a little hard to find but is undoubtedly worth the trouble.