Hijab Outfits for Teenage Girls. Many Muslim girls start wearing a hijab as they transition from childhood to adulthood. A majority of them begin wearing them by the time they are thirteen or fourteen. It means a lot to them as it is a whole different style that they have never tried before.
It makes them feel scared, nervous as well as happy. They not only have to look at what suits them on regular days but school, college, parties, gatherings, and every other event as well. These young girls need to know that they don't need to look or dress up like their mothers or elders who have been wearing hijabs for a long time. The world of fashion is evolving so fast, so are the modest fashion trends. Now it's no more about only wearing abayas or long dresses with headscarves. You can doll in in all those chic high waist pants and button-down shirts along with hijab and still look very elegant.
Trendy Hijab Styles for Teenagers
Hijab has a different value for every person. It is a religious obligation for some people, while for some, it is more of a personal style statement. Whatever your reason is, you need to style it appropriately to look your best, after all, who doesn't want to look good, especially when you are in your teenage when it is all about new fashion, trends, and styles.
Here are a few life-saving tips that all teenage hijabis need to look at.
Always wear outfits that make you feel young and fresh. Keep an eye on the latest fashion trends and style up accordingly.
You don't necessarily have to wear an abaya, maxi, or eastern outfit if you are a hijabi. Western wear can be styled with headscarves as well. Only avoid revealing clothes.
For everyday wear, don casual attire like tee shirts or loungewear and put on your head cap, and loosely wrap your hijab around it.
For party wear, go with matching hijabs in luxurious fabrics like silk.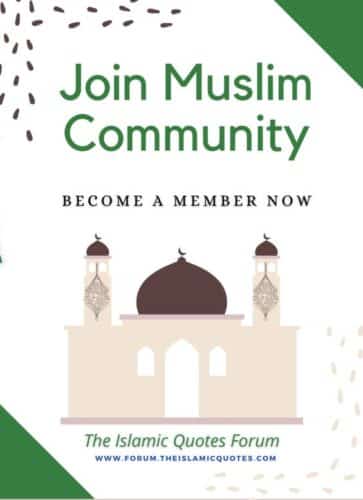 Being a beginner, start with breathable fabrics that have a firm grip.
If you are a teenage girl with long hair, then it is recommended to tie your hair in a neat bun. Wear a head cap over it, and neatly wrap the hijab around it. Wearing your hair in a braid or ponytail can be too annoying as they continuously irritate your neck.
Always use pins and broaches to fix and style your hijab.
Don't be scared of accessorizing your look with earrings, necklaces, and shades. You can wear them with a headscarf like any other outfit.
Don't give up on the hijab if you can't find the right style for yourself in the first week. Here in this article, we have gathered 20 cool hijab style looks that teenage girls would love to wear.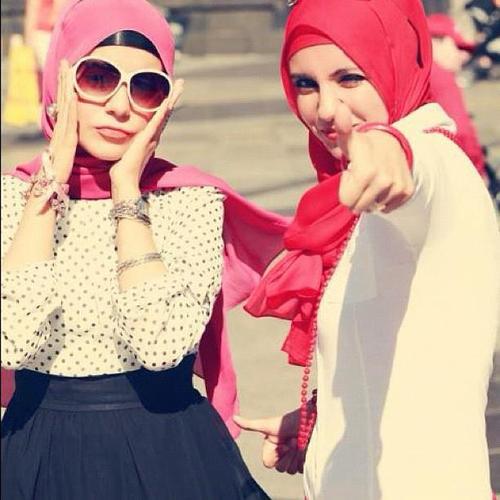 ↓ Hijab According to Face Shape
Square Face: People with square face have the same cheekbone, temple, and jawline width. Also, their face appears sharp. So, they need to wear their hijab in a way that will soften the edges. Hence, opt for loosely wrapped, layered, folded, or dupatta style hijabs.
Round Face: A round face looks circular; you can guess it by the name. It is more like a square face structure proportion wise, but it is comparatively softer. People with such face structures should prefer wearing loosely wrapped hijabs as they can help frame their faces perfectly. To enhance the facial curves even more, try folding the sides close to the cheekbone.
Heart-Shaped Face: People with a heart-shaped face have a broad forehead and narrow chin. They need to wear their hijab in a way that can help them balance their structure. The best choices are to go for are draped and layered styles.
Rectangular Face: Rectangular face shape is almost similar to a square face, but it is longer. Go with headwraps along with under-caps to look the best.
Triangular Shaped Face: Triangular face shape is the exact opposite of a heart-shaped face. So, don't do what you did there. Also, avoid headscarves that are way too tight.
Oval Face: Out of all face types, oval is considered a universal shape. People with such face type has tapered chin and prominent cheekbones. Being universal shape, consider it versatile as well! All hijab styles look equally fabulous on them. But loosely draped styles look the best among all other types. Also, if you have a broad forehead, wear an under-cap.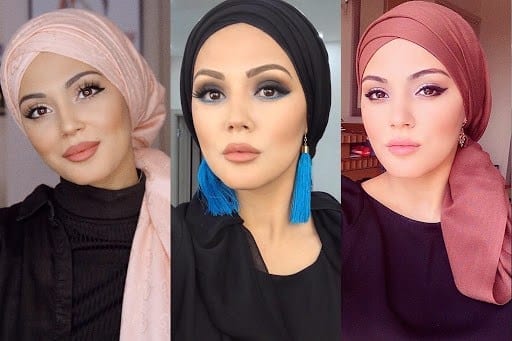 ↓ 26 – Athleisure Look
Pair a simple white or off-white hijab with a black tracksuit for working out, going for a walk or when you're just in the mood for a sporty look.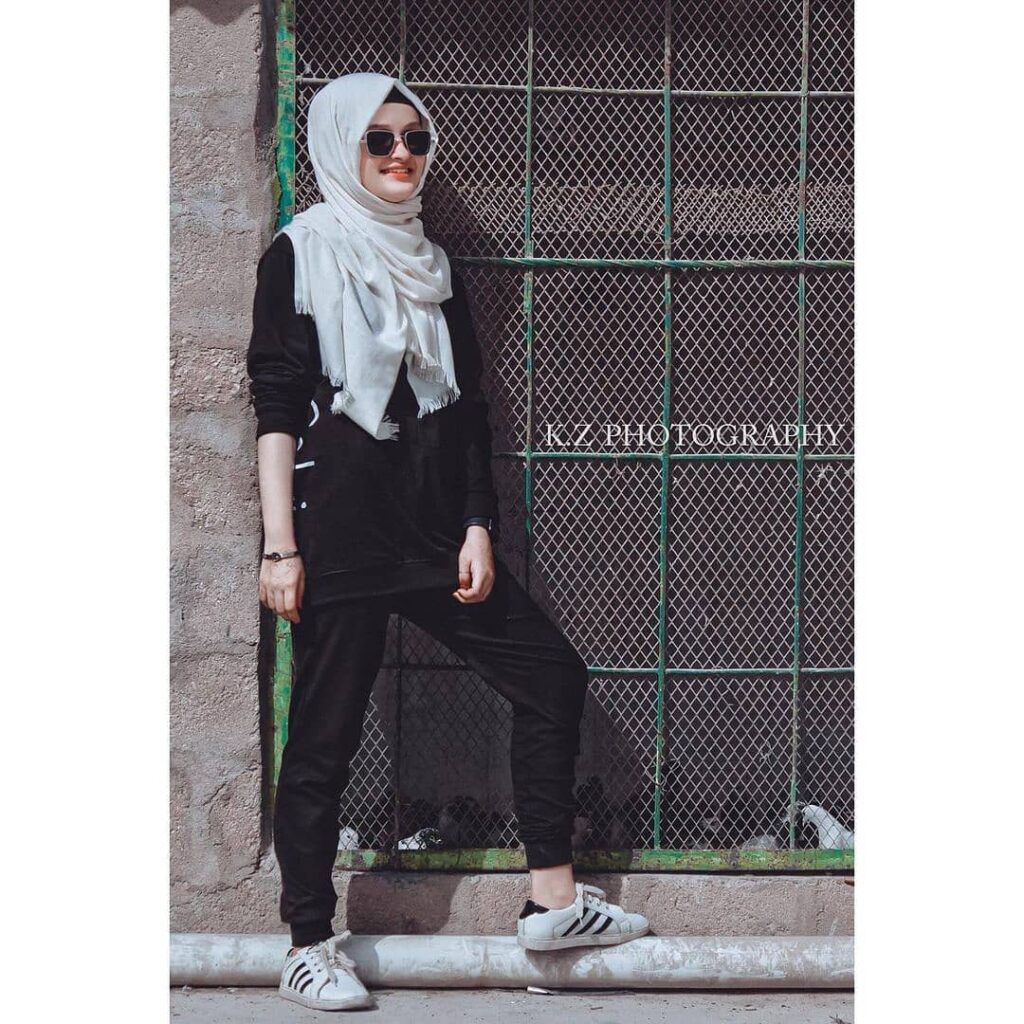 ↓ 25 – With Cap and Jacket
↓ 24 – With Plaid and Jeans
To create an easy and relaxed look, wear an oversized plaid shirt with your favourite pair of jeans. Wear a plain hijab with this type of styling to keep your look decent.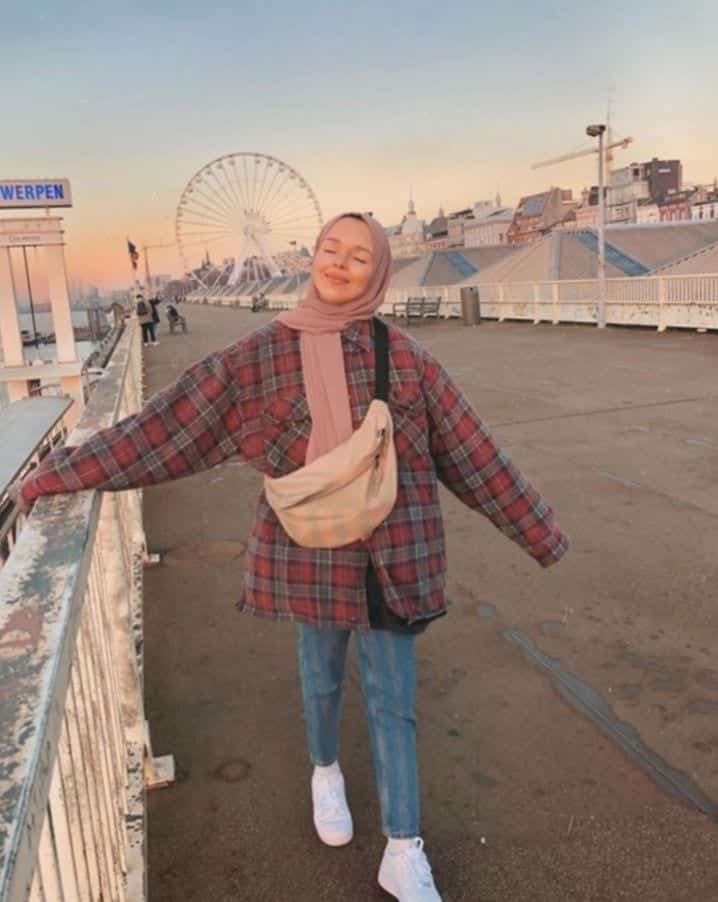 ↓ 23 – Cool Look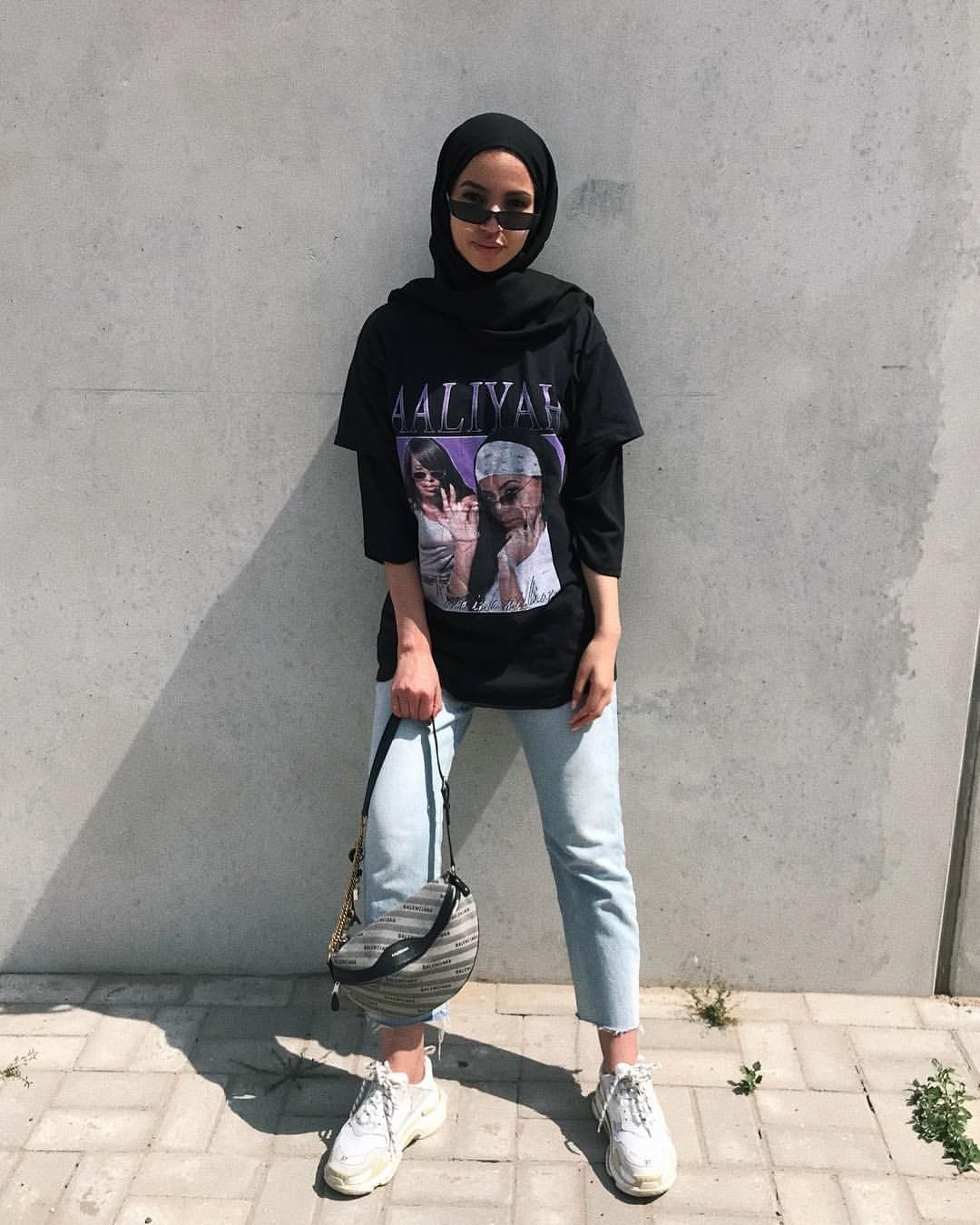 ↓ 22 – With Romper and Dungaree
↓ 21 – With Cute Skirt and Sneakers
↓ 20 – Funky Outfits for Hijabis
Funky colors look great on teenage girls. Have a look at these chic and funky outfits for hijabis. Starting with these neon-colored turban hijabs, paired with printed floral shirts worn over simple dress shirts. The sparkling glittery shoes add the extra spark that you need for a fun-filled day.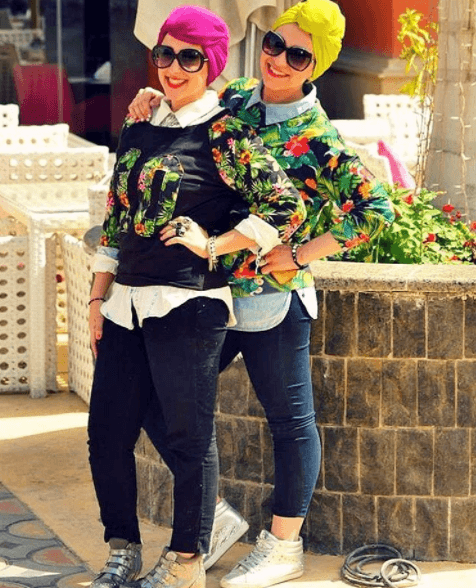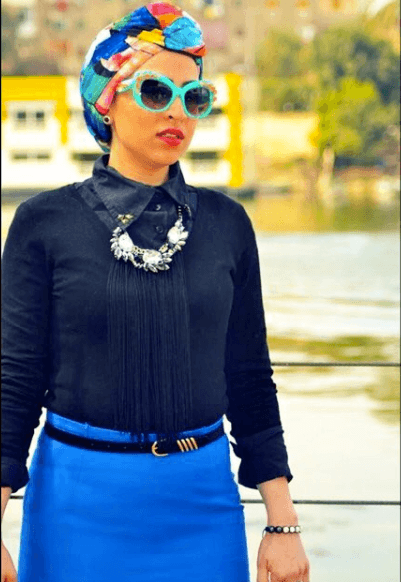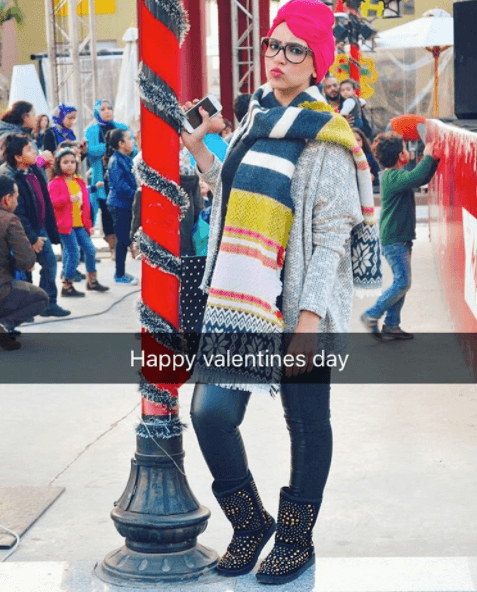 Here's another cute look, a multi-colored printed hijab paired with a simple outfit.
↓ 19 – Glamorous Look for Night Out
Whether you are going for a girl's night out or with your family or even if it's a romantic night out with your significant other, these looks will make sure that your night turns out to be as unique as you are.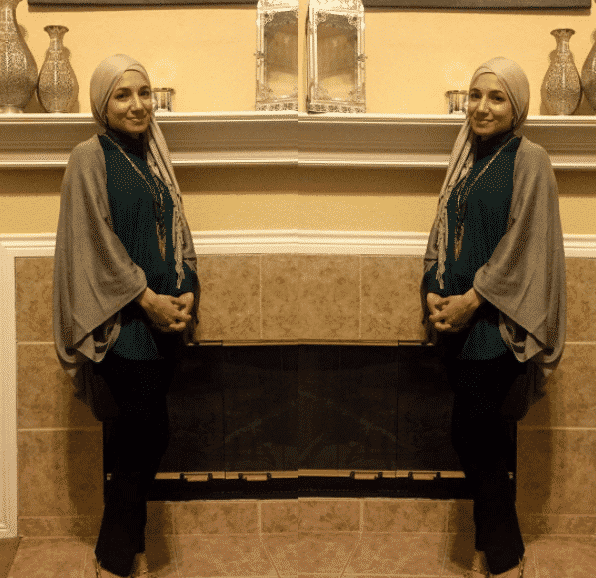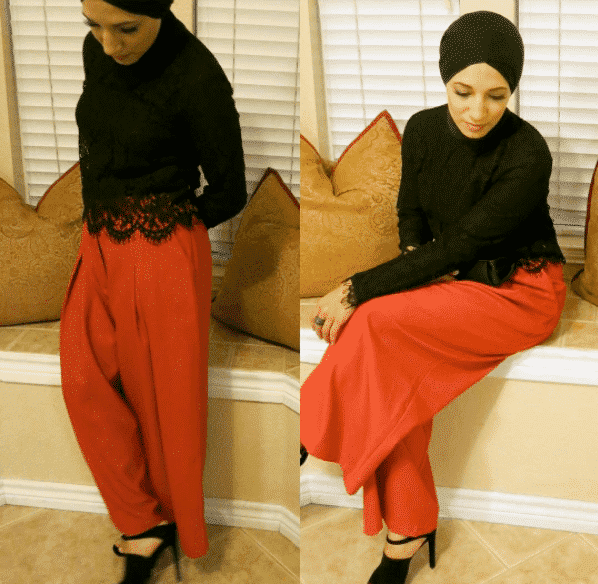 ↓ 18 – Hijab with Hat beach Outfit
Modest beach outfits can be challenging to decide, so here are a few cute ways to dress for the beach. Wearing the hat with your hijab is essential when going to the beach in Summers, but it can be a bit tricky, so here are some cute Hijab with Hats Styles.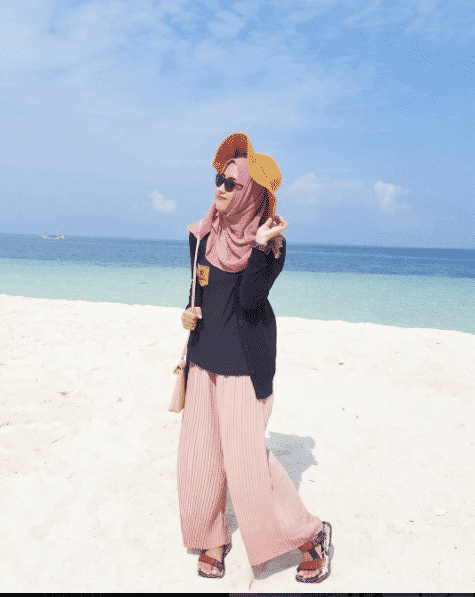 ↓ 17 – Rainy Day Hijab Outfit for Teenage Girls
The one thing we all hate about rainy days is that it makes our hair frizzy. Well, if you are a hijabi, you are in luck because your hair won't get wet. You can wear a long coat with jeans and joggers and cover your head with a bold colored or printed hijab to create an alluring look.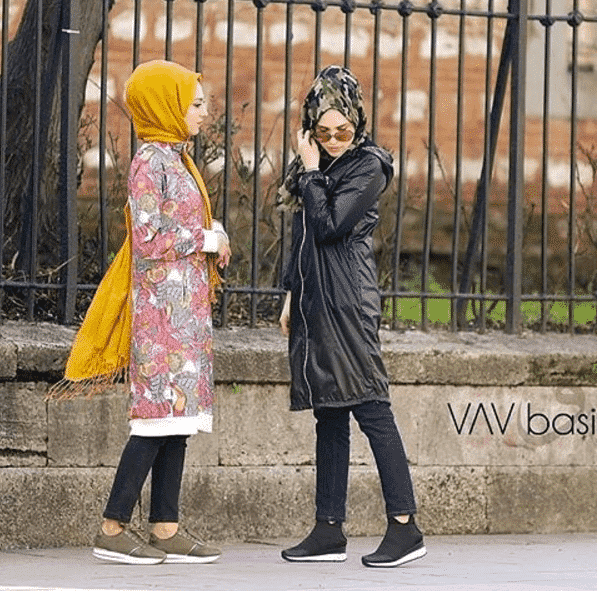 ↓ 16 – Hijab with Pants for Work
If you're the sort of girl who likes to keep things simple and minimalist, this look is for you. Try wearing different shades of nude color from your head to toe.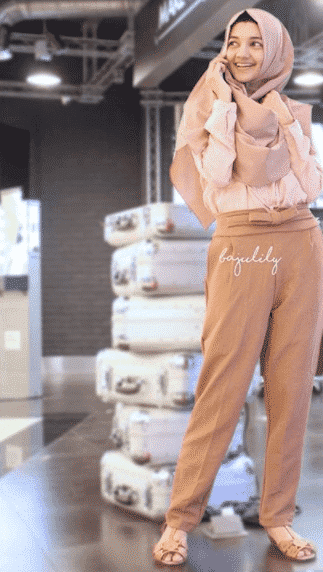 ↓ 15 – Hijab with Sweater
Teenage girls love to style their hijab with glasses for cool looks. Check here unique ideas on how to style glasses with a hijab for a chic look. If you love styling hijab outfits, you will love styling yourself as there's a wide variety of modern and trendy outfit styles. There are many colors and designs. Hijab outfits can be worn to cover, but with that, they are also worn as a style statement.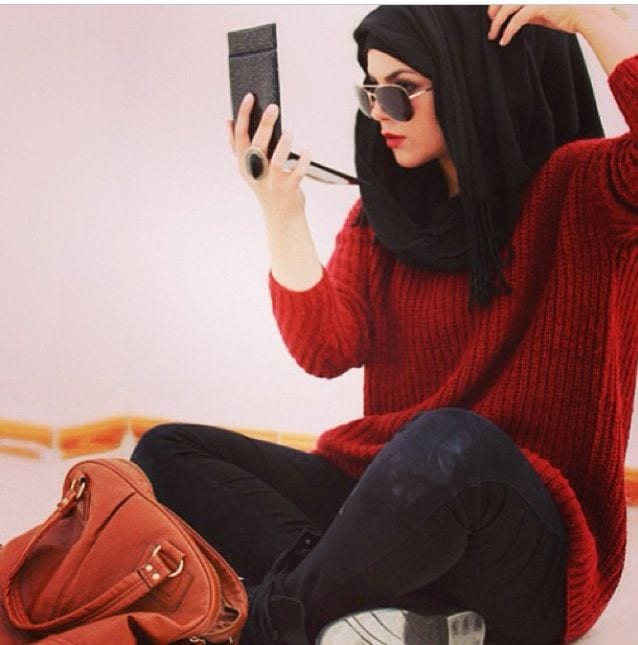 ↓ 14 – Hijab and Flared Pants Outfit
To create a cute and minimalistic look, wear a light-colored top and pair it up with bold colored flared pants. Wear a matching or contrasting hijab with your outfit to finish off your look. You can wear this type of outfits on casual occasions as well as to your office.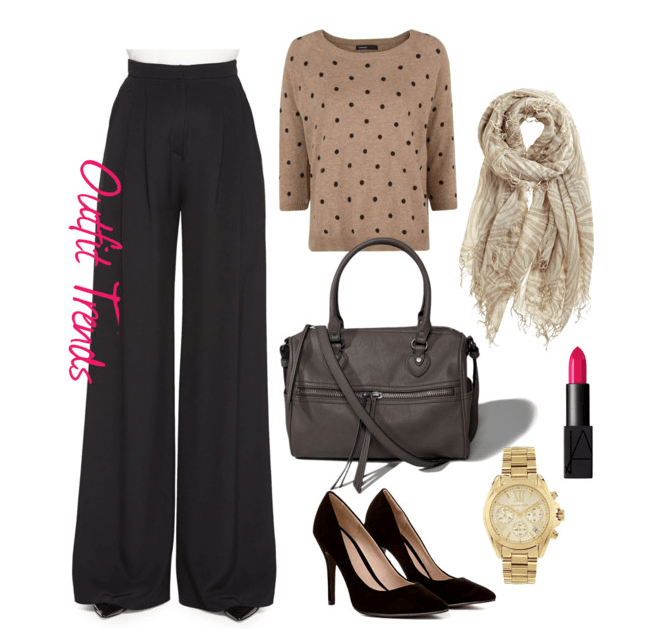 ↓ 13 – Hijab with Pleated Skirt
If you want to wear something loose and boho, opt for a pleated skirt. Wear it with a printed top and pair it up with a colorful hijab.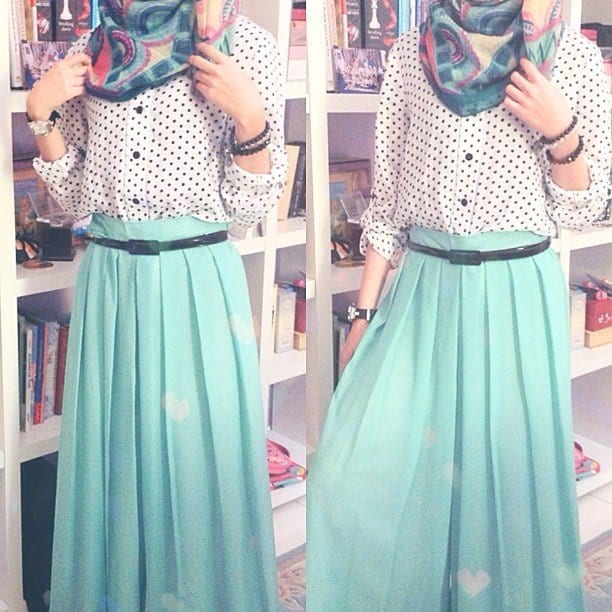 ↓ 12 – Solid Hijabs with Printed Shirts
Plain solid colors hijab look great when paired with colorful printed shirts. Have a look for yourself.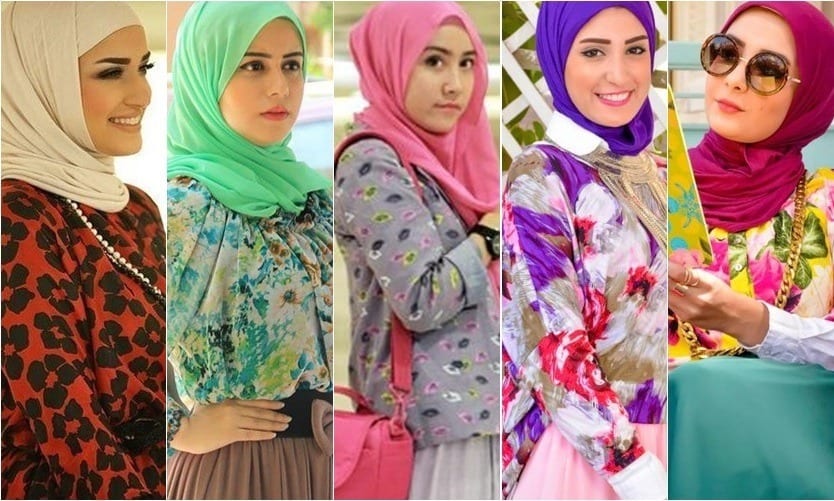 ↓ 11 – Pink Hijab Look
Every girl looks best in pink. In fact, pink is one of the best colors because it suits every skin color and also looks great on girls of all ages. Moreover, it can also be worn for any occasion, be it casual or formal wear. Here is a beautiful outfit combination to wear with a pink hijab.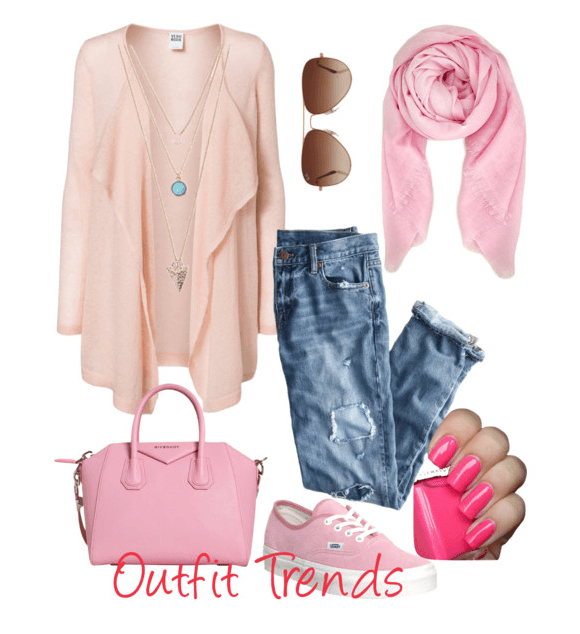 ↓ 10 – Blue Coat Outfit with Hijab for Fall Season
If you own a blue coat or plan on buying one, then don't miss out on these Outfits with Navy Blue Coat.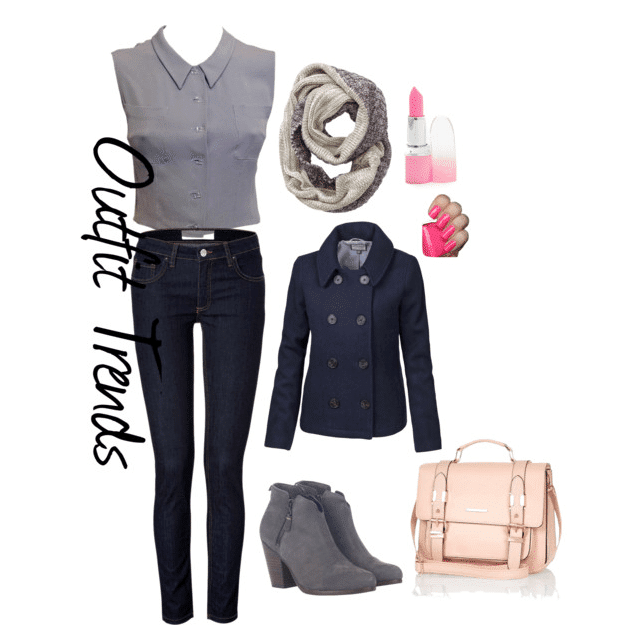 ↓ 9 – Hijab with Glasses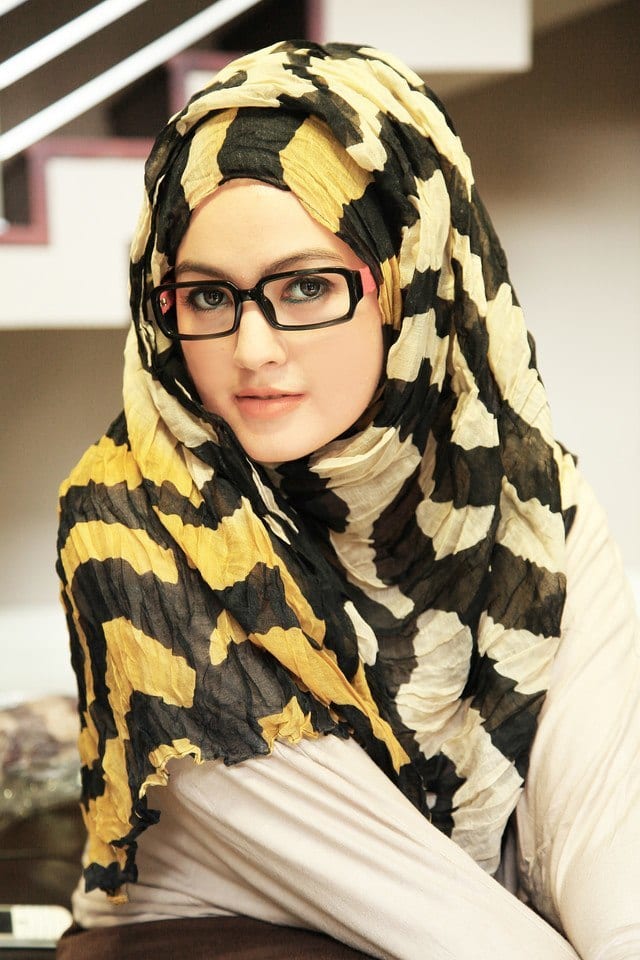 ↓ 8 – Elegant Hijab Outfit for School
Deciding what type of hijab to wear to school is one the hardest decisions ever. Well, the best choice is to go with nude and plain hijabs as they go well with all colors and patterns.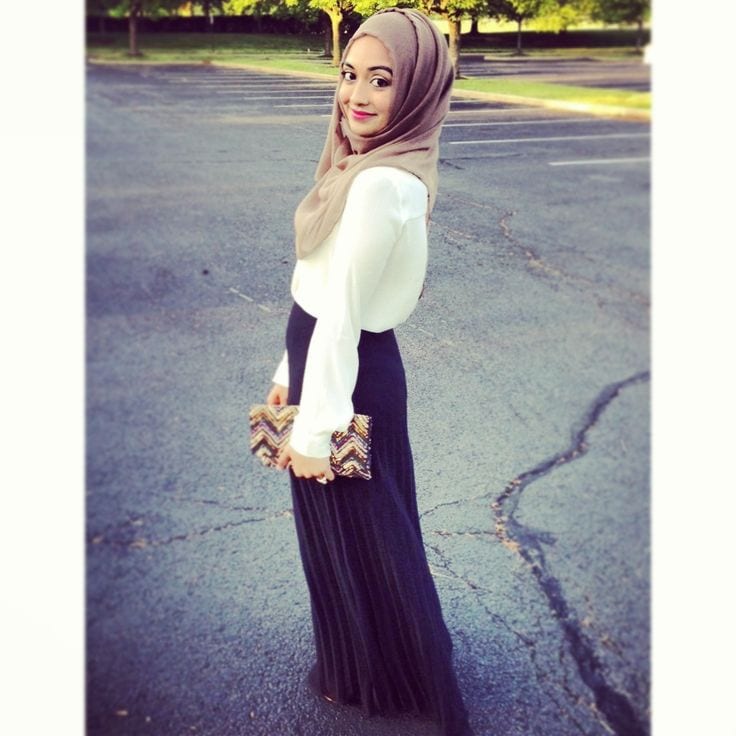 ↓ 7 – How to Wear Colorful Hijabs with Abaya

↓ 6 – Nude Colored Hijab and Accessories
↓ 5 – How to Wear a Sleeveless Maxi Dress with Hijab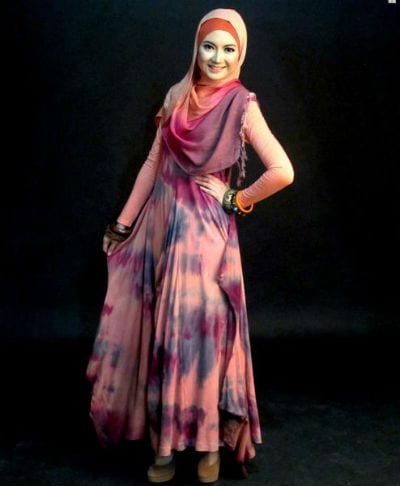 If you like a sleeveless maxi, then don't ever be afraid to buy it as there are several ways to turn it into a modest outfit. For instance, as you can see here, it can be worn over a plain full sleeve tee with a matching hijab for the perfect look. I also recommend that you check out these gorgeous Hijab Styles with Maxi Dresses.

↓ 4 – Printed Hijab with Tunic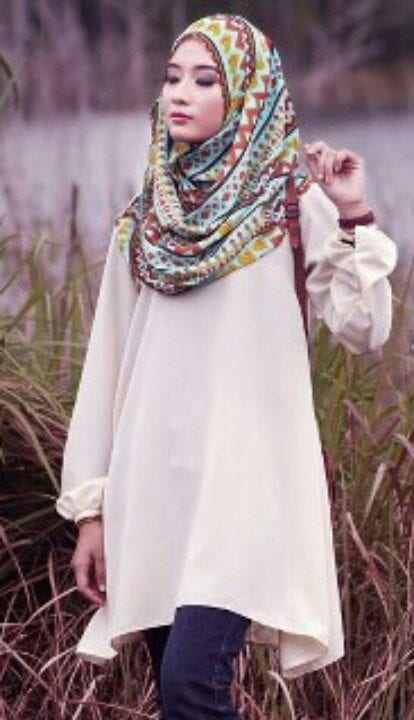 ↓ 3 – Party Outfit

↓ 2 – For Winters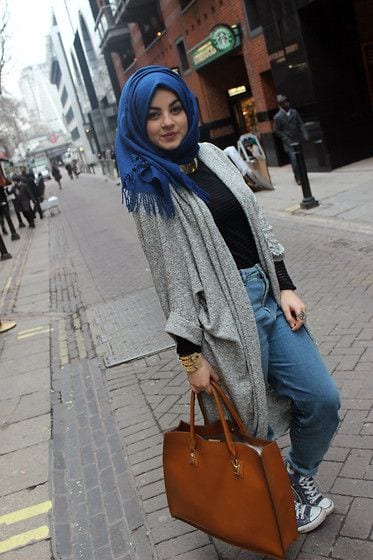 ↓ 1 – Floral Maxi Skirt with Matching Hijab for Spring
Printed shirts or maxis are very trendy and can be worn by all the teen girls. You can style it in your own way. They can be worn with white pants, whether it is cold or hot, in any season. Teen girls prefer wearing colorful tops.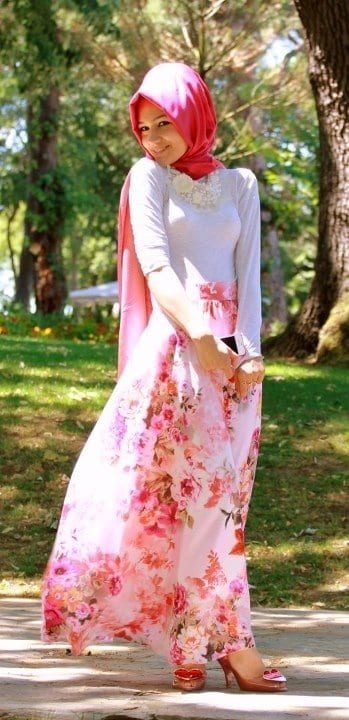 In the last post, we talked about 10 DIY hijab fashion projects with tutorials that can give a new life to your style. Hijab outfits can be styled in several ways. There is no restriction on how to style or what color to wear. It's a personal choice. You could wear a printed scarf on the head and a similar combination of the abaya. Or you could wear a hijab with a peplum top and a skirt. Add matching accessories; they will ultimately enhance the look and make you look more stylish.
Frequently Asked Questions
Q.

How to wear it with a black maxi?
A. A black maxi would be a perfect evening outfit for a party. The most stylish way to don your simple black maxi dress is by wearing a gold belt around the waist. A golden hijab, along with the maxi, would make you look amazing. Decorative brooches can be purchased to enhance the outfit.
Q.

How to wear a hijab with a hoodie?
A. For wearing a hijab with a hoodie, it is recommended that you first put on your hijab cap, so all your hair settles. After that, neatly wrap your hijab around it and pin it below the chin. Now you can put on your hoodie over it without looking like a bear. All neat and classy!
Q.

Can I look stylish in the hijab?
A. Yes, you definitely can appear stylish in the hijab. Wear it stylishly; go with a turban style, ponytail style, knot style, dupatta style, or a layered one. Moreover, accessorize it with cute broaches and focus on your outfit.
Q.

How to accessorize with a hijab if teenager?
A. Teenagers should prefer wearing dainty accessories unless it is a party or wedding where you would want to wear statement accessories. Prefer wearing a layered necklace, drop-down earrings, and broaches.
Q.

How should a beginner wear a hijab?
A. As a beginner, you should start by identifying your face structure and figure out what style suits you the best. Then open up youtube and learn how that style can be created like a pro. Scroll up to the top of this article to learn more tips and ideas.
Q.

How to wear a headscarf for school?
A. For wearing a headscarf to school, it is recommended that you stick to the style that is easy to make, and you are most comfortable in it. A dupatta style, loosely wrapped, or layered hijabs are good choices.
Q.

How to wear a headwrap to prom?