Outfits with Navy Blue Coat: There are few essentials that every woman should have in her closet, no matter what! Navy Blue Coat is one such necessity. It is something you can pair up with just anything and still look the prettiest.
Be it your workplace or a hangout with your bestie, Navy Blue coat is there to your rescue. Here, we have compiled some 25 ways of how you can wear a Navy Blue Coat and remain in style without going too heavy on your pocket.
How to Wear Navy Blue Coats
A navy blue coat is a stylish piece that may present some conundrums. What does it go with? How does one style it? Well, we cover all that and more in this post! Here we get started with five tips for how to wear navy blue coats:
Navy goes well with pretty much anything, so don't be afraid to try some bold or experimental pairings with your navy blue coat. It is the perfect piece to have fun and play around with.
Always lint-roll your coat or jacket before wearing, especially if you have pets. While hair and lint won't show up as starkly on navy as it does black, it's still pretty evident and will detract from your overall appearance.
Consider getting your coat or jacket tailored. A well-structured jacket, coat, or blazer will upgrade your overall look instantly and make you look that much more stylish. This especially applies if you tend to buy cheaper fabrics.
Invest in quality – but don't break the bank. You can find affordable and beautiful coats, blazers, and jackets at outlet malls, through online sales, or even at your favorite reasonably-priced store. Brand-names don't have to be everything.
Look to incorporate your navy blue outerwear into your everyday attire for a refreshing tweak on your wardrobe. Forget the hoodie and try a navy blue jacket instead to look instantly chic and put-together.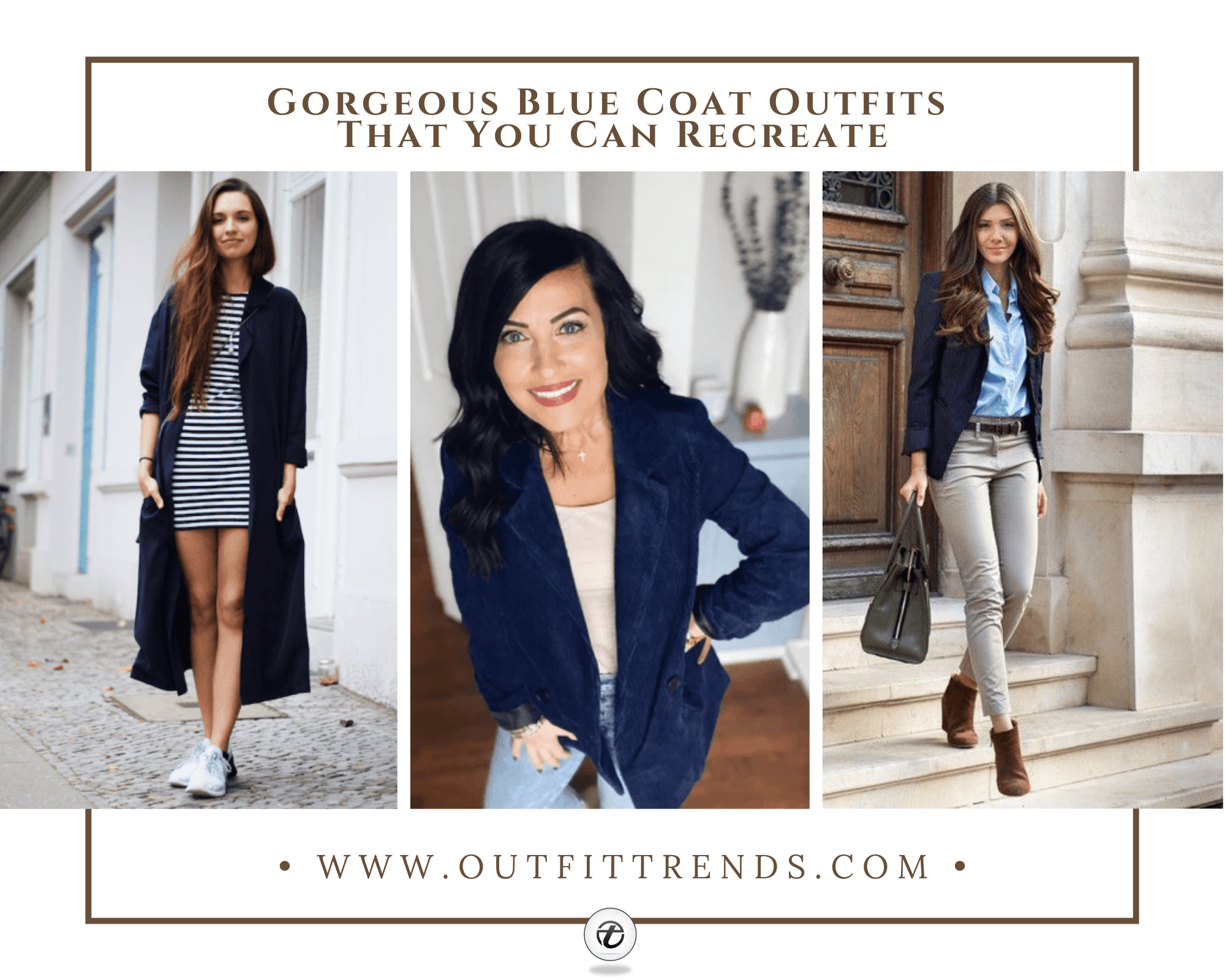 Here are our 25 picks for great navy blue coat outfits. Check them out!
↓ 25 – Everyday Street Style
Love stylish pieces worn in everyday street style attire? Us, too! Not only are outfits like these comfy but they boast some pretty upscale pieces as well. Like this incredible wool coat worn over a boyfriend shirt paired with a glamorous slouchy bag.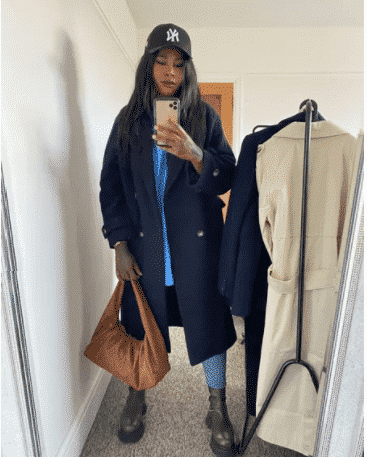 ↓ 24 – Work-at-Home Outfit
We have all had to work at home at one time or another (this year, most especially) and it's no secret that one tends to get more work done and feel more productive when they are properly dressed. It's hard to get in the right headspace when you're lolling about in your pajamas. So here's a simple, stylish, and cute outfit you can throw together while working at home or even running errands on a Saturday! Its versatility is a lifesaver. Simply pair a cute camisole with your favorite high-rise jeans and add a navy blue corduroy or velvet jacket. Remember to throw on some lipstick to tie the look together!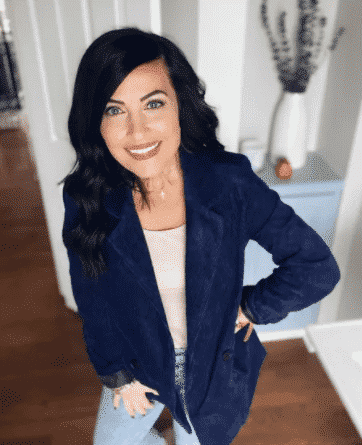 ↓ 23 – Plus-Size Casual Office Attire
Office attire can get pretty annoying to try and reimagine every week, no matter what your size. But if you are feeling like you want to add a little more flavor to your regular Monday look, try adding a cute navy blue blazer paired up with a pop-of-color long-sleeved tee. This slightly oversized take is stylish and comfy. Pair with your favorite curvy jeans to finish off the look.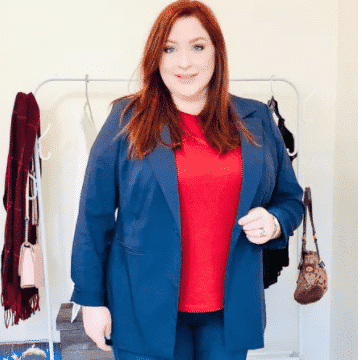 ↓ 22 – Casual Outfit in a Navy Blue Blazer
Here is a great example of incorporating a business-chic piece into a casual outfit. Heading out for an evening walk? Got a dinner date with friends? Need to dress up a basic summer ensemble? This blazer will do the trick. Pair a long maxi dress (note the color palette) with your jacket, turning up the sleeves. Add a slim belt to cinch the waist and accessorize with simple silver jewelry. Here are some cute Outfits with Pale Pink Blazers.
via
↓ 21 – Sporty Look
Because it is so cold outside, don't go without a long, thick navy blue coat when you're going for some sporty activities. The coat will keep you warm and you'll look super chic in this look.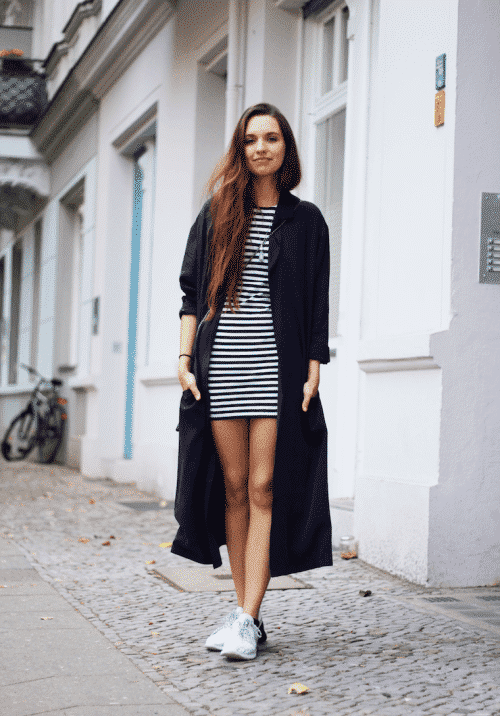 ↓ 20 – Parisian Fashion Style
For high-level glam and unforgettable beauty, Parisian style, try a statement navy blue coat with round gold buttons, a red lip, and brown suede boots. This look is perfect for a winter photoshoot or fashion event. Here's a list of the latest French Fashion Trends & Easy Ways to Dress Like a French Girl.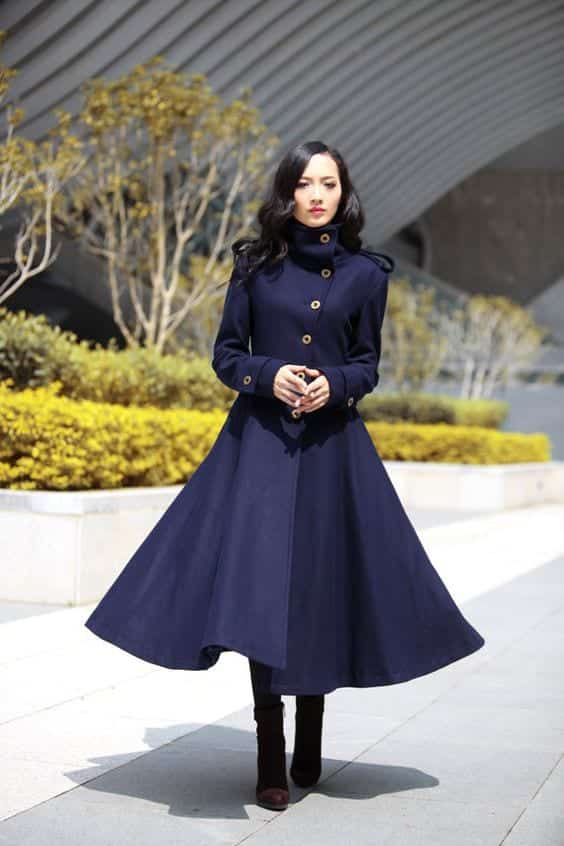 ↓ 19 – Winter Attire
Why go to the office in all those boring dresses when you can go all dressed up and casually chic? This super cute check skirt paired with a gray sweatshirt and a navy blue coat is not only comfortable but also super classy.
↓ 18 – What to Wear with Navy Blue Coat for Brunch
If you're planning a brunch date but don't want anything too fancy, then a simple Navy blue coat with a black shirt and jeans will look lovely. Do take a bold colored bag with you too, it'll brighten up your look. Here are the best Sunday Brunch Outfits.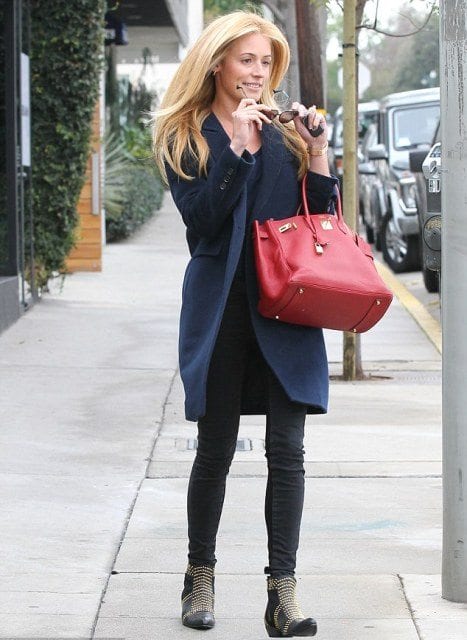 ↓ 17 – CEO Fashion
A CEO gets a lot of attention so attire is important. We love this bold and commanding look featuring a simple dress, a smart fit navy blue jacket, and a bright blue statement necklace. This look is sure to make a statement. Check out these Dinner Date Outfits.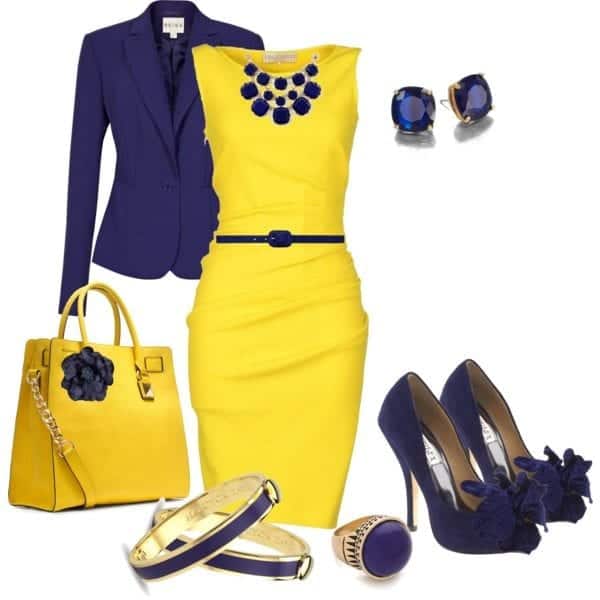 via
↓ 16 – Casually Professional Attire
While you can't always go all funky to the office, at times you have official meetings to attend and presentations to present, so how about some khaki dress pants with a sky blue dress shirt and a slim fit navy blue coat. Perfect, right?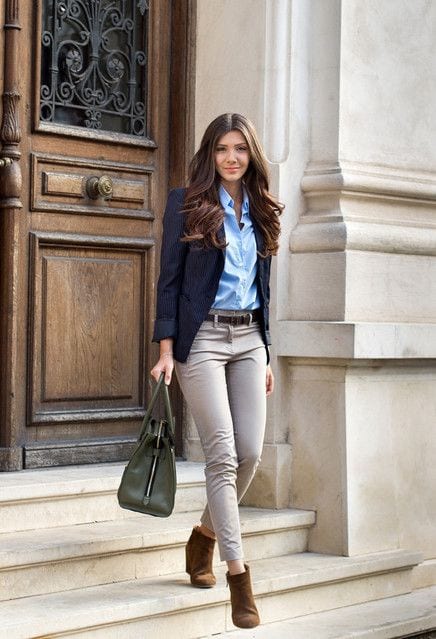 ↓ 15 – What to Wear to a Job Interview
When going in for an interview, you always want to make a positive impression, so when the time comes around, you are preparing for your interview, pair up your favorite navy blue coat with a pencil skirt and a pretty polka dot shirt. Here's our exclusive guide on How to Dress Up for Job Interviews.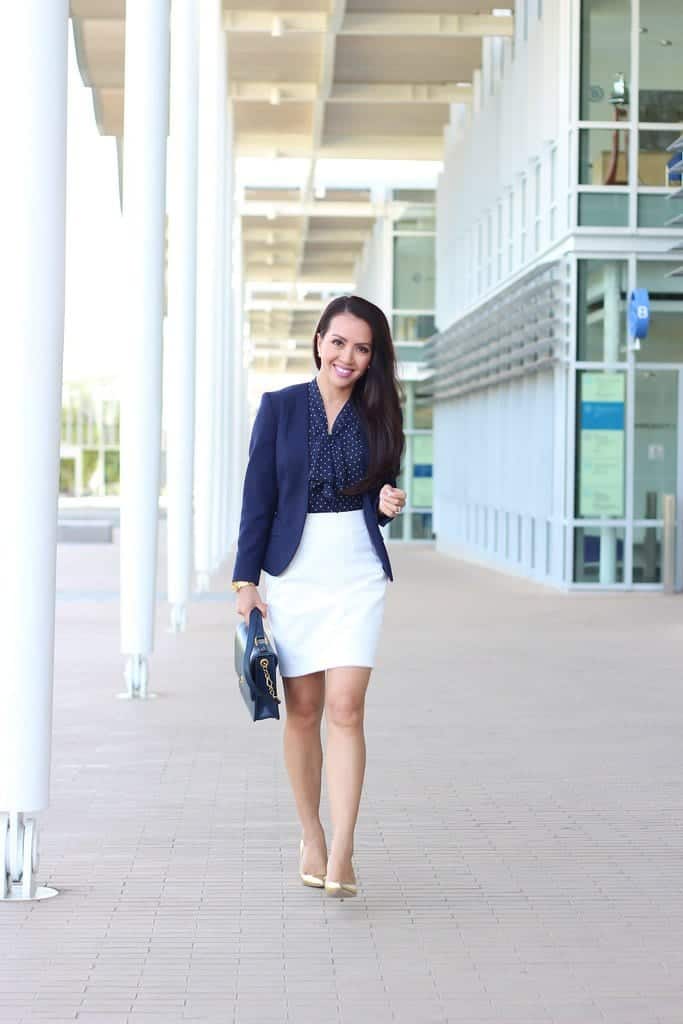 ↓ 14 – Casual University Style for Fall
We love a business-chic casual look… Try a slightly oversized blazer over a turtleneck, jeans, and some knee-high boots to wear for fall weather. Accessorize with a bright-colored tote bag.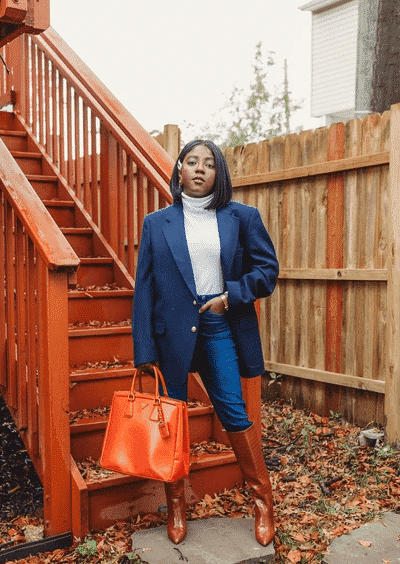 ↓ 13 – Dress Up for Friends Meet-Up
With our busy lives, we hardly get a chance to meet up with friends, so when you do get a chance, take advantage of the opportunity and go glam with this super fashionable attire, a body fit shirt with a silk navy blue coat, cotton gray pants, and a very posh faux fur handbag. Posh yet elegant.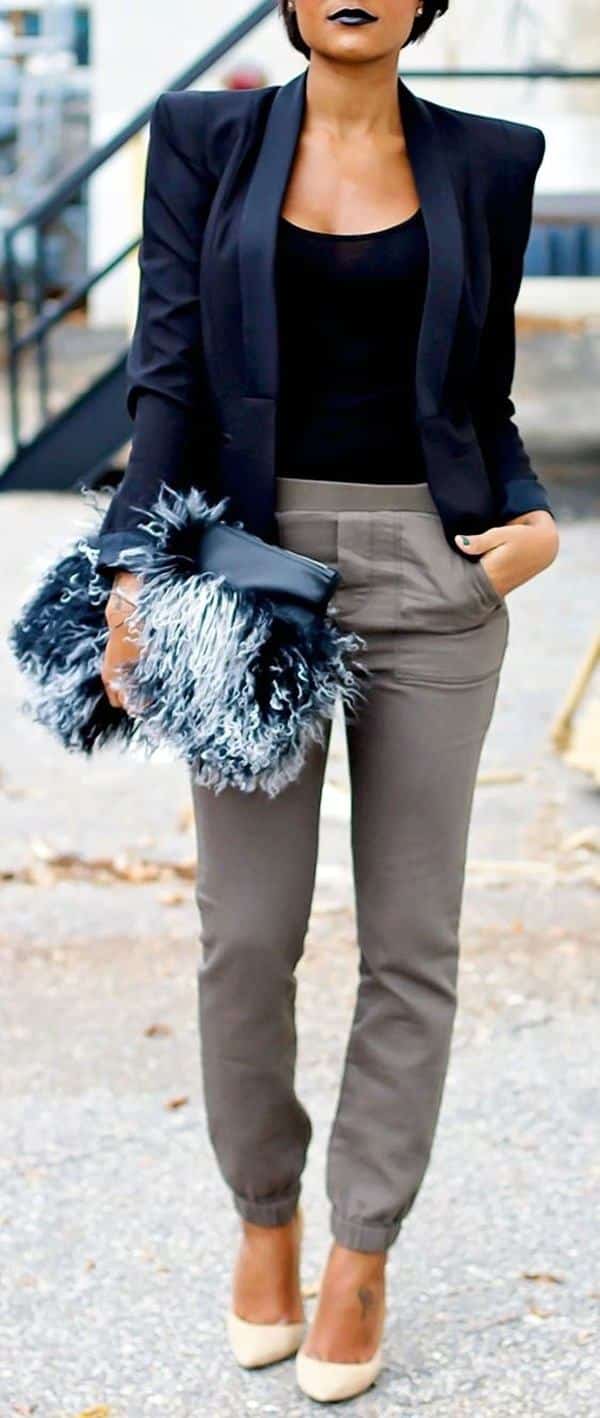 ↓ 12 – All Set for Shopping
Shopping can be a hassle when you are not rightly dressed for it as you want to be carefree yet comfortable. A comfortable pair of jeans with a plaid shirt and a long navy blue overcoat is your perfect attire.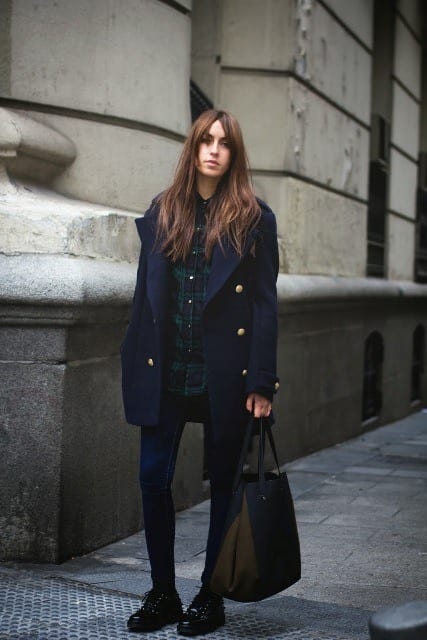 ↓ 11 – Dress Up Like a Duchess
Who does not want to look like the prettiest Kate Middleton! Bring the duchess out in you with this striped shirt, your casual jeans, and a very cute slim fit coat. Wear bold lip color with the attire to add some glam to your look.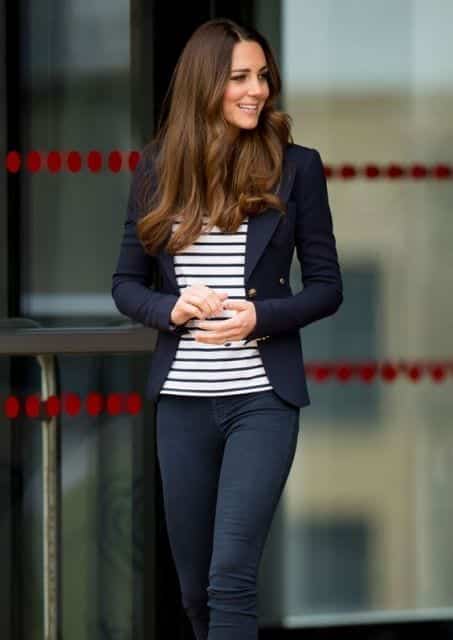 ↓ 10 – The Perfect University Attire
University life can be very hectic, and it's never easy to decide what to wear on daily basis. So why not just keep a couple of pairs of white pants and a navy blue dress coat in your wardrobe? You can always pair these two things with the t-shirt of your choice. Here are 15 Quick and Cute Hairstyles for University Girls.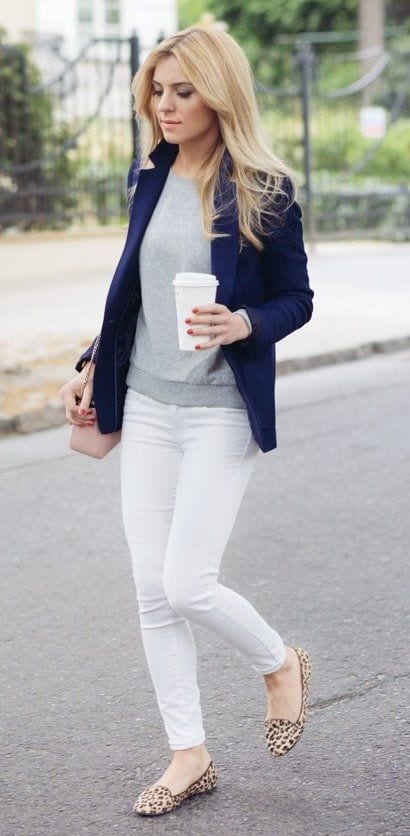 ↓ 9 – Fit for the Meeting
Business meetings are an important part of workplace habits, therefore, the way you carry yourself is as important as the presentation you have made for the meeting. A pencil skirt with a short, navy blue coat and high heels-these are all you need to make a statement.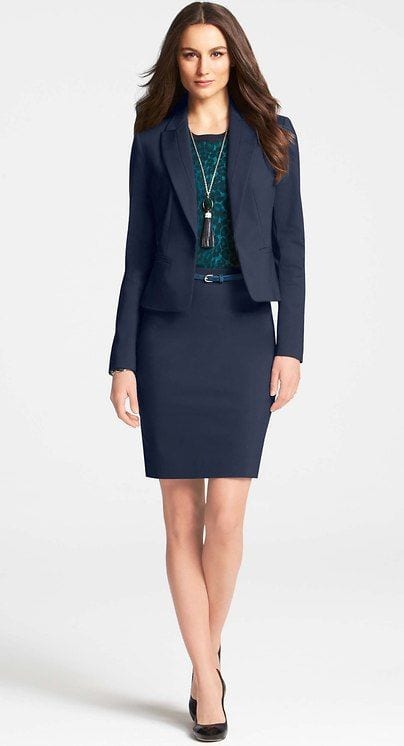 via
↓ 8 – Perfect Friends Day-Out Dress
For a ridiculously chic and glamorous look, go for a long navy blue jacket which is different from the usual coat, pair it up with skinny jeans, and the classy pencil heels. Wear a cat-eye liner to complete the look.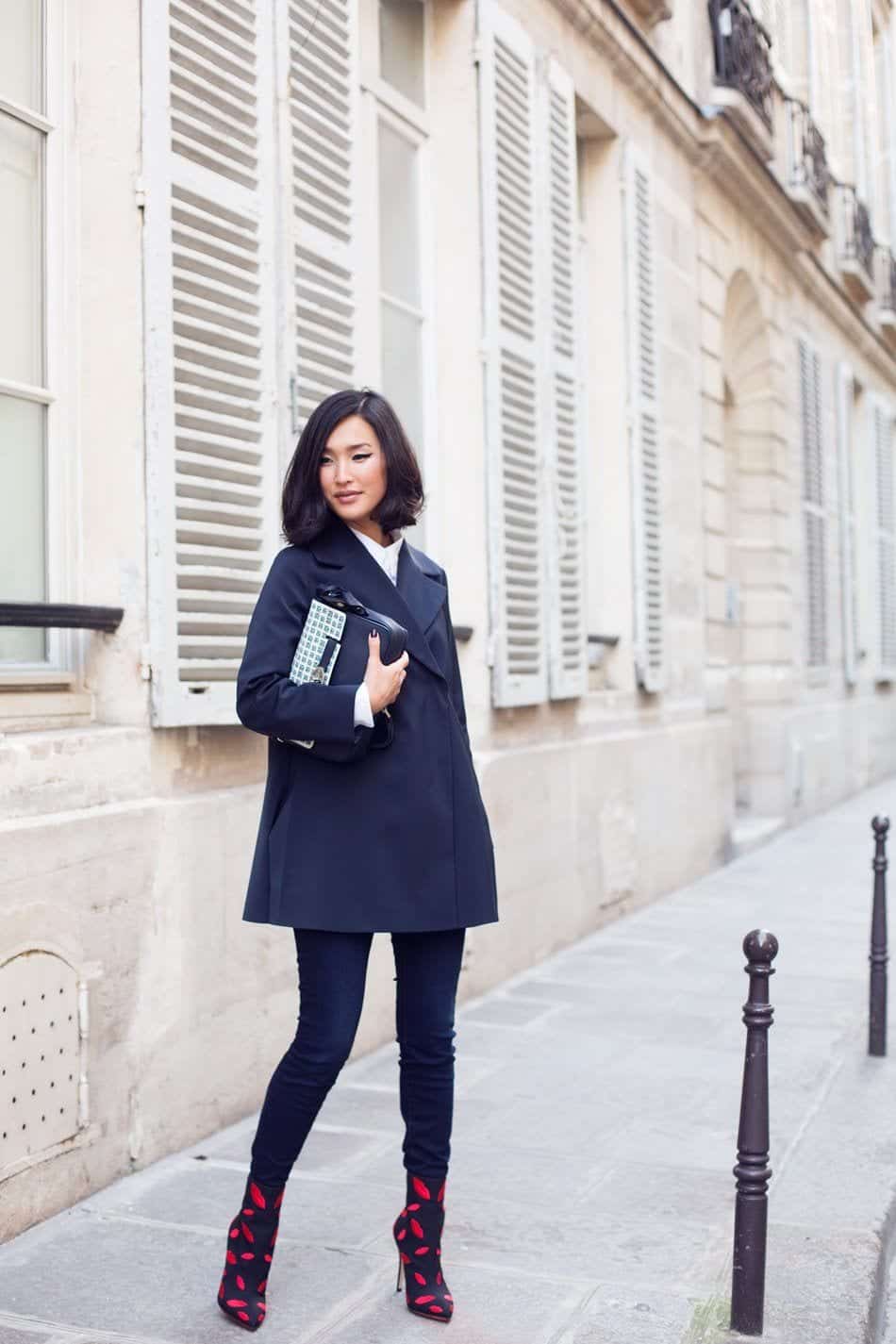 ↓ 7 – Stylish Party Dress
Why wear the usual party dresses when you can look sophisticated yet voguish in this elegant navy blue jacket and lovely fur skirt? A beautiful leather bag will be an add-on to your look.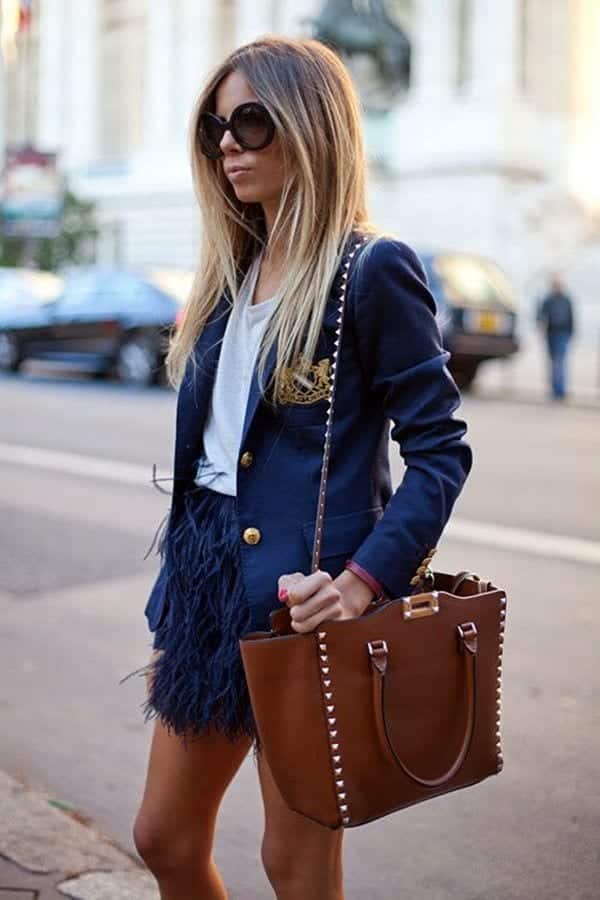 via
↓ 6 – Street Style
Hit the streets of your favorite city or jet off for a mid-winter vacation in this beautiful navy blue coat, paired with a sweater, leather pants, and black ankle booties. Pair with a light-colored wide-brimmed felt hat to brighten up the look. Here are 16 Popular Spring Street Style Outfits Ideas For Women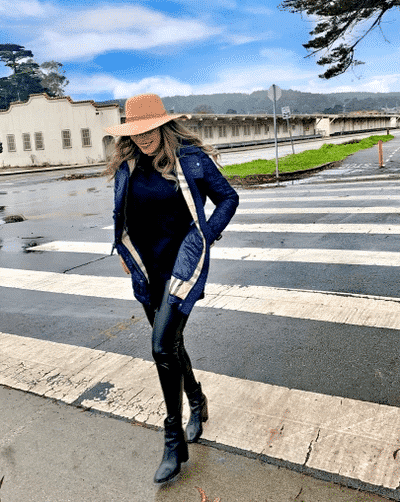 ↓ 5 – The Vintage Street Style
Vintage Fashion will, ironically, never get old. So instead of the boring attires that we wear on daily basis, wear something colorful that will brighten up your day because colors do have an effect on our mood. Pretty, cute polka dot pants and a shirt with a navy blue coat and shades would be the right combination for winter afternoons.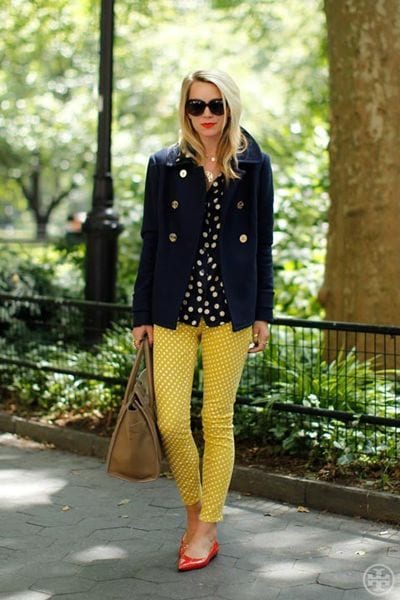 ↓ 4 – Glam Up for Office
To add colors to your wardrobe, buy colored dress shirts to wear to your workplace. This ruffled emerald green dress shirt with casual jeans and blue blazer is not only very sophisticated but very fashionable as well.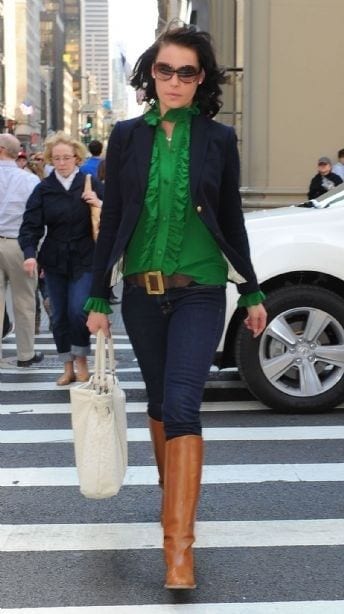 via
↓ 3 – A La Mode Business Style
For a stylish work look, a burgundy pant paired with a printed dress shirt (we love the bow-collar) and a tailored blazer is the outfit you should go for. A high bun hairdo would complete your preppy look.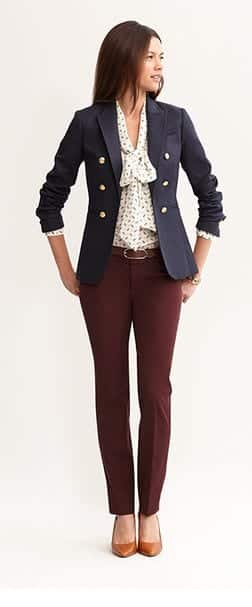 ↓ 2 – Everyday Style
Let's admit it, one can not dress up every day but that doesn't mean casual clothes can not be cool. A simple dress shirt with a navy blue jacket is a neat yet trendy look that is easier to carry without compromising on style or comfort.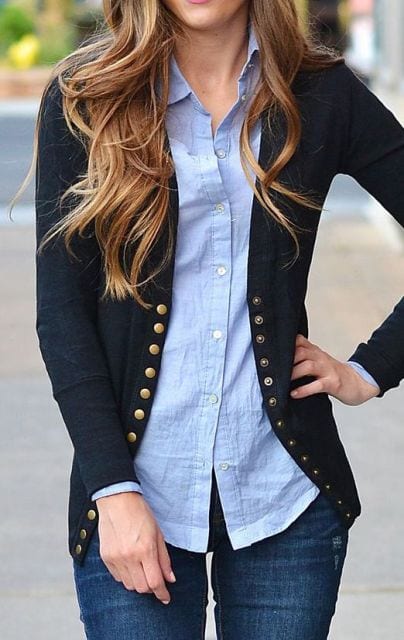 ↓ 1 – The Ultimate Formal Dress
Whether you have a meeting to attend, a presentation to make, a day out with your buddies, or an official lecture to go for, this classy lace skirt with a skin-colored shirt and the slim-fit navy blue blazer is the complete attire that you should think of wearing. This is The Look: that one outfit perfect for any professional occasion. A chignon would look very elegant with the look as well.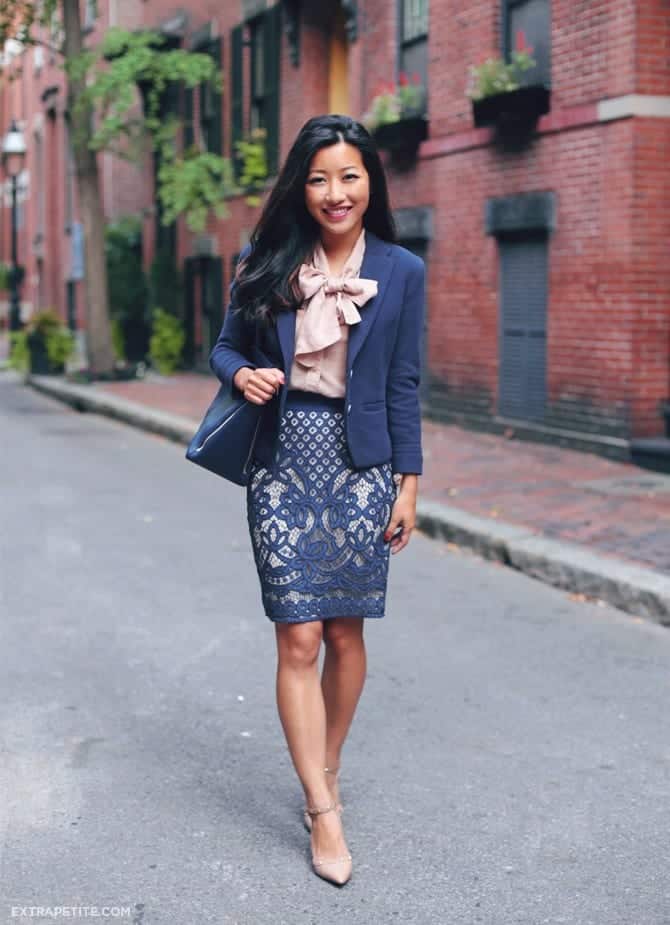 Frequently Asked Questions
Here are some frequently asked questions about how to wear a navy blue coat or jacket, what goes well with it, and more. Check them out.
Q.

How do you wear a navy blue jacket?

A. As with any color coat or jacket, the fit is of the utmost importance. Knowing your own figure is key as well. Do you look best with a hip-length jacket or a thigh-length? Does your complexion look greatest with dark navy and bright colors or a more neutral palette? Whatever the case, ensure that your jacket fits well and skims over your figure with structured, quality material. You can wear a navy blue jacket casually (check out outfits #6 and #10) or business chic as seen in outfits #1, #8, and #11.
Q.

What color pants go with a navy blue jacket?

A. Because navy blue is such a versatile color, you can wear it with almost any color (though we do recommend staying away from anything too garish). We love to see navy blue jackets paired with denim jeans, brick red pants, mustard yellow, and olive green.
Q.

What goes with a navy coat?

A. Anything you want it to! A navy blue coat is a super versatile piece. Try it with a dress and knee-high boots or a blouse and jeans. Or you can get a little fancy and pair it with a fringed mini-skirt or a pencil skirt.
Q.

Can you wear all navy blue?

A. Of course, you can! But bear in mind it can look a little boring to be in navy blue from head-to-toe and may look better if you incorporate a different colored top or a neutral pair of pants to balance the look.

If you loved this article and want to see more like it, let us know in the comments below! What are your biggest closet conundrums? What clothing piece should we cover next? We love hearing from our Outfit Trends followers!