Gloves Outfits for Men – Gloves have been a part of men's accessories for centuries. If you go back in time, you can see gloves were an essential part of the outfit for aristocrats. It is because gloves serve functional as well as aesthetic purposes. Therefore, always choose your gloves wisely.
You do not need many pairs of gloves if you make your choices considering your requirements. For this purpose, comfort level should always be at the top of your priority list. It would be best if you choose a glove that isn't only for show-off but can also serve its primary duty.
What to Wear With Gloves?
Usually, men do not like to wear gloves. Instead, they put their hands in their pockets. However, it is highly impractical. You can incorporate gloves into your formal or informal wear seamlessly and in this guide on men's wear, I will tell you exactly how you can style gloves flawlessly. So, keep reading!
You can match gloves with shoes, ties, watch straps, or belts. But do not wear all these things in the same color unless you are planning for a monochrome outfit. Another way to style gloves is to match them with your coat or neck scarf. You can even wear mismatched color gloves if you want to add color to your modest outfit.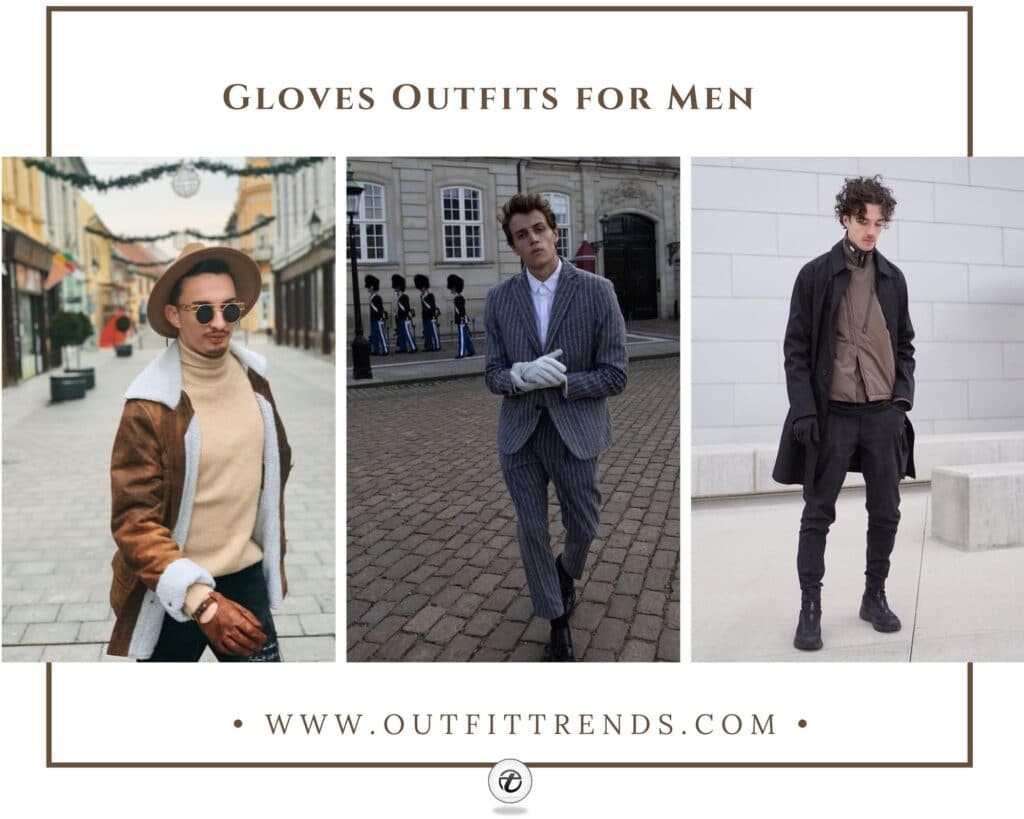 Types of Gloves for Men
I have heard people saying that gloves are made of more or less the same material and look similar. However, this statement is far from the truth. Each type of glove is made to serve a different motive. Here's a list of a few must-have gloves for men:
Touch Screen Gloves – If you work digitally, these gloves are your best friend for cold weather. These gloves make your life easier by allowing you to use any touch device.
Leather Gloves – Mostly used with formal outfits, leather gloves are tight around your finger and give you a firm grip. You can not wear leather gloves in summer.
Weightlifting Gloves – You should use weightlifting gloves for good grip and prevent any sorts of wrist injuries. These gloves are trendy among men who go to the gym.
Driving Gloves – These gloves were used when steering wheels were made of wood. However, you can still use these gloves to save yourself from getting bruises during your drive.
Fur-Lined Gloves – If you want gloves that look stylish like leather, and keep your hands warm like wool gloves, then fur-lined gloves are made for you. It serves a two-in-one purpose.
Golf Gloves – These gloves can help you during your golf match if you have sweaty hands. They can also protect your hands from getting wet while raining.
Heavy-Duty Winter Gloves – These are perfect for extreme cold weather, used mainly by skiers and mountain climbers. The material used in these gloves ensures your safety from frostbite conditions.
Convertible Gloves – You can cover your entire hands and convert them into fingerless gloves while using your phone. You won't regret it if you invest in convertible gloves.
20 – Brown Gloves, Shoes & Belt to Match Your Coat
Turtle necks look best with long coats. Keep it basic with a black turtle neck and blue jeans. You can match your gloves with the color of your shoes. It is always preferred to completely match your gloves, shoes, coat, and belt. So, what you can do here is to wear a coat that is one shade lighter than your gloves.
This way, your gloves will look prominent and a part of your whole outfit simultaneously. If you're wondering what you should wear under the coat, you can find some great ideas here.
19 – Create A Retro Look With A Flat Cap And Leather Gloves
Let me change your mind if you think flat caps are hard to style! Create a look with flat caps in winter; you only need a coat and a scarf. You can wear your basic shirt underneath. Moreover, if the weather is freezing, you can easily do layering.
But if you are thinking about how to wear your brown leather gloves with your outfit, then do not worry. Because you can easily match your gloves with your shoes. Almost everyone has a pair of brown formal shoes. This is your time to take them out of your cupboard and style them with a retro outfit.
You can get more inspiration from these Retro Outfits For Men.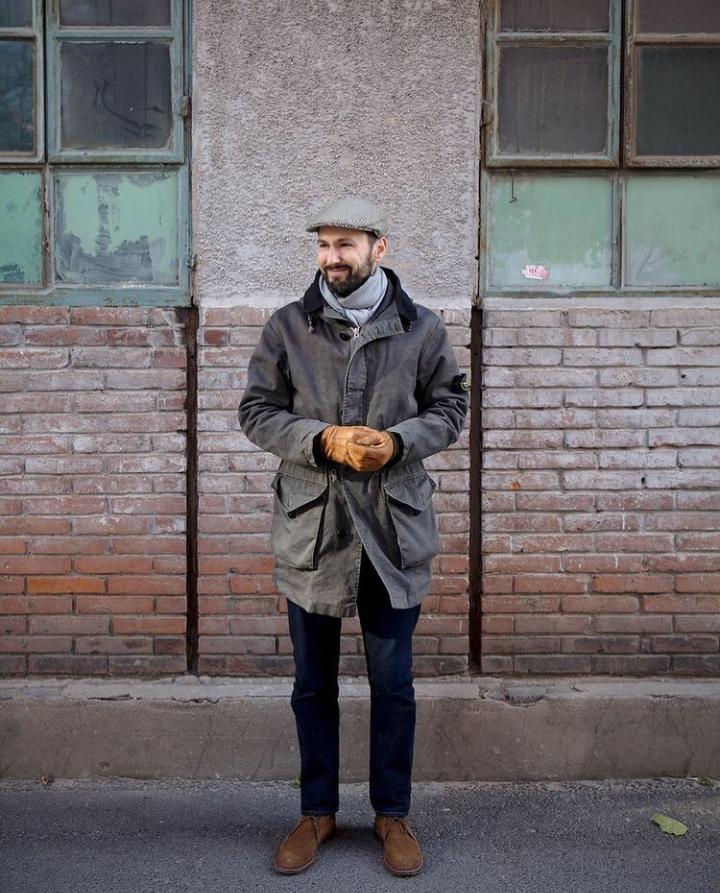 18 – Suede Gloves With Tie And Coat for Work
Most men struggle while styling their office outfits with gloves. Some say that love doesn't match the aesthetics of the sophisticated look, and others complain about not knowing the correct type of gloves. Indeed, if you are not up to date with fashion trends, you might face these problems.
However, I can solve your problem because I have found the perfect pair of gloves that will go effortlessly with your daily outfits. Suede gloves have different varieties, but they all look perfect with formal attire.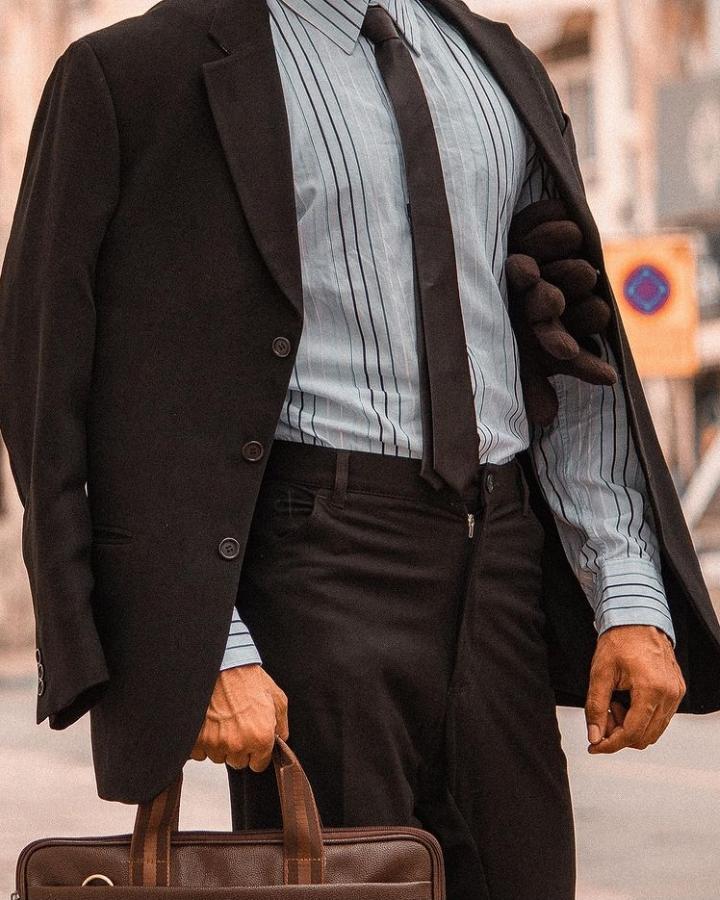 17 – Black Leather Gloves With Semi-Formal Outfit
The beauty of leather gloves is that you can style them with almost every, whether it is casual, formal, or semi-formal. However, if you have black leather gloves, that would be the cherry on top. I would suggest wearing baggy pants and a dress shirt with white converse.
Moreover, to beat the cold, wear a jacket and pair it with a coat. You can match your tie with the color of your jacket. However, skip the cap if you can.
16 – Play With Different Shades Of Brown
When you are confused about mixing and matching the different clothing and accessories, you are highly prone to blunder. Moreover, you can not always wear monochrome. Because can we all agree that sometimes monochrome outfits look too basic?
If you agree with me, then I would suggest trying lighter and darker shades of the same color. For starters, try to style brown pieces from your wardrobe.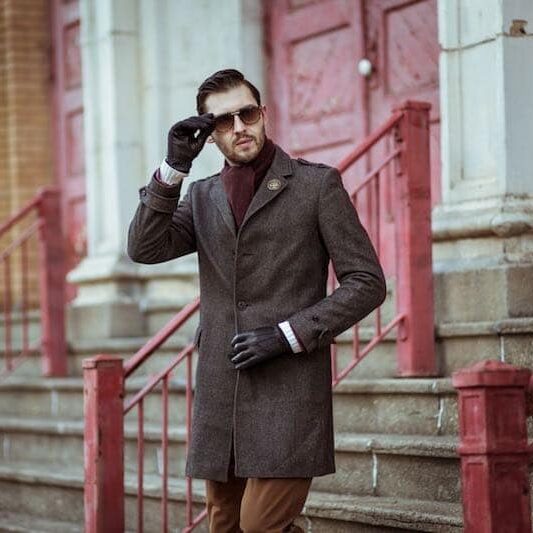 15 – Denim Outfit With Brown Boots & gloves
Usually, people get confused about what looks best with brown denim boots or black boots! I would suggest going with brown ones, preferably wood brown. The reason is that since black is a dark color, it will block the look. However, Brown will be a nice touch to a classic look.
You can always match your gloves with your shoes, so you do not need to worry about that. If you want other ideas to style blue jeans, check here!
via
14 – Wool Sweater With Neckerchief
Neckerchief looks very fancy but only if you know how to style it. Otherwise, you would mismatch your outfit. I would suggest always styling it with a coat or jacket. Try to wear block color gloves to complete your outfit.
13 – Leather Driving Gloves With Leather Jacket
If you like to add colors to your all-black outfit, then what is a better way than to go with brown boots. You can also wear brown gloves with this outfit.
12 – Wear Black Leather Gloves With Bluer Blazer
Black leather gloves are the perfect option to wear with a blue blazer. However, if you don't have leather gloves, then prefer suede gloves over wool gloves.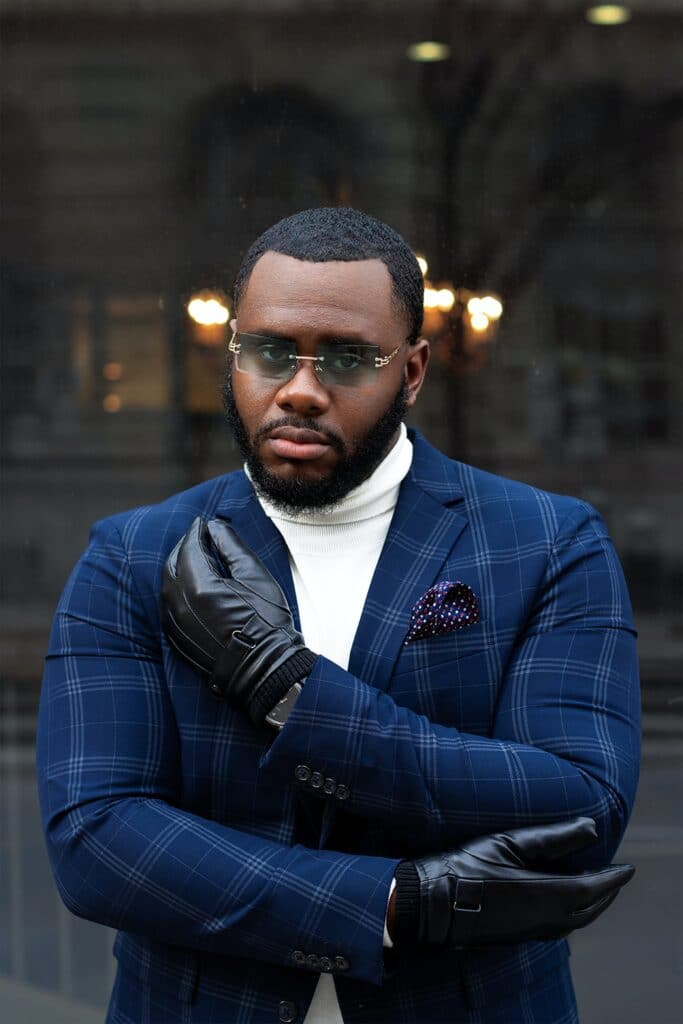 11 – Orange Check Shirt With Brown Fur-Lined Leather Jacket
It is usually hard to find gloves that will go best with bright colors. The tip here is to match your gloves with your pants. You are already going vibrant with the shirt. Therefore, try to keep your bottoms subtle.
10 – Pair Striped Wool Gloves With Hoodie
Men do not prefer wool gloves, but if you style them correctly, you can make a statement. Therefore, keep your outfit classy by wearing a brown dust coat and pairing it with a hoodie. I suggest wearing a black hoodie instead of white to make your outfit monochrome.
via
09 – Daywear Leather Gloves With Grey Outfit
Daywear leather gloves will never go out of trend. You can tie a scarf around your neck and wear a knee-length coat. Further, accessorize your look with a pair of glasses. It is the perfect attire for tourists if that is something you are looking for in this guide.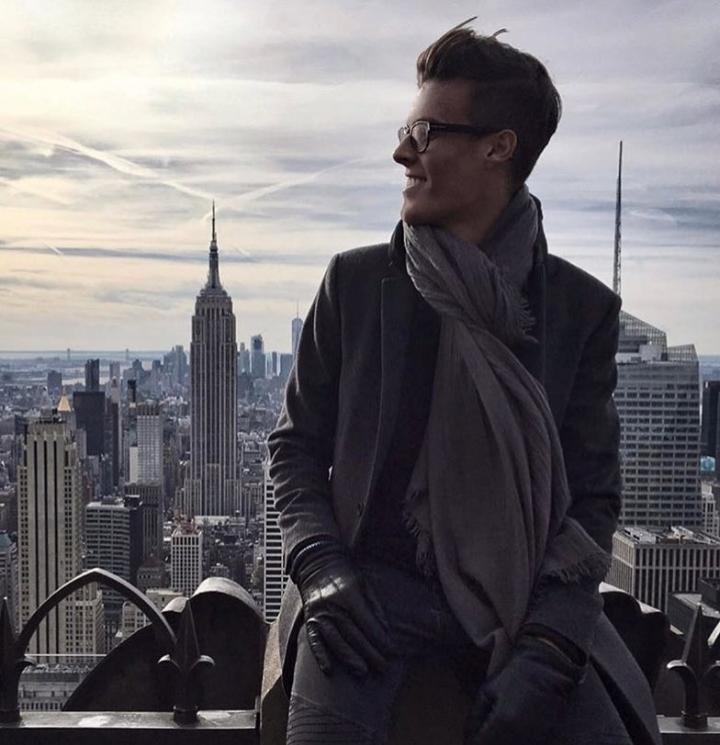 8 – Pair Beanie With Parachute Jacket
A parachute jacket and beanie are a combination you are all looking for in an outfit for cold weather. Also, accessorize your outfit with black leather gloves. However, you can choose a different color for the jacket as well. What about a bright color?
07 – Wear Mint Green Blazer Wit lack Leather Gloves
If you like the Korean style, this look is for you. Korean fashion is all about oversized and pastel color clothing. To achieve this look, wear a mint oversized blazer with a dress shirt and a tie. For bottoms, choose any white trousers.
If you don't have a mint blazer, you can replace it with a light blue blazer. However, if you don't have a blazer, I suggest wearing an oversized short-length coat.
06 – Match Brown Gloves With Hat & u -Lined Jacket
Here is a complete travel outfit. To make this outfit voguish, choose a fur-lined jacket instead of a slim one because the former is more trendy. Go with a cream color turtleneck and tight black jeans. Accessorize your outfit with cool glasses and a hat.
For gloves, it would be best to go with the driving gloves. These gloves' stitching and wrist design make them look fancier than others.
05 – Striped Brown Coat With Scarf
If you love the scarf, then pair it with a classic coat. Moreover, now is the time to wear your woolen gloves. Avoid wearing leather gloves if you want to create a classic look. If you don't have a striped coat, you can choose a simple one.
But what if you don't have a brown coat? My tip here is to wear a neutral color coat or try to match the coat with your scarf.
I also love the choice of the scarf with this look and if you do too then do check out these Outfits with Scarves for Men.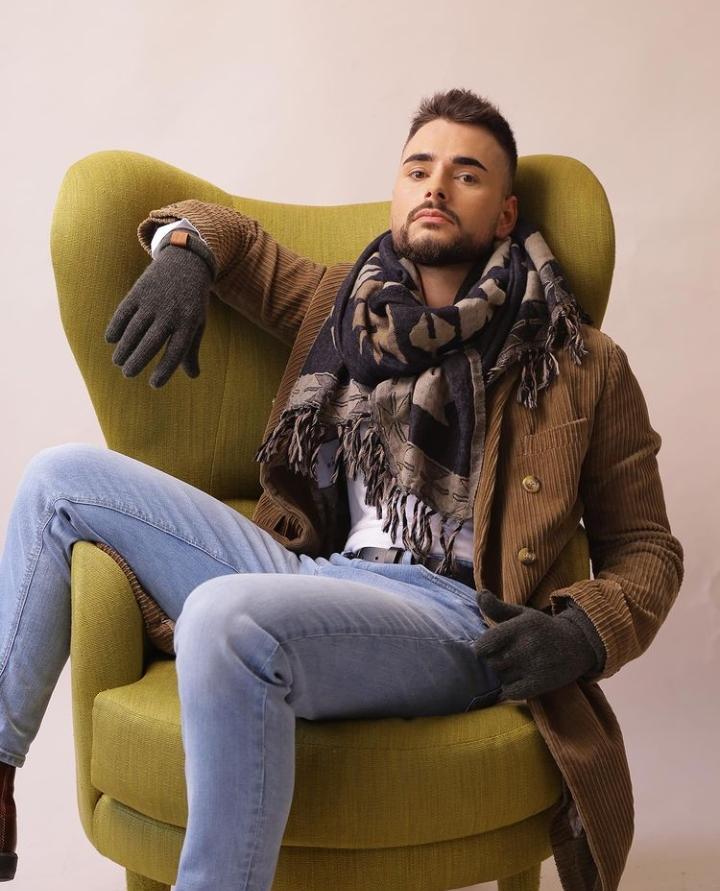 04 – White Leather Gloves With A Formal Attire
Formal attire gloves are different from casual pnes, so you need to pay attention to their details while buying. I would suggest wearing light color gloves with traditional attires unless you plan to go for a single-color look.
You can also match your gloves with the color of your tie. You can also recreate this look in summer with silk lining gloves.
03 – Create An All-Black Sophisticated Look
Dark color outfits are preferred in winters to keep ourselves warm. If you are planning to wear an all-black ensemble, I would suggest adding the touch of another color by wearing bright-colored gloves. So, if you don't have black leather gloves, this is your clue to style your favorite gloves with an all-black outfit.
02 – Make A Statement With an Orange Coat
Orange coat with a formal suit. Indeed you are in the mood to make a statement. But what about gloves? Try brown suede gloves instead of black leather gloves. If you don't have one, then woolen gloves will do the work.
01 – Light Brown Jacket And Black Coat With Wool Gloves
If you want to recreate an expensive outfit on a budget, here is what you need to do. Wear any black coat from your wardrobe and pair it with a light shade jacket. Complete the look with matching shoes and gloves.
Frequently Asked Questions
Q: What is the best brand for mens gloves?
Ans: Honestly speaking, everyone is doing a pretty great job. However, if you are looking for one place where you can purchase all sorts of gloves, then you can check out the latest Amazon gloves collection. But, if you want different options to explore, stay here, because I have your back.
Check out a few top brands here:
Q: What are the warmest mens gloves for winter?
Ans: It's difficult for some people to survive the cold weather. They often wear two or three pairs of gloves to save themselves from cold hands. However, it is not a comfortable situation, and it bounds your hand so you can not do your daily chores.
Therefore, I have searched the internet for men's warmest pair of gloves, so you don't have to struggle. Check out the best ones here:
Q: Do gloves need to match shoes?
Ans: No, absolutely not. It is completely up to you whether you want to match them or not but as you can see in the outfits shared today, many people go for matching shoes and gloves and it looks pretty stylish.
Another fun way to style your gloves, if you want to stand out, is to wear mismatched gloves with your coat and shoes. Suppose you are thinking of wearing a brown outfit, choose yellow or orange gloves. In this way, you can add a touch of color to your subtle look.
Q: What to look for in gloves?
Ans: To make this easy for you, I will divide men's gloves into three significant categories: Dress gloves, Casual gloves, and functional gloves.
Casual Gloves – You can go with wool, suede, and pigskin material gloves. They all fall under the category of informal wear. All of these have a smooth texture which makes your daily routine effortless. It can have decorative stitching, zippers, etc.
Dress Gloves – This category covers your black leather gloves cravings. However, the detailing you need to look for in dress gloves includes linings, cuffs, points, vents, and quirks. Basically, all the formal gloves which you can wear with formal suits.
Functional Gloves – The gloves which do not only save you from cold weather but come in handy during work are known as functional gloves. Therefore, always use the best quality material to protect you from weather, sharp objects, chemicals, etc.