December outfit ideas for men: We need to adjust our closets with the year ending and temperatures falling. The best thing about December is that you can wear your entire closet together and just say "I feel really cold" and no one will question you.
Your true fashion sense in tested in winters. The way you pair different items together matter a lot because it is not just shorts and a T-shirt anymore. The right kind of colors to wear and the right clothing to match makes all the difference.
But, you do not need to worry as we have covered 25 different outfit ideas for you to get inspiration from along with tips about right and wrong. Just a scroll through this article and you will be good to go for this December.
How to Dress This December for Men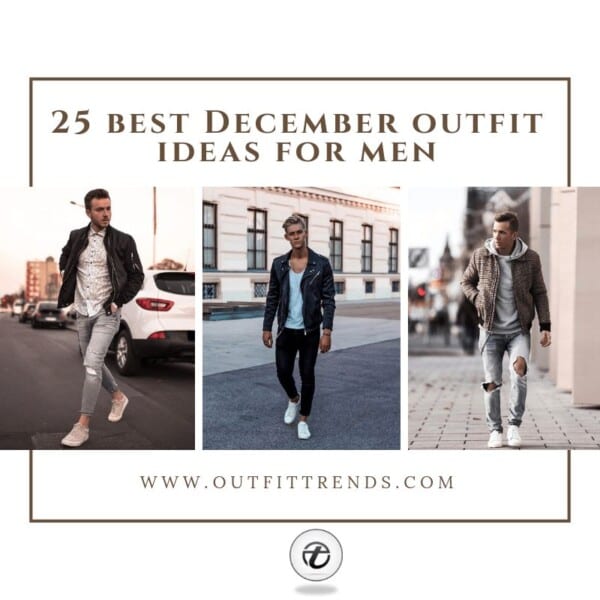 Here are a few tips and tricks to look your best this December:
Spend money on your clothes generously, quality makes all the difference
Wear a lightweight sweater under a sports jacket with some jeans.
Your shoes are what makes or breaks your entire outfit
Head to a thrift store and buy sports jacket that fits and play around with different styles
Always wear a cologne
Get your jackets pressed, rumpled backs ruin the entire look
Get your jackets and sweaters dry cleaned regularly
Always stick to one colored leather
If the designer's logo is visible, it's not as stylish as you think.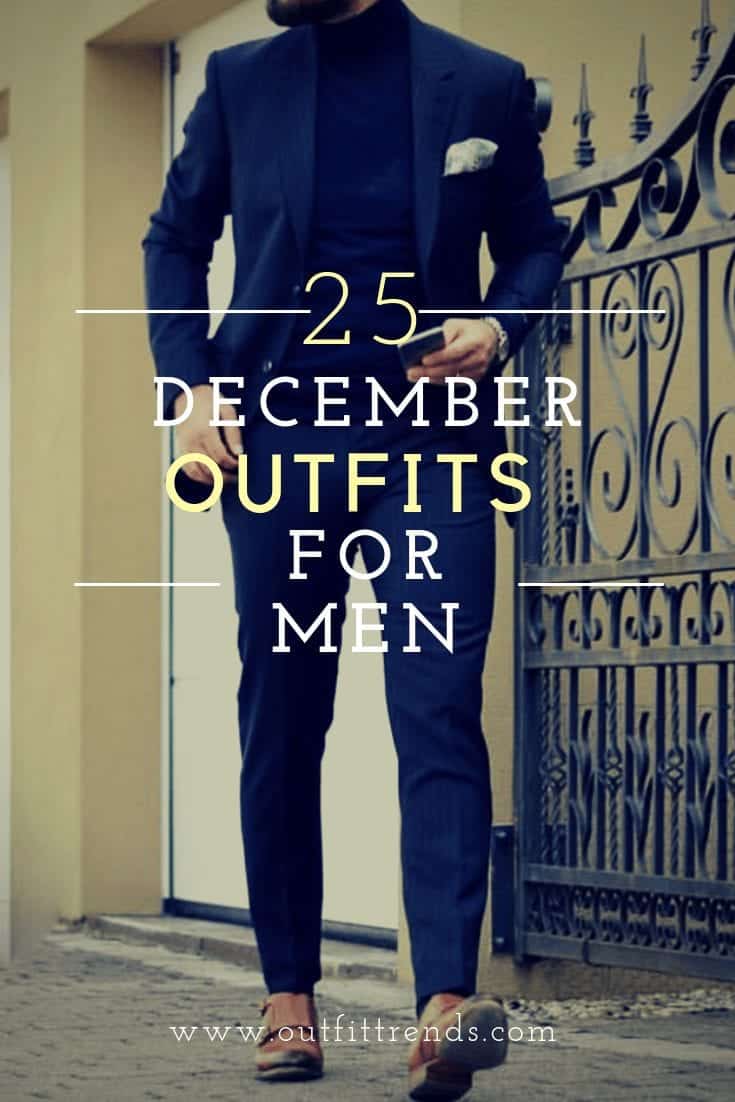 ↓ 25 – Jumpers
Jumpers bring a cool look, whether they are plain grey or festive. You should have a large collection of jumpers for Decembers because you can change your whole just by changing your jumper. Greys and muted colors look better as an everyday look. Though, that does not mean that you should ditch bright colors altogether. Save them for when you are in a mood to go with a bold look. Jumpers of course go best with sneakers so do have a look at these 18 Ways to Wear Sneakers Fashionably.
↓ 24 – Outdoor Jacket
There should be at least one long outdoors jacket in your closet. get one in black or charcoal grey so that it looks good with every outfit. if you are wearing it over a formal three-piece suit make sure that it is long enough to cover your coat so that it is not peeping out from behind, it looks really unattractive.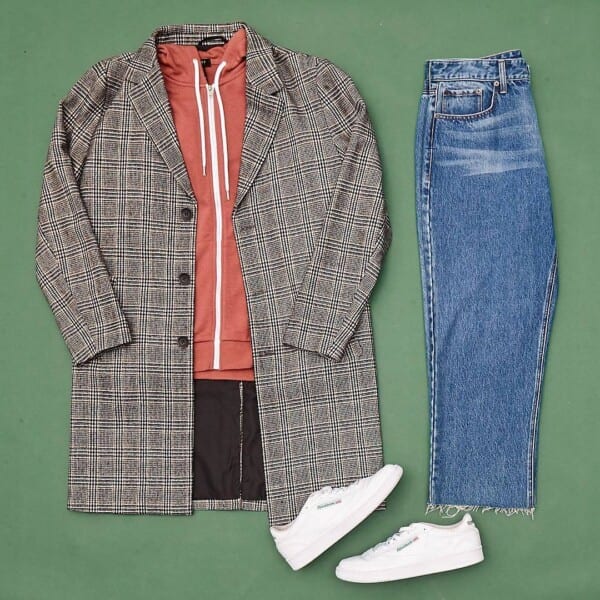 ↓ 23 – Hooded Jacket
This is the season for hoodies which means you can look cool effortlessly. A cool hoodie with some jeans is the perfect go-to look in December. But make sure you press your hoodie or else it looks really unpleasant. Forever21, H & M, Adidas, and many other outlets have a huge collection of hooded jackets you can buy from. You can put your hood on and give the grunge Tumblr look while keeping your neck and ears warm. You can even wear it over a baseball cap during the day as Justin Beiber does.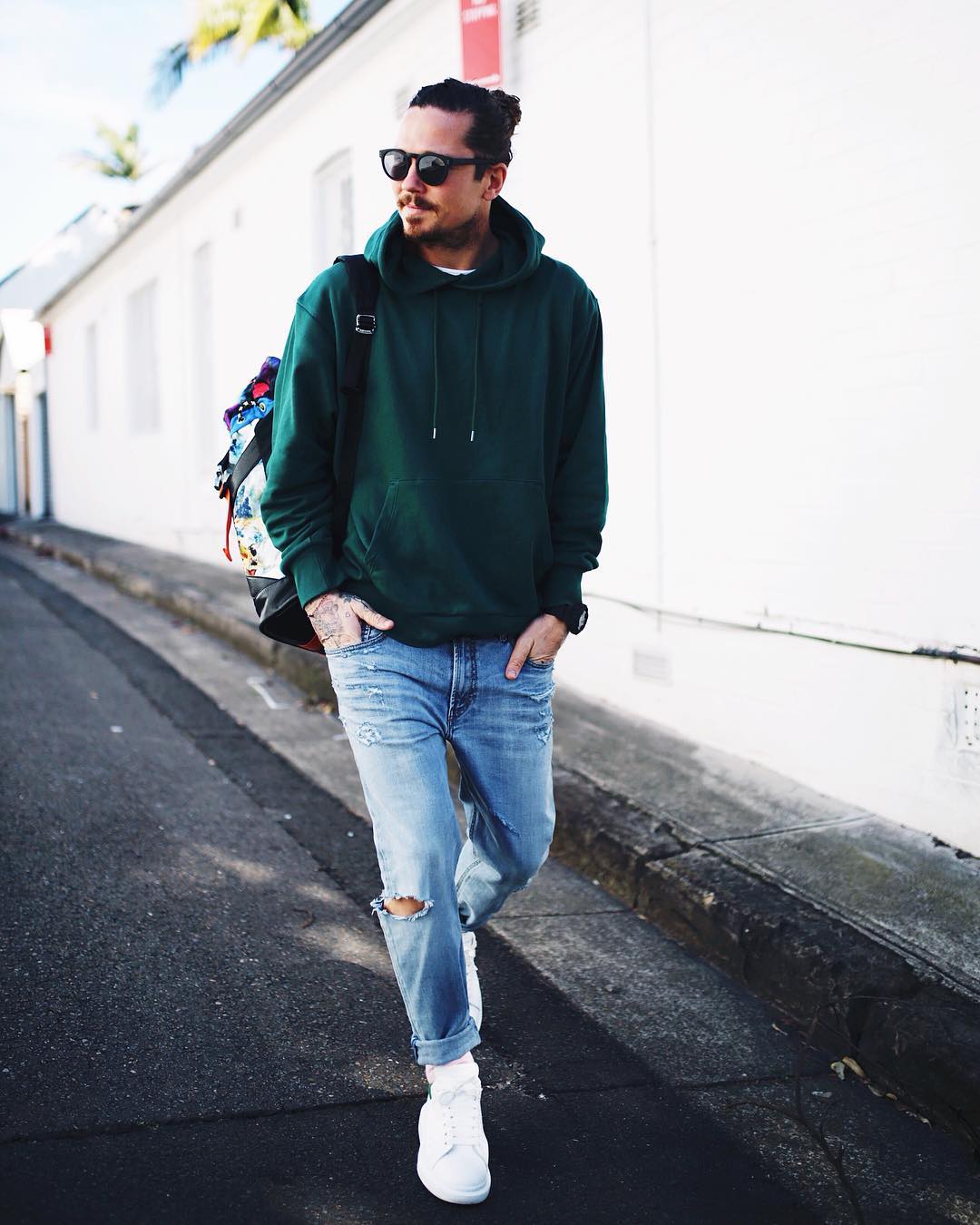 ↓ 22 – Sweatshirts
Sweatshirts are comfortable, casual and easy to wear. Most of them come with graphics which is why it is highly unrecommended not to wear to a formal event. You might even want to check what your sweatshirt says before going wearing it to an important event. Imagine going to a family get together in a sweatshirt that says 'Eat, Sleep, Rave, Repeat" or "I hate people". I mean, that will only give Aunt Marge more excuses to point out how his son only work, work and repeat. Though, these shirts look cool for a stroll down the street or taking a round to the mart. especially with everyone pausing to see what your shirt says. You can wear jeans with sweatshirts, or if you are feeling really lazy then sweatpants look fine as well.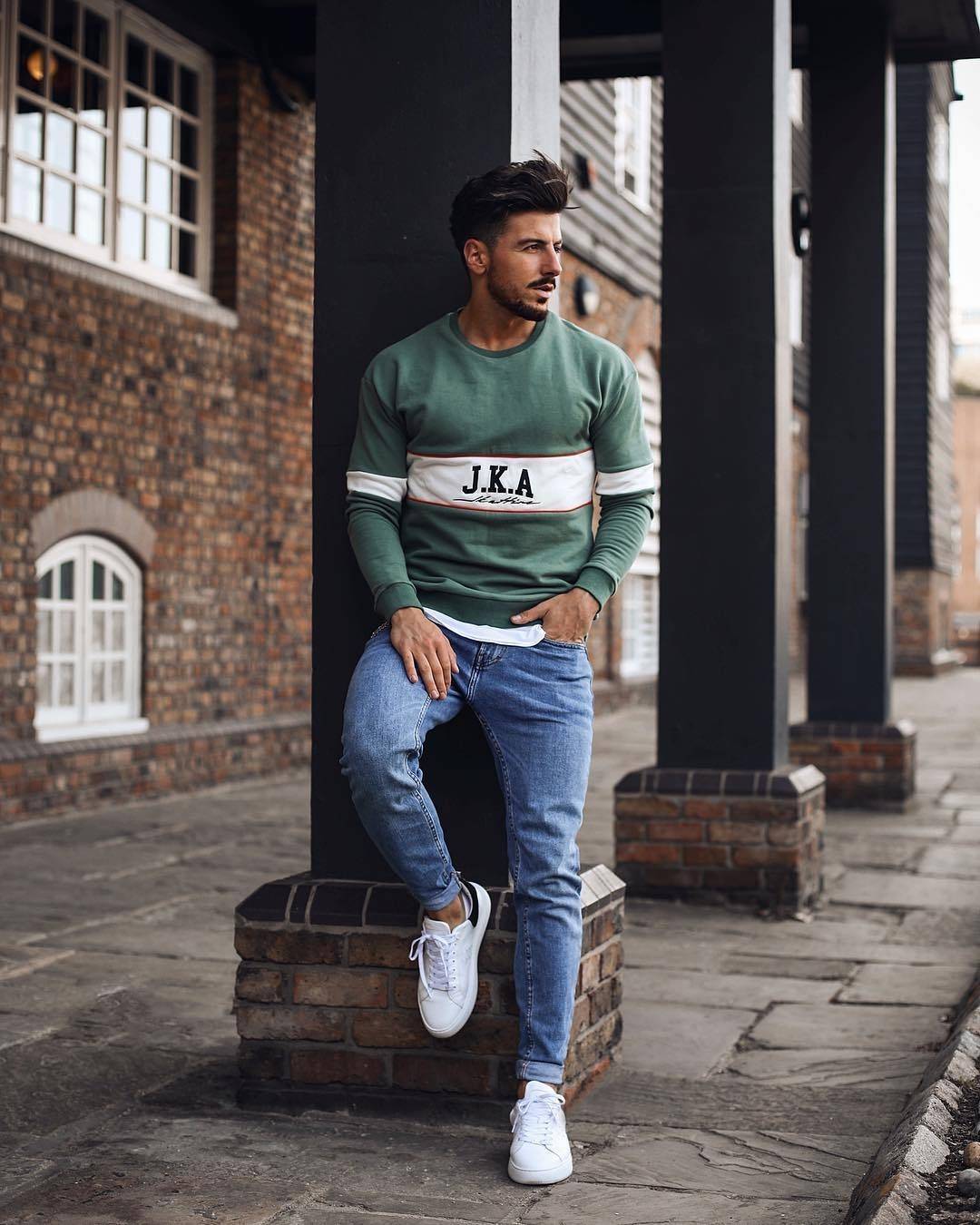 Via
↓ 21 – Wool Coat
Wool coats are divine in chilly December days. They can be worn over your dress shirt as well as casual shirts. White colored wool brings out the innocent angelic side to while managing to make you look sexy and attractive.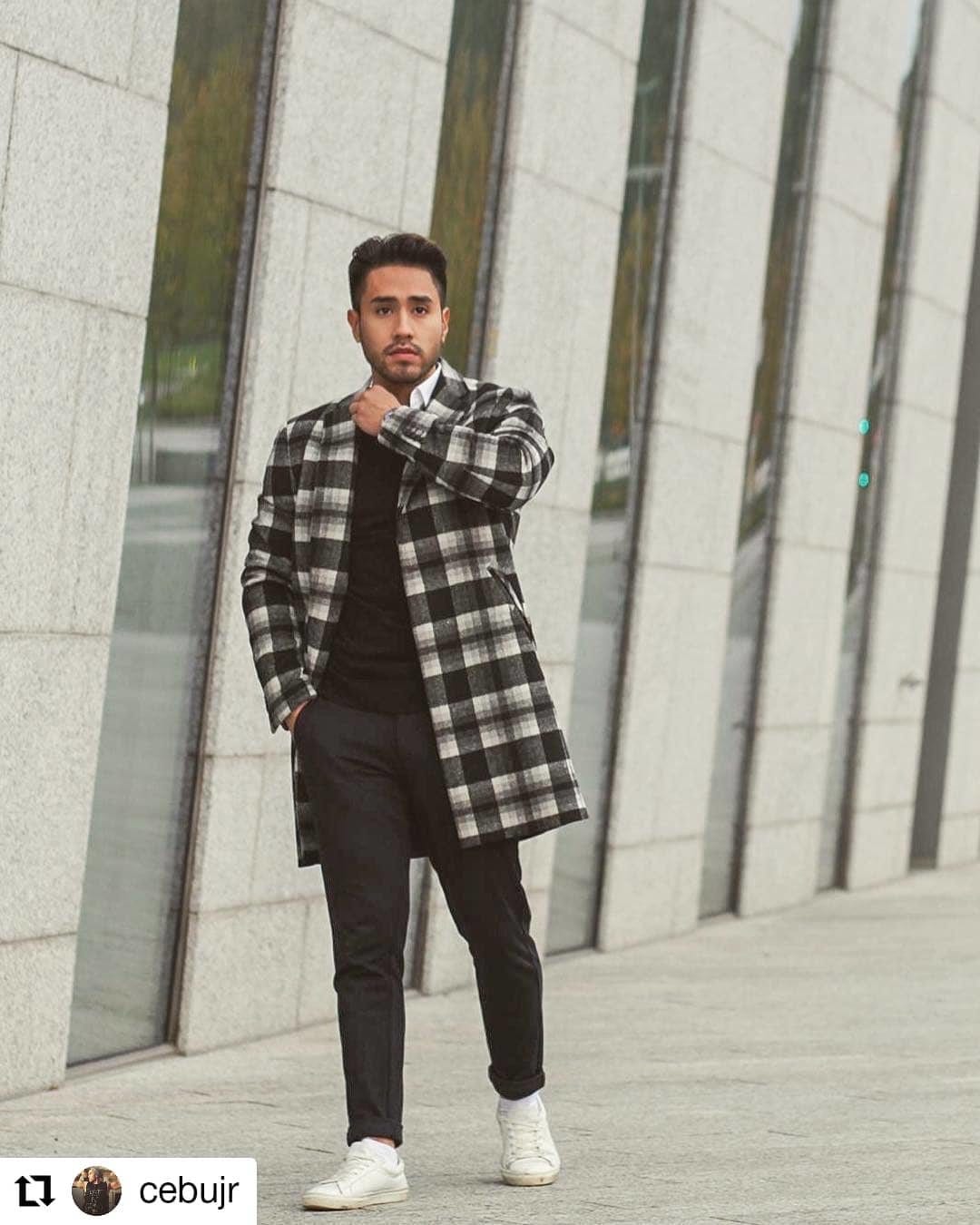 ↓ 20 – Cardigan
A cardigan is a knitted garment with a buttoned or open front. You can style it in many different ways, for example, buttoning it only half way up showing the shirt you are wearing beneath. This type of look looks best with white dress shirts as it gives a crisp and neat finish. You can leave it all open if the weather gets an itsy bit warmer. A polo neck thermal or a t-shirt looks better with this style. Here are 17 Ways to Wear Sweaters Fashionably.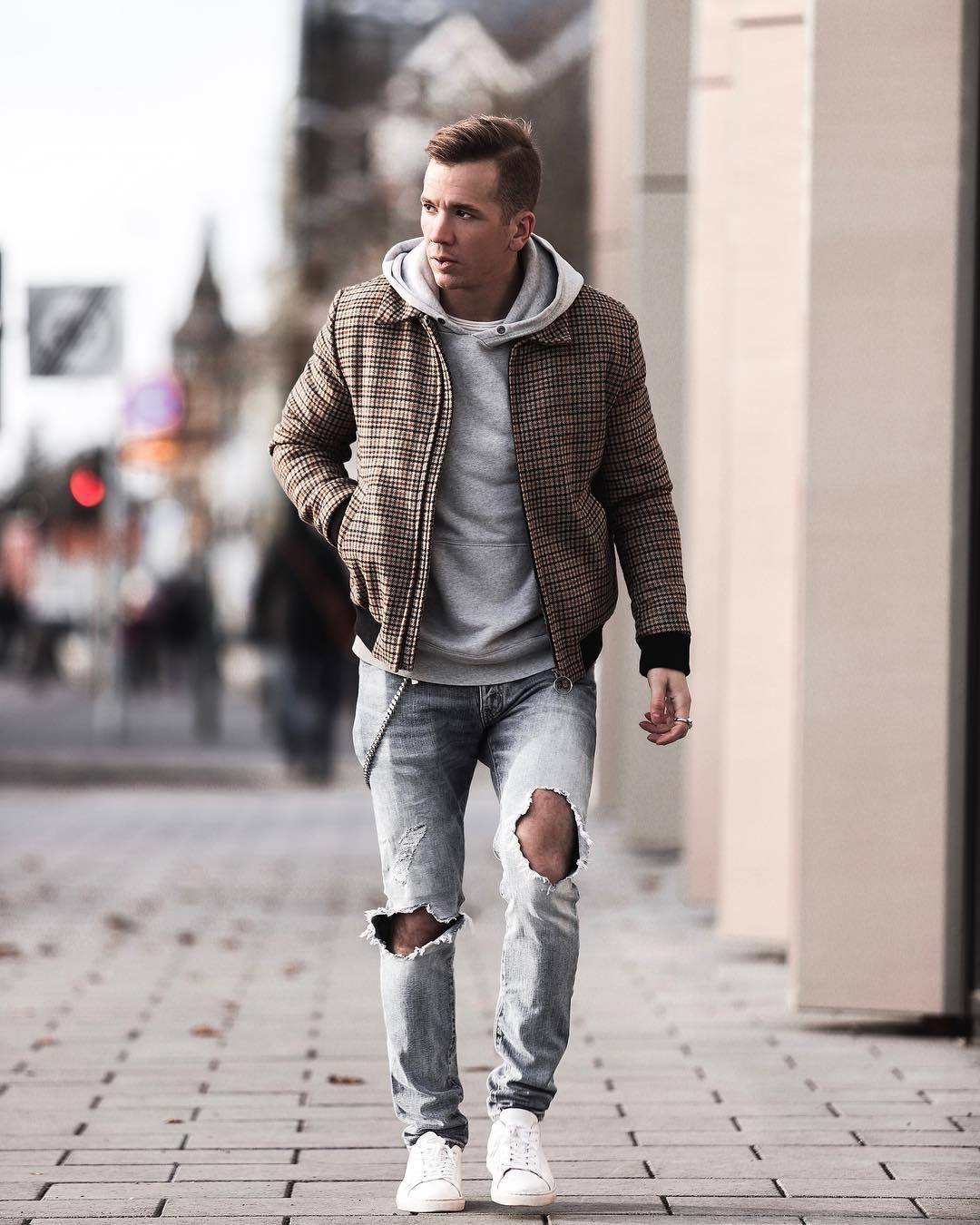 ↓ 19 – Comfortwear
The best thing about 2021 is that it has become acceptable to go out in your night suit. In fact, the 'messy' look is the new sexy. Though we do not recommend being in your sweats all the time, women like men best when they are properly dressed. But, for days when you are not in the mood to put together a whole outfit, you can go out in your grey sweatpants and have women falling left and right. Just make sure your clothes don't smell bad.
↓ 18 – Gym Clothes
The trousers of your tracksuit make a good casual wear. Especially if you are just walking out enjoying the December snow. Your training shoes look good under your normal day to day clothes as well. In fact, a lot of people just buy the shoes from Adidas and Nike without the intention of even stepping in a gym.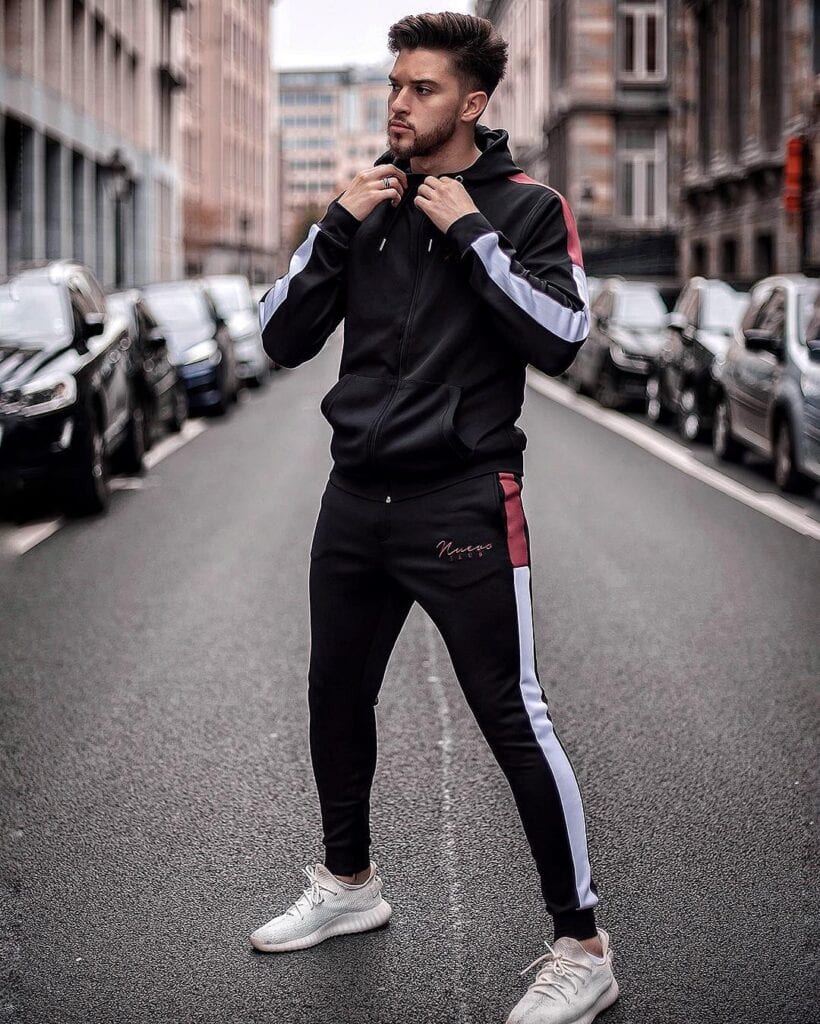 ↓ 17 – Leather Jacket
An '80s leather jacket with black pants and that bad boy vibe is every good girl's weakness, to be honest. Channel your inner John Travolta with the leather garments and style in every step. Extra points if you have a chopper, with the silencer removed of course.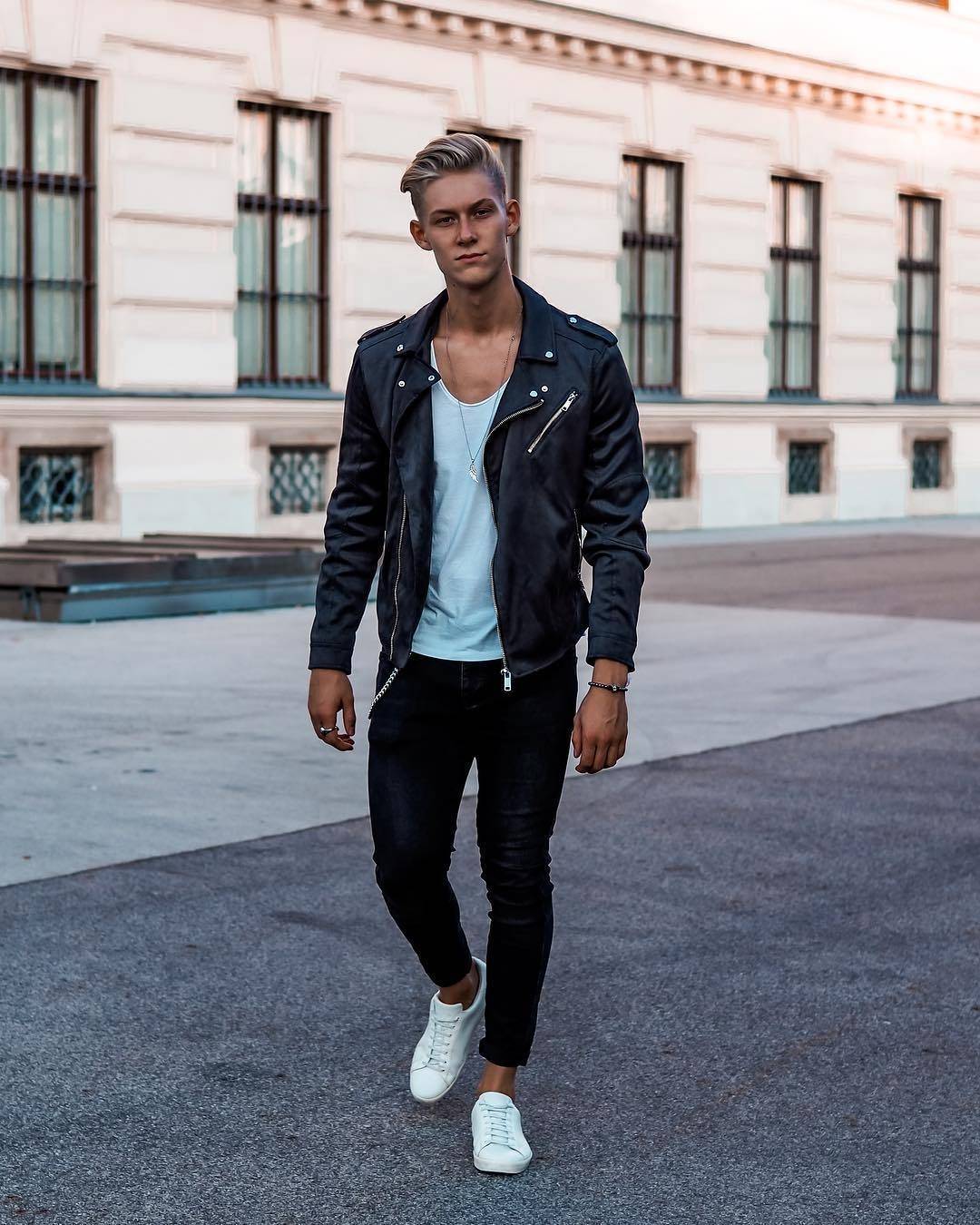 Via
↓ 16 – Bomber Jacket
Olive bomber jackets are the bomb (yes, that was very much intentional). Bomber jackets are easy to style and can be worn with any jeans (blue or colored). If you want to step up your game you can wear bold colors like red or silver as well. Or go even further with a printed bomber jacket, with a plain white shirt and classic blue jeans (because they should not steal the jacket's thunder). Here are the best ideas on How to Wear Bomber Jacket For Men.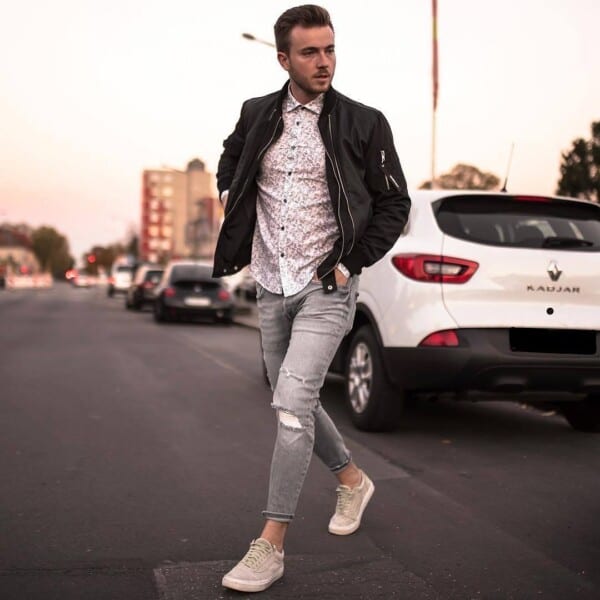 Via
↓ 15 – Puffer Jacket
Look the stores for a good quality, lightweight puffer jackets. I assure you they will be your best friends for the month. Sleeveless ones would be easier to move around in as puffed up sleeves hinder your movement. You can go with classic black or a flashy, bold color.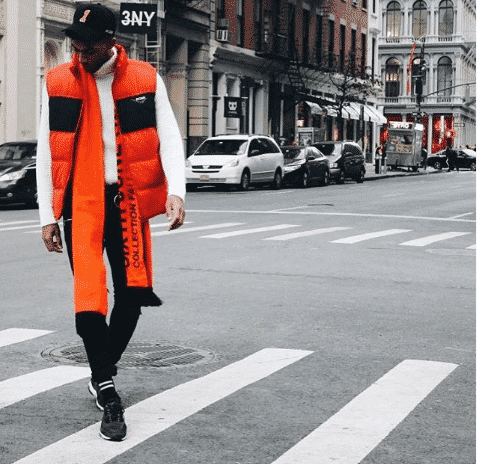 ↓ 14 – Blue Jeans
There is no season where you can not wear blue jeans. The best thing about is you can wear it with almost everything as well. It is a gift from God. Blue jeans should be your perfect go-to pants. whether you are going to school, or a party, or an outdoor activity you can always wear jeans. Plus, they are really comfortable compared to other trousers. They are never out of fashion, no matter it's the 70s or the 21st century you can always wear jeans and look trendy. Moreover, they look perfect with any body type. Whether you have a six pack or a dad bod, you can always work jeans.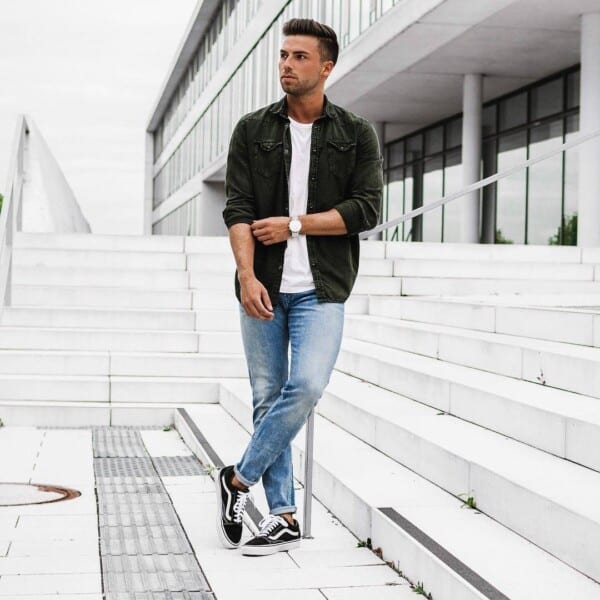 Via
↓ 13 – Colored Jeans
Colored jeans are not a replacement for blue jeans lets be honest. But, they still look pretty smart when worn. Black and khaki pants are a must have as they bring their own essence to the outfit. Khaki pants look best with blue colored shirts and big brown boots. White jeans work well with bright colored shirts or jerseys. Avoid wearing bold and bright colors like red and orange, though. This trend died way in 2010.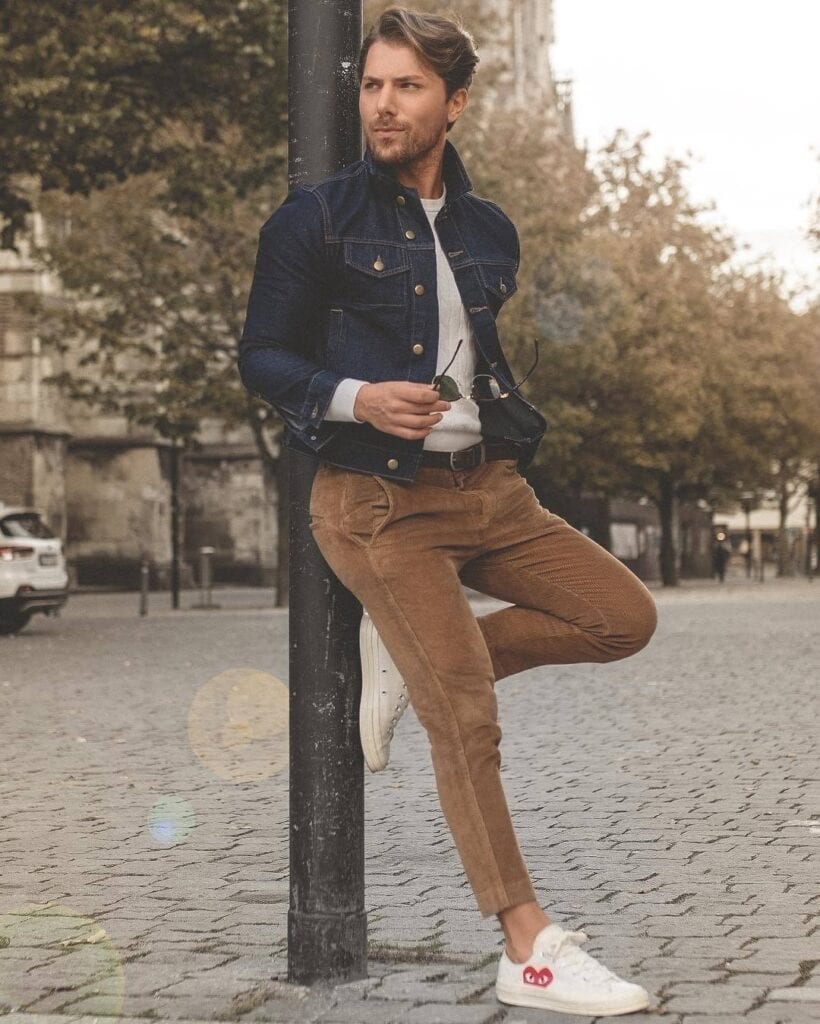 Via
↓ 12 – Ripped Jeans
The best and edgiest trend of the late 2010s is the rips in the jeans. Ripped jeans are the most popular trend amongst fashionable people and most hated among the baby boomers which is why it makes wearing it a whole lot of fun. The huger the rips, angrier the uncles, better it gets. But still, try not to get too overboard as in the end, you are gonna have frozen legs in this ice cold December weather.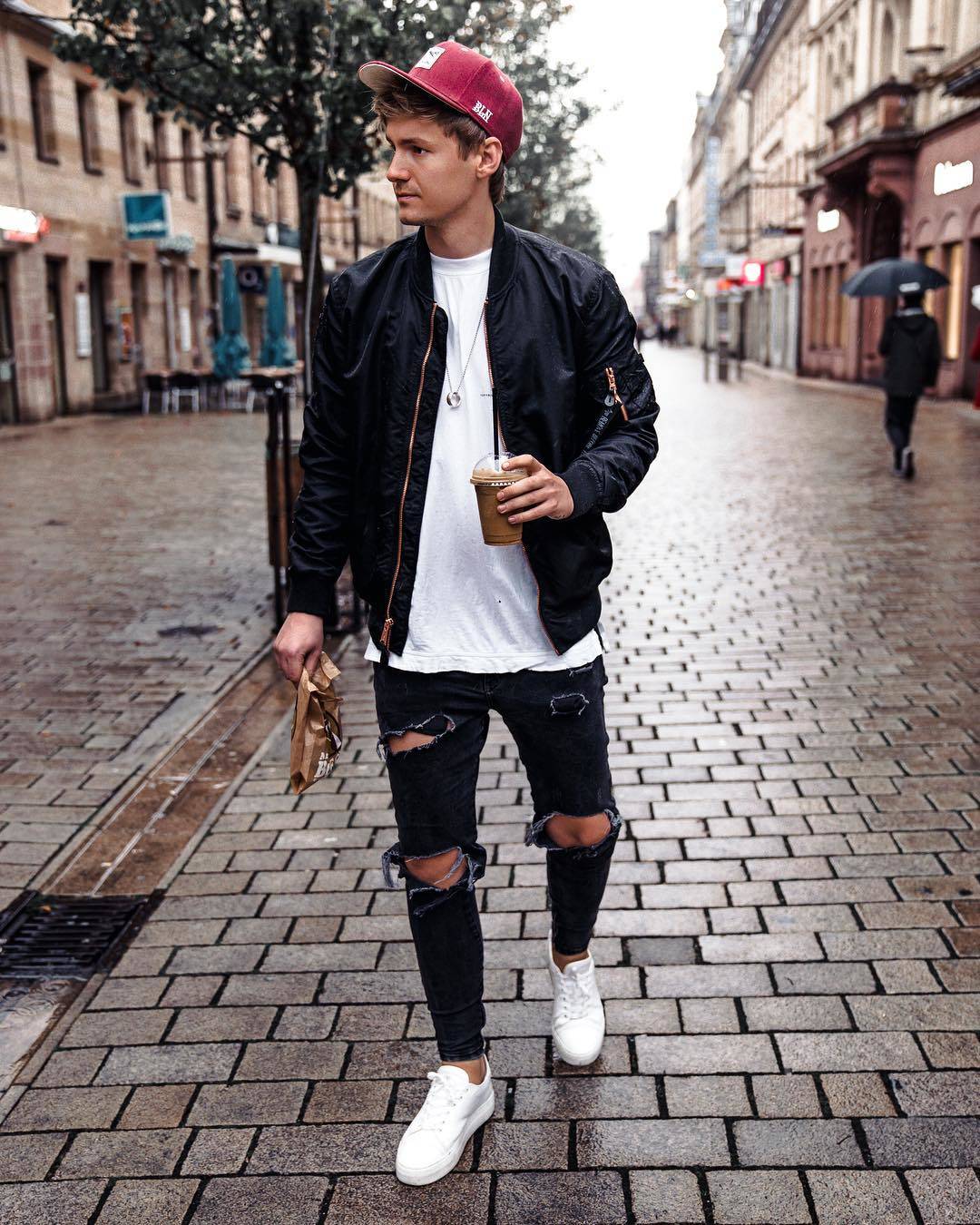 ↓ 11 – Stripes
Stripes never go out of style no matter what. Even if they go in hiding they show up on ramps and red carpets every now and then. This outfit with horizontal stripes on the sweatshirt and vertical on the pants is iconic while keeping simple. Horizontal stripes on the pants would look really weird and will make you look shorter than your actual height. On the other hand, vertical striped trousers do the opposite job. You look leaner, taller and more fashionably woke.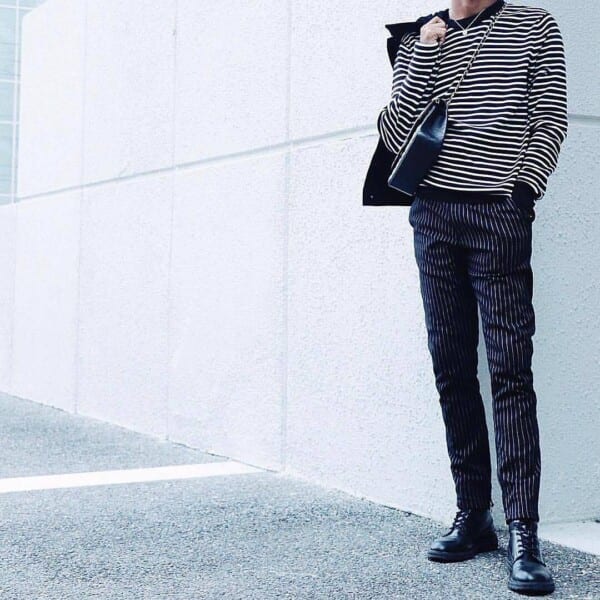 ↓ 10 – Faux Fur
Faux fur jackets are can only be worn in extremely cold days, which is why December is the time you rock that fashion. With faux fur jackets try not to add any other statement pieces of clothes (like an attention-grabbing shirt) because your jacket has to be the star of the show. Unless, you want to be a wannabe who overdresses, trying too hard to show off his money.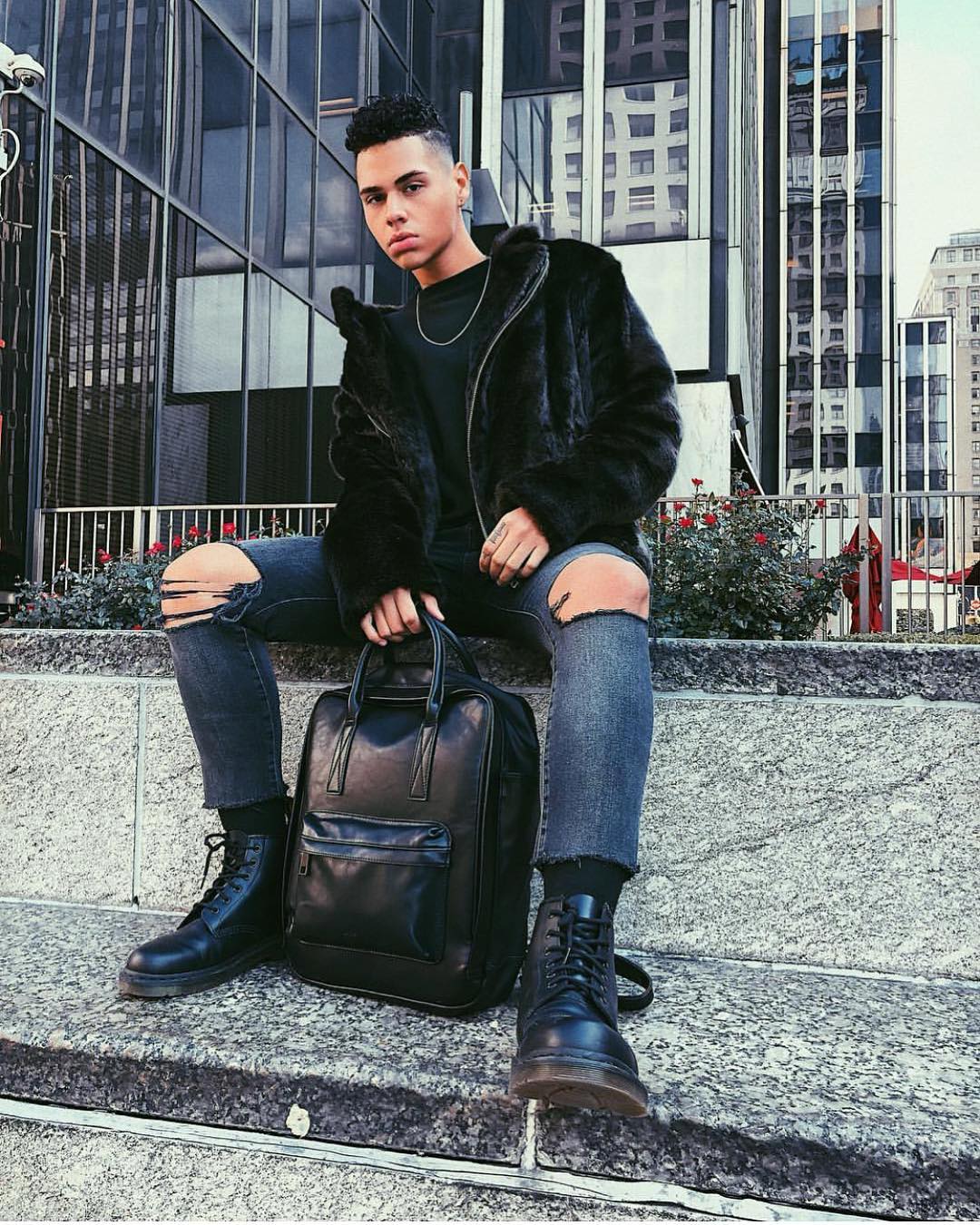 ↓ 9 – Camo Pants
Camouflage is such an iconic print that it deserves its own category. Not only in pants, but any apparel can be made in camouflage print and look good. For example, you must have seen baseball caps, jackets, sweatshirts, bags in camo and never thought 'that looks ugly'. Camo goes well with white or brown the most. A white shirt, camo pants, and brown or black boots are the perfect combination and I would definitely recommend you try this look on. Here are 18 Best Winter Jeans Outfits for Men to Stay Comfy and Chic.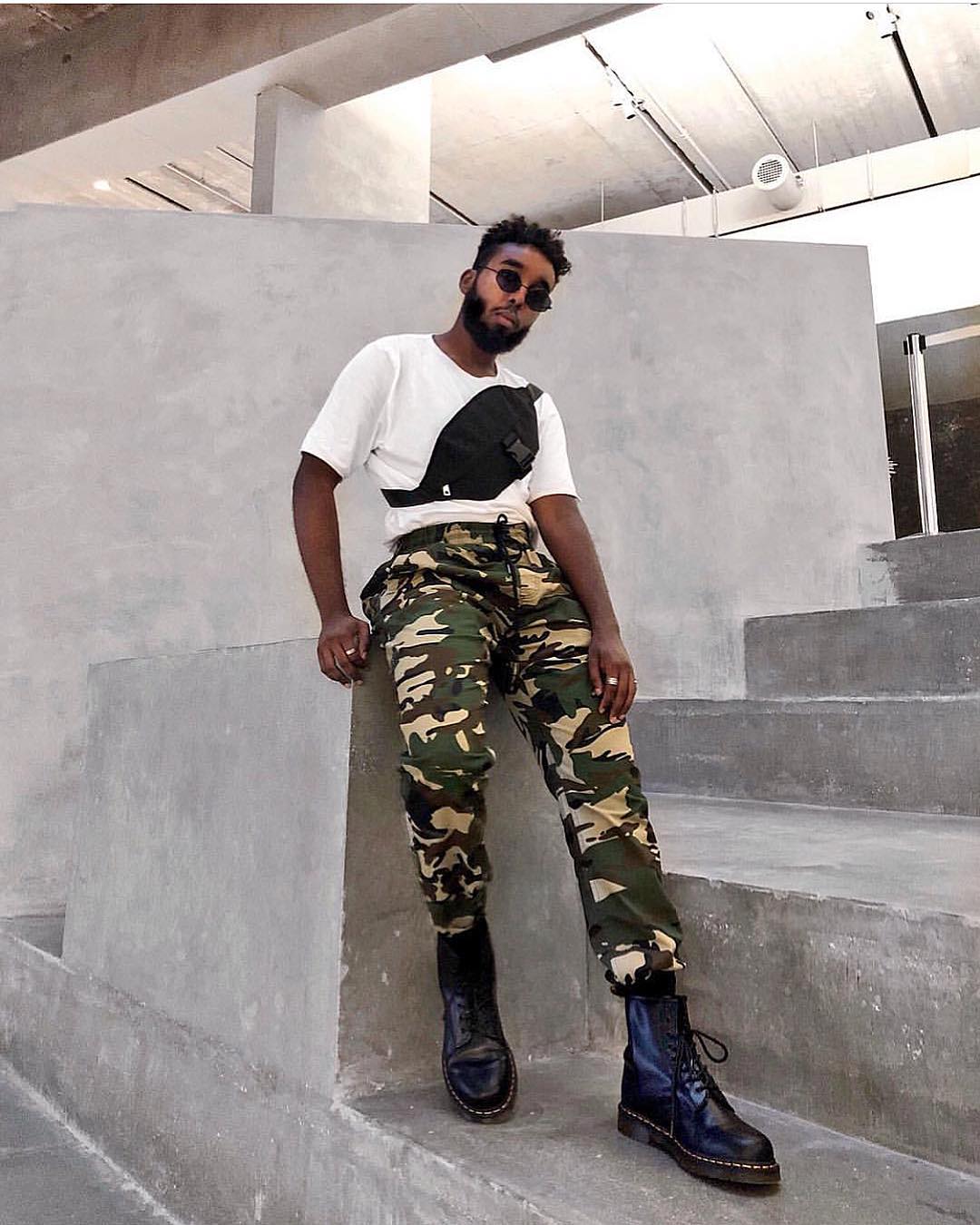 ↓ 8 – Polo Neck
Polo necks give a really handsome and smart look. They automatically make you look sober and collected and neat. Black and navy colored are the best ones. Paired with off-white trousers with proper crease, and a dark colored cardigan and your look is complete. This look could be worn to a semi-formal event like an office party or a brunch. This outfit says "I know how to dress" giving a young gentleman's vibe.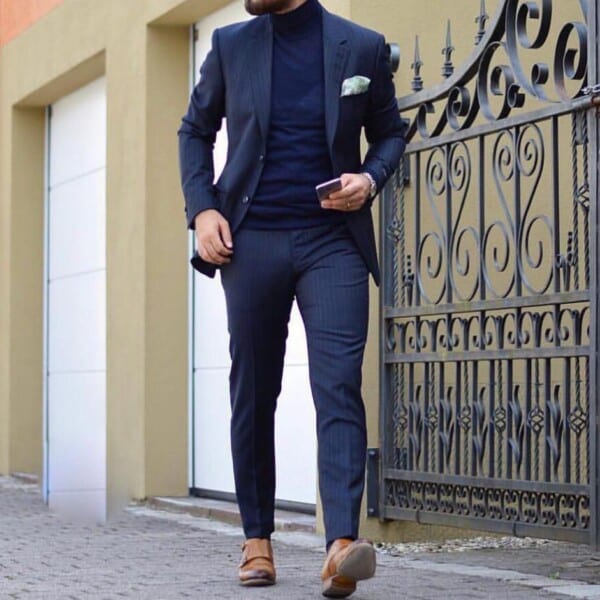 ↓ 7 – Plaid Pants
Plaid pants are relatively newer trends, one that has not been copied from the 1900s. Especially the color red. They are informal and please do not wear them to your office unless you work in Buzzfeed. Add a sweatshirt on top with a cute quote or graphics on it. The interior color of your checkered pants should match your sweatshirt or sweater.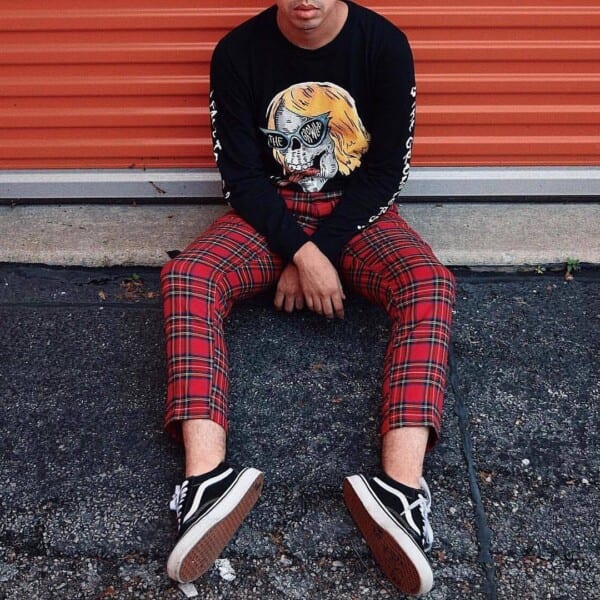 ↓ 6 – Denim Jacket
Denim jackets made a comeback and are probably here for a long time this time. They can be worn with same colored jeans or you can think outside the box of many creative ways to style your denim jacket. For example, you can wear it with an all black attire or printed jeans. Even ripped jeans. You just need to know how to flaunt your style.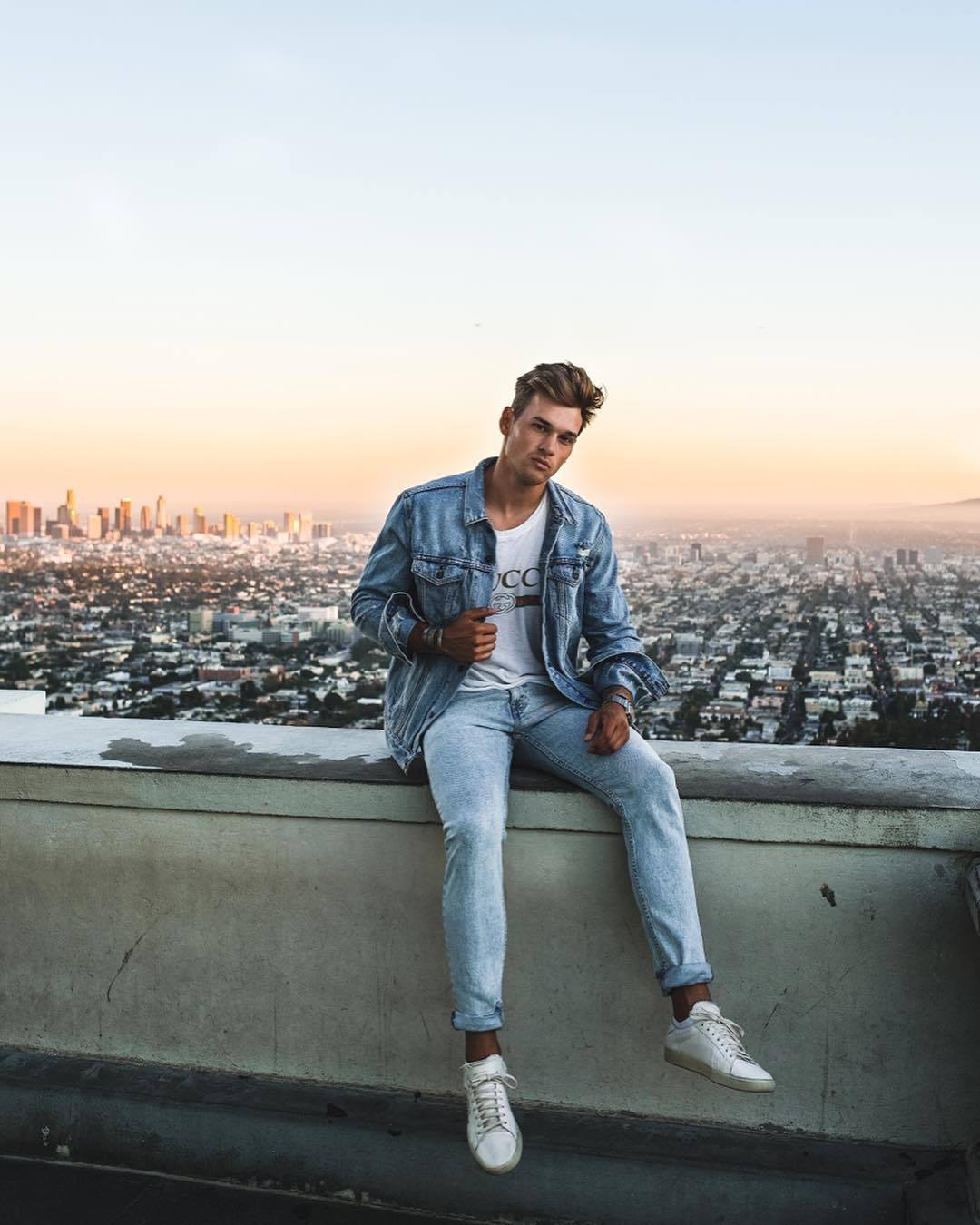 Via
↓ 5 – Scarves
A soft, muted colored scarf will add class to all your outfits. Mens' scarves can be worn in many ways. You can wrap it all around your neck like a huge rope around the neck (only difference is that ropes do not look sexy). Or you can just put it around your neck, letting it flow ahead of you. Or just a single wrap around the neck with one corner to the front and other at the back. How much can it be folded and wrapped, all depends on the width of the scarf. Don't miss out this exclusive guide on Men's Scarves Fashion.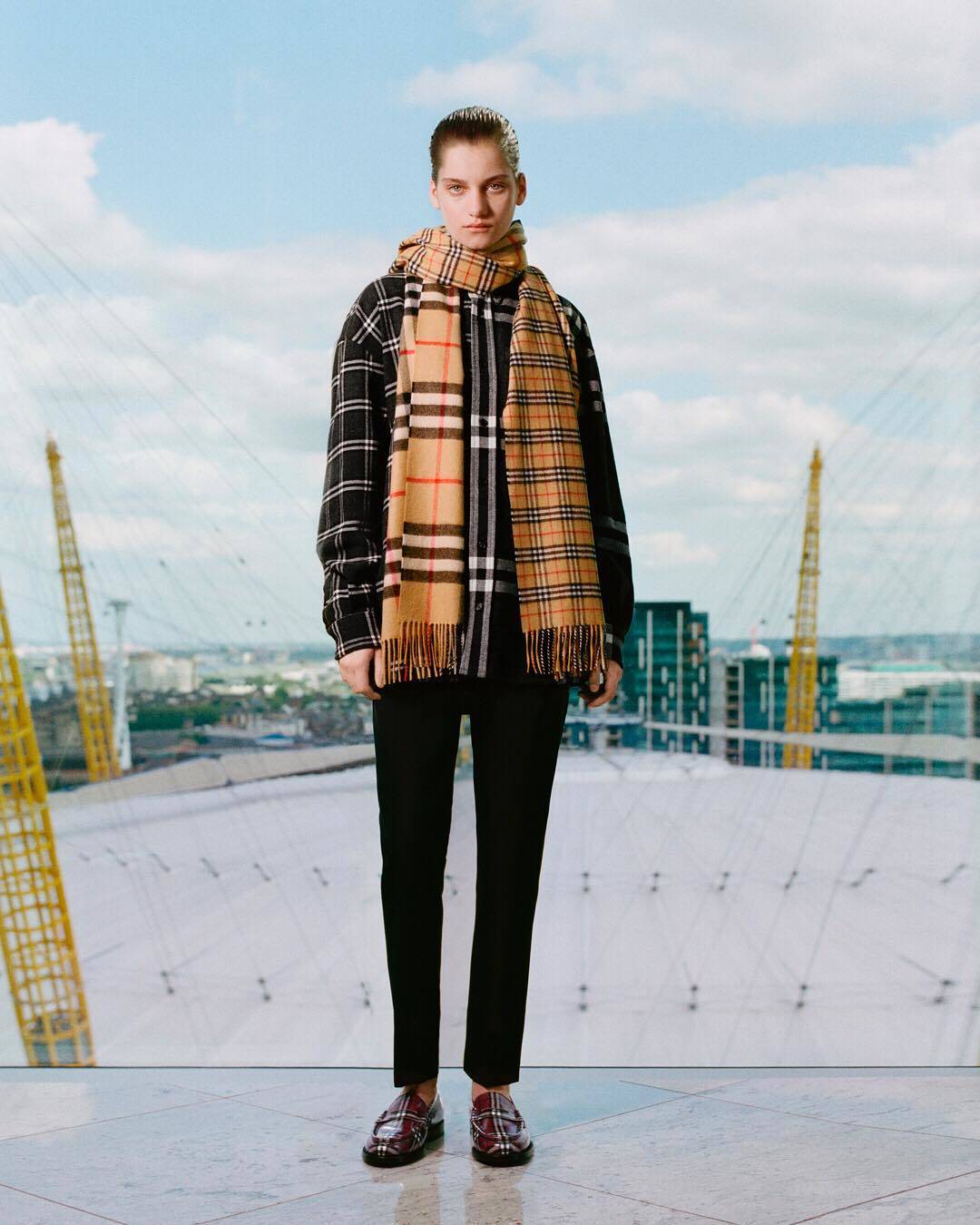 ↓ 4 – Sleeveless Jackets
Sleeveless sweaters and jackets can be worn over dress shirts when the sun decides to be a little grateful and shine a little brighter for us. You can add an overcoat on top as an extra layer to complete the look and save yourself from cold.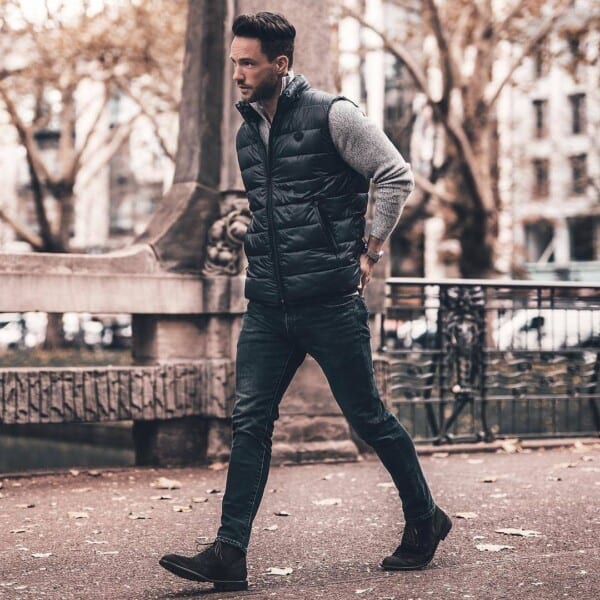 Via
↓ 3 – Track Suits
Like Jeffree Star (except that we are not all rich enough to afford Gucci as bedtime tracksuits so we will have to work with our cheap Adidas ones). Tracksuits are a planned already outfit all you need to do is get it out of the closet and just put it on. You can work any color you like with tracksuits.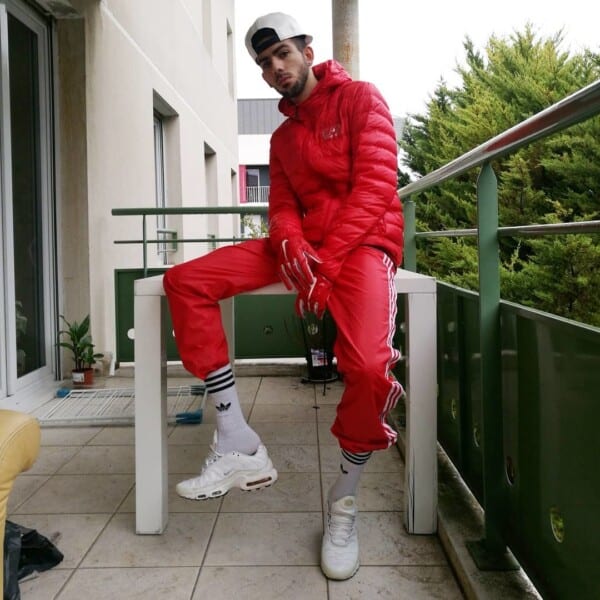 Via
↓ 2 – Cashmere Sweaters
When you think of winters you think of cashmere and snow. Cashmere sweaters look good in any color and style. These last a long time so you can use it next December, and the one after that.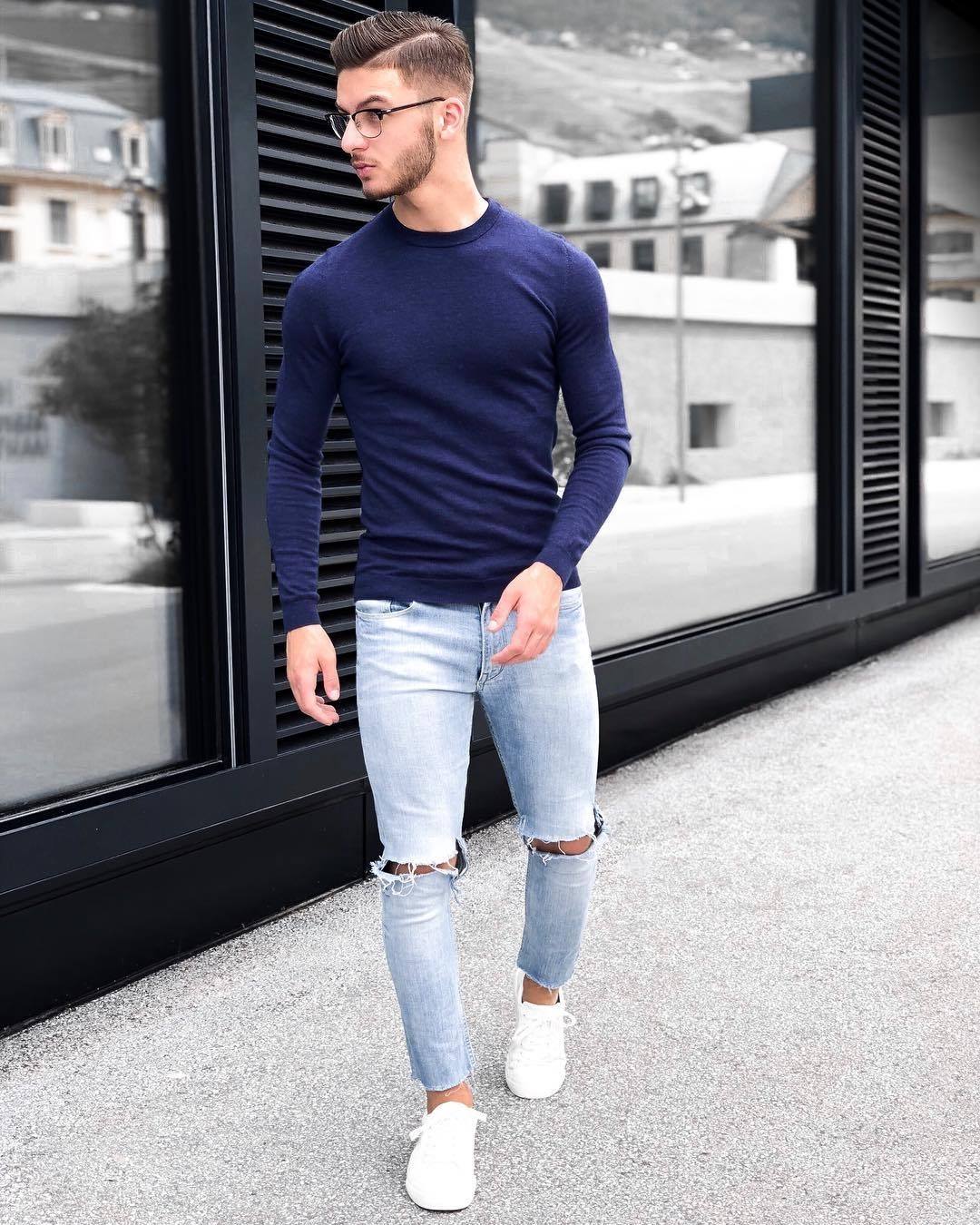 Via
↓ 1 – Flannel Shirts
Flannel shirts are an all-time style. They can be worn with trousers as well as jeans. An over-sized plaid shirt can be worn open as a cardigan and looks like a cute layer with jeans. Or you can go with the classic, tie around the waist look and walk the streets like you just don't care.