Men nose piercing ideas – If you are a man, looking for some chic and exquisite nose piercings ideas, you are at the right place. We believe looking beautiful and dapper is the right of every single human out there. Be it a man or woman; accessories make up your whole look. A nose piercing is one such jewelry piece that you can wear every day, and it will give a distinct look to your personality.
In this age of social media, when the men's styling game is going up every day, it often gets really hard to choose the right jewelry that suits your face and complements your hairstyles.
You have many options to choose from, but you might be perplexed about the right fit. It could be a big chunky nose ring that your heart is craving for, but the brain is stopping you from getting it. You may yearn for a septum piercing but feel it looks odd.
These are all the questions that we are well aware of and hence, we have compiled a list of some of the cool nose piercing ideas for men. We have made sure they are simple, easy to find, and convenient to wear daily. So, let's get started.
Edgy Men Nose Piercing Ideas
A nose piercing represents your personal style statement and gives you an edge over all the other people in the crowd. So make sure this statement is a well-refined piece of nose jewelry that increases the aesthetic look of your face rather than making it dull. Firstly the shape of your face matters a lot according to a certain nose piercing.
People having a symmetrical face shape can go for piercings on both sides of the face. You can wear studs, nose screws, rings, fishtail nose rings, and hoop nose rings.
Those who have an asymmetrical face have to find their side by experimenting. If you are confused about what side to go for, you can wear an artificial nose ring for a week and check if its works for you. After a while, it will be easier for you to decide. Another option is that, if you already have a piercing on the left side of your lips or eyebrows, you can balance that out by going with a piercing on the right nostril and vice versa.
For a bold and edgy look, you can go for septum (the partition between your nostrils) piercings. If you are a beginner, go for septum clickers that are easy to wear and are available in multiple designs and colors.
Dos and Don'ts of Nose Piercings for Men
Make sure you visit your dermatologist before getting any piercings on your nose. Go through a check-up and he makes sure that you dont get any allergies or irritation when you get a piercing.
If you are allergic to any specific metal, go for acrylic or plastic rings.
If you are a first-timer, make sure your first jewelry piece is threadless. This threadless jewelry allows enough space to accommodate any swelling, discharge, and blood and assist in the healing process.
A nose screw is a great option if you fear losing your nose pins or want to keep it in place. This is a stud with an extension that bends like a screw keeping the piercing in its place.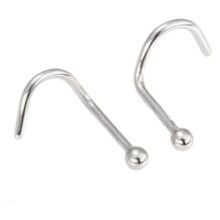 Since the nose has mucous membranes, do not worry about swelling. The tip is to not touch the piercing for a week and let it heal.
Nose piercings close quickly. If your jewelry falls out as your nose piercing is healing, visit your piercer immediately to get the jewelry replaced.
21 – The Basic Nose Stud
Let's start with the basics. If you are a beginner or just starting off with your nose pierced, we suggest not to go with heavy nose rings or embellished or chained ones. Give your skin some time and go for a single nose stud on one side to look both classy and fantastic.
This one is safe for first-timers as it does not snug into pillowcases or bed sheets or a beanie. You have a lot of options in studs. From diamonds to rubies and from emeralds to gems, one can go for any of these according to one's individual preference.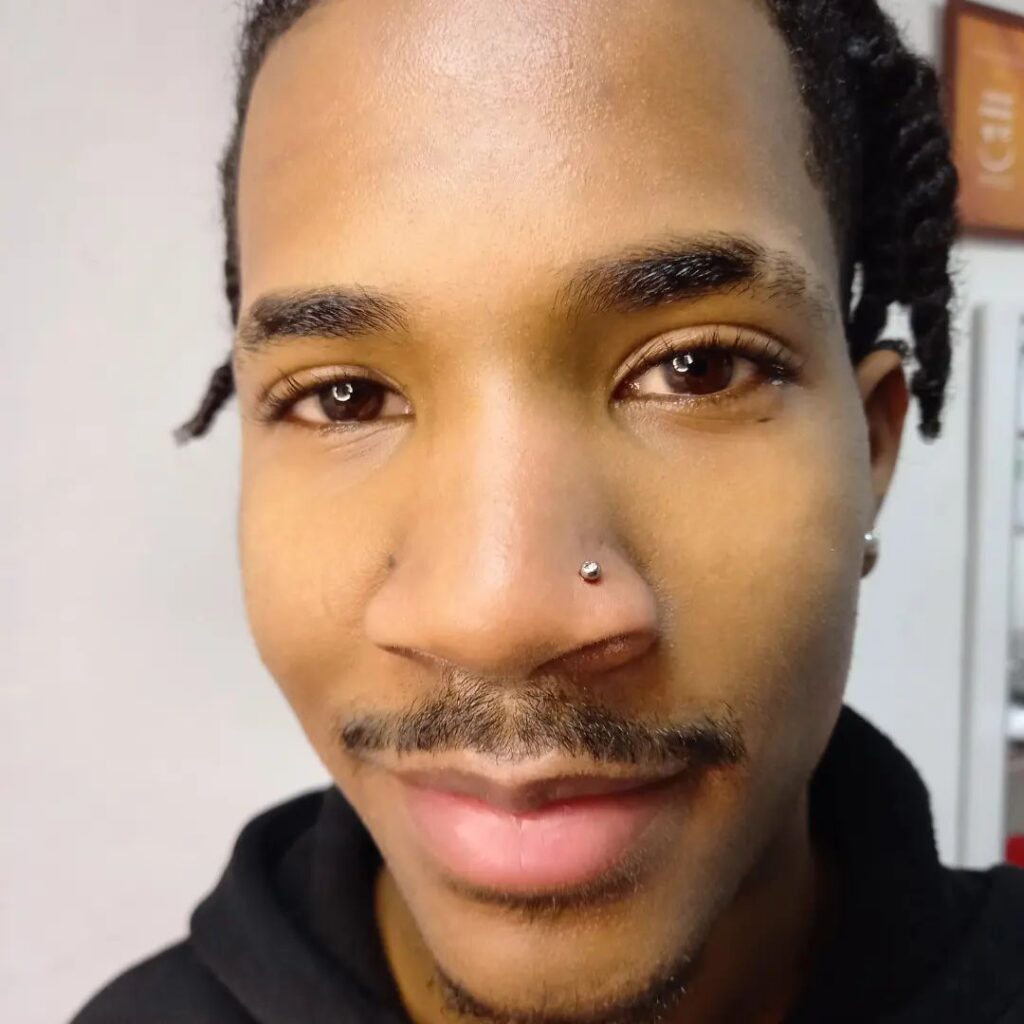 20 – Zayn Malik Inspired Nose Piercing
Once your piercing is stable, you can go for options like hoops. These are more noticeable and if you want to create a bolder look, this should be on your next purchase.
Another reason to choose a hoop nose ring is the face shape. If you have a symmetrical face, they would add more elegance to it, just like they did on this singer's face.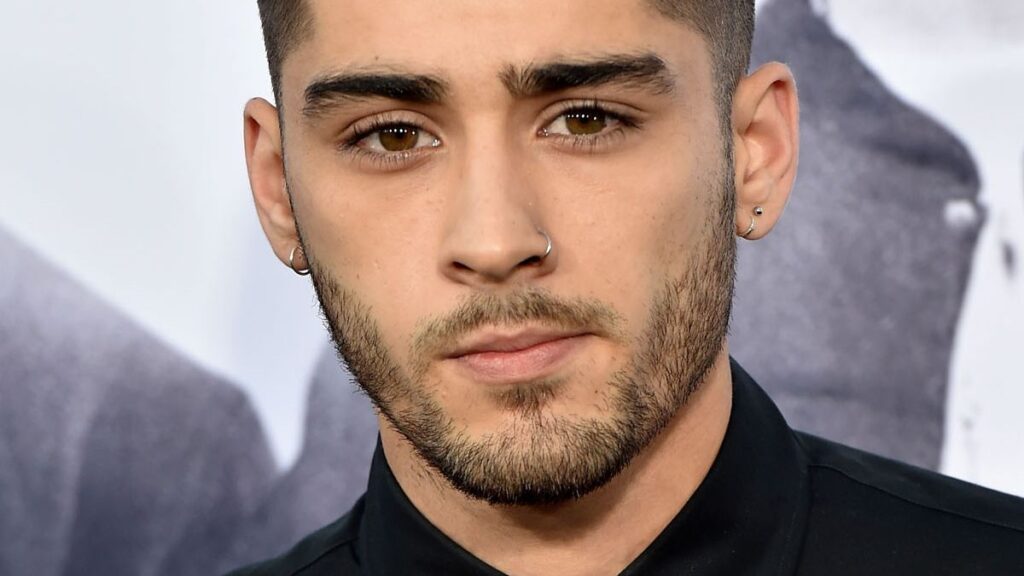 19- Men's Septum Nose Piercing
Septum piercings are gaining massive popularity these days. It has all the qualities to give a happy-go-lucky and aesthetic look to your face.
A sweet spot between the tip and the septum cartilage needs to be pierced. Consult a professional for septum piercing. Otherwise, it might take way too long to heal if your cartilage gets damaged while piercing. This is why it is always recommended to go to the professionals and not the quacks.
Go for this septum piercing with top beard styles and no one can stop you from stealing the show. You can even go for a light stubble with this look and look equally dapper.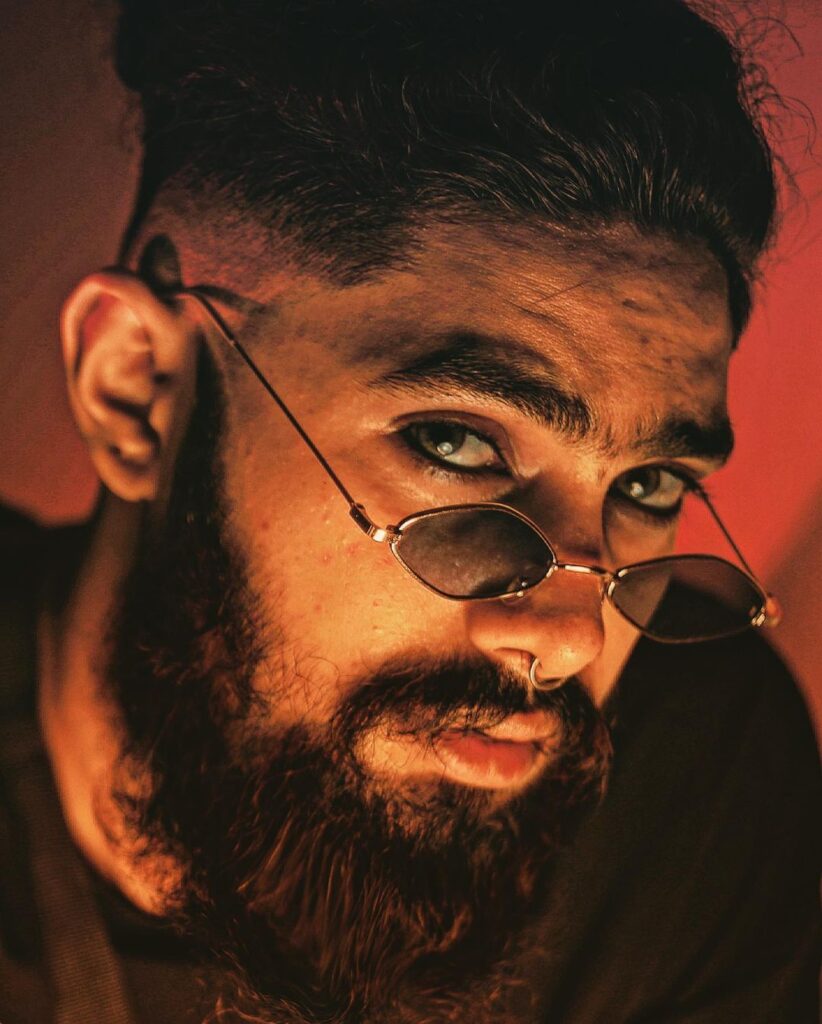 18 – Double Piercings On Nostrils
Nose piercings become even funkier and eye-catching when you have piercings on both nostrils.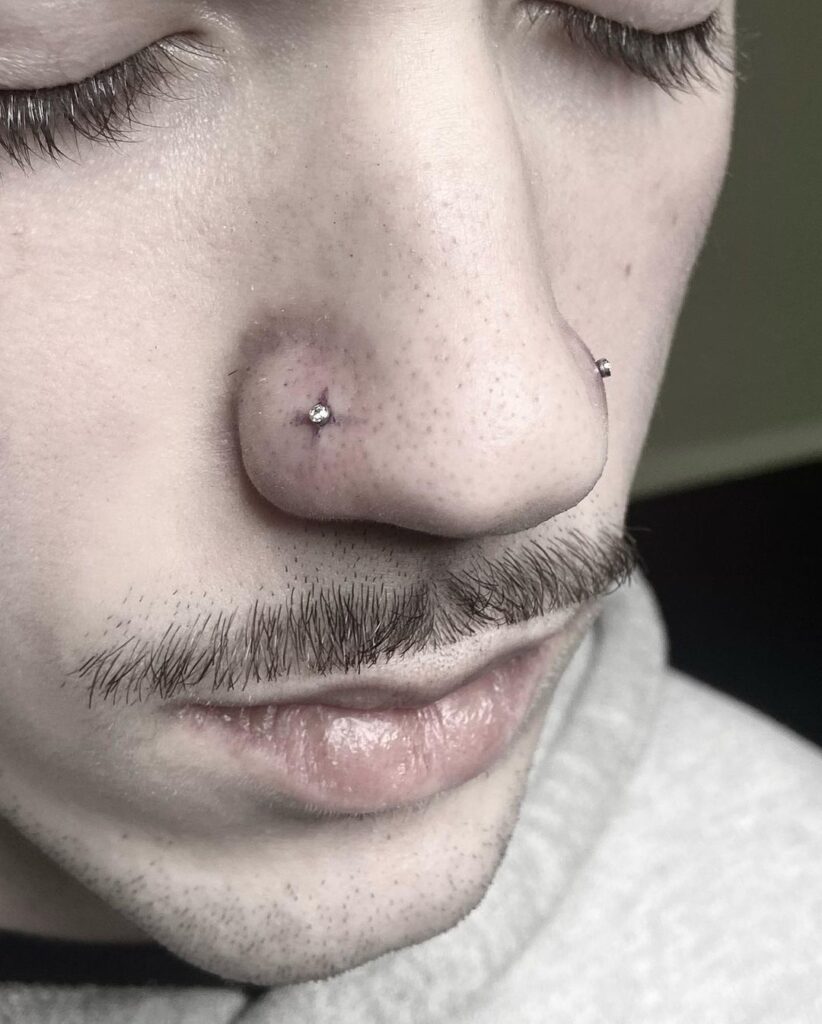 17 – Match your Nose piercings with Your Earrings
Let us tell you the secret of creating a striking and audacious look, match your earrings with your nose rings. If you are wearing silver earrings, go for the same in your nose. If you wear a gold one, you must go for gold nose rings.
Here this boy has created a beautiful look by going with multiple earrings and then creating symmetry by matching them with his septum ring and nose studs. This look is great for jewelry lovers who want to rock multiple pieces simultaneously.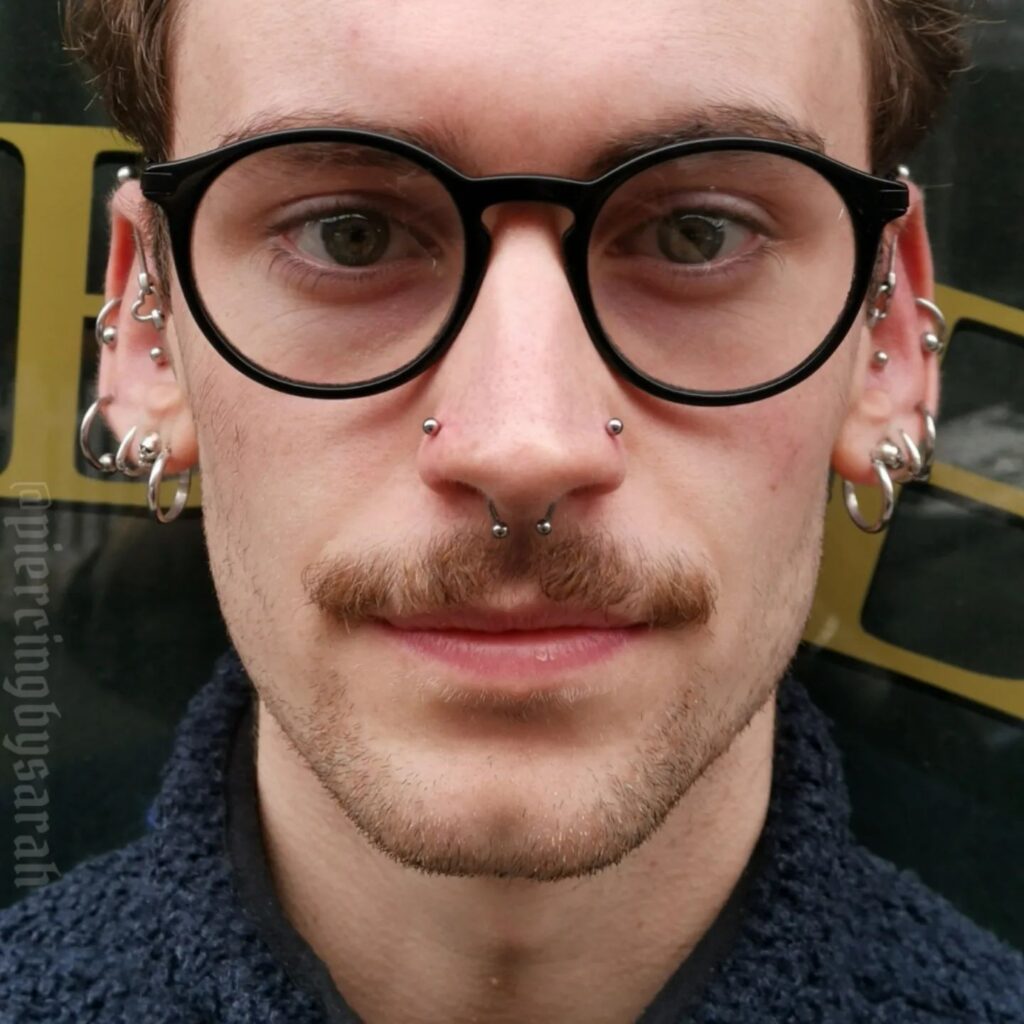 16 – Nose Piercing Idea To Spice Up Halloween Outfits
Halloween has always been a festival where you experiment with your looks to create that super chic look that could outshine everyone.
Go for this vampire's teeth-themed piercing along with your lips adorned with snake bite piercing. You can pair this look with a vampire costume, and we are sure you will steal all the limelight at the party.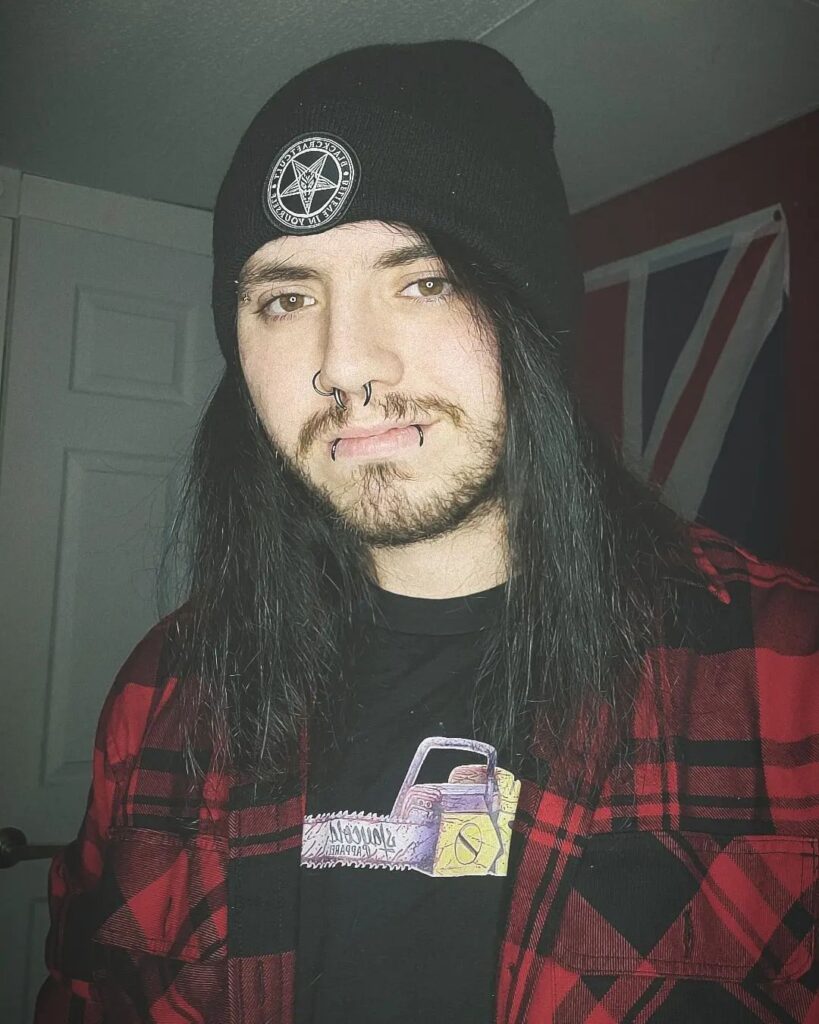 15 – Go for A Gold Nose Chain
Not a fan of silver studs? Well, here we are with an amazing idea of a gold nose chain. It looks absolutely luxurious and cool. If you want that statement look, you need to try this one.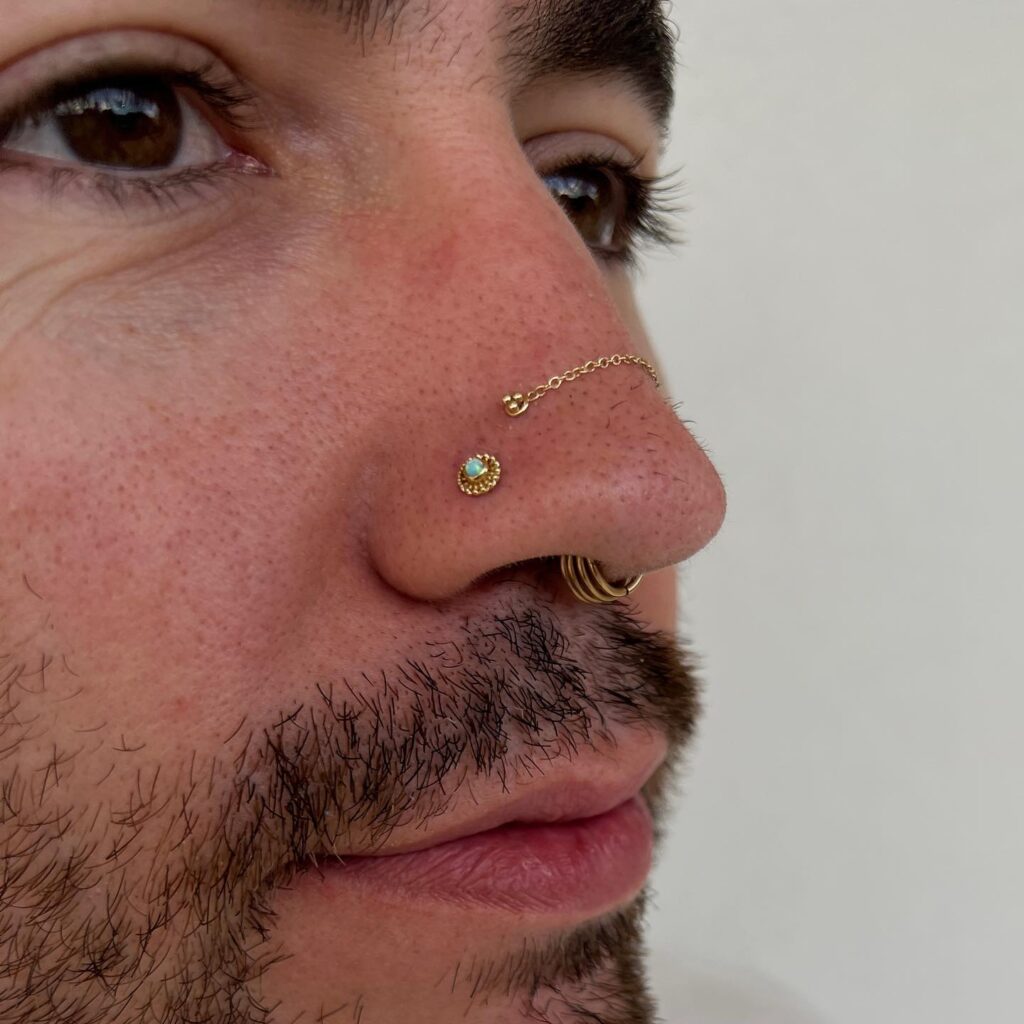 14 – Oxidized Nose Studs for Asian Men
Oxidized nose studs are a great choice especially when you want an ethnic touch to your piercing. These studs are not high maintenance as they are already oxidized. You need to clean them with vinegar and salt water once a week and you are good to go.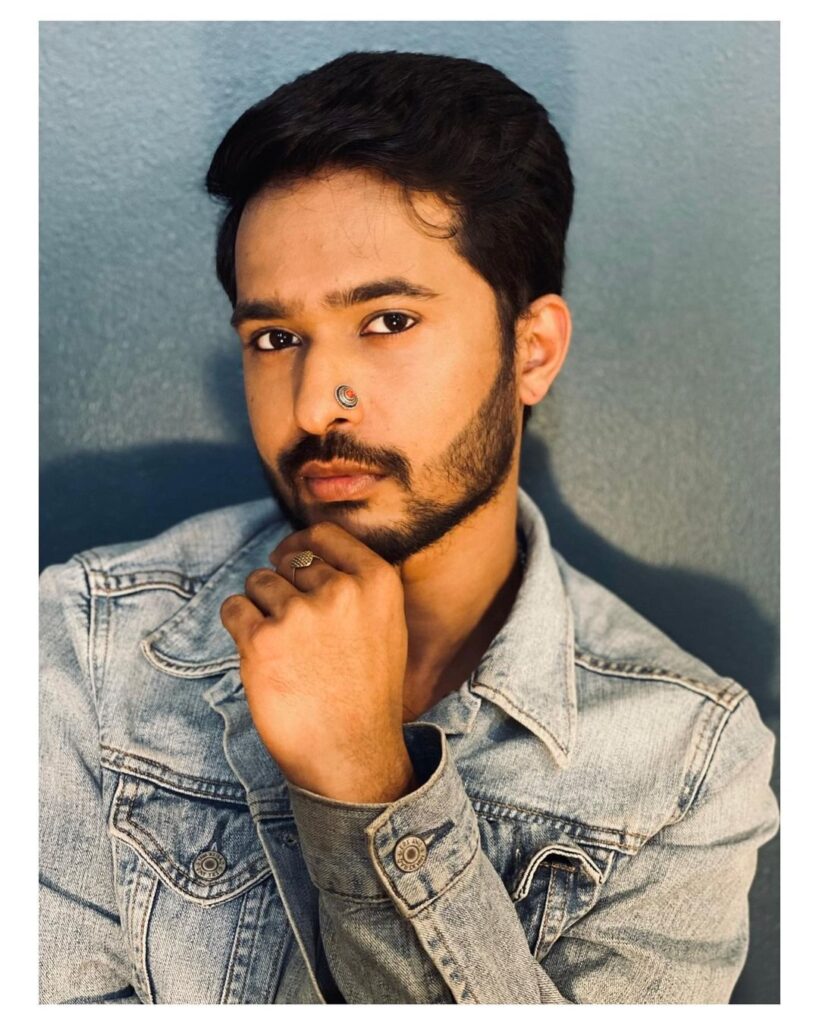 13 – Purple Nose Rings For a Change
A shift from your everyday wear to something different is a simple way to stand out. Hence, go for a colorful option. These purple nose rings are a great choice if you want to add some radiance to your piercings.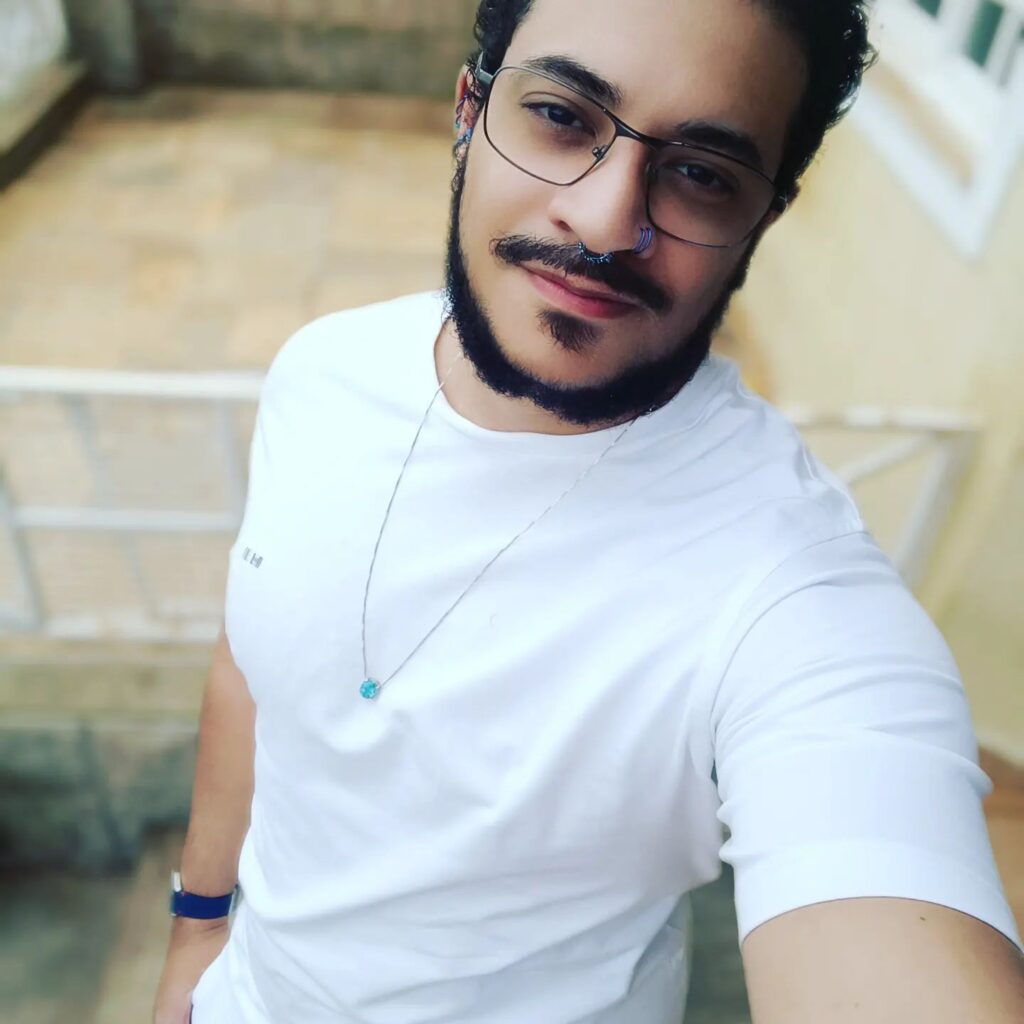 12 – Getting a Nose Piercing In Your 50's
It is an understood fact that with age, skin becomes more sensitive and delicate. But this should not stop you from showing off your nose piercings like a swagger.
Bollywood actor Amir khan, popularly known as Mr. perfectionist, got his nose and ears pierced at 53. And needless to say, with those piercings, he looked younger and more stylish.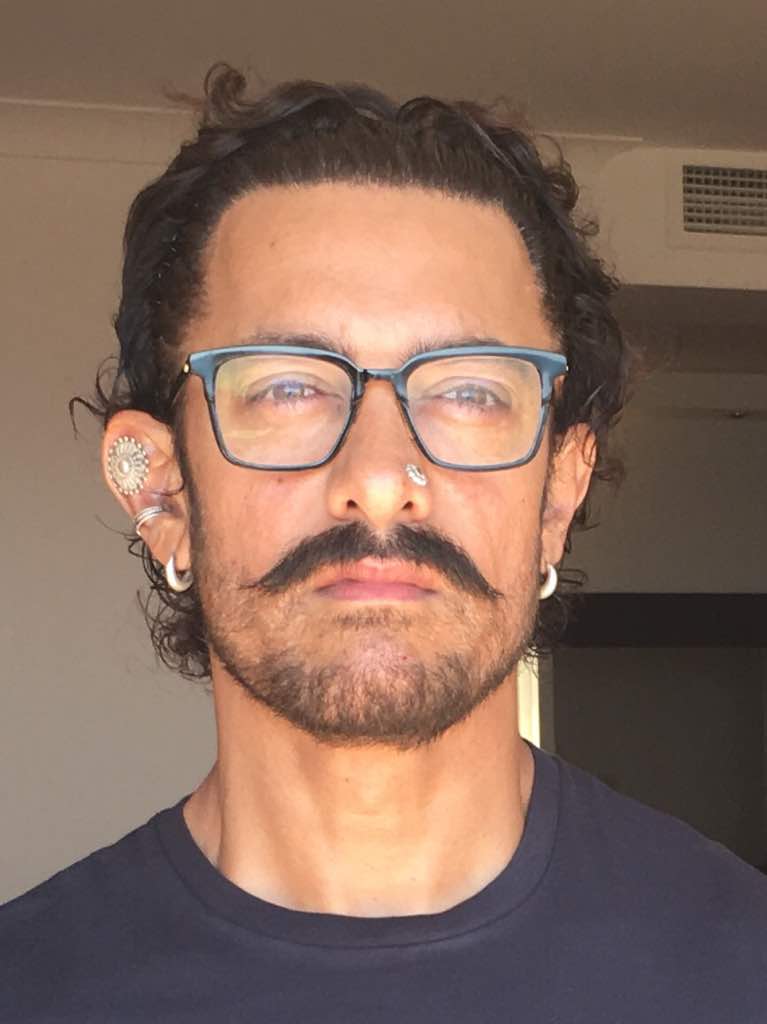 11 – Bridge Piercing
Do you want something to draw attention toward your eyes but are not a fan of eyebrow piercing? Well in that case, bridge piercing is the solution to your problem. These are twin piercings on the nose near to eyes. You can wear silver or stoned studs in these piercings.
If you are someone with glasses, make sure you get a nose piece that doesn't get stuck in your specs. It should not be dainty otherwise, it might get tangled with your hair.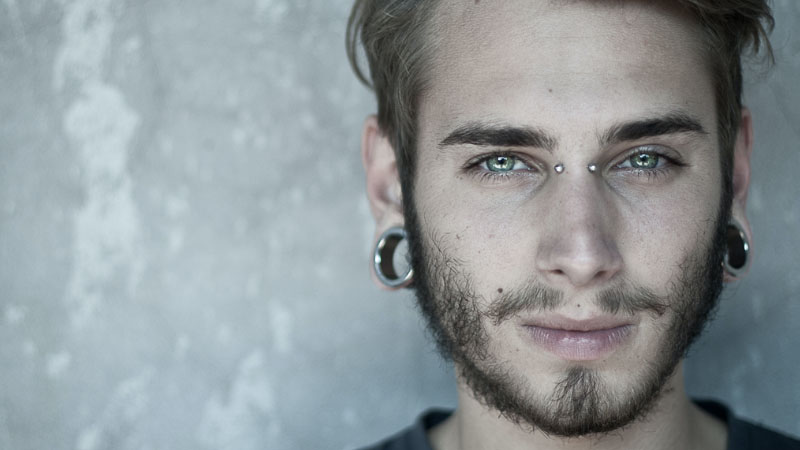 Via
10 – Nose Piercing For Teenager Boys
You can pull off multiple piercings like a pro if you are a teenager. It could be studs, hoops, screws, or any other kind of nose ring that makes you feel good.
These days, young boys go ahead with double piercings placed side by side on a single nostril. This makes a better style than a single one especially if you want to go a little extra.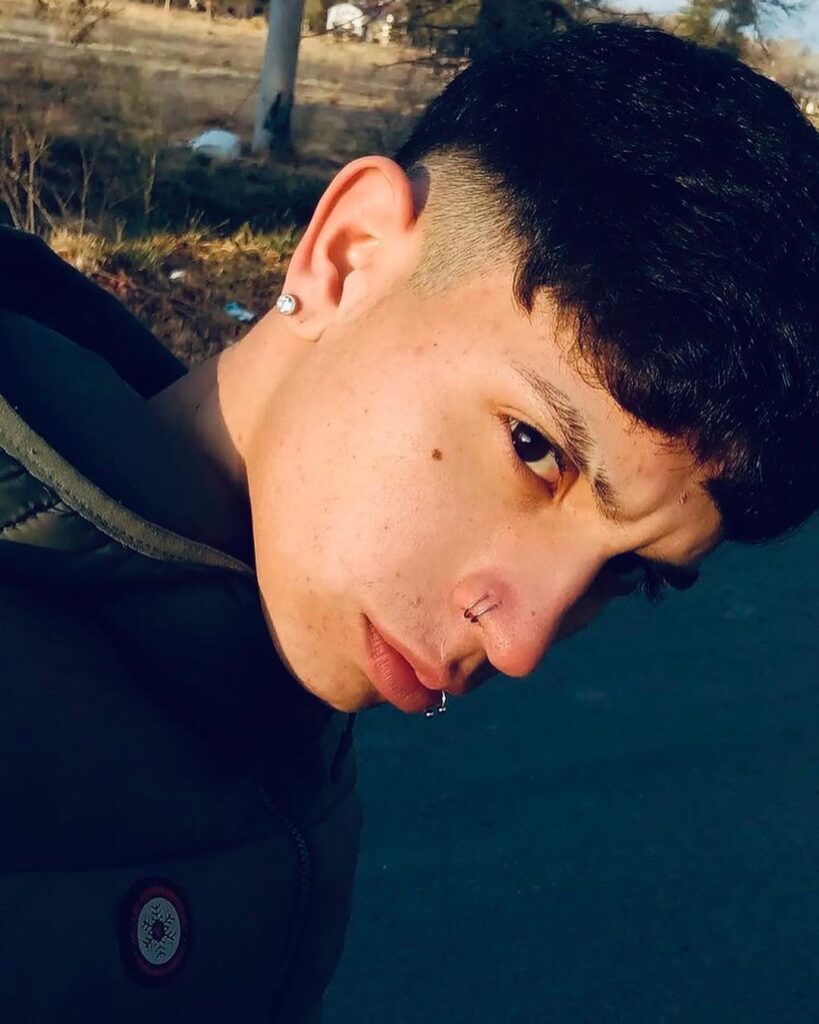 9 – Black Hoops for Black Lovers
Who doesn't love Black? Be it in the form of an outfit or jewelry; it is always a great option to stand out. Don this simple black nose ring which is plain yet a statement.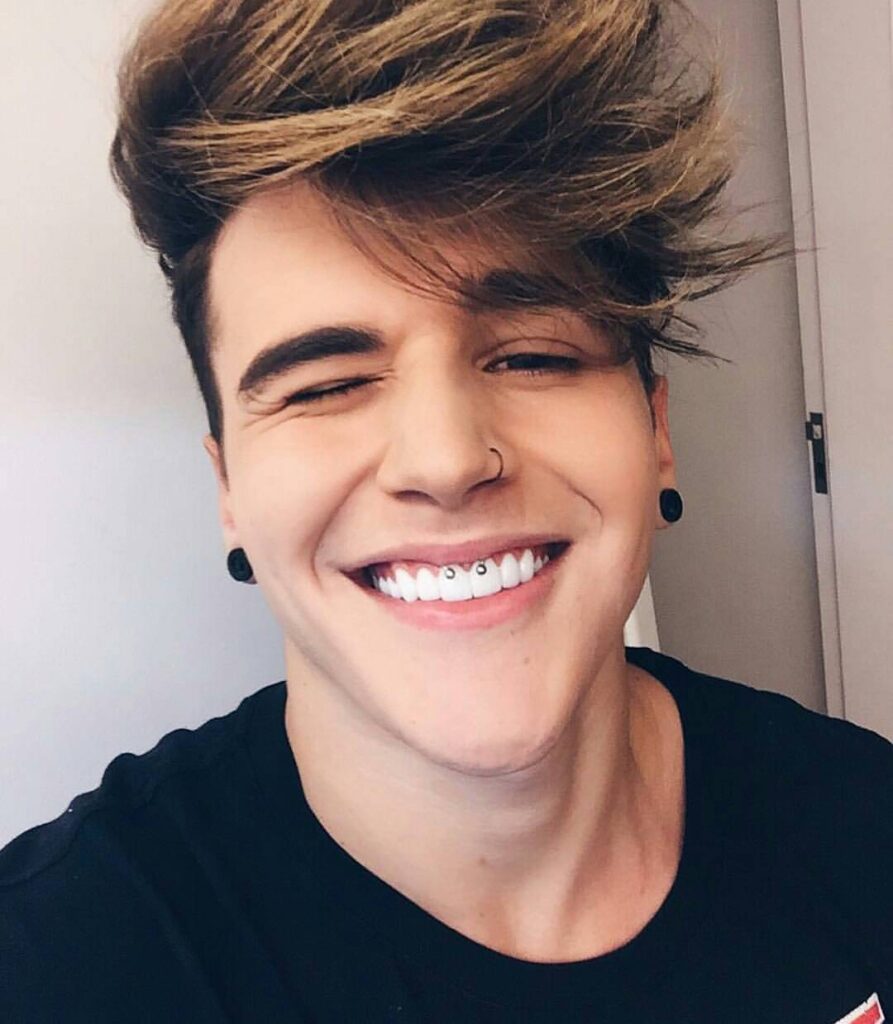 8 – Combination Nose Piercings
For all the piercing lovers, this is your sign to go for more than one piercing and get that snazzy look.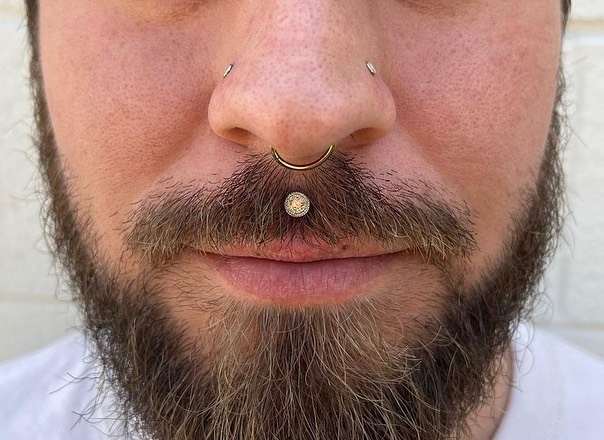 7 – Diamond Septum Nose Ring for an Attractive look
Who doesn't love diamonds? We all do. There have been so many options, and so many variants of nose studs, but when we see a diamond studded ring, we can't resist buying it.
Don this septum diamond ring adorned with diamonds, and the sparkles of this ring will make your face even more adorable.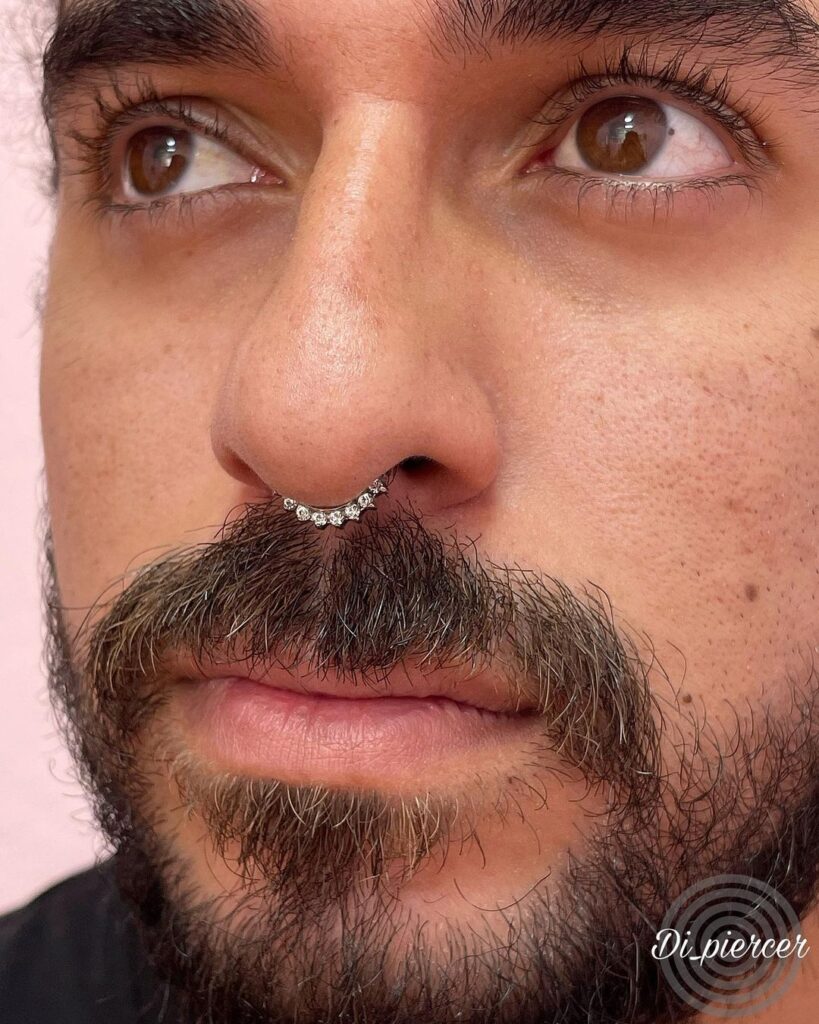 6 – Oversized Nose Ring
Nose rings are usually very compact. Whether you are wearing it over the nostril or in the septum piercing, it sticks to the skin. But if you want to make a statement with your nose ring, go for an oversized nose ring on one side of the nostril. This will give a pleasantly distinct look to your face.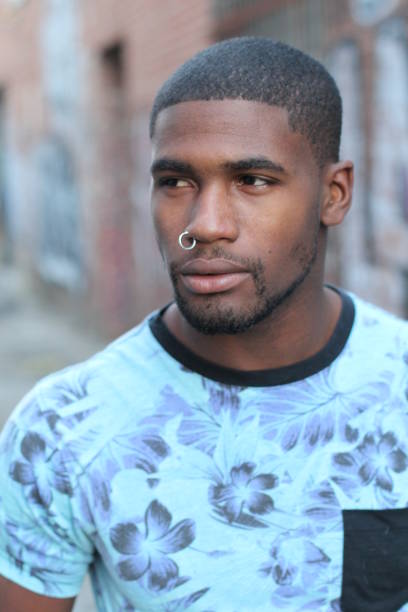 5 – Go for A Stoned Nose Ring
Stoned rings instantly give a chivalrous look to your personality.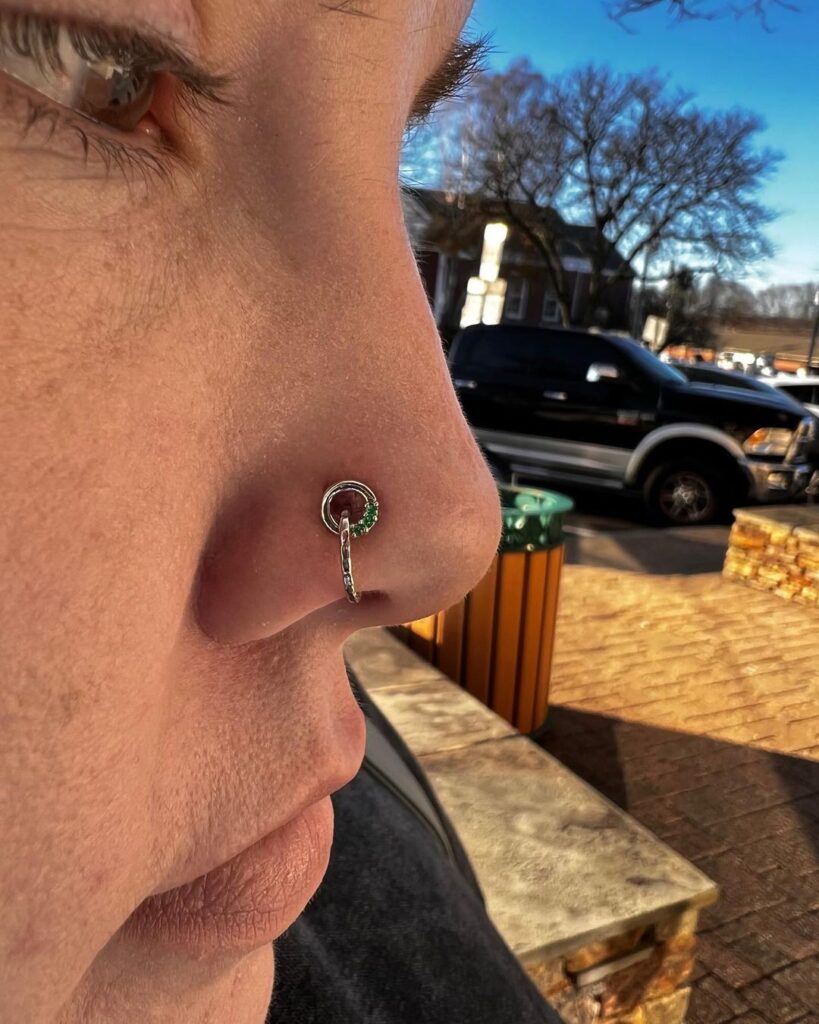 4 – Double Nose Gold Studs for Men
Despite so many variants and options in jewelry, nothing can replace the legacy of gold. The sheer classiness a gold nose stud exhibits are unmatchable.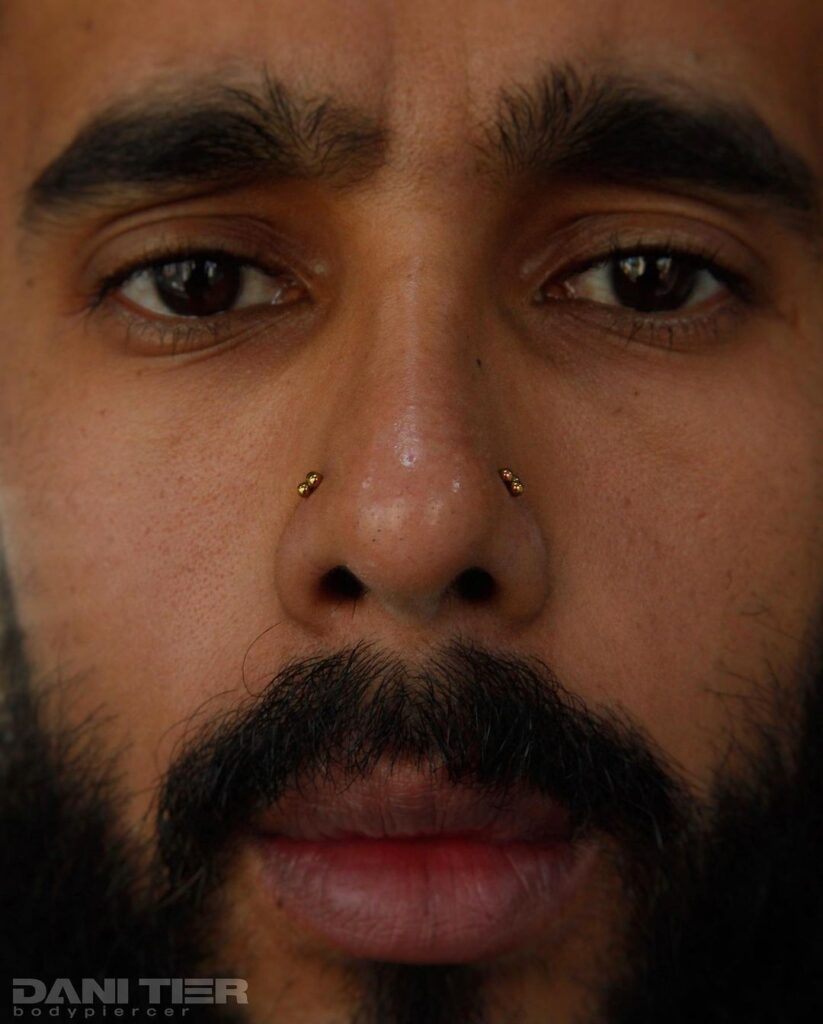 3 – A Hoop And A Stud Together
Add more glamor to your nose piercings by going with a hoop and stud together. You can also experiment with this look by swapping this plain stud with a stoned one. It will look even more ravishing.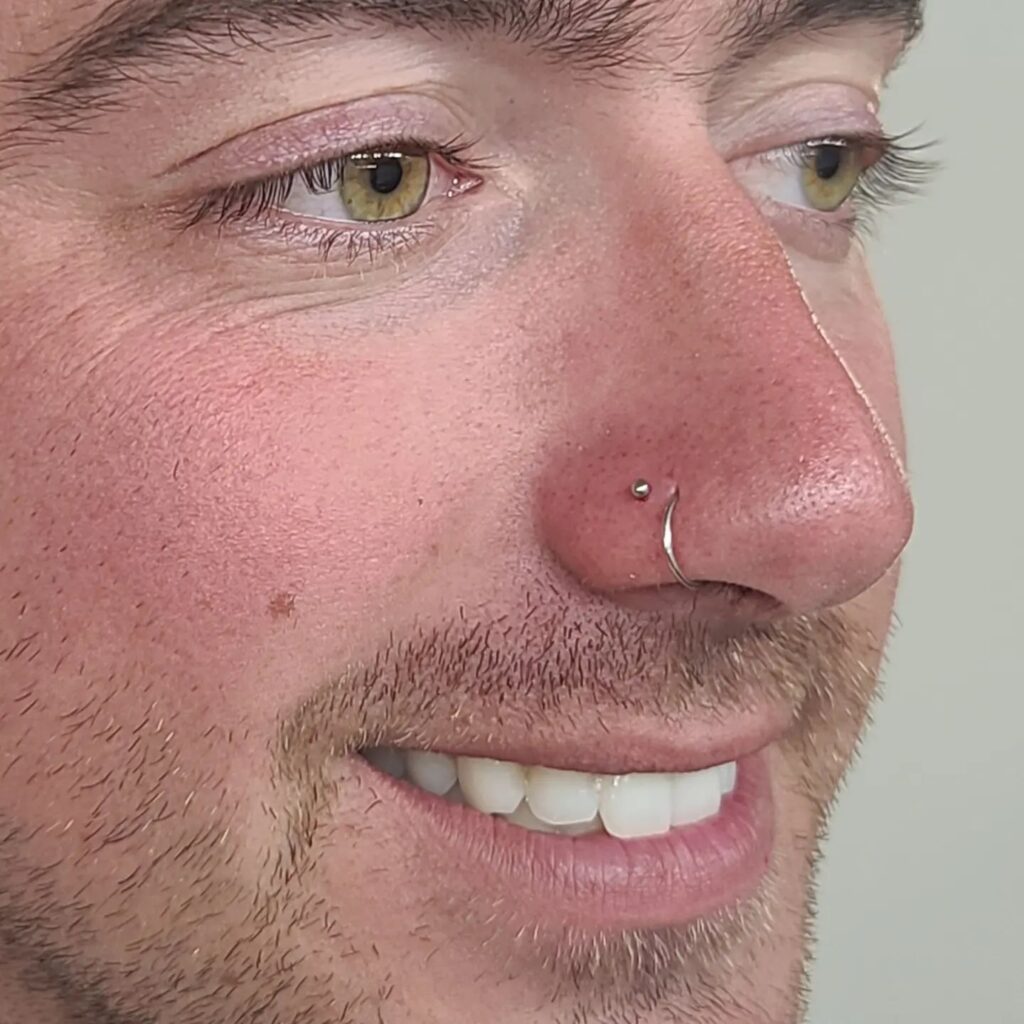 2 – Nasslang Piercing is the New Cool
This piercing is rare as it requires three penetration points and is a pretty daring task. But if you are someone, who wants to go for something unique and different from the usual piercings, this one is for you.
You can wear it with a straight barbell or a chained barbell. Both will look good.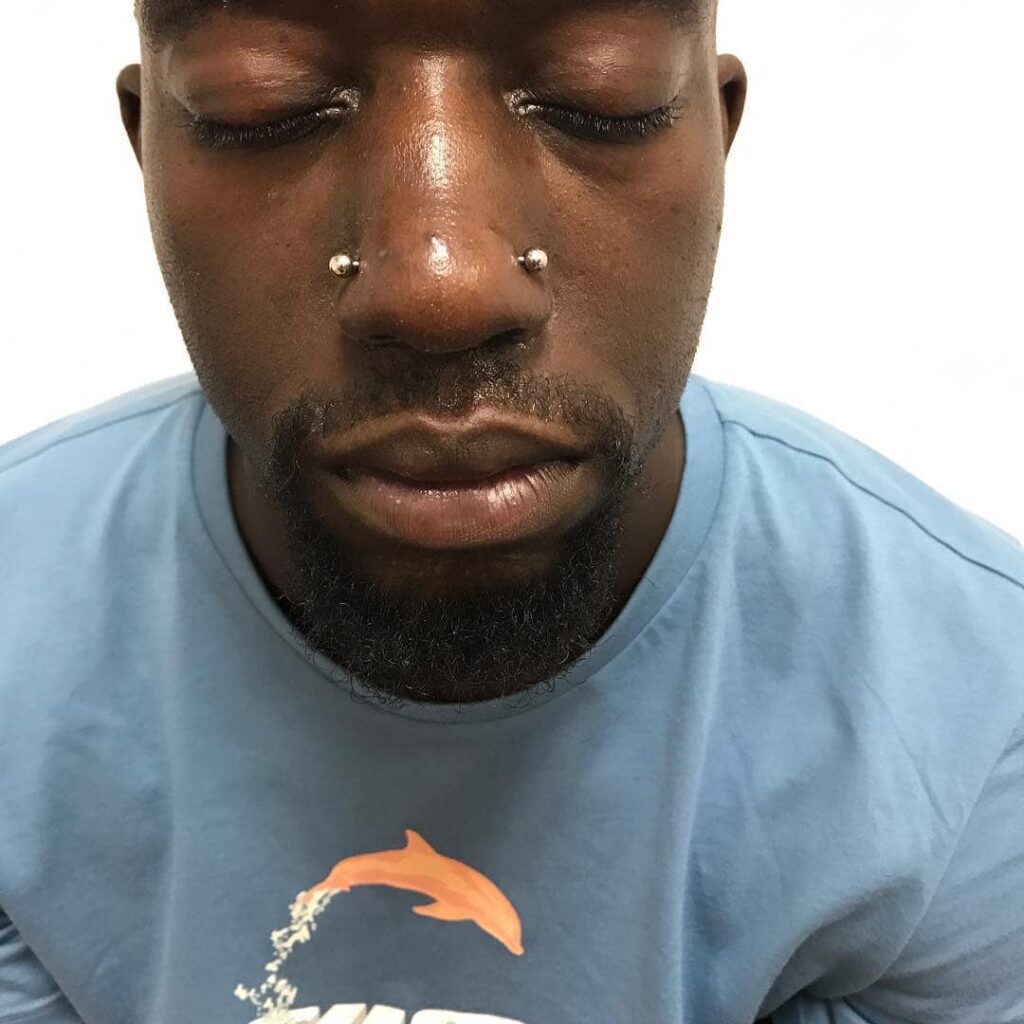 1 – Rhino Piercing
Rhino piercings are relatively new in the world of piercings. As the name suggests, it resembles with rhino horn. These piercings are a great choice if you want your piercing to stand out in a crowd.
As they are less opted among men, there is a higher chance that you will get a distinct and versatile look.
The needle goes from the tip of the nose vertically and ends at the skin above the septum. This one takes at least six months to one year to heal, and you must take special care of it during the healing process. Unlike nasslang piercing, it is mostly worn with a bent barbell.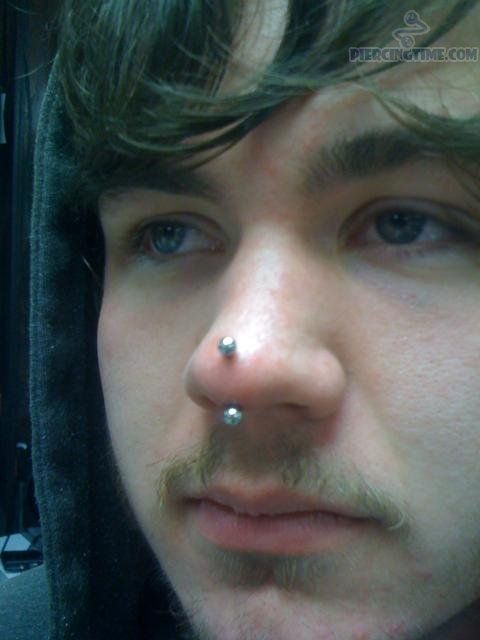 Frequently Asked Questions
Q. How long does a nose piercing takes to heal?
Ans. A nose piercing takes around three to four months to heal properly. Though it depends from person to person, you should still be careful during this period. Always talk to your piercer and ask what the necessary precautions you should take to avoid any wound or discharge are.
Also, ensure that the one doing your piercing should use sterilized equipment. When choosing a piercing aftercare solution, ensure it only contains salt and water. Some piercing aftercare products contain additives, like tea tree oil, that irritate the piercing and potentially prolong healing. Avoid harsh face washes and shaving creams,, and go for gentle products.
Q. Is it weird for men to get a nose piercing?
Ans. In the past, fashion was inclined towards women only and men taking up fashion rituals like makeup or piercings were not appreciated. But the world has changed largely now. Fashion is inclusive for both men and women, be it make up or jewelry, men are making a statement with their styles and accessories.
Q. What are the best nose rings to use?
Ans. The best nose rings are the ones in which you are comfortable and feel good. If you want us to be more specific, you can always go for gold, diamond, silver, or stoned studs. For a person who doesn't want to go through the pain of piercings, you can go for fake piercings that have a snuggle hoop which keeps the ring intact. L-shaped nose rings are considered the best as they are easy to wear and remove. Additionally, fishtail, chained rings and captive rings are also option. Make sure you wear the pieces that complement your personality and facial features.
Q. Can I wear a nose piercing to work?
Ans. Though there are no restrictions on wearing a nose ring to work if you work in a professional corporate sector, you should avoid embellished or chained piercings. Rather you can go for a small stud that is not very flattering or visible. If you work in a fun environment, like a fashion house or a tv production house, you can always go for funky and embellished nose rings.
Q. Do nose piercing look good on a guy?
Ans. Yes, they look amazing. Just like watches and cuff links, it is yet another accessory that can be worn by all men, and it definitely represents their personal style statement.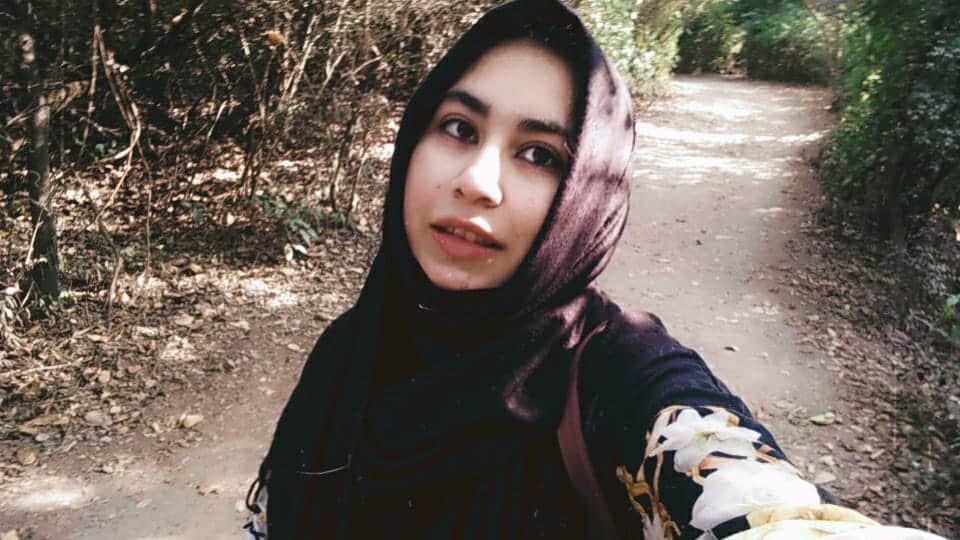 Hassana is a freelance writer who loves to read and write. A foodie by heart, she loves to cook and when she is not writing, she is in the kitchen. Mental health, fashion, and skincare are her favorite genres to write on. Apart from that, she is always ready to learn and explore all new things in life.