Cargo Pants for men. Cargo pants have been used as an outfit by British military, and taking the influence from them, the cargo pants have made their way to mainstream fashion. Be it men or women, they wear cargo pants for various events, or for casual outings. In short, cargo pants can be easily pulled off in many ways.
With the passage of time cargo pants have been altered as compared to the typical military dress, they have become slimmer and also they have smaller pockets as compared to the past. The modification is amazing as now men can wear cargo pants for multiple events and can look different with varying styles.
Men may think that cargo pants are just for casual wear, well we have 17 amazing outfit styles that men can opt for, so this way cargo pants can be worn for every sort of event.
How to Wear Cargo Pants for Men
#17: Casual for Summer
Summer calls for outfits which are light and breathable, not only this you want to wear outfits which make you feel fresh. You can totally pull off cargo pants in summers, especially with some light colored tee shirts or polo shirts. These can be combined with sneakers to give a complete look.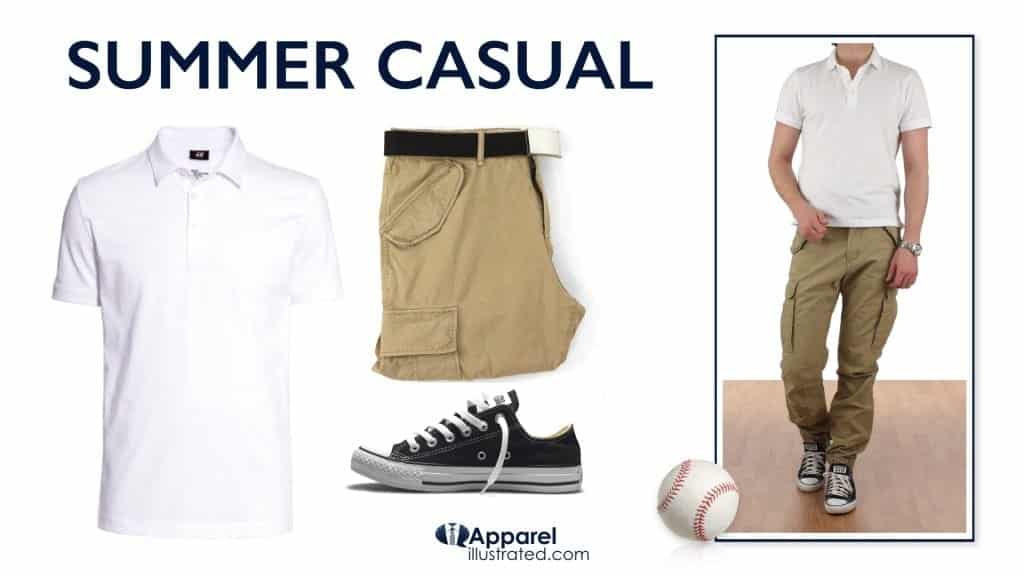 #16: Hiking in Cargo
Cargo pants are also used for rough and tough purposes, so if you plan to go on a hike than wear your cargo pants, with hiking boots. The entire look can be complemented with a jacket and a tee shirt. This dress code is ideal for outdoor activities as it will not only be comfortable but also add style to your persona.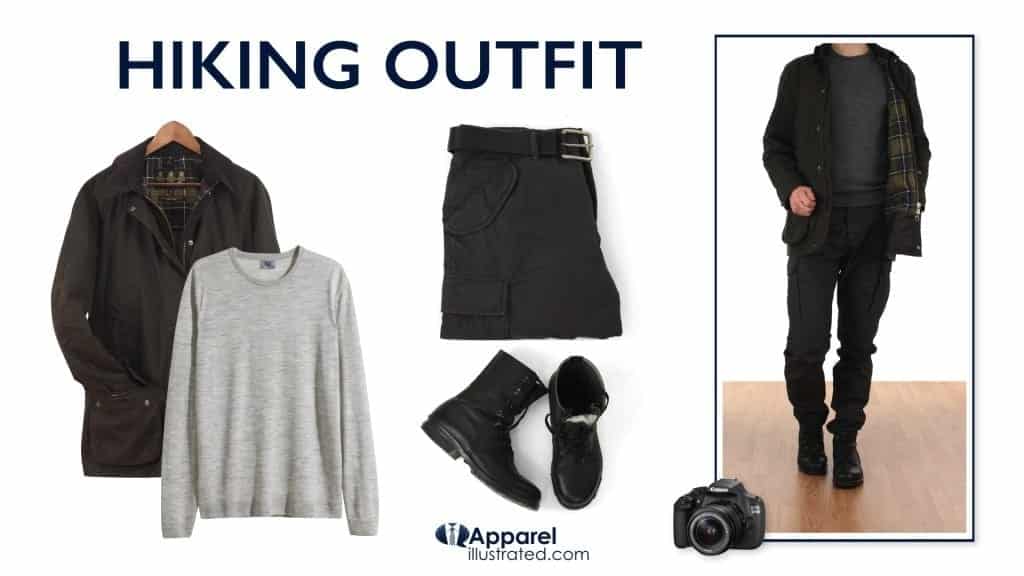 #15: Printed Cargo Pants
Boys can also opt for cargo pants which are printed, as it will not give a monotonous look. The plus point of wearing printed pants is that you can wear different types and different colored shirts on top to give a unique look. Also check out 17 Ways to Wear Sweat Pants and Joggers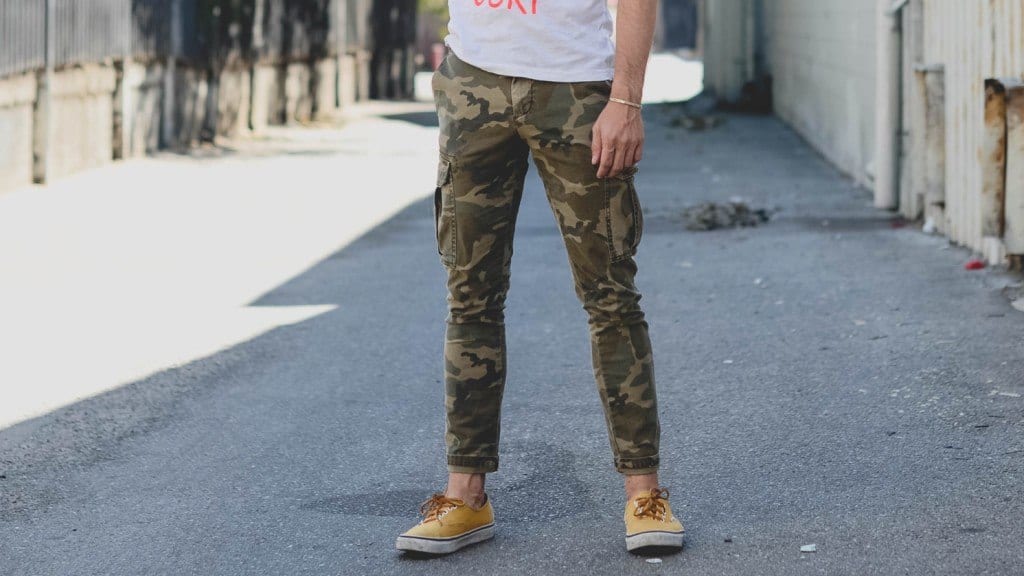 #14: The Cool Look in Winters
Winter means a lot of layering and clothing, so you can also do a lot of addition and subtraction to the way you dress. If you want to wear cargo pants in winter, you can wear it with a button-down shirt and combined with a sweater. This gives a professional as well as very toned down look.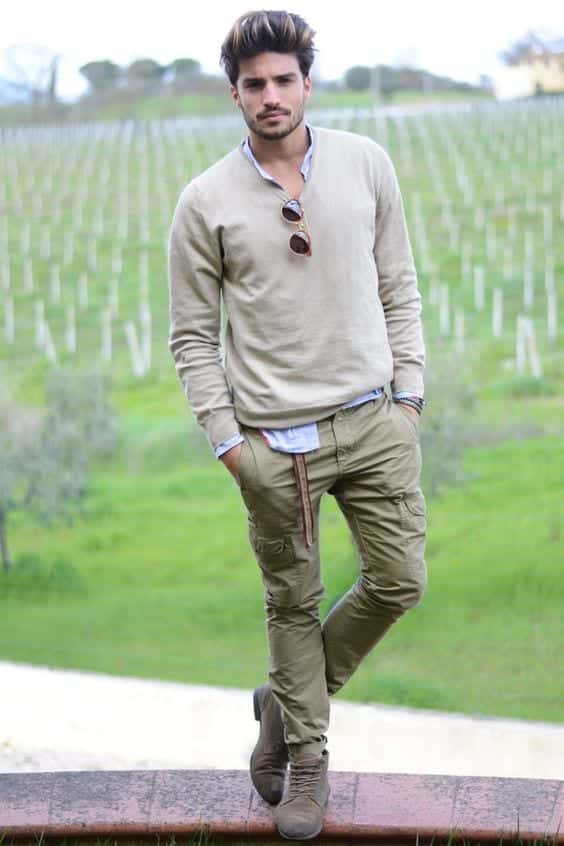 #13: Play with The Basics
It is always easy and best to keep yourself simple and look trendy. Combine your cargo pants with a plain tee and cardigan. This look is ideal for casual outing with friends or even when you are off to pick up your lady from any place. You will set a simple yet an attractive bar for others.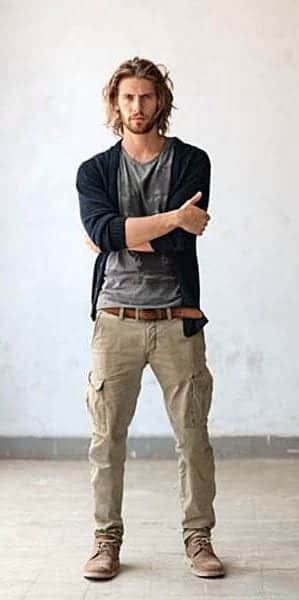 #12: Cargo Pants in Winters
Winters bring many clothing and styling options, thus you can always pair up your cargo pants with a sweater. You can do it in many ways, you can wear a bright colored sweater and a light toned pants or vice versa. You can wear boots or sneakers, whichever you're comfortable with. For more comfy winter outfit ideas, check out 18 Winter Travel Outfit Ideas For Men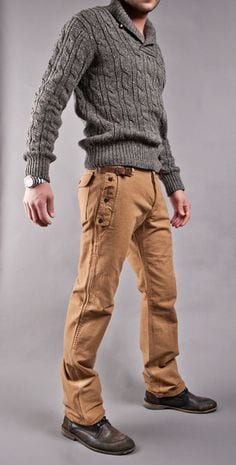 #11: Cargo Pants for Work
It is usually considered that cargo pants are only feasible for casual looks, well you can prove people wrong as you can totally pull off a gentleman look by wearing a khaki colored cargo pant with coat and even a hat will compliment the entire outfit. This is ideal for offices or formal events.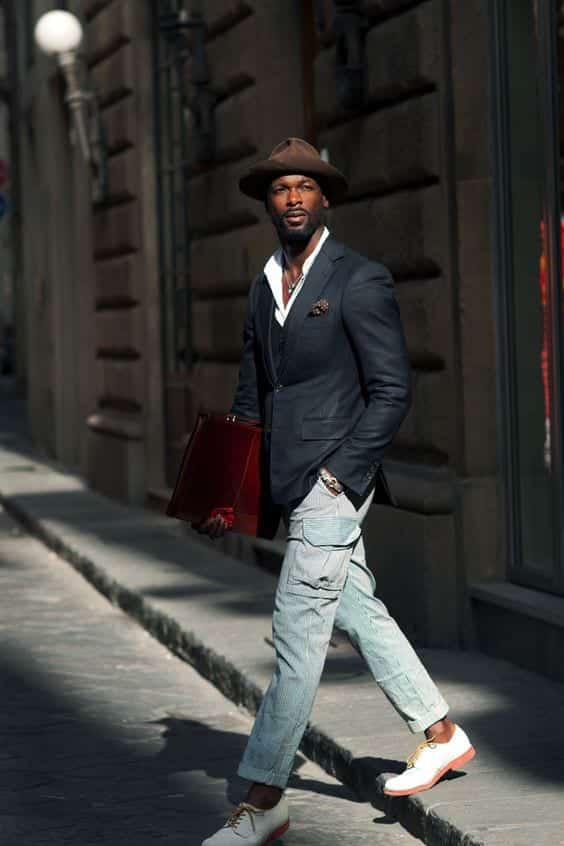 #10: The School-Boy Look
Cargo pants will even be great for your everyday school or university look. Whether bright or light colored, these can be worn with multiple kinds of tops, from tee shirts to formal button down shirts. For footwear, you can wear sneakers, dress shoes or whatever your dress code adjusts in well.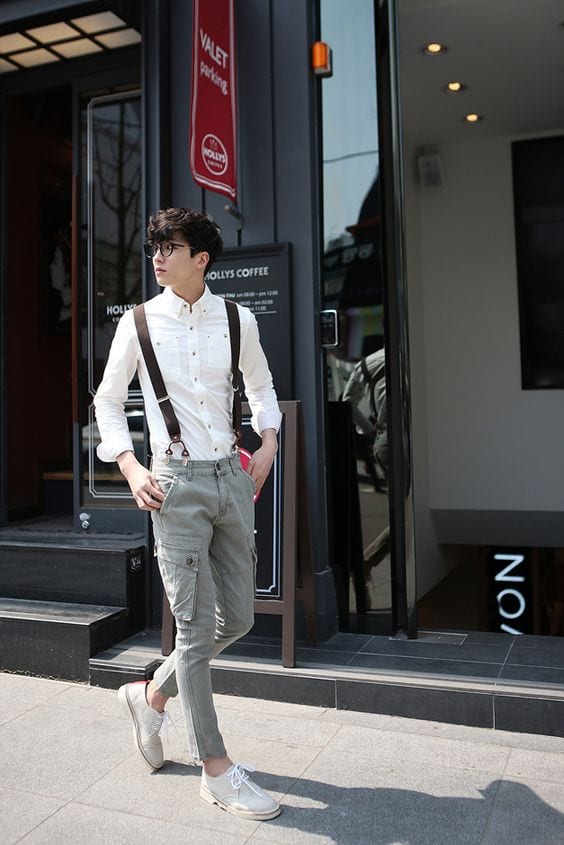 #9: Winters and Schools in Cargo Pants
Mufflers, coats, colorful sweaters are winter essentials, but you can add cargo pants to the list as well. These are comfortable and you can wear them to school everyday without the worry of deciding what to wear.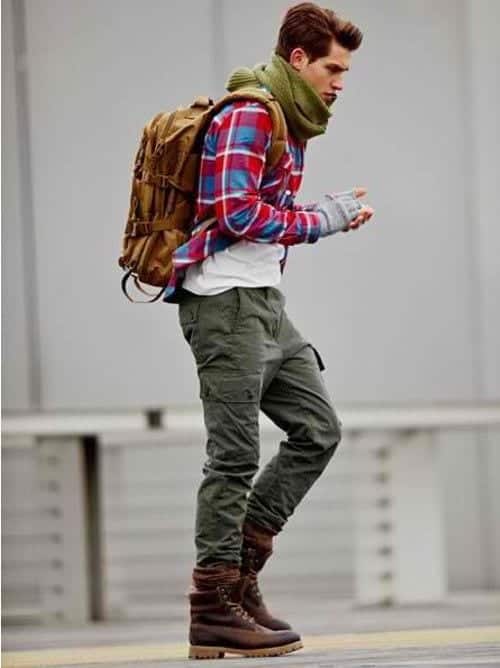 #8: Cargo Pants and Sneakers
A great way to look super chill out and casual in cargo pants is to combine them with a tee shirt or button down shirt and wear sneakers. This look is not at all high maintenance and can is to carry at most of the places, be it hanging out with friends or simply going to do groceries.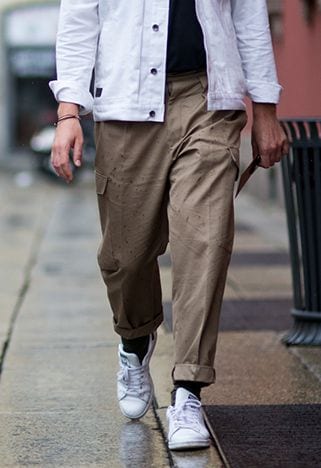 #7: Cargo Pants for Vacation
Vacations means a lot of traveling and a dress code which will allow you to do all the fun activities. Since you must not carry an abundance of luggage always carry your cargo pants as you can combine and contrast them with various options and these will be perfect for hikes and excess outdoor traveling.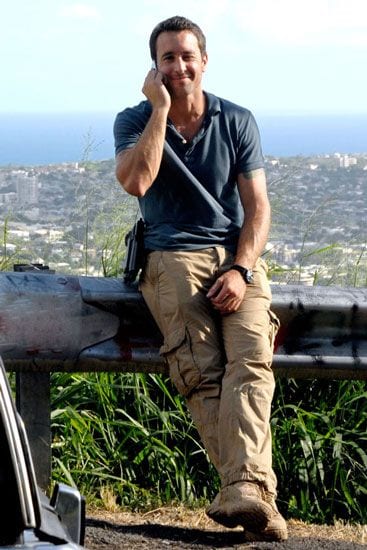 Via
#6: Wear Cargo Pants Celebrity Style
Every girl's favorite and every boy's ideal, Ryan Reynolds casually carries his grey cargo pants at home. You can too opt for this style as this is simple and very attractive.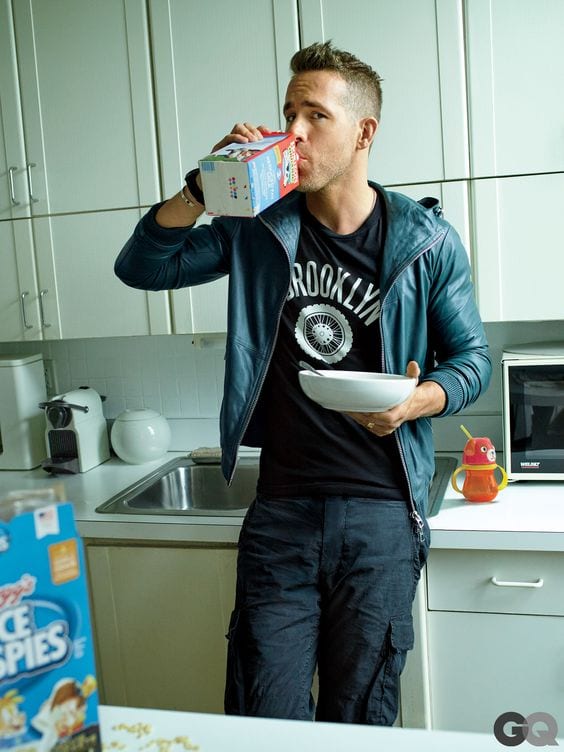 #5: The Weekend Look
Weekend means a lot of comfort time and comfort dresses. Cargo pants with a simple plain striped tee is one of the most ideal ways to look effortlessly classy even on weekends. This is an instant ready to go out look, which is a plus. Wear flip-flops to compliment the whole look.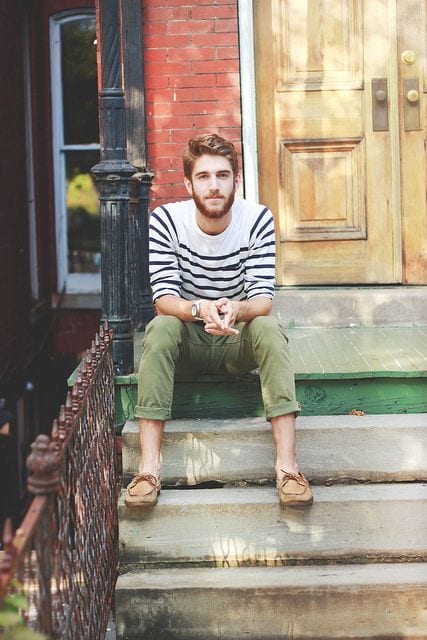 #4: Dressed Up look for Date
Denim can be combined with anything, so why not with cargo pants? You can wear a button-down denim shirt and combine it with a leather jacket. This is an instant and easy dressed up look for hangouts or instantly planned outings.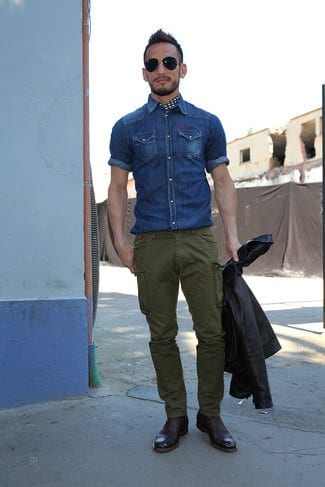 #3: Cargo Pants for the Older Men
Older men can also style up themselves in cargo pants, especially in winters. Addition of jackets and mufflers to the entire outfit would be a great add-on. Older men would look much more handsome and subtle with this kind of attire. For more ideas, check out 17 Smart Outfits for Men Over 50- Fashion Ideas and Trends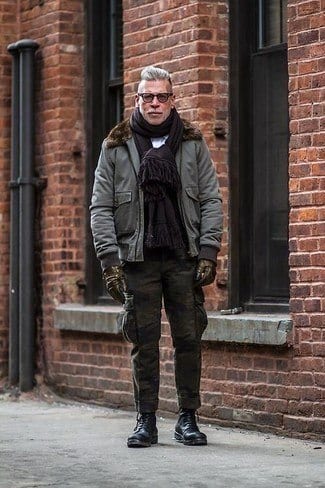 #2: Casual like Enrique
Enrique Iglesias is a style icon for many, and men can take a great benefit and inspiration from his sense of style. Like this handsome guy, you can also carry cargo pants with a cardigan to a formal event with more confidence.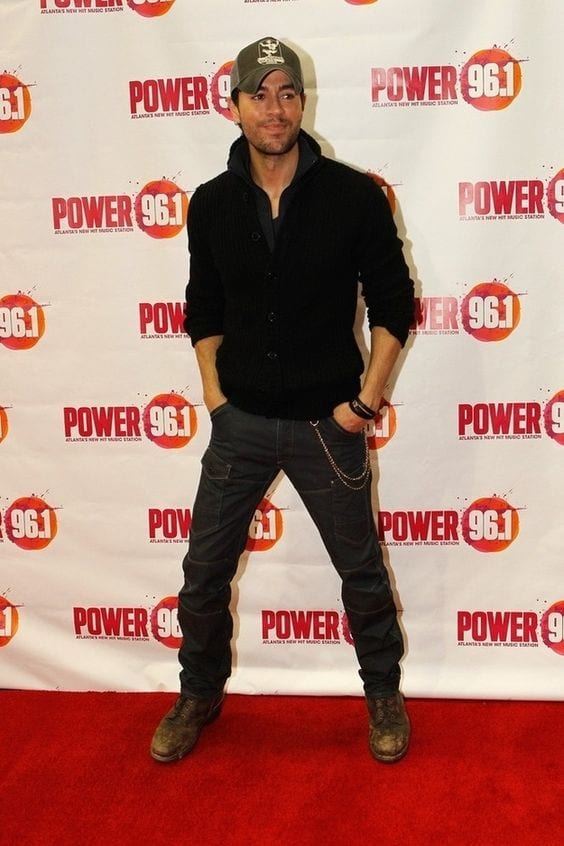 #1: The Denim Cargo Pants
Denim is the easiest solution, a denim cargo pant can be style in a trillion ways. A simple yet sophisticated look can include combining it with a button down shirt and a cardigan or sweater.