BTS inspired outfits for men: BTS needs no introduction. They are undoubtedly the most popular boy band in the world. Rising to the top of the charts with catchy tracks and vibrant personalities to match, the Korean troupe is fast becoming the biggest cultural phenomenon on earth.
When they're not spending their time writing, singing, and touring they are caught flaunting some of the chicest and most comfy outfits. With a worldwide audience, and a massive fanbase that follows the band everywhere they go. As such, there's pressure on the band members to stay on point with style. When it comes to BTS fashion, they exceed all expectations.
The BTS band members are as recognizable and popular as the group itself, with individual characteristics that fans idolize. While traditional Korean clothing has a scope of its own, these guys have become some of the most fashion-forward figures in the industry representing famous brands globally. Recently, Louis Vuitton announced BTS as their brand's new house ambassador.
How to Dress Like BTS Members?
Here at outfit trends, we've broken down each member's style in our Style Guide: How to Dress Like BTS Band Members. The seven members – Jin, J-Hope, Rap Monster, Suga, Jimin, V, and Jungkook have made such a mark on pop culture that they've got an entire ARMY of fans who want to dress just like them.
So check them out below and pick up some tips to get you started on your K-pop fashion journey.
Jungkook Inspired Outfits
Jungkook the oh-so-famous maknae of BTS is famous for his adorable looks and comfy fashion outfits. He is Louis Vuitton's global ambassador. His impact on the fashion industry is so powerful that the tie-die shirt and bag used by Jungkook are sold out on American Louis Vuitton's website.
You can find his styling sense unmatched. You can see on his Instagram posts his fashion trends and editorial covers. Jungkook looks great in both casual and formal wear.
21 – Jump into Baggy Fits
The black baggy sweatshirt is easy to style and can be found in any closet. Pair this with cargo pants and a bucket hat it will add a unique touch specific to the style of BTS when you wear them.
Top off this amazing look with dangly earrings, chains, and bracelets and you will have yourself a chic BTS-inspired look. 
20 – Try Plaid Shirts to Avoid Boring Outfits
Jungkook loves his solid, neutral colors (especially black), but he's also a plaid lover. He has been seen many times wearing plaids. Plaid is an extremely versatile print, so don't be afraid to mix and match!
This outfit has everything you need to not only stay comfortable but also to look like you have a great sense of fashion. While it looks simple, the plaid shirt layered over the tee makes the outfit so much more interesting. It can be paired with any type of sneakers to further enhance the outfit.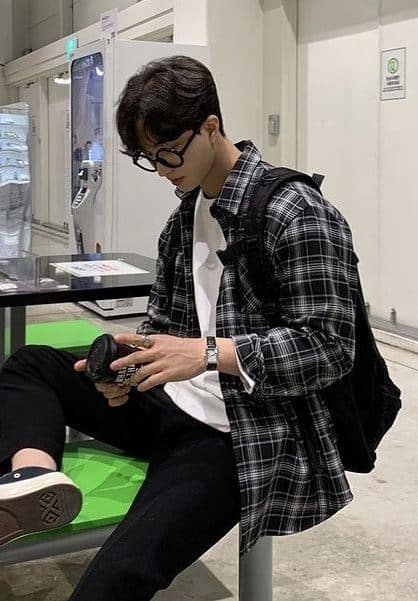 19 – Classic Black-on-Black Look
This outfit is the perfect representation of BTS and you can never go wrong with an all-black look. The biker jacket adds dimension to this outfit despite it being the same matching color as the base items of clothing. This look is so easy and comfortable to be in and you can definitely never go wrong with it.
V Inspired Outfits
V from BTS is a true fashion icon! This BTS member wears super crazy outfits that match perfectly with his crazy wild personality. Born with a cute face V shows everyone that he actually looks good in any outfit. If you're looking to give yourself a V-inspired makeover, here are some outfit inspirations for y'all.
18 – Go Bold with Patterns
When it comes to mixing and matching, BTS V is a pro. Many of his shirts have eye-catching prints that could be overwhelming, if not for the solid pants, neckties, bandanas, shoes, and bags he pairs them with. He is not afraid of trying variable trends and you can find him in almost every color and style. This outfit definitely shows he's a true music artist!
17 – The Grandad Sweater Look
Sweater vests are one thing V does really well! V has a way of making warm, snuggly outwear look stylish by combining them with slacks and plain, long sleeve shirts. A sweater vest can also be used for a casual look when you want to keep things on the more comfy side. The vintage sweater is a statement in itself. Pair it with matching trousers, and your good to go.
16 – Try Classic Berets
Bts member V wearing berets is worldwide famous as he literally owns this style. His beret and headband looks have captured the hearts of bts fans worldwide.
Well picking an outfit with a beret can be hard. Not knowing how to accessorize or layer certain clothing items together is stressful but V shows that adding a simple beret can really make any outfit stand out. Have a look!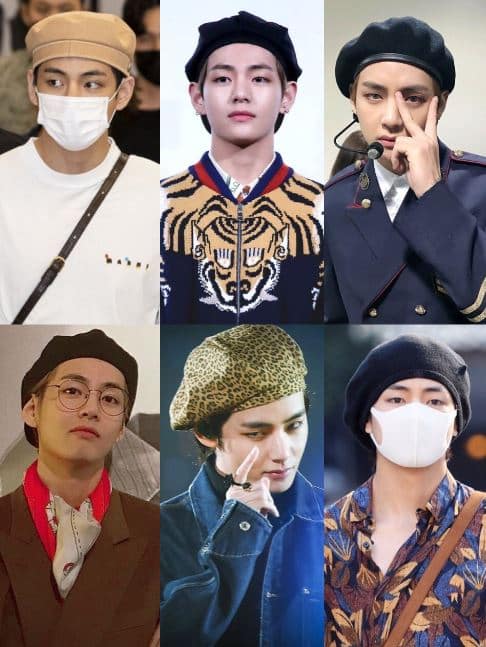 Jimin Inspired Outfits
Jimin's fashion is the epitome of cool and chic, and he can often be seen rocking a loose-fitting shirt tucked into tight leather pants or a turtle neck complemented with a denim jacket and some denim jeans. He loves casual but stylish forms of casual only.
15 – Denim on Denim Look
Jimin basically invented denim on denim. Jimin transformed his style into an endless parade of basic and chic outfits that fit his slim yet toned body.
Park Jimin's iconic fashion statements include his tinted glasses, double earrings, boots, and jackets which can be seen clearly in this fit. This outfit has such a unique and interesting take on denim and really stands out.
14 – Look Expensive in Trench Coat
Bts is famous for wearing expensive and classy brands whenever they step out. This outfit completely looks very expensive and Jimin is showing us how to rock the perfect winter outfit and stay toasty. To achieve this look pair a turtleneck sweater with basic black pants, chelsea boots, and a trench coat. Top off the look with a newsboy hat and tinted shades. Voila, you have now achieved Jimin's rich son look.
13 – Summer Shorts and Shirt Look
This summer outfit worn by bts's Jimin will go down in history. Apparently, it's not a very top-notch look done by Jimin so far but fans went crazy over it. Guys, If you want all the ladies to go crazy for you as well, You should definitely try the look this summer.
RM Inspired Outfits
Leading one of the world's greatest bands is no easy feat but RM makes it seem incredibly easy as he lounges around in his favorite cardigan or unique kimono. RM's style is the one that has evolved the most. From simple streetwear to matching shorts and cardigans, RM pulls off anything.
12 – Put together in Suit
Who said you can only wear plain shirts with suits? Take a look at RM's slaying patterned shirt with a classic grey suit. He can do no wrong in a suit. The patterned shirt provides an interesting silhouette that will really catch everyone's attention! Loved how he is wearing runners with a suit.
11 – Comfy Touristy Look
This is the perfect BTS-inspired casual outfit that you must try! When not touring, Bts frequently travel and explore new locations all around the world. If you are also a touristy person and love to wear comfy outfits on your trip then you must try this fit. Wear a denim shirt over an oversized tee and black pants Don't forget to wear a T-cap, and a backpack and voila you're all set to travel in comfort and style.
10 – Classy Airport Look
Here is another great BTS-inspired outfit that features denim and a white tee with a jacket layered on top. The accessories and the Gucci bag make this look really pop. RM often caps off his look with his basic accessories; a bag, cap, sunglasses, unique necklaces, and a face mask.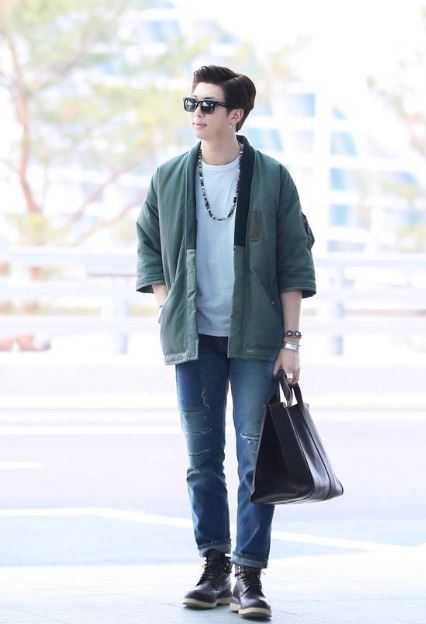 Jhope Inspired Outfits
When someone asks "Who is the most stylish member of BTS"? J-Hope would like to vie for the crown. Hoseok is unapologetic with his fashion sense. His desire to bring joy is expressed well in what he wears. He likes to wear bright and unique outfits. Plus, he has the widest range of fashion styles among the members.
9 – Trendy Baggy Jeans with a Cardigan
Baggy jeans are a fashion trend in 2022. You can sport your favorite prints and patterns through your pants. Use your outfit to channel and radiate positivity like Jhope.
This outfit is trendy yet looks very peaceful and calm to look at. He opted for a subtle sweater vest to keep it minimal. To finish off the look he wore a crossbody bag and a bucket hat.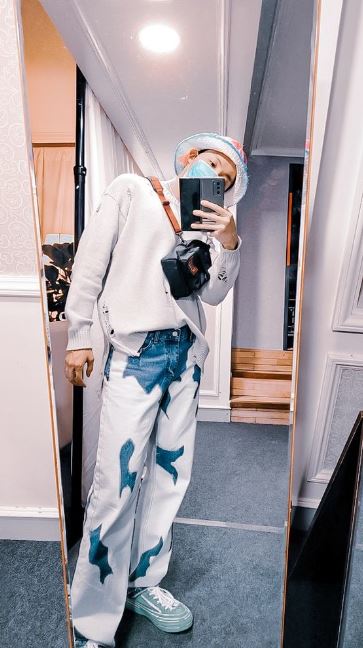 8 – Our sunshine
This look is all about the shirt! BTS's rapper Jhope is known for his colorful and eye-catching shirts, like this one with a cute cartoon print.
You could also go for a solid color like navy blue or olive green to make your outfit more stylish and polished.
He topped off the look with a bold red colored beanie because he never shies away from bold colors and honestly it looks incredible.
7 – True Rockstar Style
This next BTS-inspired outfit is for all the Sejung fans out there. If you are a fan of jhope then you will love this outfit because it combines both his stage and personal style and we are loving it.
The denim jacket and ripped jeans make this look really cool, but the best part about it is how well-accessorized his whole outfit is. Very unique and classy!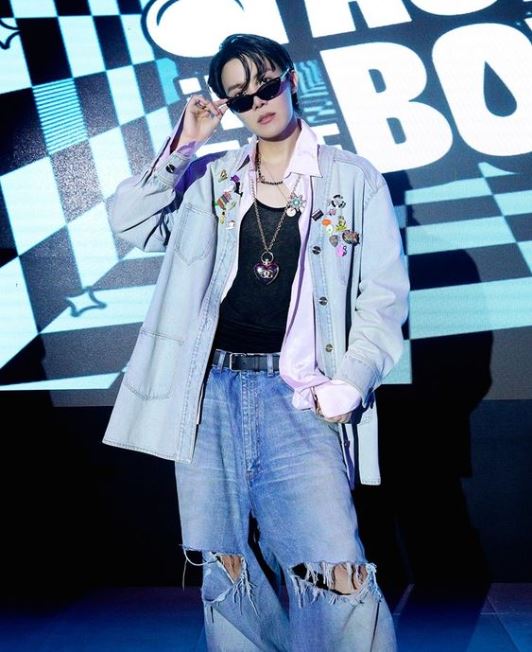 Suga Inspired Outfits
Looking for a stylish and unique way to show your love for BTS? Check out these amazing Suga-inspired outfits!
His style is simple and he prefers to wear dark colors but always makes sure to turn heads wherever he goes.
6 – Basketball Game Outfit
If you're on the floor of a big-time game and want to show off your fashion chops, go ahead. Take a cue from him. Wearing a bomber jacket is a cool way to look modern.
Pair black denim with chelsea boots, add a basic tee under a bomber jacket, and you can tuck it in or leave it as is according to your own style.
5 – Dressed Down Look
I personally love this dressed-down look. Suga looks so effortlessly fashionable but also looks like he put a lot of effort in. Men take notes if you wanna look as cool as him when dressed down.
4 – Off Duty Look
This is such a cute little pop star off-duty look, with the most basic clothing items that you can find in your closet as staple pieces. You can take any sweatshirt from your closet and pair it with straight-leg baggy jeans like the ones pictured.
The converse and crossbody bag adds another element of youth and the overall look is perfect to wear and very easy to pull off by anyone!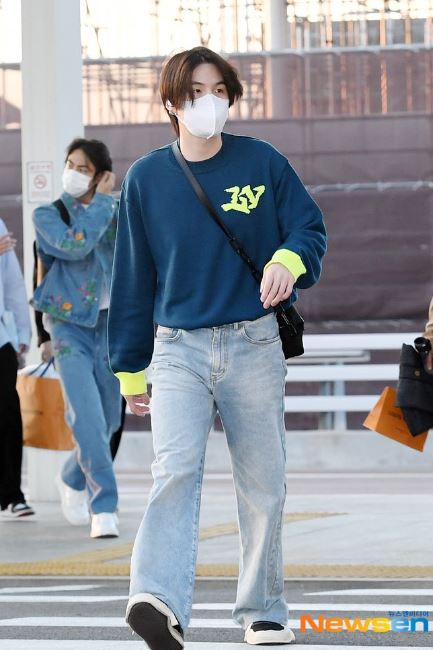 Jin Inspired Outfits
His style is timeless and simple. Simple shouldn't be mistaken for boring in this situation.
While denim and hoodies make up most of his wardrobe, Kim Seokjin manages to mix and match his dressier items with casual clothes. The best way to describe his style is "neat."
3 – Beautiful in Brown
Jin is always great at manifesting an aesthetic that is both mature and dashing. His style is not complex, but never boring. I mean take a look at this beautiful attire. He is wearing this simple yet very oversized gorgeous brown coat, which he pairs with a plain shirt and jeans. Here are some more stylish tips on how men can style long coats.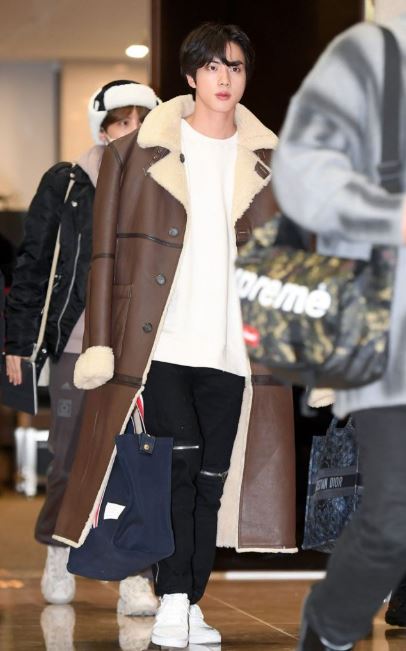 2 – World Wide Handsome in Suit
He always looks sharp and put together, especially when wearing a suit. His beautiful visuals are the perfect accessory to every outfit he wears. Sport a suit like Jin and you will get all the attention and compliments. Get a white blazer and wear it with black Pants. Finish off the look with matching loafers and a bow.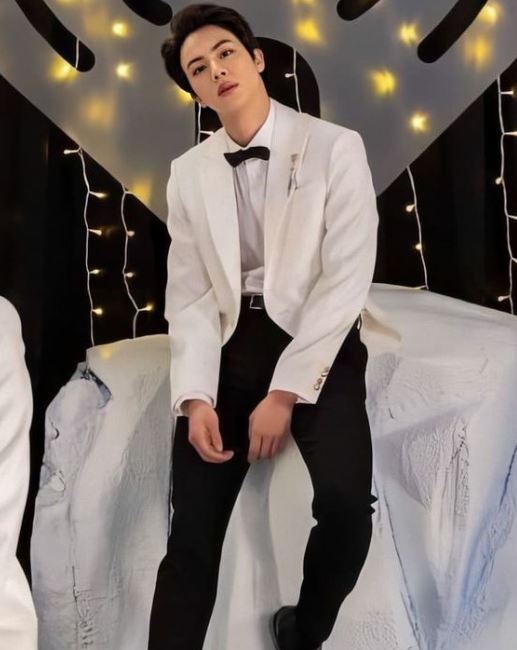 1 – Semi Formal Classic
Show up to your date wearing something laidback yet elegant. I'm so in love with the color coordination of this outfit.
FREQUENTLY ASKED QUESTIONS
Q. Do BTS members wear their own clothes?
Depends. On stage, at award shows, MVs, or business-related stuff the stylist dress them up in their own way. When they are traveling the "airport fashion" is their own clothing and style. In most of their live sessions, they wear their own clothes too. BTS has shown their individual style nicely and shows how they have different ways of dressing up.
Q. How does each BTS member dress and what is their style?
Kim Namjoon – Laid-back
Kim Seokjin – Cute and comfy
Min Yoongi – Black. Just Black.
Jung Hoseok – Pop-like
Park Jimin – Refined, fashionable
Kim Taehyung – High-lux, rich
Jeon Jungkook – Chill (Lowkey emo)
Maria is a 21 years old, skilled, and amazing writer. She loves to write and spread positivity through her eloquent writing. She believes that writing is an art through which one can narrate a complex idea, thinking, and project in an easy and simplified way. She is passionate about fashion, style, and beauty. She is here to write about styling tips, trends, and ways how to dress for various circumstances. Hope you gonna love her posts.