Outfits with Ripped Jeans – Are you bored of wearing mainstream jeans and looking for different outfit ideas that could make you stand out? If the answer is yes, it is time to get inspiration from some amazing ripped and distressed jeans. We bring you many ideas that you will find quite helpful. You can easily DIY (do it yourself) your jeans to make them ripped and distressed if you do not wish to buy new ones. But the more important thing is, what outfits should be worn with ripped jeans?
Each season we get to see new designs, styles, and fashion in the denim jeans line. This time the collection is fresh and versatile. For the distressed jeans style, you need to get the jeans with straight and flexible cuts with a sleek look. In terms of color, ripped jeans have a variety of colors. There are plenty of colors such as dark blues, white and black. You can also get it in grey. A few of the jeans are also available with embellishments. Scroll below to find the best places to shop for ripped jeans!
What to Wear with Ripped Jeans?
Nowadays, shredded jeans have transitioned into a street-style staple, and the denim style has evolved a lot of change in the past few years. You can wear any outfit with it whether it be a blazer, cardigan, short dress, peplum top, crop top anything, in short, would be perfect to wear with the jeans. Moreover, accessories and shoes play a significant part in making or breaking your outfit. So get your gorgeous jewelry, bags, and shoes out and get ready to style!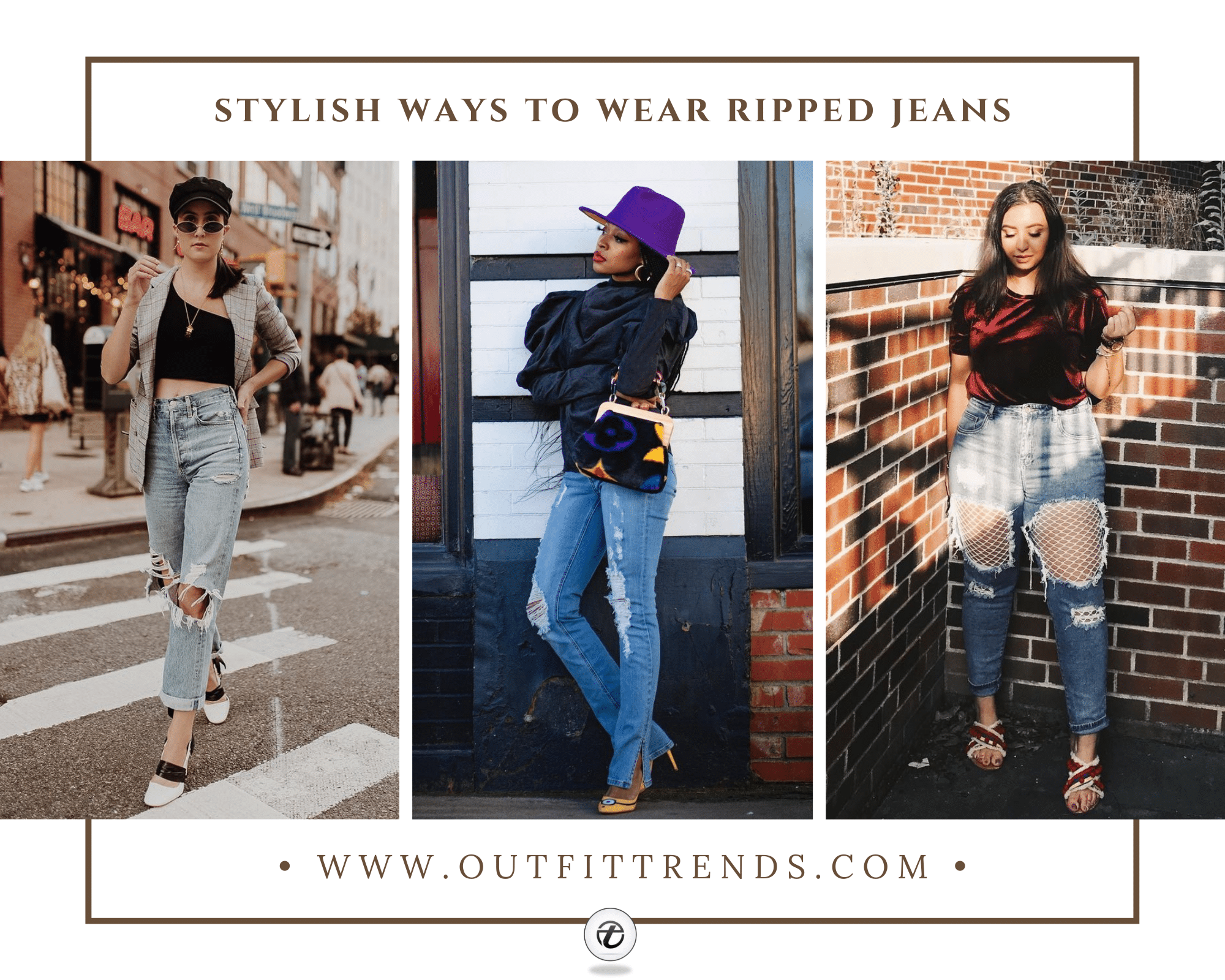 Tips on Wearing Outfits with Ripped Jeans:
When it comes to ripped jeans, less is more. Since your jeans are a statement article of your look, keep the rest of your outfit simple and classy.
A classy white or black button-down is the way to go if you feel overwhelmed while styling.
Denim on denim is an absolute yes if done right!
Layer your outfit with the appropriate coats, blazers, leather jackets, and more.
Do not forget to accessorize! Grab your favorite pair of sunglasses and gold hoops. These two items will get you anything and everything!
A pair of white sneakers or ankle boots are the way to go when dressing casually in ripped jeans. For a more formal look, go for heels!
For this season, torn jeans are worn most casually. We have taken images of the latest trends you would love to follow. Check out this excellent collection of great ideas on "how to wear ripped jeans." See how these stylish girls have matched different outfits with their ripped jeans to get a chic look. You can get a lot of ideas from the collection of party outfit combination with ripped jeans, funky look with ripped jeans, street style look with ripped jeans, and many more check this out.
23 – Pair Your Vests with Ripped Dad Jeans
Dad jeans are super cool and trendy due to the high waist and loose-fitting. Pair your jeans with a vest similar to the one in the image below to complete the vibe. You can also go for a collared shirt topped with an oversized sweater vest French tucked at the front. The possibilities to style distressed dad denim is endless!
22 – Mix Pastel Colors with Light Washed Denim Jeans
Styling light blue jeans can be extremely fun! An excellent way to wear your light-washed denim is to pair it with pastel colors, creams, beiges, and whites. Moreover, you can get away with various tops, from crop tops to cute blouses with flowy, puffed sleeves. A pair of sneakers is a well-suited choice, and gold hoops are here to save the day! The image below is a fabulous way to style light blue jeans for an everyday look and to get you inspired!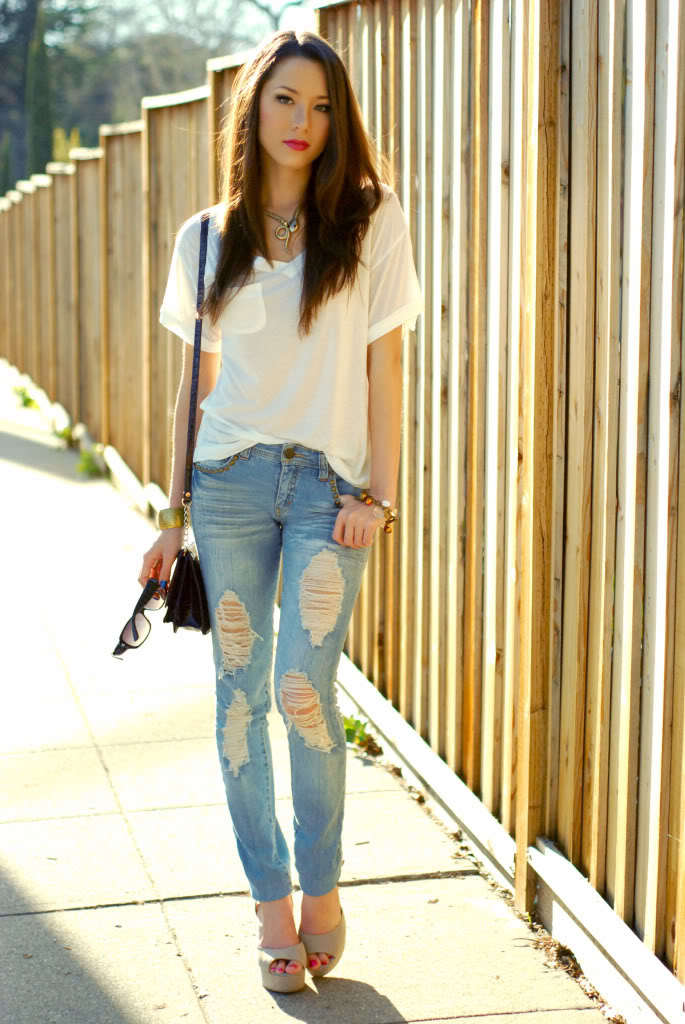 21 – Layer Your Ripped Jeans Outfits with Kimonos
I adore this look! This lady checked all the boxes when styling a pair of ripped jeans. The muted cami top and light-washed jeans work wonderfully with the bright printed kimono. And to compliment the long kimono, we have got the hat and shoes. Go for a smaller pair of hoops if you think you will not wear larger earrings similar to the ones below. An A-plus for effort and execution on this wonderful outfit!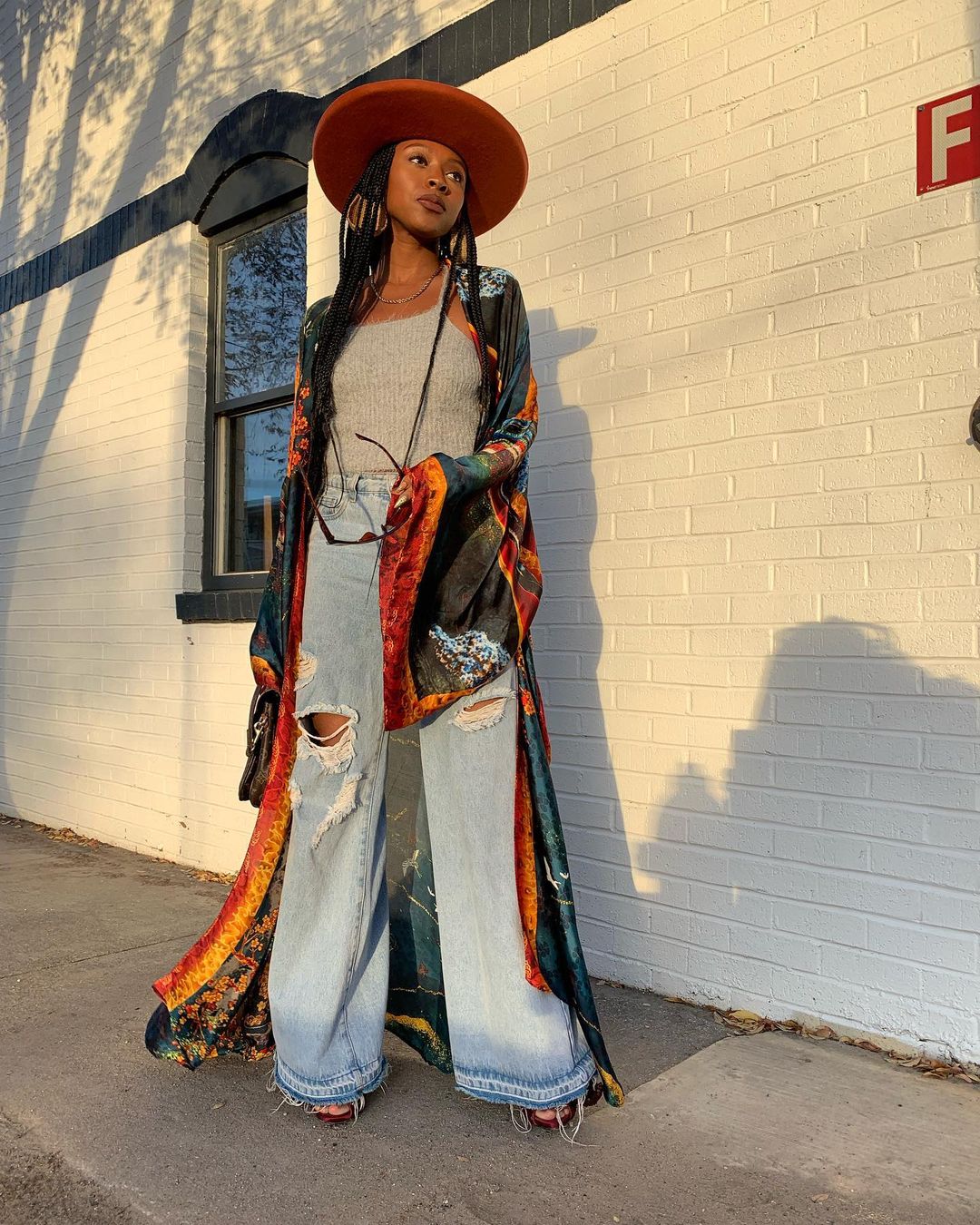 Shop the jeans right here:
20 – Add a Plaid Blazer for Street Style Vibes
Talk about being a girl boss! The style of the jeans works effortlessly with the modern street-style vibes going on with this outfit. The plaid blazer looks phenomenal with the jeans, and the contrast of the blacktop, beret hat, and shades brighten up the look. The shoes are just what was needed to tie the entire look together.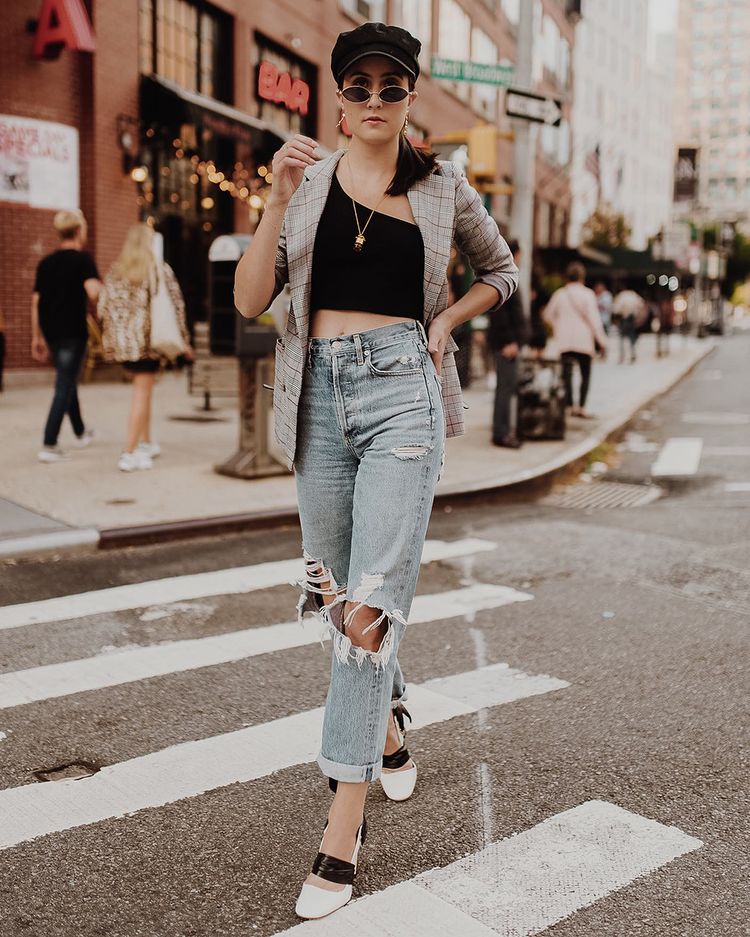 19 – Pair with a White Shirt for a Classic Look
You know you can not go wrong with a classic white button-down paired with light-washed jeans. Add in the rips, and you have got a cooler, edgier look on your hands. Throw on an oversized blazer to make this look modern street style in the best way possible! Here are some more of our favorite white shirt outfits.
18 – Use Fishnets Under Your Ripped Jeans
A phenomenal way to elevate your outfit is by styling your denim by wearing something underneath to shine through the rips. For this purpose, fishnets will be your top choice, as proved in the image below! Another fabulous option is printed or patterned stockings.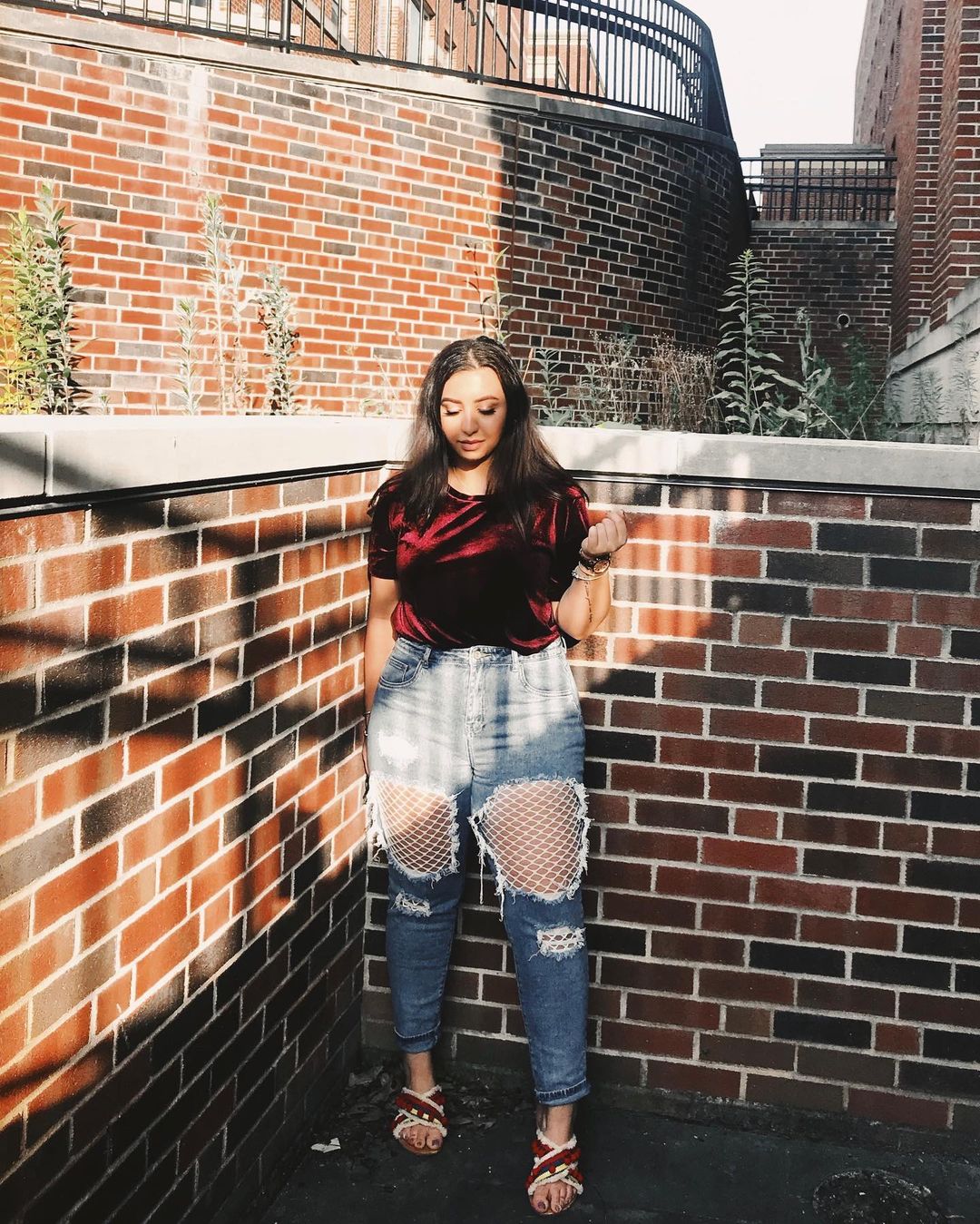 17 – Add Floral Prints for a Feminine Look in Spring
First look at this outfit, and my mind jumps to spring! The colorful and floral vibes exuding from this outfit are right n brand with the flowery season of the year. I suggest keeping your makeup fresh, light and natural with bronzed, sunkissed skin and glossy lips. Push your hair back in a sleek bun at the nape of your neck, and you have got a look that is perfect for an official meeting!
16 – Pair Ripped Skinny Jeans with Statement Sleeved Tops
Ripped skinny jeans are so diverse and styled in endlessly versatile ways. Go for a puff-sleeved, fitted blouse or a bristol top and pair it with knee-high boots. Add on a clutch bag with the right accessories to compliment your outfit. For a more formal look, go for a pair of court stiletto heels to stand out.
Contrarily, if you wish to make your outfit edgier and street style, throw on a graphic crop top or tee shirt. Pair it with a bandana, classy chunky hoops, and combat boots to complete the look. Talk about being effortlessly chic and trendy! This look is super cute and straightforward for a day-at-the-office look!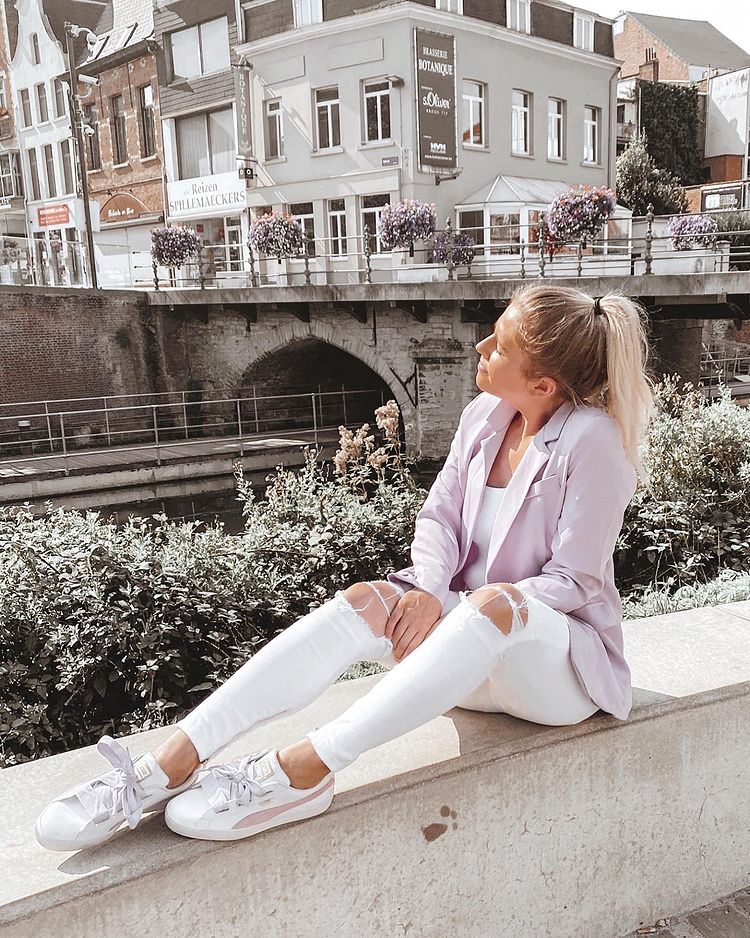 Get the jeans below:
Ripped Distressed Jeans $42.13
15- Add a Bright & Eye-Catching Yellow Blazer
Here is another example of the classic white top and blue jeans combination! However, this look has been made unique by adding a yellow blazer. You can go for a similar look but make it more trendy by opting for a shorter top and a blazer in mint green. Accessorize with a black purse and heels for a modern chic look!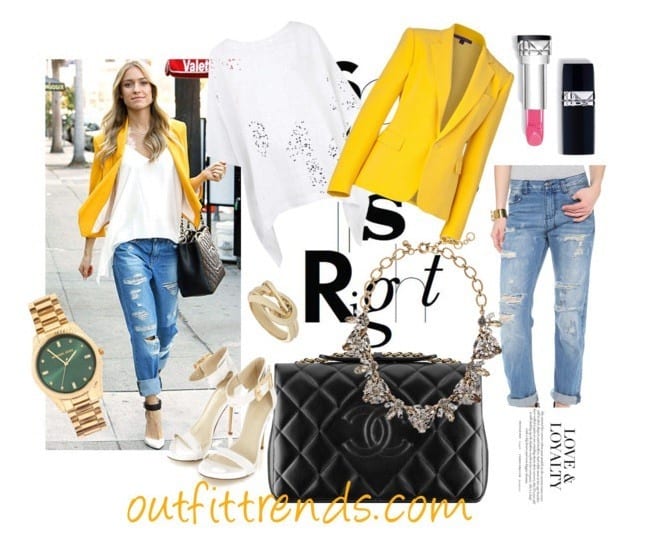 14 – Add a Light Colored Long Coat with Black Ripped Jeans
Visiting an art gallery, going to the office, or simply taking a quick run to the market? You will never know because of the versatility of this simple and eyecatching outfit! Do not forget to throw on your best pair of heels to look more professional and notable.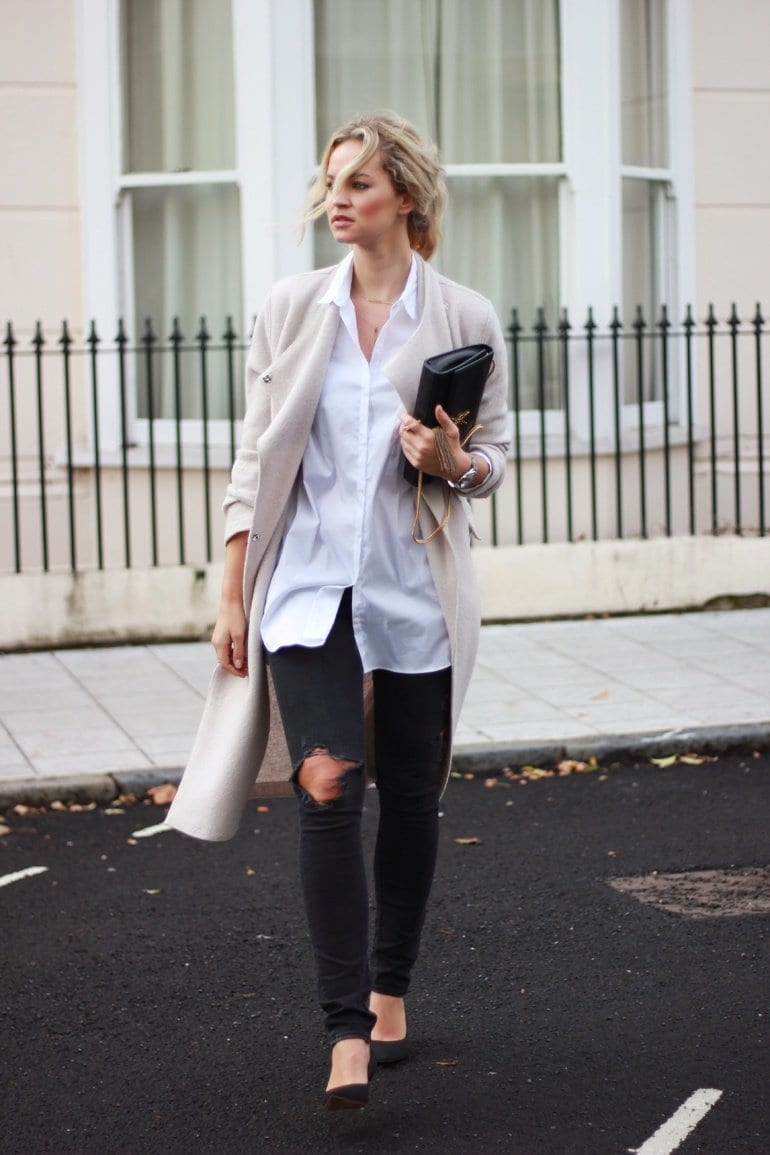 13 – With a Simple Tee and Jacket for the Beach
Distressed denim and beach are an absolute yes! Have a similar look as this when you plan on visiting the beach to have a good time with friends and family or when wanting a family shoot done!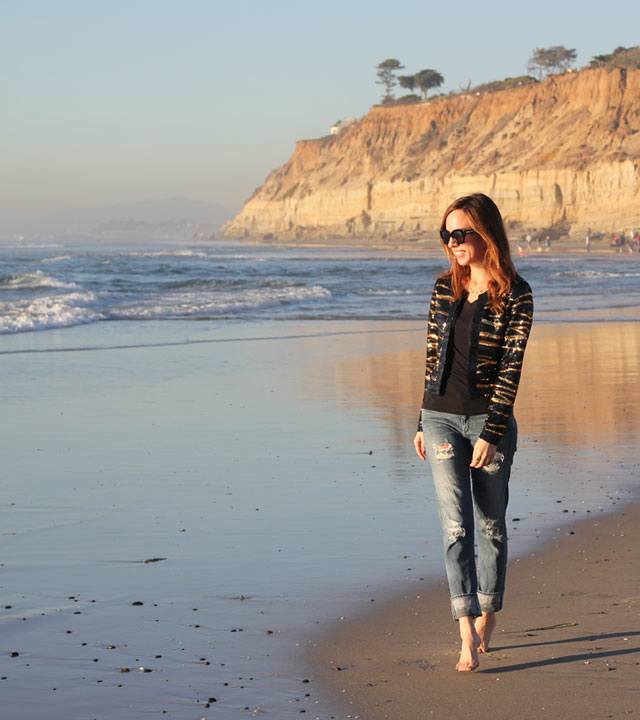 12 – Pair Black Ripped Jeans with Green Tops
Green and black are a pair that is not always the easiest to style but done right looks captivating. This outfit is a nice example of bringing this elite color combo justice. However, I suggest opting for a brighter, almost neon green when pairing it with black to stand out. After all, you have to live up to the saying, "make 'em green with envy," so you have to look your best!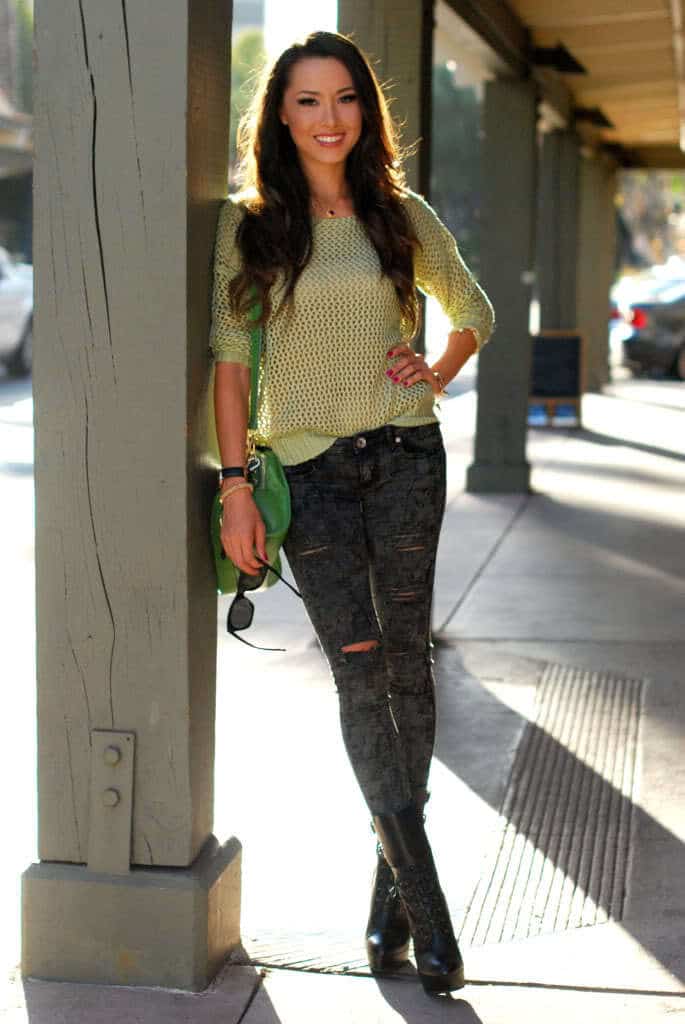 11 – Pair Dark Tops with Light Washed Jeans
Talk about being cute, chic, and super on-spot with all the trends! This outfit is an excellent way to wear dark tops with light-washed distressed denim.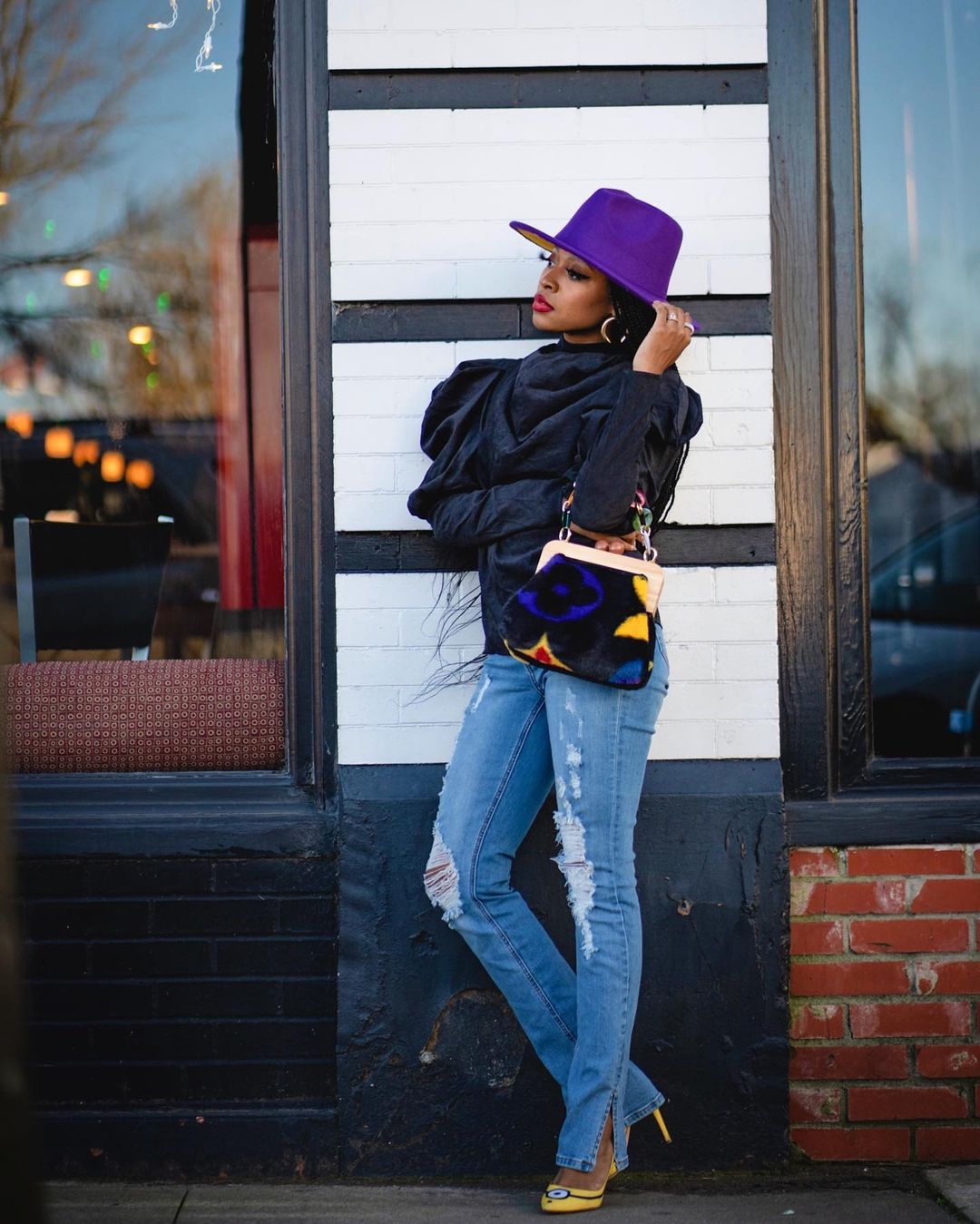 10 – Wear Them with a Peplum Top for a Semi-Formal Look
Blue jeans and a white shirt are just what you need when you need to hit the door in a hurry! Pair it with a black jacket and shoes and you are all set!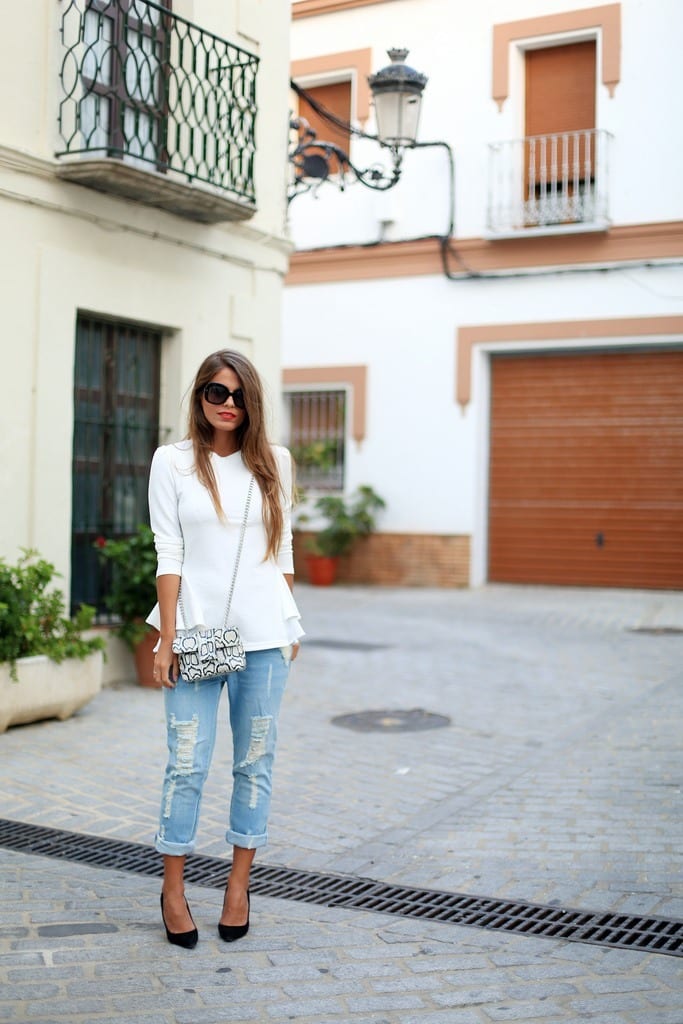 9 – Yes, You Can Wear Ripped Jeans with Heels
The addition of heels to this outfit has made this look go from okay to outstanding in seconds!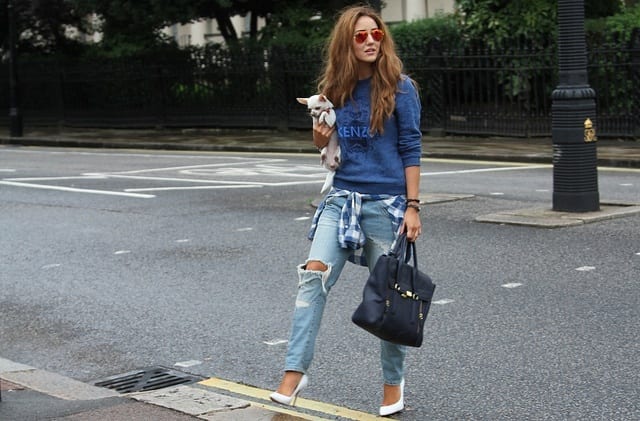 8 – Create a Date Night Combination with Black & Red
You know you can not go wrong with red and black, and this outfit is the living proof of that!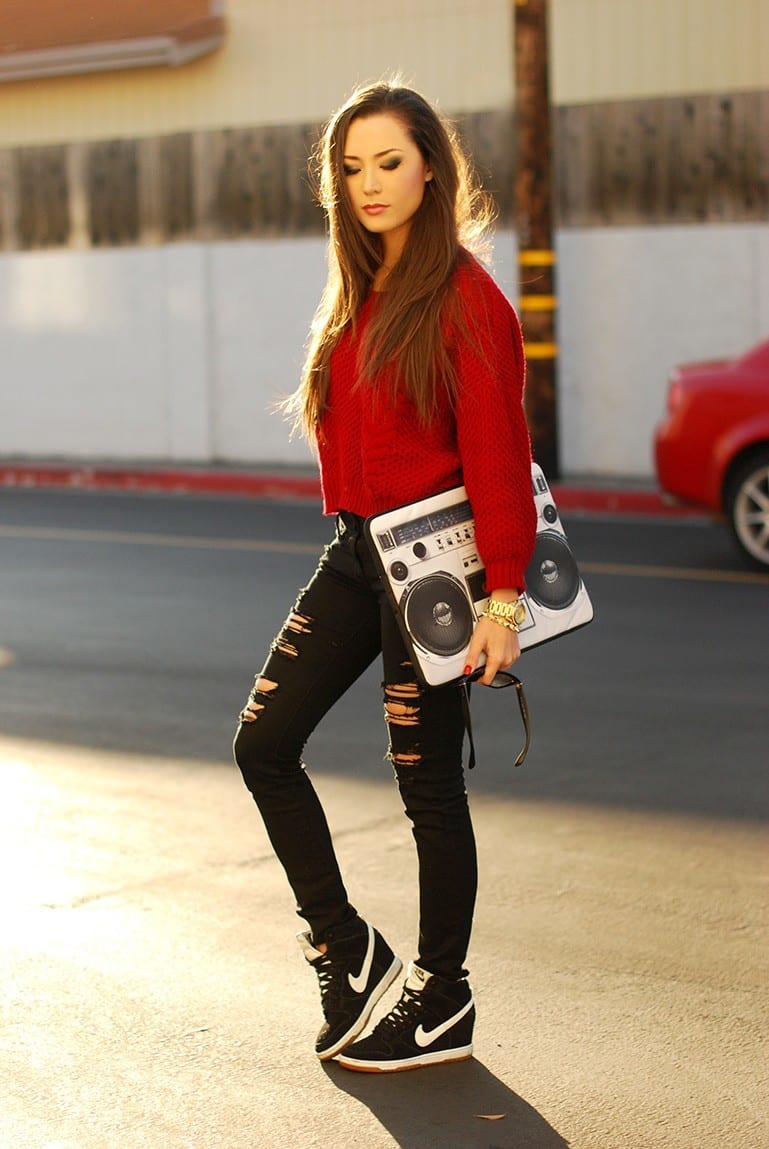 7 – Keep it Simple with a Sweater or Sweatshirt in Fall Season
This look is simple but super pretty! Let your hair down in waves and opt for white platform boots instead of heels to make this look trendier. Moreover, throw on a leather jacket, and you have transitioned your look from cute to bold and daring!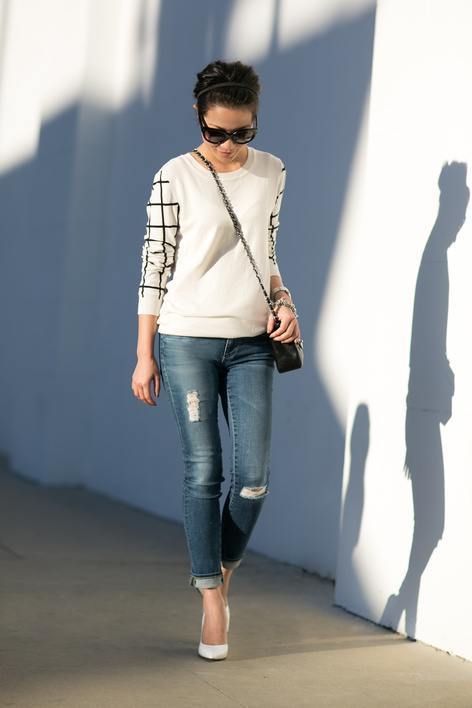 6 – Play Around with Shades of Blue
Different shades of blue compliment each other in this outfit phenomenally!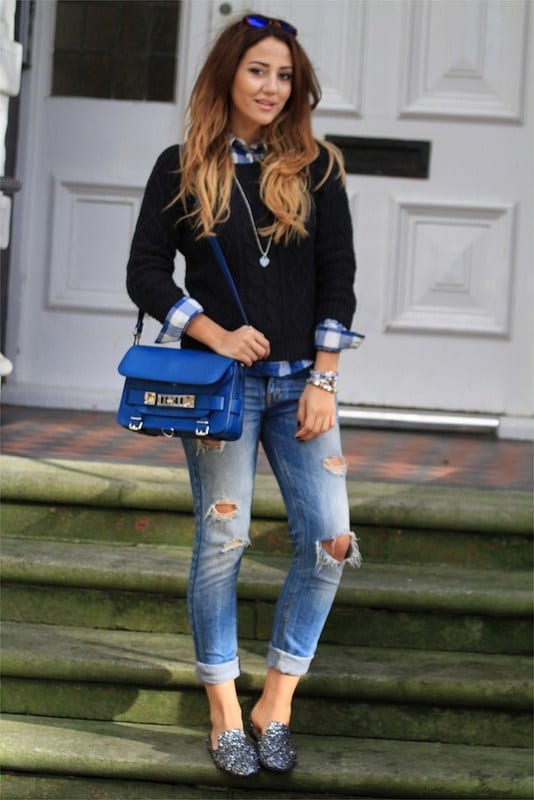 5 – Add Some Furry Detailing in Winters
Bold, chic, and classy has entered the chat! You are bound to turn some adoring glances your way in this outfit. And that is just the way it should be!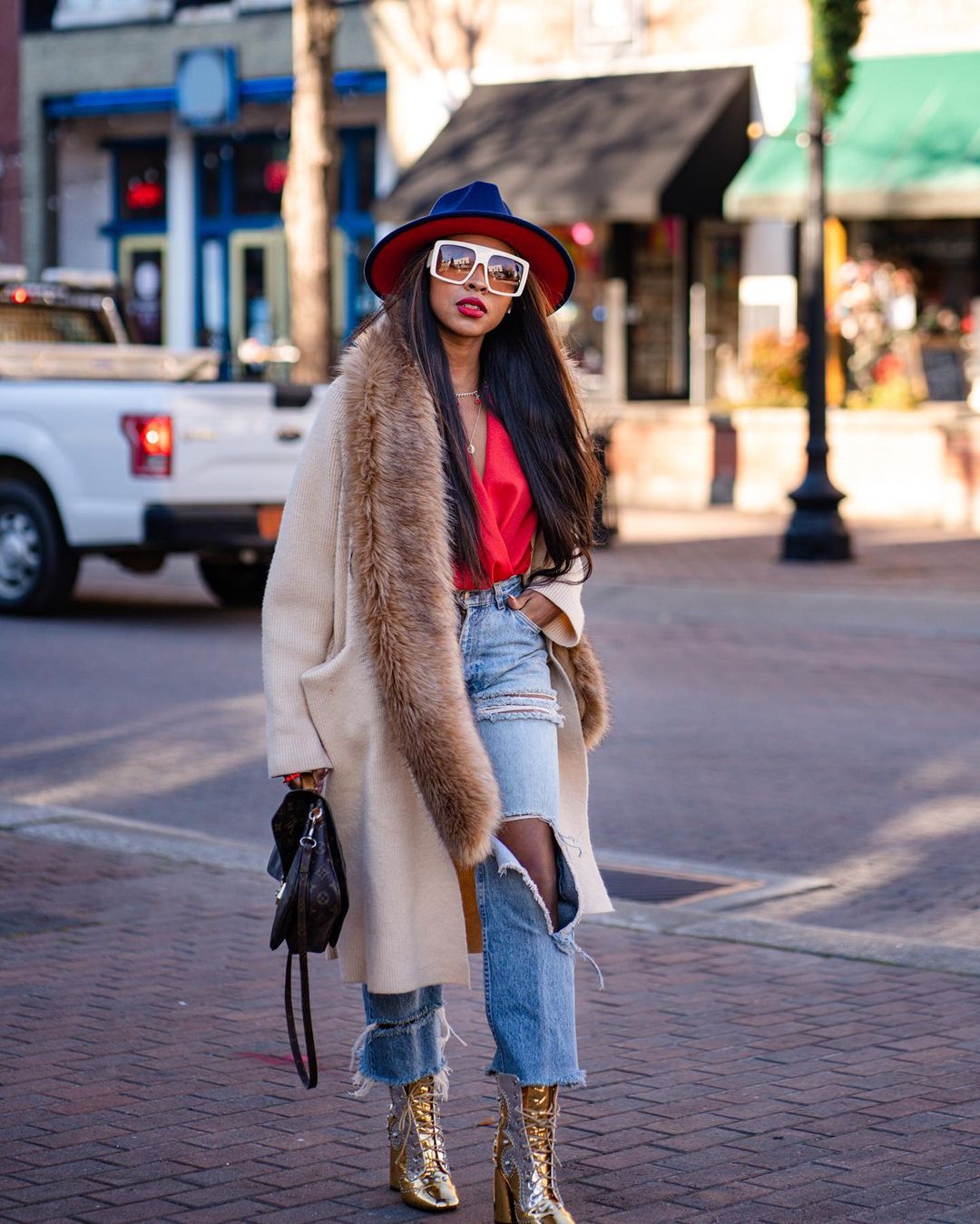 4 – Ripped Boyfriend Jeans Look Best with Well Fitted Tops or Turtlenecks
3 – Wear Ripped Jeans Without Showing Skin By Wearing Tights Underneath
If you need to cover for modesty purposes or do not wish to show skin beneath ripped jeans, go for opaque tights in black. Another option is to go for illusion ripped jeans. These types of jeans have the rips without actually having any tears in them, as funny and confusing as this sounds! A layer of fabric lines the rips and slits, preventing any skin from peeking. So there you go, some foolproof methods of wearing distressed jeans without showing any skin!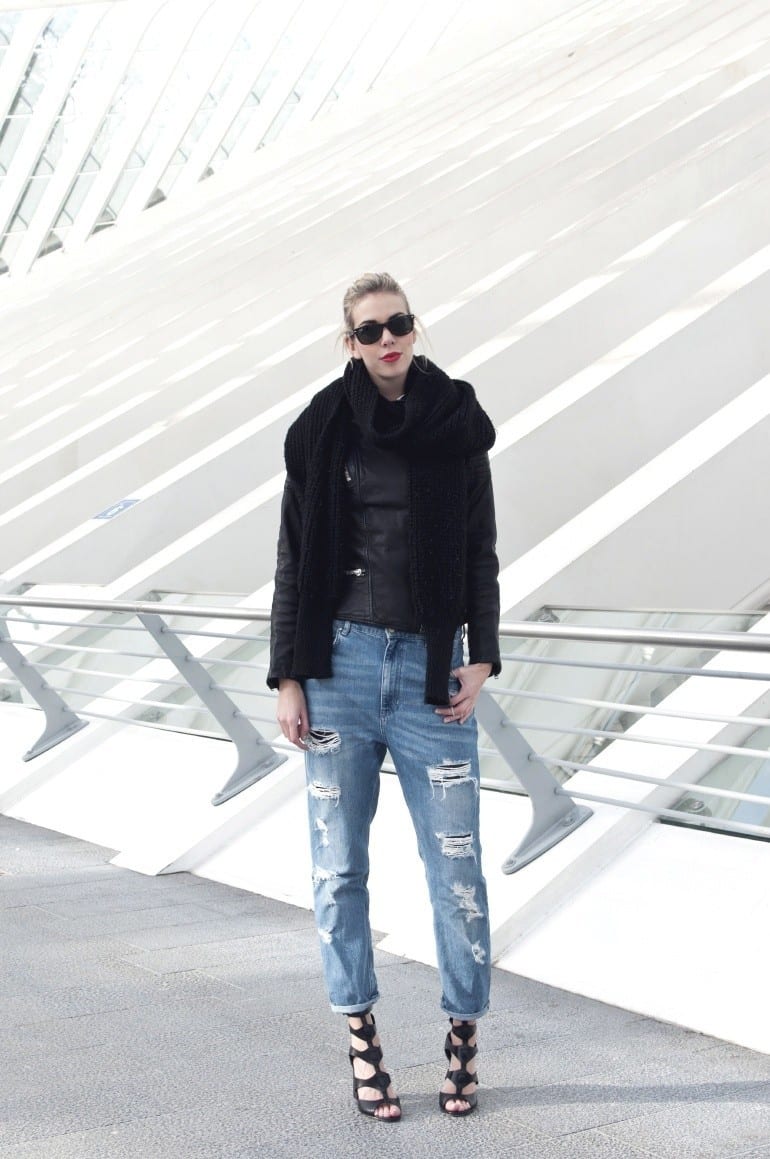 2 – Match Your Leather Jacket with Your Shoes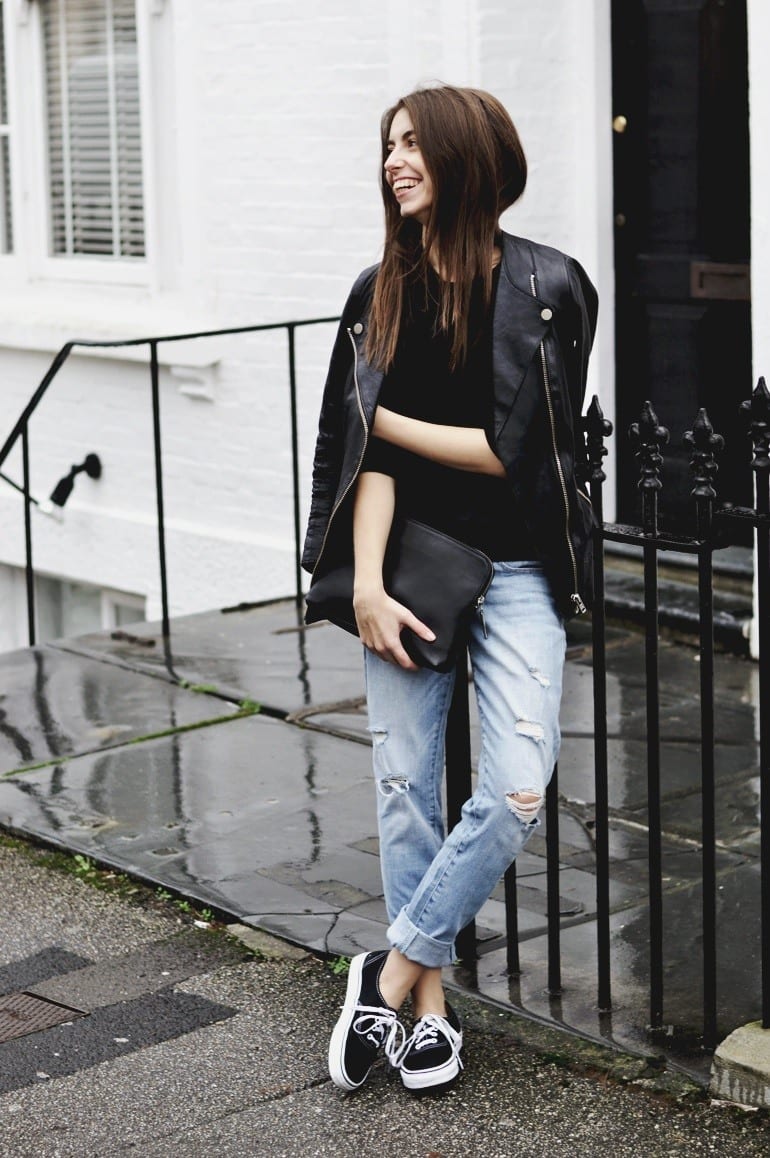 1 – Layer an All Black Outfit with a Green Jacket for Beautiful Travel Pictures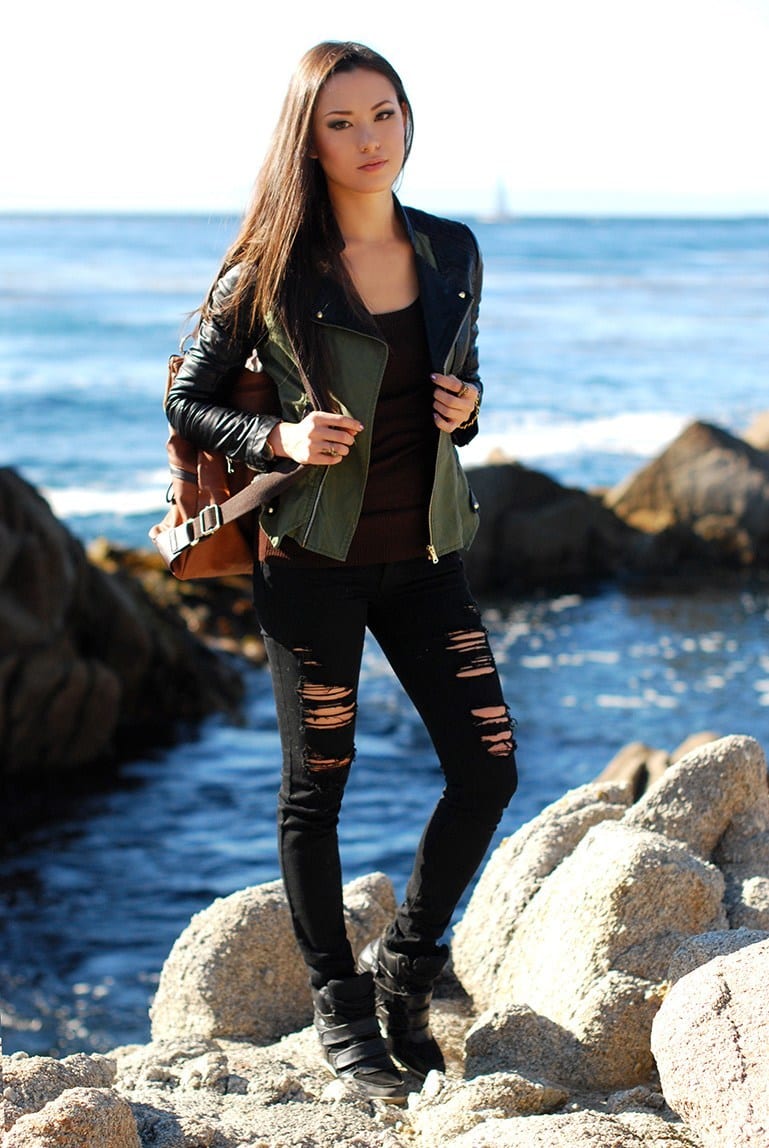 Frequently Asked Questions
Q. What kind of shirt do you wear with ripped jeans?
The options for styling your ripped jeans are endless! You can grab your best pair of white-collar shirts and french tuck it in. Or reach for your cami top and throw on a blazer on top for a feminine and professional look. On the contrary, you can pull off some pretty amazing street style looks with graphic crop tops and oversized tees. You may want to pay attention to the style of your jeans when choosing a top as well.
Q. What can I wear under my ripped jeans?
A great way to jazz up your look is to style your ripped jeans by adding intricate details. And the best way to do that is by adding fishnet stockings underneath your jeans. The display of the fishnets through the rips in the jeans would elevate your outfit to the next level and make you stand out.
Similarly, you can choose other, more convenient options to wear under your jeans per the weather as well. I would suggest opting for tights, stockings for winters, or patterned stockings that will keep you warm and pizzaz your outfit game too!
Q. Are ripped jeans in style 2022?
Yes, yes, and yes! Ripped jeans are very much in style! Whether you wear them tattered at the knee or slashed throughout, the street style stars and celebs show us all the ways you can style ripped jeans this season.
When we talk about the latest ripped jeans style, the first thing that comes to mind is the state of comfort. Without any hesitation, people have picked up this trend very well. If you can maintain yourself and stay comfortable in ripped jeans, only then will you be able to pull off the entire look very well. And the best part is the endless variety! Ripped jeans have different styles and cut, starting from classy jeans to the edgy and rough look.
Q. Where can I buy good quality ripped jeans for women?
Here are all the best places for you to shop for ripped jeans!
Forever21: Check out their collection in boyfriend jeans right (here)!
Asos: Classy and affordable (here); what more do we need?!
Zara: Everyone needs a pair of mom jeans in their closet. Take a look at this option (here)!
American Eagle: This brand does not disappoint with their amazing collection (here).
Macy's: Looking for completely destructed jeans? I have got you covered (here)!
Nordstrom: The perfect white jeans of your dreams are right (here)!
Q. What shoes to wear with ripped jeans?
Ripped jeans work with all kinds of shoes depending on the outfit and the occasion you plan on attending. Opt for sneakers, combat boots, or flip-flops for a casual, street-style look. I would advise reaching for knee-high, heeled boots or stiletto heels for a semi-formal occasion. And lace-up heels are my ultimate pick for a formal event! However, for an everyday look, go for platform boots or sneakers that will keep you comfortable and stylish all day long!