Popular Casual Outfits for Men. Wanting to be fashionable is different from being stylish in the long run. Casual dressing is more than just having the newest fashion trends and fads. And you can make a casual outfit interesting without compromising comfort. 
Be aware that the casual dress code is about wearing outfits that are both stylish and functional. Timeless wardrobe staples are the foundation of casual style. For instance, a white T-shirt paired with jeans is probably the most basic casual outfit you could ever think of.
The story behind the men's casual dress code dates back to the 1950s when the war had just ended. Teenagers in the UK and USA craved for something different to break the boredom of corporate outfits. Since then, formal clothing like suits and ties was overpowered by more relaxed garments like denim jeans and leather jackets.
Denim jeans were originally made for gold miners on the American west coast around the 20th century and came back in the 1950s as a casual wear staple. Among other things that influenced the trend, films like Rebel Without A Cause, where James Deen starred, had a major impact.
There are numerous lists and top fashion tips available for girls of all ages throughout the internet, so we thought, why not satisfy this longing among men also. Today, we will guide you with it for all those men who have been looking for casual outfit ideas. Most men like to keep their dress code casual because it is one of the most comfortable dress codes, providing an instant relaxed style.
Besides comfort, casual outfits also offer practicality and a "being cool" sense if styled properly. With a bit of styling, you can always enhance your dressing style. So here we are to show you some amazing casual dress ideas for men for this season. Most men have a couple of jeans and shirts in their wardrobe. Very few like to add formal clothes to their closet. If you don't own some cool T-shirts, you definitely lack behind in the fashion sense. To be well dressed, you need to own a few pairs of jeans and shirts that are very casual and stylish.
How to Dress Casual for Men
You can easily afford our recommended outfits and wear them regularly. Casual dresses are always cheaper than formal ones. Therefore, even if you need to upgrade your wardrobe, purchasing new items wouldn't be very problematic as you can always stay under your budget with casual wear. Only a little advice on how to dress well in casual clothes can change your personality and style. A good dressing style can grab everyone's attention wherever you go. There are innumerable options to choose from for casual wear such as cardigans, t-shirts, collared shirts, sports clothes, Polo's, etc., but carrying the right accessories is also a must. Now let's begin with some simple casual dress tips for men:
When in doubt, opt for classic styles.
For a more mature look, choose solid-colored or striped shirts instead of the regular graphic tees.
Add colors to your wardrobe through chinos instead of wearing the good old jeans all the time.
Go for classy and comfortable footwear.
Accessorize your wrists to amp up your style game.
In Fall and Winters, choose good layering techniques to make the most of your outfit items.
Having no rules for casual dressing can be both a favor and a problem. There are no limitations, so you are in charge of what you want to wear. The catch is that you can experiment with different styles to come up with outfits and discover what looks best on you. Besides, it's boring to wear the same set of clothes in an endless loop.
However, it's advisable to set a few guidelines for yourself as direction is also important. That said, please consider the following pointers:
For Starters. Just like investing in pieces for your capsule wardrobe, focus on basics like plain tees, jeans, chinos, and button-downs. Sneakers and boots are the standard footwear options for casual outfits. Unpopular tip: Try to experiment with various brands, prints, and designs. Also, mix and match until you satisfy your fashion cravings.
Keep things simple. For instance, when you are out to run some errands, wear a practical outfit – jeans and a plain tee would do. Save the layering thing for winter and more stylish situations. And it's not worth it to invest in the latest fashion trends if you're not comfortable wearing them.
The Fit. As we always point out here in Outfit Trends, fit is very important. However, when it comes to casual outfits, tailoring may not be much of a concern. But make sure to stick with well-fitted garments and avoid loose and baggy ones. 
Attention to Detail. Simple techniques like cuffing your pants, rolling your sleeves, and tucking your shirt would make a difference in ways you don't expect. Incorporate your accessories like belt, eyewear, watch, and jewelry as they can also up your casual dressing game by ten points.
Matching The Fabric. It's a great idea to coordinate your outfits. For example, if you are wearing Chelsea suede boots, consider grabbing a suede belt. But this shouldn't always be the case. Another approach is to match the colors to achieve a uniform and sleek appearance.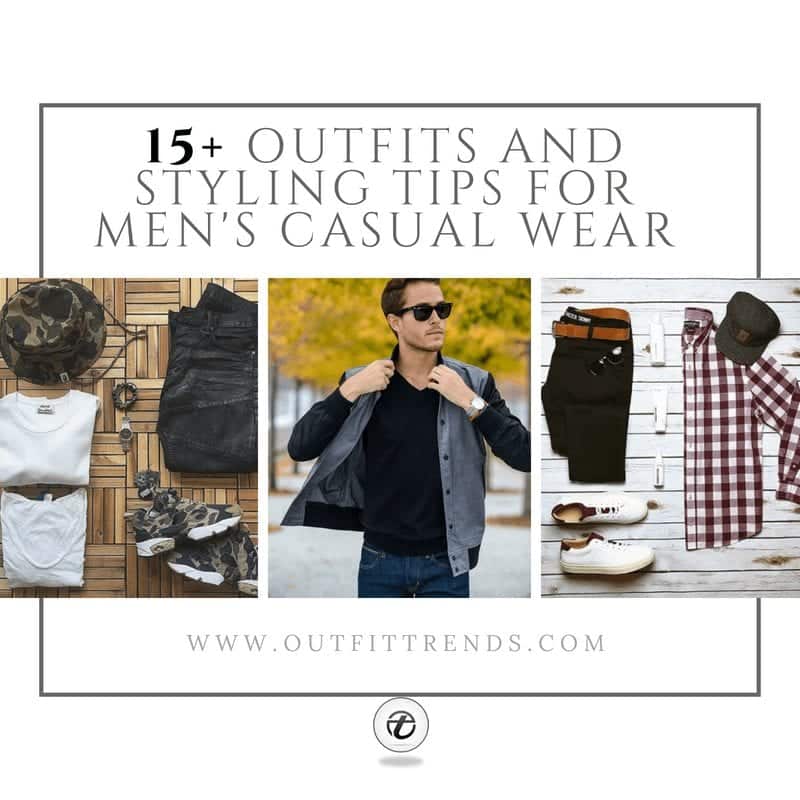 Where To Buy Casual Outfits?
The fashion industry has seen that over the years, men (and women) spend the most money on casual clothing. But keep in mind that you don't have to purchase your outfits from luxury brands, especially if you can't afford them. But of course, no one's stopping you from doing so. And don't worry, I'm here to help sort out your options. Check some of my picks, and please note that prices may vary.
↓ 28 – For Mature Men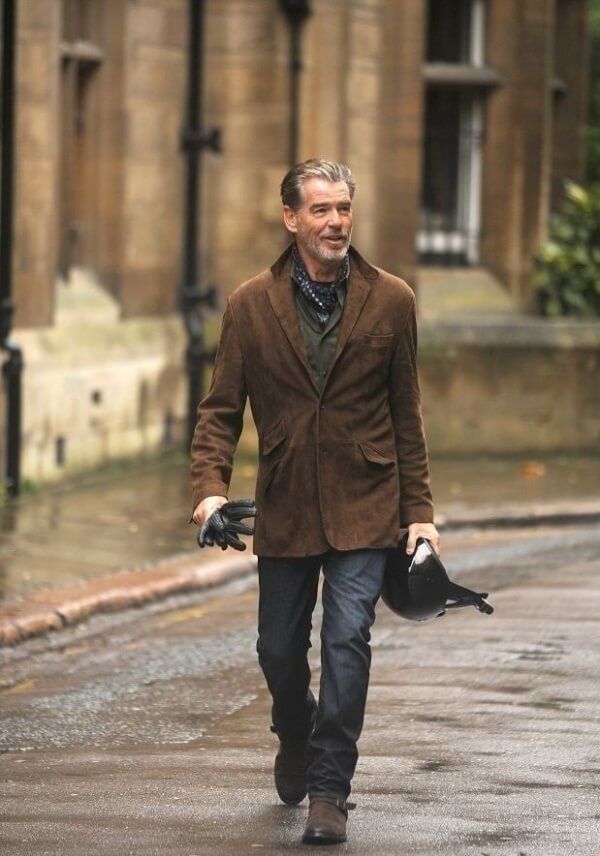 ↓ 27 – Knitwear
These garments will be there for you when you need them for smart-casual occasions, especially crewneck and rollneck jumpers. Aside from being easy to wear, they can be functional enough to keep you warm in colder months.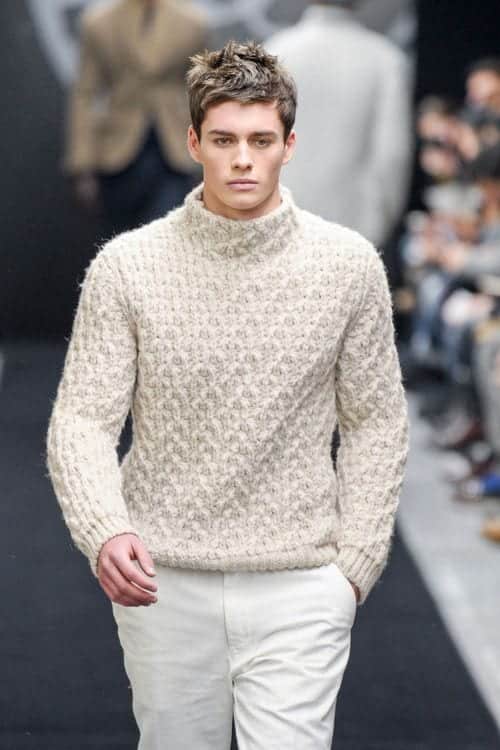 ↓ 26 – For Plus-Size Men
 All men have at least one T-shirt in their closets. And please, don't tell me otherwise. Tees are versatile and easy to wear. If you plan on getting new shirts, invest in crewneck, cotton designs in different colors.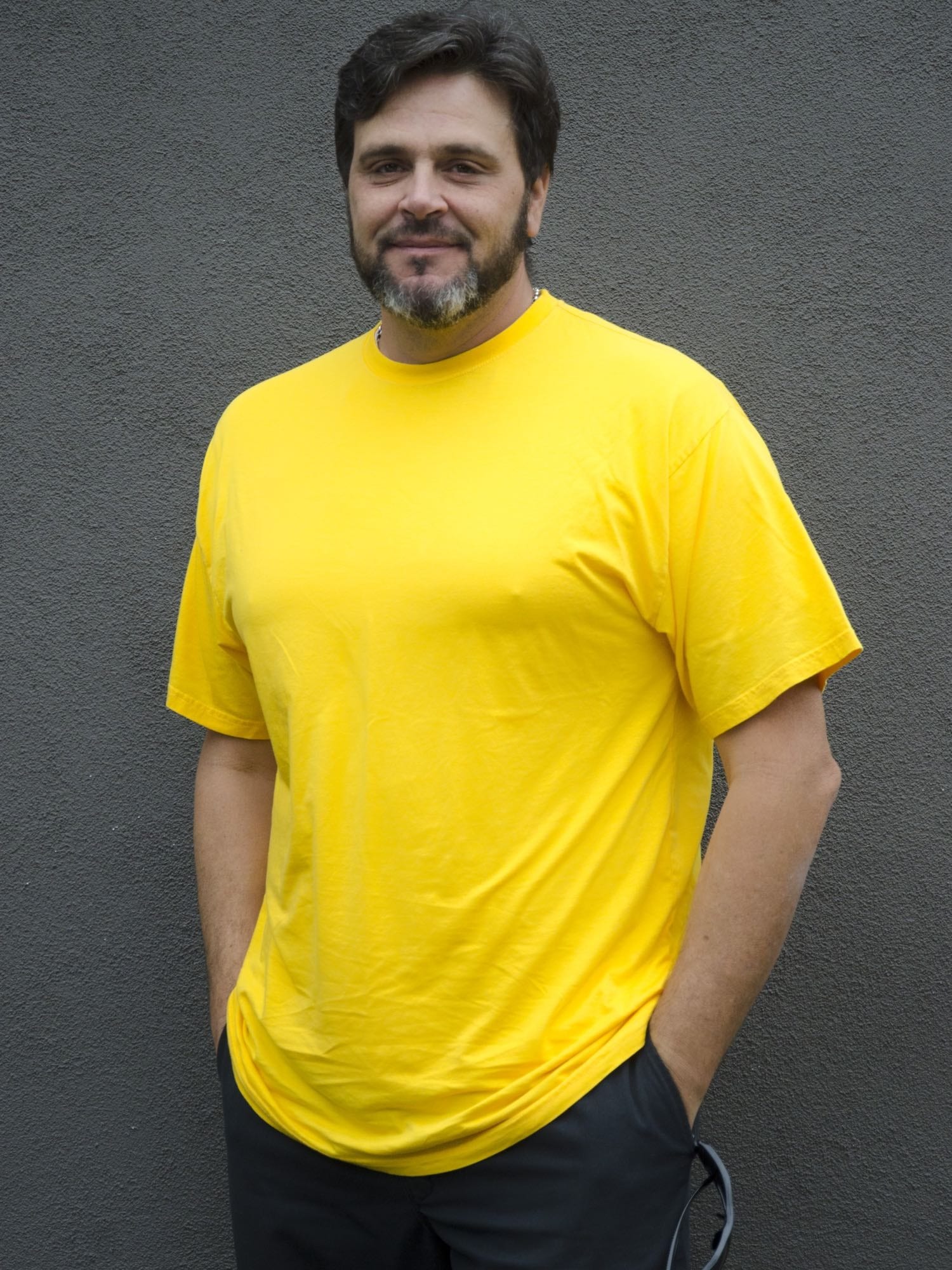 ↓ 25 – Tropical Shirt
This is ideal for summer and spring. The Hawaiian notion for wearing floral shirts is overrated. I think this kind of print is more like a work of art, making the garment a fashion-forward option for casual dressing.
↓ 24 – Camouflage Pants
The unique camo print is similar to tie-dye in a way that it gives off some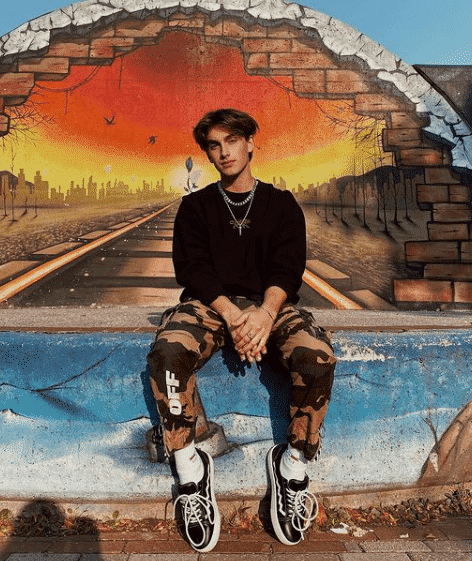 ↓ 23 – What To Wear With Casual Outfits
Jeans can suit various casual looks. When buying new jeans, find the right cut for you. Slim cuts and skinny fits are ideal for a more polished look, and looser and more relaxed designs are perfect for laidback outfits.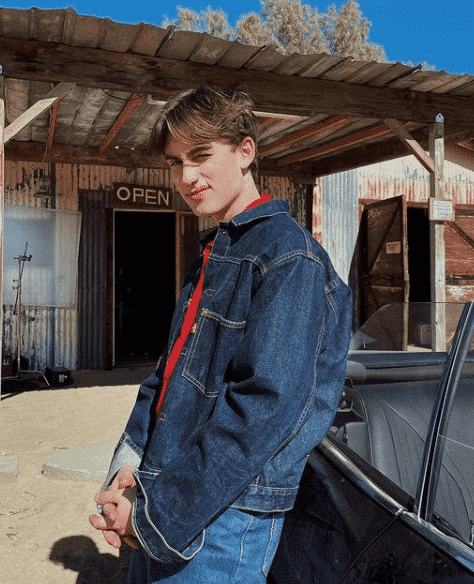 ↓ 22 – Fall Essentials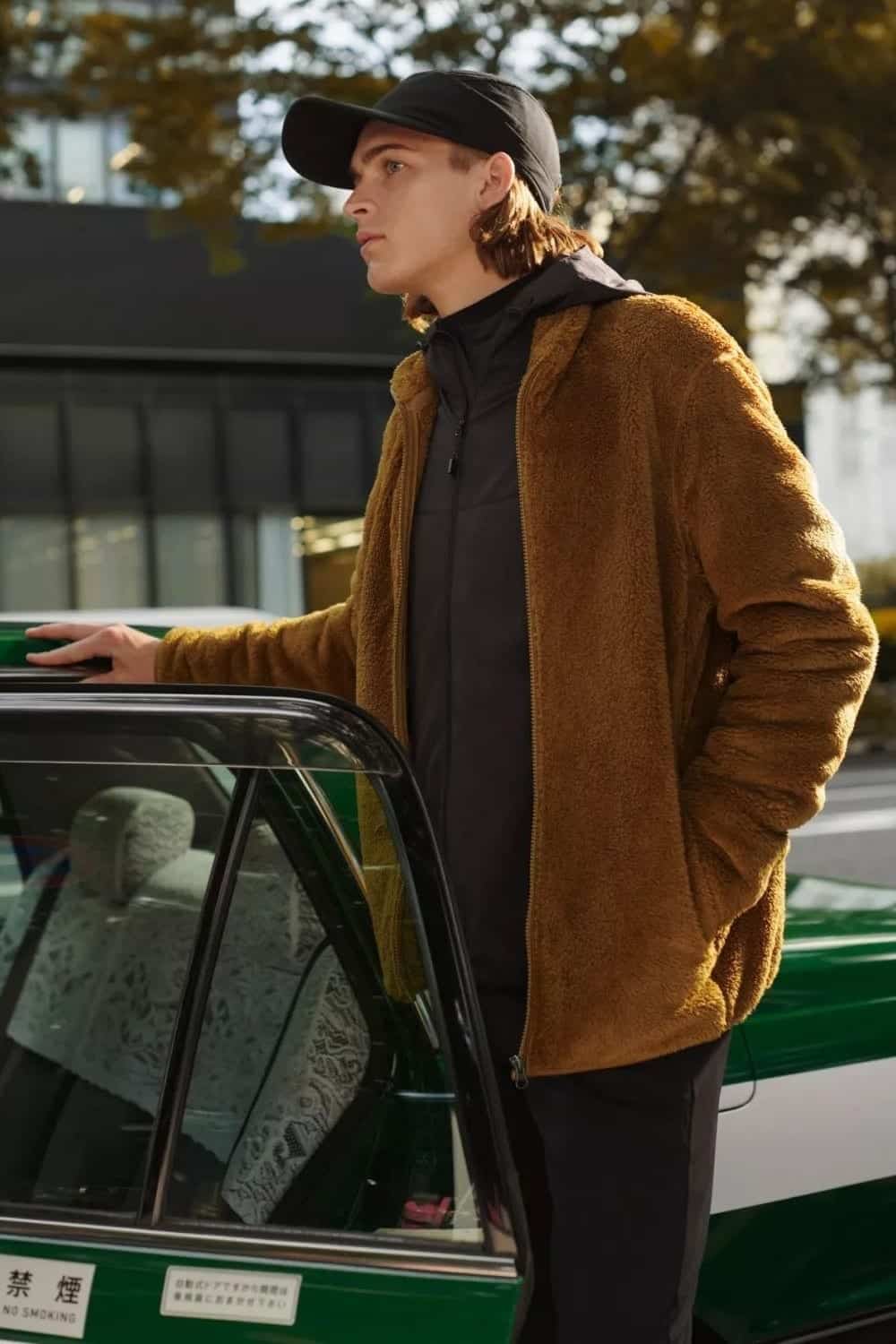 ↓ 21 – Monochrome Athleisure
Joggers are cool trousers you can wear to achieve an excellent athleisure aesthetic.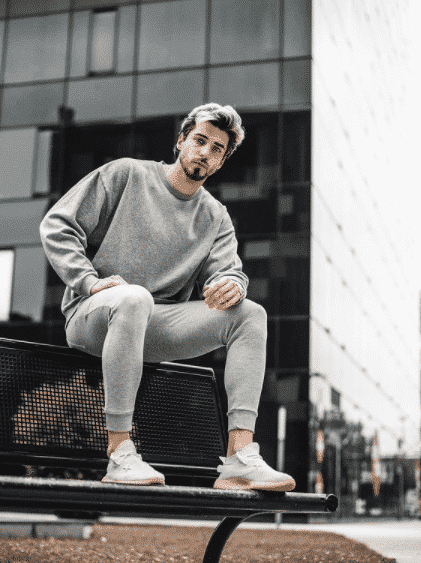 ↓ 20 – When To Wear Casual Outfits
T-shirts are different from actual shirts. But one thing they have in common is that they are both life-savers. Imagine waking up late and having trouble with your OOTD. But shirts, especially long-sleeves, are sharper than tees.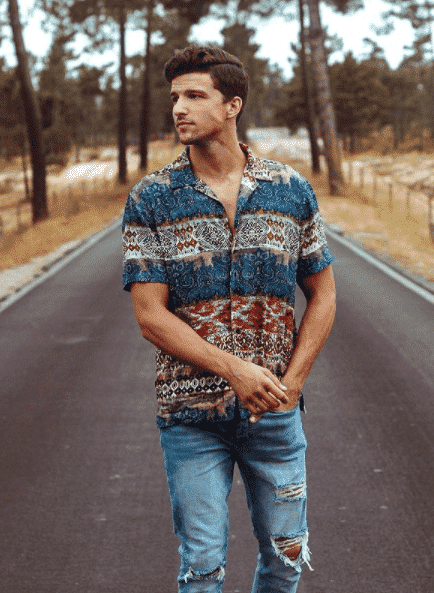 ↓ 19 – How To Style Casual Outfits
Hoodies are both stylish and functional. They can keep you warm while making you look fashion-forward. They are ideal for layering your outfits, especially in colder months. And there are no limits in footwear options when dressing casually. Whether you have sneakers or boots, they won't matter when you team them up with simple pieces. Make sure they're clean; otherwise, don't wear them.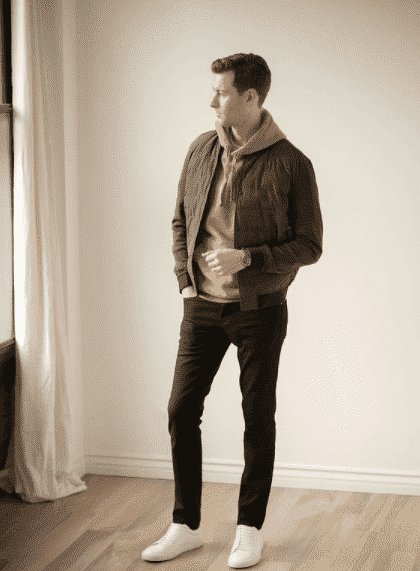 ↓ 18 – Brown Hues
Bomber, leather, and denim jackets have one thing in common – they are versatile. They can suit any outfit in an instant. As for your bottom piece, chinos can be an alternative for jeans, and they can be more appropriate for smart-casual outfits.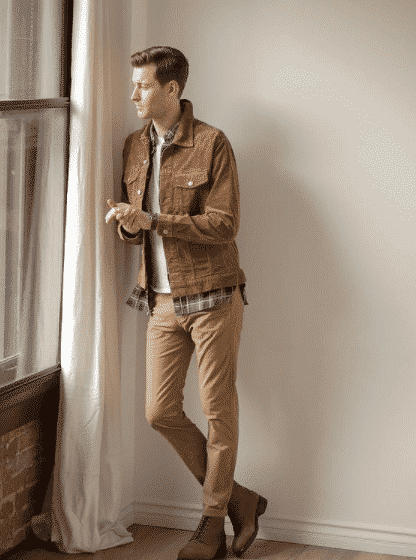 ↓ 17 – Weekend Casual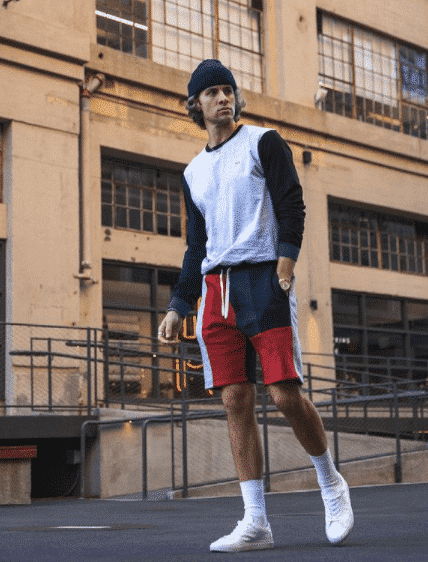 ↓ 16 – Color Pop
It's okay to break the rule of minimalism once in a while. In fact, that's the point of casual dress code. You are in control of how you will utilize the freedom to choose your outfits. One of the perks is that you can opt for a pop of colors without the fear of judgment from others.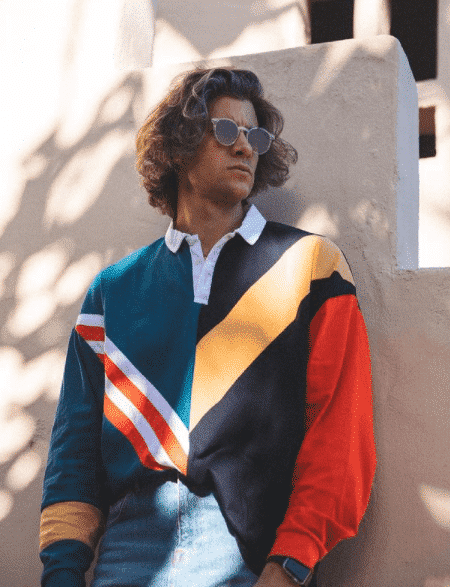 ↓ 15 – Casual But Sharp in Black
Here are three very different yet sharp casual looks that have incorporated our favorite color, black! For more ideas, check out these 29 Ideas How To Style Black Pants.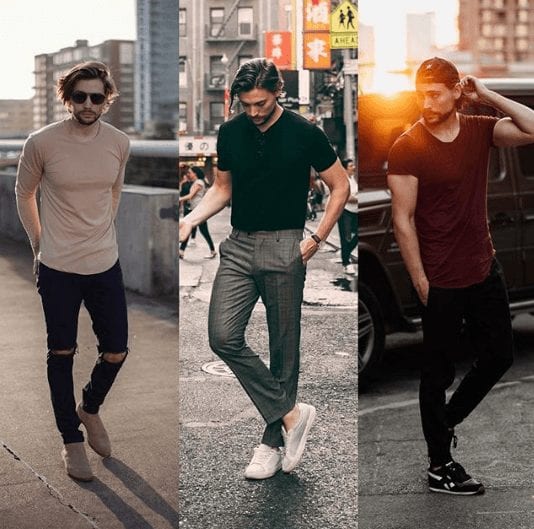 ↓ 14 – Casual Travel Attire
If you're traveling to some beach destination, then we highly recommend printed shirts for Bohemian vibes that can work well with all types of shorts. You can even make it a couple/family thing like these: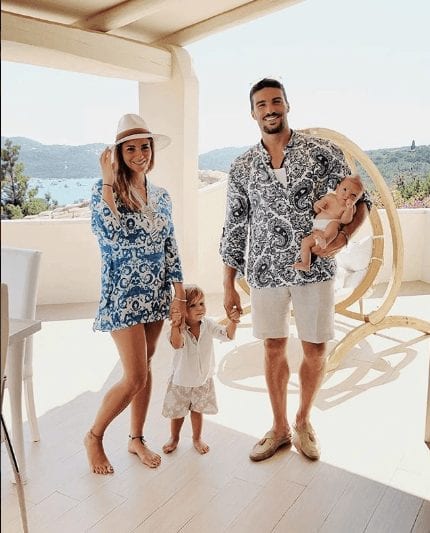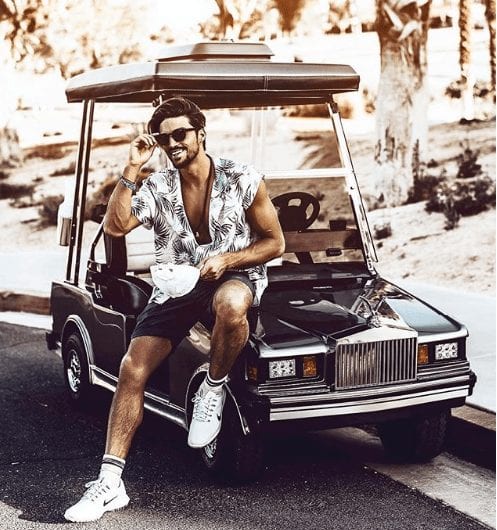 ↓ 13 – Must-Have Casual Accessories for Guys
Here's a list of must-have accessories for men.
For the Summer season, a good pair of Sunglasses is definitely something worth investing in. We suggest that you go for Ray Bans or Ditto sunglasses, but you need to experiment by yourself to find the perfect sunglasses that go with your face shape and make you feel good.
Other than that, a good-looking watch will always help upgrade your style. Look for a unique watch that represents your style and one that can be a conversation starter. For summers, you can opt for lightweight watches in classic designs.
If you travel a lot, you might want to buy a belt key-holder. And even if you aren't traveling, if you carry a couple of keys with you, why not carry them in a stylish way? There are several different options here as well. For a more biker guy look, you could opt for ones with more metal and chains. And for a more sophisticated look, go for leather ones such as the Carhartt WIP Patel Keyholder or the Maxpedition Gear Keyper that you can buy on Amazon for as low as 10USD. Other options come with bottle hooks and even USBs, so feel free to explore this amazing accessory.
If you like wearing jewelry, you could go for metallic rings or beaded bracelets. The key here is to keep things minimal and make sure that they go well together instead of clashing with each other.
For Winters, this year is all about bomber jackets and scarves. They can help create casual looks with modern vibes, so we highly recommended men and boys of all age groups to give them a shot.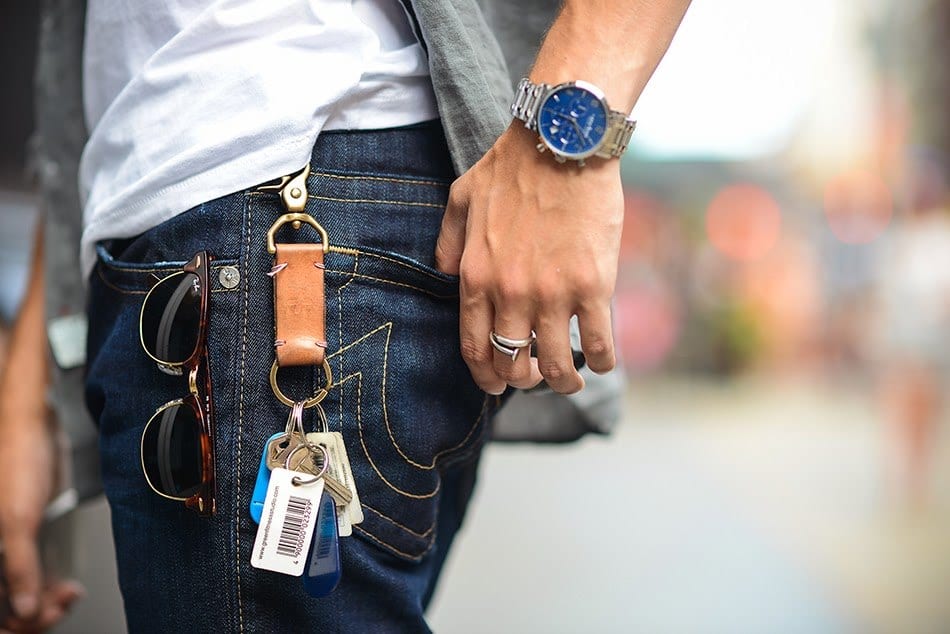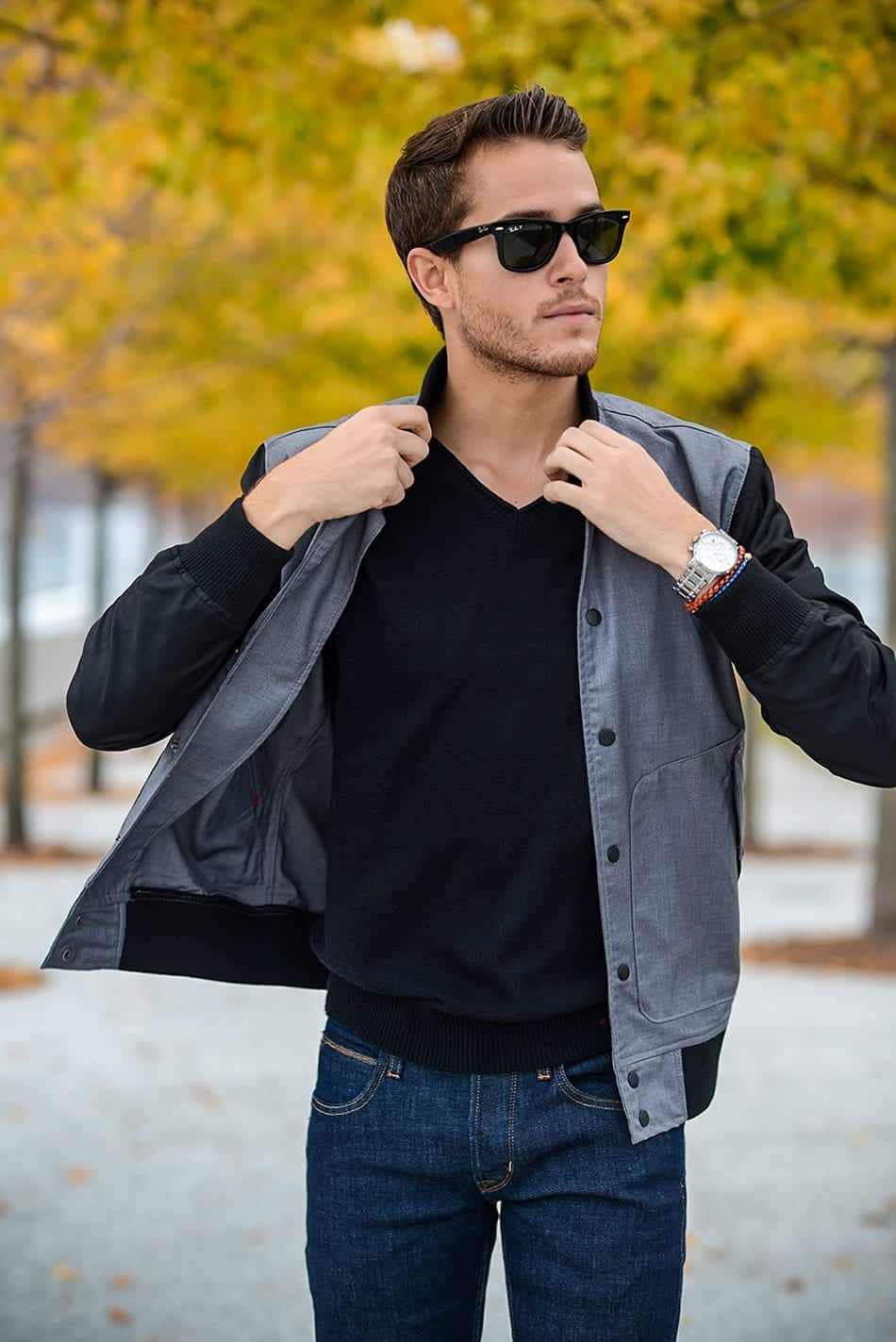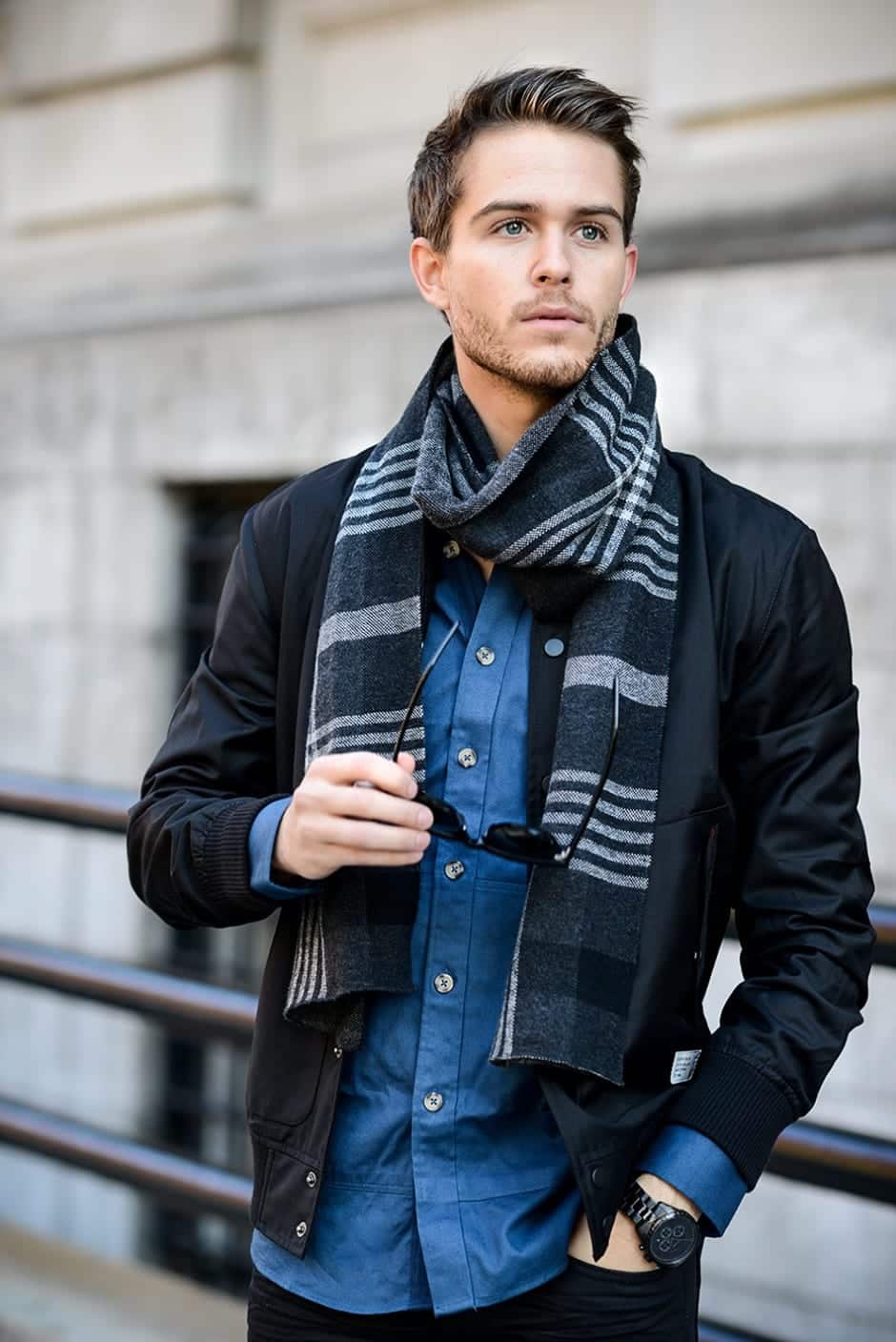 Via
↓ 12 – Three Different Casual Outfits with Denim Jeans
We all have a pair of denim jeans that we love the most because of its perfect fit and the comfort it offers. This level of comfort is usually only offered by your oldest denim, the ones that have pretty much grown with you, and no new jeans can ever replace them. So here are three different casual looks to try with your go-to denim jeans for this Fall season.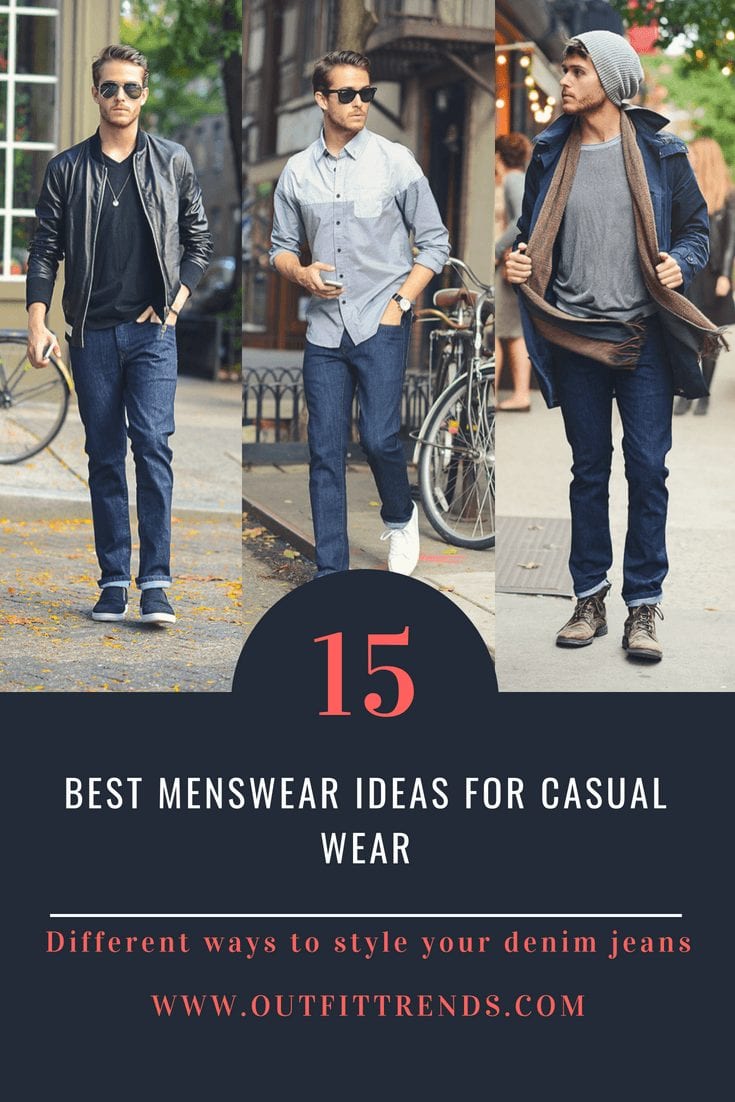 ↓ 11 – Casual Essentials for Men
Here's a list of items you must have in your closet if you're a fan of casual wear. You can always mix and match these to create different looks:
Dark blue denim jeans
Neutral colored chinos/trousers/pants
Hoodie
Polo and button-down shirts in colors that look best on you
Tees in basic colors: Black, White, and Grey
Bomber jacket
A couple of shorts – colorful as well as neutral ones like khakis
A trench coat
A sweater
A couple of sweatshirts
Colorful socks
Comfortable sweatshirts
Sneakers
A multi-purpose blazer
A weekend bag & other accessories that we've discussed above
Even if you have a single one of each of these in your closet, you can mix and match them up to create hundreds of different looks. For instance, a nice quality blazer would look equally good when worn over a t-shirt or a button-down shirt.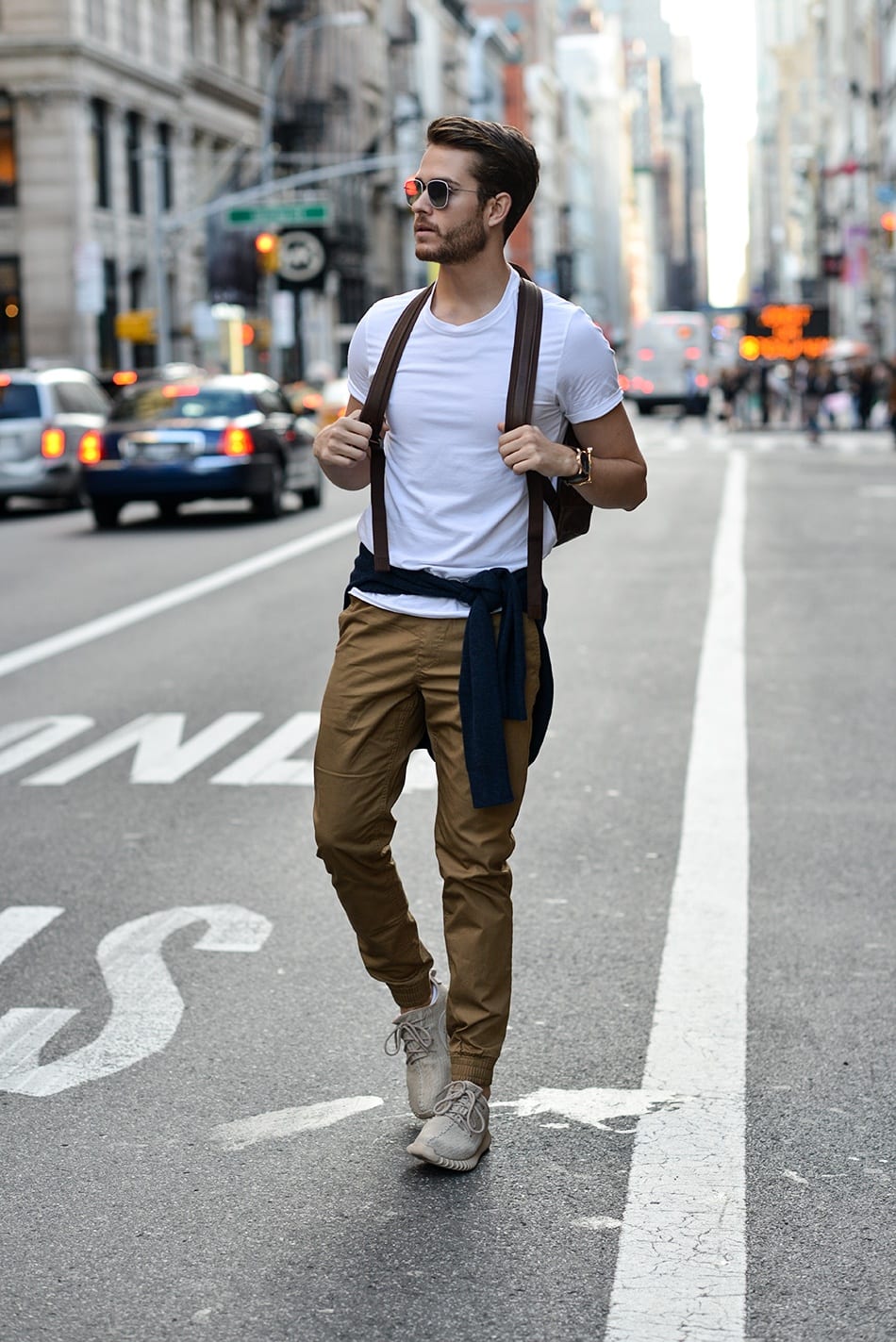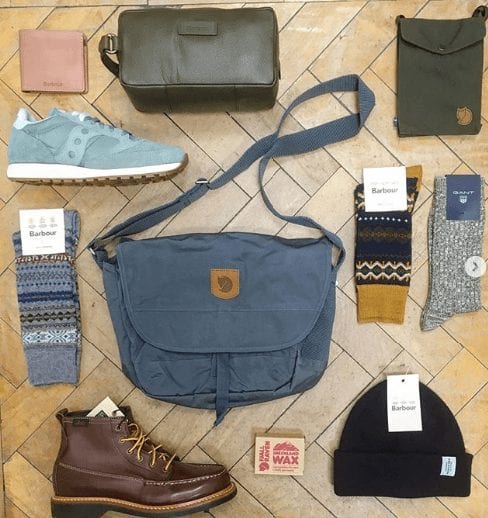 ↓ 10 – Casual Attire for Fall
Jeans with V Neck Shirt: Boys/men mostly prefer clothes in monochromatic tones, and this styling idea is another go at the same tone. White has always been a favorite among men, but to make it a little more stylish, wear it in v-neck fashion with regular patched denim and grey ankle-high boots. It's always good to have a mix of dark and light shades in your wardrobe. You can pair any kind of outfit with your denim jeans, so always buy the best quality ones. Roll over your trouser for the extra cool look.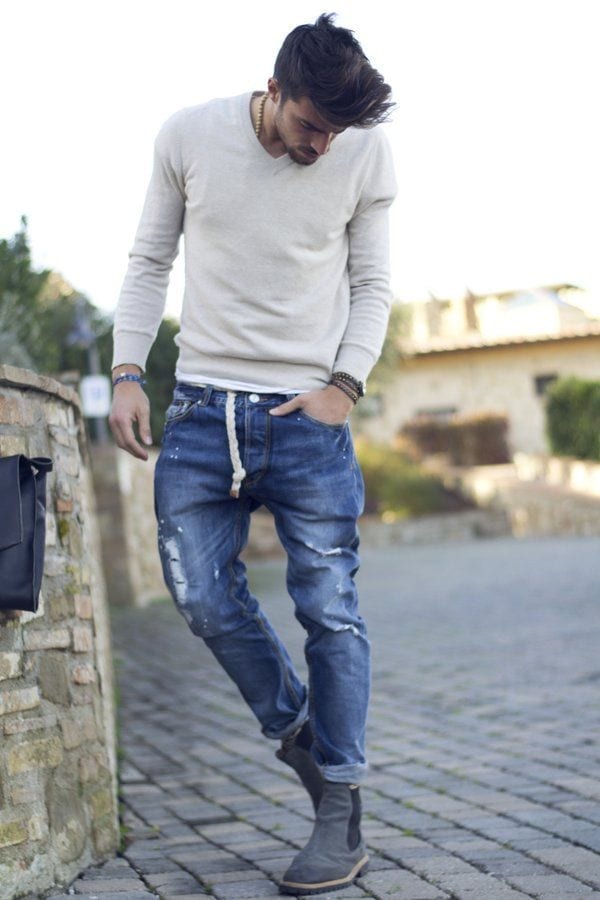 ↓ 9 – Different Types of Casual Tops That You Should Own
Beanies and T-shirts: Purchase some T-shirts of different styles and colors. You can find some interesting designs in the shops and online too. Replace them with your old typical branded shirts. Graphic shirts are not just trending these days, but they also make good everyday outfits. You can invest in some beanies for the winter season, preferably a dark-toned one, and pair them up beautifully with your regular jeans. Facial hair can add an extra dapper look.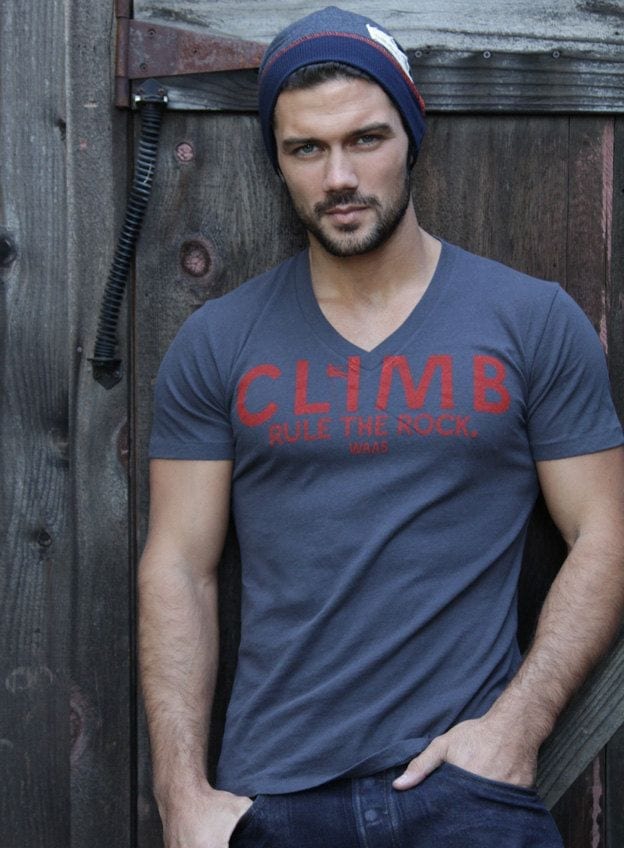 Collared shirts: A student looking for college outfits or just going out on a lunch date? Both occasions call for a little formal attire but luckily, formal has now merged with casual, and who doesn't like to wear collared shirts? They are the most stylish shirts you can wear casually. Whether you wear it with jeans or pants, try to come out of the old designs and colors and go for new patterns and styles. Jazz up a simple collared shirt with suede oxfords and rolled-up skinnies.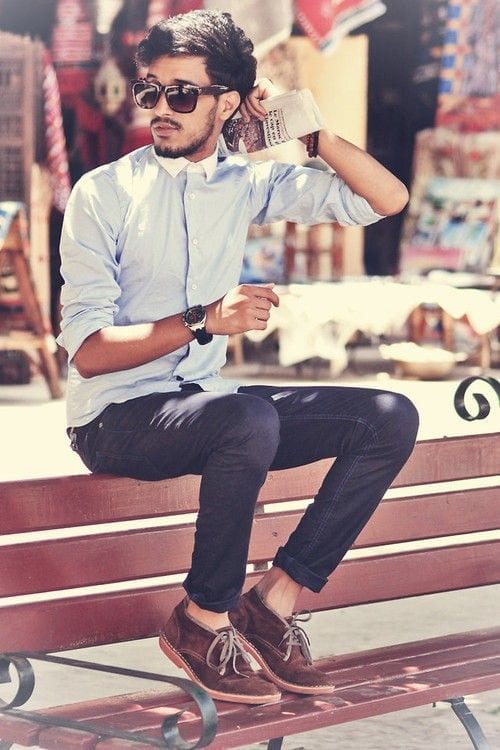 Polo shirts with Bermuda Shorts: The words "summers" and "well-dressed" instantly bring Polo shirts to my mind. We have already shared some great ideas on how to wear polo shirts for a sharp look. They are very casual and useful for all the men in every kind of weather. Go for dark and bright colors, as they enhance the boldness of your outfit. Pair your polo shirts with Beige Bermudas for a day out with friends at the beach. You can wear plimsols or just open sandals.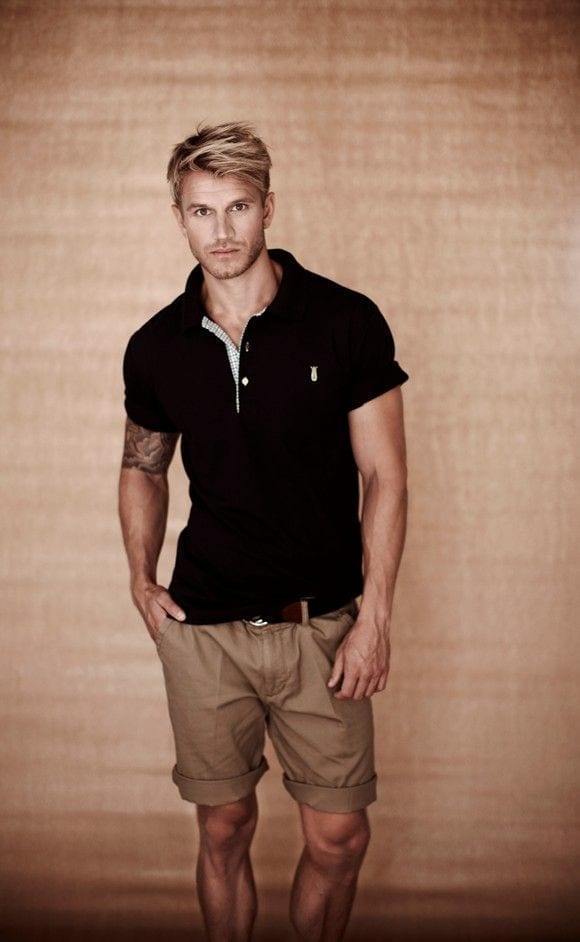 Cardigans: The most stylish casual outfit that can be worn on chilly days has to be a cardigan. They come in different designs and colors. From front open to buttoned cardigans. They are way too classy, and you can quickly wear them with denim jeans. It's best to wear them in winter as they keep you warm. Adam Gallagher shows us how to style cardigans with jeans for a perfect casual look. Always go for a preppy hairstyle with your cardigans for the best look.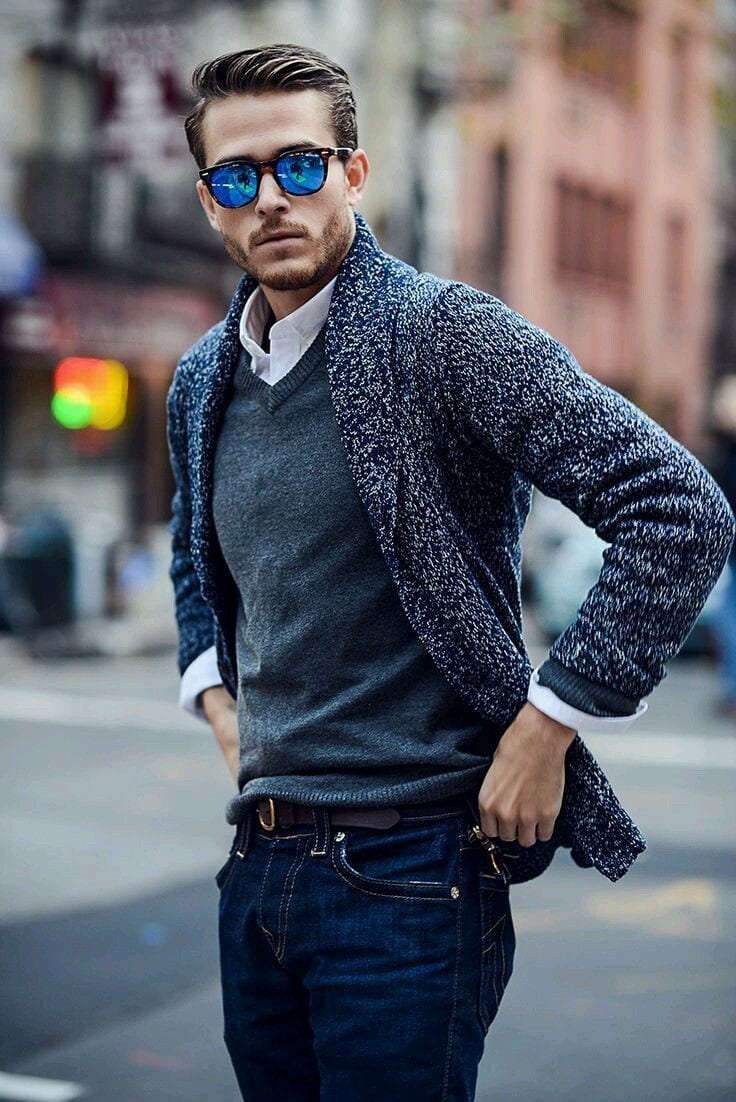 I hope that by now you have made up your mind about what outfits and clothes you need to get in your wardrobe this season—updating your closet once a year is a must. Look around for new designs and styles when you visit shopping malls or see what top celebrities are wearing. The more knowledge you gain about fashion, the more stylish outfits you would opt to wear.  A well-dressed man will gain a lot of attention and be more attentive about his appearance, which is definitely a plus point. But most importantly, when you look good, you feel good about yourself, and everything seems to fall into place all by itself.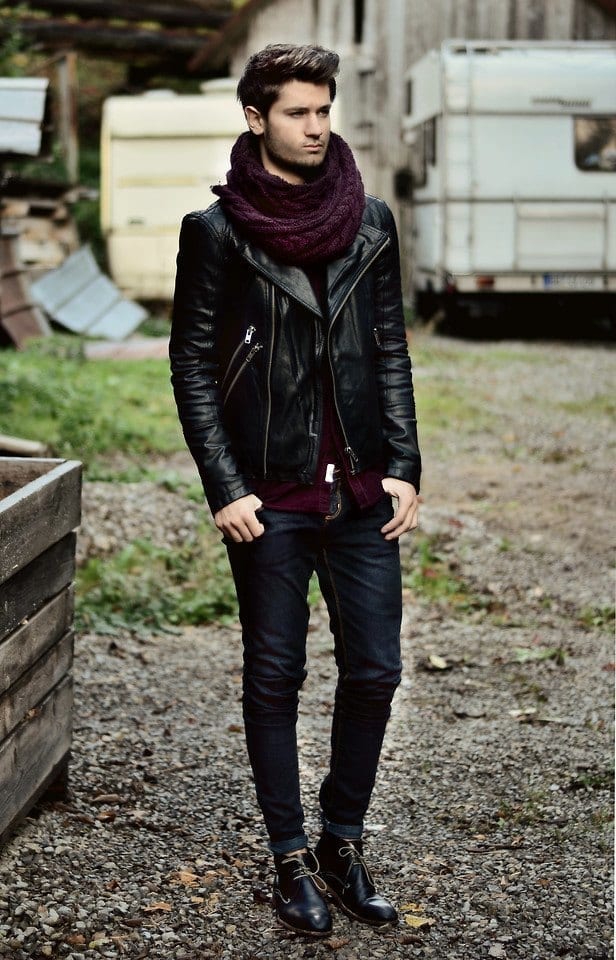 ↓ 8 – Business Casual Attire
If you are a suit lover, then going business casual is the best way to carry your style. These days, suits can be worn as casual wear also. You can dress up for summer weddings or your dates or just Christmas and holiday parties. Suits will take you anywhere; just remember to wear them according to the fashion for casual wear. Wear pinstriped shoes with a dotted tie and colorful socks or hats, and a little-exaggerated hairstyle. You can also choose to wear your suits with trainers or sneakers for the ideal smart-casual look.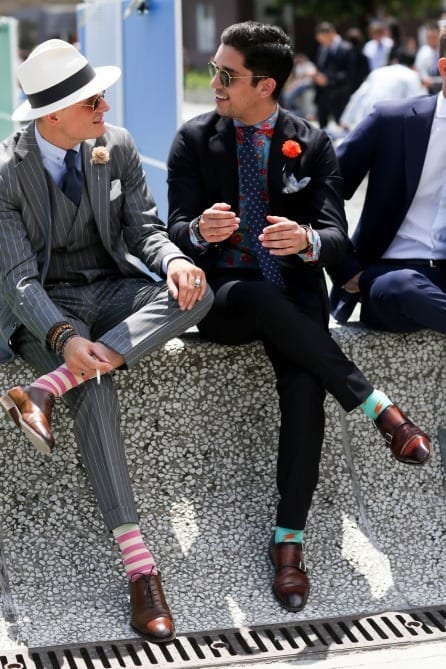 A little risk-taking, are you? Then go for this super trendy style for men with a long coat and a little high rolled up jeans with socks and sneakers for a winter look.

↓ 7 – Winter Casual Clothes for Men
Is adventure in your nature? Like to climb, hike or camp? Whatever your passion is, this casual attire is perfect for the outgoing man: a hoodie, sleeveless jacket, and a flannel plaid shirt with denim and construction boots. A backpack and a beanie is a must item in your winter attire.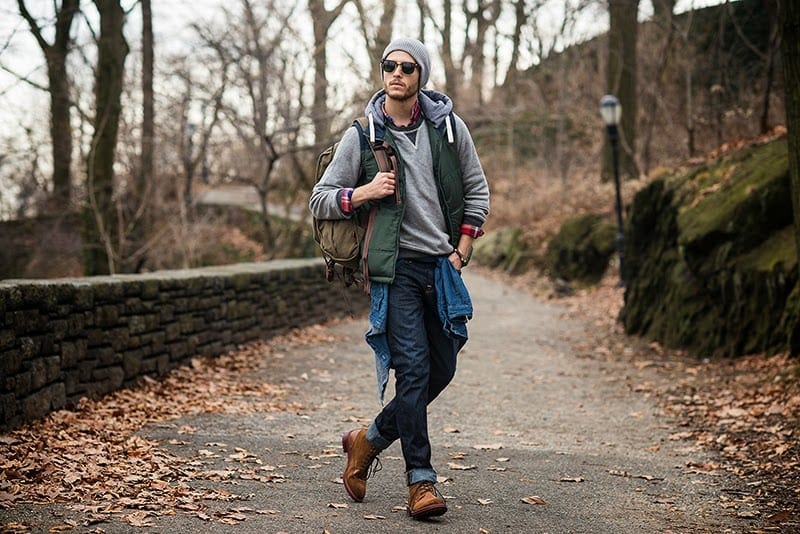 Here's another casual Winter outfit with a sweater.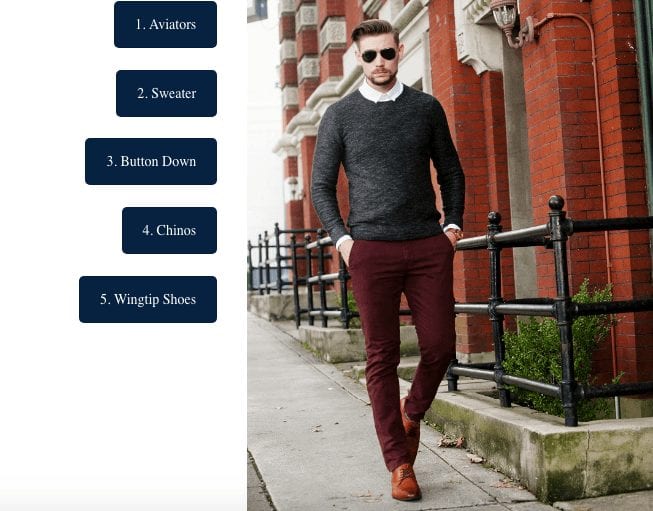 Via
↓ 6 – Spring Casual Style
Add a touch of plaid or flannel to your Spring outfits this year. You can use these shirts for layering or just to tie around your waist for some extra style points. Have a look at these 25 Ideas How to Tie Shirt Around Waist for Guys.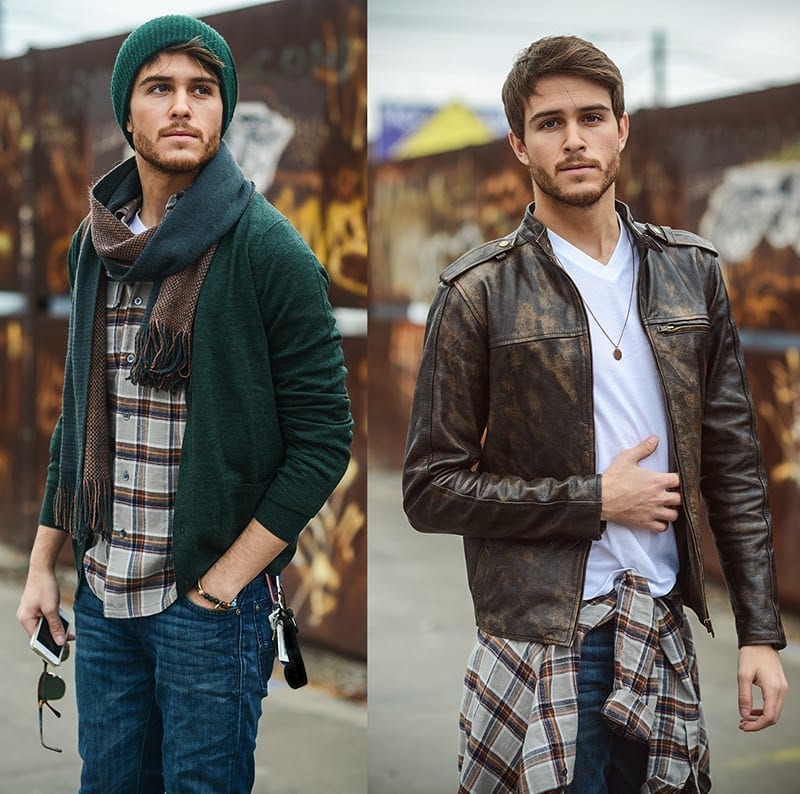 ↓ 5 – Classy Casual Look for Men
Cool, casual and classy – you don't need any more words for this look!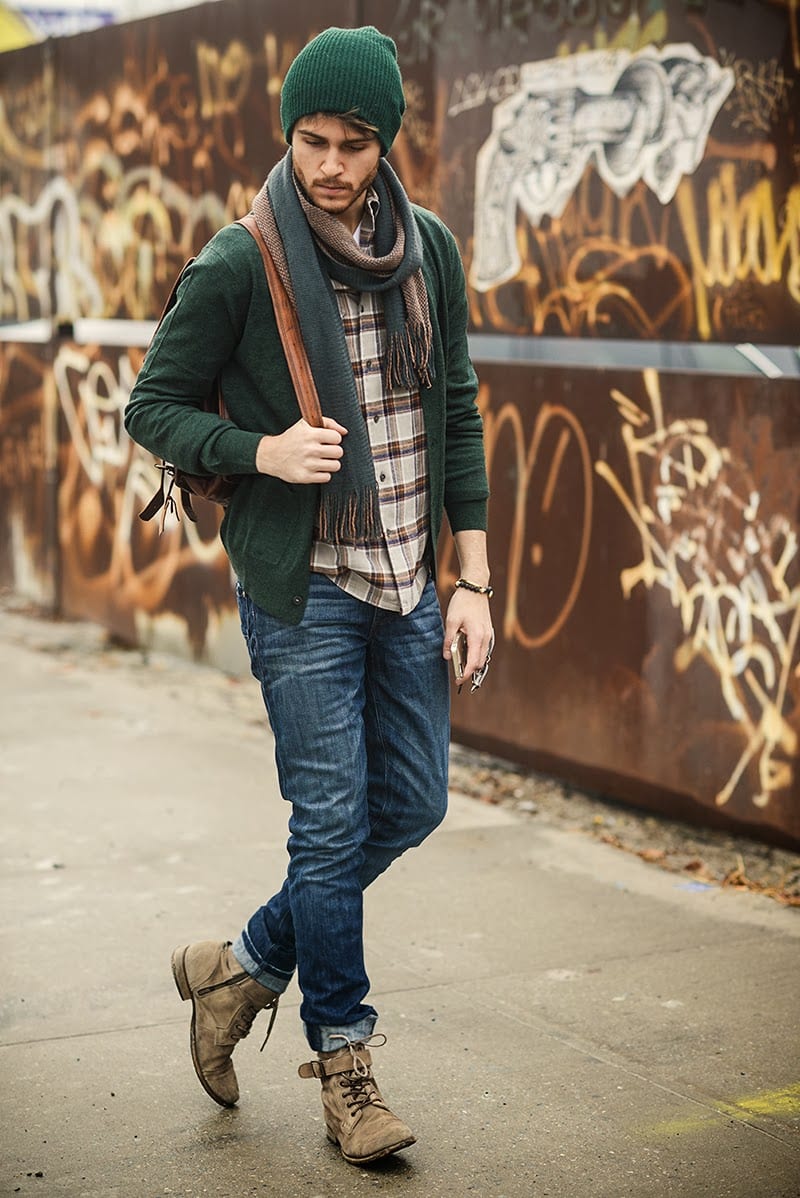 ↓ 4 – Casual Jackets for Guys
A parachute army jacket is a perfect piece for the spring-casual dressing.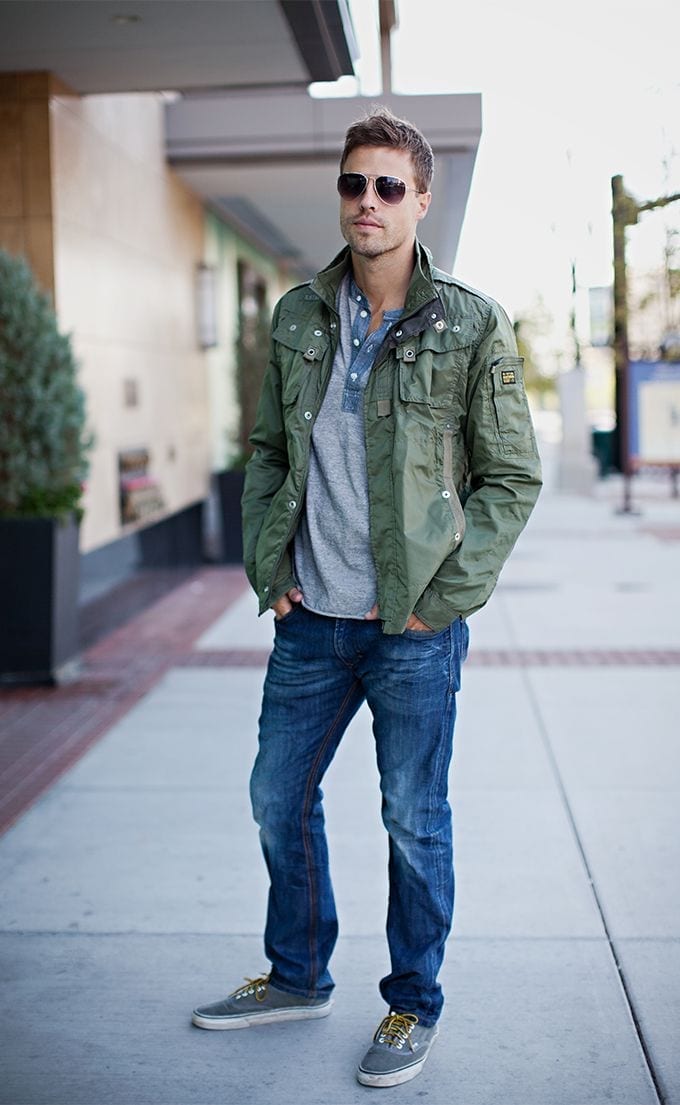 ↓ 3 – Men Hairstyles That Go with Casual Outfits
The perfect casual hairstyle would be low-maintenance, acceptable at workplaces, and of course, great looking. If you want a clean-cut style, you can opt for the IVY-league hairstyle. For a more trendy look, you can go for combed-over hairstyles. If you're a teenager or in your early twenties, the faded and undercut hairstyles are always worth a try.

↓ 2 – Shoes to Wear for Casual Style
Your casual shoes will include sneakers, sandals, flip-flops, and loafers. You can also choose to wear shoes like the boat shoes without socks for a laid-back look this year.

↓ 1 – Ideas on What to Wear with Mustard Jeans/Pants for Men
One of the most trending colors for guys this year has been mustard. It looks excellent when chosen as bottoms like jeans or chinos, and there are so many ways to style it. The mustard bottoms make a perfect base color for you to play around with, so here are some of our favorite looks to inspire you.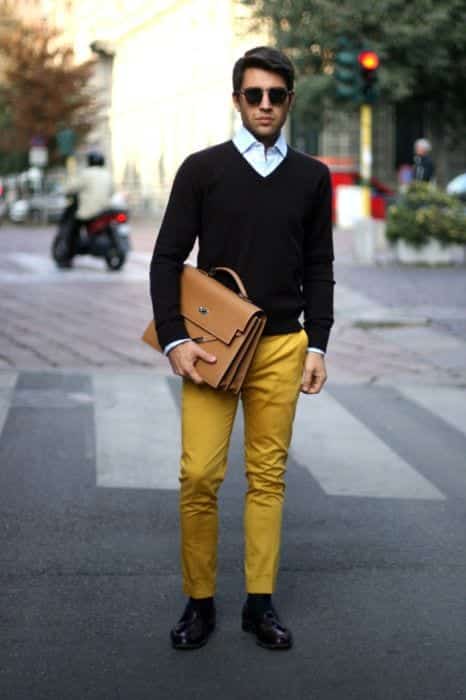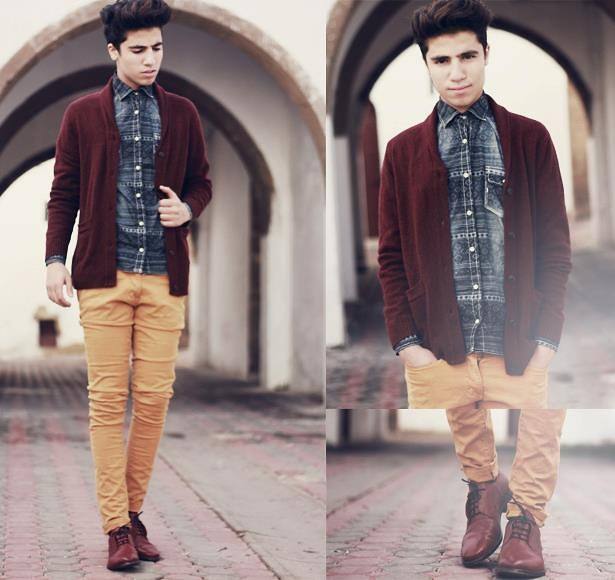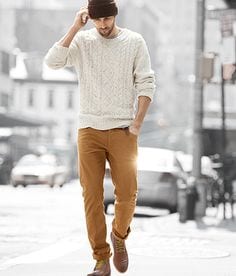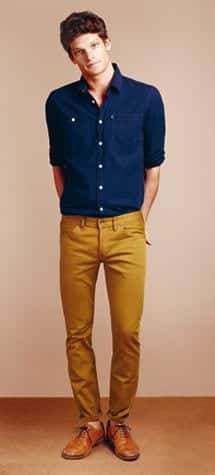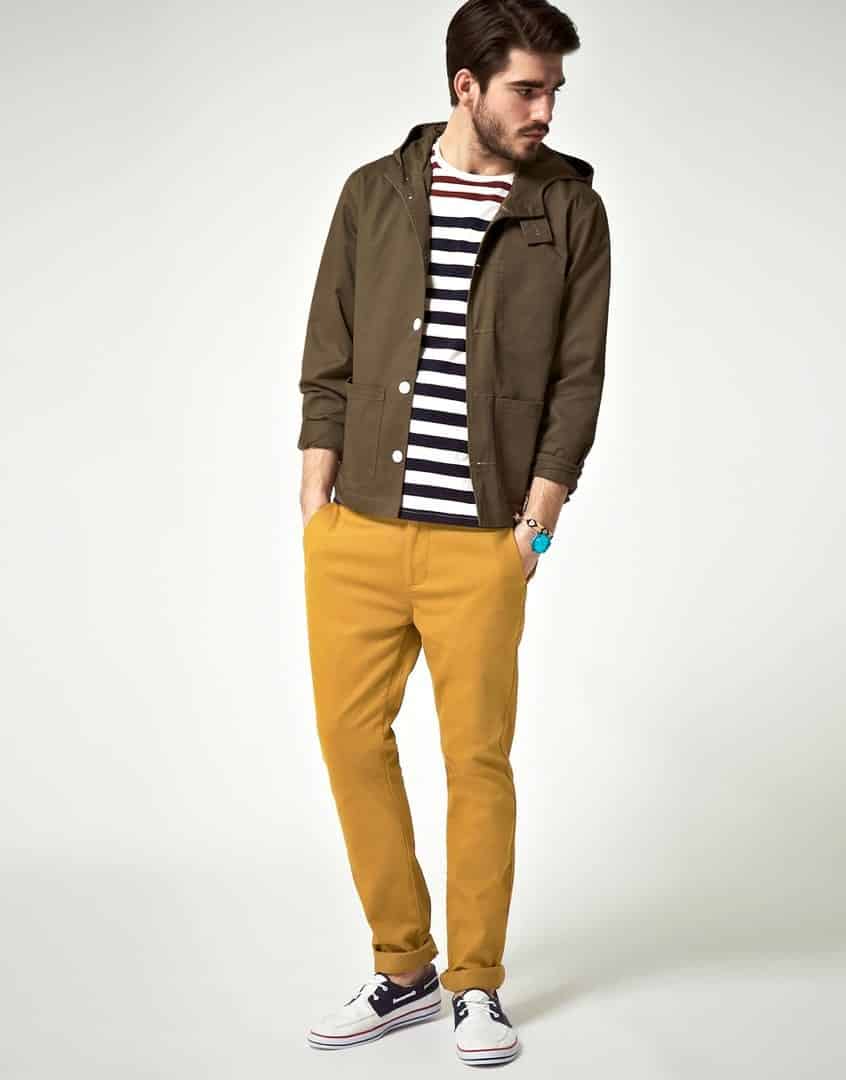 Frequently Asked Questions
Q. When not to wear casual outfits?
A. Casual dress code is not acceptable in the office. Instead, opt for a business-casual style. The first step is to figure out what's appropriate and maintain the balance between business and leisure. For instance, pair a button-down with chinos, and don't forget to tuck the shirt in to keep a professional look. A suit won't be a problem, but it also won't hurt you to pack one.