Men's Outfits with Shorts: I'm sure most guys will have a bit of a panic when it comes to shorts and what should they wear them with. I'm also sure that some guys will have a hidden pair of shorts they had on holiday several years ago that have never seen the daylight since.
There really is no reason to be worried about shorts as they are always in fashion and as long as you get the right look and fit you can master it! But what clothing does go with shorts? What styles are best? And what footwear is great with shorts? This post covers the different styles and looks guys can achieve with shorts.
If you are a greater lover of Bermudas then check out these different ways to style the Bermuda shorts.
How to Wear Shorts This Summer?
How you wear your shorts is key. Too long on a short guy will make you appear shorter. Too short on a tall guy will just look awkward. Here are our top tips for how to wear shorts as a guy.
There should always be 1-3 inches of skin showing above your knee. This will visually balance out your leg and make sure you don't look disproportionate.
Skip the baggy cargo shorts if you are a short guy and go for tapered shorts.
If your shorts are too long, don't feel you have to ditch them. Simply turn up the cuff 1-3 times until you achieve the desired length. You could easily sew them in place if you want to ensure they don't slip around and unroll themselves. Cuffed shorts are also super stylish.
Consider having your shorts tailored to get the best possible fit.
Go sockless. Or, rather, wear socks that don't show. Socks will visually cut off your legs in an awkward way. Plus, it's just not a good look! Wear small no-show socks inside your shoes for protection and to keep your feet from getting smelly.
If you wear colored or patterned shorts, keep the rest of your look subtle and understated. A loud color on the bottom should not be fighting with a loud color up top.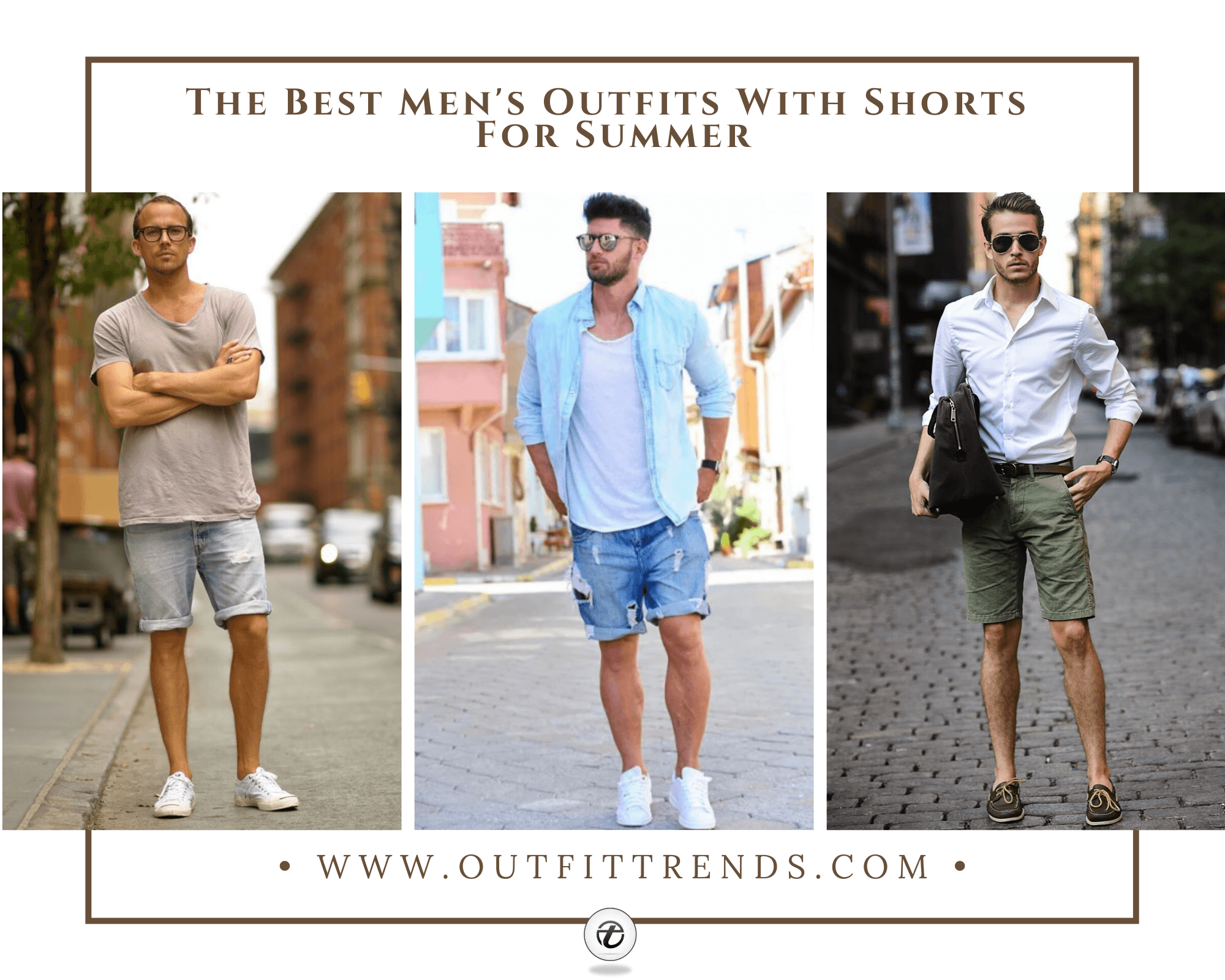 Now let's look at some great options for shorts, as well as outfits you can create from the same!
The trick with shorts for guys is getting the right fit. Belted around a high waist looks odd and hanging off your backside just looks stupid. Instead, keep shorts casual and nicely fitted around your hips. Tight enough so they don't fall off but loose enough to stay comfortable. It is also dependent on your body type. If you are a shorter guy then go for shorts above the knee as this will elongate your figure. Let's start by looking at the different types of basic summer shorts:
White shorts are a great choice for summer. They go with a wide spectrum of tops from colored and printed t-shirts to plain crisp white button-up shirts. White shorts will match colored loafers or boat shoes. Try to avoid white sneakers with this outfit as they will just scream tennis player.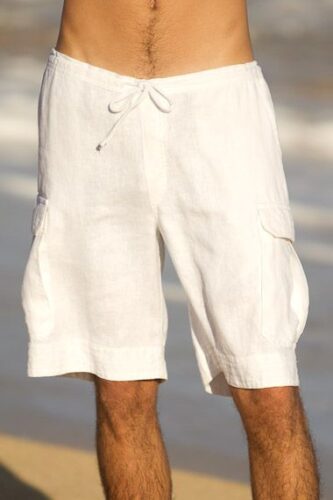 Cargo shorts are another popular choice for guys. They are casual in style and color and will ideally match t-shirts and polo shirts. Why not match a pair of casual trainers, loafers or sandals with cargo shorts? These also have the extra bonus of pockets so they are practical as well. Avoid them if you are of a stocky build. Pair them with a well-fitted tee.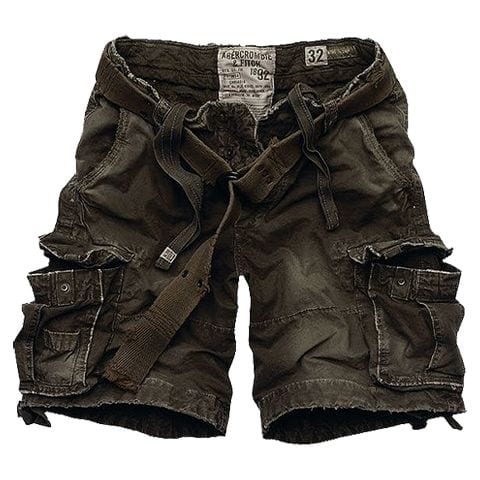 Denim shorts have a bit more of a street and city theme with a stylish edge. They are usually baggier than other shorts and are often seen amongst the skaters. Match these with band t-shirts for a casual look. Denim shorts can sometimes be a little heavy and thick. Try thinner denim for summer wear.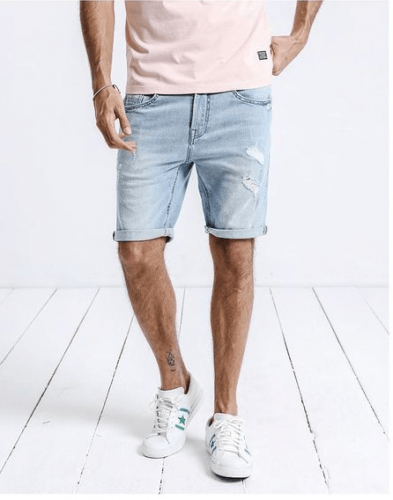 Linen shorts are perfect for guys during the summer. Not only are they available in a wide range of colors which will match any look you are trying to achieve, but with linen being a lightweight fabric they will keep you cool on those hot days. Linen shorts make for perfect beach attire for this exact reason. Flip flops are good footwear to match linen as well as wear on the beach.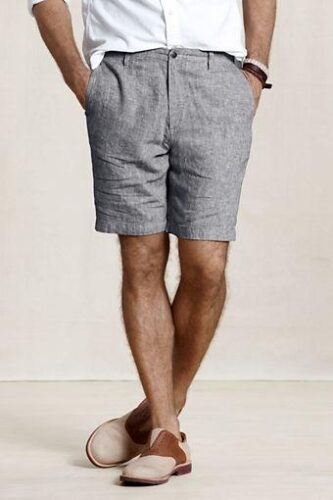 Rules for Wearing Shorts – Tutorial
The following images are filled with great ideas of what outfits look great with shorts. Use them to create your own style this year.
41 – Basic White Tee & Denim
When in doubt, you can always strip it down to the basics. This classic summer look is a breeze to throw together. Plus, it stays stylish with a few tweaks. Opt for a tee that fits you well and make sure your shorts are the appropriate length.
Finish off the look with simple accessories, like a watch and sunglasses, as well as white sneakers.
Here's our exclusive post on Men's White Shirt Outfits.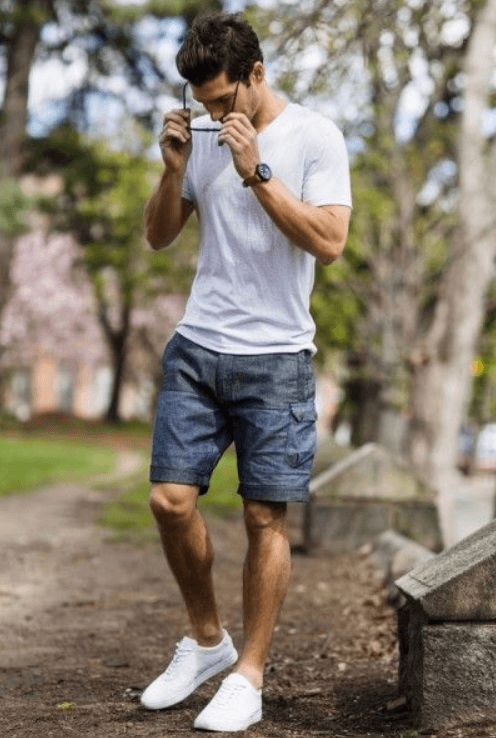 40 – Rugged Beach Look
For a casual yet rugged look, perfect for the beach or a pool party, look no further. Here is a great option for guys who do not prefer the tapered shorts look.
Pair a white tee with some tan shorts, rolled once or twice at the hem, paired with a soft blue button-down.
You can make it more casual by leaving several of the buttons undone and pushing the sleeves up.
Pop on your favorite hat and finish off the look with casual loafers or flip-flops.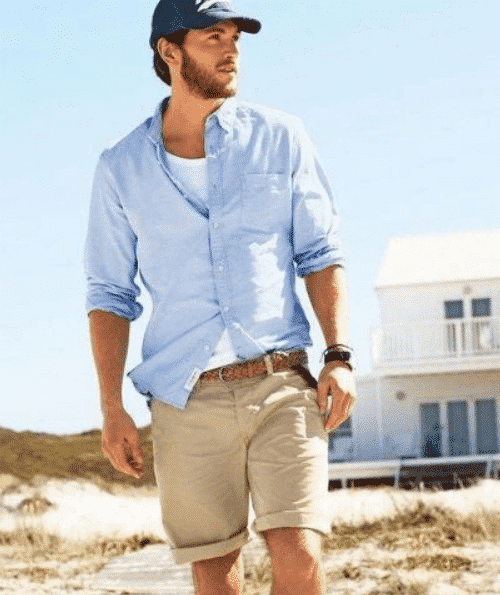 39 – Yellow Shorts & Flip-Flops
Flip-flops are always a popular choice in summer. Here is a stylish way to wear them. Rather than throwing on a baggy tank and shorts, opt for yellow tailored shorts and a crisp white button-down.
This is a great everyday look you can be proud of sporting all summer long.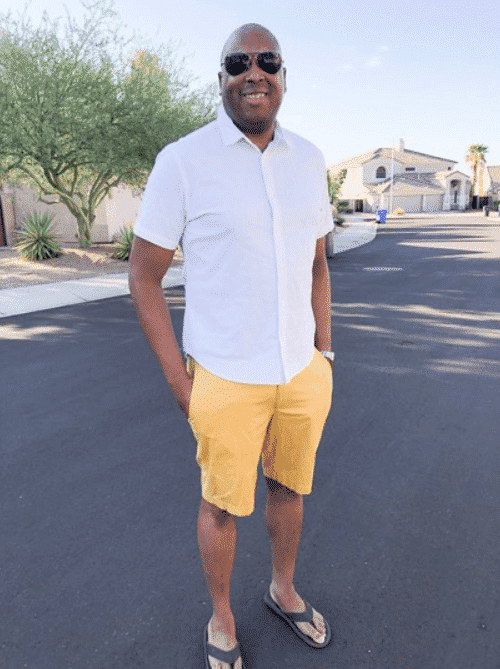 38 – Street Style Look
Our first outfit suggestion is a crisp white shirt with navy blue trilby shorts. Not that they end just at the knee-cap which is an acceptable length for a moderately tall guy.
Finish off the look with a white fedora hat and stylish leather loafers.
Check out these Popular Street Style Fashion Ideas for Men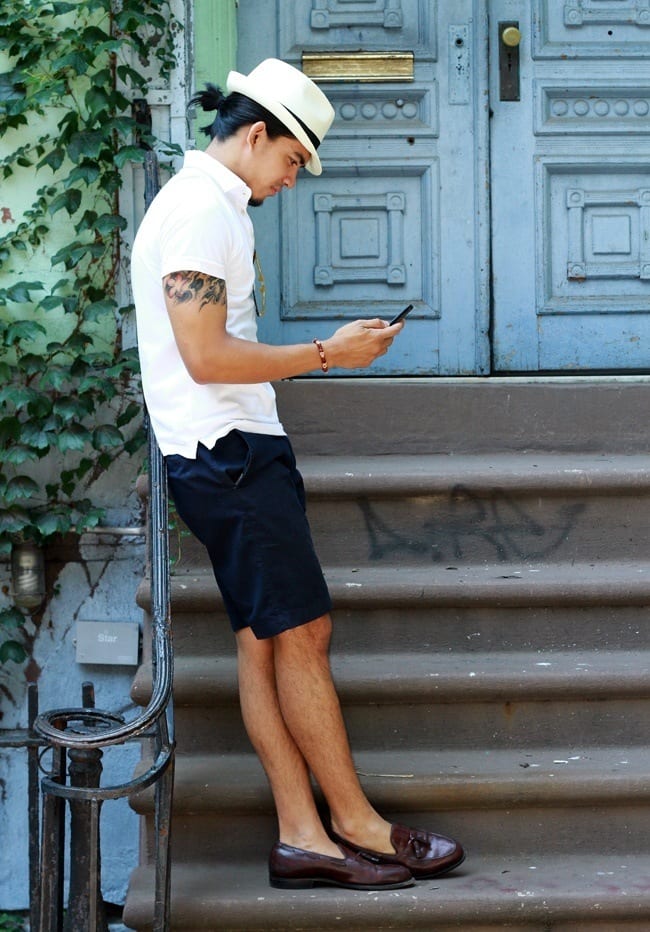 37 – Everyday Casual Outfit
Casual camo shorts are a favorite for guys of all ages. You can go for camo shorts with a simple and casual tee-shirt in any matching or contrast color. Not that the tee is still understated and the shoes are similarly stylish without being too flashy.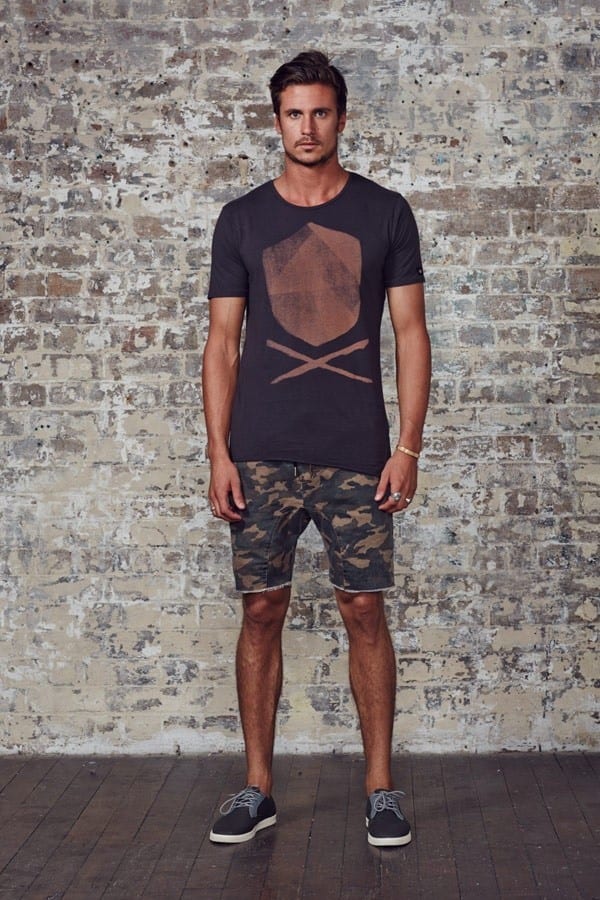 36 – Beach Outfit
Here is a super aesthetically pleasing color combo that is perfect for vacation wear or a weekend beach trip. Pair tan, cuffed shorts with an olive green fitted tee and brown boat shoes. Match your belt to your shoes for superb styling. Here are some more ideas on What Men Should Wear at Beach?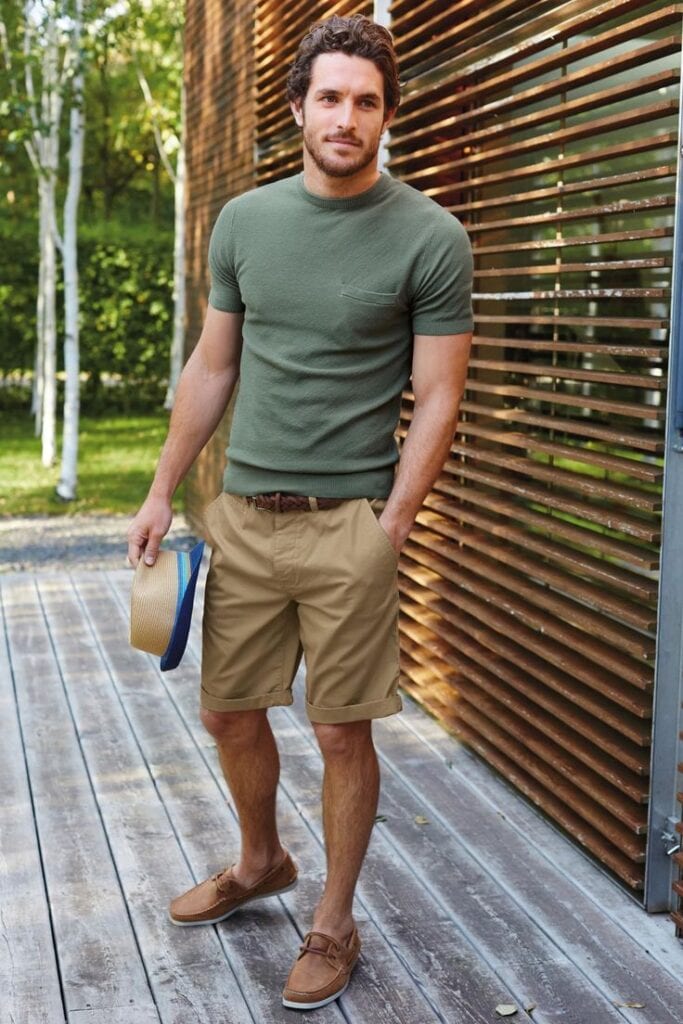 35 – Summer Traveling Style
If you are someone who enjoys wearing color, give this stylish summer ensemble a try. Pair some dusky pink shorts with a soft blue button-down, rolled at the sleeves.
For a casual beach day look, you can opt for a slightly baggier short.
Finish off the look with white sneakers. You can also see these 15 stylish traveling outfits combinations for men.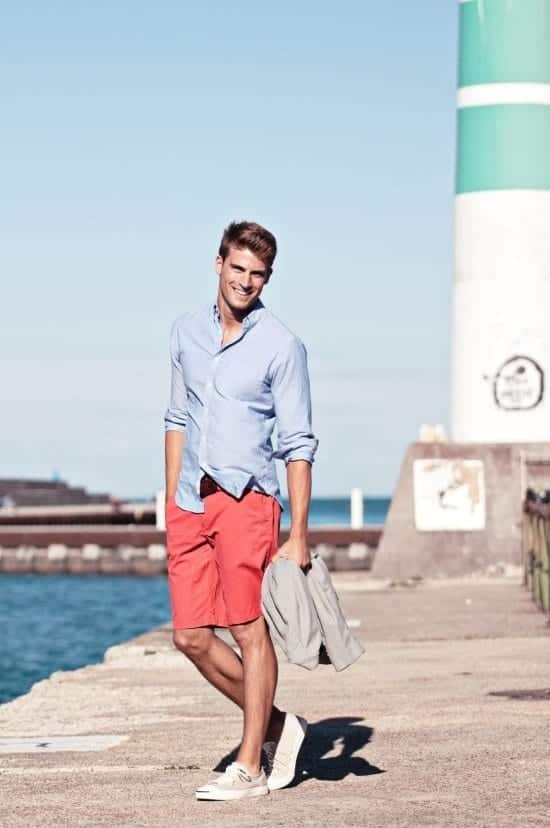 34 – How to Style Cargo Shorts
Denim shirts and cargo shorts are hands down the best combo. Though they are not ideal for formal occasions, they can easily be worn to informal gatherings. If you are going out to a party or for a boys' night out, then this outfit combo is something that you can wear.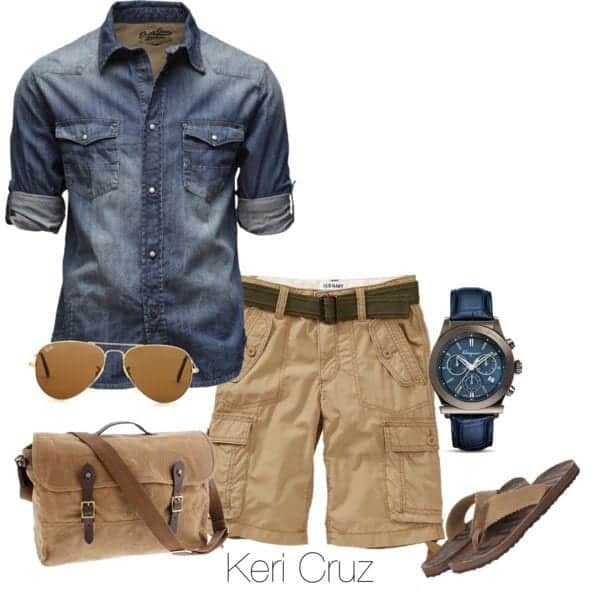 33 – Cargo and Plaid
Other than denim shirts, plaid pattern shirts also look very good when worn with cargo shorts. For more of a street touch, you can wear silver rings or a silver watch; tribal bracelets are another cool accessory to try.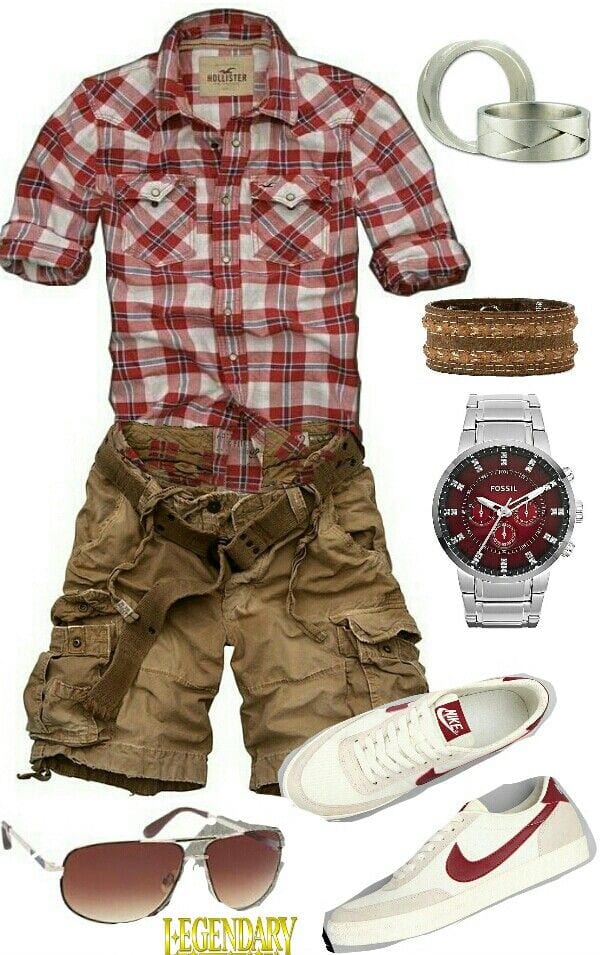 32 – European Style
If you love a European style look, here is the one for you. These shorts are a tad shorter than what most American guys are used to, but they make for a great European look.
Opt for white shorts rolled at the hem (we recommend going no shorter than the length pictured) and pair them with a sky blue dress shirt, unbuttoned at the top, and rolled at the sleeves, of course.
Wear it tucked in and belt your shorts. For shoes and accessories, you can wear blue colored oxford shoes or tan loafers.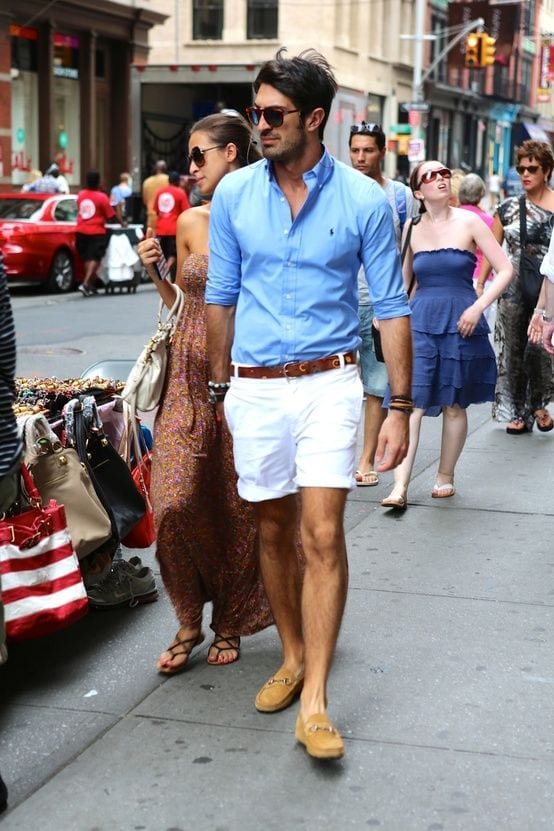 31 – Dressy Casual – Outfit with Blue shorts
This next combo is a slightly more formal one. This combo can be worn to formal and official gatherings or to office meetings. For this combo, you can wear crispy navy blue shorts paired up with a white dress shirt.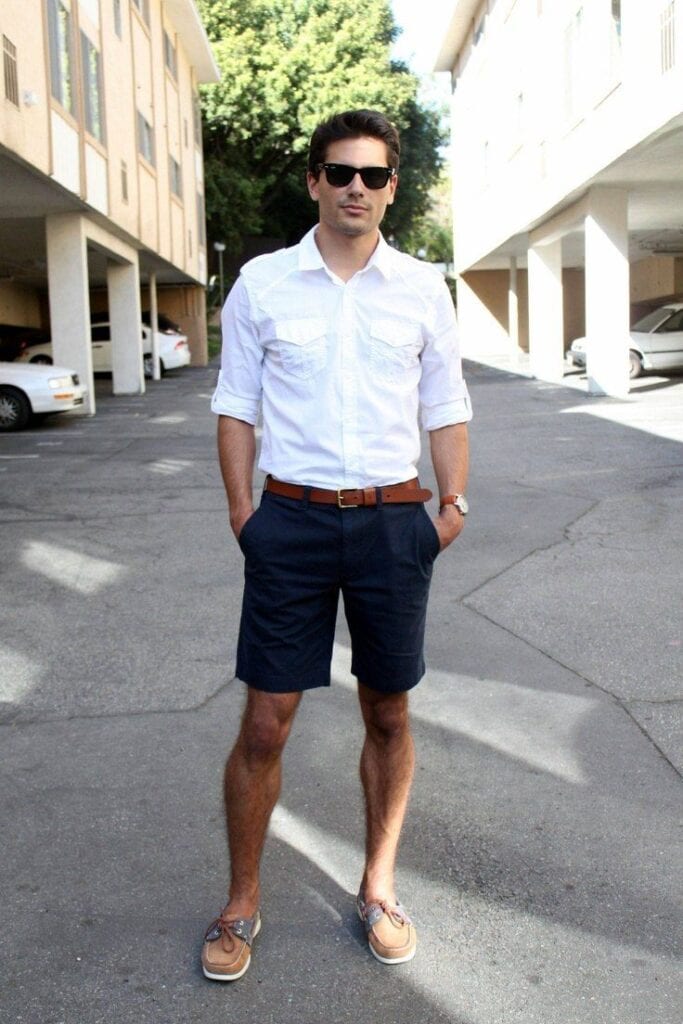 30 – Beach Style
If you want to wear something that is both formal and informal, you can go for a blazer on top of your plain tee-shirt. And wear it with a pair of your favorite white shorts. For the color scheme, you can wear the shirt and the shorts both in white but for the blazer, opt for a white or cream color.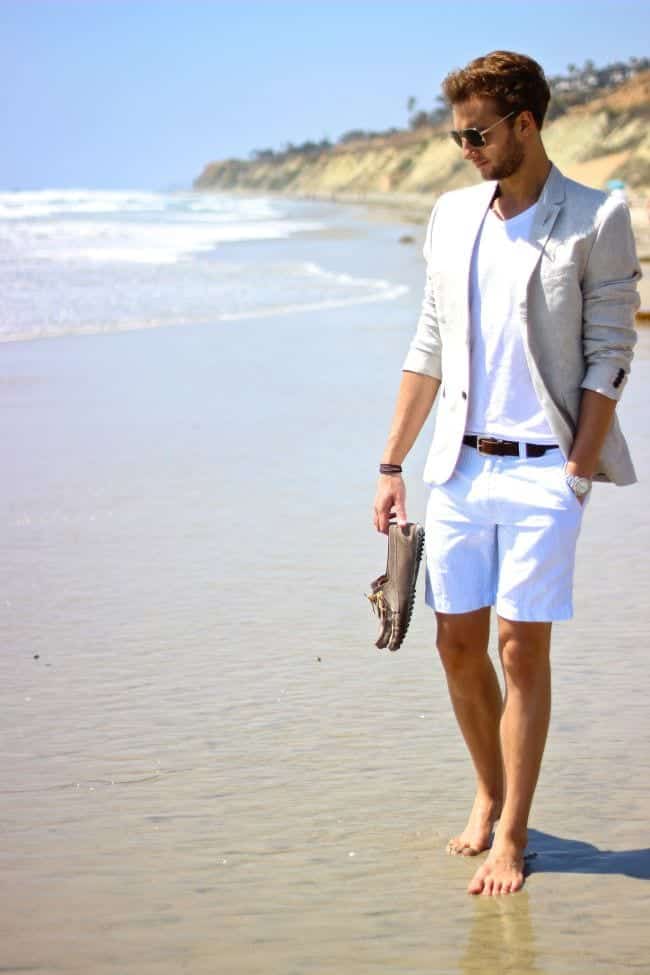 29 – Dark Pink Shorts & High Top Sneakers
While we normally recommended a more understated pairing than this patterned shirt with colored shorts, this look works. Why? Because the color pattern is neutral and its crisp tailoring is on point.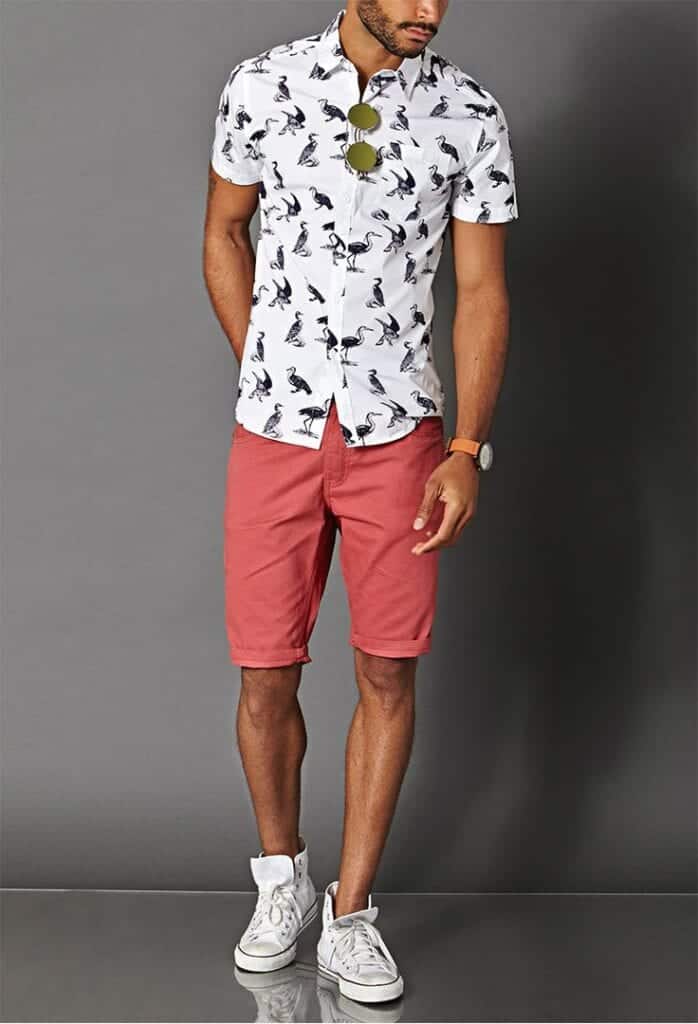 28 – Casual College Guy
Pair some rustic denim shorts with a gray polo neck tee and gray low-tops. Keep your accessories silver to tie the look together.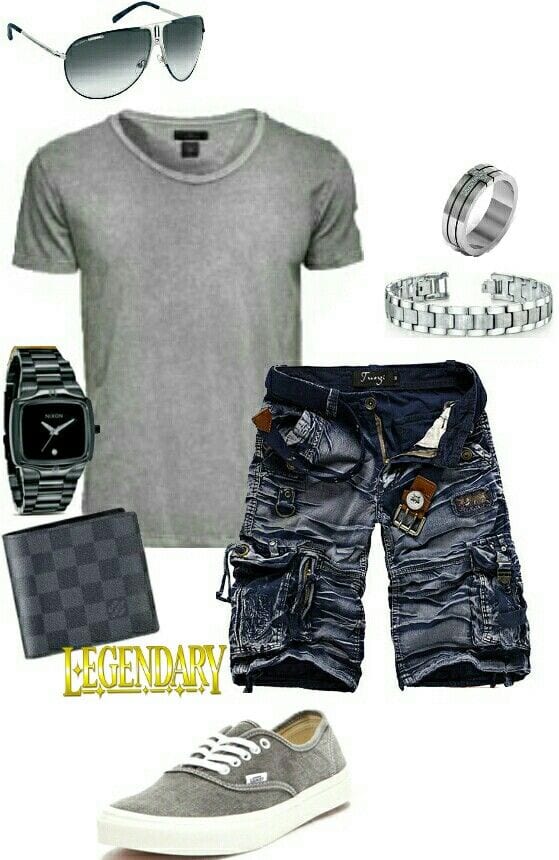 27 – Super Casual Summer Style
For a super casual look, try a striped tank with jean shorts and black shoes.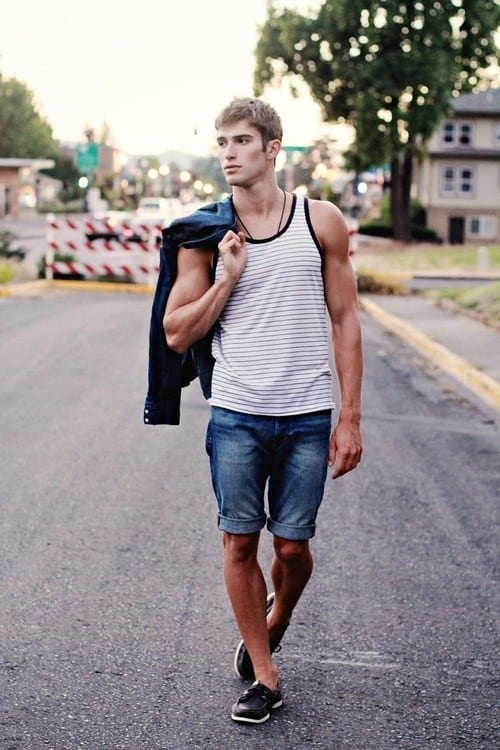 26 – Checked Shirt & Loafers
Here is a cute look for a first date or a barbeque. Washed out denim is another great option for shorts in summer.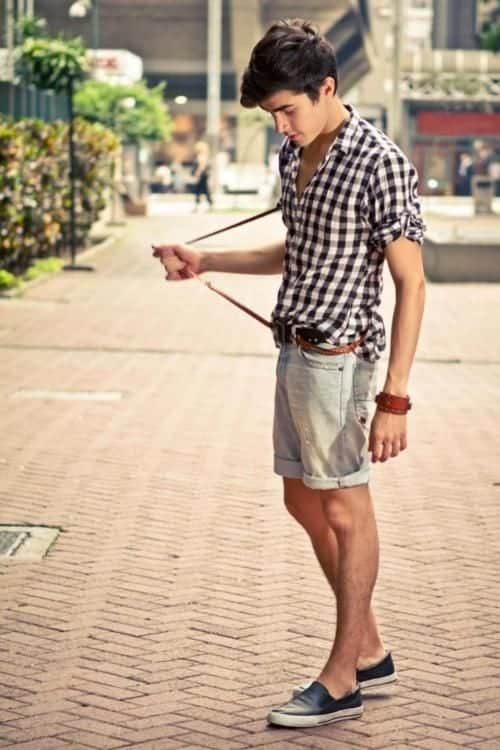 25 – Striped Hoodie & Jean Shorts
For a breezy summer day, pop on your favorite hoodie (stay away from distracting logos and go for a crisp stripe, if you can) and pair it with some ripped denim shorts, rolled a few times at the cuff.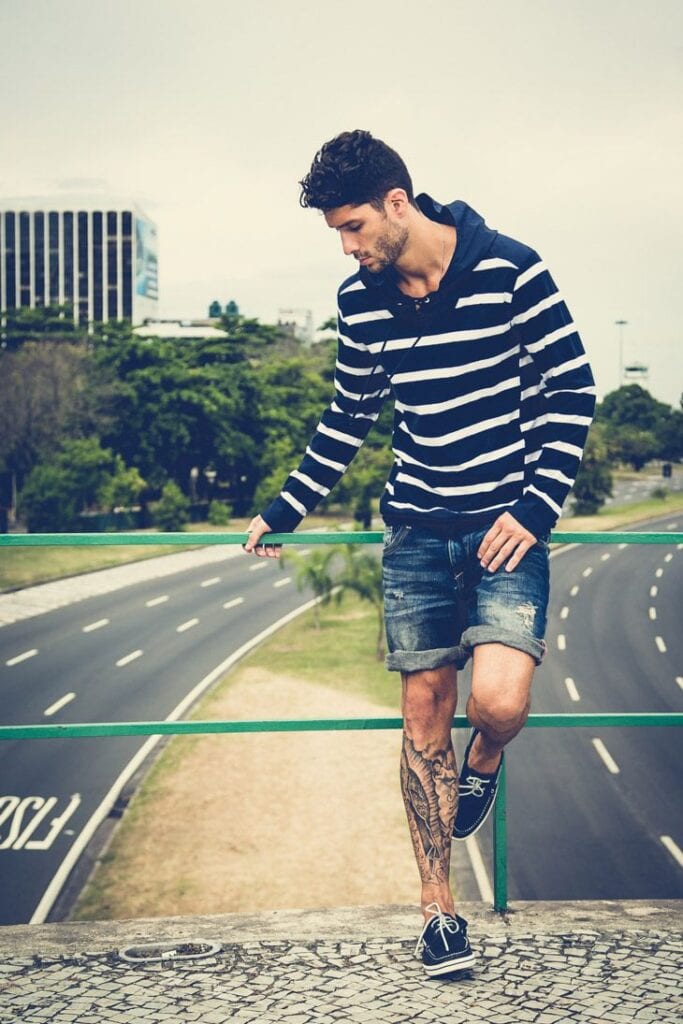 24 – City Look
Ditch the classic tee for a pink pinstriped button-down for a classy summer-in-the-city look. You can go for slightly longer denim shorts, especially if you are tall, and pair them with some black sneakers and a soft brown hat.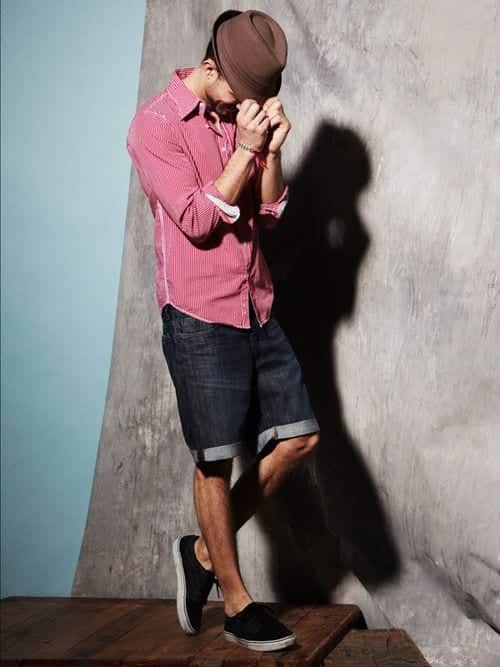 23 – Camo Shorts & White Tee
Another stylish way to wear camo shorts is by pairing them with a white tee, topped off with an open short-sleeve denim shirt. This particular one has some fancy embellishments on the sleeve, which is a bold style choice you can take or leave. Pair with brown shoes.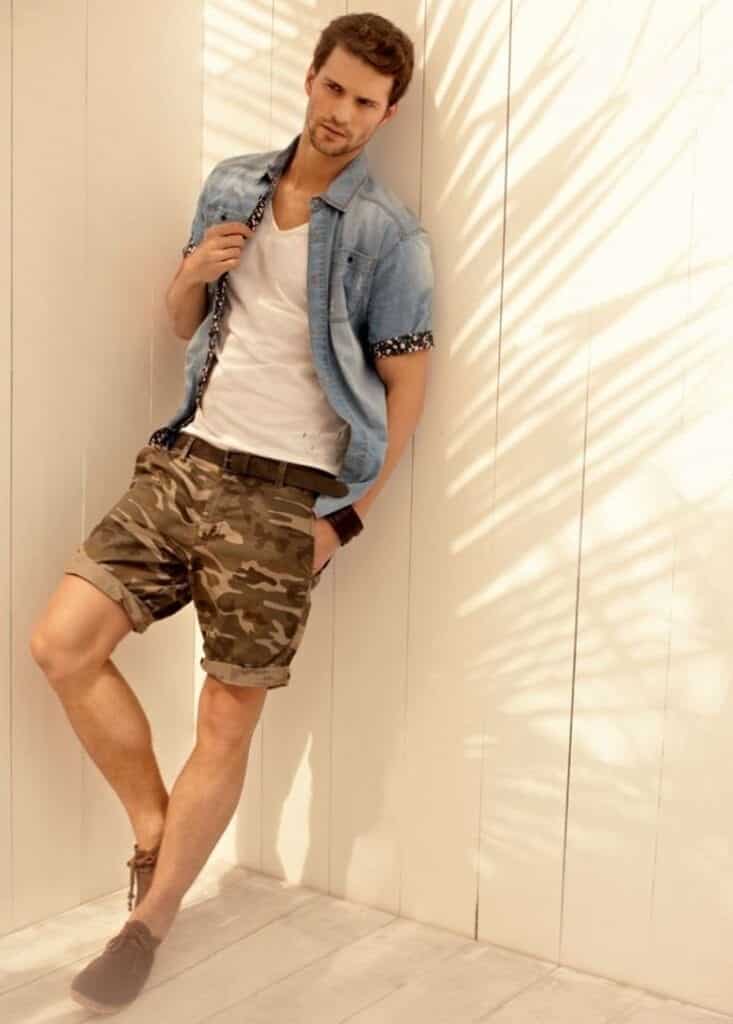 22 – Casual Weekend Look
Throw on a white v-neck tee and pair it up with some rustic red shorts and striped slip-on shoes. Accessorize with some understated sunglasses.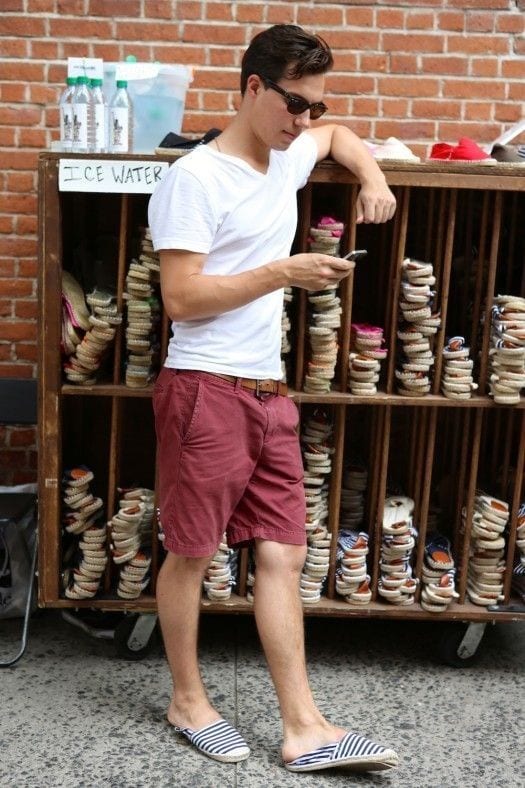 21 – Business Summer Style
It takes a special guy to be able to pull off a blazer with shorts in the summer. We hope this stylish look gives you the confidence to try!
Pair a navy blue tailored blazer with a chambray button-down and white shorts. Finish off the look with stylish sunglasses and some classic footwear.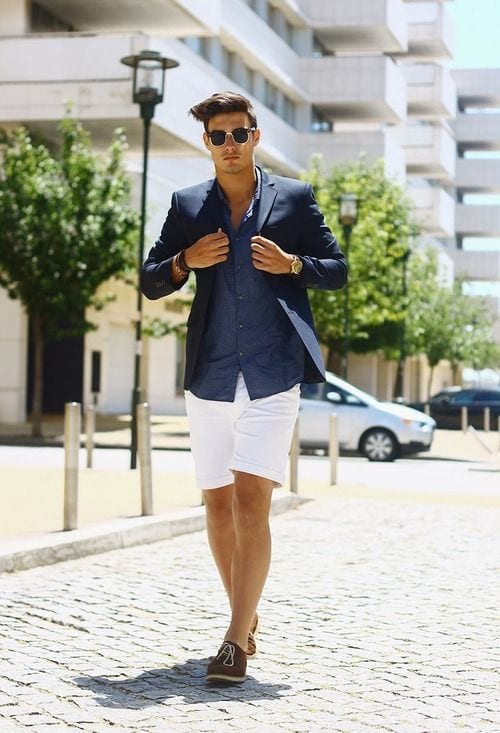 20 – Boating Outfit
Water activities don't always need to demand swim trunks and tanks. This stylish look will have you feeling on top of your game whether you are heading out on the water or simply grabbing dinner waterside.
These are some bold colors but without crazy patterns or prints, it's easy to pull off. Here's a complete collection of the Best Boating Outfits for Men.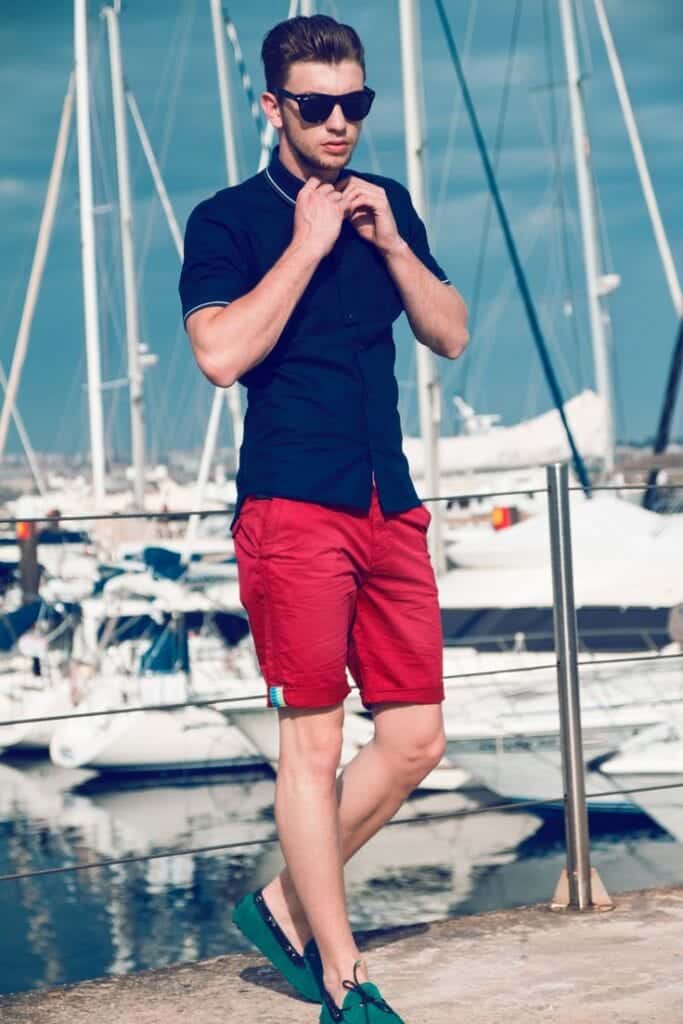 19 – Sky Blue Flats with Printed Shorts and Shirt
If you have a funky pair of shoes you have been wondering how to style, here is the look for you! Sticking to an overall color scheme (even if it's not strictly monochromatic) is a good place to start.
Keep the rest of your outfit mostly understated and subdued to ensure your shoes get all the attention they deserve. We love this look for a weekend getaway or a pool party.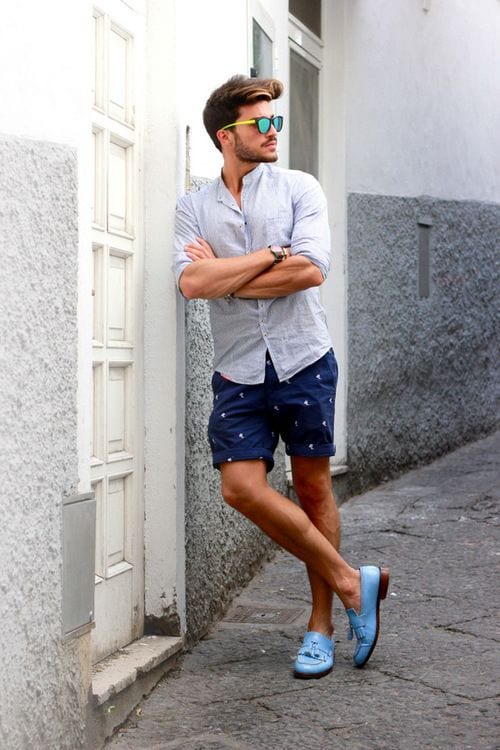 Since we've been getting many queries on how to style corduroy shorts for men, the following section is dedicated specifically to corduroy shorts:
Are you ready for your summers? Do you find it annoying when the weather keeps getting warm one day and cooler the next day? With the constant changes in weather, one might often get confused about what to wear. To be honest, the in-between weather tends to frustrate a lot of men out there.
In addition, for most people, letting go of comforting winter and fall clothes is not easy. This is where we come to the rescue. By the end of the article, you will be able to pick some cool suitable summer attire out of several corduroy shorts outfits for men listed in this article.
How To Style Corduroy Shorts Outfits For Men?
The majority of men think shorts are outdated and that they might look out of place. Gentlemen, that is not the case. Shorts are very much in trend. Among various shorts for men, corduroy shorts are quite famous as the stuff is flexible as well as lightweight, and breathable.
There are a number of ways to pair shorts with shirts including tees with full or short sleeves, button-down shirts, formal shirts (rarely but the trick lies in knowing a way to pair it with shorts properly), collared tees, V-neck buttoned shirt, and the like. The boys dressing style usually depends mainly on the way the shirt is tucked. Here are some styling tips that might be useful for you to try this summer.
Some Do's and Don'ts of Corduroy Shorts Outfits For Men
It is not necessary for extra-ordinary and expensive shirts to pair them with corduroy shirts. You can simply go for monochrome by matching the color of your shorts and shirt.
Make sure you don't go for shorts longer than your knees.
In case your legs are skinny, go for tailor-fitted corduroy shorts.
If you have athletic body, loose shorts are not for you.
In case you want your body to appear balanced, light color corduroy shorts might help.
18 – Corduroy Shorts With Short Sleeve Shirt
This one is easy to recreate and no expensive products are required.
All you have to do is pair your corduroy shorts with a casual short sleeve shirt. For shoes, slip-on leather loafers would do well.
17 – Team Corduroy Shorts With A White Tee And Comfortable Shoes
There are plenty of outdoor summer fashion tips for guys. The question is what to pair your shorts with while home. Well, the plus point of corduroy shorts outfits for men is that these are ideal even for wearing at home.
So, coming to the point, wear any of your vest shirts out of the wardrobe with your corduroy shorts.
A plain white tee would be good as well. Take this look as an example in the image below. You don't have to worry much about colors and matching when at home, especially if you are living alone.
16 – Corduroy Shorts Outfits For Men With A Tee And A Button-Down Shirt
Do you plan to for playing outdoor games with your friends? The options or ways for boys dressing style aren't as plenty as girls, but there is still some variety out there.
While going for sports, you would want to go for something comfortable. This means that you will have to turn to your shorts.
The length of the shorts should be small, these should lie way above your knees so that you can run easily.
As for the top, a casual button-down shirt would be suitable. In case, you feel too hot, you can leave the buttons open.
15 – Corduroy Shorts And Blazer Combination
Up for going to a private party with your friends? Well, take out your blazer and wear any casual shirt underneath it.
If you are going to wear a light color shirt, a dark pair of shorts would look cool.
Make sure your blazer has a darker shade as well.
This look is a cool and casual boys dressing style and easy to adopt for several occasions.
14 – Sleeveless Tank Top And Corduroy Shorts
As stated earlier, corduroy shorts are at the top of trending shorts for men. The reason is their lightweight and flexible fabric, making it easier to breathe in hot weather. So what are you waiting for?
Pick up your pair of corduroy shorts and team them up with a sleeveless tank top. A striped top would look vibrant and would give off fresh vibes. Complete your look by wearing loafer shoes.
13 – Burgundy Shorts with Gray Printed Tee
As far as burgundy shorts are concerned, there is a whole margin to style them. What I mean is that this color leaves a wide range of colors for you to pair with. The most obvious would be to pair them with pastel colors. Besides light colors, you can pair them up with graphic tees as well.
For instance, as shown in the look below, these shorts can be paired with a gray tee having some sort of print over it. This looks quite cool and stylish. You can definitely recreate this look.
Also, check out these Cool & Stylish Bermuda Shorts Outfits for more pairing options.
12 – Black Tee With Shorts And Sheer Tights
Wanna go out of your usual way of styling? Here is one look for you.
Pick your black tee and pair it with your corduroy shorts. Wear sheer tights underneath your shorts. To balance your look, throw a sleeveless vest jacket over the top.
You can also pair other color combinations similarly instead of opting for black.
Make sure, however, that you are comfortable in this attire. Otherwise, it wouldn't be worth it. Your comfort should always come first.
11 – Mens Summer Casual Button-Down Shirt With Corduroy Shorts
Mens summer casual shorts and shirts will never be overrated. These hold their value in the true sense. Whether you are going traveling or on vacation, casual outfits are the best pick.
So, grab your button-down shirt, wear a plain vest or camisole underneath it, and team it with a pair of corduroy shorts. That's it, you are ready to explore the world.
10 – Corduroy Shorts Outfits For Men To Wear On A Holiday
Are you planning to go somewhere on your upcoming holiday? Here is a holiday-inspired look for you to recreate.
Since the holiday season is all abour cozy and comfy vibes, corduroy shorts outfits for men are your best pick.
Pair your casual shirt with your favorite pair of shorts and wear comfortable shoes like walking shoes. If you feel like it, leave some buttons on your shirt open. You will find this kind of look in most of the summer fashion tips for guys available all over the internet.
9 – Corduroy Shorts As Matching Pair With The Shirt
If you are feeling lazy, going for a walk, going to meet your friend, or going out for groceries – you can simply wear your shorts as a matching pair with your shirt.
Pick any color and match it with the same color shirt, or you can pair it with the shirt color from the same family. What I mean is any color shirt would be fine as long as it is from the same color family as the shorts you are wearing.
So, Grab a pair of casual shorts for men of your favorite color, for instance, orange shorts, and pair them with a yellow tee shirt. You can look at this image for your inspiration. Also, have a look at the Latest Outfit Trends for Men for more inspiration.
8 – Neutral Tee With Light Colored Shorts For an Informal Meeting Outfit
If you have a meeting in an informal setting or if you are meeting a colleague at a cafe to discuss business, this casual yet semi-official look is for you.
Team your neutral tee with beige or any neutral color shorts and sneakers. Add a laptop bag to your getup to project business-like vibes.
7 – Team Red Corduroy Shorts Up With White Tee
This dad look is totally for staying in or maybe if you are looking for playful vibes.
Take your white crew neck tee out of your wardrobe and wear a dark shade of shorts.
Complete your look by wearing a pair of rubber sandals. You can also add a straw hat to your ensemble.
6- Crew-Neck Tee Shirt With Shorts as Airport Outfit
Are you ready for your airport look? If you are the one who travels a lot, use this look for your inspiration. This is simple as well as cool attire.
Simply wear your white tee with a pair of corduroy shorts and add a tote bag to your get-up.
Opt for cozy sandals for your comfort.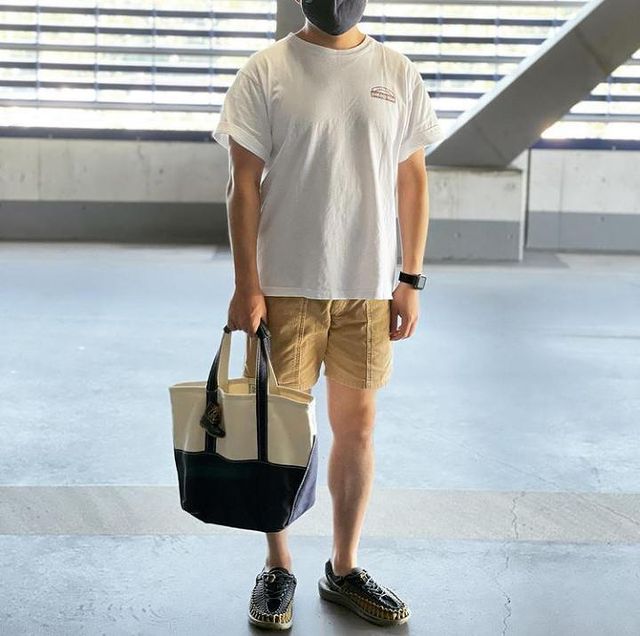 5 – With Floral Printed Shirt
Do you need inspiration for outfits that give off beech vibes? If yes, you can take your cues from this look.
Pair any of your floral printed shirts with your comfy short shorts while leaving your legs bare. You will feel quite in place with this attire while on beech.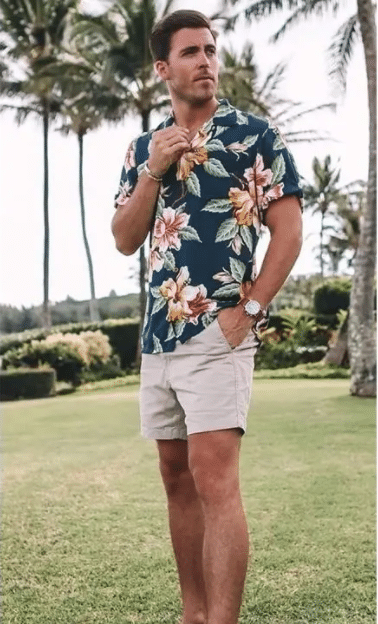 4 – Pair Navy Blue Shirt With Corduroy Shorts Canvas Sneakers
Make yourself ready for summer by selecting your navy blue shirt and beige shorts.
Light color shorts leave a large margin for trying out different colored shirts.
Wear canvas sneakers to complete your look. You can also wear sunglasses to add to your summer vibes.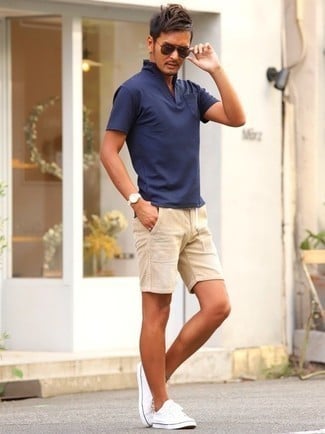 3 – Team Plain White Baggy Shirt With Corduroy Shorts And Black Sneakers
Another stylish and fashionable look is here for you having shorts for men. This outfit is trending for mens summer outfit and you are going to love it.
Style your shorts with a crew-neck plain tee shirt and black sneakers. Add a pair of sunglasses to enhance your cool and stylish looks further.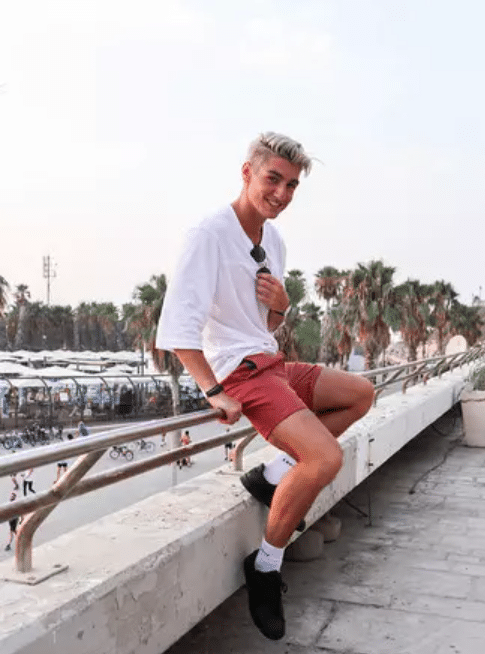 2 – Matching Pair Of Shorts And A Tee For Gym
Inspire yourself for a light or intensive workout at the gym by wearing proper attire for it.
Undoubtedly, procrastination kicks in at times, and stylish gym outfits might help.
Pick out your comfy shorts and wear a matching tee shirt with them. Wear socks and sneakers, and enjoy your workout.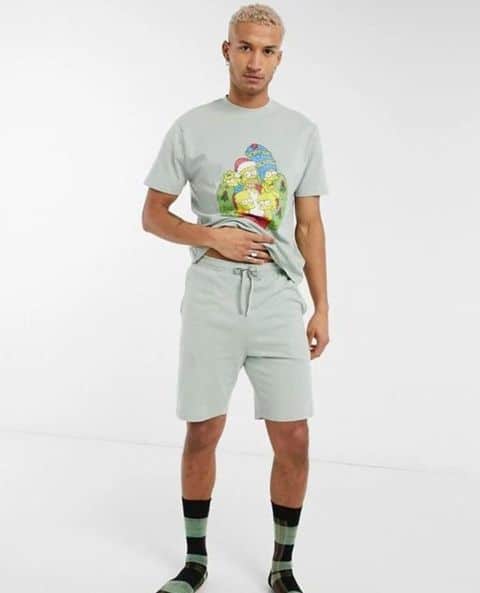 1 – Corduroy Shorts With Casual Plaid Shirt For Hiking
Looking for a casual and stylish outfit for hiking? We have a very cool and on-point attire for you.
All you have to do is pair your corduroy casual shorts with a tee and a button-down shirt.
Wear Joggers or trainers, whatever you see fit and don't forget to grab your camera. There, you are all set for an adventure.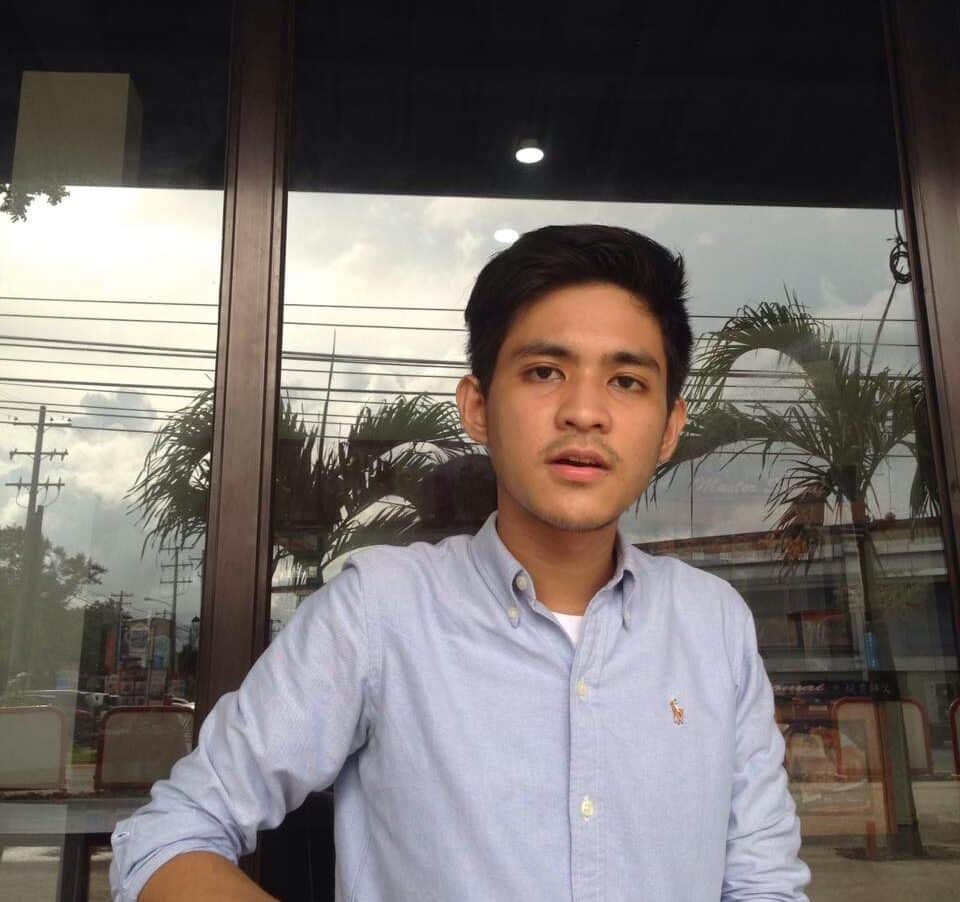 John Vincent studied Communication Arts in the Philippines.
Growing up, he's always had an eye for aesthetics. He enjoys writing a lot. Books, TV series, and movies are a big part of his life. His all-time favorites are Harry Potter, Game of Thrones, and Marvel films.
He believes that fashion is a pure form of art. You express yourself through your personal style – it's something you can't replicate.