Mint Pant Outfits for Men. Mint is a stylishly different and refreshing color. It goes ideally with pastel shades. If you are looking for unique-colored pants and want to try something new, go for mint-colored pants. There is no denying that the fresh hue makes a very unique outfit. Not only for women but for men as well. The color isn't a gender-biased one.
The lighter version of turquoise green and a tone brighter than olive, this one is a balanced hue. Men can wear mint green pants if they look sophisticated and modish. Not only is the look ultra-modern, but it is also sophisticated. If you have never tried mint-colored pants or are looking for ways to rock your newly bought pair of mint pants, here is a guide on how to do so fashionably.
What to Wear with Mint Pants
Here are some basic tips you should keep stored in your mind so you may never end up making a fashion fiasco.
The first thing to decide when buying mint green pants is whether or not the color suits you. It usually goes with most skin tones, though.
Next up, the factor that needs to be considered is which shades can mint be paired with for the classiest look. It goes with beige, peach, navy, and all the rainbow colors.
You must be confident enough to experiment to know what would or wouldn't work.
Add in accessories for the ultimate awesome look. RECOMMENDED: Khaki Pants Outfits.
↓ 30 – With Light Blue Shirt
There are several ways you can sport mint pants. You can wear crisp mint pants with a light blue button-down shirt. You can also switch the blue shirt to a white one. Wear navy sneakers so that you look even more debonair.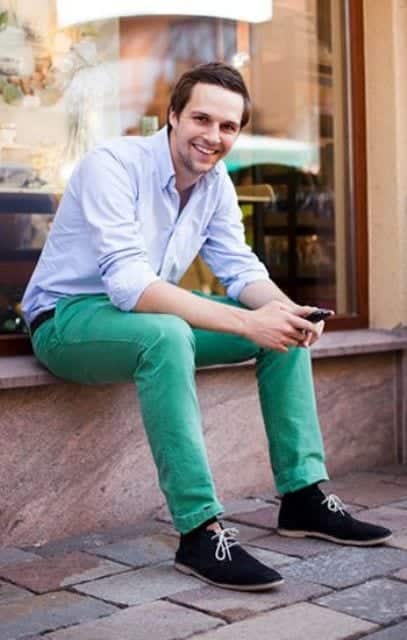 ↓ 29 – Mint Trousers
Mint-colored track pants give off a homely vibe. The look is even more striking, paired with a camel-colored or dark blue V-neck shirt. Also, have a look at these Summer Business Attire Ideas for Men.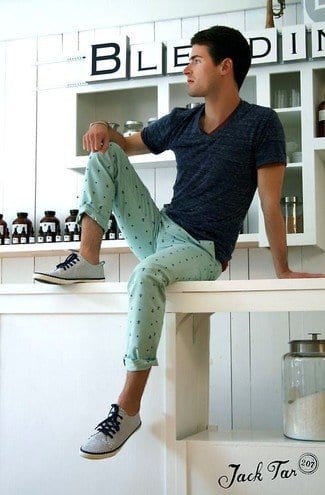 ↓ 28 – Workout Pants
Working out to stay toned? You deserve to look good while doing so. Slip into mint-colored workout pants for a trendy look.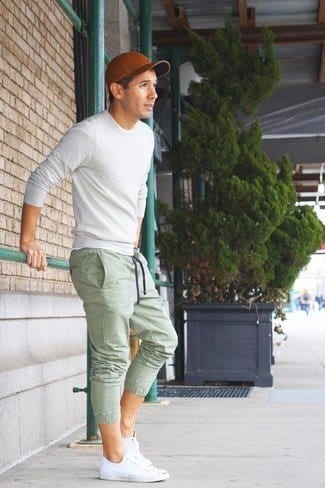 ↓ 27 – Dress Pants
Try mint dress pants with a polo shirt for a sober look. Make certain the color of your shoes matches that of your belt.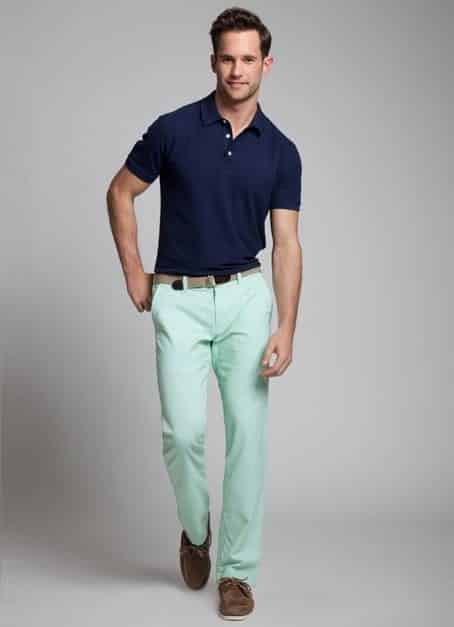 ↓ 26 – Cropped Pants
Wear ankle-length pants for a fancy look. A sky blue dress shirt over it with a blazer thrown on would make for an elegant look. Here's a complete collection of Shoes To Wear With Guy's Sweatpants.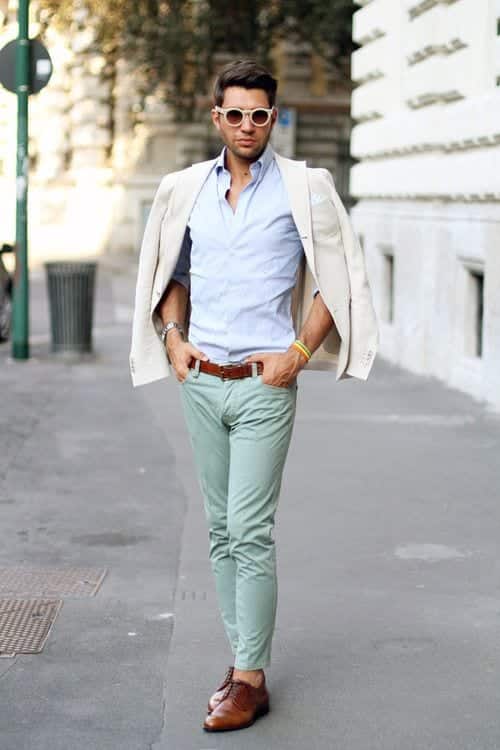 ↓ 25 – Slim Fit Pants
Wear a round neck tee with the mint slim-fit pants for a neat and voguish look. Add a gray blazer to take the notch on style up.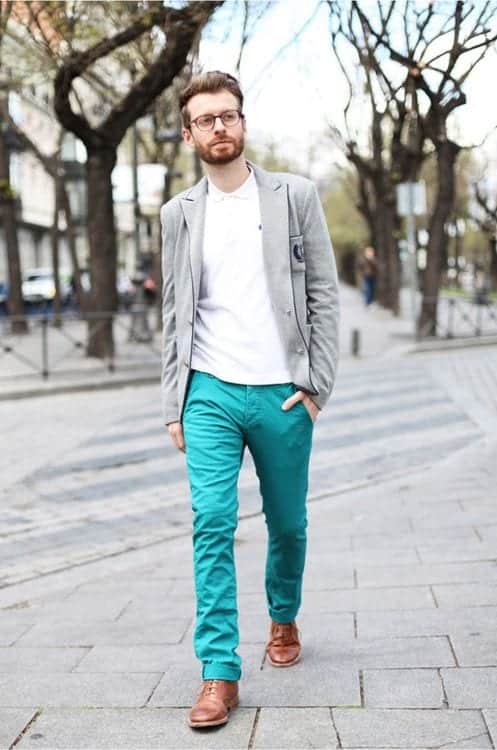 ↓ 24 – Date Outfit
Heading on a date? You have got to look your best. Wear your pair of mint green pants with a gray tee. Throw on an off-white blazer for a posh look. Step into red loafers to add a bit more charm. Here are 20 Outfit Ideas to Wear Black Pants with Brown Shoes for Men.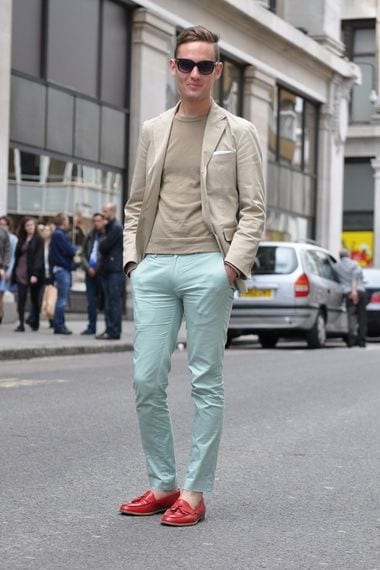 ↓ 23 – Mint Pants Trend
In the 21st century, the only rule that ignites brighter than other fashion regulations is that everything is fashionable as long as you are stylish. The color mint is making way to more and more closets because of how fresh and vibrant it is.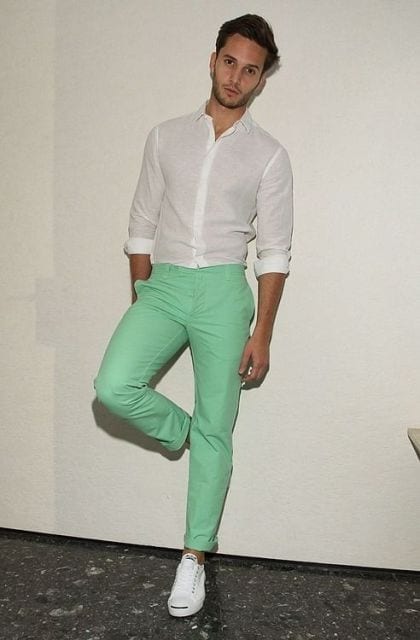 ↓ 22 – Causal Outfit
White tee or polo shirt, mint pants, and sneakers for the ideal laid-back look. Here are the best and Latest Men's Casual Outfit with Blazer.
↓ 21 – Street Style
For the street style look, wear the mint green pants with a checkered dress shirt and loosely wear a red and blue tie around the neck. Brown suede shoes and a brown belt to add the finishing touches.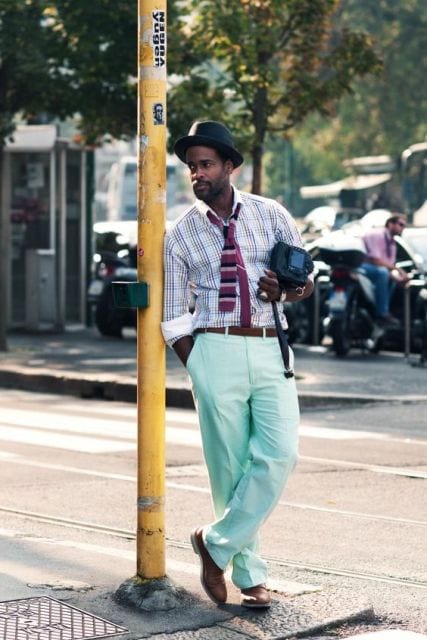 ↓ 20 – Work Wear
Wear the mint pants with a white shirt for the ideal work attire. Look at these 15 Smart Spring Work Wear Outfits Combinations For Men.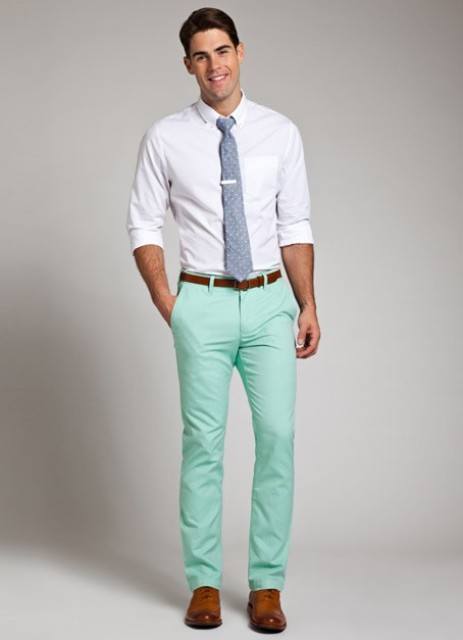 ↓ 19 – Party Wear
Partying with friends? Look different in mint pants with a blue graphic tee and a gray blazer or jacket.
↓ 18 – Travel Outfit
The classic striped black and white tee with mint-cropped pants would make for a very vibrant travel outfit. Do check out these 18 Winter Travel Outfit Ideas For Men.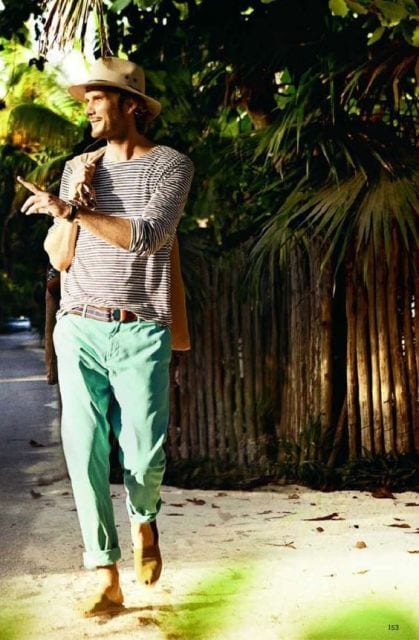 ↓ 17 – Winter Outfit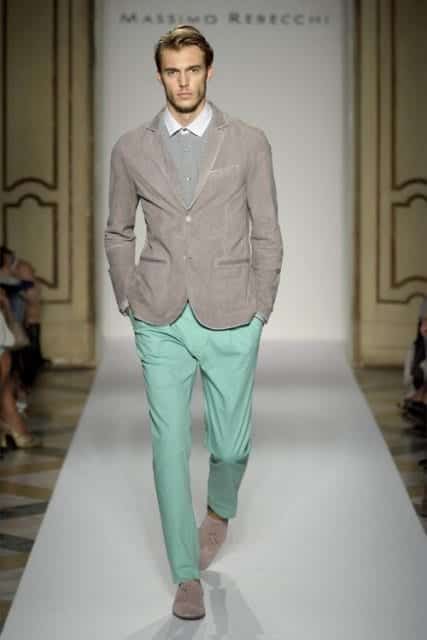 ↓ 16 – Spring Outfit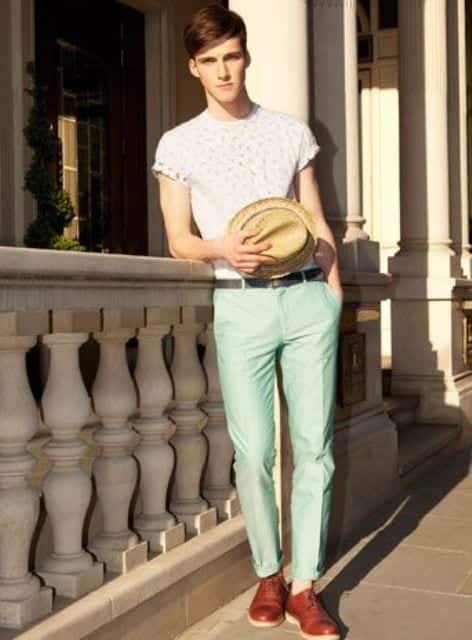 ↓ 15 – Summer Outfit
The blazing heat can be combated by wearing a floral tee with mint green pants and white sneakers. Mint is the appropriate color for summer because it is sassy and cool.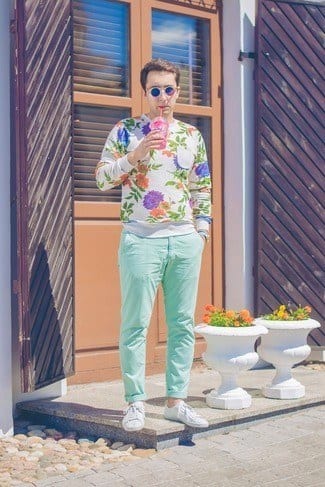 Wear a charcoal tee with a camel-colored blazer over a pair of mint green pants to college. You are bound to turn heads. Don't miss out on these 30 Best Men's Outfit Ideas to Wear with Monk Strap Shoes.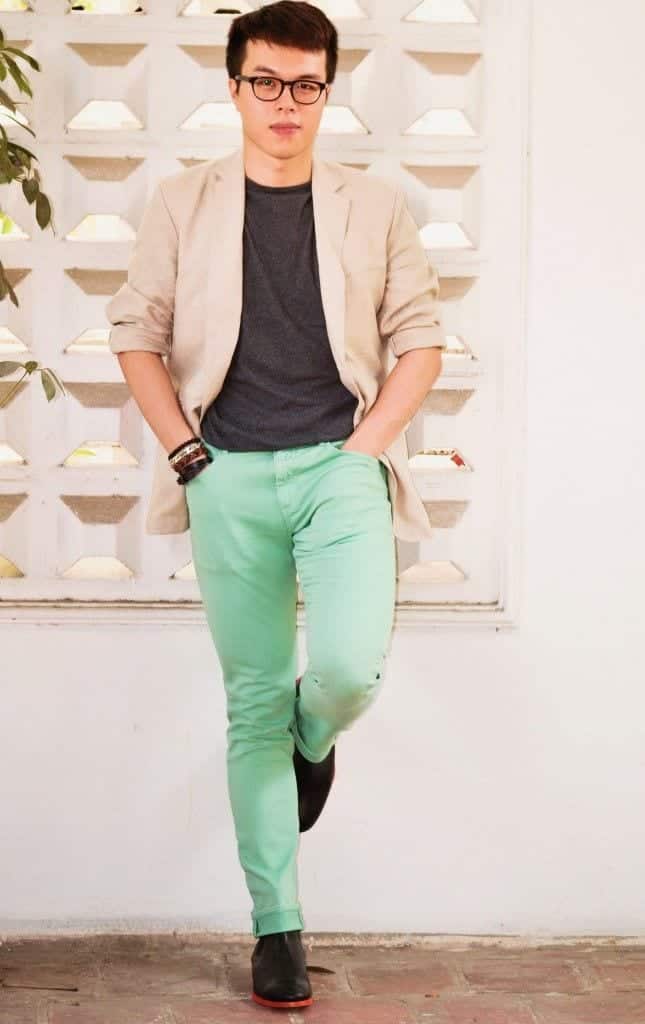 ↓ 13 – Wedding Attire
The best man at your old pal's wedding? You have got to wear a proper attire. Go for a mint green suit, and you'll notice people throwing appreciative glances.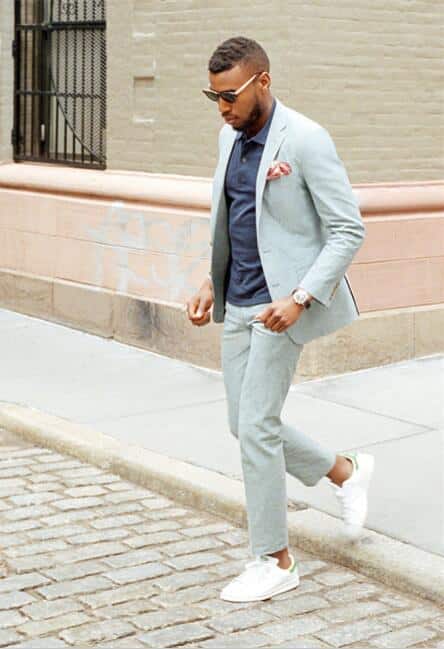 ↓ 12 – Printed Pants
Spread the chill vibe by wearing subtly printed mint pants. A white shirt would complement the look ideally. If you love wearing pants, here are some awesome Cargo Pants Outfits for Men.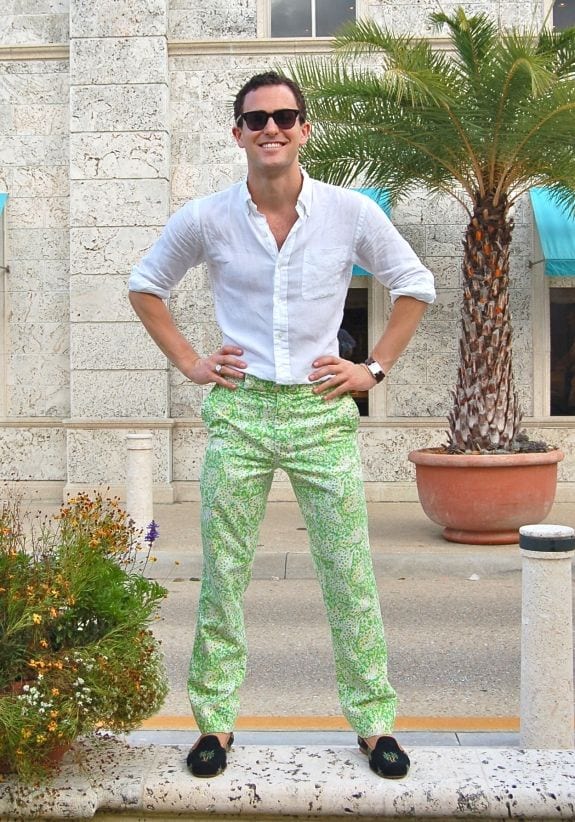 ↓ 11 – Daily Casual Wear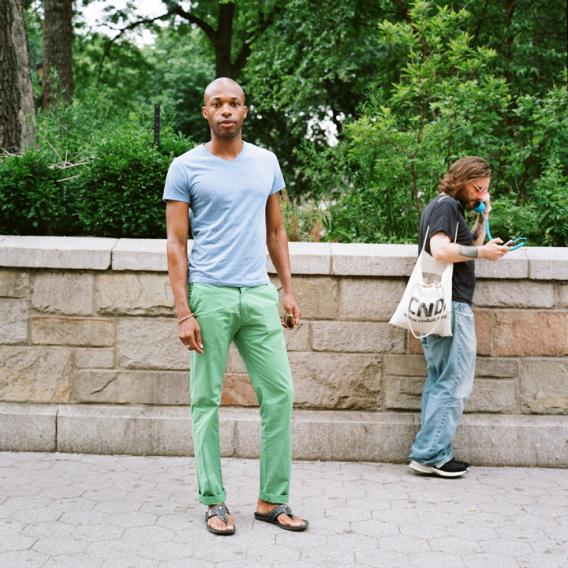 ↓ 10 – Dance Outfit
Comfy pants with a blue shirt would look perfect together. They would not only make an ideal pair but would also suit you. The right colors for a midsummer day's dance session.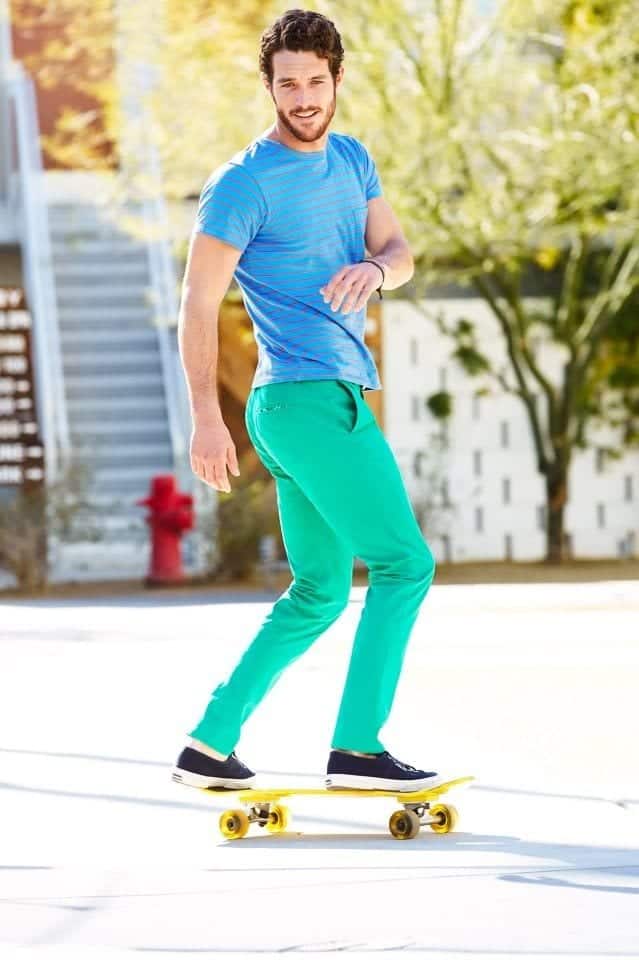 ↓ 9 – Street Wear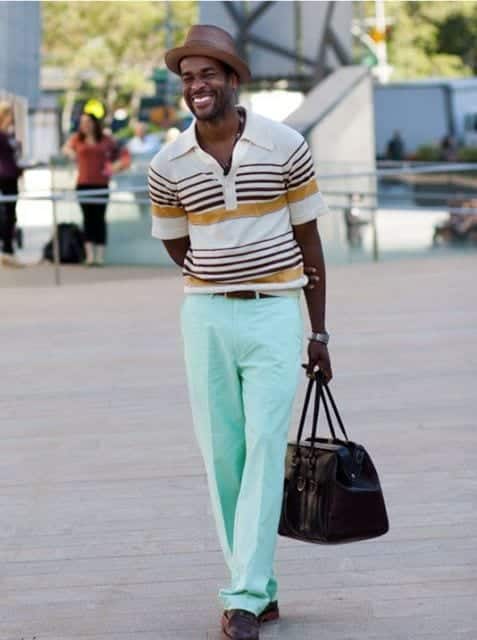 ↓ 8 – What Shoes to Wear with Mint Pants
Black, brown, white, navy or red? All would go! The one thing to store in the brain is that the belt and shoe color must be the same. Here are some of the best Men's Outfits with Blue Jeans.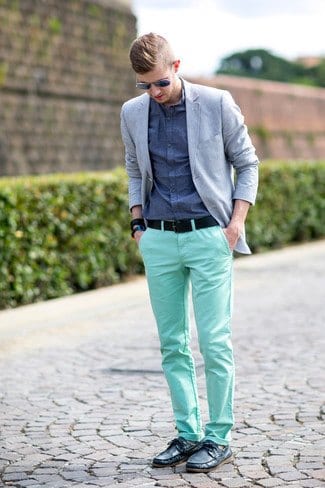 ↓ 7 – Cargo Pants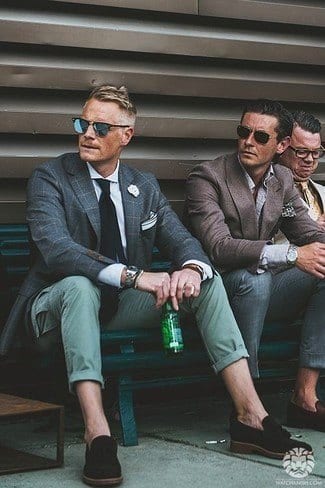 ↓ 6 – Chino Pants
Chino pants are comfy, sober, and cool. Wear mint green chino pants with a peach-colored polo shirt for a snazzy look.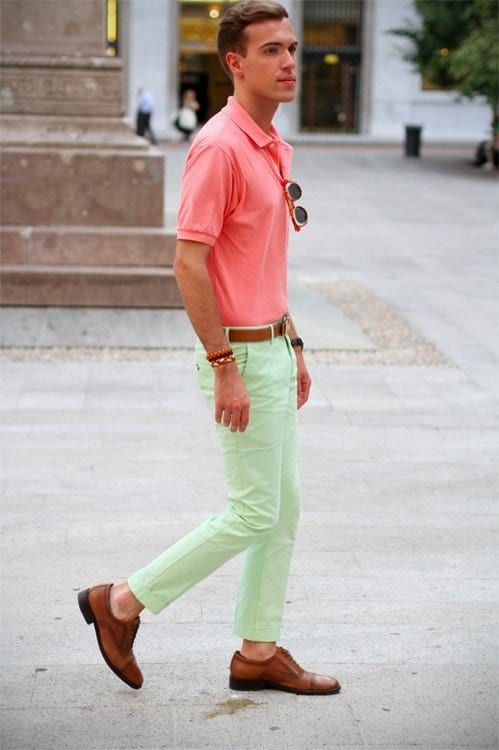 ↓ 5 – Mint Denims
Jeans are the boss of all pants. They refuse to be left unacknowledged. Wear mint green jeans for an elegant look.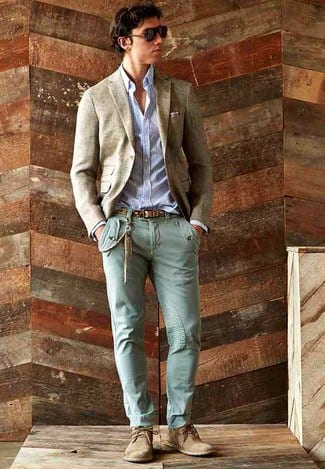 ↓ 4 – Mint Green Khaki Pants
Khaki pants for the rough and tough. Wear mint green ones in a glamorous manner.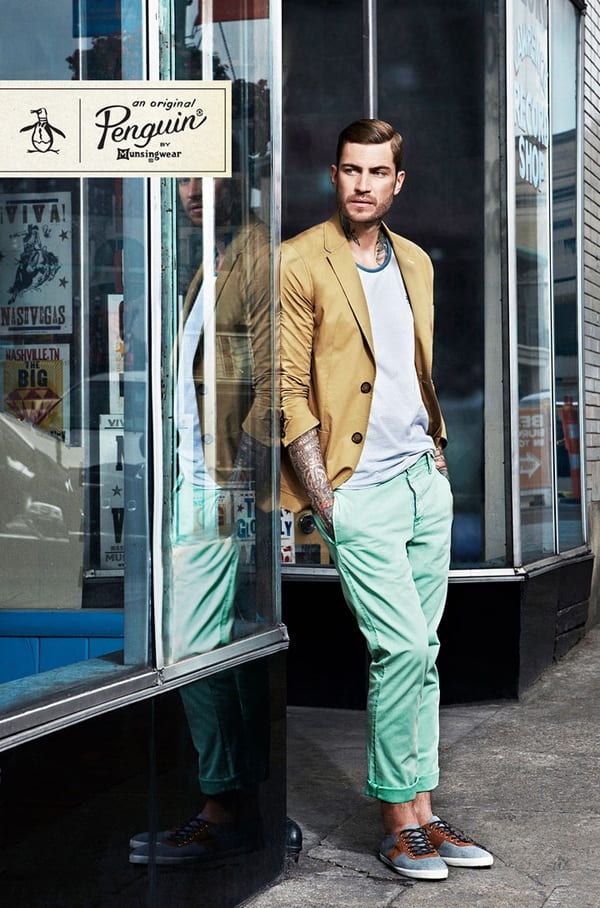 ↓ 3 – Which Colors Do Mint Green Pants Go With
Reds and oranges are a no-no where white, black, blues, beige, browns, and grays gain approval.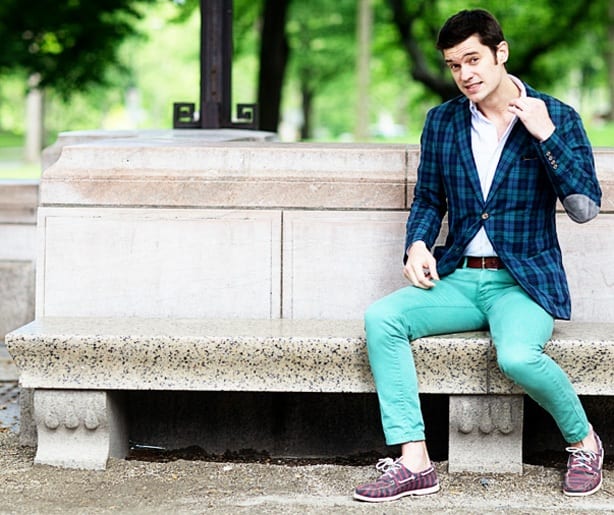 ↓ 2 – Celebrity Style
Spencer Matthews looks stunning in a pair of mint pants!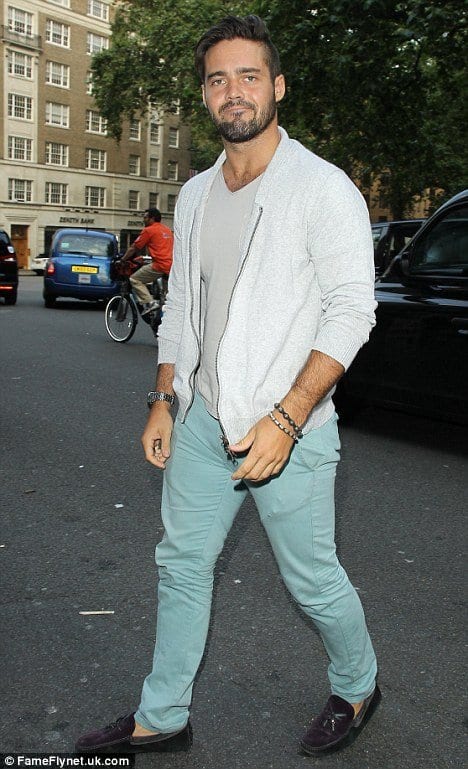 ↓ 1 – Semi Formal