Summer Business Attire Ideas for Men. When it comes to business attire, you just can't just throw on the tee-shirt that sits nearest to you. You have to wake up, shave, make sure your outfit is ironed without even a crease, and then head to work after styling your hair and polishing your shoes.
Most firms and offices have dress codes that you have to follow. Some of them are okay with their employees dressing informally while others are very strict about it.
Men's Guide To Summer Business Attire
You don't necessarily have to wear suits, on some occasions they may even look absurd. If you work at a fun place where no one wears suits and everyone is to dress casually then you can perhaps dress in any way you like. But that's not how it is for most businesses. If you don't want to wear a suit you still can't wear ripped jeans. There are some spoken and unspoken regulations that you have to follow.
Here at Outfit Trends, we have compiled some of the best summer business attire ideas for you, from business casual looks to more professional outfits. We have kept the hot summer weather in mind for most of these looks as well. Here's all the info you need on business attire!
Here are some basic things to keep in mind about business attire in the summer:
Be mindful of the dress code. If you work in a more relaxed environment, you may have the option of dressing a bit more casually. Be sure to maintain professionalism with your attire regardless.
Pay attention to materials and fabrics. A suit with a silk shell is a good option if you are required to wear a suit. Otherwise, linen shirts and cotton-based fabrics will be more lightweight and will keep you cool.
Wear white shirts whenever possible if you are concerned about sweat stains. They will not show like they would on a pale blue or gray shirt. Alternatively, you could wear a black shirt as well, although this may not be your preference in summer.
No matter the season, keep your looks simple and sophisticated. Dress with confidence and you will command respect.
Always be mindful of shoes, cufflinks, hair, wrists, nails, and buttons. These little details can make or break a great outfit. Polish your shoes, style your hair, keep clean nails, and make sure you have no missing buttons.
If you are wearing linen or other easily wrinkled fabrics, be sure to stay on top of them and never wear a wrinkled shirt if you can help it. Crisp and clean should always be the motto.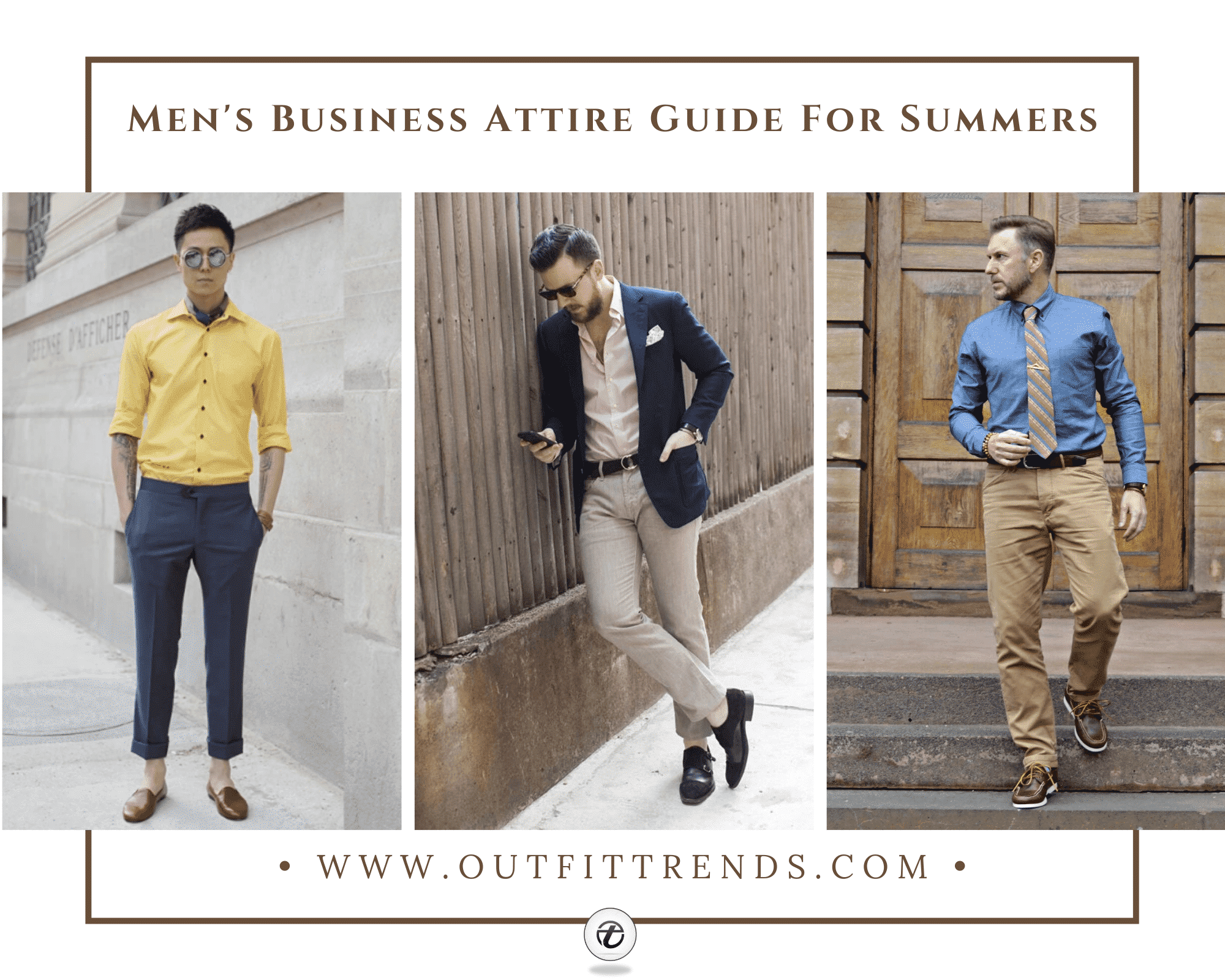 Now, let's look at some outfits!
↓ 30 – Everyday Work Suit
In the summer, put away your dark suits and give a pale gray suit a try. You will want to avoid a three-piece suit as extra layers are never fun in the summer. Finish off the look with brown dress shoes and a super pale gray tie.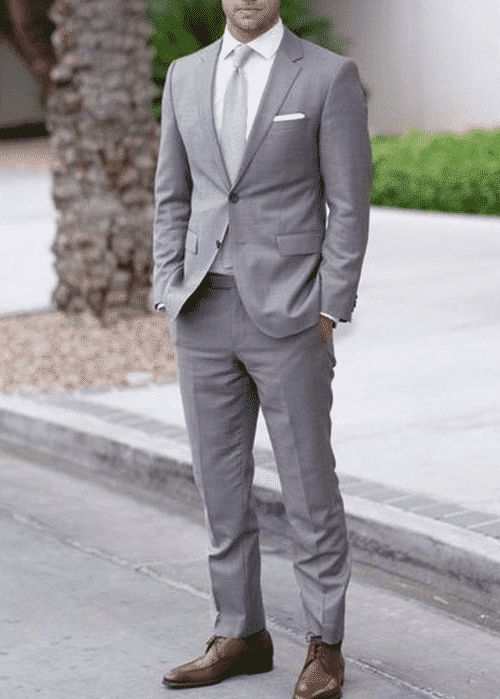 ↓ 29 – Effortless Style
Combining varying shades of blue is always a great look and never more so than in summer. Pair a pinstriped button with a blue blazer and dark slacks. Match your belt to your dress shoes and be sure to add a watch for a practical accessory. Remember fit and cut is always super important. These well-tailored slacks look fantastic with just enough give at the ankle. In most cases, it is best to avoid exposing your ankles for work attire.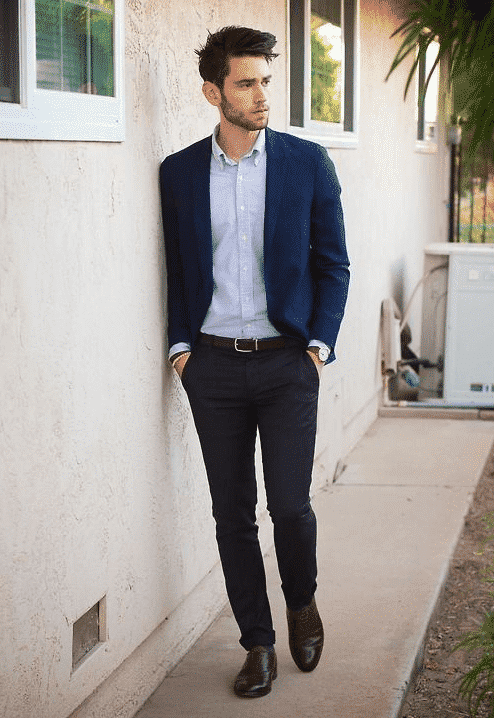 ↓ 28 – Layer Free Look
In the summer, avoiding layers is probably your main goal, to stay as cool and comfortable as possible. Here is a fantastic layer-free look that maintains professionalism and style. (Your coworkers might start asking you for style tips once you start incorporating these outfits and tips into your work attire!)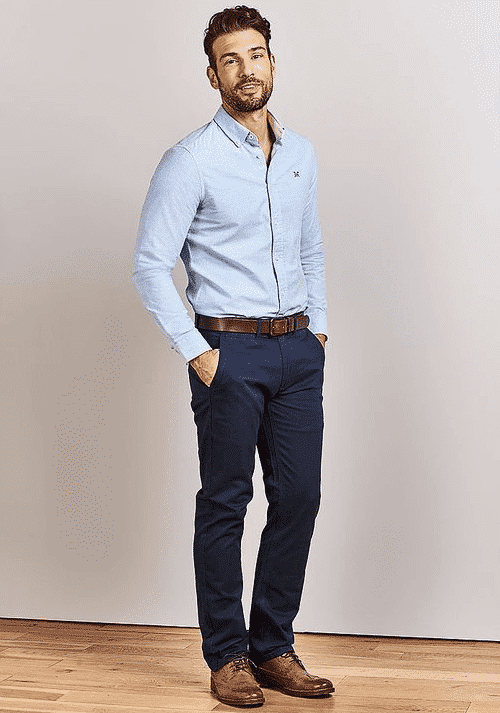 ↓ 27 – Business Dinner Outfit
For a business dinner, dress traditionally. Wear a dark suit with a light-colored shirt. If you want to go for a patterned suit make sure that the pattern is muted and not loud. Here are 20 Facial Hairstyles for Businessmen to go with these amazing outfits.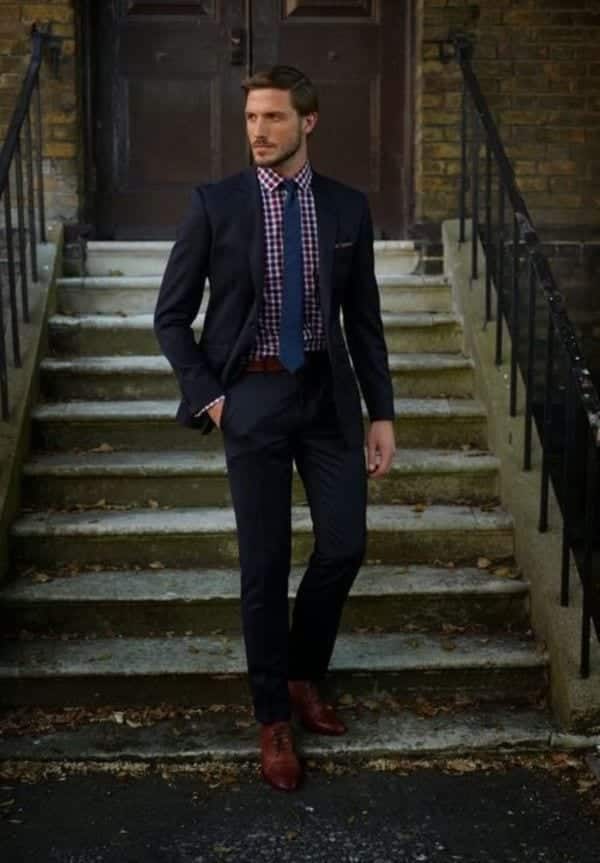 ↓ 26 – Business Casual Outfit
Looking for a casual outfit to wear to work? Slip into a crisp pair of light blue jeans and put on a white button-down shirt. If you want, you can throw on a blazer as well. Otherwise, you could wear a plain tee with a blazer over with your jeans.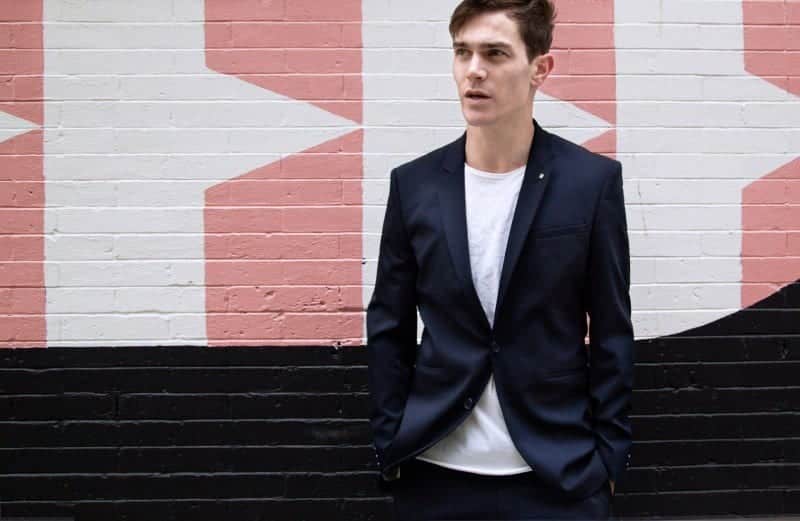 ↓ 25 – Business Interview Outfit
Slip into your best suit when going to give an interview for a business. Wear a tie as well. Keep it formal instead of laid back. Wear socks that match your pants and keep the color scheme dark. Wear a watch as well and stay confident. Make sure the shade of your dress shoe is the same as that of your belt.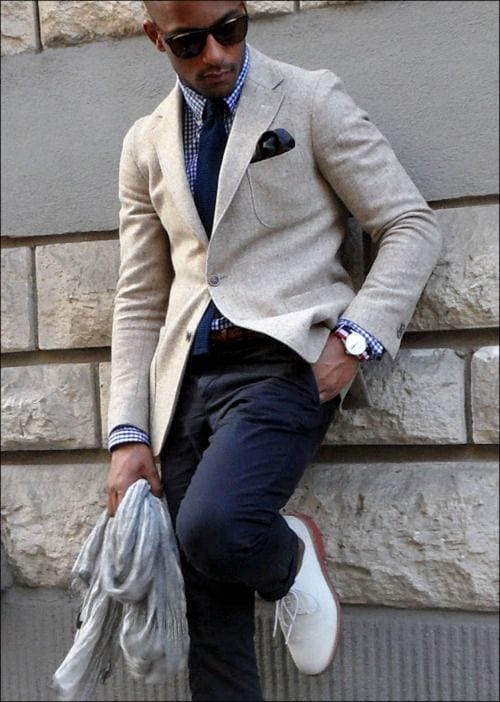 ↓ 24 – Business Meeting Outfit
You don't want to style yourself wrong for a business meeting. Wear a suit that fits you right, not one that sags off your shoulders. Pay attention to each detail: hair must be trimmed, nails must be clean, shoes must be polished to a shine. Wear a classy watch for added elegance. Do check out 20 Ways to Wear Blue Suits with Brown Shoe Ideas for Men.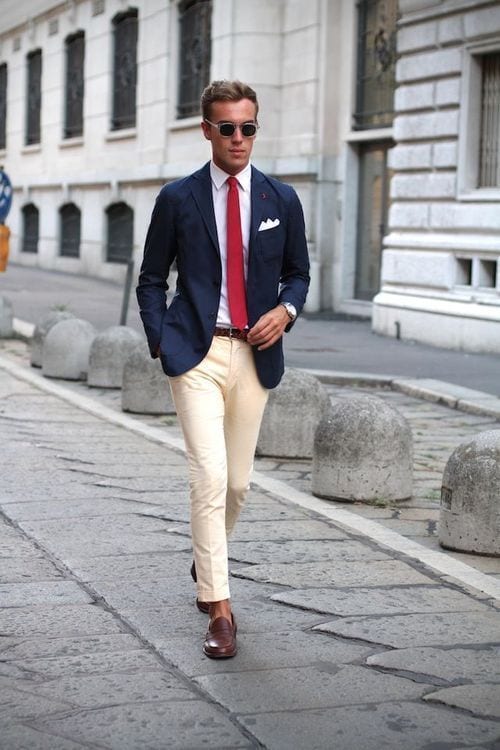 ↓ 23 – Business Seminar Outfit
When attending a business seminar, make certain you are dressed appropriately. Wear a blazer with a button-down. You can wear khakis instead of trousers. If you want then you have the option to ditch the dress shirt for a polo one. Leave the tie behind.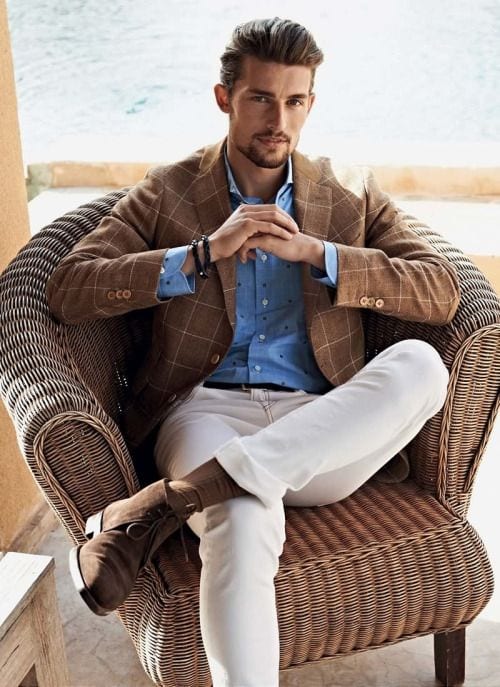 ↓ 22 – Business Conference Outfit
A navy blue suit is always a sleek and stylish choice. The lighter shade will be more appropriate for summer as compared to black or charcoal gray. We also recommend that you check out these Amazing Men's Suits Combinations to Get Sharp Look.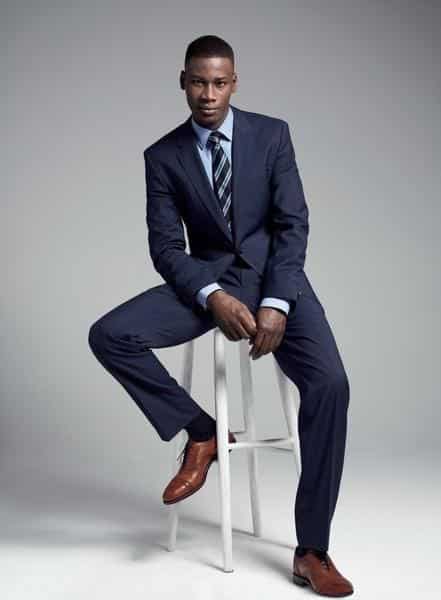 ↓ 21 – Business Cocktail Party Outfit
Here is an example of a stylish ensemble when invited to a business cocktail party. You may prefer lighter colors for summer. Keep it business casual. You can always remove the jacket and roll up the sleeves as well if you want an even more casual look. If you like a little flare with your shoe choices, consider a suede dress shoe.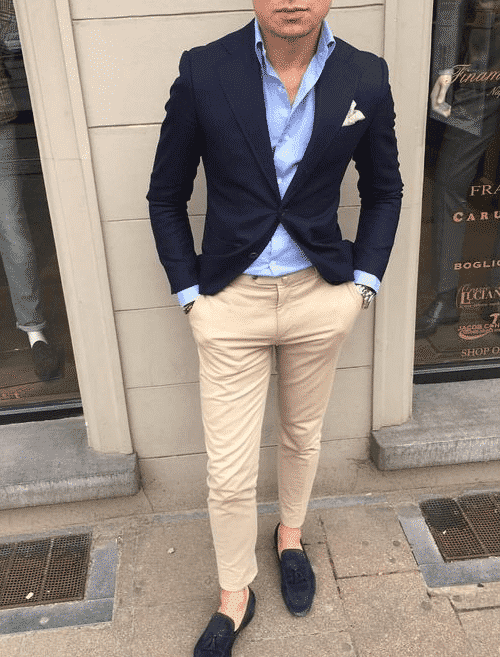 ↓ 20 – Work Event Outfit
The light, summer colors will have you feeling cool and fresh even at a work event. Bypass the tie in favor of a crisp pale blue button-down shirt, open at the collar, and a well-tailored lavender-blue suit jacket. Pair with white pants, a black belt, and black dress shoes. You can accessorize with a watch a cool pair of sunglasses. Your colleagues will be super impressed by your style pizzazz.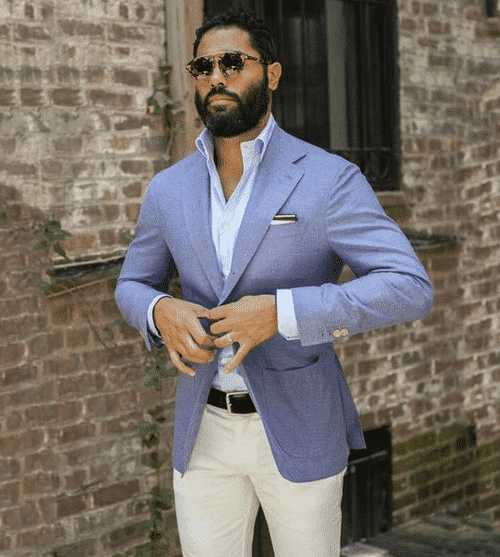 ↓ 19 – Business Luncheon Outfit
For a business luncheon, it is always wise to verify whether or not there is a dress code. Regardless, you want to look poised and professional. If the environment is more on the casual side, here is a good outfit option for you. Put on a dress shirt with pants and add a light gray suit jacket. Keep the color combo light because it is summer and feel free to bypass the tie. Go for an open collar if you like but keep your buttons closed!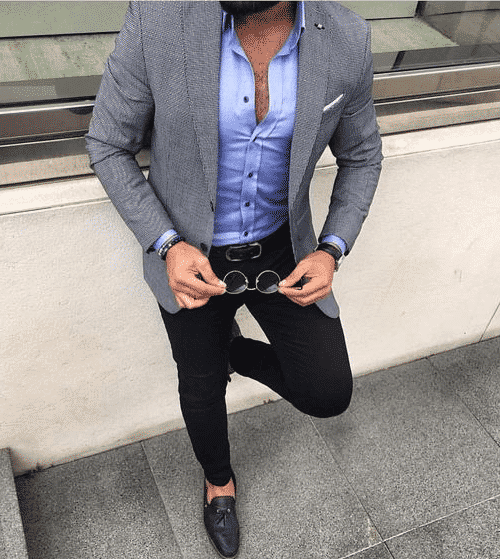 ↓ 18 – Everyday Work Outfit for Summer
What you wear to work depends on the dress code that is set for that specific workplace. Most allow business casual outfits. This includes button-down shirts with either khakis, chinos or slacks. Make sure your clothes are well-pressed. Wearing a tie isn't essential. Here are the Essential Men's Fashion Pieces for Both Business and Casual Wear.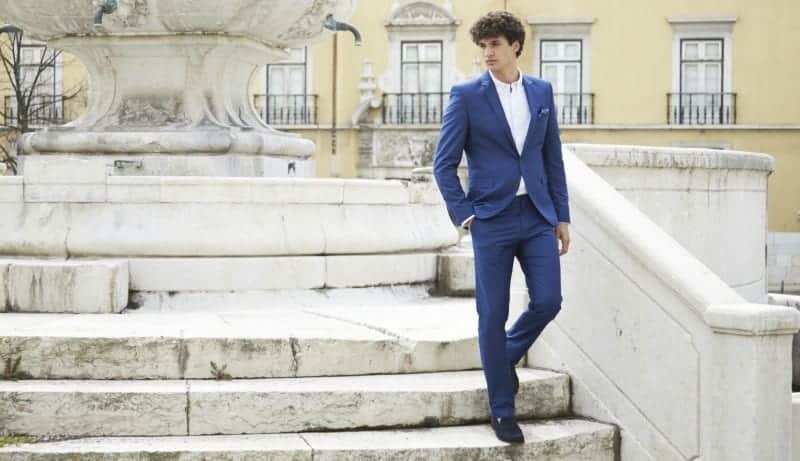 ↓ 17 – Summer Business Suit
For summer, wear lighter shades and be sure to take off the jacket when you feel it's intolerably hot! Go for fabrics like cotton, linen, and fresco. If your firm doesn't require you to wear socks, ditch the socks.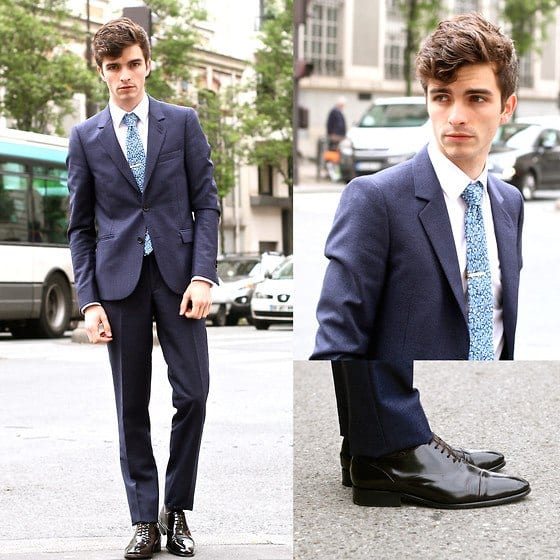 ↓ 16 – Casual Work Attire
For a casual workday, remain professional but feel free to whip out your best jeans for this stylish summer ensemble you will love. Skip the tie and cuff links and lay aside your darker suit jackets in favor of this summer-approved option.  Wear dress shoes and use a navy blue pocket square as a finishing touch to the look.

↓ 15 – Extra Casual Summer Look
Here is another option for business casual wear. Opt for a short-sleeve checked shirt tucked into cream-colored pants and accessorized with a brown belt and a brown wristwatch. While we always recommend dress shoes over other more casual options, as long as you keep the shoe dark (no funky colors or motifs) you can get away with a sneaker or other type of shoe.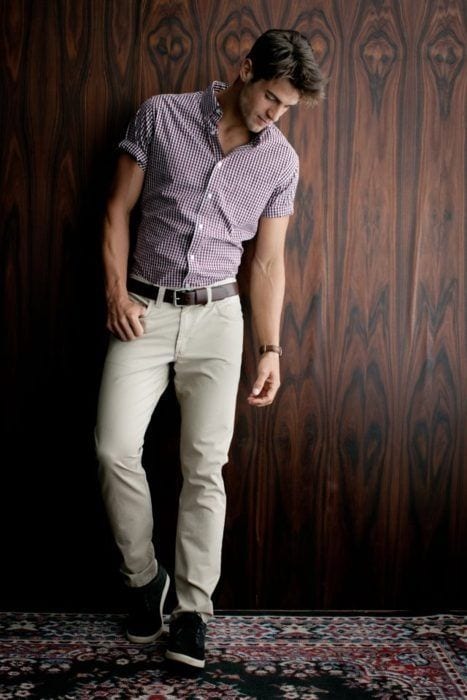 ↓ 14 – Summer Business Shoes
Go for loafers minus the socks. Try monk strap loafers as well. Those would look unique and classy. Here are some of the coolest Black Shirts Outfits for Men.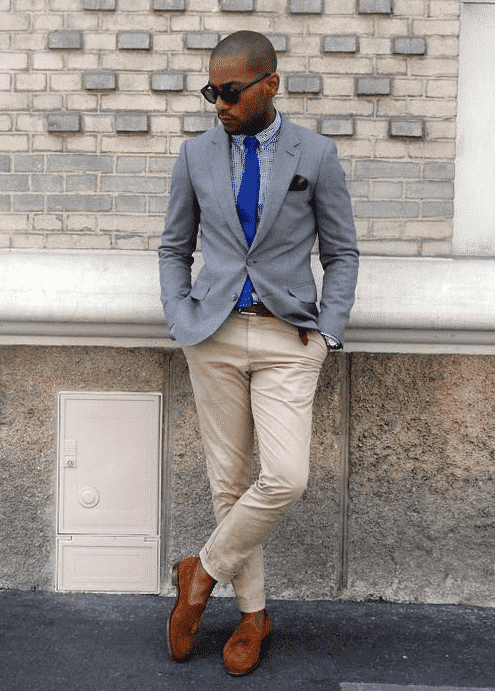 ↓ 13 – Travel Work Outfit
If you have to travel for work, here is a great outfit option you can try. Note that all the accessories are black and that this look is well-coordinated and structured without being overly dressy.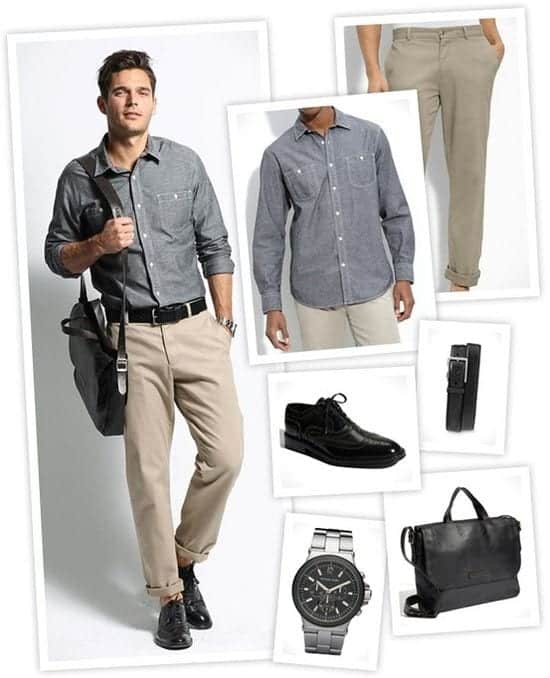 ↓ 12 – Meet-and-Greet Outfit
Want to make a great first impression? Try this stylish ensemble. Once again, we would recommend dress shoes as the superior option in this case.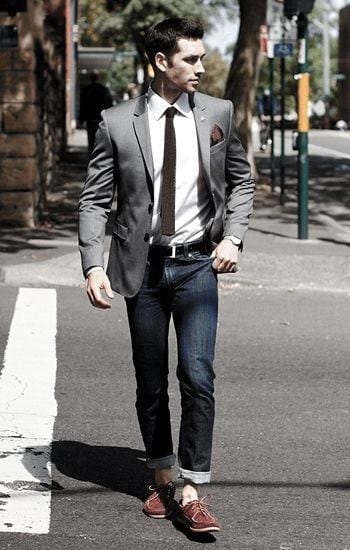 ↓ 11 – Semi-Casual Friday Outfit
Celebrate the end of the workweek with a semi-casual ensemble you could easily rock for happy hour as well.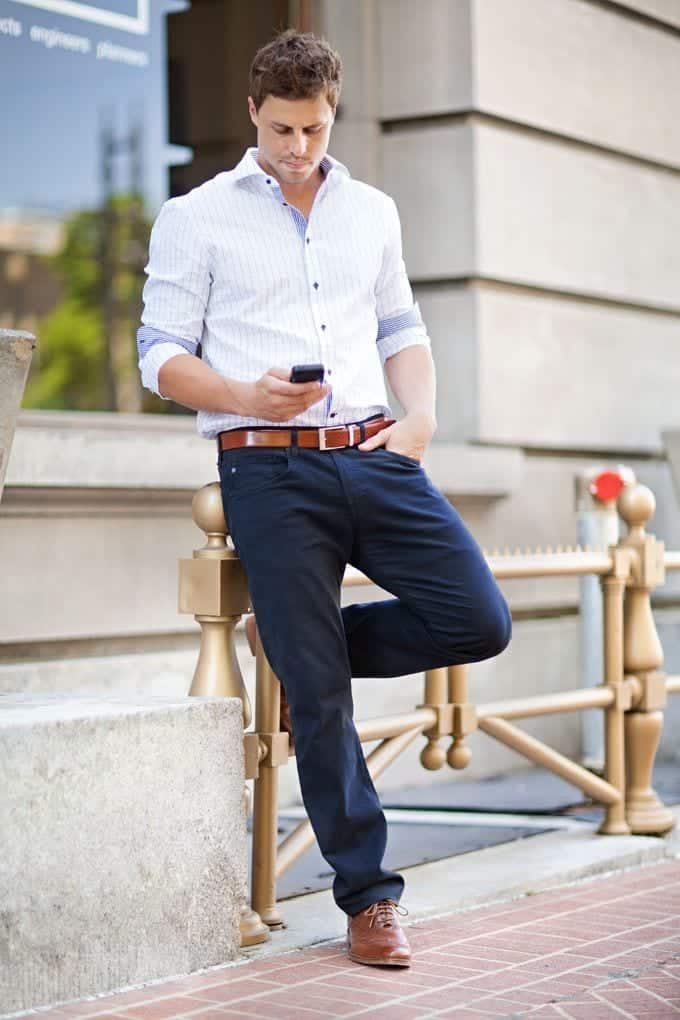 ↓ 10 – Work Attire for Juniors
If you are a junior at a firm, you have a little more lee-way with your looks. But always remain professional and dress for success.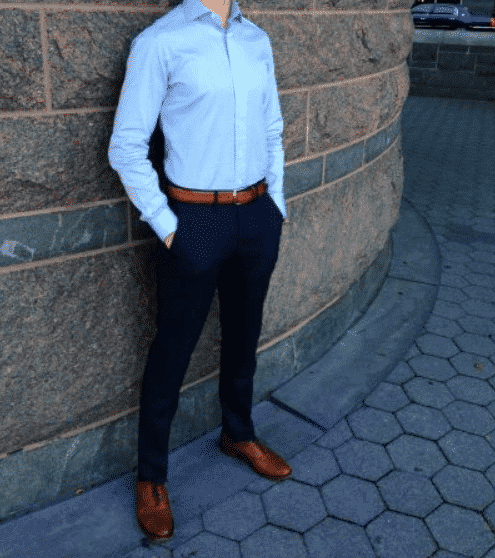 ↓ 9 – Summer Hairstyles for Men
Your hairstyle speaks volumes about your personality. Your hair must be cut in a clean, versatile, and conservative manner. The top business hairstyles include the taper haircut, the ivy league haircut, the slicked-back side part, the butch cut, and the crew cut. Keep your hair short and neat. If you like your hair long, make sure it always looks and smells clean and is styled appropriately.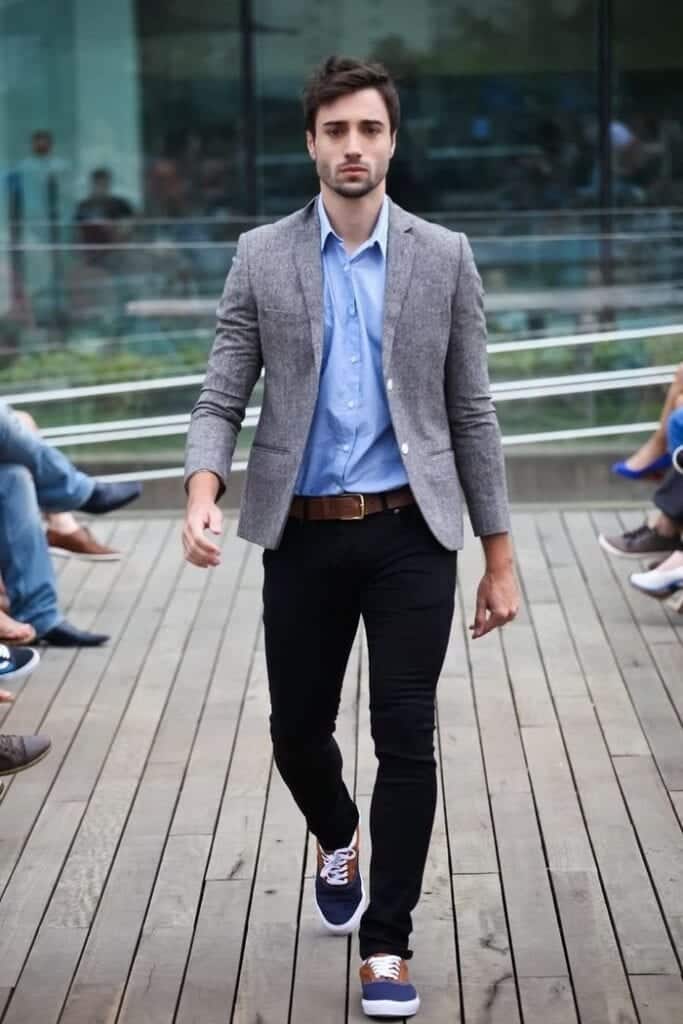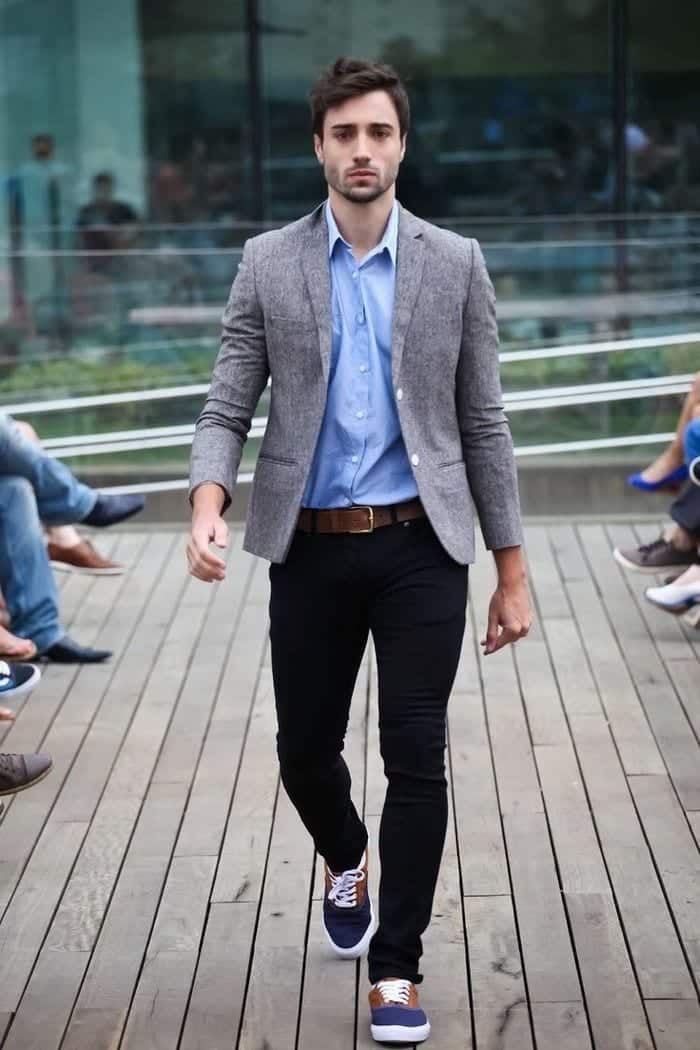 ↓ 8 – Stylish Work Outfit – No Tie
As aforementioned, you do not always have to wear a tie. You can go for one on special days but you can skip it as well.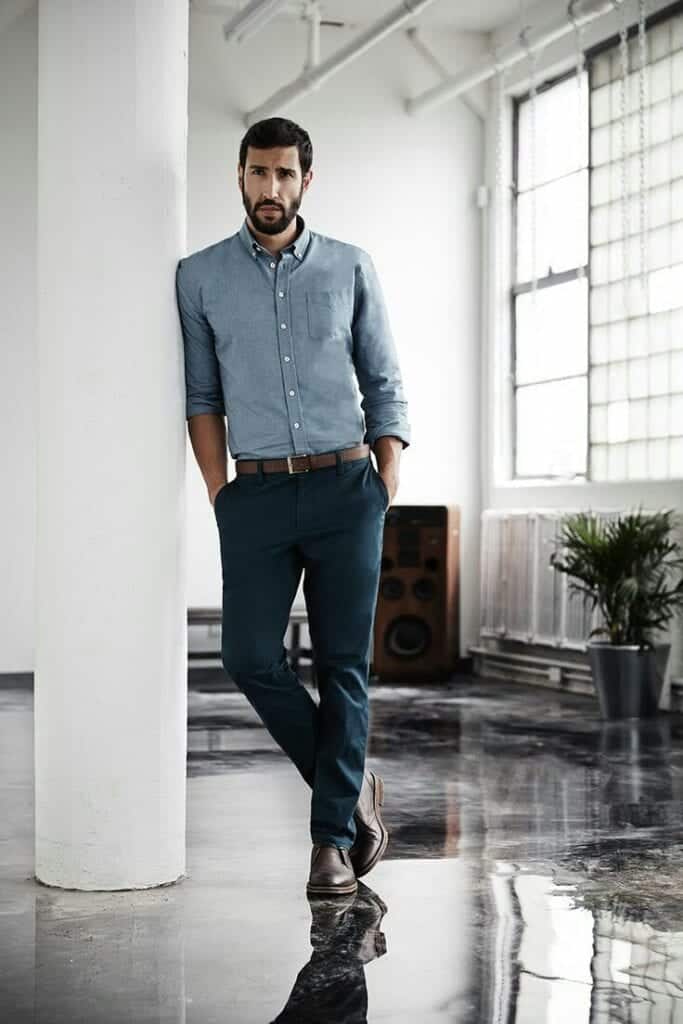 ↓ 7 – No Jacket Work Outfit
On unbearably hot workdays, skip the jacket. You can still remain professional with a sleek tie and a great belt. We think this is a great option for interns as well.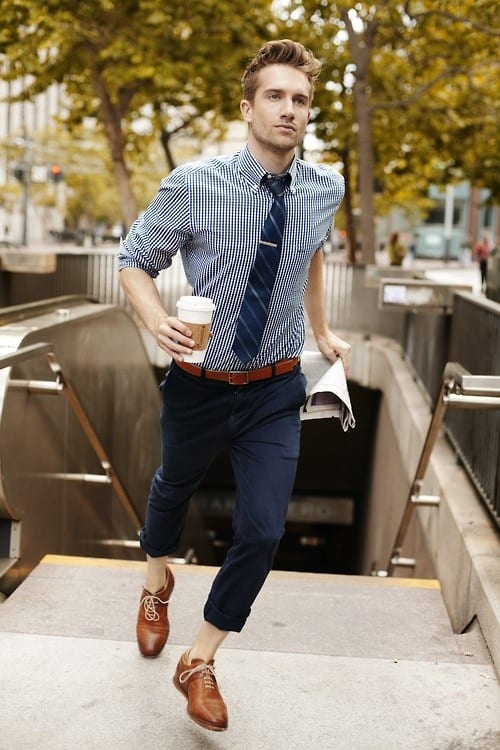 ↓ 6 – Dress Code Etiquette
Dress appropriately, following all the rules of the dress code. Keep it classy by wearing a watch. Make sure your buttons aren't loose and both your cufflinks and shoes are glossy. Don't miss out on these 30 Best Men's Outfit Ideas to Wear with Monk Strap Shoes.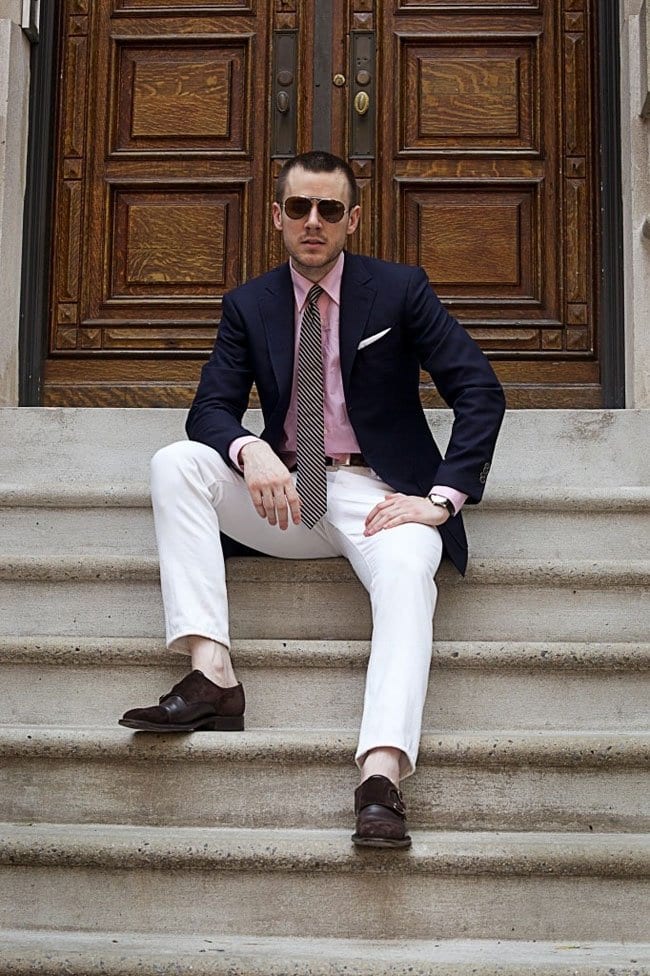 ↓ 5 – How to Wear Jeans to Work
You should always aim for a conservative yet classy look instead of a trendy one. But if you want to up your style game, go for jeans with a button-down and light-colored blazer. To wear jeans to work, opt for a dark wash and a slightly loose fit (no skinny jeans) and pair with loafers or dress shoes.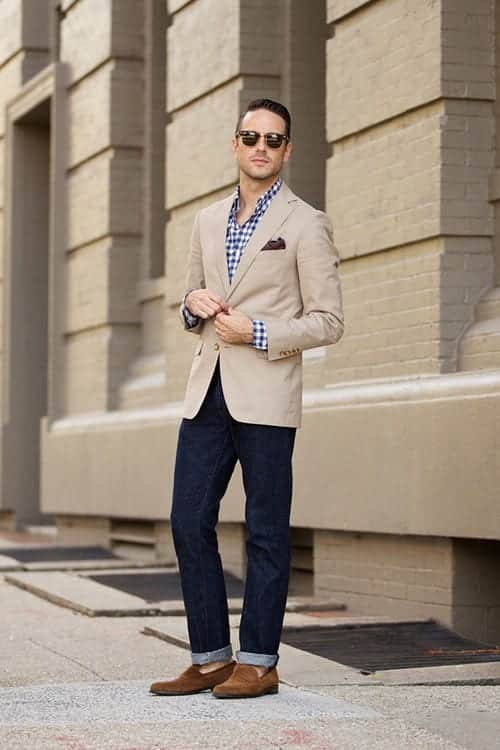 ↓ 4 – Styling a Pink Button-Down for Men
Play up your regular style by giving a pale pink button-down a try. You can pair it with a navy blue jacket for a stylish look. We think this makes a great out for traveling for work as well. Pack your best slacks and blazers. Wearing a suit isn't a prerequisite, so you can wear a slightly different but matching shade of slacks with your blazer and dress shirt. Loafers would be a good choice. Here are some of the best Men Waistcoat Styles for ideas on how to wear a waistcoat for a classy look.
↓ 3 – Internship Work Look
Beat the heat with lighter shades.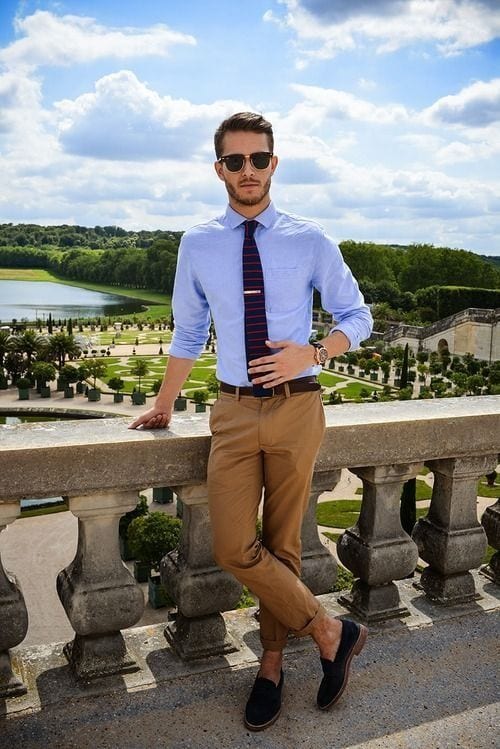 ↓ 2 – Senior Style
Whether you are the boss or you have earned your casual office attire privileges, here is a great option for senior employees.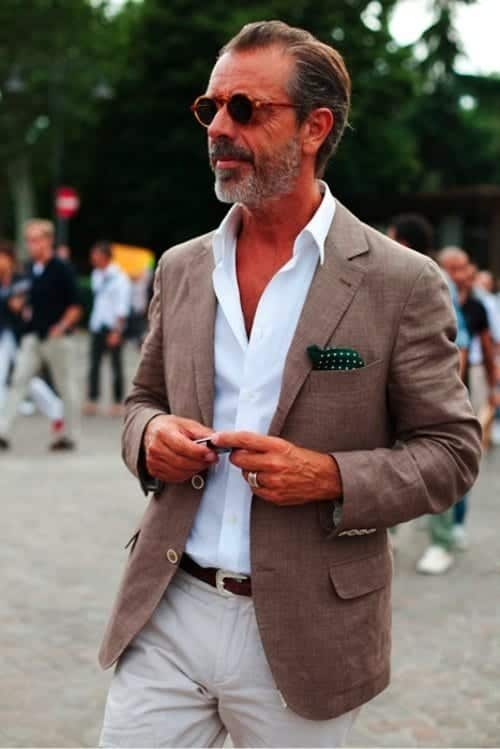 ↓ 1 – Business Internship Attire
Here is another option for interns. This is a youthful but extremely classy style that is sure to make a good impression.