Summer Jeans Outfits for Men: Jeans have been around the corner so as long as anyone can remember and has seen its up and down throughout the years. Since its inception in 1873 by Jacob Davis and Levi Strauss, Jeans have gone all the way from being the choice of fashion as well as rebellion for both men and women in different eras. Various different trends have jeans involved somehow from the double denim look to the low-rise pants phase we have seen it in all its glory.
However, here we will like to present the latest trends and styling options for jeans in summer so you can try on some new ideas and outfit styles this year.
How to Style Jeans Perfectly in Summer for Guys
Here are a few tips we swear by for wearing jeans in summer:
Loose fitted crop jeans are idle if you plan to wear jeans in summer and they look pretty attractive too. However, keep in mind not to overdo the crop jeans and keep it slightly above the ankle for the style.
Take caution and void exceptionally fitted skinny jeans for summer because they are not suitable for everyone and can cause chaffed thighs.
Another important aspect of wearing jeans in summer is to ditch the heavyweight jeans and go for lightweight jeans varying from the ranges of 8oz to 10z in weight. This will help you stay sweat-free in hot summer weather.
When trying the double denim look, beware of the color combinations or the shades of denim you are using. Usually, the top should have the lighter shade and the bottom should have a darker shade.
Experiment with different types of fit for jeans before you choose your favorite. However, steer clear of baggy jeans. Instead, go for regular fit or the more popular dad jeans.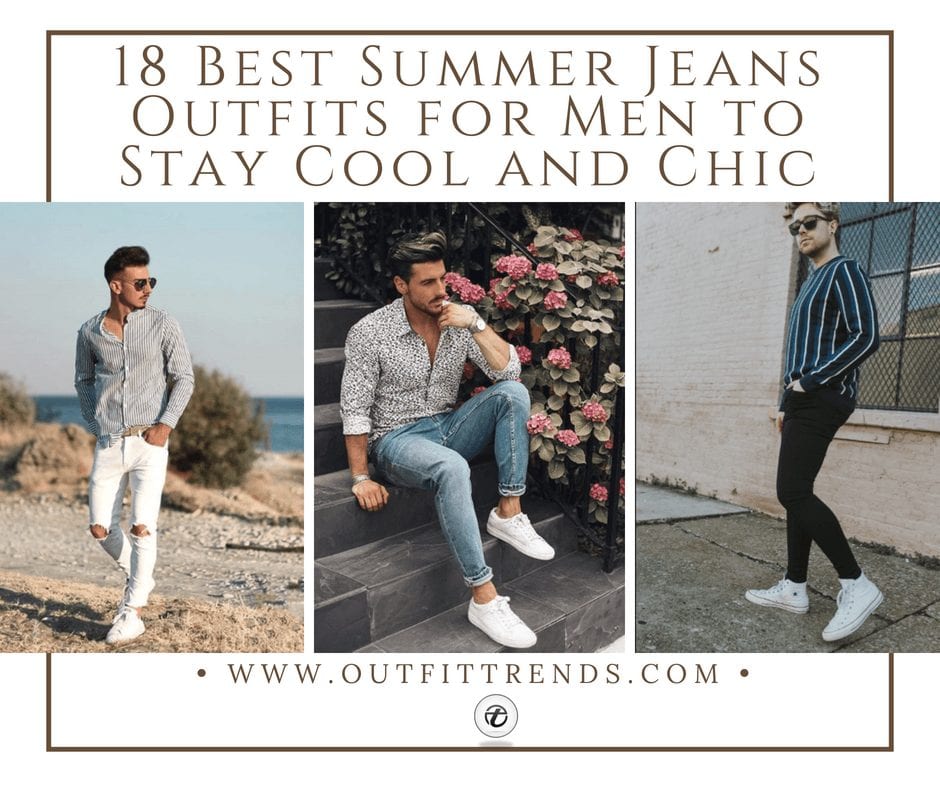 ↓ 18. Retro Summer Look
Fashion might be evolving all year round but old fashion trends and favorites will never grow old. So spice things up this summer by wearing cute old vintage and retro shirts with unique prints with jeans. For a laid-back classic look fold up the shirt sleeves and wear some white sneakers with the outfit for a bold outlook. Black jeans will really complement any retro shirts you might be hiding in your wardrobe. Here are some more Retro Outfits For Men To Try This Year.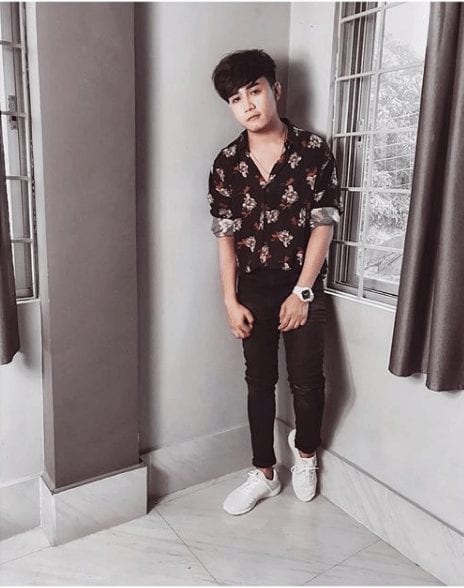 ↓ 17. Beach Outfit
Summer brings on the great urge to go for customary beach visits and splash around in the cool water. Whether you are planning to go to the beach for a moment of peace or for some awesome parties planned by friends, you need not ditch your jeans. Jeans are often not considered as a proper garment for beachwear, but the rugged quality and ability to work in all sort of environments makes it most appealing for such occasions. You can slip out of this outfit and go for splashing in the waves easily. Wear your favorite pair of jeans and a loose beachy-vibe shirt and you are ready to go.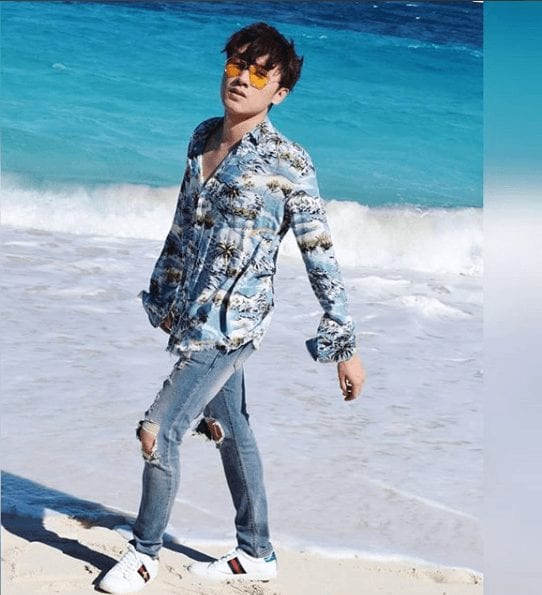 ↓ 16. Jeans With Suspenders
Suspenders might be a tad bit tricky to pull off but when worn correctly can really help you in looking suave and sophisticated. Dress up your jeans by adding some cool suspenders along with it. This could help elevate your casual or traditional look and help you attain a more perfect and classy look. You can wear faded blue jeans with a breezy material shirt for summer and wear suspenders and a tie for a formal look. To add to the edgy persona, wear some brown chukka boots with your outfit.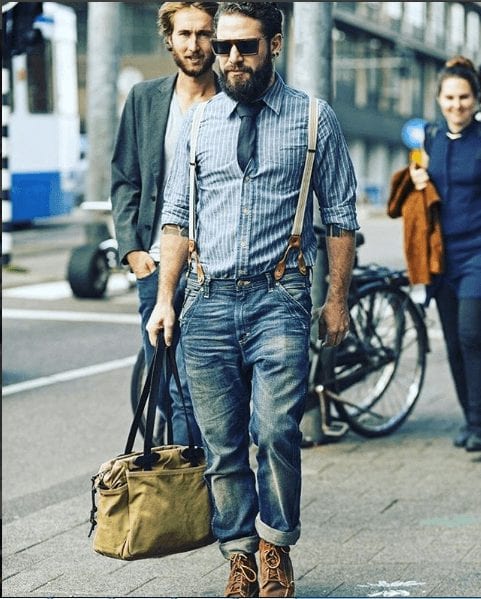 ↓ 15. Trendy Summer Outfit
Your favorite ripped jeans are waiting to be styled in classical ways for summer. For a groovy look this summer, we urge you to try on some funky printed shirts that are not only the rage this year but are also helping the fashion bloggers in pulling off some really interesting outfits. Ditch the slim-fit look this summer, and instead wear your jeans with some cool and flowy printed shirts that will help you in staying sweat-free this year. Check out these 18 Best Workwear Outfits for Warm Months.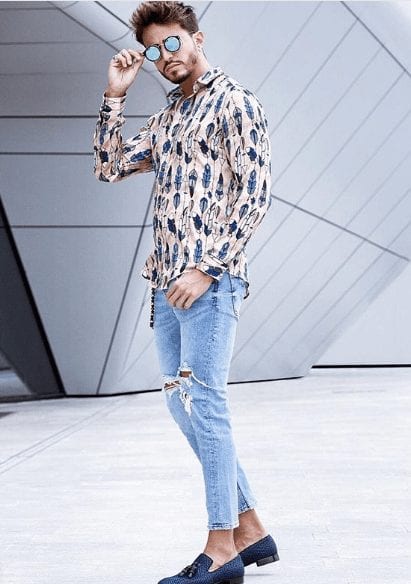 Another path to follow is to wear chic and funky shirts with turn-up or cuffed up jeans and wearing casual sneakers with this outfit. Dad jeans or regular fit jeans are ideal for this sort of look.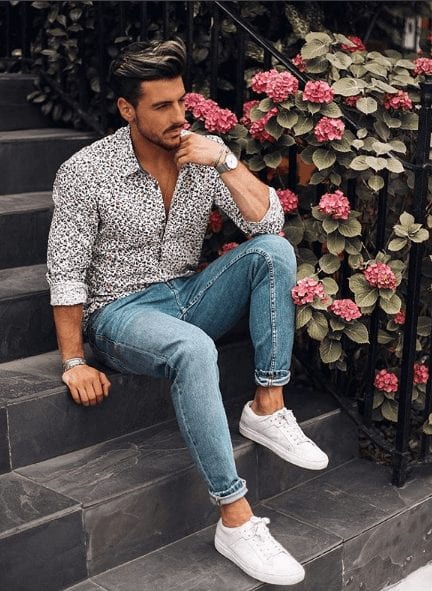 ↓ 14. How to Style White Jeans
Generally, dark colors create a nice combination with white jeans but for summer, one major factor to consider is colors that appear breezy and cool to the eyes. For a great summer outfit, pair your white jeans with light shades and pastels for a solid combination. You can wear pastel shirts with white jeans for a casual look, and striped shirts for a more dressier look for parties and various daytime events. To create a classic synchronization, opt for white sneakers to go with your white jeans.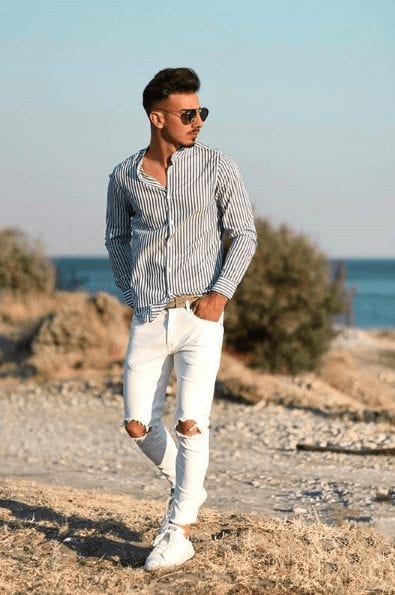 Via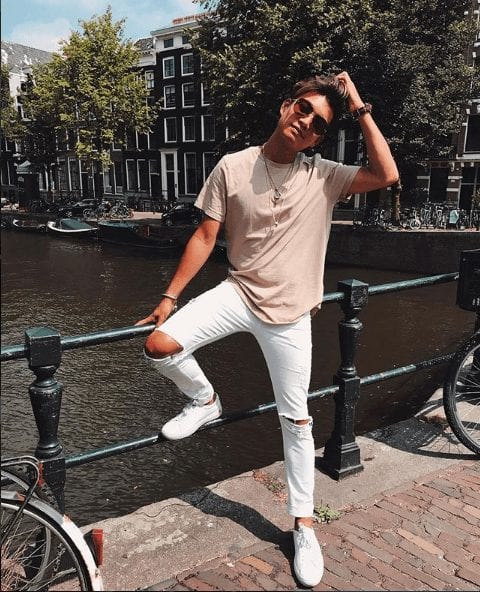 ↓ 13. Double Denim Look
Double denim look is a classic favorite that if done right can really enhance your style game. While opting for double denim look, the crucial element is to not forget that same color and shades need to be paired together or it can get spoiled. Go for a light washed blue jeans and pair it with a similar shade of jeans shirt and blue sneakers or slip on.
For summer, a white double denim look can also be employed by wearing white jeans and a white jacket with a tank top for a simple crewneck shirt for adding the right pop of color.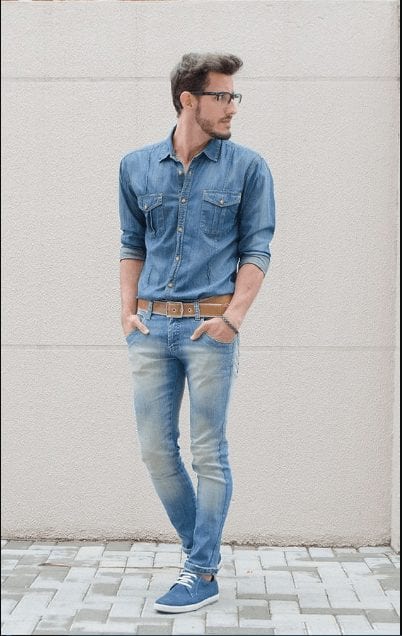 ↓ 12. Graphic Tees with Jeans
Graphic Tees have been hugely popular and the go-to option for both teens and adults and work wonders with any shades of jeans. However, this summer ditch your humorous one-liners or rebellious metal band tees and instead go for these classic hugely printed logo and brand name tees with jeans. Graphic Tees go well with blue distressed skinny jeans.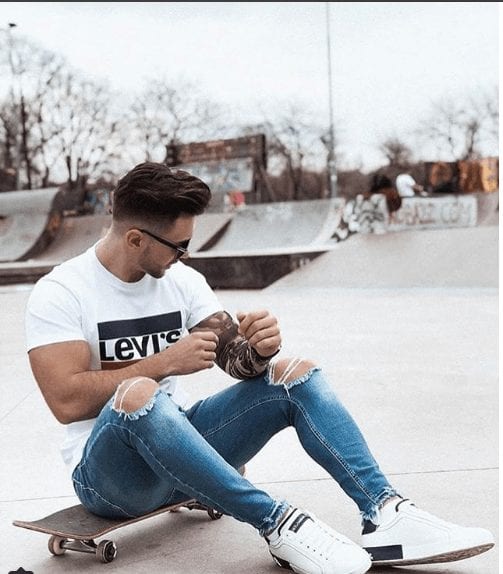 ↓ 11. How to Wear Patterned Shirt with Jeans
Patterns like strips are going huge this year so it is essential to wear your jeans with wide pattern striped shirts. Instead of sticking with the typical nautical type strips, go for something different and unique. Try various color combinations to try on with your lighter color jeans for a daytime look and bolder more smoldering colors for the nighttime look. With striped shirts and jeans combo it is essential to keep the footwear funky and casual so go for sneakers or slip-on.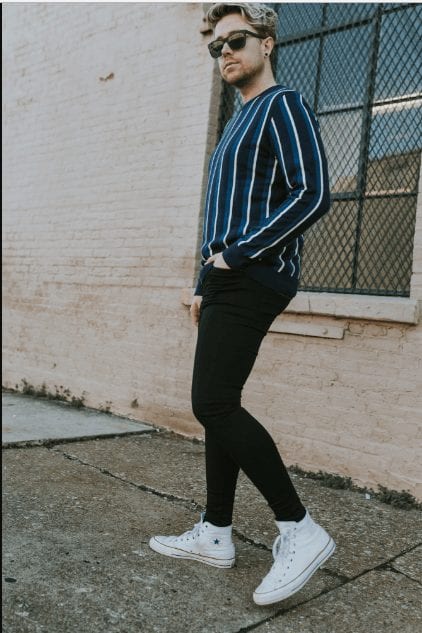 ↓ 10. Classy Outfit for Date Night
Planning for a special date night outfit for an upcoming date? We have the perfect spinoff that will perfectly represent your classy and modern side with ease. You will not have to ditch your favorite distressed jeans for this combination to work. Take your dark distressed jeans and pair it with a classic light blue crisp collar shirt or any pastel colored shirt and wear a dark blue structured summer blazer or sports jacket with it to complete the look. Here are 20 Best Outfits for Men to Wear on a Date.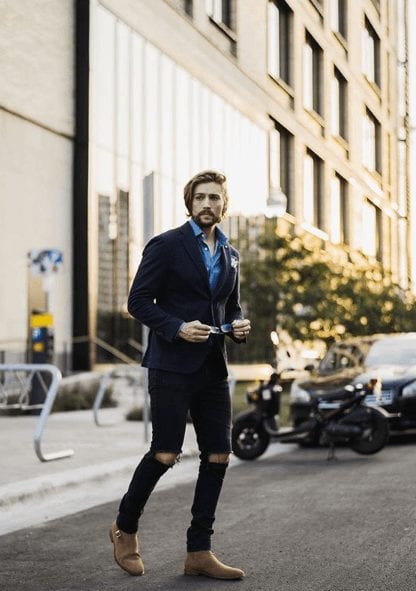 Via
↓ 9. Plaid Shirts with Jeans
Plaid shirts have been in the fashion world for long and have come through years of progress with changes and alteration for each year. This summer try the macro print plaid shirts with slightly dull shades with a pop of color brought about by few bright stripes of red or blue. Roll-up the shirt sleeves and wear it with a regular fit regular blue jeans and you will have mastered the art of modern laid-back dressing. For uplifting the outfit, wear it with bright colored loafers or mocassins.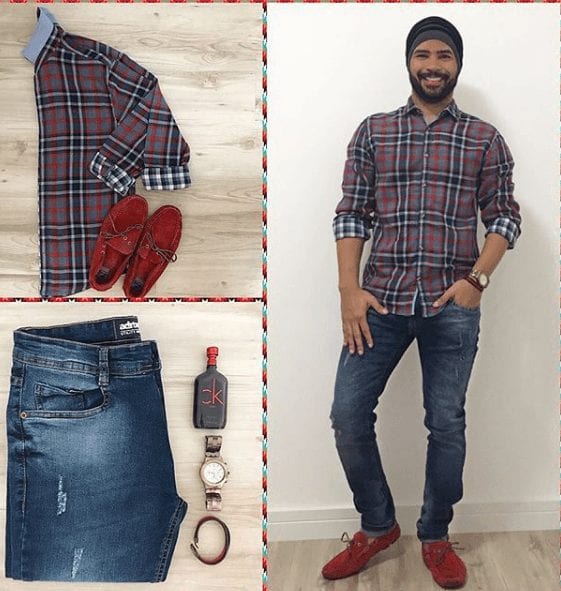 ↓ 8. Business Casual Attire
There has been much debate about the business casual attire and what it means for different organizations. However, if you work in an environment that affords you the luxury of a lenient dress code policy, you can experiment with different outfits. For summer, wear a timeless crisp blue or pastel color shirt or a polo shirt with dark blue or black jeans and give a break to those chinos.
↓ 7. Cropped White Jeans
Summer couldn't get better than this that you finally get the chance to try on white cropped jeans in style. Cropped white jeans are so versatile that they can easily help you transition from a casual to formal look in a matter of seconds. If you are wearing a slimmer or skinny fit white cropped jeans, it is essential to keep the fitting of the shirt slightly loose so as not to take away from the overall appearance. A crewneck tee with cropped white jeans is the ideal dress for summer and you can dress it up by adding a light material blazer or coat like linen and just totally own the show.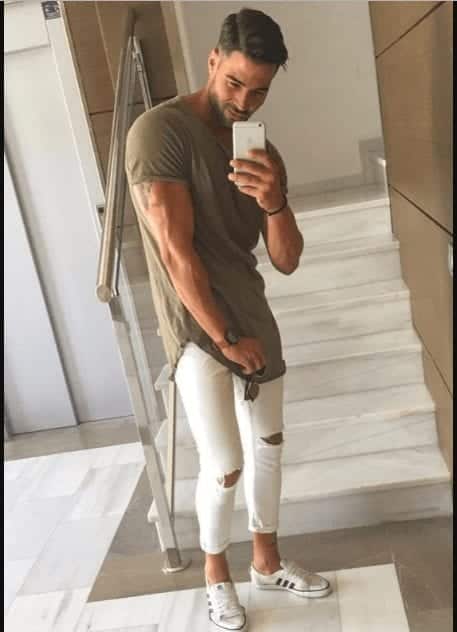 ↓ 6. Picnic Outfit for Summer
Summertime picnic shenanigans are a must-do thing that we all look forward to all year long. Whether you are on vacations or are planning to hit the outdoor activities in your own city, jeans are essential. Dark colored jeans are ideal for picnics and outings involving sitting and possibly rolling around in the grass or ground because they are tough enough and can easily be worn with any loose fitted soft fabric half-sleeve shirt with a funky print.

↓ 5. The Classic Tank Top with Jeans
Wanting to flaunt those gorgeous muscular arms? Classic tank top with jeans is the ideal combination to choose for summer. It is not only ideal for summer daytime outings with friends but can also be dressed up for night time events. For a perfect chic style, wear this outfit with white sneakers or converse and you are good to go. Here are 27 Best Summer Business Attire Ideas for Men 2018.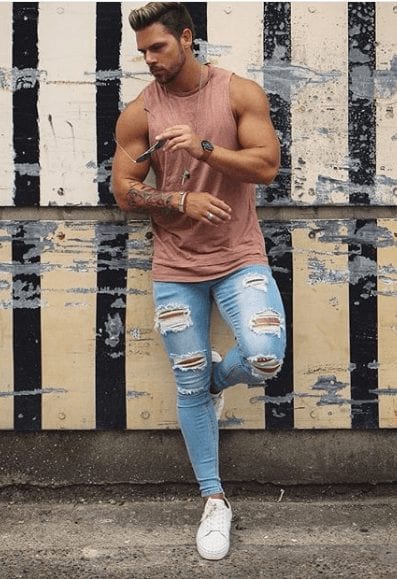 ↓ 4. Minimalistic Traveling Outfit
Undeniably, the minimalistic style or the capsule wardrobe is a very efficient and constraint-free way of living, that reduces the clutter and help you in making quick decisions regarding the outfit to wear. Dark colored jeans in blue, black or grey is a must-have for minimalistic outfit choice because they are versatile and have the right look so that they can be used for both formal and informal settings.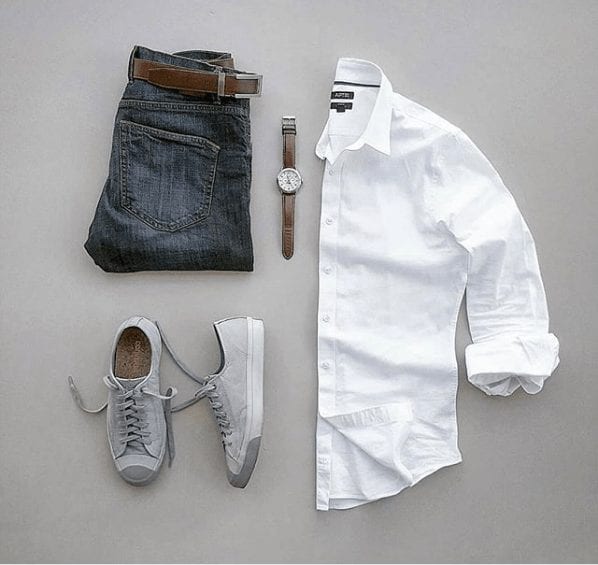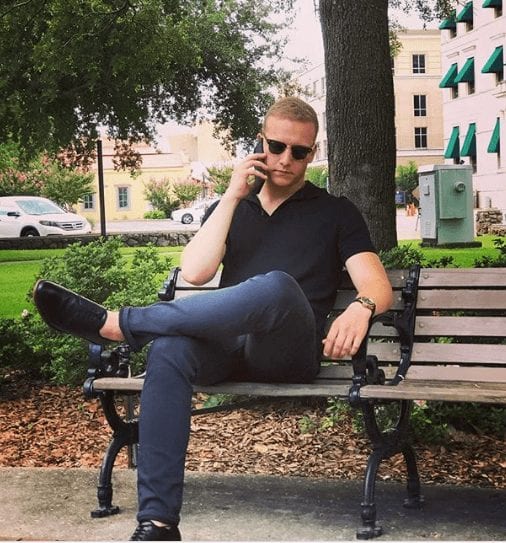 ↓ 3. Summer Party Outfit
Distressed jeans to the level of barring the leg, is a very bold piece of garment and yet perfect for summer parties. Believe it or not, but colorful tie-and-dye shirts are back in action and you can flaunt one this summer for a vibrant and summery outfit.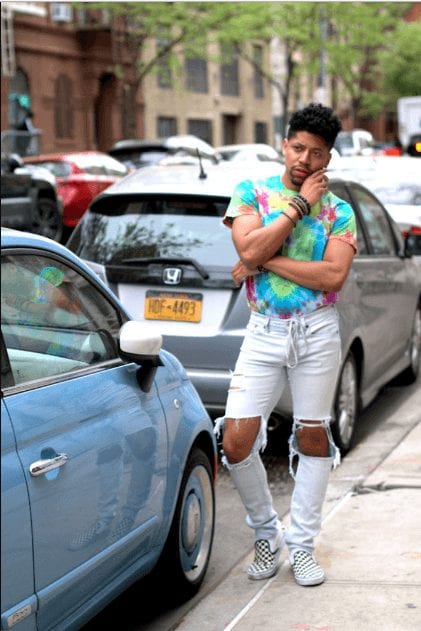 Another look you can opt for wearing jeans for parties and bbq is this cute polo shirt with jeans. Rock the outfit by wearing some decent looking brown loafers or boots.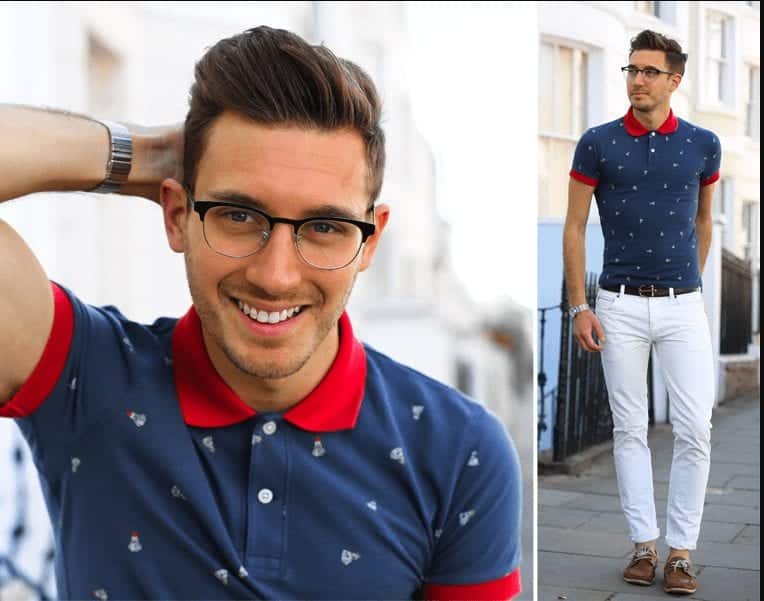 ↓ 2. Accessories
This summer pack up some great accessories that will perfectly complement your jeans and make you stand out from the crowd. These awesome David Bowie inspired sunglasses are not only wacky and super cool but also really affordable and you can get them here.
To keep your cool and protect yourself from the heat, get this trendy summer cap for the season in various colors here. Both black and blue caps with appear awesome with different shades of jeans.
If you are looking for a perfect watch to go with any style you are opting for the day, we want you to invest in a soft caramel brown watch because the brown color goes amazingly well with any jeans. You can get this awesome affordable watch from MVMT here.
For belts, this summer you should go for belts with brands' logo buckle and you can find this super trendy leather buckle belt here.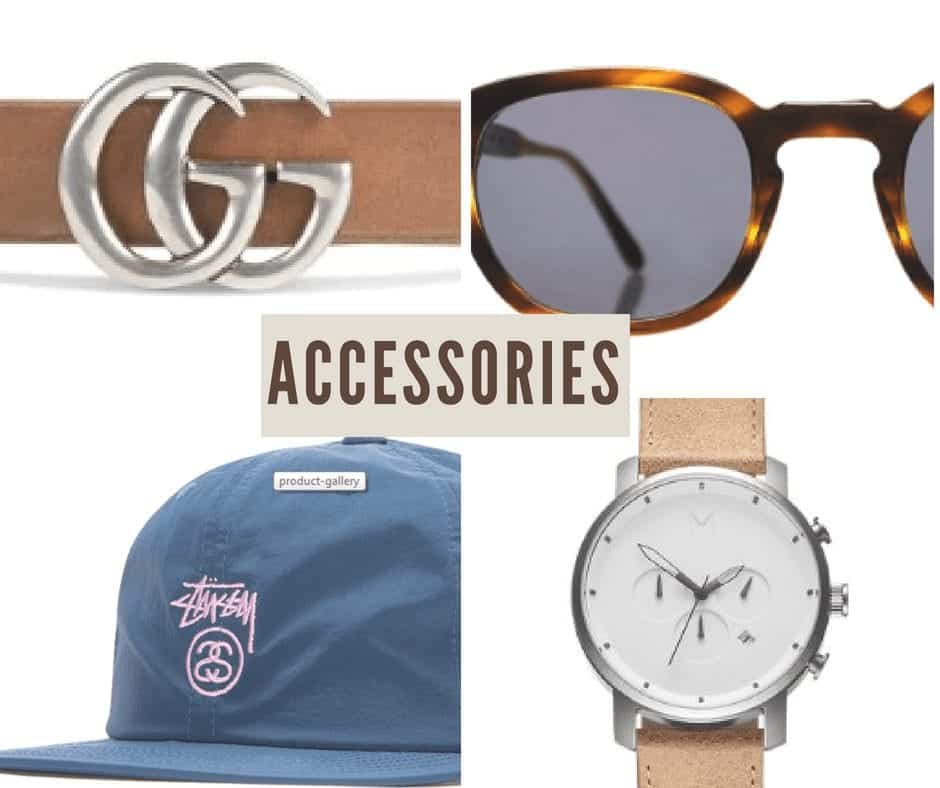 ↓ 1. Choice of Footwear
The choice of footwear to go along with jeans depends very much on the style or overall look you are opting for. For the casual and groovy outfit, you would want to try something youthful and fun so opt for sneakers or converse shoes. Choosing black, white or a perfect checkered combination of two is ideal for whatever color of jeans you may opt for. You can find these awesome vans here and here which will go well with any outfit.
However, if you want to wear jeans for a more conservative and formal look, go with boots or loafers. These shoes are ideal for wearing to work or formal events. You can find these amazing Chelsea boots here and these perfect tan suede loafers here.