Black Denim Jackets. Denim isn't just for your legs. It can also be an excellent and stylish jacket. A black denim jacket, in particular, is a valuable weapon for gents like you. It can serve as a substitute for a leather jacket. It is perfect for men who like darker tones with their casual outfits.
The denim jacket has found its place in our modern wardrobes. It is an excellent option to have in your closet for its versatility. You can look like a biker, a cowboy, or even a rock star, by switching up a few pieces. And with this timeless wardrobe staple, you won't have to worry about your outfits going out of style any time soon.
In casual dressing, denim is the boss. But, jeans aren't your only option to add this cool material into your weekend wardrobe. A denim jacket works well with various outfits. And the garment can give a simple yet stylish vibe to your look.
History. Denim isn't exactly one of the foundations of the Ivy League style, but they have a history together. In the 1960s, college activists started wearing jeans and denim jackets as a symbol of unity with the working class, most affected by racism.
A decade after the creation of the world's first blue jeans, Levi Strauss realized that denim could work well in both top and bottom pieces. Then, 140 years after testing the denim jacket in men of railroads and ranches, it remains useful and practical outerwear.
Tips On Wearing Black Denim Jackets
Choosing The Right Fit. Investing in a new denim jacket doesn't end with selecting the shade you want. Just like in any other clothing, selecting the proper cut and fit is paramount. Luckily, denim jackets are now available in different sizes, meaning that you have many options to choose from. Loose and oversized fits are ideal for a relaxed and laid-back look. Meanwhile, fitted and cropped designs look sharper, which makes them suitable for smarter occasions.
When Layering. To style your denim jacket in new and exciting ways, layer it with different pieces. Shirts, sweaters, and vests look fantastic underneath a denim jacket, while overcoats work perfectly over it.
Checking The Quality. You don't need more than one denim jacket in your wardrobe. So go for a good quality jacket that will last long. And you know it's good if it has a tapered design that provides a V-shaped silhouette when you wear it. A black denim jacket can either be thick like a biker jacket or thin and lightweight for a lumberjack look.
For Smart-Casual Occasions. While a black denim jacket looks great with casual outfits, it can also look amazing with smart-casual occasions. If you're going to do this, choose a fitted denim jacket.
Adding Patches. Adding some patches is a stylish way to personalize your jacket.
What Pants To Wear.

Denim jackets are casual, so it's best to pair them with casual bottoms. Chinos, jeans, and even joggers all look nice when teamed up with black denim. You're in for a relaxed street vibe.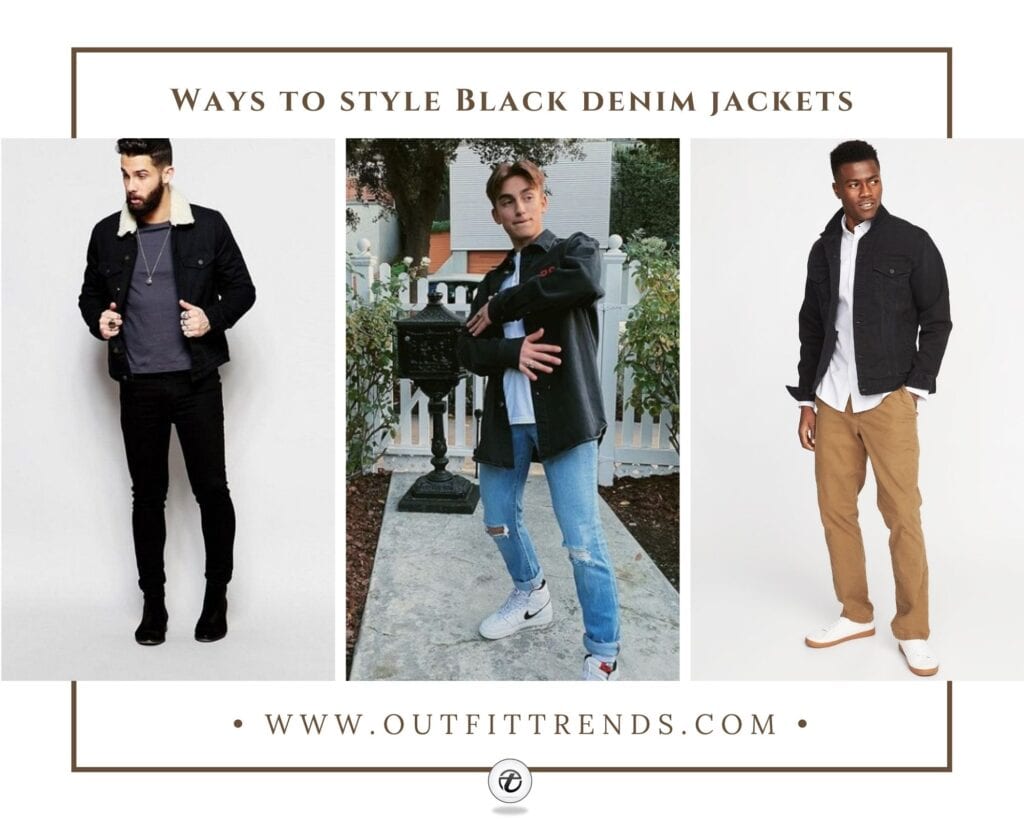 What To Avoid
Do not wear a glossy shirt underneath. So it's not good to wear that denim jacket over your Under Armour shirt.

Do not close the buttons. Just leave them open as they should always be, except for special situations e.g. business, smart casual, etc.
↓ 24 – Celebrity In Black Denim
See how Johnny Orlando styles it – he could've worn black jeans with it, but he did not. As you can see, a black denim jacket looks better when worn with blue jeans, regardless of the shade. You can opt for ripped style to spice things up. Tip: Match the shoes to your undershirt to create some balance.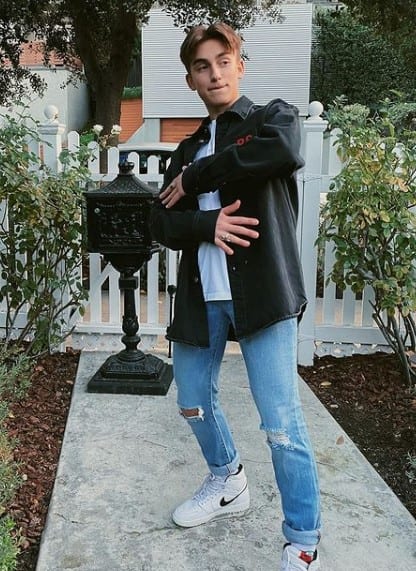 ↓ 23 – Athleisure Outfit
Style historians don't consider athleisure as a trend in the Old West. While a black denim jacket doesn't exactly fall under sportswear, it can balance the softness of your joggers.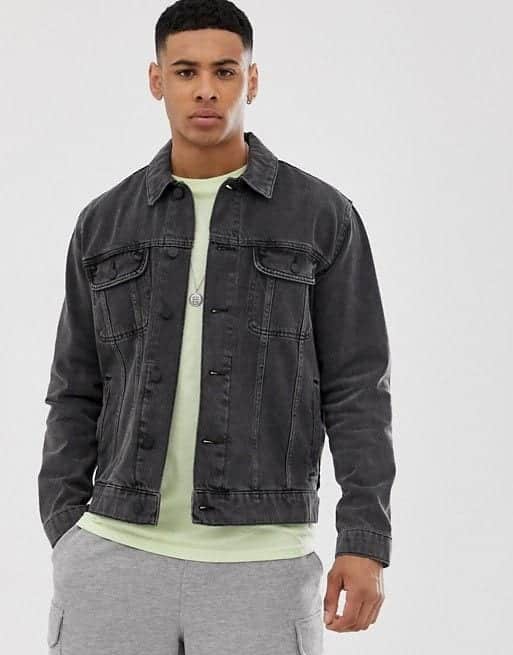 Check for more tips on how men can wear casual outfits.
↓ 22 – With Trousers
It's a good idea to create a fine line between your casual jacket and smart trousers. If you pair a denim jacket with tailored trousers, things are going to be a bit different. So you need to keep everything lowkey – stick with a similar color scheme. Darker colors are always a classic option.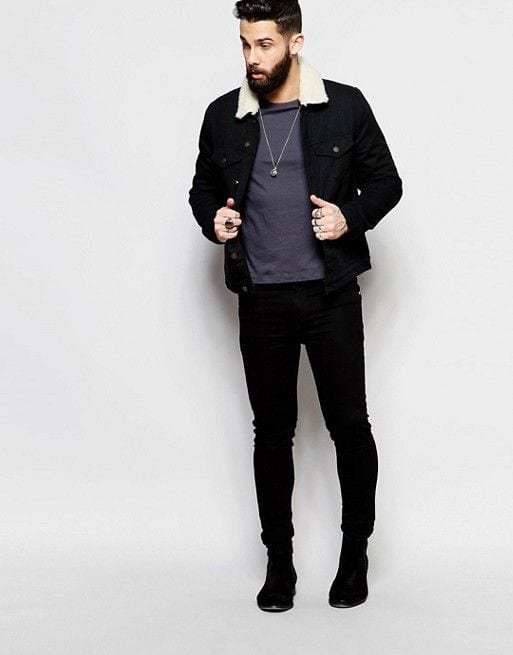 ↓ 21 – With Flannel
A black denim jacket and a check shirt (or flannel) are a great combination. Opt for muted, neutral colors to give the outfit some balance. You can do the "top button-up style" when to stop it from looking sloppy.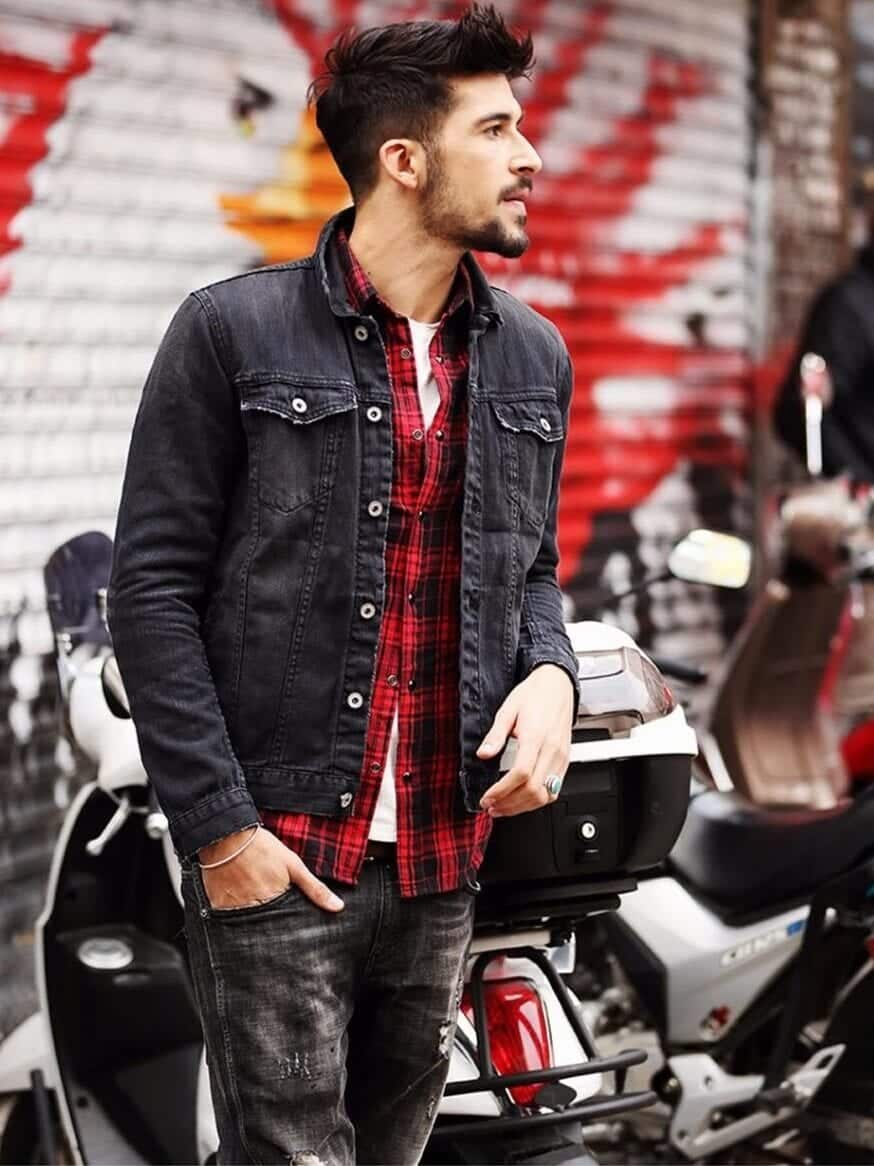 ↓ 20 – With White Tee
You need to stop calling the white tee "basic." This is something that can give you that crisp look, so it's not as easy as you might think.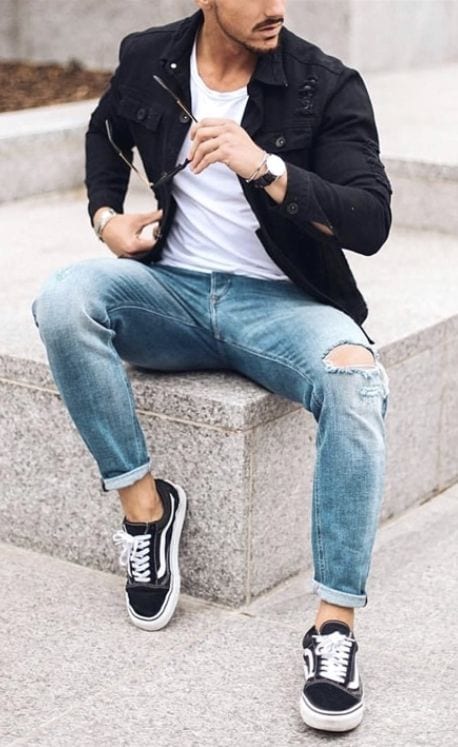 Check out fashionable ways men can pair sneakers with their outfits.
↓ 19 – With Striped Shirt
Anything bar white will work well to achieve this style. The general rule is, the darker the jacket, the dressier it would be. Save the stonewash denim for casual gigs and reserve the raw and mid-wash for slightly formal occasions.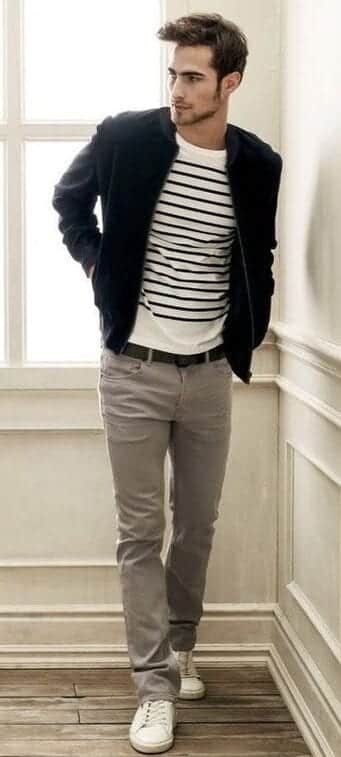 ↓ 18 – With Blue Jeans
Double denim or "Canadian Tuxedo" might not be at the top of everyone's list. But it can look fashion-forward if done right. In fact, Jared McMahon from Next Luxury claimed that this style works well with vintage looks. You can also keep the outfit simple with just one item. But it's better to wear blue jeans with a black jacket or vice-versa.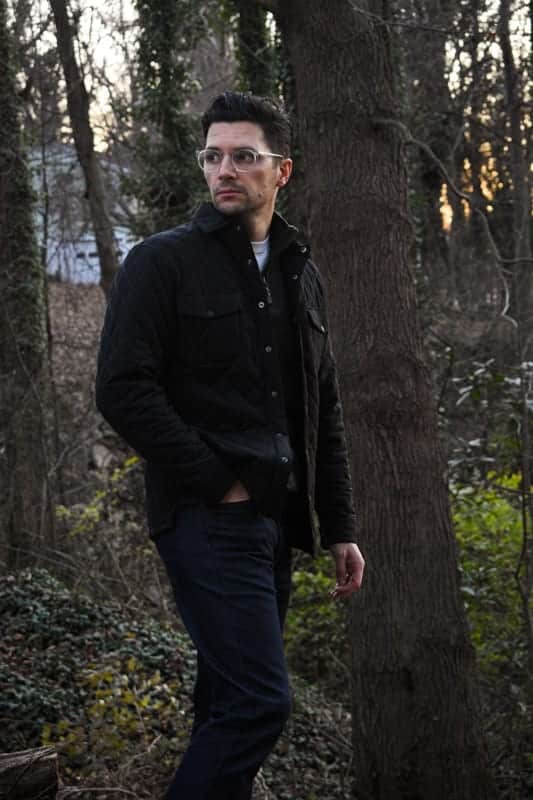 ↓ 17 – With Grey Jeans
Black and grey are both muted, neutral colors so it's only appropriate to match the two together. Add touches of white through your undershirt and footwear.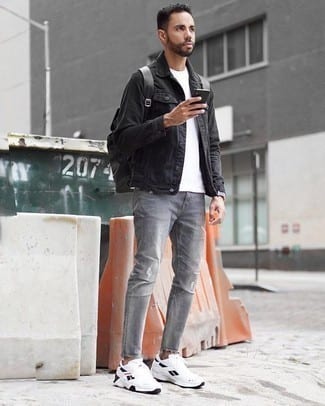 To know how to style White tee's, check for more White Shirt Combinations for men to look trendy.
↓ 16 – With Khaki Pants
Since you're already wearing jeans as your top, consider pairing them with chinos. And as we know it, double denim is a risky game to play. Chino pants can be smart, with features such as wrinkles, creases, and tab closure, making them formal-looking. The original khaki shade is a classic option.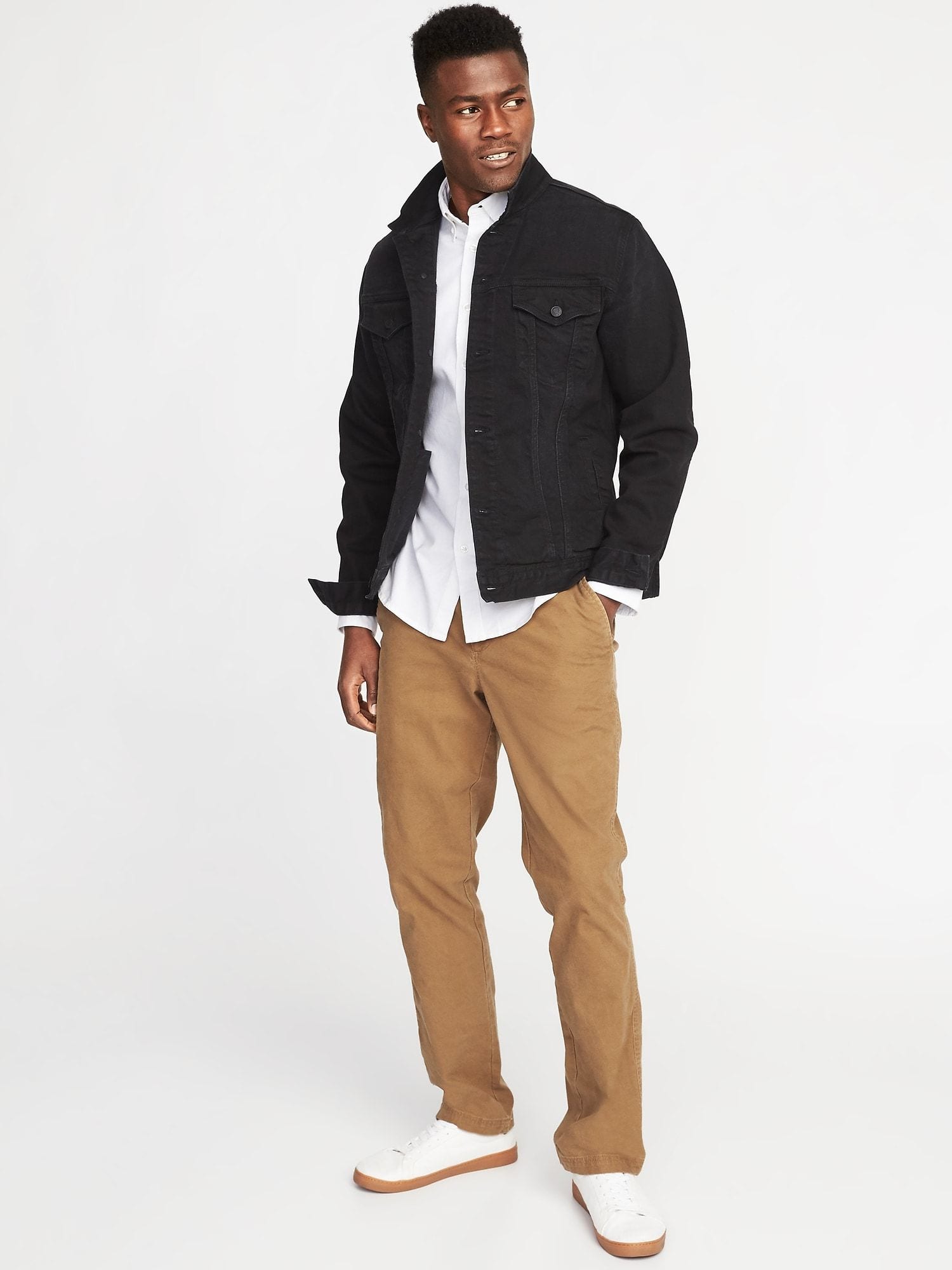 ↓ 15 – With Shorts
Pair it with chinos or denim shorts. Either way, the outcome will look exceptional. Important note: Never pair a black denim jacket with black shorts. And if you will opt for denim fabric, choose grey.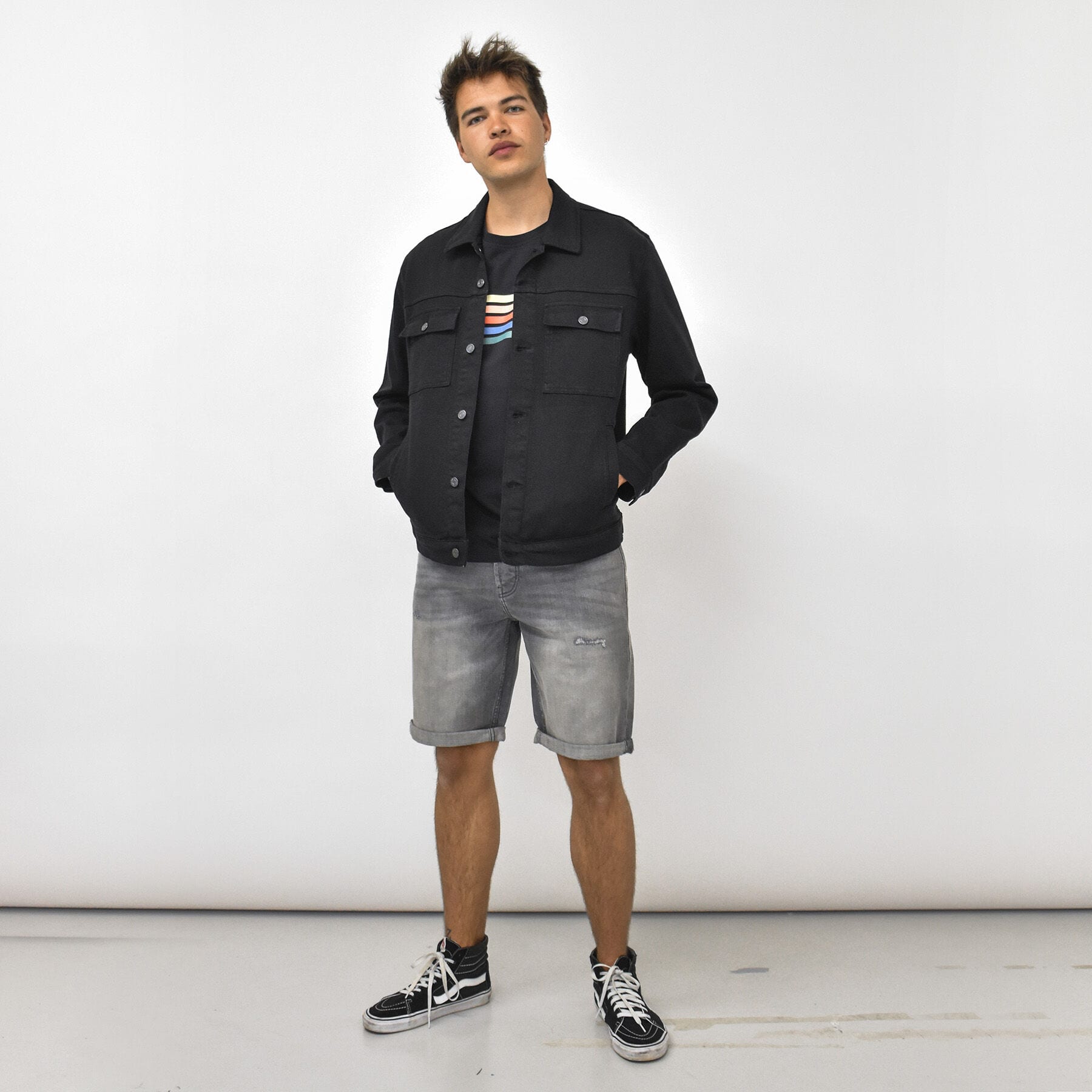 ↓ 14 – With White Sneakers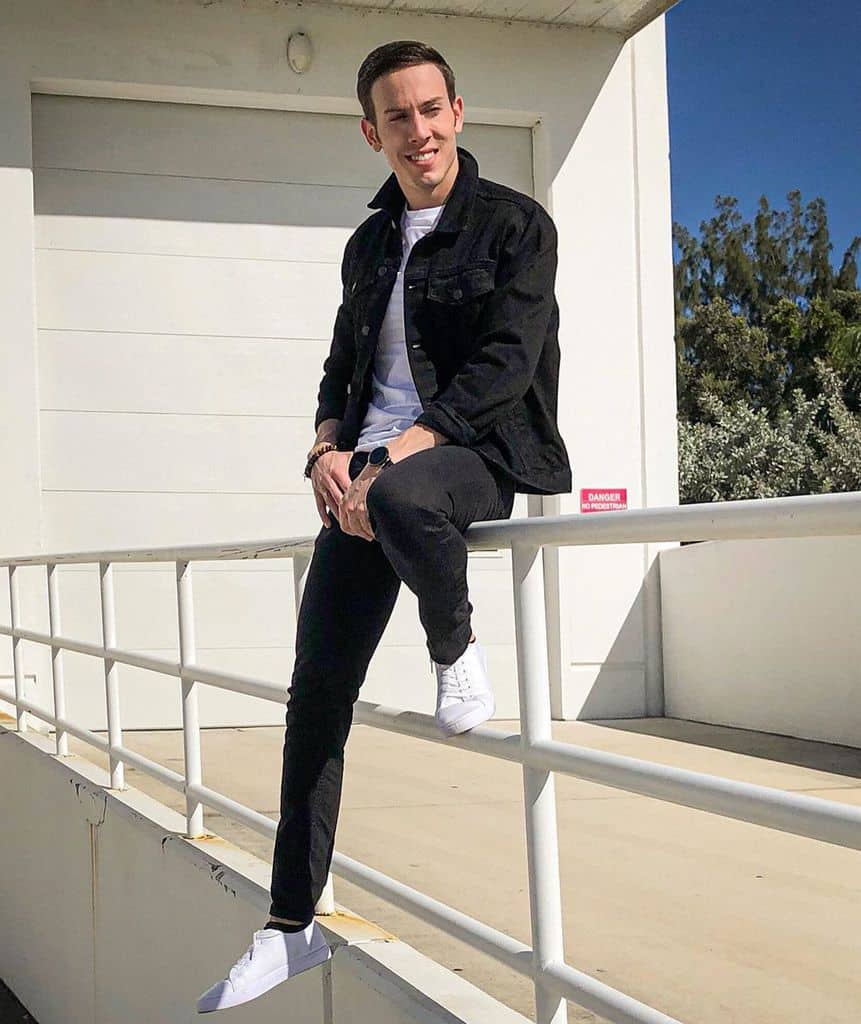 ↓ 13 – Monochrome Style
While the black denim jacket is versatile, it can be at its best when styled as part of an all-black outfit. As seen in many musical subcultures like punk and metal, it would be nice to wear black from head to toe. Going all black will never go out of style. It also adds the bonus of a slimming feature to your body.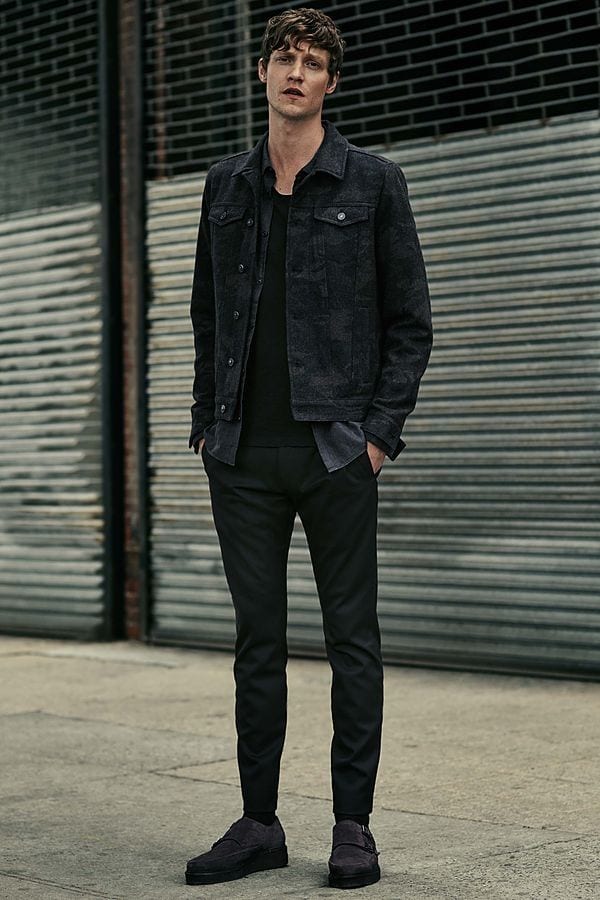 ↓ 12 – With Leather Boots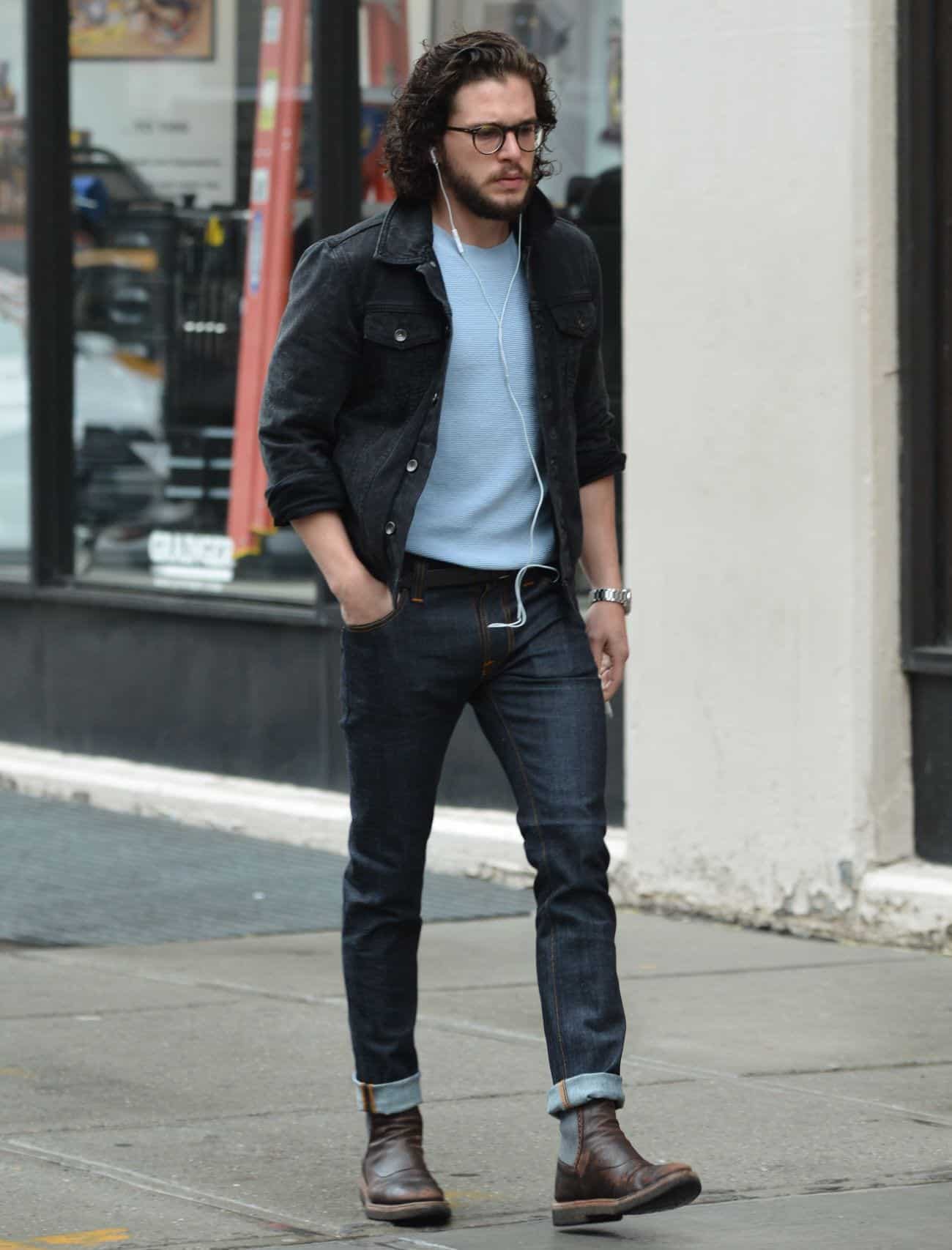 ↓ 11 – College Outfit
While the history behind denim jackets has been mostly overlooked, they still have a place in American collegiate fashion. And that means it can be worn as a part of a preppy-inspired getup.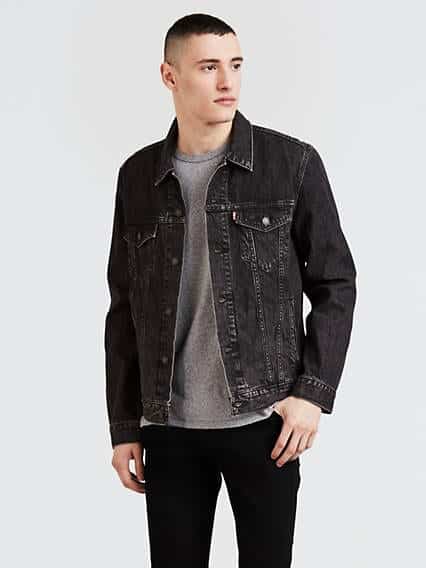 ↓ 10 – With Hoodie
This combo is ideal for anyone trying to look urban. A hoodie goes naturally well with a denim jacket because they both fall under the weekend casual category. But don't overdress – so stick with neutral colors. And steer clear of logos of streetwear's latest trends. Your jacket should be shorter than your sweatshirt – that is part of the style.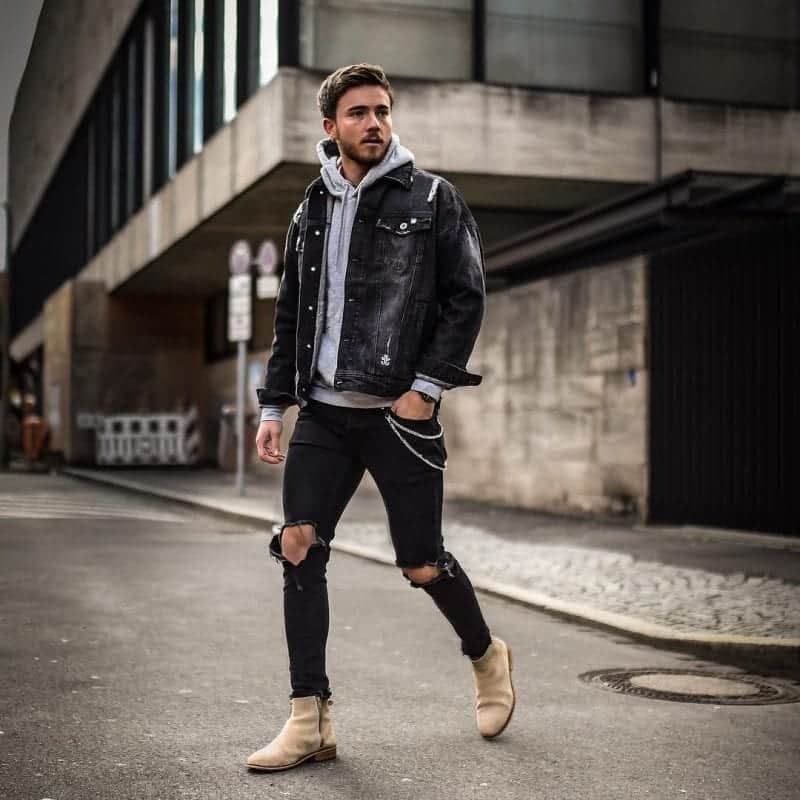 ↓ 9 – With A T-Shirt
Wearing your black denim jacket with a T-shirt is the most practical move. This laid-back combo will always look great together. You can pair them with different pants and shoes. Plain T-shirts look minimal with denim jackets. Meanwhile, stripes and prints can make your outfits more appealing.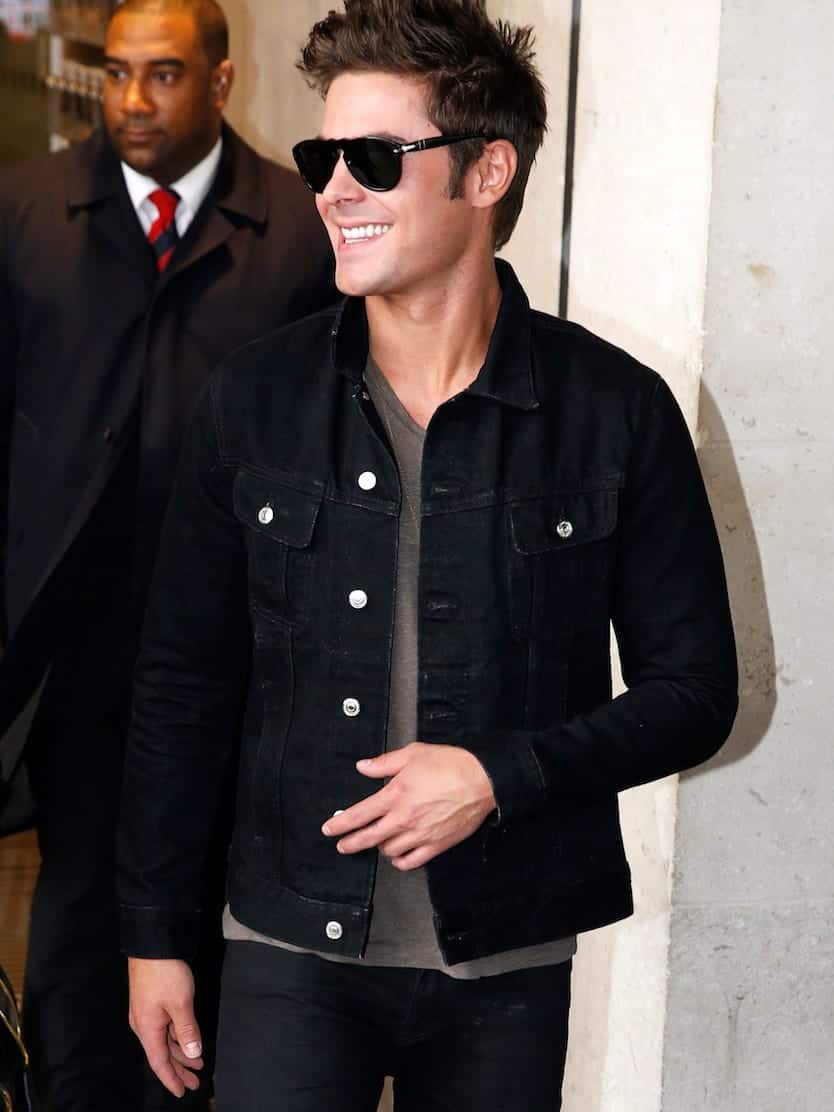 ↓ 8 – With Turtleneck
Jamie Millar from Fashion Beans said that if the situation allows you to wear a shirt, that also means you can don a roll neck. I couldn't agree more – a roll neck and a denim jacket make a good combo. Just be careful in the way that you style it. You might look like a guy from the 90s, and there's nothing off about that. Lastly, consider your denim jacket's finish before pairing it with knitwear.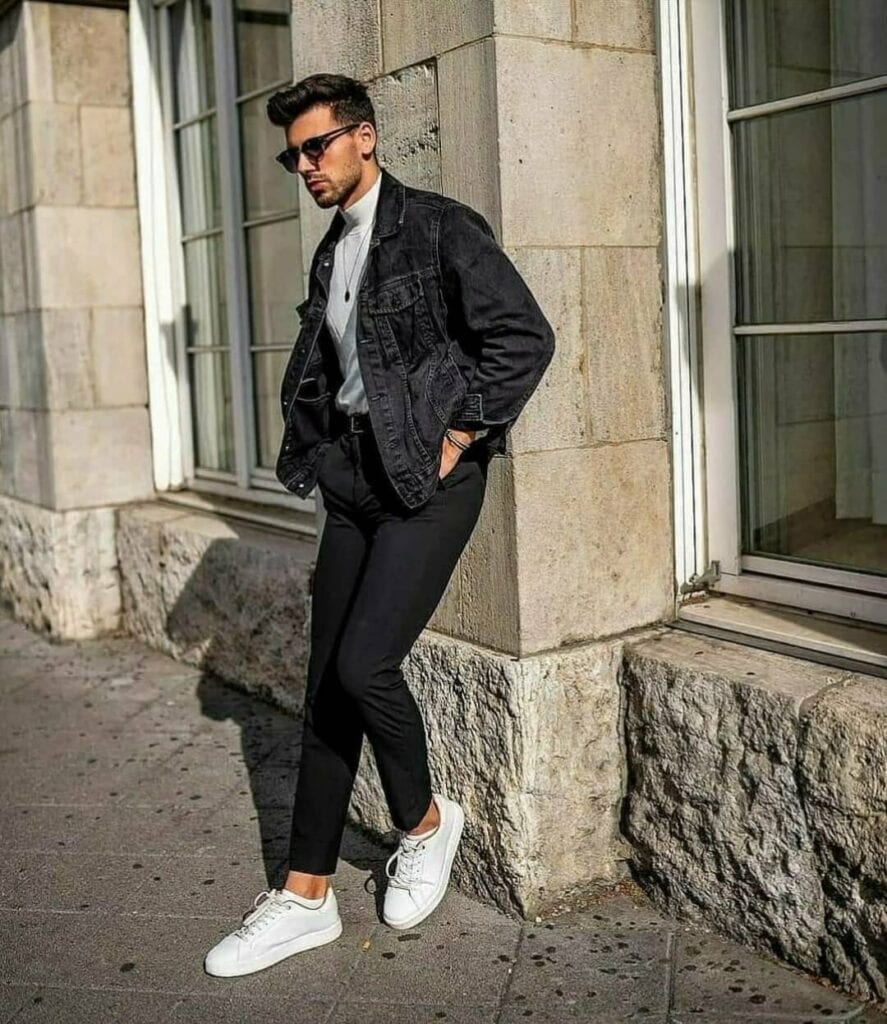 ↓ 7 – With Button-Down
It is an excellent alternative to the regular shirt. Put the blazer away in the meantime, and grab that black denim jacket.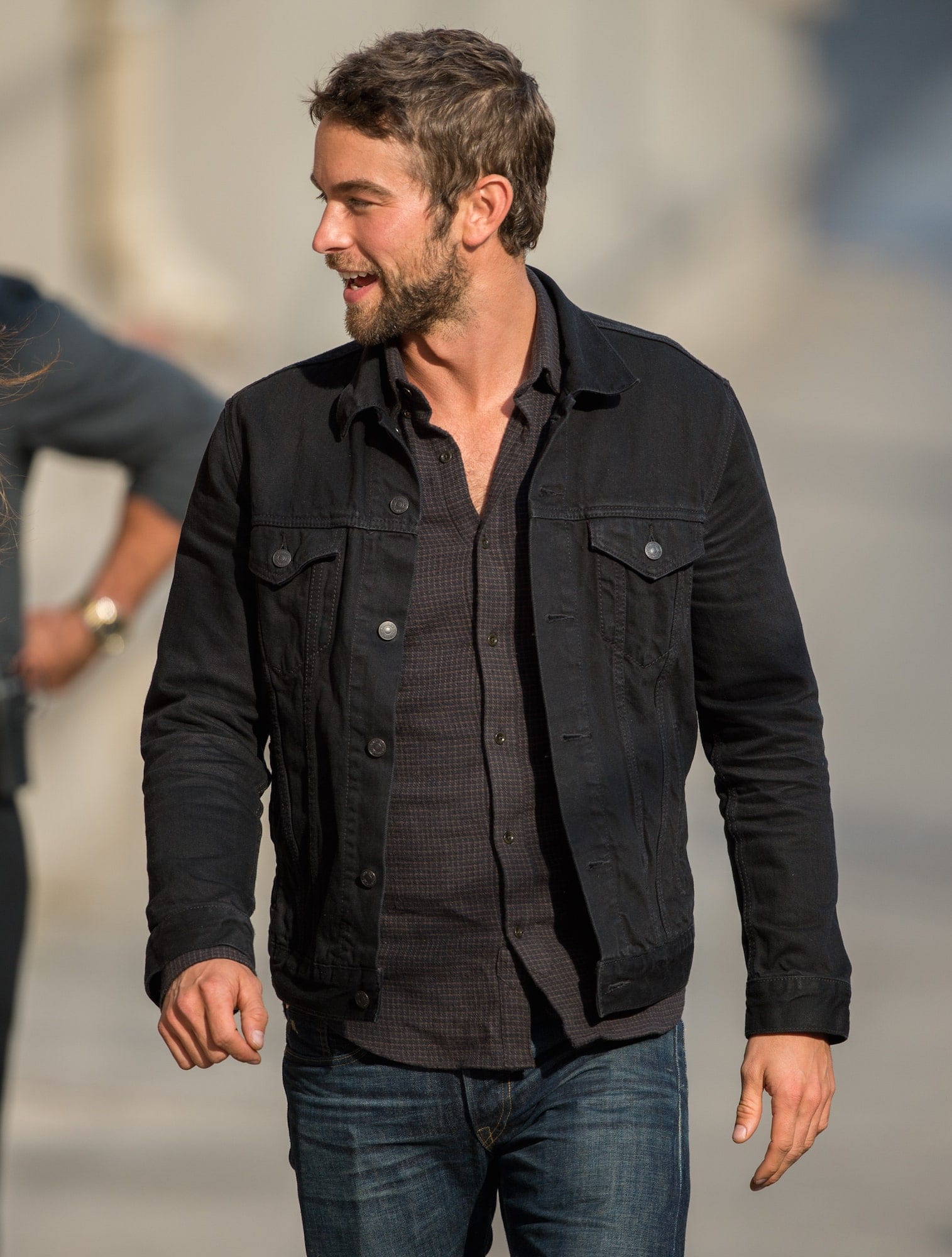 ↓ 6 – With Black Jeans
Double denim can be good even if it's against the rule. But of course, you don't want to wear two denims of exactly the same shade.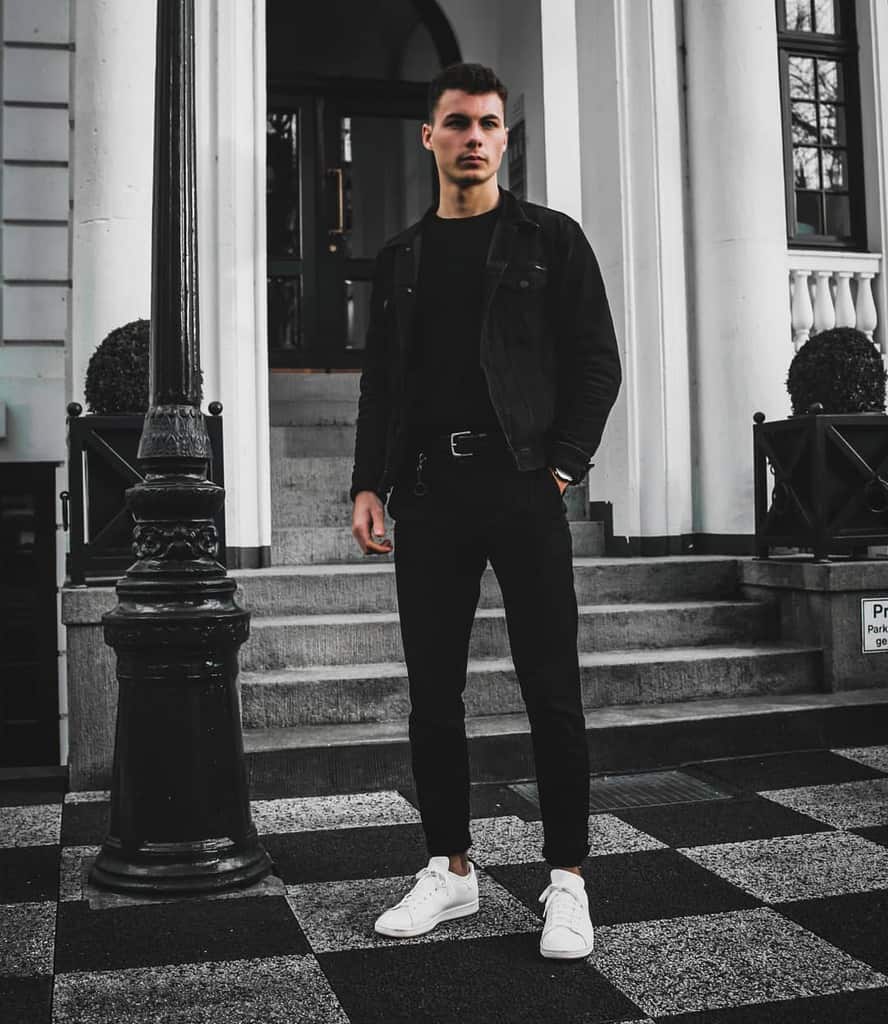 ↓ 5 – With Ripped Jeans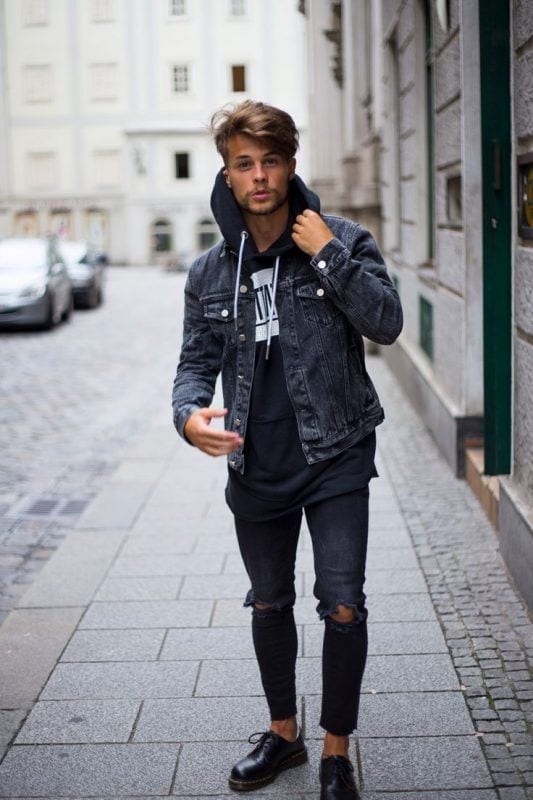 ↓ 4 – With Plaids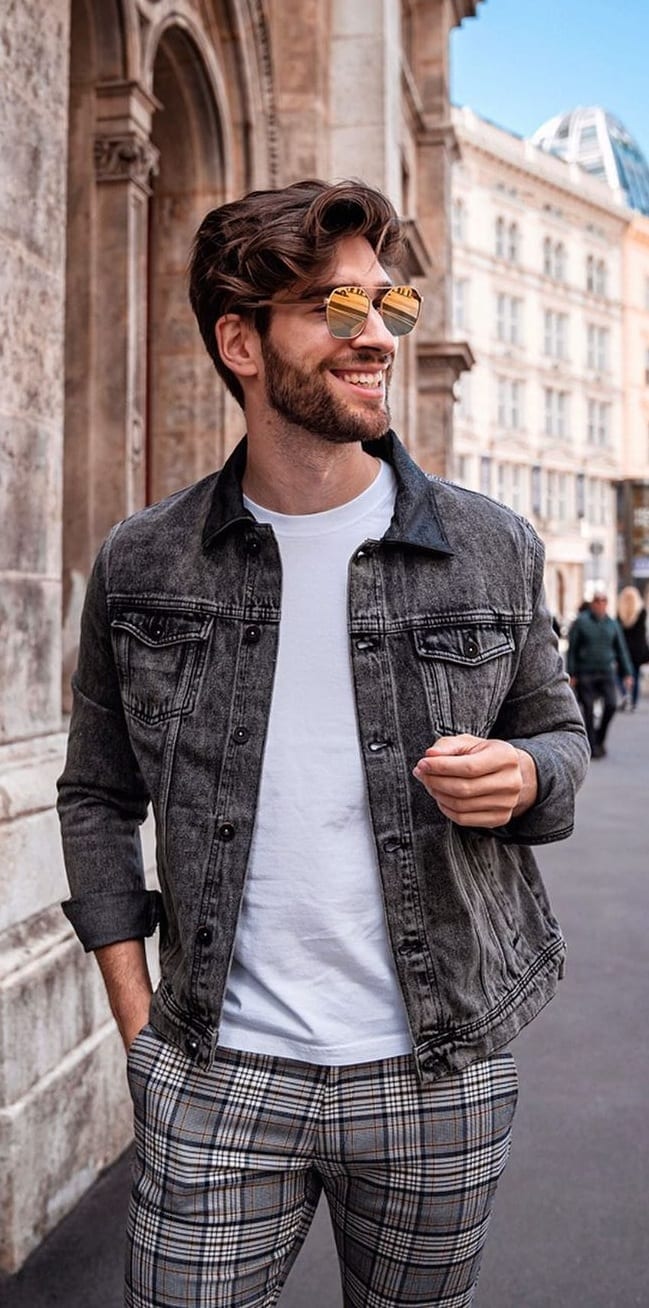 via
↓ 3 – For The Office
This is a new kind of business casual – dressier and more refined! Wearing the same blazers and button-down shirts can be really boring. It's time for a little office wear update. However, this style is not appropriate in some companies. So, if you are unsure, it's better to stick with the usual dress code.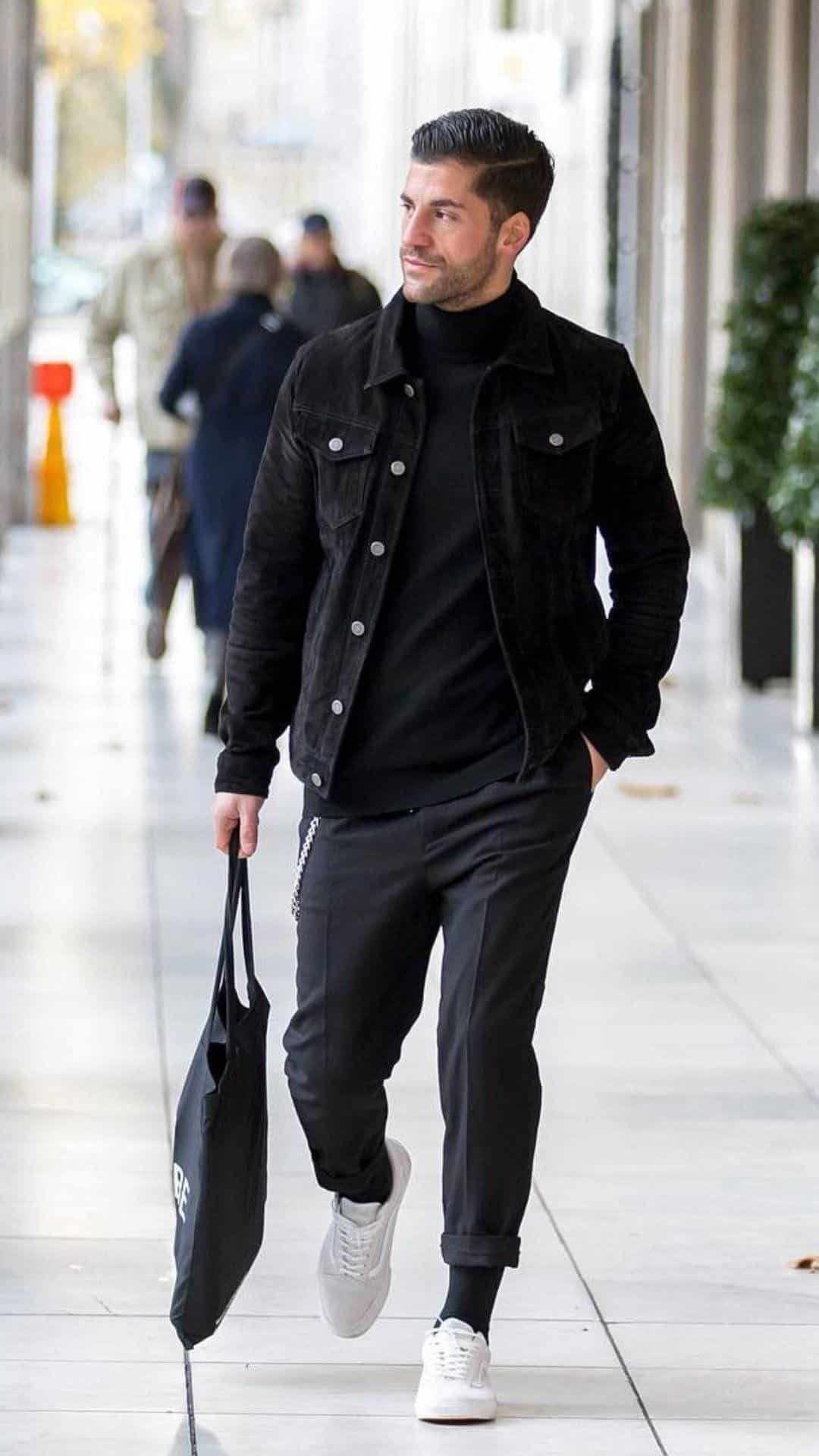 ↓ 2 – With A Cap
The versatility of the denim jackets gives you opportunities to accessorize your outfits, and wearing a cap or hat is a great way to do it.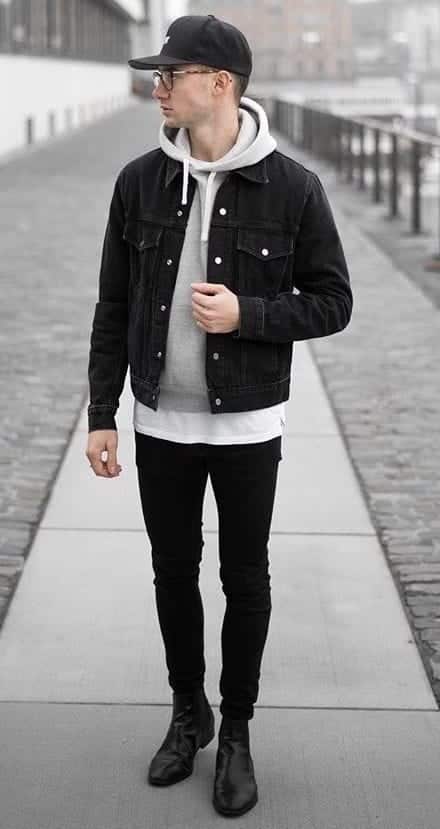 ↓ 1 – For Summer
If you will wear a denim jacket in summer, expect that things will be a bit uncomfortable as the fabric itself isn't intended for warm weather. For a better outcome, opt for a slightly snug fit instead of a slim-cut one. Tight denim jackets are a big no-no when it's boiling outside. You can achieve a biker look by pairing your jacket with a white tee or tank top.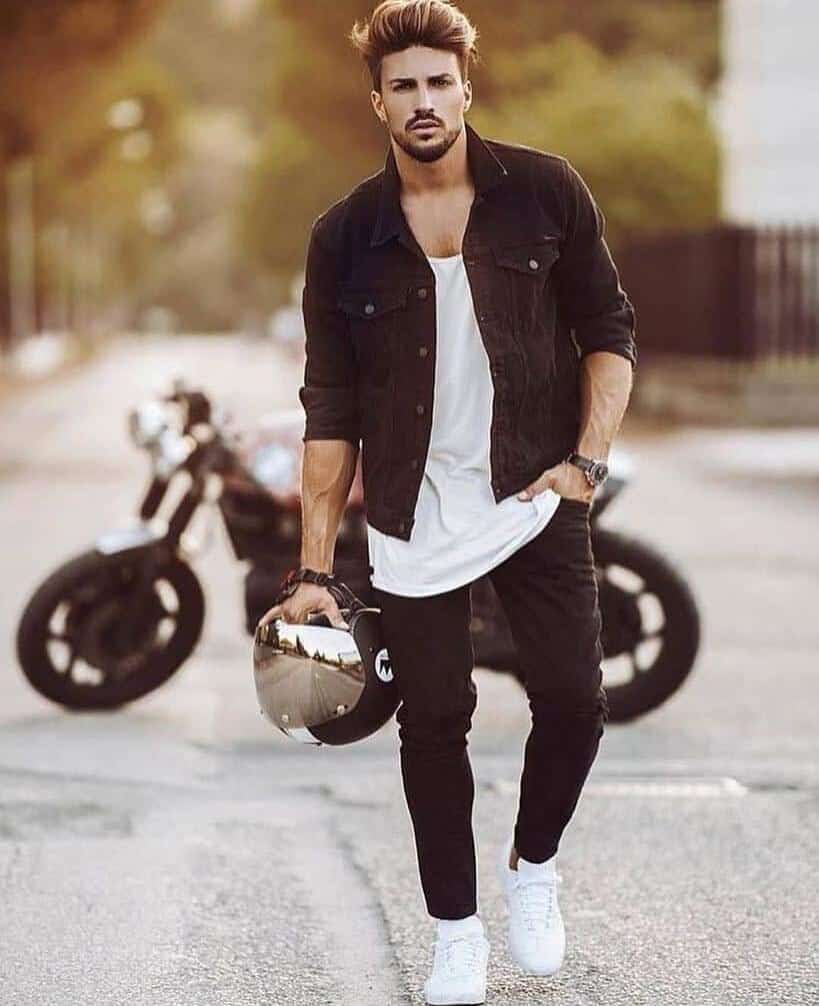 A denim jacket can be a worthy addition to your arsenal and will always be there when you need it. Black, in particular, is the most versatile, so it works well with almost every piece you have in your closet. From casual gigs to slightly smarter situations – you name it! If you don't yet have one, don't you think it's time?!
Frequently Asked Questions
Q.

How should a denim jacket fit?
A. Getting the right size and fit for a denim jacket is just as vital as choosing your outfit for the day. Generally, a denim jacket should be snug with a little short finish on the hips. And if you want it to look trendy, your jacket should be tight and should fall somewhere around the waist when you wear it.
Q.

What shoes go best with a black denim jacket?
A. When choosing the footwear to go with your denim jacket, sneakers are always the go-to choice. But you don't need to stick with this option all the time. Boots are a good alternative if you want a sharp look. And leather or suede brogues can make you look smarter. In a nutshell, pair your denim jacket outfits with boots in the fall/winter and sneakers for the warmer weather.
Q.

Are denim jackets different from Sherpa jackets?
A. Yes, the only difference is the distinct borg collar, which is not present on a regular denim jacket. Let's just say they're cousins. A shearling jacket helps to keep you warm. Wear one during winter with jeans and a flannel shirt to appear stylishly rugged while beating the cold.
Q.

What is a Canadian tuxedo?
A. The term "Canadian tuxedo" comes from a famous incident in the 1950s. This fashion faux pas existed when a Bing Crosby went to a luxurious Canadian hotel wearing a denim jacket and matching jeans. He was refused admission because of his outfit. And then Levi's Jeans ended up creating a denim tuxedo to take advantage of what happened. According to many fashion enthusiasts, this is also called "double denim," and it's not a good look. However, you can wear jeans with a denim jacket, provided that they are not of the same shade.
Q.

Can I wear a black denim jacket as an undershirt?
A. Yes. The jacket can be used as a mid-layer when the weather gets worse. And with that, I mean, when it gets too cold. A safe option is to layer it with classic pieces like a wool overcoat. But, don't wear a denim jacket underneath a shirt.
Q.

Where can I get the best black denim jackets?
Signature by Levi Strauss & Co. Men's Trucker Jacket – $34.82 on Amazon

Levi's Sherpa Trucker Jacket – $34.97 on levi.com

Wrangler Unlined Denim Jacket – $49 on wrangler.com

Gap Icon Denim Jacket – $76 on gap.com
Remember that prices may vary depending on what country you're in.