Jacket Outfits for Guys: With the evolution of time, clothes have taken utmost importance in the lives of men and they are now going parallel with women in terms of fashion. But there is a huge difference in fashion and style although these terms are constantly misinterpreted.
Men can be fashionable but without style but a stylish guy will never be dressed poorly. Jackets, blazer, coats are now owned by many guys.Jackets have become a must have for every man be it for the winters, summers, beaches autumn. They are very versatile and can be worn in almost every season. Green is the color of the season and it is a must have as the morning clothing element. This article is covering different styles that can be adopted with different sort of jackets and what outfits to incorporate for which event. 24 styling ideas will surely help you out.
How to Wear Jackets for Men
Jackets can be worn in any season but they surely work best in Fall or Winter. You should also check out this awesome collection of Fall Outfits for Men.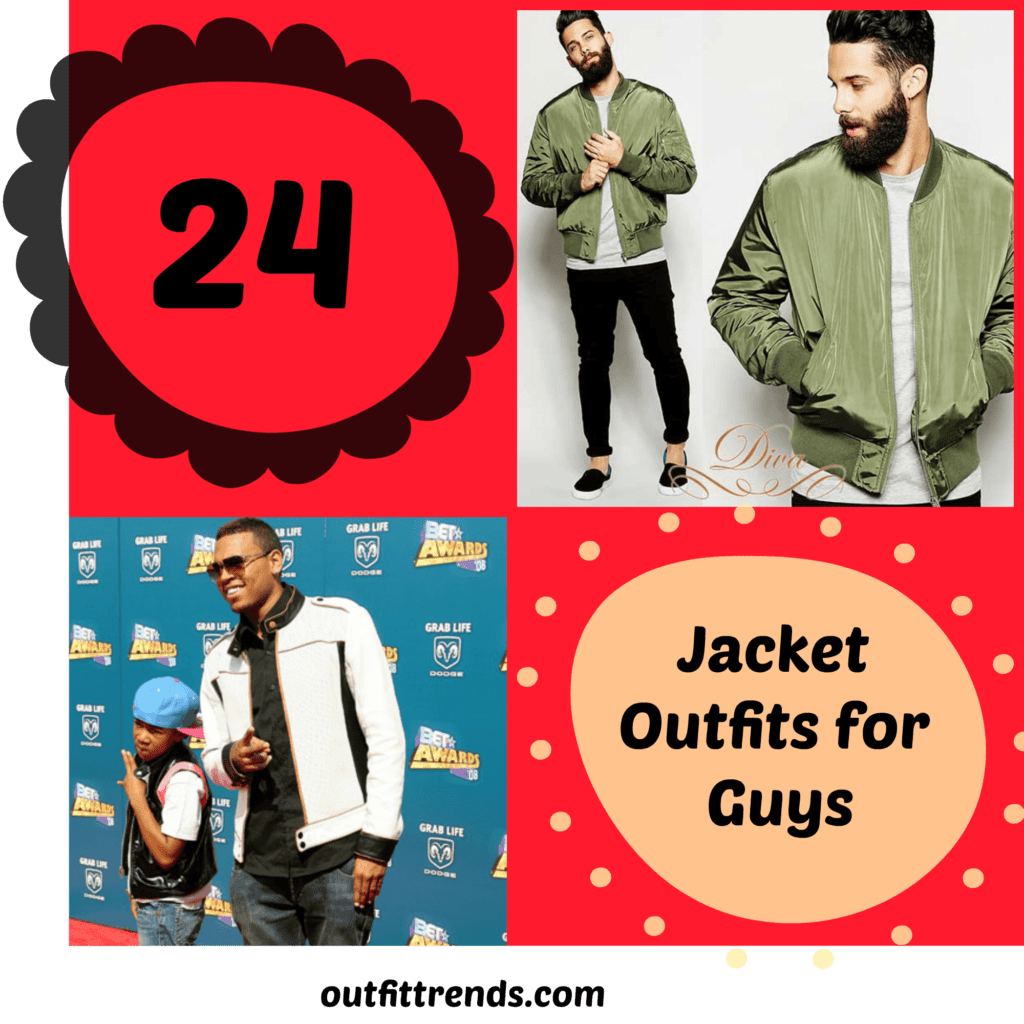 ↓ 24. Casual Wear in Khaki Jacket for Shopping
Look good in winters too and invest in some great jacket of different colors. Wear this camel shade jacket when going for grocery shopping paired with your regular rolled up jeans.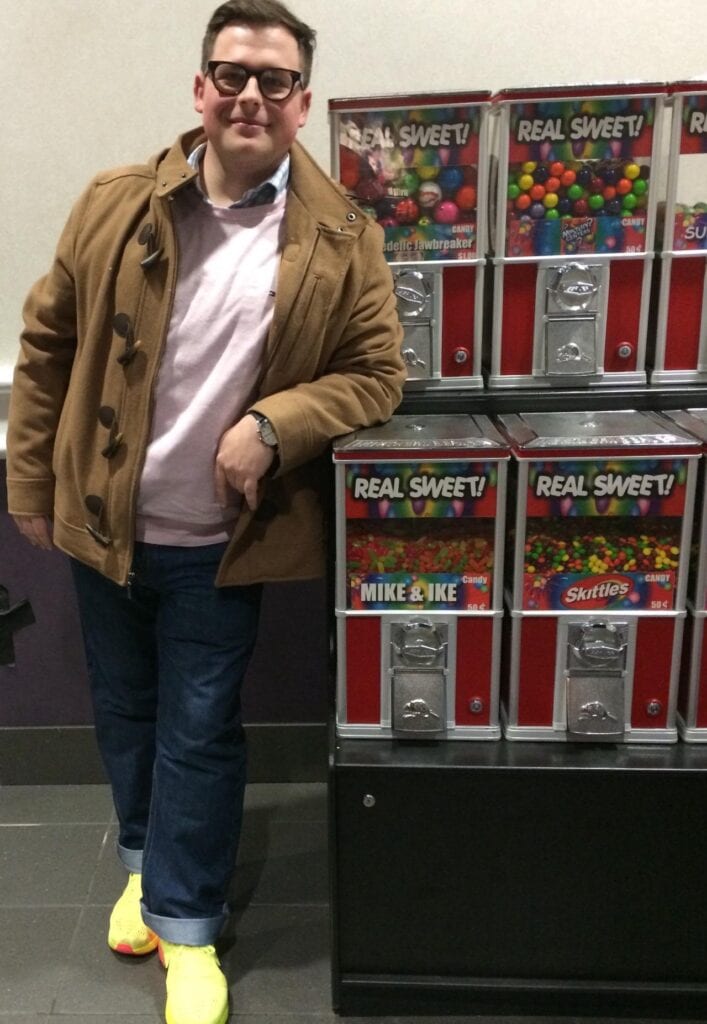 Source
↓ 23. Parka Jacket for Winters
One of the best jacket options for bad weather days is the parka jacket. The best thing about parkas is that unlike coats or blazers, they come in a really relaxed fitting which allows you to layer under them without the dreaded bulky look. These jackets are also very easy to dress up and dress down by choosing what you wear them with.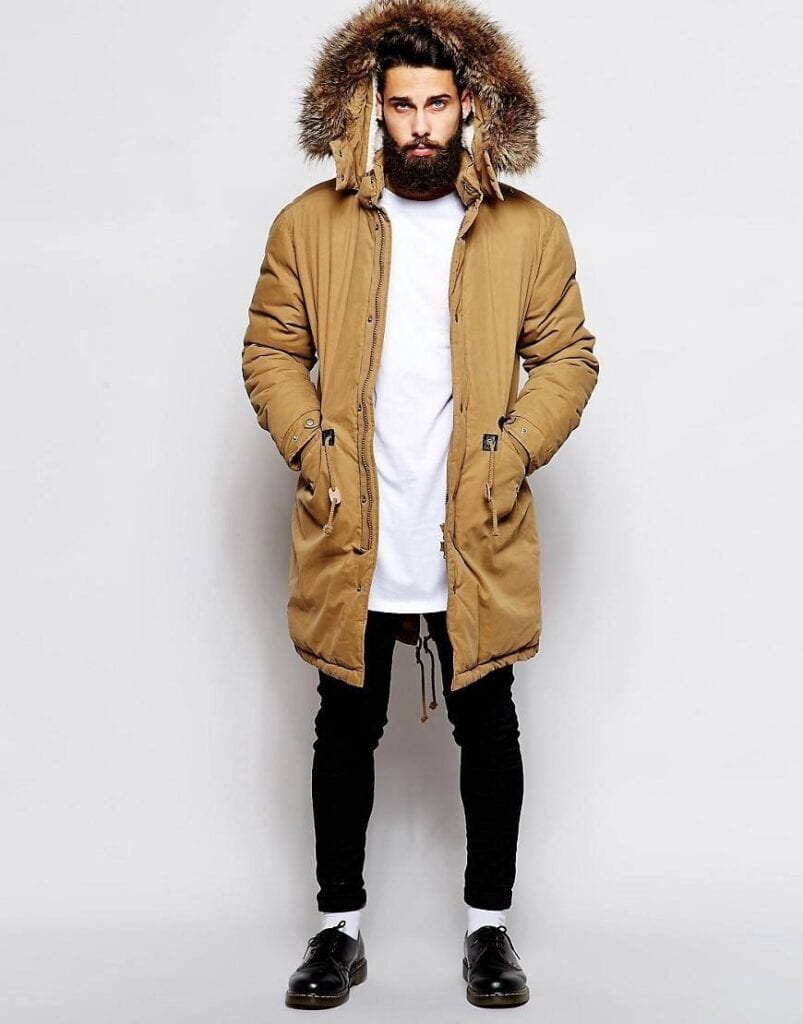 Source
↓ 22. Shearling Jacket with Beanie for Guys
The most awesome retro look ever. Shearling jackets give off the retro 70s vibes and look best in dark colors paired with light colored shirts. For a rugged and sporty look you can also pair shearlings with fabrics like denim or chambray.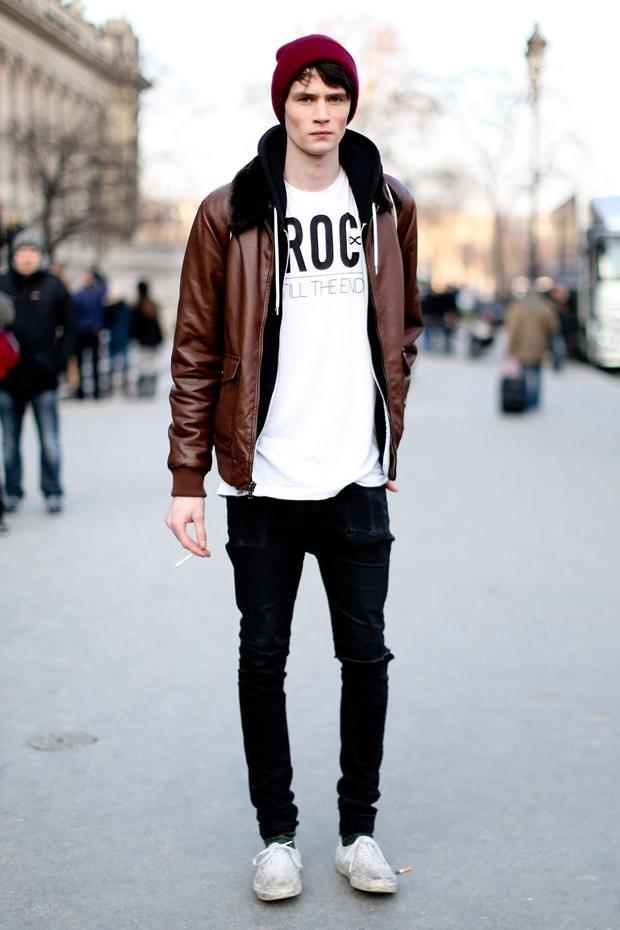 Source
↓ 21. Swag With Jackets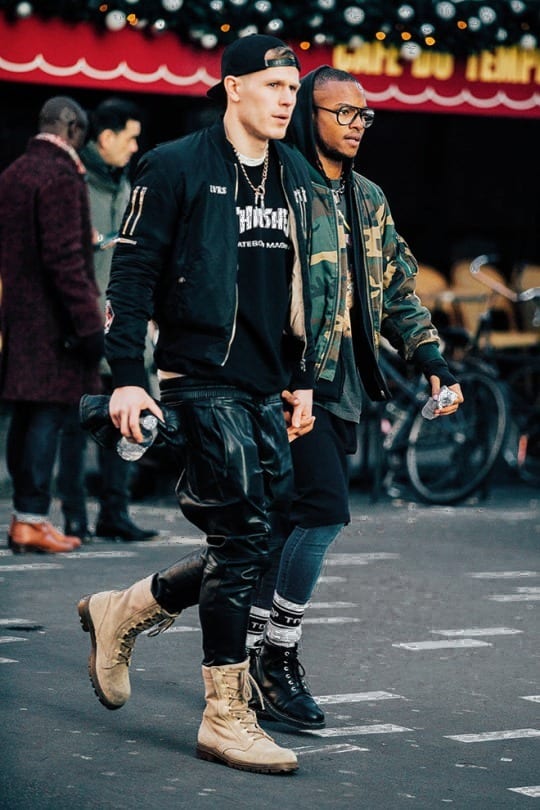 ↓ 20. Celebrity Style Metallic Jacket
Ultra cool and classic bomber jacket. Invest in this beautiful piece and will go a long way. Just remember to keep everything else quite simple.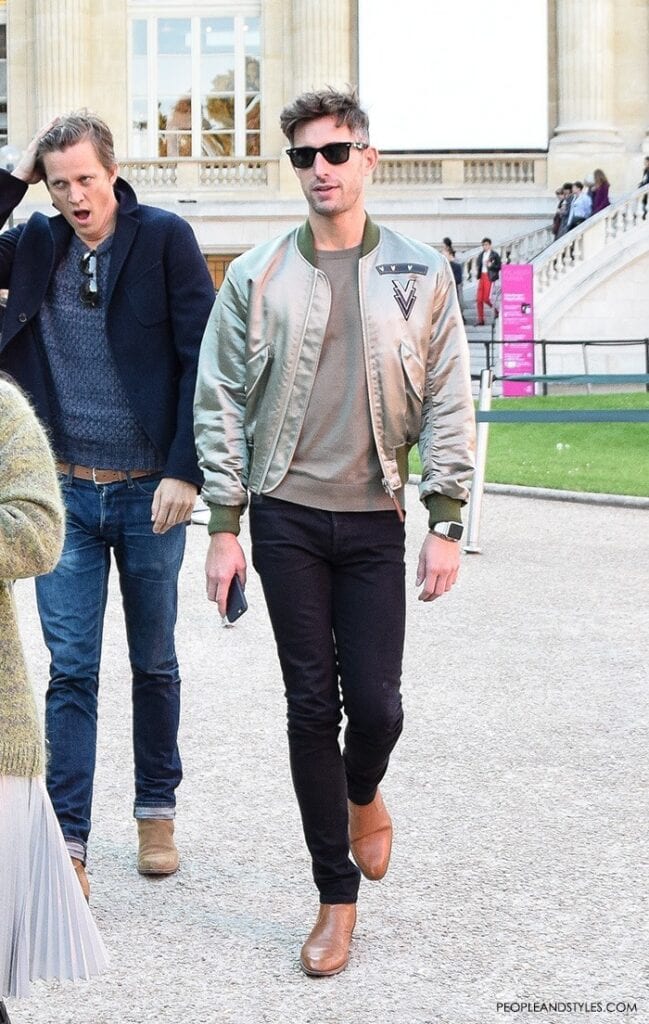 Do have a look at 15 Most Popular Casual Outfits Fashion Ideas for Men
↓ 19. What to Wear with a Jacket When it's Cold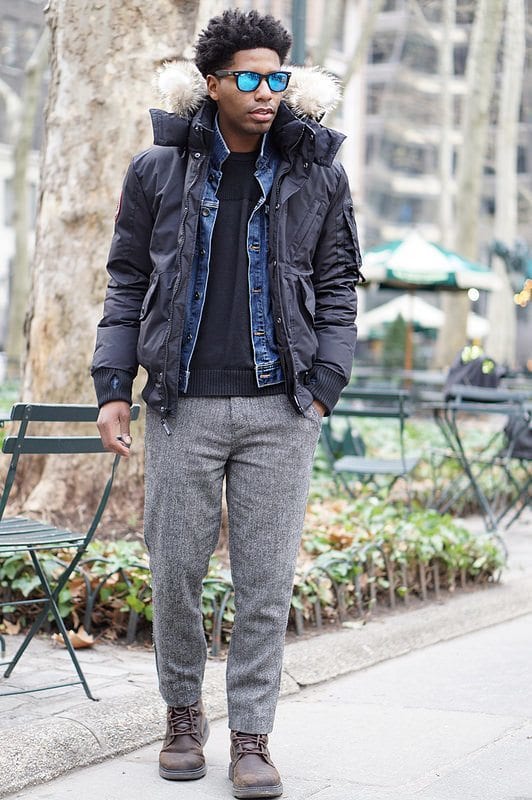 Source
↓ 18. How to Wear Jackets with Shorts
If the temperature and the environment allow it, then shorts and jackets make a super cool combination. It is in fact a very common outfit in many areas of the world such as Bermuda.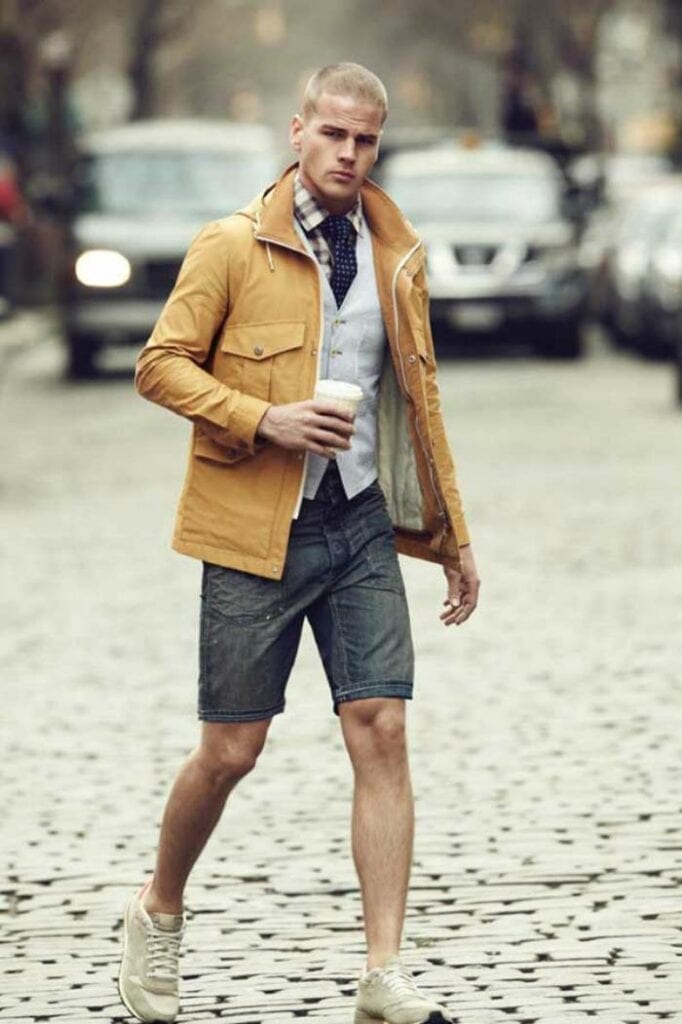 Source
↓ 17. Pop of Color
Candy colored shaded jacket for men who love to experiment. Put on matching socks along with the jacket.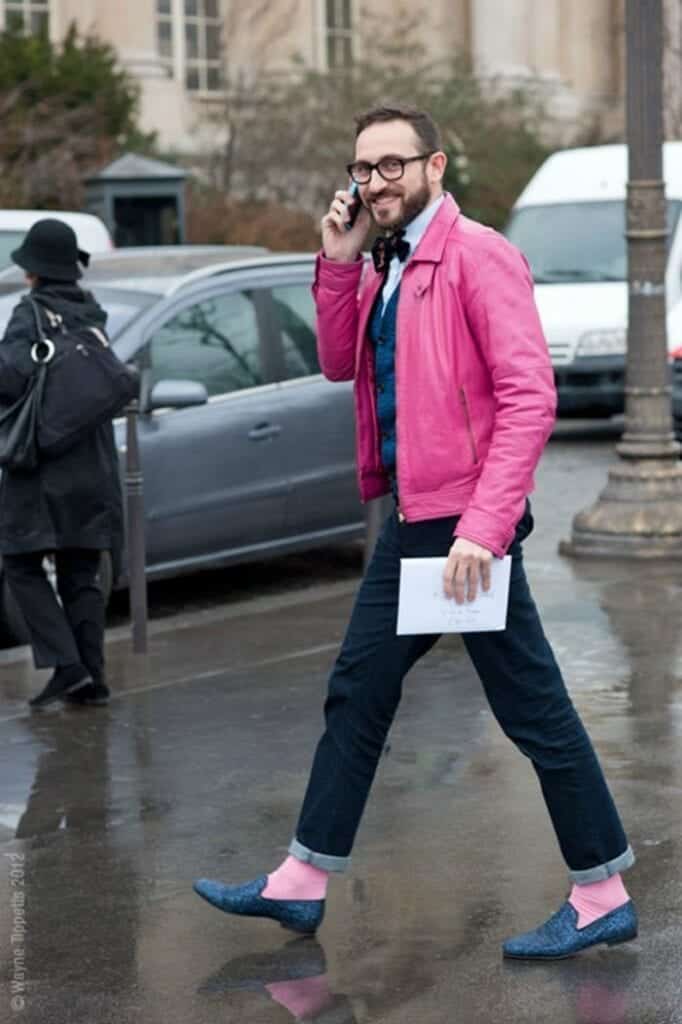 Source
↓ 16. Denim Jacket for Spring
Shirt jacket is also a really good piece to buy. This denim jacket is looking really nice here when paired with white slim fit pants and a gray shirt. Wear brown suede boots for a dapper look. Here are some style tips to rock your denim jacket:
Wear it with boots, preferably brown ones.
Wear it over knitted shirts or sweaters for soft urban vibes.
For casual and effortless look, wear the denim jacket over a striped shirt.
For a relaxed but professional look, you can even wear your denim jacket with a shirt and tie.
You can't just layer under your denim jacket but it also looks great when layered over such as with a blazer or coat.
Source
↓ 15. Rocker Look in Jacket with Snapback
Ripped jeans have become famous in a very short span of time. Jazz up your denim ensemble with a leather jacket style with zippers and a p-cap. The snapback is what makes this outfit even better, here are 25 Ways to Wear Hair with Snapback.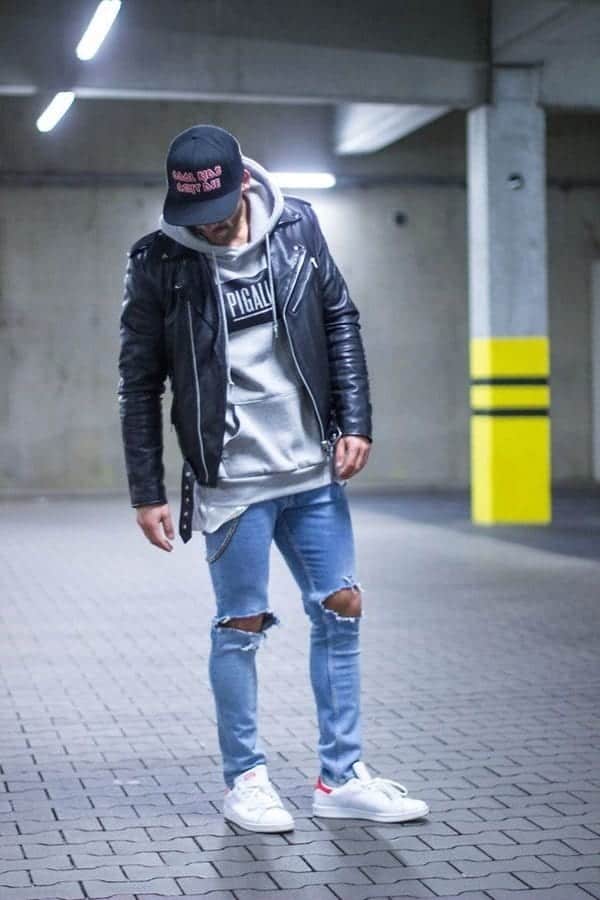 ↓ 14. Latest Style Jacket for Men
The classic combo of black and grey. University students can wear this style easily and can also adopt it for their presentations. This outfit works well with not just black but also brown shoes. If you have a pair of brown shoes then don't forget to check out these 20 Outfit Ideas to Wear Black Pants with Brown Shoes for Men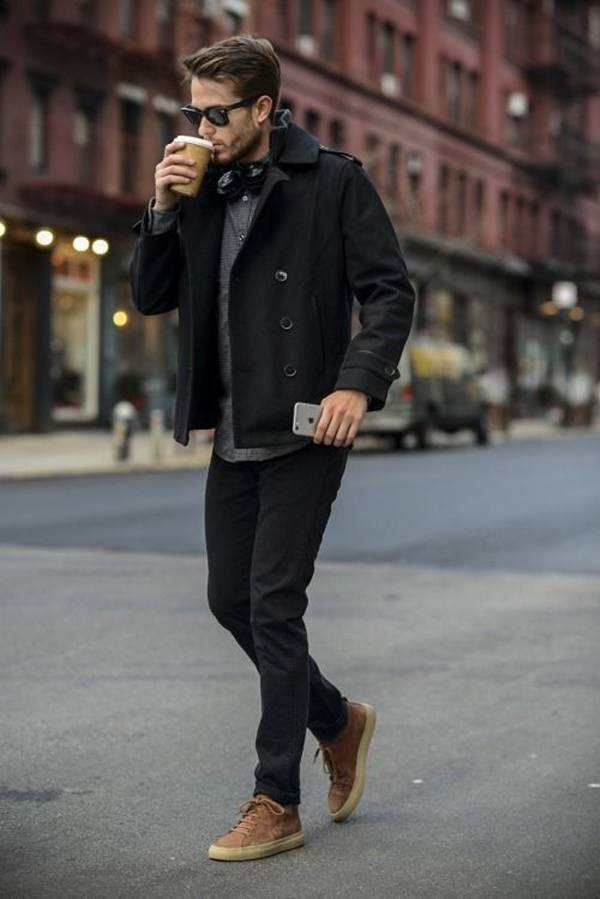 ↓ 13. For Teen Guys
Winter sunshine is harsh and bright. Put on your sun glasses and your brown shearling khaki jacket with sneakers and skinny jeans.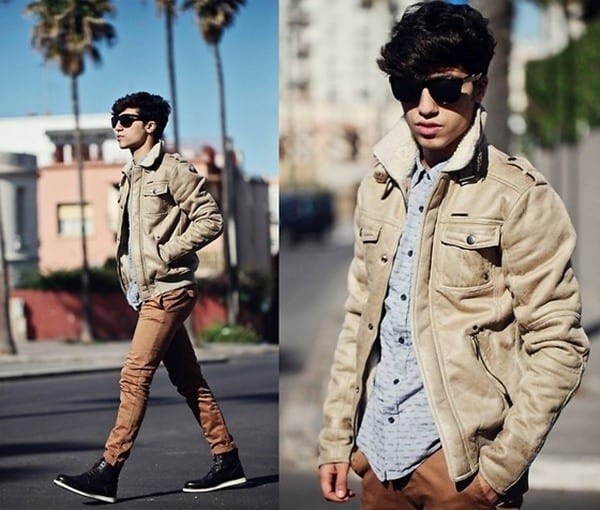 ↓ 12. Denim Jackets Never Out of Fashion
Denim and denim with infinity scarf for cold weather looks proper.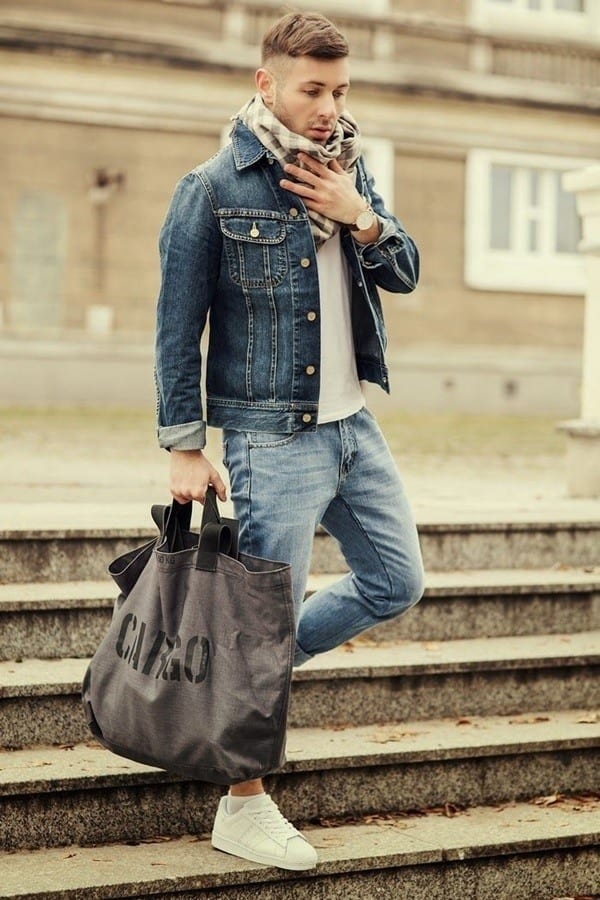 ↓ 11. Military Attire
Military uniform is adopted by every designer and similarly, men have adopted this cool look vigorously. Mix up your pieces with leather and a plaid blur shirt with boots. Don't miss out Black Men Hairstyles–21 Best Hairstyles for Black Guys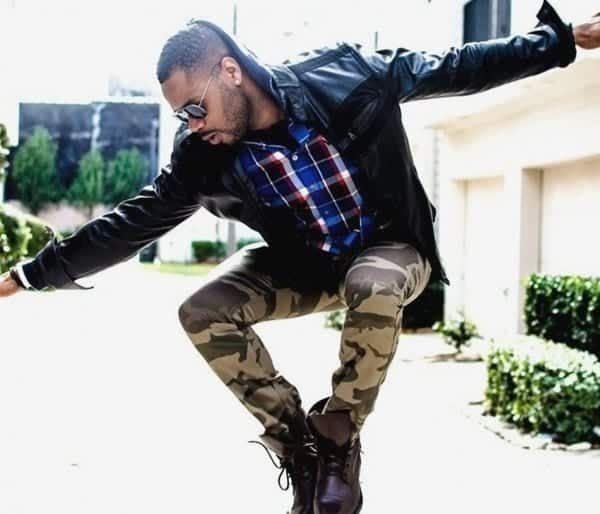 ↓ 10. Infinity Scarves with Jacket for Winters
Prim and proper for the high school drama rehearsals.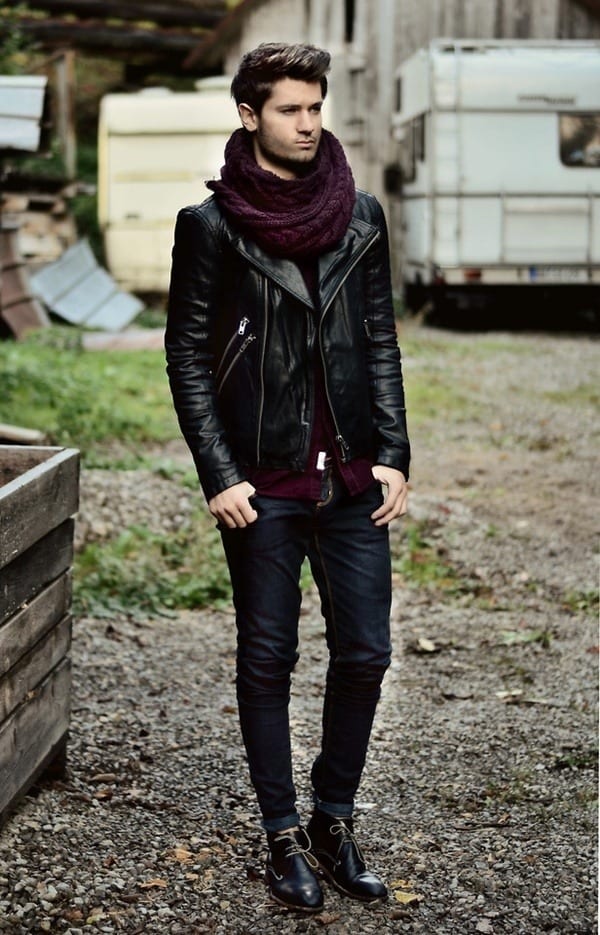 ↓ 09. Casual Outing Dress
Go to the gym outfit. For more ideas, here are 20 Athletic Gym-wear Ideas for Men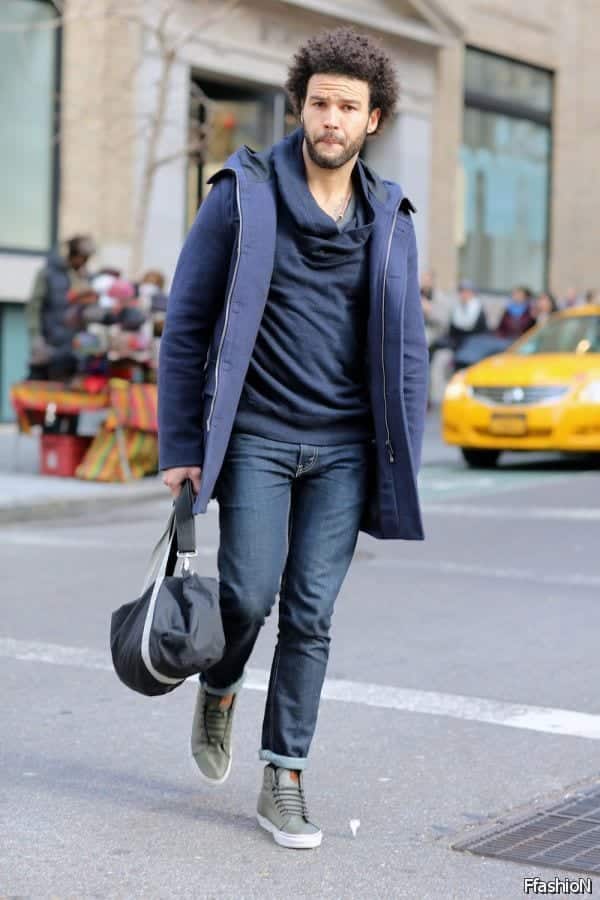 ↓ 08. Sleeveless Jacket for Work
If you work outside in winters wear you sleeveless jacket as it will ease your arm movements.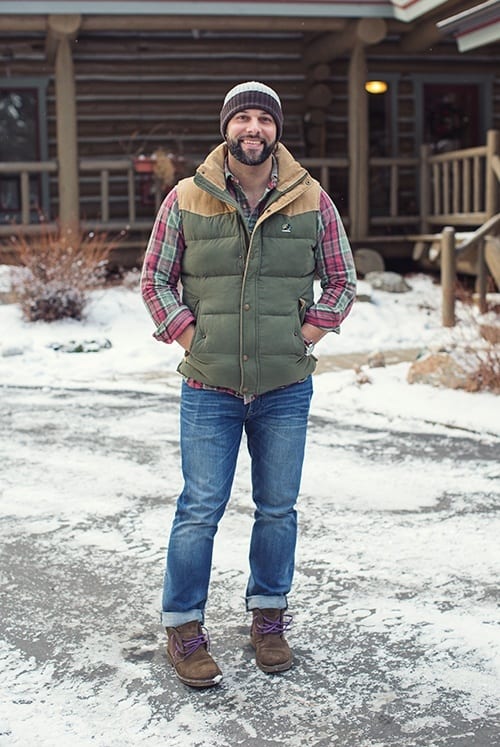 ↓ 07. Office Attire with a Jacket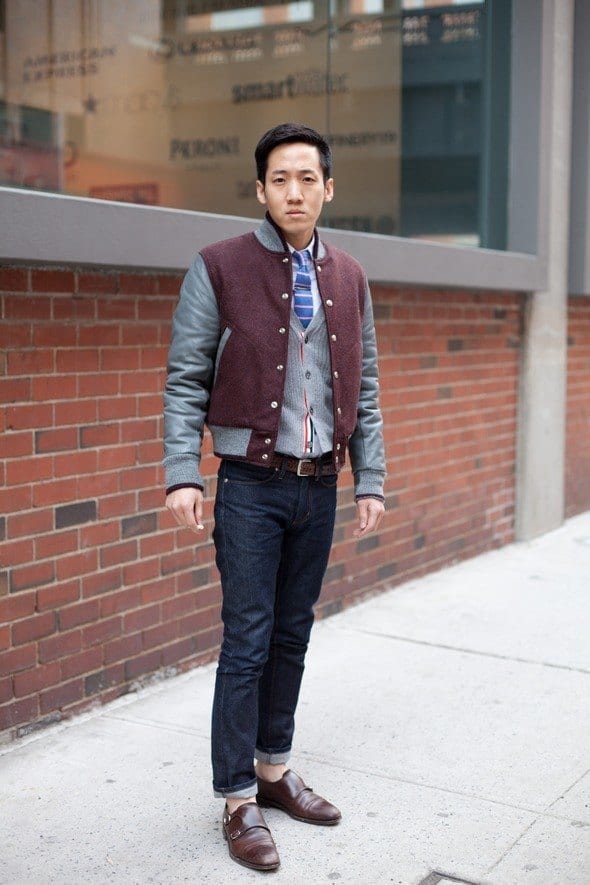 ↓ 06. Teenagers Outfit with Leather Jacket
Leather jackets don't just look great on teens but also on men of all age groups. So don't miss out these incredible Leather Jacket Outfits for Men.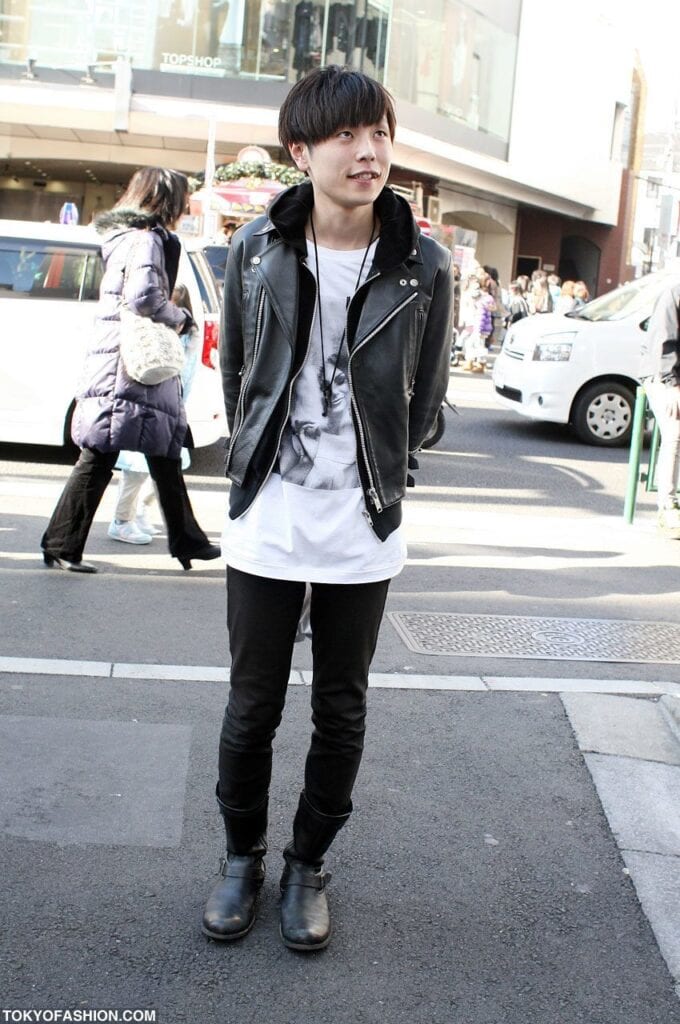 ↓ 05. Biker Ensemble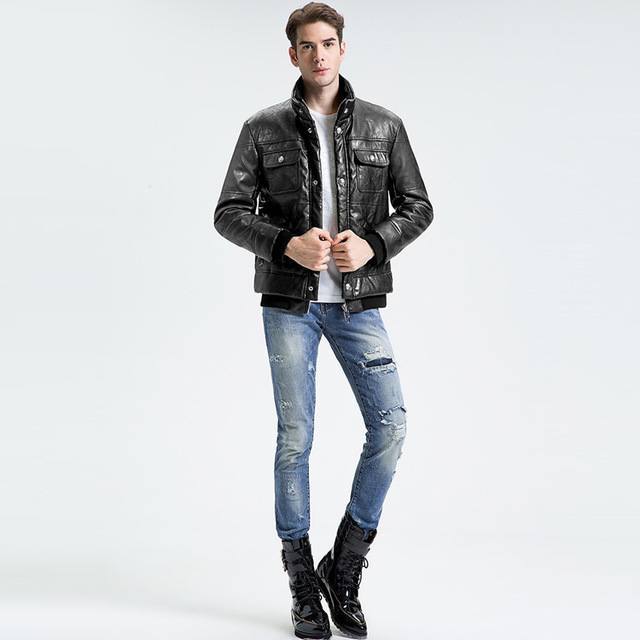 Source
↓ 04. Chris Haris Combo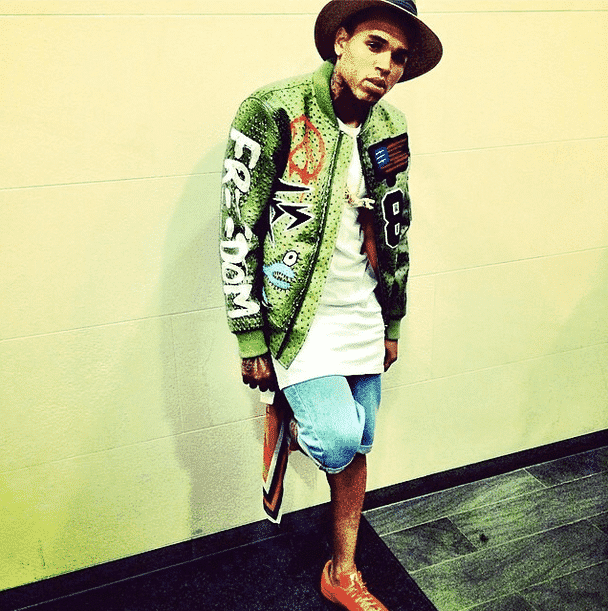 Source
↓ 03. Styling Idea with Jackets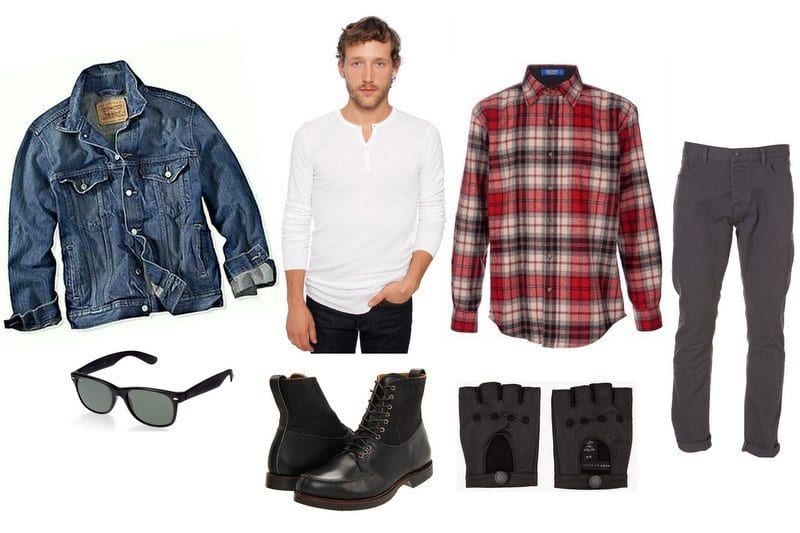 ↓ 02. Printed Bomber Jacket
Bomber jackets have been trending ever since celebrities like Kanye West started rocking them like pros. They have been all over Instagram and are surely a must have for every guy by now. These jackets are perfect for Winter layering as you can wear them over sweaters or even hoodies.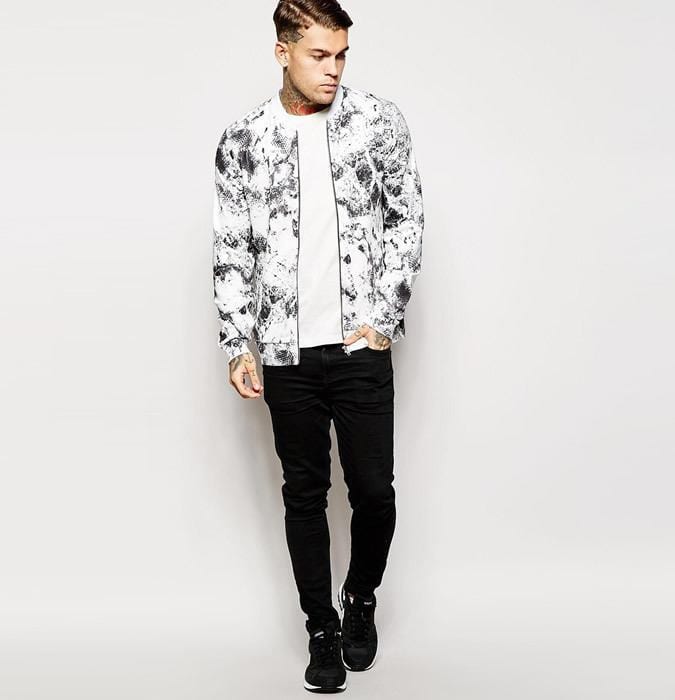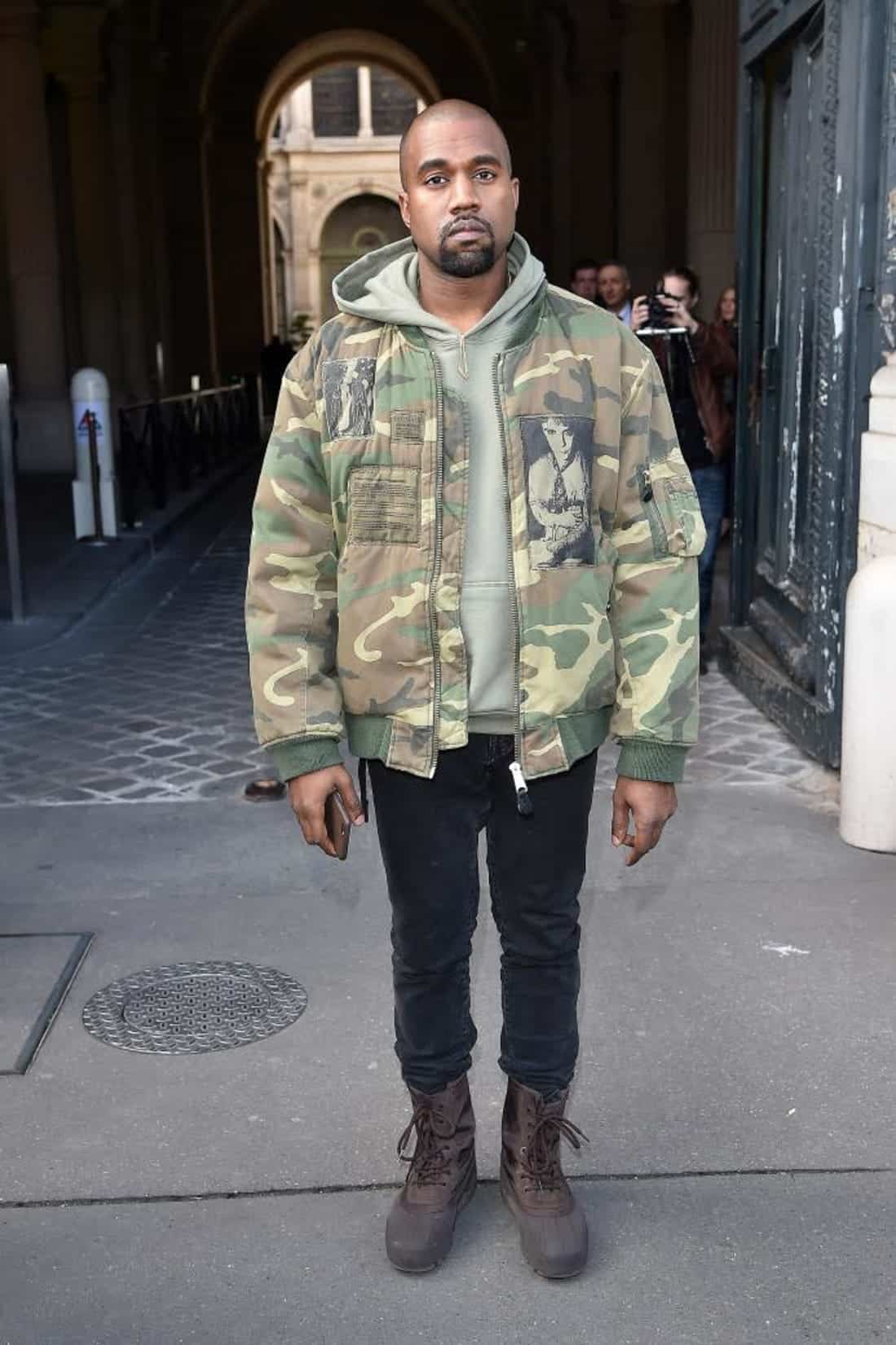 ↓ 01. Neutral Jacket Shades for Men in Summers
If you want to layer your outfit with a jacket in neutral or pastel shades. A good thing about neutral jackets is that you can pair them with a range of outfits. However, it is important to make sure that the summer jackets are made of lighter and breathable fabrics such as cotton.