Khaki Pants Outfits for Men – Men love their trousers, in all shapes and sizes. This trend of loving trousers started many centuries ago when they found how easy it is to do work and move about plus they are comfortable and men can relax.
This is because they are extremely easy to wear, available in a range of styles, and cheap or expensive, depending upon one's style budget. If worn right, they can be worn to the office and functions. Tall, fat, thin, short, and skinny guys can all wear trousers as it is a versatile style that looks good on all. Khakis are a perfect option for men, as the color is light enough to be worn with all styles and colors. Have fun! But how to style khaki pants? What footwear is perfect for khaki pants? To answer all your queries, we have decided to do a full-fledged article to guide you through the mumble-jumble of the khaki pant world. Check them out.
How to Wear Khaki Pants?
Regardless of the brand or wherever you got your khaki pants from, there are many ways to style them. Almost every piece of clothing can go very well with them, as long as you know how to make them look decent and trendy during the winter, spring, summer, and fall seasons.
Here are some tips on finding and styling your khaki pants:
Starting with you choosing the color of the garments you're going to match with khaki pants, almost every shade or tint can match these trousers. Just make sure that the combination won't be an eye-sore. It is a good option to match chino pants of any color with shirts or hoodies with contrast colors like black, white, grey, or brown.
Also, be wise in picking the right fit for you because you don't want to feel uncomfortable or awkward wearing the pants' wrong size. Try not to look lousy or stiff, so be picky about having the "just the right size" of trousers.
Some people don't consider the number and design of pockets when getting khaki pants, so it's up to you to consider this as a factor of your style, but really, it won't impact the totality of your would-be look at all.
You have the option of wearing your khakis with a blazer in a casual way. Pick the best shoes you have to complete the look. Brown and beige pants go best with shades of blue. Grey or black can also be a nice option.
For those who think khaki pants are boring, here are the most amazing outfits ever that wouldn't be possible without khakis.

↓ 56 – With Varsity Jackets
Rock that iconic jacket of yours that is best for sports and even just for casual occasions. Khaki pants, of any shade, can go very well with any varsity jacket, regardless of the design. But I personally feel that khakis in shades of brown can blend really well with blue jackets.
This Look does not have an image.
↓ 55 – Urban Explorer
A denim shirt with a vest and leather boots can also be an amazing way to style your khaki pants. A patterned scarf is optional here. The perfect sunglasses can go very well with this look. So, shades on. The hat makes this signature look most distinct, so grab that fedora hat! And as you can see here, this style looks equally good in all age groups. You just need to be young at heart!
If you want to layer under your denim shirt, a red undershirt shirt is a good choice to balance the blues. However, it still depends on what color you want your denim to go with (but I recommend white if you are not into red).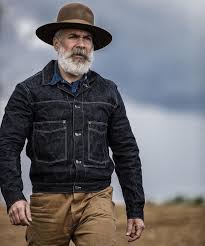 ↓ 54 – Monochromatic
In this style, the clothes you are going to wear should be of almost the same colors. It means that they are united by a shade or tint close to each other, but it doesn't have to be very similar. Try this look with your khaki pants by wearing a trucker jacket as your top, with a turtleneck shirt underneath, then complete the style with boots in a similar shade.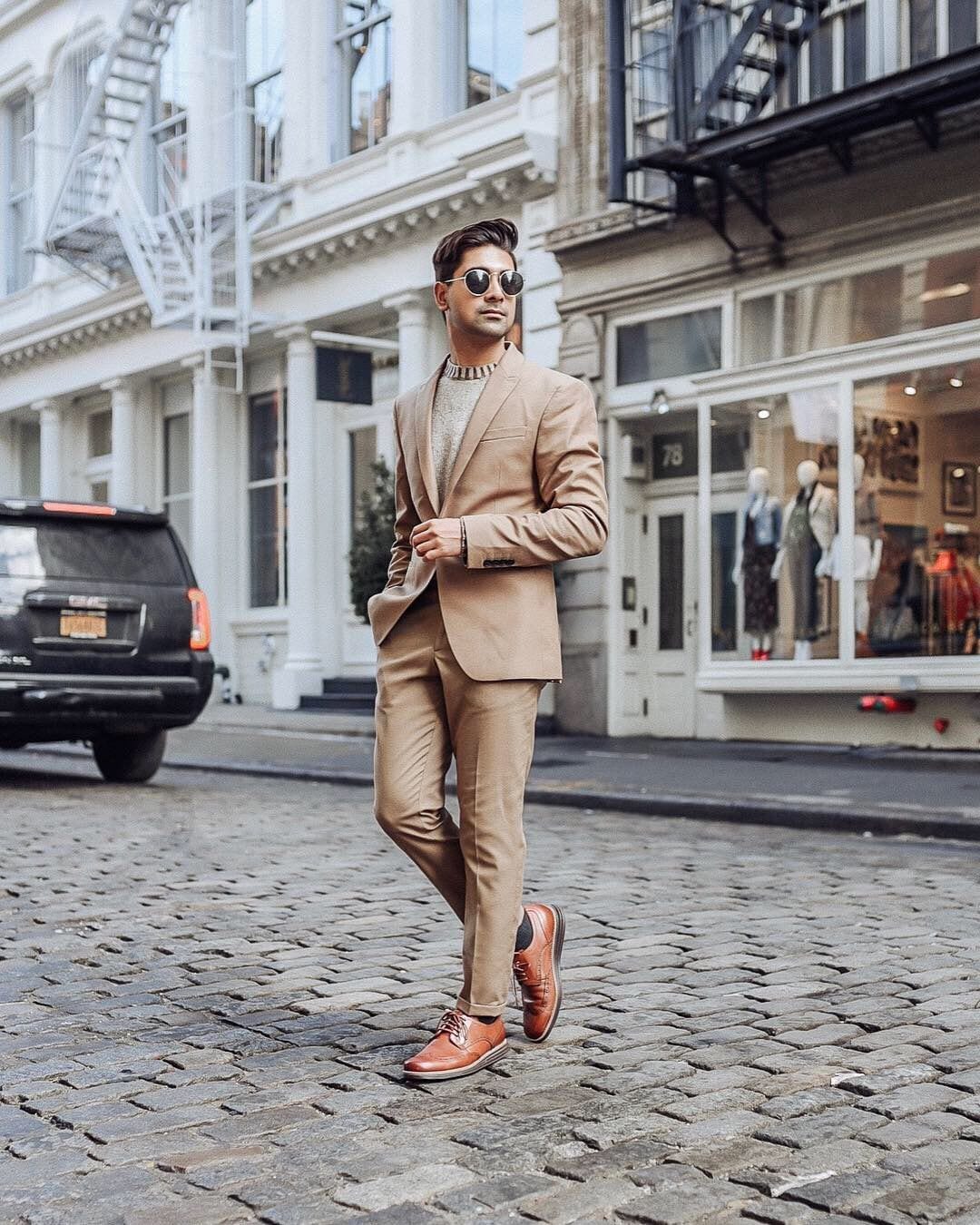 ↓ 53 – With Blue Blazer
Either a navy jacket, a blazer, or a coat can go right with your chino pants. Just match it with a linen or flannel shirt of the appropriate color underneath. The tie is optional, but a pink shirt is highly recommended with this combination.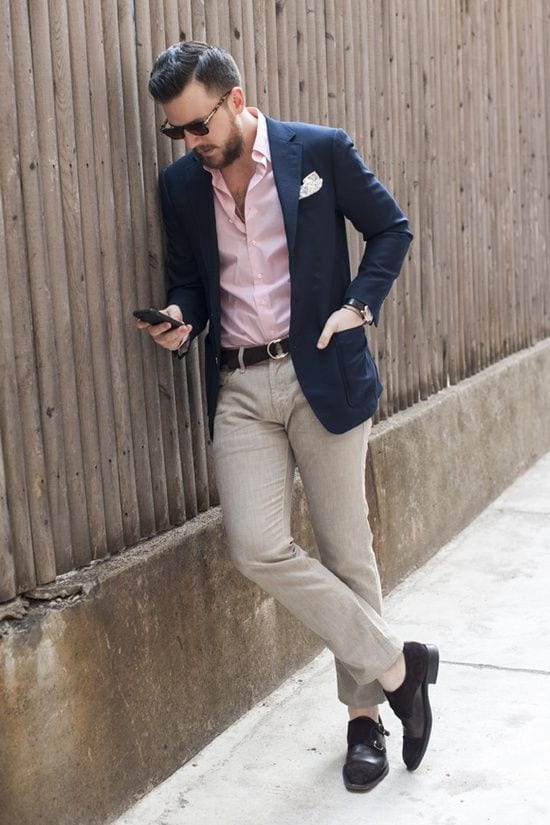 ↓ 52 – With Leather Jacket
Khaki pants, matched with a leather jacket with a plain shirt underneath, can also be a good idea and worn on several occasions. This look can be formal or semi, or even a casual one depending on how you style it. If it's freezing, you can layer under it with a sweater and wear a knitted scarf over the jacket.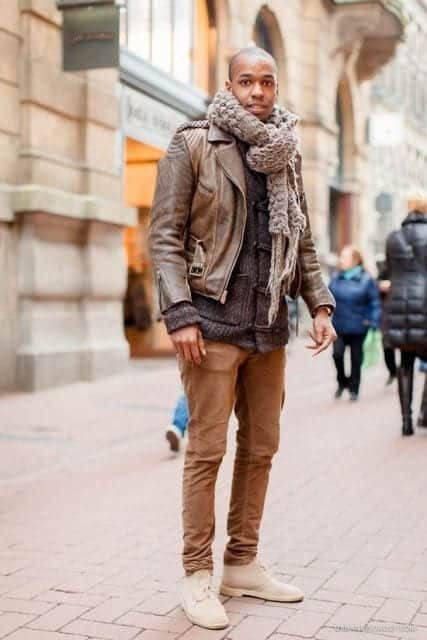 ↓ 51 – With Hoodies
It's stylish to wear your khaki pants with some hoodies that have never been out of style. Again, consider the color theory of fashion when picking the right hoodie. It doesn't end with hoodies; pullovers and sweaters blend in well, too.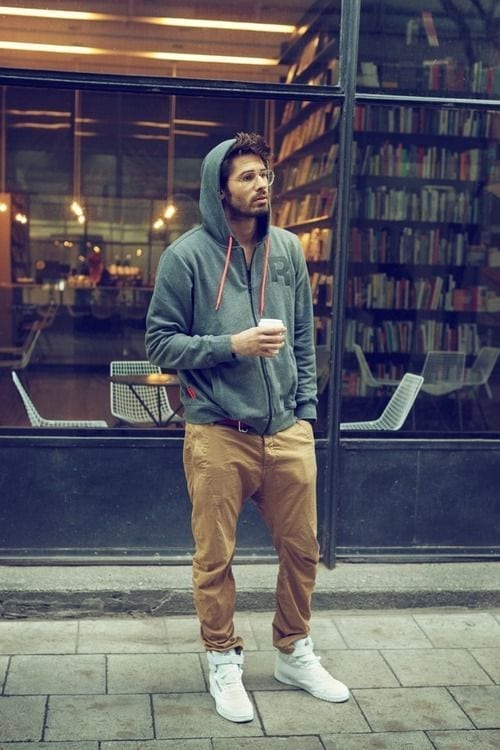 ↓ 50 – Ankles Off
Since almost every shirt can go well with chinos, a simple outfit comprising a classic white shirt (or any color of your choice, depending on your mood or with the occasion) with beige khaki chinos can make you super stylish.
It's also not bad to show off some ankles when wearing chino pants, and matching the style with some casual trainers or sneakers, preferably white. To add cuffs, just fold the hem.
You can wear plain shirts or the ones with fancy prints or even polo shirts with just the right fit for your body for your tops. It's up to you if you will tuck the shirt in your pants or not so you can move more comfortably.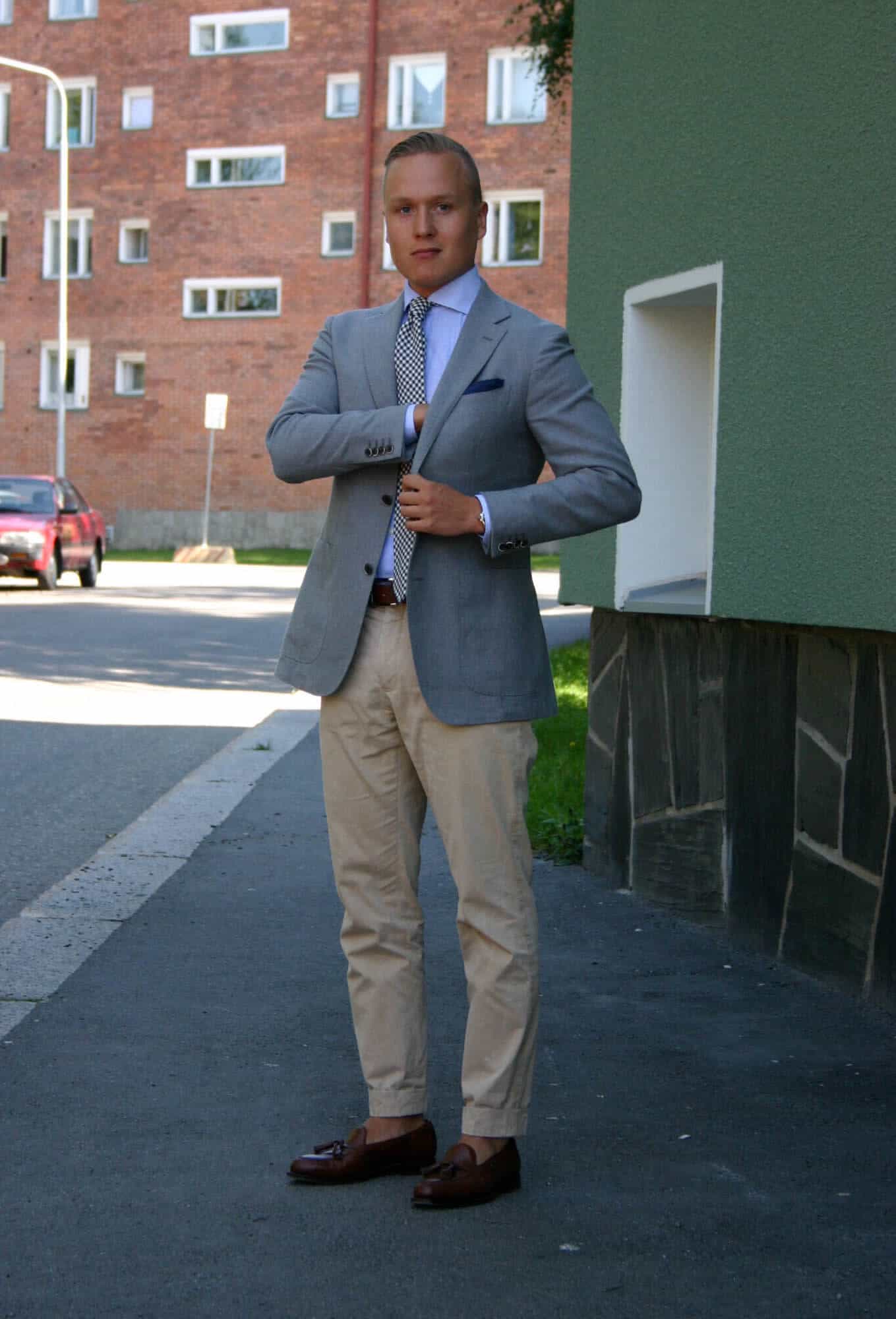 You can wear plain shirts or the ones with fancy prints or even polo shirts with just the right fit for your body for your tops. It's up to you if you will tuck the shirt in your pants or not so you can move more comfortably.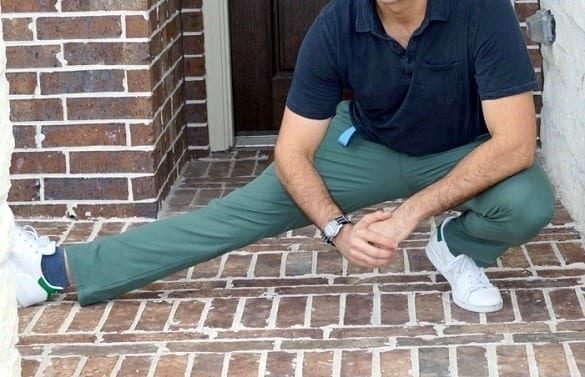 ↓ 49 – Khaki Pants Outfit for Work
Keep it classic, sleek, and dapper with a suit jacket, shirt, tie, and fitted khakis. This color combo is a common one and is a good option so that the pants stand out more. Tumblr guy style in which add your mod styled Oxfords. Do check out 18 ways to wear men Sneakers.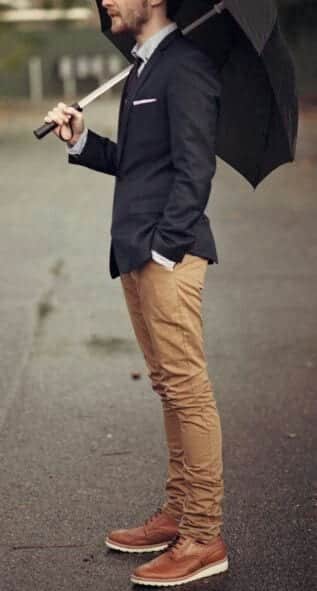 The first impression lasts! This outfit is an essential one for people who need to look confident in their intimidating boss, feel good at performing their tasks, or just be comfortable behind their desks.
Play around with a tie to create the formal look that you want. Leather boots and belts are essentials, preferably brown or black color. Complete the look with a classic and timeless watch. This style is also appropriate for interviews and corporate events like meetings and seminars. You can check out this collection of Best Collection of Job Interview Outfits/Tips For Men for more ideas.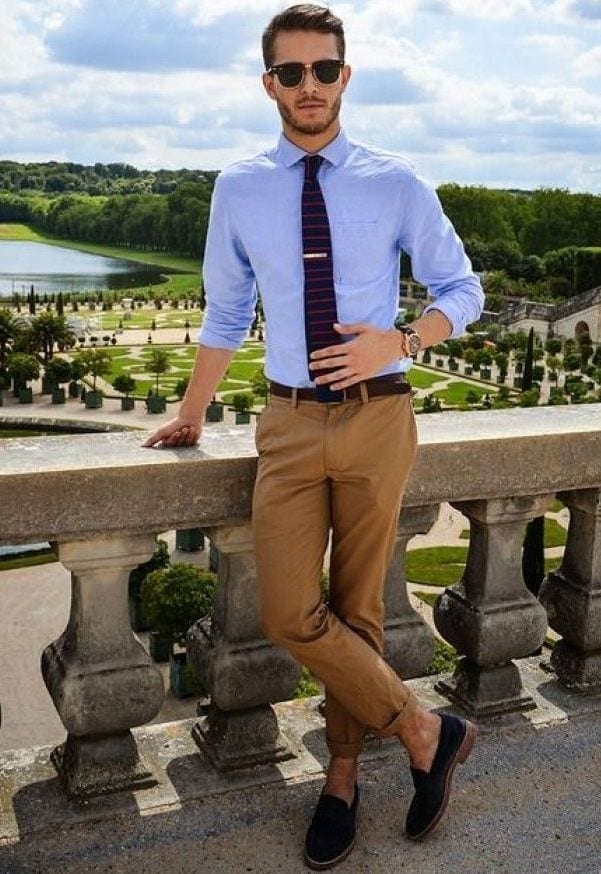 ↓ 48 – How to Wear Khaki Pants When Travelling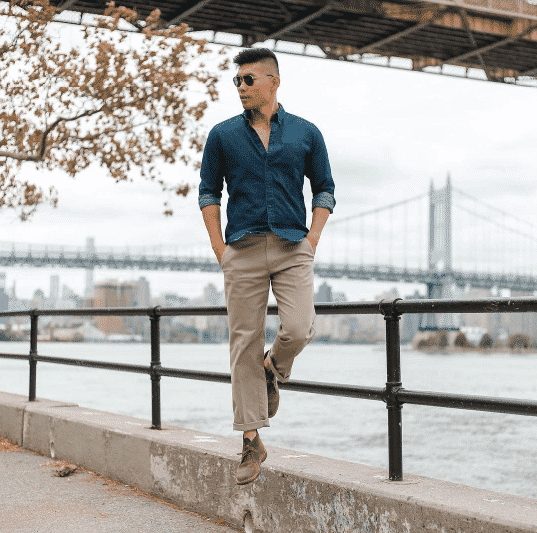 ↓ 47 – What Colour Shirt to Wear with Khaki Pants
City boys love their pinks, so pair your beige-colored trousers with a light pink shirt and a navy blue blazer and suede buckled shoes. Gelled back hair and a beard for a classy look, and a belt and a wristwatch as an accessory is good enough for a relaxed day at the office or for meeting up with your date. If going to the office, wear socks, but you can go without them if going to meet someone, and it will never be a bother.
↓ 46 – Casual Style in Khakis
Simple Sunday outfit to match your mood. Match your shoes with your t-shirt so that the pants stand out and look more attractive. Shoes such as Converse or Keds can be worn. Sunglasses with a wristwatch and a nice wallet will be your accessories for the day. Here are 15 Best Dressing Combinations With White Shirts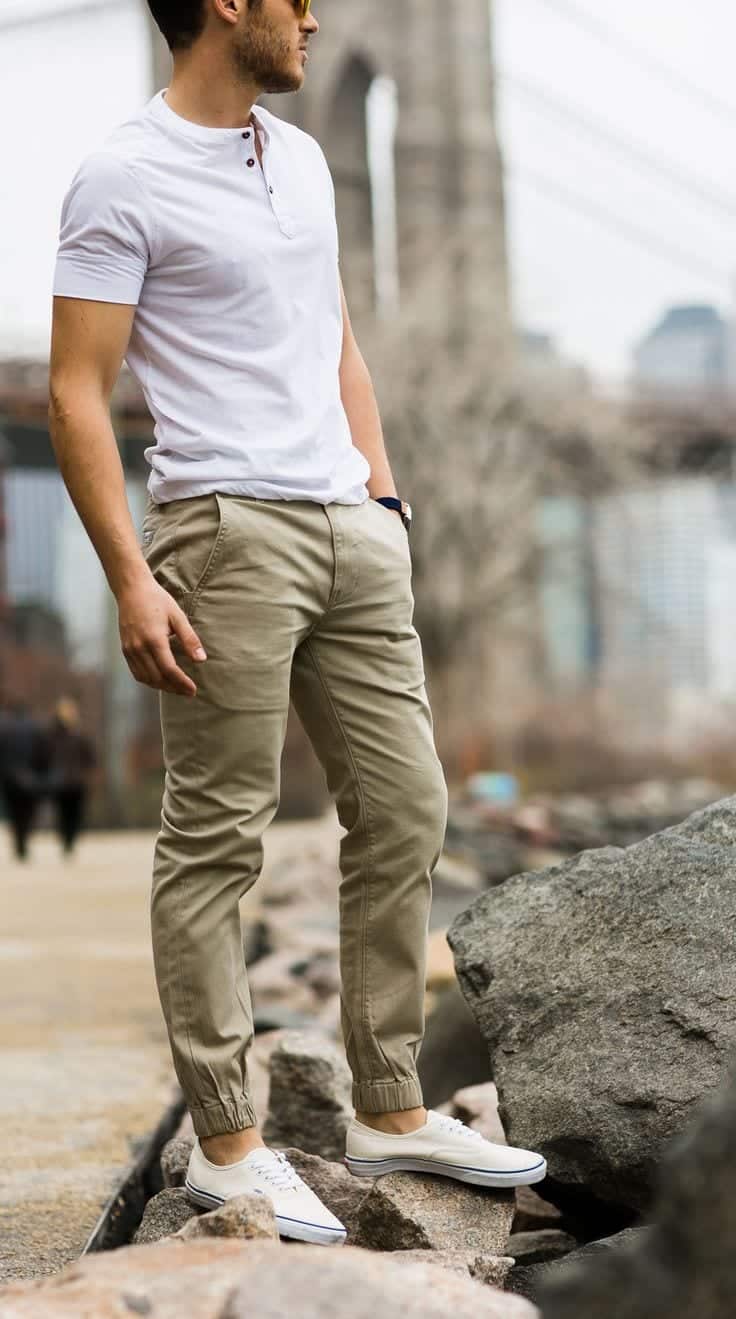 ↓ 45 – Jeans with Khakis
Denim button-down shirts are a great, casual attire for fun brunches, lunches, or get together with family and friends. Bar-b-Q day planned? Wear this awesome combo with Keds and a nice hairstyle. Want to look a little from the young crowd? Then wear leather bracelets.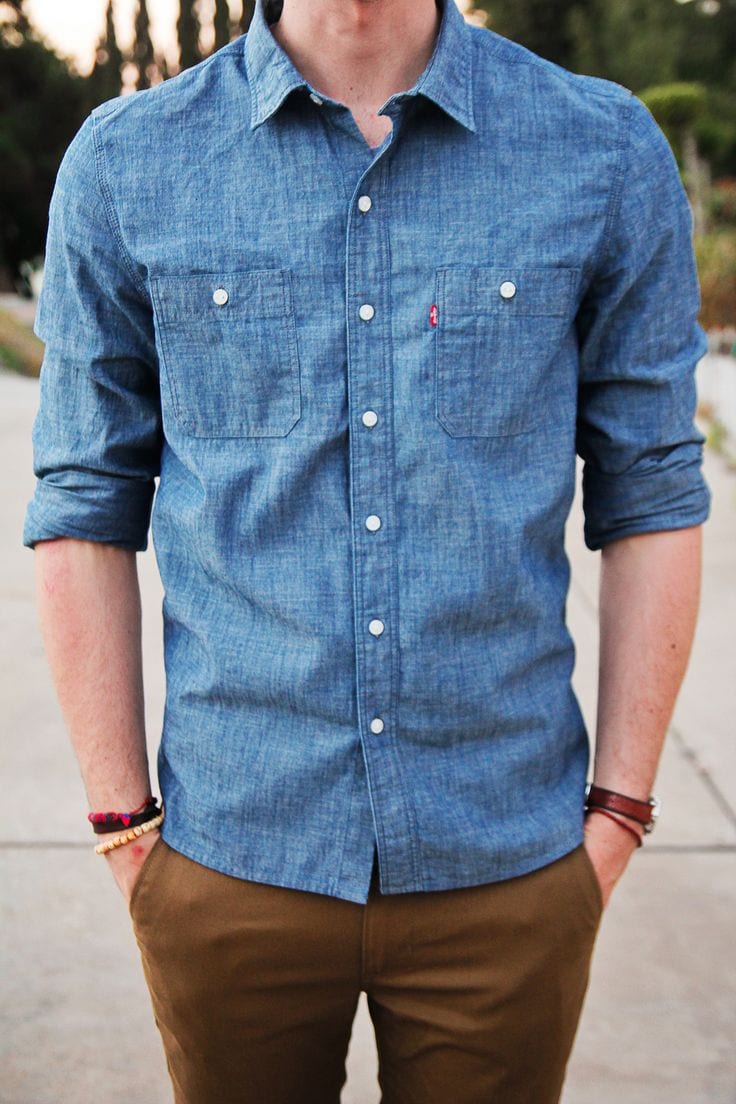 ↓ 44 – Sporty yet Relaxed
For guys who do not like to expend effort, this style is for you. Roll up your Tartan shirt sleeves and wear your favorite matching low-rise sneakers gelled with your shirt color and grab your backpack. Camel-colored khakis will be best suited for this kind of mix up—Ready for any hiking trail or just a roundabout of the city on vacation. Spiked up hair will give an adventurous look, and a little beard will add to the magnetism.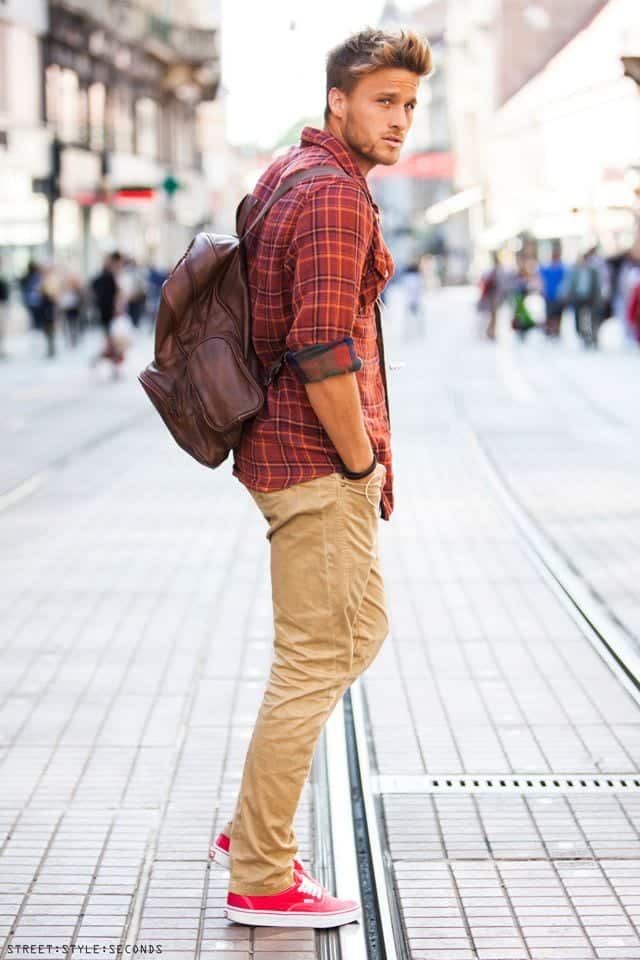 ↓ 43 – Beach Style in Khakis for Fall/Winter
Fancy boys looking to make a style statement with their outfit can wear a Polo shirt, a loosely draped sweater, and roll up their trousers for fun in the sun! Also, see 25 ways to style your polo shirts.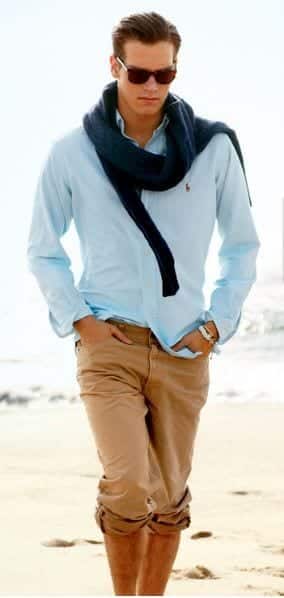 ↓ 42 – Wearing Khakis with Stripes
Pair your Old Navy or Gap striped shirt with brown pants and blue loaders for added style. Roll up your pants to show off your shoes and add to your style statement.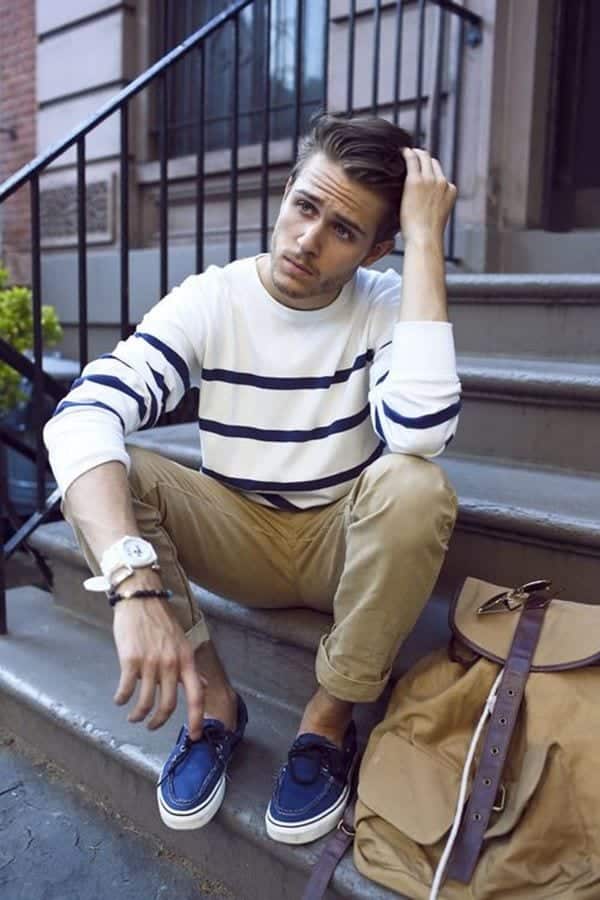 ↓ 41 – Summer Beach Style
For a beach or a construction worker outfit in style, you need to adopt this one. It will give you comfort and style if you like to dress up in this manner. A vest cum t-shirt in white is a good choice with rolled-up pants to move in the pants and a nice waterproof watch as the only accessory. Spike up your hair Mohawk style.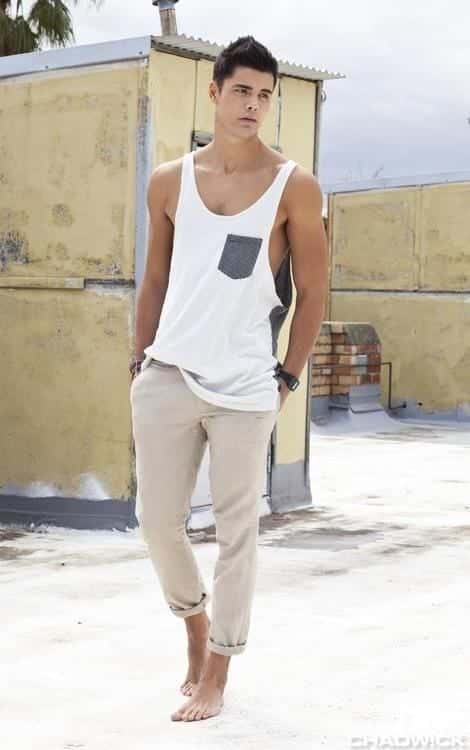 ↓ 40 – Step by Step Video Tutorial – How to Style Khaki Chinos
↓ 39 – Urban Style
If the winter season is here, take a little risk and adopt a hipster's inspiration in wearing a long grey cape, lots of matching layers, and green pants for added style. Nude boots work best with this outfit. Gelled back hair and a beard will add to the mysteriousness.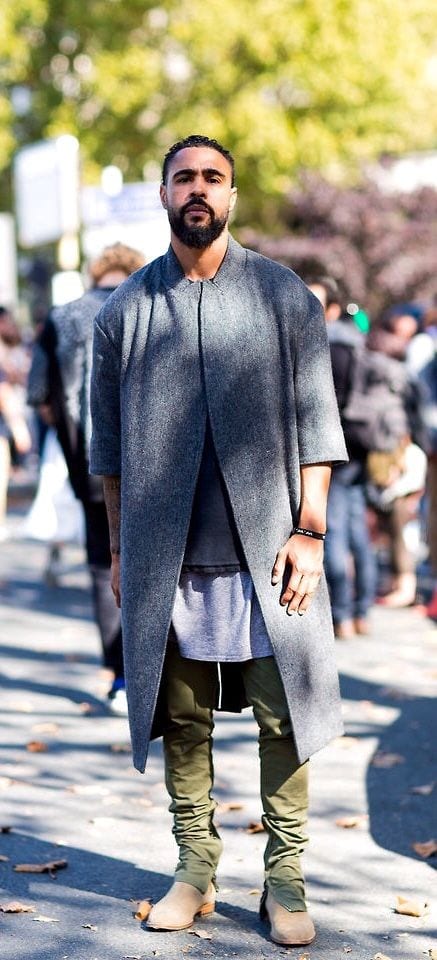 ↓ 38 – Khaki with Sneakers
If you need an outfit for a casual lunch, brunch, or work party, pair your trousers with shoes such as Keds and keep the t-shirt simple and white.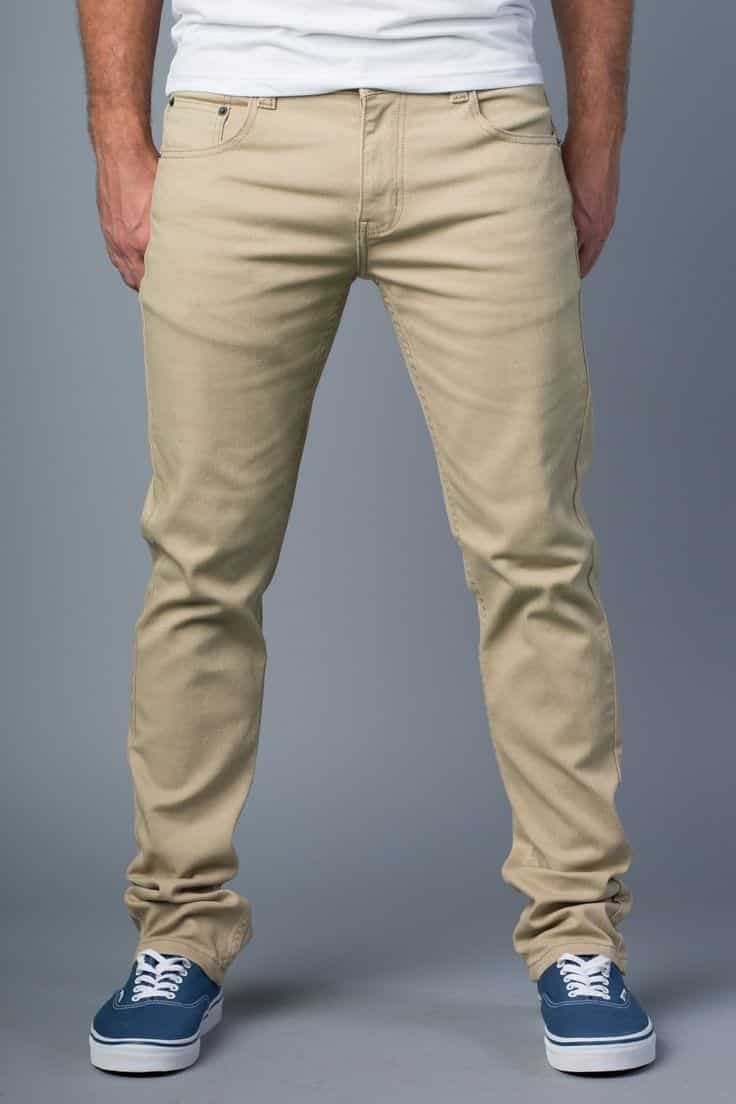 ↓ 37 – Summer Style with Khaki Shorts
Khaki pants are a rave, but shorts can also be worn if planning on staying near the beach. Now the size of the shorts depends on your choice. Mostly khaki shorts come in fittings so that Oxford shorts style will be best for an outdoor party. If choosing a shorter size, wear a tight, fitted denim shirt and a leather belt. If going for longer ones, go for polo shirts or collared shirts and canvas shoes or loafers. Here are 20 Stylish Men's Outfits Combinations with Shorts.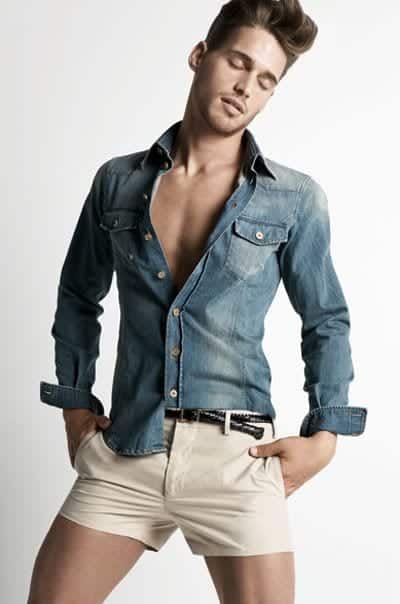 ↓ 36 – Casual Spanish Style
Pair a brown homburg hat with a sleeveless blue vest and a white collared shirt and pocket-tie. Stylish blue loafers or suede shoes will look nice with nude pants. A crew cut or short hair will be nice with the whole persona. Belts have been a man's thing from time unknown, so always invest in some good belts as worn with your everyday wear.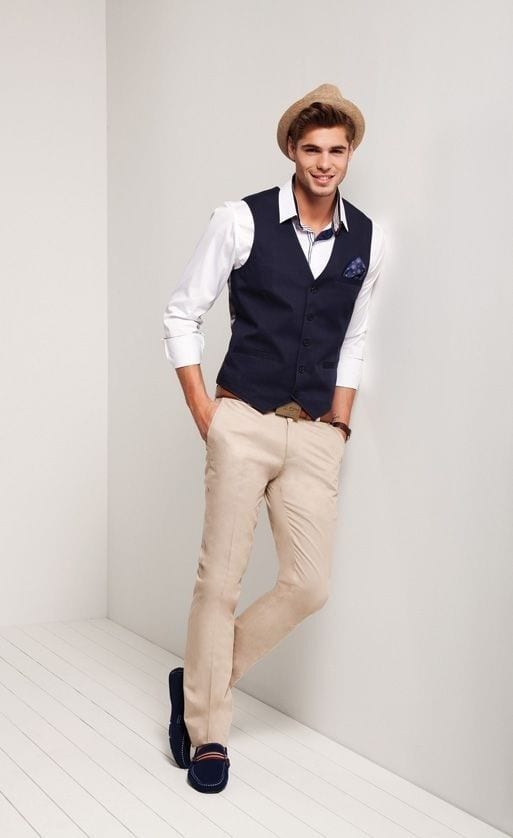 ↓ 35 – Spring Outfit

↓ 34 – Street Style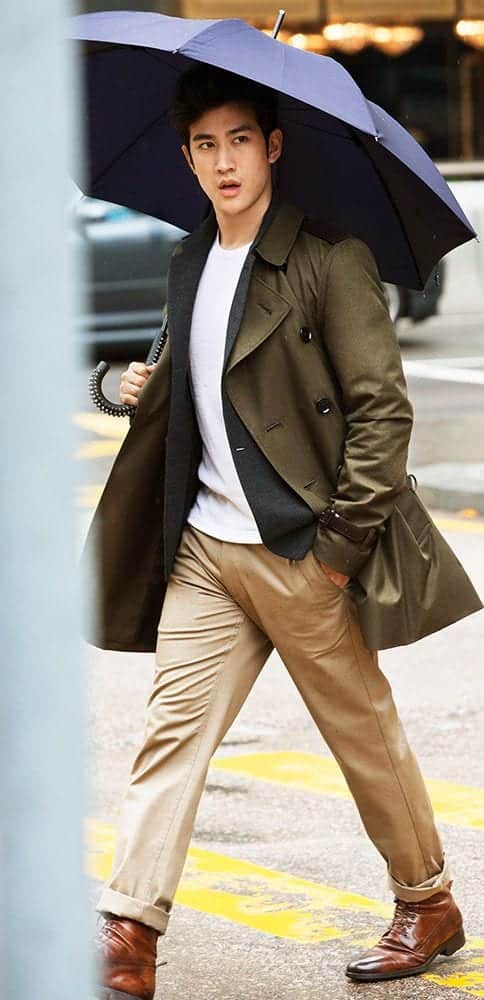 ↓ 33 – With V Neck Shirt
↓ 32 – Khaki Pants Outfit for the Weekend
Awesome look for the weekends in Fall.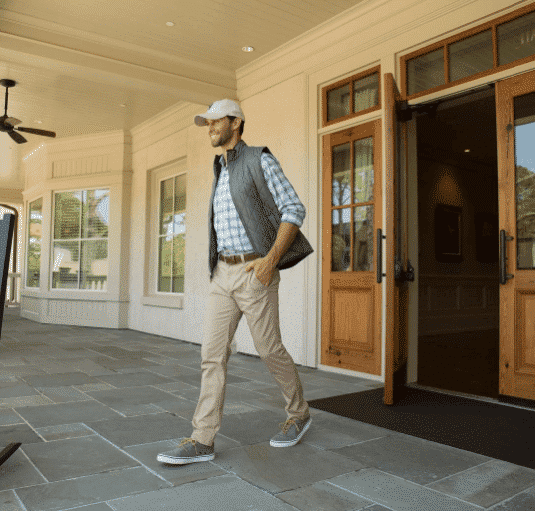 ↓ 31 – Koren Fashion Style in Khakis
An authentic Kpop look!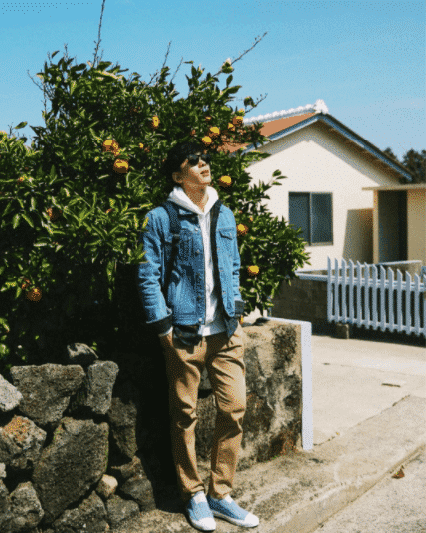 ↓ 30 – Wear Khaki Pants without Socks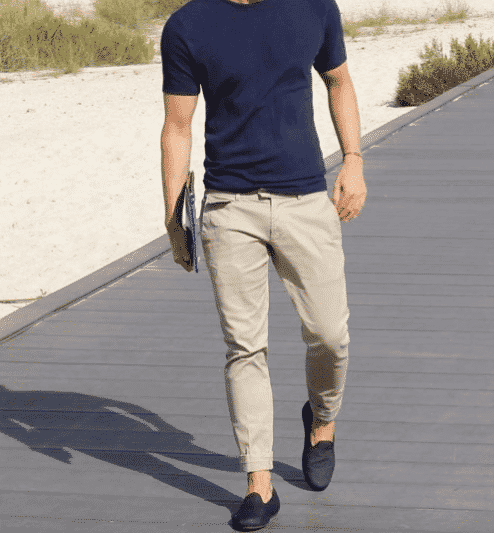 ↓ 29 – How to Wear Khaki Pants for Guys with Big Thighs
Here are the 40 Best Fall Fashion Tips for Men.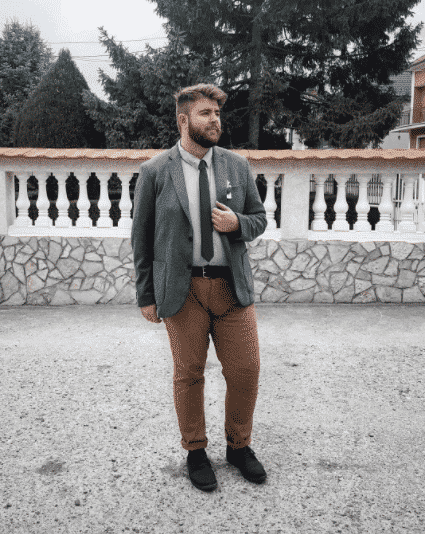 ↓ 28 – Khaki Pants Outfit for College
↓ 27 – What Jacket to Wear with Khaki Pants
Leather jackets are always the best choice with khaki pants of any kind. Here are the best Leather Jacket Outfits for Men.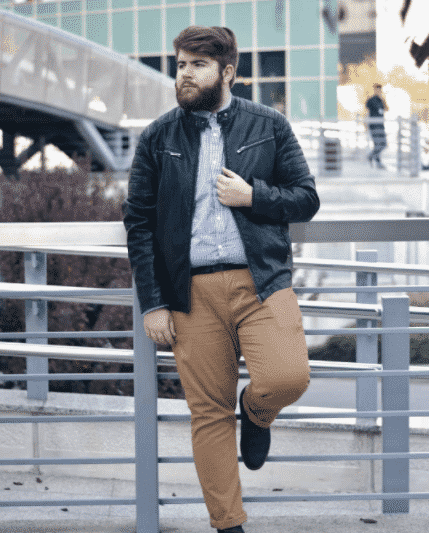 ↓ 26 – Preppy White Khaki Outfit for Men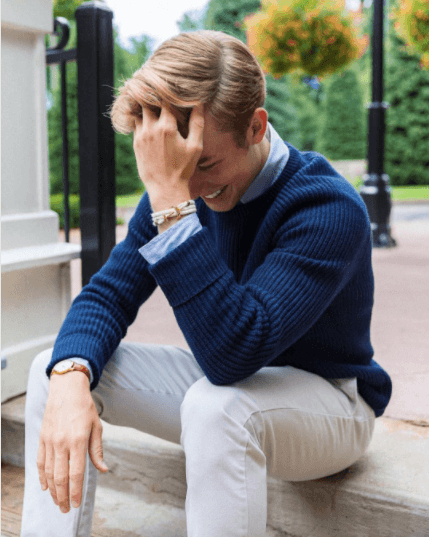 ↓ 25 – Swag Look in Khaki Pants
Do check out 21 Most Popular Swag Hairstyles for Men to Try this Season.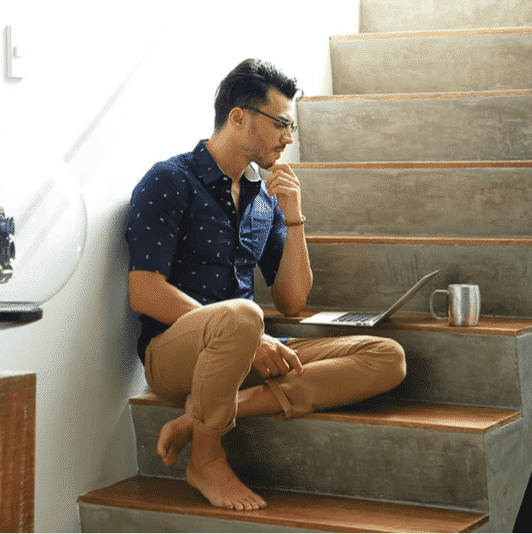 ↓ 24 – What to Wear with Olive Green Khaki Pants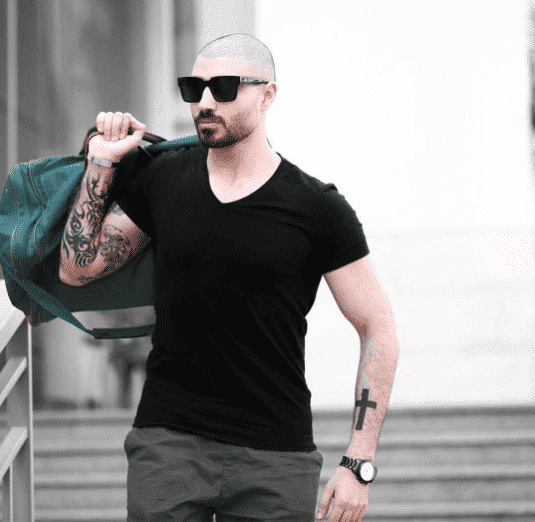 ↓ 23 – Wearing Khaki Pants for Outdoor Sports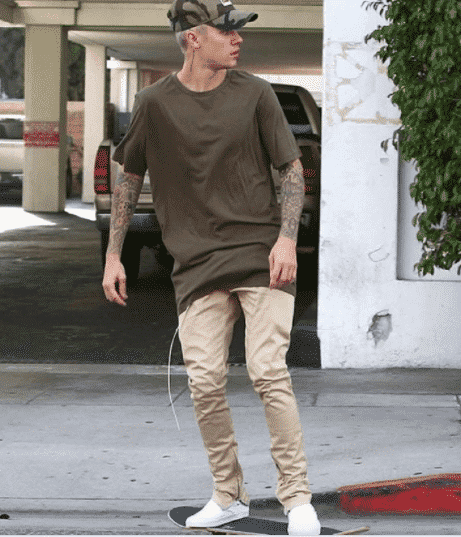 ↓ 22 – Vintage Khaki Pants Outfit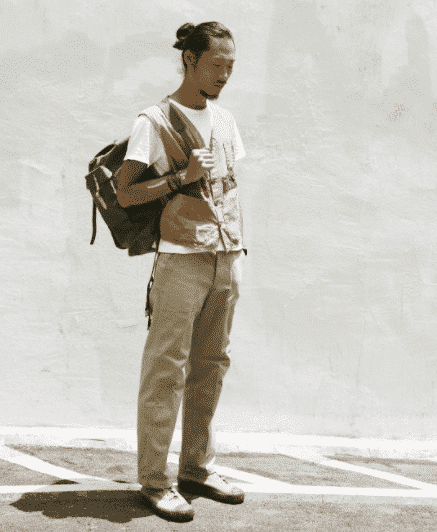 ↓ 21 – Matching Khaki Pants for Family Pictures
Khaki pants paired with white shirts look fabulous for family pictures. Also, have a look at these 15 Ways to Wear White Button-Down Shirts for Men.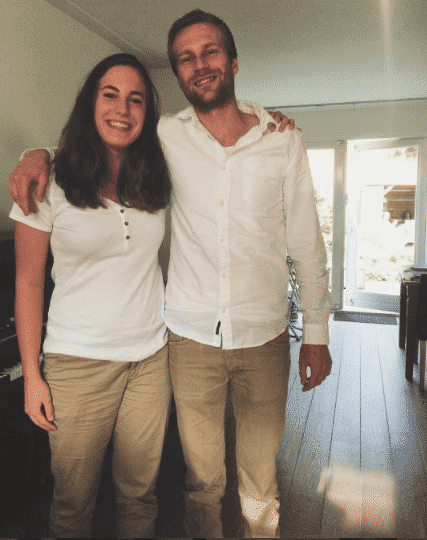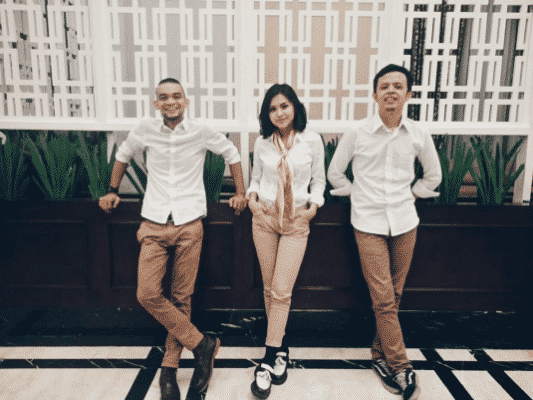 Best Outfits with Khaki Pants for Men.  If you are a man and don't own khaki pants, well, your fashion sense needs a boost. Khaki pants are quintessential of class and a developed style. So if you don't have it in your wardrobe, spend some bucks and get it, trust us, a couple of shirts and just a khaki can save you a lot.
Khaki pants are the perfect addition to your wardrobe and look good in every season and for nearly every occasion. Read on for some great styling tips.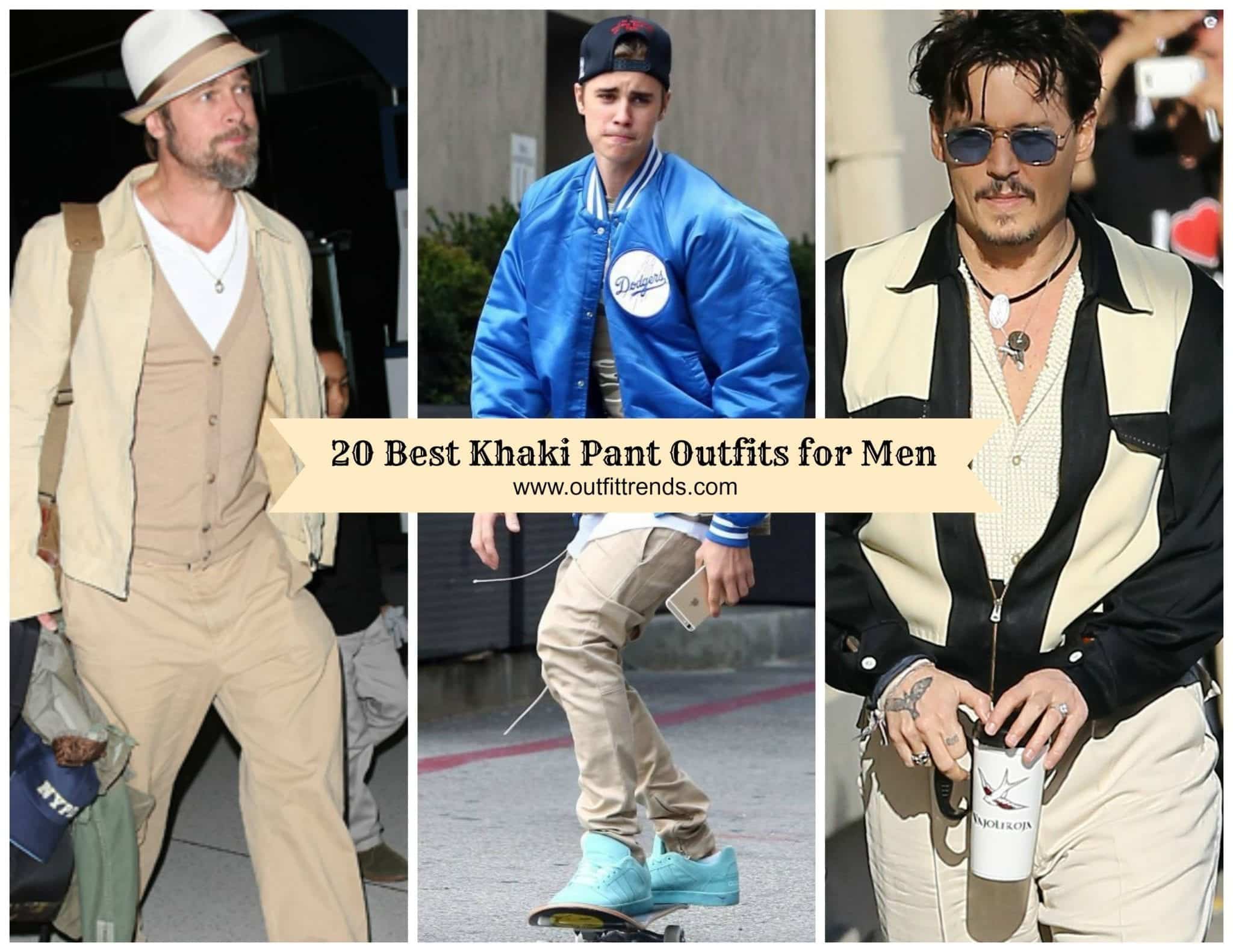 ↓ 20 – How to Wear Odd Colored Blazer with Khakis
Khakis are normally worn with earthy and subtle tones, but let's break the rules and let the women skip a beat. This summer wear your khaki pants with baby pink blazer and let people adore you for your fashion sense. Also, have a look at these 18 Latest Men Casual Outfit with Blazer.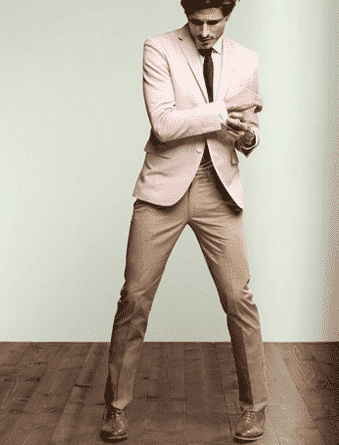 ↓ 19 – How to Wear Khaki with Denim Shirt
It is summer and we want to wear something you're comfortable in. Since guys love denim, why not wear a denim shirt with khaki pants. We suggest, keep your jeans aside and experiment with khakis this time.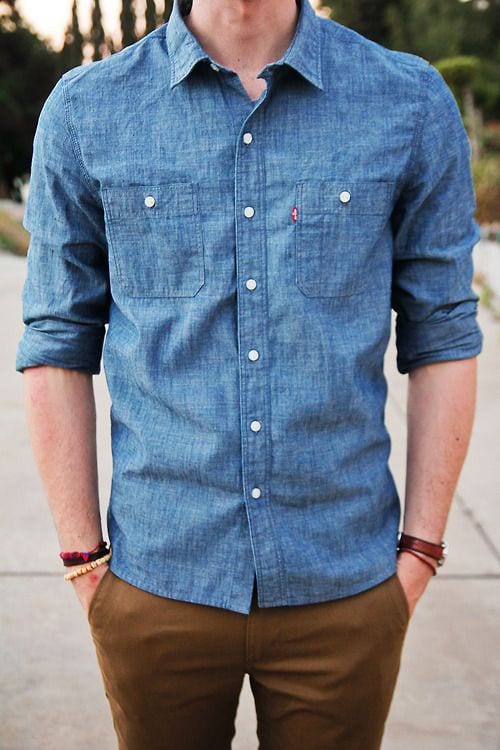 ↓ 18 – How to Wear Khaki on Big, Special Events
If you have a big event planned up, don't wear your boring dress pants, instead pair up your dress shirt with khaki pants and a leather boot and you'll look surely turn some heads. Here are some more Ideas What to Wear as a Wedding Guest.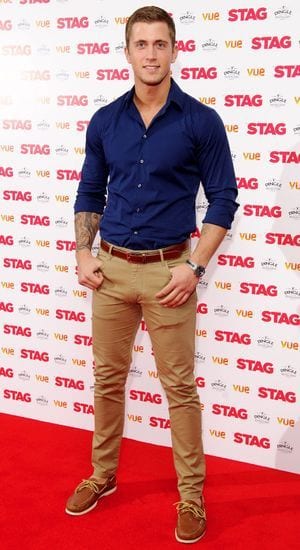 ↓ 17 – How to Wear Black Shirt with Khaki Pants
Khaki Pants can be worn with just any color. If you have a black polo shirt, rock it with your khaki pants and show off your rugged looks to the world.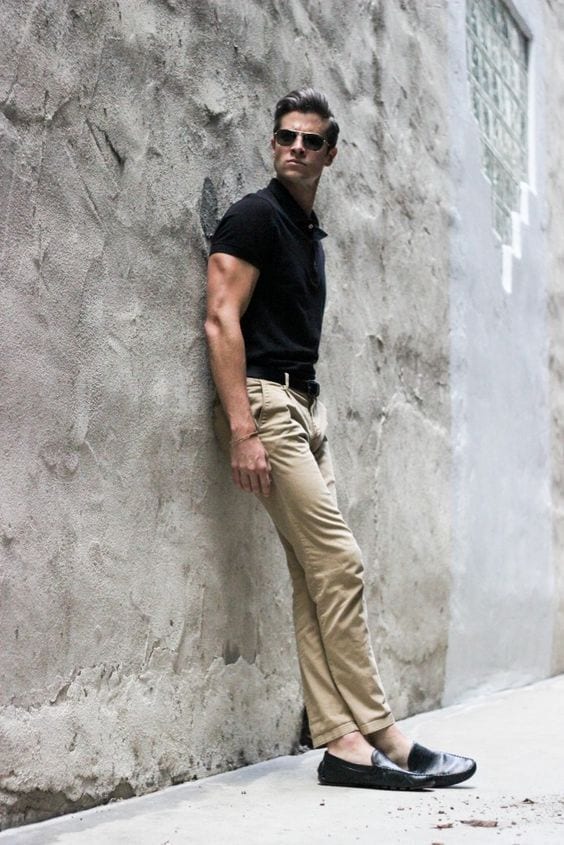 ↓ 16 – Dressing Up for University
Want to look your best at college or university? Why not use your khaki pants for this purpose. Wear your khaki pants with a stripe patterned shirt and be the best-dressed man at your study place. Here are 23 Cute First Day of College Outfits for Boys for Sharp Look.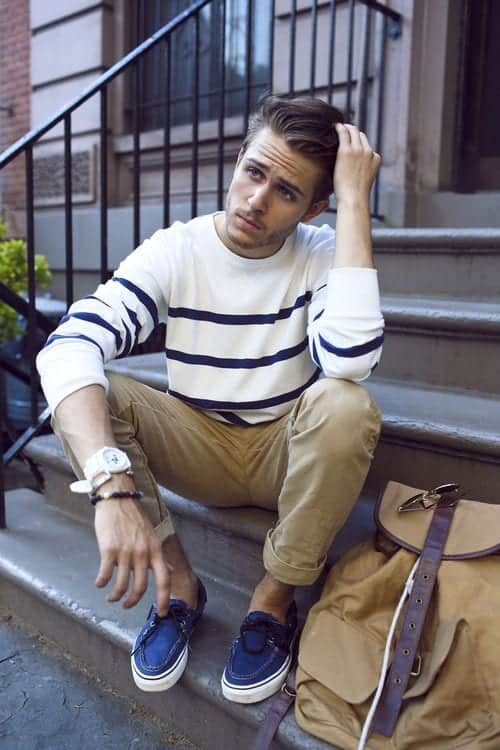 ↓ 15 – Khaki Pants for Outdoor Adventures
Planning to go camping this summer with your friends and family? Make sure, you have a pair of khaki pants that you can pair up with your Tees. Casual, yet very trendy. Don't forget your canvas shoes to be at ease on your trip.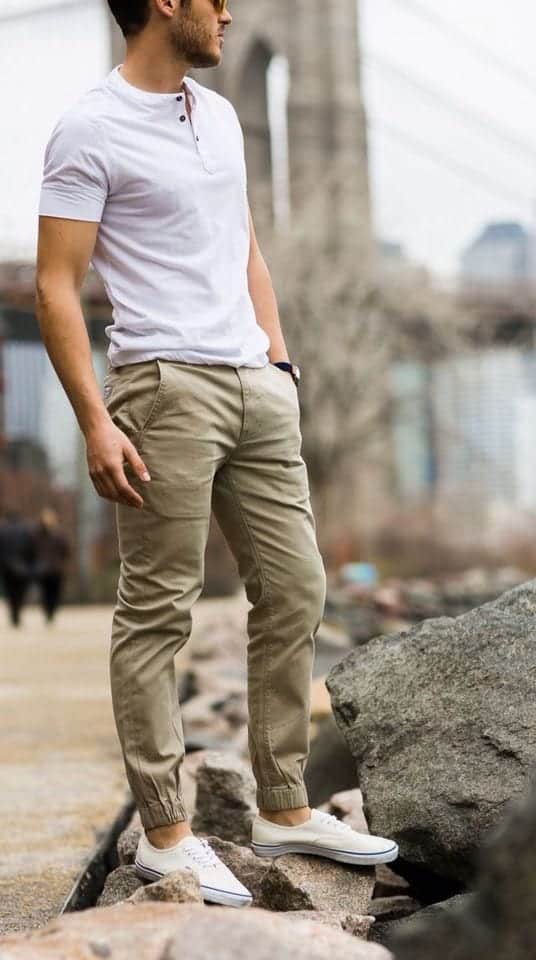 ↓ 14 – Rock Your Party in Khaki Pants
If you love partying and always want to make a statement, wear your khaki pants with your three-piece suit and inspire people around you with your voguish look. Don't miss out on these amazing ideas for Shoes To Wear With Guys Sweatpants.

↓ 13 – Khaki for Your Big Day
If you are low on budget but do not want to look boring on your wedding day, wear khaki pants with a checkered shirt and a navy blue blazer, trust us, you'll be the most handsome groom.

↓ 12 – The Rocking Street Style
Khaki pants are normally worn casually and nothing can beat the funky street style of plaid shirt and khaki pants. Don't miss out on these 17 Most Popular Street Style Fashion Ideas for Men.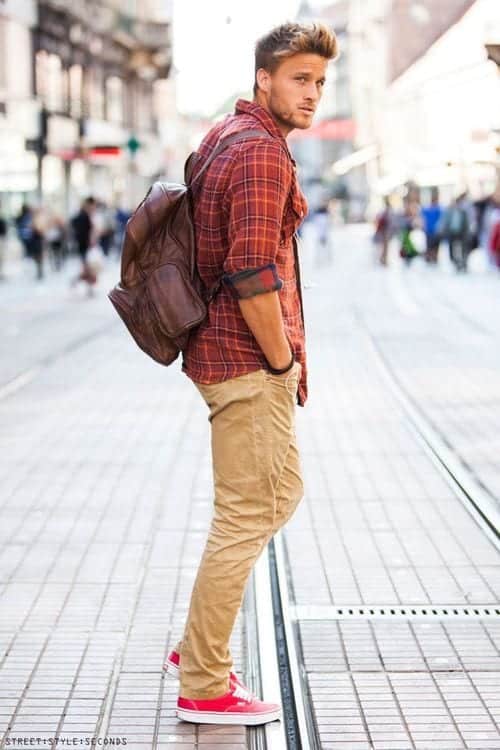 ↓ 11 – Khaki Pants for Lunch Dates
Impress your date with your classy style by wearing your polo with khaki pants and sneakers. Not only will you be very comfortable in your dress but it is also a perfect gentleman style to try.
↓ 10 – Boy Next-Door Style
Who does not like the easy boy next door style! We all adore it. So next time you want people to appreciate you for your good dressing sense, wear your denim button-down shirt with khaki pants and a t-shirt. Wear your shades and leather belt to complete the look. Here are the 15 Best Dressing Combinations with White Shirt for Men.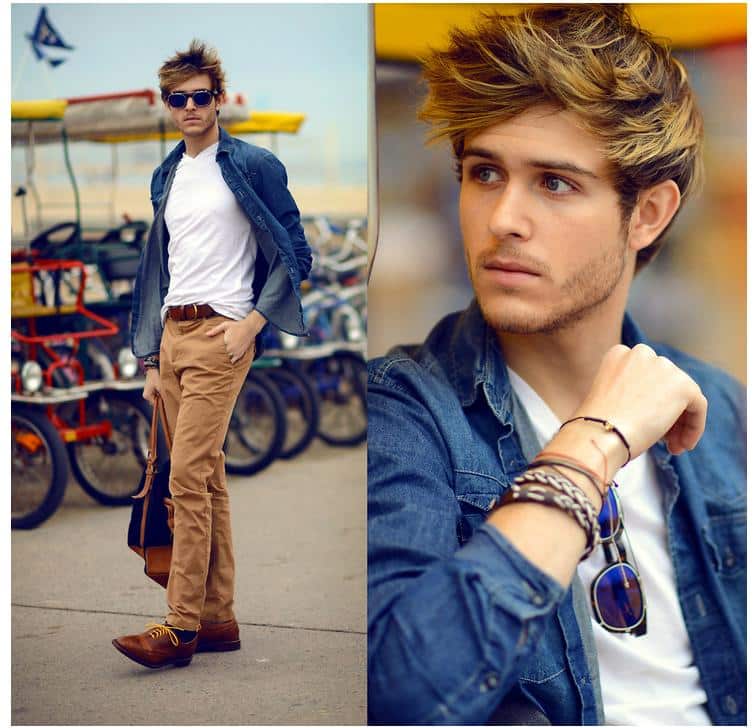 ↓ 9 – How to Wear Khaki Pants on Your Wedding
If you want to look your best in your comfort, then wear your khaki pants on your Wedding Day. Trust us, people would be in awe of your style because khakis are the ultimate style statement.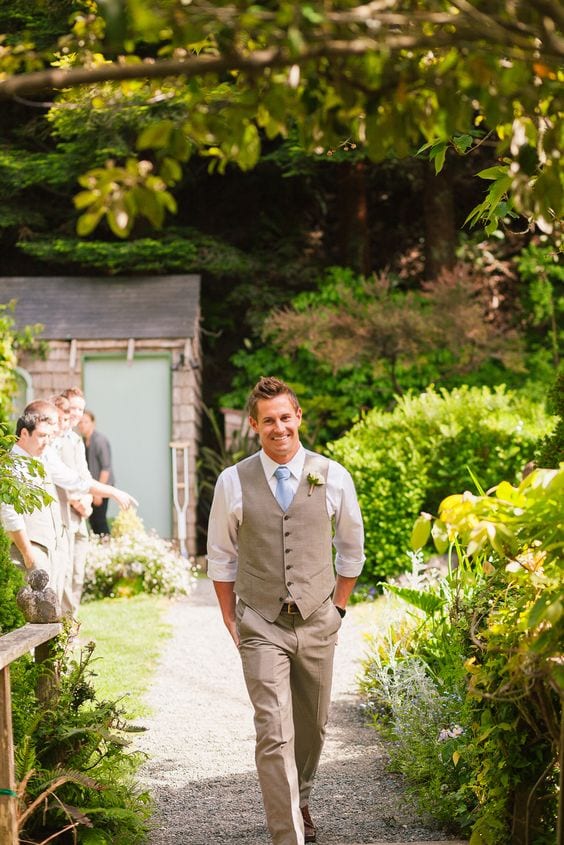 ↓ 8 – How to Wear Khaki with Sweater
We all know khakis can go with everything, but do you know they look the coolest when worn with round or v-neck sweaters. If you live in areas still having cooler weather, then carry this style and show the hunk in you to the world. Here are 17 Ways to Wear Sweaters Fashionably.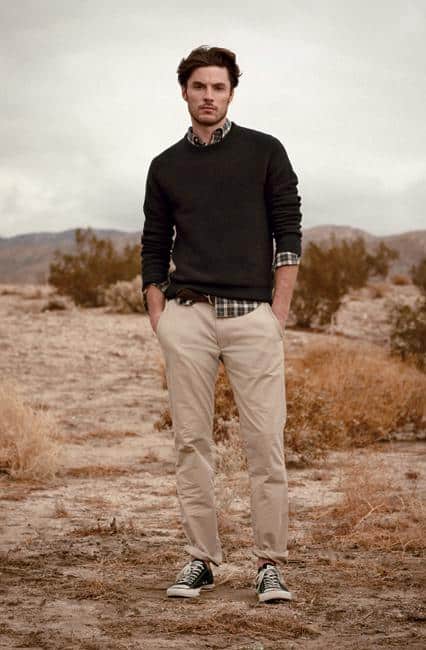 ↓ 7 – The Work Place Attire
There is no reason why you should go all formal to your workplace. If you won't feel comfortable in your dress, how will you even concentrate on your work? So be comfortable in the cool baby pink colored dress shirt and wear your fit-for-all-occasions khaki pants with it. Viola! you look so damn smart!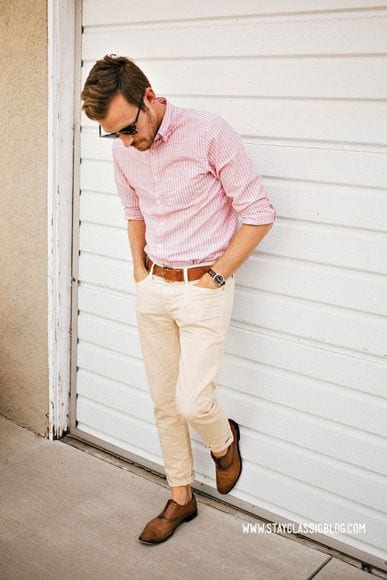 ↓ 6 –  Dress Up Smartly for the Meeting
Even if you won't agree, your presentation makes a lot of difference when you are presenting an idea in an important meeting. Therefore, never go all haggard to your official meetings, you do not want to make a bad impression on your clients. Take our advice, wear your khaki pants with a khaki Blazer but make sure both are of different shades of khaki color. To complete the look, wear brown leather shoes and a belt. Here are the Best Workwear Outfits for Warm Months.

↓ 5 – Go for Jogging in Your Khaki Pants
Well, honestly speaking, it is not like you can not wear khaki pants casually, going to mart? Wear your khakis. Going for jogging? Wear your khakis. Going for a cup of coffee? Wear your khaki! It is the safest yet the trendiest option to try always.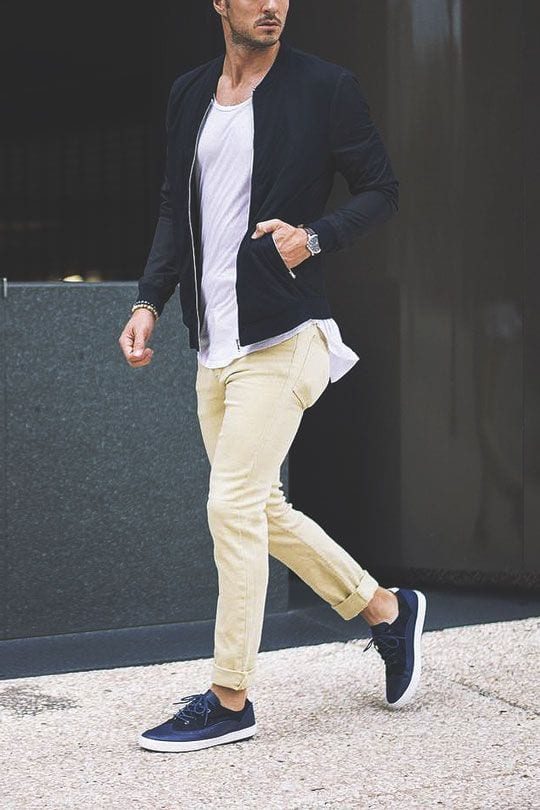 ↓ 4 – How to Wear Khaki as a Best Man
We have discussed how uber-chic it is to wear khaki as the groom, but do you know you can wear it as a best man too? Well, if your friend is tying the knot and you want to look like the sexiest best man on his big day, go for khaki pants and a coat. Instead of a tie, wear a bow and be the vintage hunk the bridesmaid can appreciate. RECOMMENDED: 30 Amazing Men's Suits Combinations to Get Sharp Look.
↓ 3 – Casual Everyday Style
You know you don't have to go through the hassle of dressing up daily. At times simple pants and your sweatshirt are all you need to show off your style.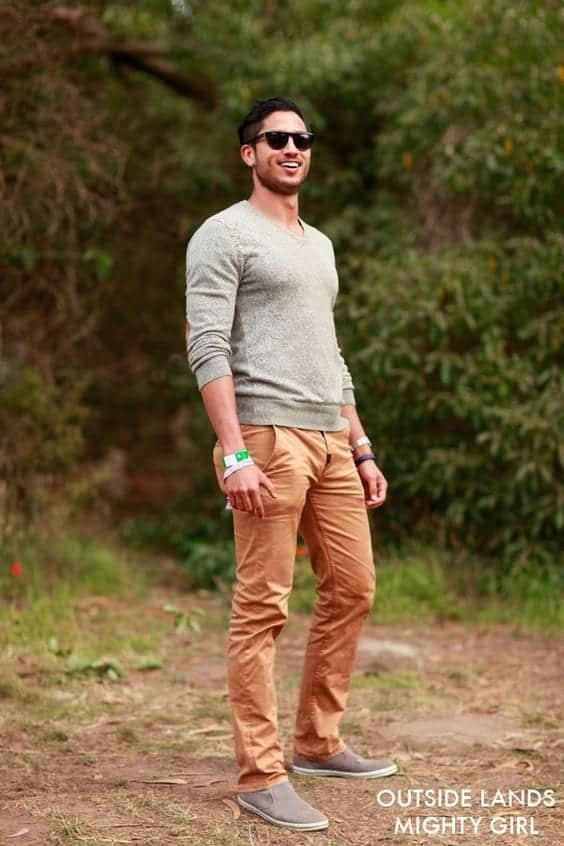 ↓ 2 – Street Style Swag
Instead of your casual jeans, this time go for khakis. Super comfy and super hot!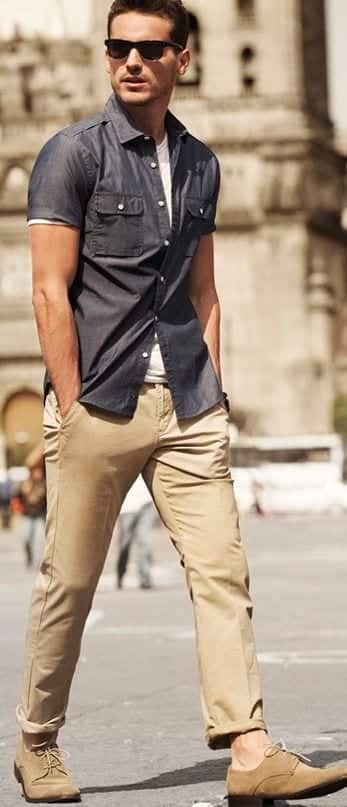 ↓ 1 – The Perfect Office Attire
The usual blue dress shirt and the khaki pants are our ultimate favorite. You can never go wrong with this way style.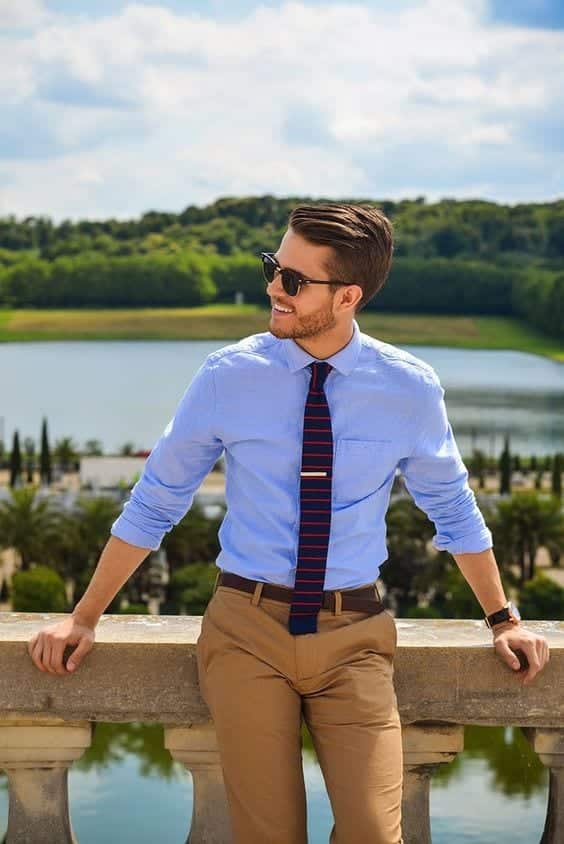 Frequently Asked Questions
Q.

What Are Khakis?

A. The terms "khakis" and "chinos" are used to describe casual trousers made with a 100% cotton twill fabric. Technically, "khaki" is a color (light-brown drab), while "chinos" are a style of pants, so strictly speaking, khakis are brown-colored chinos.
The colonial military stationed in India adopted khakis as their uniform trouser by 1848. It spread through the rest of the British Empire until the entire British army formally adopted the style as their uniform in 1884.
Q.

What Are The Different Shades Of Khaki?

A. Khaki color is a light shade of brown with a yellowish tinge. Armies around the world have worn Khaki as their uniforms, including camouflage. Here are all the fabulous shades of khaki pants that guys can rock.