Winter Travel Outfit Ideas For Men- Struggling with traveling preparations? Well, you are in the right place! This post is for all you men out there who are having trouble packing and deciding which outfits to pack for your upcoming winter trip. When it comes to traveling, women are known to have a bigger wardrobe and variety of outfits to take along than men but that is not true. Men no longer have to wear the same old boring clothes throughout their trip.
In fact, they have a number of options to choose from and can style exquisitely outfits when traveling, especially if it is in winter. When traveling somewhere else, the temperature can be quite unpredictable and for that, you need to make sure to have an outfit available for all sorts of temperatures – from slightly chilly to unbearably cold. And to help you with that, we have compiled 18 different and fashionable travel style tips and ideas for men suitable for every occasion. Please have a look at this super cool compilation!
What to Wear For Travel in Winters for Men
Following is the list of dos and don'ts which you gotta keep in mind while packing your clothes for a fall travel trip:
Keep a pair of converses for times the temperature gets a bit high during your travel.
Mufflers and scarves are mandatory for modern travel attire.
Never forget a pair of dark classic boots for traveling.
Gloves are super necessary as the temperature keeps fluctuating between a bit chilly and unbearable cold.
Polarized shades will complete every daytime look for you.
Avoid unnecessary heavy and bundled clothing items. A bomber jacket or leather jacket will be enough for a short trip.
Keep the reason for your travel in mind while packing your bags.

↓ 18 – Semi-Formal Style For Fall Traveling
Layering seems a perfect idea during fall but it becomes a bit tricky when you have to keep it a little formal. Earthy tones will help you out in keeping it subtle even during your travel days. Let say you have to attend a daytime party, navy and charcoal both are your best shades in that scenario. A classic fitted coat over your plain collar shirt and sweater will be enough to kill the fall vibe. If you're traveling to attend a wedding function then you should also check out our earlier post on Semi-Formal Wedding Attire For Men.

↓ 17 – Athleisure Inspired Winter Travel Look
A pair of converse shoes is mandatory for an appropriate travel style athleisure look. A sporty hood, sweatshirts, and sweatpants will give you a comfy as well as catchy look in the town. You can opt for denim pants for a change. Go for classic shades with this combo in order to have a complete look.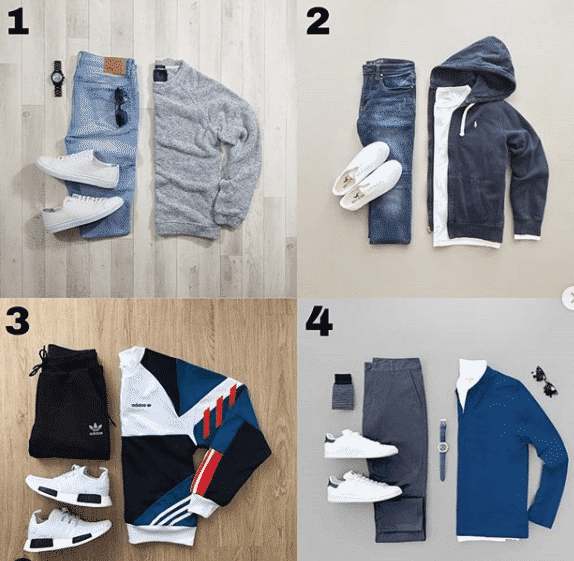 ↓ 16 – Long Trendy Coat For Winters
Long coats look super classy and are trending this season. The best part about them is that they can be worn for absolutely any purpose. Whether you are running errands or attending a casual party, this outfit will work absolutely everywhere and make you look extremely handsome. Here are some more inspiring Outfits To Wear Long Coats.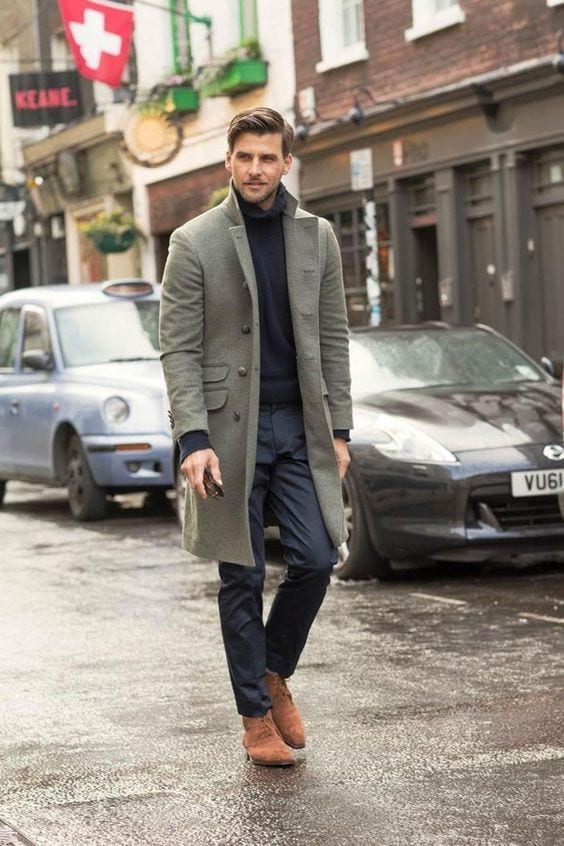 If you want to experiment with your travel look, you can also opt for an oversized camel colored or graphite coat. Wear it with loose, folded at the ends, trousers. You can also try khakis if you are a fan of it. This look is a bit tricky, however, confidence is the key to best styling.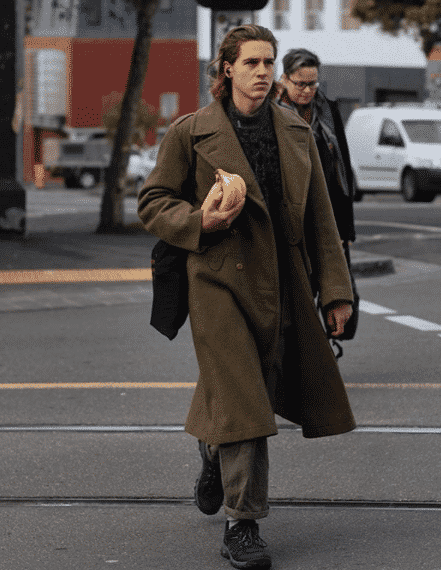 ↓ 15 – Casual Style for Traveling in Winters
What's better than a hoodie to achieve a casual and cool look? With a minimum effort, you can make your outfit look super stylish. For more ideas, check out these Mens Business Casual Outfits & 18 Tips On What to Wear for Business Casual.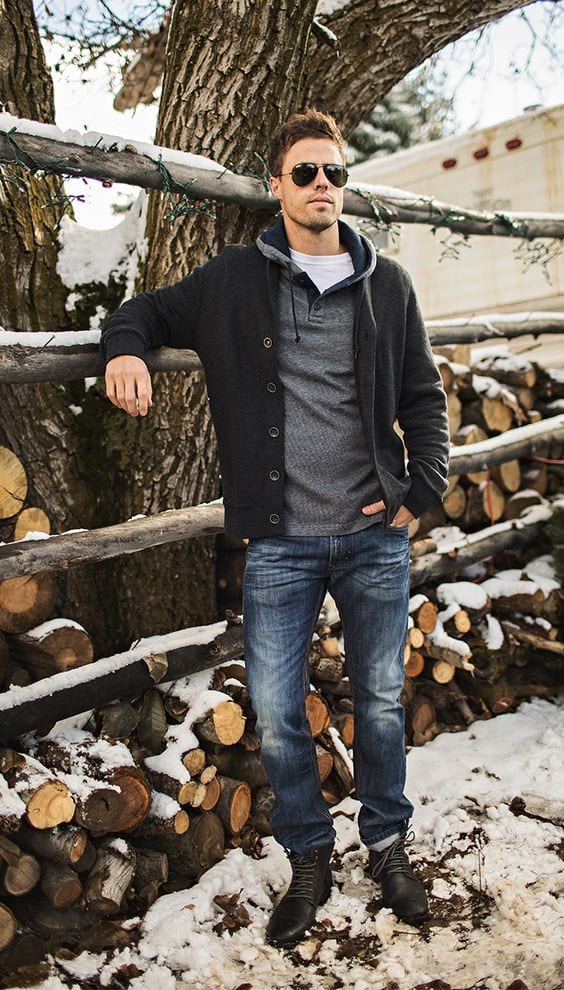 You can also try out unique and sharp colors to complete your look. Wear a big bright hoodie with a printed coat in some dark shade to keep it subtle yet stylish. Wear some trendy joggers or you can also opt for boots.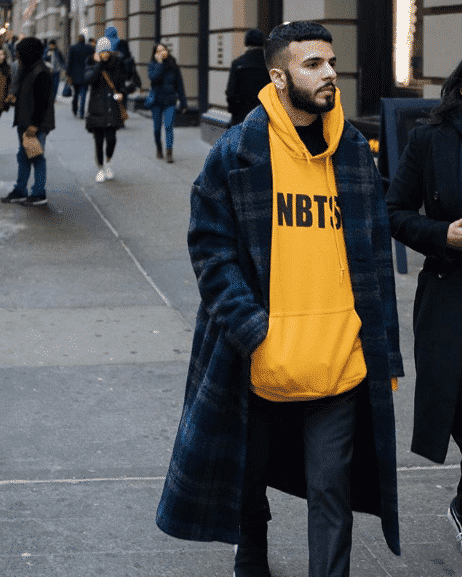 ↓ 14 – Make Your Own Style Statement
If you want to stand out and look unique, you need to go for something that not many people wear. And the best outfit idea for that is to wear these amazing turtle necks that most people have forgotten about. It is trending rapidly these days especially in bright colors. Wear a black coat or blazer over it to balance out the look.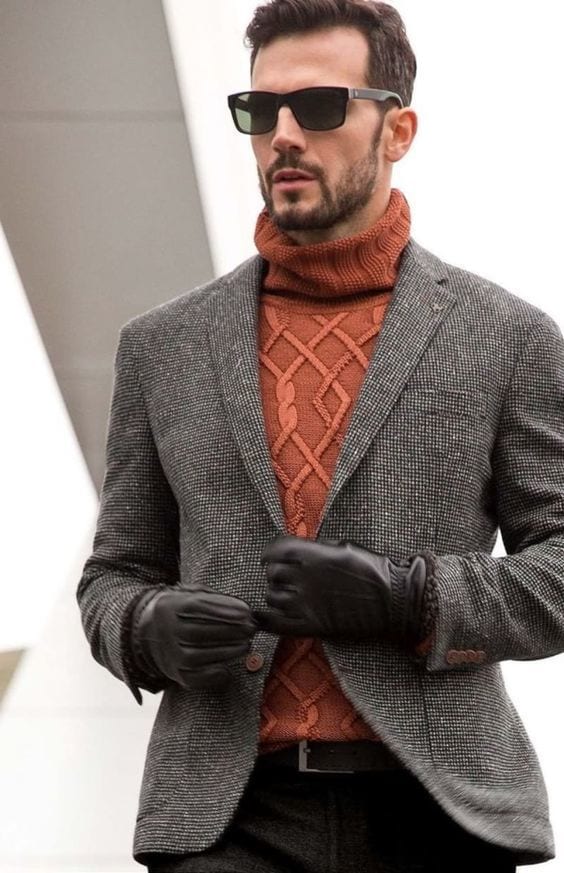 ↓ 13 – Travel Outfit in a Funky Style
If you are not into layering rather want to look super funky during your travel, attempt something different. Double breasted jacket in an eye-catching shade over some simple white round neck tee could be an option. Also, wear these with low-top sneakers and sporty spectacles. Make sure that the t-shirt you are wearing is either white or black because you want to direct the attention towards your jacket.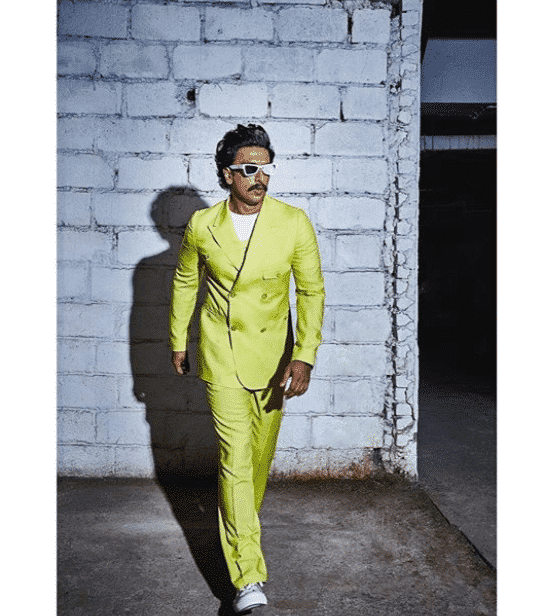 ↓ 12 – Mid Length Long Coat For Men
You can wear a knee-length coat if you are traveling officially. Wear it with a collared shirt; gingham prints will rock the look or simply a plain high-neck sweater underneath. Since you want to keep it sort of formal, go for cotton slacks and moccasins to compliment this type of couture.

↓ 11 – Outfit Ideas For Tourists
If you are going for sightseeing and exploring, you need something casual and something that would keep you comfortable throughout the day. For that, you can simply wear a denim jacket over any shirt and pants. Take your favorite backpack with you as you will need to carry a lot of things. To add some style to this look, you can wear a beanie.
If you prefer comfort over everything else yet want a stylish attire as well, then go for some sporty sweatpants or trousers with a retro denim jacket over a comfy cotton t-shirt or sweatshirt.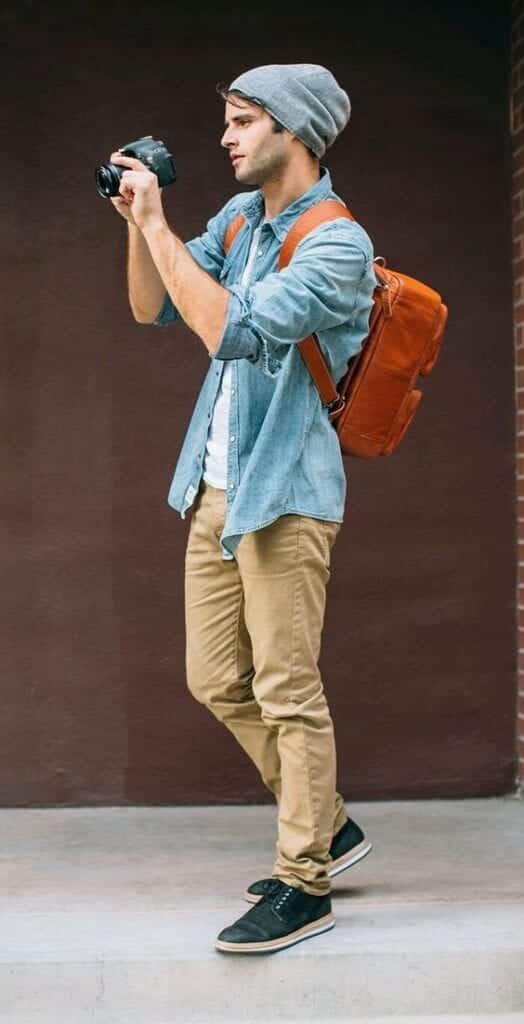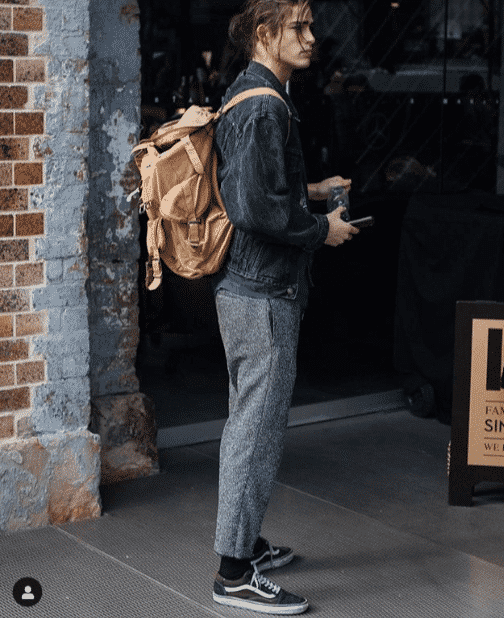 ↓ 10 – How To Dress When Traveling For Work And Meetings
For business meetings, you need to choose an outfit that gives a good impression. Hence, it should be formal and fashionable at the same time. For that, you need not necessarily wear a full suit. You can create your own look by pairing a dark colored coat or blazer with a white shirt and pants. To further enhance your outfit and make it look more formal you can also add a tie.
Embellishments certainly spice up the whole look. Like you can add a brooch to your blazer or adjust an enchanting handkerchief in the pocket of your jacket. This will add to your style statement and differentiate your look among others. Here are some Summer Travelling Outfit Ideas for Men.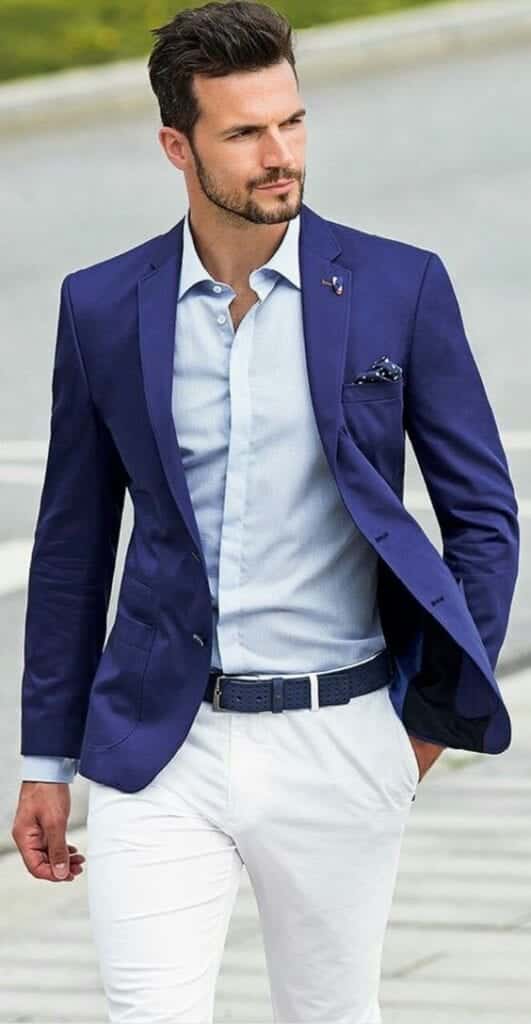 ↓ 9 – For A Sophisticated Winter Look
How to look super sophisticated while traveling during the fall? Well, the answer to your question is a three-piece suit which includes a fleece coat, a waistcoat, and a collared shirt. Dark wash denim or simple plain pants will work with your sophisticated combo. Keep your shoes formal and classy like derbies or oxfords.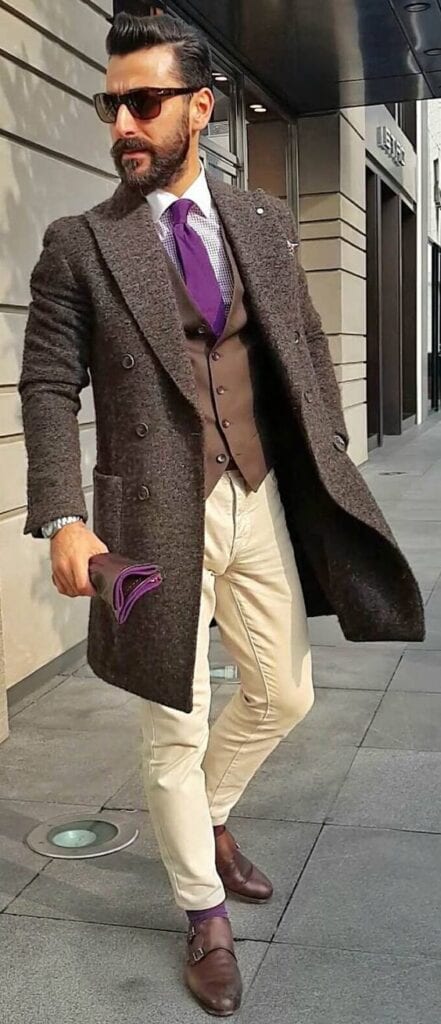 ↓ 8 – For A Classy Airport Look
When going out in slightly chilly weather, you can simply wear any shirt with rolled up sleeves, pants and a belt that goes with it to look sophisticated and classy. This outfit can be worn for any professional meeting, formal dinner or even if you are casually hanging out with friends. You can opt for this attire while roaming through the roads during daytime as well. Sunglasses and wristwatch for a daytime classy look. Pants could be denim as well as cotton since you can wear a plain white shirt with any type of slim-cut pants.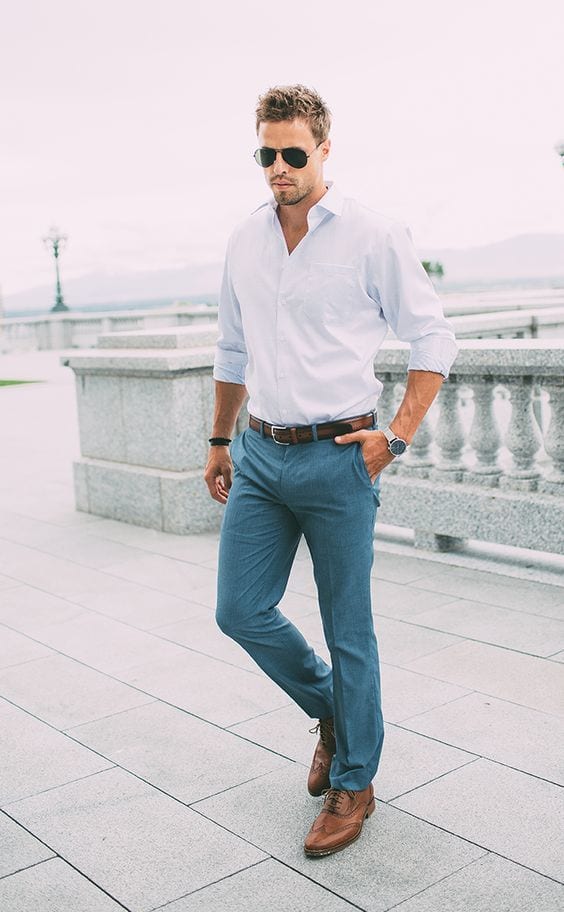 Source
↓ 7 – Layer It Up
Winter season is the best time to play with different textures and layers because you always need to stay warm. You can layer cardigans over shirts, jacket over another jacket-experiment however you like. This will make you look super cool and help you stand out!
While layering your clothing items, you gotta make it sure that you are wearing your clothes and its not the other way around as layering becomes a bit tricky at times. If you are on the chubbier side, then it's better to go for minimal layers. On the other hand, the skinny guys can go for oversized clothes for layering as well. But accentuating your waist is the key to successful and stylish layering. While traveling you need to keep the temperature variations in mind. However, for icey cold temperatures, fleece coats over shrugs along with huge scarfs won't hurt your outlook rather make it look more appropriate.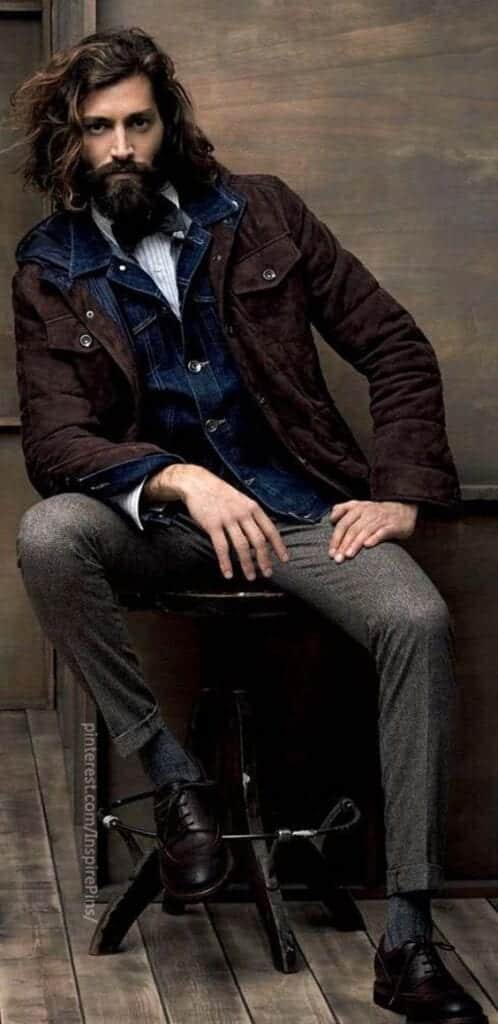 ↓ 6 – Amp Up Your Travel Look with Bomber Jackets
If you have a boney structure and want to look a bit on the heavier side, then bomber jackets are the solution for you. Bombers are available in multiple styles and shades hence, it is safe to say that a bomber jacket can bring life to a dead look. Also, while traveling all day long and sightseeing, in particular, you would prefer something soft and cozy, hence, you can wear a bomber over your sweaters, tees, or even sweatshirts as they go very well with any of it. Converse shoes look best with a bomber jacket, however, dark boots with bright jackets are trendiest among all. Here are some of the best Outfits with Bomber Jackets.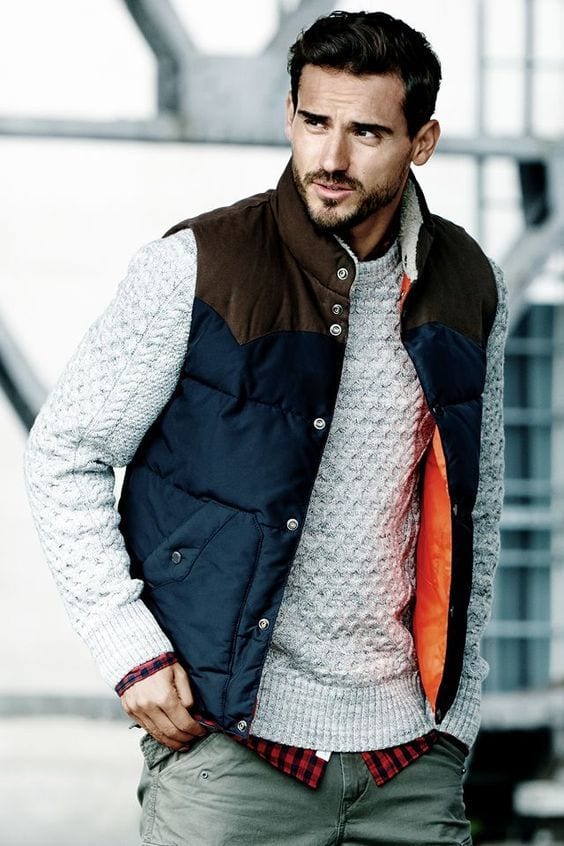 Source
↓ 5 – Experiment With Different Prints
Prints can instantly turn your boring outfit into something completely fresh and trendy. You can go all retro with this polka dotted shirt with jeans and coat for a semi-formal look. Furthermore, you can also wear a muffler to enhance the retro style and keep it cozy with respect to the weather. African prints can also look stylish if you are planning to travel around in cultural clothes.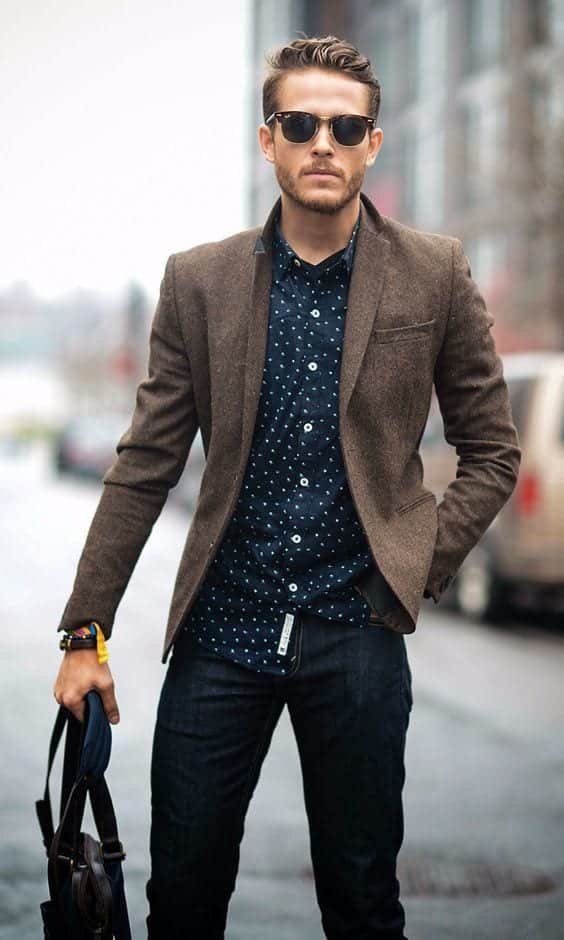 ↓ 4 – Similar Tones for Classic Look
To achieve a modern and sophisticated look, why not go for a single colored outfit rather than combinations? Such as this gray turtle neck paired with a gray overcoat and matching pants. It looks extremely unique and classy. If you really feel the need to add a contrasting color you can pair a different toned muffler with it.
Also, an all-black outfit will look phenomenal during winters. Moreover, it will keep you warm while wandering in the snow or ice cold weather and make you look smart like a cover model. Even matching black joggers can enhance the entire combo.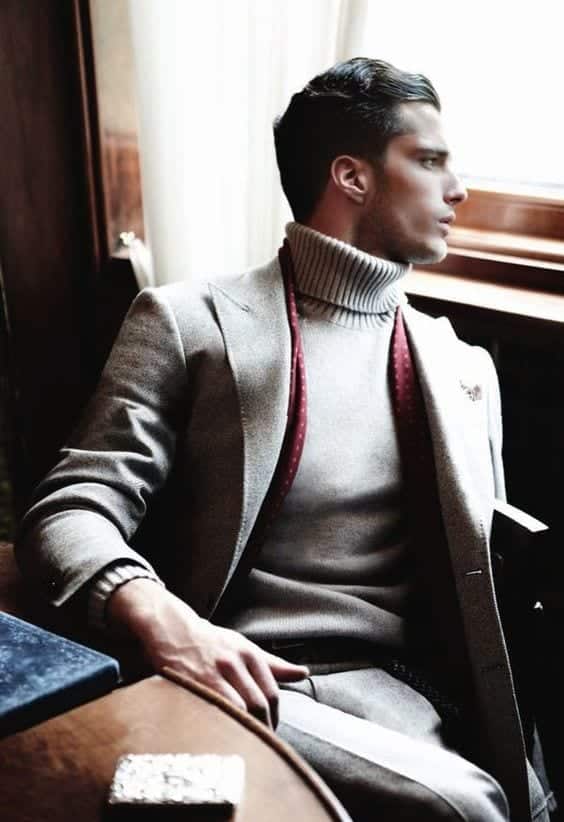 Source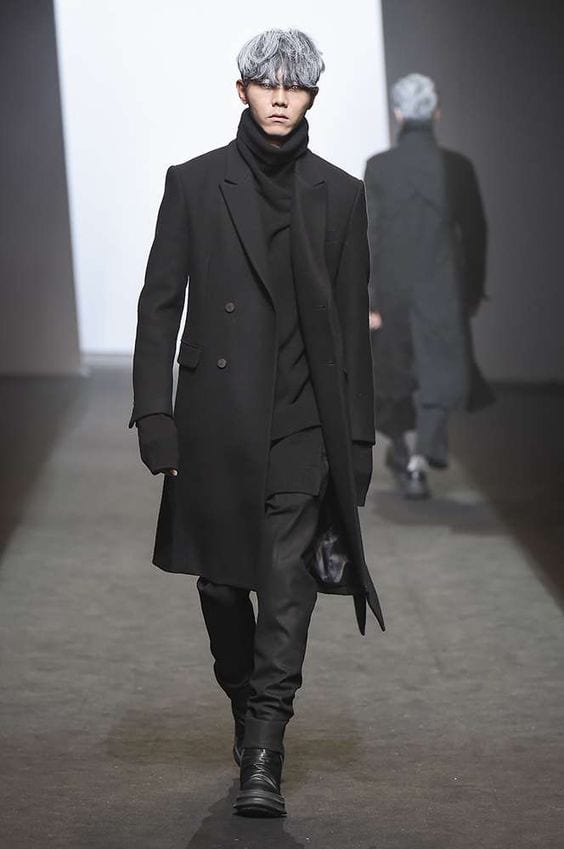 ↓ 3 – Add A Scarf For Fashionable Look
Little additions to your outfit can change the entire look. Such as the addition of a muffler in this outfit. You can do so too by pairing your favorite muffler with absolutely any kind of shirt, coat or jacket. It works great for both casual and formal looks. Here are some more Guys Outfits with Scarves.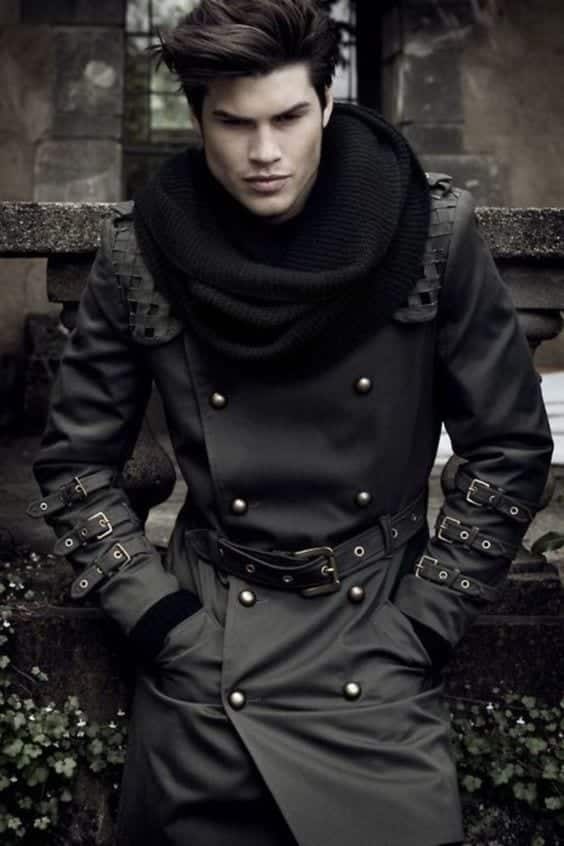 Source
↓ 2 – Cool Winter Jackets For Men
Winters are all about cool jackets. Not only are they trendy but they are also super warm. For the traveling purpose, you can choose one of the neutral shades of the jacket such as white, gray, blue and black that will go with almost every shirt. But a sweatshirt is gonna look pretty cool with a jacket over it.

↓ 1 – Celebrity-Inspired Travel Style
How amazing does David Beckham look in this outfit? You cannot deny he has a flawless sense of fashion. Creating a look like this is very simple. Get your hands on a similar white collared cardigan and wear it over a simple white shirt and casual blue jeans. To add extra style, you can choose a pair of brown boots to go with it.

We hope that these tips and ideas will help you choose your outfits for traveling this winter. You can always use your own creativity and sense of fashion to improvise any of these outfit combinations. Most importantly, remember that the key to pulling off any attire is confidence. If you carry your outfit properly and with confidence, nothing can stop you from being the best dressed at any occasion. Another thing you must remember is that comfort comes first. What good is an outfit that makes you look stylish but fails to keep you warm in the cold? Hence, make sure you choose something you are most comfortable in. Do not forget to let us know your favorite look in the comments section!