The Gothic style is a symbol of daring self-expression. Gothic fashion is an enticing canvas of creativity for guys who dare to embrace the fascination of darkness. Gothic fashion is more than simply clothing; it's a statement, a mood, and an expression of mystery and refinement. It's rooted in a rich tapestry of history. We'll go deep into the crypts of gothic design in this post, revealing 16 outfit ideas and providing useful tips and tactics. Prepare to explore a world where black is more than simply a colour; it's a work of art ready to be worn.
Understanding Gothic Fashion
Gothic fashion is characterized by its dark, mysterious, and often dramatic elements. Gothic fashion for guys is a maze of options, ranging from traditional ensembles that evoke Victorian beauty to industrial-inspired styles with a contemporary edge, creating endless creativity. For men interested in exploring this enigmatic fashion trend, here are some tips to consider:
Embrace the Dark Palette: Gothic fashion is not just limited to black colour, as many would presume. So embrace deep, rich hues like burgundy, forest green, and navy to add depth and complexity to your outfits. Experimenting with shades within the dark spectrum can create a striking visual impact.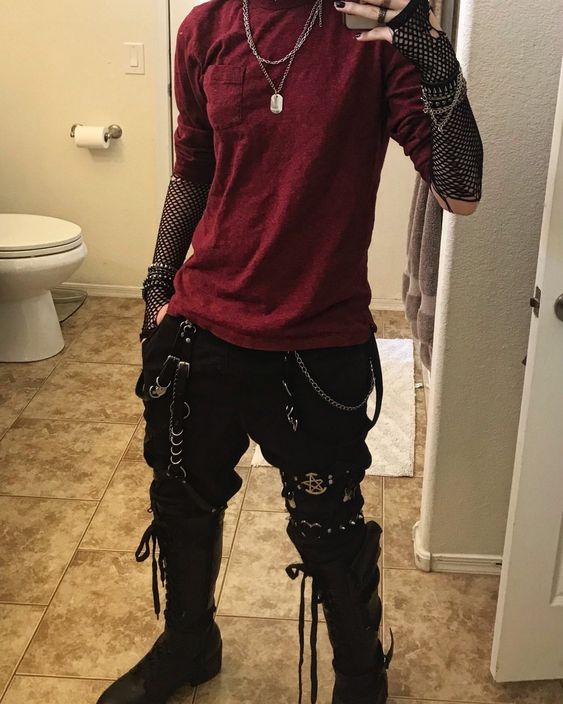 Play with Textures: Gothic fashion thrives on textures. Incorporate leather, lace, velvet, and denim into your wardrobe. Mix and match these textures to create contrast and intrigue. A leather jacket paired with a lace shirt or velvet trousers can elevate your look to new heights.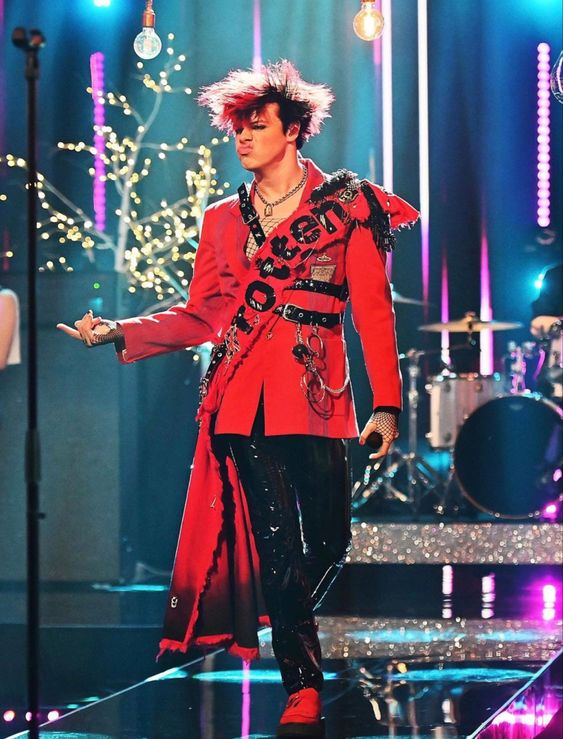 Experiment with Silhouettes: Gothic fashion allows for a wide range of silhouettes. From tailored coats and waistcoats to oversized hoodies and flowing capes, experiment with different cuts and shapes. Asymmetry, drapes, and layers can add a touch of mystery and sophistication to your ensemble.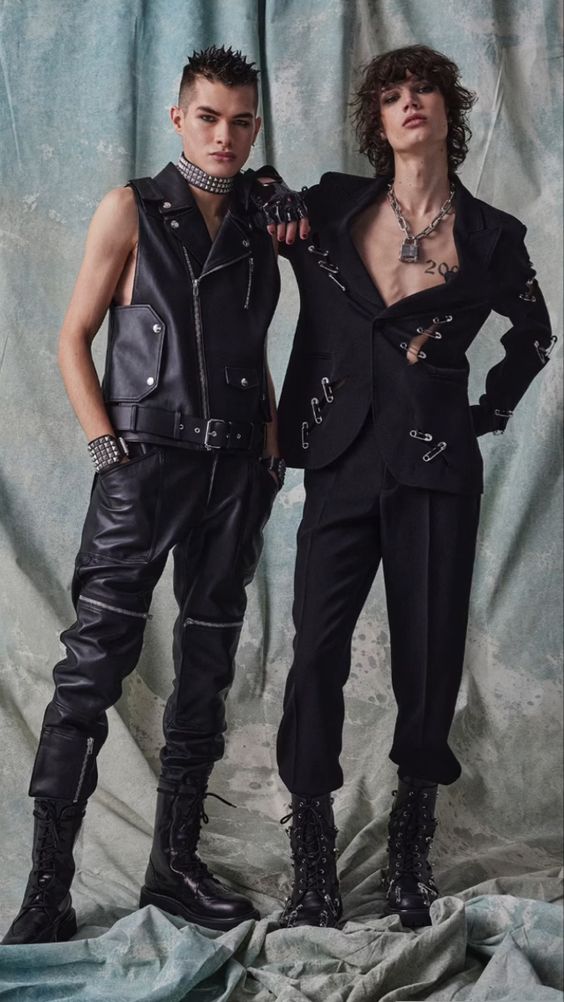 Accessorize Thoughtfully: Invest in silver jewelry like gothic rings, necklaces, and bracelets adorned with intricate designs. Studded belts, fingerless gloves, and chunky boots can add a punk-inspired edge. Don't forget accessories like pocket watches and ascot ties for a touch of Victorian elegance.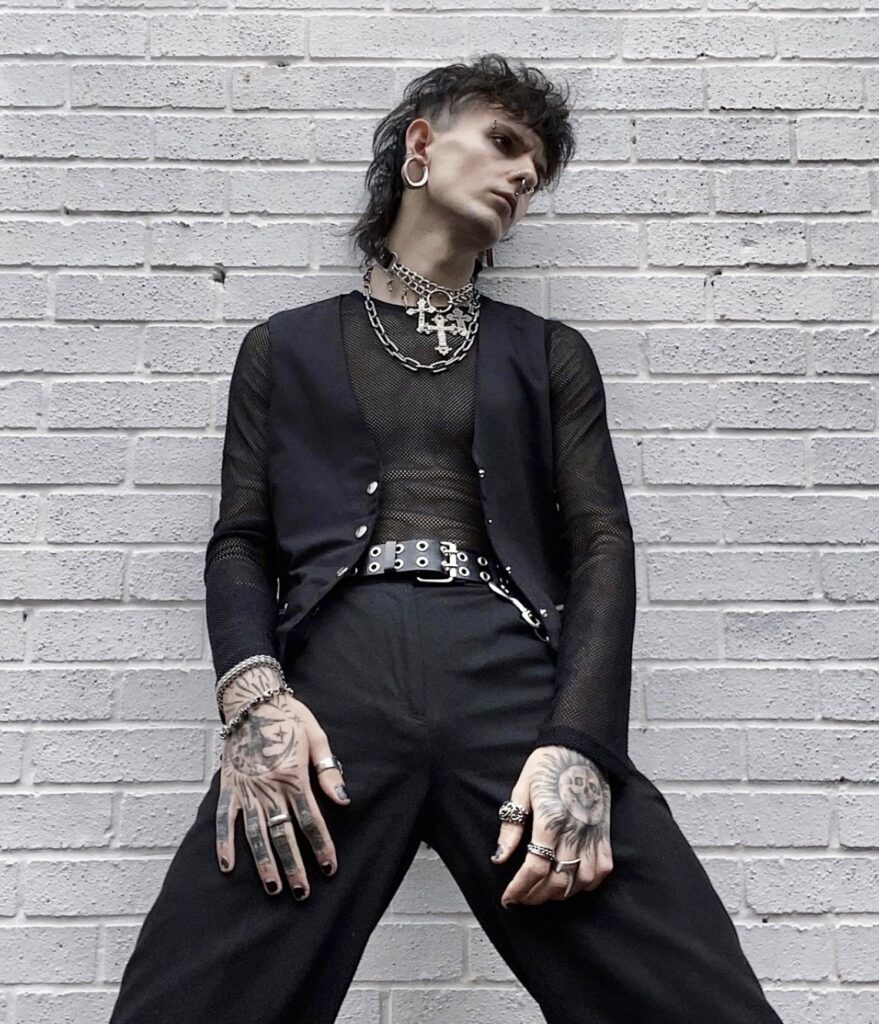 Pay Attention to Grooming: Your hairstyle and grooming can complement your gothic look. For a romantic touch, consider hairstyles like slicked-back hair, a tousled mane, or long locks. Maintain well-groomed facial hair or experiment with clean-shaven looks, depending on the vibe you want to exude.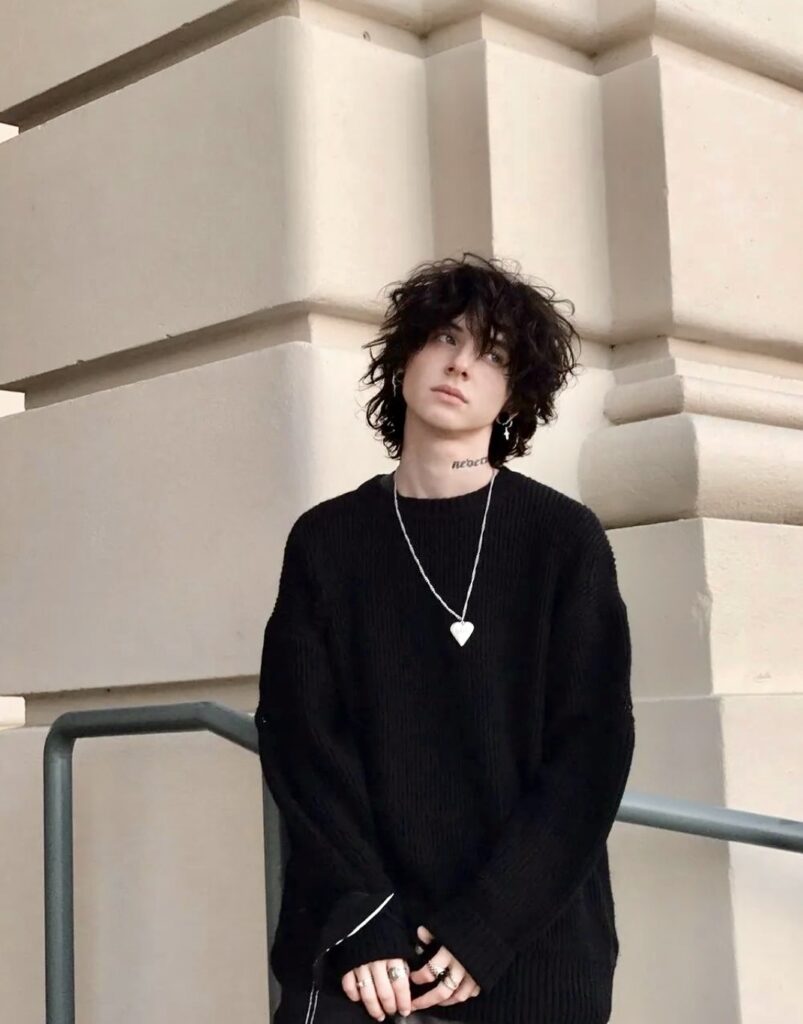 Experiment with Makeup and Nail Art: Gothic makeup may enhance your appearance. Incorporate bold lips, dark, dramatic eye makeup, and light skin tone foundations to achieve that pale, grunge look. Consider nail art, such as coffin-shaped nails or gothic patterns. Makeup and nail art may be as subtle or as ornate as you choose to complement your gothic aesthetic.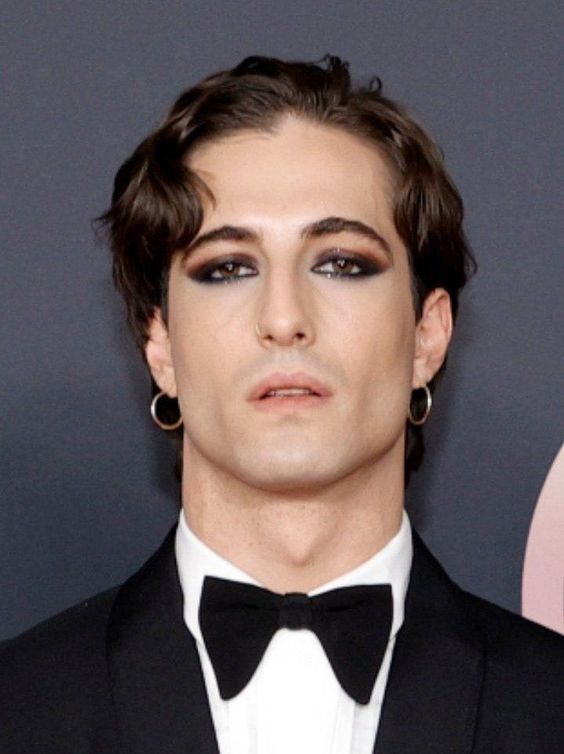 Customize Your Clothing: Feel free to experiment with different outfits to suit your gothic flair. Patches, studs, lace trimmings, or embroidery can be added to coats, pants, or shirts. Personalising your clothing not only provides a one-of-a-kind touch but it also allows you to show your creativity. Ordinary items may be transformed into remarkable gothic fashion statements via customization.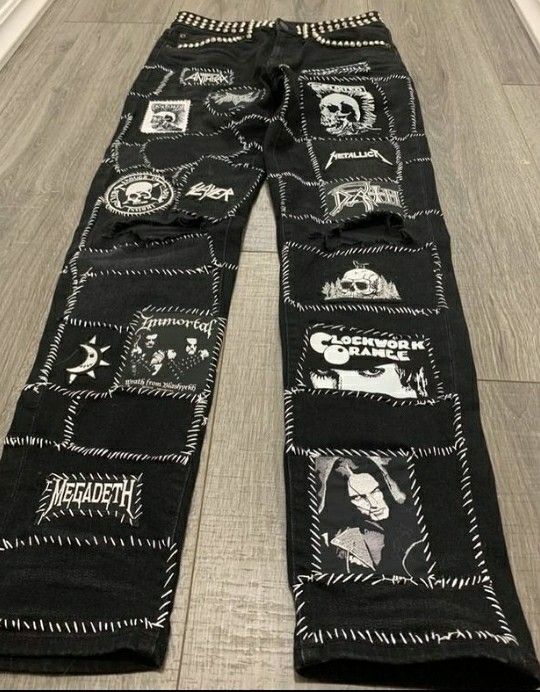 By incorporating these tips into your wardrobe choices, you can embark on a transformative journey into gothic fashion, where your presence is nothing short of captivating.
16 – graphic tee with jorts paired with chunky black sneakers
This laid-back and urban-inspired ensemble effortlessly combines comfort with street style. The outfit features a graphic tee, adding a pop of personality and artistic flair. Paired with casual jorts (jean shorts), the look exudes a relaxed vibe, perfect for a casual day out. Chunky black sneakers complement the ensemble, which provides comfort and adds an edgy and contemporary touch. This outfit is a testament to the fusion of modern streetwear and casual gothic aesthetics, offering a cool, effortless, trendy, and comfortable look. This look, in my opinion, suits the gothic skater boys.
15 – Plaid full-sleeve shirt with black vest and skinny jeans
This edgy ensemble blends punk-inspired elements with a gothic twist, creating a rebellious and stylish look. The outfit is a plaid full-sleeve shirt, exuding a grunge vibe, paired effortlessly with a sleek black vest adorned with various distinctive pins. The contrast of the rugged plaid and the structured vest adds depth and character to the ensemble. Slim-fitting skinny jeans complete the bottom half, offering a modern silhouette that complements the edgy aesthetic. A bandana worn as an accessory adds a touch of rock 'n' roll attitude, while pointy cuff bracelets on the wrists enhance the look with a hint of glam.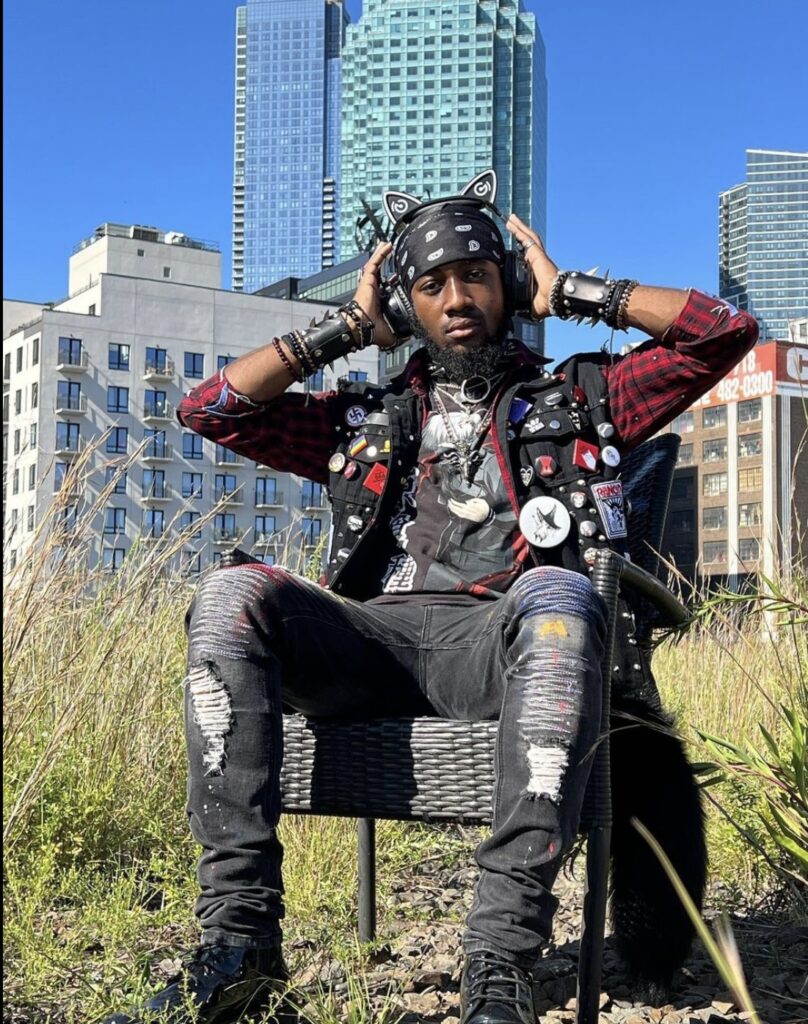 14 – Trendy Goth
This trendy gothic look seamlessly merges modern aesthetics with gothic charm, creating a bold and stylish ensemble. The outfit centers around a tank top with intricate strap designs. Paired with cargo pants, the look gains a practical edge. Sleek, shiny, pointy-toe shoes embellished with silver decor elevate the fit, adding a touch of glam and sophistication to the overall look. Accessorized with silver jewelry, such as statement rings, bracelets, or a chunky necklace, the outfit gains a cohesive and polished finish.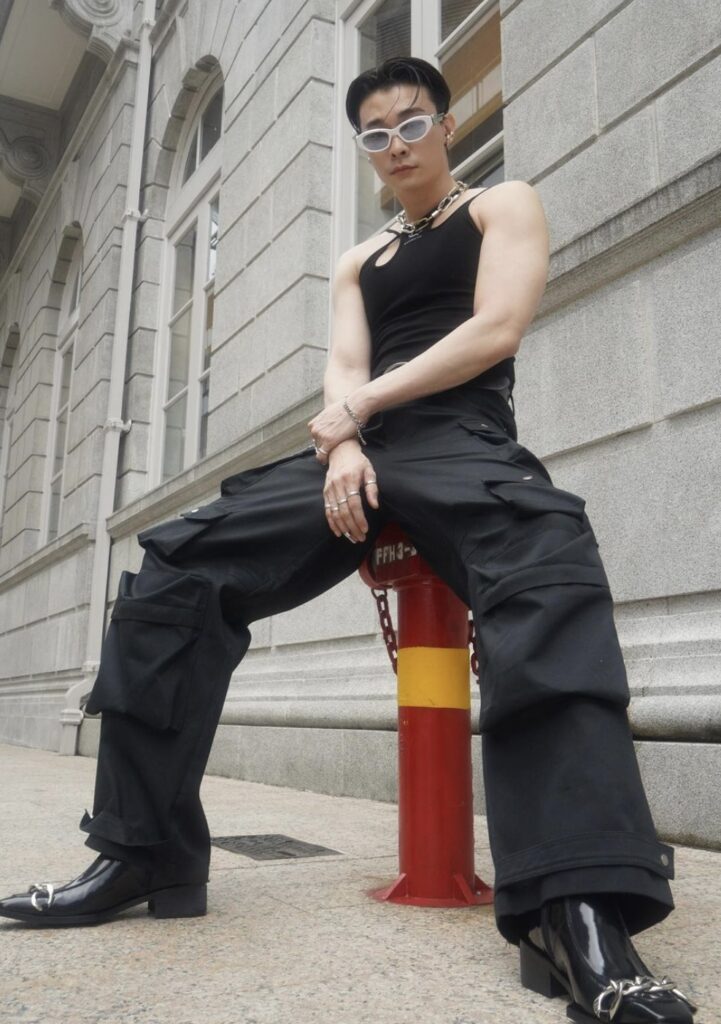 13 – Victorian inspired dress shirt paired with a basic pair of pants
This gothic look takes inspiration from the Victorian era, blending elegance with a touch of modern edge. The Victorian-inspired purple frilled dress shirt is adorned with intricate lace and frill details that exude sophistication and romance. Paired with a basic pair of pants, the outfit balances extravagance and simplicity, allowing the ornate shirt to take center stage. A chunky belt cinches the waist. The look is completed with stylish sunglasses.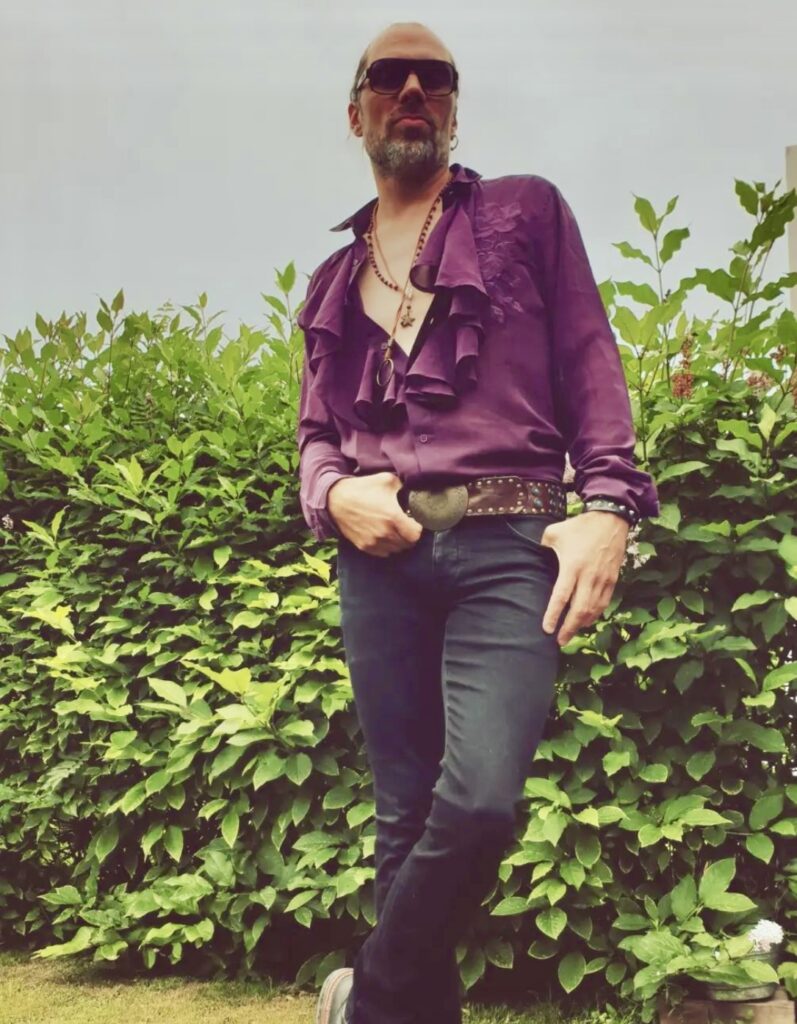 12 – skull tank top with flame engraved jeans & chunky boots
The focal point is a sleeveless tank top, intricately detailed, infusing the outfit with an air of mystery. Paired with flame-engraved jeans that integrate gothic motifs with modern urban style. Chunky boots add a rugged charm and a touch of industrial flair, completing the ensemble. Adorned with sleek over-ear headphones and ornate silver rings, this look transforms into a visual symphony, creating a captivating narrative of individuality.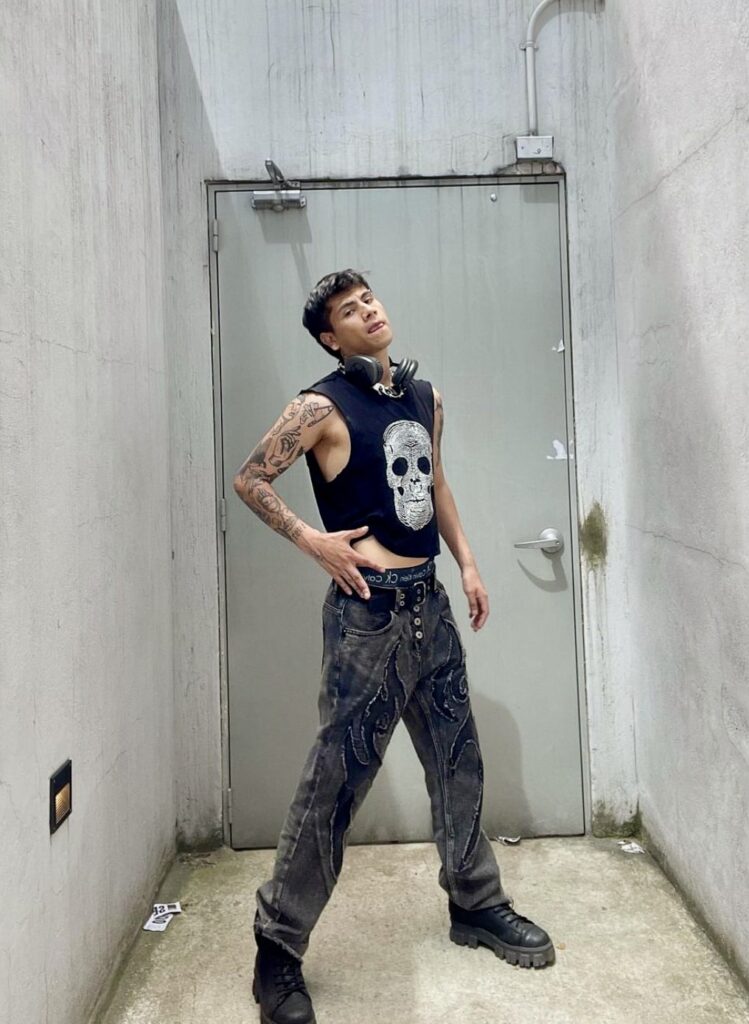 11 – Leather jacket paired with leather pants & a fedora hat
A sleek leather jacket exudes a rugged elegance, paired with form-fitting leather pants, creating a sleek silhouette. Topping off the look is a fedora hat, adding a touch of mystery and charm. The outfit is elevated with black-heeled boots that exude power and grace, completing the ensemble with a confident stride. To accessorize, opt for minimalistic silver jewelry, such as a statement ring and a subtle chain necklace. A leather wristwatch and a slim black belt can add subtle yet impactful touches, enhancing the overall polished aesthetic of the outfit.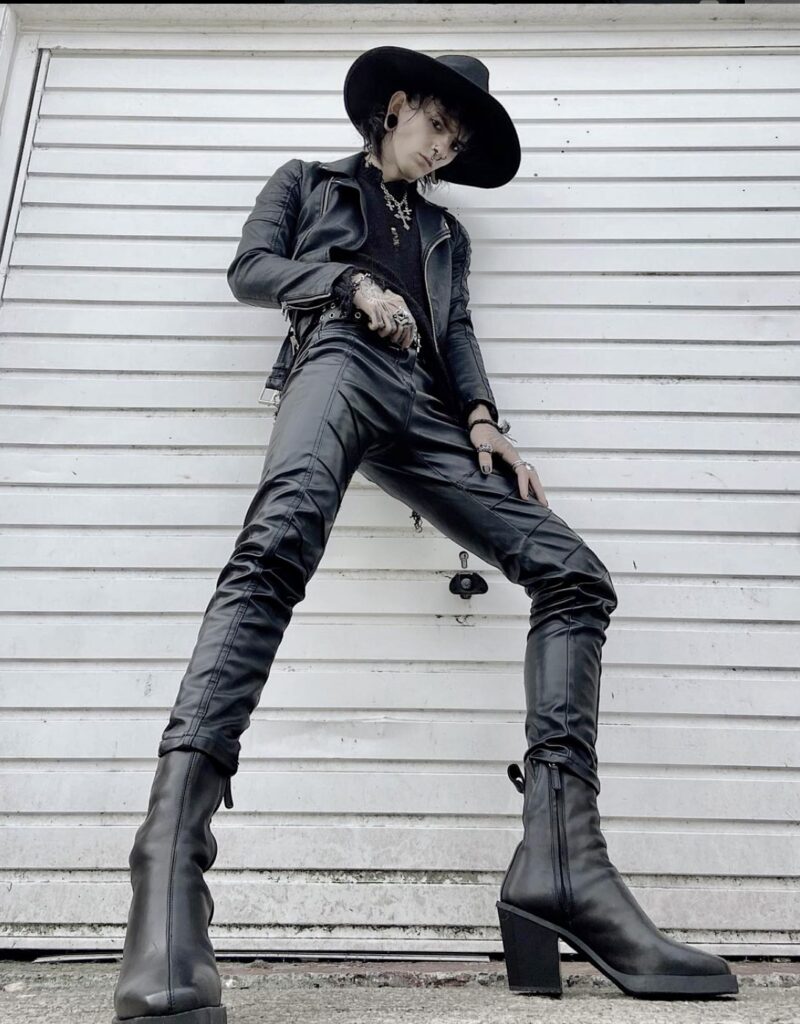 10 – purple button shirt paired with black leather jacket and checkered pants
This outfit embodies a bold fusion of contemporary style and playful sophistication. The vibrant purple button-up shirt is the focal point, adding a pop of color against the classic black leather jacket. Paired with stylish checkered pants, the outfit perfectly balances casual charm and urban flair. Black shoes ground the look, providing a sleek foundation, while matching purple sunglasses add a trendy and coordinated touch. To accessorize, consider a sleek black leather belt with a metallic buckle, adding a touch of refinement to the ensemble.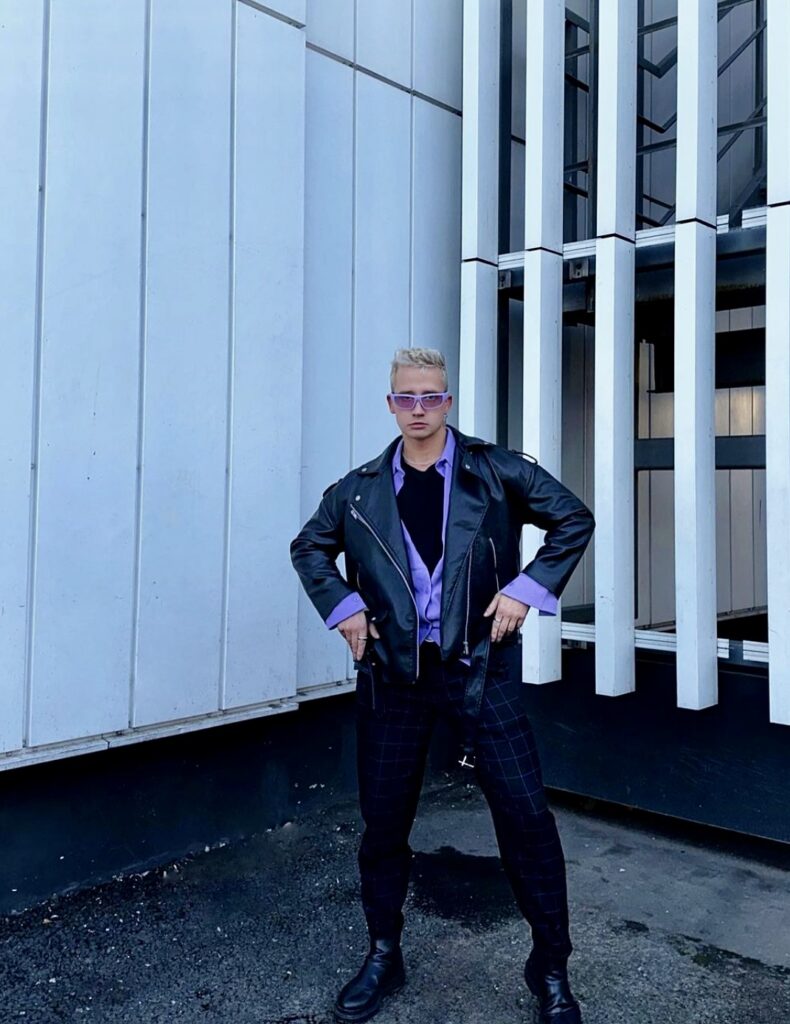 9 – graphic shirt with leather jacket paired with a plaid skirt with pants
This eclectic ensemble is a bold fusion of gothic mystique and punk rebellion, creating a striking visual narrative. A graphic shirt, paired against the tough exterior of a leather jacket that screams edgy. Paired unexpectedly with a plaid skirt worn as a statement piece, the outfit defies conventions, embracing both rebellion and femininity. Accessorized with a black tie and 90's slim glasses, the look channels a vintage vibe, while a beret adds a touch of artistic flair. A shoulder bag serves as a practical yet stylish addition, enhancing the outfit's functionality.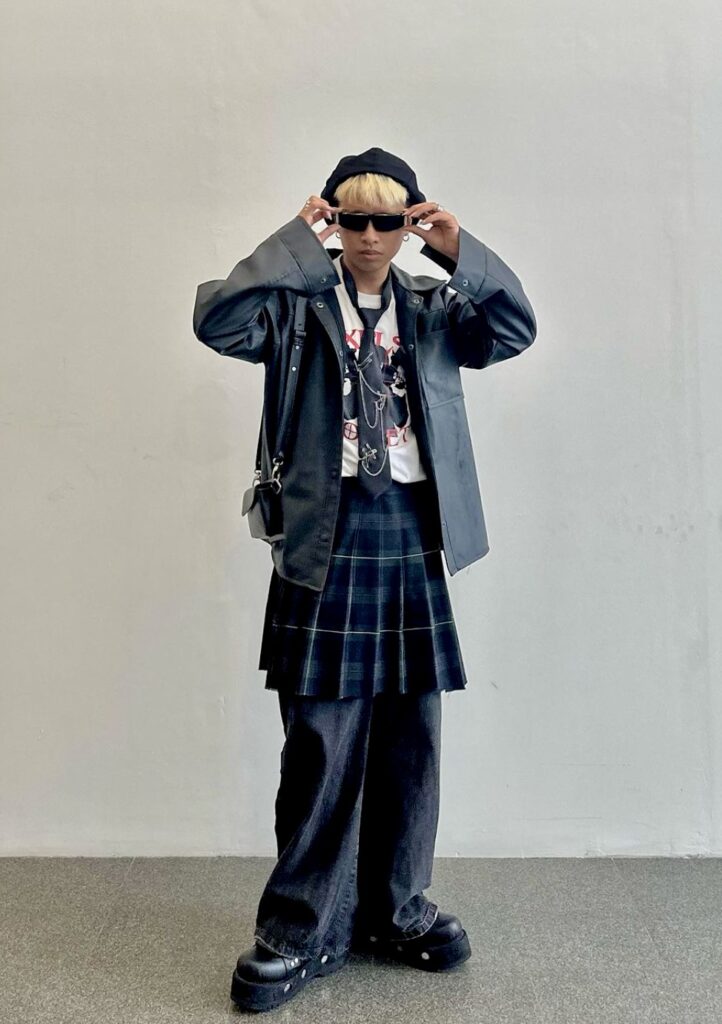 8 – hoodie with ripped white wash bell-bottom jeans
This laid-back gothic look effortlessly combines comfort with style, offering a contemporary twist to traditional gothic fashion. A cozy hoodie paired with ripped white wash bell-bottom jeans, the outfit achieves a perfect balance between casual and rebellious, creating a relaxed yet statement-making appearance. Opt for silver jewelry such as chunky rings and a pendant necklace to accessorise, adding a touch of gothic elegance. Incorporate black ankle boots to maintain the edgy aesthetic while ensuring comfort for everyday wear.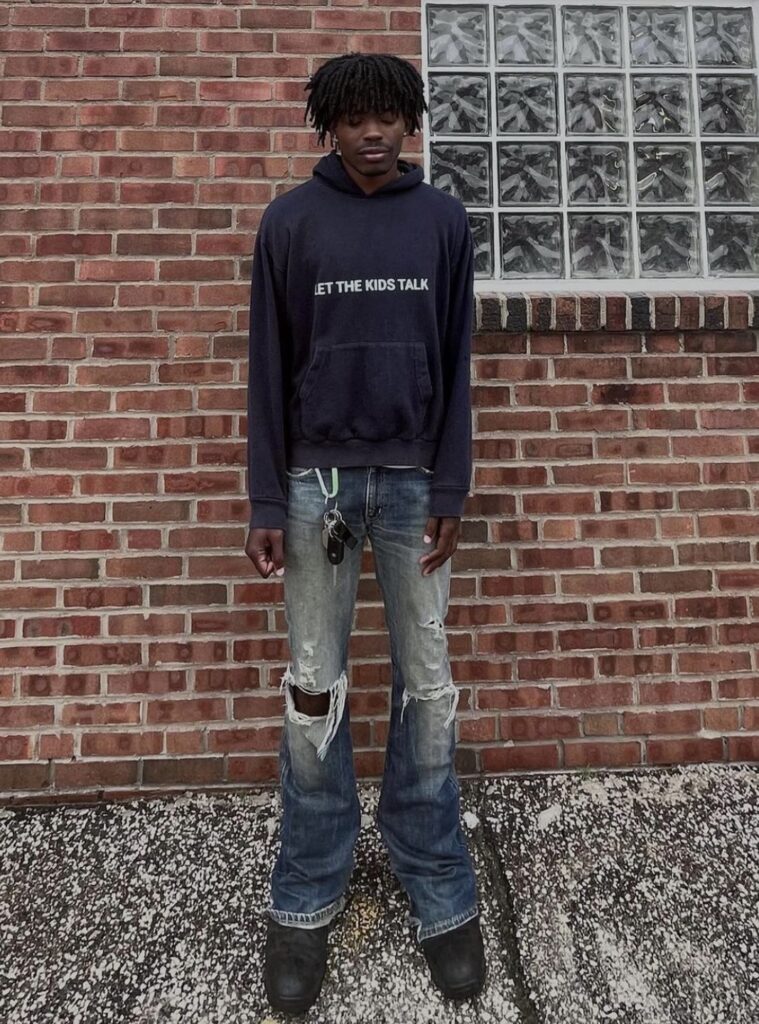 7 – matching zipper jacket With trousers and high lace boots
This gothic ensemble emanates an aura of dark sophistication and alluring mystery. A matching zipper jacket and trousers, crafted from rich, deep-hued fabric, form the foundation of the look. The outfit combines modernity with vintage aesthetics, paired with high lace boots that accentuate the legs and add a touch of Victorian charm. To accessorize this ensemble, consider silver accessories such as a statement ring and cuff bracelets, each adorned with intricate gothic motifs.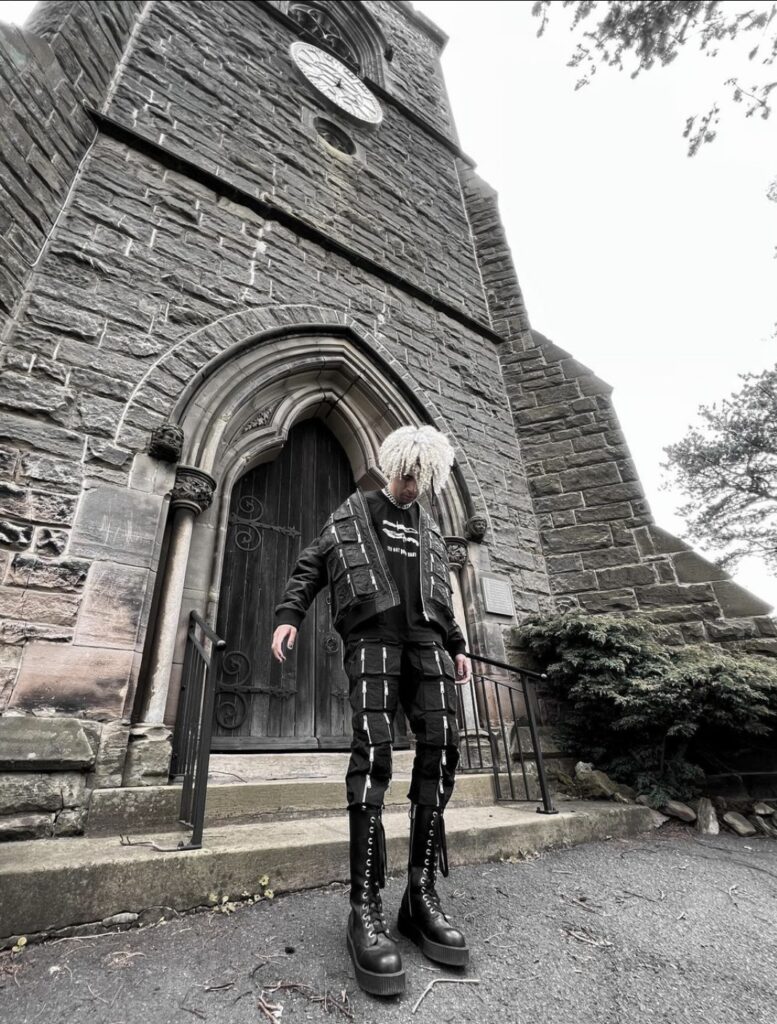 6 – Black vest with skinny jeans paired with Converse shoes
The sleek black vest, paired effortlessly with form-fitting skinny jeans, lends a touch of contemporary elegance, while classic Converse shoes add a casual yet stylish vibe. The outfit is elevated with unique accessories: a waist chain drapes gracefully, adding an edgy flair, while a long, mysterious hat lends an enigmatic aura. Completing the look, a walking stick is a practical accessory and adds a touch of old-world sophistication, enhancing the gothic aesthetic. A neckchain with intricate detailing accentuates the neckline, tying the ensemble with a hint of mystery.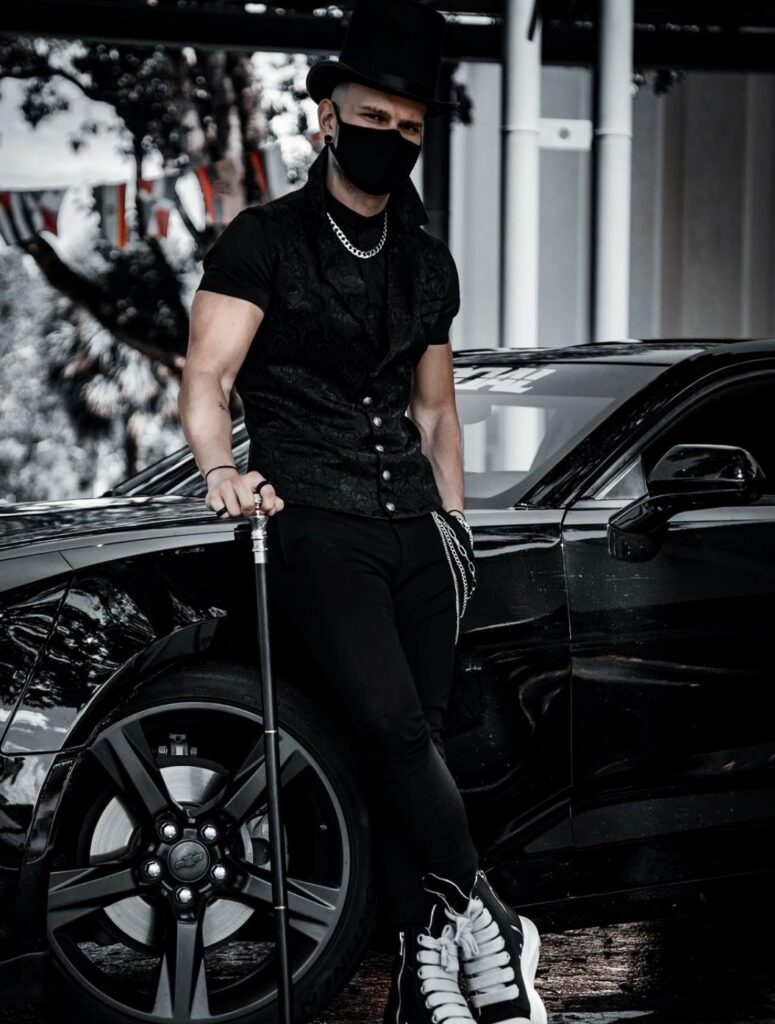 5 – Black & white modern twist
This modern gothic outfit comprises a crisp white button-up shirt and a tie, and a pair of cargo pants create a polished yet edgy foundation. Layered over this ensemble, a grey denim-washed jacket adds an element of rugged charm, enhancing the overall urban edge. A pair of sleek sunglasses lend an air of mystery. The black and white color palette, emblematic of gothic style, brings a modern, monochromatic elegance to the outfit.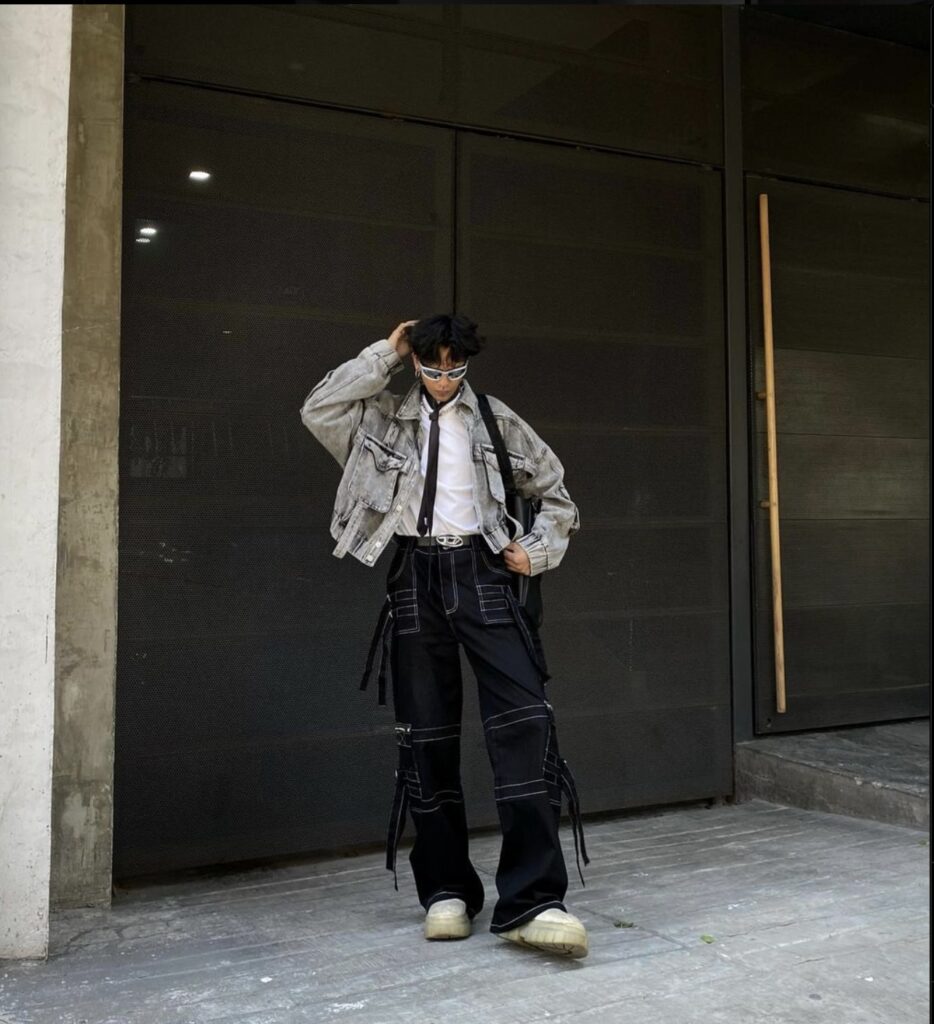 4 – Dressed up gothic
The foundation of this fit is a tailored grey suit designed to complement the wearer's form, showcasing a refined silhouette. Paired with classic black shoes that add a touch of timeless charm. The look is completed with a sleek shoulder bag, adding practicality and style to the overall look. The monochromatic palette, juxtaposing shades of grey and black, enhances the gothic aesthetic, embodying a perfect fusion of modernity and elegance. This outfit is a powerful statement for any formal or semi-formal event.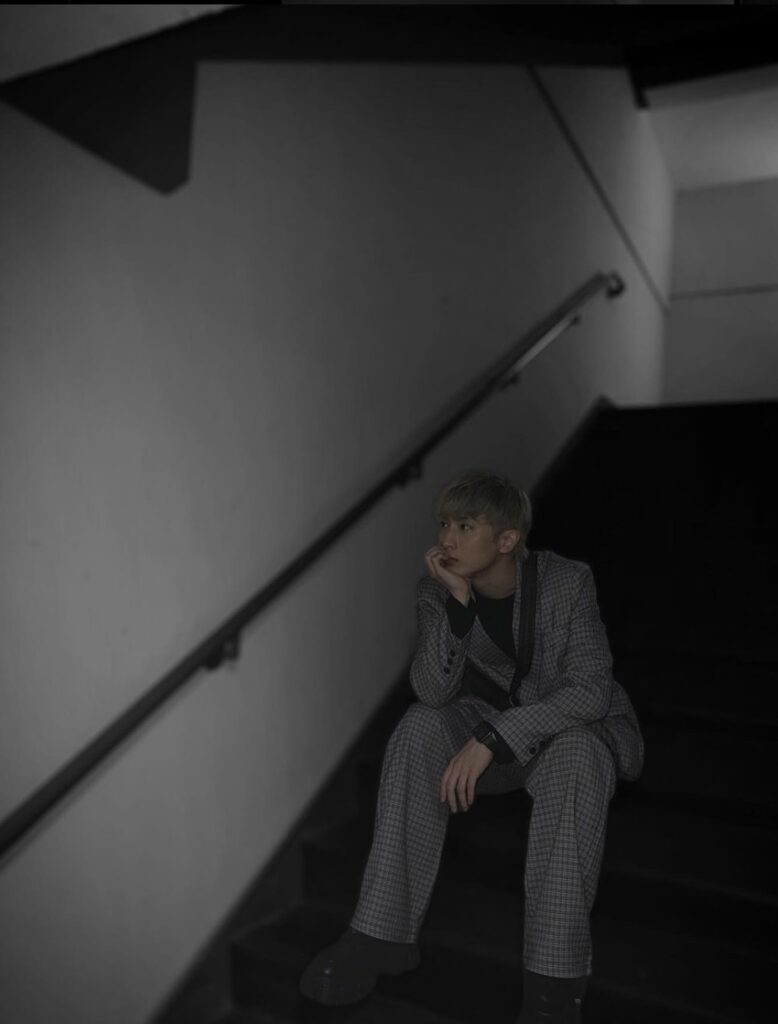 3 – sweater vest with black pants & doc Martens
The classic sweater vest is paired effortlessly with sleek black pants, enhancing the outfit's polished appeal. The iconic Doc Martens boots bring an element of rebellion and street style, adding a bold contrast to the refined top. Accessorized with a chunky belt, the outfit gains an urban twist, defining the waistline and providing a rugged accent. The addition of headphones offers a modern touch and reflects personal style. The look balances smartness and casual cool, making it a perfect choice for a casual day out.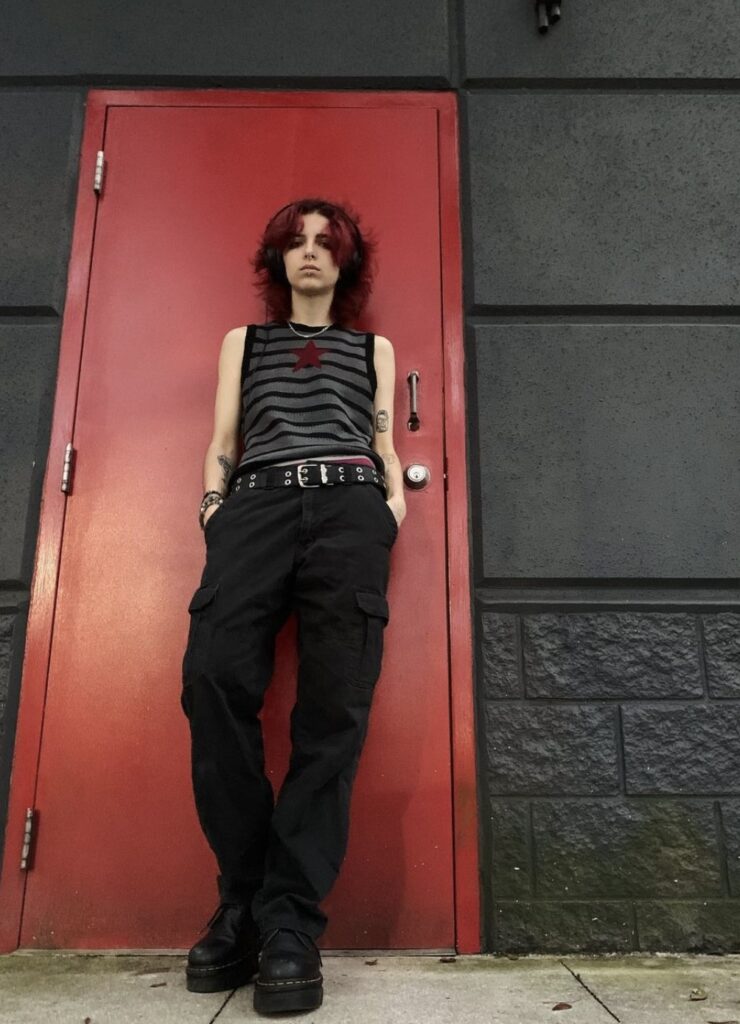 2 – basic black shirt with gray black denim pants & chunky joggers
The basic black shirt serves as a versatile canvas when matched with gray-black denim trousers with a unique pattern and cut, which adds a creative touch to the ensemble. The chunky joggers provide comfort and an urban edge to the fitted top, creating an aesthetically pleasing contrast. The pants' unique design and cut pull the entire look together, elevating it from ordinary to extraordinary. Accessorize with carefully chosen jewels, such as statement rings and a pendant necklace. Finish the look with a trendy baseball cap, which adds a touch of character and flare to the attire.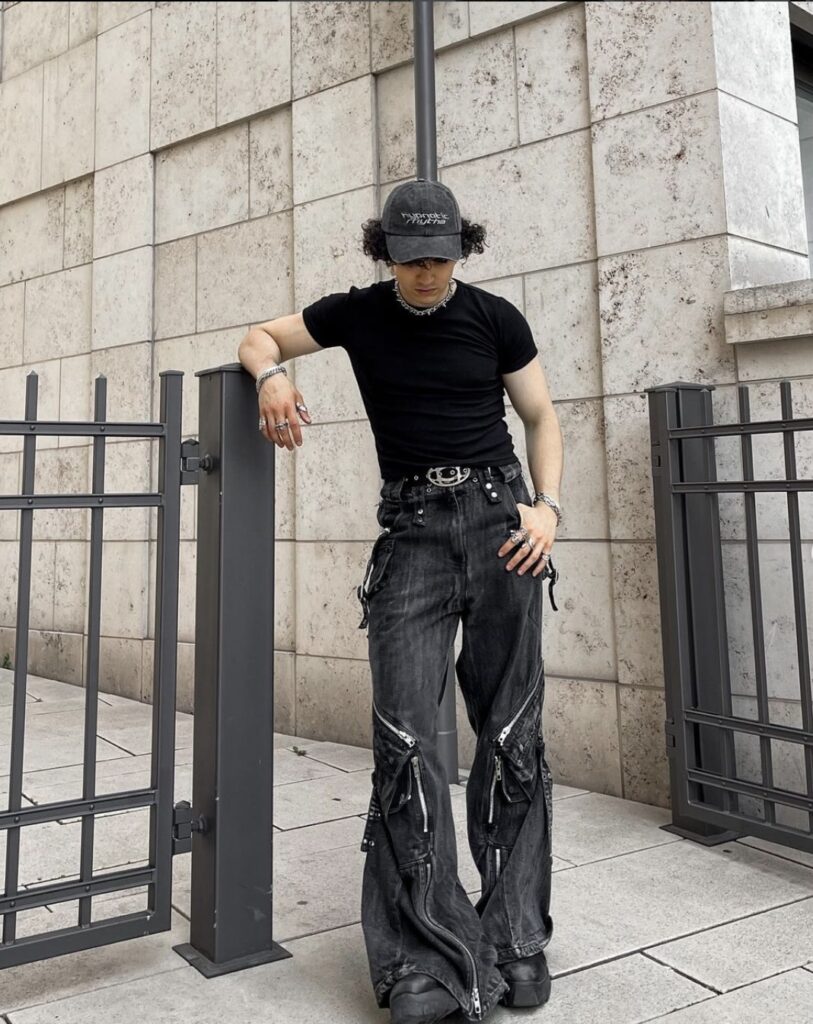 1 – All black classy gothic look
The black vest produces a stylish, crisp, and polished look when worn with a button-up black shirt and sleek black skinny jeans. A cross necklace, a classic gothic item that adds a touch of symbolism and completes the appearance with a reference to gothic origin, elevates the overall look. This outfit is pure gothic, capturing the spirit of the style with a perfect blend of darkness, elegance, and timeless design.