Camo Pants Outfits For Men. The military has originally used camo to conceal themselves from the enemy. It is supposed to be invisible, but fashion has a way of twisting things. Camo print can now be considered as part of modern and high-end style statements.
The camo pattern can be seen in a myriad of outfits. From top and bottom garments to accessories like ties and scarves, camouflage is really making a scene in fashion. For one, the print is most commonly used in trousers like cargo pants. But where did camouflage come from?
History of the Camouflage Print
The origin of the camouflage look dates back to World War II. Because marching into battle in bright hues isn't a good idea, the military wore camouflage outfits for a reason. Today, men have been putting the camo print to their aesthetics. Civilians can wear camo as it has now become mainstream. Well-known designers like Christian Dior and Moschino even made camo couture.
Fashion and style trends change over time, and camo pants are no exception. Over the years, the camo pants have gone through many modifications, from baggy to well-fitting tailored designs that we can see these days. Traditional outfits with camo trousers are made of thick fabric, and they usually have pockets. And various shades of brown, green, and khaki are often associated with the military look.
They began making visibility uniforms and created a camo unit called "camofleurs" with members who were artists and designers. In 1940, the US Army Corps of Engineers started experimenting with camo uniforms.
By the end of World War II, camo lost its popularity, but some units from the Army did not stop wearing the print throughout the 20th century. And by the mid-1980s, the first official camouflage uniform made its way to the spotlight.
In 1943, Vogue Magazine adopted some of the field trends and put them into the world of fashion. The camo trend became so popular in the 1980s when hunters and civilians began rocking green, tan, and brown outfits.
Where To Buy Camo Pants for Men?
You can find camo pants in military supply stores. For your convenience, especially in these strange times, you can search for products in online shops like Amazon and Nordstrom.
How To Style Camo Pants For Guys
Some men may claim that camo print is only for a particular subculture, and we can't blame them. It's because the pattern itself can give off a certain military vibe that not everyone can pull off. But it's always up to how a man styles his camouflage clothing, and pairing plays a major part in it.
Make sure you are pairing your camo pants with the right garments. After all, you don't want to look like someone who is on the wrong side of the track for wearing an awkward combo. So the biggest question is, how does a man style his camo pants? First off, your objective here is to avoid looking like you're on leave from basic training.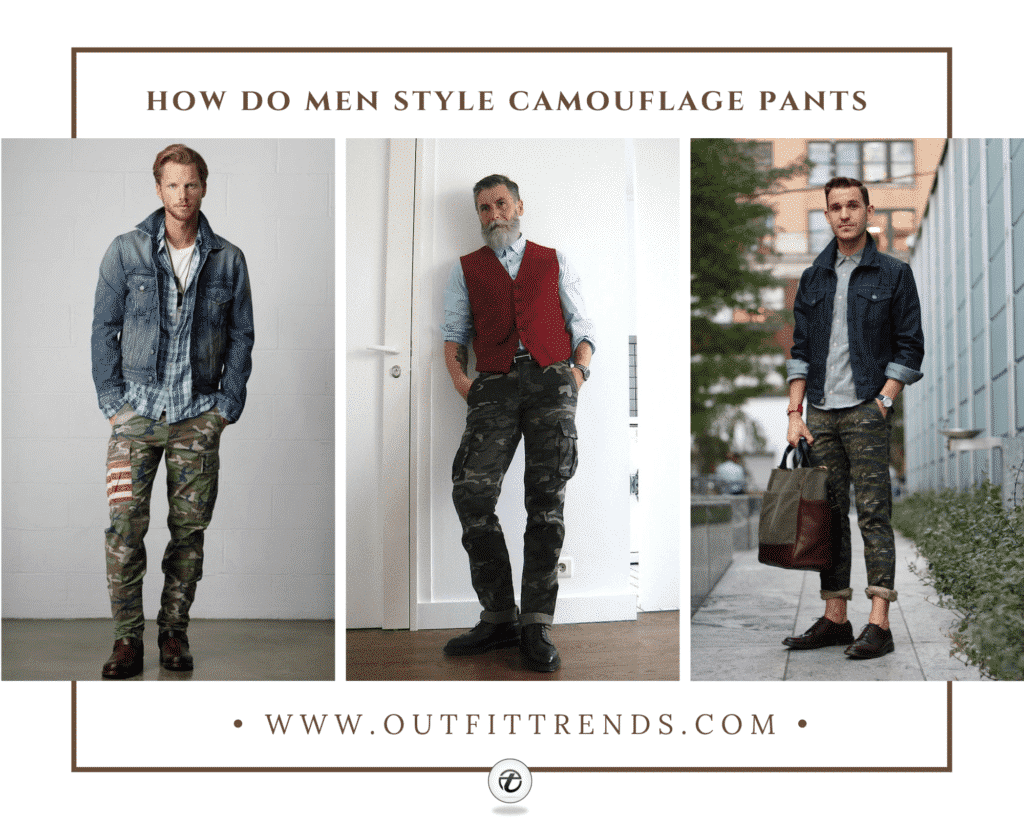 Here are some camo pants outfit ideas. I reviewed and compiled them for you. Let me know in the comment section what your favorite pick is.
↓20 – When To Wear Camo Pants
Let's start off with this first date outfit. I know you're trying to give the best impression, and there's no better way to do it than to start with your outfit. Try not to overdress as it will show that you're trying so hard – and it's not good! Ditch the so-formal outfits, and opt for something laidback instead. For instance, team up your camo pants with a white button-down with a dark blue wash denim jacket. Finish off with white sneakers to create some balance with the undershirt. What I love about this getup is that you can easily lose the top layer should it gets hot.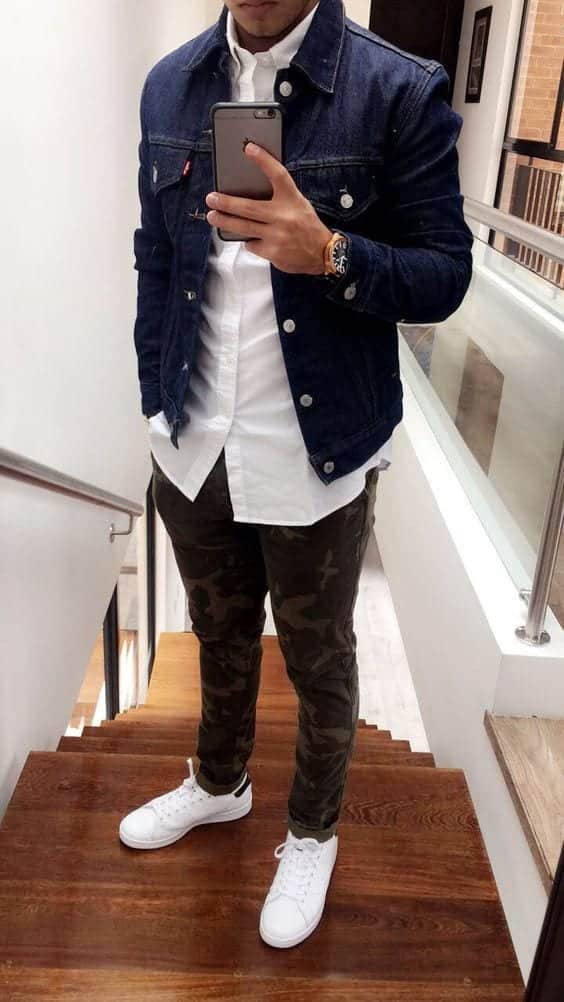 ↓19 – Ripped Camo Pants
If you want to up your fashion game a bit, opt for ripped-style camo pants. The torn design gives off a different vibe as it's commonly associated with streetwear trends and fads. That said, you might as well want to pair the trousers with street-style staples like a denim jacket, a basic tee, and a baseball cap. I suggest you stick with basic hues and contrast colors for the key outfit players and add a pop of color through your shoes. If you like wearing ripped trousers, I also recommend that you check out these Men's Ripped Jeans Outfits.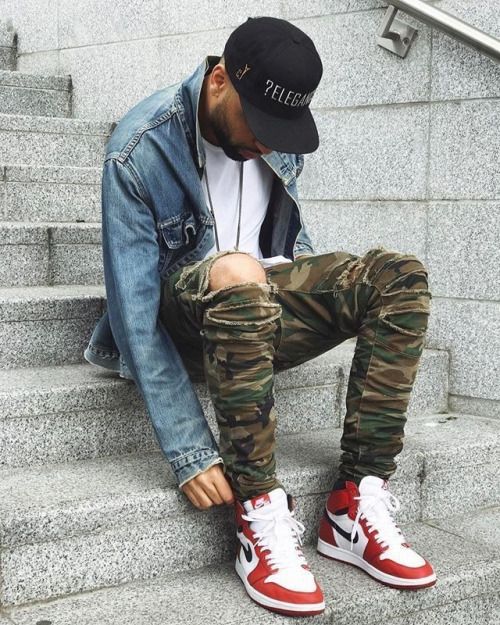 via
↓18 – Smart Casual
Because of the pattern, camo pants aren't generally seen (and accepted) in the corporate setting. As such, it would be cliche to wear them to the office – and I wouldn't recommend you do it. But if you insist on experimenting, no one's stopping you; just do it outside. For instance, you can throw a navy blue sports jacket over a white tee and then pair them with your camo trousers. Personal gigs like casual dinner dates, after-work drinks are all great opportunities to rock this team-up of an outfit. Here's a list of my favorite Casual Outfits Ideas for Men To Try.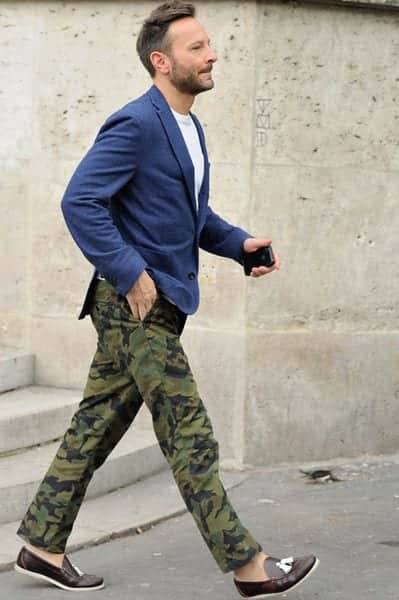 ↓17 – Winter Outfit
It's cold outside, which means it's time for some layering work. Winter months call for a dress code that requires extra effort and attention. Fabrics like wool and polyester are great heat providers, making them so mainstream for this kind of climate. Overcoats like trench coats are your first line of defense. So grab one and throw it over a crewneck sweater layered with a white shirt.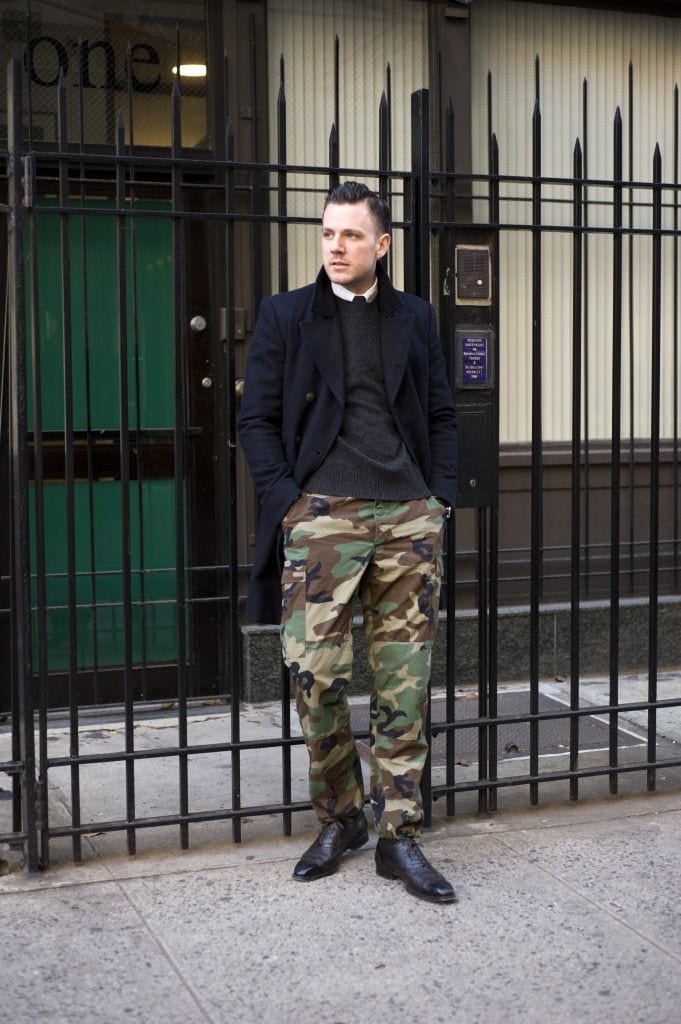 ↓16 – Military Attire
A bolder approach to camo pants is choosing military-grade versions. This is like the official uniform of the military people.
↓15 – What To Wear With Camo Pants for College
Cuff your camo pants and wear them with a light blue shirt. Throw a darker shade of denim jacket over the sort, and finish off the look with some brogues. This is a sharp yet laidback outfit that can be worn not just in college but also for a dinner dater or after-work drinks with your friends.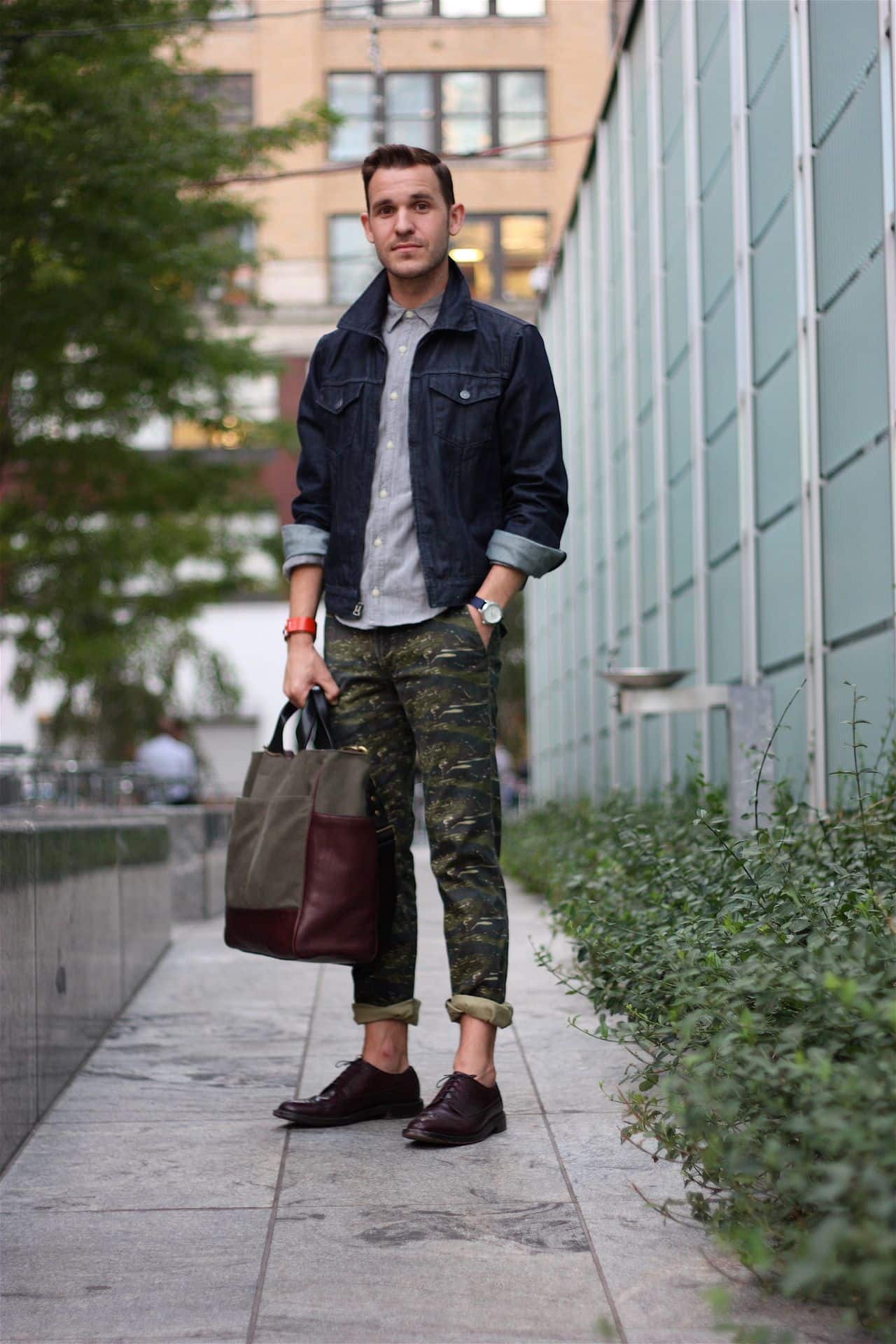 ↓14 – Camo Pants With Leather Jacket
Opt for a rather bad boy look by wearing a biker leather jacket with your camo trousers. And then wear a knitted sweater as an undershirt. You can tuck your pants into your boots to show off the edges. Lastly, you can wear combat shoes as long as you know how to pull them off without looking like you're off to war.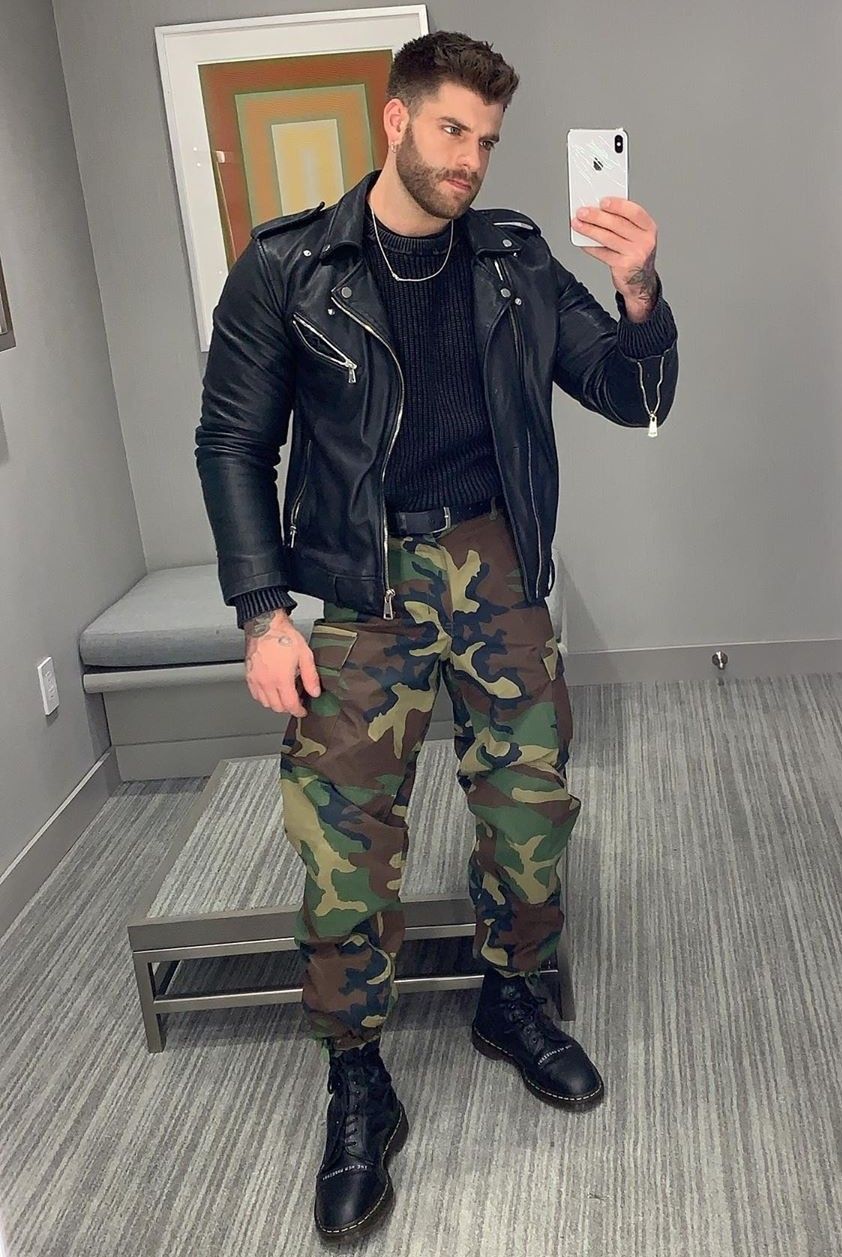 ↓13 – Preppy Style
A preppy outfit can be suitable for students and employees alike. However, not all offices allow camo pants as a corporate wear staple, so you might want to ask your boss first. A check shirt, particularly, gingham pattern, looks great with a tailored blazer in black or navy. As for the tie, stick with solid and contrast colors to avoid clashing and not create a weird color combo.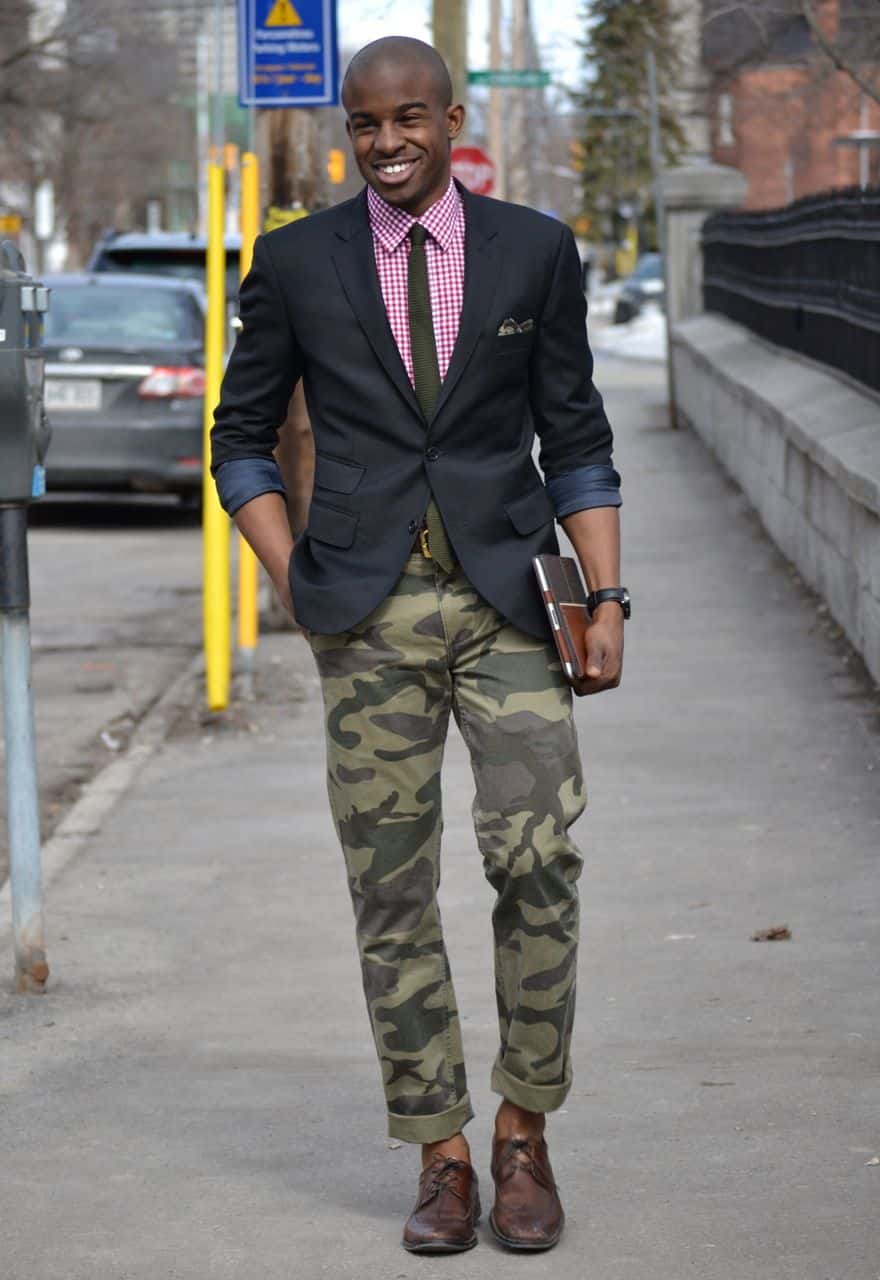 ↓12 – For Teens
Camo looks particularly dashing among teens and boys. To better appreciate the pattern, team up your trousers with a denim jacket, and then finish off the look with some sneakers. This is perfect for streetstyle and casual gigs.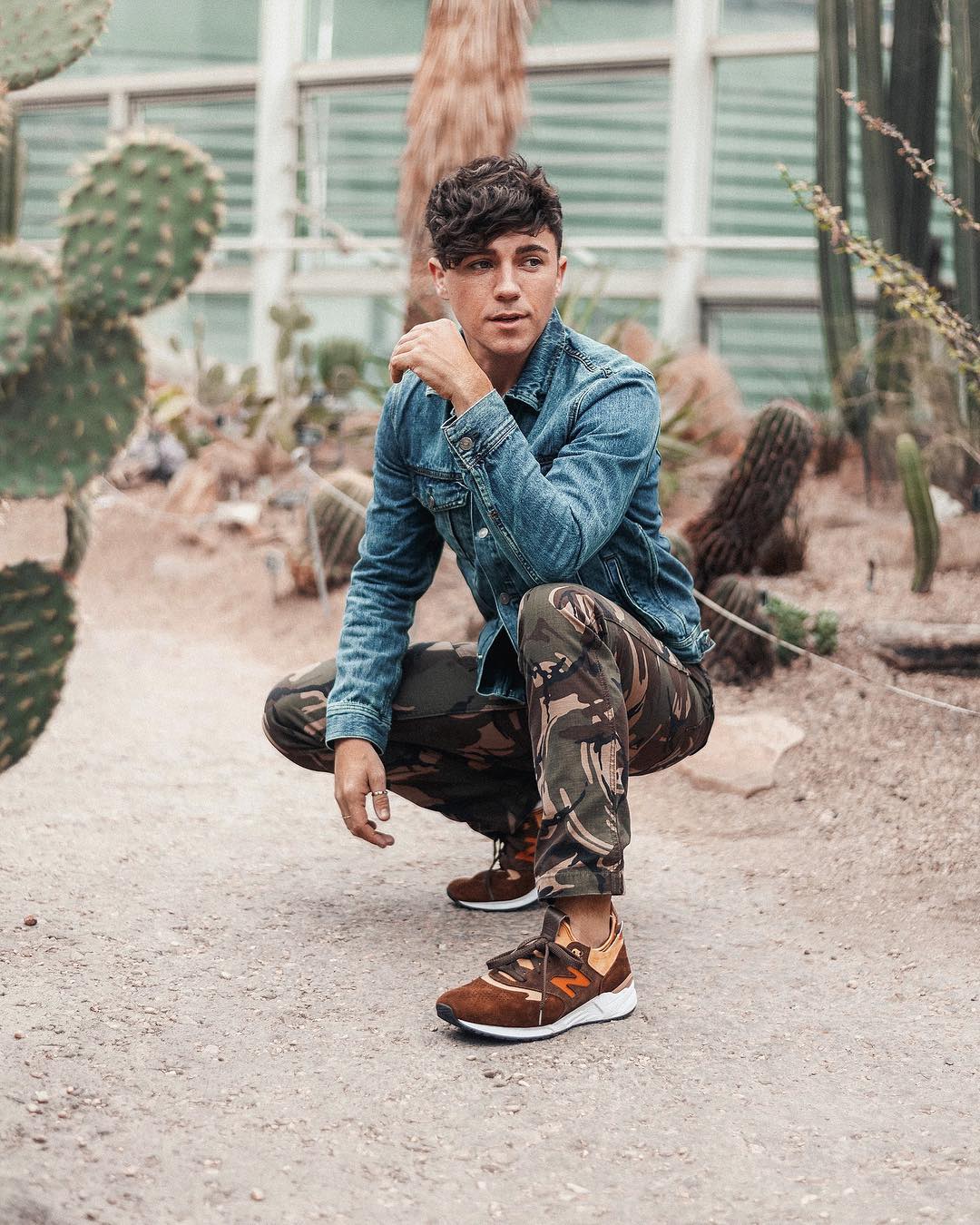 ↓11 – Layering Your Camo Pants
If you're going to do some layering work with camo pants, opt for cooler shades for your tops. For instance, wear a blue gingham shirt underneath a blue wash denim jacket.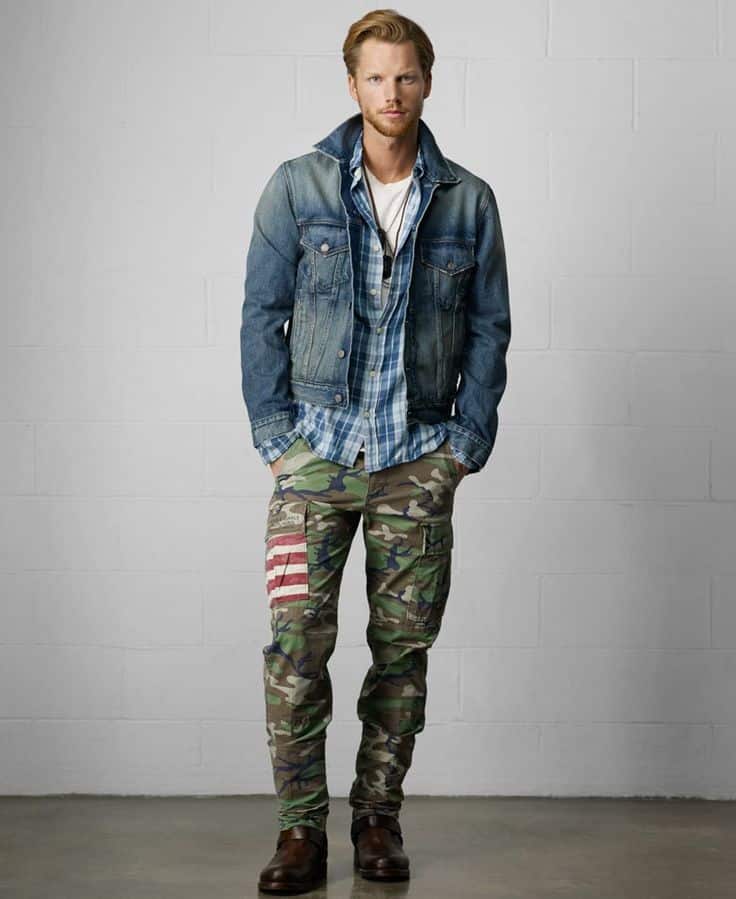 ↓10 – Celebrity Style Camo Pants
Cargo pants are naturally baggy in size, so don't be bothered with the fit. And given the situation, you might as week get on with it – wear your trousers with an oversized hoodie. This style is inappropriate for occasions that require sharp and smart outfits.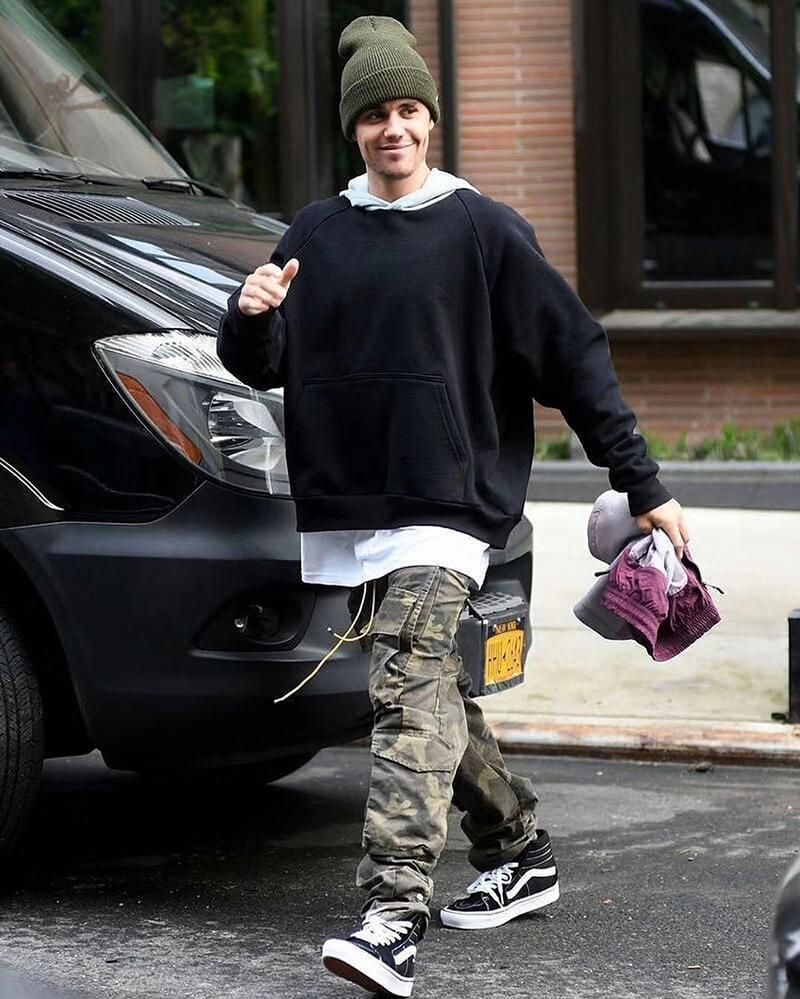 ↓9 – Hipster Outfit
You can also opt for a hippie or boho style with camo pants. Show them your free-spirited self by donning camo with a white shirt. And don't mind the color coordination here, as being weird is the point of a hipster outfit, and there's nothing wrong with that. So you can wear any shoes you want, and the more colorful, the better. Lastly, the accessorize will complete the overall ensemble, so grab those rings, bracelets, and necklaces. Here are some more Men's White Shirt Outfit Ideas.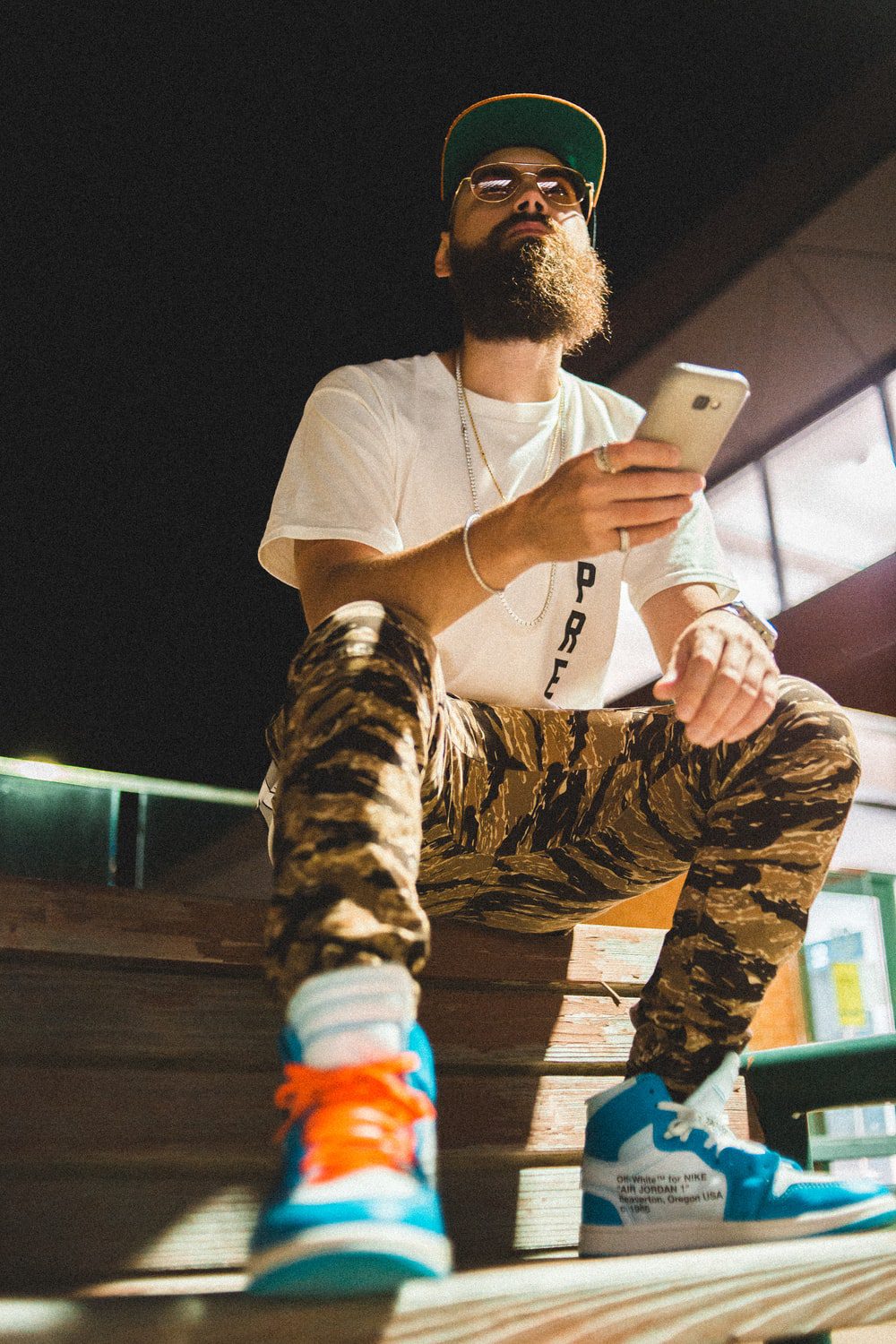 ↓8 – Rainy Day Outfit with Camo Pants
For rainy days and Mondays, wear your camo trousers with a traveling coat or puffer jacket in blue or neon. Please note that camo looks wet as it is, and it can be a good thing. If your pants ever catch rain, it won't be obvious that it is drenching with water. However, try not to get them wet, so bring a sturdy umbrella with you.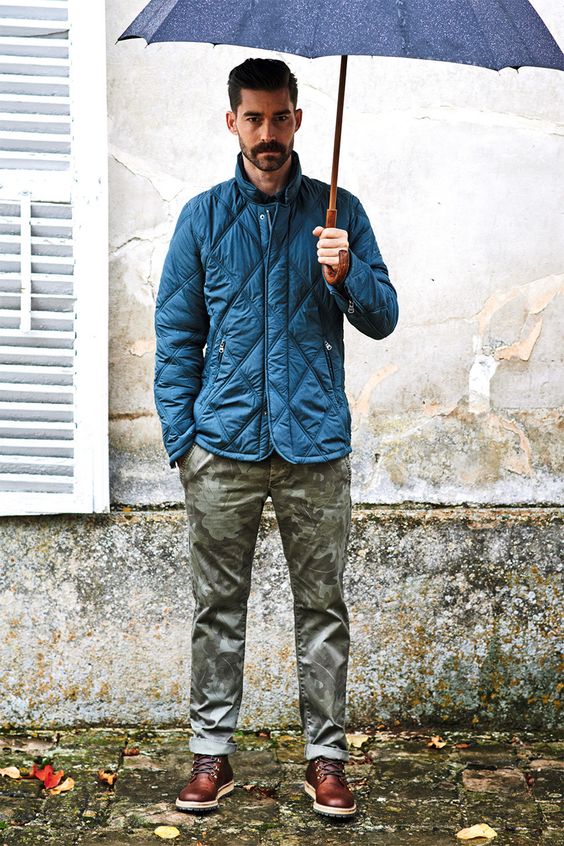 ↓7 – Bohemian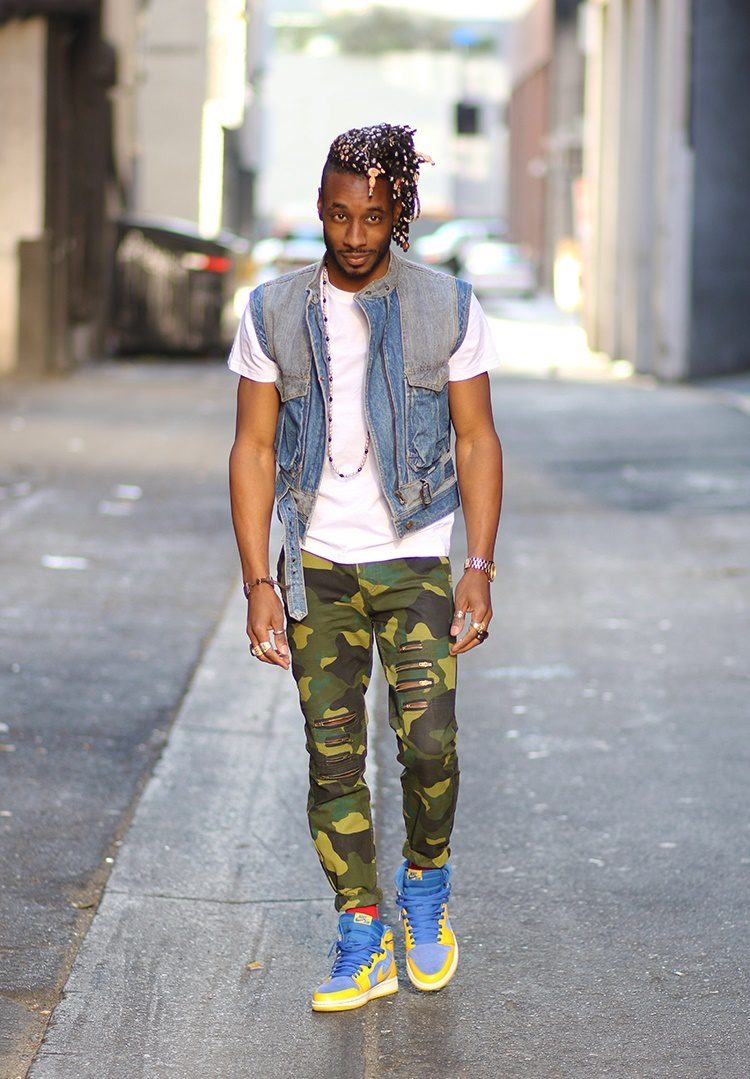 ↓6 – Athleisure In Camo
Some might say that this is a fashion faux pas. Just like a Canadian tux, double camo may look weird to some gents. However, it won't harm you to defy the norm and show your free-spirited side. Besides, it looks great for me because of the outfit's uniformity. If you prefer a rather laidback athleisure look, take this route. Ensure that the top is not too bulky to keep the vibe cool and comfy.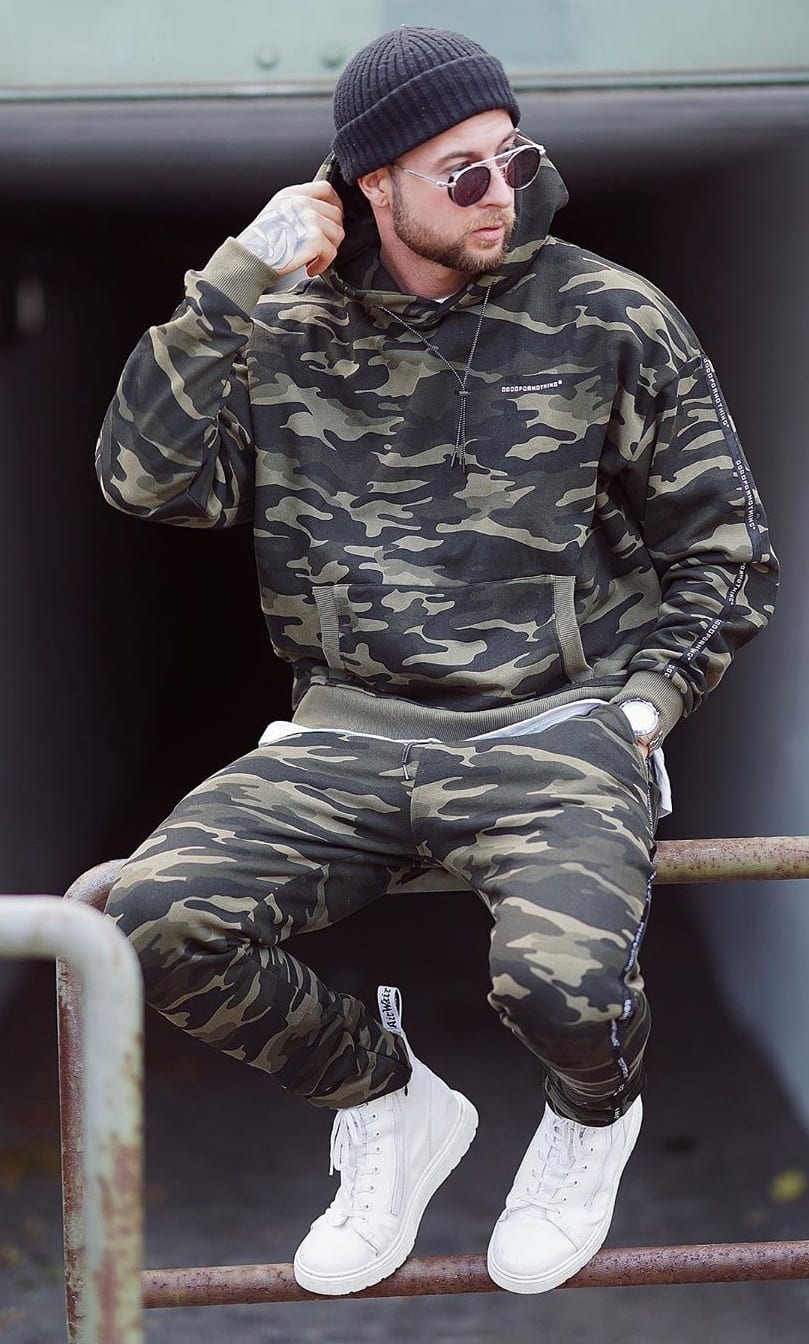 ↓5 – For Mature Men
If you are in your 50s, it's better to steer clear of casual outfits when styling your camo pants. As such, opt for smarter pieces like a vest worn over a light blue button-down. This may look like you are an office worker, but that's just how it should be. Styles like smart-casual and semi-formal and are older men's best bet when it comes to camo.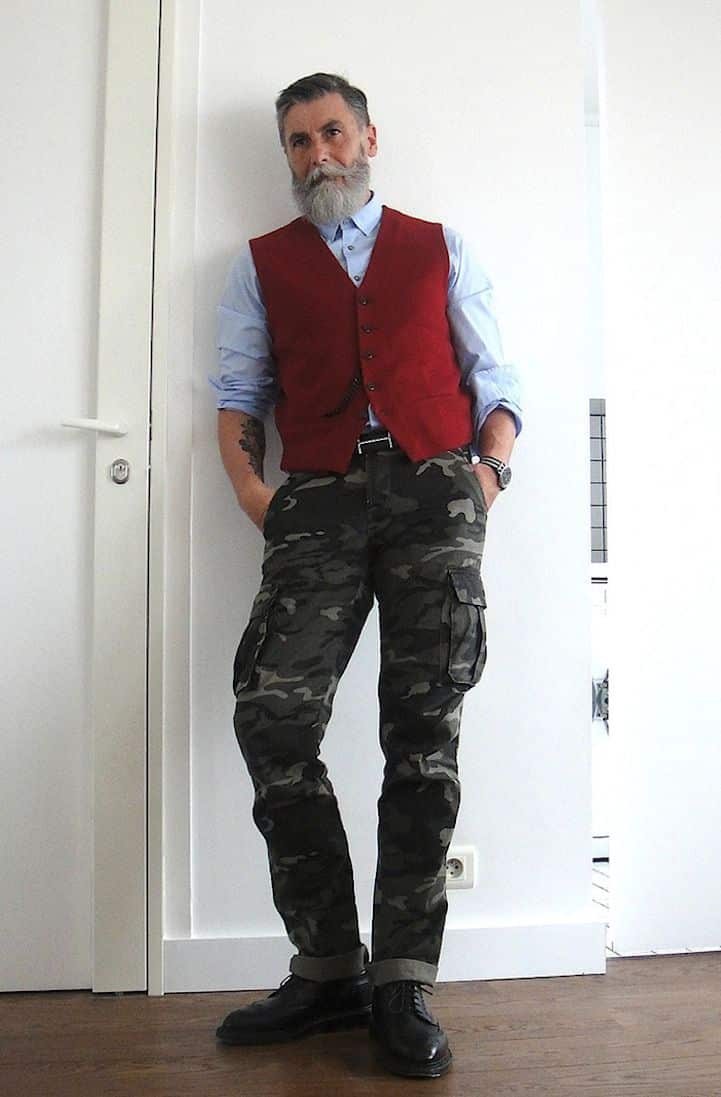 ↓4 – With Sweatshirt
This is a lifesaver combo: a plain pullover shirt paired with camouflage pants. As a pro move, tuck in your trousers in your shoes to accentuate the edges. This outfit is a great option for days when you are in a hurry.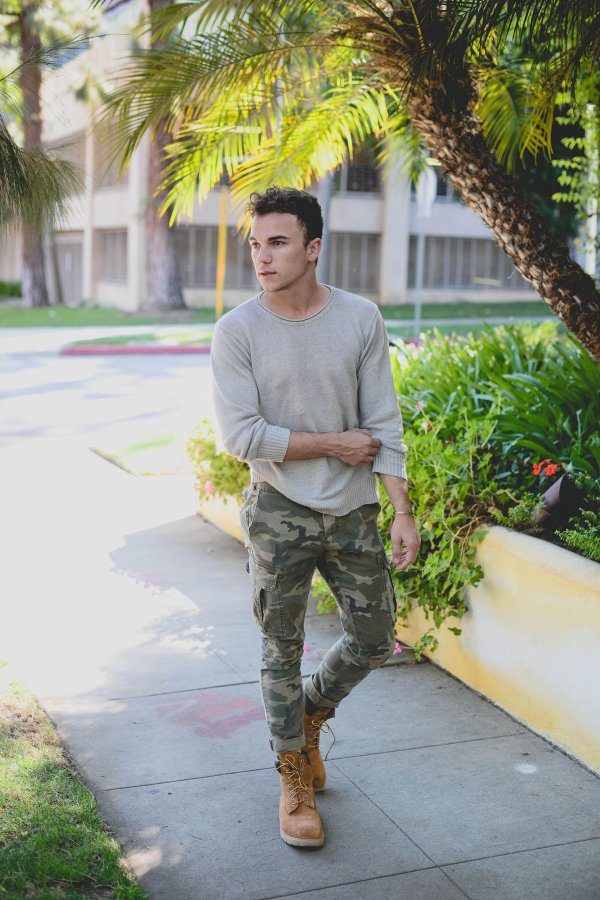 via
↓3 – With Rollneck
You can style your camo pants with a turtleneck shirt or rollneck sweater. However, you should not wear it as a standalone piece and layer it with something instead. For example, a black rollneck looks great with a leather jacket over it.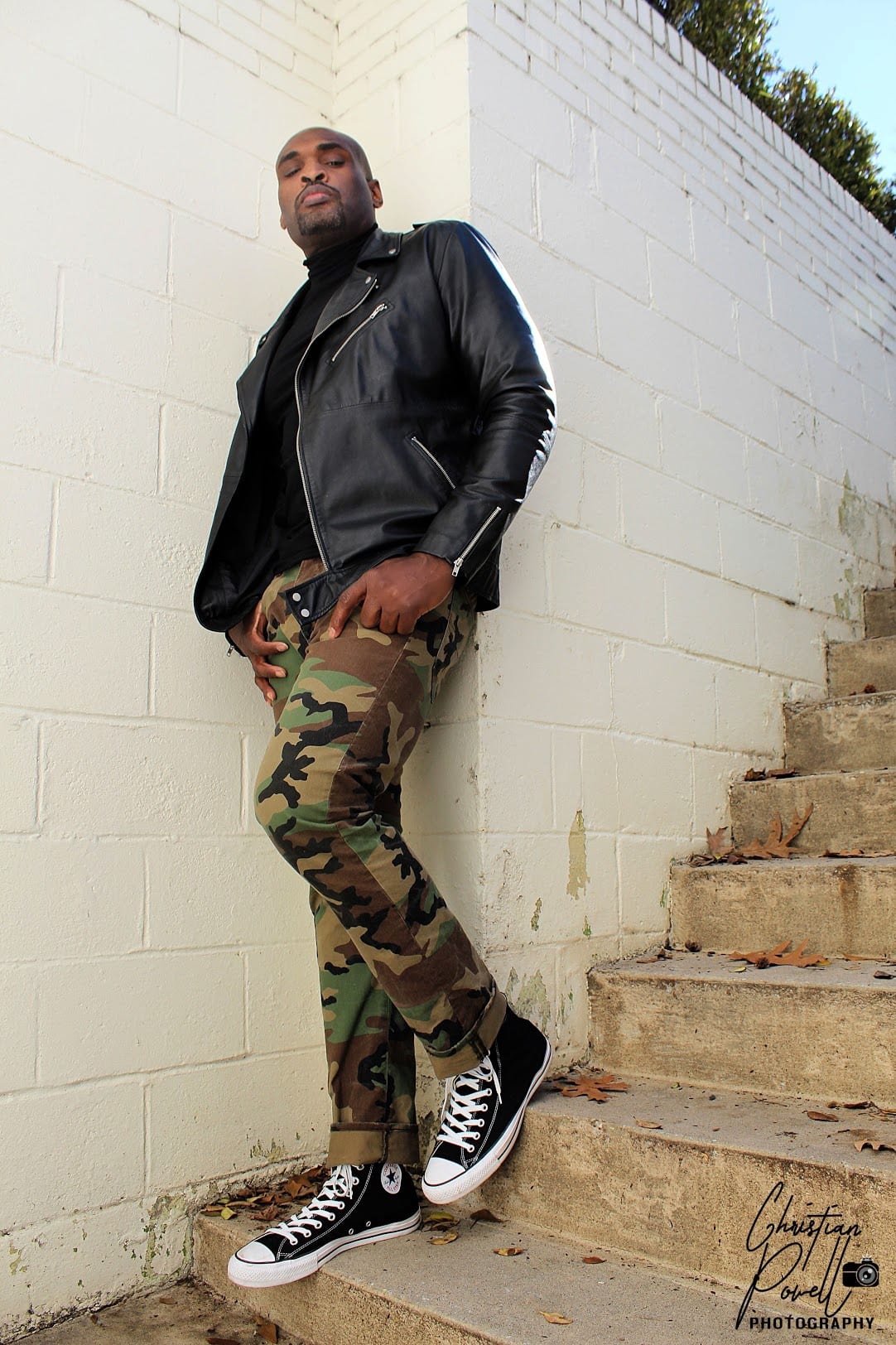 ↓2 – With Varsity Jacket
Letterman jackets or varsity jackets belong to the group of the most versatile outfits ever existed. It is a perfect weapon for various occasions as it can be styled with various pieces. This jacket's iconic appeal has been here for over a century now. For instance, wear it over a plain hoodie for an instant casual ensemble. Here are some of my favorite Varsity Jacket Outfits for Men.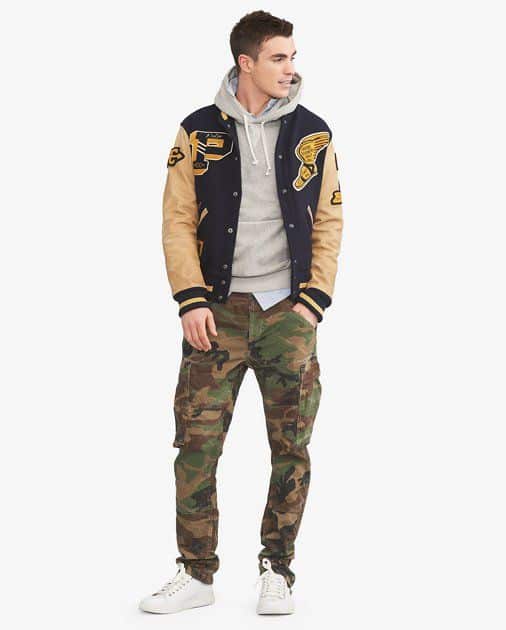 ↓1 – Summer Travel Style
It's a quintessential summer look that never goes out of style. For the warmer months, opt for lightweight fabrics like cotton, linen, and polyester. Heavy materials like wool should be saved for the winter and fall seasons. As such, style your camo pants with a cream or white sweatshirt. Jogger trousers are ideal for summer for having those elastic hems. Finish off the look with sneakers, and socks are optional.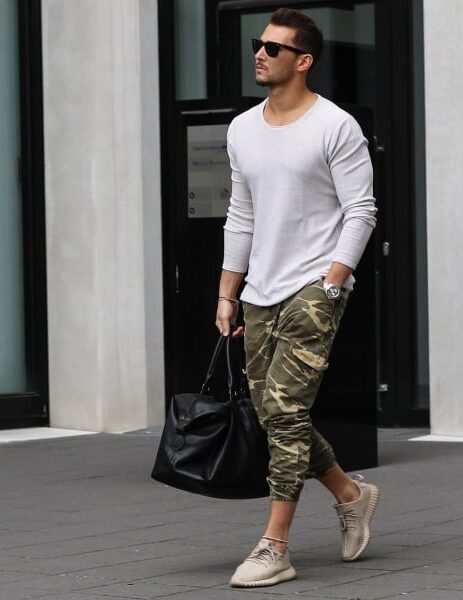 Pulling off the camo look may not be that easy. But if done right, you are in for a sartorial look. Styling camo pants, in particular, are quite tricky as only select pieces go well with them. And it takes preparation and planning to get the perfect look for you.
Frequently Asked Questions
Q. Are camo pants in-style 2021?
A. Camo outfits were and will always be associated with the military. The garment's historical origin makes it a classic option for menswear. It is tricky to pull them off as there are strict style rules – some outfits don't look great with camo print. But if done right, you are in for a rather exceptional look. Camouflage trousers are, no doubt, in style in 2021 and aren't going anywhere soon.
Q. What looks good with camo pants?
A. In fashion, the camo look is a worthy option for outfits worn in casual settings. But if your boss permits it, take the chance to rock camo pants in the office. The combo of a navy blazer and camo trousers proves that sharp outfits don't have to be so plain. Also, you can team up your camo pants with a nice fitted shirt in a solid color.
Q. What color goes well with camo pants?
A. Camo pants look best with neutral and solid colors like black, grey, white, and navy blue. Contrast colors go best with camouflage, so opt for black outfits, especially when in doubt or if you are in a hurry. However, you can think outside the box and pair them with neon-colored tops like fuchsia, green, and electric purple.
Q. What shoes look great with camo pants?
A. Stylish men always pay attention up to the smallest detail, and footwear can't be spared. When wearing camo pants, you have to be wary about what shoes you will pair with them. For instance, sneakers are your best bet in summer and spring, while boots are perfect for winter and fall. And for a quick and easy street-style outfit, wear your camo pants with box-fresh trainers.