Varsity Jacket Outfits for Men. From the high school setting to the runway, the iconic varsity jacket has been welcomed and adopted by a variety of style subcultures over the years. Jocks and nerds have their differences, but one thing these campus subcultures have in common is an excellent sense of style. This outerwear trend is one of America's best-loved fashion exports.
Varsity jackets are also called "letterman jackets." It is because this outerwear essential has a large cloth letter (the initial of the player's school) usually sewn or embroidered to the chest. These letters are generally a sign that the wearer plays a certain sport for their varsity team.
How To Wear Varsity Jackets?
Rolling Stone said that the rock stars have now taken the varsity jacket from the jocks. Well, we can't deny that the athletic image and the jacket's wool fabric might still give off some high school football vibe. Traditional designs feature two or more contrasting colors with collarless, wool, and button-through body and leather sleeves. However, it's been changing for a few years now as designers make new and modernized varsity jackets.
History. The varsity jacket was first seen in young athletes in 1865. Harvard University's baseball coach wanted to reward the players by advertising a huge letter 'H' on their woolen sweaters. And since then, the jacket was called "the letterman." Later on, the symbol was adopted by the university's football team.
In the early 1900s, these exclusive letterman sweaters got an upgrade when the more valuable letterman jacket joined them. The letterman soon became the sweater you can see around campuses in America. And colleges were proudly promoting their elite athletes with their school initials.
Both woolen garments were highly loved in collegiate places throughout the first half of the 20th century. And by the 1950s, the varsity or letterman jacket had become a fashion staple, even in off-campus situations. The jacket became famous because of several icons of the era, including James Dean and Elvis Presley.
Today, the term "varsity jacket" is commonly used to refer to a sporty, button-up, and collarless jacket. Varsity jackets can be made of any material, from jersey cotton to suede. While traditional college jackets tend to be in an oversized style and unflattering fit, recent designs have a slimmer cut instead.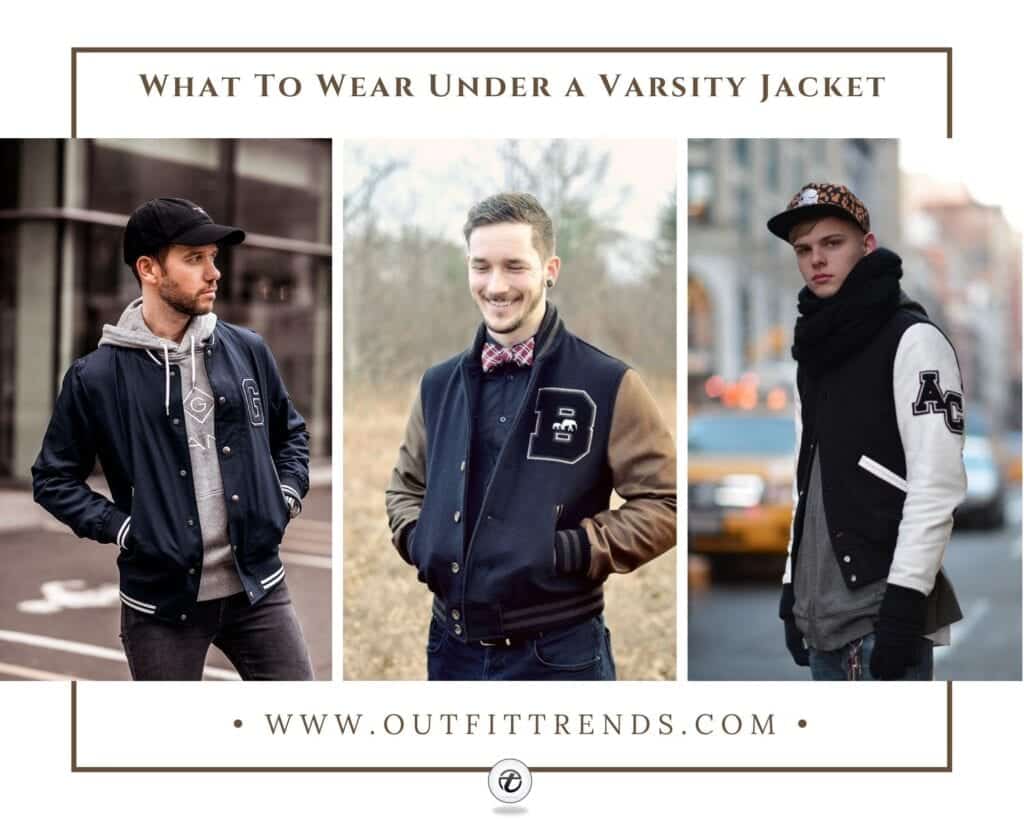 Tips on Styling Varsity Jackets
Bored of wearing your letterman jacket the same ways every day? Thinking of investing in your first one? You might want to consider these tips to style your varsity jacket right:
The Colors. You can always choose to go monochrome when unsure. And if you are new to this trend, limit your options to black and white designs to not look overdressed as neutral and contrast colors won't overwhelm the rest of your outfit. It's always best to go classic when trying out a new look, so opt for a retro two-tone style with a solid body and contrasting sleeves, or go for a full-block colour to be safer.
The Fit.

Fashion Beans

said that fit is paramount when making a varsity jacket look great. It should be slim enough while still leaving a small room underneath for a hoodie or otherwise. And the hem should not be higher than the hips. Today, you no longer have to be a buff athlete to wear a varsity jacket. Modern letterman jackets now have a more detailed and fitted design that pairs easily with a wide variety of trouser options.

Sports Casual Style. The rise of the sportswear side in the fashion industry is growing. This relaxed look is ideal for less formal occasions and. However, it's not advisable to pull this off at the office or on your first date.
Fashion Beans said that this collegiate classic is also popular in the Ivy League. And it can be a perfect teammate to any wardrobe piece. With it, you can create an all-American fashion statement to something colorful and look like a confident youth. But wearing your varsity jacket with the same pieces over and over again can make any look (regardless of how great they are) old and boring.
That brings us to our next question: How do men style varsity jackets? One reason that keeps many men from investing in a varsity jacket is that it can be tricky to style one. For 2021, the varsity jacket delivers a design with less bulkiness and more structure, with different cuts and colors to choose from. Here are our top picks on how to wear this iconic jacket. And for more tips, don't forget to check out my previous post on 18 Types of Jackets for Men & How to Wear Jackets.
↓ 16 – Affordable Varsity Jacket
Compared to others, Urban Outfitters Ombre Wool Varsity Jacket is not that pricey. Its wool body has a long-haired, ombre overhaul that makes a fashion-forward statement. Despite its contrasting wool sleeves and striped "rib-knit" trim, the jacket still looks like a varsity jacket.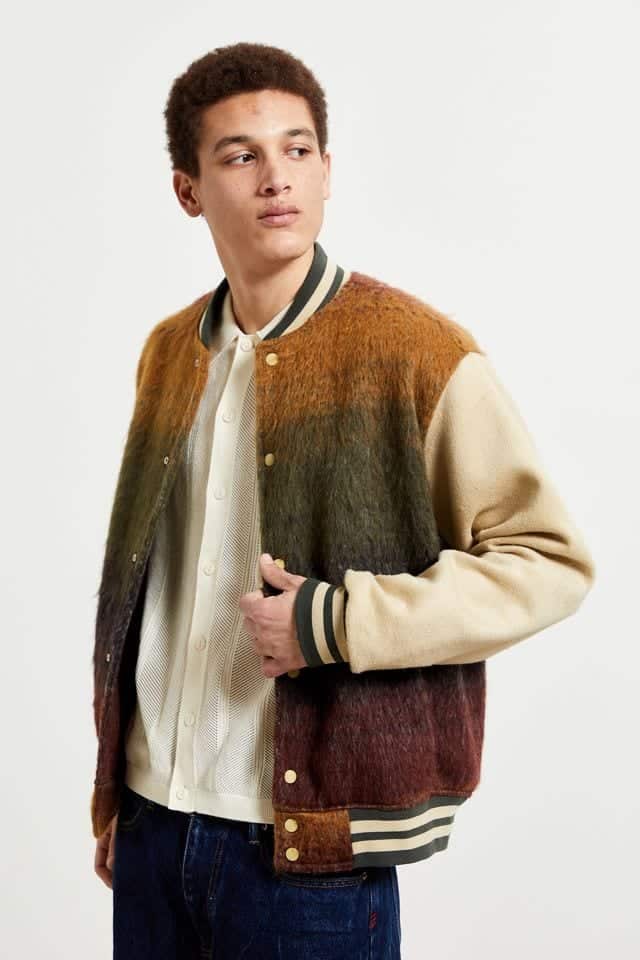 ↓ 15 – High-End Varsity Jacket
This Real McCoy's brand is dedicated to reviving throwback looks just as they were back in the day. The downside is that McCoy is expensive.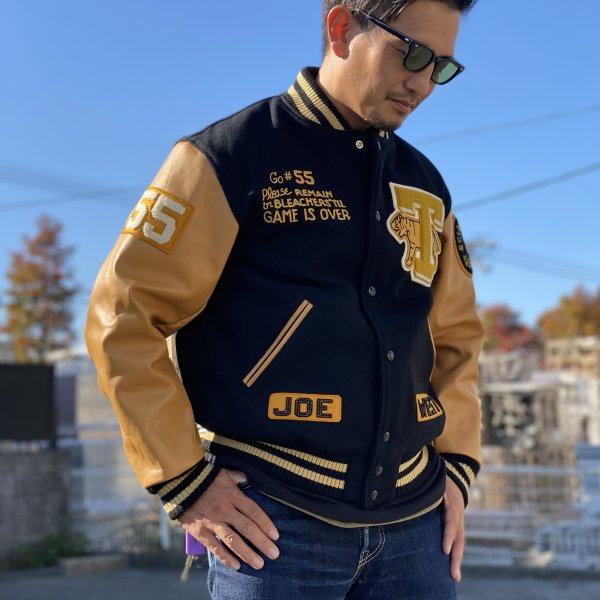 ↓ 14 – With White Pants
Stick with neutral tones and contrast colors like grey and brown (even black) if you're gonna wear your varsity jacket with white pants. Some black sneakers, like Converse or Vans, will do the job of completing the look with a bang.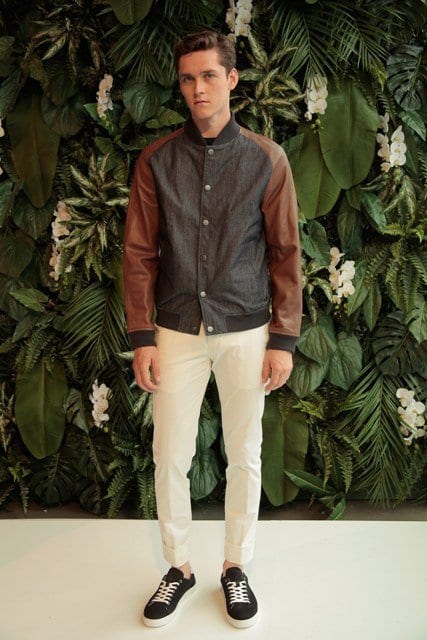 ↓ 13 – What to Wear with a Black Varsity Jacket?
A black varsity jacket and a white button-down are both versatile. Combine the two and you'll create a preppy and fashion-forward getup without going overboard. It's better to leave the shirt untucked. Black, especially a darker shade, will always look fine with a crisp white shirt. And then pair them with khaki or black jeans.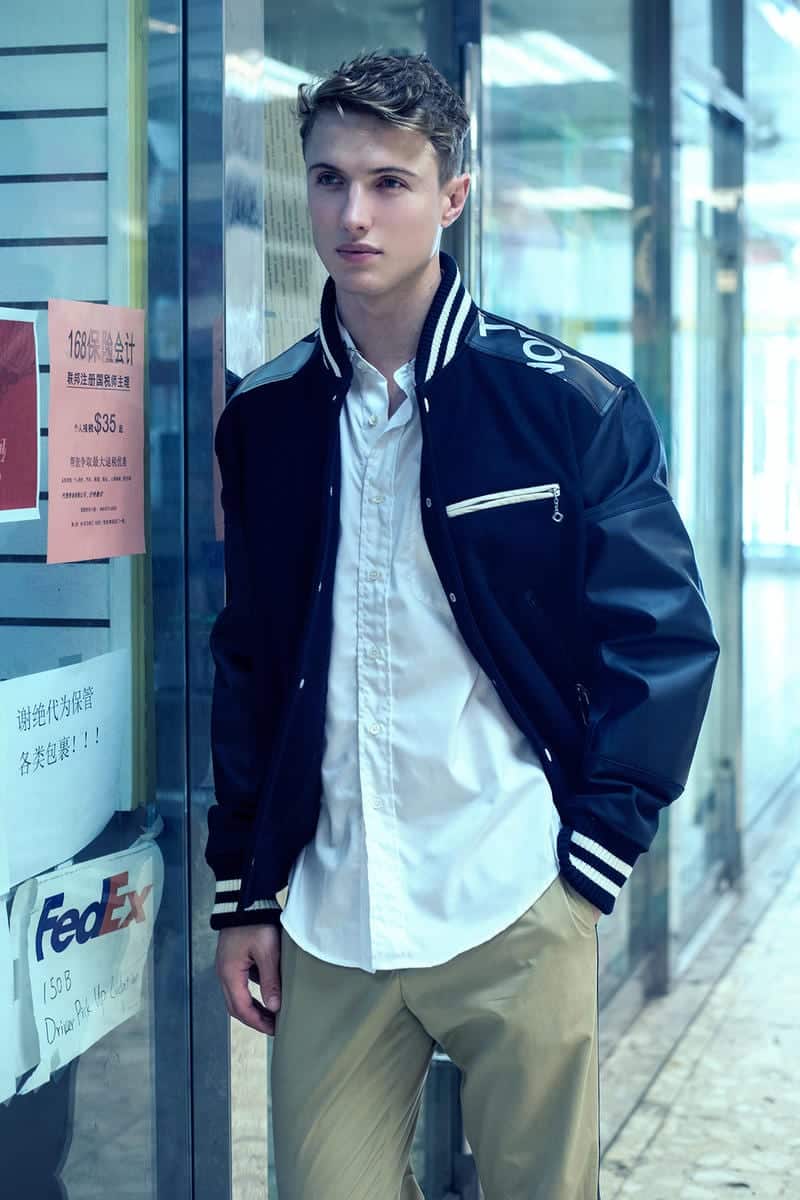 via
↓ 12 – With Blue Jeans
Some well-fitted jeans and box-fresh trainers will help you achieve a versatile and timeless getup that will suit many occasions. This cool and relaxed look is suitable for activities of any type. And there is a thin line between too smart and too rugged.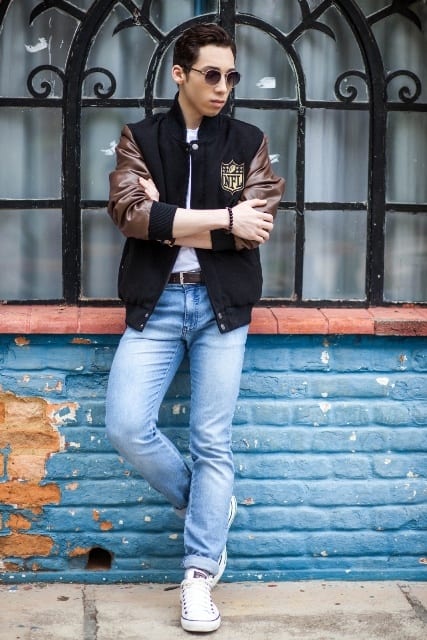 ↓ 11- With Black Jeans
Pair your letterman jacket with black jeans. They look good together, especially when worn with a wool sweater as your undershirt. Finish off the look with some boots. You can invite some glasses to channel some "boy-next-door" vibe.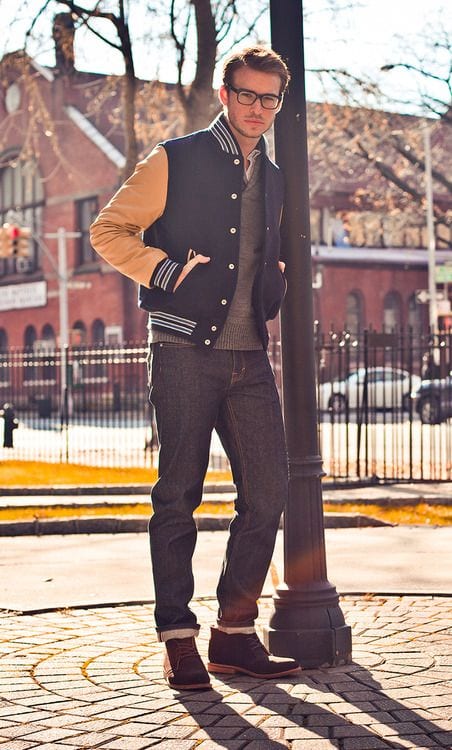 ↓ 10 – With Chinos
When it comes to bottoms, jeans and chinos will equally work well. Limit your options to dark hues and straight fit or slim cuts. You can cuff the legs to your preferred height. For the footwear, try Chuck Taylors for casual and loafers for a slightly more formal or preppy look. Here are some more ideas on Khaki Pant Outfits For Men.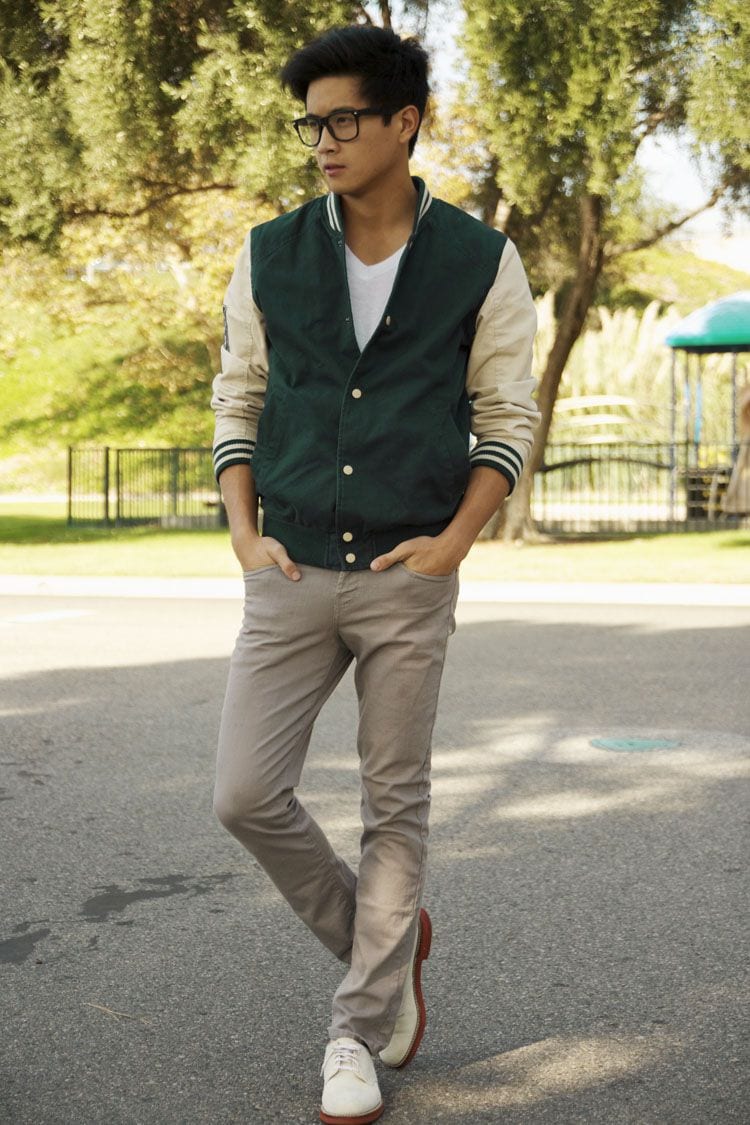 ↓ 9 – With Boots
When the mercury starts to drop, it's time to put away those everyday trainers and sneakers for a while. It's the season to rock some boots, like Chelsea suede or the regular winter boots for men with style. Because after all, you don't want cold feet to ruin your precious moments (no pun intended!)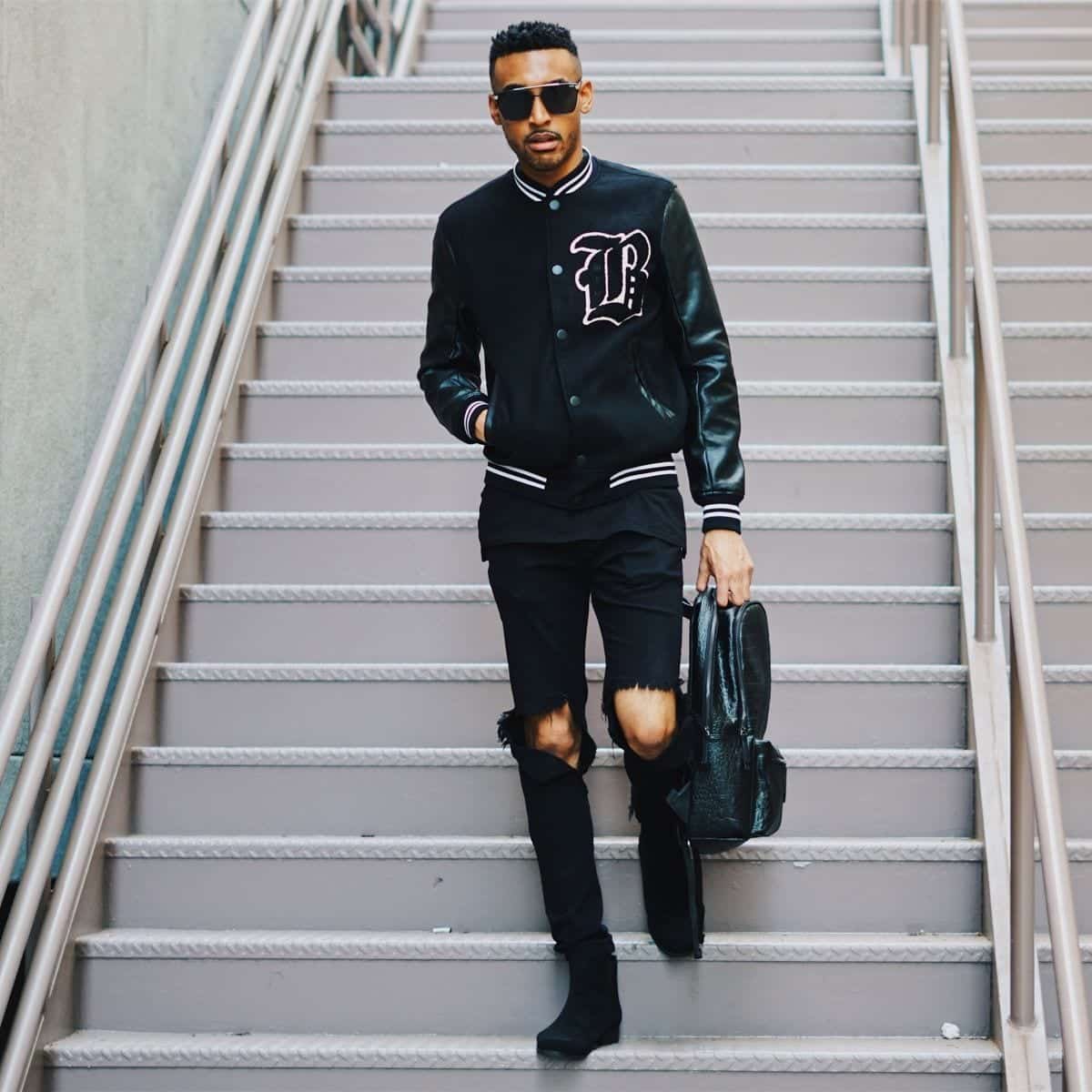 ↓ 8 – College Outfit
You may not be surprised by this entry. Colleges and universities birthed the varsity jackets so they are not a stranger in campuses or otherwise. While it's a no-brainer for a letterman jacket to be appropriate in school, you might still wanna consider how to make the style neat and sharp. You can throw the jacket over a white button-down, and make sure to tuck them in your trousers (wool fabric, in this case). A necktie would also be a nice addition to the team.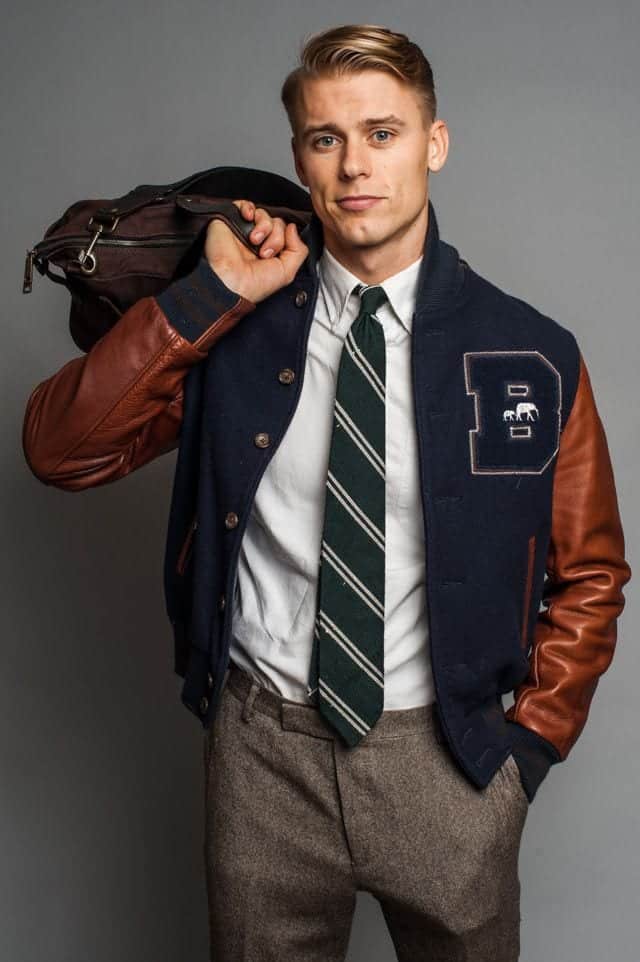 ↓ 7 – With A Hoodie
The varsity jacket has also recently merged with the world of streetwear, meaning it's not a bad idea to wear one with any street fashion piece, like a hoodie, for instance.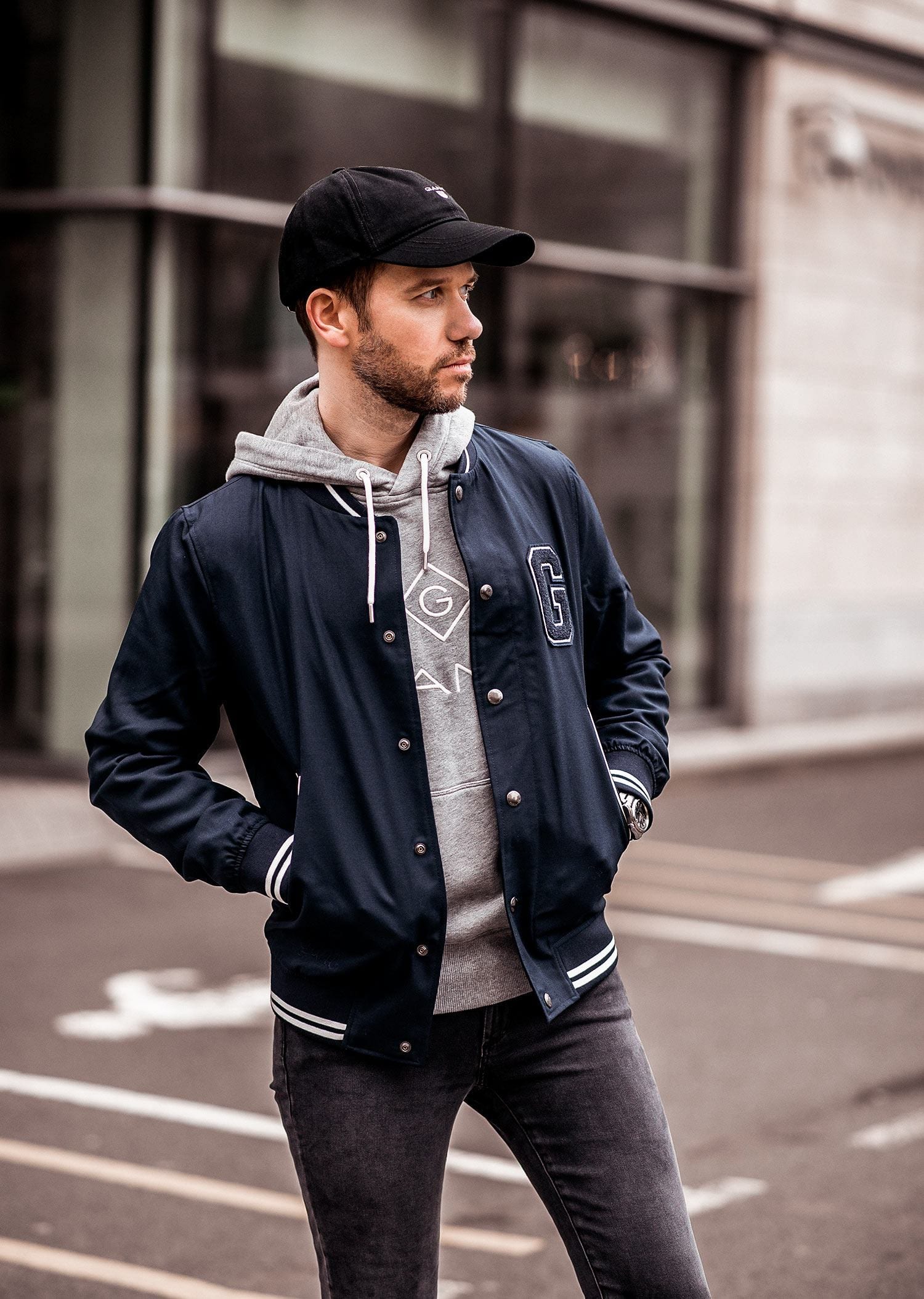 ↓ 6 – For Travels
If you will wear a letterman when traveling, try to stick with comfortable fabrics like cotton and polyester. And do not choose leather when the weather is boiling.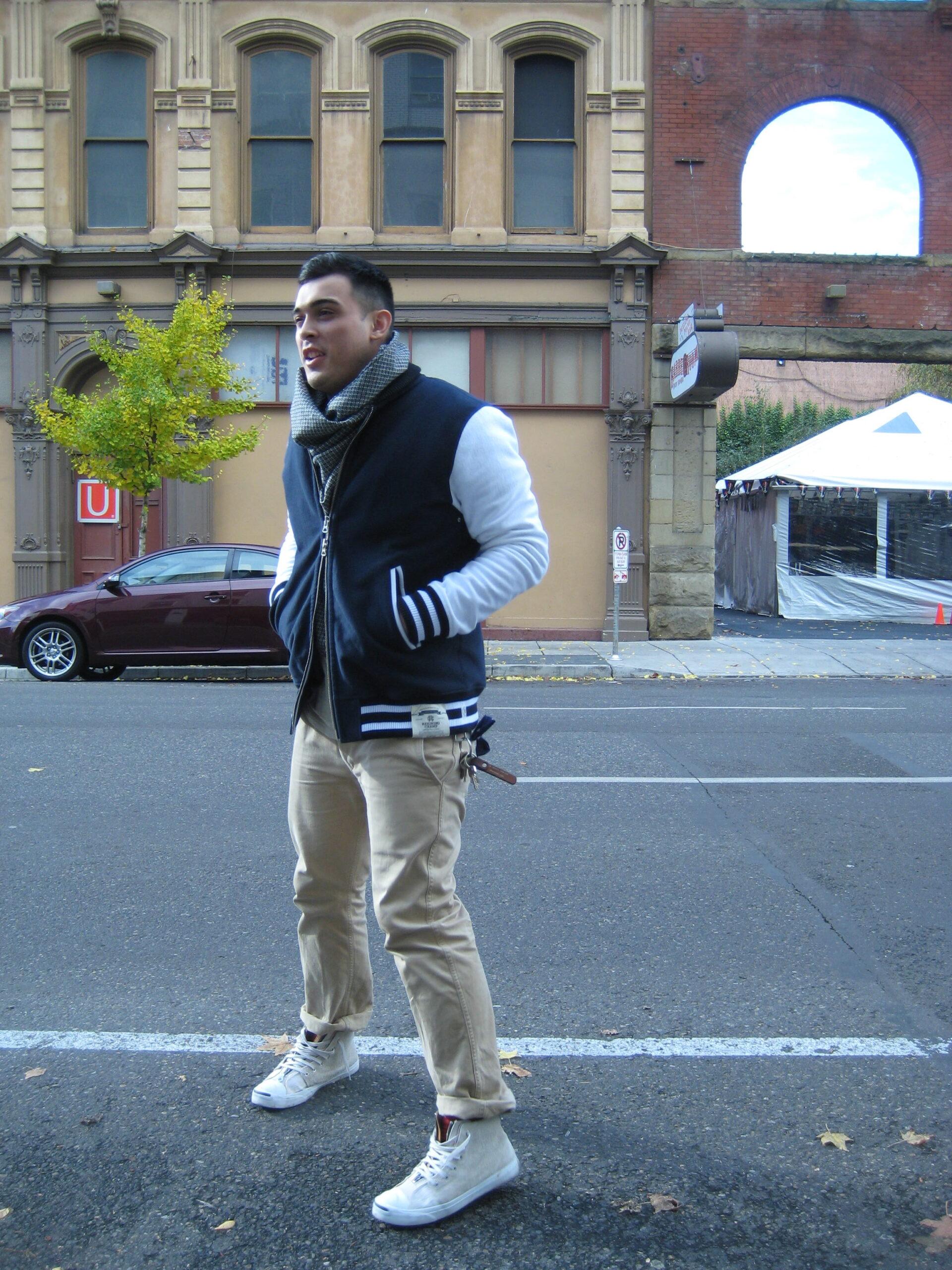 ↓ 5 – With Brogues
Spice things up by adding a pair of classic brogue shoes to the party. This will give you a smart outfit suitable for the office but not too formal to take to after-work dates and hangouts.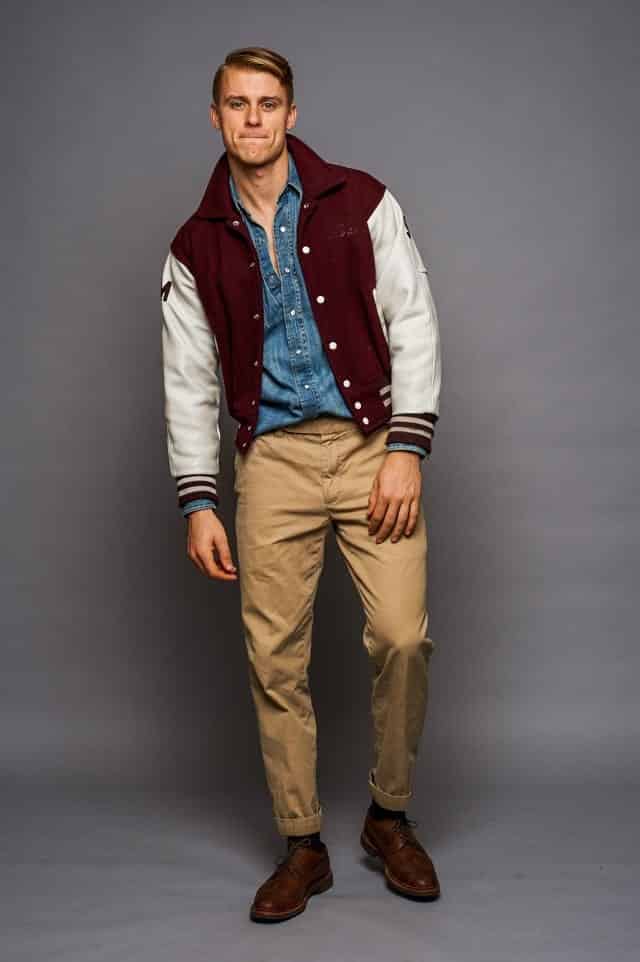 ↓ 4 – Smart Casual
Remember that the letterman jacket is a casual piece, so try to balance it out with some smart trousers if you plan on wearing it to the office. Choose a cool, monochrome color design, then add a button-down shirt underneath and then pair them with grey or navy chinos.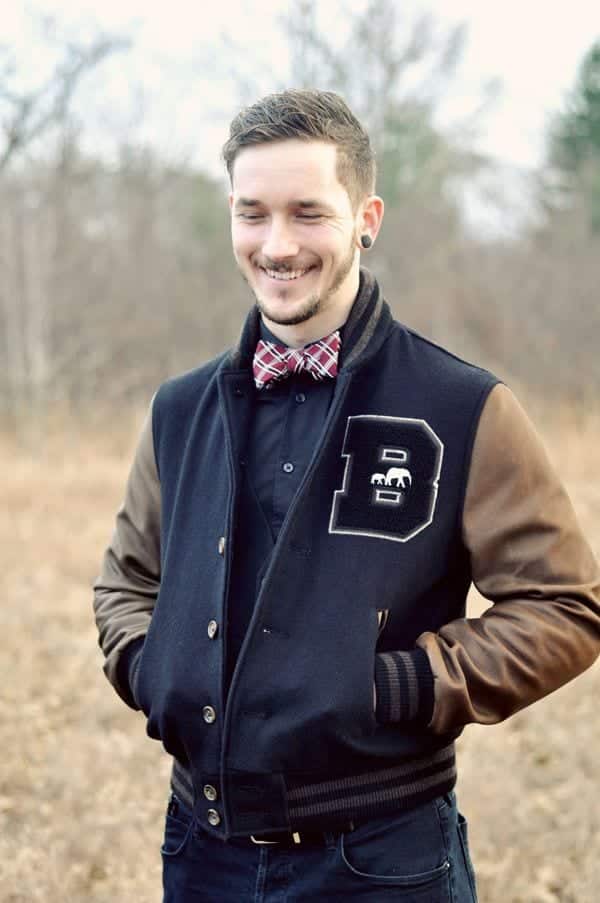 ↓ 3 – Streetwear
The varsity jacket is capable of giving off the urban aesthetic of modern streetwear. Go for sporty designs that show '80s nostalgia, and team them up with black jeans in relaxed or skinny fits. But if you want to level up your ensemble, get a varsity jacket design with a noticeable embroidery on the left breast, wrists, or waist.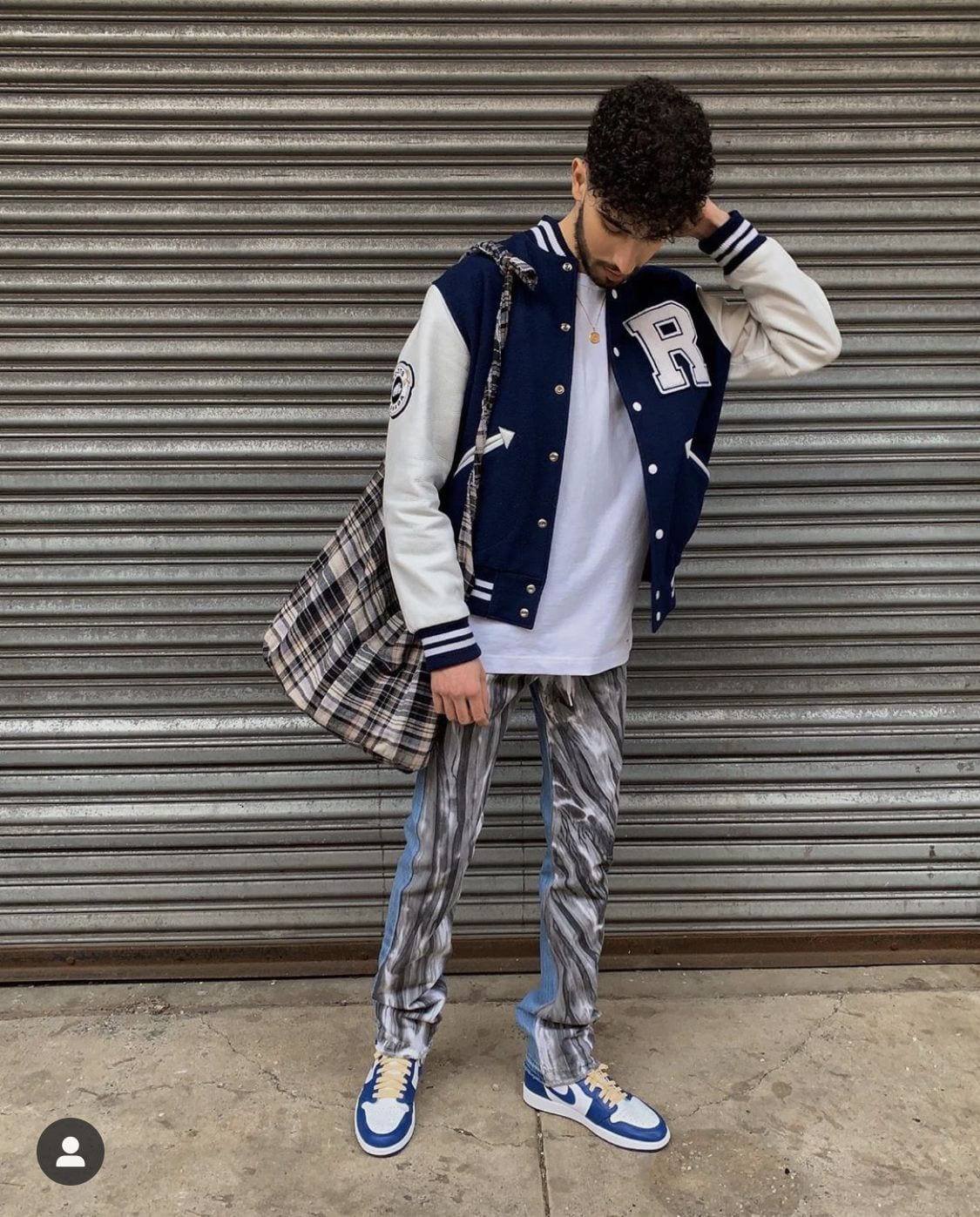 ↓ 2 – Winter Outfit
Try to wear it with a scarf in colder months. Tip: match the color of the jacket to the scarf itself.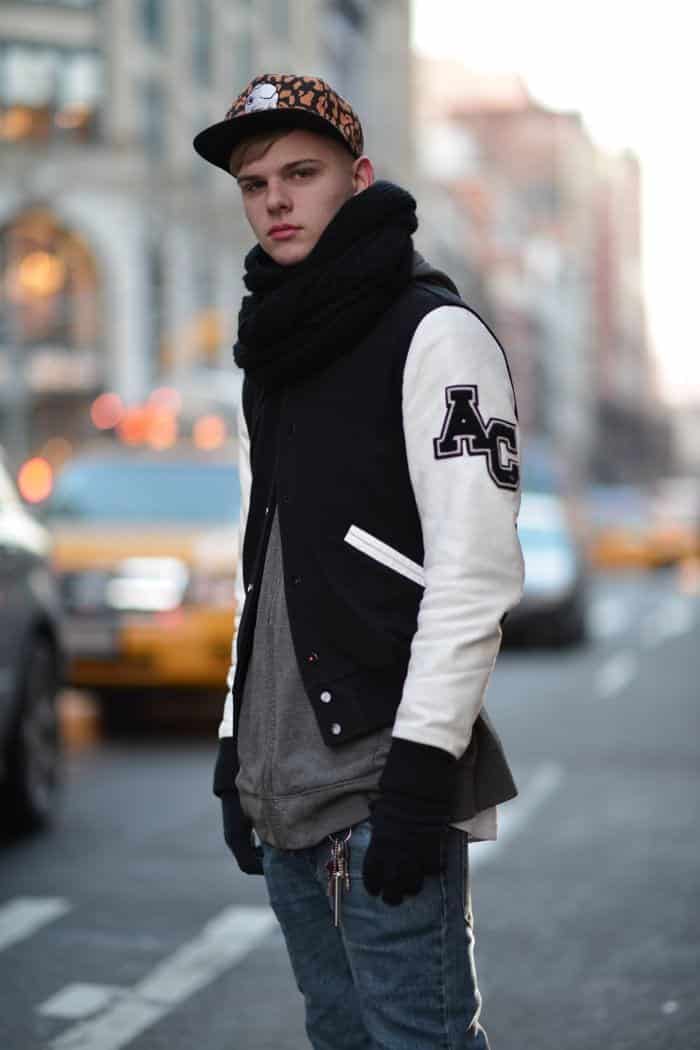 ↓ 1 – Office Wear
Wear a letterman jacket to your work unless the boss prohibits it. And a blazer would always be there to have your back. Save the varsity jacket for the after-shift gigs e.g. drinks, dates, etc.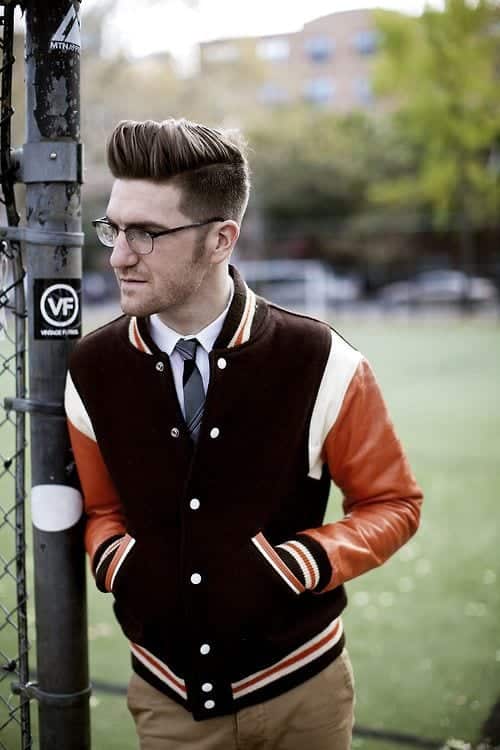 The varsity jacket has a rich origin, making it a worthy addition to your jacket collection. It's also surprisingly versatile, provided that you will stick with basic tones. From less formal occasions to more dressed-up situations, you can easily pull off this classic American wear with style.
Frequently Asked Questions
Q. Are varsity jackets in style?
A. In the 1980s, men no longer had to be an American jock to don a varsity jacket. The letterman jacket was welcomed as a fashion staple on both sides of the Atlantic. It became famous when Michael Jackson wore an iconic red varsity jacket in his Thriller video. The classic varsity jacket is still a fashion favorite amongst the celebrities today – with Drake, Justin Bieber, and Zac Efron, to name a few.
Q. How is a varsity jacket different from others?
A. The varsity jacket is commonly confused with some other jackets out there, particularly the bomber jacket, as they look almost the same. They both have a collarless design and an elasticated hem. However, the varsity jacket differs in a way that it features two or more contrasting colors. Also, most varsity jackets are made up of a wool body with leather sleeves.
Q. Does a varsity jacket look good on older men?
A. They are generally seen in teens. So, you might find it more challenging to wear varsity jackets when you are in your mid-thirties. But Jeff Goldblum and Jay-Z look just fine in them, especially in muted black-and-white versions.
Q. Where can I buy affordable and good varsity jackets?
A. For a sporty and streamlined take, check the Oregonian sportswear brand Nike for the finest options available. Meanwhile, Swoosh's modern versions use up-to-date fabrics and designs. You can also try the Spanish brand Zara to look from a wide option of stylish basics, ideal for building a wardrobe.
Q. Are varsity jackets versatile?
A. Varsity jackets belong to the category of the most versatile pieces of clothing out there. It is perfect for pulling off various looks and is suitable for multiple occasions. The letterman jacket's iconic appeal has lasted for over a century already. This fashion must-have also became popular because of its ability to suit wide outfit options for different occasions, pairing well with casual separates and smart work pieces.
Q. Can you dress up a varsity jacket?
A. If you want to dress it up, try wearing a black varsity jacket with a shirt and smart jeans. But if you're going to do this, you should follow a few simple rules. First off, your jacket should have a classic design – that means they should have a woolen body, leather sleeves, and a big initial embroidered on the left breast. But the good catch here is you're not limited to wearing plain colors. In fact, you can always go for brighter ones.
Q. What colors look best in varsity jackets?
A. Try a varsity jacket in pastel colors for a fresh look. Pastels will add a touch of modern look to your wardrobe without overpowering it. It will ensure your varsity jacket will still be the main focus of your outfit.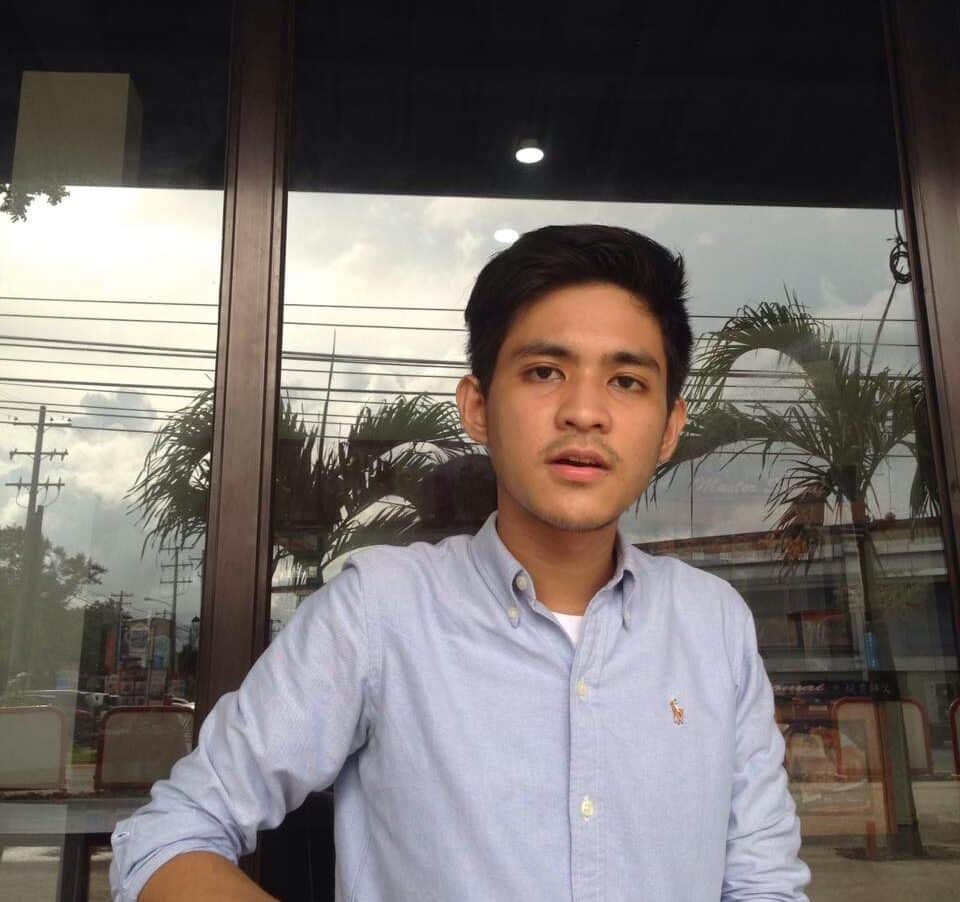 John Vincent studied Communication Arts in the Philippines.
Growing up, he's always had an eye for aesthetics. He enjoys writing a lot. Books, TV series, and movies are a big part of his life. His all-time favorites are Harry Potter, Game of Thrones, and Marvel films.
He believes that fashion is a pure form of art. You express yourself through your personal style – it's something you can't replicate.