Men's Outfits with Suspenders – Suspenders or suit braces are long strips of fabric that have the job of holding up your trousers. Men use them by attaching them to their pants with suspender clips or buttons.
Before World War I, the only known and accepted garment for holding up trousers was suspenders, also known as braces. Belts, on the other hand, were only used for military uniforms as an accessory. The leather belt is a recent invention in garments. And it's almost impossible to see a well-dressed man without a belt these days.
On the other hand, Braces have always been a great addition to men's attire, and it is not as rare to see as you may think. They are made in materials like pure silk or synthetic rayon. Suspenders are very useful in any outfit where a neat dress code is required.
You can wear suspenders in an X, Y, or H shape, depending on which one gives you the best comfort and support. Firefighters mostly wear the H-shape ones, but X and Y are the universal suspender styles. You can also style them the unconventional way: instead of draping the suspenders over your shoulders, let the straps fall to your hips.
The set of men's braces initially performed the role of what the belt does nowadays, and at that time, the belt was more of a fashion accessory than offering a practical use. But how do you wear braces? Latest men style with suspenders? What outfits to wear with suspenders and for what occasion? What shirt color can be worn with it? We have brought these 20 ideas to answers these queries.
Some may think that braces are plain black and the only choices they have are the thickness of the strap. However, this is definitely not the case. Braces, now making their mark in the fashion world, are found in different colors and patterns, so discovering a set to go with your chosen outfit is even more comfortable than ever — no need to stick to the original black. However, black does give off the vibe of sophistication.
Tips on Wearing Suspenders
First off, consider the following when getting your new suspenders: length, width, material, and leather.

Most suit pants have interior buttons that are meant for attaching braces. And for pants without buttons, you can just sew them in yourself.

Today, you can find different sizes – from skinny to wide braces. If you want to invest in one or two pairs of suspenders, opt for a mid-range standard width.

Mixing patterns is a very modern move. You can combine patterned suspenders with a printed shirt, but avoid clashing too much. Mix finer prints with broader patterns.

Be sure that the suspenders' fabric goes well with the rest of your outfit.

Start with solid-color suspenders. Remember to showcase the suspenders, not hide them as they are used to. Find suspenders with printed designs that accentuate the best parts of the outfit.

JJ Suspenders

editor suggested that you choose a pair with a looser fit. If you want to wear a button-on pair, you can sew the buttons inside your pants' waistband. You can also buy trousers (or shorts) that already come with suspender buttons.

If you're wearing a solid-colored shirt, wear any suspenders you want. But if you're going with bold-colored suspenders, you can choose from neutral, complementary, or contrasting colors. The general rule: suspenders should always be darker than your shirt.
What to Avoid
Do not wear suspenders with pants that don't need them unless it's really necessary for your body type.

Make sure you are not wearing the buckles too high up on your shoulders or too low down by your waist. The ideal placement is around mid-way down your torso or sitting around your tie's middle point.
Suspender Outfits for Men
Even though the colors of braces are full in choice, it should be remembered to choose a style and color that compliments your outfit. In other words, don't run the risk of looking like you belong in the big ring with huge shoes and a red nose just because you have picked red and yellow multicolored braces with your white shirt. You want to be taken seriously as well as pull the braces look off. So keep your look simple and the brash colors and patterns for the fancy dress parties. Why not leave top buttons undone and wear Timberland boots or other styles of ankle boots. Not only is this an easy touch that will not break your bank balance, but it will also denote masculinity and a hint of attitude.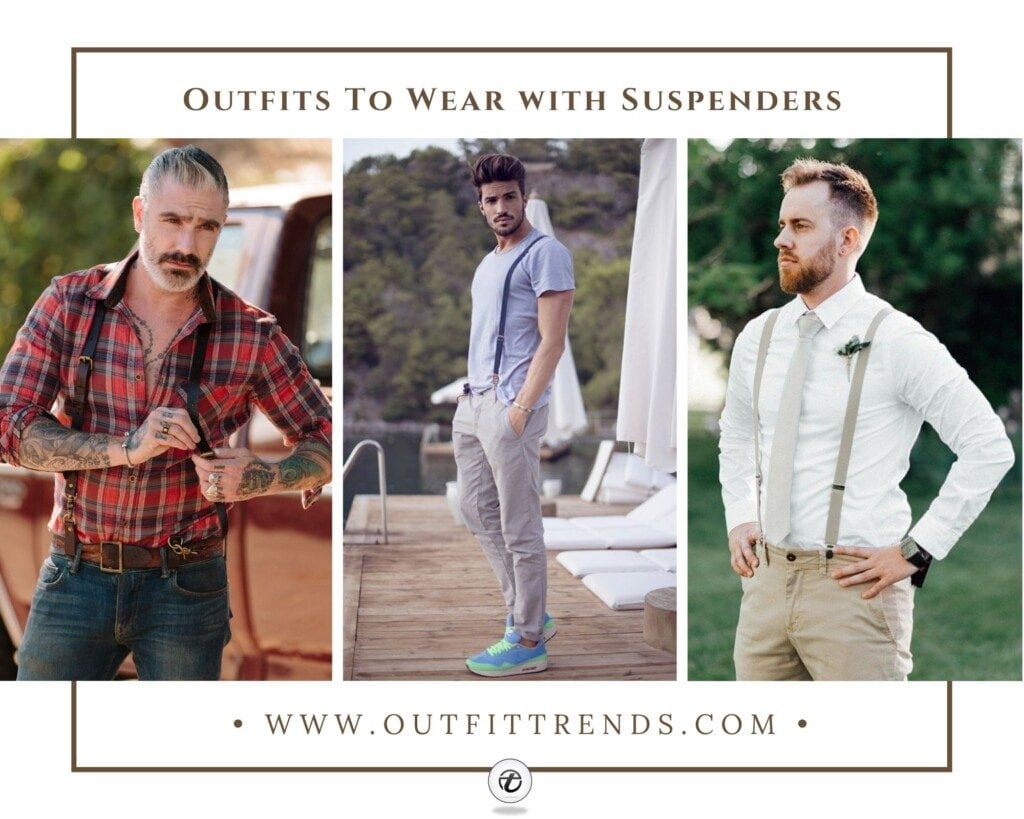 ↓ 32 – Formal Style
If you want to wear suspenders with your office attire, the foolproof option is to start with a pair in a classic hue like navy or black as they coordinate with your shoes. Wear suspenders with a vest, and it adds an extra uniqueness to your look.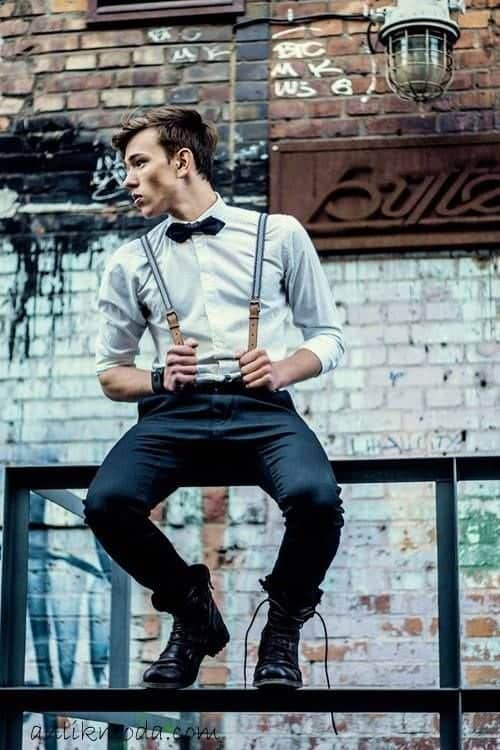 ↓ 31 – With Flannel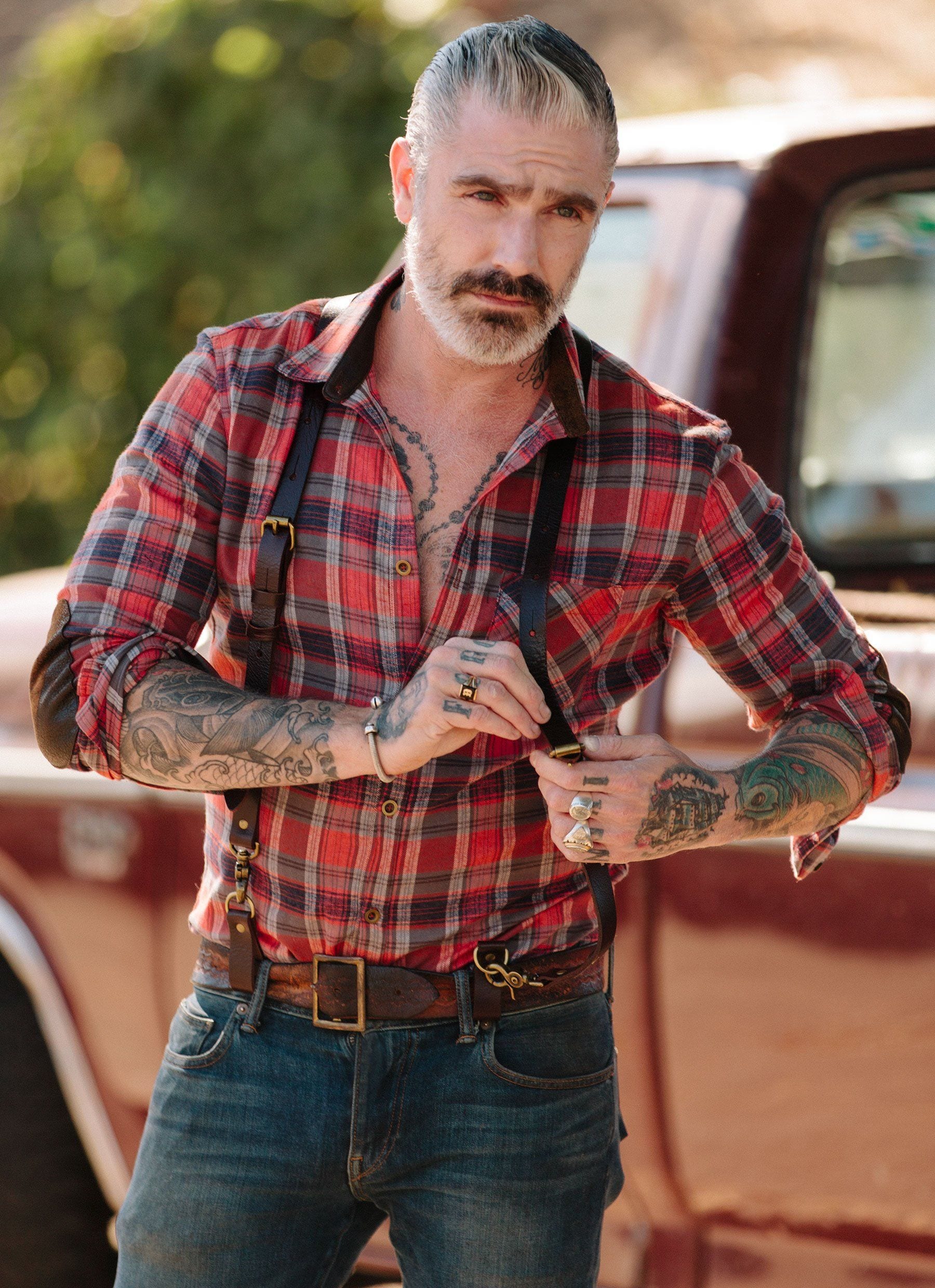 ↓ 30 – With Dress Shirts
Well, most commonly, white shirts are the perfect choice for braces. But over the last few years, new trends have come up. Fashion bloggers have given it a unique style. Now you can wear casual clothes too of any shirt type.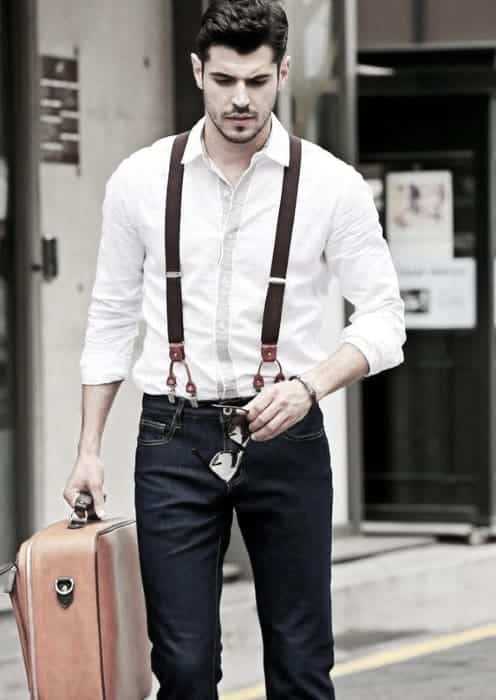 ↓ 29 – With Polo Shirts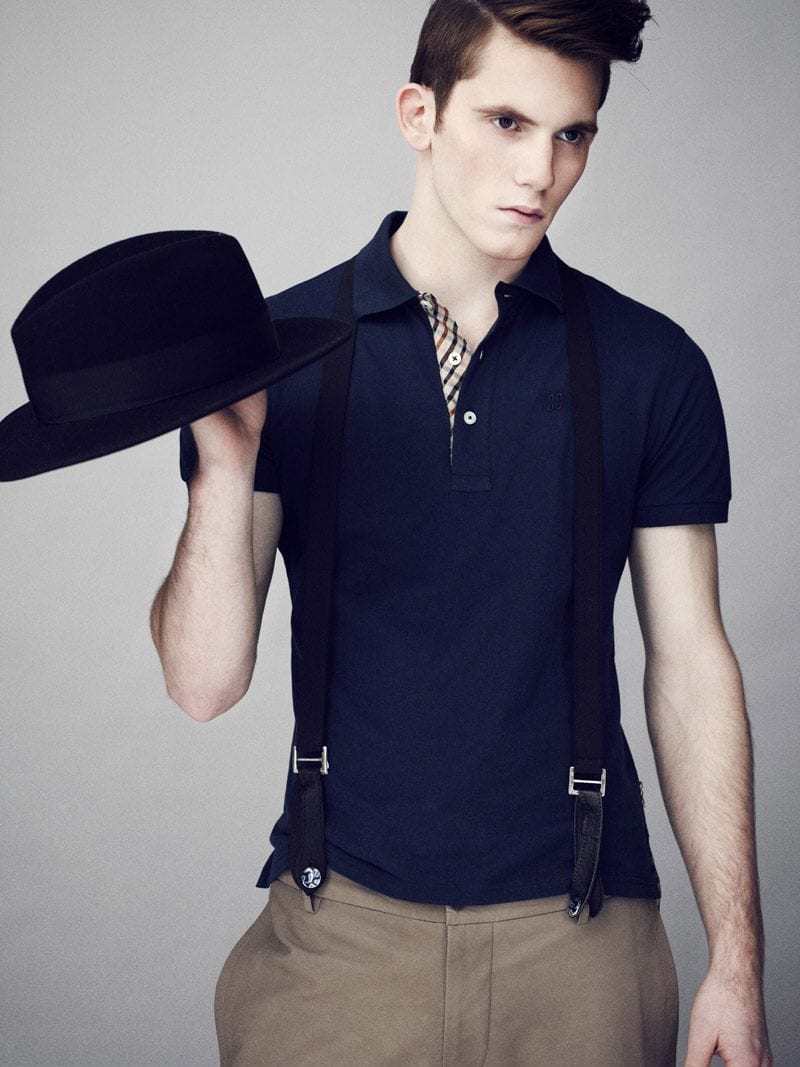 ↓ 28 – With Tees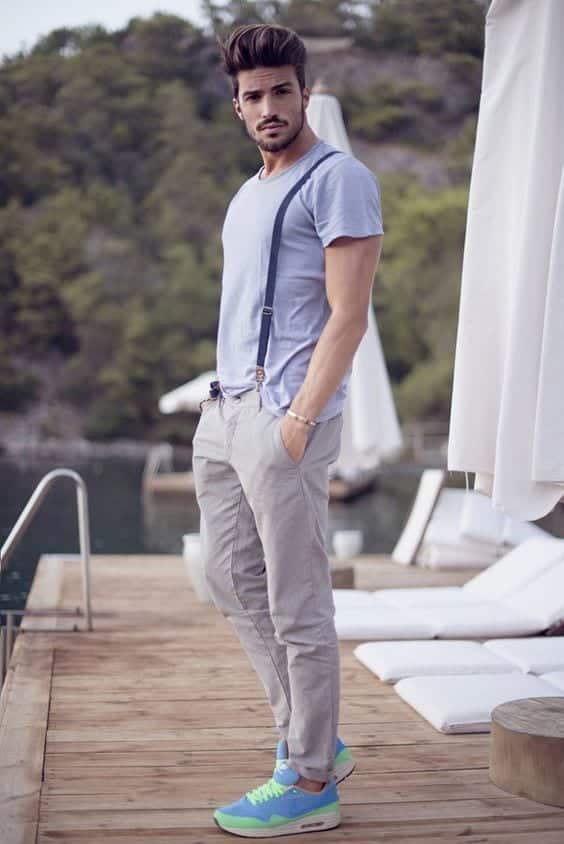 ↓ 27 – With Blue Jeans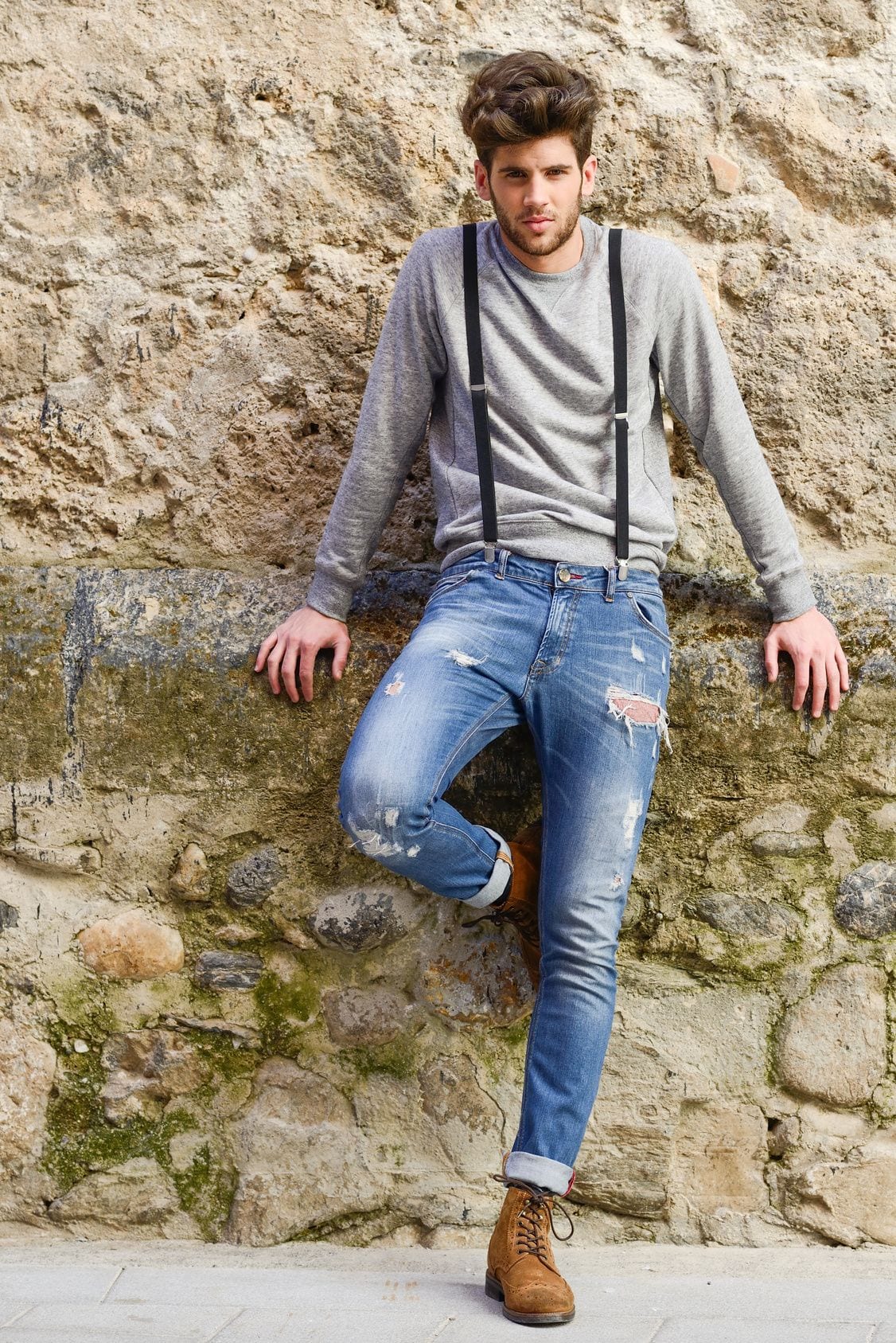 ↓ 26 – With Black Pants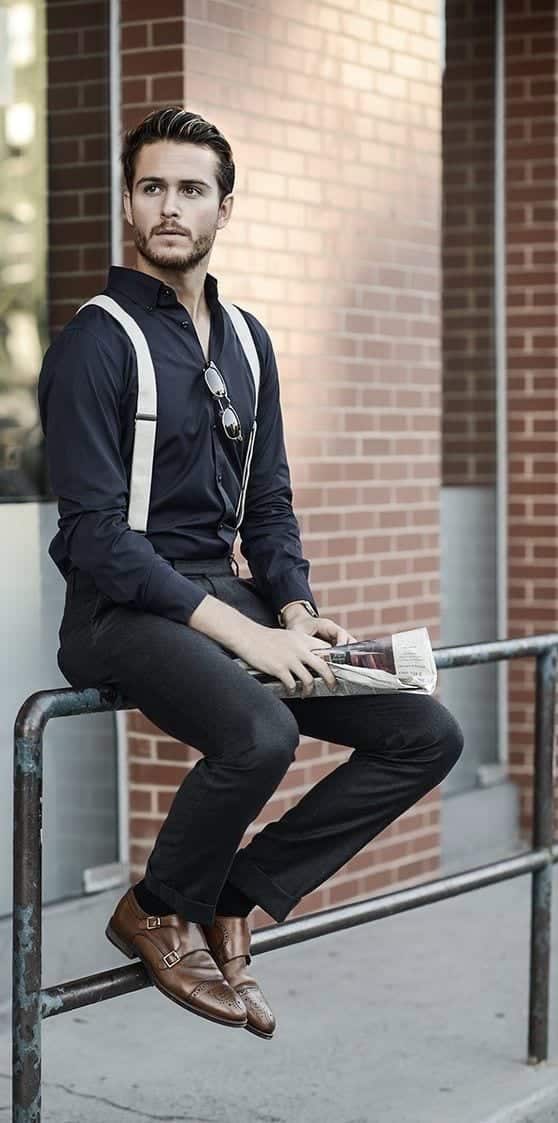 ↓ 25 – With Chinos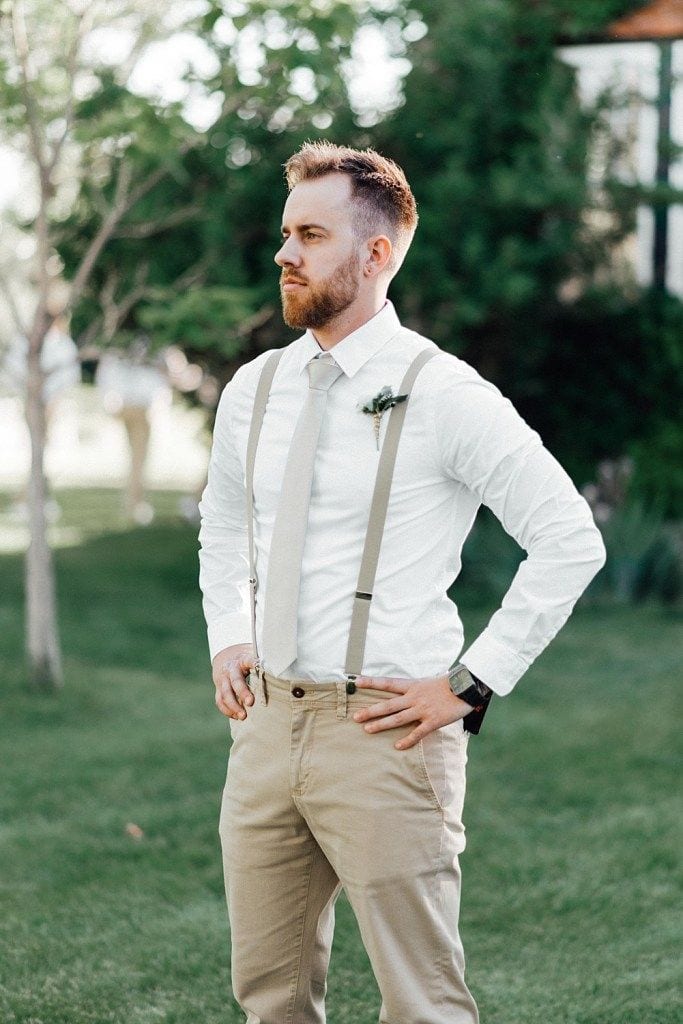 ↓ 24 – With Shorts
Just because suspenders are commonly worn with pants doesn't mean it's the only way to wear them. Attach them to your shorts, and then wear them with a T-shirt.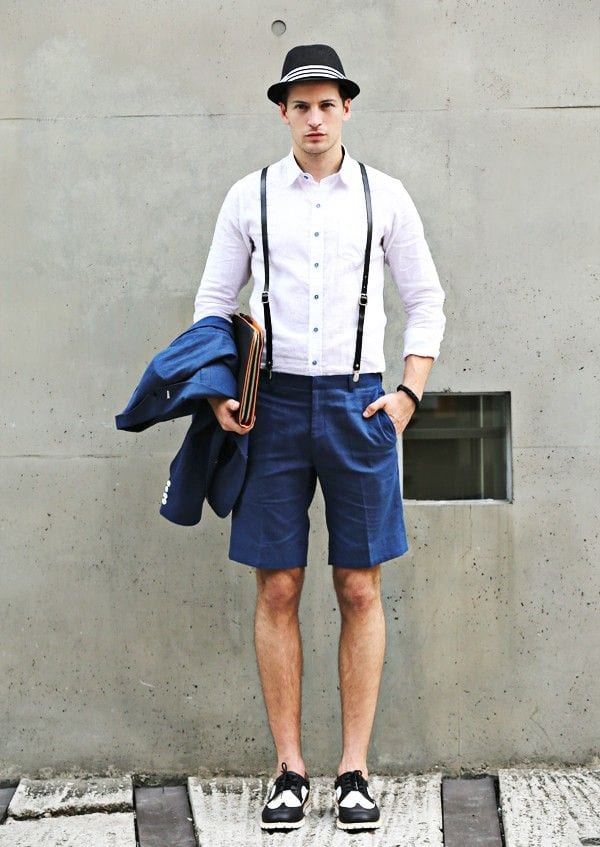 ↓ 23 – For Weddings
Suspenders have long been a staple for a wedding groom. It has undergone a lot of changes, from conventional to a more playful and personal side.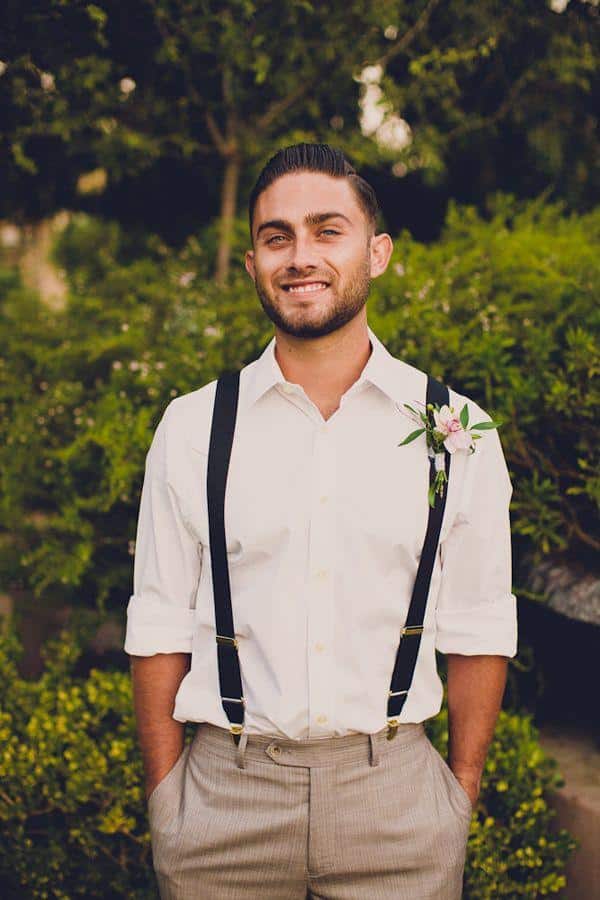 ↓ 22 – With White Pants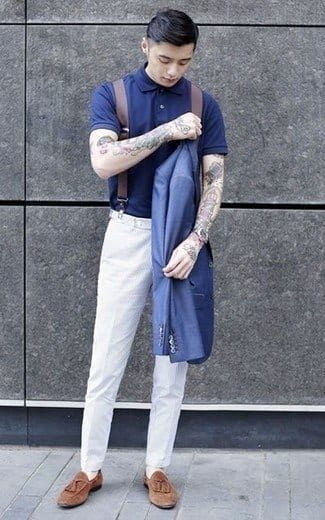 ↓ 21 – With Plaids
↓ 20 – Casual Wear
Use thin braces with a pale blue shirt, dark jeans, and brogues to break up the colour. Hats with a matching thickness of ribbon will compliment braces beautifully.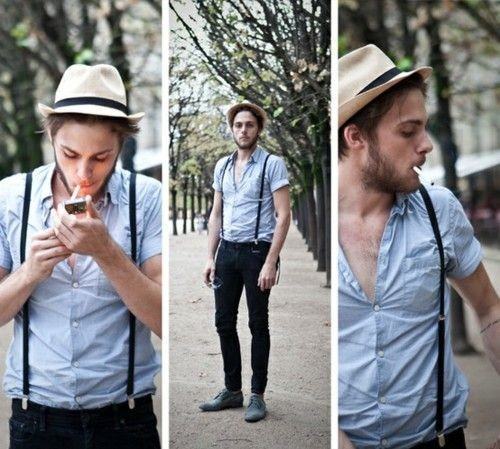 ↓ 19 – Braces With White Shirts And Dark Blue Jeans
They are always a winning style. Complete this with burgundy stripe braces and ankle boots. The stripe pattern on these braces is acceptable as the blue matches the jeans. Finish this look with shades.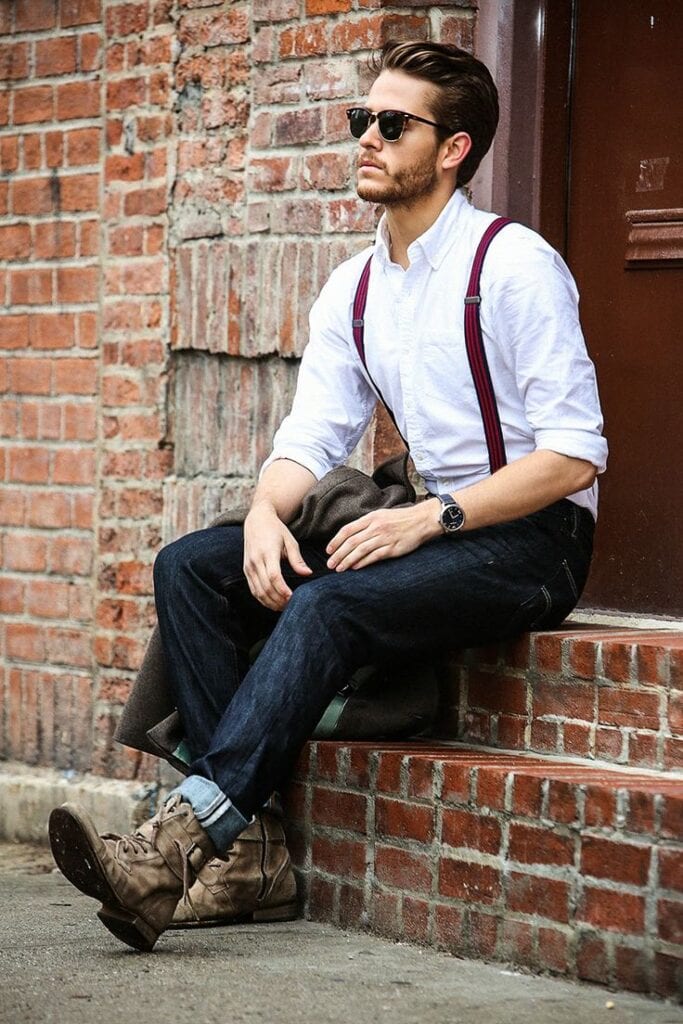 ↓ 18 – With Check Shirt
A casual look with braces to match the colors in the shirt. Skinny jeans are of a contrasting colour, and hair is combed nicely to one side.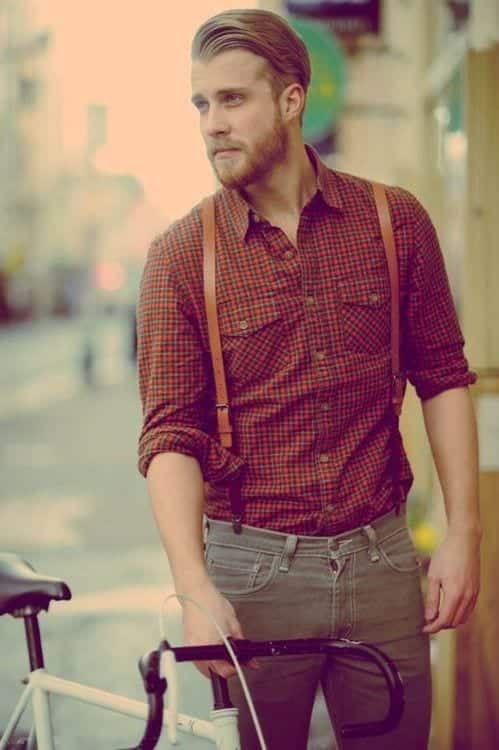 ↓ 17 – Smart Casual
Simple long sleeve white top with blue jeans and brown brogues. Dark braces to complete this style and a nice rugged hairdo.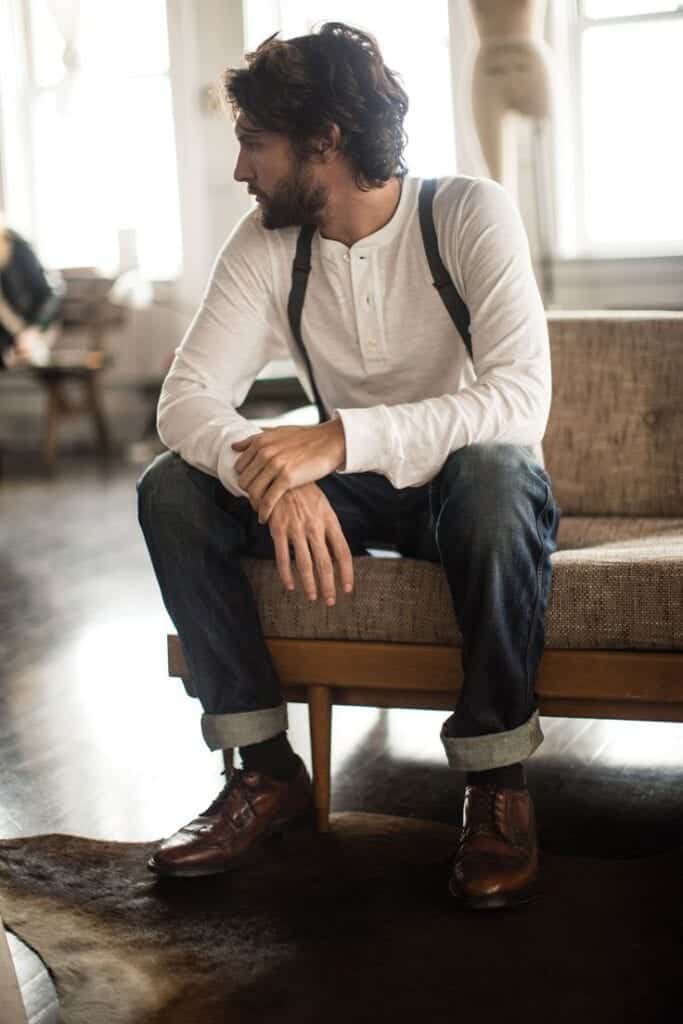 ↓ 16 – Street Style Look
White shirt, unbuttoned with black suit trousers and matched with thin brown braces, brown trainers, and flat cap. These items make for a more laid-back and casual outfit.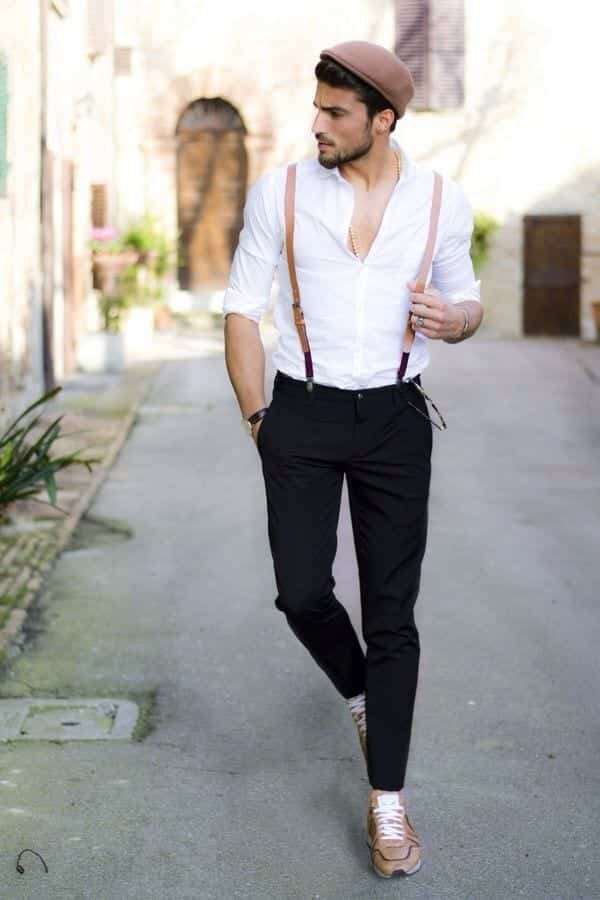 Also See: 18 Men outfits with Sneakers
↓ 15 – Fashion Blogger Style
Great look with rolled-up trousers over timberland boots. Blue shirt over a plain white t-shirt and matched with dark blue braces. Simple but effective style and a great look for students.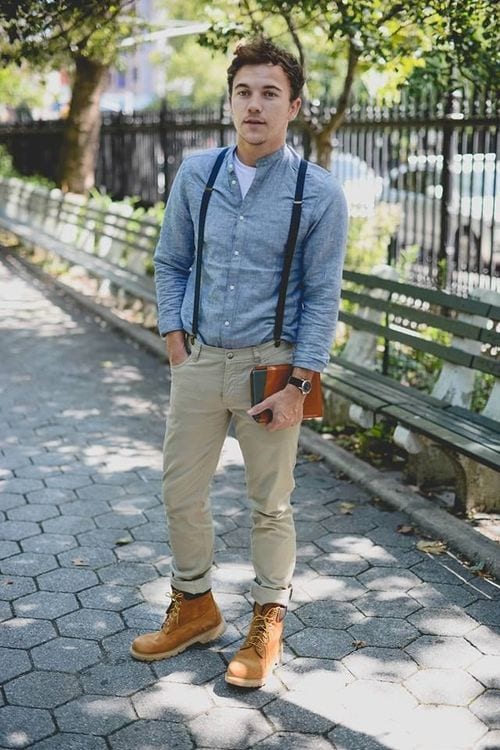 ↓ 14 – Yes, You Can Wear It On Beach
I'm sure most women would like this way of wearing braces. So simple but yet oh so appealing. White vest and black trousers with black slit braces. It couldn't be easier!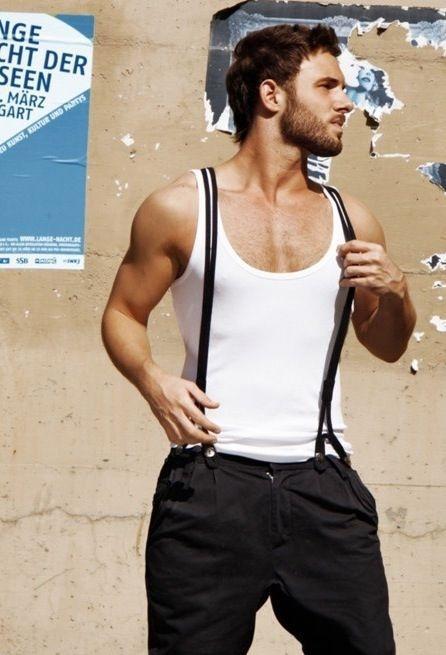 ↓ 13 – The Braces And Bow Tie
They are the key features of these trousers and shirt combinations. The tartan bow tie and the plaited braces with buckles look stunning in this outfit.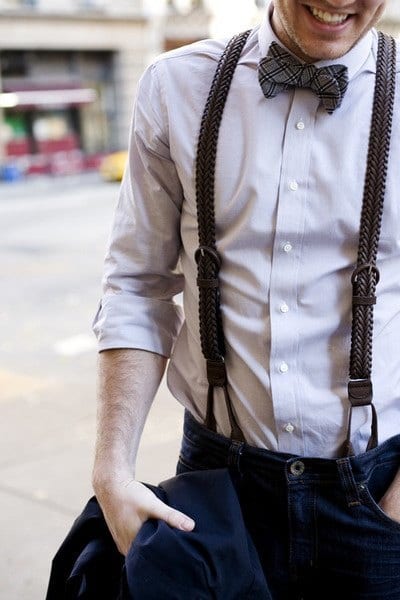 ↓ 12- White Half-Buttoned Shirt
Pair it with black rolled-up jeans. Match this combination with pale grey braces for subtle color contrast. Use brown leather and suede brogues and matching driving gloves for a quirky look.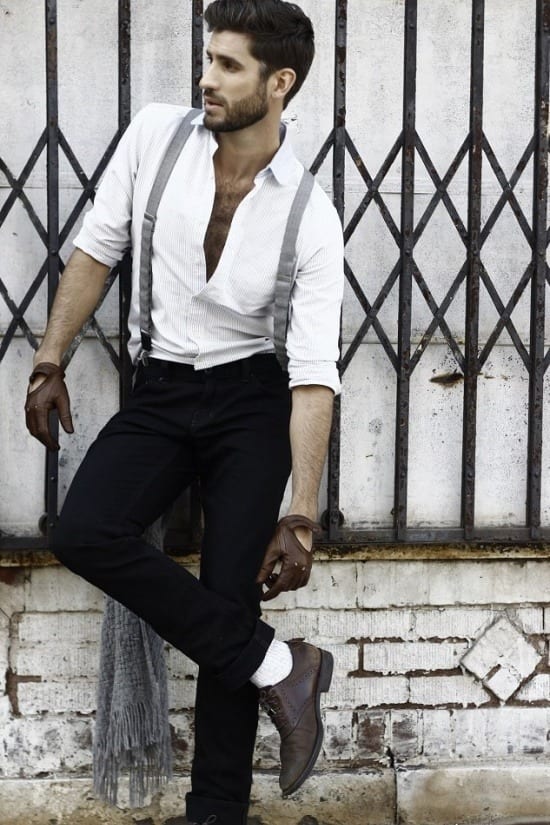 ↓ 11- Barbershop Style
Gorgeous look incorporating checkered shirt and jeans with a black waistcoat. Touches of red in the hat, bow tie, and patterned braces make this outfit stand out.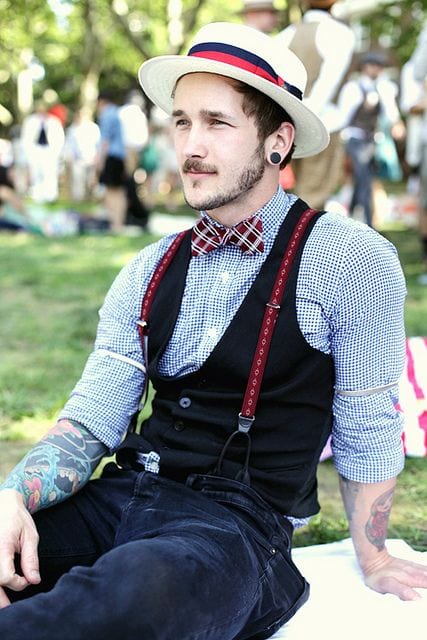 ↓ 10 – MDV Italian Men Style
Braces can sometimes be worn with a jumper if done so correctly. The casual wearing of braces here will break up the jumper color and brighten up the overall look. Finish with ankle boots for a touch of attitude.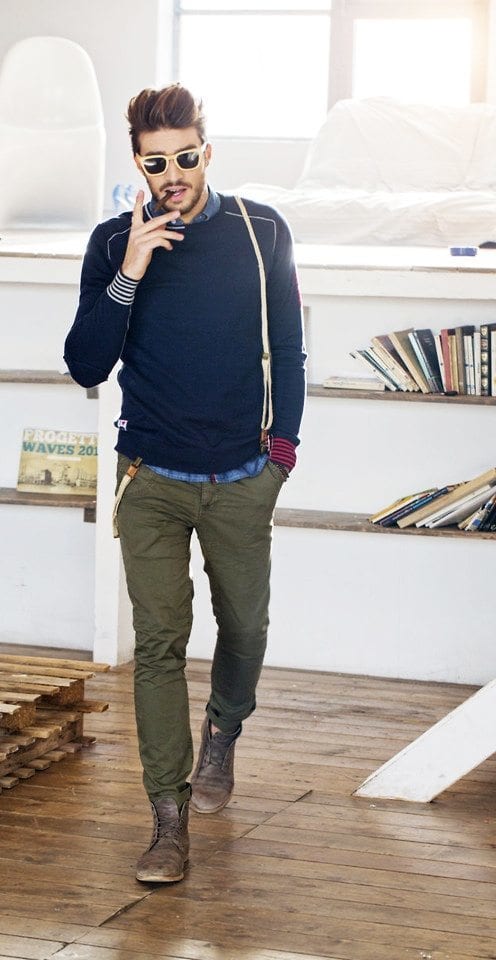 ↓ 9 – Formal Style
Perfect for weddings or any other formal engagement without the need for a tie. Pinstripe suit with white shirt looks amazing, and the braces create a feature, so there is no need for a tie unless you plan on wearing the jacket the whole time.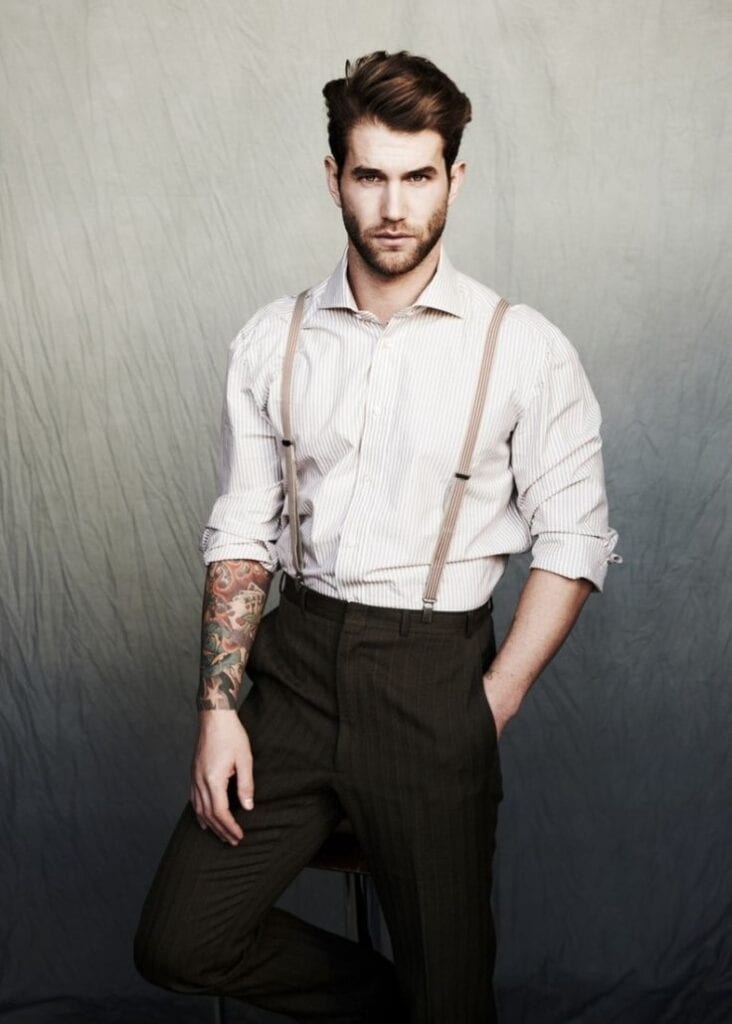 ↓ 8 – Plaited Braces and Bow Tie in Full
The flat cap, bow tie, braces, and oxford shoes match in color palette and are broken up by the blue jeans. Perfect city look.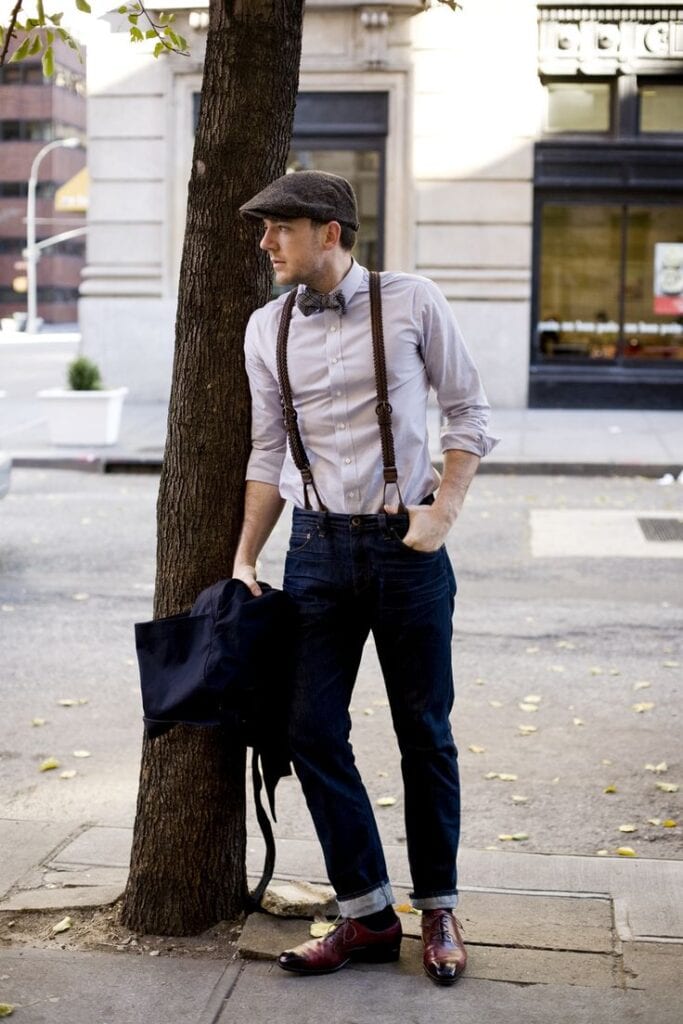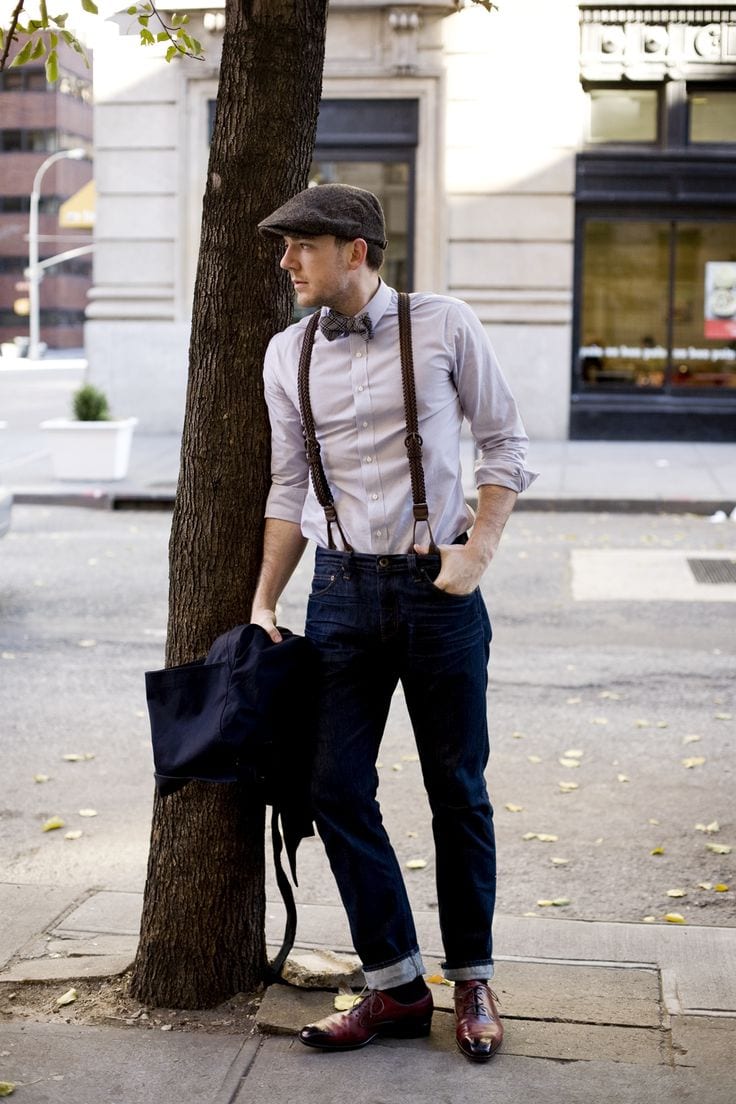 ↓ 7 – Office Wear
Pale blue shirt contrasted with dark gunmetal grey trousers and matching square end tie. Pale striped braces are perfect for this look as they do not overwhelm the colors. Finish this look with a trilby or fedora style hat and brown polished buckled shoes.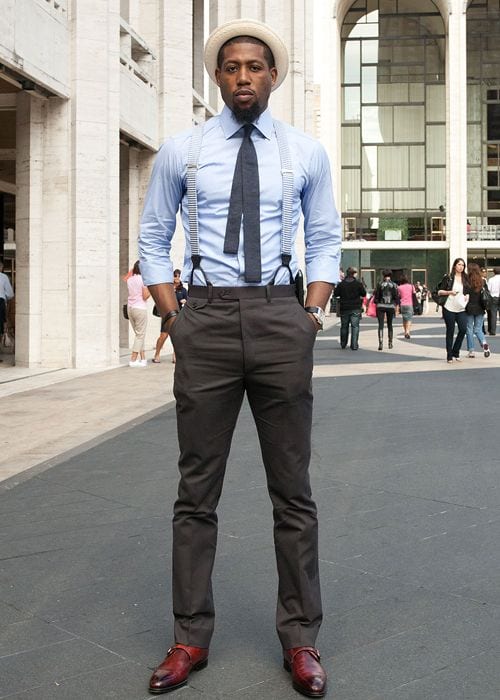 ↓ 6 – Classy Style
Black patterned shirt with blue jeans and stunning brown ankle boot brogues. The white stripe braces complement this look by matching the white top under the shirt and breaking up the colour.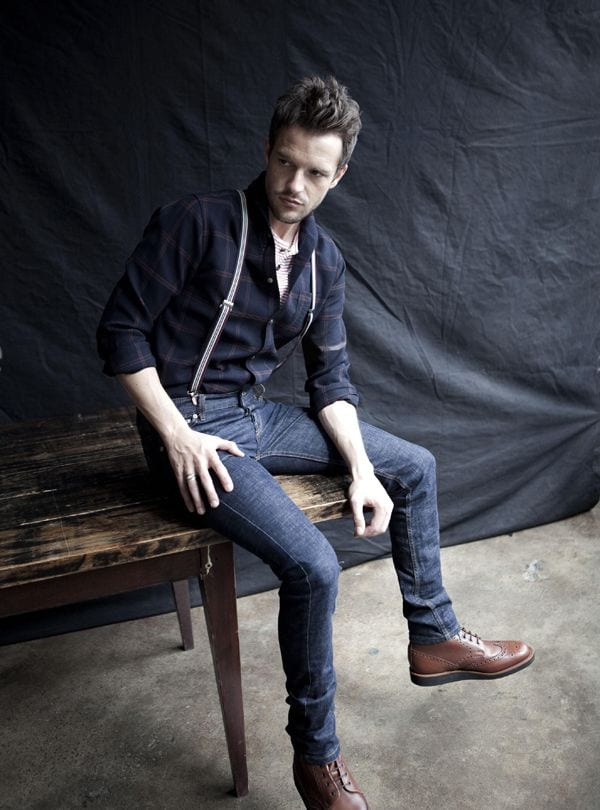 ↓ 5 – Stunning Summer Style
The red braces for this outfit stand out and compliment the colour palette. However, personally, I would not have them as thick. A thinner red brace would give that perfect amount of colour for this lovely summer look. The classic shoes finish this look beautifully.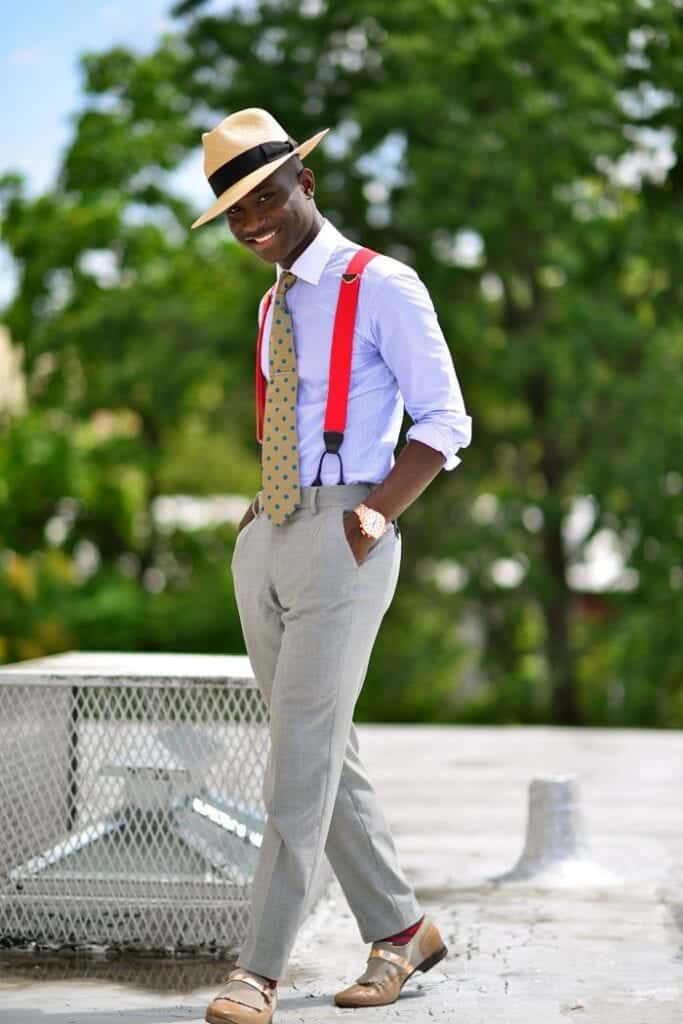 ↓ 4 – Button Features
Lovely blue shirt with dark blue bow tie and matching pinstripe trousers. The brown braces match the shirt buttons perfectly and have impressive buttonhole features, making this outfit stand out.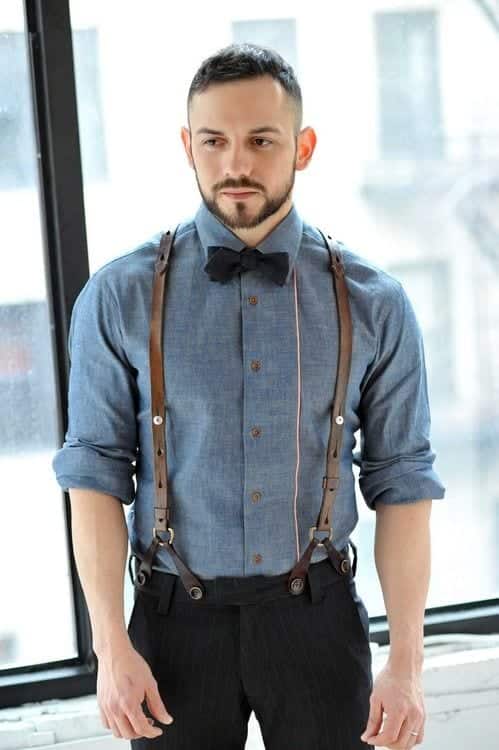 ↓ 3 – Simple Casual Look
Long-sleeve top with blue straight-fit jeans. Complete this look with brown ankle boots and tan-colored braces.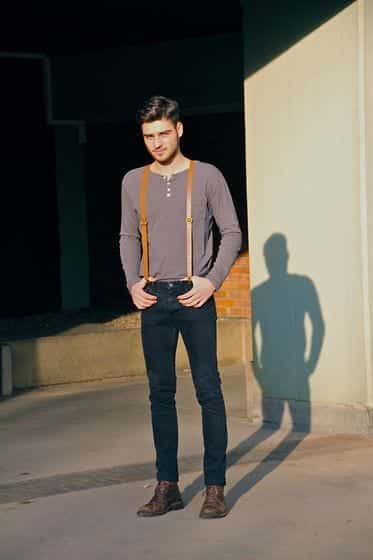 ↓ 2 – Unique Way!
Why not wear your braces down? There is no need to keep them on your shoulders, so use them as a great accessory that will enhance your style and look amazing.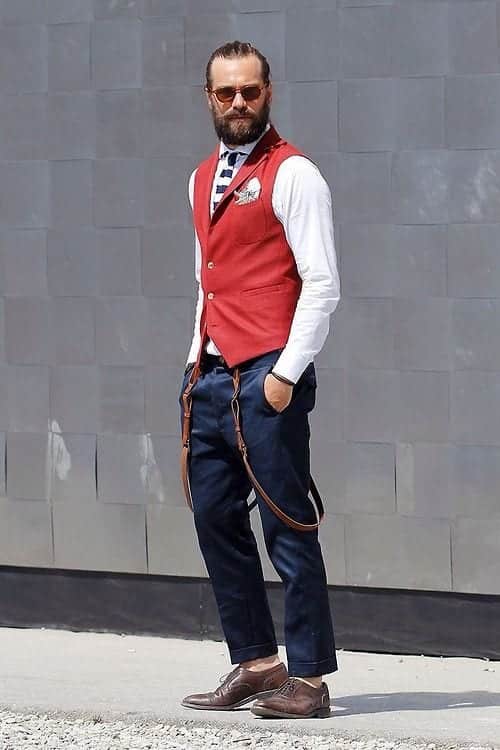 ↓ 1 – Stripes
How to do it without looking like a clown. The red and blue stripes match the paisley tie and go hand in hand with the blue suit. Broken up by the white shirt and accessorized with black shades and a nice watch, this is a great way to wear those stripey braces.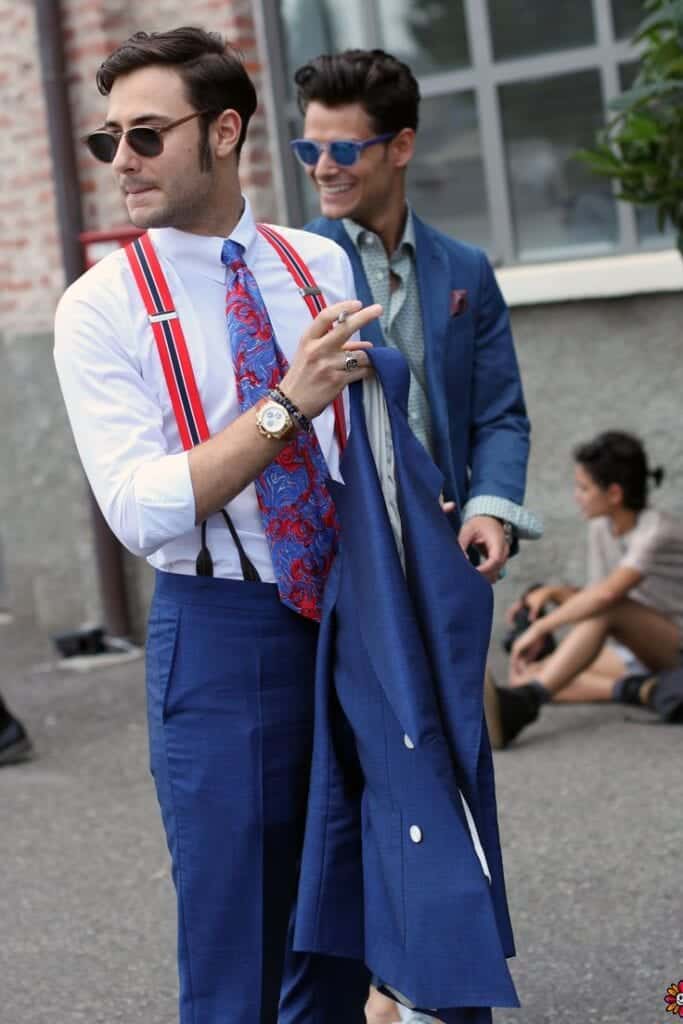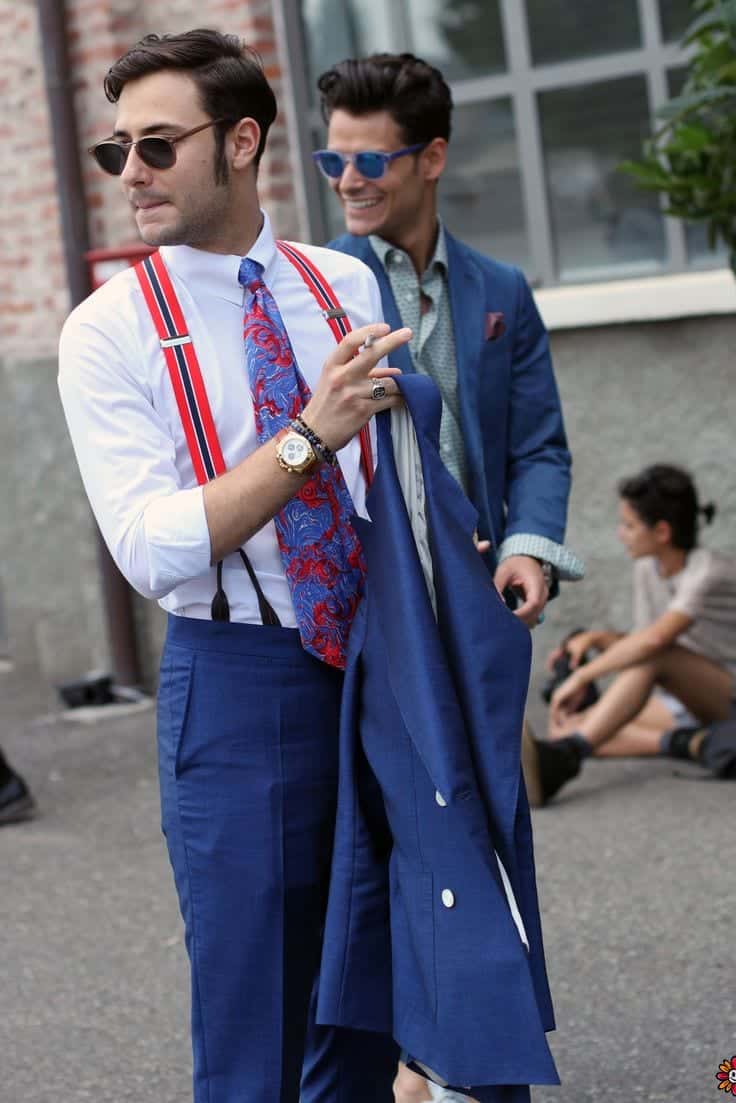 The way you wear suspenders should suit your personality and style. Otherwise, you will not be comfortable wearing them. Meanwhile, there is a risk of giving off the wrong impression to people. A Tailored Suit said that punk and skinhead cultures have already made many suspenders, so some men are advised against wearing them.
Frequently Asked Questions
Q.

What's the difference between clip-on and button suspenders?
A. Some will argue that both clips and buttons are acceptable, and that might be true. However, The Gentle Manual said that suspenders with buttons look cleaner and more refined, while clips are more on the novelty side as they can be fun and trendy. However, clips may damage the waistband of your garments over time, so be warned.
Q.

How do suspender straps differ?
A. Trendy and Sartorially Daring: 0.5″ – 1″
Standard Width: 1.25″ – 1.5″
Functional and Heavy-duty: 2″
Q.

Can I wear suspenders with a suit?
A. It depends. If you want to wear them with a suit, steer clear with clips. If you're going to show your taste and respect for formal menswear, stick to suspenders with buttons. Also, you don't have to wear the jacket unless required. For a great business or smart casual look, skip the coat and let those suspenders be the center of your outfit. Suspenders also play an essential role in the black-tie dress code since there is no such thing as a formal belt. They can be black or white and should not be seen beneath the jacket.
Q.

Can I wear ties with suspenders?
A. Any tie will go just fine with suspenders. You typically don't want to match your suspenders and ties, though. The two accessories should contrast in color and print.
Q.

Can I wear a belt and suspenders at the same time?
A. Never wear suspenders and a belt at the same time. If confused as to which one to wear, consider the occasion you're dressing for, as well as the comfort and the fit of your pants.
Q.

Is it worth it to invest in suspenders?
A. While they are the more comfortable means of supporting trousers, suspenders are not always as sturdy or as functional as a belt. There is a tendency of snagging, and they are more likely to tear if they catch on something, ripping both the suspender and the trousers.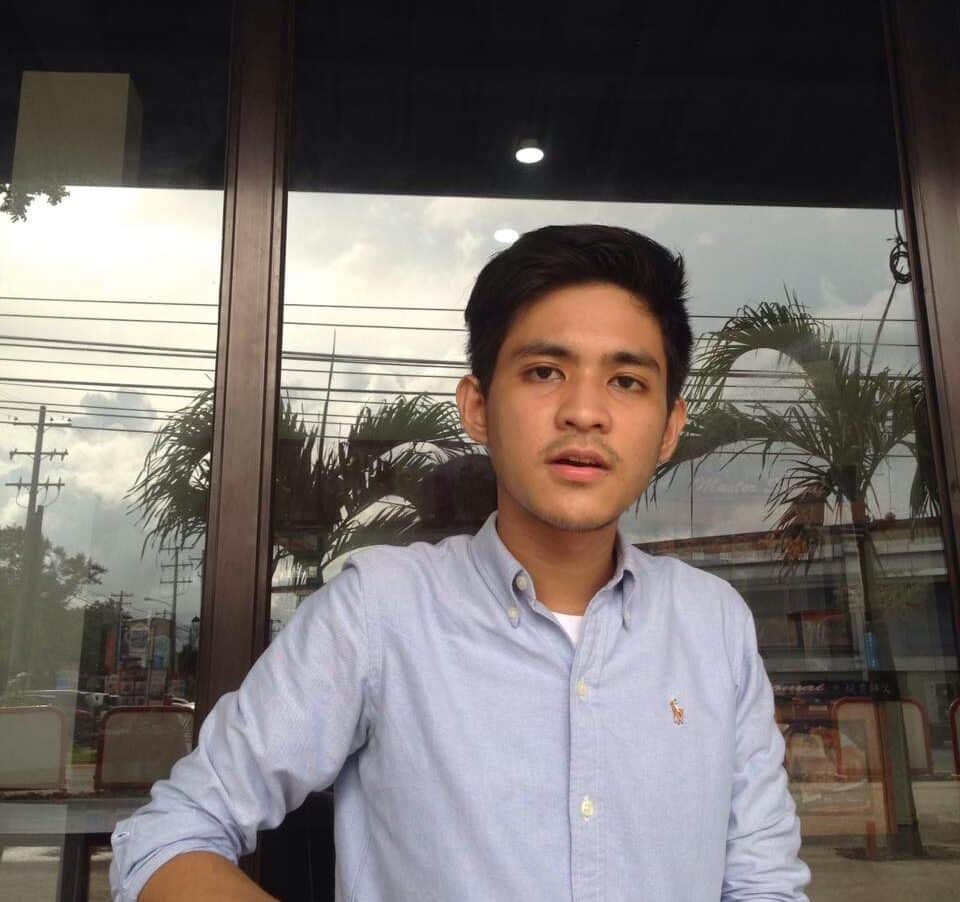 John Vincent studied Communication Arts in the Philippines.
Growing up, he's always had an eye for aesthetics. He enjoys writing a lot. Books, TV series, and movies are a big part of his life. His all-time favorites are Harry Potter, Game of Thrones, and Marvel films.
He believes that fashion is a pure form of art. You express yourself through your personal style – it's something you can't replicate.