Golfing Outfits For Men. Golf is rich in history and tradition. Today, it is already considered an "exercise" by the Australian government. And this game is a fun and challenging form of physical activity. And if you are planning to make an 18-hole journey, do it with style!
That said, you must be meticulous enough to separate stylish golfing clothes from crappy ones. The golf ball shouldn't be the only thing on-par, but your outfits as well.
How Should Men Dress For Golfing?
Deciding what to wear is just as hard as playing golf for the first time. But regardless if you're a pro or not, your outfit should be on point. Your aim here is to look like a regular country club member. And if you've come here to learn how to play golf, I'm afraid you'd be disappointed as this post will focus on outfits and style tips.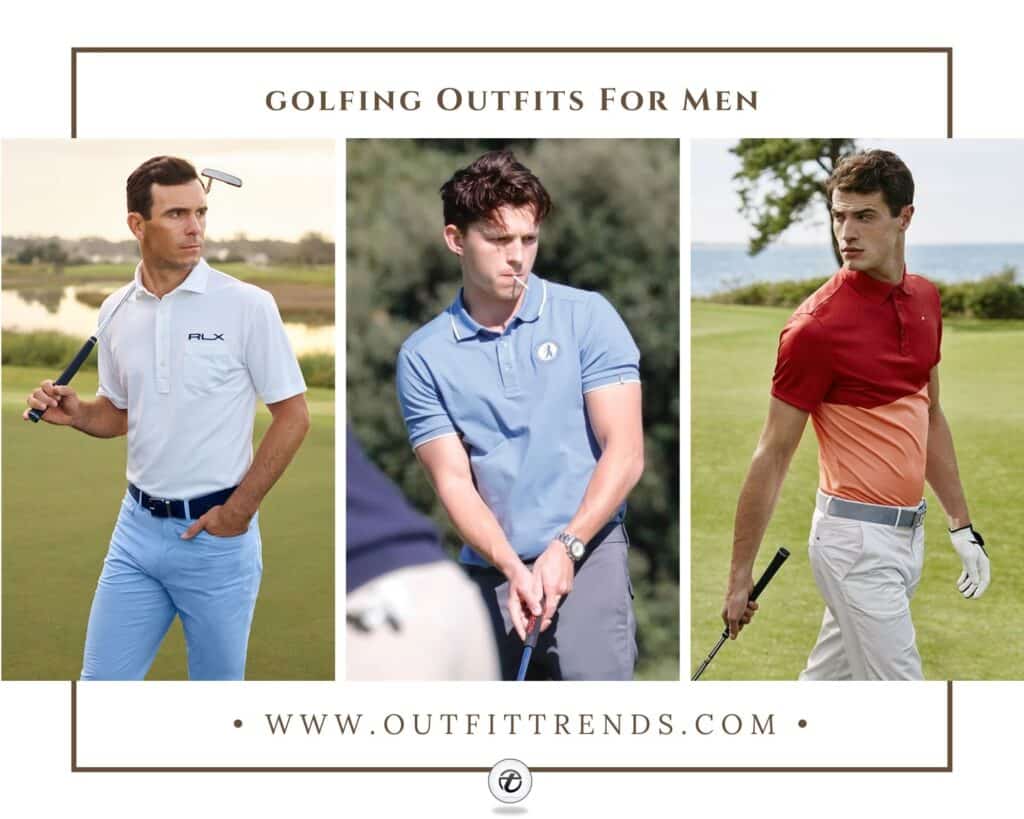 Outfit Essentials
White Belts. Andy Coulter of Golfing Style website says that wearing white belts is a fashion faux pas. It's not that easy to pull off a look with a white belt. And if you're going to do it, match it with a white shirt and trousers, and nothing else.
Cap. Golf allows you to choose from lots of headgear options. Golfers popularized flat caps in the late 19th century. White is your go-to option as it looks great with every outfit. But never opt for a SnapBack, please.
Footwear. Golf cleats are your go-to choice when it comes to shoes. Adidas, in particular, has shoes that are ideal for golfing. Other brands include Stan Smiths and Nike. Sneakers are also acceptable — make sure they're comfortable to wear.
Gloves. Opt for pure leather as they have the best grip. However, they are not advisable for wet conditions. A helpful style tip: match your tees to your gloves and see how your fashion game changes.
Cotton or Polyester Trousers. Your pants shouldn't keep you from being comfortable. You can try them on before purchase. You can tell that they are ideal for golfing if you can stretch and fold your legs with ease.
Tips On Golfing Attire
Keep it simple. Timeless outfit combos of white, black, grey, and navy blue will do. Never mix primary colors with pastels and neons.
When Buying Outerwear. Always try it on before purchasing. Every golfer's swing is unique from one another. When you go to a golf shop, get a club and do a full swing while wearing the jacket. This tip will help you decide as to what outerwear is for you.
Athleisure Is In. It's always right and fashion-forward to wear athleisure outfits when golfing. You can also mix classic pieces with new designs, provided that they still look decent and stylish.
Colors. The rule of thumb is to opt for a single color. You can also combine two neutral hues as long as you know how to pull them off. Incorporate one or two colorful pieces into your relatively neutral ensemble. Remember that this is golf, and things shouldn't be too serious.
What To Avoid
Too Much Layering. More often than not, men take advantage of summer's hot weather to play in the "greens." if that's the case, don't wear many layers (even if it's winter) as it would be hard to move otherwise. A cardigan or any other knitwear is an excellent alternative to the traditional jumper.
Thick Fabrics. Don't wear clothes that are made of heavy and thick materials. Trust me — it would be hard for you to move with those on. Opt for something breathable and technical, instead. Your goal is to ensure that body heat and sweat can escape, especially in summer.
Where To Buy Golf Clothes
New brands like Galvin Green, J.Lindberg, and Loro Piana use various fabrics that can stand all weather conditions. They make sure to sell products that are comfortable to wear without compromising the style.
Some other brands include Under Armour and Puma. As for the footwear, you might want to check out Adidas and Nike.
↓ 25 – Henrik Stenson
If you want products that can offer performance and style, go for Boss and show them who the real BOSS is. Take it from Henrik Stenson, one of the most influential people in the golf industry.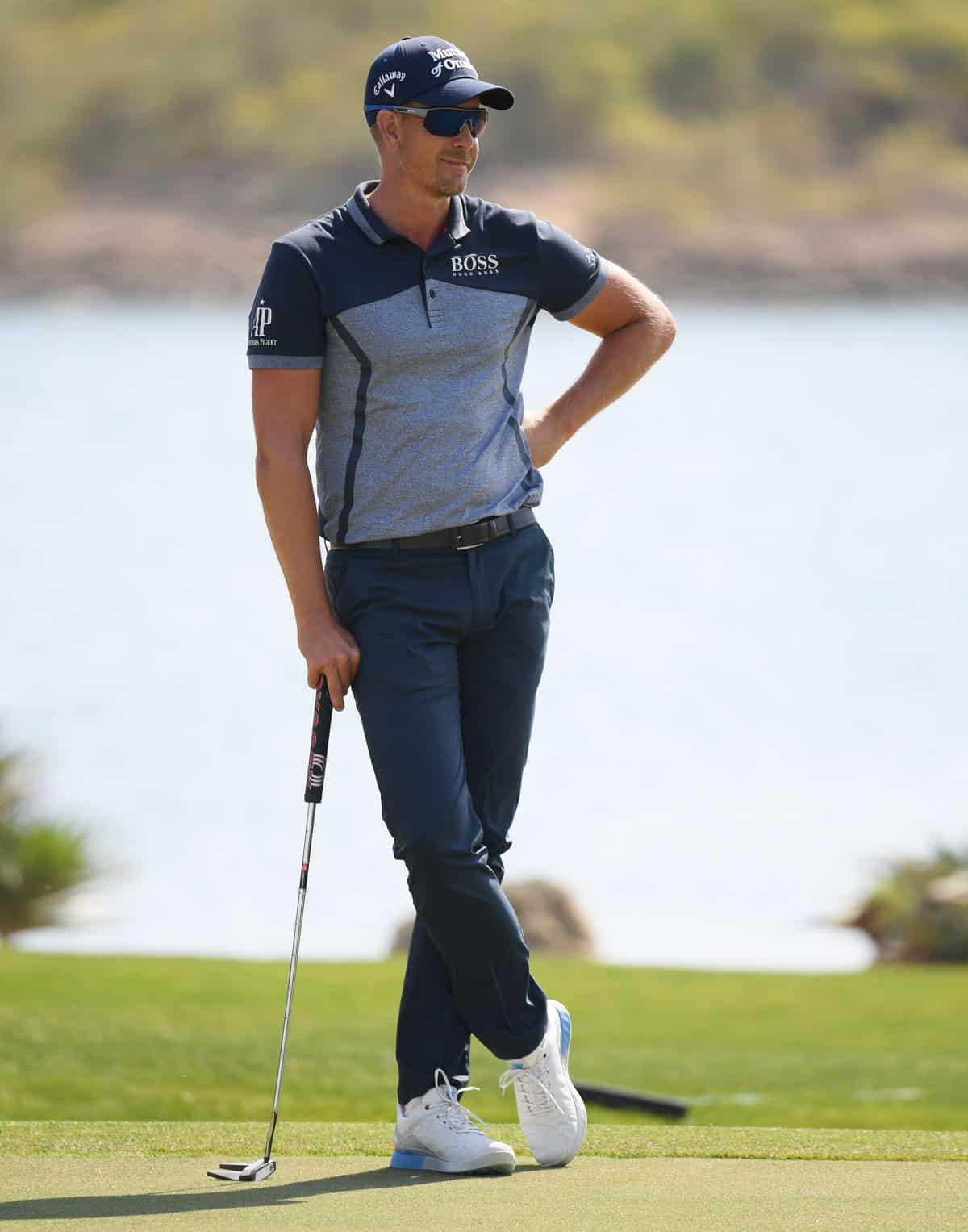 ↓ 24 – Billy Horschel
Go for an all-black outfit. Don't get me wrong — nothing beats the versatility of black. Aside from it has a slimming effect, it also has a classic and sexy appearance. From head to toe, you'll look dashing with this outfit. Check out RLX for some functional and stylish golf outfits.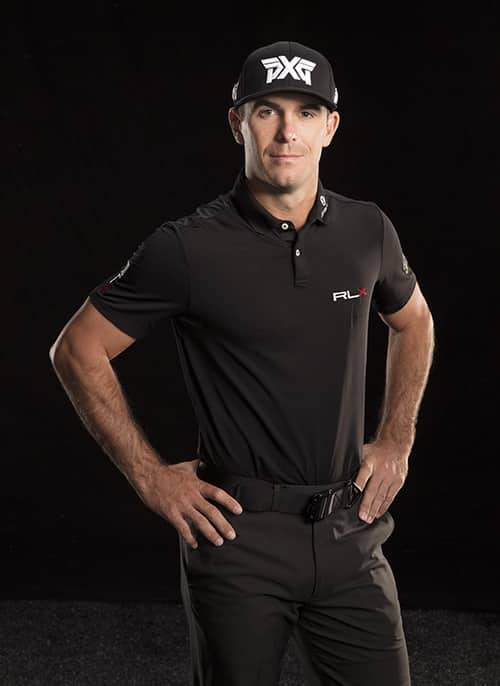 ↓ 23 – Tony Finau
Wear a black and white outfit to the golf course. To color-block it the right way, put the darker one at the top. As such, a black polo shirt will look amazing when teamed up with white pants. Nike has durable and fashionable golfwear at its disposal. Go see for yourself!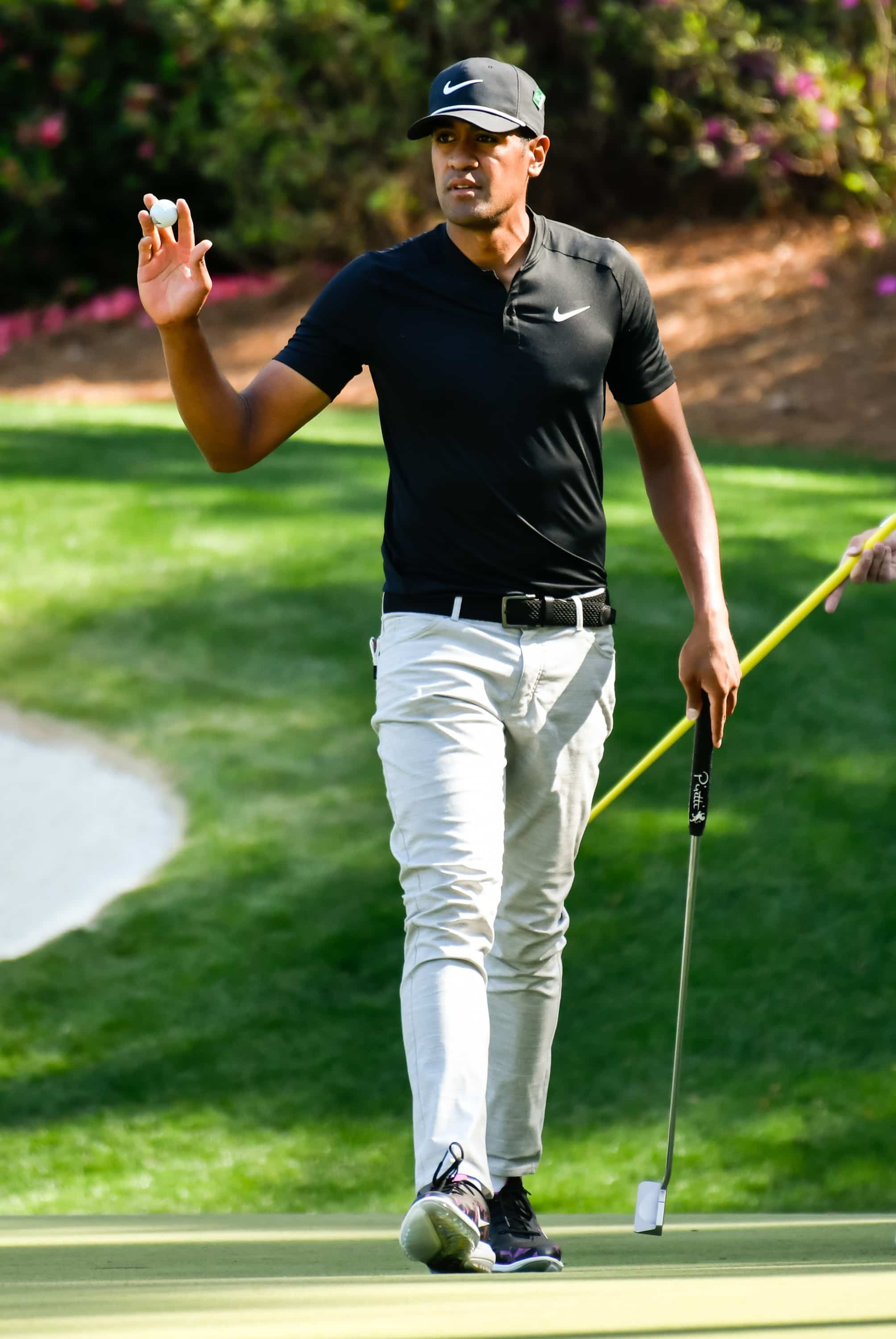 ↓ 22 – Alex Noren
Take a break from polo shirts, and opt for a sweatshirt for now. For instance, a grey cotton pullover goes best with black golf pants. It would be best if both of them were cotton for you to be comfortable all day. Other suitable fabrics include polyester and satin.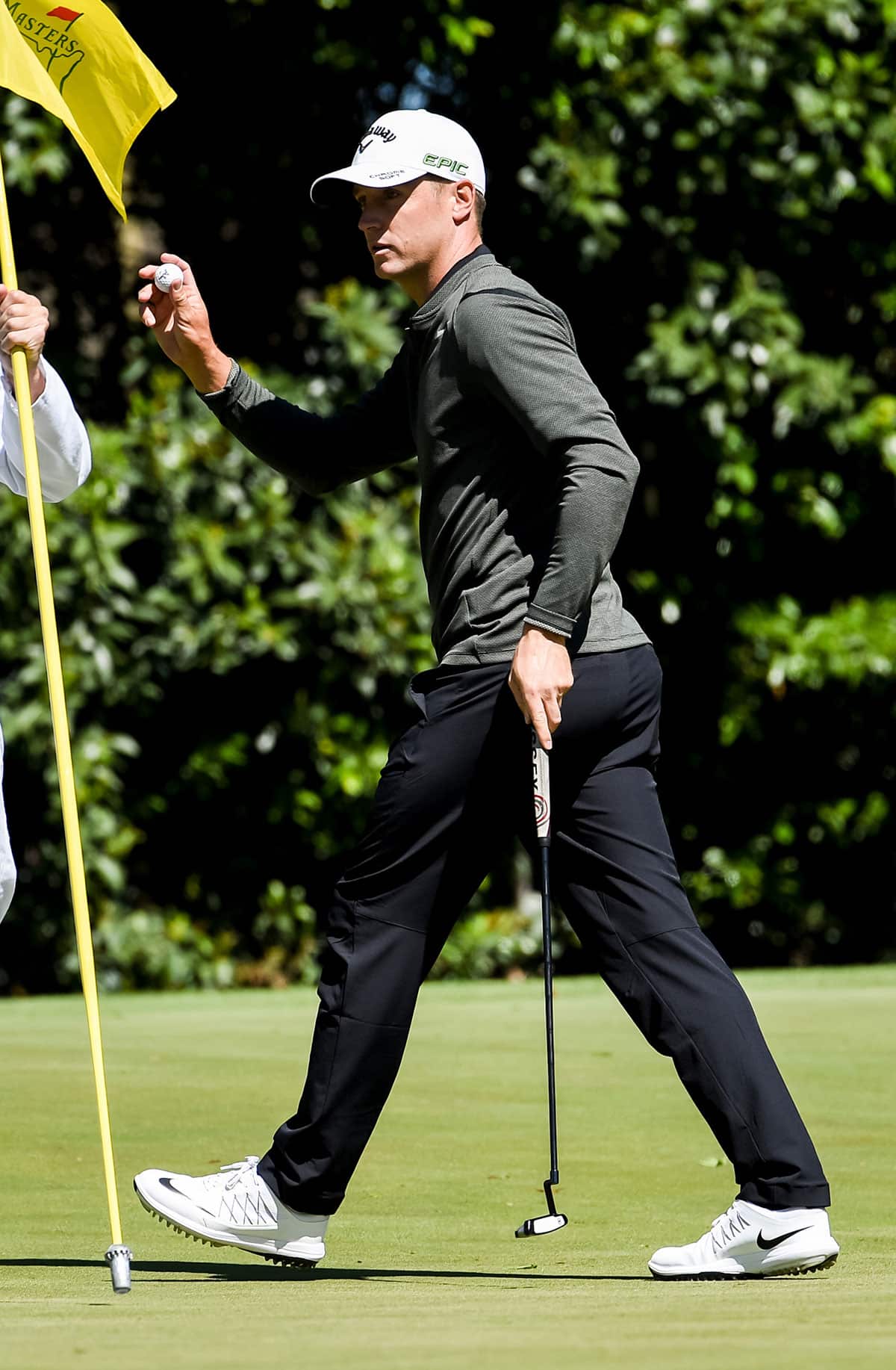 ↓ 21 – Bryson Dechambeau
Puma is another good golfwear brand you can try. From polo shirts to caps, they got it all for you!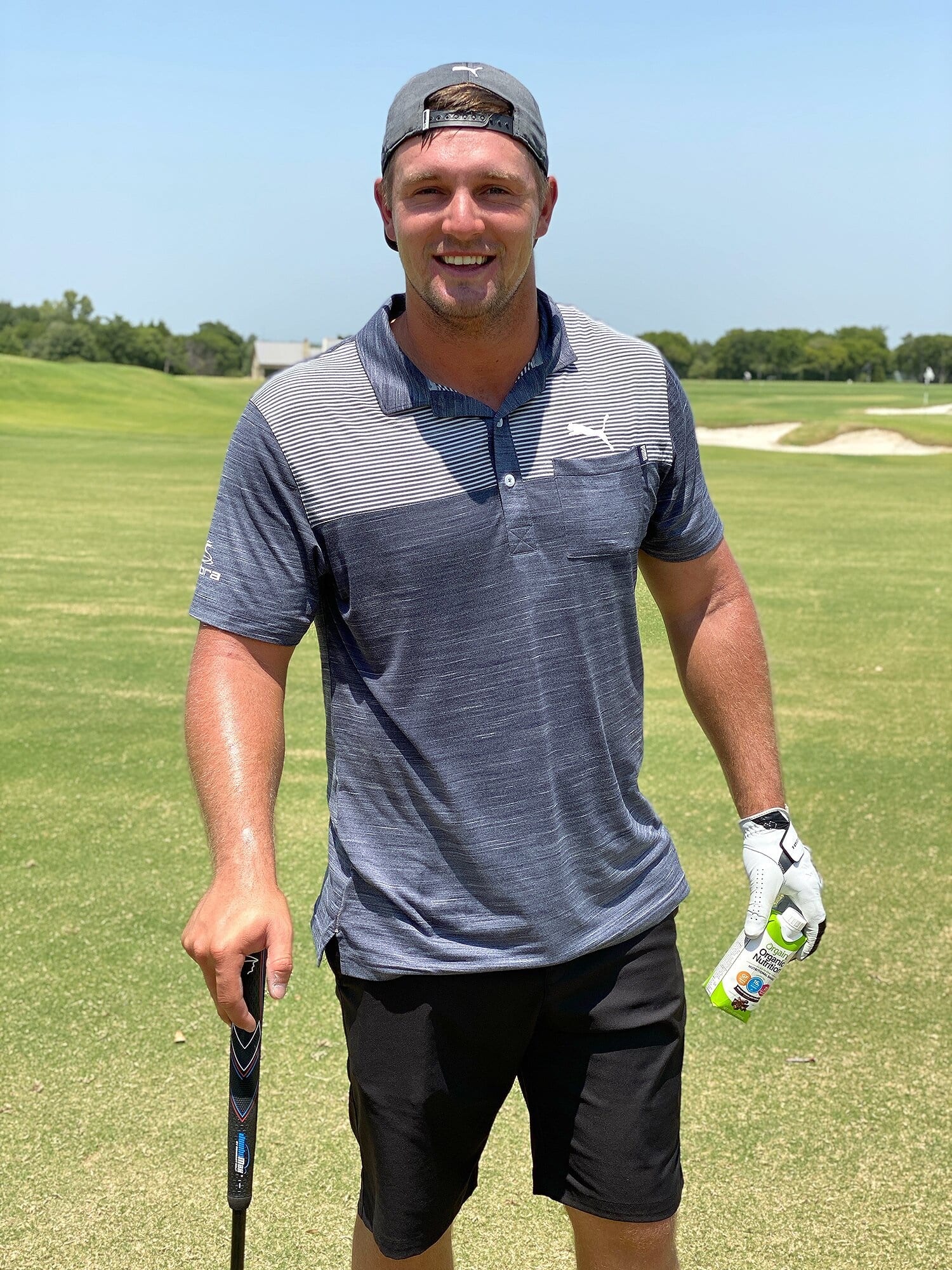 ↓ 20 – RLX Golf Shirt
Pair a white polo shirt with cerulean blue chinos.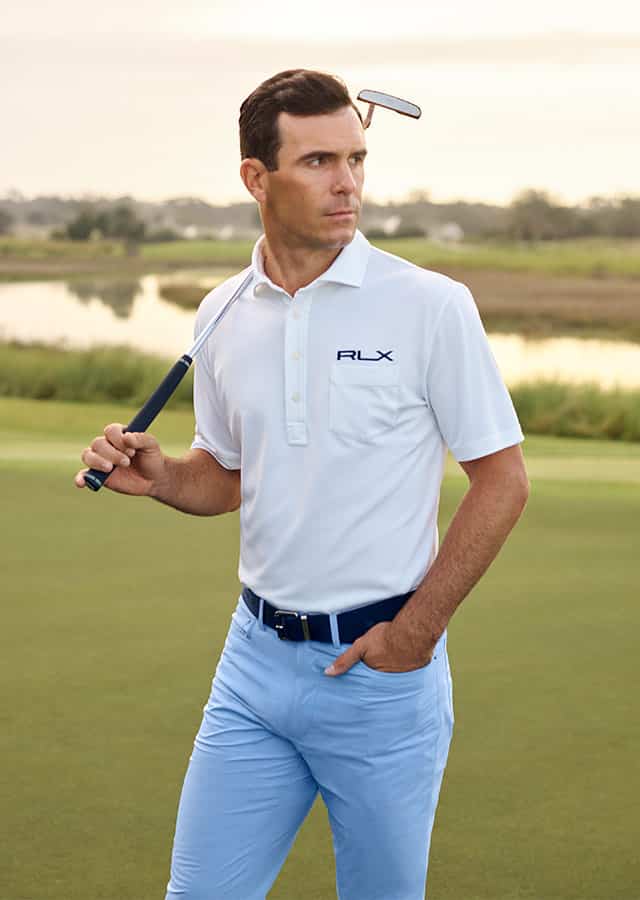 ↓ 19 – Justin Timberlake
Why not dare to rock a fedora hat to the golf course? Take it from JT, who once wore a vintage polo shirt with grey trousers. As you can notice with his outfit, the hat matches the shirt and the belt. Follow this tactic if you want to look cool like him.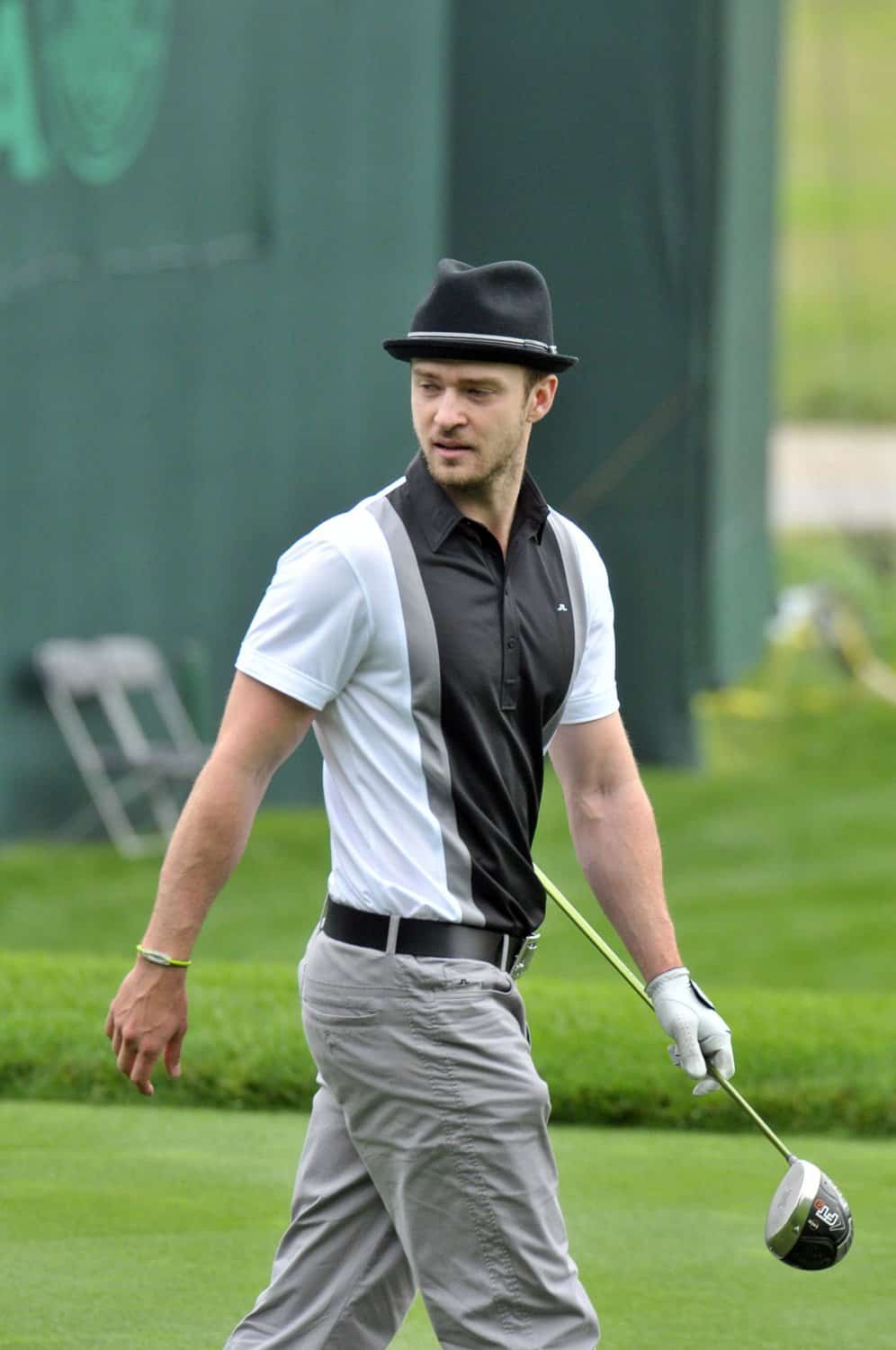 ↓ 18 – Zip-up Sweater
A wise move is to wear a zip-up sweater as a sub for your usual polo shirts and pullovers. But choose lighter fabrics so that you'll feel lightweight and comfy enough to move around, even in boiling weather.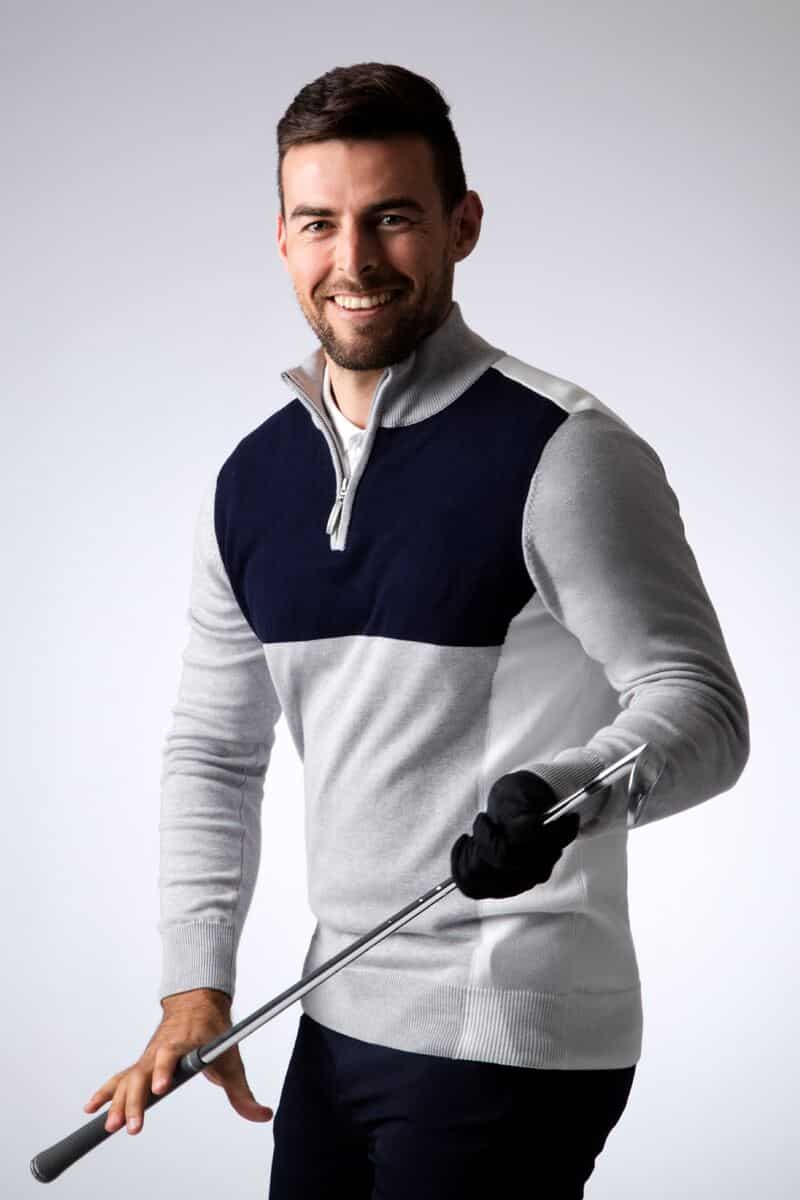 ↓ 17 – Golf Trousers
Your golf pants must have the right fit; otherwise, you'll look and feel awkward while playing. No one wants that to happen.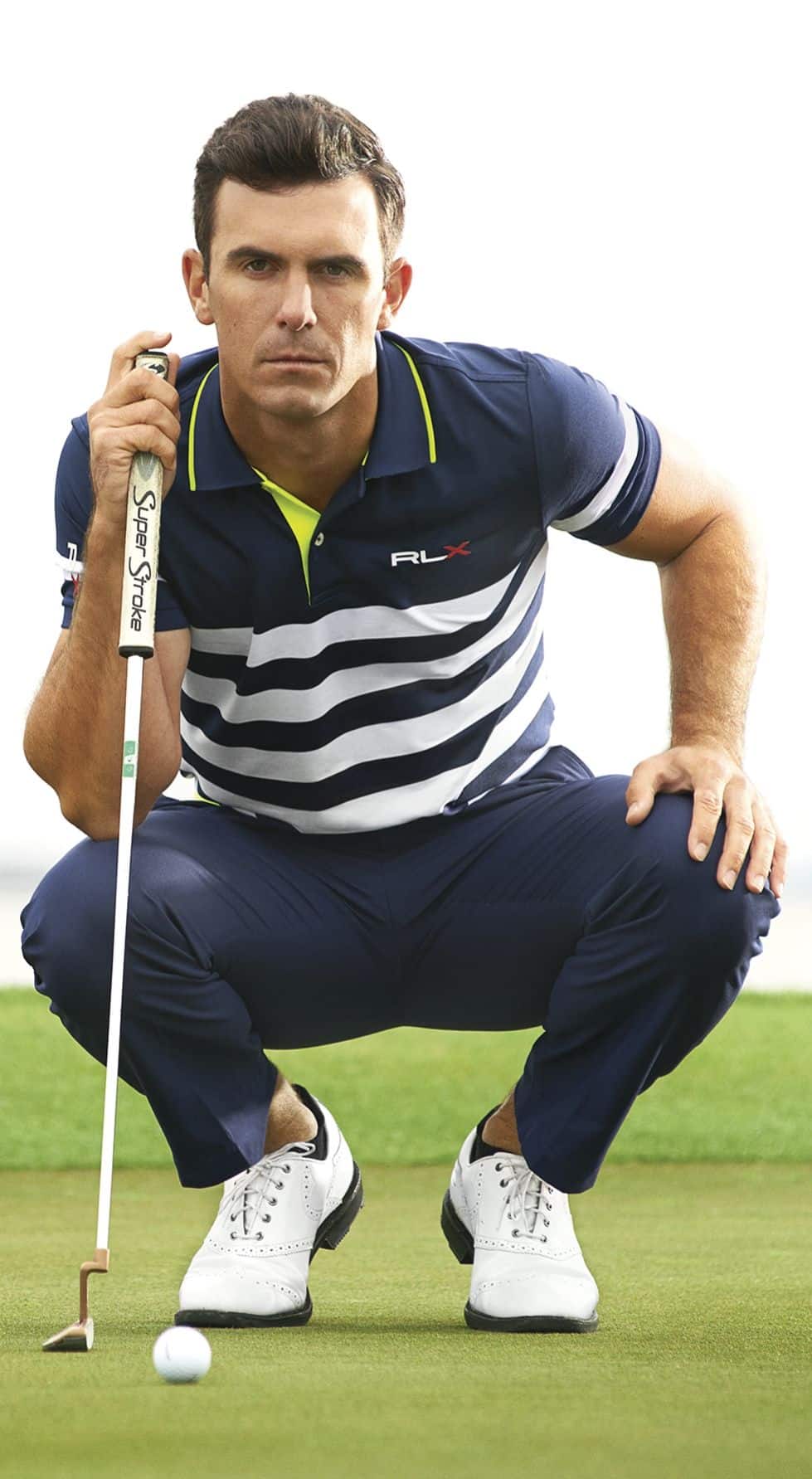 ↓ 16 – Tom Holland
Wear a pique polo shirt to the golf course. For a chic appearance, tuck it into your golf trousers. If confused as to what colors to pick, start with blue and grey.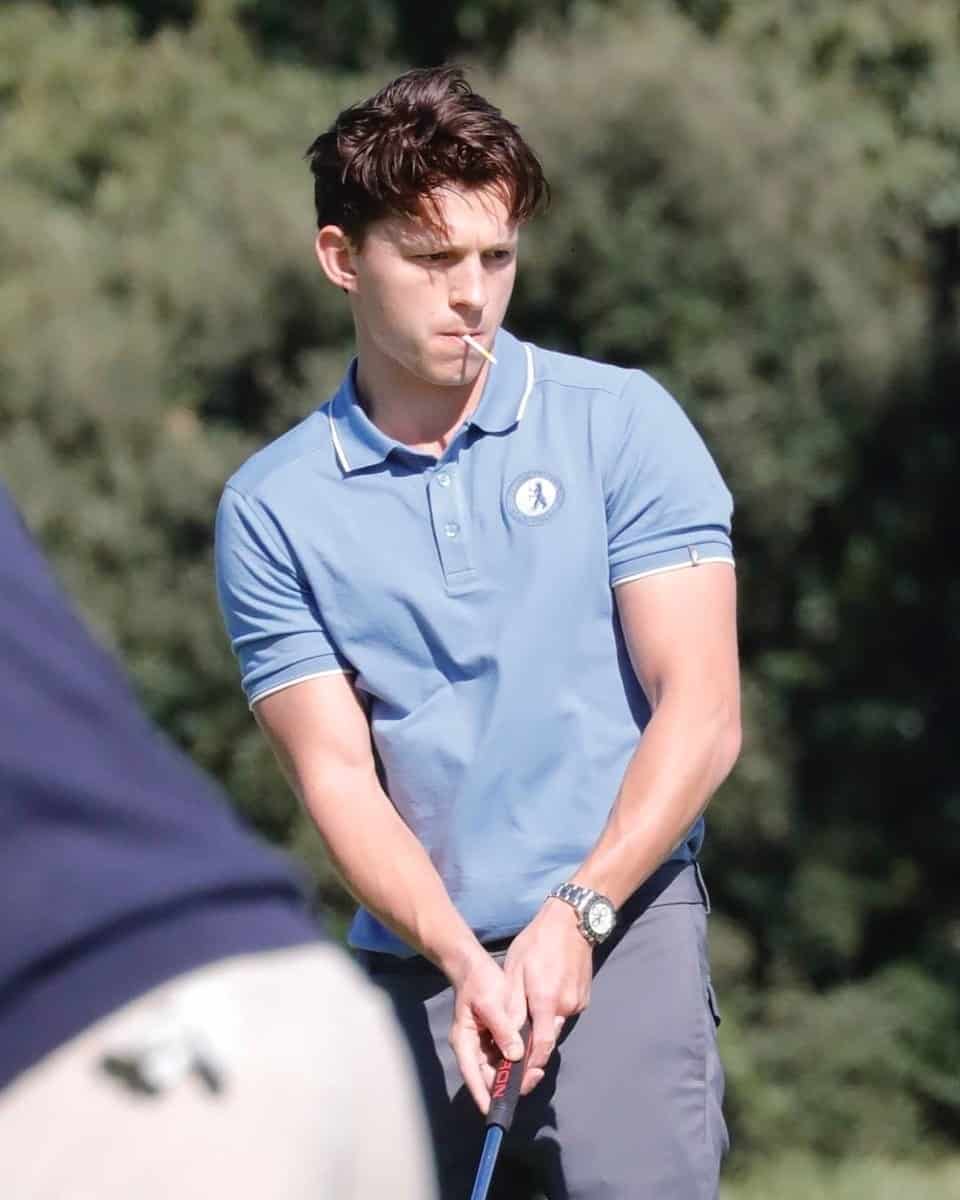 ↓ 15 – Niall Horan
Tracksuits are considered a member of the athleisure family. It fits to wear one when playing golf. Take it from Niall Horan, who's wearing all-blue sportswear. If you're not a fan of tracksuits, try to wear a lightweight hoodie for now – and that's a start.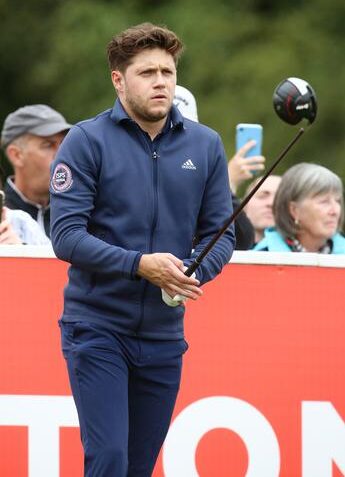 ↓ 14 – Jumper And Shirt
If it's a bit chilly on the field, you can wear a jumper over a shirt like how Jamie Dornan does it. An underrated fashion tip: the top layer should be darker than what's underneath. Wear them with dark-colored pants like navy blue trousers, for example. Should it get warm outside, lose the jumper as the shirt will look great alone.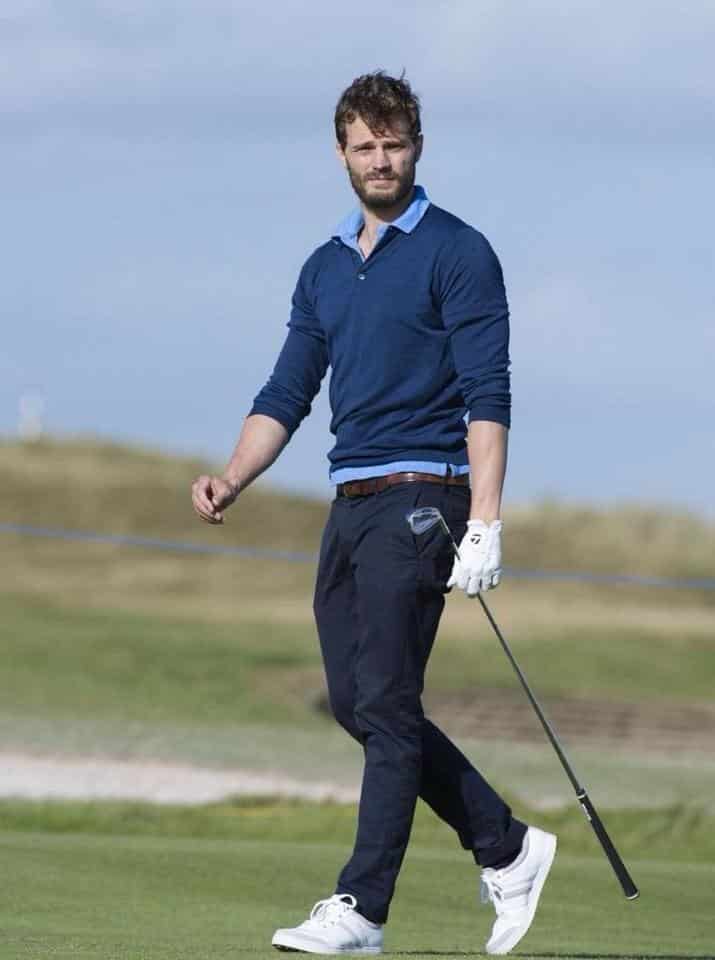 ↓ 13 – What to Wear Golfing in Winters?
If you wear a long-sleeved shirt when playing golf, make sure they're flexible or elastic enough. Some shirts tend to be either tight or stiff, which keeps you from swinging at full range. Layer with a few light weight tops instead of heavier ones as they'll be much easier to play in.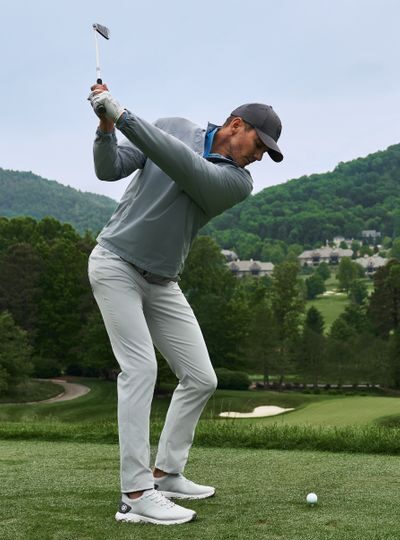 ↓ 12 – Blue Shirt
If you have any blue shirts available in your closet, pair them with white pants. And if you feel like your pants aren't for golf, you might want to buy a new pair. Remember to look for "golf trousers" when you visit the store. White golf cleats are the best match for this getup.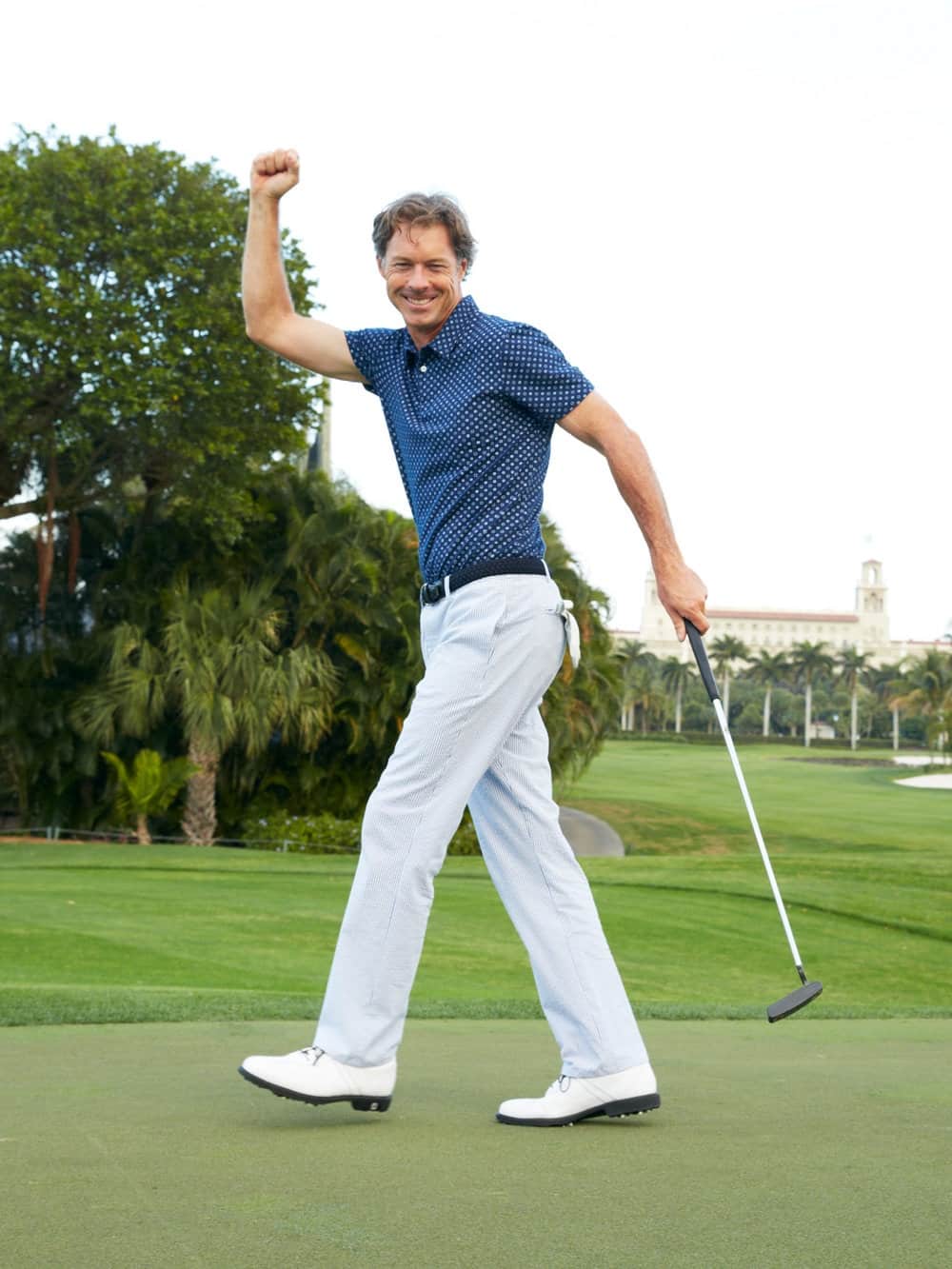 ↓ 11 – For Short Guys
Shorts are ideal for short men. Above-knee styles are better, in my opinion. Please ditch the baggy and oversized garments because they don"t belong in the greens. Also, they will make you look even shorter and sloppy.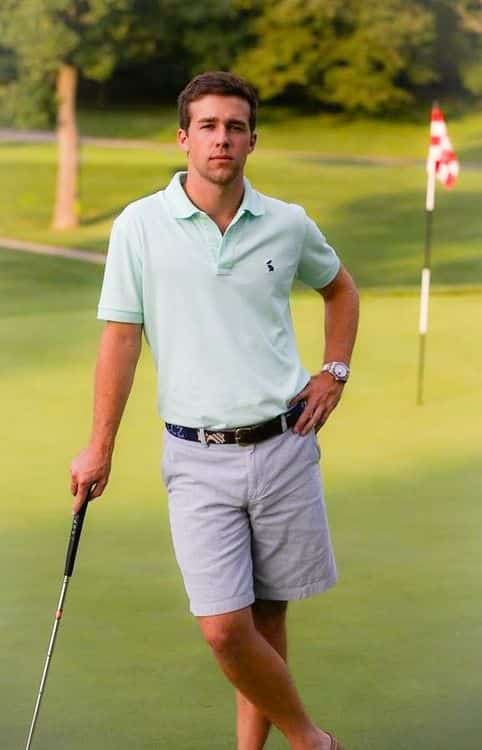 ↓ 10 – Visor For Golfing
Match your headwear to either your shirt or trousers. Frankly, a visor wouldn't really protect your head from the sun. However, it can shade your eyes. But really, it's more of a fashion statement than a functional item.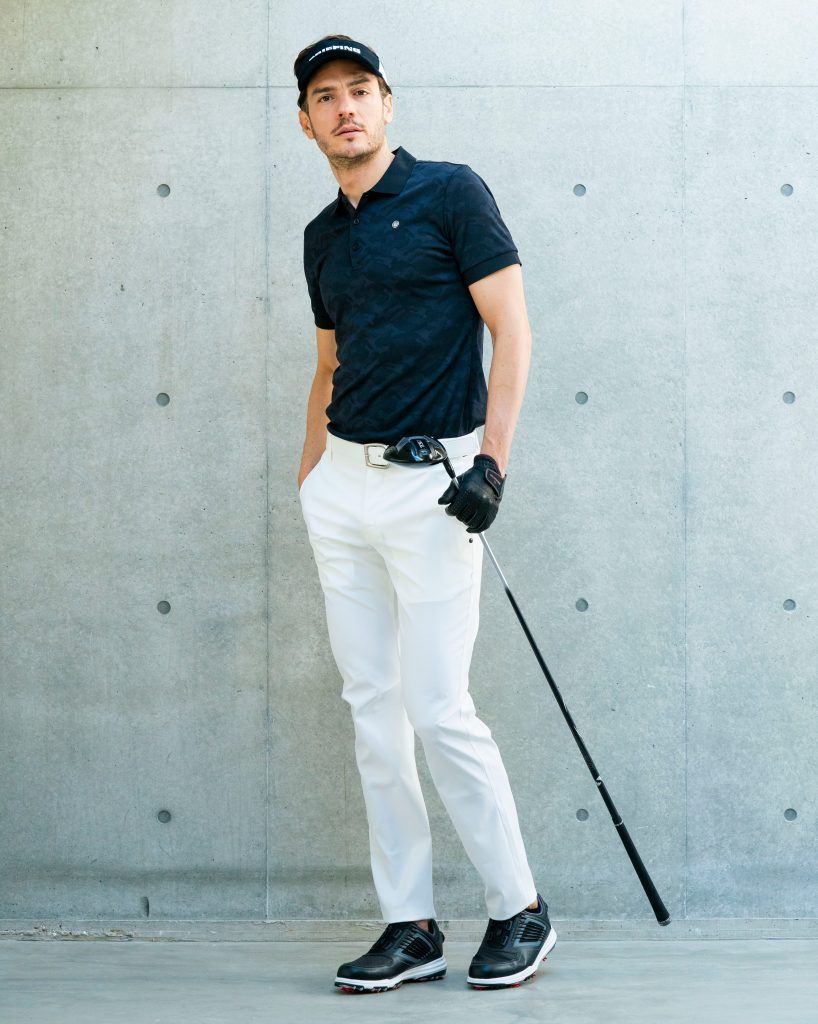 ↓ 9 – Minimalist
Start with combining two or more neutral colors. If you love minimalism, do your best to stay away from anything that screams "extra" or "overkill." Try to stick with basic hues like grey and beige. Your goal is to look as simple as possible.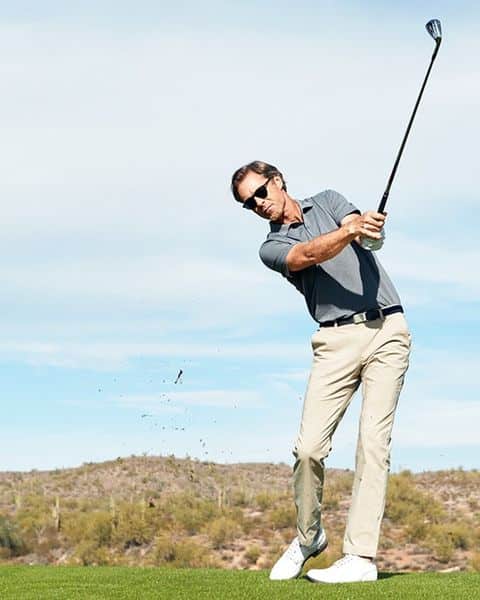 ↓ 8 – Summer
Bright colors are perfect for hot weather months. As such, wear orange, yellow, or red shirts and match them with neutral-toned pants, like white chinos. The best fabric options are pure cotton or poly-cotton blend.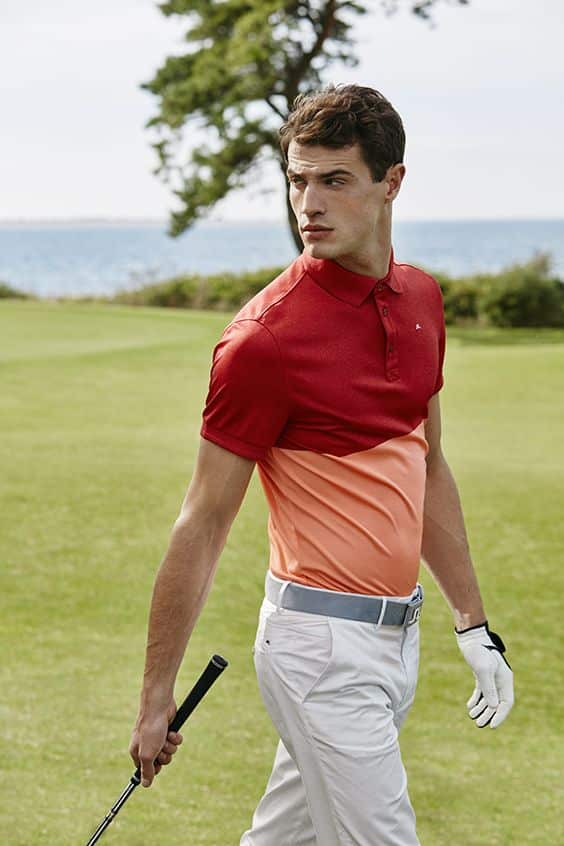 ↓ 7 – More Winter Golfing Inspiration
In colder months, you can add extra layers to your outfit. You have the leeway to opt for slightly thicker fabrics if they make you comfortable. Long sleeves are in as well. But note that it's still not advisable to wear trench coats and scarves — you don't need them in the field.
↓ 6 – Stripes
Horizontal stripes are ideal for skinny men. Meanwhile, vertical lines on clothes make the wearer look taller. Don't get carried away — steer clear of exaggerated stripes and opt for something laidback instead. Two to three colors would do! Here are some more of my absolute favorite Striped Shirts for Men.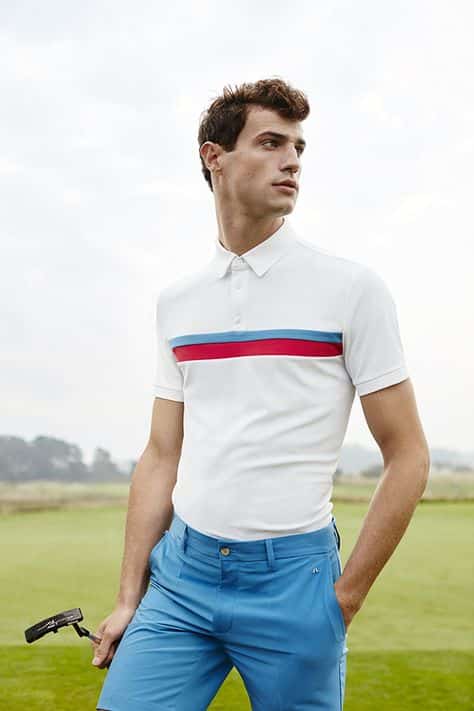 ↓ 5 – Shorts
You can borrow the nautical style you see at cruise parties. For instance, team up a white polo shirt and navy blue chino shorts. Then spice up the look with a white belt.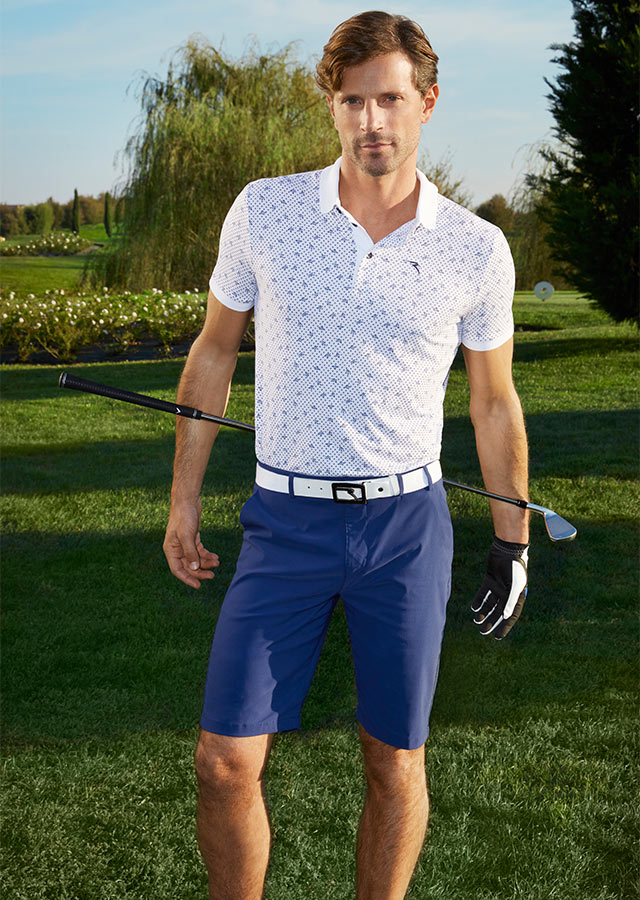 ↓ 4 – Polo Shirt
Opt for something technical, functional style with a unique style. You can opt for patterns, provided that they're minimal in appearance. Try not to overdo it to maintain minimalism, and focus on comfort instead. You can do some matching through your belt and footwear. For more similar ideas like these, do check out my earlier post on Men's Polo Shirt Outfits.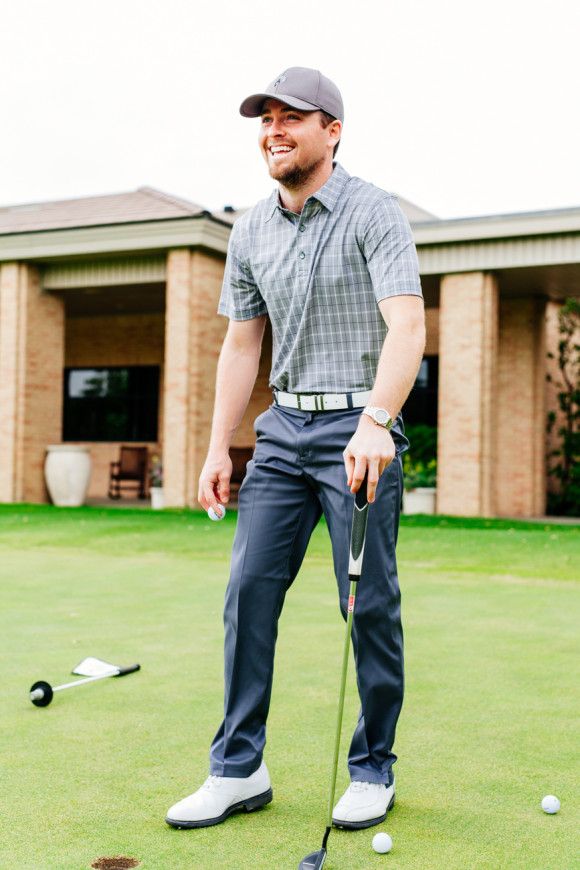 ↓ 3 – Nike
Nike is one of the leading golf clothing brands. You can find all of your golfwear needs in their store. For instance, you can pair a grey polo shirt with black golf trousers and then finish off with a black baseball cap. It's like you're wearing a uniform with all those pieces from a single store.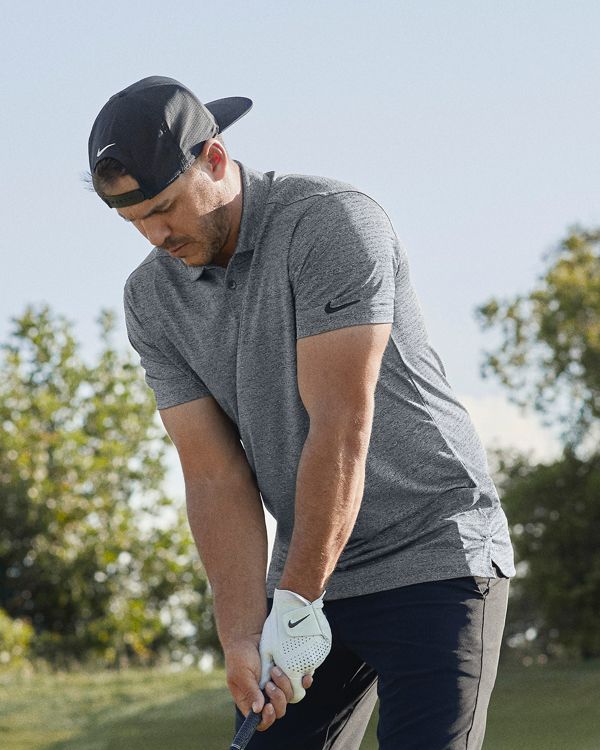 ↓ 2 – For Mature Gents
Wear a blue sweater vest over a white polo shirt. Team them up with earthy-toned pants to match the setting. You'll be seeing a lot of greens in the field, so you might as well blend in!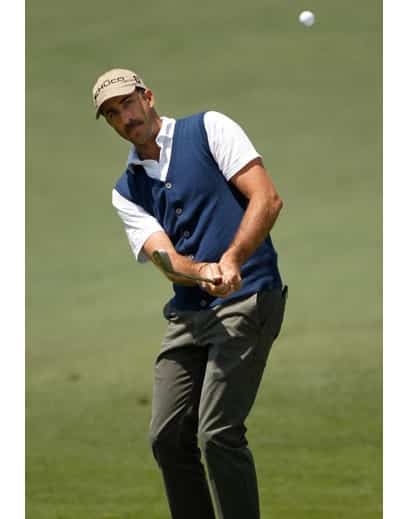 ↓ 1 – Adidas
Its products are specially engineered to improve your sports performance. This product, in particular, blocks out wind which turns to your advantage. You might want to look for something that stretches with your body while you swing.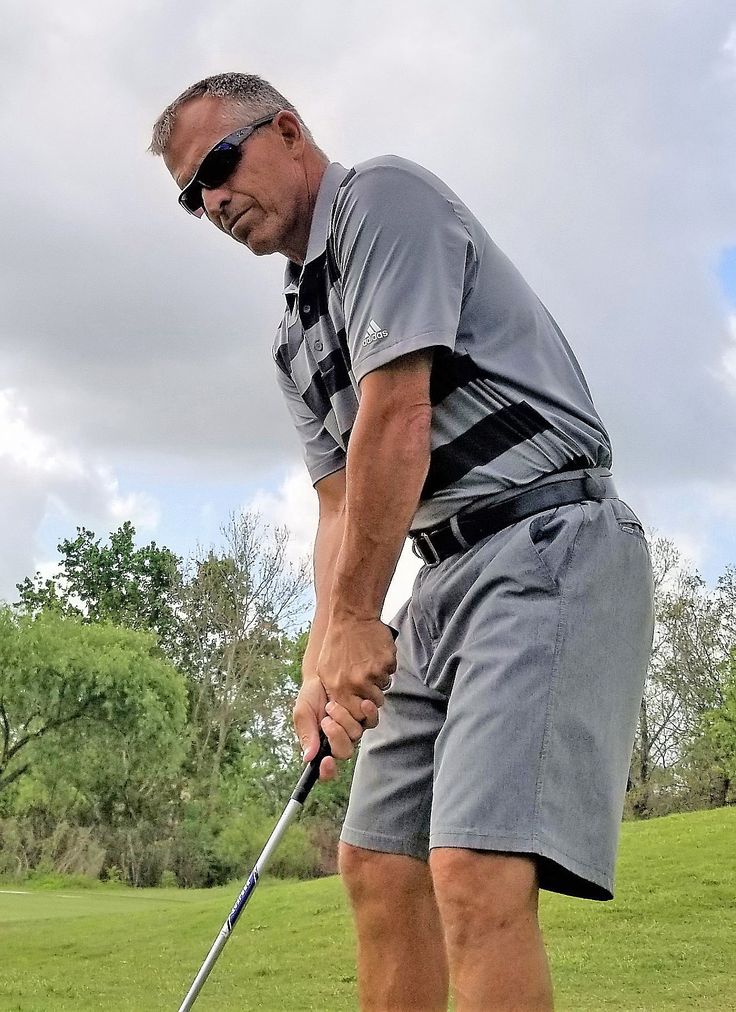 Apart from the tips mentioned above, ensure that you are properly hydrated and shaded. While sunglasses and caps can't do all the job for you, it's a good idea to have them when golfing.
In addition, bring a tumbler and some towels regardless if it's summer or not. Sweat will always try to get in the way, and you don't want that.
Frequently Asked Questions
Q. What should guys wear to golf?
A.Guys should wear comfortable and stylish clothes. I, for one, would wear the simplest outfit combo I could come up with. For example, combine polo shirts and trousers and grab those golf cleats for a failsafe move. Not only does this combo look fashion-forward, but it will also allow you to move freely.
Q. How do I match my golf clothes?
A.To be safe, limit your options to only neutral colors like grey, white, black, and navy blue. But don't try to incorporate them all into a single outfit. It's better to choose two tones and then color block them. For instance, a grey top would look great with a black bottom or vice-versa. You can do some color pop through your headwear and shoes.
Q. Who makes the coolest golf clothes?
A.It would be hard to name all of them. But the best ones can be found in Ralph Lauren, Uniqlo, and Lululemon. Use your shopping skills to sort out your options. And pieces are bought separately so you can get them from more than one store. You can do the mixing and matching at home, and don't forget our golf-style rules, ok?
Q. What is the best golf shirt?
A.For the shirt, we believe that Original Penguin is the best. The brand is known to be the inventor of the golf shirt. But this isn't your only option. It doesn't matter where you get it. The important thing is to ensure it's made of a comfortable fabric — something that can absorb sweat.