Diwali outfit ideas for men. What better occasion to splurge on delish sweets and 'straight from the runway' outfits than Diwali? The festival of light is best-celebrated gorging on delicious delicacies, and laughing with friends, and family in your finest fits.
And when it comes to outfit inspirations, we have got you covered. From traditional embroidered kurtas to some fancy and little funky sartorial choices, we have curated a premium list of 17 Diwali outfits for men that are going to make you the star of the show this Diwali. Peruse our exciting list and find a fantastic Diwali outfit for yourself.
How to Dress this Diwali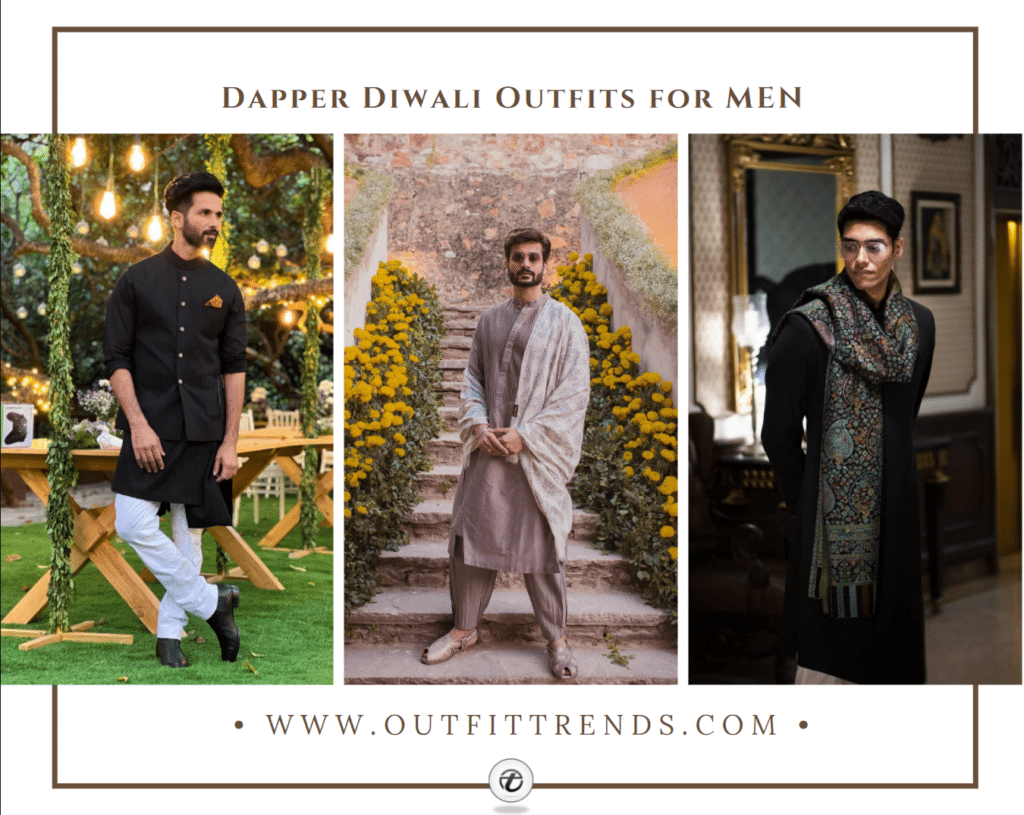 Keep it light and simple. If you plan to burst crackers, stay away from heavily embroidered outfits. Opt for something light and airy like a printed shirt with jeans, so you can have an easy flow of movement.
Do not be shy to experiment. From indo-western to traditional, try out different outfits and new styles to find out which one suits your vibe the most and rock that outfit this Diwali.
For a puja-appropriate look, stay away from shorty shorts or ganjis and rather opt for a short kurta with jeans.
Diwali is a more casual and traditional festival. Strict formal wear wouldn't be such a great choice to wear on Diwali. If you still wish to keep it a little formal, throw in a casual element and have fun.
17. Pair your Blazer With Saree
Funky, fancy, and bold, this outfit is out there. Made for our experimental fashionistas, this fit is for all our Instagram influencers who want to take their style game up a notch. Style it with a chunky wristwatch, stylish shades, matching juttis, and strut.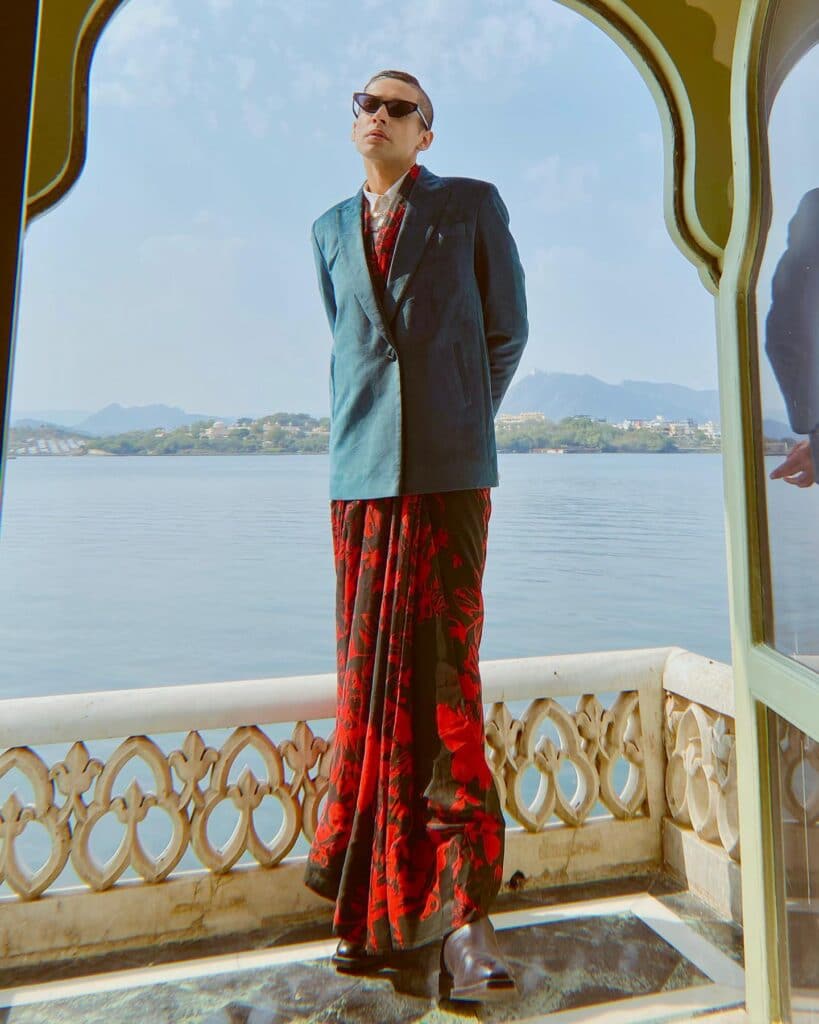 16. Bandhgala Jacket for Diwali
A luxurious number that you can never go wrong with is a classic bandhgala with white trousers. Regal with a whiff of elegant luxury, this ensemble will turn you into a prince in a hot minute. Dress it down by pairing it with traditional juttis or glam it up by accessorizing it with a pearl necklace, aviators and you've got yourself Fawad Khan's look in the movie Khoobsurat.
Source
15. Kurta Set Paired with Contrasting Jacket
An uber stylish and supremely ethnic ensemble, this Kurta set styled with a contrasting embroidered jacket is going to grab you all the brownie points at the Diwali puja. Simply pair it with white embroidered shoes and impress your mother this Diwali. Here are some of the Best Black Kurta Pajama Outfits for Men.
14. Casual Blazer Styled With Printed Shirt
Get ready for the next 'taash party' in this uber-stylish yet comfortable outfit. A casual blazer in a dark, deep, bold shade paired with a fun printed shirt screams youthful sophistication. A classic number, this fit is trendy yet classy and will also keep you warm during the chilly evenings. Perfect for Diwali parties, style this fit with a silver neckpiece, metal watch and make heads turn.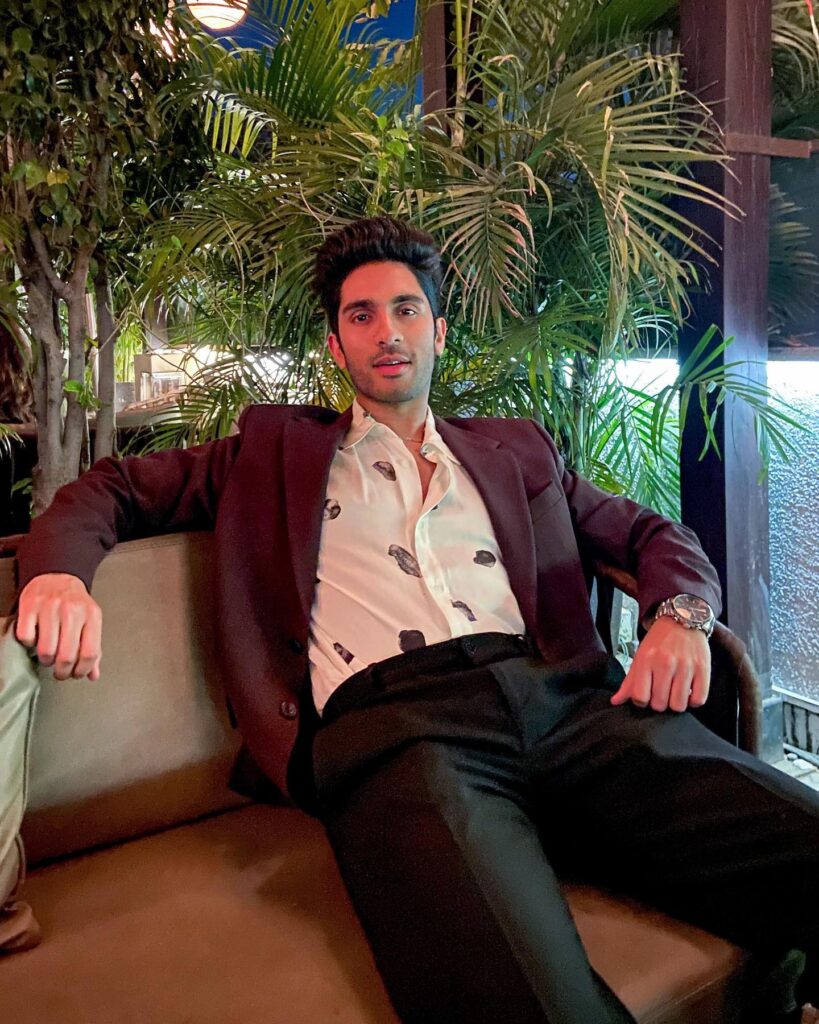 13. Printed Shirt Paired with Ripped Jeans
We all have heard about business casual and now is the time to coin a new term – festive casual. A trendy printed casual shirt styled with ripped blue jeans is both parts youthful fun and traditionally festive. Best for Diwali parties or family gatherings, this fit will easily make you stand out without grabbing too much attention. Style it with chunky shoes or some classic kolhapuri's cause comfort is the key! Here are some more of the best Ripped Jeans Outfits.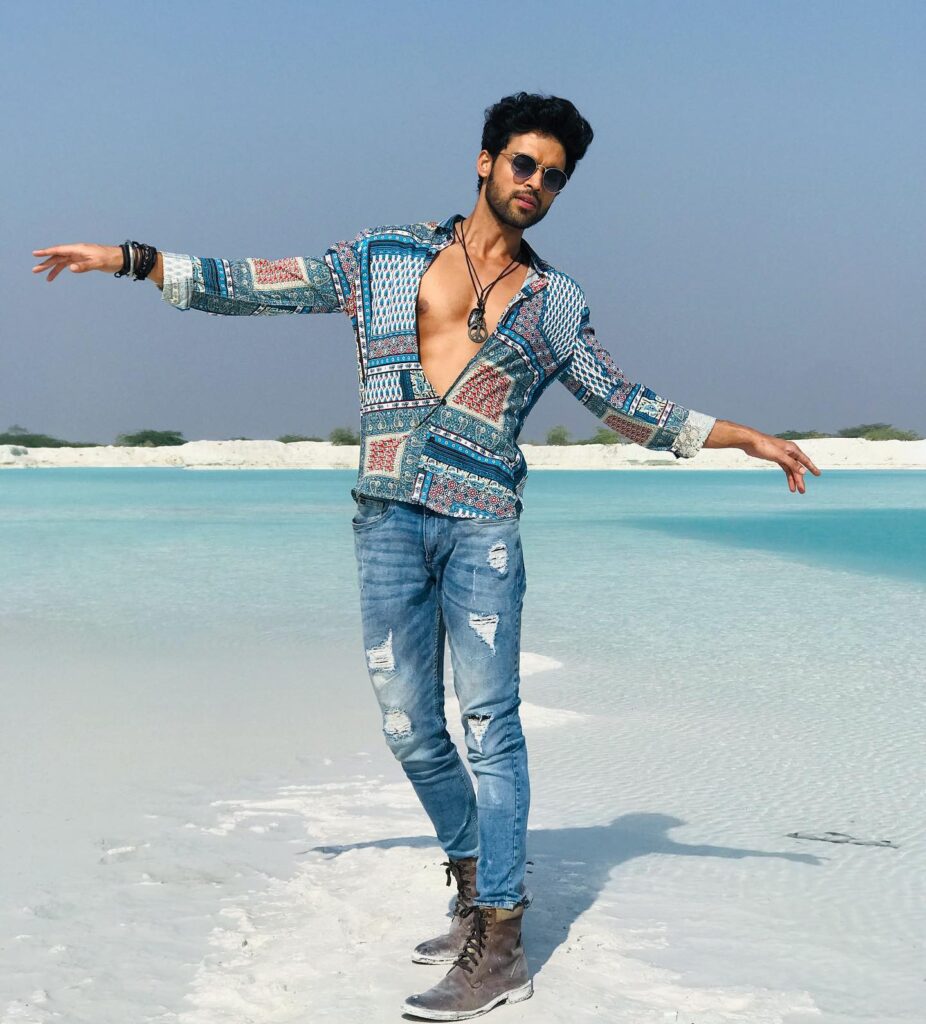 12. Asymmetrical Kurta With Trousers
A fresher and younger take on the traditional kurta pajama, this asymmetrical kurta styled with contrasting trousers has the unrivaled essence of Indian traditions mingled with contemporary grace that simply takes our breath away. This stunning number is par excellence and has to be one of our top favorite Diwali outfits for men. Style this with a deep-hued stole and let this fantastic outfit do all the talking.
Source
11. Kurta Pajama Styled With Stole
Hello stylish people, we have found a perfect Diwali outfit for men for all those who seek to be the center of attention this Diwali. A timeless monotone kurta pajama styled with a printed stole is the style statement you should be making this festive season. Perfect for both Diwali parties and puja, look dapper in this classic number, and don't forget to tag us in your pictures.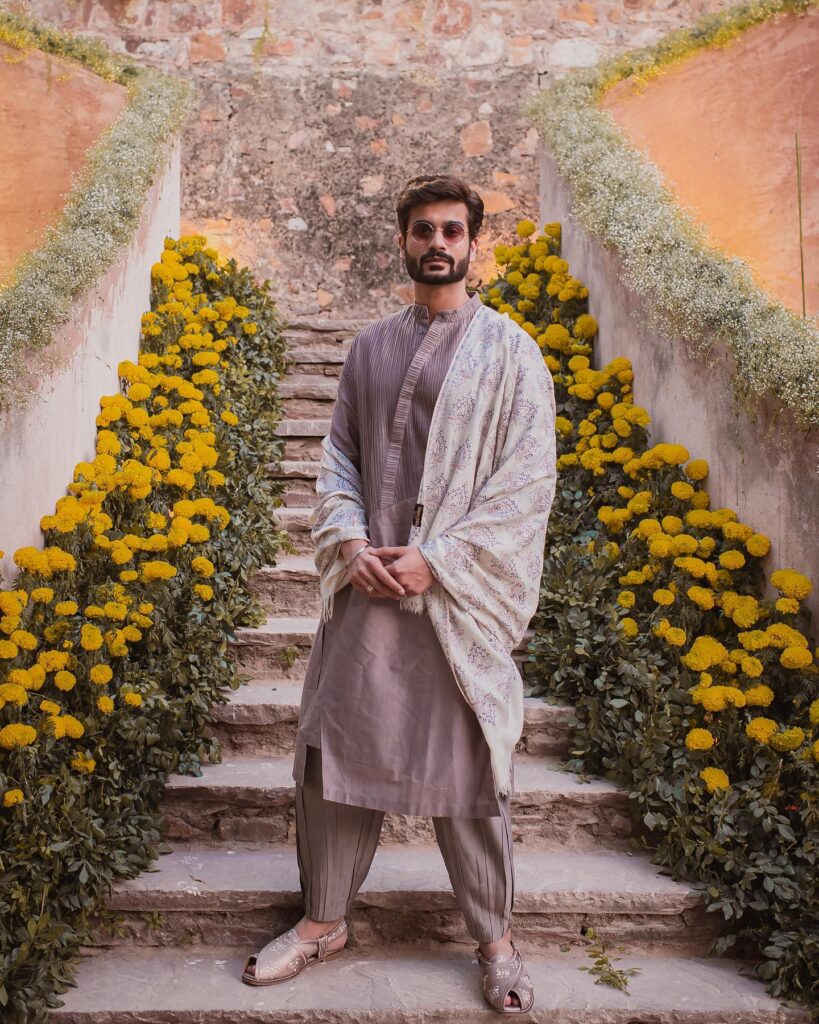 10. All Black Traditional Outfit Styled with a Shawl
Diwali brings with it a whiff of cold winds and an invitation to winters. Welcome winters with this regal look and turn this festival into your runway. A monochrome all-black outfit paired with a regal shawl is exactly what royal dreams are made of. Luxurious and absolutely magnificent, this ensemble will make you feel like a king. Style it with embroidered juttis, and let your majestic outfit do all the talking.
9. Cotton Chikankari Kurta for the Diwali Puja
Nothing screams comfort and grace better than a cotton kurta and when embroidered with contrasting chikan work, the outfit is pure magic. Keep it fresh and stylish by pairing it with ripped jeans or take your style game up a notch and look dapper by styling it with a contrasting churidar and gain all the brownie points from your mother.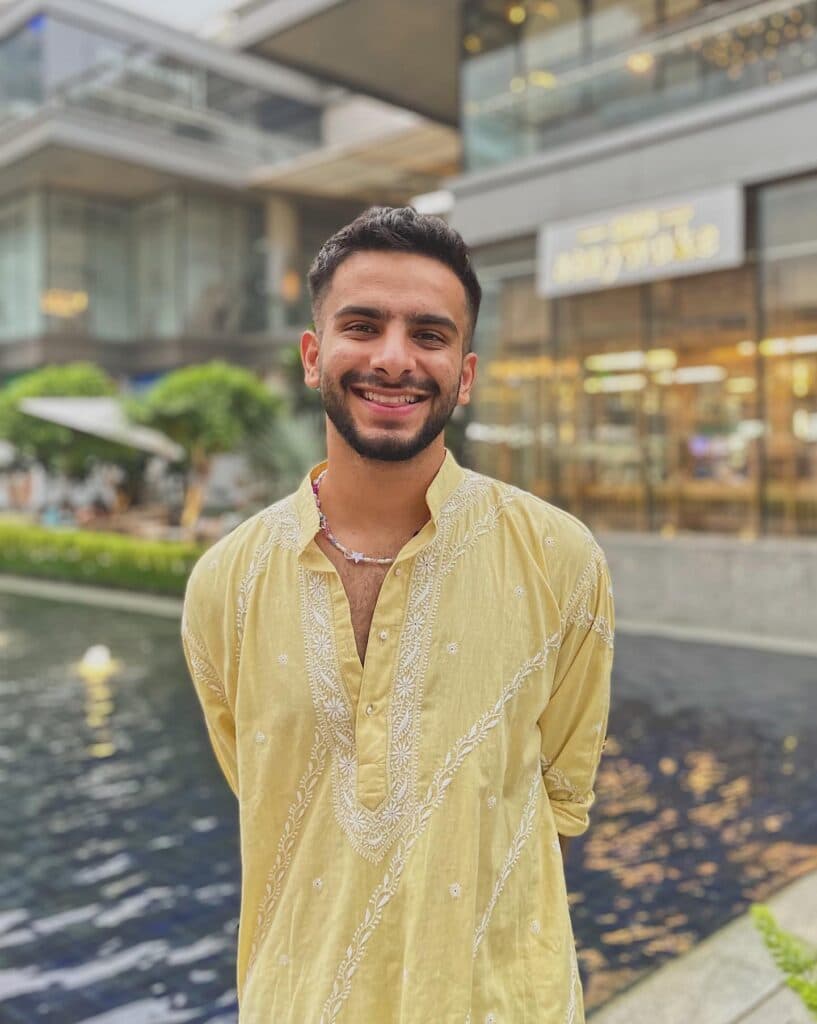 8. Kurta Pajama Paired with Nehru Jacket
When in doubt, opt for the timeless black. Black and white is the classic combo, one can never go wrong with. Be it office meetings, festivals, or weddings, this oh-so-classy combination is universally accepted and loved. Opt for a black and white kurta pajama and style it with a matching black Nehru jacket to nail this timeless combination. Keep it simple with a contrasting pocket square and sleek hair and be the star of the show this Diwali. Or add a pair of wayfarers to bring the whole look together.
7. Indo -Western for the Win This Diwali
Take your style game to a whole new level with this all-black indo-western number. Contemporary and dapper, this fit is made for the experimental kind, the fashion-forward kind, and the young at heart kind. Keep the fit all black and accessories it with black accessories. Vibe hai vibe hai.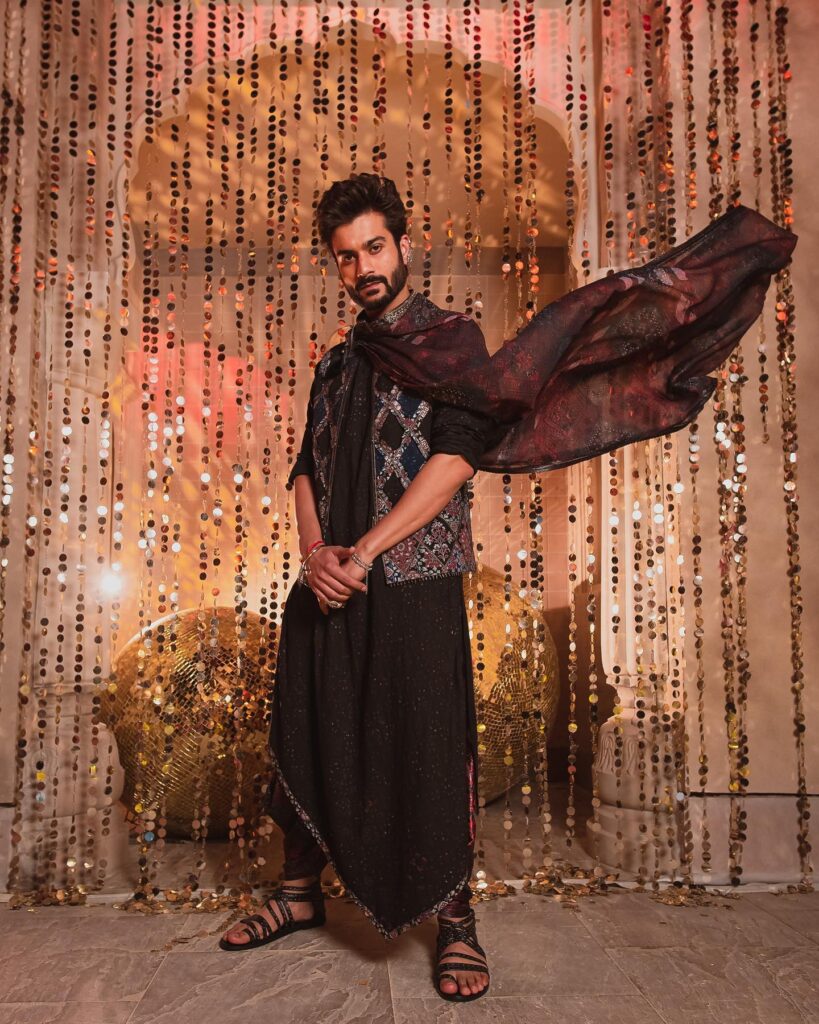 6. Printed Kurta Styled with Contrasting Trousers
For those who don't wish to experiment and would rather stay classic, this easy breezy cotton kurta paired with contrasting white trousers is a perfect choice. A dapper option, this printed kurta in classic pastel can easily go from taash parties to Diwali puja in a hot minute. Style it with loafers for a breezy daytime look or pair it with black shoes for a more dressy nighttime event.
5. Short Kurta styled with Jeans
A contemporary and fresh take on the traditional kurta pajama is this short kurta paired with trousers or jeans. A short kurta be it solid or with a traditional block print is an easy-breezy outfit that you can easily carry this Diwali. Style it with contrasting chinos, and comfortable footwear and you are all done. Attend Diwali parties and gorge on delish foods or go on to meet relatives in this dapper number and garner compliments.
4. Paint it White this Diwali
Raise the hotness meter by adorning one of the hottest trends of 2022, All White, this Diwali. A dapper well fitted white suit paired with a white shirt is the epitome of stylish sophistication. Opt for this regal look this Diwali and make heads turn. An effervescent choice this cheeky number is for all those who wish to make a style statement this Diwali.
3. All White but Make it Desi
A traditional festival like Diwali calls for a fabulously traditional outfit. Keep up with the all-white trend of 2022 by opting for the quintessential traditional outfit – white kurta pajama and look bomb. Be it Diwali get-togethers or Diwali dinners, this dapper outfit is going to garner all the compliments and make you look like a million bucks. Add a pop of color by styling it with a bright dupatta and bring your A-game with this stylish ensemble. Don't forget to tag us in your pictures.
Source
2. Dhoti Diwali Outfit for Men
Make an entrance with this magnificently regal Diwali outfit for men and make heads turn. A fabulously royal and maharaja look, this outfit is made for our princes who wish to rule the world with their splendid fashion sense. Add a pop of color by adding a pink jacket and you are all set to dazzle. If you want a fun outfit then you might find some good ideas from these Holi Outfits for Men.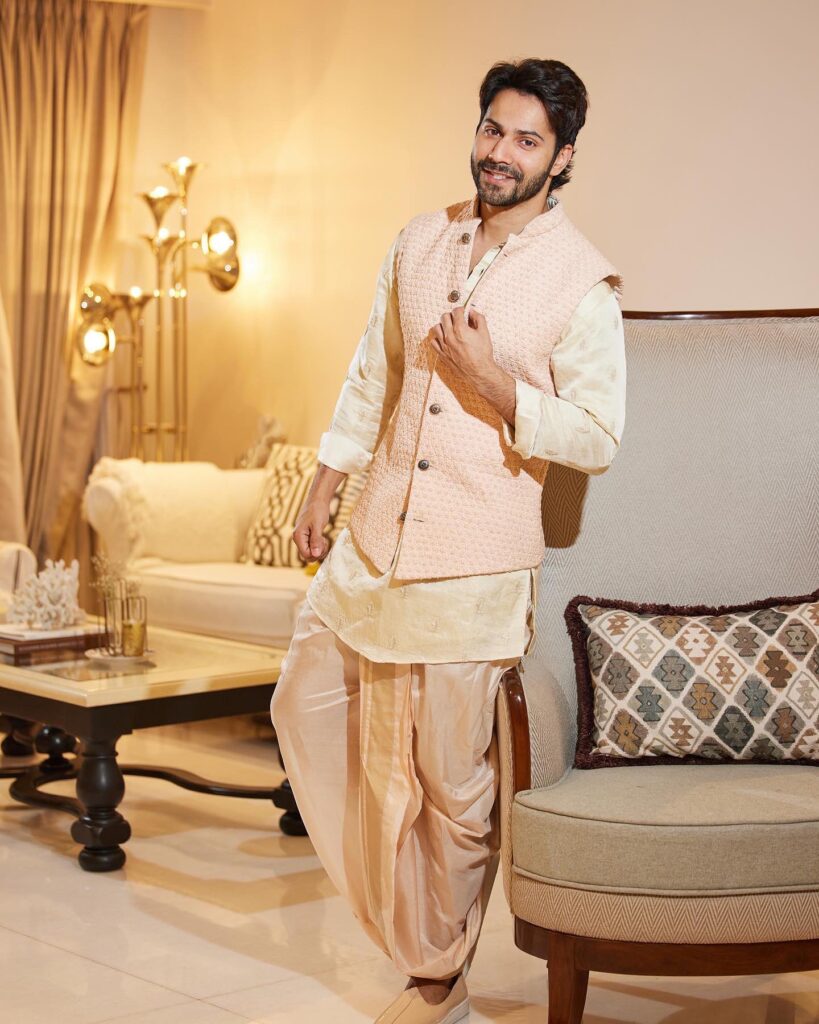 1. Co-ord Set in Bright Hue
Splash your Diwali with some exciting colors by donning this fantastic co-ord set in burnt orange. Look like a patakha this Diwali by styling this handsome outfit with a white graphic print tee and add a whiff of casual freshness to your outfit. Switch it up with a formal shirt for the night taash parties and dance all night.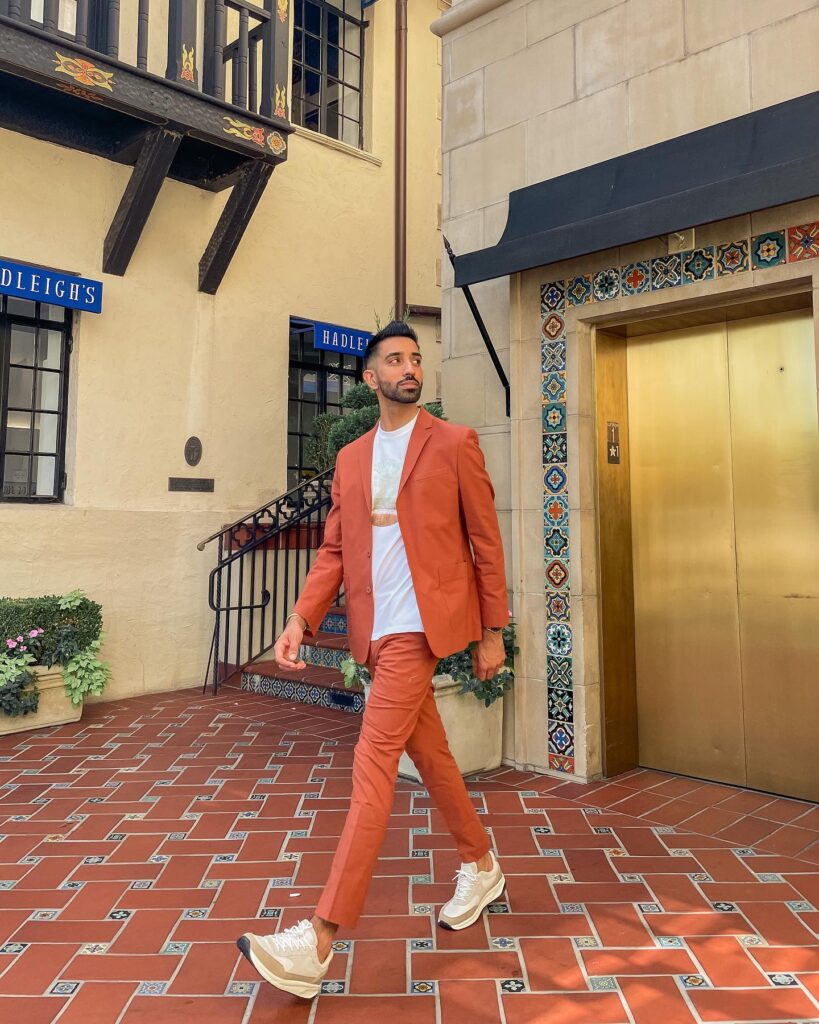 Tell us in the comments below which outfit was your favourite and how will you style it in your own unique way.
Frequently Asked Questions
Q. How should a man dress for a diwali party?
There are tons of options that you can try this Diwali. A casual blazer in deep hue paired with a printed shirt is one such great option. Or if you wish to keep it traditional opt for a cotton kurta pajama styled with juttis. You can also don a shirt with ethnic block print and pair it with ripped jeans for a youthful and casual look.
Q. What clothes are worn on diwali?
Traditional outfits like kurta pajama with a shawl or stole or a short kurta with jeans are a few popular Diwali outfits for men. You can also opt for an indo-western outfit like a blazer paired with a saree or go the regal route by donning a traditional kurta with a dhoti outfit.