Clubbing outfits for men- Clubbing is a prevalent entertainment activity for both men and women. Men usually go to clubs to unwind from work stress and have a great time. It is also a great way to socialize, make friends, create PR, and meet new people.
A great way to kick off your weekend is to go clubbing with friends. However, the big question that always arises is what to wear to the club. When you frequently go to clubs, it becomes a big nuisance to decide on a new style and outfit every time. There can be a great many varieties in the clubbing attire for men.
What To Wear To A Club?
To all those who love cubbing, be their purpose, just dancing or relieving stress. Here we have a few free tips for you all to keep in mind before heading out to a club.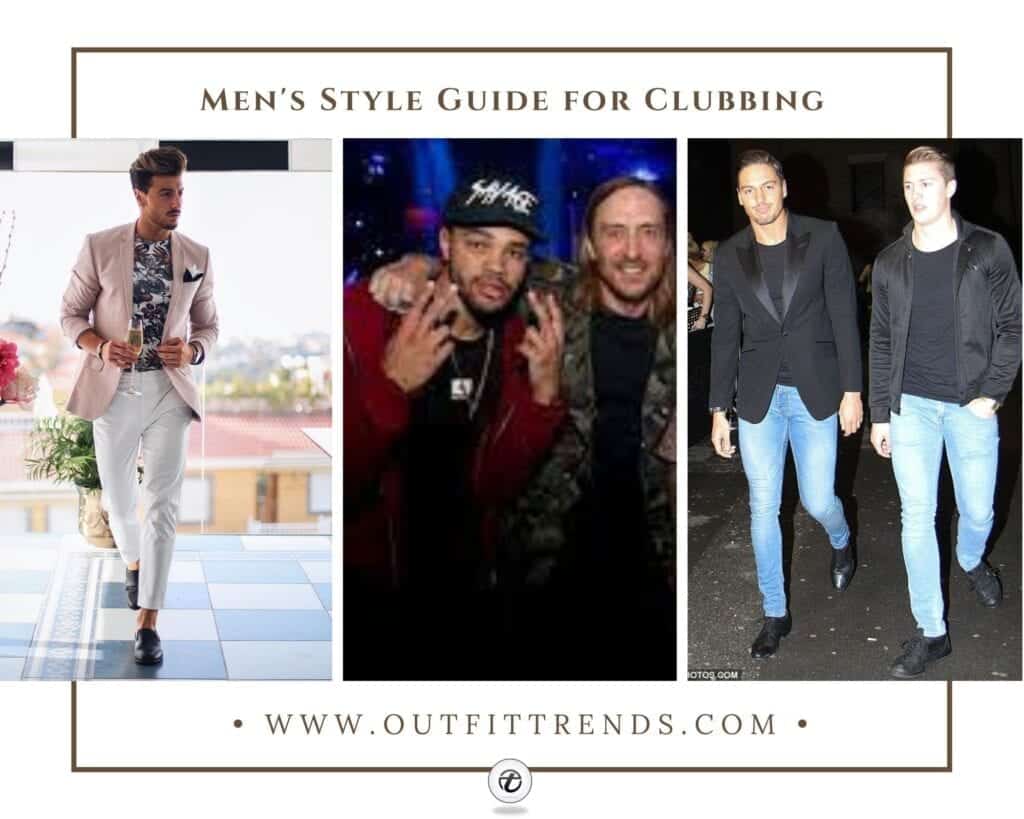 Make sure your ensemble is weather appropriate. Don't wear too less or too much.
Good choices for shirts are, button-down shirts, printed, floral, pattern shirts and polo and Henley tees.
Go for darker outfits and refrain from wearing white because clubs are crowded and if not you then anyone else can spill a drink.
For Footwear, go with dress shoes, Oxford shoes, brogue, Chelsea boots loafers or Adidas sneakers according to your outfit. You don't want to wear sneakers with a suit and be laughing stock at the club.
If a club's dress code doesn't allow you to wear jeans then go with chinos, cotton pants, soft wool trousers or even a suit pant with dress shirt will work.
Don't go for monochrome outfits as they are not attractive at all, wear contrasting outfits or keep your shirt of light shade and pants of darker.
Don't go for unnecessary accessories like a hat and caps. Keep it simple and elegant by wearing a wristwatch and just keeping a wallet with yourself.
Tucking your shirt in will be the rational choice, don't forget to use a belt in that case.
The dress code for club varies from casual to formal, depending upon which club you are planning on visiting but the main outfit is usually semi-formal. It also depends upon who you are meeting with. If it is a bunch of old friends, casual will do.
If it is a date, then it's better to be semi-formal, however, if you are going to the club for a special event like a friend's bachelor party, office success party or just New Year, it is best to be formal.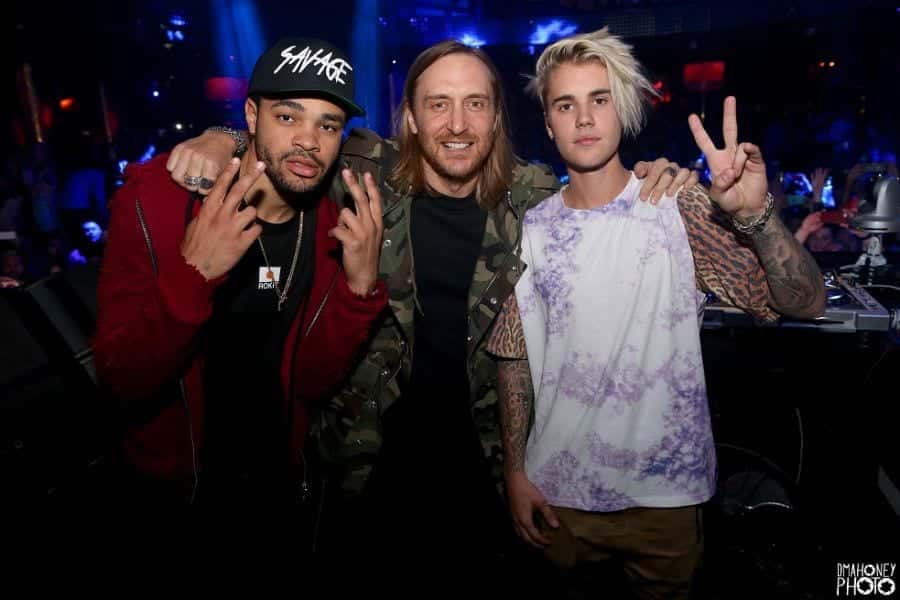 As clubs are a great way to meet new people and make first impressions, it is best if you are adequately dressed while visiting a one. Here are some great clubbing outfits for men suggestions. Next time if you are indecisive about what to wear to the club, choose any of the following twenty styles, and you are good to go.
↓ 20 – Suit That Will Catch The Attention
The suit has to be your first pick if you are not going to club for the sole purpose of dancing and heating the club floor. If you are going to club with your business partner or someone you are going to sign a contract with, then go formal with twisting a suit by wearing a floral shirt with a nude blazer and white pant. Go with leather loafers, add a wristwatch, and gel up your hair. There you are looking slick and like a boss, doing your business and attracting all the pretty girls towards yourself.
Outfit Details:
TWGONE Charm Men's Casual Slim Fit One Button Suit Blazer
Cubavera Men's Delave Linen Flat Front Pant
ECCO Men's New Jersey Slip-On Loafer
↓ 19 – Denim Jacket Based Clubbing Outfit
A denim jacket can be paired with both trousers, chinos, and jeans. If you are wearing jeans with a denim jacket, make sure it is in a darker shade as compared to the tone of the shirt. You can wear a button-down shirt or a t-shirt with a denim jacket. A denim jacket can be useful for a casual and semi-formal look. It will make anything look cool. Check out these Denim Jackets Outfits For Men – 17 Ways To Wear Denim Jacket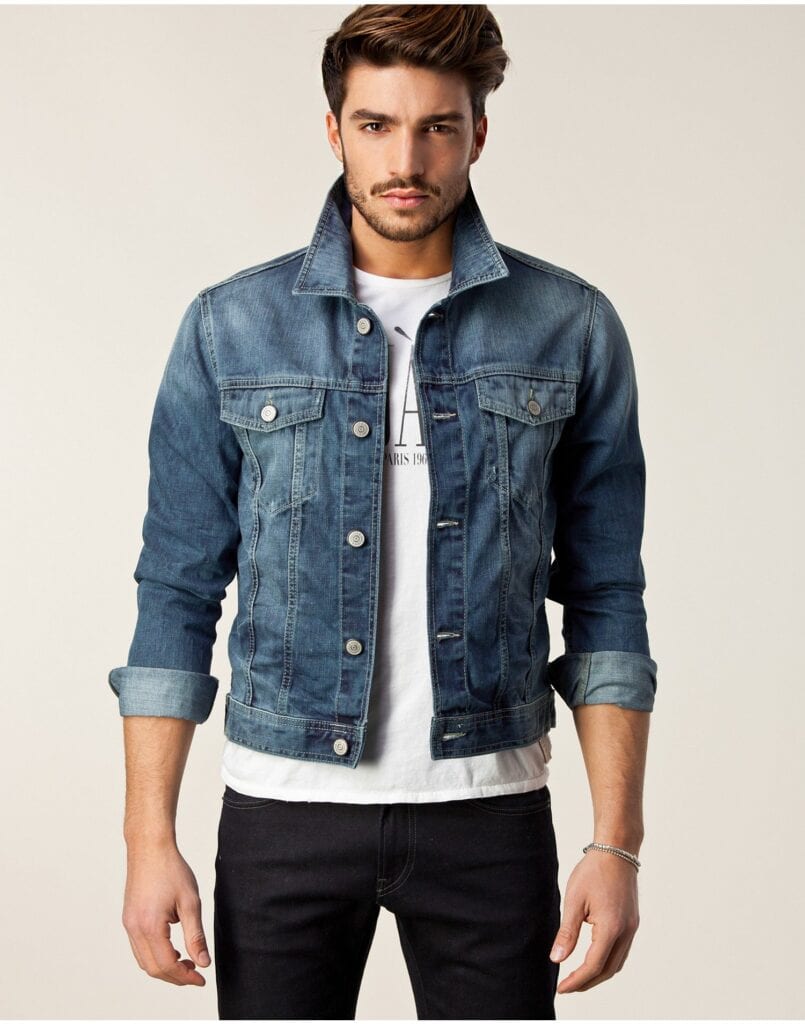 Outfit Details:
DC APPAREL Men's Chained Up Tee
↓ 18 – Casual Blazers That Give A Cool Vibe
Wearing a blazer is suitable for semi-formal to a formal look. If you are going to a high-end club or a lounge, do opt for a blazer. You can wear a plain t-shirt under it. Usually, a white oxford will look beautiful with any classic shade of blazer from blue, grey, black, or navy. Wear your ideal pair of chinos with the outfit, and you are dressed to kill.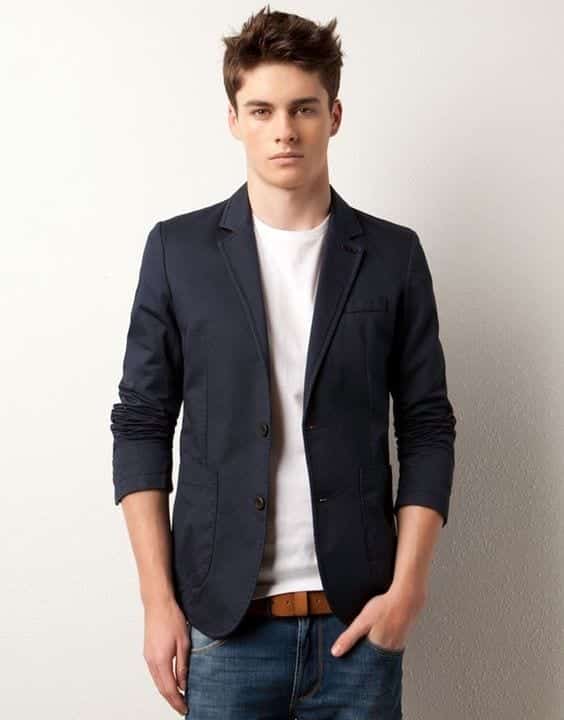 Outfit Details:
COOFANDY Men's Casual Sport Coats
Aoysky Men's Soft Cotton T-Shirt
↓ 17 – Leather Jackets Clubbing Outfits
The trend of wearing leather jackets never really fades away in men. A good leather jacket will look hip in every season. Pairing a black or brown leather jacket with a white or blue t-shirt and jeans to go with it, is a cool clubbing outfit for men. Here are some remarkable Leather Jacket Outfits for Men-18 Ways to Wear Leather Jackets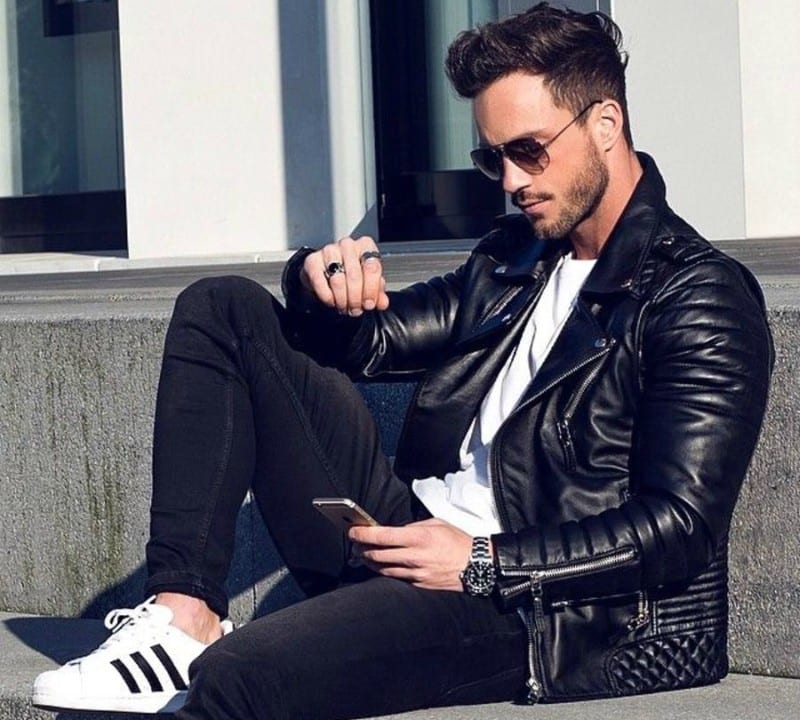 Outfit Details:
AOWOFS Men's Faux Leather Jacket
Aoysky Men's Soft Cotton T-Shirt
Adidas Men's Grand Court Tennis Shoes
↓ 16 – Classic Semi-formal Clubbing Outfits
Black or blue denim with a shirt is a befitting option for any happening. With black jeans, you can wear shirts of any color. If you are confused about what to wear, your unconventional but favorite shirt with, black denim is the answer. Blue denim is also good with most of the shirts except maybe grey or blue, which will look better with black.
You can create another look with the help of plain or floral button-down shirt and cotton pants. Wear white Adidas sneakers for a casual look, loafers for a semi-formal look and Oxford shoes along with a blazer to create a formal look. Button-down shirts are life savors.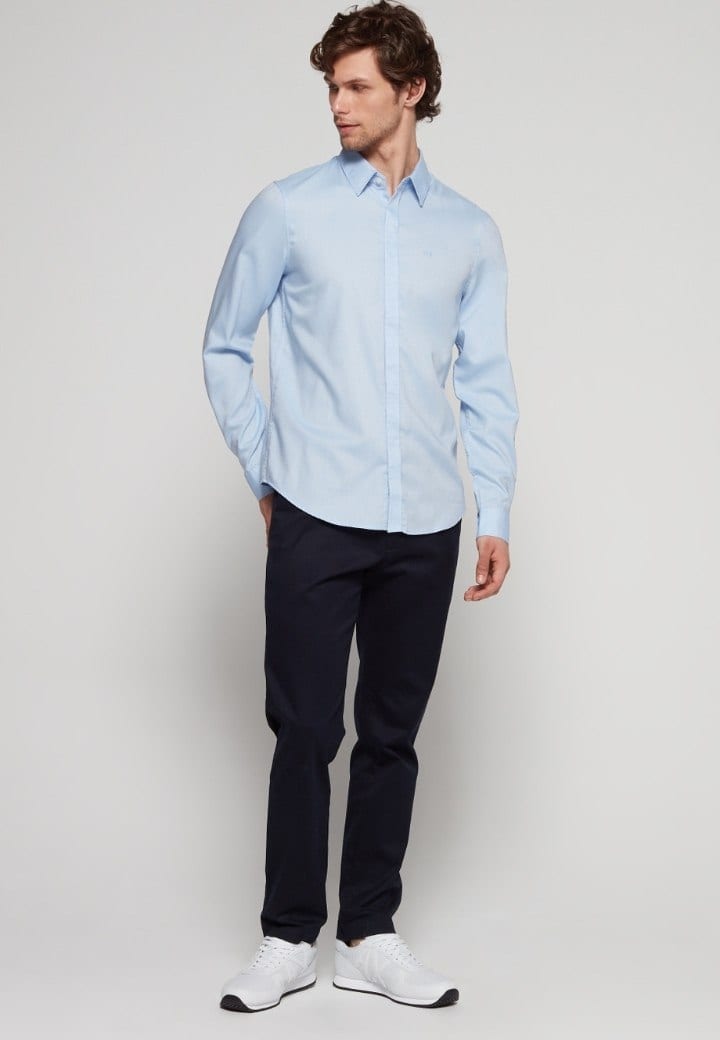 AX Logo Embroidered Long Sleeve Shirt
Outfit Details:
Adidas Men's Ultraboost 20 Sneaker
Men's Stretch Dress Pants Slim Fit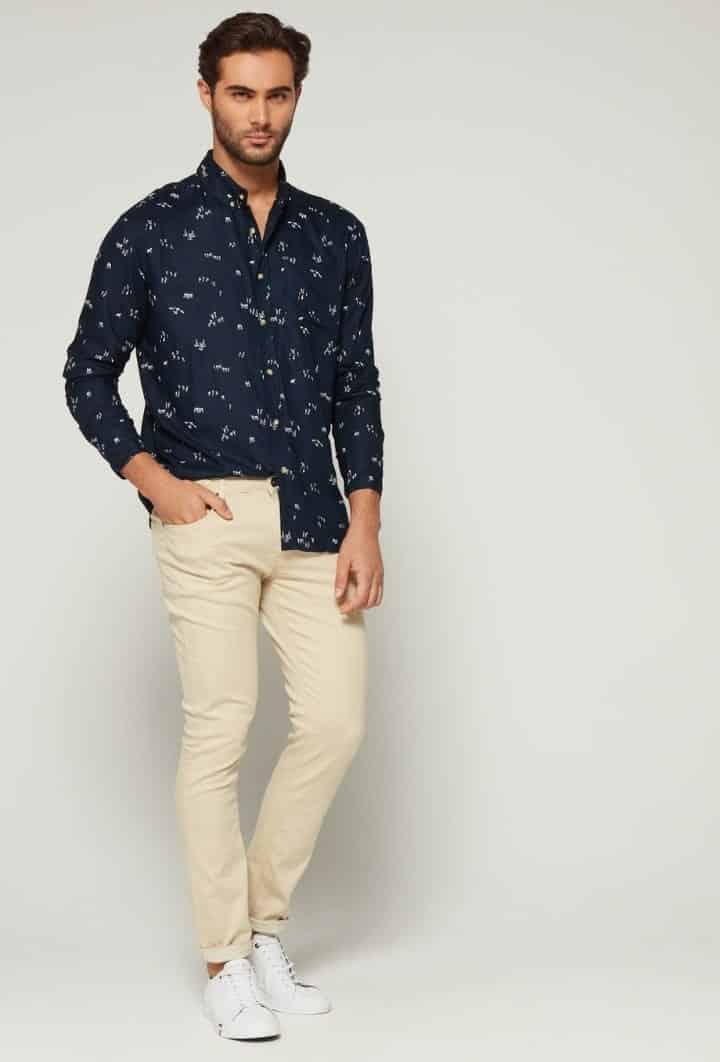 Outfit Details:
Goodthreads Men's Standard-Fit Long-Sleeve Printed Poplin Shirt
IZOD Men's Saltwater Stretch Flat Front Straight Fit Chino Pant
Skechers Men's Issel Casual Sneaker
↓ 15 – Polo Shirts With Chinos
Polo shirts are not only comfortable, but they also give a sense of dressing up and style and suit almost any personality. A khaki chino is an excellent way to pair up a polo. An outfit like these are good options for boys above twenty, my dad still wears them to a Club in his fifties, so I guess there is no restriction irrespective of your age.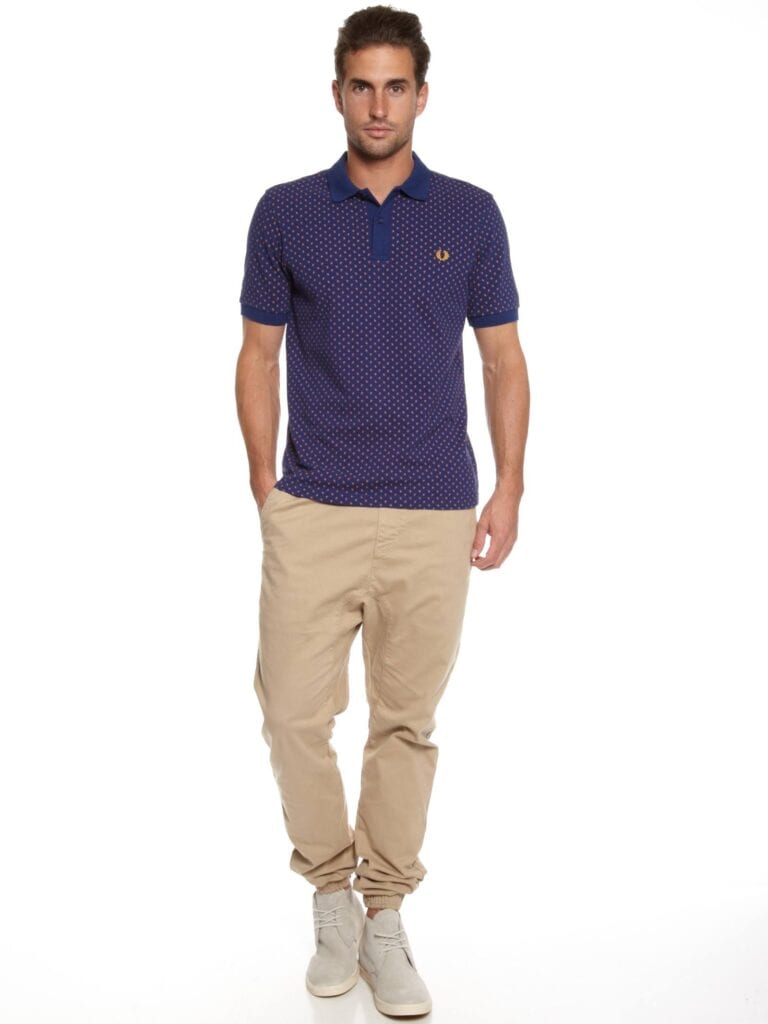 Outfit Details:
Lee Men's Regular Fit Straight Leg Jean
yageyan Men's Low Top Canvas Walking Shoes
↓ 14 – Plaid Shirts For A Different Look
If you want to look a little different, a plaid shirt will do the trick. Where everyone is usually donning t-shirts, a plaid shirt will stand out in the crowd, and it is not awkward too because the checkered prints are suitable for casual occasions.
There are two ways of wearing them. You can wear your plaid clarity by Pairing them with chinos and tuck your shirt in. Another method for the cool guys to wear is that wear a plain or graphic tee under your plaid button-down shirt and leave the buttons open. Pair this shirt combo with jeans and sneakers.
RECOMMENDED: Men Check Shirt Outfits – 16 Ways to Style Check Shirts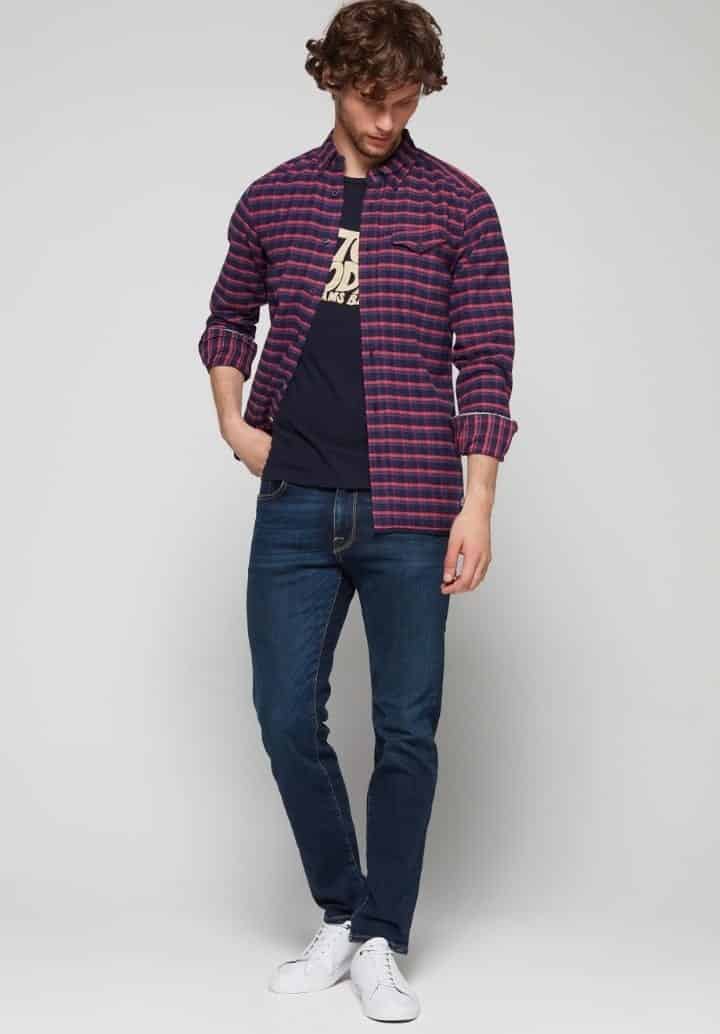 Button-Down Plaid Long Sleeve Shirt
Outfit Details:
Tinkwell Men's Button Down Plaid Shirts
Wrangler Men's Regular Fit Comfort Flex Waist Jean
Skechers Men's Issel Casual Sneaker
↓ 13 – What To Wear To A Club To Propose A Girl
Proposals at clubs are getting in fashion way too much now. If you are planning to propose your girl in a club, make sure you are sober and not high. Drunk proposals are not the right decision. Pre-plan the proposal along with your friends and surprise her. For this, you definitely don't want to go so casual because you'll remember this day forever and cherish the memories till death. Suit up a little in a brown suit, to make it a little less formal wear a black round neck shirt underneath instead of a dress shirt and wear your leather loafers and watch. After all, you have to impress her and on her demand to take loads of photos. You must look presentable, handsome young man.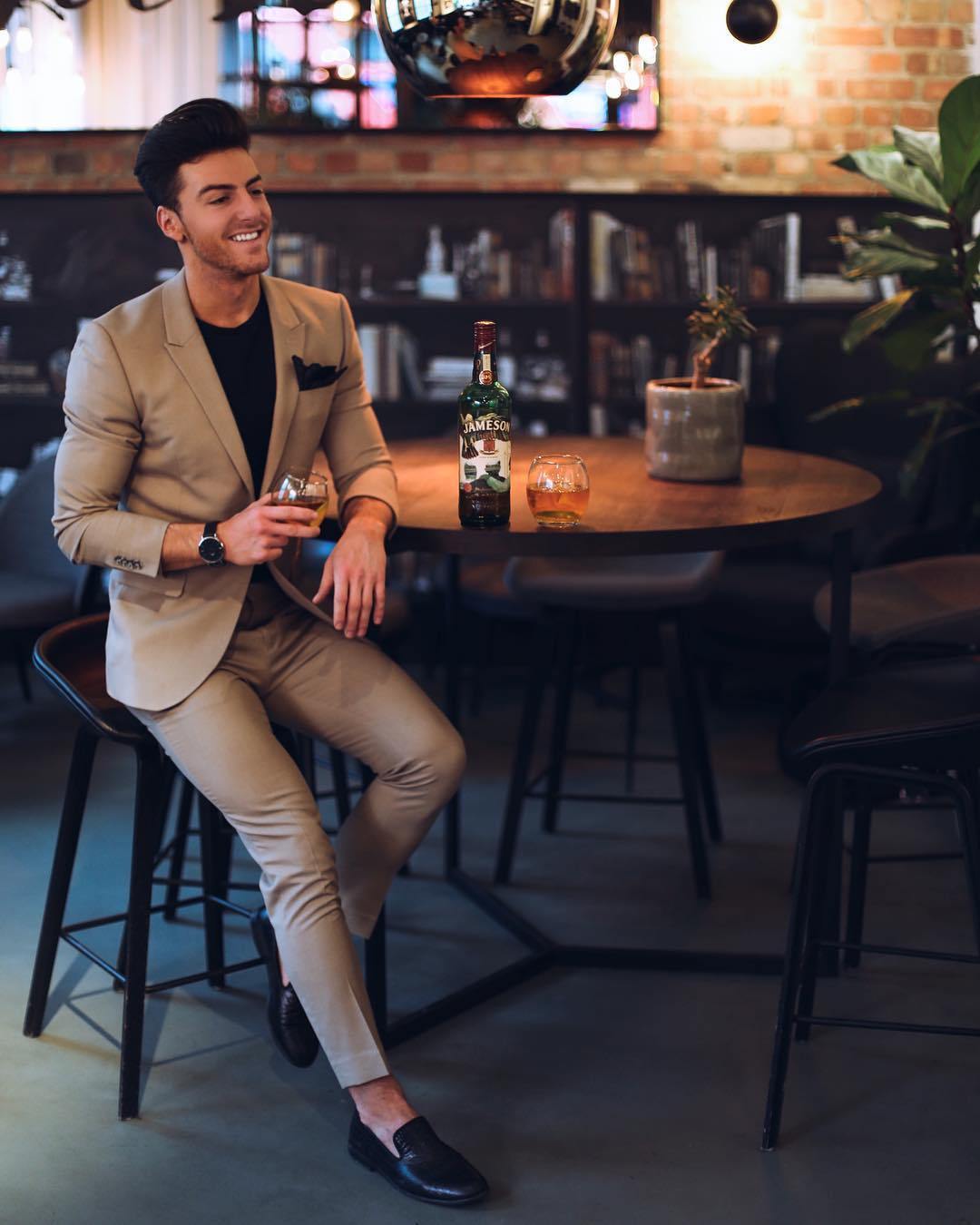 Outfit Details:
ECCO Men's New Jersey Slip-On Loafer
↓ 12 – Bomber Jackets For Clubbing Night Out
A bomber jacket, which does not have a mix of too many colors, it suitable to be worn with jeans and a shirt. Don't miss out our ultimate guide on How to Wear Bomber Jacket Men-18 Outfits with Bomber Jackets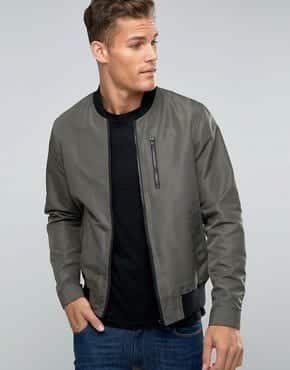 via
Outfit Details:
↓ 11 – What To Wear To The Club In Winters
Blazers with a shirt and a pant will look a little formal but will do well for any club. Just make sure that you are not wearing your new blazer and ruin your expensive outfit by spilling drinks on it. Hence, say no to your favorite gear, designer clothes and fancy clothes in a club.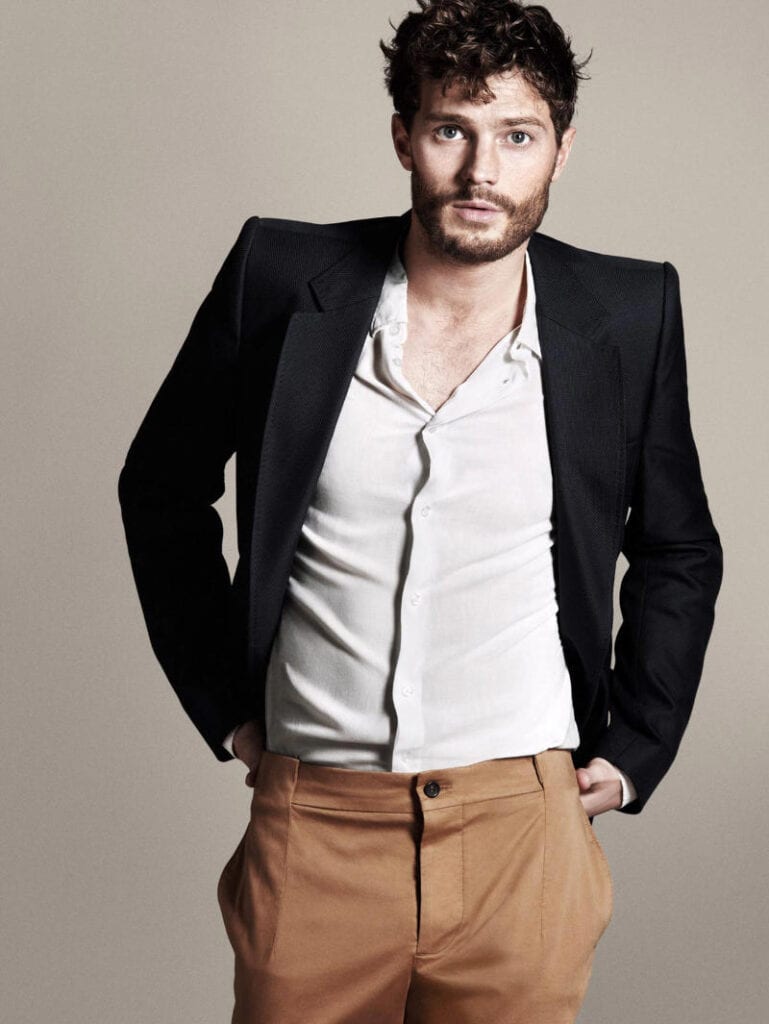 Outfit Details:
Levi's Boys' 502 Regular Taper Fit Performance Jeans
Men's Slim-Fit Wrinkle-Resistant Long-Sleeve Dress Shirt
↓ 10 – Denim Shirts With Chinos
A denim shirt paired with any colored chino looks excellent. A darker shade of denim will look better as compared to the lighter one.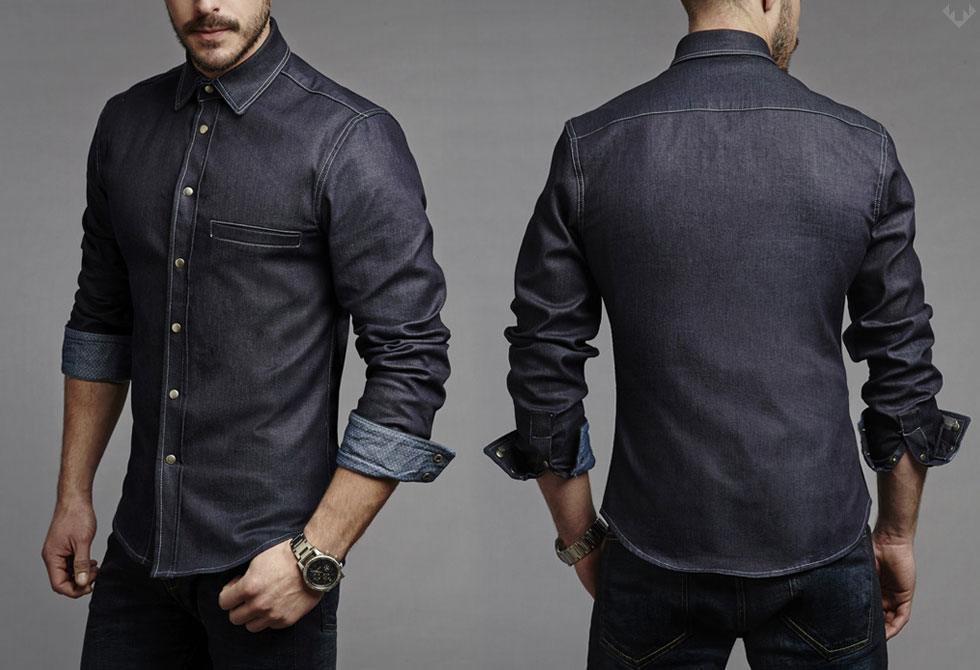 via
Outfit Details:
COOFANDY Men's Long-Sleeve Denim Work Shirt
↓ 9 – A Button-down Shirt With Trousers Clubbing Outfits
Button-down shirts are undoubtedly the best pick for a club night. Tuck them in your pants and belt up your gear. If you don't want to ruck in your shirt, then make sure the length of your shirt is not too long. Look neat, cherish the moments. You'll never get this phase of your life again. Moreover, don't do for white shirts unless if you want to return with a shirt, you can never use again. Grey shirts are a good option though, the sweat you get in clubs is not visible on them and looks great in the disco lights as well.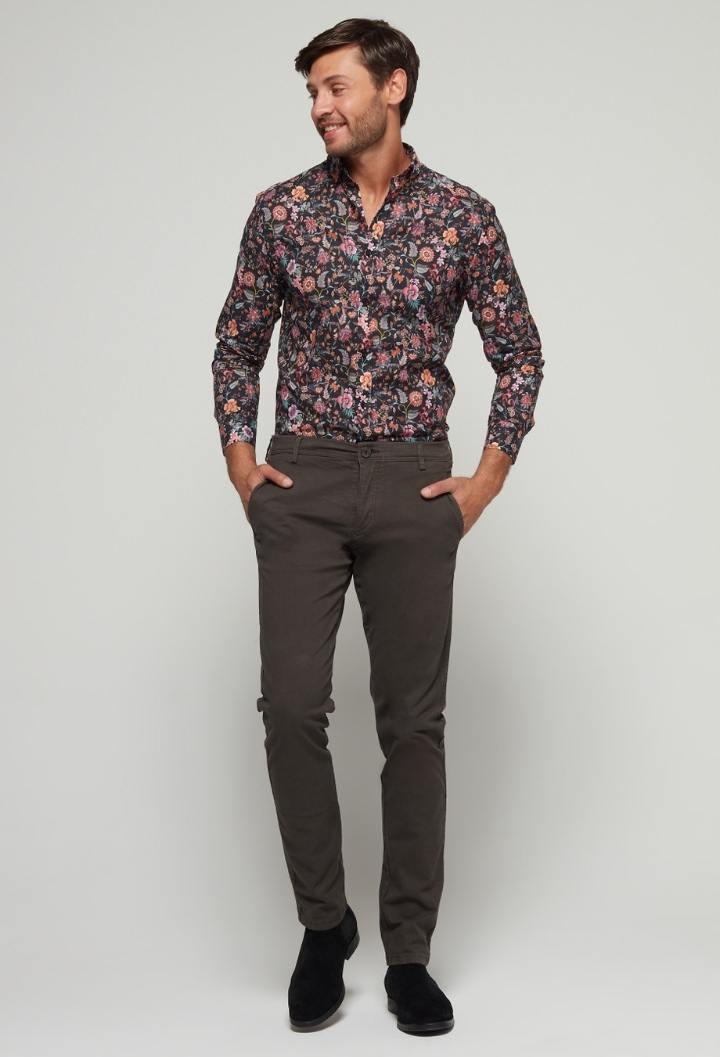 Outfit Details:
TUNEVUSE Men Floral Dress Shirts
Victorious Men's Skinny Fit Color Stretch Jeans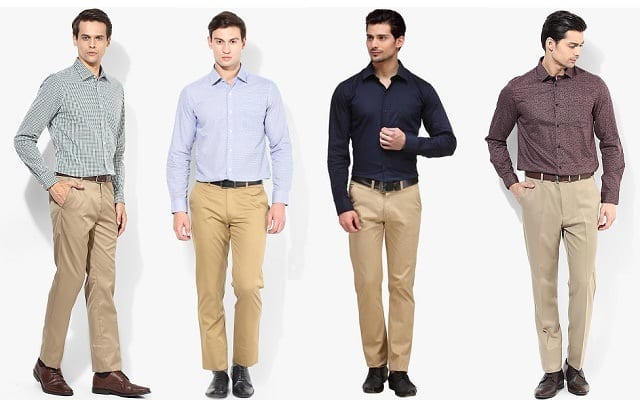 ↓ 8 – Henleys With Denim
Henley shirts are a great way to dress up for the club. Don't even think of ruling this option out. A great option for people in their 18-30 age group.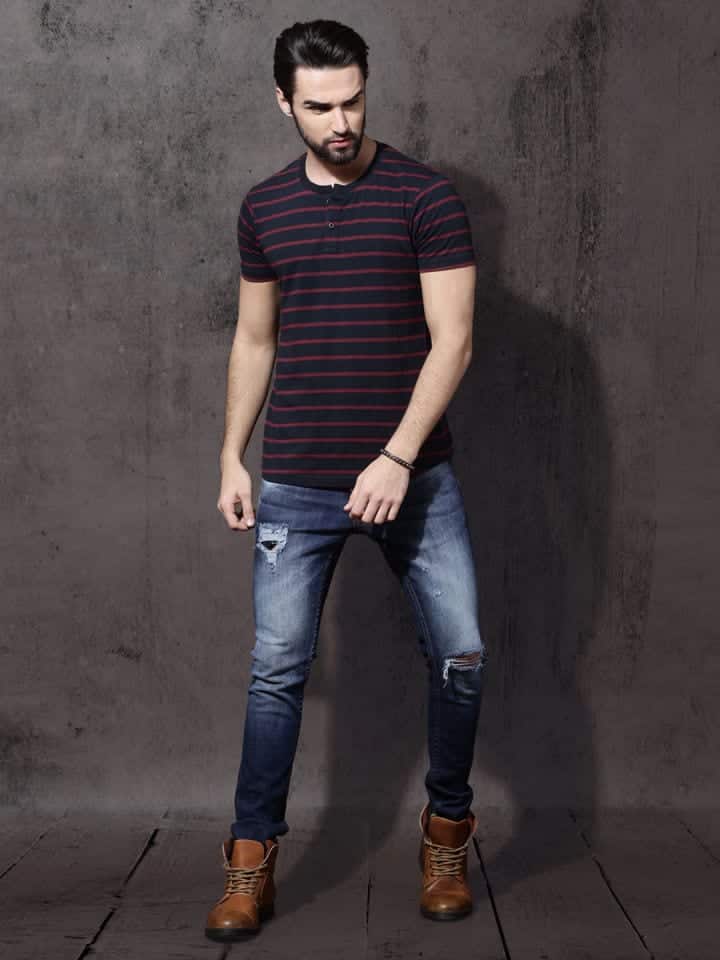 Outfit Details:
↓ 7 – How To Dress Up For A Club In Winter
Clubs are usually very heated and have poor ventilation. Hence don't wear clothes that are too warm, and don't layer up too much. Keep your outfit light and breathable. But for cold days you'd definitely need a warm jacket in case you have to go by walk to the club. Pullover a denim jacket with fur over a casual tee and denim and take off your jacket when you reach the club.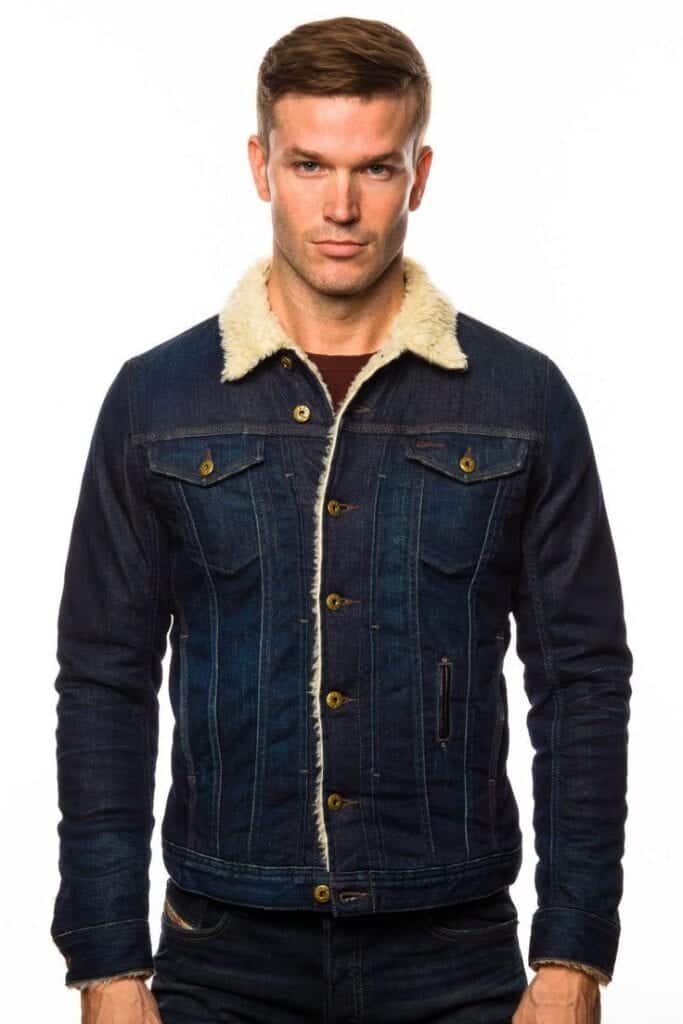 Outfit Details:
↓ 6 – Casual Clubbing In The Club Down The Street
Casual clubbing is a part of everyone's life, be it for Friday after work sessions, Saturday party mood or pre Monday stress. We all want to head to the club and clear off our heads for a while. For days like this wear a polo tee shirt along with jeans and black sneakers.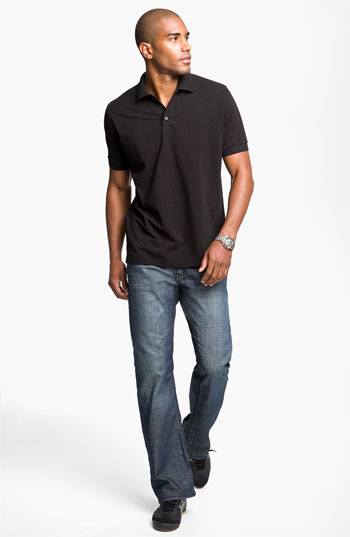 Outfit Details:
Men's Athletic-Fit Stretch Jean
↓ 5 – What To Wear With Dress Shirts In Clubs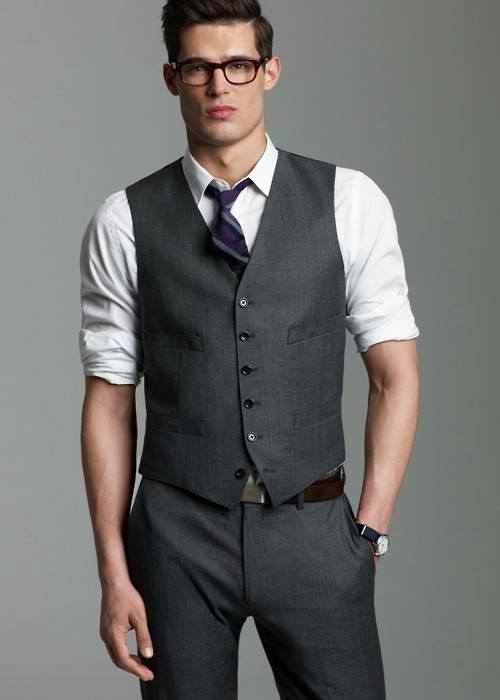 Outfit Details:
↓ 4 – How To Suit Up For The Club
So if there is some very elite club, you have to follow the formal dress code otherwise the doorkeeper won't let you enter the club.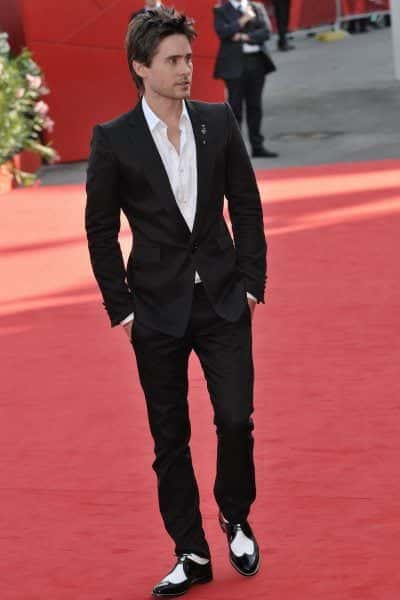 Outfit Details:
WEEN CHARM Men's Blazer Jacket Pants Set
↓ 3 – Clubbing Hairstyles For Men
There is no one specific hairstyle that can be worn by men to look perfectly ready for the club, but when you are dressing up and going out, it is best to have proper hairdo too. You can wear any hairstyle that is common and popular these days. The most common haircuts these days have almost shaved or undercut sides. With that Fades, spikes, side parts, messy and many other hairdos look good. Here are some cool Hipster Men Hairstyles; 25 Hairstyles for Hipster Men Look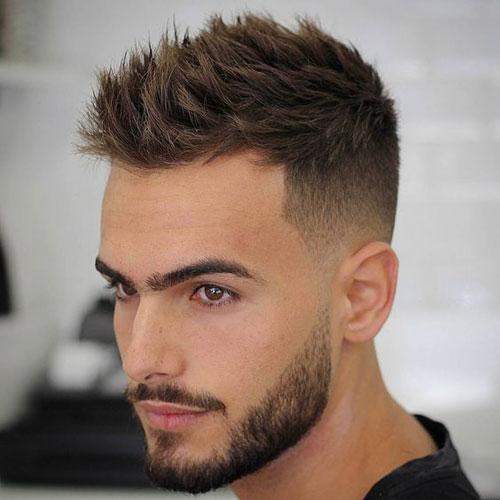 ↓ 2 – Clubbing Accessories For Men
If you are going clubbing to dance or to get drunk, it is better to bear with minimum accessories. No need to wear any rings or chains. Wear the outfit with pockets where you can easily deposit your mobile and wallet so your hands are free all the time and you do not forget where you placed your stuff once you are too high. Wear a classy watch or a hip one depending upon what type of outfit you are wearing.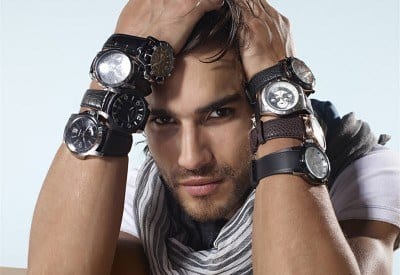 via
↓ 1 – Clubbing Shoes For Men
Wear comfortable shoes if you want to spend more than a couple of hours for clubbing. It can be sneakers or loafers. Wear formals if you are wearing pants otherwise with denim or chinos you can enjoy the comfort of joggers. High top sneakers and boot are also good to go with denim.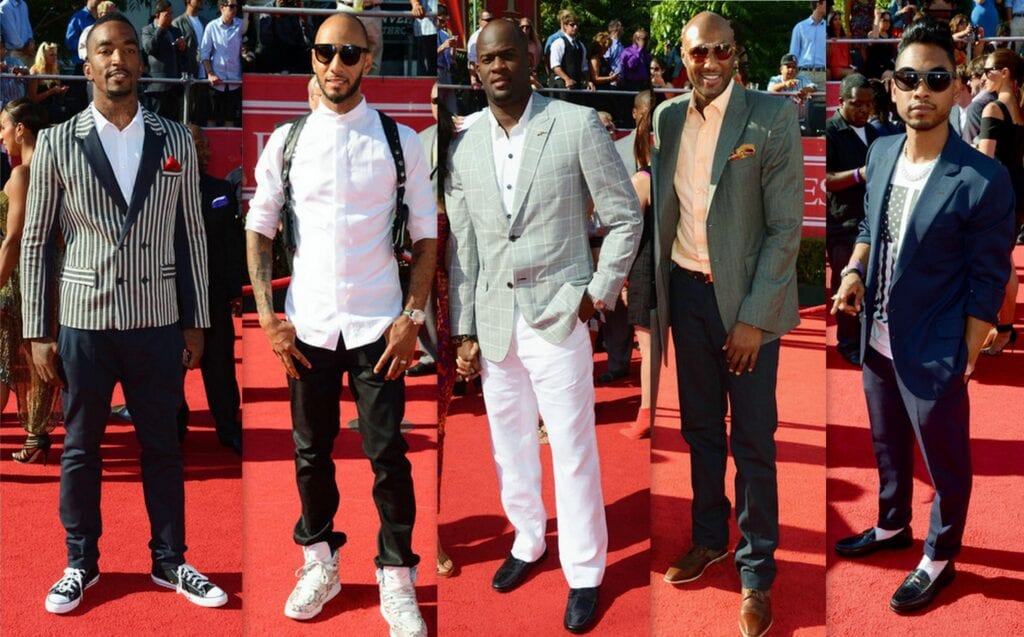 ↓ Shop A Few Looks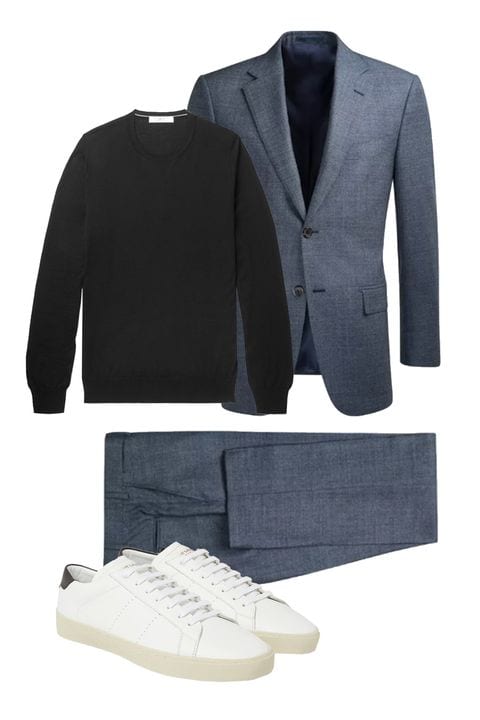 SHOP SIMILAR ITEMS BELOW
Napoli light blue plain suit ($399) by Suitsupply, suitsupply.com
Cashmere sweater ($380) by Mr. P, mrporter.com
Court classic leather sneakers ($495) by Saint Laurent, mrporter.com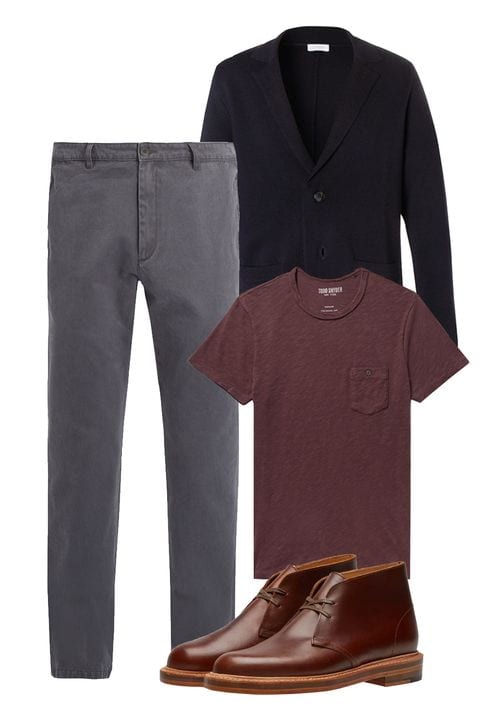 SHOP SIMILAR ITEMS BELOW
Cotton chino trousers ($198) by APC, matchesfashion.com
Milano merino wool blazer ($435) by Sunspel, mrporter.com
Classic pocket tee ($29) by Todd Snyder, toddsnyder.com
Desert Welt ($380) by Clarks Originals, clarksusa.com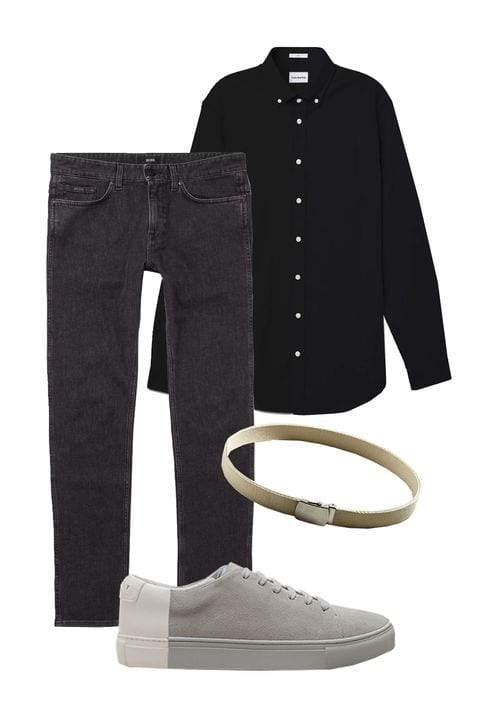 SHOP SIMILAR ITEMS BELOW
Delaware stretch denim jeans ($155) by Hugo Boss mrporter.com
Jasper oxford shirt ($40) by Frank and Oak, f rankandoak.com
Two-tone low suede sneakers ($329) by Them, theynewyork.com
Extra-long web belt ($22) by Urban Outfitters,urbanoutfitters.com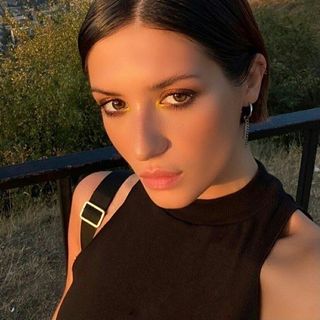 Avid reader and Fashionista. London Based freelance lifestyle editor