Tailored checkered suits are not just suits, but they are the epitome of classic dressing for men. It is formal wear for men to elevate their charisma in a professional environment or for any formal event. Men are recognized by the choice of their suits as it reflects the sense of fashion that they possess.
Suits have been a desirable fashion item for men since the late 18th century and gradually they have evolved to be a stark formality of the Victorian era. It was in the search for more comfort that the loosening of rules which gave rise in the late 19th century to the modern lounge suit.
As a suit covers all or most of the wearer's body, the term "suit" was extended to a single garment that covers one completely. With time, suits took shape of modern fashion and presented themselves with a variety of fabric, styles, colors, shapes, and sizes.  There are many types of suits including seersucker suits, single-breasted, double-breasted, lounge suits, dinner, business, mandarin, wedding, zoot suits, and tuxedos.
How to Wear Check Suits for Guys
Nowadays, with the emerging trend of ready to made, tailored suits, men like to wear the well-fitted suits that are customized for them. The first thing to judge about a good suit is the shoulder fitting and the silhouette. If these two things set right on a man, then you are ready to go with the suit according to the occasion. Out of all the designs and styles followed currently, we will elaborate on the checkered-styled suits tailored for men today.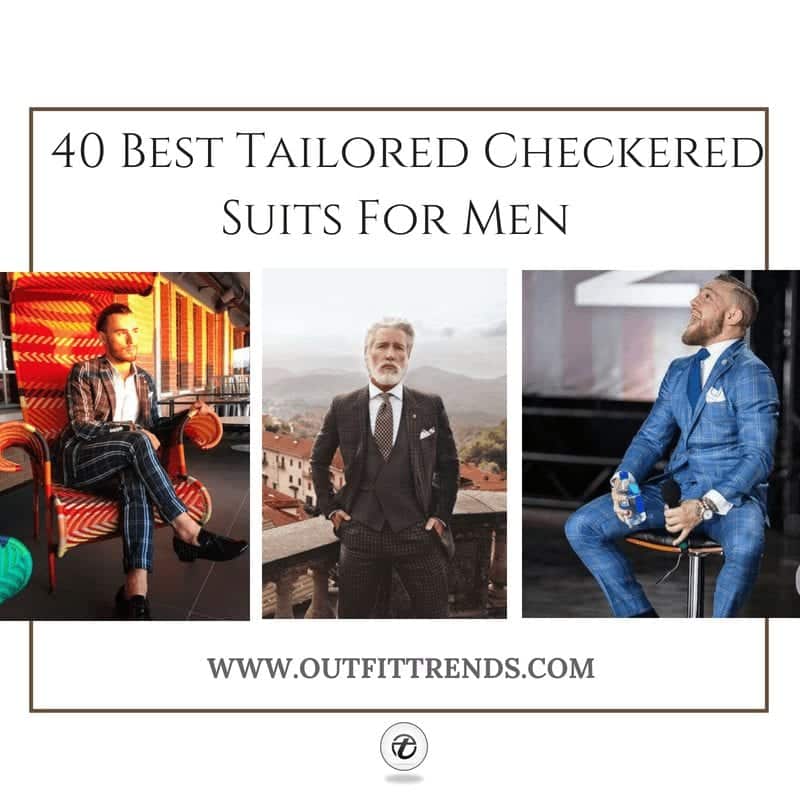 ↓ 1. The Grey Shine
Be it a dinner, prom or a formal business party, you can try on your suit with a dark grey base and light grey checkered lines on it. a simple box check on the coat is very decent to put on. Plain grey suit pants with a simple waistcoat and a tea pink tie knotted elegantly on a white dress shirt is marvelous. A suit becomes formal event wear with that subtle shine in the fabric.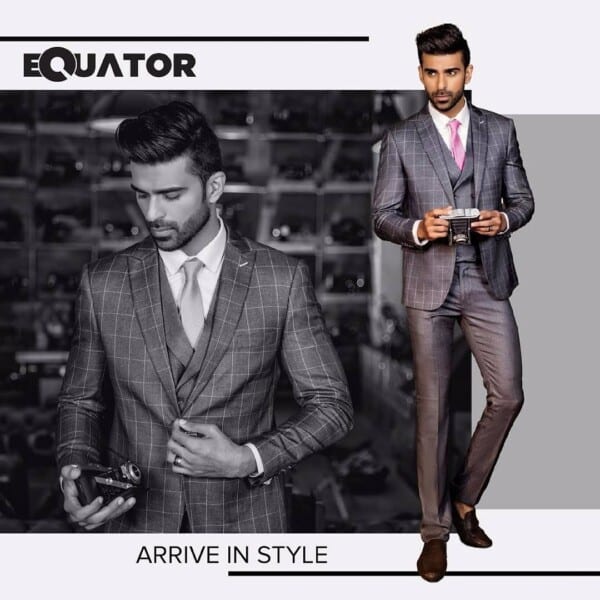 ↓ 2. For Businessmen
What a satisfactory combination of light grey and dark blue colors for a tailored suit! Well, presenting you dark blue suit pants with a light grey color as a base for the coat and bluish checkered lines on the coat.
As you know, tie provides official completeness to the whole suit, therefore, a light grayish purple tie on a white dress shirt is just beyond tasteful for a wedding event. You can wear move colored loafers under your suit. Here are Men's Business Casual Shoes Guide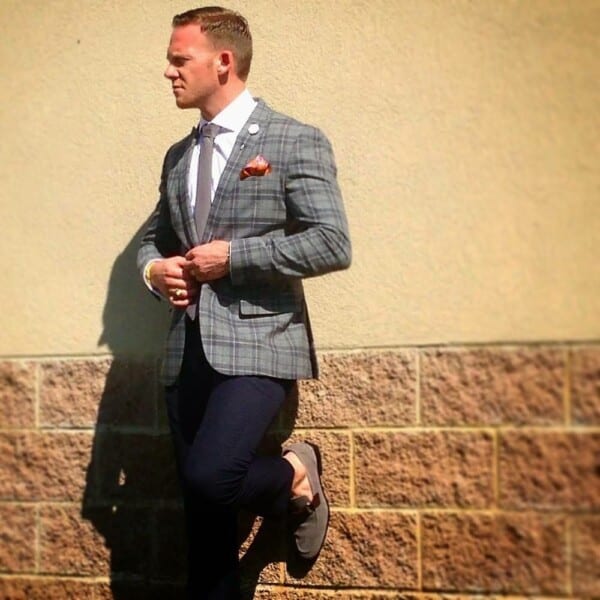 ↓ 3. For Graduation Party
There would be a number of ceremonies you would attend in your life. So you should have a variety of color combinations and fashionable tailored suits to pick up from your wardrobe and wear it. Be it a graduation party or a formal get together, dark blue or black check suits are amazing to go with.
Add waistcoats to your suits for a more refined look! If you have dark matte colors in your suit, you can add a bright dark color to it like red, through a tie, bow or a pocket square.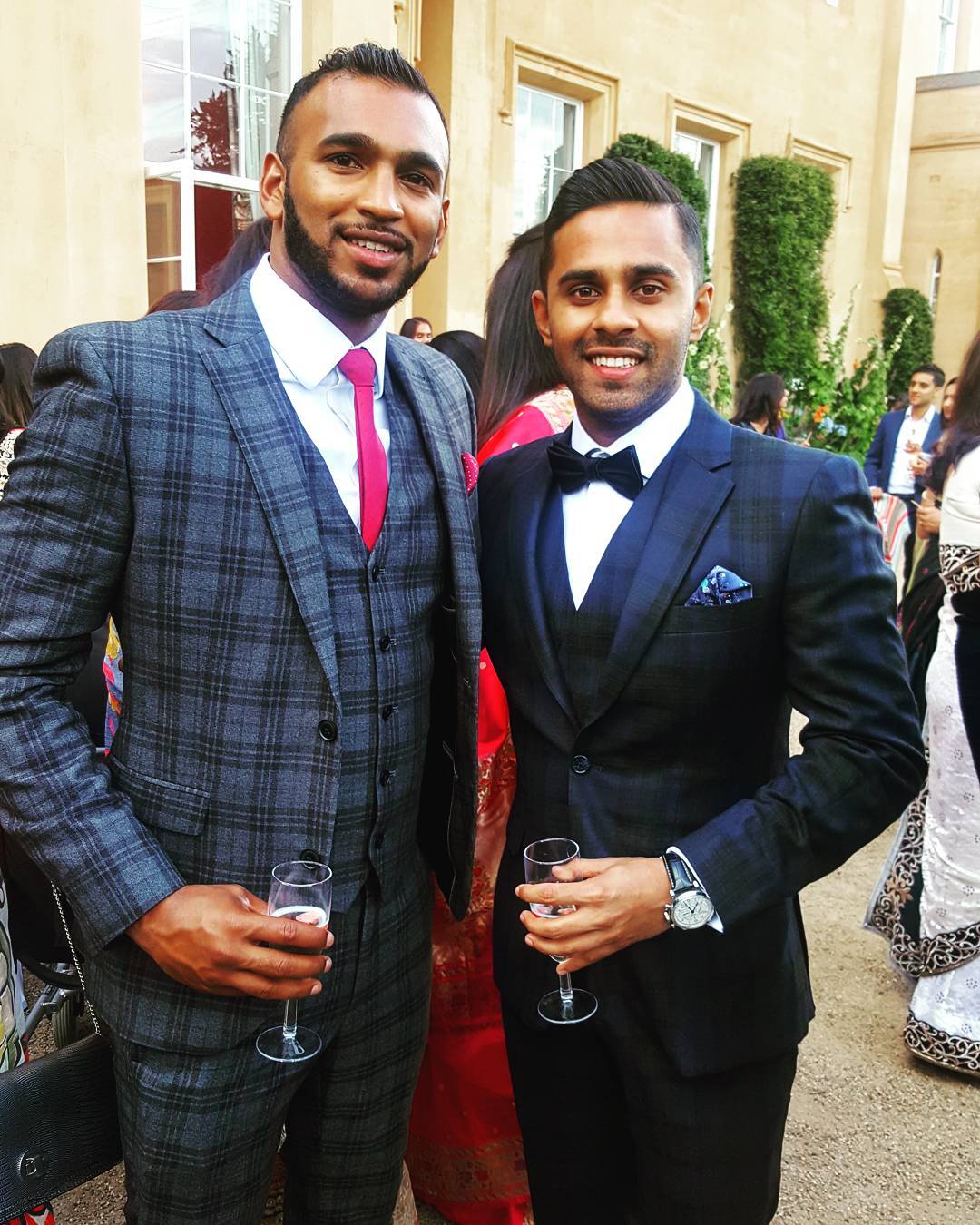 ↓ 4. Casual Checkered Way
You going on a meeting in Miami or some sort of beachy country, its hot but its more casual than you think. You don't need a tie or waistcoat for that 10 on 10 formal men's look. You can look an 11 on 10 with none of these and a sophisticated suit.
A dark blue base color with thick and thin lines running along and cross the whole dress is admirably graceful as well as semi-formal. A simple white shirt (not buttoned till collar) and black shoes without the socks is superb.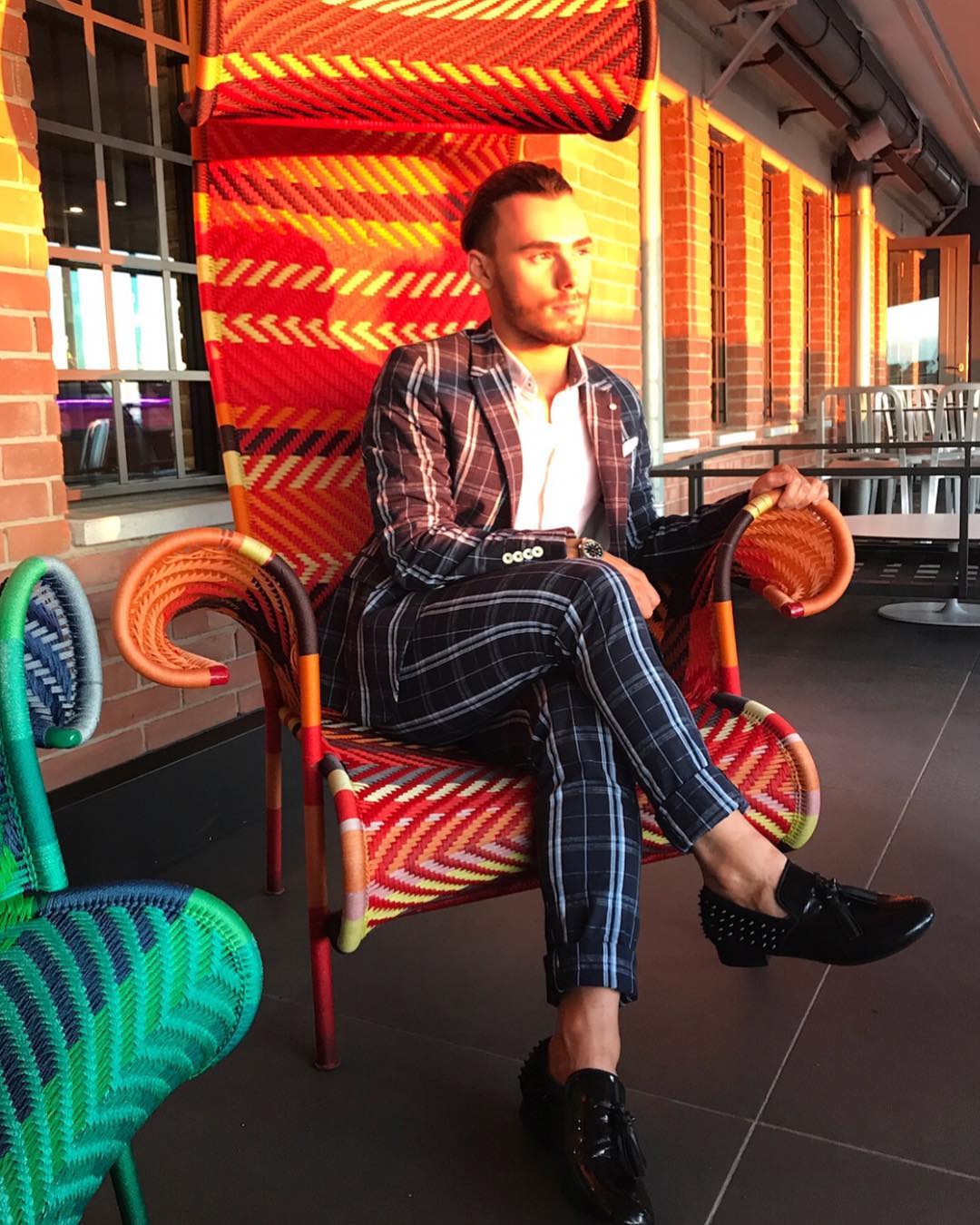 ↓ 5. Which Colour Shoe Suits a Light Biscuit Coloured Checkered Suit
Beige or biscuit is a color that suits everybody, such grace it has! A tailored suit in beige and brown checks is as sexy and remarkable as it is to imagine. Wear brown shoes, belt, buttons or sunglasses to keep your contrast game strong. A pant and coat with beige base fabric and thin brown checks on it is so pleasing to eyes!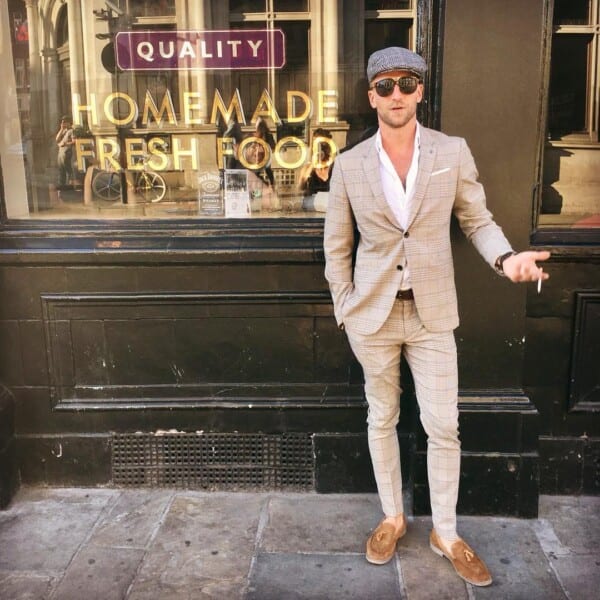 ↓ 6. Lines and Dots
A bit of a countryside touch in the thick fabric of a tailored suit with khaki and black checks on a particular brown base colored suit. Getting your way with a loud touch of trendy wind, wear a black and white dotted dress shirt underneath the suit along with a black bow for the ultimate dapper look!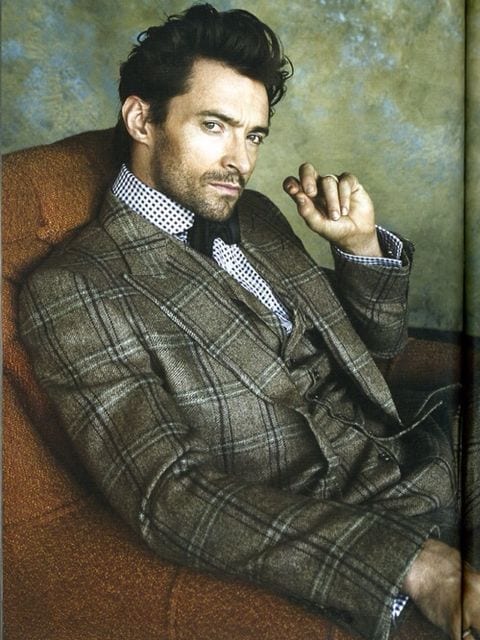 ↓ 7. For Weddings
Blue is the real color to your masculinity. It casts a pleasant glow on a men's face; with bigger checkered blue boxes on the coat and the suit pants, and a deep mud brown under the checks is just exuberant! A waistcoat enhances the blue checks on the coat. The shoes along the suit are epic with the same print of the tailored suit.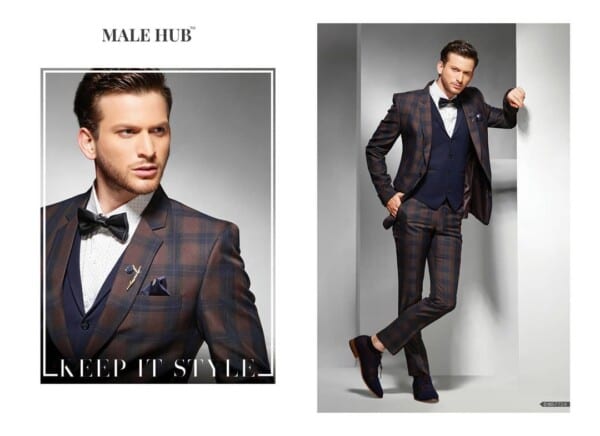 ↓ 8. What Color Tie to Wear With Blue Checkered Suit
Watching Red and blue together in a dress is always a treat to your eyes – red lines going through and cross each other on a dark blue tailored suit is so mesmerizing. A red tie under the coat on a white plain shirt is the best way to wear it. Add a white pocket square to your suit if you want.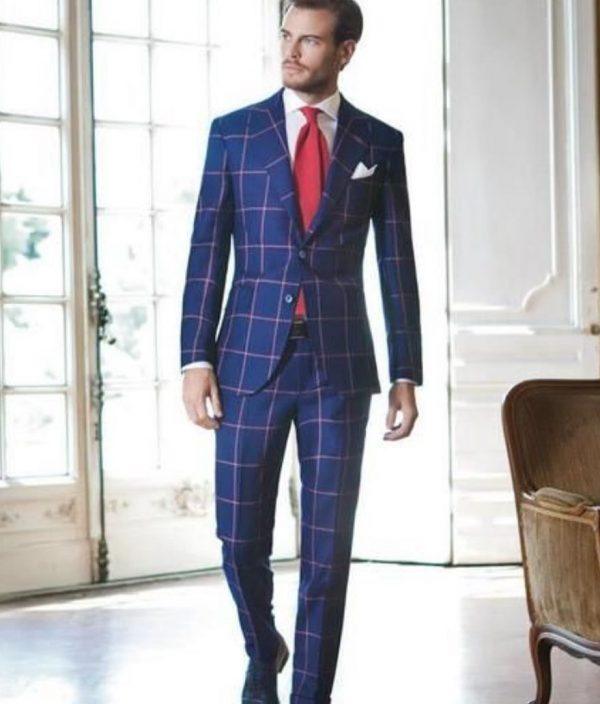 ↓  9. The Classy Colors
Greys and skins are so classy colors to wear for men, especially as a tailored suit. These Shades go quite well with the checkered essence of a tailored suit; its best to wear them on a daytime event for the colors to shine more on your personality.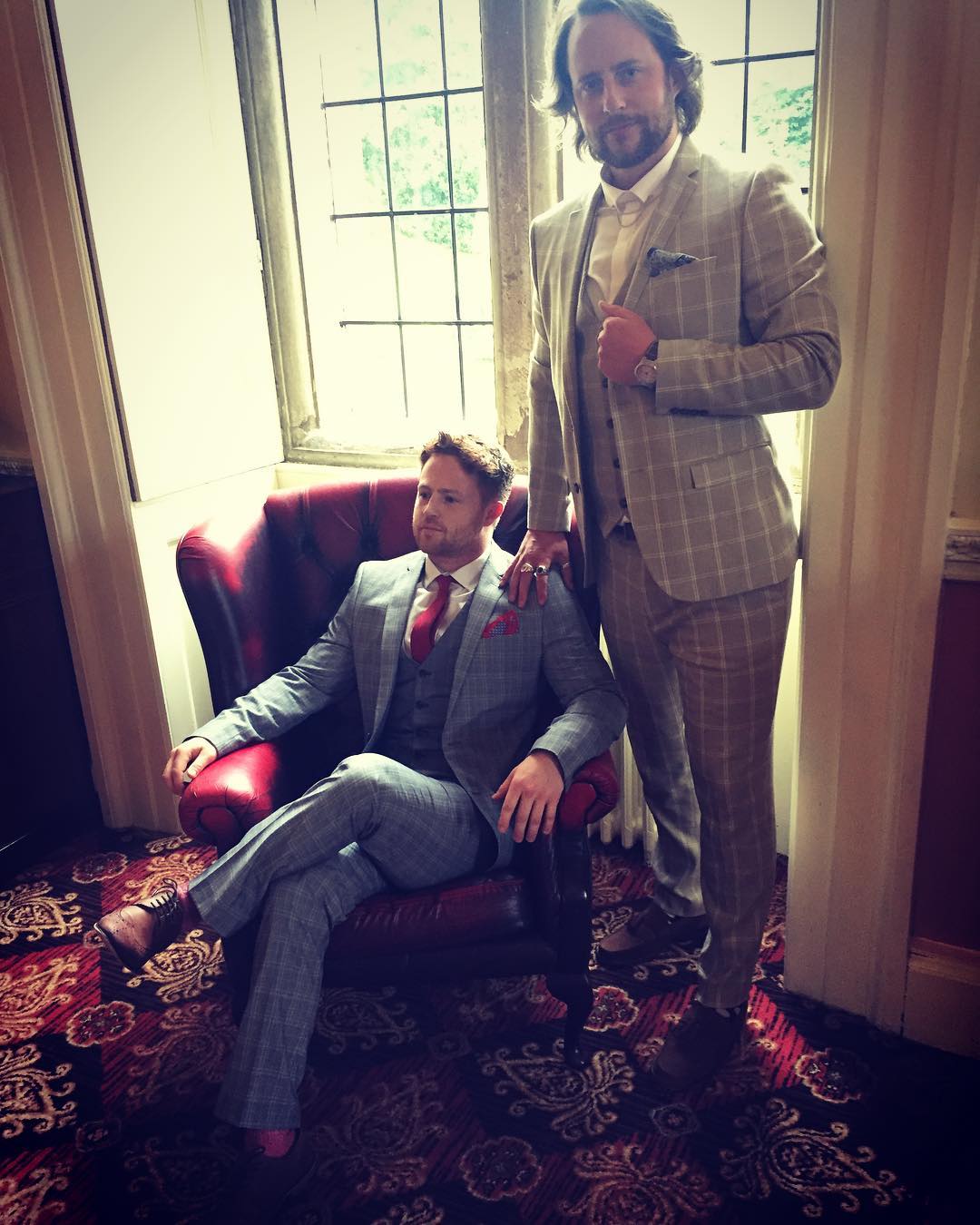 ↓ 10. Monochrome Checks
Black and white checks are iconic. A complete black suit with white checks on it, a black waistcoat underneath with a black tie and a white dress shirt is perfect for all the attention.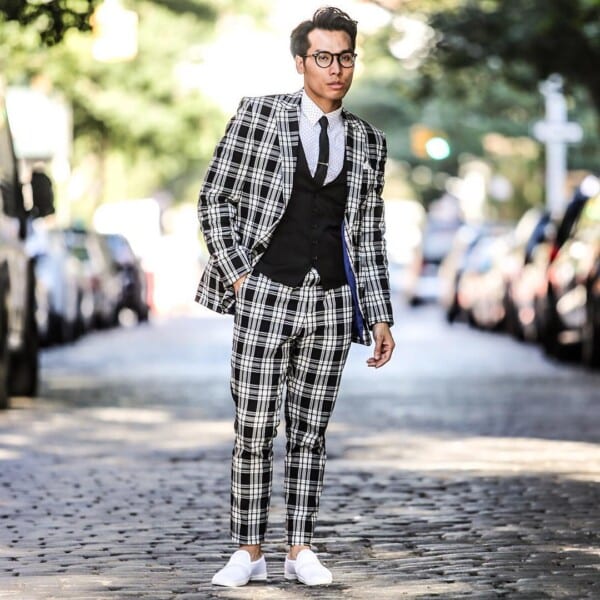 ↓ 11. Silky Florals
No suit style or color limits for your age! Add colors and spice to your vibe with the simple white checks on a blue tailored suit by knotting a silk floral kaleidoscopic tie on a peach shirt under your coat. Add a light blue silk pocket square and a white hat if you are going out for a casino night!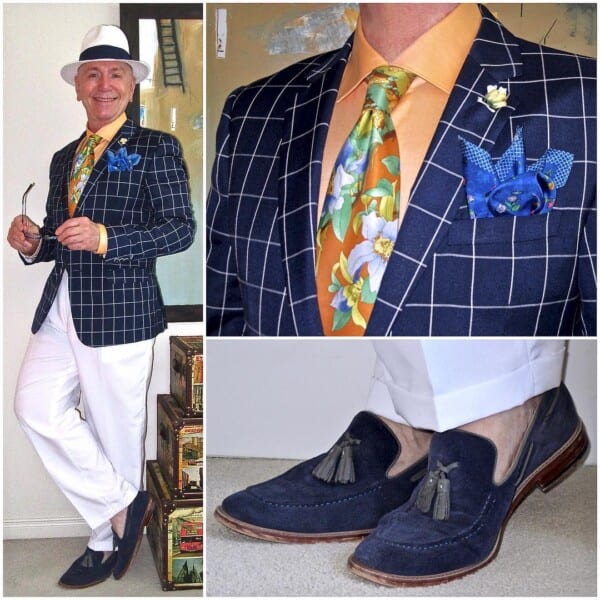 ↓ 12. Poise Office Look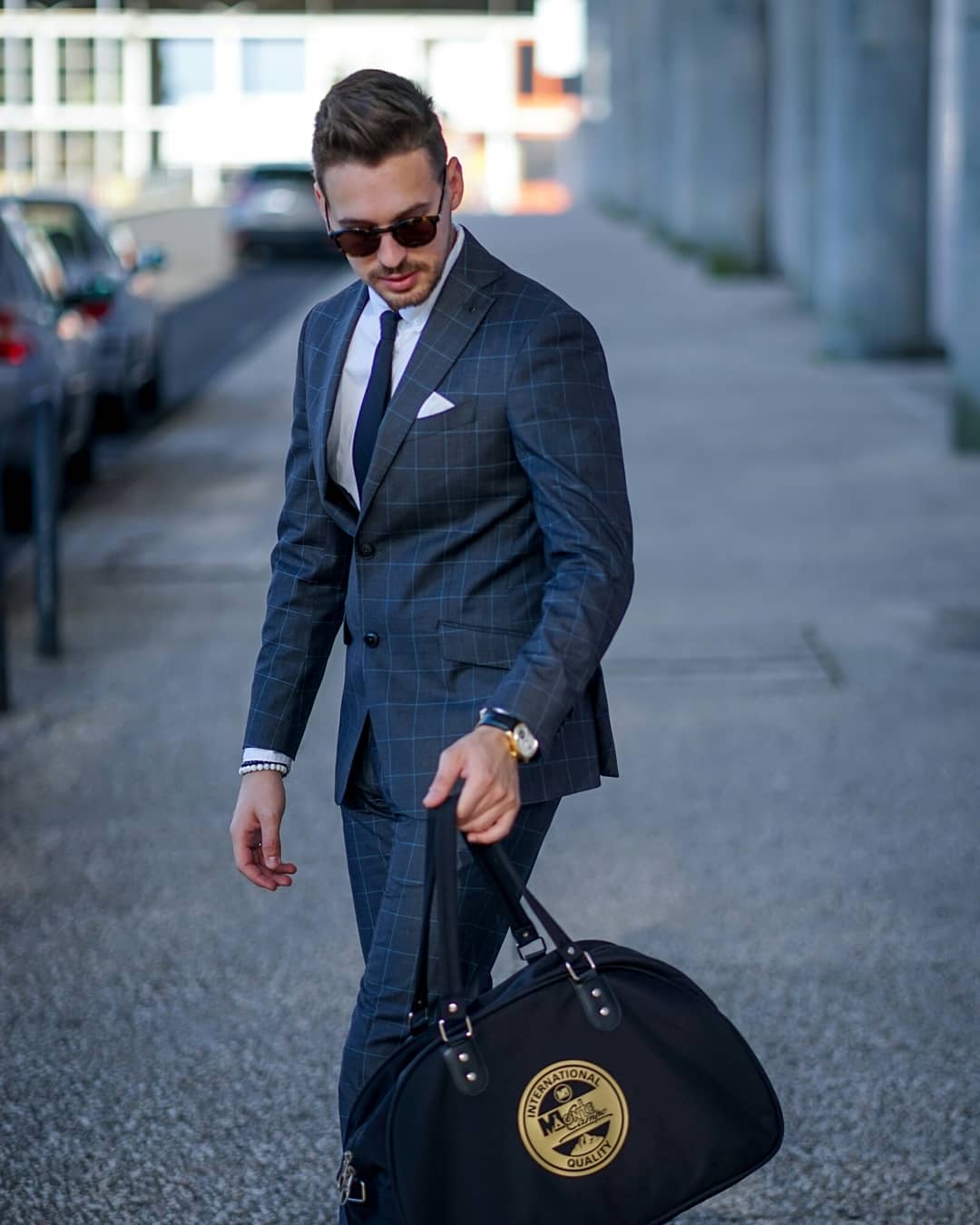 ↓ 13. A Touch of White
A white dress shirt with white sneakers and your regular checkered coat with a single button is sassier than the casual wear for men nowadays. Add sunglasses to look cooler in a hot summer.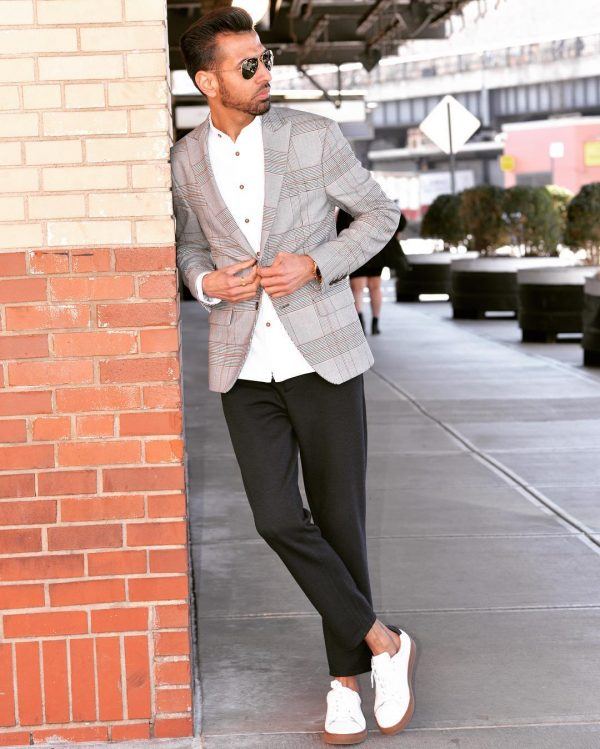 ↓ 14. Love for Black
Wherever black color is present, it casts its grace all over the dress. Black tie, black pants, and shoes with grey checkered coat embedded with black buttons is just epic.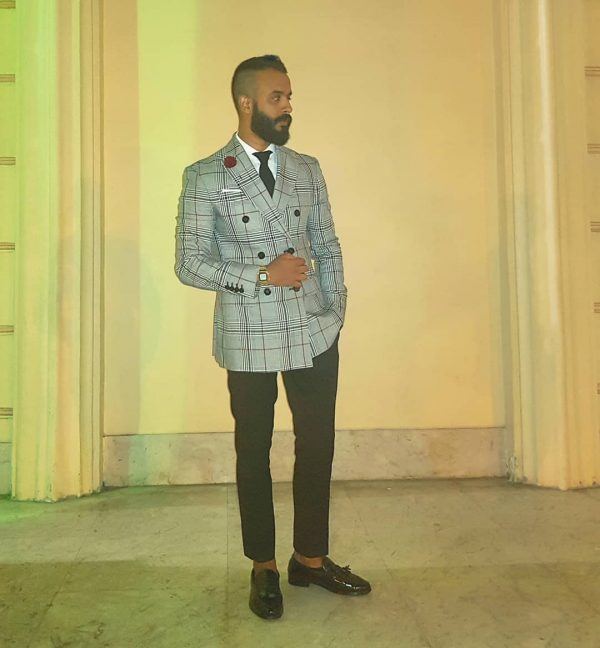 ↓ 15. Silver and Matte Black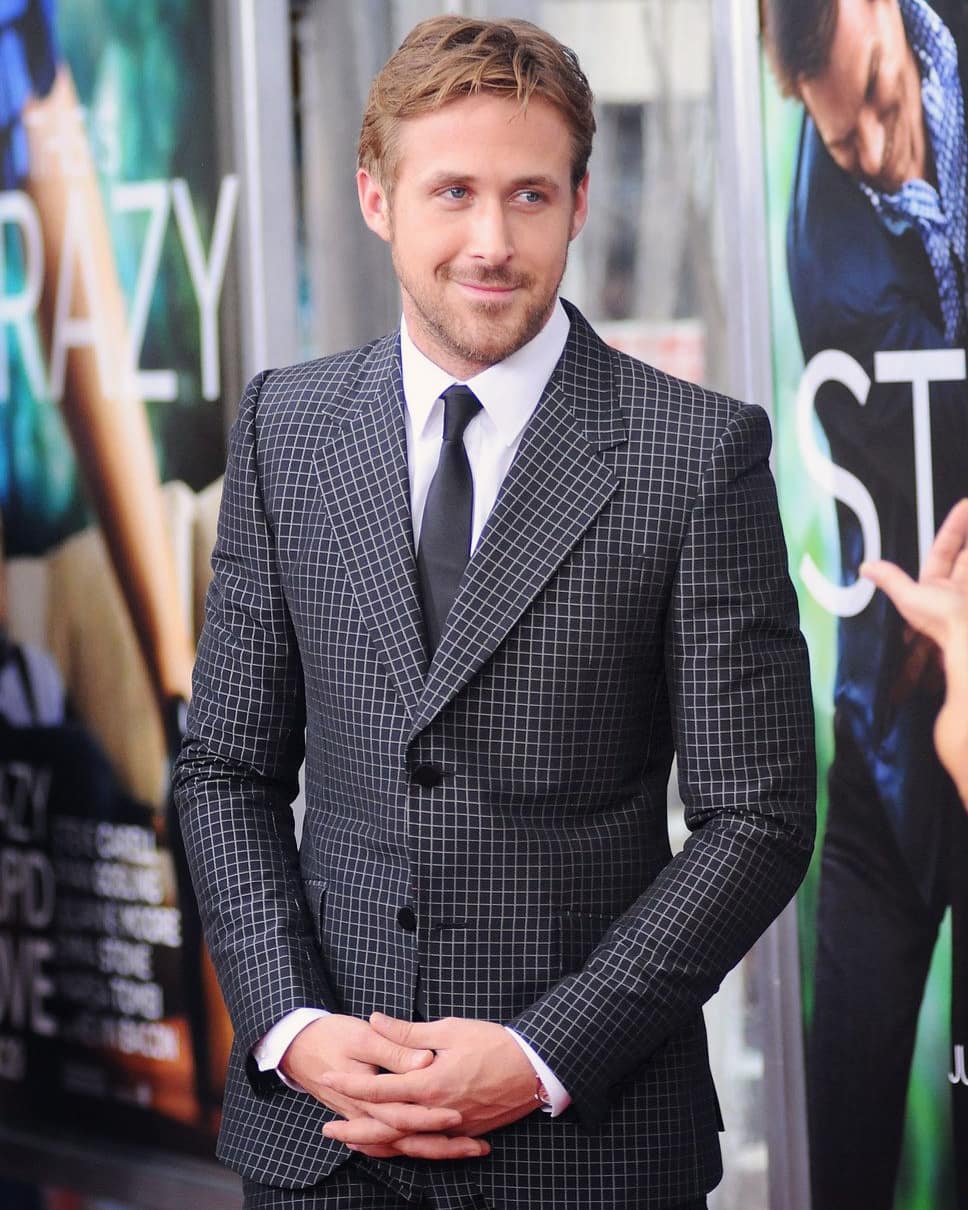 ↓ 16. The Maroon Touch
Maroon is a phenomenal color. It adds life to a dress either it's for men or women wear. A maroon tie with a grey coat run by maroon checks on it is just fabulous.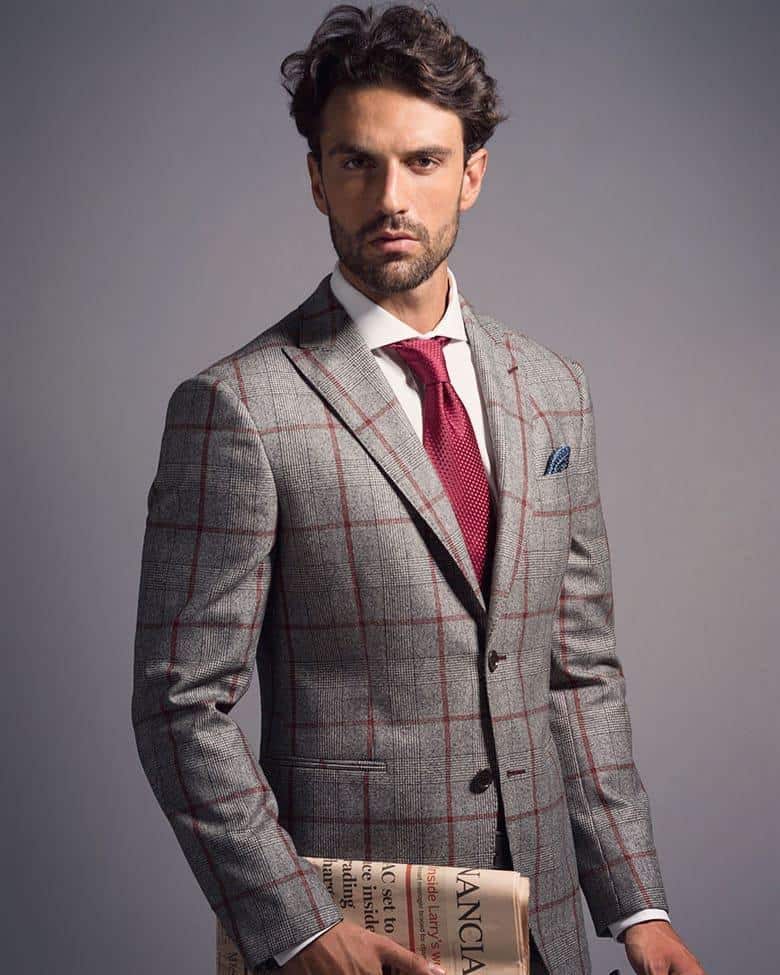 ↓ 17. Pose With an Overcoat
A bluish-grey tie on the lightest shade of blue shirt with your checkered tailored suit on is a fantastic look to go for. The game is changed with a dull grey overcoat pulled on your suit for the ultimate elegance.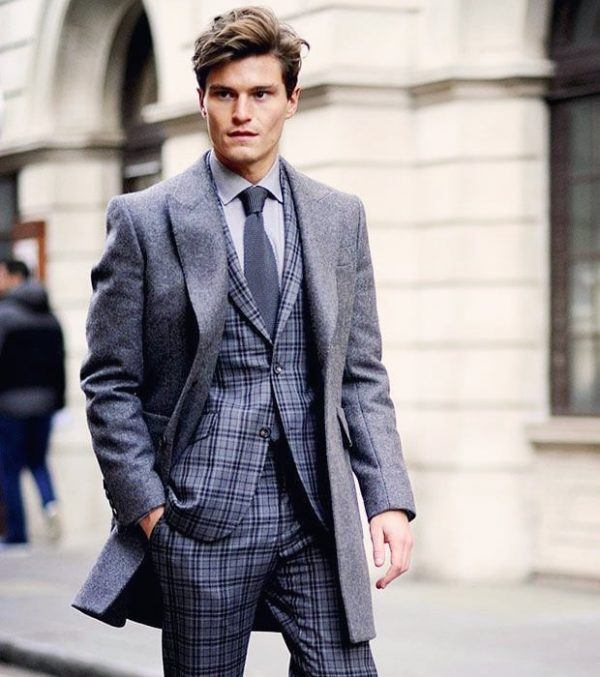 ↓ 18. All About Patterns
The checks are all over your tie, dress shirt, coat and even your pocket square. It's such an insanely attractive way to flaunt your style sense.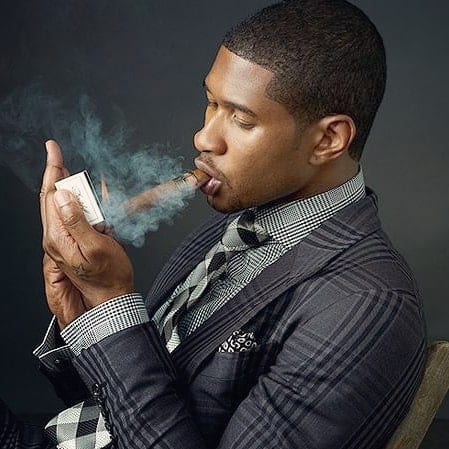 ↓ 19. Dark Deep Colors
Colors like maroon, grey, deep purple, etc work quite well to highlight all the checkered lines going through your tailored suit.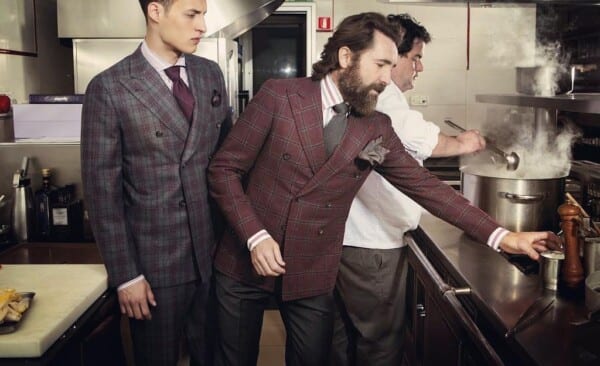 ↓ 20. Two Colors Magic
You can play with your colors by choosing dark and light shades. Just like Dark brown and light brown. This way, you can make dark brown as a base color for your tie and light brown as the design or pattern on the tie. On the other hand, keep it opposite for your coat with the dark brown checks on it. Don't miss out these 25 Ideas on How to Wear Double-Breasted Suits for Men.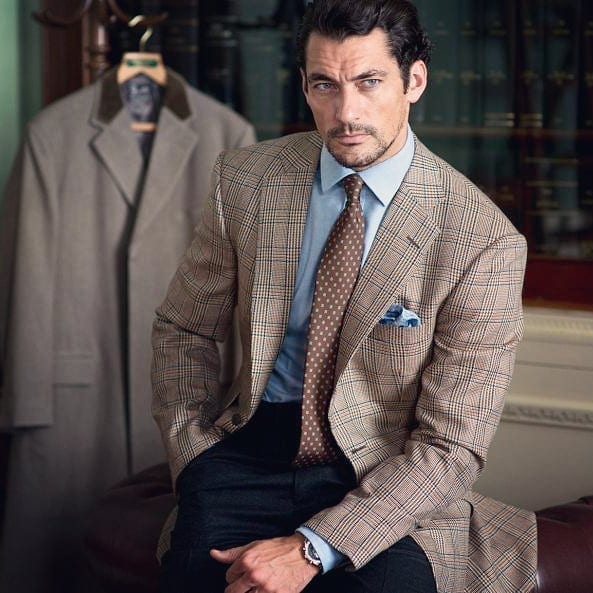 ↓ 21. With Scarves and Mufflers
Such a decent style to wear in winters –  match a scarf or a muffler to wrap around your neck within a similar color family as your tie or checks in your suit.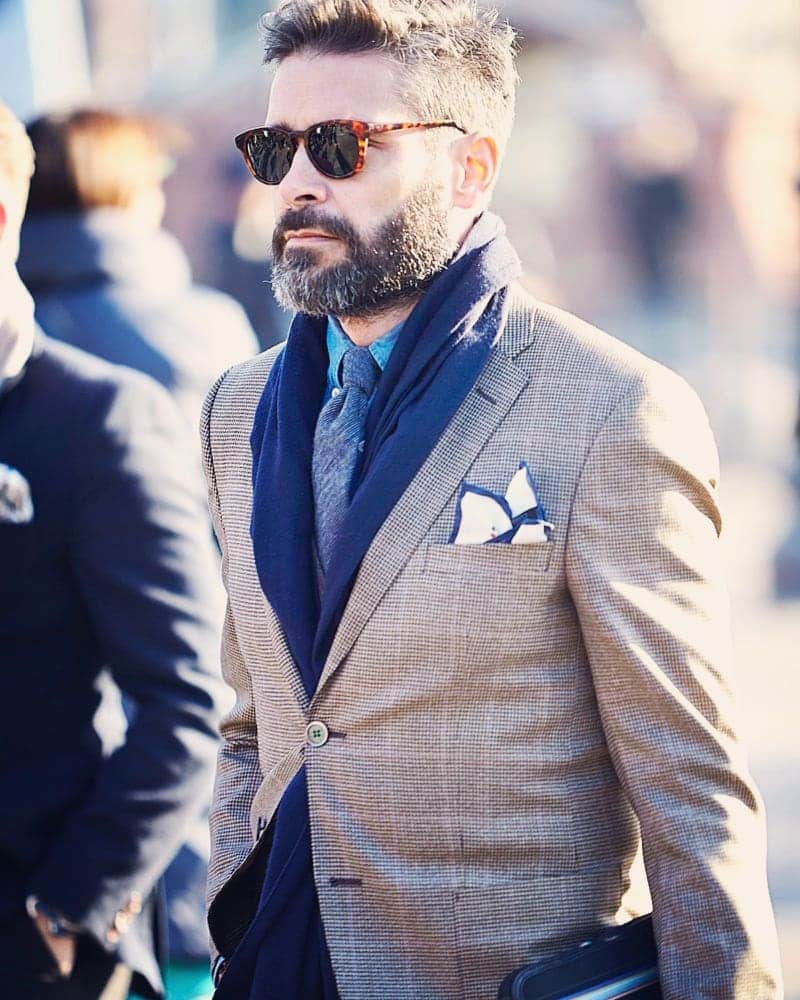 ↓ 22. Simple Checks with Socks
If your suit is too simple with checks, wear some nice pair of socks to catch the attention with your sober yet poised look.
↓ 23. Winter Casuals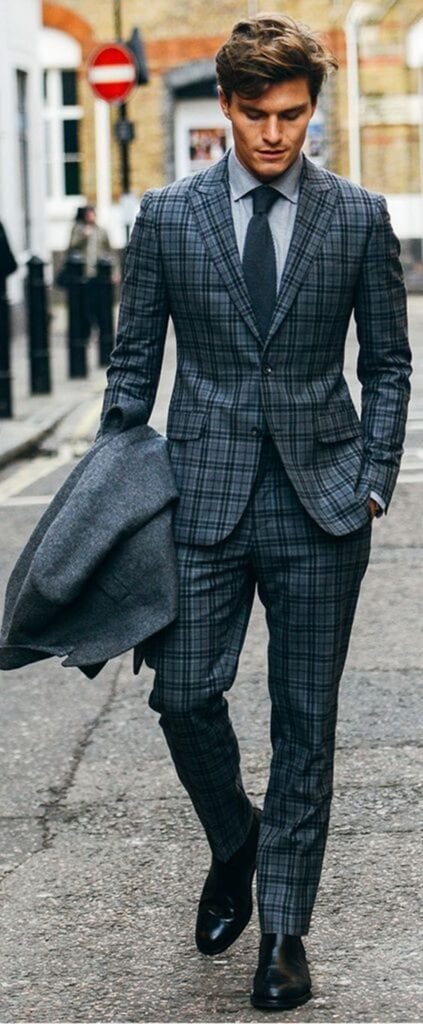 ↓ 24. Chocolate Brown
The present decade marks the fashion trends for all the colors in the palette. You want to wear an orange suit, you can, because the 21st century has lifted all the self-created bans from the colors that are uncommon.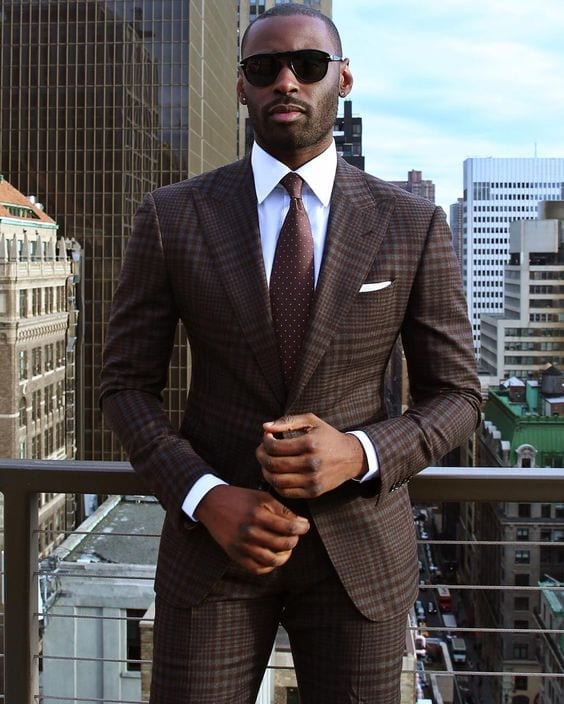 ↓ 25. Boss In Grey
Grey has a dominant yet potent vibe which will attract you towards itself. Wear aviators and brown dress shoes for the complete look. Here are 30 Amazing Men's Suits Combinations to Get Sharp Look.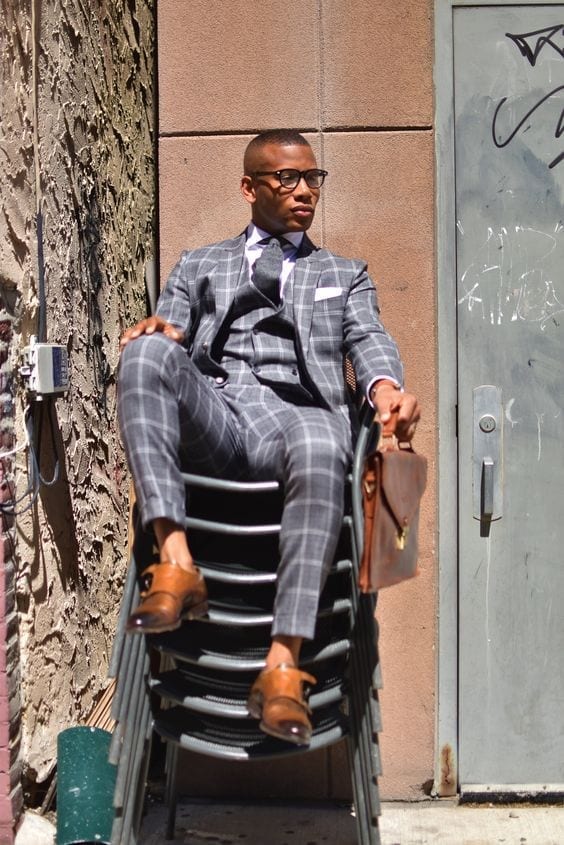 ↓ 26. Dark Olive Suit
Being the trendsetter of your generation, try the very different dark olive greenish color for your checkered tailored suit with matte grey dress shirt is just so in!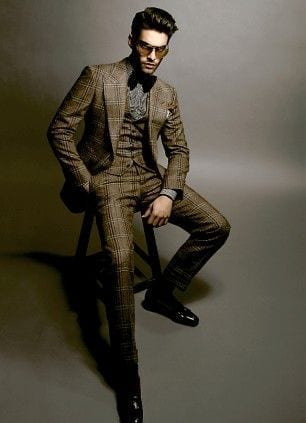 ↓ 27. The Grey Family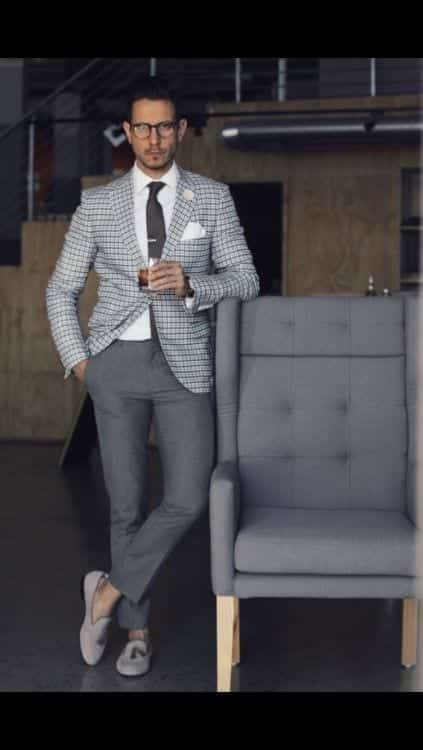 ↓ 28. Casual Wear
This isn't as straightforward as it looks. Black is well manipulated in the white suit with wonderful thread work on the suit. Stunning beard and black sunglasses enhance the color of the overcoat worn. A different printed tie underneath is the show-stopper element.
 
↓ 29. Young and Blue
Deep blue as a base color and white checks on this coat make it flawless. White shirt with this unbuttoned coat and no tie makes it all trendy.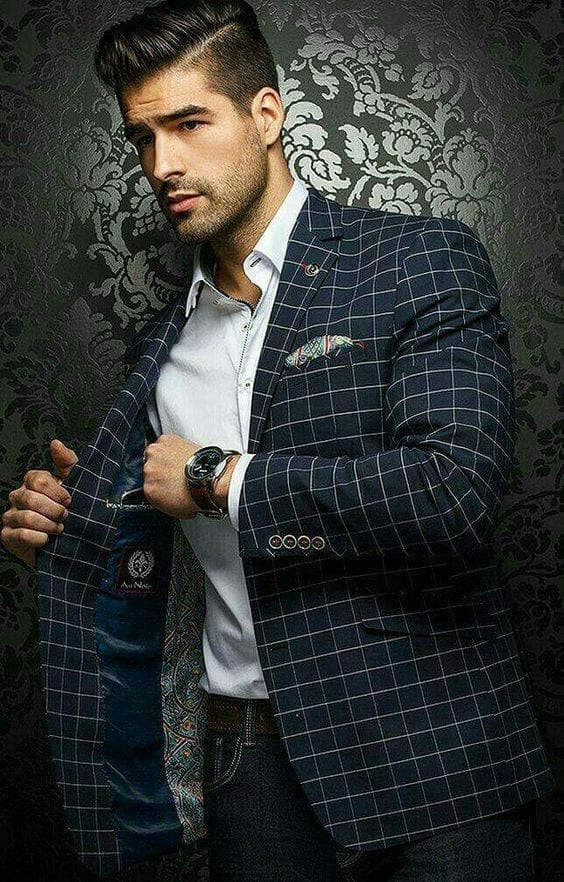 ↓ 30. Summer Vibes
White suit with grey checks is a very beautiful fusion of these colors. Dull grey faded shirt with this suit makes it look cool and summery. Here are 30 Best Charcoal Grey Suits with Black Shoes For Men.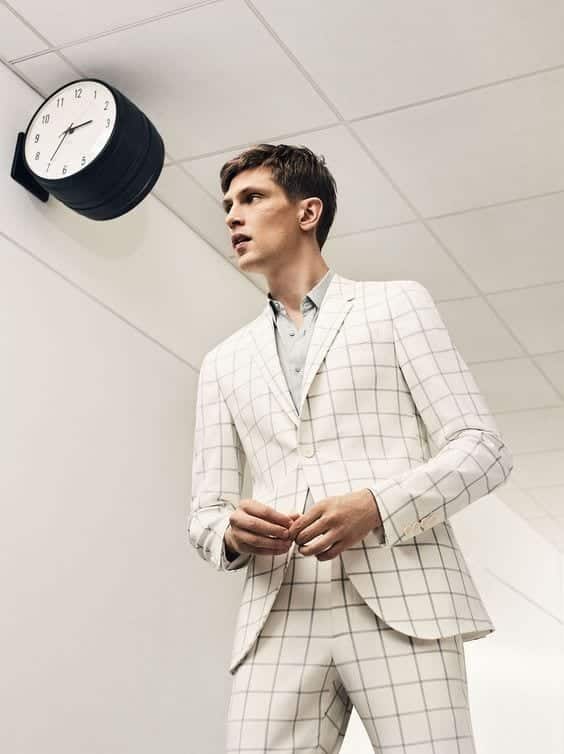 ↓ 31. Grace of Grey
Grey suit with a black waistcoat and grey lines looks elegant on every age group. Shiny grey tie with dull grayish-black checkered overcoat makes it quite personable.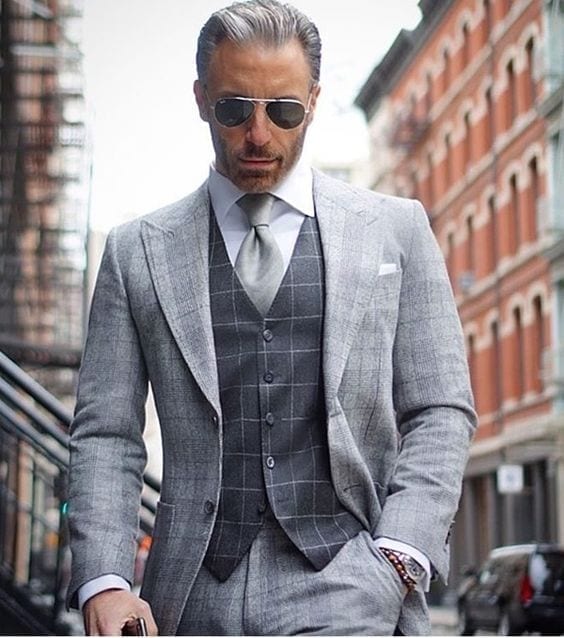 ↓ 32. Socks and Contrasts
Orange socks with brown shoes give a trendy look. The real deal here is about carrying the tailored suit confidently with the totally different bright orange-colored socks with are subtly present in the checks of the coat.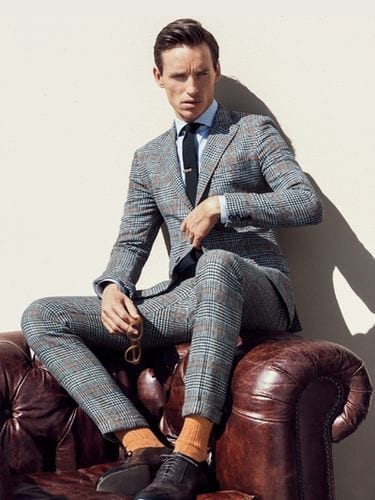 ↓ 33. For Men Over 40
You cant get your eyes off this amazing color, such checks much wow! The coat has a bigger box checks all over and the dress pants have the similar but smaller boxes assembled symmetrically to give an enchanting effect of the whole tailored suit.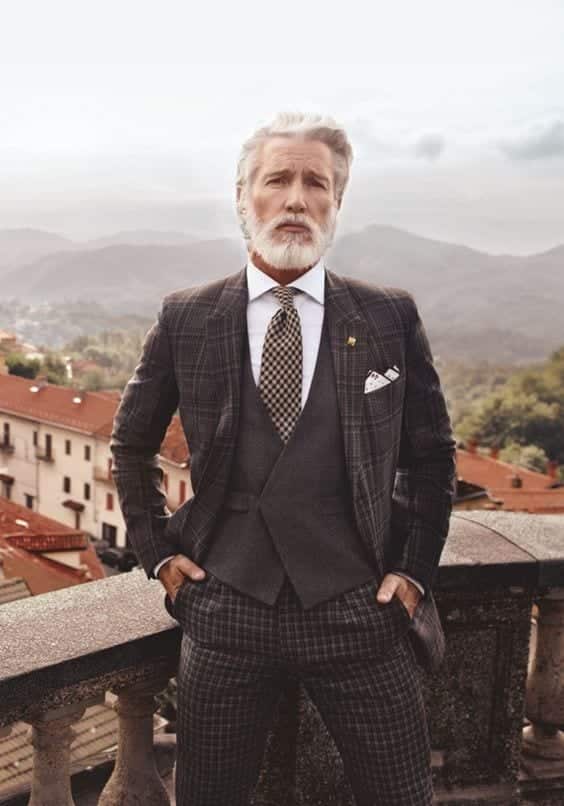 ↓ 34. Purplish Blue
Blue is the most attractive shade among all colors and this blue with a grey shade gives a metallic luster. White vertically lined bu shirt with grey and blue-lined tie under this suit has its own charisma.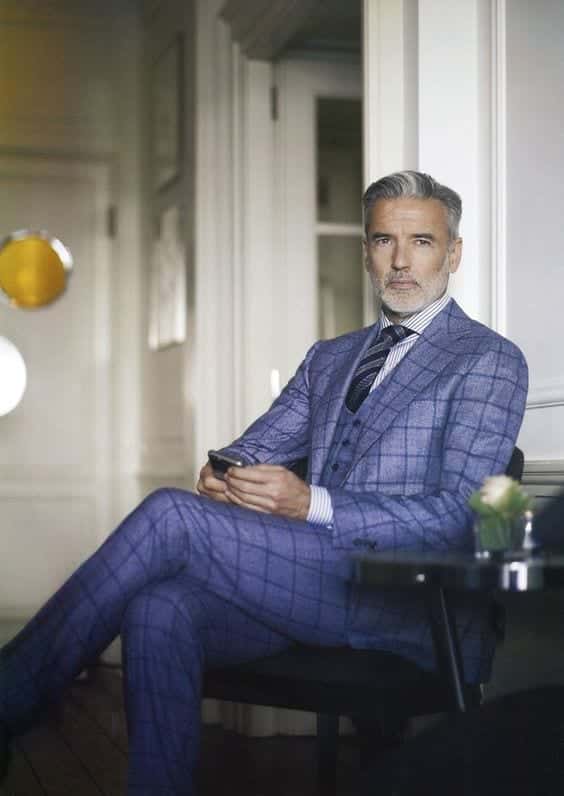 ↓ 35. Blues All Over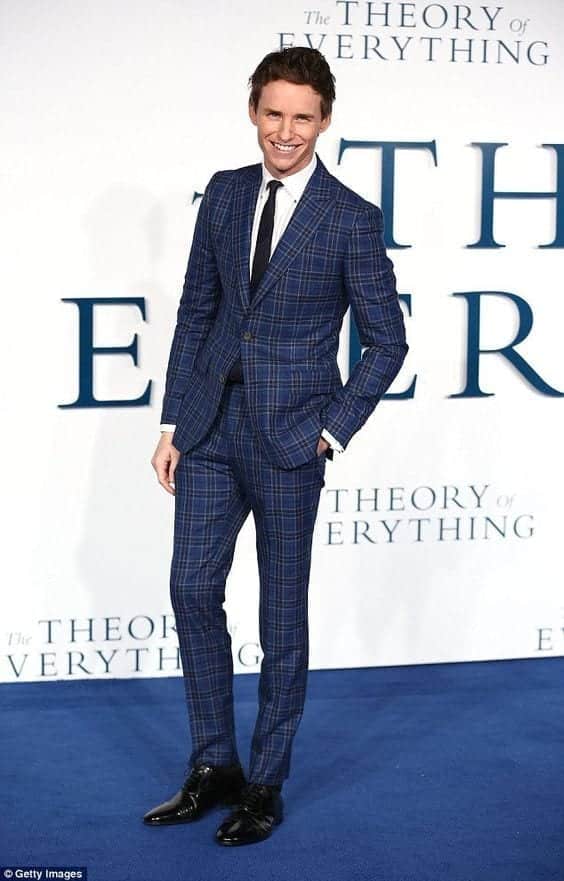 ↓ 36. Which Combination Will be Perfect for a Wine Colored Suit?
Wine is the color for extreme spotlight attention and this shade with the duo of black checks gives a particularly intense look. White dress shirt along with black shoes and black socks make this suit dangerously sexy.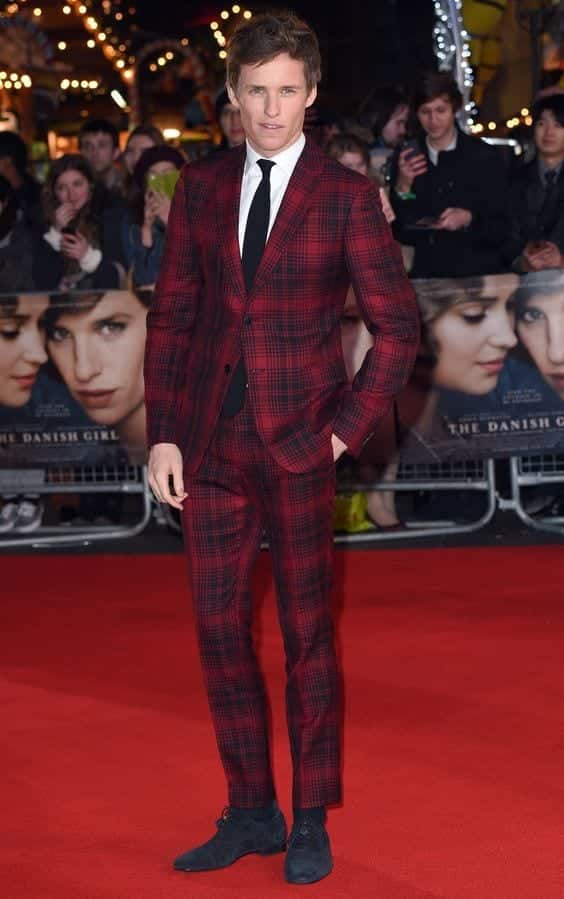 ↓ 37. Highlight The Shades
A dark green suit which seems almost like black, with thin yellow and red lines is a very rare combination of colors. White shirt with this hue makes it look admirably unique and poised.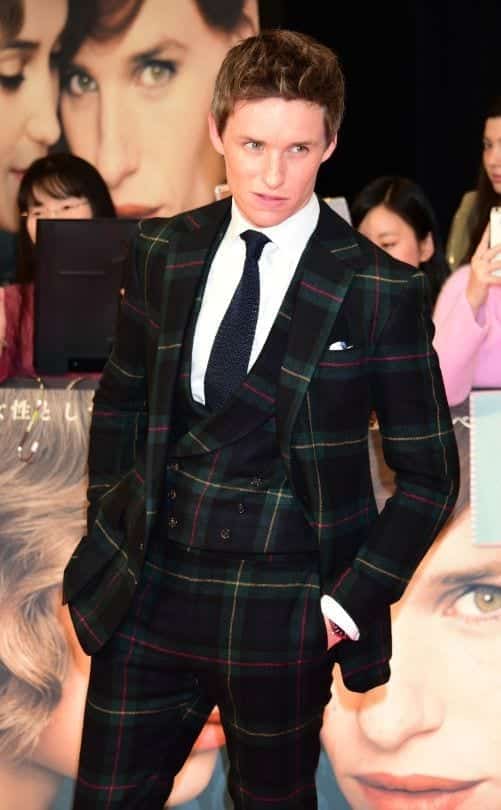 ↓ 38.With Turtleneck for Winters
Nothing to worry about now. You got your go-to colors with the grey suit. If your wardrobe is missing with the basic, try different! Tea Pink cotton high-neck or turtleneck shirt under your suit is so eye-catching.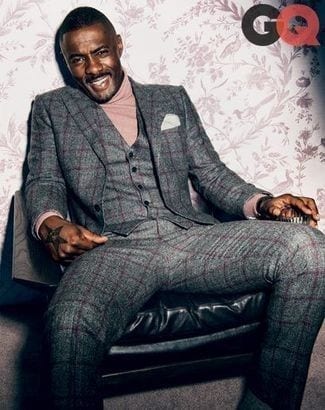 ↓ 39. Formal Business Meeting
Your choice of suit for such an occasion depends on the audience you're dressing up for. It is definitely a bold choice to wear a check suit but this doesn't mean that you can't go for it. If choosing checked suits, go for conservative colors and patterns like this cream brown suit that has been paired with a blue shirt and sleek turquoise tie.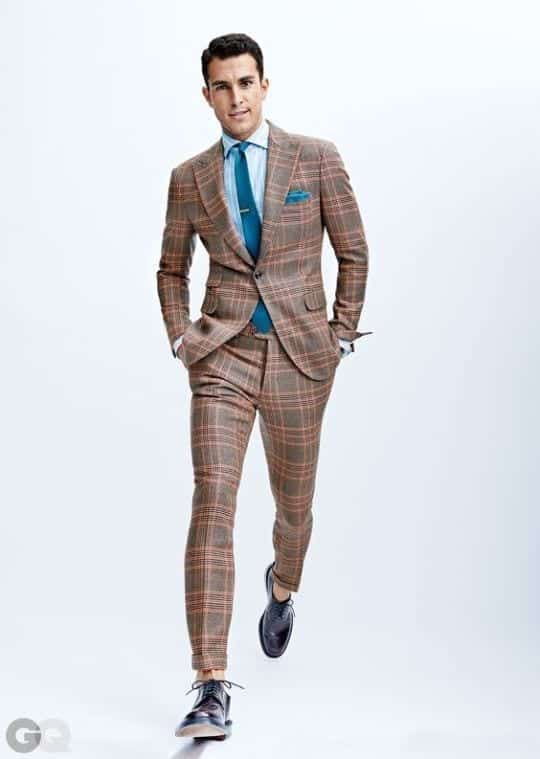 ↓ 40. Shirt And Tie Combination
All the major blue palette colors are inclusive in this tailored suit – Off-white lines are running horizontally and vertically throughout the coat and the pants with a navy blue tie, white shirt and of course the pocket square is rocking the stage!