Men's Outfits with Red Pants. Red-the color of trust, friendship, fiery, passion- it has always attracted both the genders. Fashionistas love experiencing the color in different clothing styles. Designers love the boldness and richness the color gives to the dresses and designs.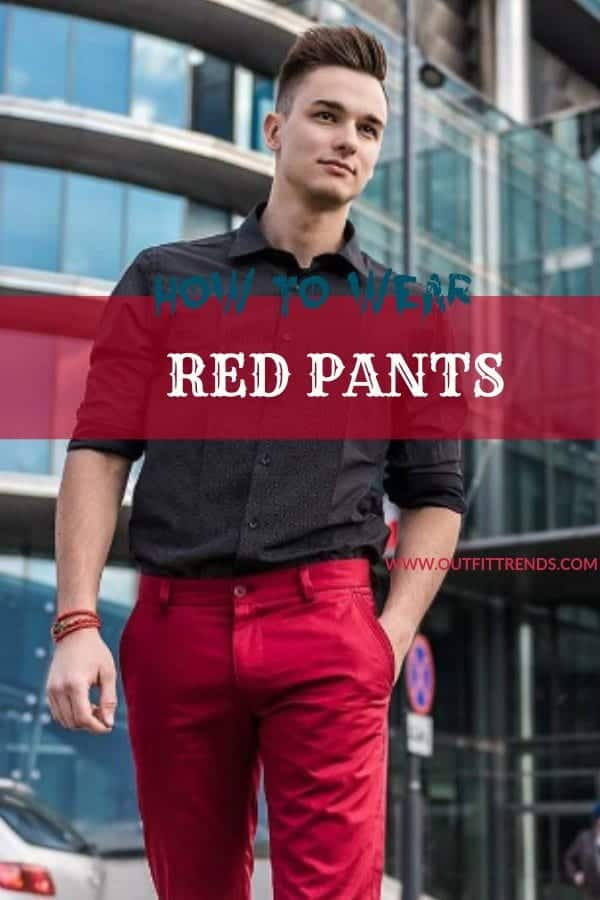 This season is all about going bold, so we have compiled a list of dresses, with red pants, for our gentlemen to try and make their impression on the world.
How to Wear Red Pants in Style for Men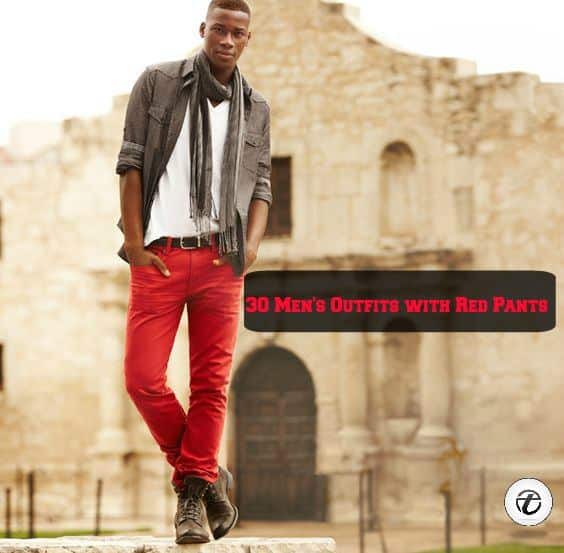 ↓30 – Some Fun with Vintage Style
Suspender or braces are not used now, but they were the necessity in old days. If you love incorporating old styles with new ones then wear the blood-red pant with suspenders. Wear a sky blue cotton shirt with it and your sunglasses! Wow, you look like a detective from old Hollywood flick. For some Hollywood celebrity style inspiration, check out these Hottest Outfits of Logan Lerman so Far.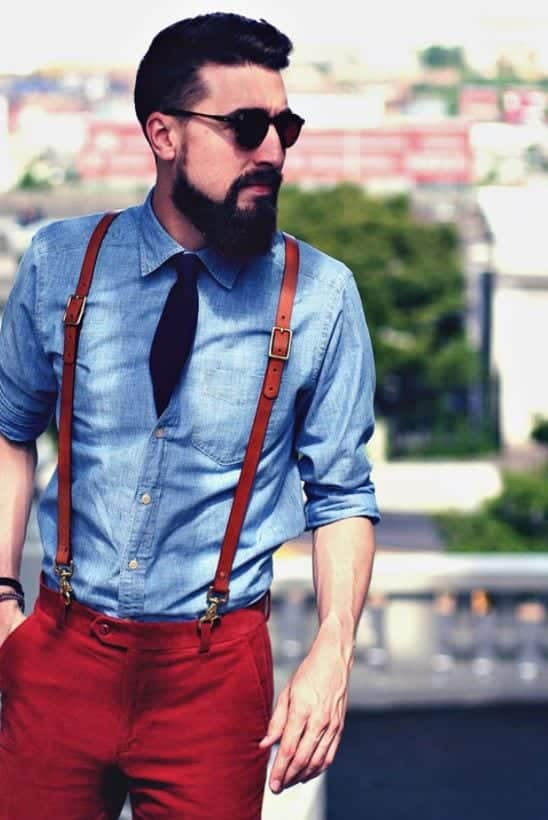 ↓29 – The Gentleman Style
Age is but a number, just because you've reached a certain age doesn't mean you should not be doing fashion. If you are in you late forties or above and you want to impress people with your dressing sense. Then go for bright red pants, wear it with your favorite white dress shirt and complete a look with dull color blazer of leather or velvet.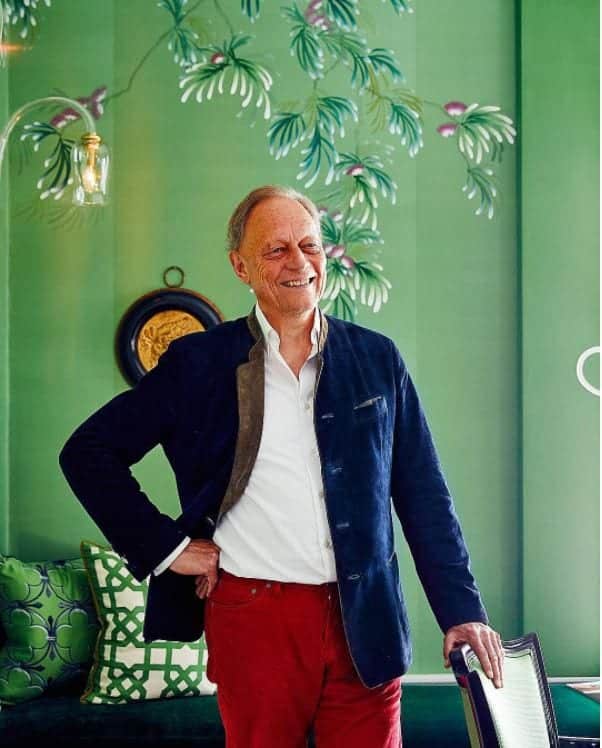 ↓28 – The Street Style
In some region, it is summer, and the heat is unbearable so why not wear bright red pants with a tank top that you like dressing in summers. Stylish and comfortable. Here are 17 Most Popular Street Style Fashion Ideas for Men.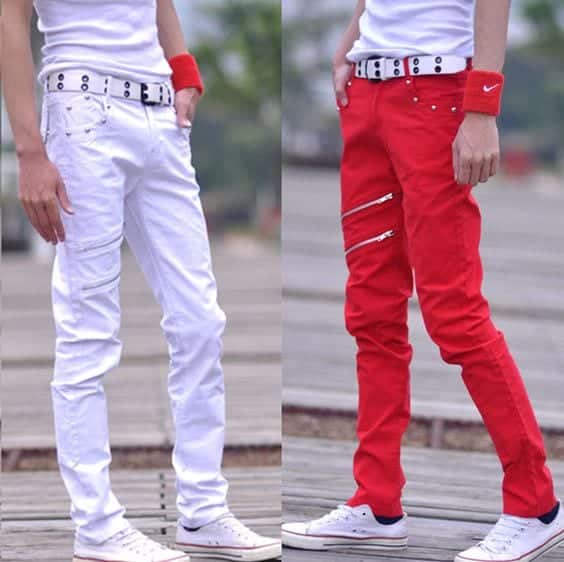 via
↓27 – Dress to Impress
Don't go all dull to your meetings. Your dressing makes a positive or negative impact on your presentation too. So when you have your next meeting choose a burgundy colored pair of pants, and pair it with a waist coat and a long blazer. Make sure your hair is neatly trimmed and gelled in place.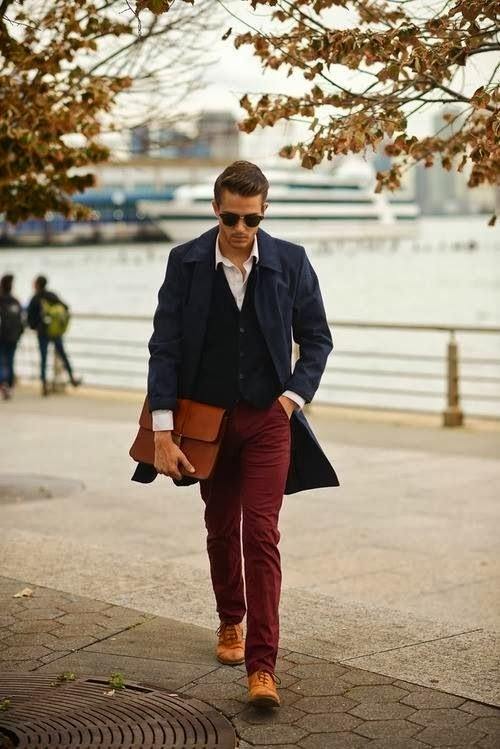 ↓26 – Office Attire
Ties are boring, be fun at your work place.Wear a bring colored pants with checkered shirt and a solid color coat, but instead of tie, go for a bow. This summers, be different. Here's the complete guide for Men Summer Office wear.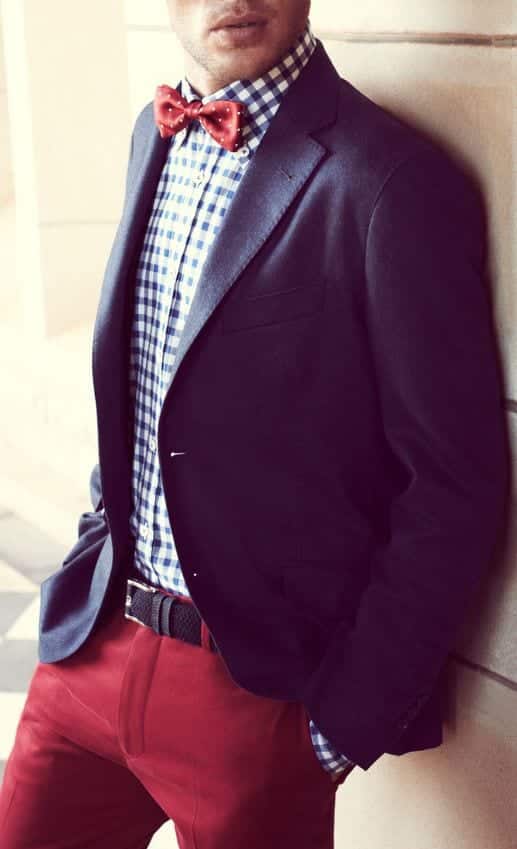 via
↓25 – The Loud Street Style
You want to make a statement and be a head turner, well go for bright colors- how about a red pant with a bright colored t-shirt of your choice. Complete this look with simple earthy color loafers.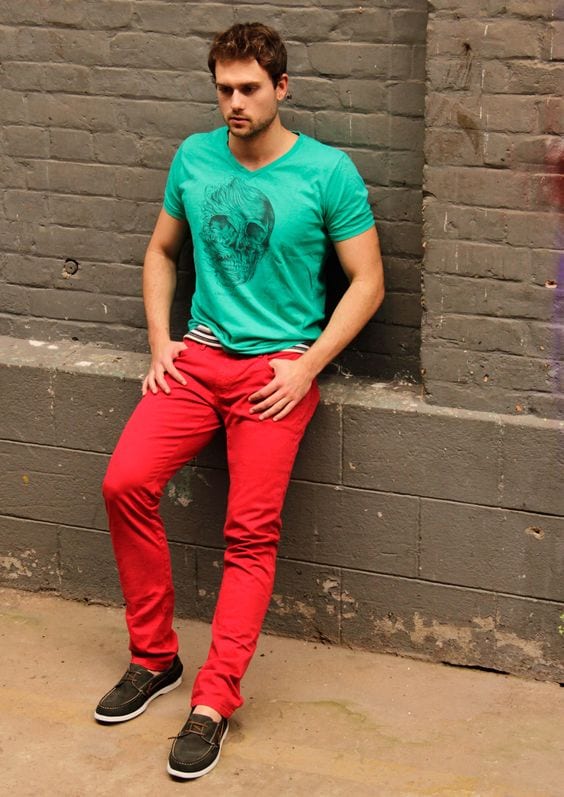 ↓24 – How to Wear Double Breasted Coat with Red Pants
For all those people who are bored with wearing grays, browns, and blues and want to experiment with colors, well, this season go for bright burgundy pants and wear it with gray sweater and white double-breasted long coat. Not only is the style unique, but is very sophisticated too. Also have a look at these great Men Long Coat Styles to try.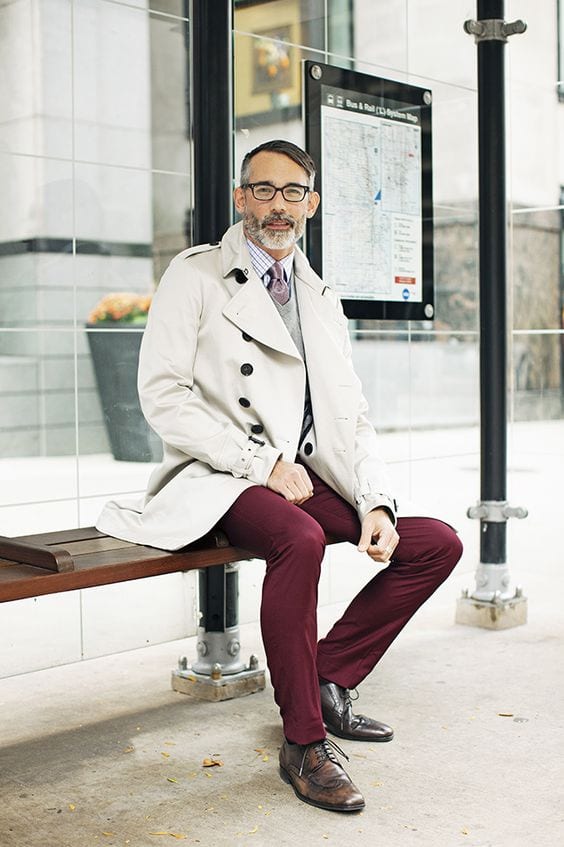 via
↓23 – Ready for College
Instead of your usual jeans, this time go for a pair of red pants and a red muffler. Complete the look with leather jacket and beanie cap if you live in colder regions. Perfect College Dress.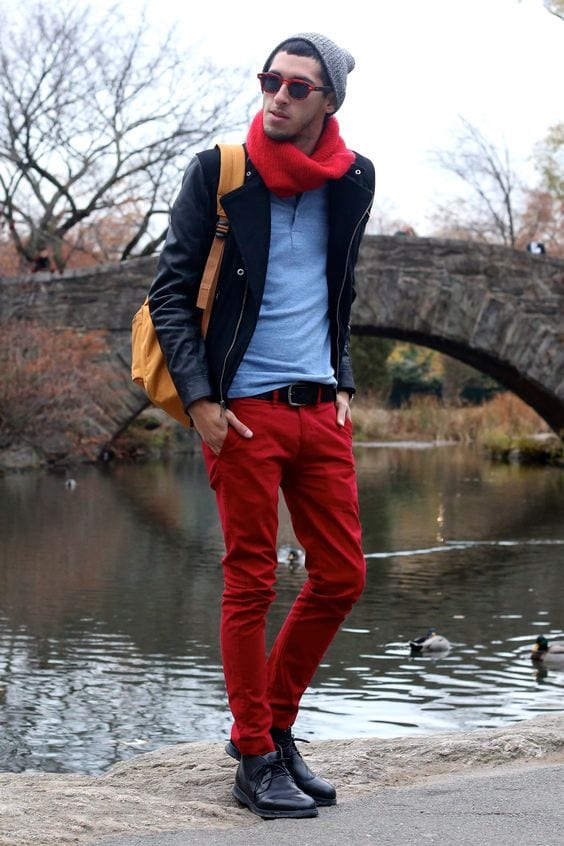 ↓22 – Style Up for Formal Dinners
Commercial Dinner in one way to introduce your clients to your company but without the all-too formal office environment. So why be very strictly formal in your dress choice. Combine Gray with Red when you plan a formal dinner, a bit of vibrancy with the usual decency. Here are the top picks for Men's Business Casual Outfits.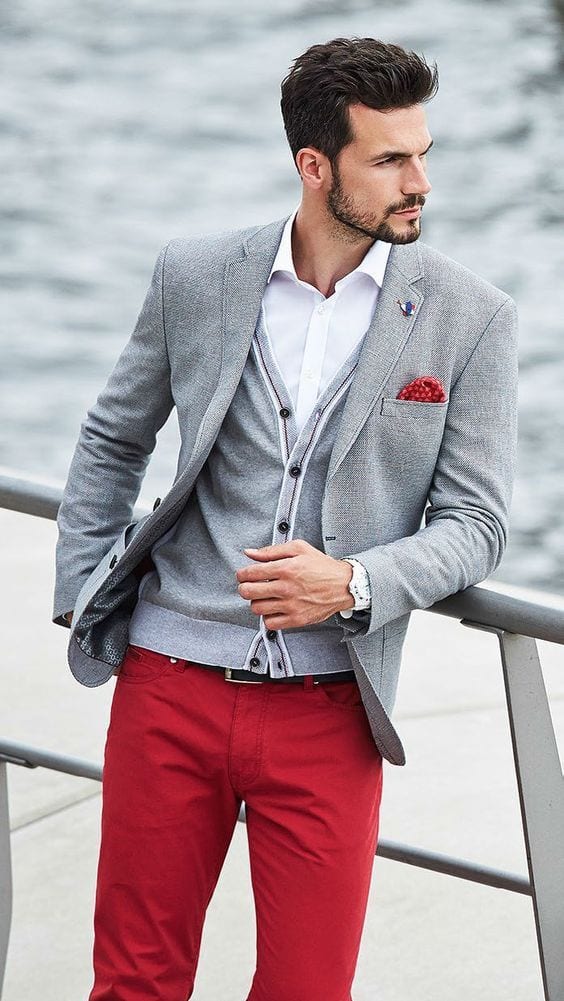 via
↓21 – Casual Every Day Style
It is not necessary to dress up only when you've some occasions. If you're going for a walk in a lazy afternoon, wear stripes shirt and bold red color pants. To complete the look, go for slip-on loafers with this dress.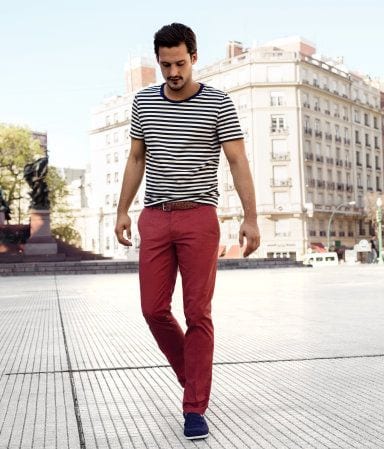 via
↓20 – Office Dress 2
Another way to dress up for the workplace. A button-down shirt, gray overcoat and a red pair of pants.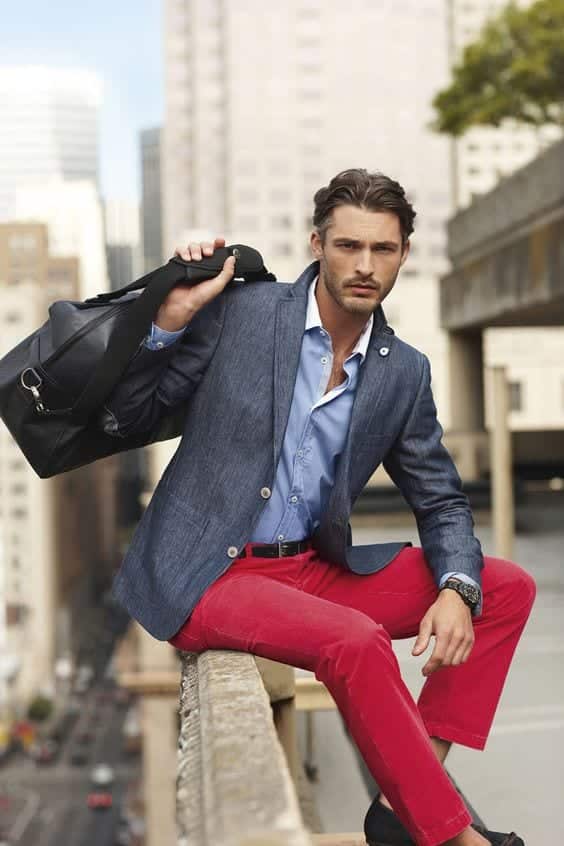 ↓19 – Red Pants Outfit for Wedding Guest
Whether it is your wedding or that of a friend, try something out of ordinary. How about the funky neon red pants with cotton blazer and olive green-navy blue tie. To add on more funk, have a stubble beard and make a curly, cropped haircut. Here's the best Semi-Formal Wedding Attire For Men.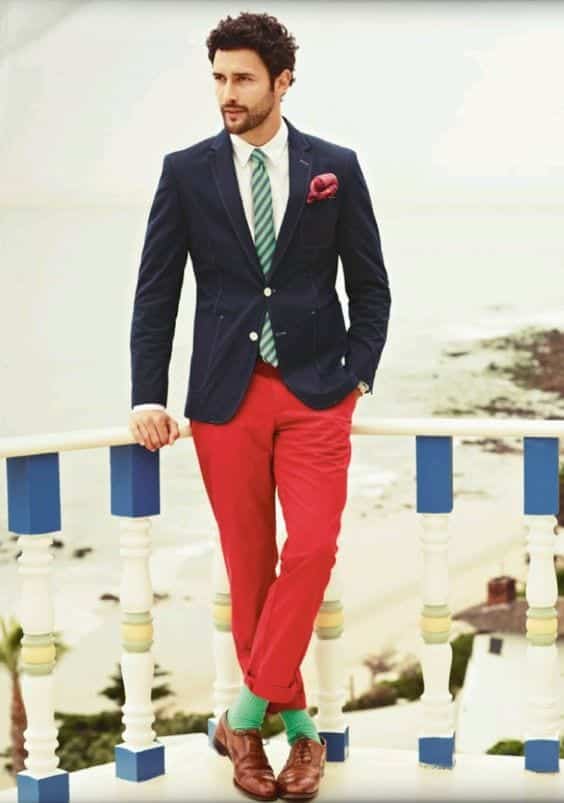 ↓18 – What to Wear with Red Chinos
Even guys love red, so instead of mixing, matching the colors why not try to go all red this summer. A simple red pant with deep drown leather belt and a checkered red and white gingham shirt are the things you need o carry this style.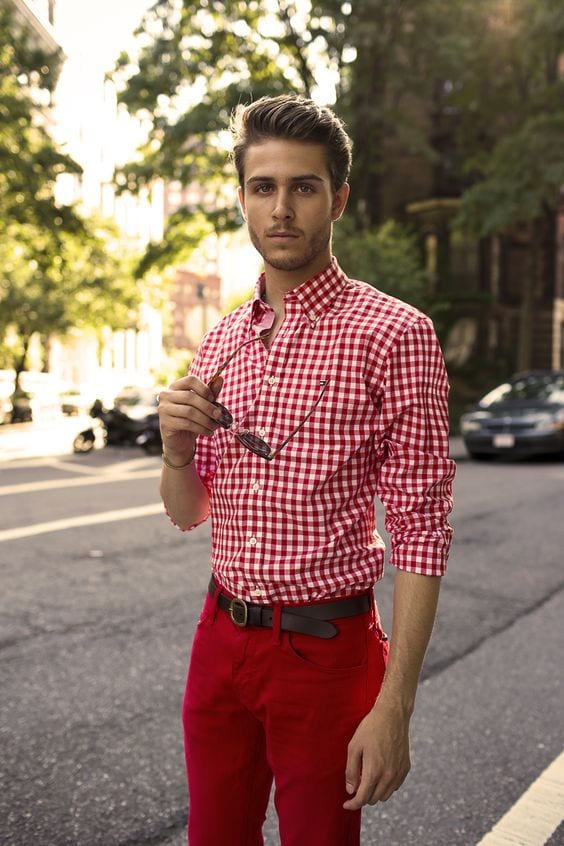 ↓17 – What Hair Style to Wear with Red Pants
If you're going to the dance party where the theme is the late eighties then a neon blue coat, with a black shirt and red pants is the perfect dress. For this look, you should have Long Curls on Top of your hair and a beard to go with it. Here are Red Shoes Outfits For Men, to go with your red pants.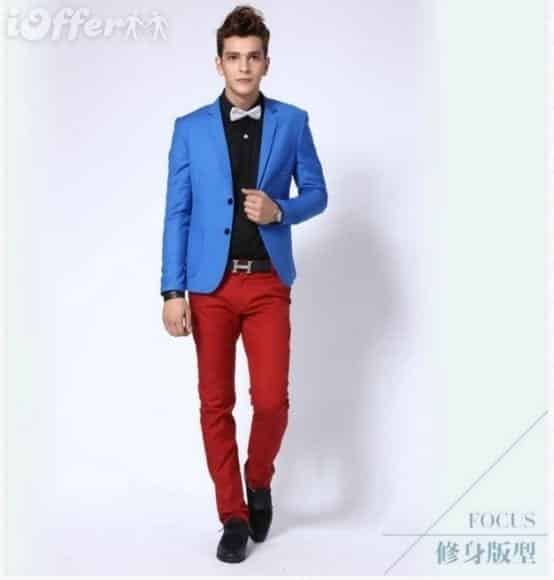 via
↓16 – If Red is Not Your Color
If you feel awkward wearing the bright red colour but you want to try it because it is in fashion, well red comes in all the different shades. How about a subtle peachy shade of red-its not too bright and is more towards pink and orange shades. The pant of this colour can go with any t-shirt of your choice.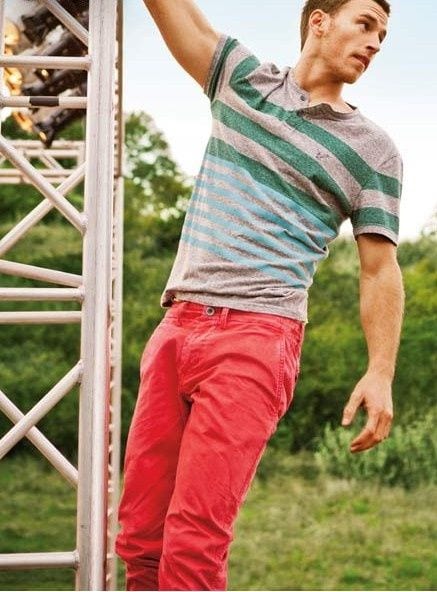 via
↓15 – How to Wear Red Pants in Summers
Who doesn't have black and white stripe shirt. If you have it too, instead of your jeans where it with a maroon pant. If you think its too loud for your liking, you can have a deep blue colored overcoat as an add on.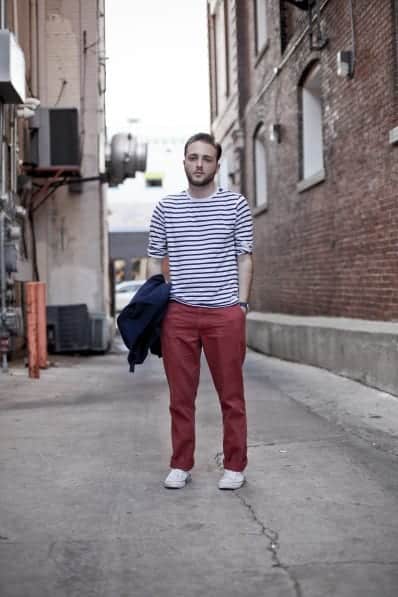 ↓14 – Red Pants and a Beard for Swag
While some guys prefer trim and neat look, there are those happy souls who don't have a care in the world. If you want to look handsome in your own style then wear a red pants with sweater and denim jacket . To do justice with this look, have your hair in a messy, wavy mess and keep a thick beard. Here are 15 Epic Facial Hairs for Men this Year.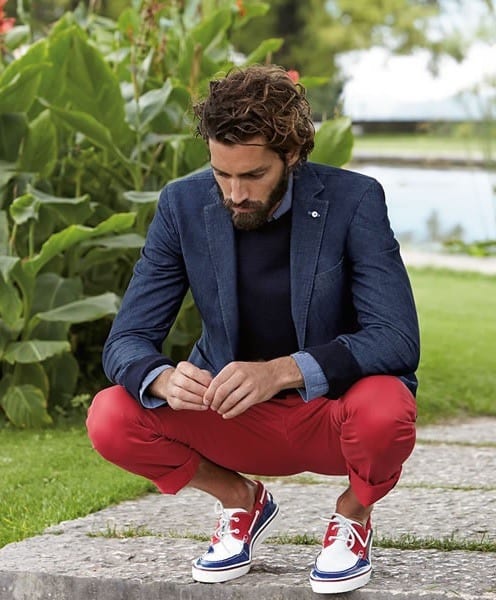 via
↓13 – The Preppy Style
If after completion of your college you love going all preppy when it comes to styling then we have a dress for you. Wear your red pants with printed hoodie. Complete the look with sneakers or canvas shoes. Here are some awesome Preppy Hairstyles for Men.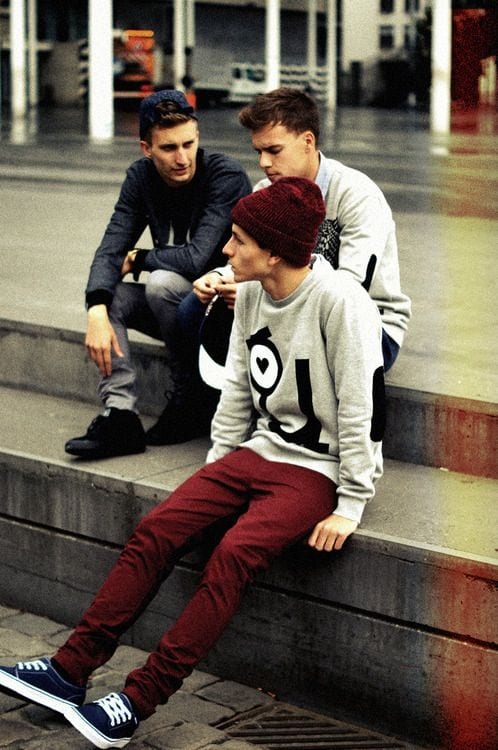 via
↓12 – What Shoes to Wear with Red Pants
Just because you are trying an unusual color pant, doesn't mean you can't try leather shoes that you normally wear. But if you really want to take a pain and style up properly with your red pants and checkered button down shirt then go for velvet hybrids for your feet. A matching belt with this look will add cherry on the top.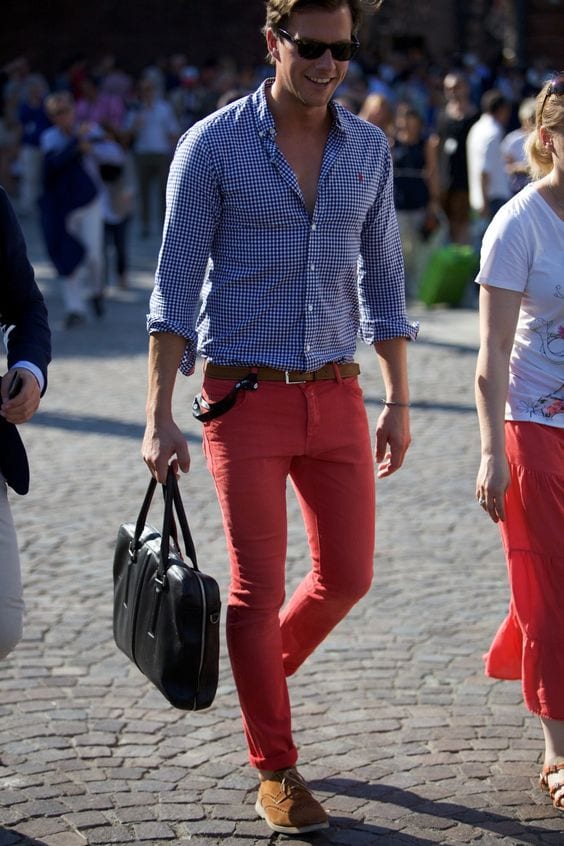 via
↓11 – Professional Style
Refresh your wardrobe. Instead of all the jeans and dress pants go for colored pants this season. Red looks lovely with ash gray by the way.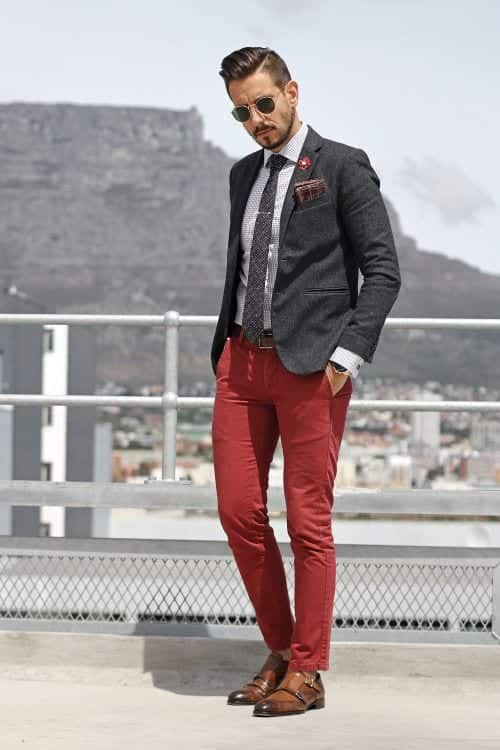 ↓10 – What Colour Shirt Goes Best with Red Pants
We all know red and black always go together. So if you're not in a mood to experiment with different colours, just try on red pants and a black full sleeved shirt. Bead necklace and bead bracelets will give you the real hip look. Here are the coolest Black Pants Outfits For Men.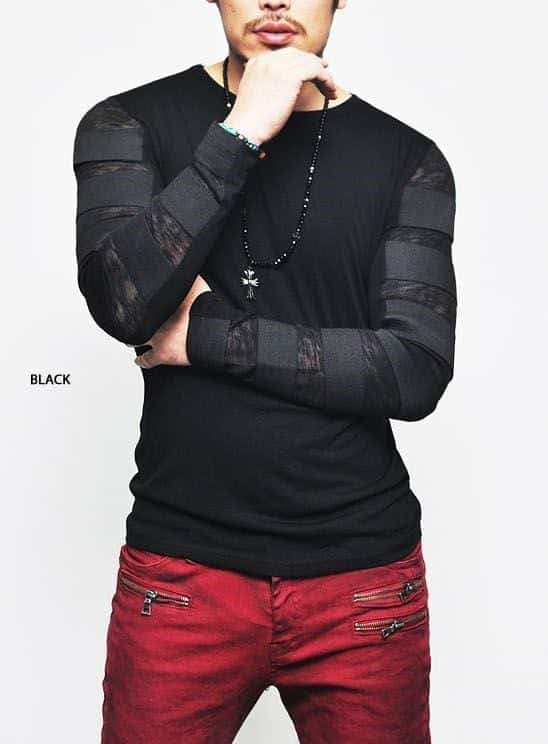 via
↓9 – What to Wear with Red Pants for Casual Wear
Another black and red combination. Polka dot polo shirt and red jeans and the everyday used canvas shoes.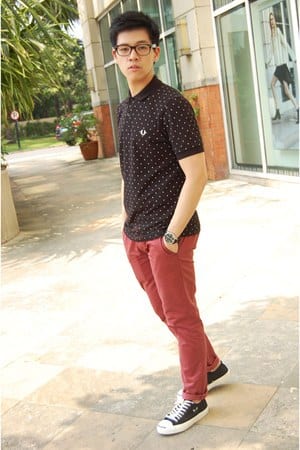 ↓8 – How to wear Double Breasted Coat with Red Pants
It is normally believed that double-breasted coats are too formal. If you want to try them on in an informal look, pair it up with the red pants and canvas shoes. Here are 19 Ways to Wear Trench Coats this Winter for men.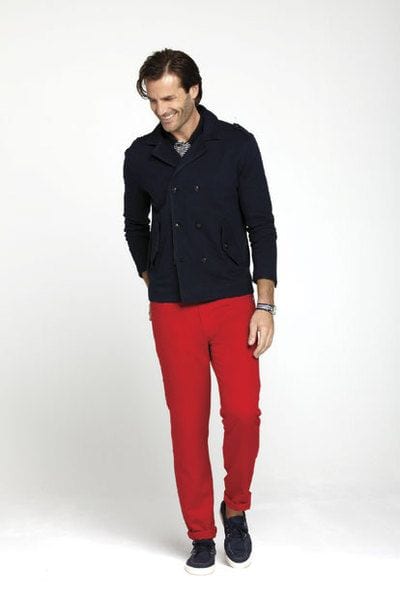 ↓7 – The Rock-star Look
Simple red jeans and a t-shirt, if worn with a black leather jacket will surely make you look like the rockstar.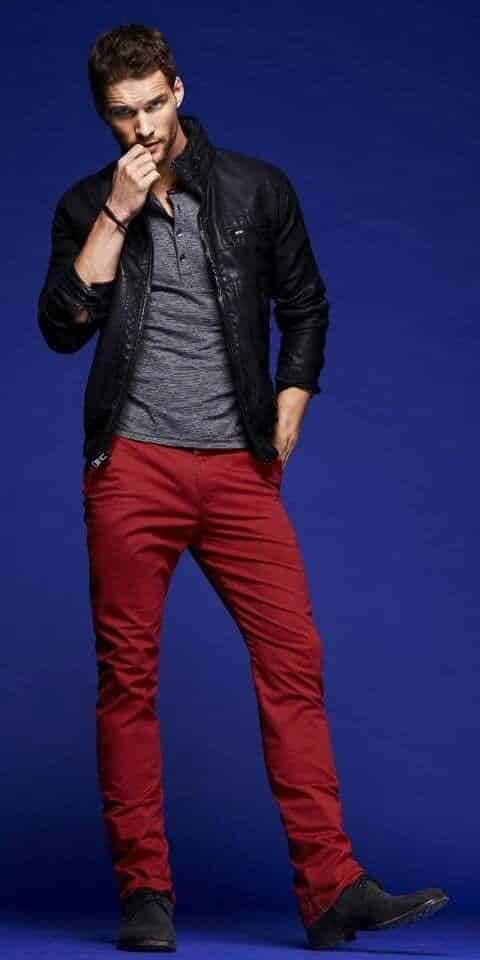 ↓6 – Style Up Like a Model
We do try to replicate the style of the models that we see in the magazines. If you're the dude who strictly follows fashion then try on the red pants with a crisp white, cotton shirt and a plaid muffler. Gel your hair well and wear velvet canvas shoes with this attire. Also, have a look at these Men's Outfit with Jogger Pants.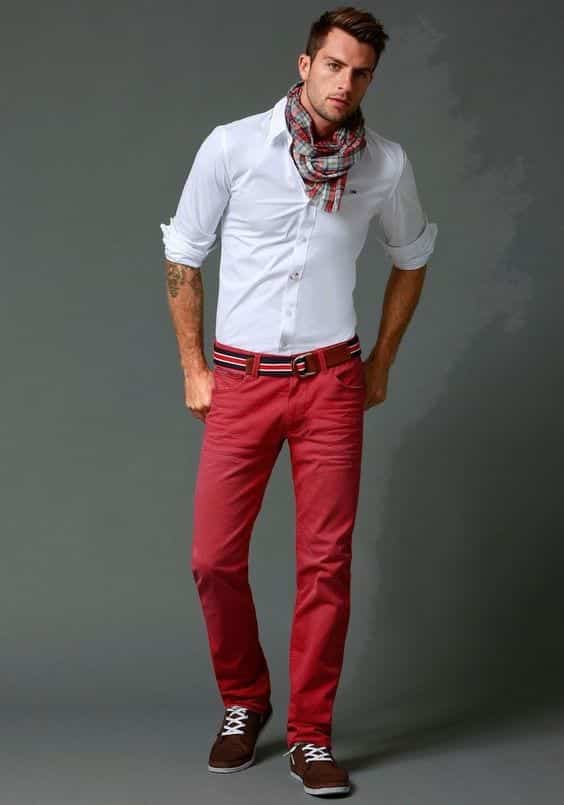 via
↓5 – Party All Night
Let's have some twist, instead of going in jeans and tees wear a proper formal dress but not with your usual dress pants. Wear bright red pants and let all the girls appreciate you for your uniqueness.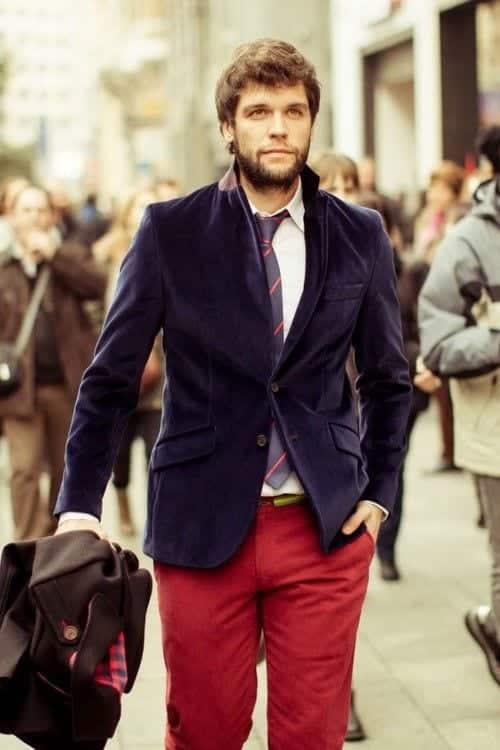 via
↓4 – The Hip-Hop Street Style
No one needs to tell you the handsome dude that you are, your style speaks for itself:). The perfect street style to follow this summer.

via
↓3 – Dress Up for Interview
Interviews are the time to make a positive impression. Stick to usual formal dressing, but a bit of color to it will make a good impression on the interviewer. So a red pant is a perfect choice for this look. Here's the Best Collection of Job Interview Outfits /Tips For Men.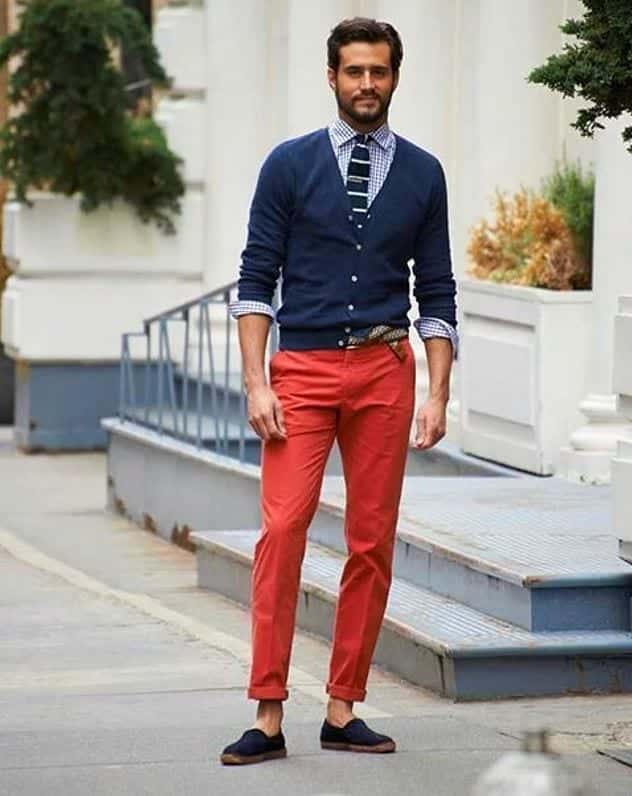 ↓2 – Swag Look
Another straight out of magazine style that guys can try if they have a red pant and a denim shirt. 
via
↓1 – How to Wear Red Pants with a White Shirt
Winter days require you to be comfortable in what you wear, so simple red jeans and a white hoodie would look the best. Wear your leather shoes with this look.