Wedding Guest Outfits for Winters : With Winters being the season of weddings, everyone seems to be busy prepping for the celebrations. We are here to help you select the best wedding outfit for you to wear. In the last post, we talked about some latest style suits combinations for men. Men are usually worried about what to wear to wedding events and how to style the suit as a guest at a wedding in the winter season. Therefore we bring you some super cool ideas and dapper styles.
This is one event where men dress up the best but one thing to make sure is to keep yourself warm in winters, without compromising on the style game. For a man, it is a long struggle between two things. One is wanting to look good and the other is wanting to express themselves through their dressing style. A wedding in the winter season itself is a challenge. Here we share some images for the casual look, the formal look and the contemporary look for all those who are look for ideas on What To Wear To A Winter Wedding .
.
Wedding Guest Attire for Men
Before we get started, here are some do's and don'ts that you should keep in mind:
For a suit pant and jacket with the best fit. Sagging look ends up being a turn-off.
Accessorize your look with pocket squares, bow ties, jacket chains and watches.
For a different and unique look, go for colours that are not commonly worn. For example blue, burgundy and tan.
Make sure your shoes go well with your look. The loafer trend seems to be a great one and they look excellent with suits.
Find out the exact theme of the wedding before picking out your outfit. If the theme is casual, you can go for a business casual style blazer.
Add colours to your look by picking out the best, vibrant ties and pocket squares.
Have fun picking out the right choice for yourself and good luck with it. Do not wear anything that doesn't suit you or something that you are not comfortable in. Give your first priority to comfort and then consider the rest of the things.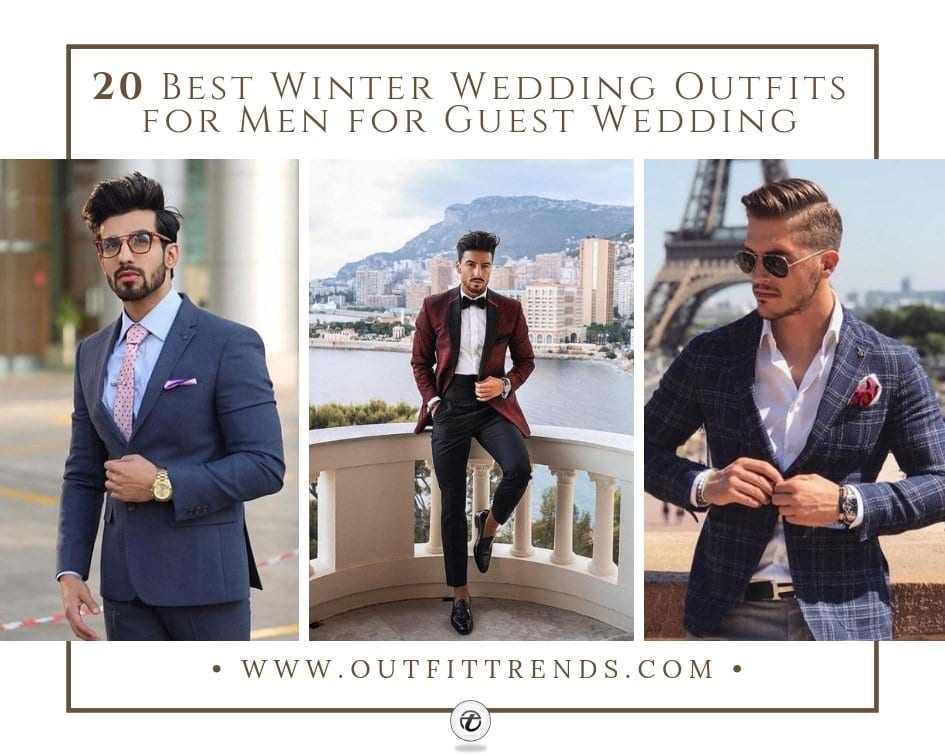 ↓ 20. The Formal Outfit For Wedding Guest
This look mostly consists of black and grey coats, such as single breasted tailcoats. They are perfect for a casual look at weddings. You can also wear black as that is more preferable. You could style a waistcoat and a tie with it. Check out these Men Waistcoat Styles -18 Ways to Wear Waistcoat for Classy Look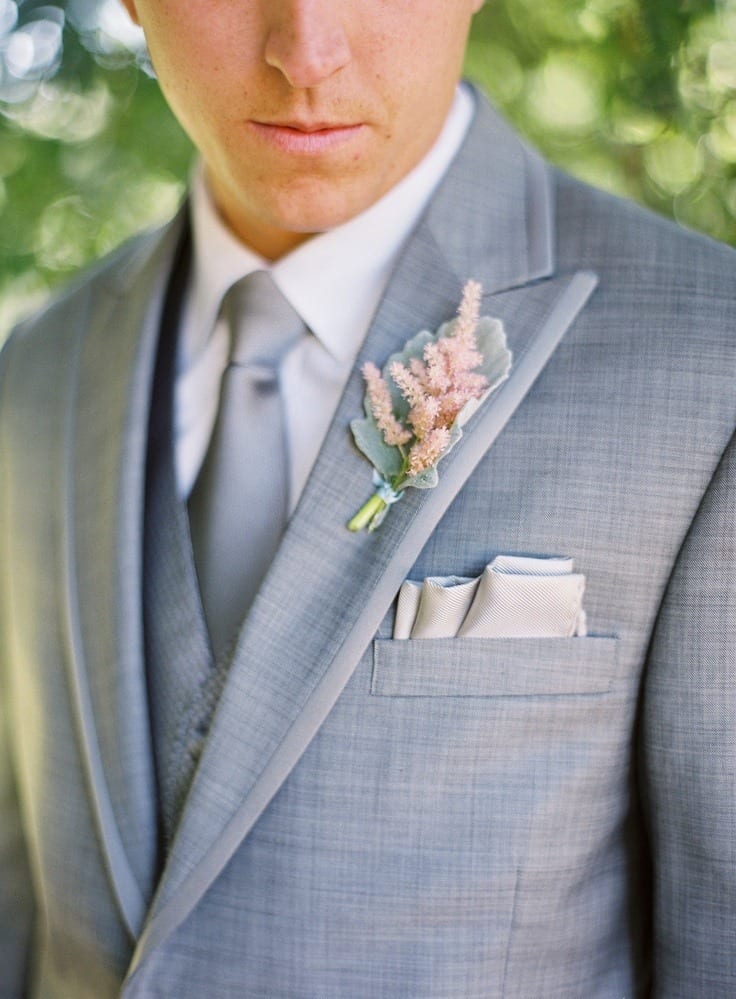 ↓ 19. The Casual Outfit for Wedding
Firstly you need to check the dress code of the party and then you could select your dress. Go for something which is unique and trendy. Experiment with different dresses and suits.  A blazer would be appropriate.  Do wear cufflinks as well as they give a really stylish look. Accessories are a must. Also, make sure that your shoes go well with the dress as shoes compliment the entire look.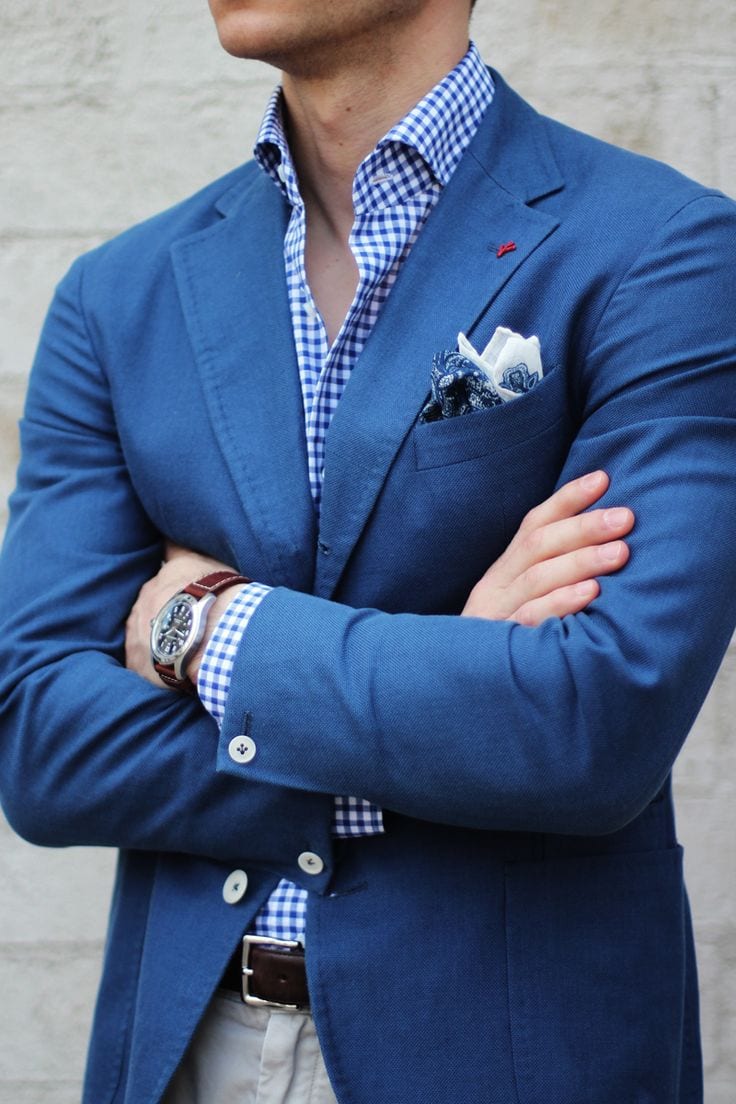 ↓ 18. Contemporary Style
This is the only look that is most preferred by the males at the wedding. The contemporary look is not just elegant but it also describes one's personality. Blue, navy and black are great options for the suit. You can choose the shirt colour according to it and a tie of your choice. Other than the suit people keep an eye over the shoes so choose a classy pair of leather shoes.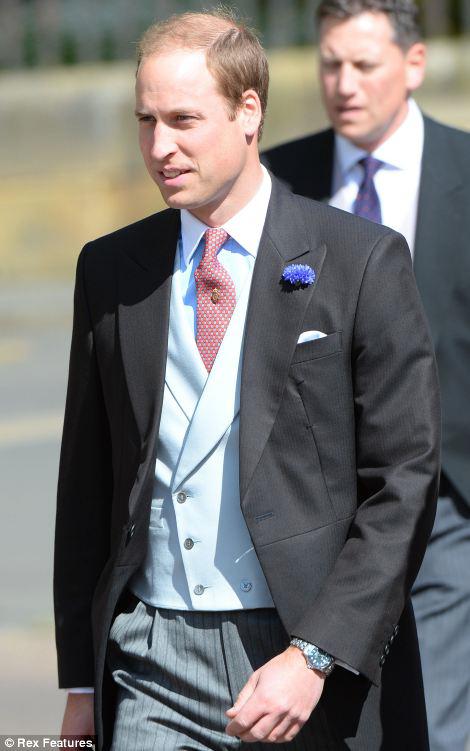 ↓ 18. Winter Look With Sweaters
Dressing up for weddings becomes a little tricky if you live in a colder climate. You are required to choose between comfort and style but here is how to get both at once. Wear your sweater with a formal suit for a hot yet comfortable look. Here are two options, the first being a plain turtle neck and the other being the classic sweater style in a plaid print.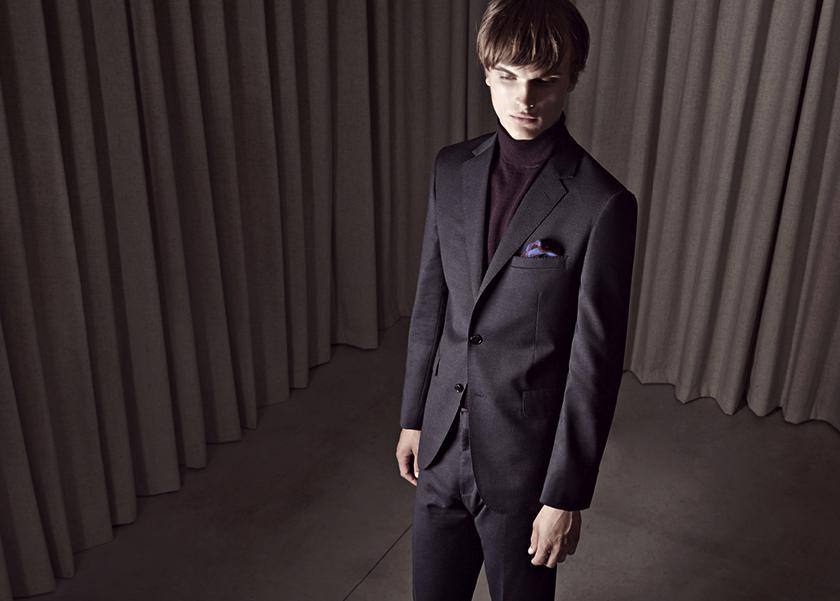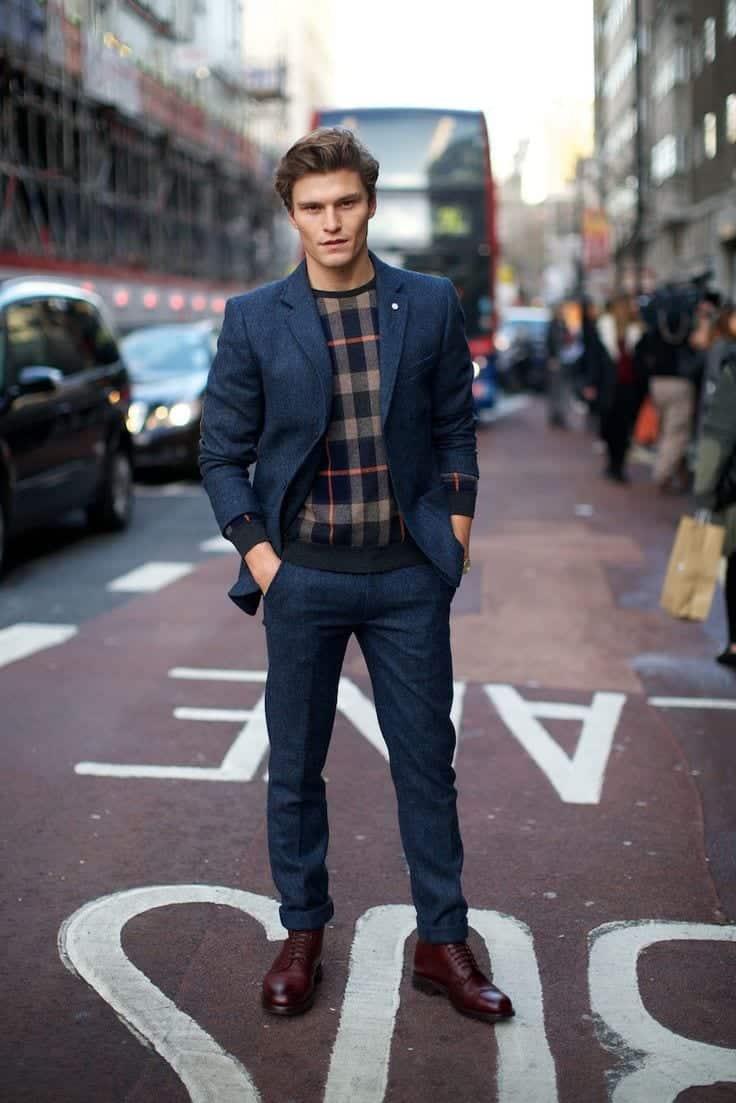 ↓ 17. White Suit
Ditch your traditional black look by going for a different colour. If the invite requires you to be dressed in white, here is an outfit you could consider. This monochrome look requires you to be dressed in a formal white shirt and suit jacket over a black pant. The black bowtie and the boutonnière look like the perfect pieces of accessory. The boutonnière is a floral decoration worn on the suits. It is commonly worn by guys on Prom nights and wedding events. If you are the groom's best man, dressing up in white can help make the groom stand out in his coloured formal suit.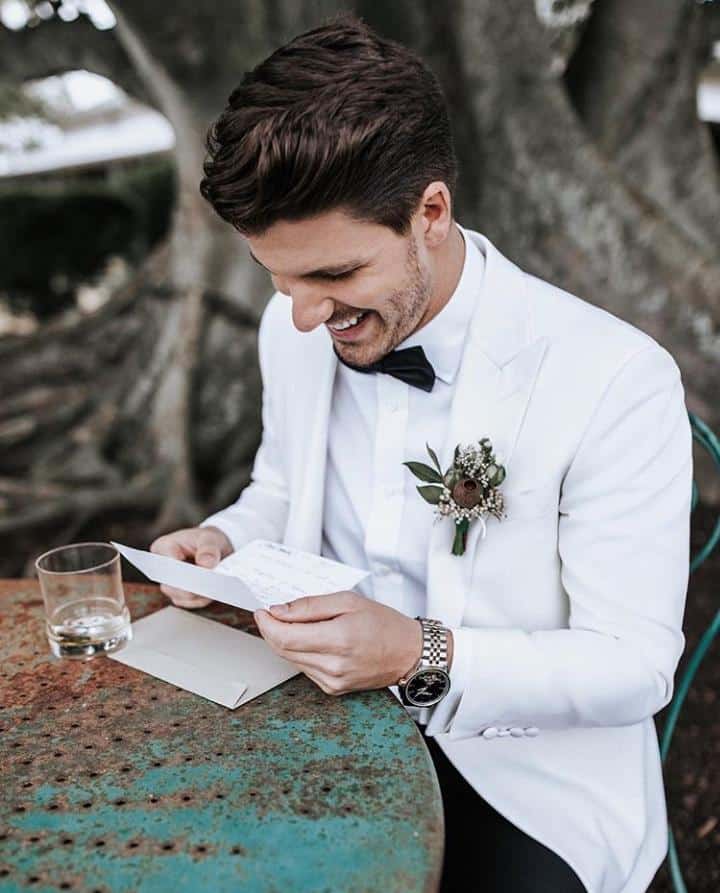 ↓ 16. Burgundy Suit
If this burgundy suit jacket does not make you want to hit the stores, we don't know what will. You can wear an old white shirt over a black pant with this burgundy blazer for an all-new look.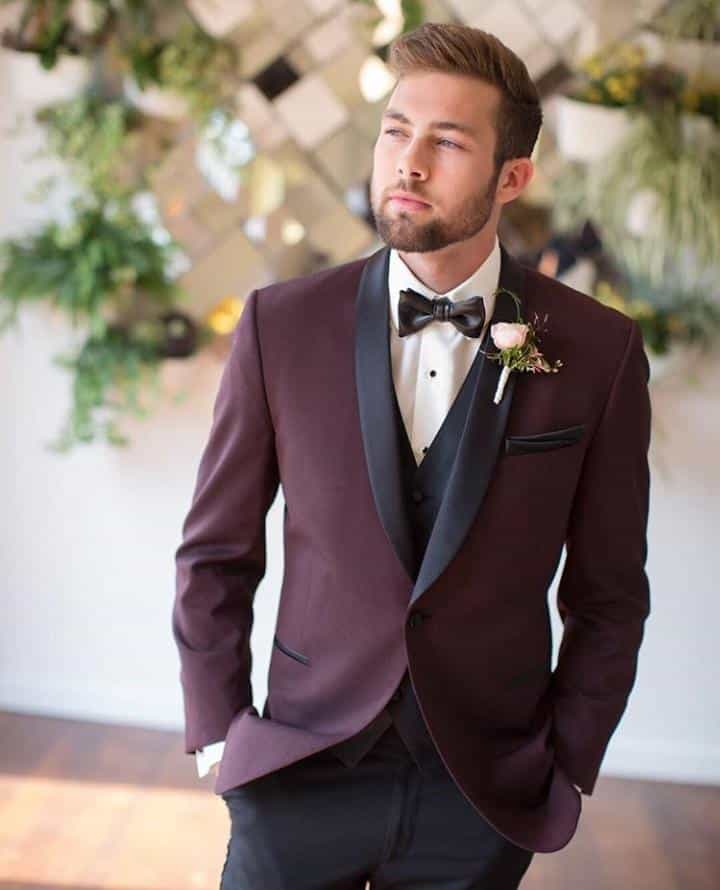 ↓ 15. Gray and Black
If black and grey look so well on their own, why not put the two together for the ultimate classy combination. Take a look at this super dapper and cool look that has been created with a grey jacket and a round-neck black shirt. Here is how to do a comfortable and semi-casual look for a wedding. The black pocket square is the perfect replacement for a tie or a bow.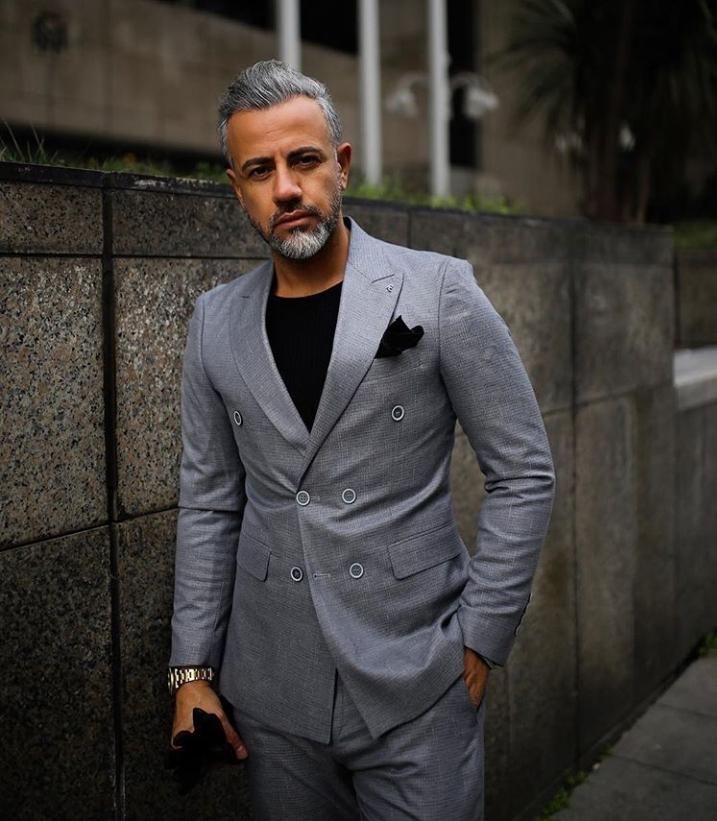 ↓ 14. Tan Accessories
Blue and white is a great combination for men when it comes to suits. If you want to take a shift from the classic black suit, blue seems like a great alternative. When it comes to dressing up for weddings, it is important to find the right accessories for your look. One colour that goes well with almost every outfit is tan and we love how these tan accessories go with this white and blue outfit. Put together a tan belt, formal shoes and your favourite watch for the perfect wedding guest look.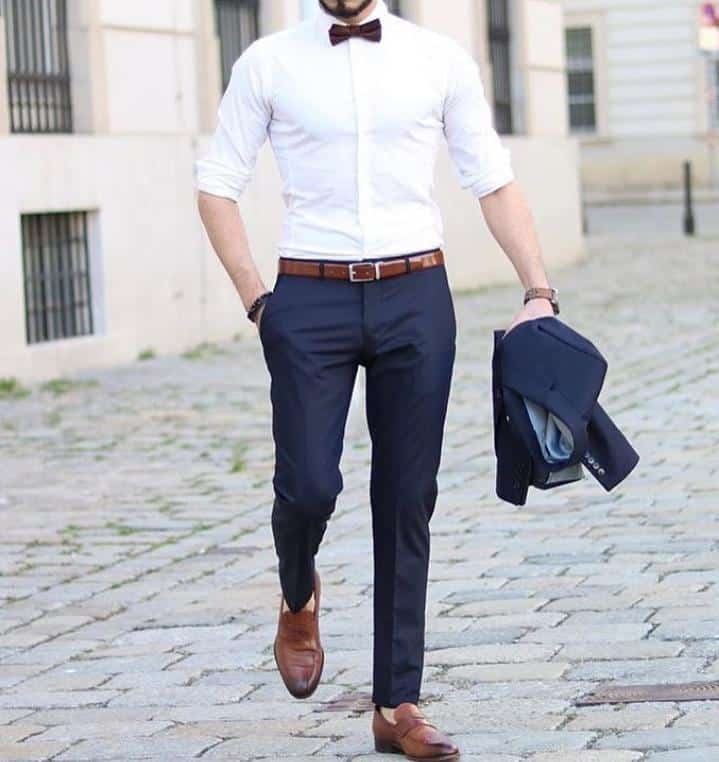 ↓ 13. Indo-Western
The South Asian fashion is famous for its uniqueness and how well they incorporate Western fashion with Eastern. This Indo-Western fusion style Suit has a very different look to it with a round hem. The gold detailing looks great with the dark blue pantsuit. The maroon pocket square is the perfect accessory to go with it. Look unique at the next wedding with an Indo-Western suit like this one, replacing the common Western suit.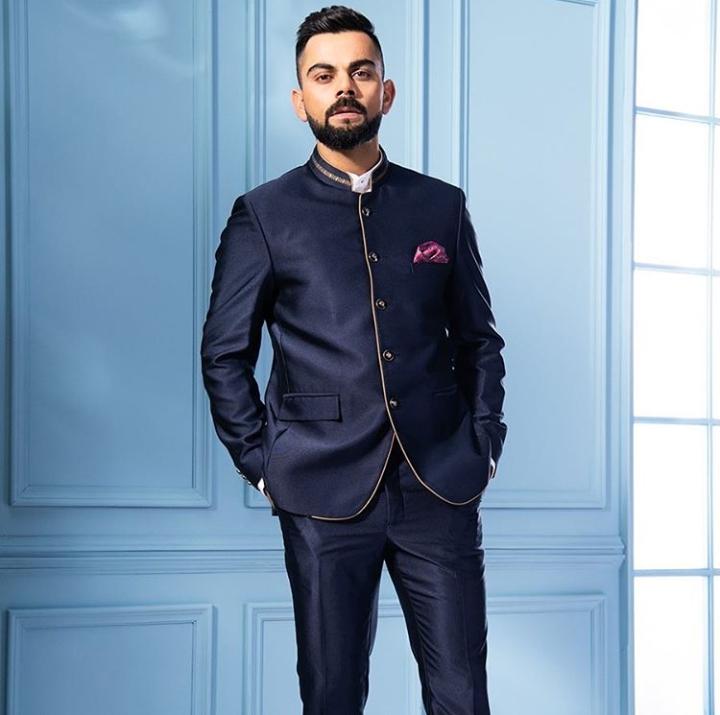 ↓ 12. Celebrity Style
Here is a celebrity inspired look featuring Bollywood's favourite chocolate boy Kartik Aryan. His choice for a blue-grey plaid suit was a great one, especially when paired with a striped red tie. The white pocket square matches his shirt and the stripes of his tie. The sleek gelled back hair is the kind of hairstyle most appropriate for a formal wedding look.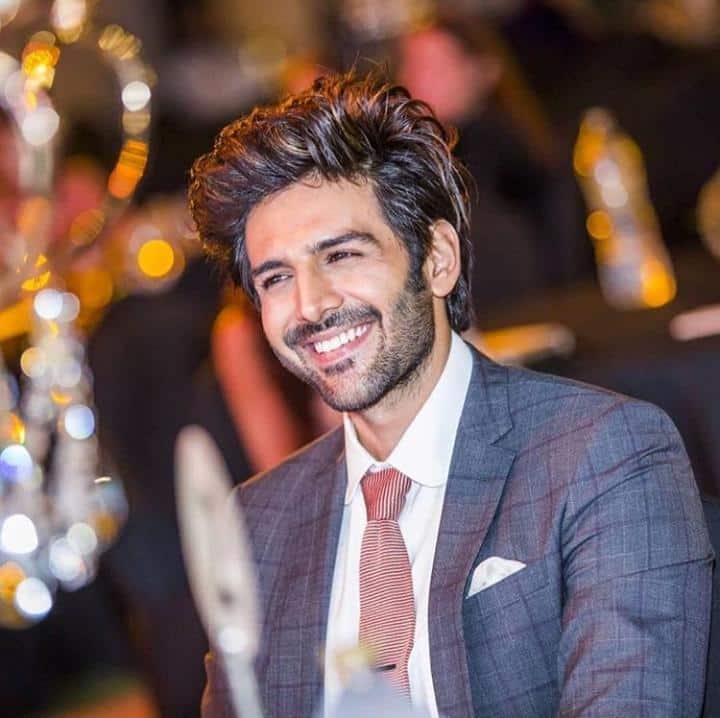 ↓ 11. Classic Black
Instead of going for the traditional classic look, why not ditch the suit jacket for a more contemporary style? A well-fitted pant and shirt can look just as well as a suit. However, this look can only be sported if you do not live in harsher climates or if the wedding is indoors. We love this all-black look, however, if you look closely you will realize that the black shirt has been paired with a grey-black coloured pant which prevents the combination from looking weird. The black loafer shoes are helping make the look super classy. If you want to go comfortably in casual attire, and want to match with your partner, this all-black style looks like a great option.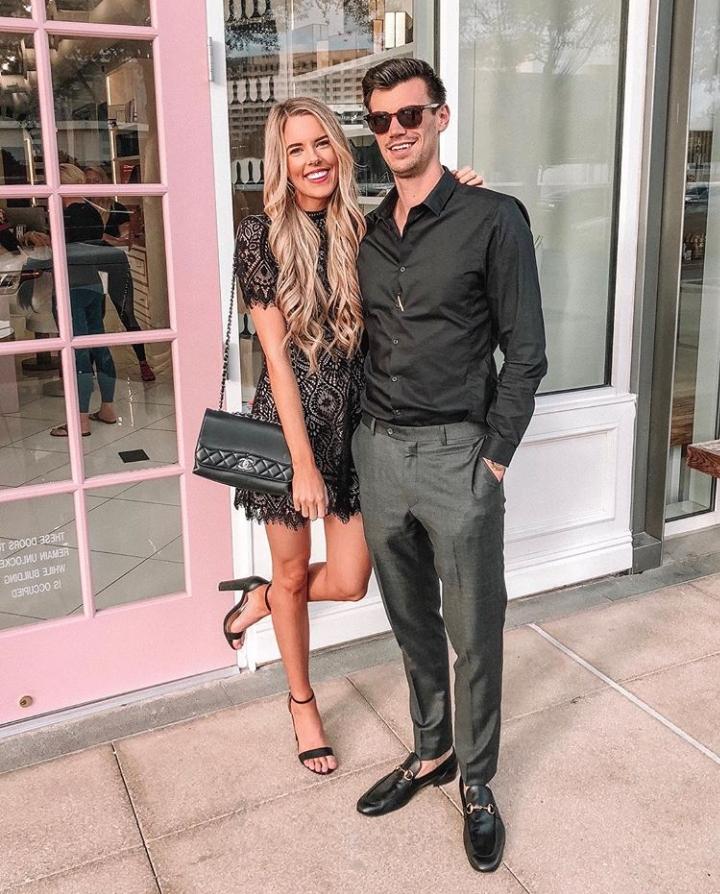 ↓ 10. Suspenders
If you are looking for a form of accessory that could help take your outfit up a notch, suspenders are just what you need. If you are looking for the best kind of look for a wedding to attend, this is definitely it. The well-fitted shirt and the use of stunning gold cufflinks with it seem to be the showstopper here. A good fitting is the first thing to look for in any formal outfit. Make sure get a tailored-fit look to look your best at any formal event. The basic black and white look has been given the perfect dapper look by going for a slim tie in red and matching suspenders. If you are planning on going for the suspenders, you could either wear them under the suit jacket or ditch the jacket completely. The suspenders add a very vintage yet youthful look to the outfit and can surely be worn by wedding guests for a formal look.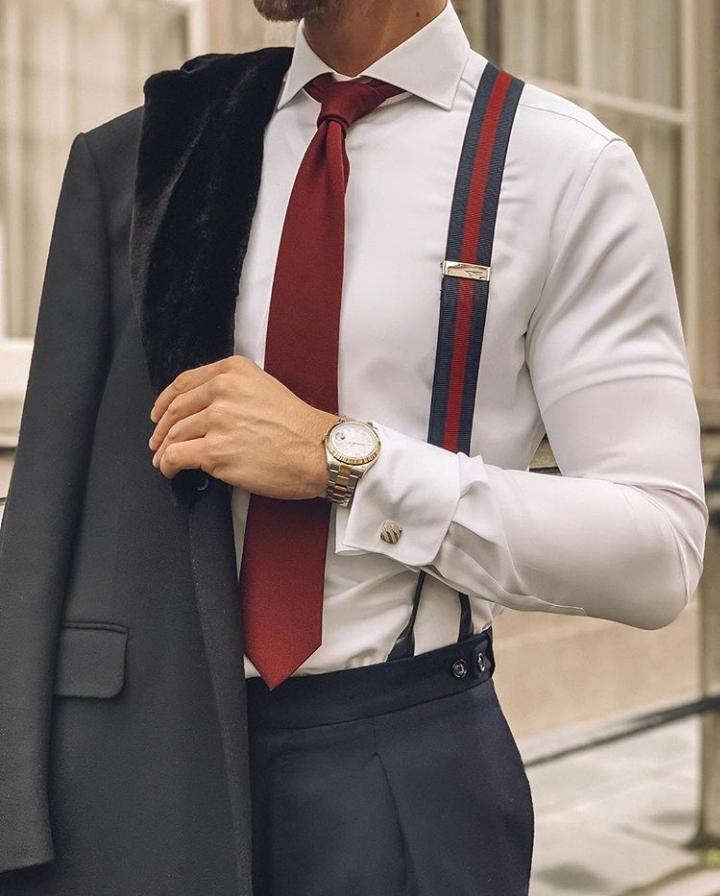 ↓ 9. Statement Suit Jacket
Here is how to look your classy best at a wedding. If you are headed to your closest friend's big day and need something that helps you stand out, this statement blazer is just what you need! The embossed fabric with hues of red and maroon looks awesome with the black and white look. Add in a bowtie and a watch to make the outfit look classier. The sleek and formal look will surely be turning many heads.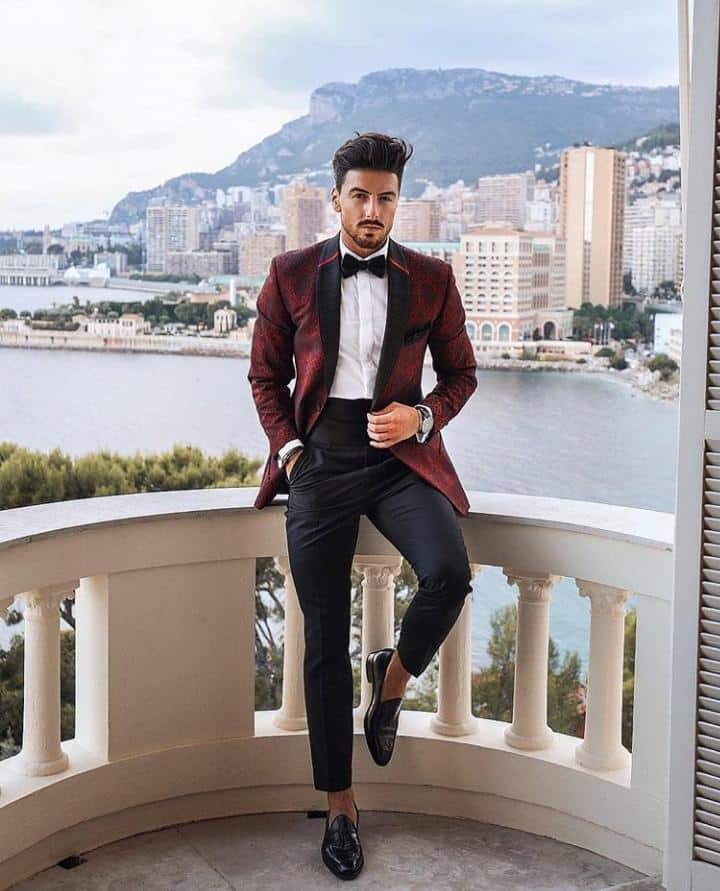 ↓ 8. Plaid Pattern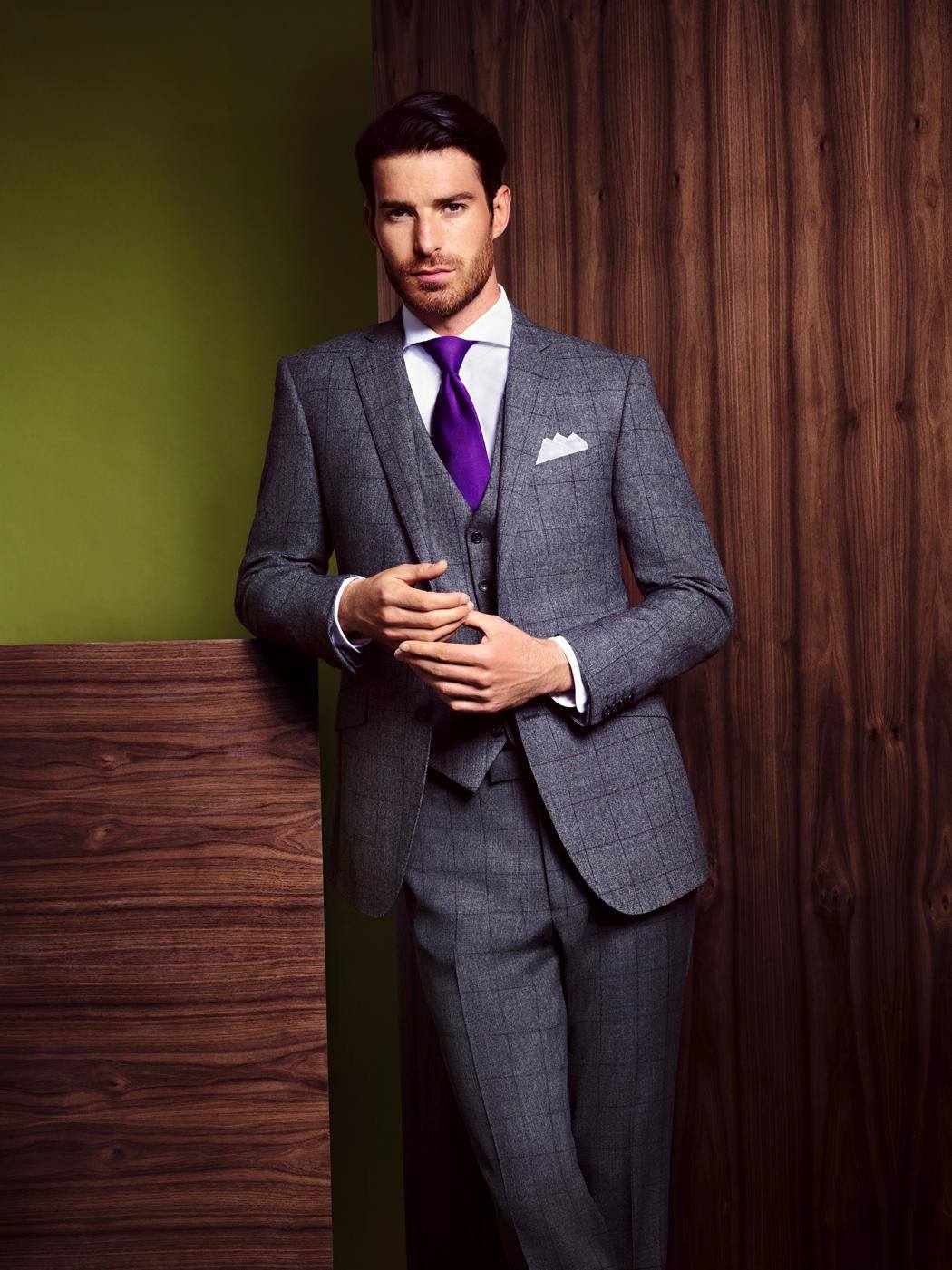 ↓ 7. Statement Tie
Give your traditional black suit a new look by opting for a statement tie like this polka dot one. If you are planning on repeating an old suit, this tie can help give it a new look. You could also go for a different coloured tie to add some brightness to it.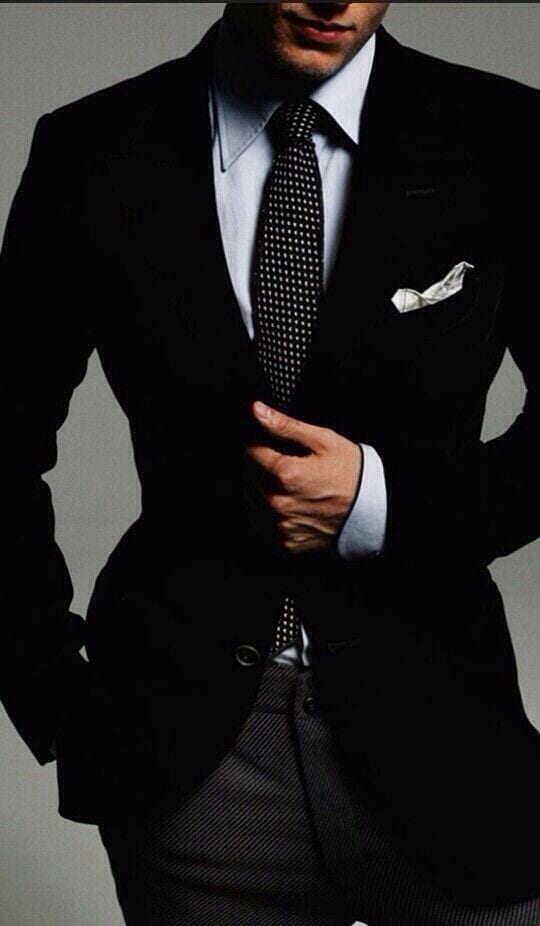 ↓ 6. Washed Out White
Washed out white coloured formal pant with a formal coat is better than anything else in the world. This combo is a very unique one because not every guy likes to wear this dress to weddings. So if you want to look unique then you can wear this dress to the next wedding ceremony that you attend. For the inner shirt, you can wear it in pure white colour. For an extra pop of colour, you can add a pink or red coloured handkerchief in the front pocket of the coat and also wear light brown or burgundy coloured loafers with this outfit. This outfit idea is also perfect for casual day to day functions because of its practicality.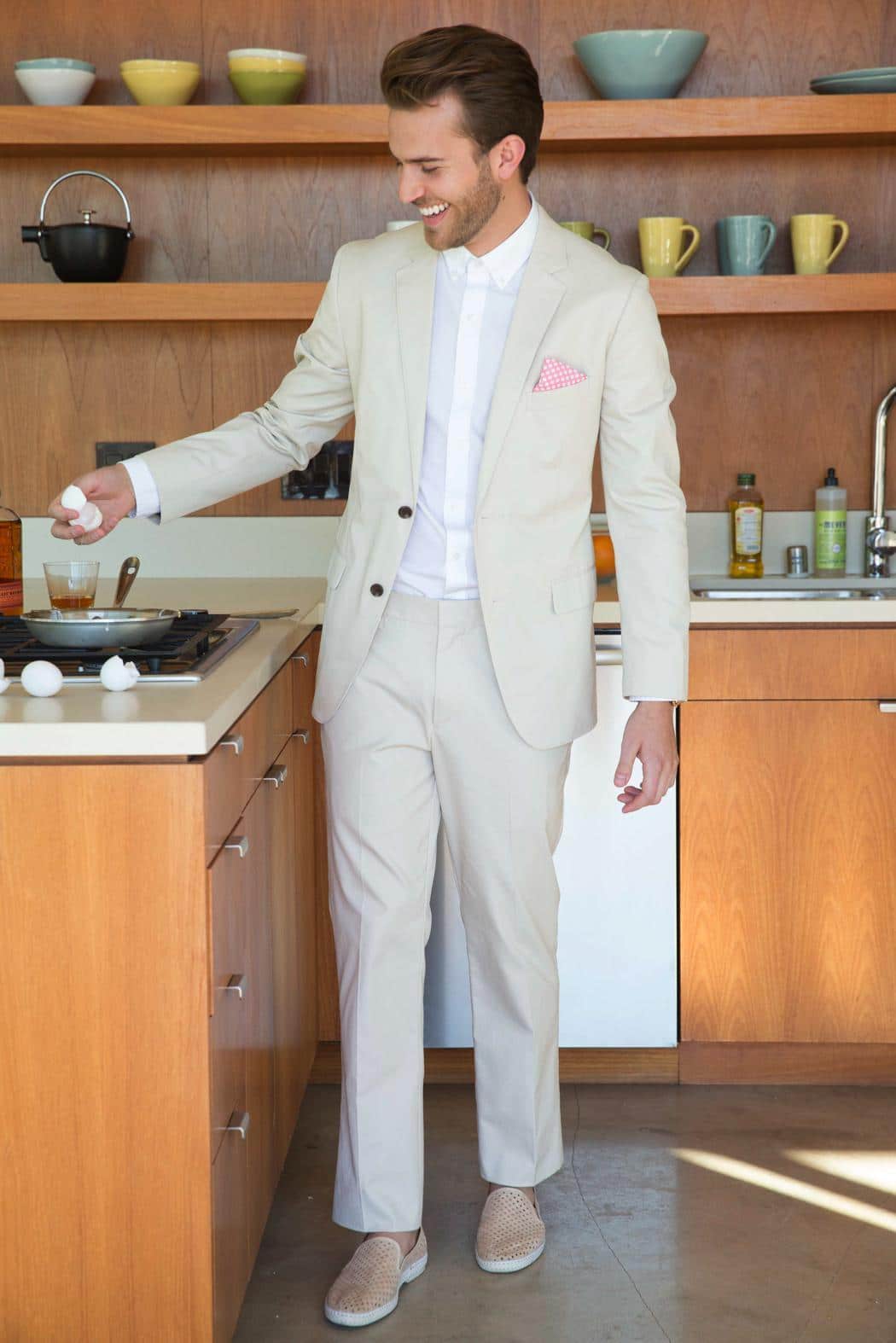 ↓ 5. Formal Suit With Bowtie
This outfit is perfect if you are going to your friend's wedding or any other relative's wedding ceremony. This outfit idea is all about keeping the colour tones neutral and not so dark. For example, you can wear washed out dull green coloured pant coat with a white shirt on the inside. If this outfit idea is very simple for the kind of occasion that you are going to attend, then try adding a bunch of flowers on the left side of the collar to add extra elegance to your outfit. This flower bunch should have cute little different flowers to look very appealing. Check out here How to Make Bow Tie and 16 Cool Ideas to Wear Bow Tie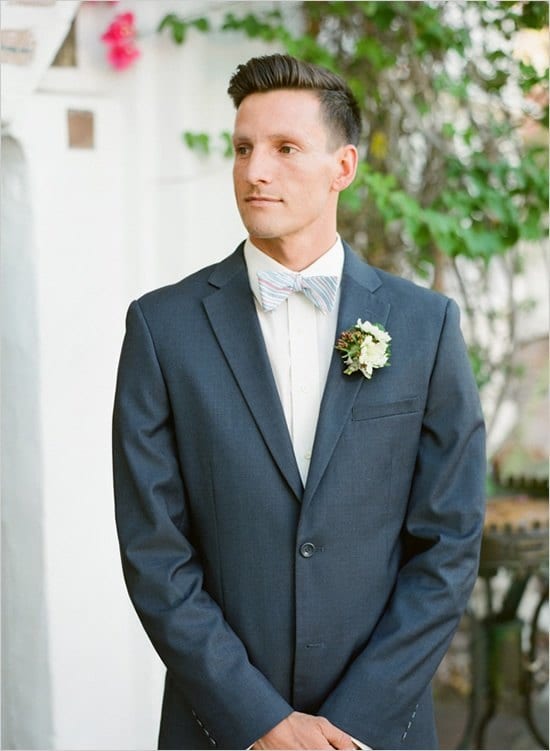 ↓ 4. Classy Suit Ideas
This outfit combo is perfect for classy guys and for those events where you are very close to the groom or to the bride. This dress is all about going for three-piece formal well-stitched suit in grey colour. For the fabric of the three-piece suit, you can choose the one with linings in it because that kind of fabric will give you a wider choice of matchings in handkerchief and shoes. For the inner shirt, go for the classic plain white formal shirt. You can pair up your favourite pair of loafers or oxford shoes with this classic combination that is loved by every girl.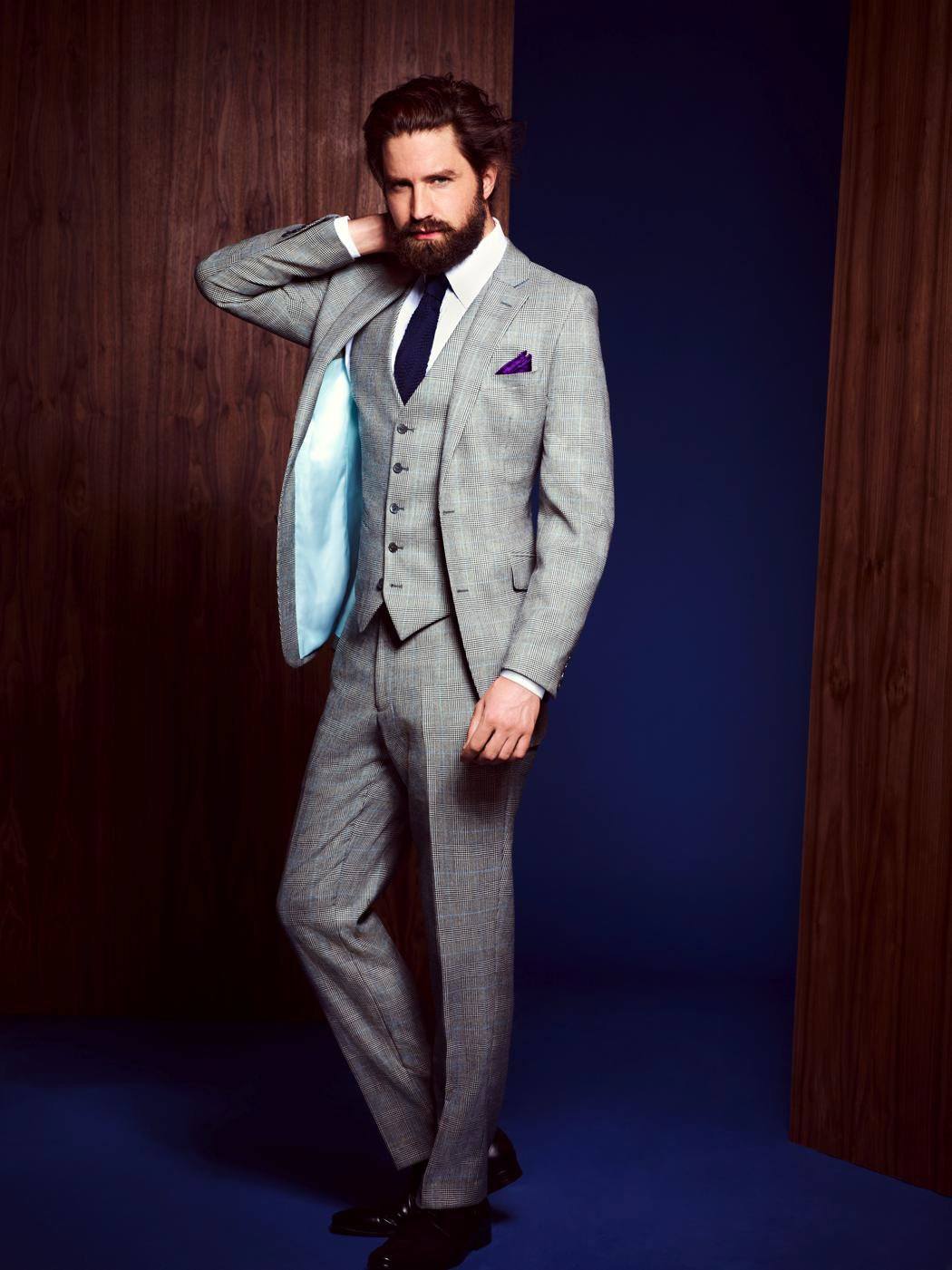 ↓3. Classic Black and White Combination 
Black and White is a combination which can never grow old. Moreover, this is a look with which you can never go wrong as almost every guy looks awesome in this outfit. This classic combination is all about wearing everything in black and then going for a white formal shirt to complete the whole look. In this suit, the shoes have to be black oxfords as well. RECOMMENDED: 16 Amazing Men's suits combinations to get Sharp look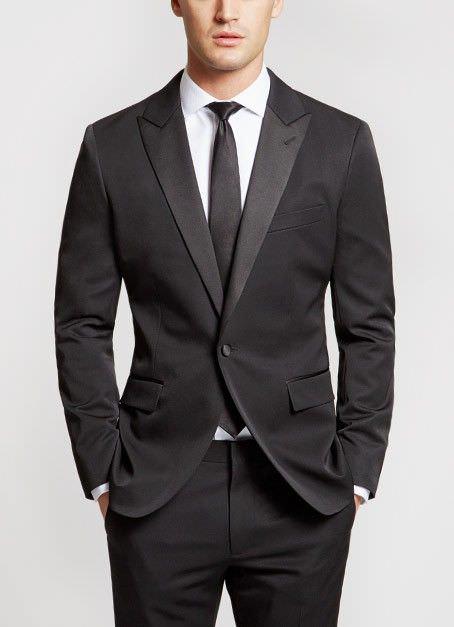 ↓2. Blue Suit
Just like classic black, there is another classic combo and that is blue. Three piece suit in blue colour looks extra special and perfect for every kind of occasion. You can even wear this suit to your own wedding and look unique. For this look, go for blue coloured three-piece well-tailored dress and then wear pure white pleated shirt along with it. Now for this combination, it is better if you go for brown loafers or oxford shoes to match perfectly with the combo.


↓ 1. Modern Cut
The first option to consider as a wedding outfit is a suit. If your suit is not the right kind, your look would not impress much. If the wedding is at a time when the sun is shining bright, you should consider colours that are light yet look attractive. for example, this grey suit, worn over a formal white shirt with a pastel blue tie. Looking for a very formal and neat look, go for a three-piece look by wearing a vest underneath the suit jacket. Check out this modern cut in a tail style jacket which looks unique yet super trendy.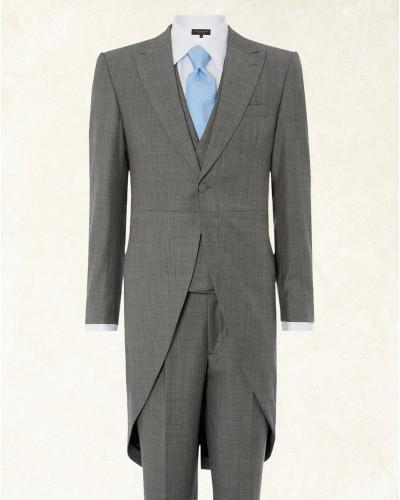 Images source www.reiss.co.uk and Pinterest